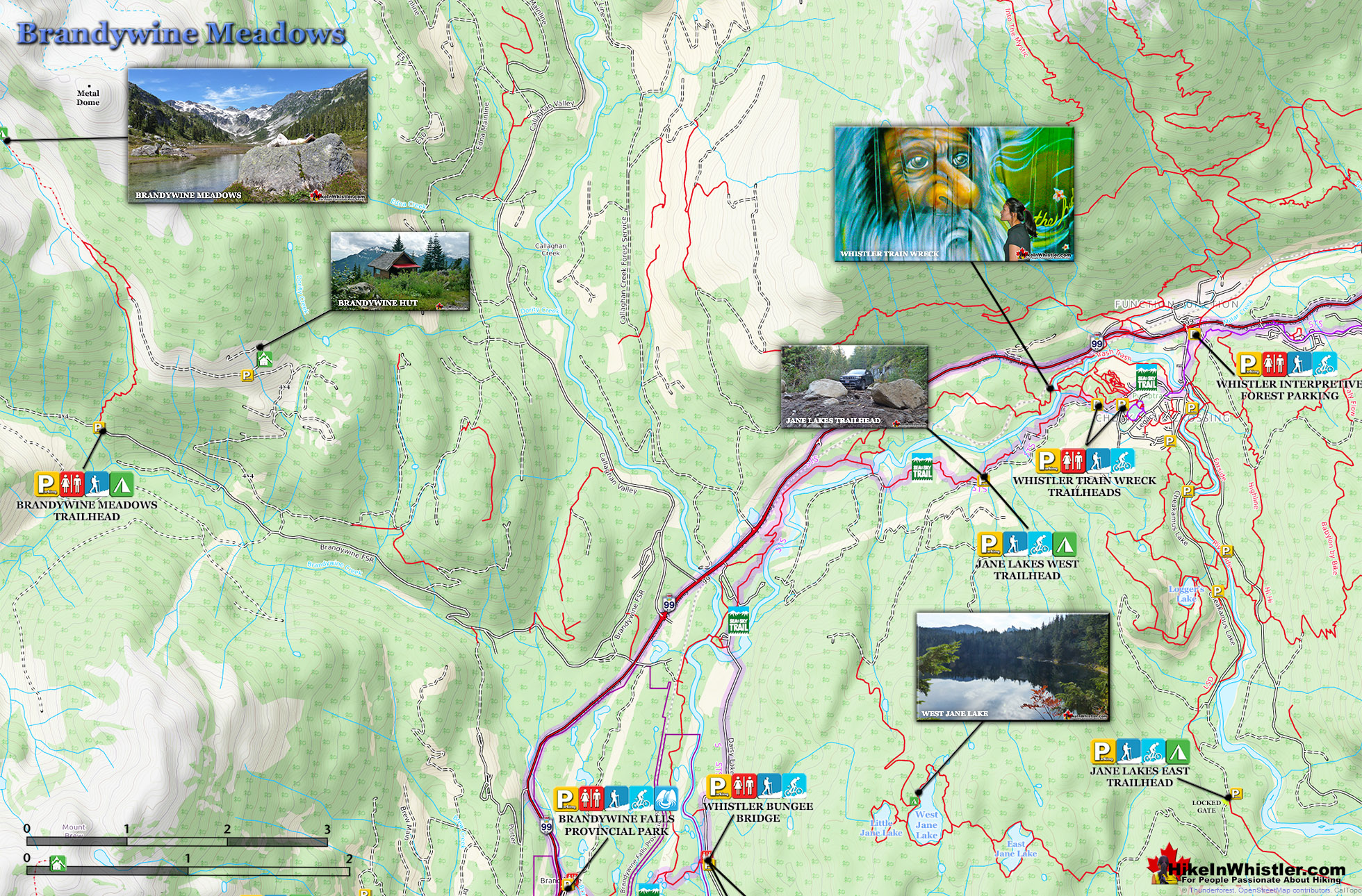 Brandywine Meadows is a nice, relatively short hike to a massive flower filled valley high up in Callaghan Valley. Located 40 minutes south of Whistler, this tough and sometimes muddy trail gains a huge 550 metres of elevation in just 3 kilometres(1.9 miles), trailhead to meadows.  The trailhead is tricky to find and involves a fairly long gravel road journey that is passable without a 4x4, but barely.
Quieter than Whistler & Garibaldi Park hikes
Short, though steep trail is dog friendly
On a sunny day the valley is beautiful
Alpine beyond the meadows is endless
Brandywine Mountain is fairly easy to hike to
4x4ing to the hut shortens the hike
Distant view of Mount Garibaldi are amazing

Awful gravel access road and few signs
Mosquitoes are horrible in July & August
Noisy ATV's use the access roads

Not that the road is potholed, which it is, but that it is at times very steep and strewn with loose boulders.  Brandywine Meadows is used mainly for snowmobiling in the winter months and the bumpy old logging road to the trailhead is in poor condition in the summer.  The Brandywine Meadows trail and access roads to it are for snowmobiles & ski touring only in the winter months. No free public access until the snow melts and the snowmobiling season comes to an end, usually in mid May.  You will know it is open just a couple minutes after you turn off the highway onto Callaghan Road.  Take your first left and drive past the treatment plant and quickly come to an enormous gravel parking lot. This is the snowmobile parking lot and the toll booth will be there and manned if the season is still on. If not, and the parking lot is deserted and with no snow, you may be able to continue. Keep in mind that snow can persist well into May, sometimes June, on the Brandywine Meadows access road. So avoid Brandywine Meadows until June to avoid disappointment.  If you have a dog, you will find that Brandywine Meadows is one of the few really nice, dog friendly hiking trails in and around Whistler. Garibaldi Provincial Park prohibits dogs, as well as both Whistler Mountain and Blackcomb Mountain. Here you won't be bothered by anyone and find no signs of humanity beyond some leftover remnants of the snowmobile season.  Bundles of orange poles for marking the snowmobile route are sometimes left behind or lost in the snow. Occasionally you stumble across a very out of place looking piece of snowmobile. Lost months before when the ground was below several metres of powder snow.
Brandywine Meadows Map
The hike is consistently very steep for the first two kilometres. It is at times scenic though, despite being in very deep forest. The trail runs parallel to Brandywine Creek, which is steeply flowing, very loud and quite beautiful at various vantage points. After two kilometres on the Brandywine Meadows trail, the elevation gain levels off and you catch several alpine mountain peaks through the trees. And finally reaching the meadows, the amazing valley stretches into the distance, ending at the formidable mountains. In that grey and white mass of mountain peaks in the distance you will see Brandywine Mountain.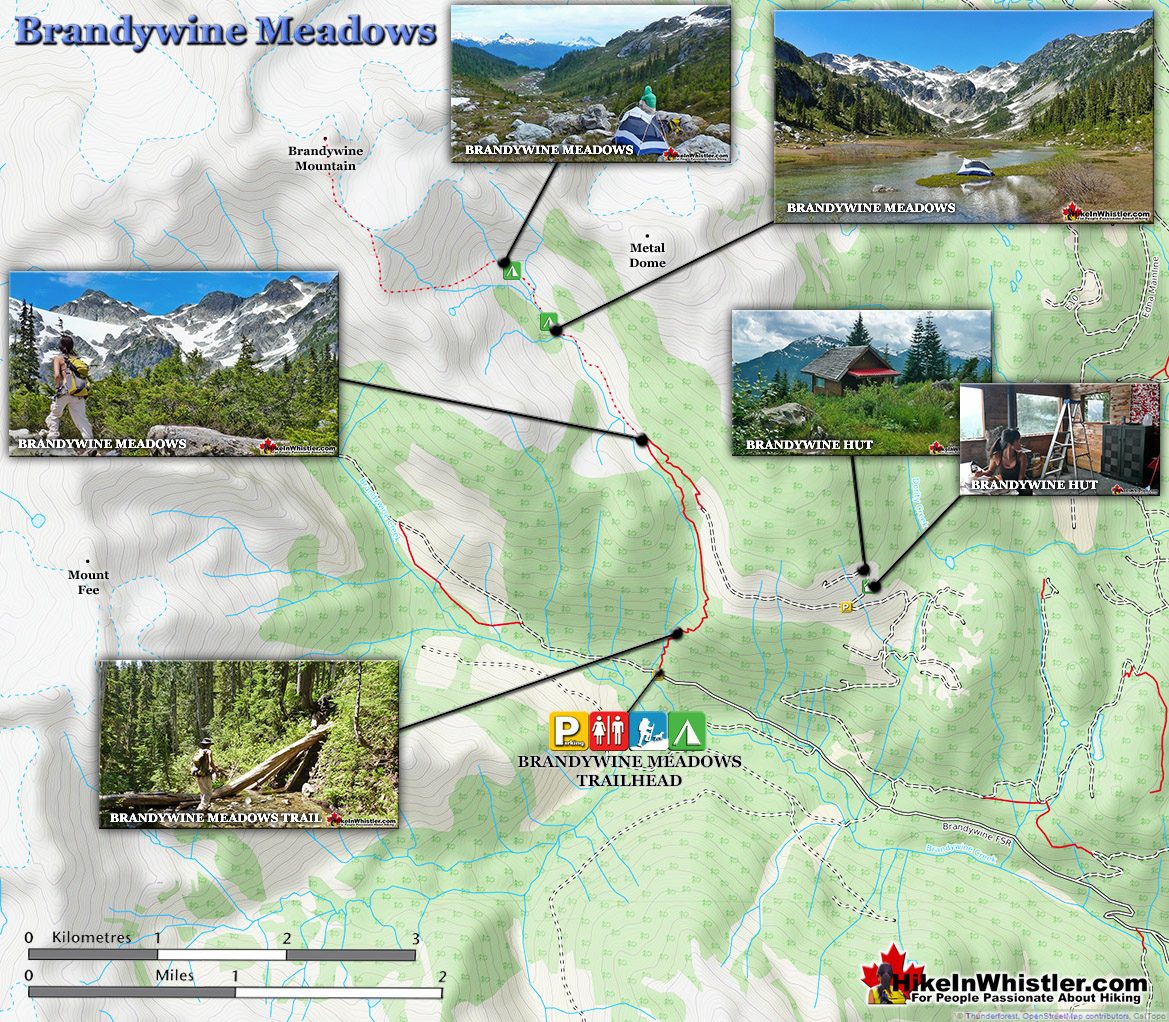 A visible and well worn trail skirts the right edge of the valley leading to the rocky slopes that lead you to Brandywine Mountain. The trail, of course, gives way to the mess of boulders and erratics that make the beautiful, flower filled meadows below look all the more serene.  The mountains in the area, including Brandywine are hike-able, though the trails, if any are faint and unmarked. There are no camping facilities in Brandywine Meadows, however, the seemingly endless valley offers plenty of tent sites.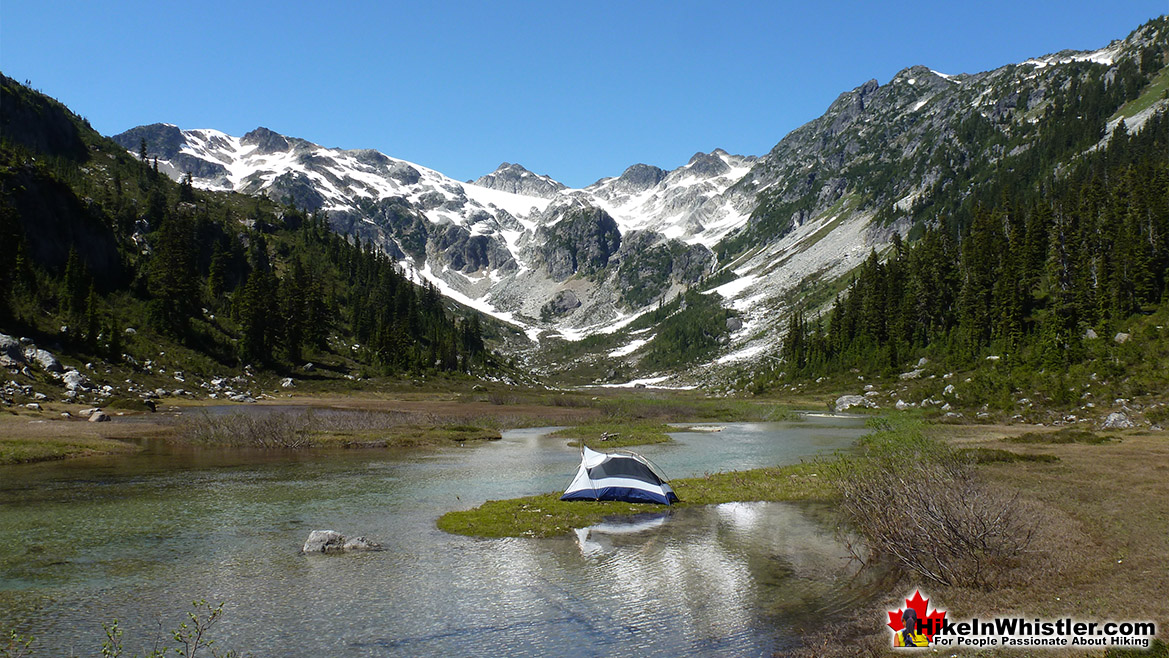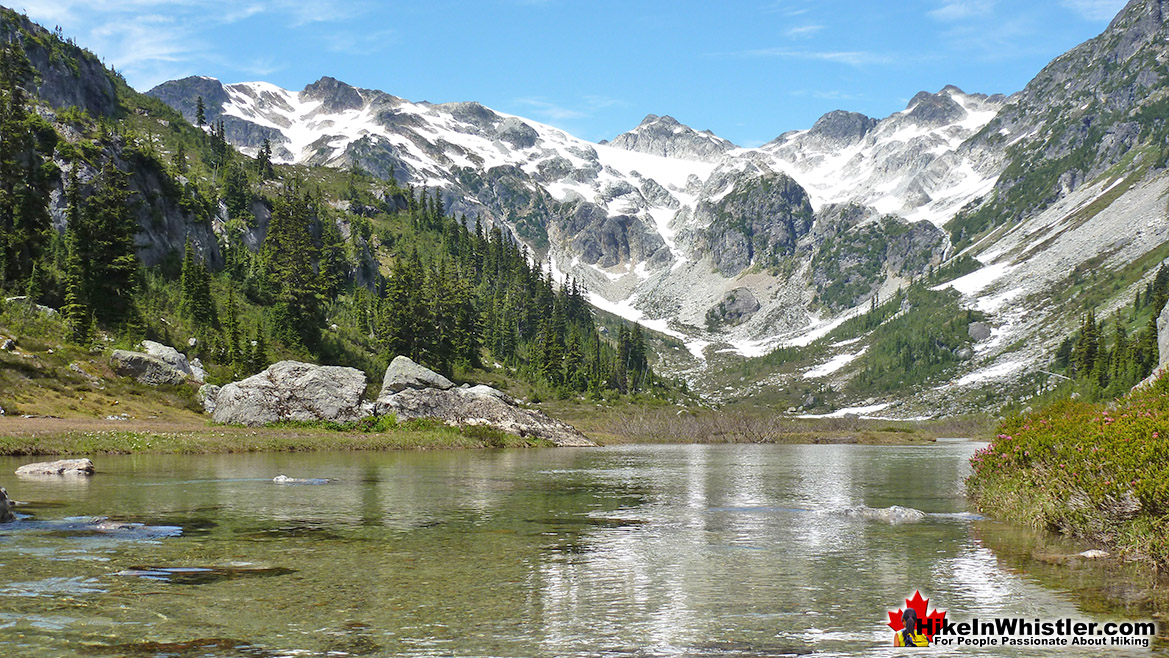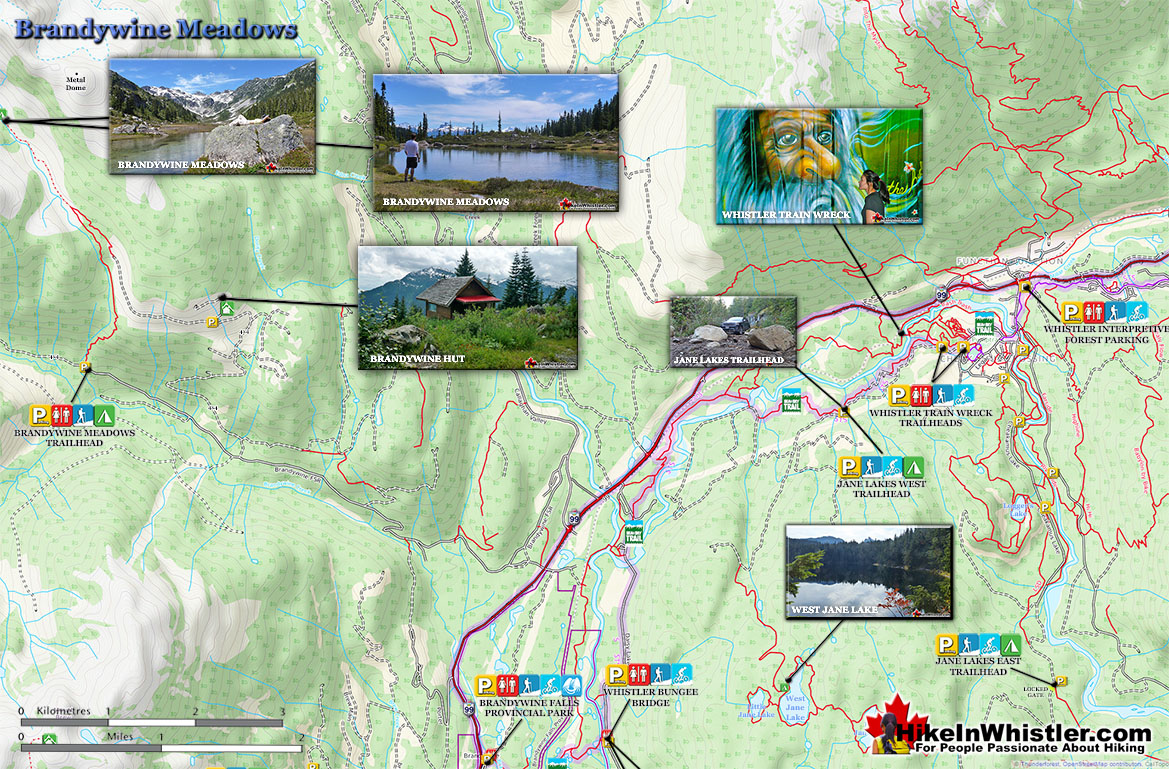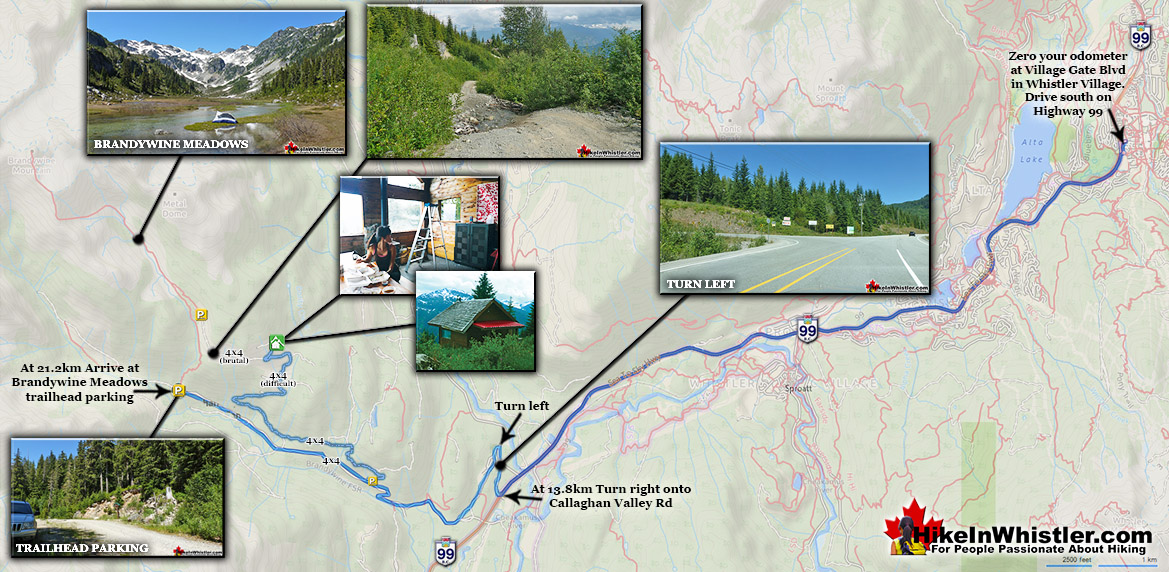 More Brandywine Meadows Hiking Info...
More Whistler & Garibaldi Park Hiking Maps!

Whistler & Garibaldi Park Glossary A to Z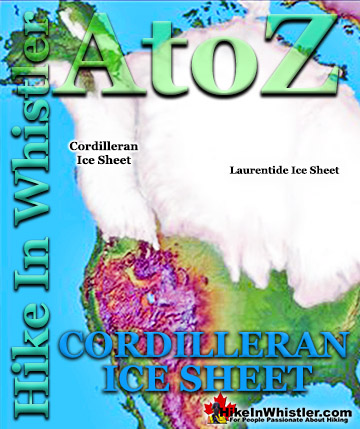 The Cordilleran Ice Sheet covered most of north-west North America for much of the last 2.6 million years.  At the
Last Glacial Maximum
during the
Last
...
Read more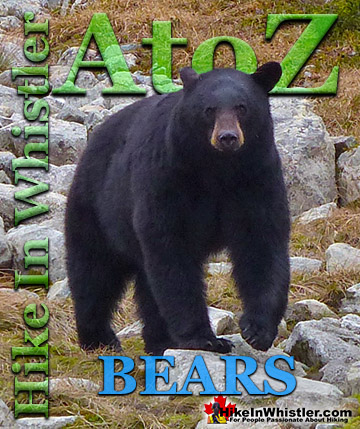 Whistler, the surrounding mountains, and
Garibaldi Provincial Park
are home to two types of bears.  Black bears and grizzly bears.  Black bears are ...
Read more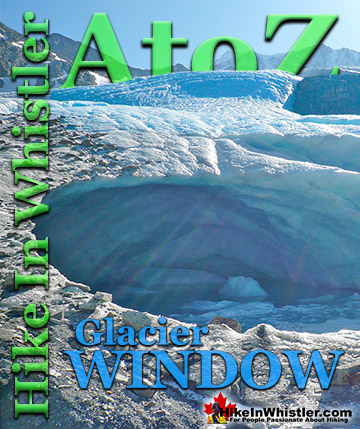 Glacier Window: the cave-like opening at the mouth of a glacier where meltwater runs out.  Glacier windows are often extraordinarily beautiful.  A blue glow ...
Read more

The Best Whistler & Garibaldi Park Hiking Trails!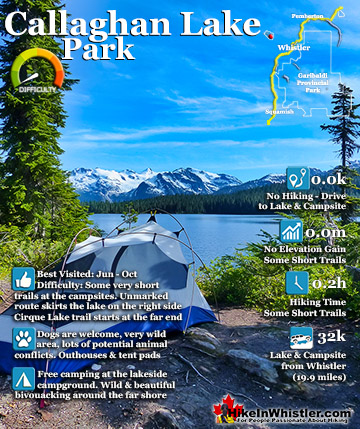 Callaghan Lake Park is a relatively untouched wilderness of rugged mountainous terrain. The valley walls were formed by relatively
recent glaciation
. Evidence of this can be seen in the considerable glacial ...
Read more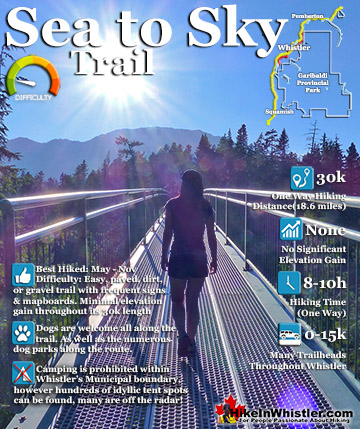 The Sea to Sky Trail is a 180 kilometre multi-use trail that runs from Squamish to D'Arcy. The trail is still under construction in many parts, however, the amazing route through Whistler is finally in ...
Read more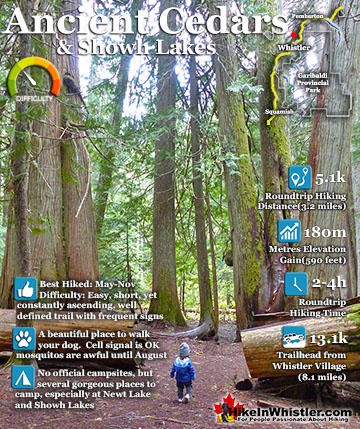 Ancient Cedars is a nice, easy/moderate 2.5 kilometre (1.6 mile) hiking trail on the far side of Cougar Mountain, just 13.1 kilometres north of Whistler Village. A small, untouched grove of huge western ...
Read more