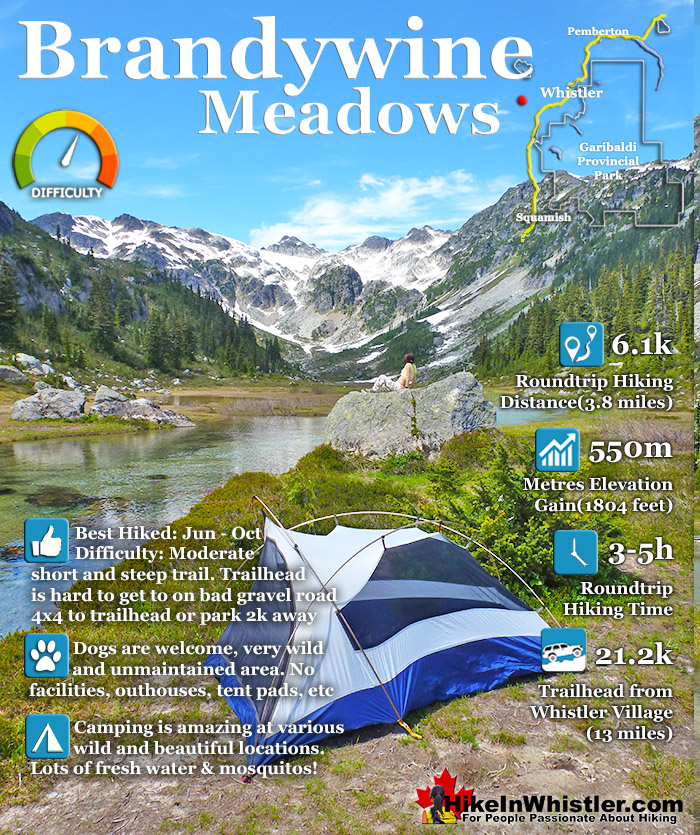 Brandywine Meadows is a nice, relatively short hike to a massive flower filled valley high up in Callaghan Valley. Located 40 minutes south of Whistler, this tough and sometimes muddy trail gains a huge 550 metres of elevation in just 3 kilometres(1.9 miles), trailhead to meadows.  The trailhead is tricky to find and involves a fairly long gravel road journey that is passable without a 4x4, but barely.
Far quieter than Whistler & Garibaldi Park hikes
Short, though steep trail is dog friendly
On a sunny day the valley is impossibly beautiful
Alpine beyond the meadows is endless & amazing
Brandywine Mountain is fairly easy to hike to
4x4ing to the hut is an adventure & shortens the hike
Views of far off Mount Garibaldi are amazing

Awful gravel access road and no direction signs
Mosquitoes are horrible in July & August
Noisy ATV's use the access roads

Whistler & Garibaldi Hiking

Alexander Falls  

Ancient Cedars  

Black Tusk  

Blackcomb Mountain  

Brandywine Falls  

Brandywine Meadows  

Brew Lake  

Callaghan Lake  

Cheakamus Lake  

Cheakamus River  

Cirque Lake 

Flank Trail 

Garibaldi Lake 

Garibaldi Park 

Helm Creek  

Jane Lakes 

Joffre Lakes  

Keyhole Hot Springs  

Logger's Lake  

Madeley Lake  

Meager Hot Springs 

Nairn Falls  

Newt Lake 

Panorama Ridge 

Parkhurst Ghost Town 

Rainbow Falls  

Rainbow Lake 

Ring Lake  

Russet Lake  

Sea to Sky Trail 

Skookumchuck Hot Springs  

Sloquet Hot Springs 

Sproatt East 

Sproatt West  

Taylor Meadows  

Train Wreck  

Wedgemount Lake  

Whistler Mountain

January 

February 

March 

April 

May 

June 

July 

August 

September 

October 

November 

December
Not that the road is potholed, which it is, but that it is at times very steep and strewn with loose boulders.  Brandywine Meadows is used mainly for snowmobiling in the winter months and the bumpy ex-logging road to the trailhead is in poor condition in the summer.  The Brandywine Meadows trail and access roads to it are for snowmobiles & ski touring only in the winter months. No free public access until the snow melts and the snowmobiling season comes to an end, usually in mid May.  You will know it is open just a couple minutes after you turn off the highway onto Callaghan Road.  Take your first left and drive past the treatment plant and quickly come to an enormous gravel parking lot. This is the snowmobile parking lot and the toll booth will be there and manned if the season is still on. If not, and the parking lot is deserted and with no snow, you may be able to continue. Keep in mind that snow can persist well into May, sometimes June, on the Brandywine Meadows access road. So avoid Brandywine Meadows until June to avoid disappointment.  If you have a dog, you will find that Brandywine Meadows is one of the few really nice, dog friendly hiking trails in and around Whistler. Garibaldi Provincial Park prohibits dogs, as well as both Whistler Mountain and Blackcomb Mountain. Here you won't be bothered by anyone and find no signs of humanity beyond some leftover remnants of the snowmobile season.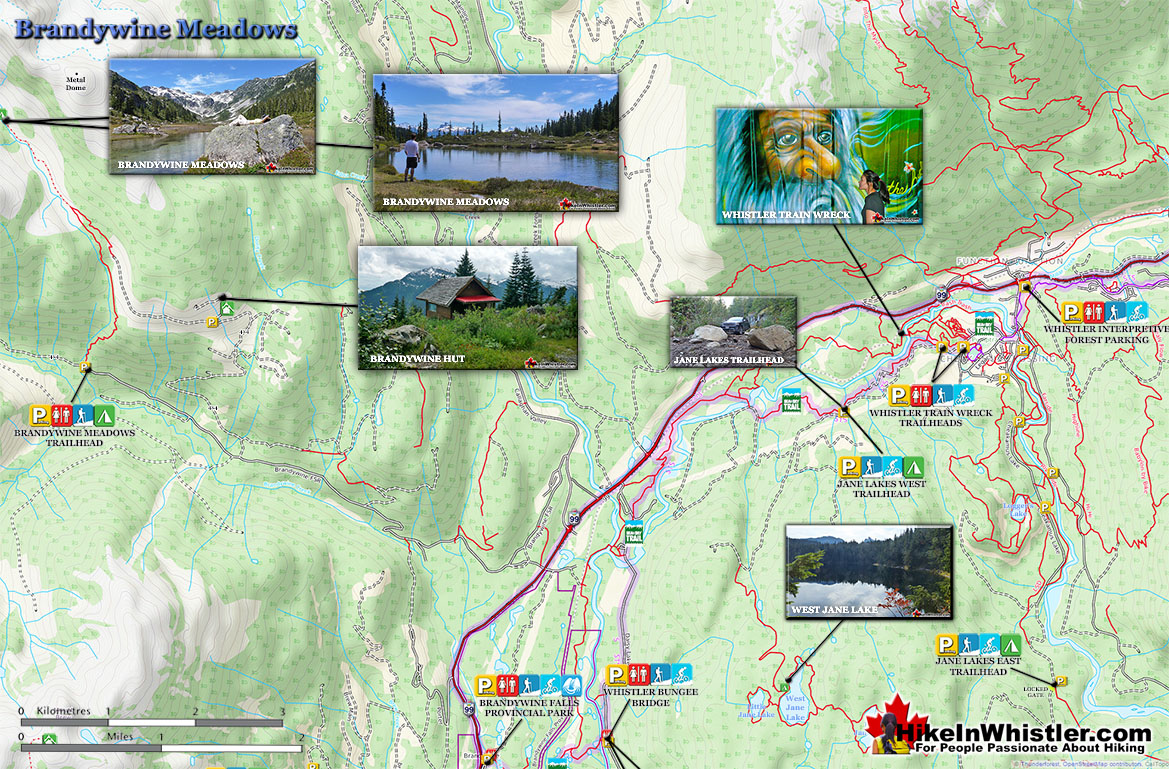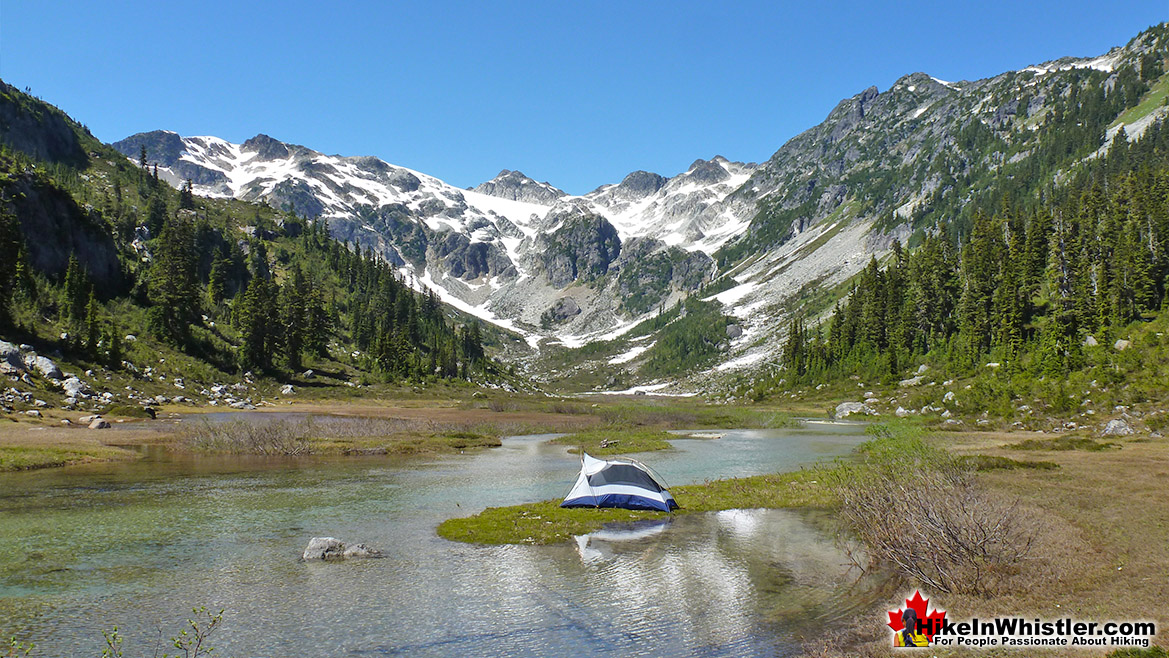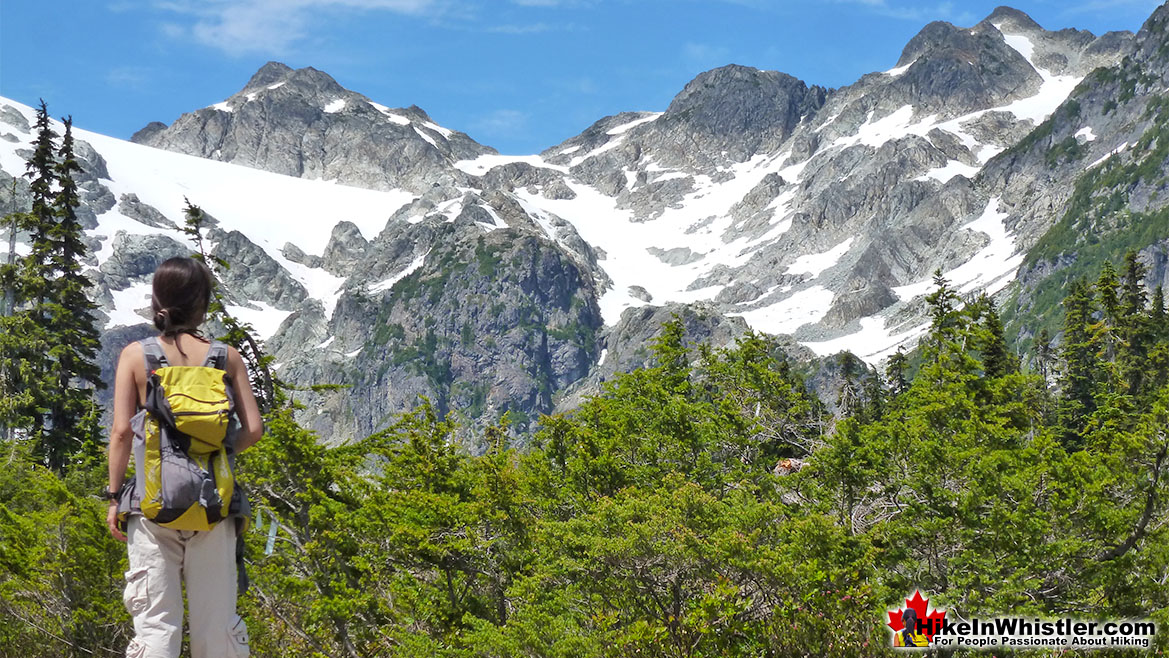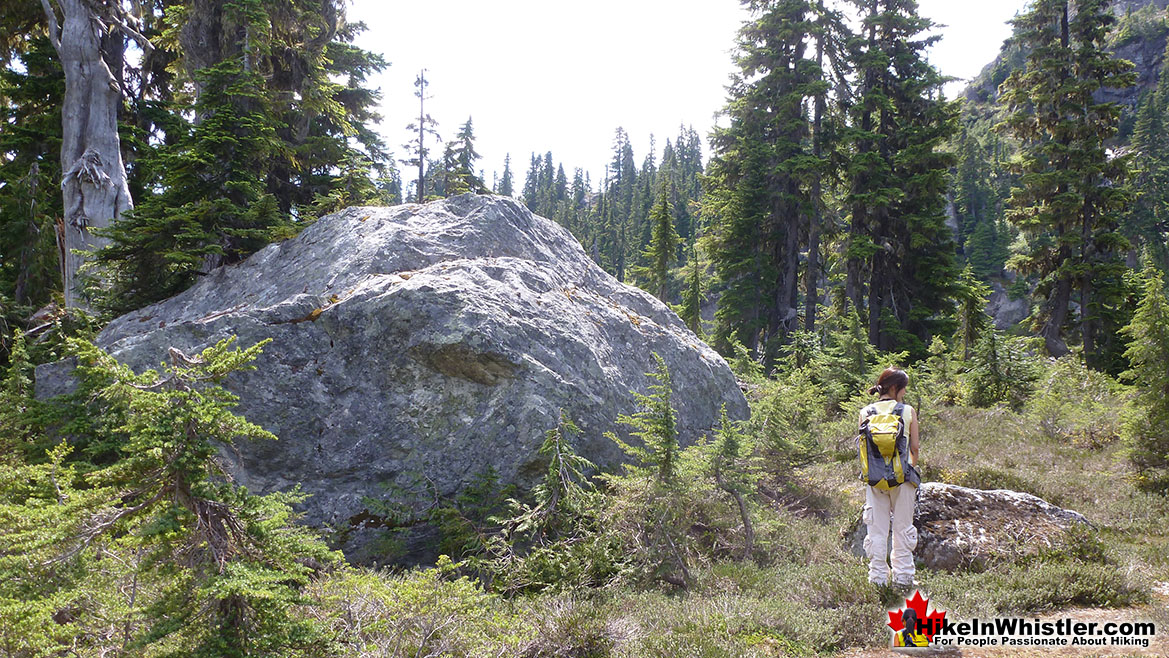 The Challenging Brandywine Meadows Trail
Bundles of orange poles for marking the snowmobile route are sometimes left behind or lost in the snow. Occasionally you stumble across a very out of place looking piece of snowmobile that was lost months before when the area was under metres of snow. The Brandywine Meadows hike is consistently very steep for the first two kilometres. It is at times scenic though, despite being in very deep forest. The trail runs parallel to Brandywine Creek, which is steeply flowing, very loud and quite beautiful at various vantage points. After two kilometres on the Brandywine Meadows trail, the elevation gain levels off and you catch several alpine mountain peaks through the trees. And finally reaching the meadows, the amazing valley stretches into the distance, ending at the formidable mountains. In that grey and white mass of mountain peaks in the distance you will see Brandywine Mountain.  A visible and well worn trail skirts the right edge of the valley leading to the rocky slopes that lead you to Brandywine Mountain. The trail, of course, gives way to the mess of boulders and erratics that make the beautiful, flower filled meadows below look all the more serene.  The mountains in the area, including Brandywine are hikeable, though the trails, if any are faint and unmarked. There are no camping facilities in Brandywine Meadows, however, the seemingly endless valley offers plenty of tent sites.
Hard to Rate Brandywine Meadows

Brandywine Meadows is probably the most difficult hike in Whistler and Garibaldi Park to put a rating to. We give it a 7 out of 10, however that number sways in different directions for almost every hiker. The trail is a fairly steep and exhausting, but short. The meadows are located in quite a dramatically beautiful valley, which at times looks impossibly beautiful. The stark grey mountains ascending up to snowy peaks. The grassy valley is often a bright green contrasting with the perfectly clear water flowing into a big pool before descending down the valley. One person may go to Brandywine Meadows on a sunny day and find this paradise valley devoid of people, and if you are really lucky free from mosquitoes. Usually late August and early September the biting insects disappear. On a day like this, one could put up a tent on a grassy patch of land inside a wide bend of the idyllic, glacier fed river. You'd have trouble rating Brandywine Meadows lower than perfect on a day like that.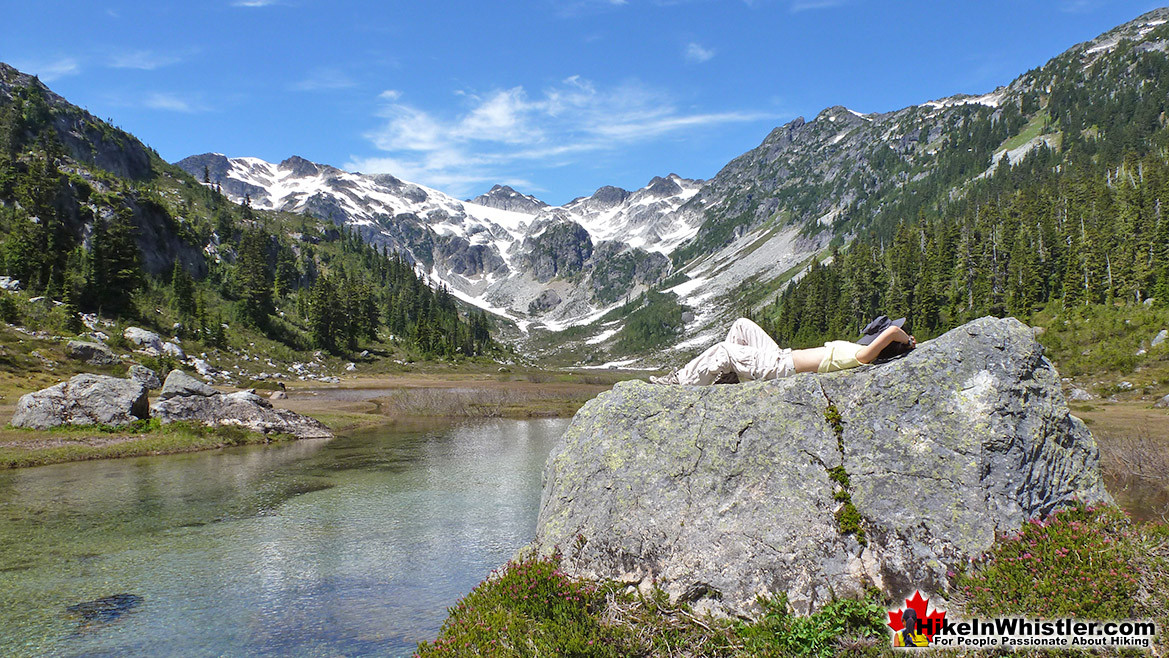 Alternatively, another hiker might find the meadows under a blanket of cold, dark clouds. Pouring rain, cold mountain air, and mosquitoes everywhere. This person may give the hike a pretty low rating. Compared to the extraordinary turquoise of Garibaldi Lake, or the raw beauty of Wedgemount Lake, with its glacier filling an entire valley. Brandywine Meadows is not as readily photogenic. Even on an ugly day, Garibaldi Lake is remarkably beautiful. On a stormy day, Wedgemount Lake is majestically beautiful with its truck sized boulders surrounding your tent and clouds curling around the various mountain peaks above. On a rainy day in Brandywine Meadows, the colours dim and the valley looms dark and foreboding.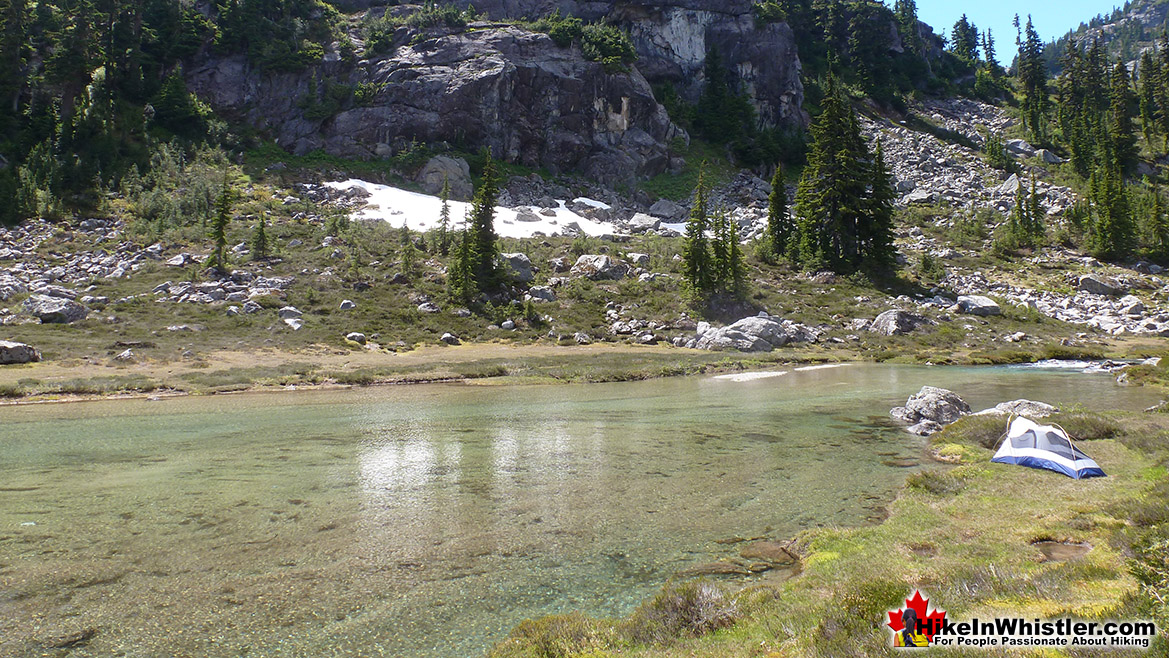 Unique and Amazing Brandywine Meadows
Still Brandywine Meadows has a lot of aspects that make it unique and amazing. The snowmobile hut is a weird little oasis near the end of a brutally challenging stretch of logging road. The road is steep, narrow, strewn with basketball sized boulders and several bad washouts. A good 4x4 like a Jeep Grand Cherokee will have little difficulty getting up to the hut. It sits at the edge of a cliff, and has windows that face out to a beautiful, all forest and mountain peaks view. There are tables, a wood stove as well as a ladder up to a roomy loft with lots of room to sleep. A great spot to ride out a storm, or as a base for the Brandywine Meadows hike that is about a kilometre shorter from here than the main trailhead. There is an old logging road that you hike to join the main trail. It looks drivable from the hut, however gets very bad, very quickly with washouts too deep for most 4x4's.
Tranquil Beauty of Brandywine Meadows
The tranquil beauty of Brandywine Meadows is another wonderful feature. Little sign of humanity, aside from a faint trail that ascends up the valley towards Brandywine Mountain. The trail cuts straight along the side of the valley for a while before winding through some boulder areas where the crashing water is impressively loud and chaotic. If mosquitoes are bothering you in the meadows, hiking up the valley here often finds you clear of them. The wind tends to pick up and the air is a bit colder, driving annoying bugs away. Near the top of the valley you will spot a few nice spots among the giant erratics, to put up a tent. Up at the head of this huge valley you will find rushing, glacier water and a vantage point down Brandywine Meadows and the distant and ominously huge Mount Garibaldi. Camping here is also quite a distance closer to Brandywine Mountain than the meadows down below.  From up here the trail fades away and you have to follow a fairly easy, unmarked route into the high alpine on the way to the summit.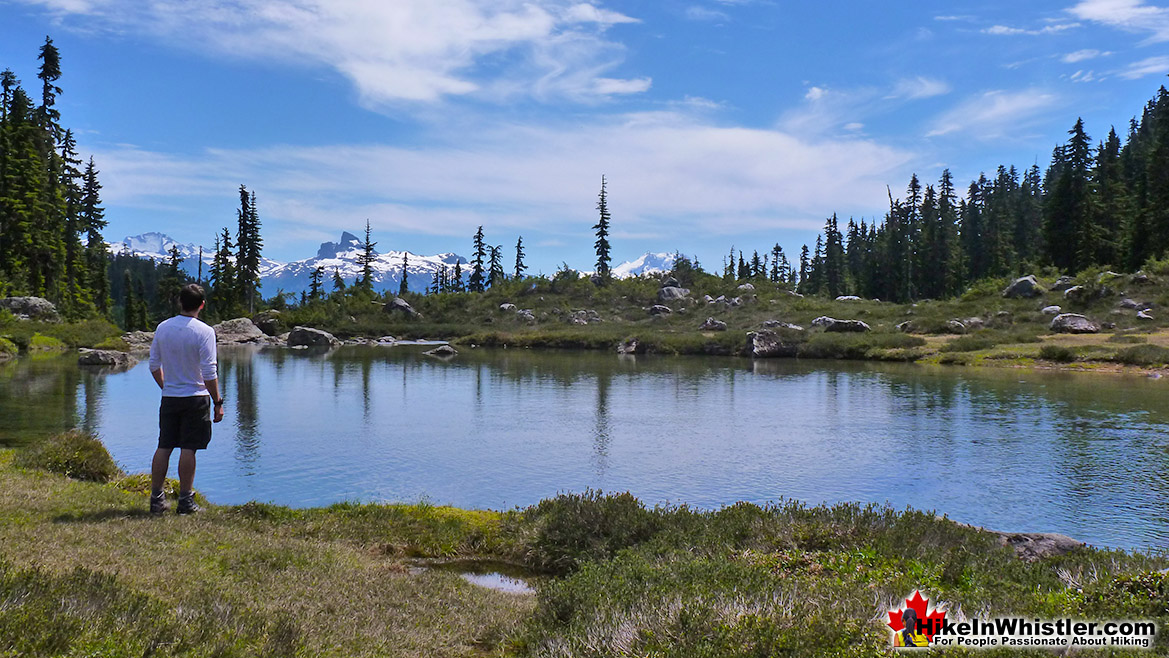 There is even a draw at Brandywine Meadows for those who love geology. Mount Cayley, a dormant volcano that theoretically could come back to life at any moment, is one of the neighbouring mountains. Some old timers and geologists will tell you on the Whistler Gondola that they always cast their eyes toward Mount Cayley to look for a gasp of life in the form of a wispy white cloud emerging from its snowy sides. It is one of only eleven known Canadian volcanoes with recent seismic activity. There are even a few "warm springs" in the mountains above Brandywine Meadows. Extremely hard to find, one warm spring is supposedly located up Brandywine Creek as it ascends toward Mount Fee.
Brandywine Meadows Trail Map
Brandywine Meadows is very remote and wild by comparison to other Whistler hiking trails, so there are few direction signs.  Even the trailhead sign is easily missed and the parking lot area is difficult for most vehicles to get to. Make sure you have this map memorized, saved to your phone or printed. Getting lost on the way to a trailhead can make for a late and frustrating start.  If you have a good 4x4 with high clearance, you should take the very challenging 4x4 road to the snowmobile hut and start at the trailhead there.  It is much shorter, much easier, and the snowmobile hut is a pretty nice pit-stop or place to camp overnight.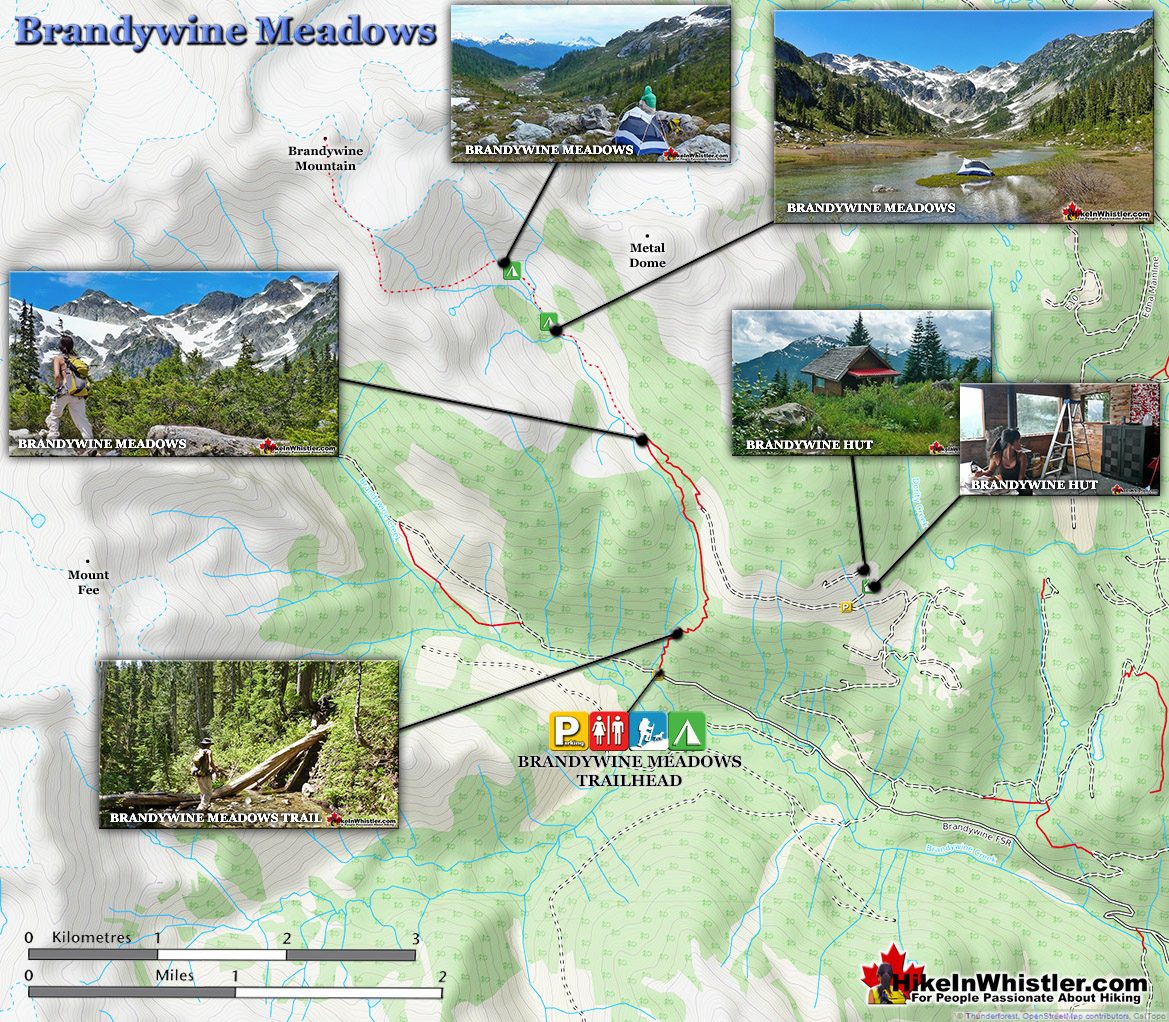 History of Brandywine Meadows

Brandywine Meadows, Brandywine Mountain and Brandywine Falls share the same interesting name that remarkably has its origin in a wager a long time ago. The origin of the name for Brandywine Falls is suspected to have come from a wager by two surveyors. Legend has it that Jack Nelson and Bob Mollison, working for the Howe Sound and Northern Railway made a wager for a bottle of brandy for who could guess the height of the impressively abrupt waterfalls that pour into Daisy Lake. Measured by a chain, Mollison won the wager and bottle of brandy and Nelson named the falls Brandywine.
Camping at Brandywine Meadows


If you plan on camping before mid July, you will likely encounter snow as the valley is snow filled until mid summer most years.  The meadows are somewhat notorious for mosquitoes so bring lots of mosquito repellent to avoid the swarms. September and even October are possibly the best months to explore Brandywine Meadows.  No snow, bugs or hikers to take away from the wonderful solitude of this great spot in the Callaghan Valley. As the Callaghan Valley is outside of Garibaldi Provincial Park, dogs a welcome in Brandywine Meadows. There are no set campsites in Brandywine Meadows, which is a good thing. It keeps the area wild and beautiful. There are lots of amazing spots for a tent down by the small lake or at several places along the gorgeous river. Along the impossibly idyllic river there are lots of grassy areas on the wide bends in the beautifully clear glacier water. Further up towards Brandywine Mountain the terrain is erratic and rocky, but finding a tent site is still quite easy. Just keep walking up the valley until you spot a nice flat area. There are a few good areas like this easy to locate.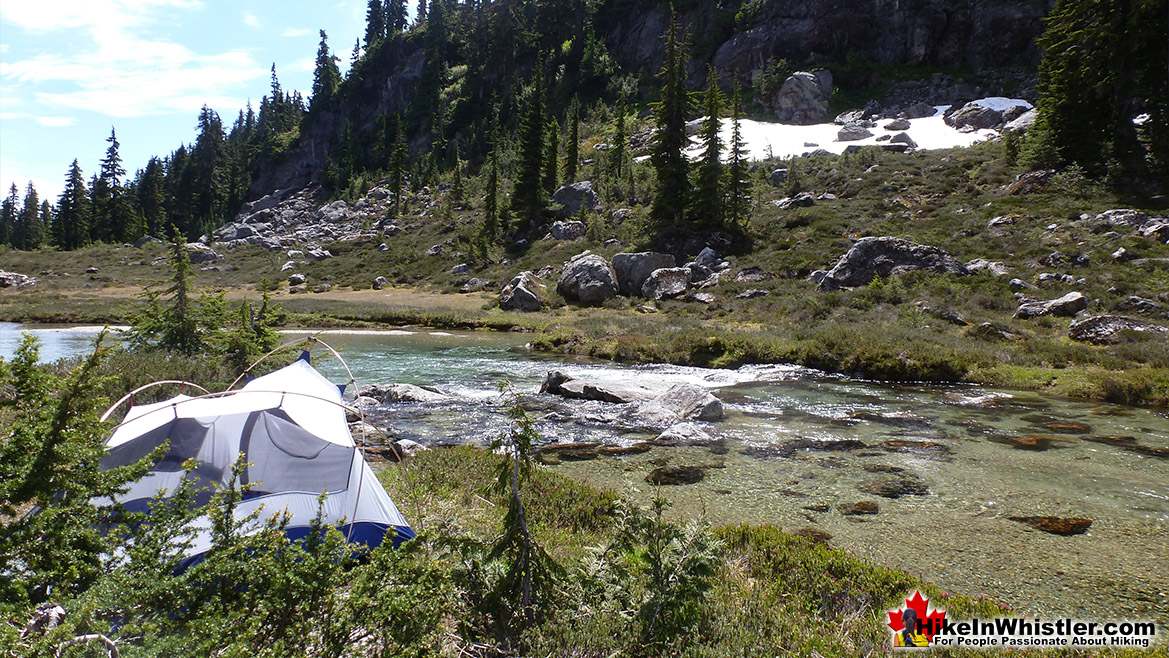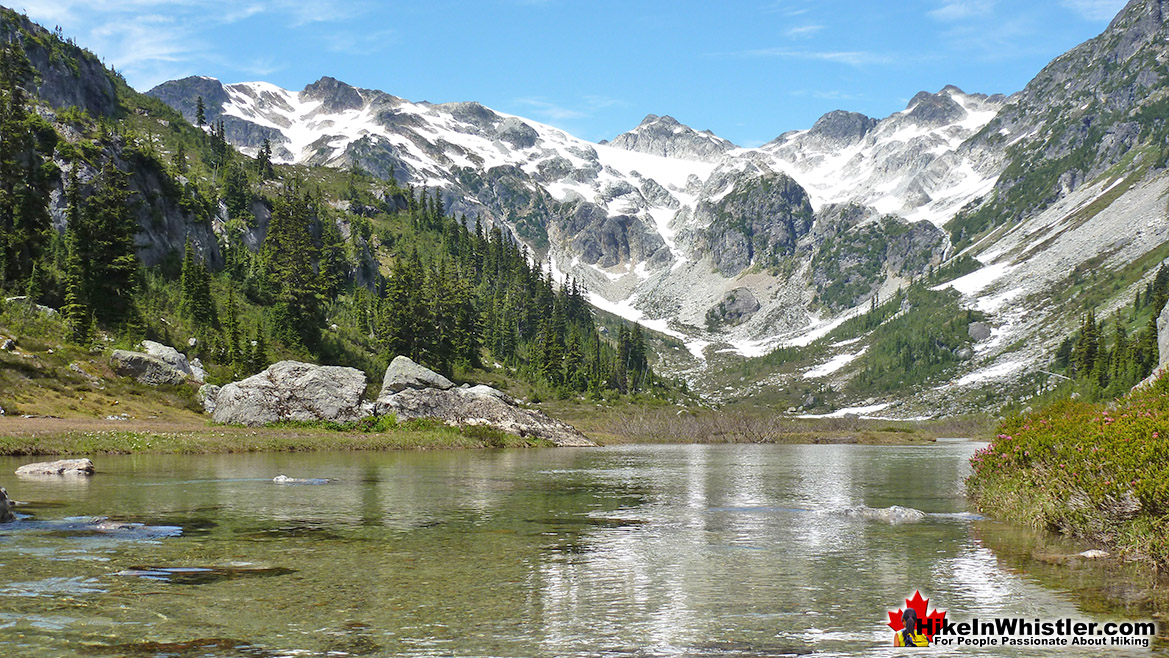 Facilities at Brandywine Meadows

There is one outhouse at the trailhead to Brandywine Meadows and none along the trail or at the destination. Water sources are plentiful and you area rarely more than 50 metres from a pristine freshwater stream. The lack of facilities is common on this side of the valley. The Callaghan Valley is slowly increasing in popularity and slowly getting new trails and facilities. One of the aspects of Brandywine Meadows that makes it special is the lack of facilities. There is little to distract you from the picture-perfect alpine scenery. No outhouses, not huge signs, and no prohibitions. Just a wild and beautiful place hidden up in the mountains of Callaghan Valley.
Restrictions and Concerns at Brandywine Meadows

Brandywine Meadows is well off the grid and aside from the blanket ban on fires, you are free to do most anything. The area is dog friendly and you even see ATV's on the logging roads in the area. The whole Callaghan Valley is popular with ATV's and the tour operators are very considerate when they encounter hikers. Often stopping completely as you pass by. ATV's don't venture up the Brandywine Meadows trail or up to the Meadows, which is a very good thing as they would chew up the marvellous grassy terrain in the Meadows. The hut was put up by snowmobilers and once in a while you see a lock on the door.. or a recently broken off lock. Depending on who you talk to opinions on mountain huts seem to vary. You often hear that huts on Crown Land cannot be owned unless some special land use permit is granted. Therefore must be made available to everyone, otherwise people would put up huts everywhere and claim them as their property. Others will tell you that mountain huts have to be accessible in times of emergency and therefore unlocked. What can be said for certain is that someone built an amazing little oasis in the mountains near Brandywine Meadows. Causing any damage, leaving garbage, or abusing the hut in any way would be a horrible violation of something beautiful.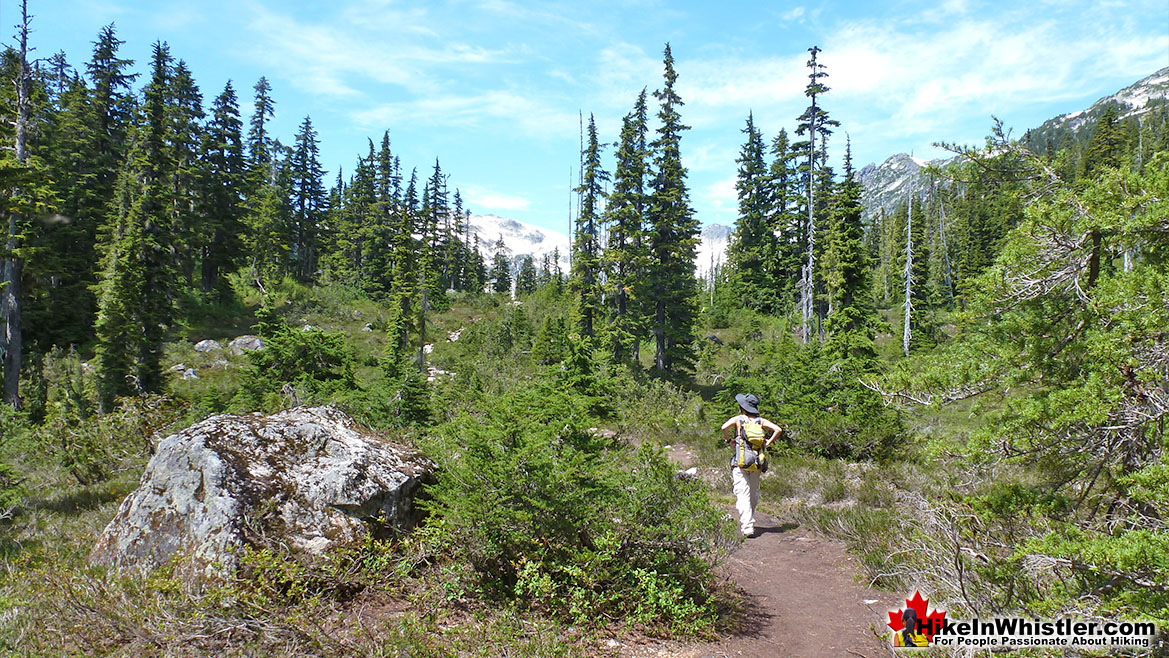 Wildlife at Brandywine Meadows

Wildlife in the Callaghan Valley is fantastically varied. Owing to the fact that it lays on the quieter side of Whistler and its location in an extensive wilderness, means few BC animals don't live here. If you take a look at Brandywine Meadows on Google Earth, and zoom out, you see the vast wilderness stretching to the ocean. Because of this, you are far more likely to encounter a grizzly bear at Brandywine Meadows, than at Garibaldi Lake, for example. The good news(or bad news) is that you are still not likely to see one. Grizzly bear encounters are so rare in and around Whistler and surrounding mountains, that most years only see a distant snapshot of a grizzly taken by an excited tour guide or lucky hiker. The problem with rarely seeing grizzlies, is that you forget they are out there. Grizzles are far more dangerous than black bears. Black bears are extremely retiring and Whistler has never had an unprovoked bear attack, ever. Every couple years someone comes home to find a bear found their way into their house and frightened, charges and claws them as they escape. Grizzlies on the other hand, are much more likely to become aggressive when encountering humans. Though you will likely never encounter a grizzly at Brandywine Meadows, you will likely see a black bear. Often one crosses your path on the drive up, and less frequently you see on on the trail or at the Meadows. Other animals that roam this vast wilderness, yet are rarely spotted are wolverines, moose, mountain goats, bobcats, coyotes, minks, and somewhat more often, black-tailed deer.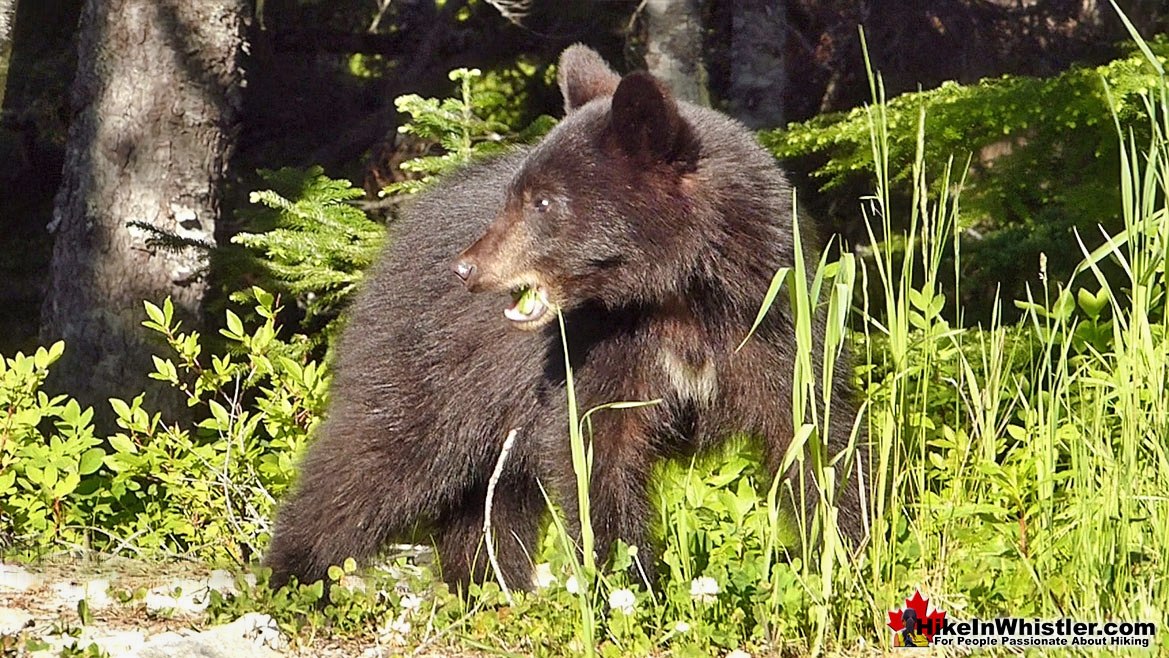 Parking & Trailhead Directions to Brandywine Meadows

There are two trails to Brandywine Meadows.  The regular, official trail is near the end of a very rough, though 2WD passable vehicle.  The shorter and more interesting route is at the end of a very dodgy 4x4 only ex-logging road.  Both routes are difficult to find due to infrequent signs after leaving paved roads.  Follow the signs that direct you to Brandywine Valley and "snowmobilers".  13.8 kilometres south of Whistler Village, on Highway 99, turn right at this sign: Brandywine Valley.  Turn left almost immediately at another sign for Brandywine Valley.  Drive down the road that passes to the left of the Waste Transfer Station.  Follow this road for about 1 kilometre as it passes through the very large snowmobile parking lot.  At the far end of this parking lot follow the gravel road to the right.  Follow this logging road for about 4 kilometres and you will come to a fork in the road. Continuing straight takes you to the official Brandywine Meadows trailhead in 2 kilometres. This 2 kilometre section of logging road quickly becomes 4x4 only as parts are very steep and the gravel road becomes a boulder road.  Your best bet is to drive as far as you can and park at the edge of the road and walk to the trailhead.  There are plenty of wide sections suitable for parking.  To go to the shorter, easier trailhead next to the snowmobile hut, turn right here, then left after you pass the large parking lot on your right.  This section of logging road to snowmobile hut is very bad and requires a good 4x4 vehicle due to several large washouts, many steep and boulder strewn sections.  If you do brave this section of road you will be rewarded by avoiding 2 kilometres of steep hiking from the normal trailhead. The section of road from the hut to the 2nd trailhead gets progressively worse.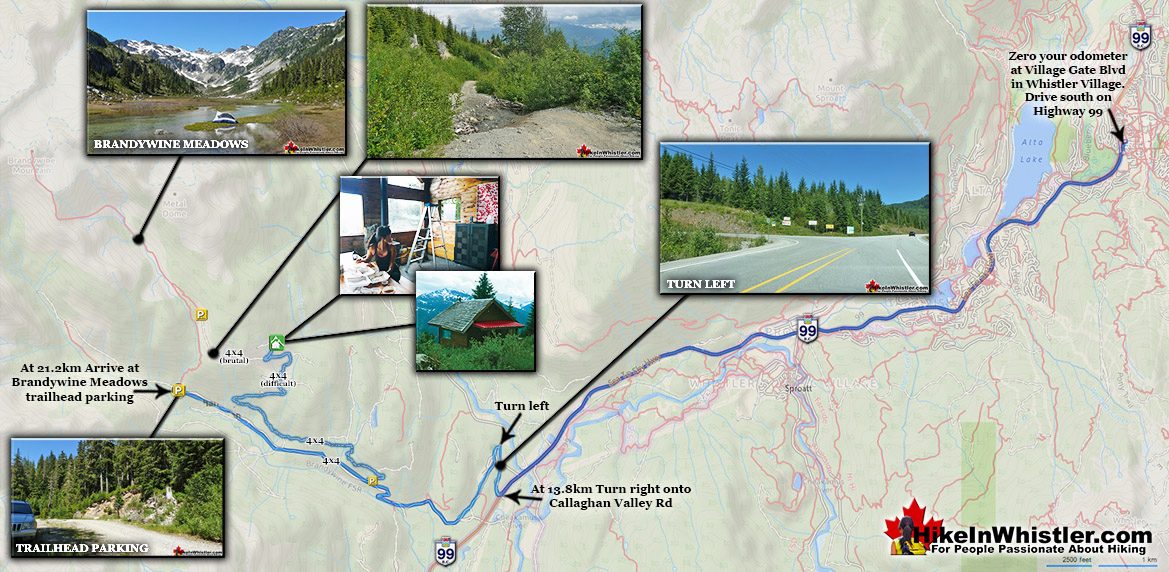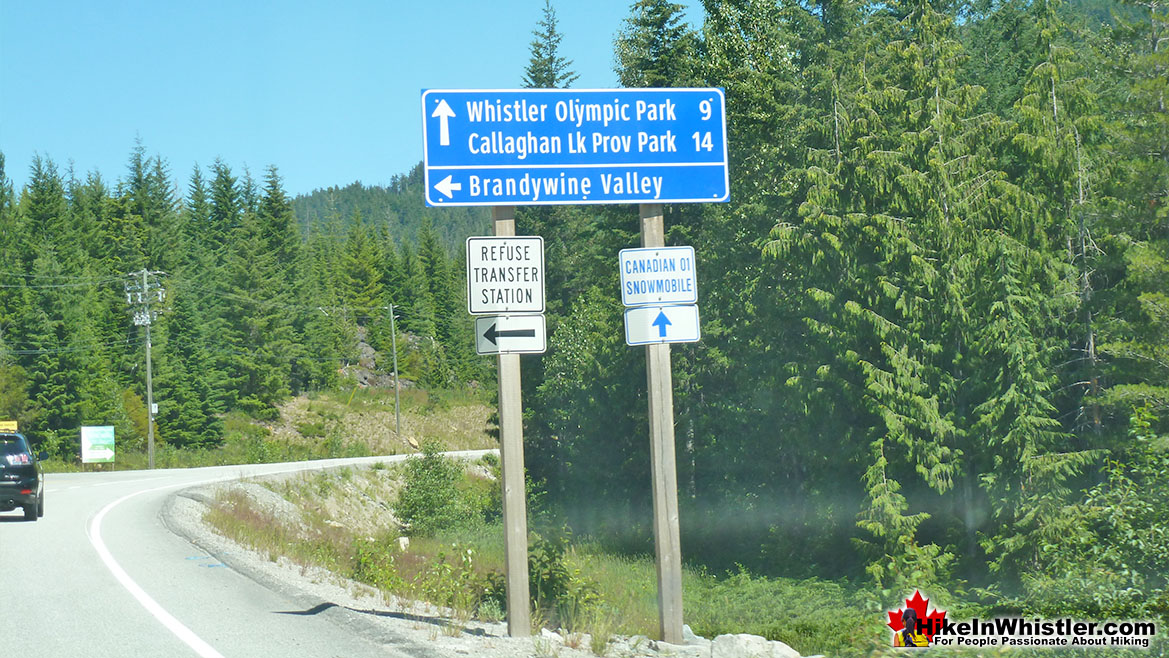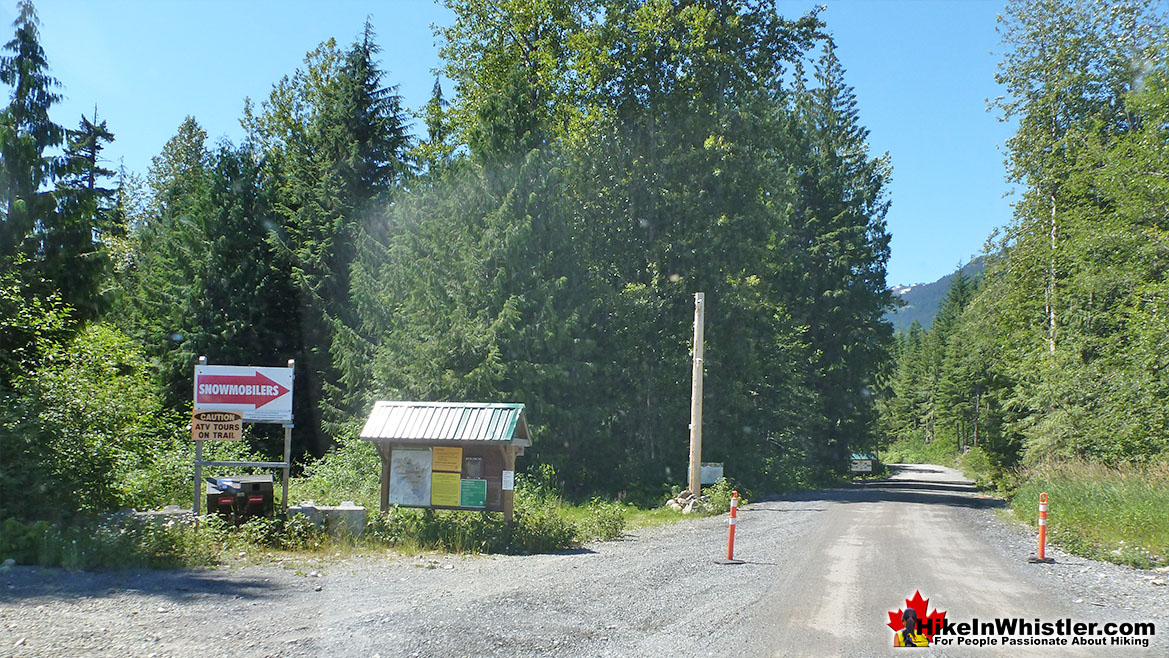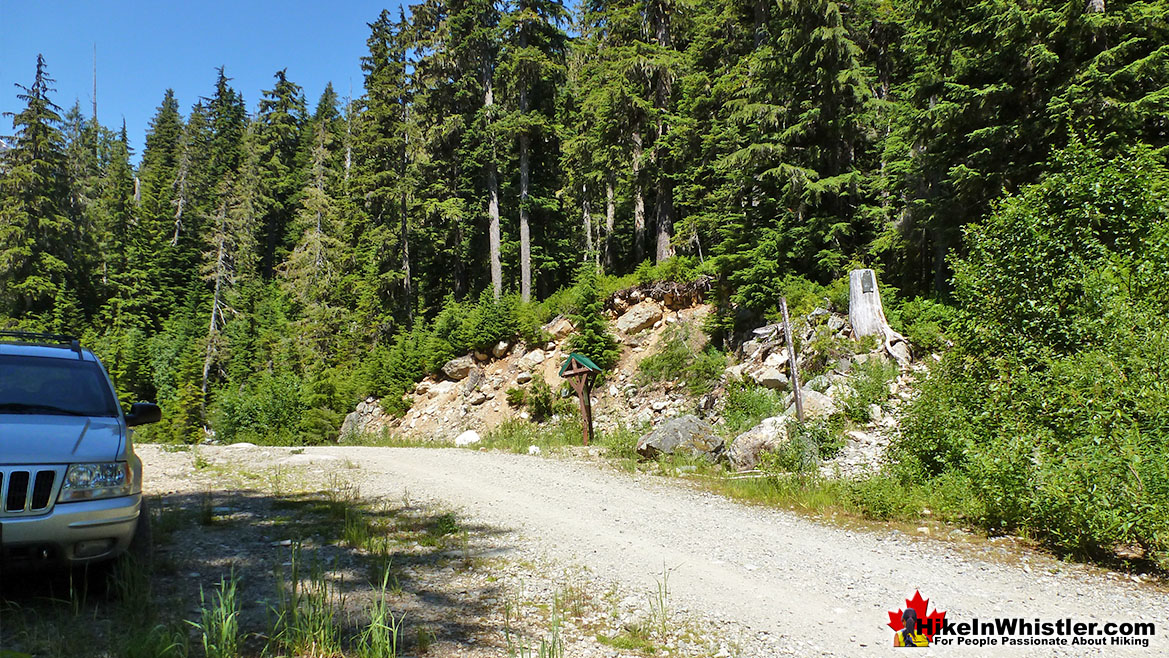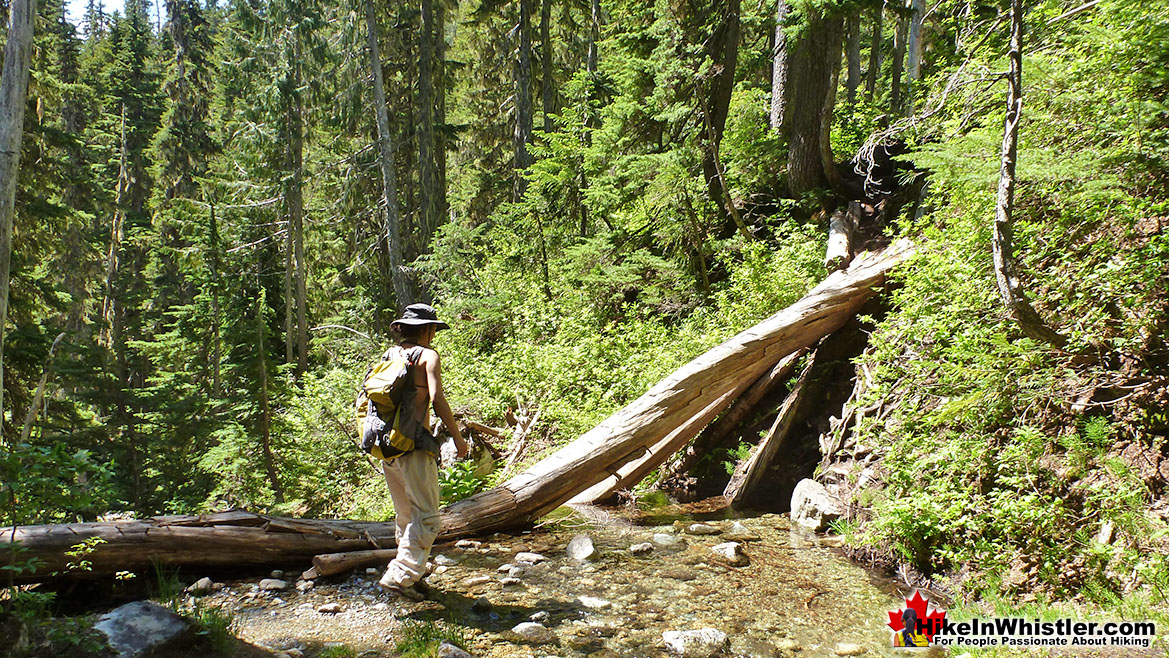 More Hiking Near Brandywine Meadows

The Callaghan Valley is home to some other great places to visit.  Further up Callaghan Valley Road you will come to Alexander Falls Provincial Park.  Just past the Alexander Falls parking lot on your left you will see a sign for Callaghan Lake Provincial Park. If you turn left here you can either drive straight up a very bad logging road for 8.5 kilometres to Callaghan Lake. Callaghan Lake Provincial Park has only a couple short trails and one spectacular trail at the far end of the lake.  The Cirque Lake trail ascends steeply from the far end of Callaghan Lake and takes you to paradise! Cirque Lake is found at the end of a very steep, but short 2 kilometre trail.  Well worth the hike, but you have to have a canoe/kayak to get to the trailhead.  If you don't have a boat to get to the Cirque Lake trailhead, but you want a quick look at a very pretty mountain lake, you have another excellent option from Callaghan Lake.  Ring Lake is found at the end of a challenging 10 kilometre trail that begins just 300 metres from the Callaghan Lake campsite.  The Callaghan Valley is home to several amazing mountain lakes and Madeley Lake is another one of them.  Located near the start of the 8.5 kilometre logging road that brought you to Callaghan Lake, Madeley Lake is just a 15 minute drive up past Whistler Olympic Park. On a sunny summer day, few places in Whistler are more serene and beautiful than Madeley Lake. A short trail from the end of the road, behind the lake takes you down to a lovely and sunny shore of this crystal clear lake. It is also a free campground that is very nice. Both the road to Callaghan Lake and Madeley Lake have deteriorated substantially in recent years so the deep waterbars may prevent your car from getting to either place.  Despite the horrible access roads, you still find regular, low clearance, non-4x4 cars at both lakes. Yet another beautiful place to visit in Callaghan Valley is Northair Mine. Just a couple minutes drive down from Alexander Falls, you will see the turnoff for Northair Mine. This old abandoned gold mine is a very interesting place to see, though you will likely need a 4x4 to get up the increasingly deteriorating forest service road.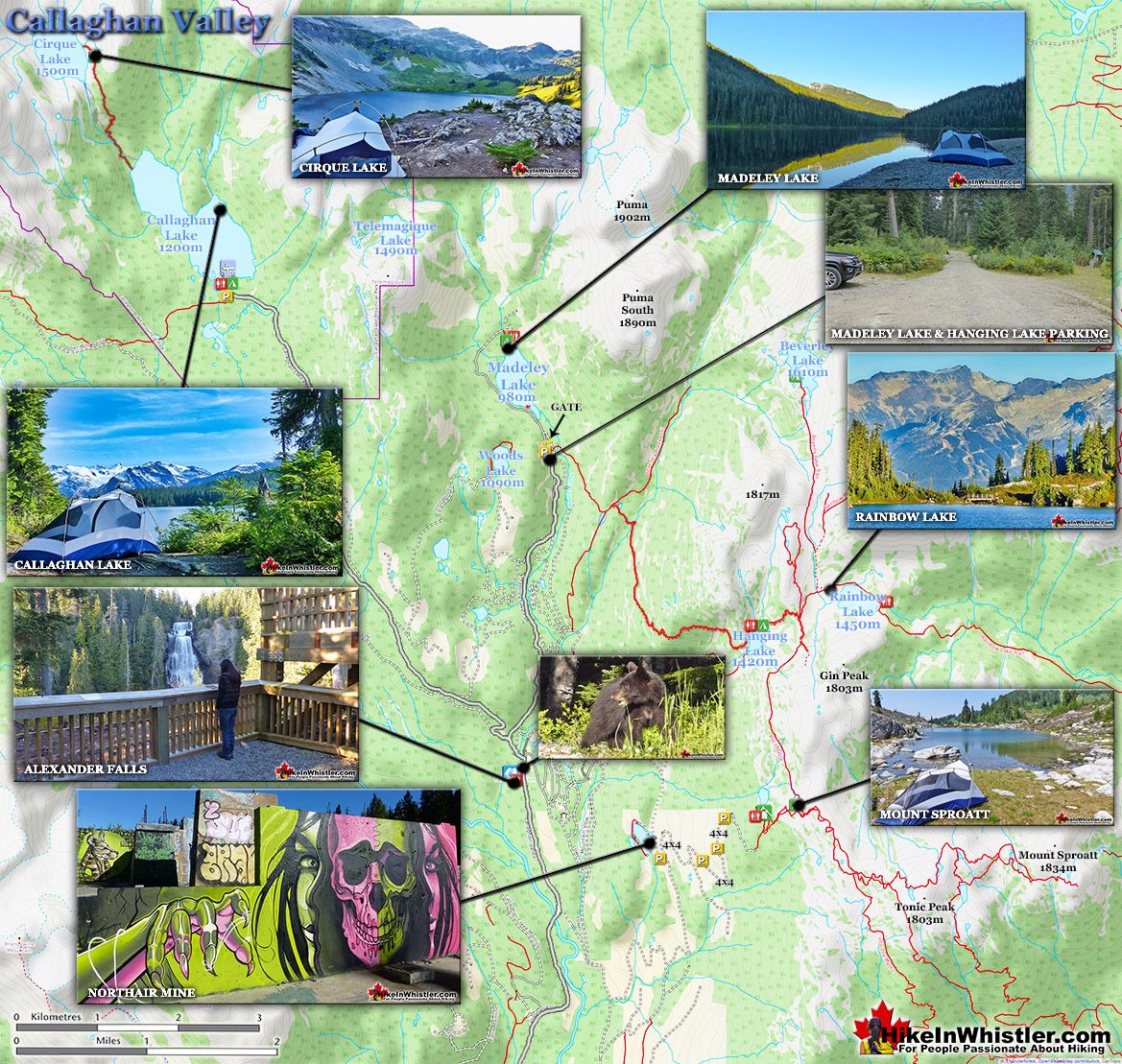 Alexander Falls Near Brandywine Meadows

Alexander Falls is a very impressive 43 metre/141 foot waterfall just 30 to 40 minutes south of Whistler in the Callaghan Valley. Open year-round and located just before Whistler Olympic Park where several of the 2010 Olympic events were held. There is a nice viewing platform on the edge of the cliff across from the falls which crash fantastically into the valley below.  The parking area and viewing platform at Alexander Falls is one big area just 40 metres from the main road, just before Whistler Olympic Park.  The adventurous can find the obscure trail that leads to both the top of the falls as well as, with great difficulty, to the base of the falls.  Alexander Falls is certainly one of the nicest spots for a picnic in Whistler.  The picnic areas are numerous, the surrounding forest is gorgeous and wild and Alexander Falls crashes loud and beautiful in the background.  Continued here...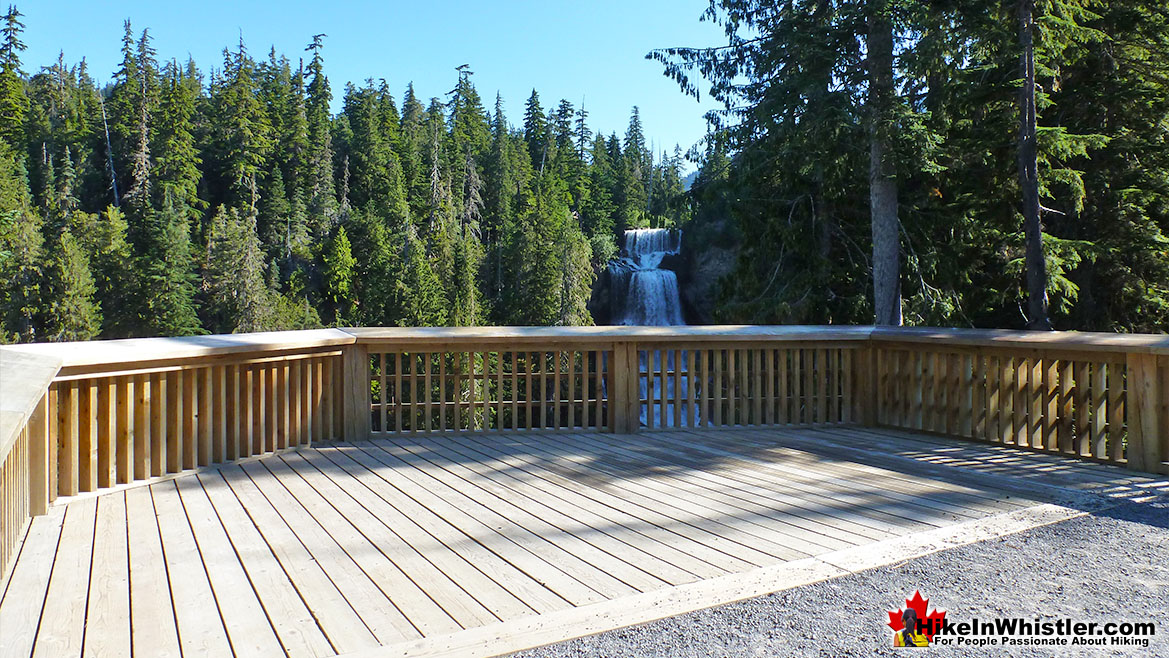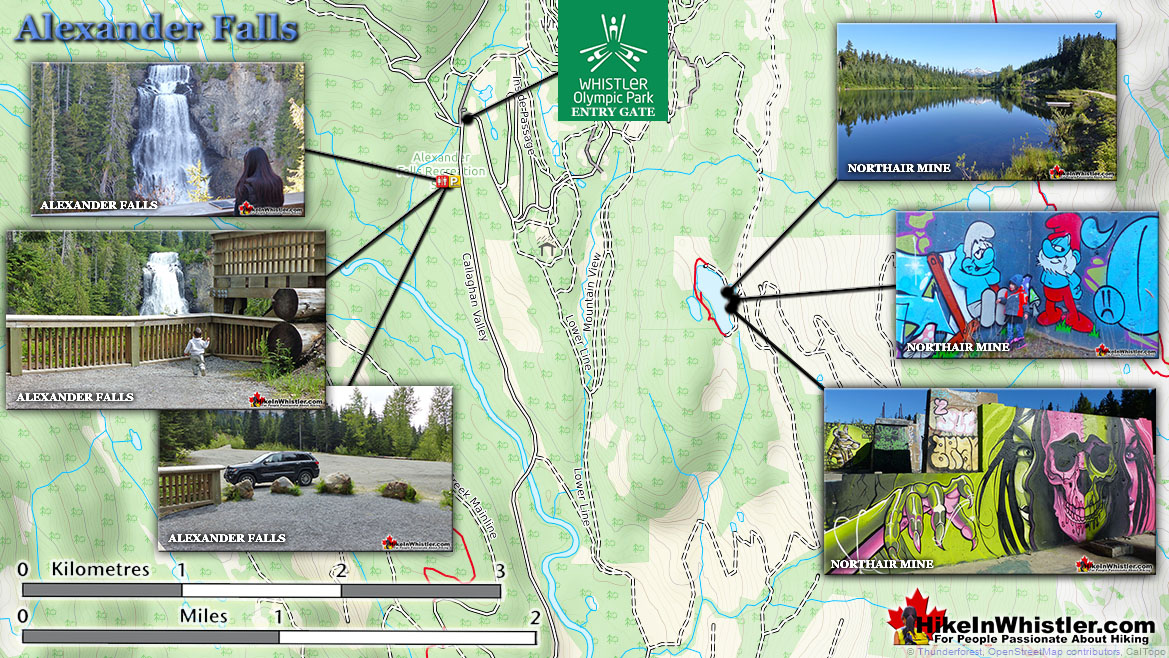 Callaghan Lake Near Brandywine Meadows

Callaghan Lake Provincial Park is a relatively untouched wilderness of rugged mountainous terrain. The valley walls were formed by relatively recent glaciation. Evidence of this can be seen in the considerable glacial till and slide materials visible across the lake. Around the lake you will see talus slopes, flat rock benches, cirques, hanging valleys, tarns, waterfalls and upland plateaus with bogs.  The wildlife that reside in the area include bobcats, cougars, coyotes, minks, wolverines, wolves, bears, deer, mountain goats and occasionally moose and grizzly bears.  Callaghan Lake is not really a hiking destination but more of a drive to campsite on a beautiful lake, and gateway to some beautiful intermediate hikes.  The campsite is small and looks a bit like a parking lot with about a dozen spots to put up a tent near your vehicle.  There is a small boat launch at the campsite and the lake is large and beautiful to paddle. Surrounded by snowy mountains and nice rock outcrops the lake is good for fishing.  The hiking trails are minimal here due to the steepness and deep forest surrounding the lake. From the main parking area some short trails extend in either direction.  Continued here...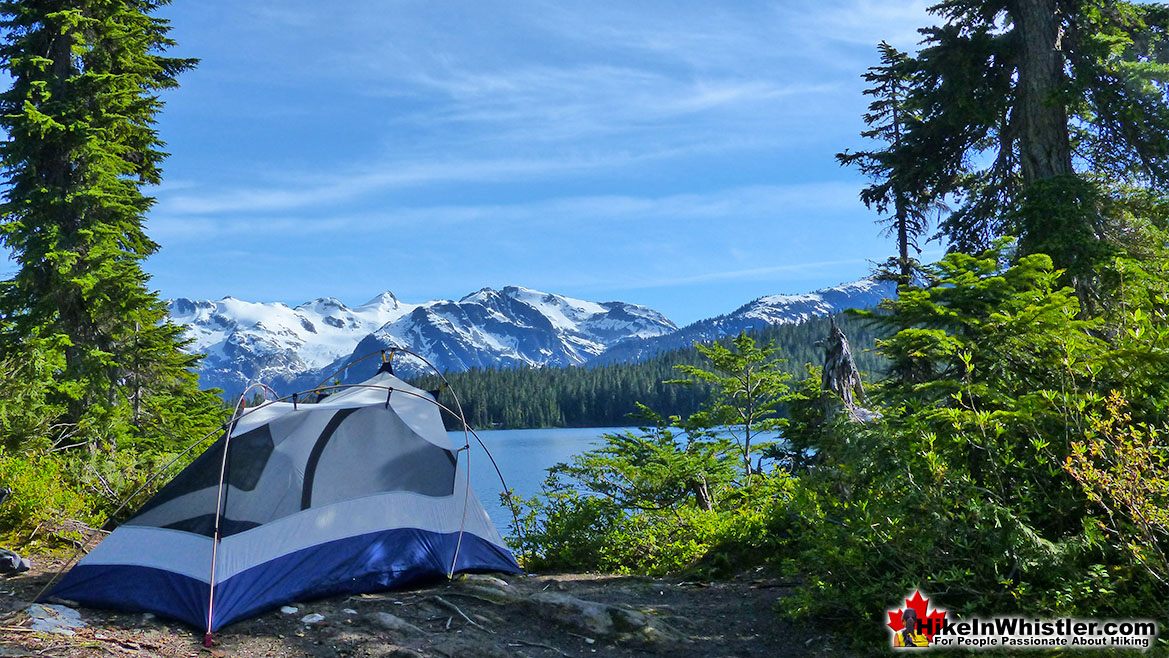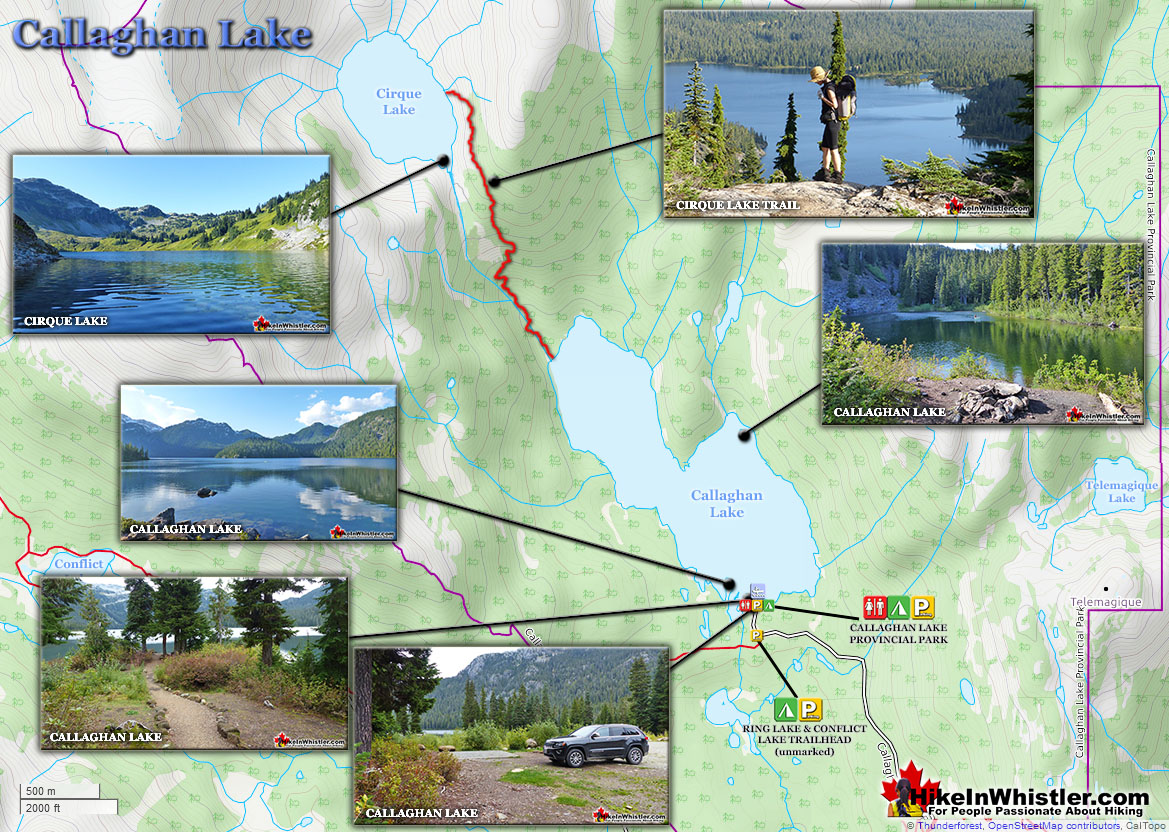 Cirque Lake Near Brandywine Meadows

Cirque Lake is a wild and beautiful lake that hides high above and beyond Callaghan Lake in Callaghan Lake Provincial Park.  What makes Cirque Lake special among the other sensationally beautiful lakes in the Whistler area is both its location and geologically formed shape.  It sits high above Callaghan Lake, which itself is a gorgeous, mountain lake.  The remoteness of Callaghan Lake is a bit of a mirage due to the fact that you can drive right to it!  Callaghan Lake is accessible via an 8 kilometre weather battered and very potholed forest service road. The entire road is cratered with deep potholes, cut by frequent cross-ditches, and more recently a small section collapsing into the valley below. This logging road begins high up in the Callaghan Valley, which itself is largely overlooked by travellers to Whistler. The Callaghan Valley is home to quite a few natural and man-made attractions. Brandywine Meadows, Alexander Falls, Northair Mine and Mount Sproatt are all found in the valley. Recently, the 2010 Olympic Games produced the largest man-made attraction in Callaghan Valley, Whistler Olympic Park. Though Cirque Lake is tremendously far into the wilderness, the amount of hiking required to reach it is effectively less than two kilometres.  Another two kilometres of canoeing is required to reach the trailhead at the far end of Callaghan Lake. But for such an enchantingly beautiful, mountain lake, the exertion to reach it is remarkably little. The other attribute of Cirque Lake that makes it special, is its cirque structure. From the moment you catch sight of Cirque Lake, the abruptly steep sides all around give you the humbling feeling that you are inside a volcano. A volcano filled with emerald water and ringed by grassy meadows and crumbling, near vertical cliffs. Where you stand, at the entrance to the cirque, is not far from the only water channel out of the cirque. An ever narrowing gap in the cliffs spills water down one cliff after another until reaching Callaghan Lake just 1.4 kilometres away.  Continued here...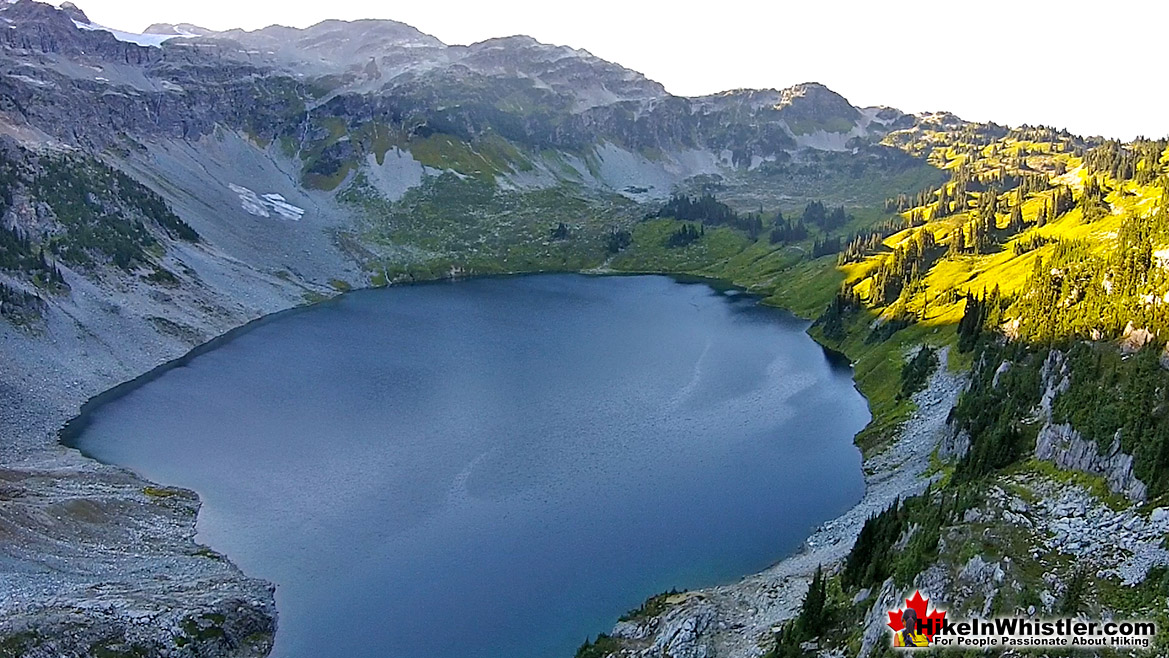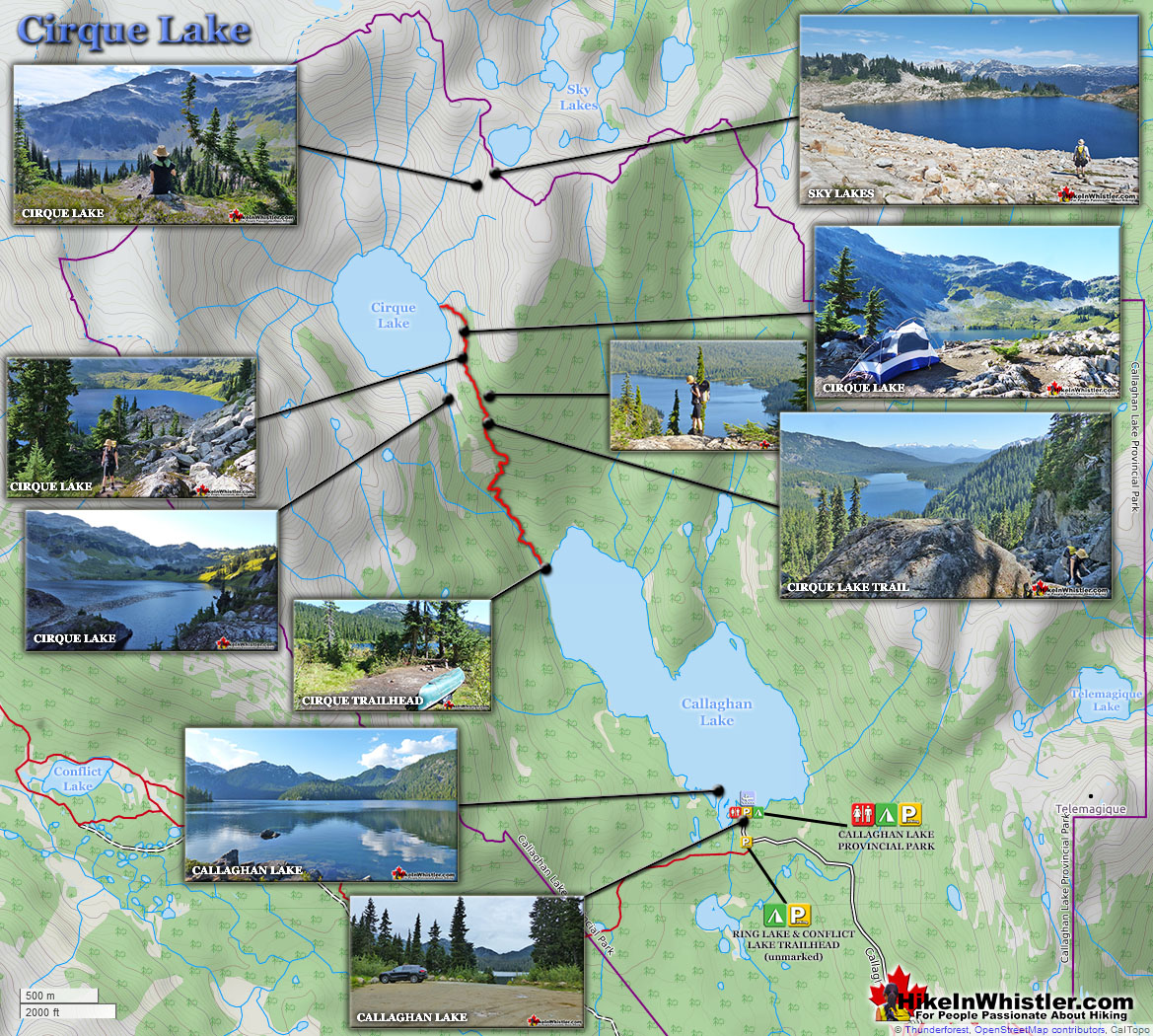 Ring Lake Near Brandywine Meadows

Ring Lake is a fantastically serene and wonderfully remote lake similar to Cirque Lake, but considerably farther to hike to reach it. The 10 kilometre(6.2 mile) hike takes you through a rarely hiked forest, then to an idyllic meadow filled with ponds and ringed with distant, mountains, then finally up an over some steep terrain to reveal this very hidden lake. 5 kilometres(3.1 miles) into the hike you come to Conflict Lake with trails running around it.  Journeyman Lodge sits near Conflict Lake. A wilderness lodge operated by Callaghan Country, a tour company that operates in the valley. They offer a range of alpine activities, far more serene than across the valley on Whistler Mountain and Blackcomb Mountain. Signs along the trail and at Conflict Lake indicate which trail to take to reach Ring Lake, a further 5 kilometres from Conflict Lake.  The trail from Conflict Lake to Ring Lake passes through a huge valley for a couple kilometres, then abruptly ascends on the right side of the valley. The trail is poorly marked in this section and you have to keep bearing right to avoid descending back into the valley. The trail is occasionally maintained, however owing to heavy winter snow, the trail gets pretty brutalized every winter.  Because of the winter destruction, the visible trail in some parts disappears and you find yourself wondering if you are still on your way to Ring Lake. The key to staying on the right route, you quickly figure out, is to keep to the right side of the valley. Three kilometres of, at times very steep, but not technical trail gets you to the magnificent Ring Lake and the imposing Ring Mountain across the emerald green water.  Continued here...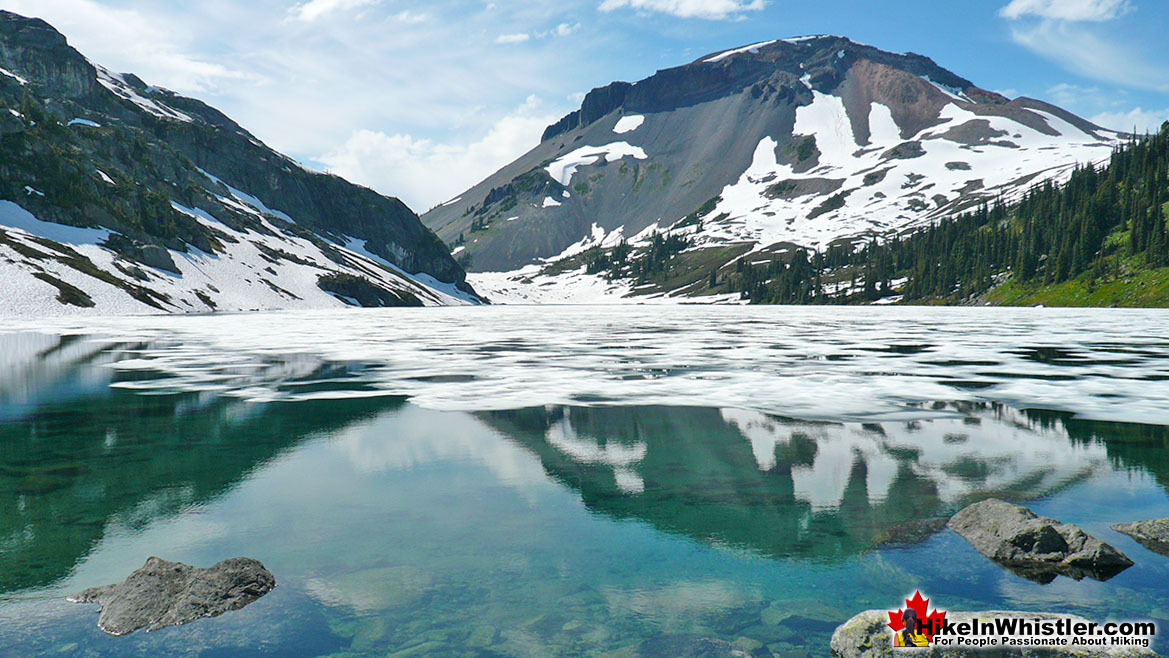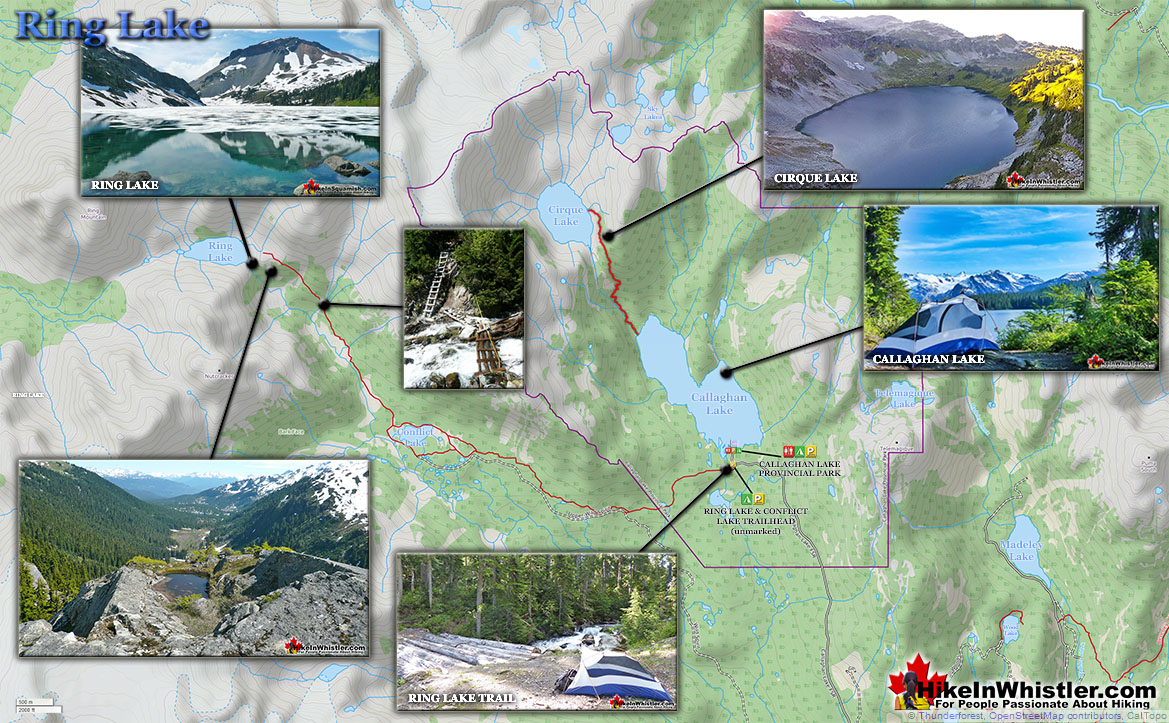 Rainbow Lake Near Brandywine Meadows

Rainbow Lake is one of the original hiking trails in Whistler that has existed well before Whistler was called Whistler. The 8 kilometre trail is challenging though beautiful as it passes through an impressively huge forest of giant trees. There are several wonderful bridge crossings and crashing river views. Rainbow Lake itself is surreal and beautiful.  An unnaturally bright, green meadow extends from one side of the lake and a field of starkly white erratics litter the landscape along the shores of the crystal clear lake. Rainbow Lake is Whistler's water source so swimming, fishing, dogs and camping are not allowed.  There are, you will quickly notice upon reaching Rainbow Lake, that a trail continues past the lake then forks.  If you hiked up from the Madeley Lake trail to Hanging Lake, Rainbow Lake is just a 20 minute hike past Hanging Lake.The Rainbow Trail is a convenient and popular trail near Whistler Village that takes you to Rainbow Lake as well as the Rainbow-Sproatt Flank Trail, Rainbow Falls, Hanging Lake, Madeley Lake, Beverley Lake, Rainbow Mountain... and even Whistler Olympic Park if you are determined.  It is a consistently uphill and very beautiful trail with several water (bridge) crossings and waterfalls on the way to the picture-perfect lake.  There are a few views of the valley across to Whistler Mountain, Blackcomb Mountain, and Wedge Mountain.  Few views, though fantastic.  Rainbow Lake itself is in a gorgeous alpine valley with branching trails that extend further beyond the lake in at least three directions.  Along with the waterfalls, bridge crossings and valley views, the Rainbow Trail passes through deep forest with some impressively huge trees.  Continued here...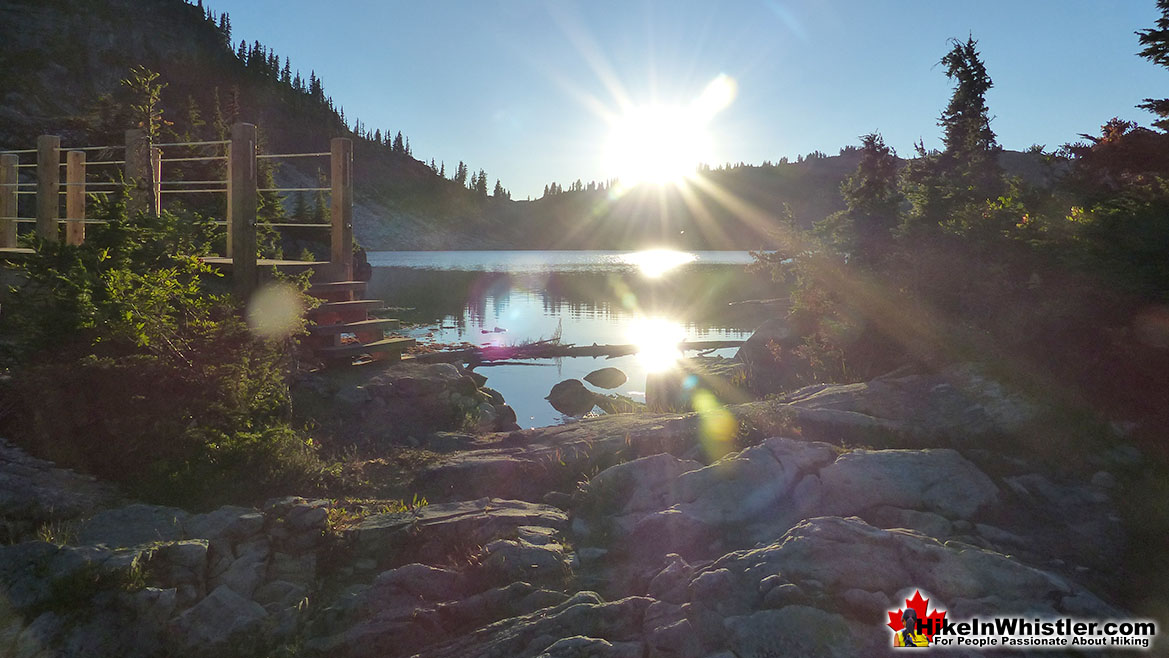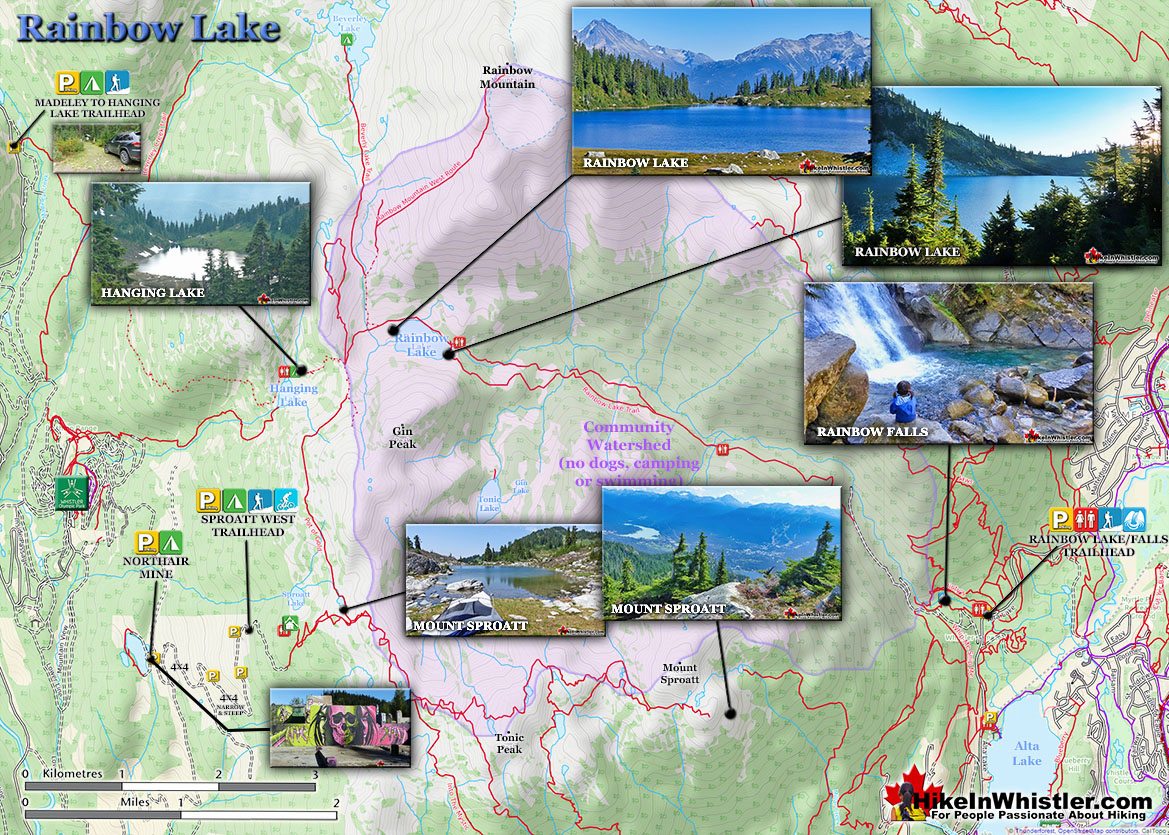 Northair Mine Near Brandywine Meadows

Northair Mine is a surreal little world of colourful murals on abandoned cement foundations, surrounded by an astoundingly tranquil little lake in a secluded forest.  Just a short logging road off of the Callaghan Valley Road takes you to this unusual little abandoned mine.  You would have driven by the turnoff if you have been to Whistler Olympic Park or Alexander Falls, both of which are just a couple kilometres away.  Northair Mine gets its name from the Vancouver based mining company the Northair Group.  The mine was in production from 1976 and extracted 5 tons of gold before being abandoned in 1982. Today it is a bizarre little world in the mountains that has become an incredible place to escape the world and camp out under the stars.  Northair Mine is tricky to find and even when you near it, the turnoff is not obvious.  The access road takes you high into the mountains and is only free of snow in May most years.  In 2016, for example, the snow melted enough for vehicle access during the first week in May.  Driving to Northair Mine is along a bumpy, potholed, old logging road drivable by most vehicles, though at least one deep washout may give even SUV's some difficulty.  Once Northair Mine comes into view it is quite a sight.  The area that surrounds the old ruins is unexpectedly huge.  About 2 kilometres long, edged by a cliff on one side and a beautiful lake on the other.  Graffiti art covers some of the cement pilings and scattered remnants indicate that this skeleton of a building has been home to its share of gatherings since being abandoned.  Whistler's cherished Flank Trail passes right by Northair Mine near its terminus at Whistler Olympic Park.  Although, the Rainbow-Sproatt Flank Trail effectively ends far south of the Northair Mine, it piggybacks on the logging road that extends up and past the mine.  With the massive construction that preceded the 2010 Olympics, the Callaghan Valley had a luxuriously wide, paved road built high up into the mountains here.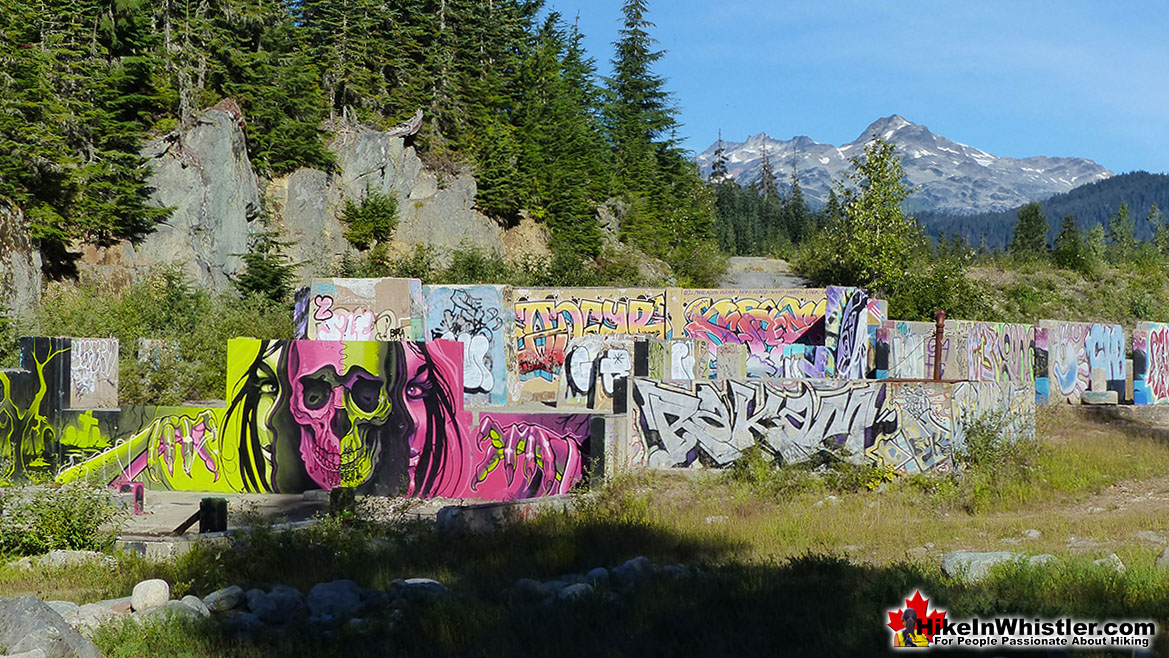 Northair Mine is located way up in the beautiful Callaghan Valley.  From Whistler Village, drive south on the Sea to Sky Highway for 13.8 kilometres and turn right onto Callaghan Valley Road.  Drive up into the Callaghan Valley for 7.6 kilometres and just after you cross the bridge over Callaghan Creek turn right onto the Callaghan Creek forest service road.  The gravel road is pretty good for the first couple kilometres until you make a sharp left turn and the road deteriorates quickly.  Still manageable by most vehicles, however there are a couple very deep waterbars that might surprise you.  Northair Mine is very close to, and on the way to one of the access trailheads to Mount Sproatt.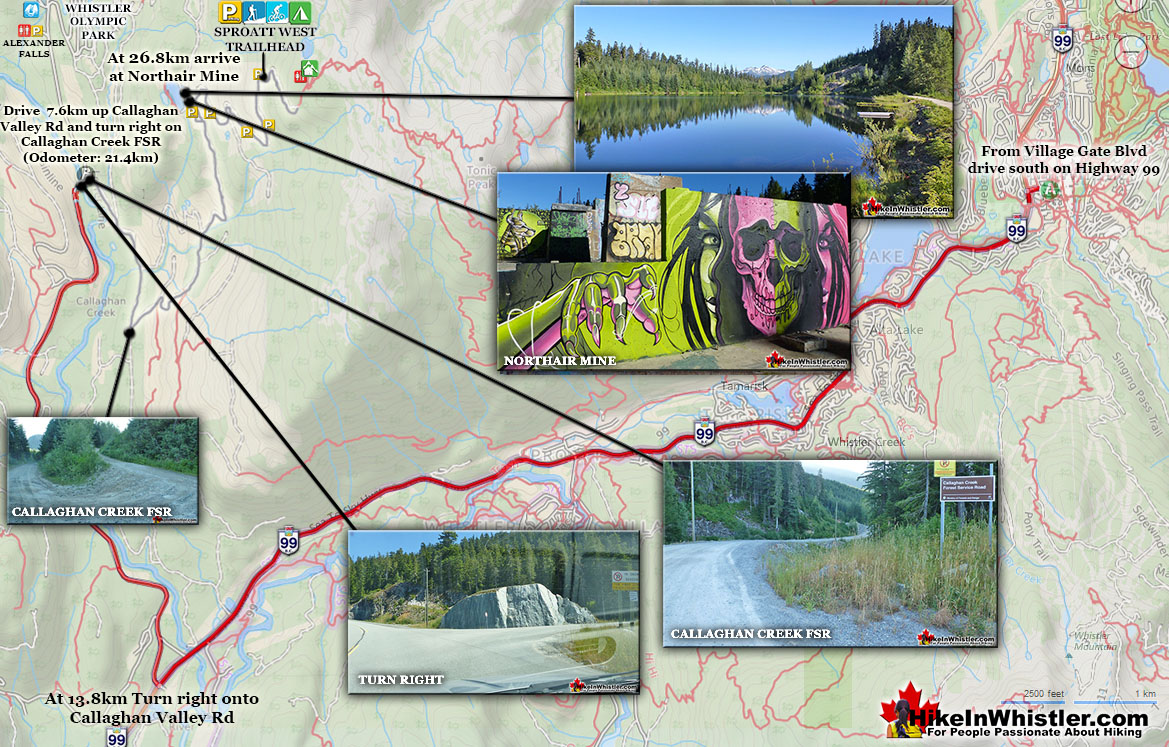 Mount Sproatt Near Brandywine Meadows

Mount Sproatt, or as it is known locally as just Sproatt, is one of the many towering mountains visible from Whistler Village. Above and beyond Alta Lake, directly across from Whistler Mountain and Blackcomb Mountain, you will see this quiet giant. Its unremarkable appearance hides the growing network of trails that stretch through some startlingly beautiful terrain.  Next time you walk through Whistler Village and cross the pedestrian bridge(with Village Gate Boulevard below you), you will see Mount Sproatt in the distance. It is the rocky giant, abruptly steep on one end and gently sloping on the other. At its summit you may be able to make out the small weather recording structure.  What you can't see from Whistler Village is the extraordinarily beautiful alpine paradise that lays beyond it. Lakes and tarns everywhere you look. Fields of alpine flowers and wonderfully mangled, yet strikingly beautiful forests of krummholz.  Hostile looking fields of boulders and absurdly placed erratics the size of RV's. Beyond, of course, endless stunning view of distant, snowy mountains. From the towering elevation of much of the Mount Sproatt hiking trail network, you often look across or even down on distant mountains.  Continued here...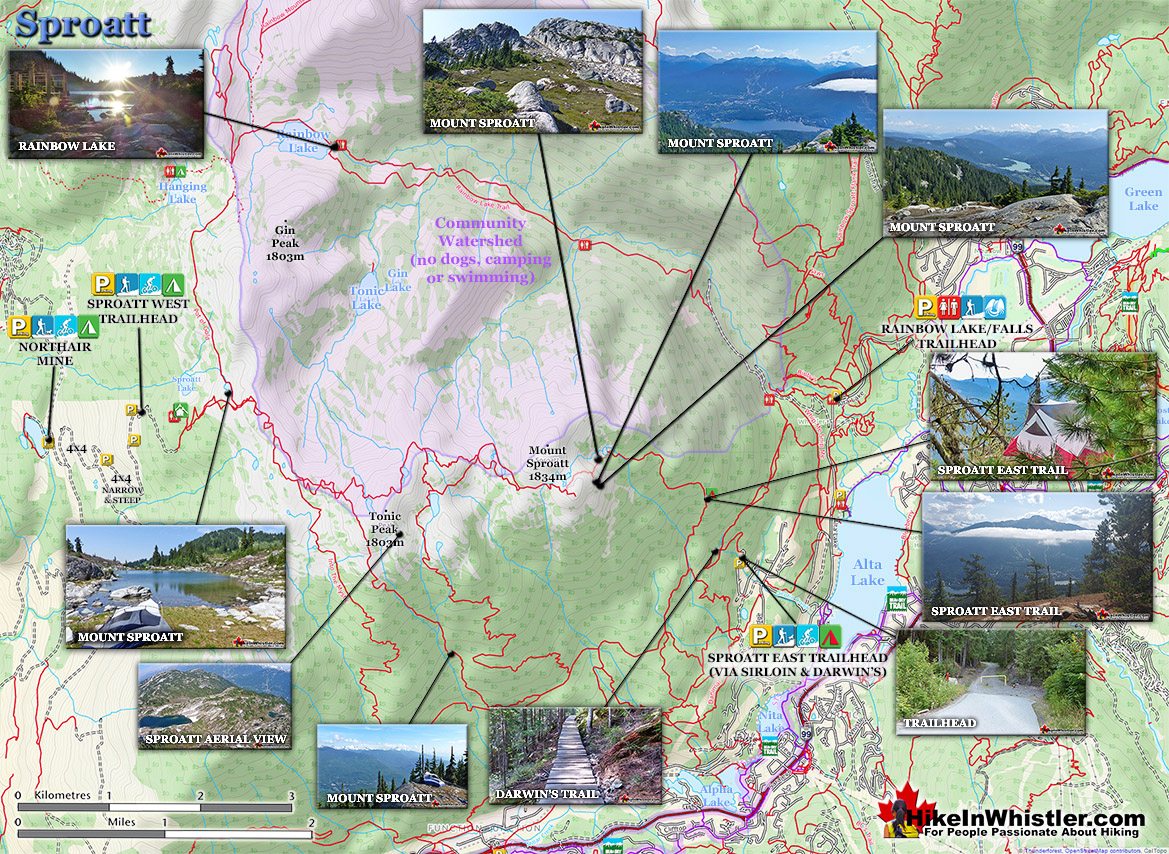 Whistler's Best Hiking Trails!
Whistler & Garibaldi Park Best Hiking by Month!

Explore BC Hiking Destinations!