The trail to Whistler Train Wreck is an easy, yet varied route through deep forest, across a great suspension bridge over Cheakamus River, to a stunning array of wrecked train cars. The trail from your car to the wrecks only takes about 15 minutes, however once you reach one wreck, you see another, then another. There are seven wrecks in total that are spread over an area about 400 metres long.
Surreal combination of wreckage & serene forest
Many excellent views of Cheakamus River
Insane place to have a drink with friends
Unbeatable place to have a picnic on the river
Accessible year-round and on bus route
Bike friendly & surrounded by endless bike trails
Dozens of amazing areas to spend the night
Graffiti art is always changing & interesting
Sea to Sky Trail runs past nearby
Paintings often covered with boring graffiti
Along with the surreal train wrecks painted with stunning murals, you find yourself in a thick forest that runs along Cheakamus River. Cheakamus River is a beautiful, wild and crashing river that snakes past the train wrecks. Numerous side trails take you to some marvellous viewpoints, several metres above the rushing water below.  If you follow a trail past the wrecks(heading north or in the direction of Whistler Village) you will emerge at the train tracks. If you are adventurous you will then walk along, beside the tracks for a couple hundred metres and some truly breathtaking views of Cheakamus River.  Keep in mind that skirting the train tracks is illegal, so you must never do this if a train is in the vicinity. If you plan to bivouac under the stars, this area is a great choice. Multiple beautiful rock outcrops along and above the river and you may not get disturbed as most hikers don't risk violating the law. Camping is technically prohibited within Whistler's municipal boundary, which Train Wreck is within, yet a sleeping bag under the stars will almost certainly go unnoticed. If bivouacking or stealth camping is what you are after, you will find quite a lot to choose from as you hike in along the Train Wreck trail. 
Whistler Train Wreck is located along Cheakamus River over several hundred metres of scenic, and deep forest. The trailhead can be found in Cheakamus Crossing, a neighbourhood 8 kilometres south of Whistler Village. The area is home to quite a variety of hiking and biking trails, both old and new. The Whistler Train Wreck trail from Cheakamus Crossing was only established in 2016 after construction of a beautiful bridge over Cheakamus River.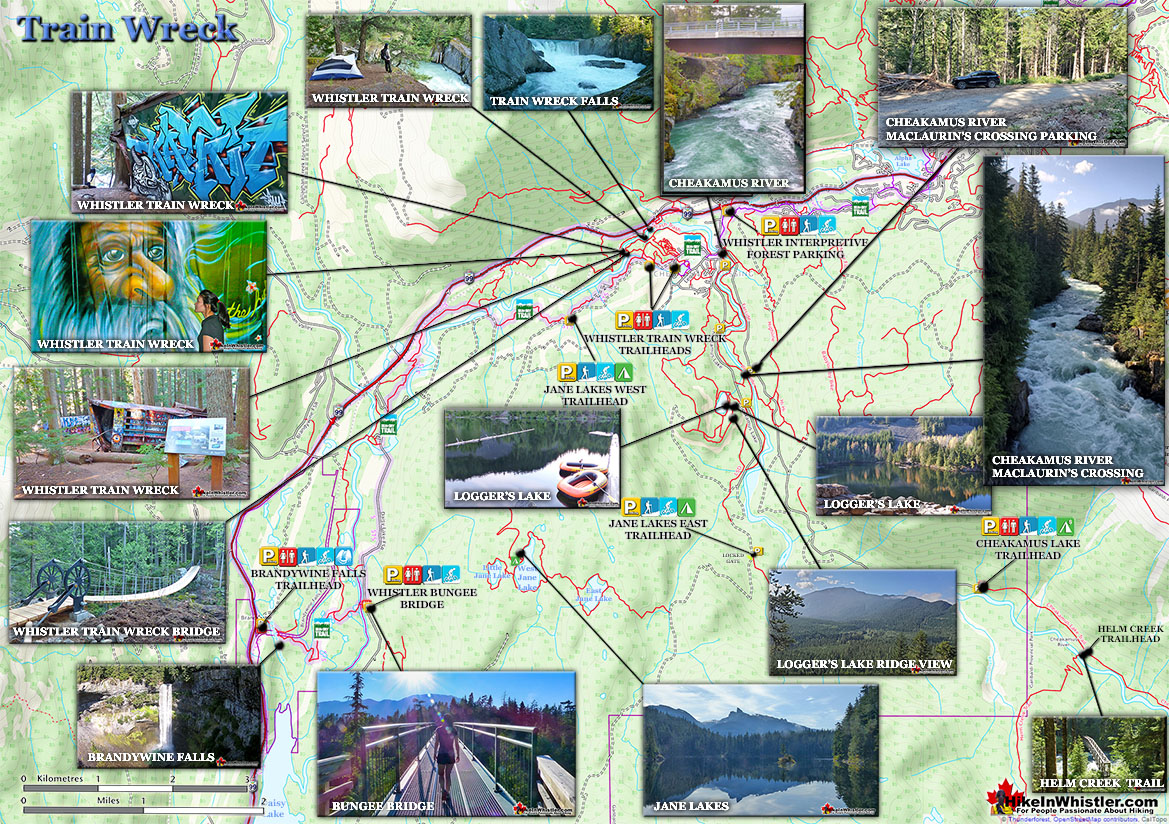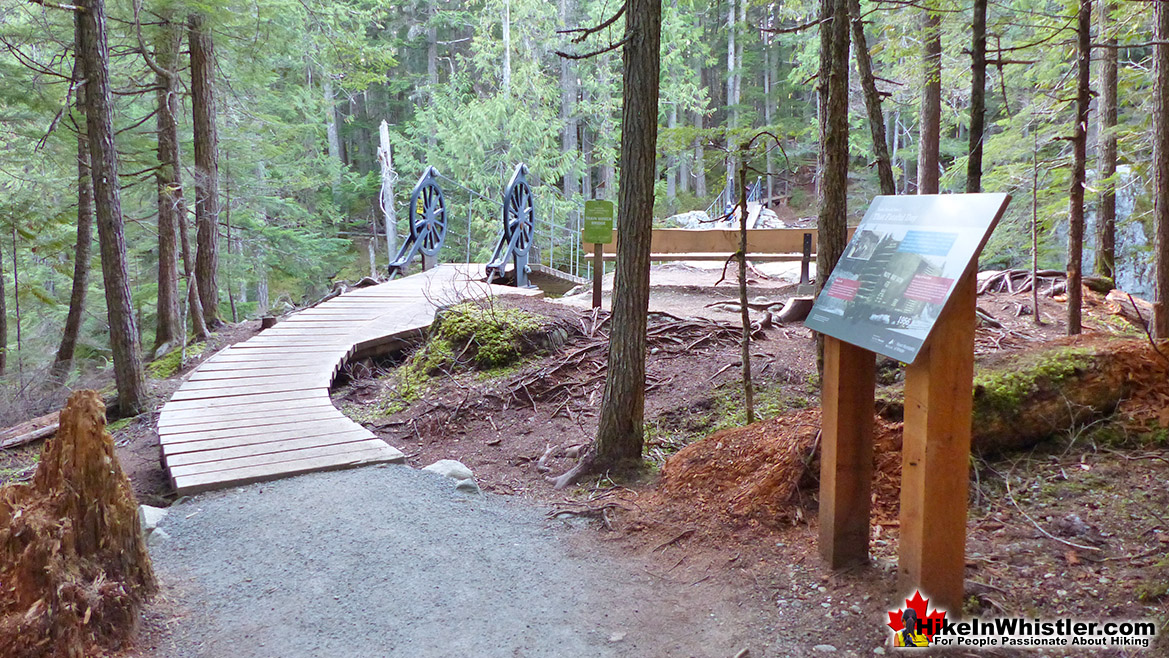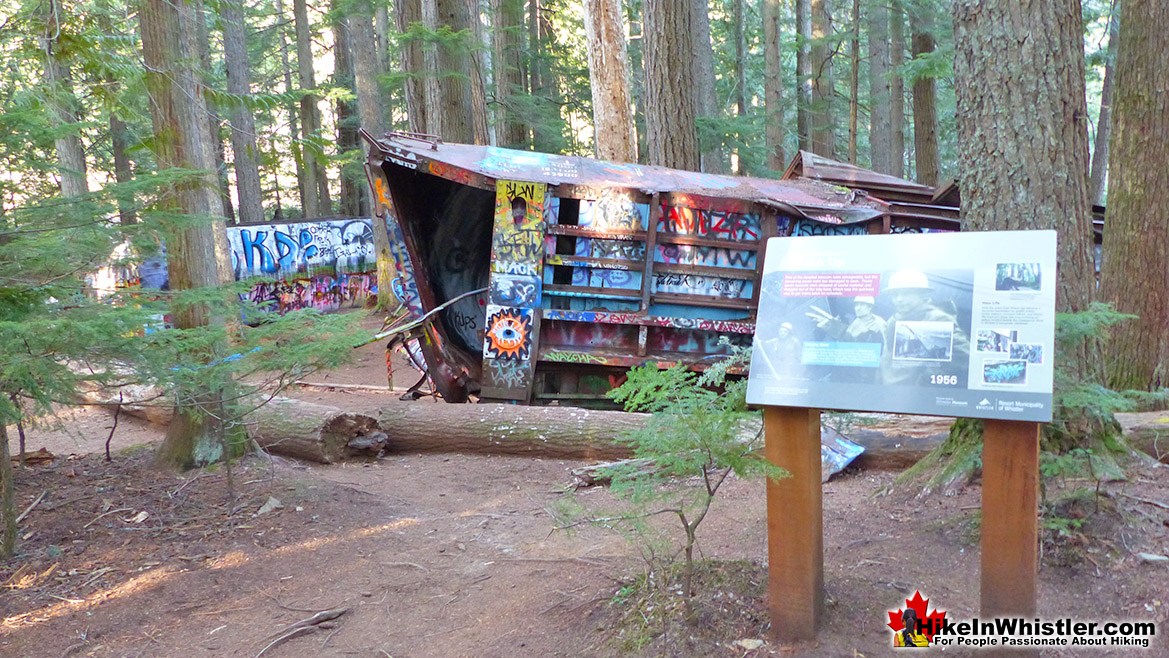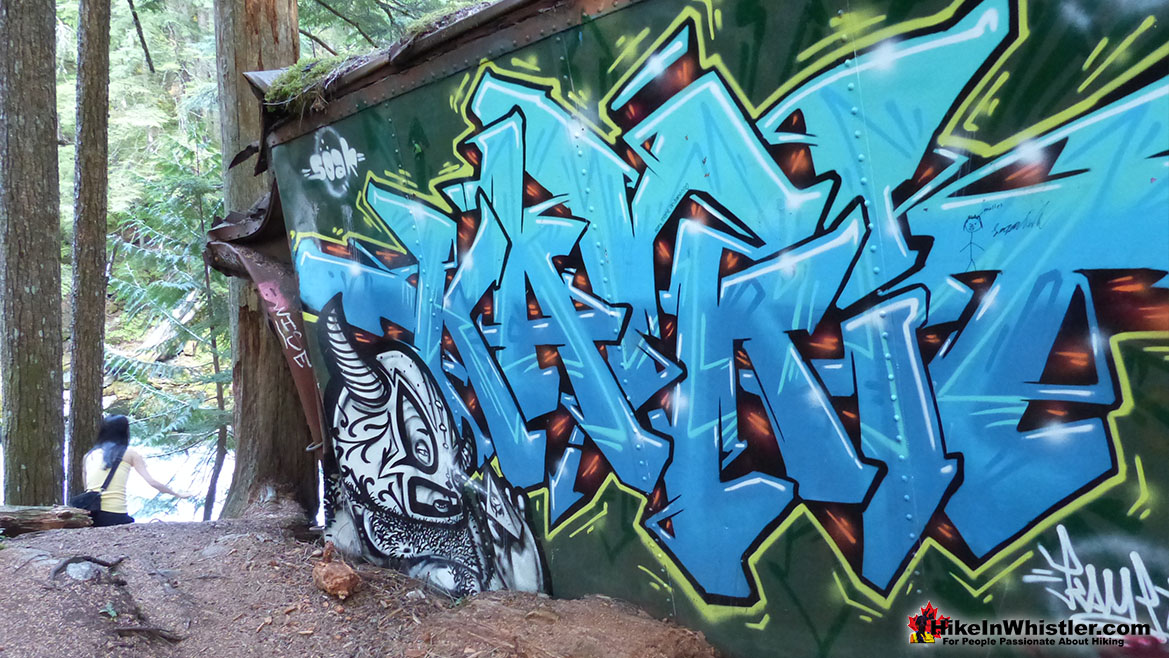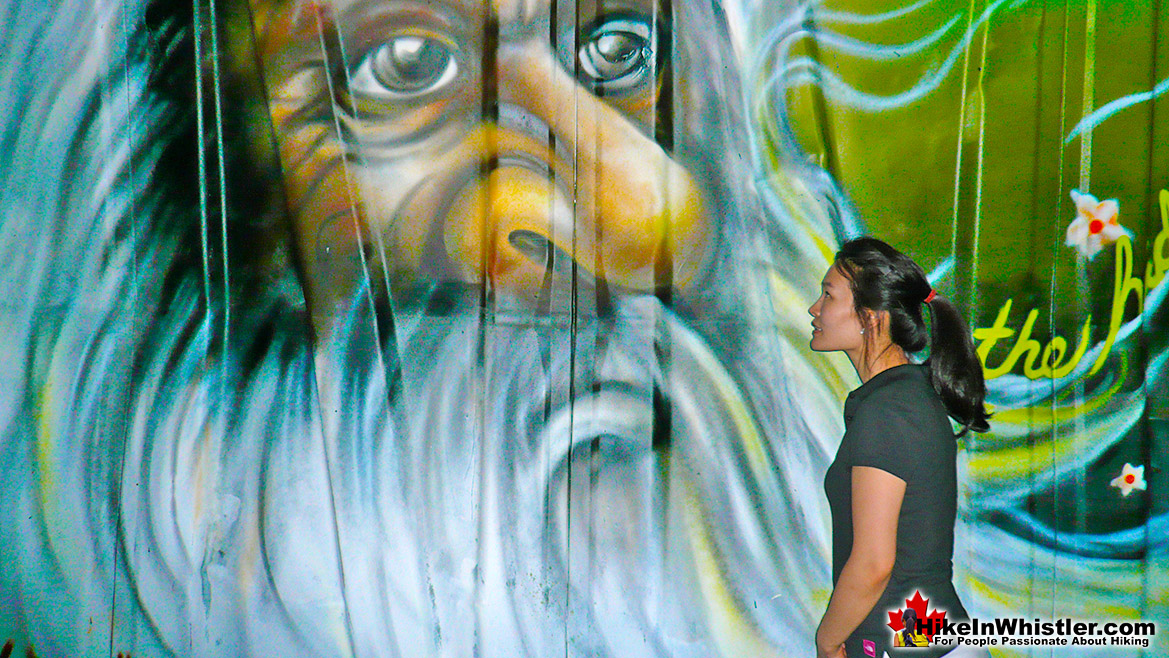 Trailhead & Parking Directions to Whistler Train Wreck



The Whistler Train Wreck is one of the easiest hiking trails in Whistler to get to by car, bike or public transit.  Public transit runs continuously between Whistler Village and Cheakamus Crossing for just $3 one-way.  The bus will drop you off at the HI Hostel and a short section of the Sea to Sky Trail connects you to the Trash Trail and Train Wreck.  If you would rather bike to the trailhead you are in for a treat.  From anywhere in Whistler the bike ride to Train Wreck is very nice.  Whistler's Valley Trail system and the Sea to Sky Trail connect you to Cheakamus Crossing from Whistler Village with only one road crossing!  The wide, two lane, paved Valley Trail takes you through some beautiful scenery and along three lakes.  Only 9 kilometres by bike, Whistler Train Wreck is easily within reach by bike.  Walking to the Train Wreck trailhead is a possible option as well.  The same route as by bike, you will pass by some amazing scenery and get from Whistler Village to the trailhead in well under 3 hours.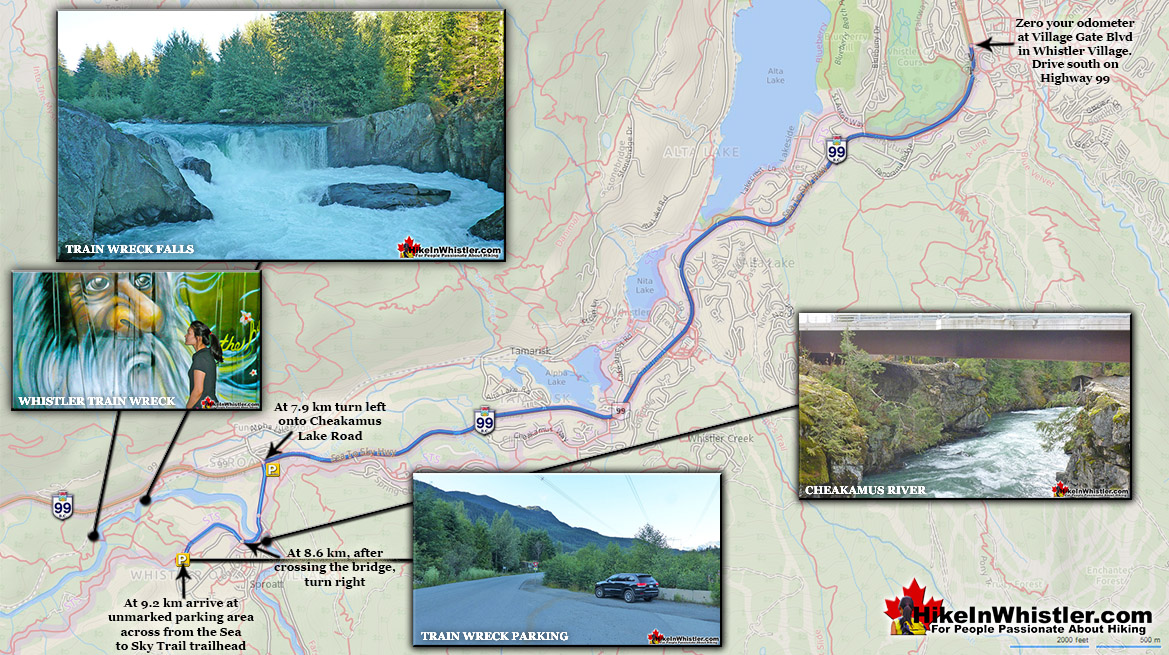 To get to the trailhead for Whistler Train Wreck, drive 7.9 kilometres south of Whistler Village(Village Gate Boulevard).  At the traffic lights at Function Junction turn left onto Cheakamus Lake Road.  At 8.6 kilometres, just after you cross the bridge over Cheakamus River, turn right.  At 9.2 kilometres you will see the unmarked parking area on the left side of the road, across from the Whistler Train Wreck and Sea to Sky Trail trailhead.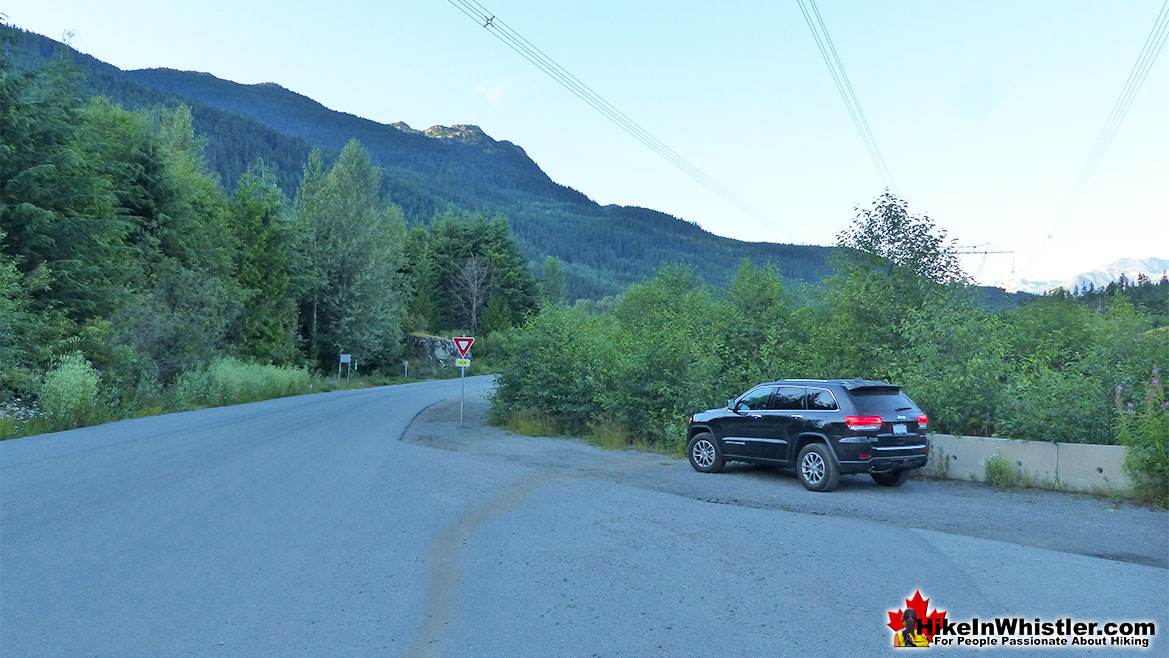 More Whistler Train Wreck Info...
Whistler & Garibaldi Hiking

Alexander Falls  

Ancient Cedars  

Black Tusk  

Blackcomb Mountain  

Brandywine Falls  

Brandywine Meadows  

Brew Lake  

Callaghan Lake  

Cheakamus Lake  

Cheakamus River  

Cirque Lake 

Flank Trail 

Garibaldi Lake 

Garibaldi Park 

Helm Creek  

Jane Lakes 

Joffre Lakes  

Keyhole Hot Springs  

Logger's Lake  

Madeley Lake  

Meager Hot Springs 

Nairn Falls  

Newt Lake 

Panorama Ridge 

Parkhurst Ghost Town 

Rainbow Falls  

Rainbow Lake 

Ring Lake  

Russet Lake  

Sea to Sky Trail 

Skookumchuck Hot Springs  

Sloquet Hot Springs 

Sproatt East 

Sproatt West  

Taylor Meadows  

Train Wreck  

Wedgemount Lake  

Whistler Mountain

January 

February 

March 

April 

May 

June 

July 

August 

September 

October 

November 

December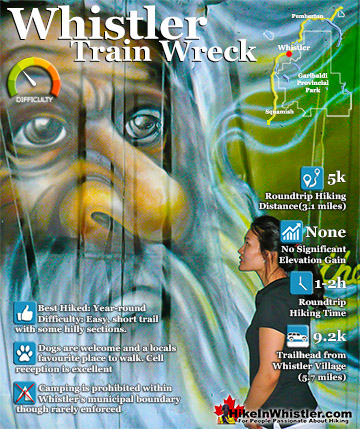 The trail to Whistler Train Wreck is an easy, yet varied route through deep forest, across a great suspension bridge over
Cheakamus River
, to a stunning array of wrecked train cars. The trail from your car to ...
Read more
Cheakamus Lake is a wonderfully relaxing way to get in the wilderness easily and quickly from Whistler Village. The trail begins on the far side of
Whistler Mountain
, 8 kilometres from the Sea to Sky Highway ...
Read more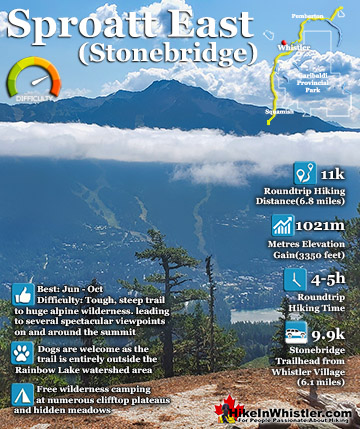 The Sproatt East trail is a beautifully wild, steep, but relatively short trail to the magnificent, wide open alpine and summit of
Mount Sproatt
.  
Mount Sproatt
(1834 metres) towers over Whistler Valley ...
Read more