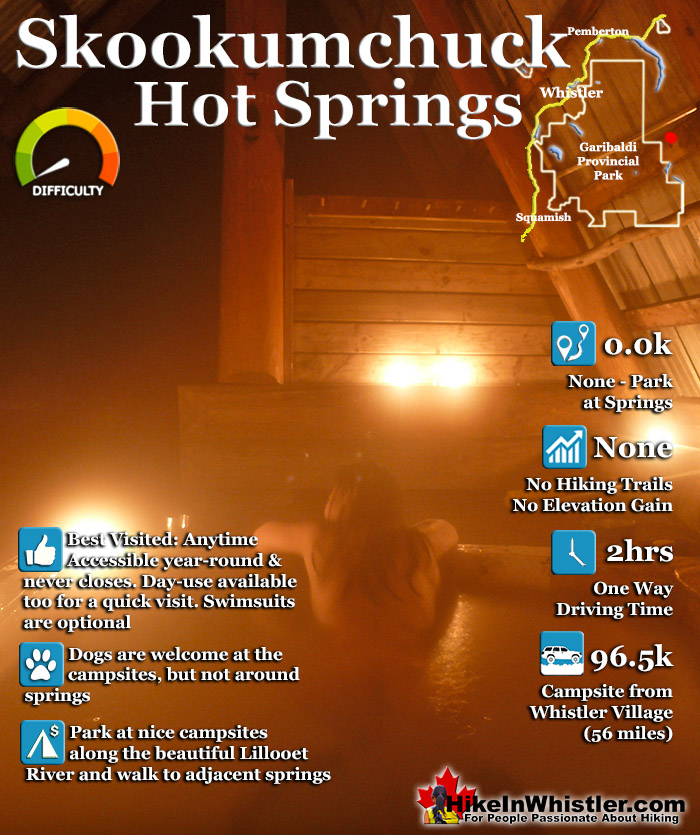 Skookumchuck Hot Springs(aka T'sek Hot Springs and St. Agnes Well), located two hours north of Whistler along the edge of the huge Lillooet River. The name Skookumchuck means "strong water" in the language of the Chinook people of the Pacific Northwest. The name is associated with the hot springs because of the nearby First Nation community of Skatin, which was once called Skookumchuck.
Very scenic drive along Lillooet Lake
Stunning campsites along the river
Sleep 1 minute away from the springs
Drive in campsites are very convenient
Helpful volunteer caretaker resides there
Drive in campsites are very convenient
Skookumchuck has an interesting history

Rules & fees increasing with new owners
Very busy on weekends in summer

On first glance the tubs looks shabby

Whistler & Garibaldi Hiking

Alexander Falls  

Ancient Cedars  

Black Tusk  

Blackcomb Mountain  

Brandywine Falls  

Brandywine Meadows  

Brew Lake  

Callaghan Lake  

Cheakamus Lake  

Cheakamus River  

Cirque Lake 

Flank Trail 

Garibaldi Lake 

Garibaldi Park 

Helm Creek  

Jane Lakes 

Joffre Lakes  

Keyhole Hot Springs  

Logger's Lake  

Madeley Lake  

Meager Hot Springs 

Nairn Falls  

Newt Lake 

Panorama Ridge 

Parkhurst Ghost Town 

Rainbow Falls  

Rainbow Lake 

Ring Lake  

Russet Lake  

Sea to Sky Trail 

Skookumchuck Hot Springs  

Sloquet Hot Springs 

Sproatt East 

Sproatt West  

Taylor Meadows  

Train Wreck  

Wedgemount Lake  

Whistler Mountain

January 

February 

March 

April 

May 

June 

July 

August 

September 

October 

November 

December
The Skookumchuck Hot Springs were also once known as St. Agnes Well during the days of the Fraser Canyon Gold Rush, but that name has fallen into disuse. They are also known locally by the Skatin name as the T'sek Hot Springs.  The Skookumchuck Hot Springs start in a pool which is far to hot to use so there are a network of tubes emanating from this pool to feed a ramshackle array of tubs. There are five tubs, which include one very large one under an A-frame which could hold 10 people and is beautifully comfortable. A smaller one under a half A-frame privacy screen which could hold 8 under the stars.  And three more open tubs. Clothing, you will quickly discover, is optional.  There are small change rooms and one outhouse a few metres away.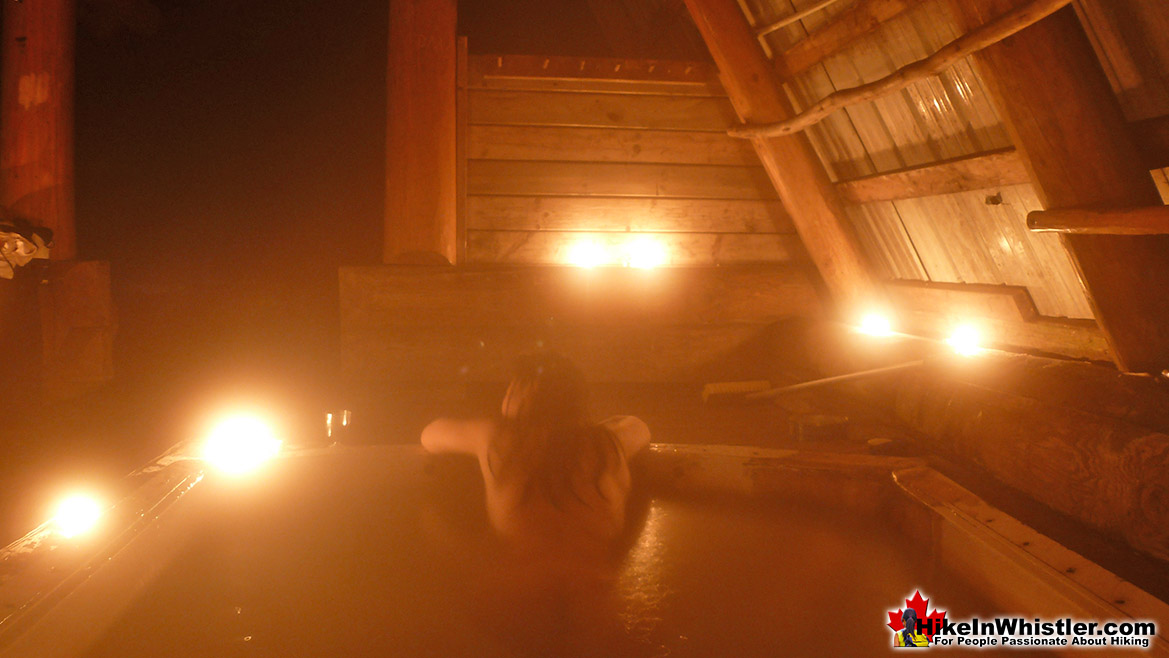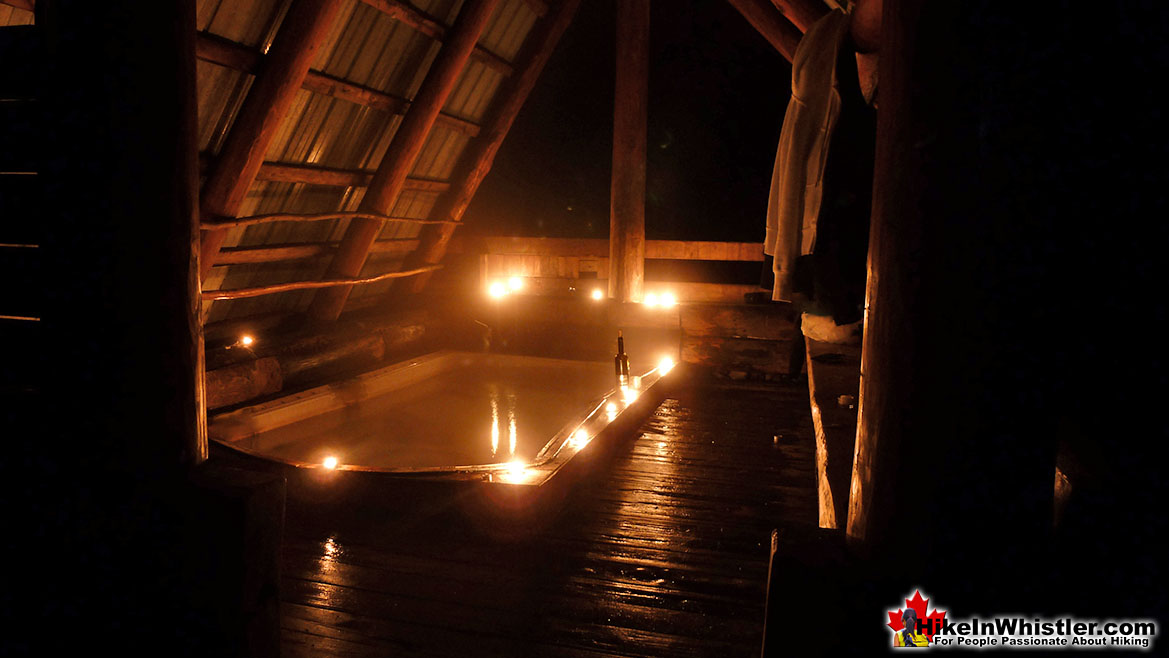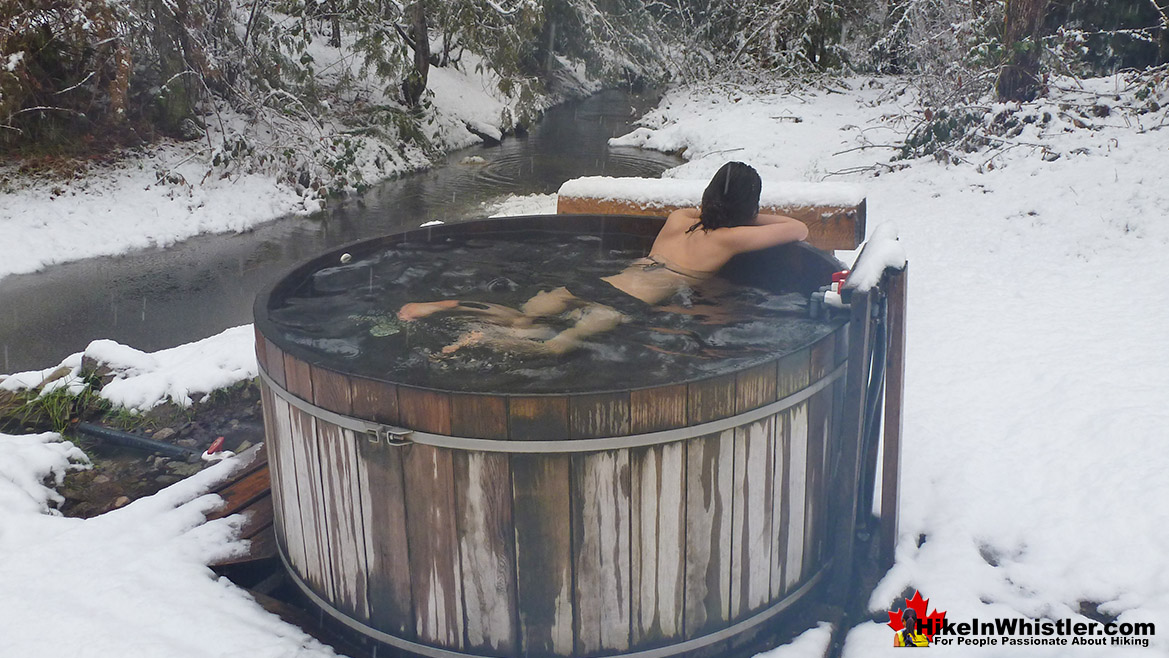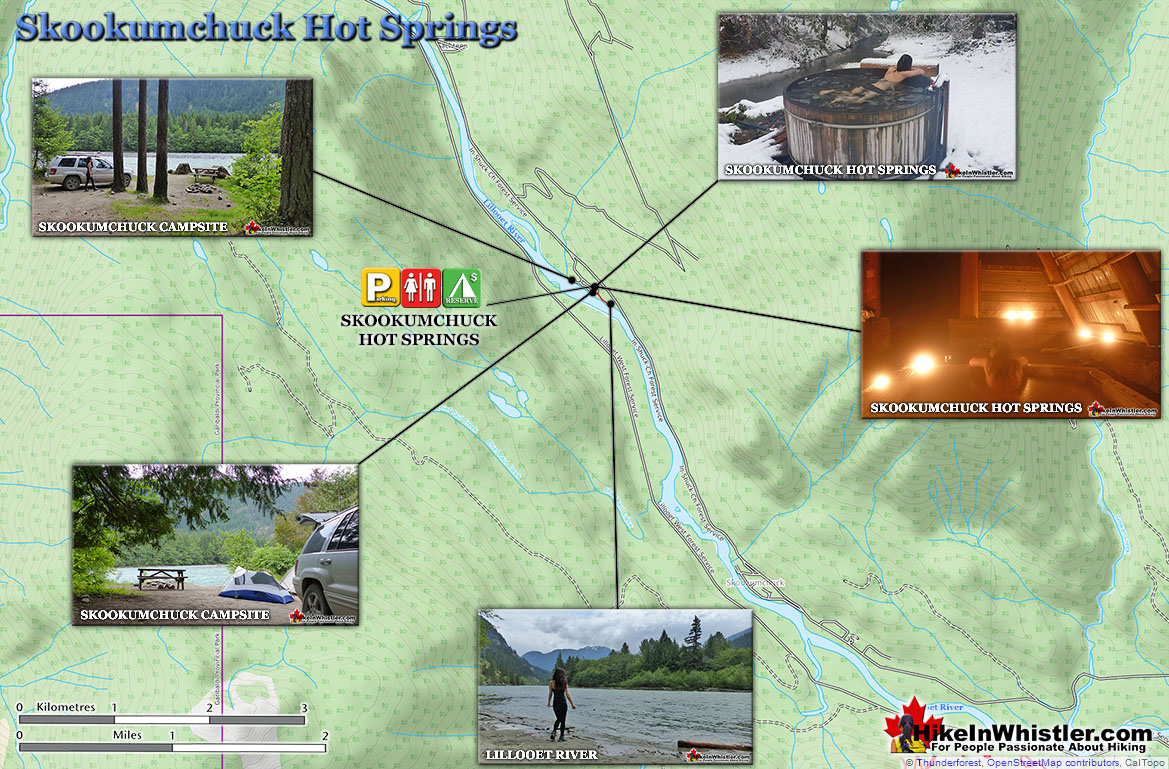 History of Skookumchuck

As you sit back in one of the several ramshackle tubs that fill from the Skookumchuck Hot Springs, below you a mystifying process takes place. For every kilometre below you, the temperature rises an astonishing 30c. And under you there are a bewildering array of water channels snaking through this massively heated ground. Fissures and cracks in the rock below you. These pockets and channels of water are extremely hot, and if the geological circumstances are just right, as they are at Skookumchuck, they will be forced to the surface to become a surreal, natural phenomenon. A hot spring. In British Columbia, hot springs appear quite predictably along fissures amongst the mountain ranges. Skookumchuck is of course in one of these fissures. An astonishing one at that. Take a look at a map of BC. The Lillooet River cuts a remarkable swath through BC. It runs from Whistler, north, then east, then south, eventually ending in Vancouver. You could, as many have done, canoe from Whistler to Vancouver. And all the while follow the current. It's quite incredible.
The Coast Mountains, the mountain range that engulfs you in Skookumchuck, is of course very geologically active. Geologically recent that is. Some mountains are old, some young. These ones are young. The Pacific Ring of Fire, which runs from New Zealand, through Indonesia, up along Asia through Japan, and across to Alaska, then down the coast of North America, through the notorious California, ending at the southern tip of South America. Where this Pacific Ring of Fire is, frightening geological activity is. And the Coast Mountains lay within this. It produces a ring of volcanoes that created, and creates some of BC highest mountains. The Coast Mountains are magnificent. And under it all, rumblings continue, both producing these wonderful hot springs and spectacular events such as the Meager Creek slide in 2010, which effectively closed the reigning, premier hot springs title of best hot springs near Whistler, now held by Skookumchuck.
In short, if you gouge deep into the Ring of Fire as the Lillooet River does, you create, really facilitate, an artesian to reach the surface. An artesian is simply where pressure far below pushes water up to the surface. Hot water. And this is the wonderful source of Skookumchuck Hot Springs. Really quite incredible. The Pacific Ring of Fire, which recently burst forth near Japan and Christchurch, New Zealand, found a shallow spot, a crack in the earth, in which to push hot water to the surface. More incredible still, this impossibly remote place in Canada was found thousands of years ago, and certainly cherished. Of course it was. Hot water flowing out of the ground. Wow. The people that likely came across these springs first, are known today as the In-SHUCK-ch people. This is remarkable for several reasons. Let's trade places for a few minutes. You sink back into this wonderful water of the Skookumchuck Hot Springs, and I'll tell you a story.
These springs were taken into ownership in 1859 by a wealthy businessman from nowhere near here, William E. Stein after he applied for a pre-emption. This is a wonderfully spectacular phenomenon of mankind's history. He saw it, wanted it, applied, and then owned it, legally. Take a moment to get your head around that. And after you shake your head it confusion, think of what the In-SHUCK-ch people thought of that. Anyone in fact. There was a time in our history where you could look at the ground, say, " I want that". Apply for it, and get it. A piece of the world, the ground, the trees, the hot springs. It's yours. More accurately, William E. Stein's. He owns the ground? The hot springs. It's hard to fathom now, but imagine explaining it to an In-SHUCK-ch person back then.
This is obviously ridiculous. But common sense has somehow won in the end. Kind of. These hot springs should obviously be owned by no person or people. Of course common sense doesn't prevail, even in the face of such obvious facts. Certainly this ownership by William E. Stein is ridiculous, but oddly it still holds. In fact it was still "owned" by his heirs, then sold on to other "owners" until 2007 when it was purchased by the Canadian Government. Finally, freed, though at quite an expense, to ownership by no one. But of course that's not true. The childish, "me first" ownership mentality will eventually win out in the end. The Government of Canada bought Skookumchuck as a "Treaty Related Measure" for the In-SHUCK-ch treaty negotiations.
Though it's true, at least in recorded history that people now known as the In-SHUCK-ch saw it first. It's also, more so, a fact that the world of the In-SHUCK-ch people that first came across these wonderful hot springs, didn't have a concept of ownership of the ground. You couldn't own the ground, a tree, a river, a hot spring, any more than you could own the ocean. The ancestors of these people surely have been plunged into a world of petty land ownership quarrels, and they surely will enter into it with the same pettiness and fundamental absurdity as William E. Stein did. You almost can't blame them.
But for my part, they are beautiful. The hot springs that is, next to the Lillooet River, that no one seems to own. Water bodies have escaped this absurd human creation of drawing lines on a map and claiming ownership. How do they own it? By having enough other people agree that they do. Does someone own Lillooet Lake? Someone must have spotted it first. Why not? Because enough of us agreed that water cannot be owned. We don't collectively think this through to the ground under us. Not really. We accede to what is established in the past is true. It must be. If someone today said that they own a star that they just "discovered" through a telescope. Despite the ridiculous irrelevance of their statement, we would not even accept a possibility of their claim being true. It's absurd. "I saw it first, it's mine." This ridiculous thinking, though far beneath us, is still with us. Our past, our present. If Bill Gates bought Greenland, as theoretically he may have enough money to do. Wouldn't I have a say? You wouldn't? Who did he pay, to "own" it? How did the people that sold it to him own it?
What if, like the original In-CHUCK-ch people, we don't perceive that the world could be "owned" or any part of it. Then how can it be "owned"? It can't. It simply can't. Because the world lives in a different set of rules now. An evolution of humanity. A person with 500 billion dollars is just a person to me. They can't "buy" our world. They can't "own" a part of it. So on principle, in defence of what is right, Skookumchuck cannot be owned, traded, or used as a bargaining tool to placate the descendants of the ones that saw it first. If Bill Gates wanted to buy Skookumchuck for 500 billion dollars. Some privileged people would take the money. But I would say. Sorry. You can't buy what can't be sold. If the original claim to ownership is that someone saw it first and talked about it in legend. Then another person saw it and petitioned to own it, was granted ownership. You will certainly agree from a body that didn't own it. Then it was passed down the generations, sold and then resold to the Canadian government. The fact that any ownership at all is confidently proclaimed is astonishing. Really astonishing. But there we are.
As I lay back in the wonderful, steamy heat of the Skookumchuck Hot Springs. In the midst of the mighty Coast Mountain Range, part of the unfathomable Pacific Ring of Fire. I stop caring. The place is deserted. I sink into the water. I don't own this little bit of Skookumchuck right now. Whoever thinks they own it. Whoever will ever own it. Fight over the inevitable, inevitability of having to "own" everything. At this moment I'm here. I don't own it. I don't want to. I wouldn't want to. Somehow I can see that owning this is wrong, immoral, pathetic. The Canadian Government got it partly right. They bought it back from ownership. Now it belongs to us all, or more accurately, no one. I just hope that this moment. Right now. Sinking into the Skookumchuck Hot Springs, surging from part of the Ring of Fire far below, can be had again and again. There is something about this place. Something I can own forever. This moment.
The Campsite at Skookumchuck

The Skookumchuck campsite is very nice. Almost all of the sites are at the edge of the beautiful and huge Lillooet River with amazing views of the mountains beyond.  Most campsites have picnic tables and deluxe(forest fire-proof) firepits. Occasionally you will find firewood left behind from previous campers at your chosen site, however, your best bet is to bring a bundle of wood with you. There are some good places to buy firewood along the drive to Skookumchuck. Nesters Market in Whistler sells bundled firewood and the Petro-Can gas station in Pemberton. Another good option is to bring an axe along with you as you will see an abundance of excellent firewood on the In-Shuck-Ch Forest Service Road along Lillooet Lake. Usually, you can easily spot plenty of old, dry and disintegrating trees laying near
the road.  You usually don't need an axe as the branches and thin tree sections can be broken easily. The Skookumchuck campsite grounds are surprisingly flat, lots of room for tents and the area is thick with trees giving you some privacy from other campers.  The well laid out and cute campsite ring road that runs through the campsite allows you to back your vehicle right up to your site.
There are several outhouses and a few water taps in various places. The water from the taps is drinkable, however, a sign warns to boil first.  This is widely disregarded, and likely only a precaution from the campsite owners against charges if someone gets sick. The Lillooet River is not recommended to drink as it contains runoff from the farming town of Pemberton. There are no overbearing rules applied to the Skookumchuck Hot Springs as there are in other hot springs you may encounter elsewhere. The tubs are open to use 24 hours, 365 days per year. There is a sign saying no dogs allowed near the hot springs, though they are allowed in the campsite.
There are usage charges. If you want to overnight, the cost is $10 per vehicle, and $10 per person (kids 10 and under free). If you don't overnight then no vehicle charge and $7.50 per adult. Day use hours are listed as 9am-8pm Summer and 9am-6pm Fall/Spring/Winter. Payment must be made in cash.  In 2015 the Hot Springs have be taken over by new management and seem to be directed more towards a money making operation. The prices shown on this recent sign(pictured here) have nearly tripled!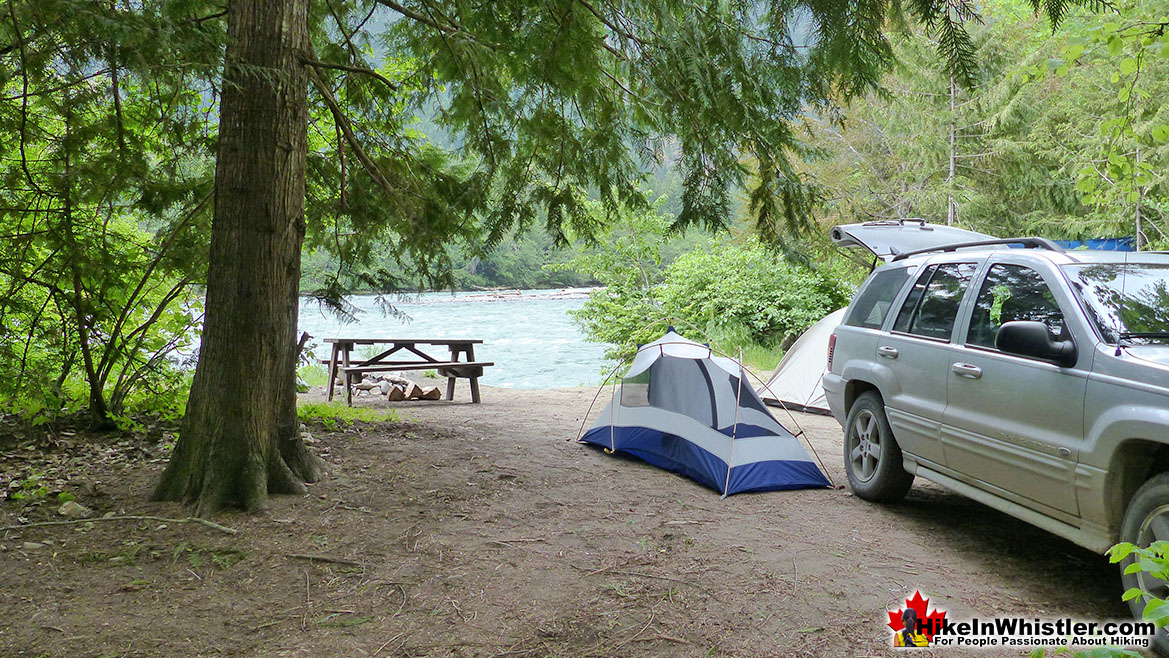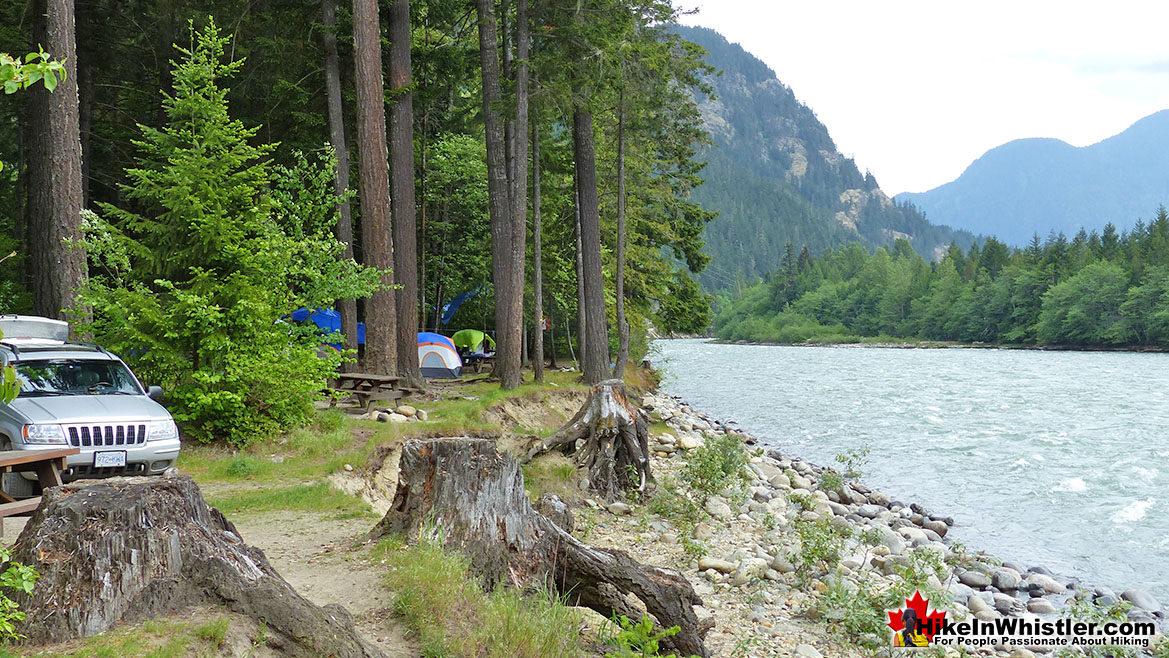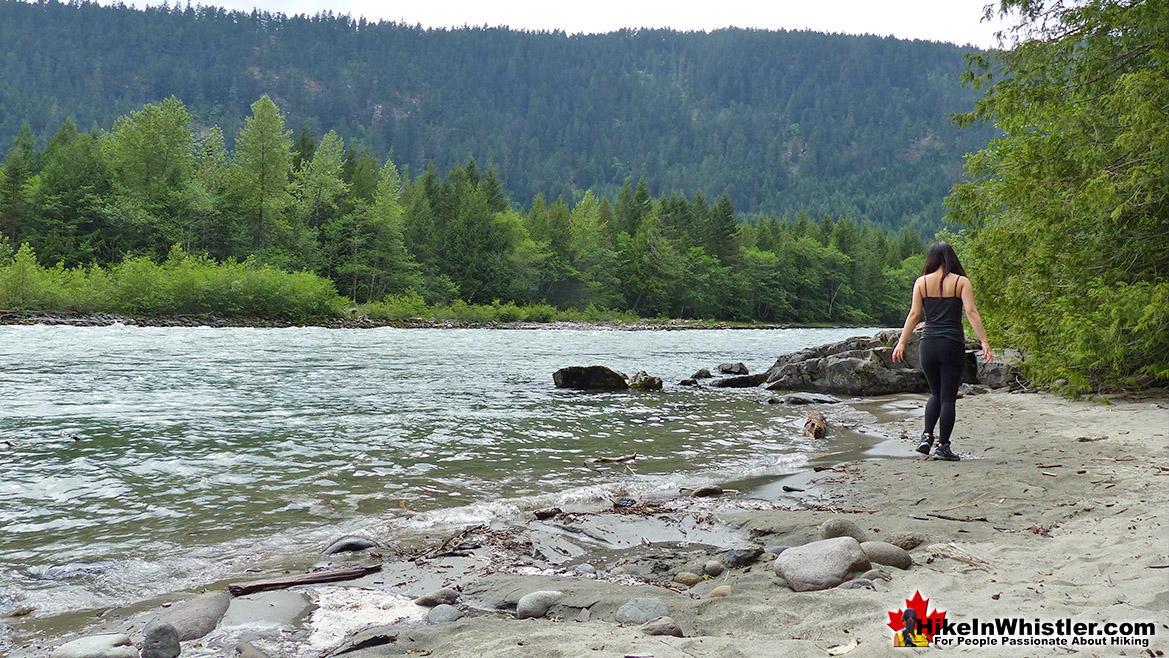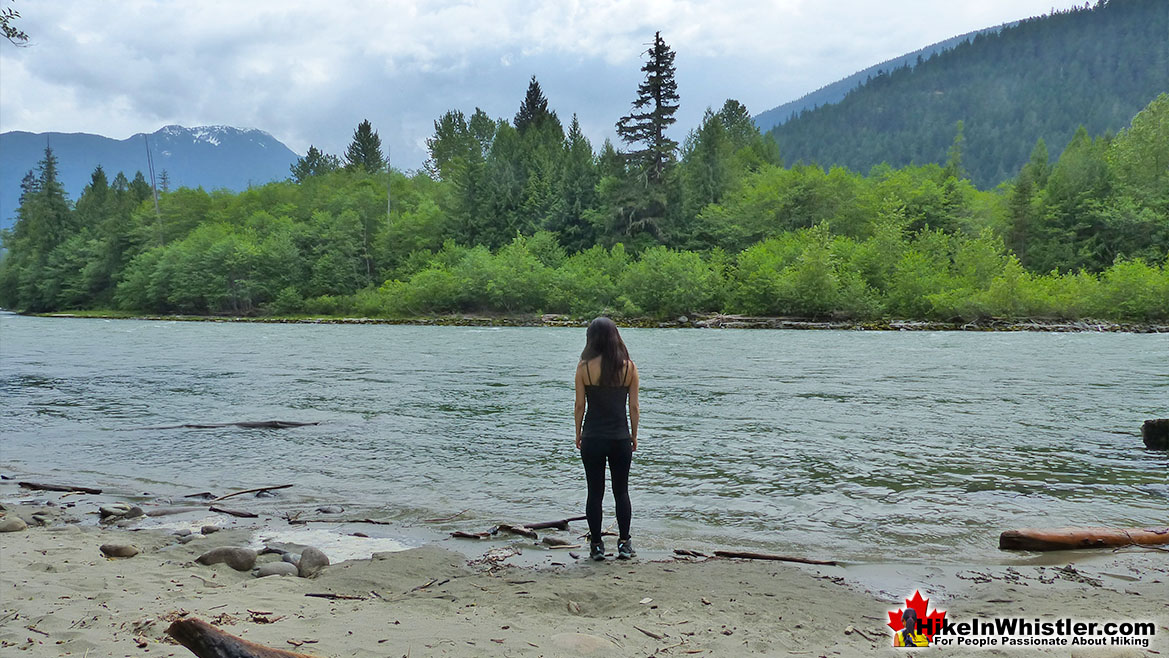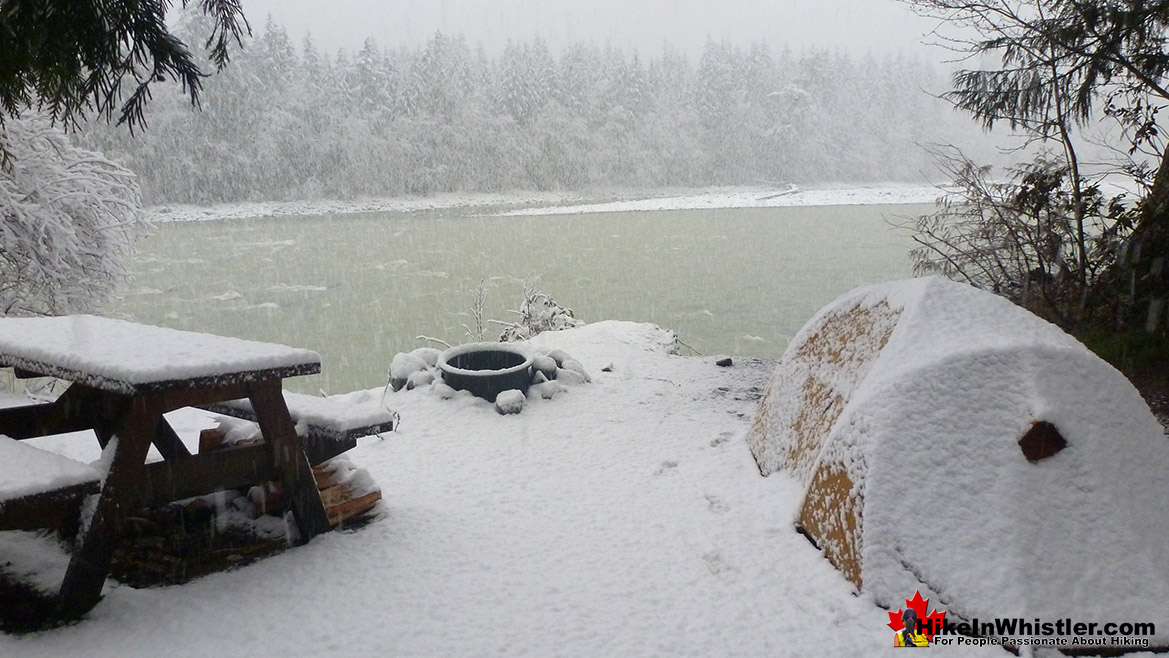 Trailhead & Parking Directions to Skookumchuck

From Whistler, zero your odometer in Whistler at Village Gate Boulevard and follow highway 99 (Sea to Sky Highway north toward Pemberton). At 32 kilometres you will arrive at Pemberton, an intersection, with a Petro Can gas station on your left and Mcdonalds to your right. Continue straight, through Pemberton. At 39 kilometres turn right at the sign to Lillooet(pictured left). Follow this winding road, for 10 kilometres and soon (5-10 minutes) you will come to the massive Lillooet Lake on your right. At 49 kilometres turn right, just as you pass the lake on your right you will see a sign for the In-Shuck-Ch Forest Service Road. Continue down this logging road as it hugs the mighty Lillooet Lake on your right. At 78.8 kilometres you will come to a fork in the road. Bear left and you will immediately see another sign to the Skookumchuck Hot Springs. At 96.5 kilometres, on your right you will pass the sign welcoming you to "St. Agnes Well, T'Sik, Skookumchuck Hot Springs".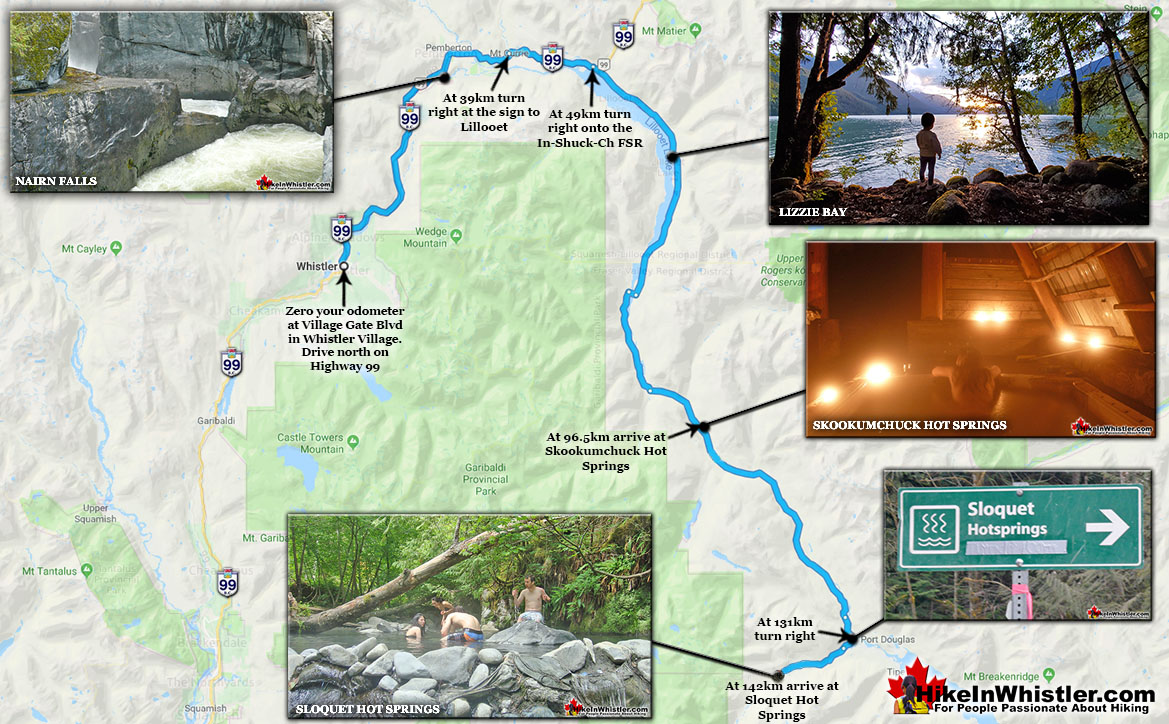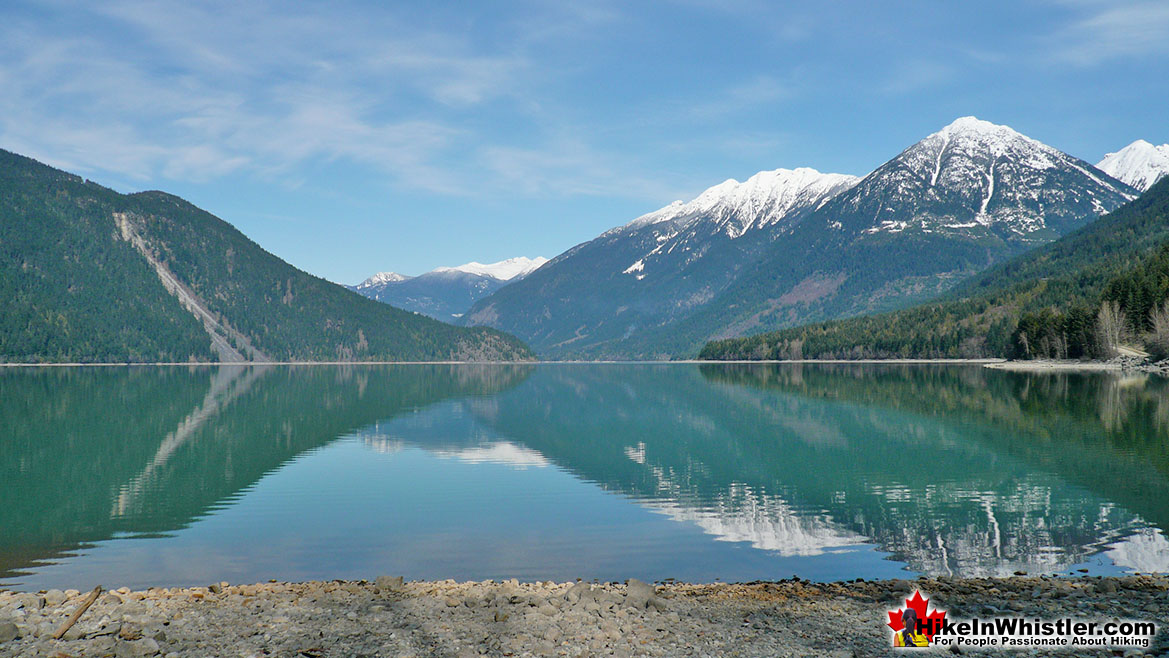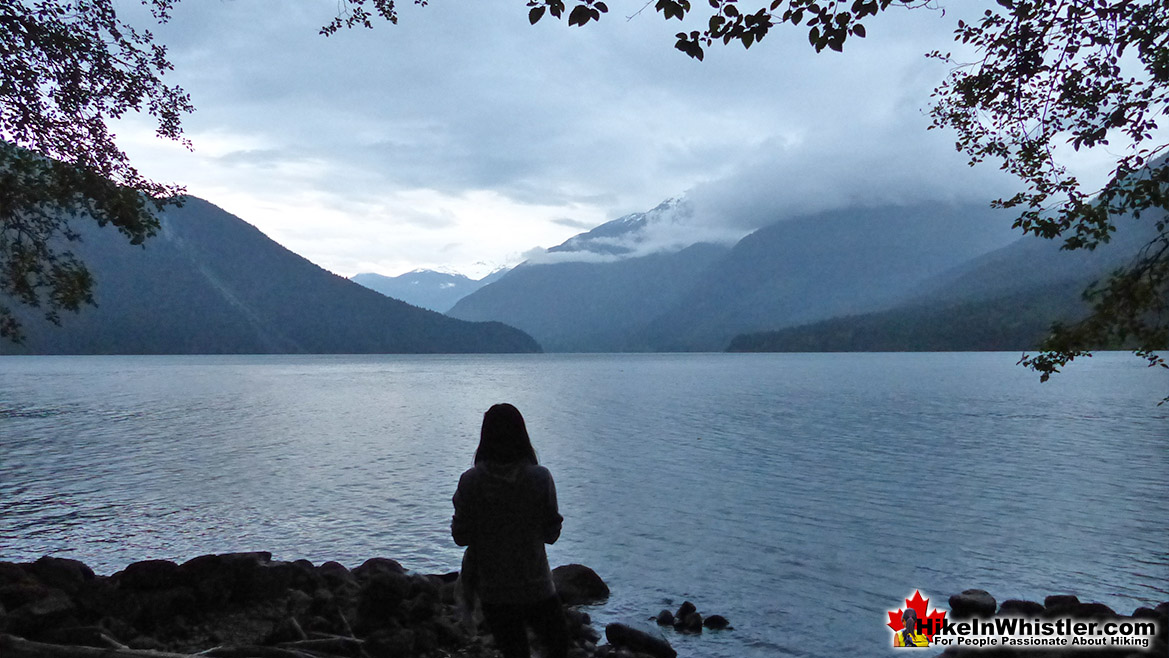 Sloquet Hot Springs - Whistler Area Hot Springs

Sloquet Hot Springs is a wonderfully wild set of shallow, man-made pools fed by a small, all natural, and very hot, waterfall. The pools stretch from the waterfall to the large and crashing Sloquet River. The large, spread out campsite for the hot springs lies a short 5 minute walk from the springs. You have to follow a dark and quickly descending trail toward the crashing river.  As you near, you can smell the unusual, but kind of nice hot springs scent, and you see steam rising all around you, some steam rising, bizarrely, out of the grass clearing on the edge of the river. On your left a rising cliff, on your right the crashing river.  The path narrows and steepens, leading to a large fallen tree which the trail seems to run to. So huge though as to not worry you walking the length of. Then, there it is. The massive fallen tree flanks it. Nestled between the tree and a cliff, in a large triangular area, with the river forming the third side are the Sloquet Hot Springs.  Continued here...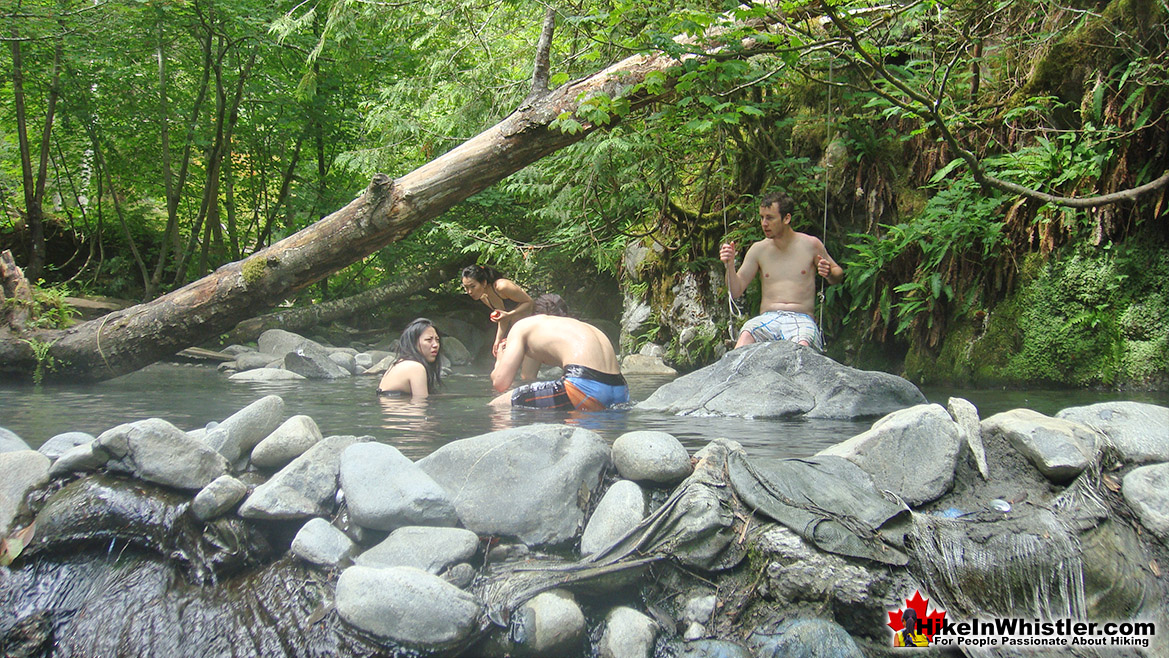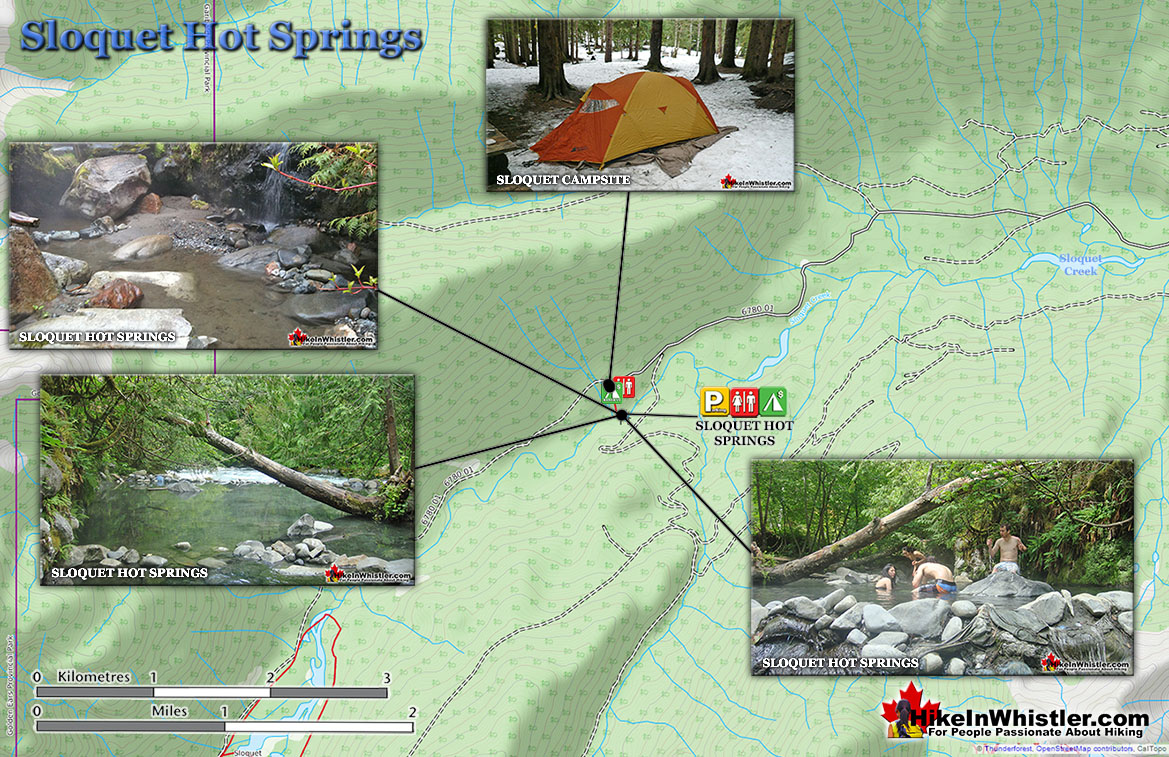 Keyhole Hot Springs - Whistler Area Hot Springs

Keyhole Hot Springs (aka Pebble Creek Hot Springs) is located 100 kilometres from Whistler(Village Gate Blvd). Though most of the 100 kilometres is on logging roads, it is driveable by most cars without any trouble. The massive Innergex hydroelectric project has turned this once quiet wilderness into a war-zone. On the plus side, the old logging roads near Keyhole Hot Springs are now well maintained and smooth.  The hot springs at Keyhole flow out of the ground adjacent to the swirling, crashing and wonderfully glacier coloured water of the Lillooet River.  The colour varies with the season, but for the most part it is a wonderful, deep, milky turquoise.  When the sunlight penetrates the deep valley, the milky turquoise changes to an unnaturally bizarre, emerald green colour as it swirls all around you. Sitting in the springs you look across to the vertical rock face and the massive, truck sized chunks of it that lay in the river next to you.  Continued here...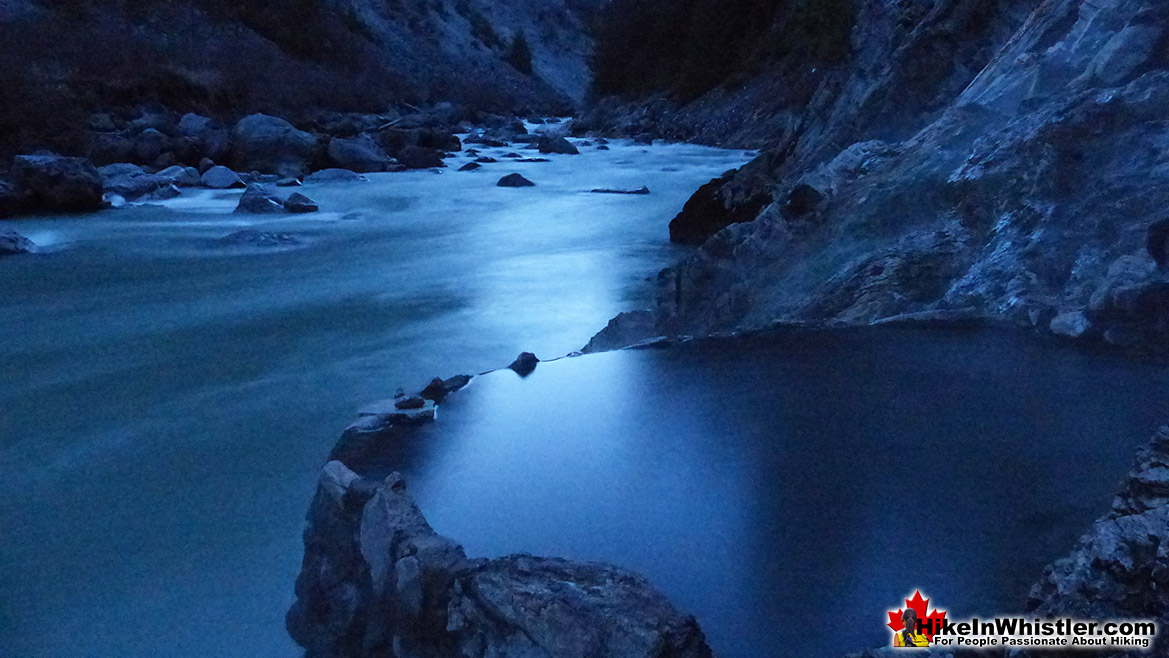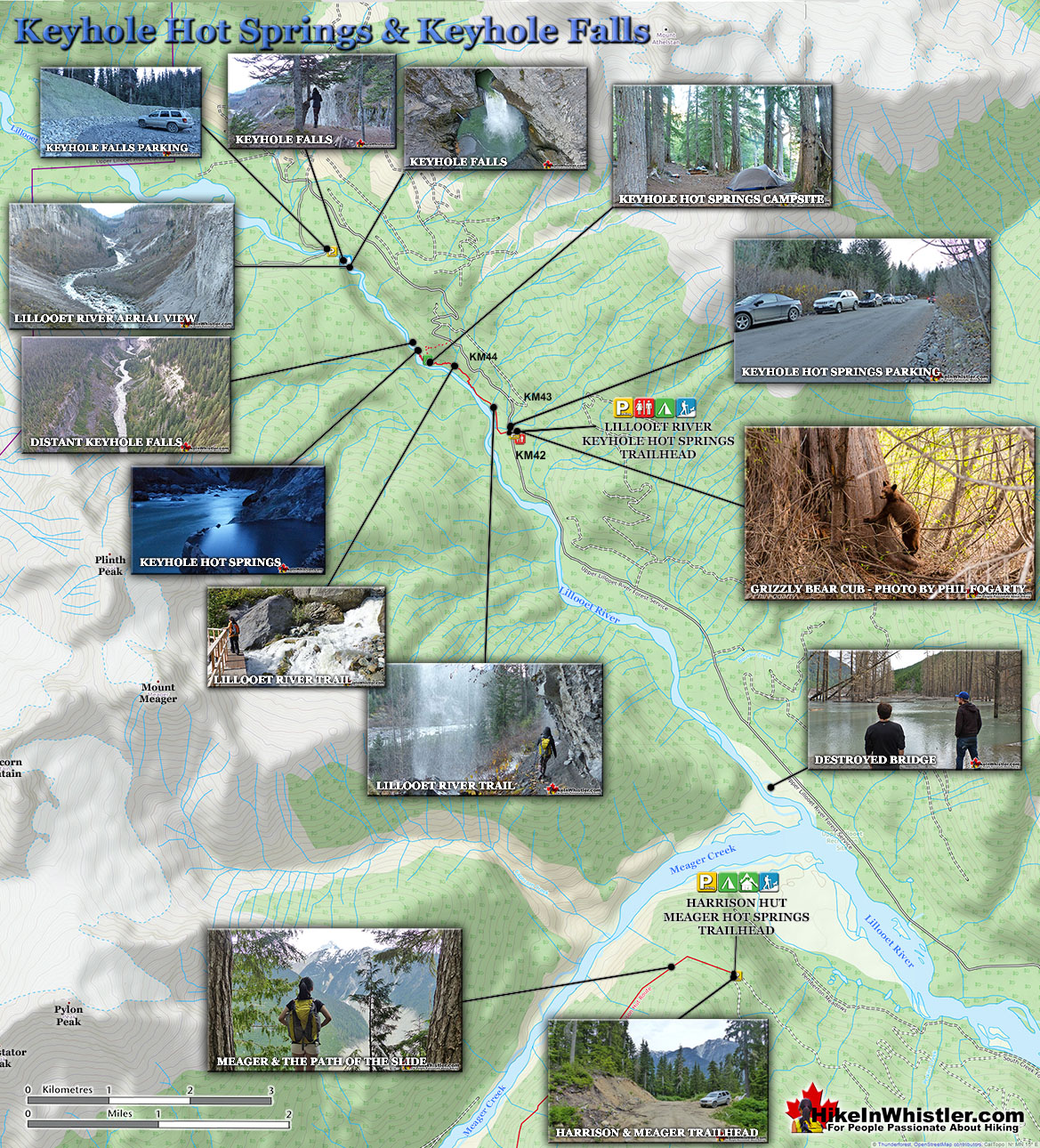 Meager Hot Springs - Whistler Area Hot Springs

Meager Hot Springs(aka: Meager Creek Hot Springs) is located 93 kilometres northwest of Whistler, was beautifully developed into gorgeous pools, with a caretaker and usage charge.  At its height of popularity, Meager Hot Springs had 30,000 yearly visitors. Unfortunately, due to two recent massive landslides it seems unlikely to ever officially reopen.  Just a decade ago, in 2009, a nice, expensive access bridge was installed.  A few months later it was dramatically obliterated from another slide in 2010. In 2014 the new VOC Harrison Hut Trail was mostly completed, allowing access to Meager Hot Springs once again. Currently this access road is in a bit of a construction zone, so don't be surprised if the road is blocked by a rock slide or road construction.  The old access bridge over the Upper Lillooet River which cost nearly a million dollars was wrecked in seconds in 2010.  In 2014 a new route was built to Meager Hot Springs by the UBC Varsity Outdoor Club.  Continued here...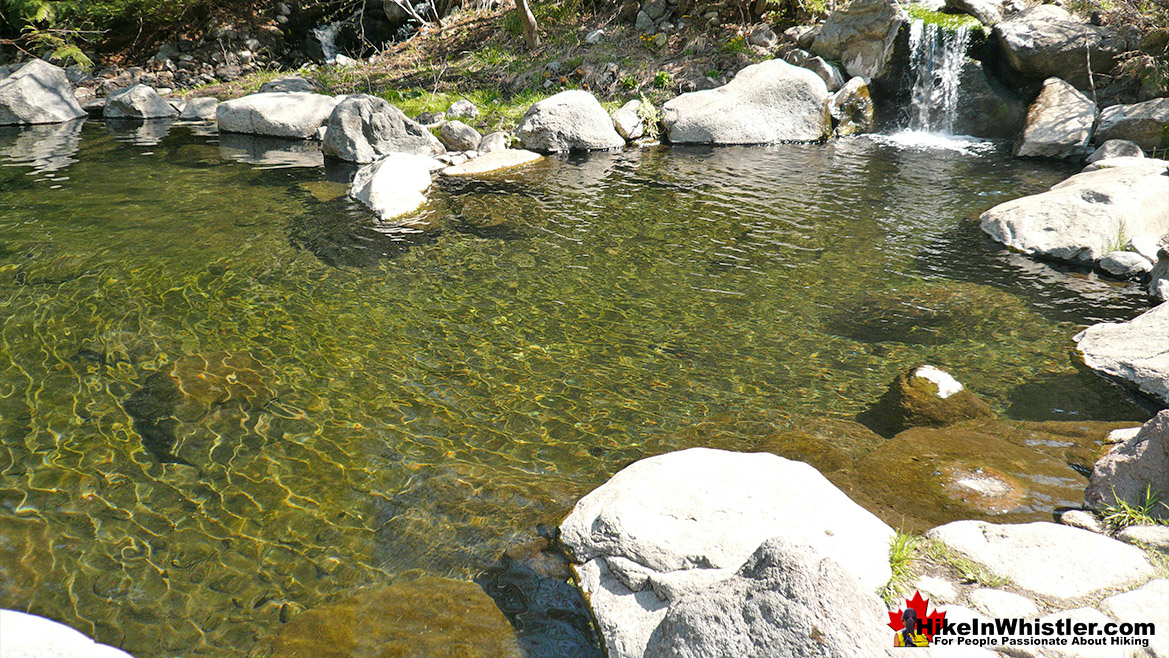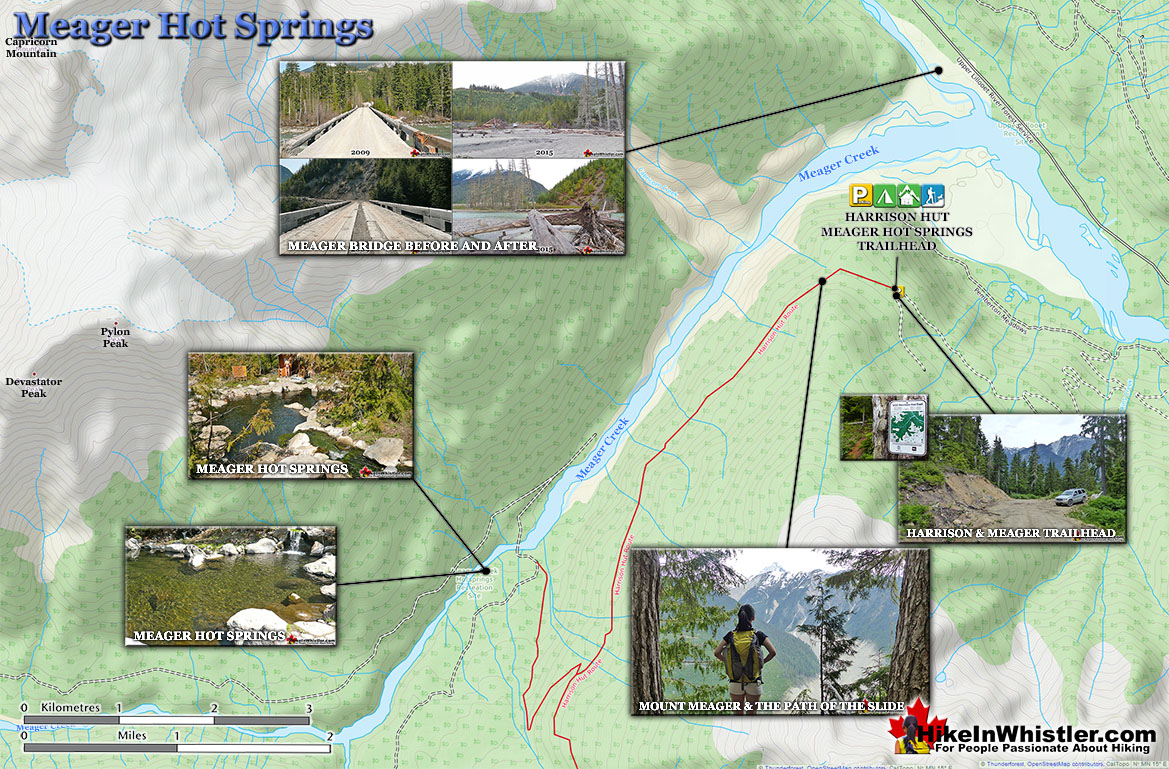 Whistler's Best Hiking Trails!
Whistler & Garibaldi Park Best Hiking by Month!

Explore BC Hiking Destinations!