Hiking and biking trails are so abundant in Whistler that many go unnoticed, neglected or taken for granted.  The Flank Trail is one of these.  Most people in Whistler don't even know about it, but the ones that do, love it.  Officially known as the Rainbow-Sproatt Flank Trail, it runs the length of Whistler Valley, opposite Whistler Mountain and Blackcomb Mountain, and connects to dozens of hiking, snowshoeing and biking trails.
Relatively quiet compared to other trails

Spans the entire Whistler Valley!

Hard to beat views of Whistler far below

Many access trailheads along its length

Many branching trails extend to the alpine

Bivouacking along the trail is amazing

Mostly dog friendly & off the radar

Nice trail, but not overly exciting
No spectacular destination to reach

Alternate routes are more scenic
Whistler Snowshoe Trails

Blueberry Trail 

Brandywine Falls 

Cheakamus River 

Elfin Lakes 

Flank Trail 

Joffre Lakes 

Nairn Falls 

Parkhurst Ghost Town 

Rainbow Falls 

Rainbow Lake 

Rainbow Park 

Sproatt East 

Taylor Meadows 

Train Wreck 

Wedgemount Lake 

January 

February 

March 

April 

May 

June 

July 

August 

September 

October 

November 

December
Mount Sproatt and Rainbow Mountain dominate the view across the valley from Whistler Village and the Rainbow-Sproatt Flank Trail traces a 40 kilometre route along the flank of these two mountains.  One end is high up in the Callaghan Valley near Whistler Olympic Park and the other is near Ancient Cedars & Showh Lakes!  At various places along the trail there are access points.  The Rainbow Trail trailhead is a popular access point for the Flank Trail as it enters the trail at roughly its midpoint.  Another good access is in Function Junction that can be found behind Olive's Market at the old trailhead to Whistler Train Wreck.  Over the years the Rainbow-Sproatt Flank Trail has been trimmed a bit.  With the building of Whistler Olympic Park for the 2010 Olympics the trailhead was pushed across the valley toward Northair Mine.  Much of this section of trail was, and still is old logging roads, so it doesn't look or feel like a trail until it bends toward Whistler a few kilometres south of Northair Mine.  Previous to the Olympics the Callaghan Valley trailhead was just a stones throw north of Alexander Falls at the bridge that takes you to Callaghan Lake and Madeley Lake.  Now the trailhead is not marked at that end and is assumed to be north of Northair Mine at the edge of Whistler Olympic Park or at Northair Mine itself.
Rainbow Falls Encased in Snow and Ice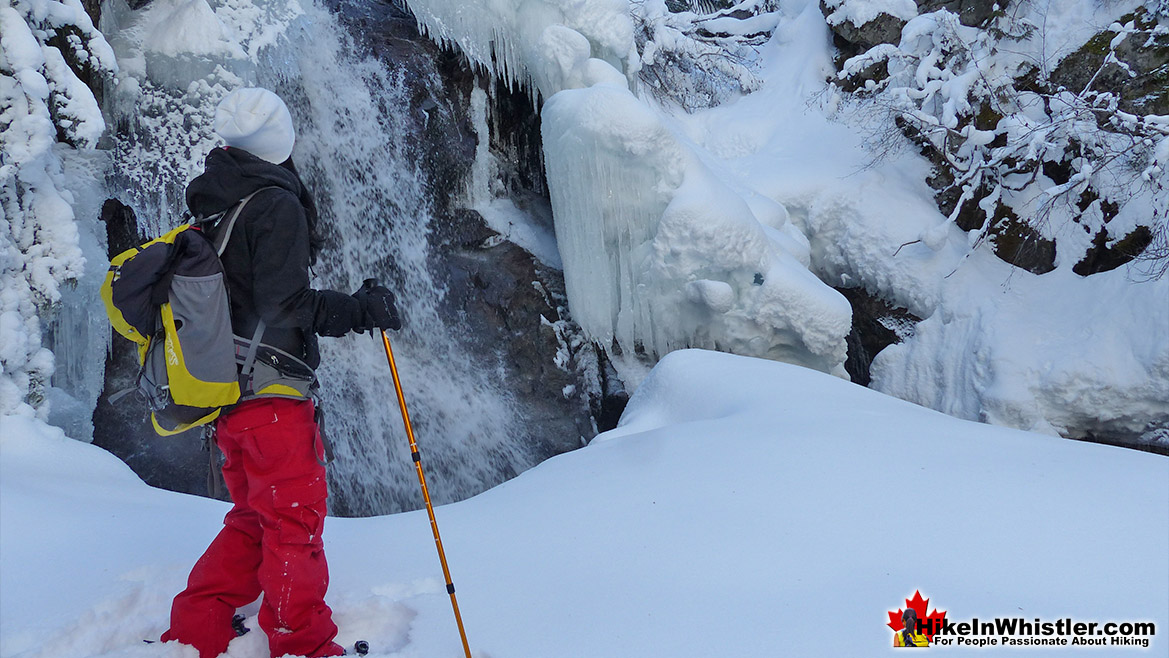 A Winter Wonderland Along the Flank Trail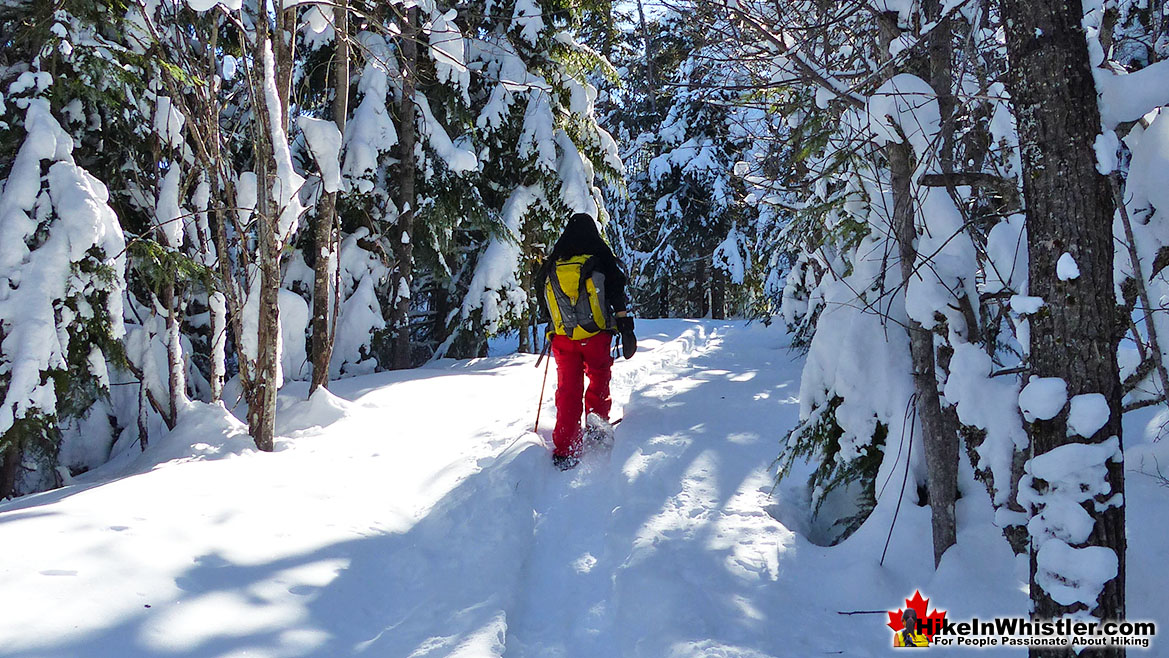 Flank Trail Camp View of Blackcomb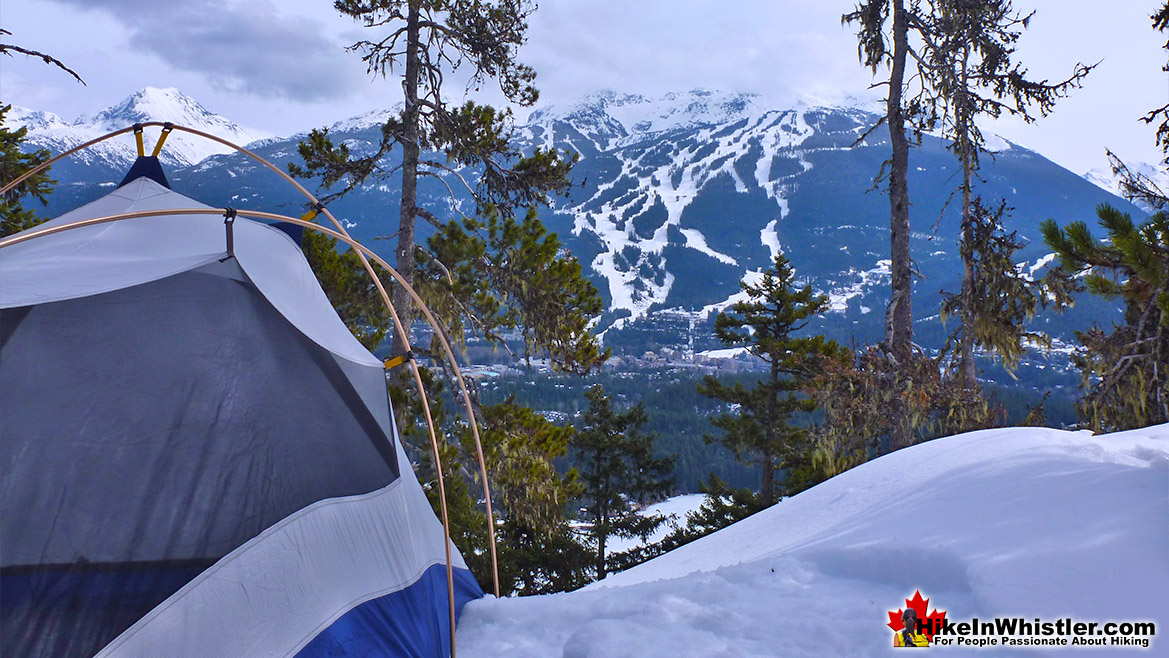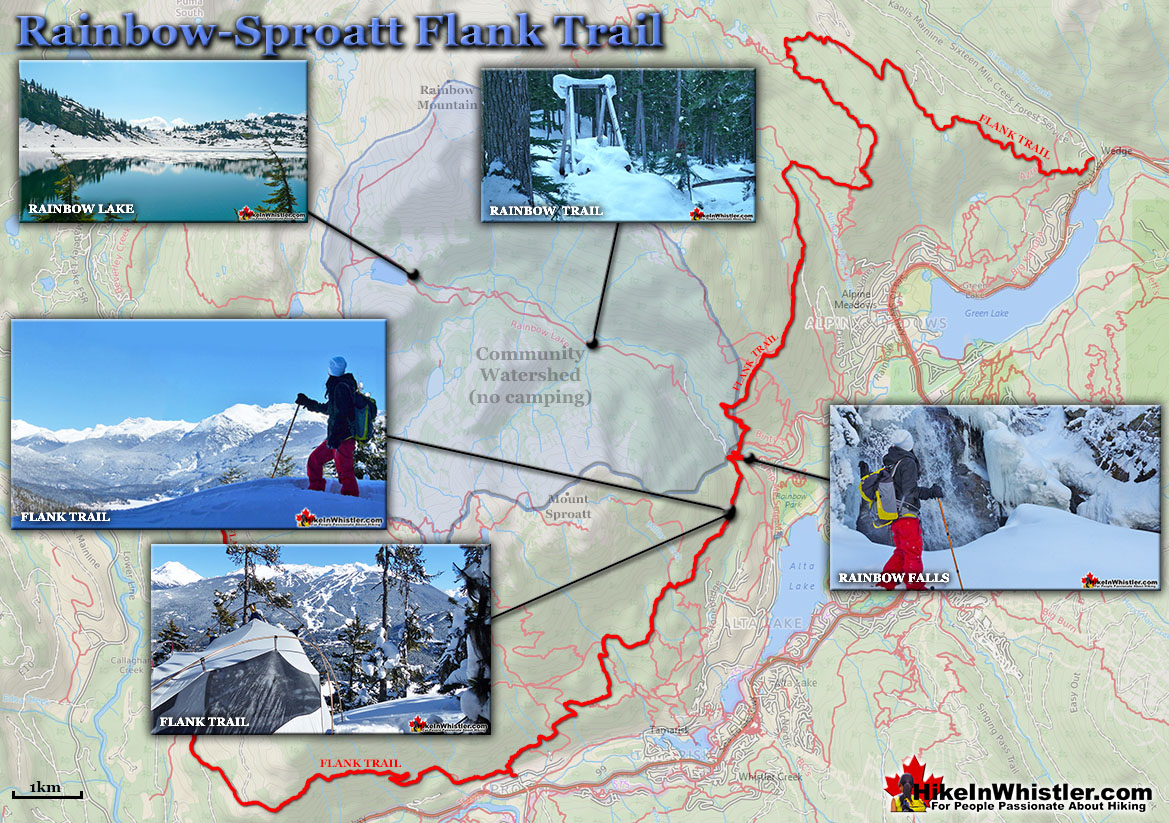 The 40 Kilometre Rainbow Sproatt Flank Trail

The 40 kilometre trail takes you past some pretty amazing sights. The westernmost access to the Flank Trail, if you don't count the usually inaccessible Olympic Park, is effectively the long abandoned Northair Mine.  This briefly thriving gold mine is now an unusual little world in the woods.  A beautiful little man-made lake dominates the area now with a dirt road running along its edge, and to the surreal, cement skeleton-like foundations of what must have been quite a large building.  The foundations are now adorned with brightly painted murals and several small fire pits.  Standing in the relic you can look across the beautiful lake, green forest beyond and Rainbow Mountain in the distance.  In the summer and fall you can drive to Northair Mine as the Flank Trail that passes here is more accurately an old logging road, than a hiking trail.
Flank Trail View of The Armchair aka Mount Weart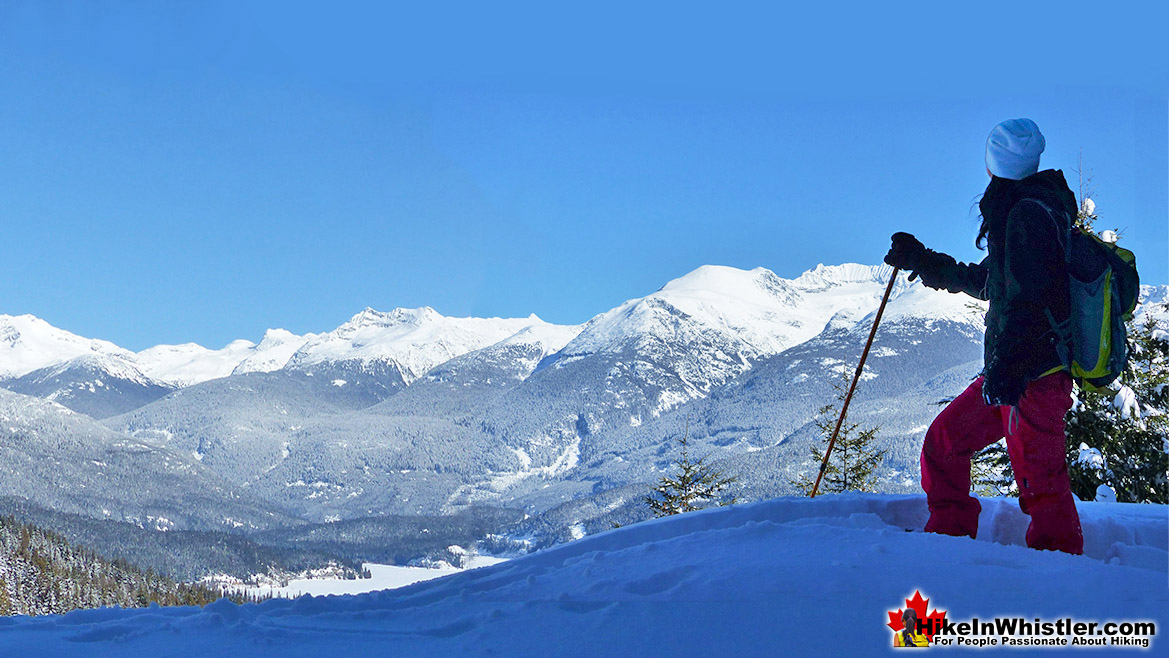 The Flank Trail From Northair Mine
Past Northair Mine, the Flank Trail slowly descends toward Whistler and the logging road finally gives way to a wide trail that you quickly discover is popular with bikes.  The length, width and beautifully gradual elevation gain and loss of the Flank Trail makes it an amazing trail on a bike when the winter snow melts in the spring.  You can cover a great distance, see dozens of amazing viewpoints and all the while along are comparatively relaxing route.  The Flank Trail continues to descend all the way to Function Junction, the southernmost neighbourhood in Whistler.  It then turns 90 degrees to the left and ascends quickly along the flank of Mount Sproatt.  Tremendous glimpses of Alpha Lake, then Nita Lake, and finally Alta Lake come into view as you appreciate how quickly you have climbed.  People boating on the lakes are tiny specks that take a moment for your mind to comprehend what they are.  Along this section, more than any other on the Flank Trail, you see frequent side trails.  Almost always on your right, but more recently on the left.  These purpose built bike trails, almost all black diamond in difficulty, plunge into the forest and along and over rock cliffs, over bridges and shockingly steep ramps.  The Flank Trail inspired the creation of bike trails, which in turn enable more hiking trails.  This back and forth trail building frenzy has, and is, producing a bewildering and ever expanding trail network on this once sleepy side of the valley.
Beautiful Rainbow Falls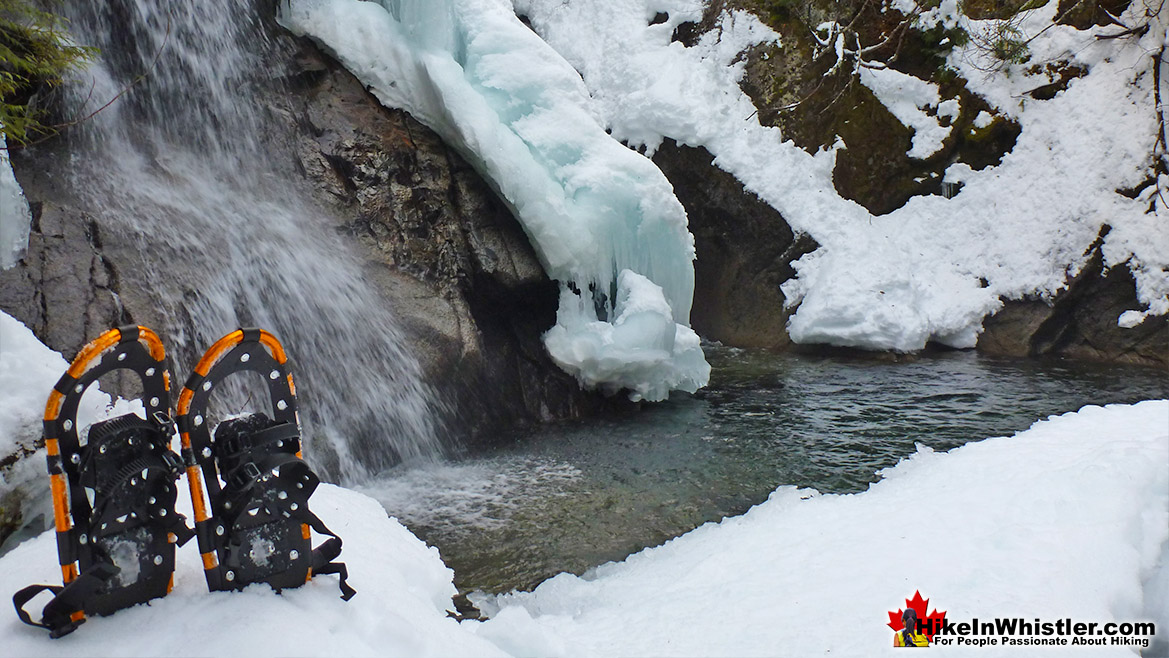 Rainbow Trail and the Flank Trail
At roughly the mid point of the Flank Trail you will come to a small, overlapping section of the Rainbow Trail, near Rainbow Falls.  From Whistler Olympic Park to the Rainbow Trail, you will have hiked halfway around Mount Sproatt.  The Flank Trail seems to terminate at the Rainbow Trail, however a small sign directs you to turn right, follow the Rainbow Trail, for a couple hundred metres, then left after the water treatment building to the beautiful bridge over Twentyone Mile Creek.  A beautiful way to access the Flank Trail on snowshoes or on foot any time of the year is via the Rainbow Trail near Rainbow Park on the far side of Alta Lake.  From the road-side parking at the trailhead you are immediately plunged into deep forest, deep snow, and the sound of crashing water nearby.  The Rainbow Trail winds through the forest fairly steeply upward.  In less than a kilometre you come to Rainbow Falls crashing down through huge pillows of snow.  This little waterfall sits in a beautiful little snowy enclave that feels as though it belongs in some movie.  Deep snow, crystal clear green water cascading down from a frozen cliff.  A little, hidden paradise.  One of many in Whistler.  Further up the trail takes you to the first signs for the Flank Trail.  The Flank Trail overlaps and crosses the Rainbow Trail for half a kilometre.
The Flank Trail Bridge Over Twentyone Mile Creek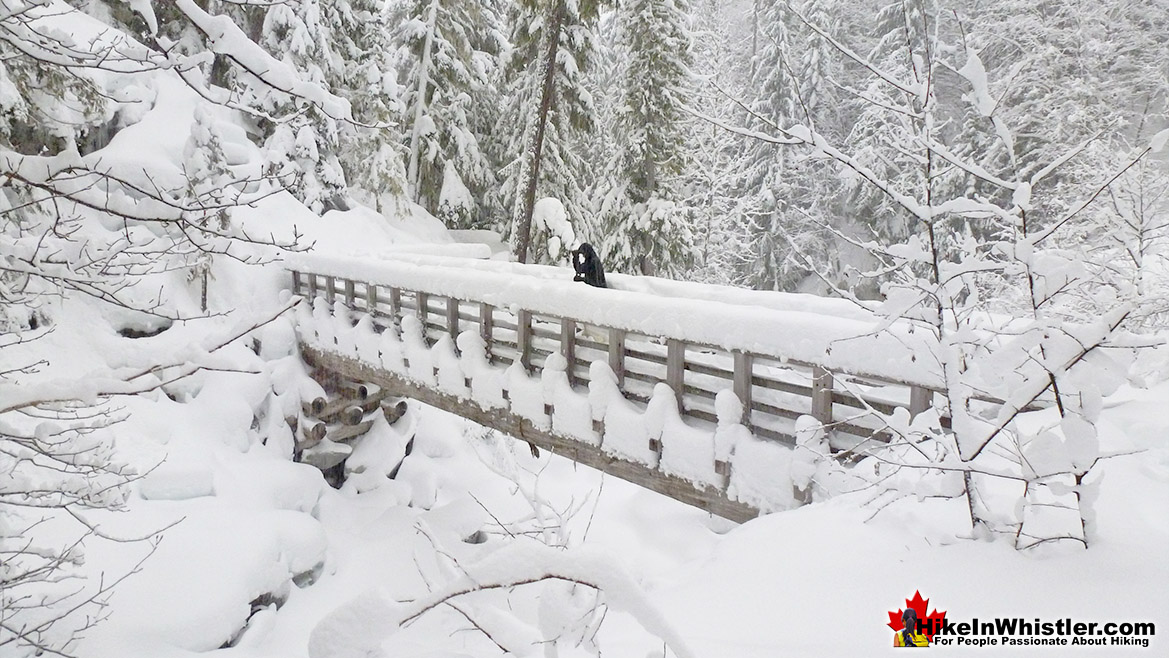 Following the Flank Trail to the right takes you to a very scenic bridge over Twentyone Mile Creek.  Following the Flank Trail to the left leads you to a steady ascent for 400 metres along the Rainbow Lake trail to the trail turnoff to the Flank Trail.  The Flank Trail from here quickly ascends through more deep forest and finally after 15 minutes opens up and flattens out.  The views become beautiful and trail less tiring.  Whistler, Blackcomb and Wedge mountains all come dramatically into view and Alta Lake appears far below.  Just steps from the trail take you to pristine, snowy outcrops, perfect for taking in the view on a sunny day.. and with most of the Flank Trail south facing, sun will always be facing you over Whistler.  The Flank Trail is way more than a day hike on foot or snowshoes.  It is best tackled in pieces.  The great advantage of accessing it from the Rainbow Trail is that you are roughly in the middle of the trail.  On snowshoes, it is especially good.  The Rainbow Trail is steep here, but very scenic and even small kids won't complain.  Every bend in the trail reveals another great view.  Dramatic views of the crashing creek, beautiful snow weighed down trees, wilderness waterfall and a wonderful, snowy bridge crossing, all in the first 15 minutes on the trail.  Fantastic. 
More Whistler Snowshoe Trails

There are plenty of beautiful and free snowshoe trails in Whistler and Garibaldi Provincial Park.  From the surreal paintings of Whistler Train Wreck to the magnificent mountain serenity of Wedgemount Lake in Garibaldi Park.  Trails range from extremely easy, like the short, flat trails to Brandywine Falls and Rainbow Park.  To challenging and long trails to places like Elfin Lakes, Taylor Meadows and Wedgemount Lake.  Whistler even has a growing network of snowshoe trails to Parkhurst Ghost Town on the far side of Green Lake.  There are a couple pay-use snowshoeing areas in Whistler, however most free trails are as good or better.  Whistler Train Wreck is an easy/moderate snowshoe trail that takes you through a deep forest, over Cheakamus River via a very pretty suspension bridge, and to a series of decades old, wrecked train cars.  Elfin Lakes in Garibaldi Provincial Park is another beautiful place to snowshoe.  Located at the south end of Garibaldi Park, the Elfin Lakes trailhead is found in Squamish.  The trail is not overly difficult, however it is quite long.  A consistently uphill, 11 kilometre(13.7 mile) trail through some spectacular scenery takes you to the marvelous Elfin Lakes hut.  For easier snowshoeing, Rainbow Falls is a good option.  Located just a short drive from Whistler Village, the Rainbow Trail is a beautiful trek through the forest in a winter wonderland to a hidden waterfall surrounded by deep pillows of powdery snow.  For more challenging snowshoeing, Joffre Lakes Provincial Park is hard to beat.  A long, though beautiful drive into the mountains, north of Pemberton takes you to this moderately challenging, 11 kilometre(6.8mile) roundtrip snowshoe trail.  The frequently steep, winding trail takes you through a winter paradise and around, or over three frozen lakes.  Back in Whistler, an excellent place to snowshoe is to Parkhurst Ghost Town.  Sitting on the far side of Green Lake, Parkhurst was a thriving logging community several decades ago.  It has since been abandoned except for intermittent squatter communities over the years.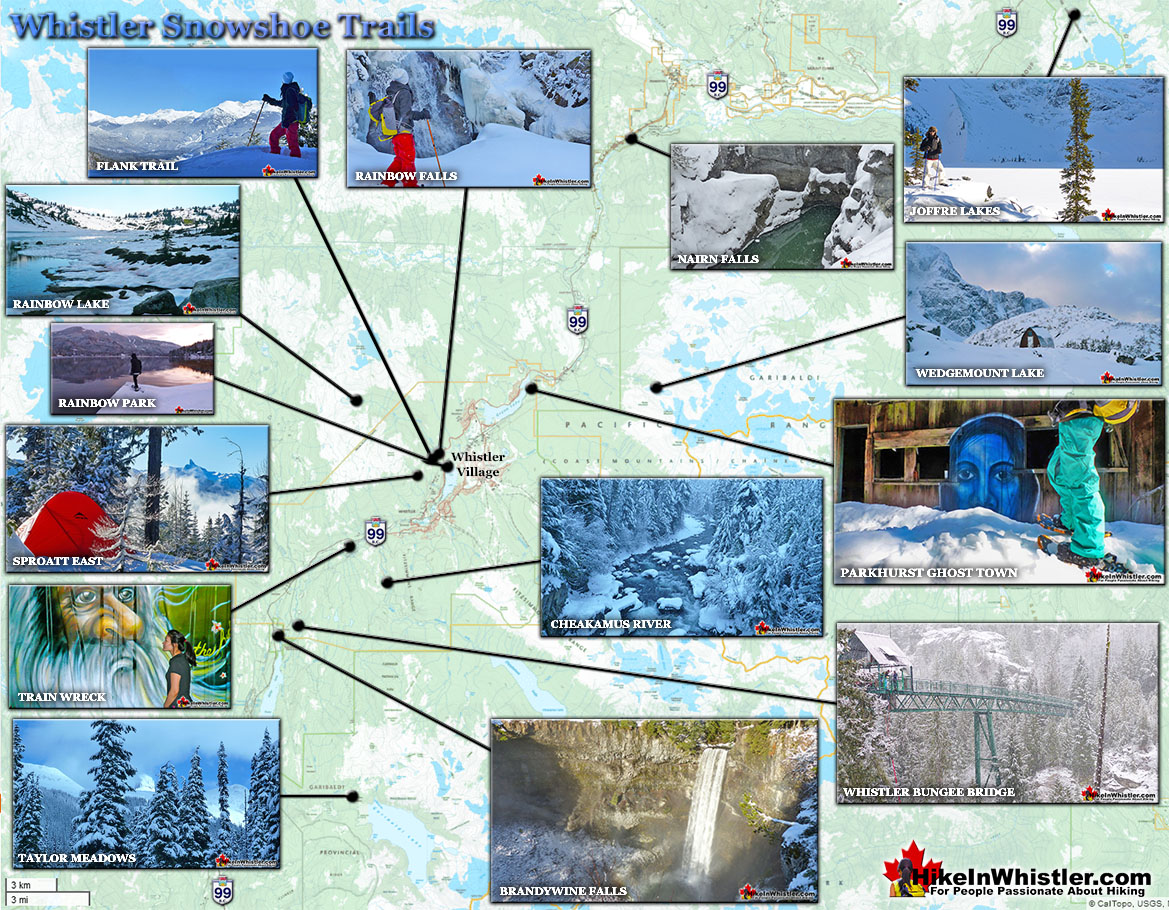 More Whistler & Garibaldi Park Snowshoe Trails!
Where to Hike in Whistler & Garibaldi Park by Month

Amazing Whistler & Garibaldi Park Hiking Trails!
Brandywine Meadows is a nice, relatively short hike to a massive flower filled valley high up in
Callaghan Valley
. Located 40 minutes south of Whistler, this tough and sometimes muddy trail gains a huge 550 ...
Read more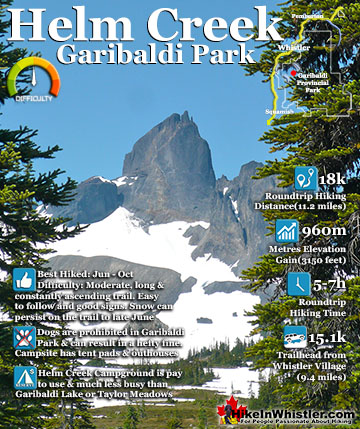 Helm Creek is a cute, meandering creek that winds its way from beyond
Black Tusk
, down the valley to the wonderful campground that takes its name. From the Helm Creek campground, Helm Creek descends further ...
Read more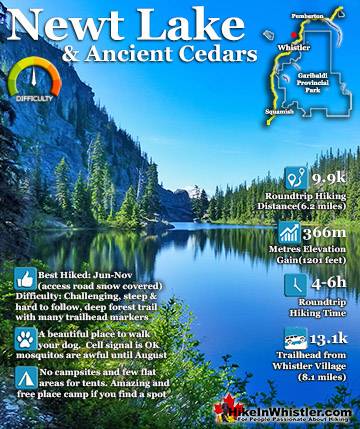 Newt Lake is cute little hidden lake high up on the far side of Cougar Mountain near
Ancient Cedars
.  Its location is a wonderful mix of unexpected characteristics that combine to make it a gorgeous place to ...
Read more