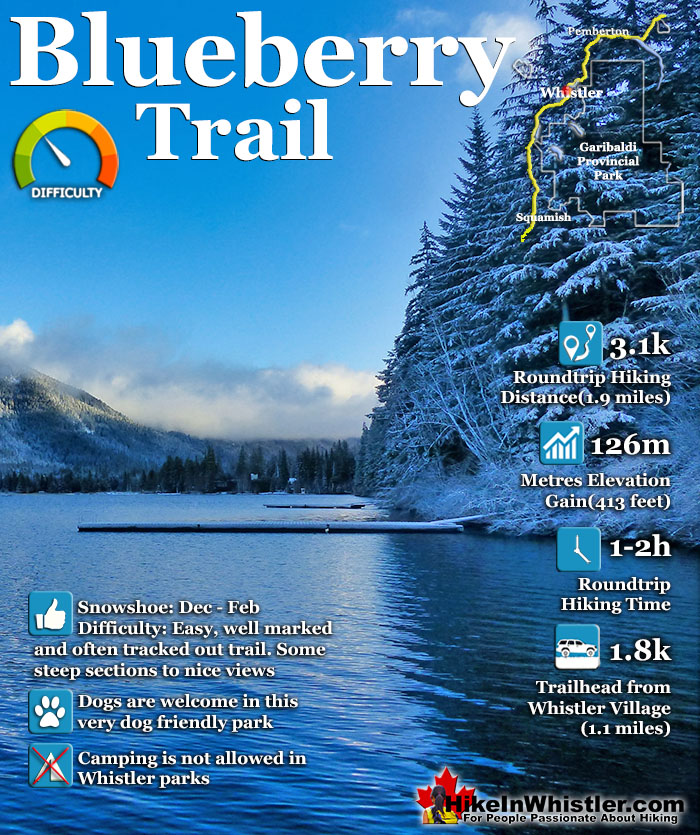 The Blueberry Trail is a relatively unknown, though very scenic trail that ascends quickly up to a cliff viewpoint high above Alta Lake.  Another trail hugs the shoreline of Alta Lake through a wonderfully deep forest past four secluded piers.  The trails connect a few hundred metres past the fourth pier, so you can continue to the north end of the park in Tapleys near Whistler Cay, or loop back to the south trailhead off St. Anton Way. 
Very convenient and close to Whistler Village

Walk, bike or drive to the trailheads

Five lovely piers on Alta Lake

Easy lake trail or steep hill trail

Quiet compared to other trails

Great views from hill trail

Very dog friendly

Quite a large forest to explore

Parking can be tricky to find

Pretty park, but not spectacular

Whistler Snowshoe Trails

Blueberry Trail 

Brandywine Falls 

Cheakamus River 

Elfin Lakes 

Flank Trail 

Joffre Lakes 

Nairn Falls 

Parkhurst Ghost Town 

Rainbow Falls 

Rainbow Lake 

Rainbow Park 

Sproatt East 

Taylor Meadows 

Train Wreck 

Wedgemount Lake 

January 

February 

March 

April 

May 

June 

July 

August 

September 

October 

November 

December
Geographically, the Blueberry Trail is directly across Alta Lake from Rainbow Park.  It can be accessed from either end via the neighbourhoods of Whistler Cay at the end of Crabapple Drive, or in Alta Vista at the end of St Anton Way.  Either trailhead is just a five minute drive from Whistler Village and both are conveniently close to Whistler's Valley Trail.  If it has not snowed heavily in the last couple days, you will likely not need snowshoes for the Blueberry Trail as the snow will have been packed down by others.  Blueberry Park gets its name from the hill that rises above it named Blueberry Hill.  The park is well hidden despite being on all the maps in Whistler because both trailheads are found at the end of quiet streets.  The trailheads do have small trail signs and once you are on the trails they are easy to follow, even in deep snow.  Though at times steep, the trail is short.  The high point of the trail, about midway, is only 1.2k from either trailhead.  There is a small clearing at the edge of quite a high cliff that is a great vantage point to the lake.  People skating, cross country skiing or walking appear as little black dots scattered across the frozen lake.  As snowshoeing trails go, this one is a great, fun, short workout to a beautiful vantage point and four wonderful piers.  Dogs are allowed here as well.  Blueberry Park is a very scenic park on Alta Lake that most Whistler locals don't even know about.  If you have been to Rainbow Park you would have noticed four piers across Alta Lake surrounded by forest.  These public piers sit along the edge of Blueberry Park, with the Blueberry Trail running from one side of the forest to the other. 
The Crabapple Drive Trailhead to Blueberry Park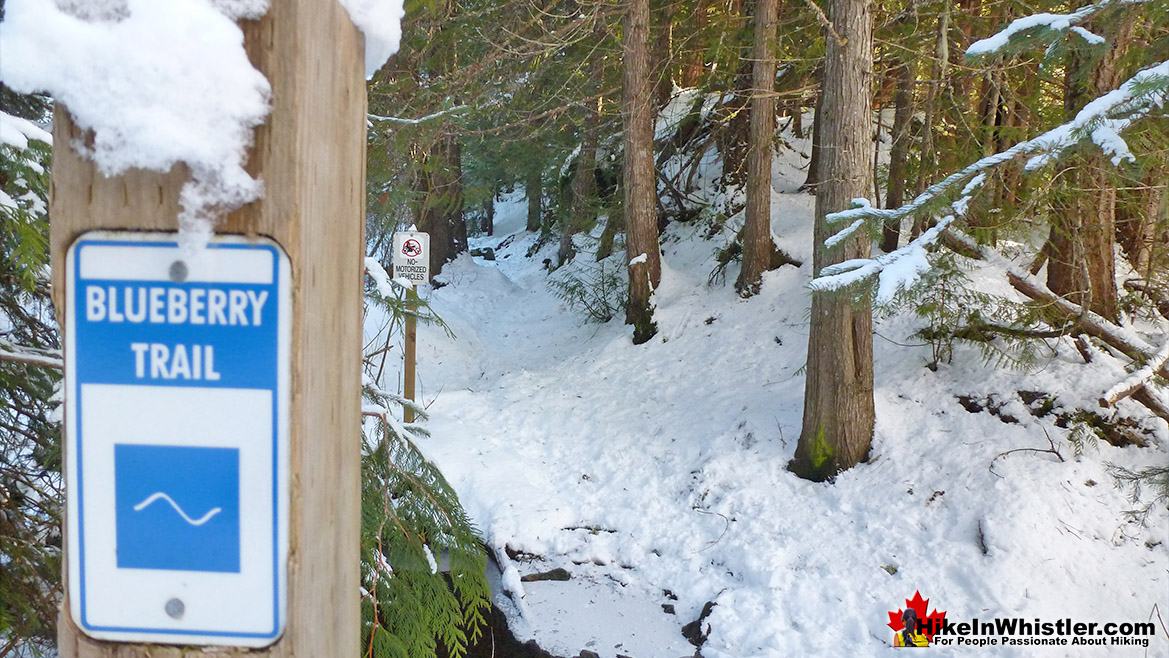 Blueberry Park is Very Dog Friendly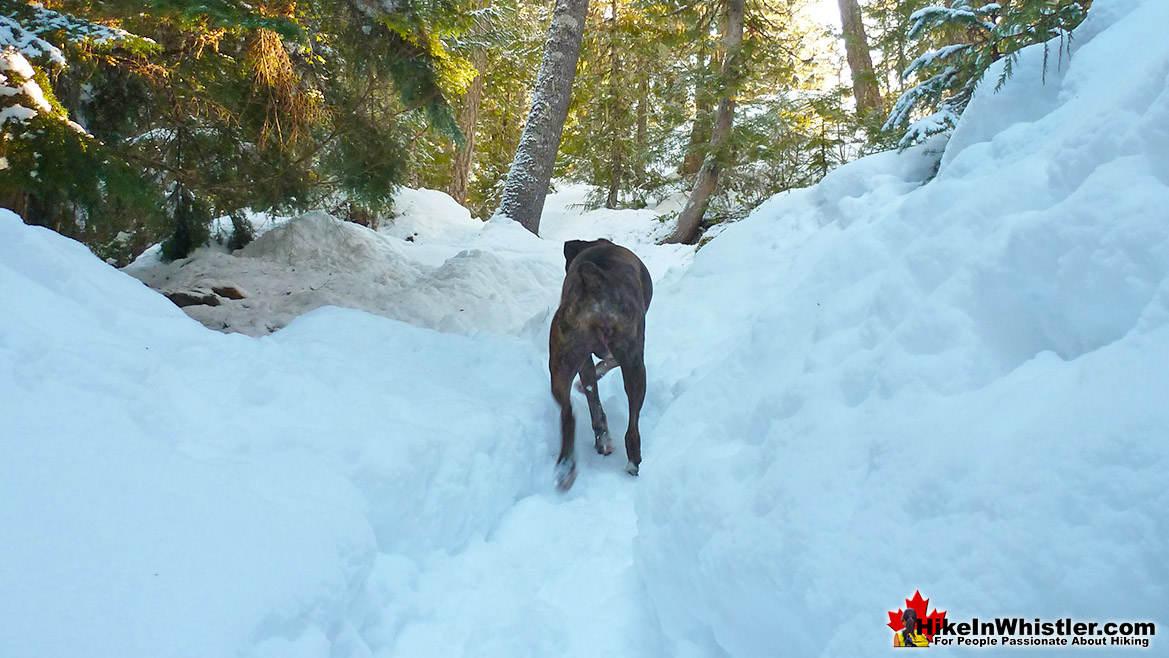 Blueberry Park Connects Neighbourhoods
Blueberry Park park covers most of the hill beyond these piers and stretches between, and connects the neighbourhoods of Whistler Cay and Alta Vista.  The beautiful, deep forest trail runs from the shores of Alta Lake in Alta Vista, up and across the Alta Lake side of Blueberry Hill and descends again to reach Whistler Cay.  Along the trail there are several beautiful viewpoints of Alta Lake in the foreground and the enormous Mount Sproatt in the background.  Blueberry Park was massively upgraded in 2013, which previously had been just a simple dirt trail through the forest and a faint trail to the piers.  Another new pier, gravel trail section, trail widening and new trail signs have been added.  For most of the trail, however, it is steep, rocky, wild and natural looking.  The forest is deep and dark.  Massive tree roots criss-cross the trail and fallen trees and boulders are strewn everywhere.  It has a wonderful remote and natural feeling to the forest that make you forget that you are so close to civilization.
Wintertime View from the Blueberry Trail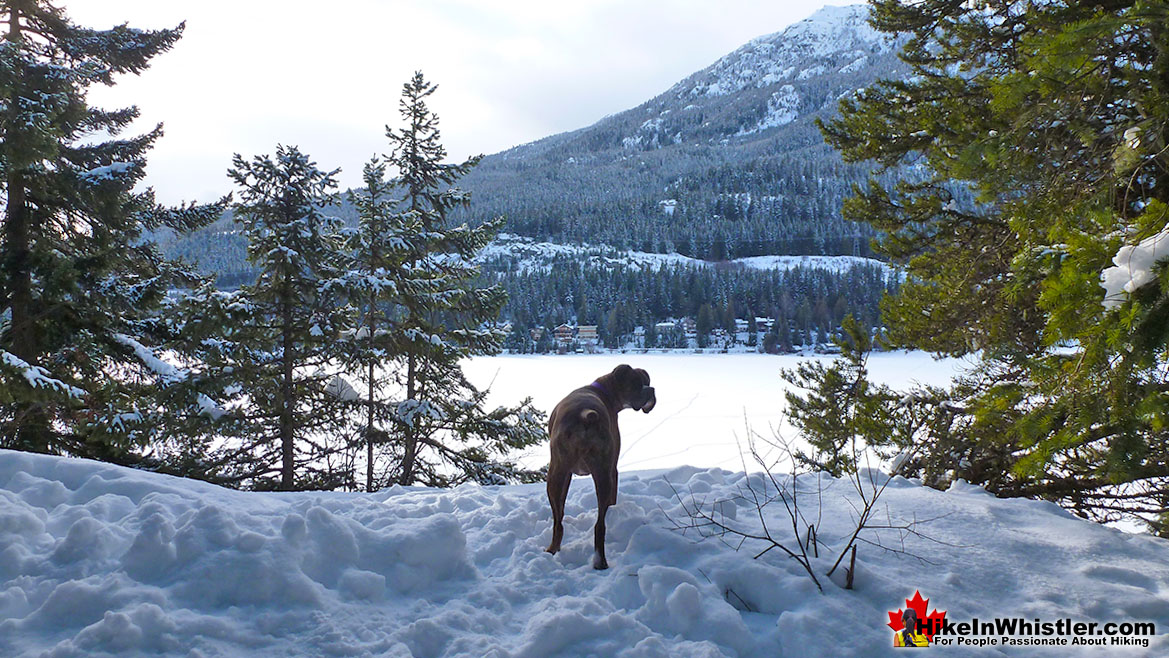 Blueberry Park Crabapple Drive North Trailhead

Blueberry Park can be reached from both ends of Blueberry Trail.  The Whistler Cay end of the trail is a bit tricky to find and parking is hard to figure out.  There is a Blueberry Trail sign at the trailhead but it is not visible from the end of Crabapple Drive.  To find it go all the way to the dead end of Crabapple Drive and you will see an unmarked trail.  About 10 metres in you will see the Blueberry Trail sign on your right.  If you are parking at one of the Blueberry Park trailheads always be careful where you park in Whistler in residential areas, especially in the winter months.  Look for 'no parking' signs.  Often you will see one side of a residential street with 'no parking' signs.  This is to allow for snow clearing and you may get towed if you block snowplows.  The dead end of Crabapple Drive is currently safe to park, however, take a look before you park in case this has changed.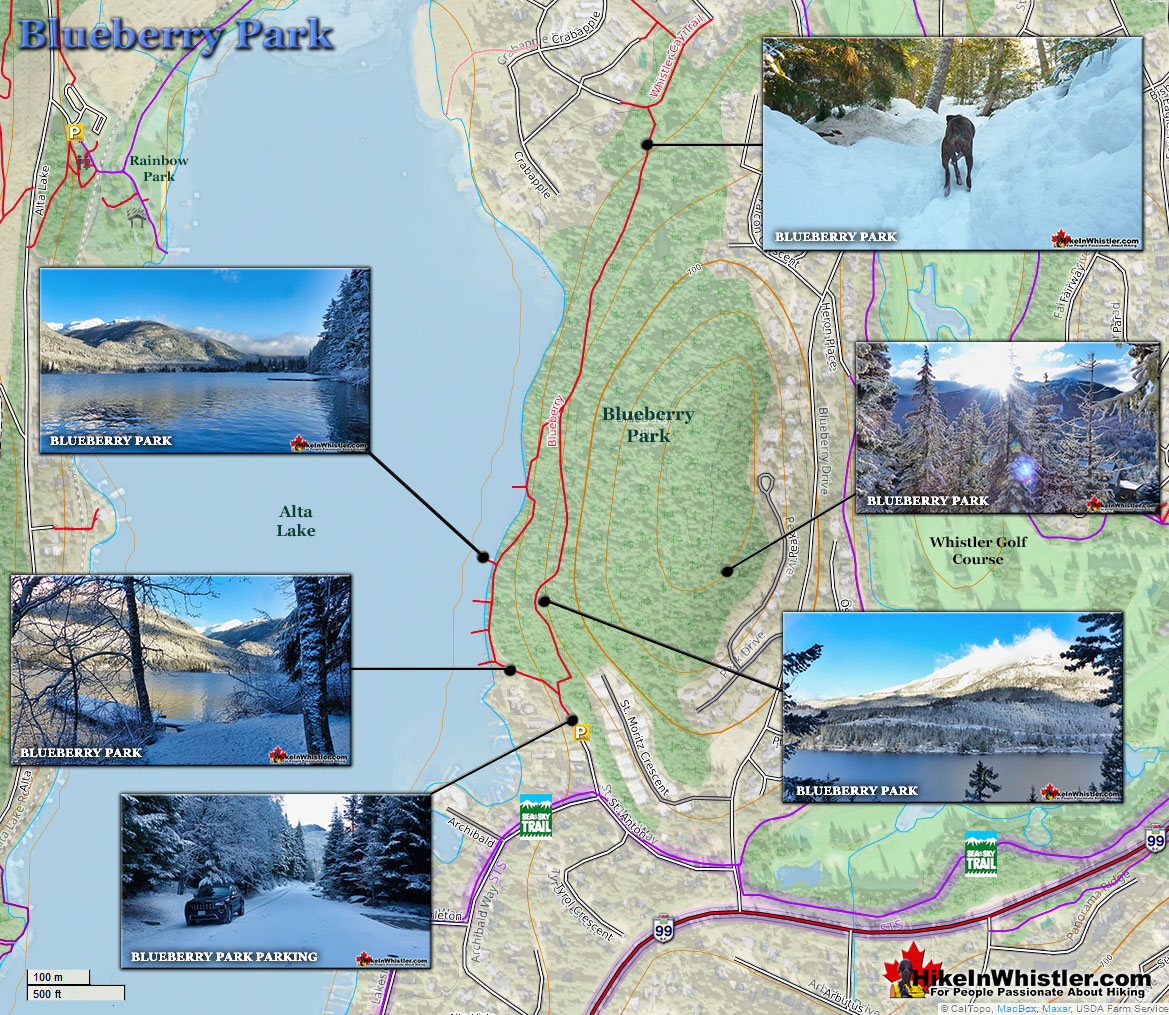 Blueberry Park St. Anton Way South Trailhead

If you are looking for a relaxing, short, two minute walk to the beautiful piers in Blueberry Park, they are best reached by the Alta Vista side at the end of St Anton Way.  As noted above keep an eye out for no parking signs, but at the moment parking is OK at the end of St Anton Way at the trailhead.  This side of Blueberry Park is home to the four piers on Alta Lake, making it the more scenic way to start the trail.  The Blueberry Park trailhead sign is easy to spot from St Anton Way and the nice, new gravel trail leads to to the four piers is just a few dozen metres in.  These piers are a great way to escape the crowds that you find in other Whistler parks such as Lost Lake Park, Alpha Lake Park, Wayside Park, Lakeside Park, and Rainbow Park.  Rainbow Park is directly across Alta Lake from the piers at Blueberry Park.  Where these other parks are beautiful with their grassy fields, beaches, kids play-parks and other amenities, none of them match Blueberry Park's wonderful, wilderness feel.  From the trailhead off St. Anton Way to the first pier pictured here is just a few metres and about a 2 minute walk from your car.
The First Pier in Blueberry Park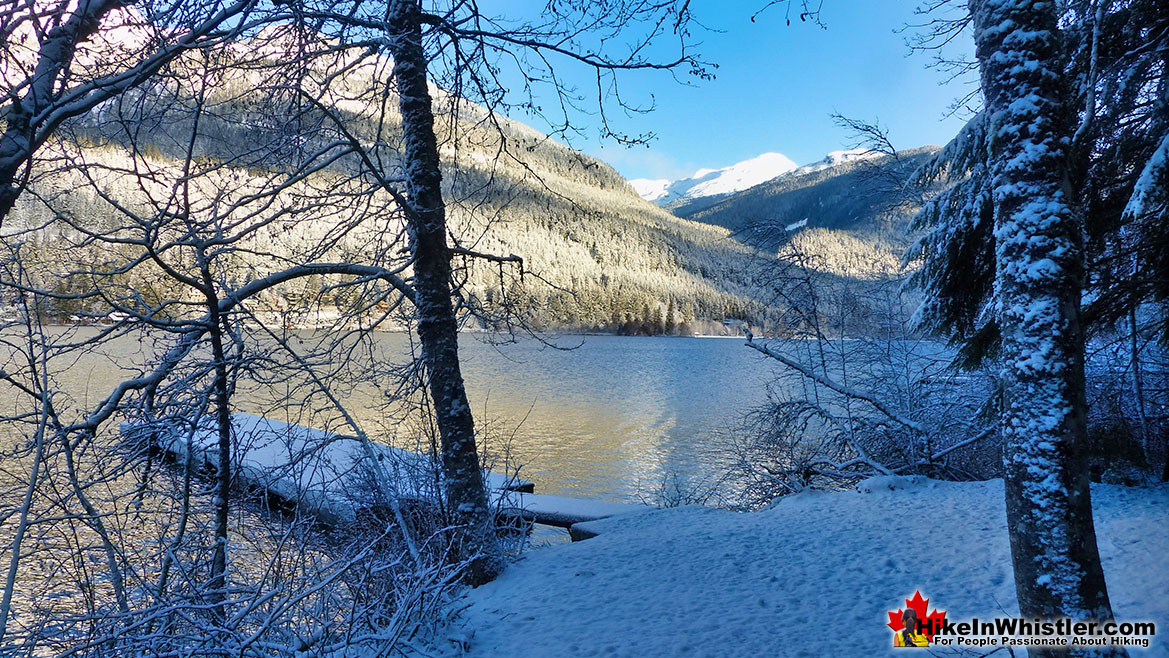 The trail continues past the first pier and hugs the shoreline where you come to the second pier.  Across Alta Lake, Mount Sproatt dominates the view across Alta Lake and the forest and snow conceal the staggering spider web of trails that cover this very underappreciated mountain.
Blueberry Park's Second Pier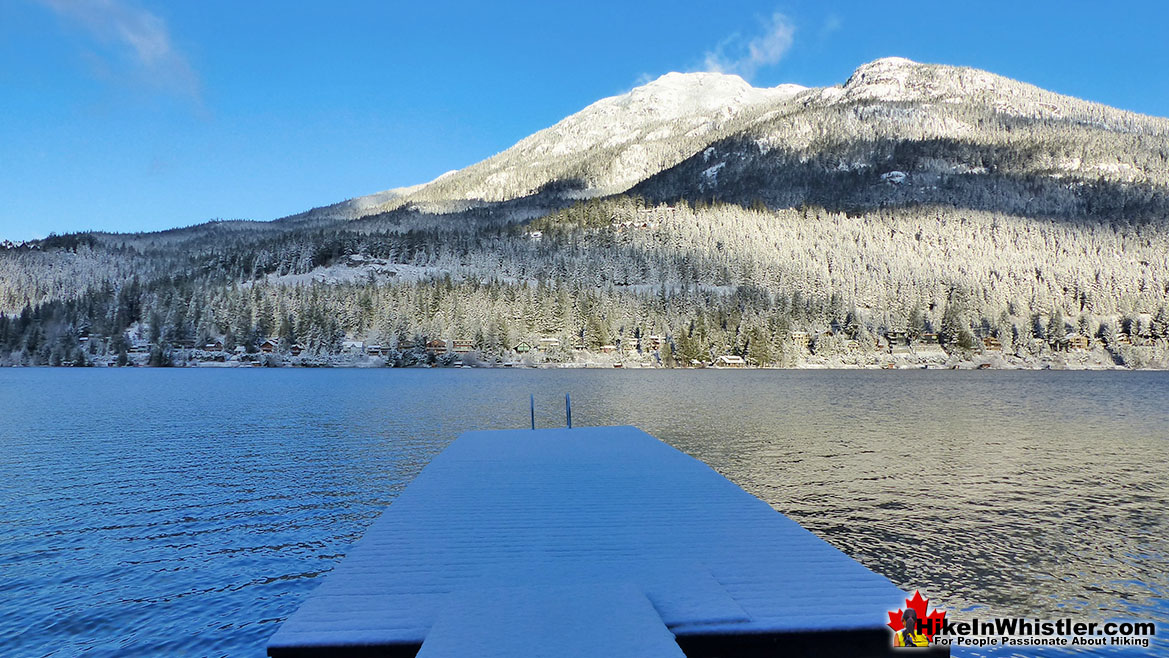 Looking north down Alta Lake you see the third and fourth piers and Rainbow Mountain.
The View from Blueberry Park's Second Pier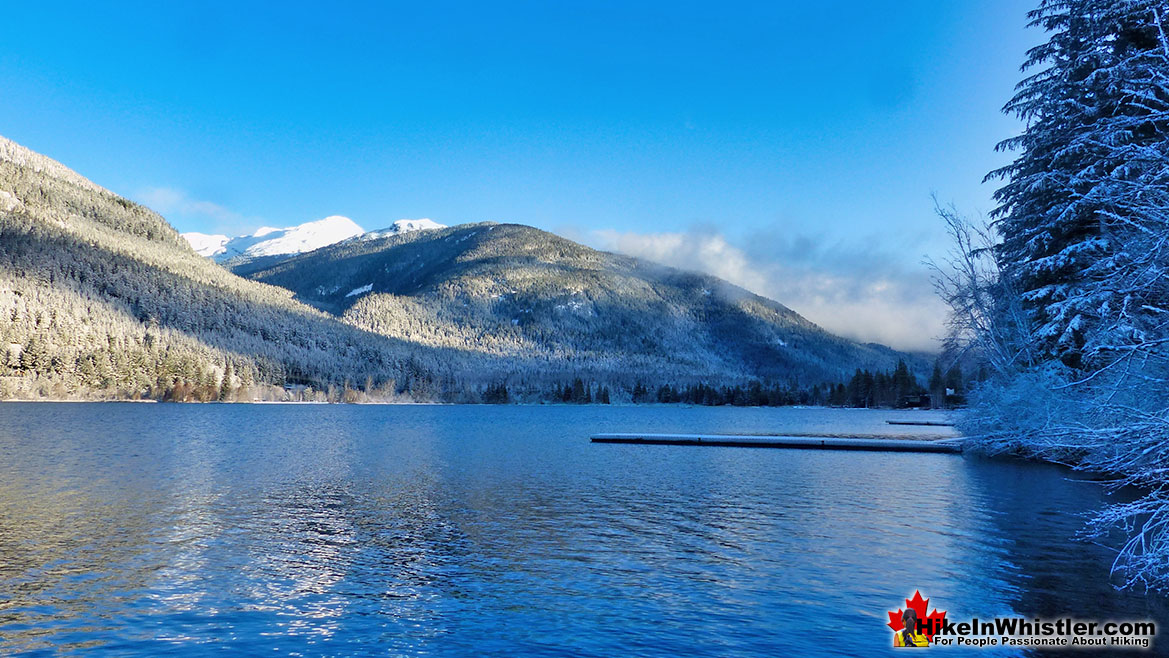 The Blueberry trail continues past the fourth pier and then ascends up into the forest for a couple hundred metres before merging with the upper trail that runs parallel to the shoreline trail.  If you turn left at the T junction you will be heading toward the north end of Blueberry Park.  If you turn right at the T junction you will ascend up the upper Blueberry Trail to the nice viewpoint overlooking Alta Lake.
The Blueberry Trail Viewpoint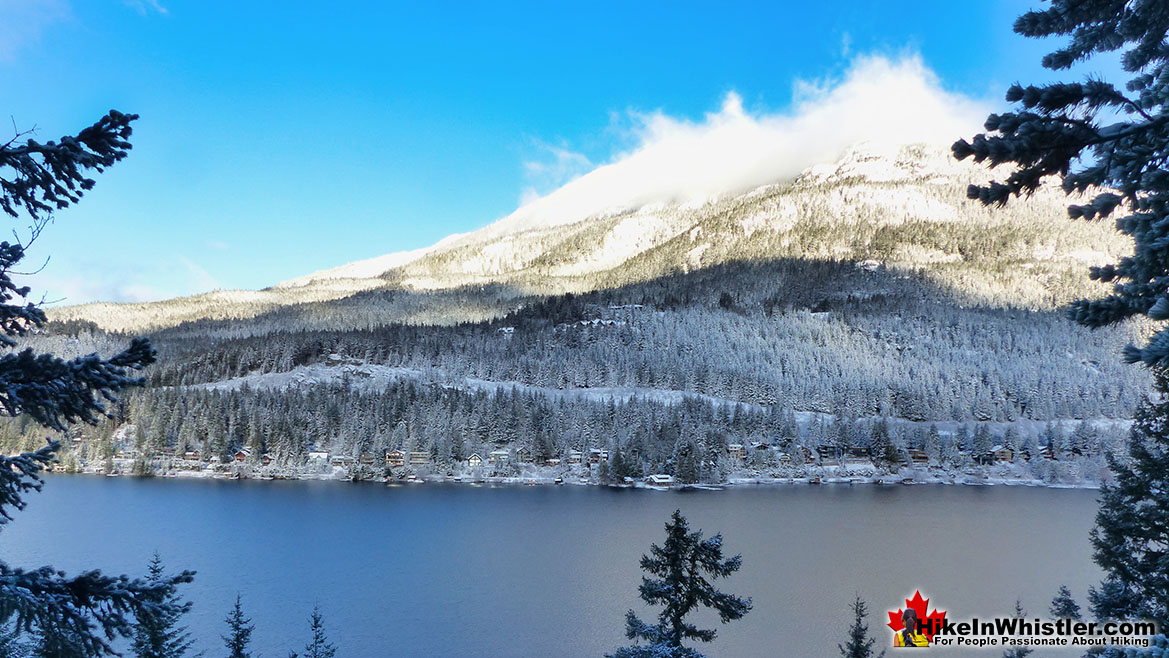 For as long as anyone seems to remember this swing has been here at this wonderful viewpoint, surrounded in forest overlooking Alta Lake.
The Viewpoint Swing in Blueberry Park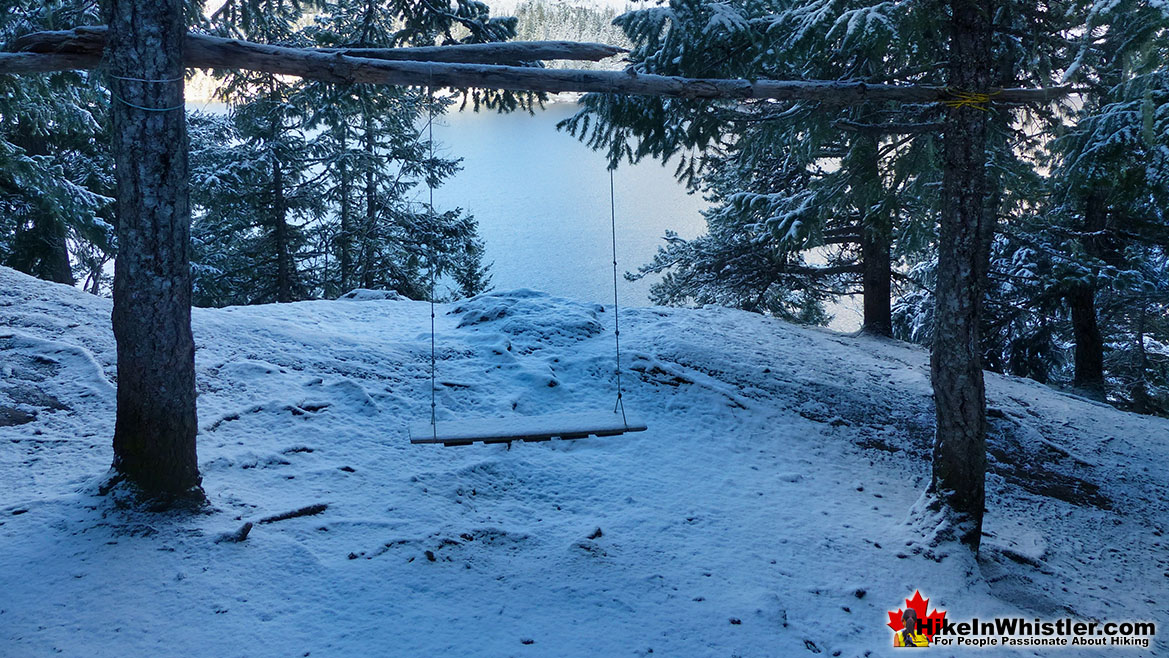 Getting to the Blueberry Park Trailheads

Walking or biking are your best options to get to Blueberry Park as it is so close to the Village and the Valley Trail is quite nice even in the winter months.  Driving will get you there in five minutes, while walking will get you there in 25 minutes. Parking for Blueberry Park is located at both ends of the Blueberry Trail.  There are small trailhead signs at each end but no indication of where to park at either end of the trail.  At the Whistler Cay end of the trail, parking is not easy as you cannot park past the bus stop turnaround. You may be best off parking on Lorimer Road and walking to the trailhead. Be sure to take a look for no parking signs as parking rules change by the season.  The south end of Blueberry Park is a bit better organized and you can park at the edge of the road along St Anton Way just a few metres from the visible trailhead and Blueberry Park sign.  This side of the park is also just steps from the five beautiful piers on the lake and for the most part, the nicer side of the trail.  Another parking option is to leave your car in Whistler Village and walk, run or bike the beautiful 5.8 kilometre circle route.  Start in the Village and go under the highway underpass to the Whistler Golf Course parking lot, turn left onto the Valley Trail.  Follow it along the golf course until you come out at Blueberry Drive.  Cross the street to get onto St Anton Way(still on the Valley Trail).  Leave the Valley Trail by continuing on St Anton Way.  The Blueberry Trail trailhead is at the end.  Watch for no parking signs, especially in the winter months as the rules change often.
St Anton Way Parking Rules Vary Seasonally 
Blueberry Park in the Summertime
More Whistler Snowshoe Trails
There are plenty of beautiful and free snowshoe trails in Whistler and Garibaldi Provincial Park.  From the surreal paintings of Whistler Train Wreck to the magnificent mountain serenity of Wedgemount Lake in Garibaldi Park.  Trails range from extremely easy, like the short, flat trails to Brandywine Falls and Rainbow Park.  To challenging and long trails to places like Elfin Lakes, Taylor Meadows and Wedgemount Lake.  Whistler even has a growing network of snowshoe trails to Parkhurst Ghost Town on the far side of Green Lake.  There are a couple pay-use snowshoeing areas in Whistler, however most free trails are as good or better.  Whistler Train Wreck is an easy/moderate snowshoe trail that takes you through a deep forest, over Cheakamus River via a very pretty suspension bridge, and to a series of decades old, wrecked train cars.  Elfin Lakes in Garibaldi Provincial Park is another beautiful place to snowshoe.  Located at the south end of Garibaldi Park, the Elfin Lakes trailhead is found in Squamish.  The trail is not overly difficult, however it is quite long.  A consistently uphill, 11 kilometre(13.7 mile) trail through some spectacular scenery takes you to the marvellous Elfin Lakes hut.  For easier snowshoeing, Rainbow Falls is a good option.  Located just a short drive from Whistler Village, the Rainbow Trail is a beautiful trek through the forest in a winter wonderland to a hidden waterfall surrounded by deep pillows of powdery snow.  For more challenging snowshoeing, Joffre Lakes Provincial Park is hard to beat.  A long, though beautiful drive into the mountains, north of Pemberton takes you to this moderately challenging, 11 kilometre(6.8mile) roundtrip snowshoe trail.  The frequently steep, winding trail takes you through a winter paradise and around, or over three frozen lakes.  Back in Whistler, an excellent place to snowshoe is to Parkhurst Ghost Town.  Sitting on the far side of Green Lake, Parkhurst was a thriving logging community several decades ago.  It has since been abandoned except for intermittent squatter communities over the years.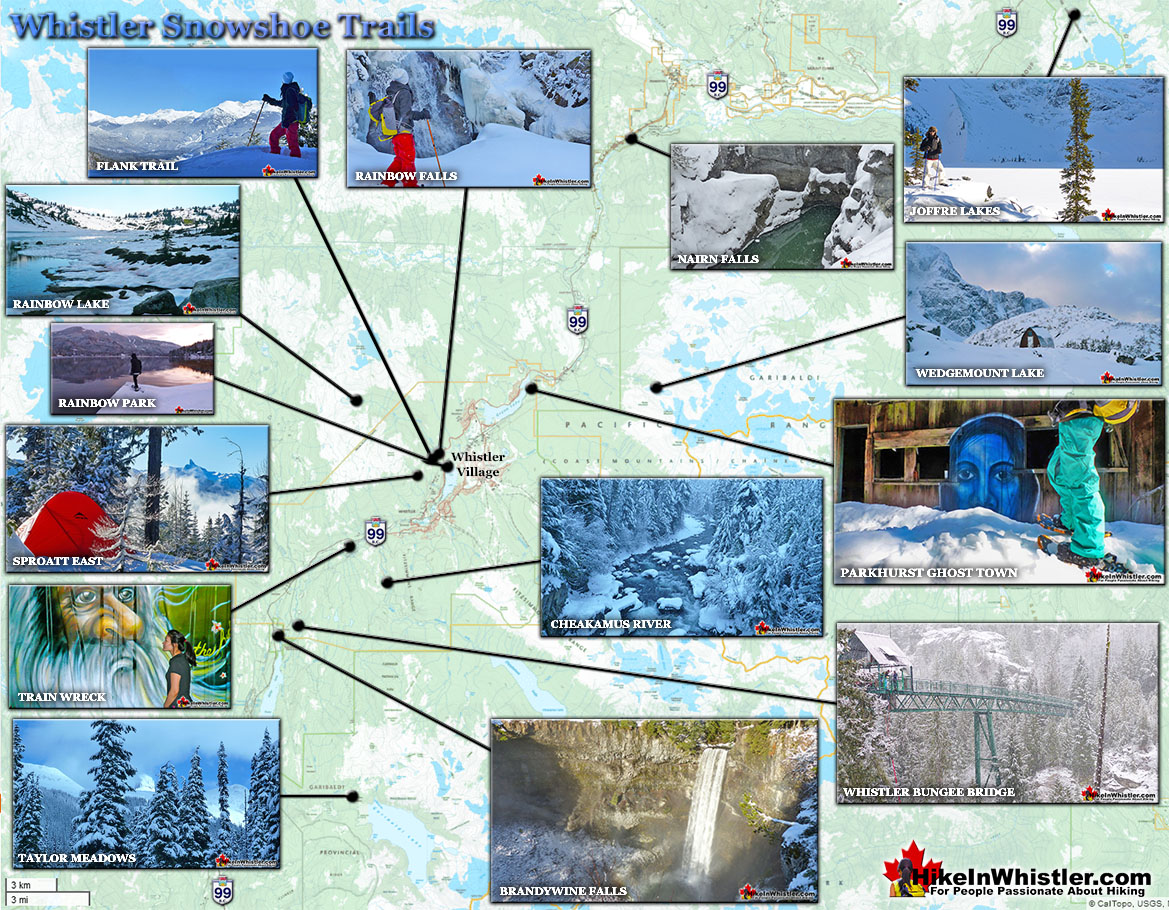 More Whistler & Garibaldi Park Snowshoe Trails!
Where to Hike in Whistler & Garibaldi Park by Month

Amazing Whistler & Garibaldi Park Hiking Trails!