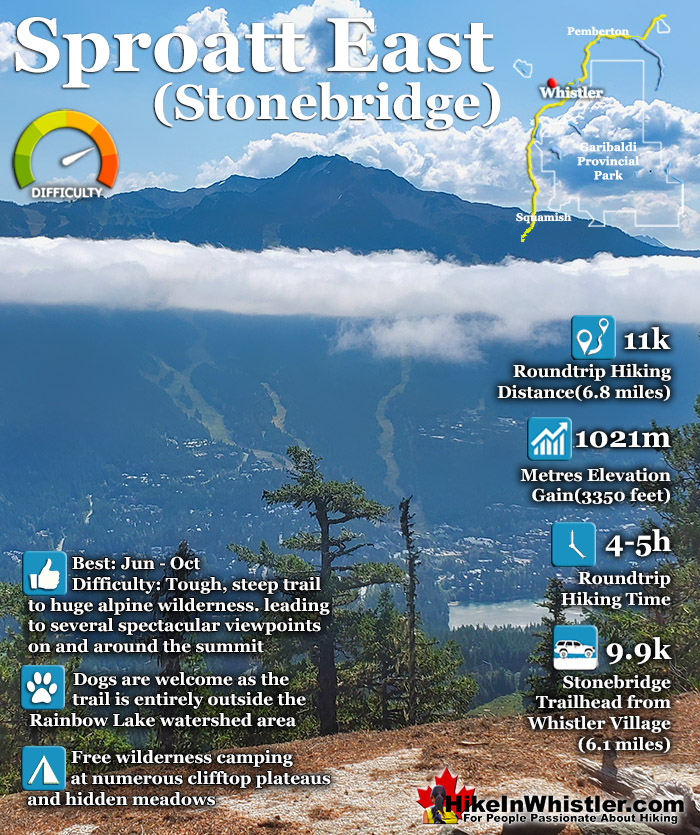 The Sproatt East trail is a beautifully wild, steep, but relatively short trail to the magnificent, wide open alpine and summit of Mount Sproatt.  Mount Sproatt (1834 metres) towers over Whistler Valley directly across from Whistler Mountain (2181 metres) and Blackcomb Mountain (2436 metres).  There are several routes and trails to access Sproatt and the Sproatt East trail is arguably the shortest and certainly the most convenient from Whistler.
Short trail & huge elevation gain

Fairly unknown & seldom hiked

Very fun & varied trail

Countless side trails to viewpoints

Amazing & free wilderness camping

Vast alpine network of trails

Trailhead is close to Whistler Village

Entirely dog friendly!

No scenic lakes like Wedge

Easy to get lost in the vast alpine

Whistler & Garibaldi Hiking

Alexander Falls  

Ancient Cedars  

Black Tusk  

Blackcomb Mountain  

Brandywine Falls  

Brandywine Meadows  

Brew Lake  

Callaghan Lake  

Cheakamus Lake  

Cheakamus River  

Cirque Lake 

Flank Trail 

Garibaldi Lake 

Garibaldi Park 

Helm Creek  

Jane Lakes 

Joffre Lakes  

Keyhole Hot Springs  

Logger's Lake  

Madeley Lake  

Meager Hot Springs 

Nairn Falls  

Newt Lake 

Panorama Ridge 

Parkhurst Ghost Town 

Rainbow Falls  

Rainbow Lake 

Ring Lake  

Russet Lake  

Sea to Sky Trail 

Skookumchuck Hot Springs  

Sloquet Hot Springs 

Sproatt East 

Sproatt West  

Taylor Meadows  

Train Wreck  

Wedgemount Lake  

Whistler Mountain

January 

February 

March 

April 

May 

June 

July 

August 

September 

October 

November 

December
The trail begins high up in Stonebridge, the luxurious Whistler neighbourhood that extends up the valley above Alta Lake along the lower part of Mount Sproatt.  From the trailhead in Stonebridge to the summit of Sproatt you gain over a thousand metres(3280 feet) in just 5.5 kilometres(3.4 miles).  The steepness of the trail is comparable to the trail to Wedgemount Lake where you gain 1220 metres(4003 feet) in just 7 kilometres(4.4 miles).  The Sproatt East trail quickly ascends from the Flank Trail into a stunningly varied array of deep jungle-like rainforest, to boulder strewn valleys, to spectacular rock outcrops above the treetops overlooking Whistler Valley.  One minute you are hiking over dry, rocky terrain under the hot sun, then suddenly you are enveloped in deep, dark forest with idyllic streams flowing across the trail.  Often you round a bend and find yourself facing a vertical wall of rock dozens of metres tall.  You find yourself staring in wonder at the staggering size and what the view must be like at the top.  The trail tends to bend around the base of these monoliths and almost always leads up to an access route to the top.  This is one of the great features of the trail is the seemingly endless array of towering cliffs overlooking Whistler far below.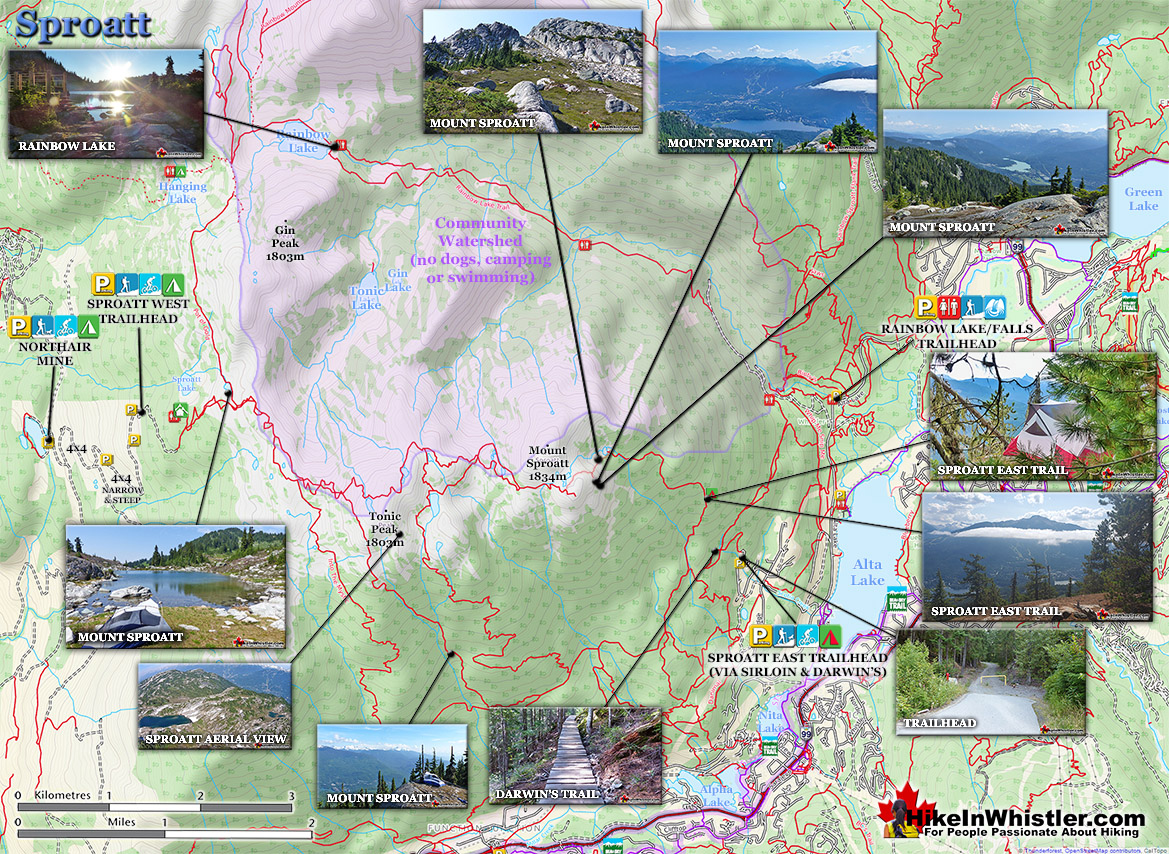 Beautiful Forest to the Amazing Sproatt Alpine
Nearing the summit of Sproatt you emerge from the forest and enter a dramatically beautiful, boulder strewn alpine with grassy meadows, tarns, cliffs and endless directions to explore.  The marked trail ends abruptly at a large meadow sloping upward toward the summit of Sproatt.  There are several steep, but not really difficult routes to the summit and there is even a large viewing platform overlooking Whistler on a cliff near the summit.  From the viewing platform and the summit of Sproatt trails extend west over the massive, broad expanse of alpine wilderness.  The ever-increasing spider web of trails branch in several directions.  Last Call and Happy Hour run roughly parallel west from the viewing platform.  Happy Hour connects to Lord of the Squirrels and veers south down to the Flank Trail.  Rush Hour continues west connecting to On the Rocks which continues all the way to the Sproatt West trailhead just up from Northair Mine in the Callaghan Valley!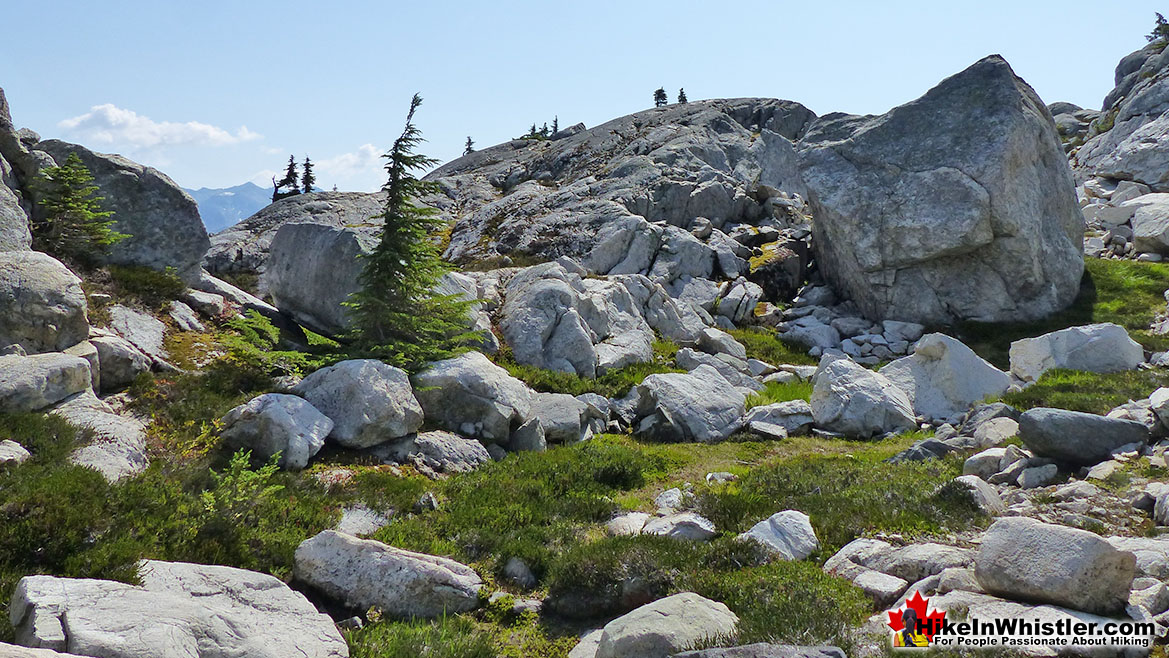 Sproatt East Trail is Steep and Short
At just 5.5 kilometres from the start of the trail in Stonebridge to the summit of Sproatt, the trail is almost constantly steep and at times tricky to follow.  A relatively unknown trail, it is not well worn and despite frequent trail markers you often find yourself wandering off the trail.  The steepness of the trail is daunting to some hikers, especially if you are carrying a heavy pack.  If you are packing light, you will still find the trail quite a workout, but at only 5 kilomtres until you reach the wide open alpine and tremendous views, the exertion is worth it.  The shortness of the trail makes it fairly kid friendly as well and kids love the bike boardwalks in the first kilometre.  You do have to keep in mind hiking the trail back down is steep and tricky for young kids and a tough workout even for fit adults.  At a fairly steady pace most hikers will take a couple hours to cover the 5 kilometres to reach the alpine and another 30 minutes to scramble the last half kilometre to the viewpoint or the summit of Sproatt.  The knee shredding descent is much quicker and at a good pace takes about an hour.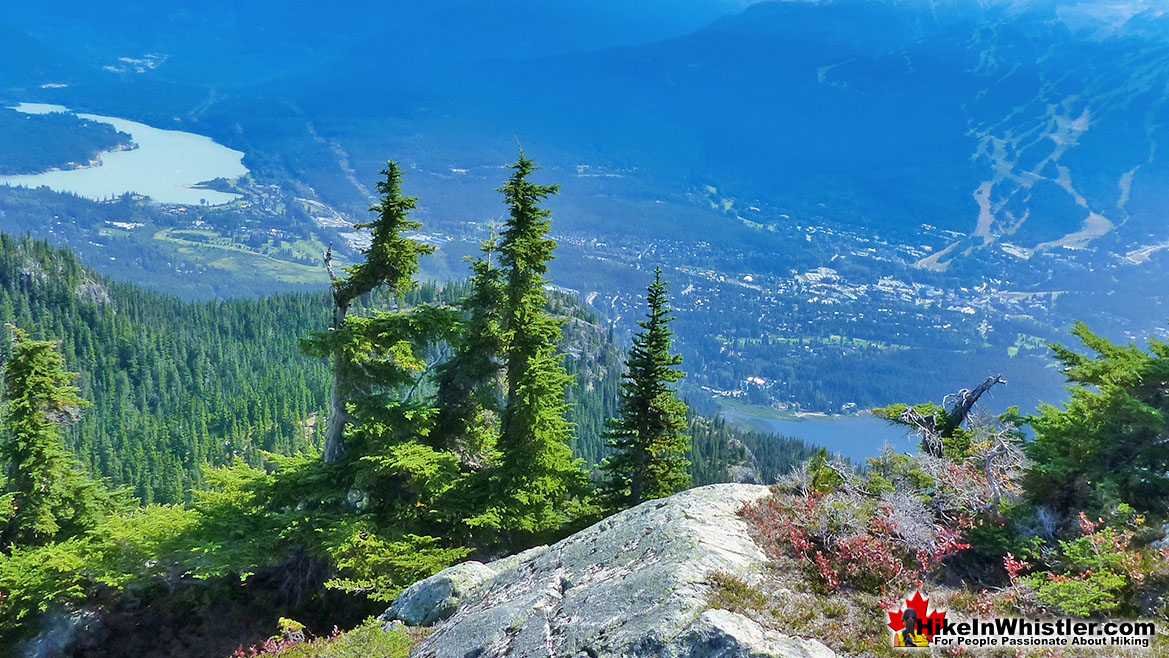 Sproatt East Trail Hiking Time
Roundtrip hiking time for the Sproatt East trail is usually 4 to 5 hours, but if you explore the alpine of Sproatt you could spend days.  Much of the vast alpine of Sproatt is within the Rainbow Lake watershed region and dogs, camping, swimming, etc are prohibited, however the entire Sproatt East trail is outside the watershed.  With dogs prohibited on the nearby Rainbow Lake trail as well as Whistler Mountain, Blackcomb Mountain, Garibaldi Park and Joffre Lakes, the Sproatt East trail is one of the best dog friendly hiking trails in Whistler.  Free and legal camping is also a bit tricky to find in Whistler, but along the Sproatt East trail and on much of Sproatt camping is free, legal and often spectacular.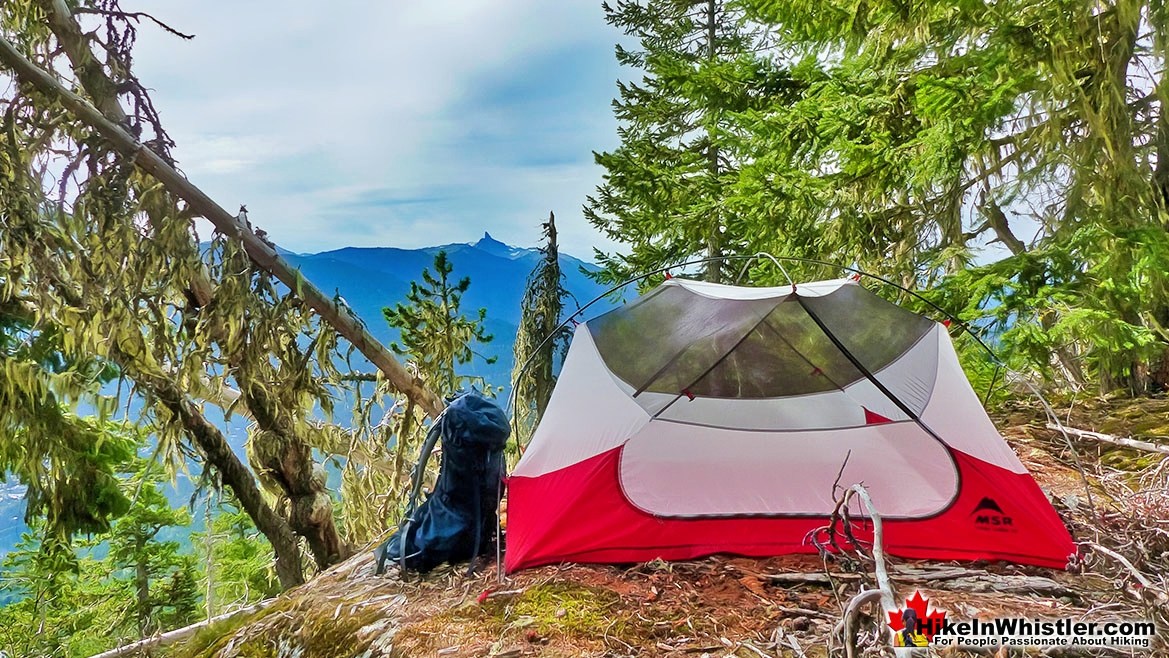 Sproatt East Hiking Trail Map

Finding your way to the Sproatt East trail is a bit tricky as there are no signs for the trail and the trailhead where you park your car is unmarked as well.  Despite the lack of signs, the route is fairly straight forward.  The unmarked trailhead is found high up in Stonebridge at the end of Stonebridge Place, where you will find free parking along the road.  A yellow gate marks the 200 metre access road that leads up to the start of the Sirloin trail which runs for 640 metres and connects to Darwin's trail.  You follow Darwin's for about 400 metres until it merges into the Flank Trail.  After a couple hundred metres you cross Nita Creek and almost immediately see the unmarked Sproatt East trail on your right.  There are no Sproatt East signs, but the trail is well worn and with plenty of trail markers.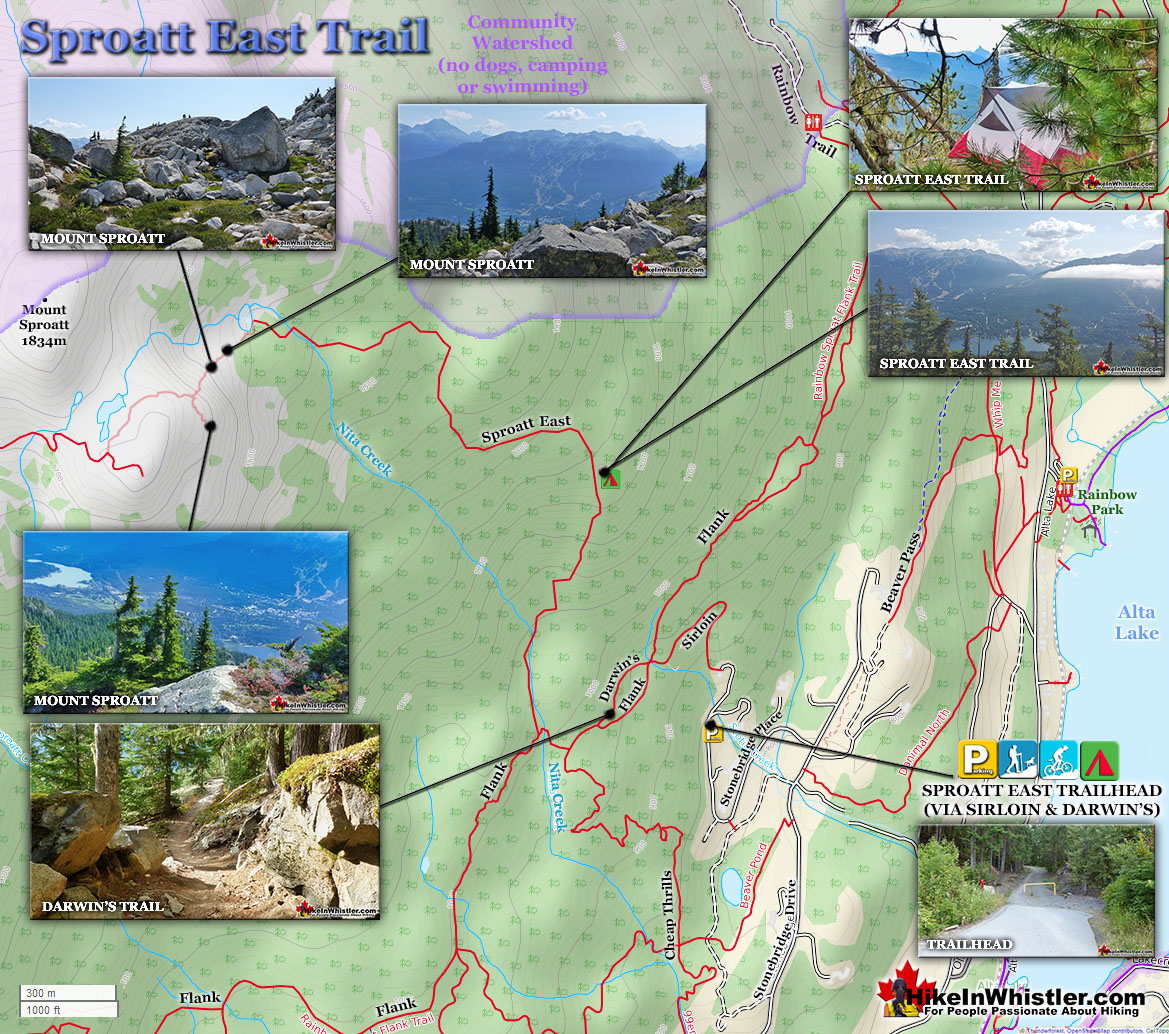 Sproatt East Trail Stats:
Driving There: 15 minutes south of Whistler Village(9.9 kilometres/6.1 miles)  Hiking Distance: 5.5 kilometres/3.4 miles, one way from the trailhead to Sproatt summit.  Hiking Time: 2-3 hours up and 1-2 hours down.  Start Elevation: 813 metres/2667 feet.  End Elevation: 1834 metres/6017 feet.   Elevation Gain: 1021 metres/3350 feet.  Fees: None  Campsites: No  Camping Allowed: No  Difficulty: Challenging, very steep but short trail, easy to follow  Kid Friendly: Yes, short enough to be fun, lots to see  Stroller Friendly: No  Dog Friendly: Yes
Hiking the Sproatt East Trail

The Sproatt East trail begins from the Flank Trail and the shortest route to get there is by hiking up two connecting bike trails and the Flank Trail.  Parking near the end of Stonebridge Place you begin by walking up the steep, 200 metre gravel access road to reach the Sirloin trailhead.  The Sirloin trail ascends quickly into the forest along a rocky, dirt trail.  Immediately you are surrounded by a beautiful, deep forest.  Sirloin was constructed mainly as a bike trail and there are a couple of small boardwalk bridges.  After 600 metres you cross the Flank Trail and connect onto Darwin's trail.  Darwin's is a fun trail that bends steeply through the forest on much more elaborate bridge boardwalks than you crossed onto Sirloin.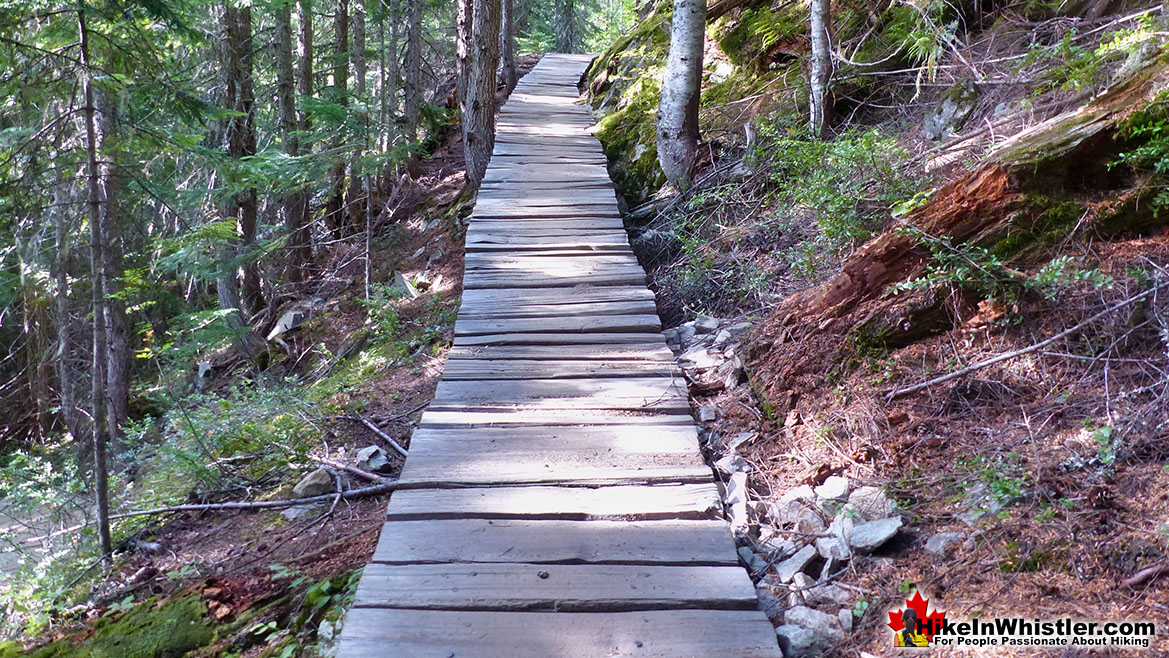 Glacier Scoured Bedrock on Sproatt
The steep, and often boulder strewn trail continues up and over a big section of smooth, solid bedrock that was evidently scoured smooth by the glacier that filled the valley 13000 years ago.  Further up the trail you emerge from the forest along a steep cliff and you get a beautiful view of Whistler Valley which is now quite far below.  The trail bends its way up and along an ever-increasing mountain slope.  Huge boulders that continuously tumble down Sproatt are laying everywhere and often positioned like big paving stones like an old Roman road.  Darwin's trail is just 360 metres long and merges onto the Flank Trail which continues for another 400 metres before crossing Nita Creek.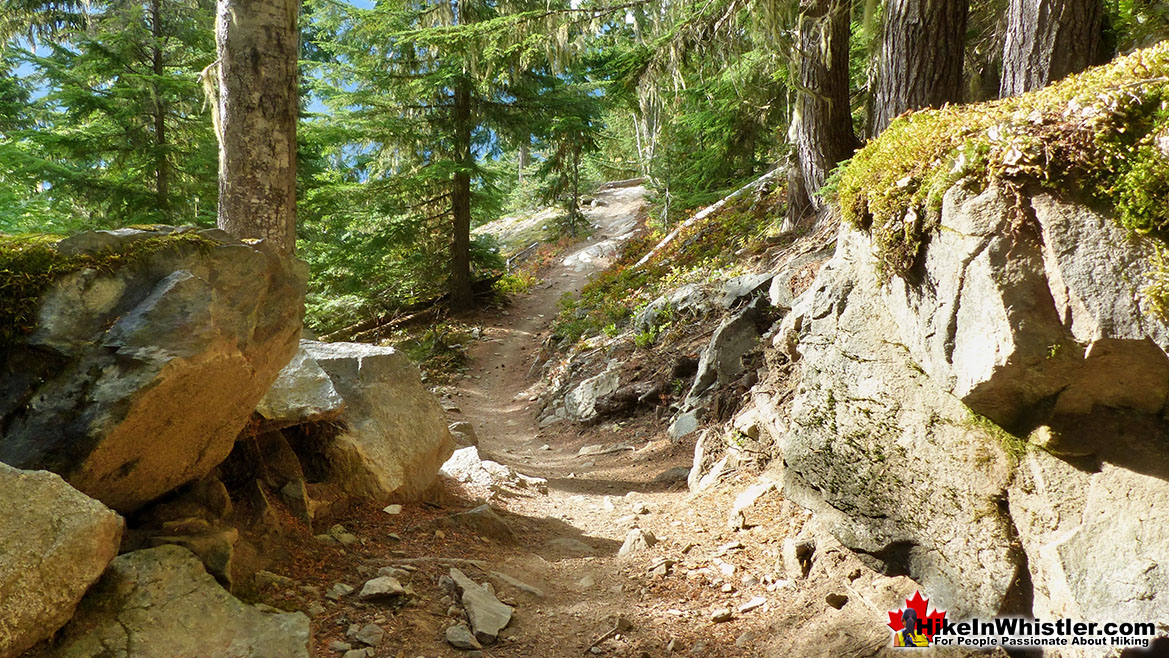 Nita Creek aka Gebhart's Creek
Nita Creek gets its name from Nita Lake, which was named by Ernest Archibald for his young daughter a century ago.  Nita Creek is also known as Gebhart's Creek, after Alf Gebhart who, in 1937 bought some land and built a house where Nita Creek flows into Nita Lake.  Decades later, in the 1960's the house would become the infamous Toad Hall, a wonderful, cherished part of Whistler's history where dozens of ski bums lived at the time Whistler first became a ski resort.  The Toad Hall residents were eventually evicted and the second incarnation of Toad Hall was created at the north end of Green Lake.  This Toad Hall was the site of the wonderful poster of naked skiers that you occasionally see in Whistler and can still be purchased at the Whistler Museum.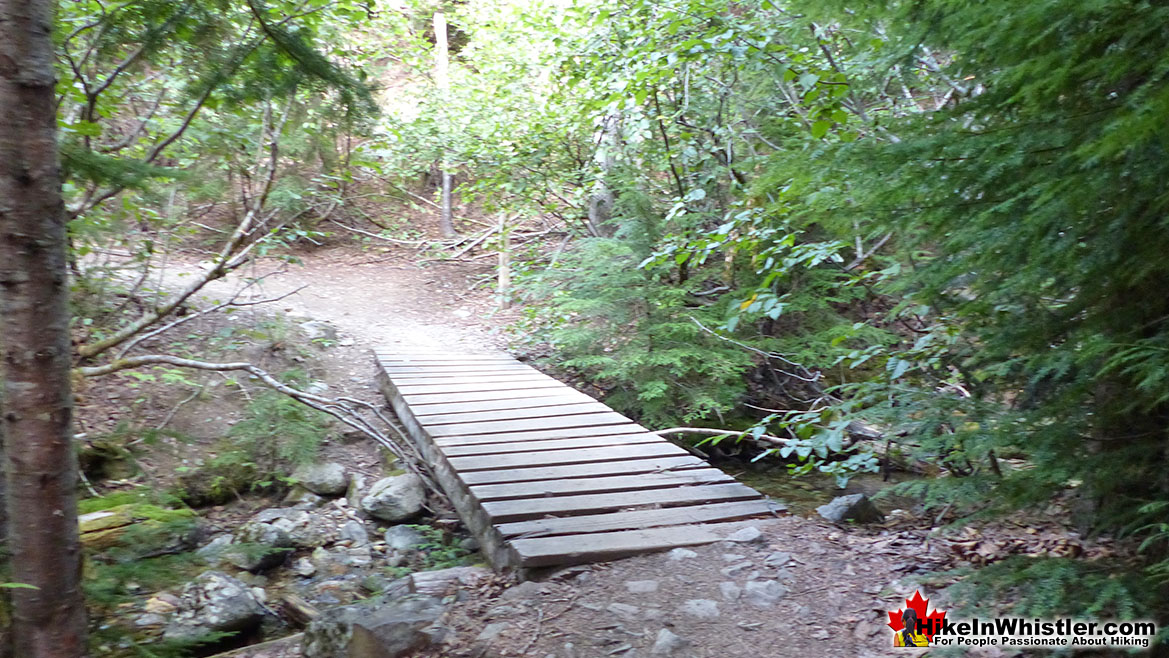 Unmarked Sproatt East Trailhead
Just a few metres past Nita Creek you will see an unmarked trail on your right, this is the start of the Sproatt East trail.  The trail gradually ascends up into deeper forest with Nita Creek flowing on your right.  Soon you come out of the forest and cross a boulder field with fridge sized boulders extending up the mountain.  Back into the deep forest cover you cross Nita Creek and the trail narrows and becomes increasingly steeper.  Bending around steep, crumbling cliffs the forest occasionally opens up to some nice view across the valley and the very distant Black Tusk.  Soon you come to the first of many rock pillars with huge and steep sloping sides.  These enormous rock faces continue as the trail skirts along the edge of them.  Looking up from the trail they are nearly vertical and about 30 metres high.  An emerald coloured layer of moss covers the glacier smoothed surface and incredibly hardy looking trees grow from fractures in the rock.  Mostly shielded from the sun by the steep cliffs and forest cover you find yourself looking for ways to climb up to the top of one of these huge pillars.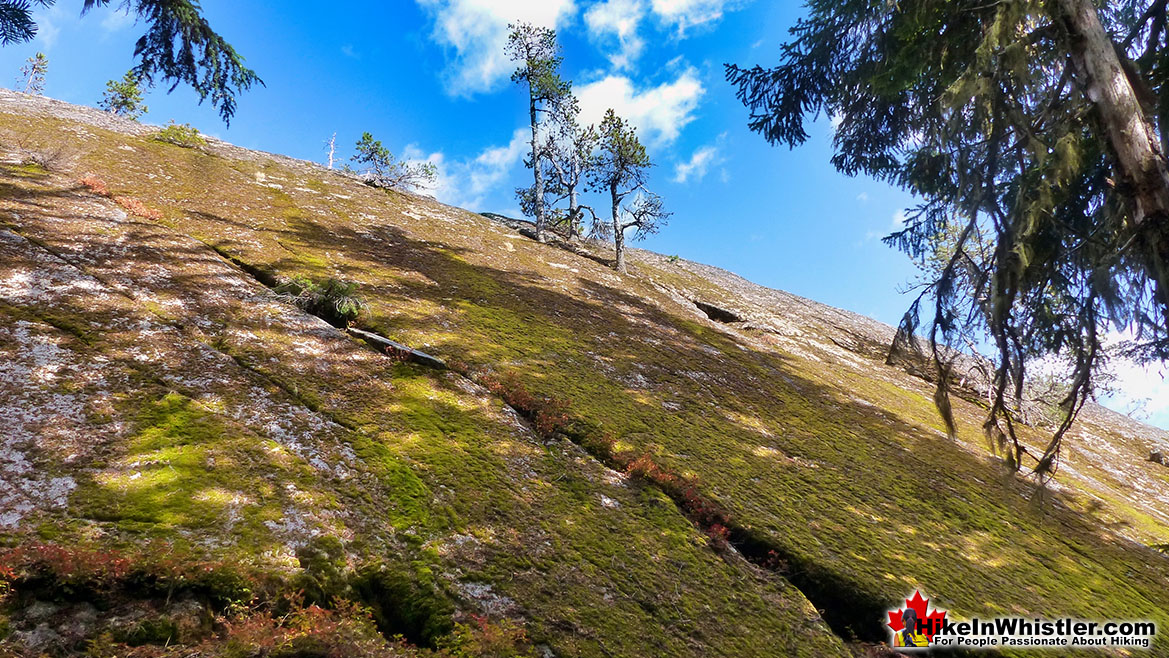 First Amazing Viewpoint Along the Sproatt East Trail
At about 2.4km from the trailhead in Stonebridge there is a nice gap leading to a quick and easy route up to the top of a huge, flat rock face overlooking the valley.  Towering above the treetops all around you have a panorama view of Whistler Mountain directly across the valley.  Overlord Mountain can be seen in the background between Blackcomb and Whistler.  In the foreground you have Alta Lake filling the valley.  Off to the right, in the distance you can see Black Tusk as a dark silhouette, and in the left distance Wedge Mountain, the highest mountain in the Garibaldi Ranges.  Looking to your far right you can see the Sproatt viewing platform high up in the distance perched on the edge of the mountain.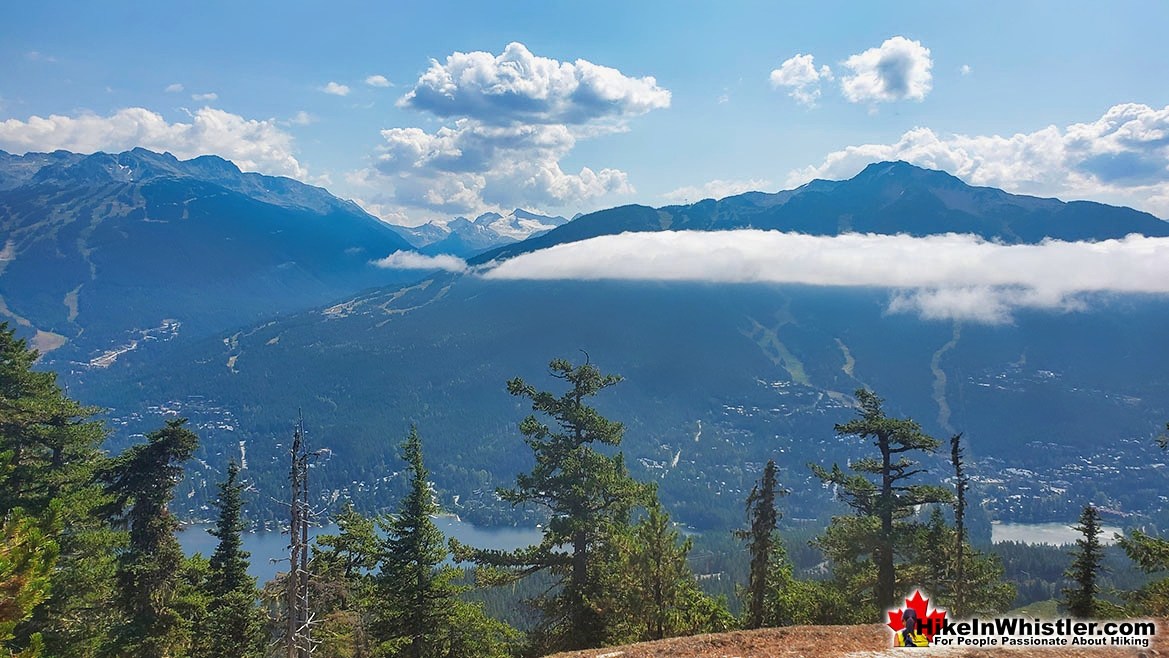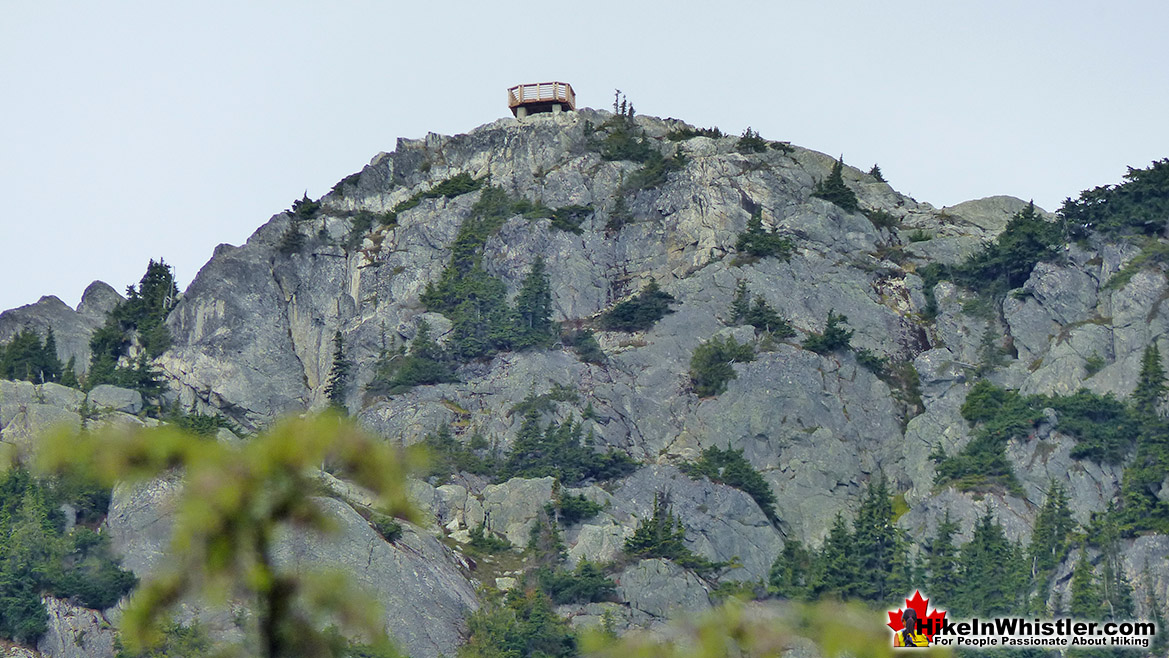 Tent Site Possibilities on Sproatt
If you are looking for a place to camp, this area is fantastic, though it takes some effort to find and create a smooth area big enough for a tent.  The rock cliff continues for a few dozen metres to the north and there you will find more, even more secluded spots for a tent.  If you ascend up the mountain for about 80 metres (roughly parallel to the Sproatt East trail far below), you will find more pretty amazing places for a tent.  The forest here is a tangled mess of hardy trees, giant boulders, and one remarkably serene plateau after another.  The terrain is so erratic and chaotic that, even though you are not far from a hiking trail, you feel immersed in a remote and forgotten wilderness.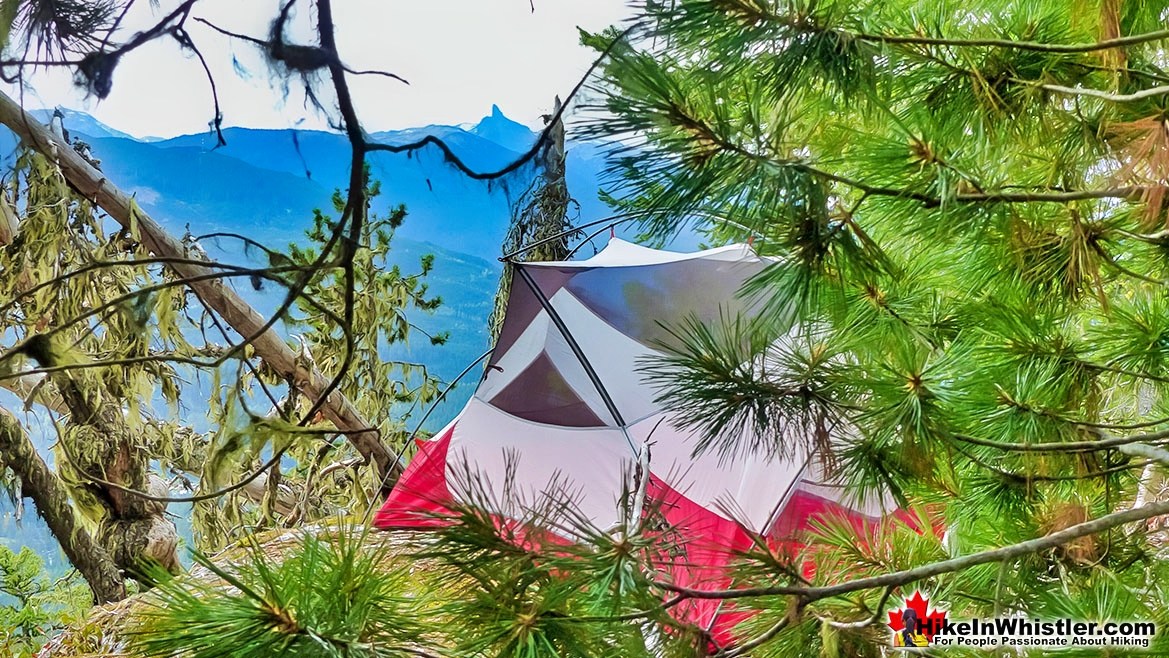 Sproatt Tree Crown
Back on the Sproatt East trail you continue steeply ascending for a couple hundred metres with the rock walls on your right and plenty of boulders and deadfall crossing the trail.  The trail then abruptly bends left and much more gradually ascends into another deep section of forest.  The trail once again emerges from the forest and you pass a strange stand of seven very tall and very dead trees bunched close together, stretching up toward the sky.  It is here at an elevation of 1300 metres that you will notice how high you are as on a cloudy day you will be engulfed in clouds.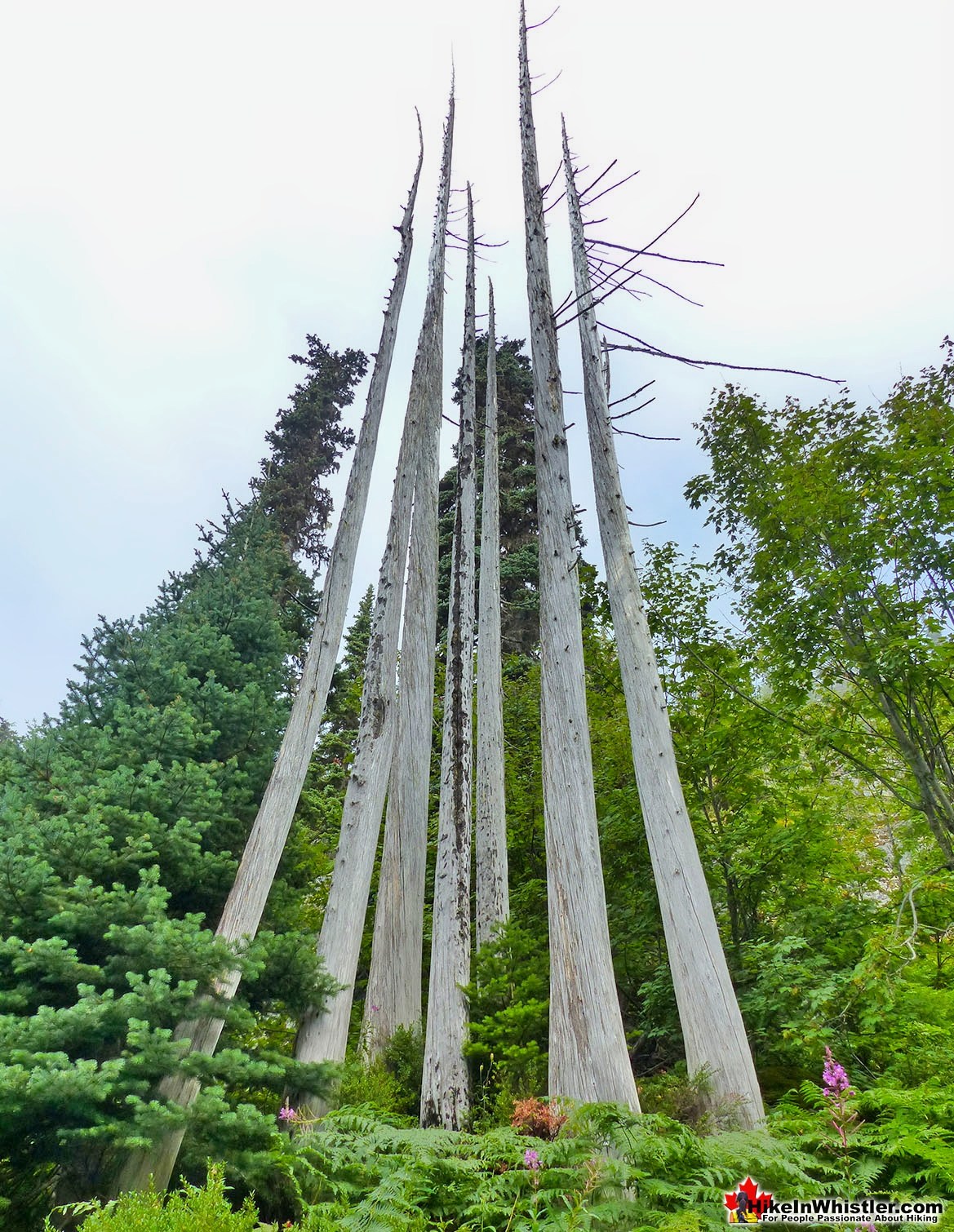 Erratics Strewn Sproatt East Trail
The trail cuts around a big boulder field sloping down from a rock peak far above.  Climbing over and around car sized boulders you find yourself glancing up the mountain looking for the source.  Various small peaks can be seen through trees that somehow survived, or have grown since the rocks crashed through.  This part of the trail is a bit unnerving, especially when you get about a hundred metres past the cliffs and boulders and the trail passes through a flat meadow with lots of big trees.  A few metres from the trail you pass an enormous, rounded boulder about 4 metres in diameter, just lying in the midst of the lush, green forest.  Judging by how little moss and plant life has started growing on it, it looks to have arrived here recently.  Yet, its location in the middle of a flat forest indicated it must have tumbled down the mountain a few hundred metres away and momentum carried it this far.  Must have been a terrific sight to see and hear such a monster crashing through the forest.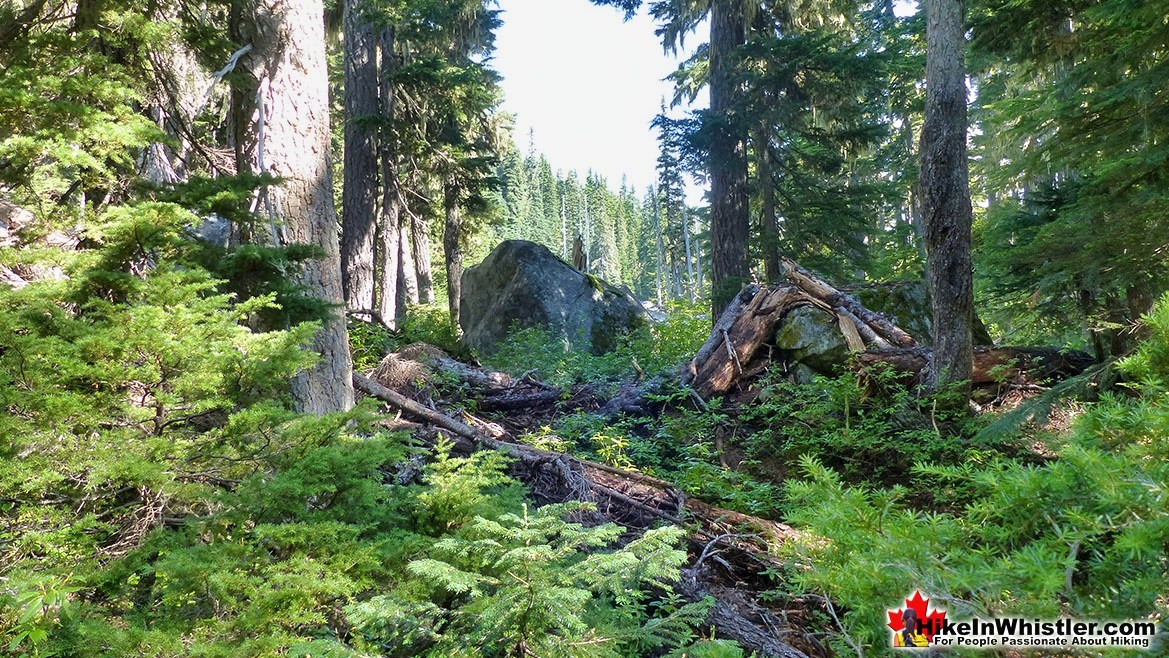 Sproatt East Trail Enters the Alpine
The trail bends sharply right and begins ascending through more deep forest, though the trees ahead appear to be thinning, revealing the treeless alpine, still far ahead.  The trail passes through an alpine meadow along a small creek and even during dry weeks of summer the air feels cool and moist.  You pass through very lush, green meadows as you wind your way up through the last bit of forest before the rocky alpine.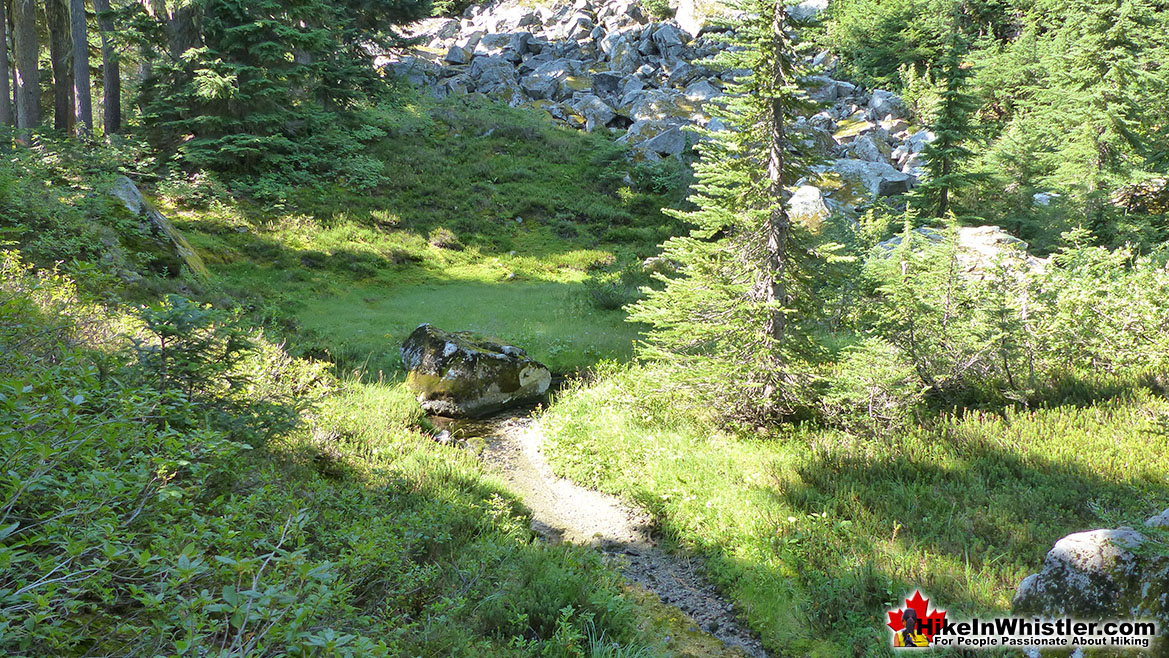 End of the Marked Sproatt East Trail
About 4.6 kilometres from the trailhead in Stonebridge you abruptly come to the end of the trail overlooking a big and shallow tarn surrounded by grassy meadows sloping up to boulder fields leading up to the various summit peaks of Sproatt as well as the viewing platform.  There is no marked trail from here as you are navigating over boulders, though you can scramble fairly easily up one of several increasingly steep routes to the summit.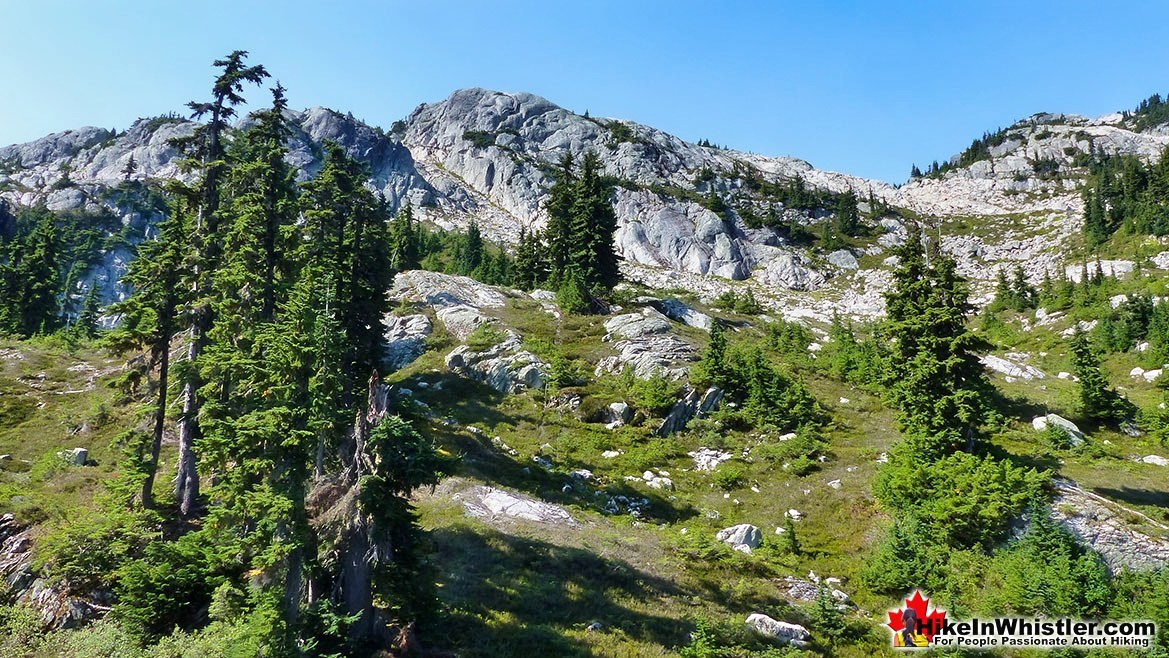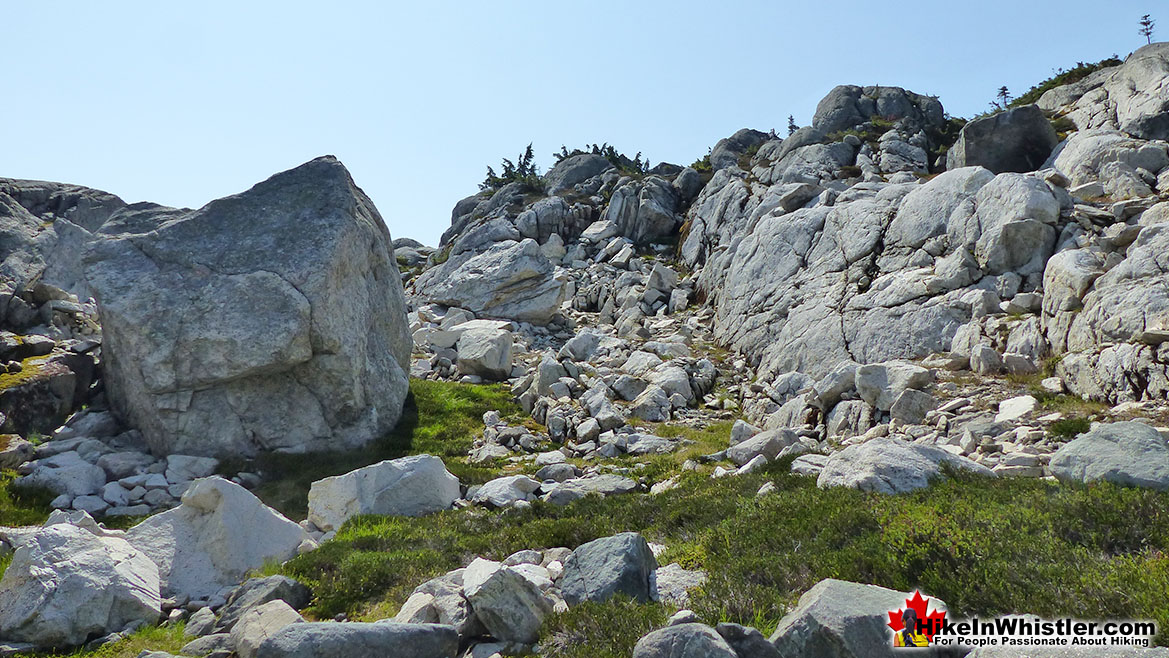 The Vast Sproatt Alpine
Endless beautiful rock plateaus overlook the valley and once you reach the viewing platform the massive spider web of alpine trails over the vast Sproatt alpine begins.  Last Call and Happy Hour both extend from the viewing platform and run parallel through the alpine heading west.  Happy Hour continues through to Lord of the Squirrels which quickly descends down toward the Flank Trail.  Last Call connects to Rush Hour which heads west to connect with On the Rocks which continues for a few kilometres west before forking south down Into the Mystic, or forking right along With a Twist, which bends north to connect with Pot of Gold which leads to Hanging Lake or continues west to the Sproatt West (Northair) access to Mount Sproatt.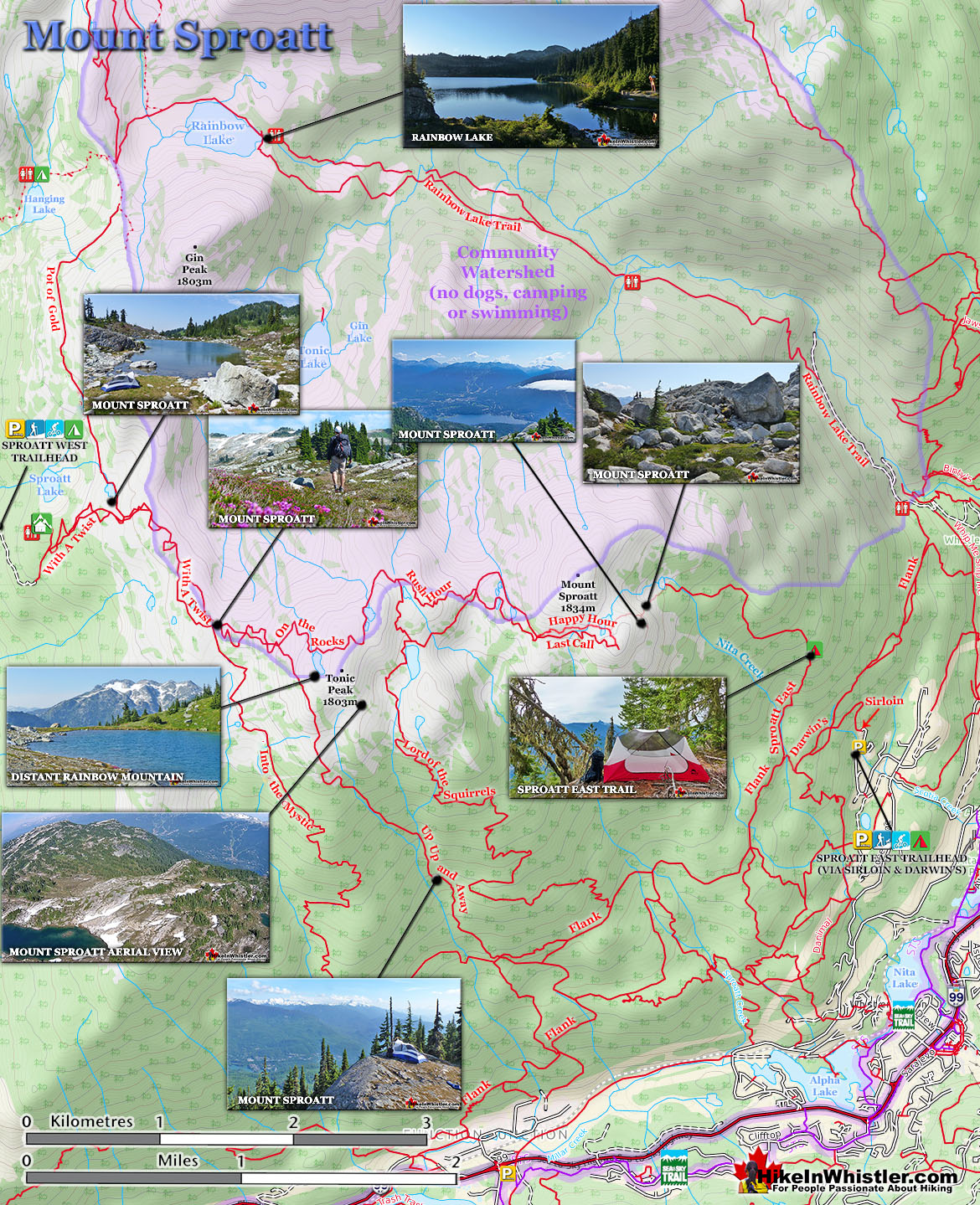 Mount Sproatt or Sproat Mountain?

Little is known about who named Mount Sproatt or who it is named after.  It is thought that it was named after someone as the surname 'Sproatt' was a common surname at the time.  Naming convention for a mountain named after someone is to use 'Mount' before the person's name, otherwise it would be Sproatt Mountain.  Whistler has quite an interesting and detailed recorded history in which name origins are well known and the few inhabitants in the region a century ago are also fairly well documented.  The unknown origin of Sproatt seems a little unusual.  Interestingly, the earliest known written reference to Sproatt comes from the 1917 BC Mines Report which identifies a mining claim on "Sproat Mountain".  The other early reference to Sproatt that is also cited by the BC Geographical Names database is the original 1928 topographical map of Garibaldi Park which has it shown as "Sproatt Mt".  Locals in Whistler seem to always refer to it as Sproatt Mountain, which may be due to the way it feels more natural to say than the slightly awkward 'Mount Sproatt'.  These points would seem to be irrelevant however, considering that 'sproatt' is not a word in the English language anyway… but it actually is a word, though somewhat of an obscure word, 'sproat'.  Sproat is a noun, defined as: A type of fish hook with a wide and slightly flattened bend, short front, and the point set well inwards.  Named after the inventor, W.H. Sproat.  With the first known printed reference in 1917 of "Sproat Mountain", it is reasonable to assume that it was named in the years just prior to that year.  In 1914 Rainbow Lodge was built at Alta Lake and it was largely marketed as a destination for fishing.  Which is a possible link to the fishing reference, though why would you name a mountain after a fish hook?  There is an interesting similarity to the shape of Sproatt to a sproat hook, which increasingly looks more obvious the more you look at it.  If you were to trace a sproat hook onto a map it covers the steep approaches to Sproatt and the open part of the hook is where the old trails went up the mountain from Alpha Lake and Nita Lake. 
How Did Sproatt Get Its Name?
Maybe It is wildly speculative, however you can imagine early settlers like Harry Horstman describing his various routes up to his cabin on Sproatt from his land near Alpha Lake.  He might have described the mountains steep sides forming a sproat shape curving around the east, north and west sides, with the more gradual access coming from the south and bending east in the alpine.  In the early 1900's using a hook shaped reference when explaining how to approach a mountain may have been a good way to do it.  The origin of Sproatt's name may eventually be discovered as the Whistler Museum continuously adds to its marvellous collection by donations and maybe one day we will hear of an account of how it was named.  Below are photos of Harry Horstman on Mount Sproatt over the years.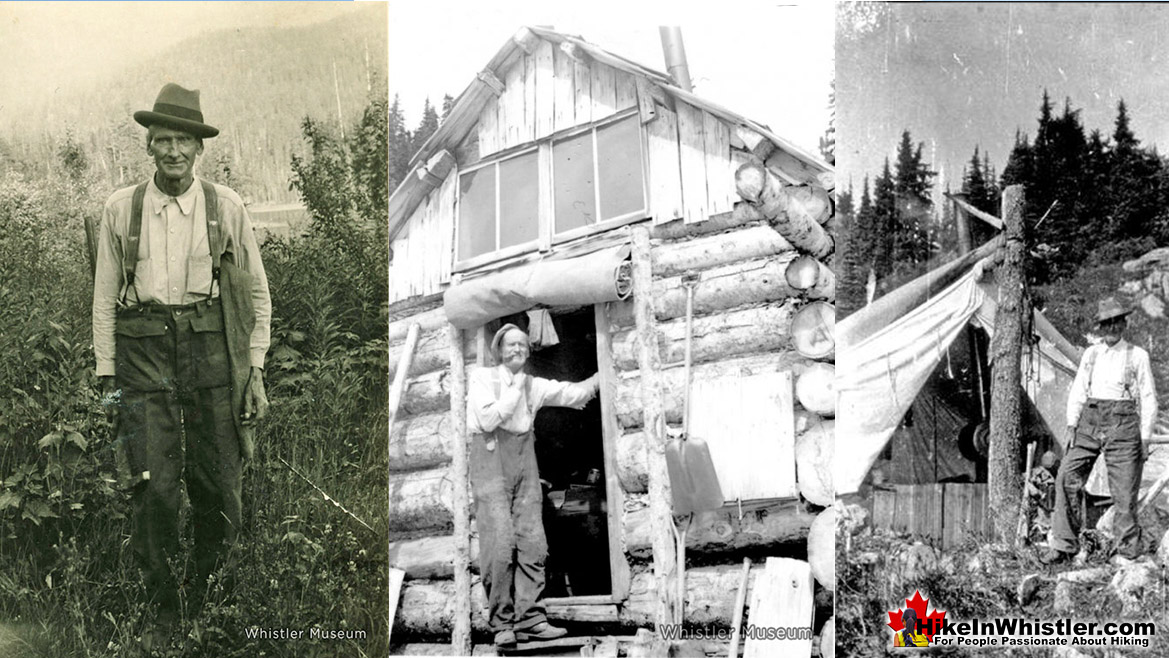 Mount Sproatt and Harry Horstman
Harry Horstman is the name most associated with the history of Mount Sproatt.  He arrived from Kansas in the area around in 1912 and acquired some land at the south and north ends of Alpha Lake and grew vegetables and farmed chickens.  He apparently dreamed of striking it rich by finding gold or a rich vein of copper on Mount Sproatt and dug several tunnels into the mountain in his search.  An eccentric and reclusive character he is fondly remembered in Whistler in part because of the numerous excellent photos of him.  The grainy, black and white photos are strikingly candid glimpses of him in front of his cabin on Sproatt, or at Rainbow Lodge, or various other interesting places in Whistler.  Each photo takes you back to the moment it was taken in a way that a posed for photo never can.  He spent decades hiking between his farm on Alpha Lake and to his cabin on Sproatt until health declined in the late 1930's.  He eventually moved to an old age home in Kamloops and died there in 1946 at age 75.  Horstman Glacier on Blackcomb Mountain is named after him.
Geology of Mount Sproatt

Hiking on Mount Sproatt you encounter many remnants of the massive glacier that filled the valley thousands of years ago.  On a mountain that is largely covered in forest, scree slopes and boulder fields, you occasionally come across areas of smooth bedrock.  Ground and gouged by centuries of glaciers pushing through the valley.  Along the Flank Trail you encounter a particularly impressive area of scoured rock along A Rockwork Orange.  This popular bike trail takes you up an over dramatically abrupt and steep rock faces with beautifully gouged shapes to them.  The trail, on a sunny day, is a stunning place to relax in with its panoramic view of Alta Lake and Wedge, Blackcomb and Whistler mountains across the valley.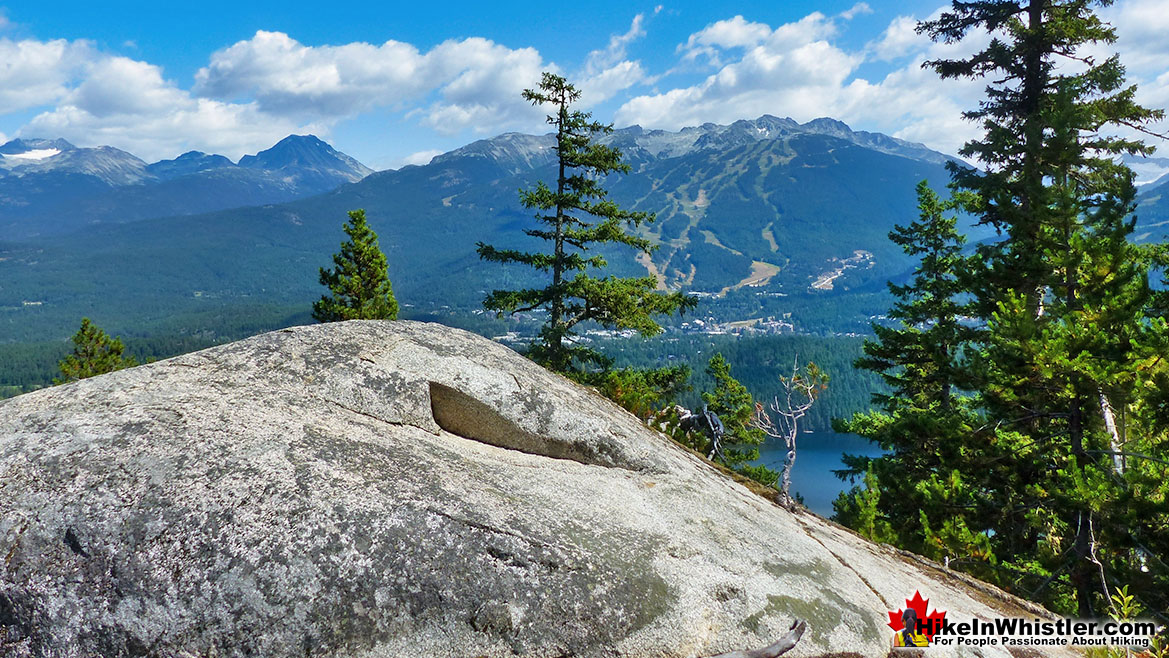 Sproatt East Via Darwin's Trail
On Darwin's trail on the way to the Sproatt East trail you pass over a glacier scoured area of bedrock.  Almost every time you see bedrock on Sproatt it is either smooth and/or fractured boulders that have tumbled down the mountain.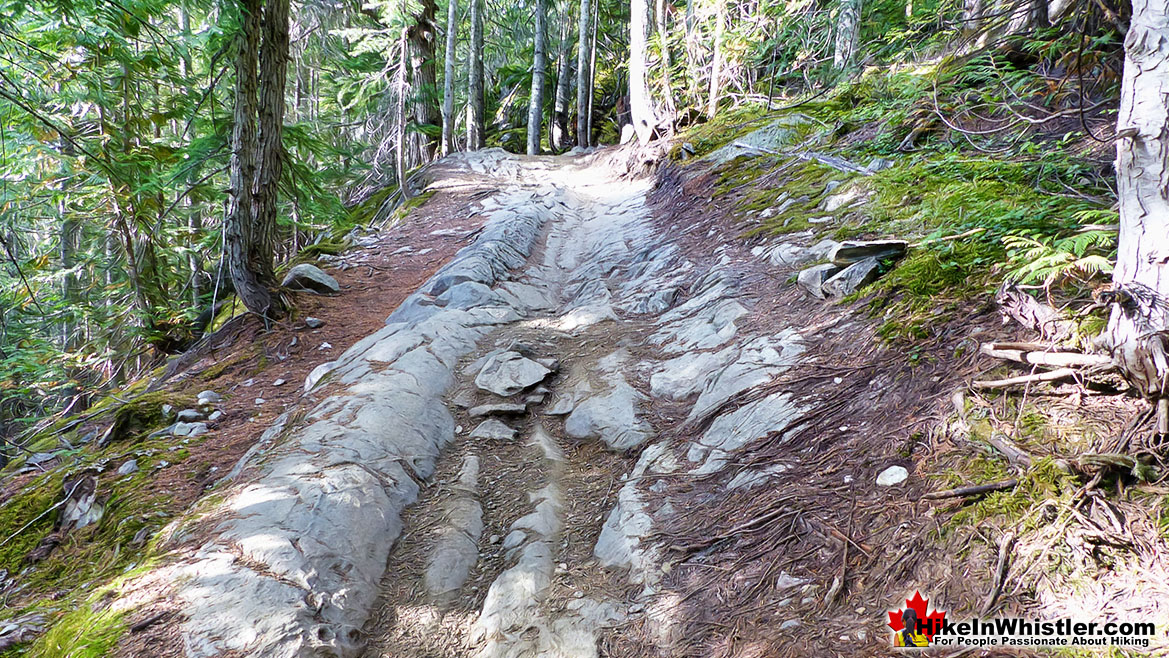 Camping on Mount Sproatt

Half of Mount Sproatt is within Whistler's Community Watershed and no camping, swimming or dogs are allowed, however the entire Sproatt East trail is outside this boundary and there are no watershed restrictions.  Though outside the watershed, in order to include this watershed within Whistlers municipal control, straight lines were drawn on the map from the watershed toward Whistler.  This put most of Mount Sproatt, including the Sproatt East trail, inside the Whistler municipal boundary.  This means that camping is not officially allowed, though the areas around the Sproatt East trail are so off the radar that leave no trace, stealth camping easily goes unnoticed.  This makes Sproatt an amazing place to camp, though finding a flat area suitable for a tent is sometimes tricky.  The Sproatt East trail is almost always ascending steeply up through rocky terrain or deep forest and some of the best places to camp are on the seemingly endless array of huge, solid rock, glacier smoothed cliffs.  Hiking from the trailhead at the end of Stonebridge, you reach the first set of these amazingly huge pillars of rock overlooking the valley at just 2.3 kilometres.  Glacier carved and sloping down towards the valley, these monoliths are south facing and always sunny.  Just a few metres behind you find a few level areas decent enough for a tent.  The cliffs continue along a ridge for a couple hundred metres and there you will find a couple more, suitable, and even more remote feeling areas.  The 2.3 kilometres from the trailhead to these cliffs you gain 350 metres, so having a camp here and hiking up the rest of the trail without a heavy pack on your back is much easier.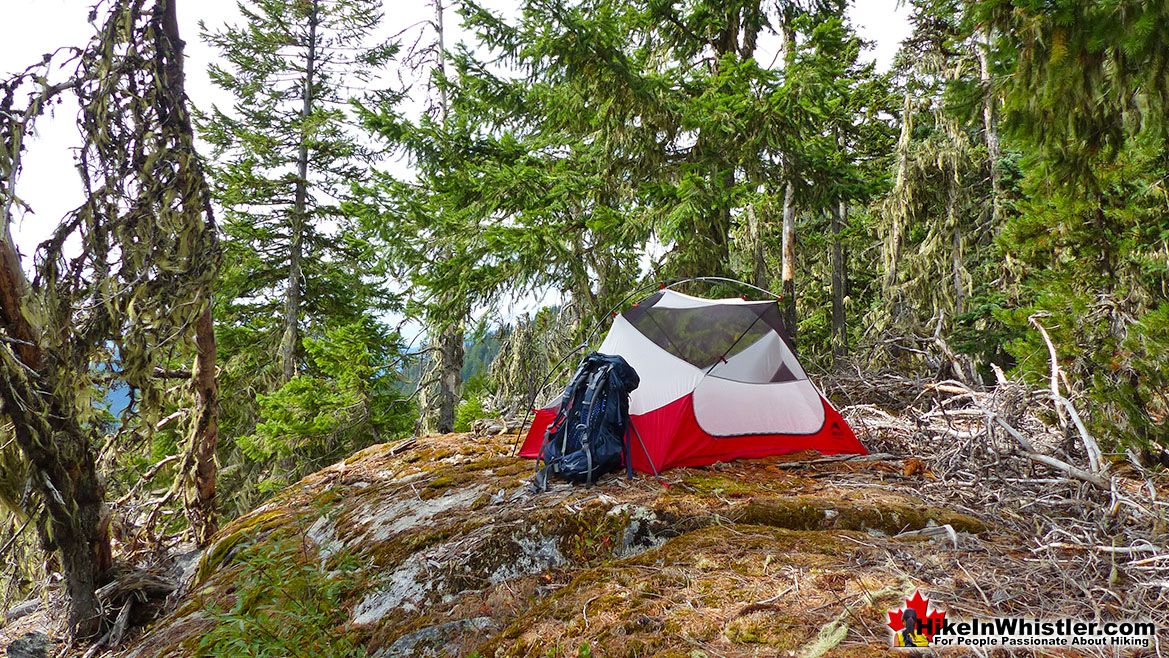 The remaining 2.5 kilometres to the end of the marked trail and alpine of Sproatt takes you through deep forest and a constantly changing landscape. At 3.2km, 3.7km and 4.2km you pass more enticing places to camp a few dozen metres from the trail and often you are reasonably close to Nita Creek or other smaller creeks.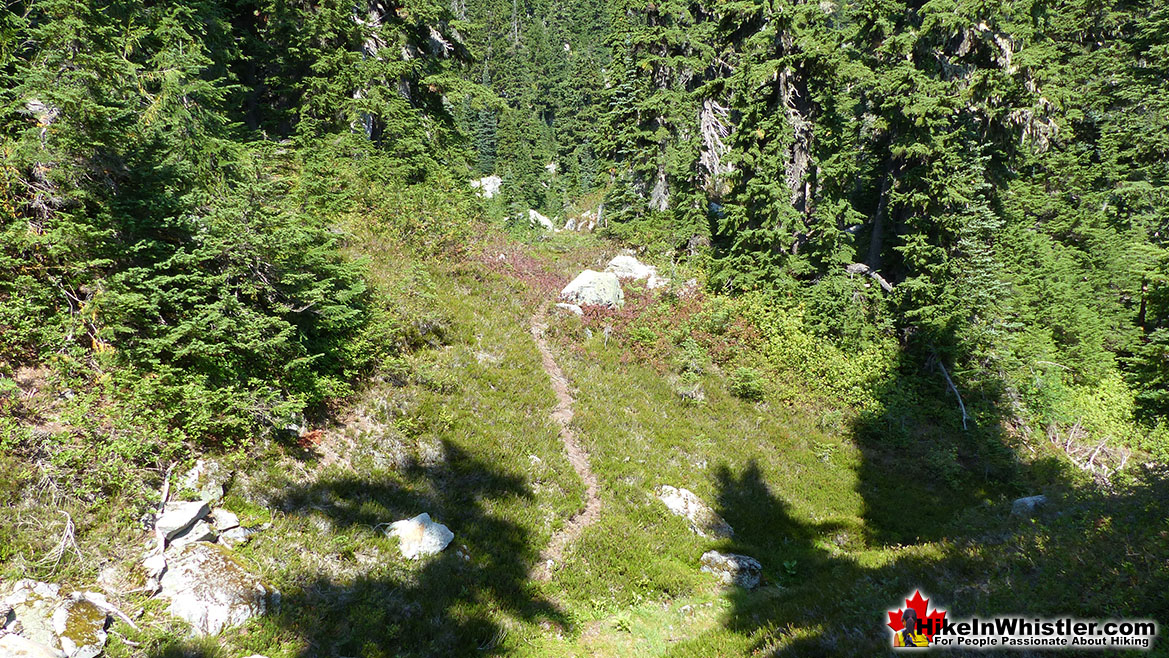 Facilities on Mount Sproatt

The Sproatt East Trail and Mount Sproatt are wonderfully wild and almost entirely devoid of human made structures.  There is the very nice viewing platform overlooking the valley just down from the summit of Sproatt.  For most hiking, biking or skiing on Sproatt this is the destination instead of the actual summit, several metres above and behind the viewpoint.  From the trailhead in Stonebridge the viewpoint is about 5.4km with an elevation gain of 880 metres.  The nearby summit of Sproatt is about 5.5km from the Stonebridge trailhead with an elevation gain of 1021 metres.  Way over on the west side of Sproatt there is a snowmobile/atv hut overlooking Sproatt Lake owned by a local guiding company.  The wonderful, gothic arch hut that was recently removed from Russet Lake is reportedly going to be rebuilt somewhere on Sproatt to act as a ranger cabin.  There are no dedicated rangers for Sproatt yet, however the increasing number of bikers, especially on the west side of the mountain, have developed a need for rangers to help with hurt or lost people.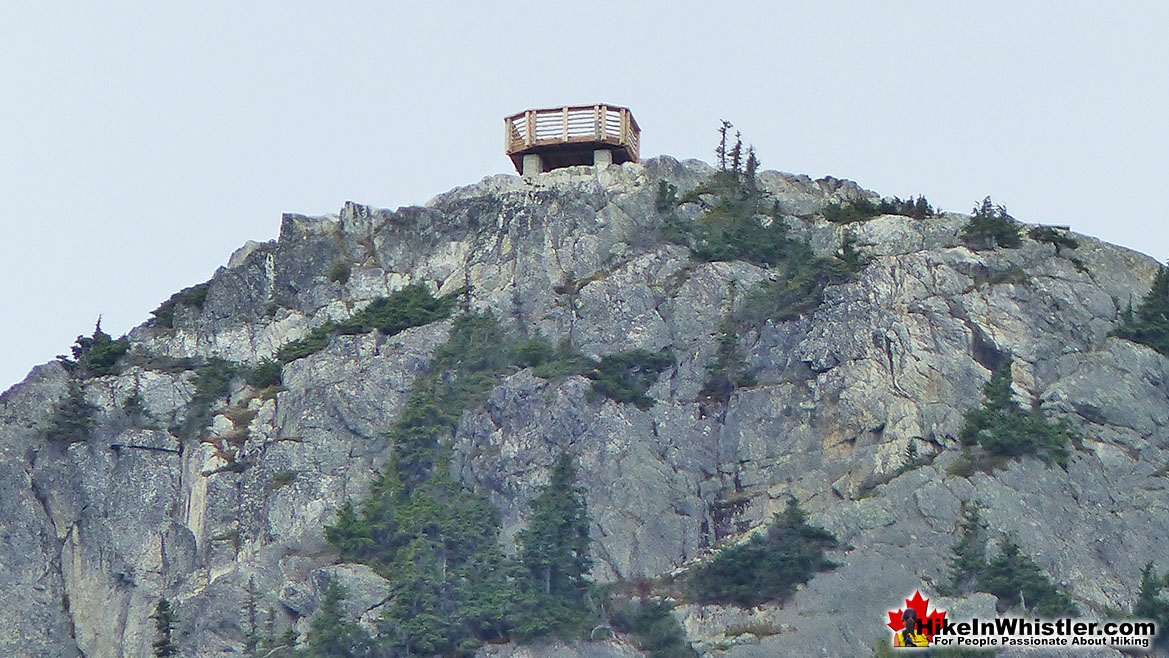 Restrictions and Concerns for the Sproatt East Trail


There are not too many restrictions on Sproatt outside the watershed areas.  Of course fires are prohibited during the summer and some trails, including the Sproatt East trail don't allow ATV's or motorbikes.  Camping as mentioned above is theoretically prohibited, but goes unnoticed in the vastness of the mountain outside the watershed area.  ATV's are popular on the west side of Sproatt and companies do tours up the mountain all summer and snowmobile tours in the winter.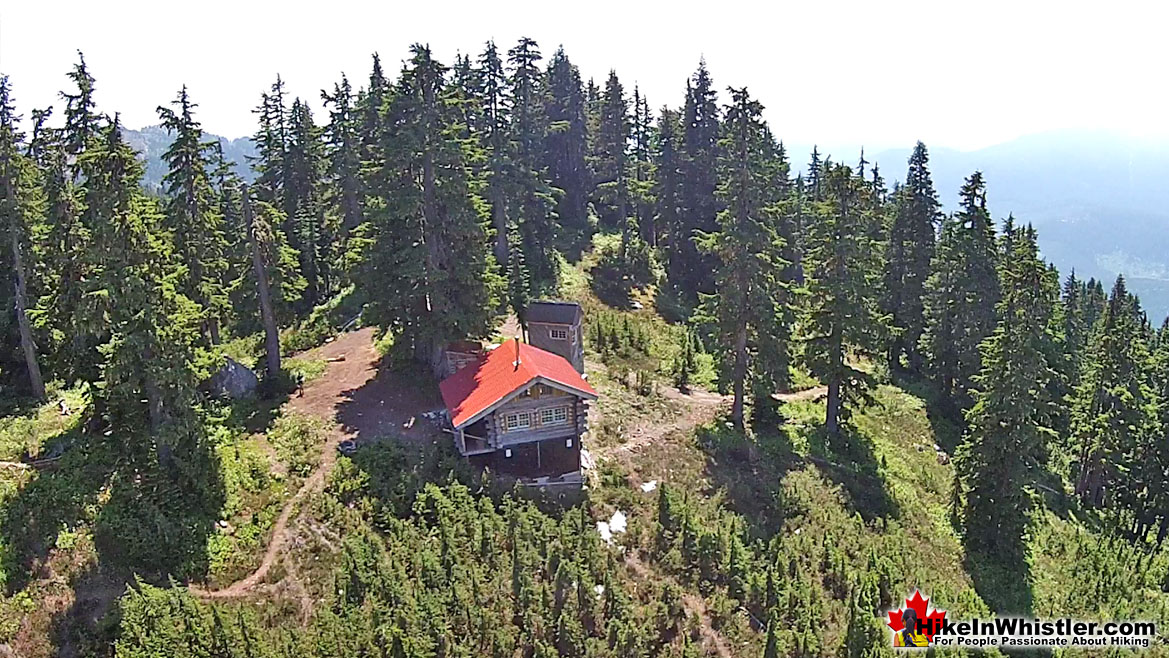 Wildlife on Sproatt

Black bears roam around on Sproatt and in recent years there have been the occasional grizzly bear sighting in late summer and early fall.  This tends to happen on the west side of Sproatt and also around Hanging Lake and Madeley Lake, which are northwest of Rainbow Lake.  The sightings tend to cause a panic and signs go up at some trailheads preventing access due to grizzly bear in area.  The nearby Rainbow Trail to Rainbow Lake is the main access trail to Hanging Lake tends to be one of the main trail temporary closures every year.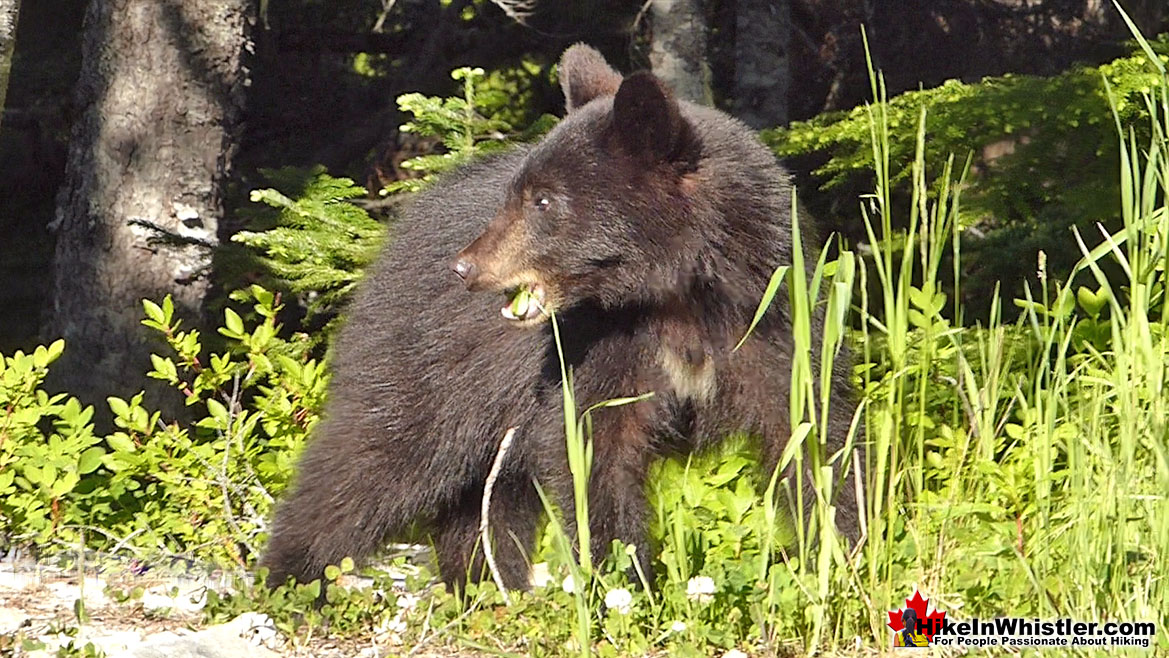 Getting to the Sproatt East Trailhead

Finding your way to the Sproatt East trail is a bit tricky as there are no signs for the trail and the trailhead where you park your car is unmarked as well.  Despite the lack of signs, the route is fairly straight forward.  From Whistler Village you drive south on the Sea to Sky Highway for 5.3 kilometres, turn right onto Alta Lake Road.  2.3 kilometres along Alta Lake Road turn left onto Stonebridge Drive.  Drive another 1.5 kilometres and turn left onto Stonebridge Place and drive another 800 metres until it ends at a roundabout.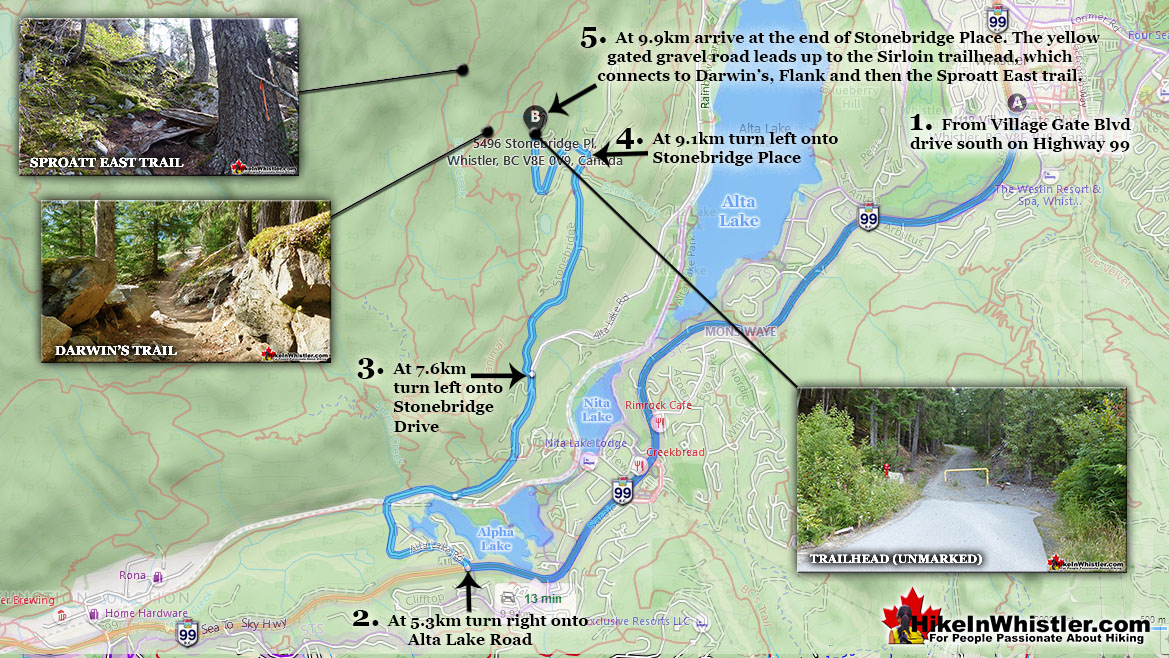 Rainbow Lake - Hikes Near Sproatt

The Rainbow Trail is a convenient and popular trail near Whistler Village that takes you to Rainbow Lake as well as the Rainbow-Sproatt Flank Trail, Rainbow Falls, Hanging Lake, Madeley Lake, Beverley Lake, Rainbow Mountain... and even Whistler Olympic Park if you are determined.  It is a consistently uphill and very beautiful trail with several water (bridge) crossings and waterfalls on the way to the picture-perfect lake.  There are a few views of the valley across to Whistler Mountain, Blackcomb Mountain, and Wedge Mountain.  Few views, though fantastic.  Rainbow Lake itself is in a gorgeous alpine valley with branching trails that extend further beyond the lake in at least three directions.  Along with the waterfalls, bridge crossings and valley views, the Rainbow Trail passes through deep forest with some impressively huge trees.  Continued here...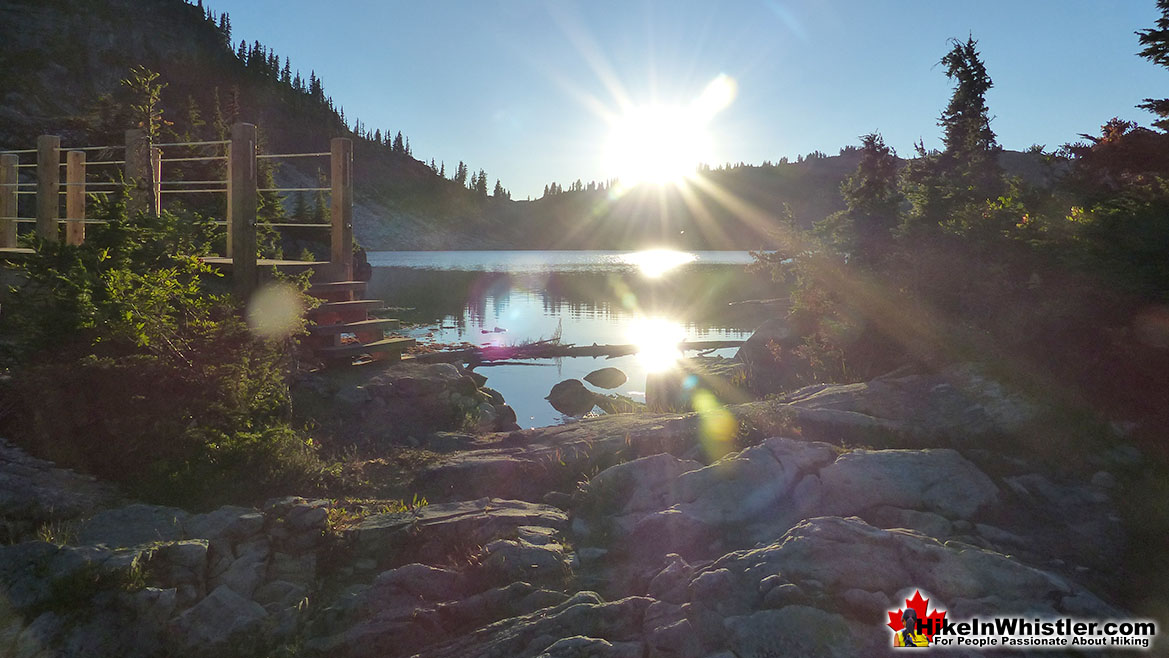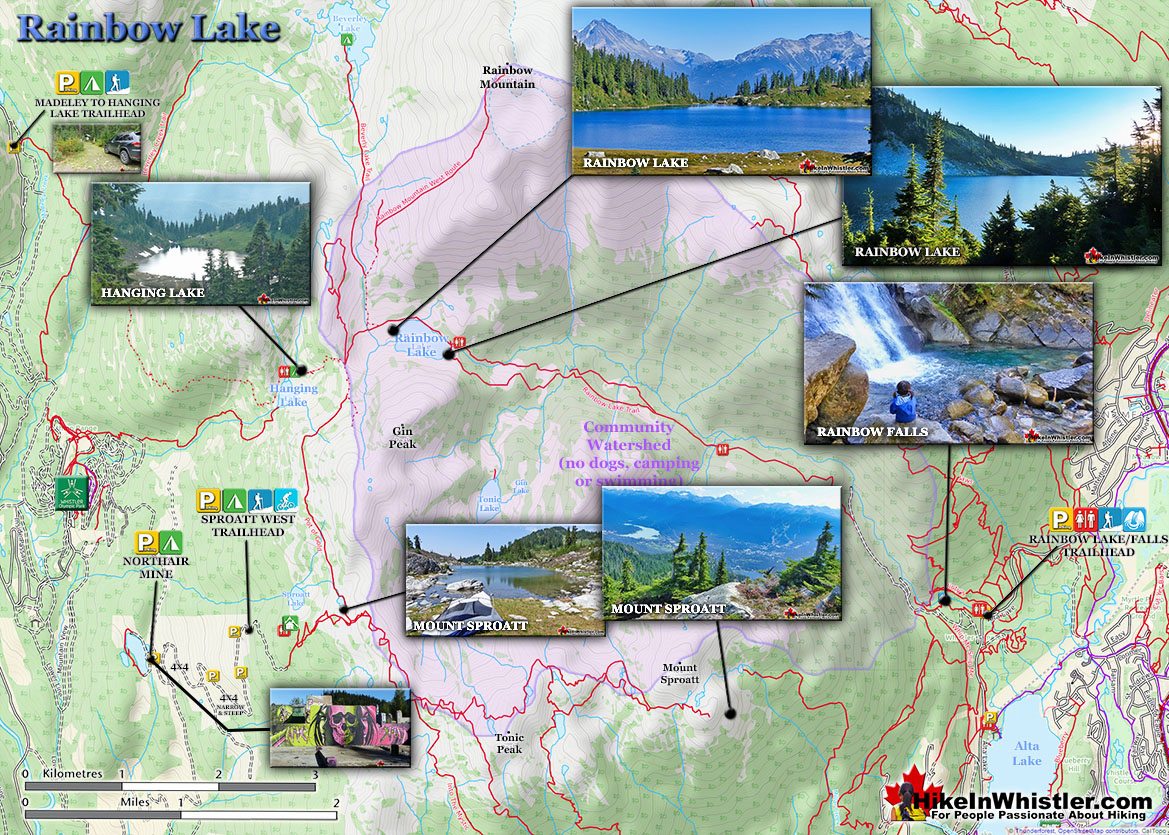 Madeley Lake - Hikes Near Sproatt

Madeley Lake is a gorgeous mountain lake located high up in the Callaghan Valley just a short drive past Alexander Falls.  From Whistler Village it takes about 50 minutes to drive the 27.4 kilometres to get to the parking area for both Madeley Lake and Hanging Lake.  A new gate installed in 2022 blocks Madeley Lake FSR which continues two kilometres to the far end of Madeley Lake near the campsite.  Visiting Madeley Lake now involves a boring walk up the old logging road to get there.  It also makes bringing a canoe, kayak or paddleboard to the lake out of the question for most.  This parking area is also where you find the trailhead for the Madeley-Hanging Lake trail.  The Madeley-Hanging Lake trail is a moderately challenging trail that ascends through the forest for 6.2 kilometres to the free campsite at Hanging Lake.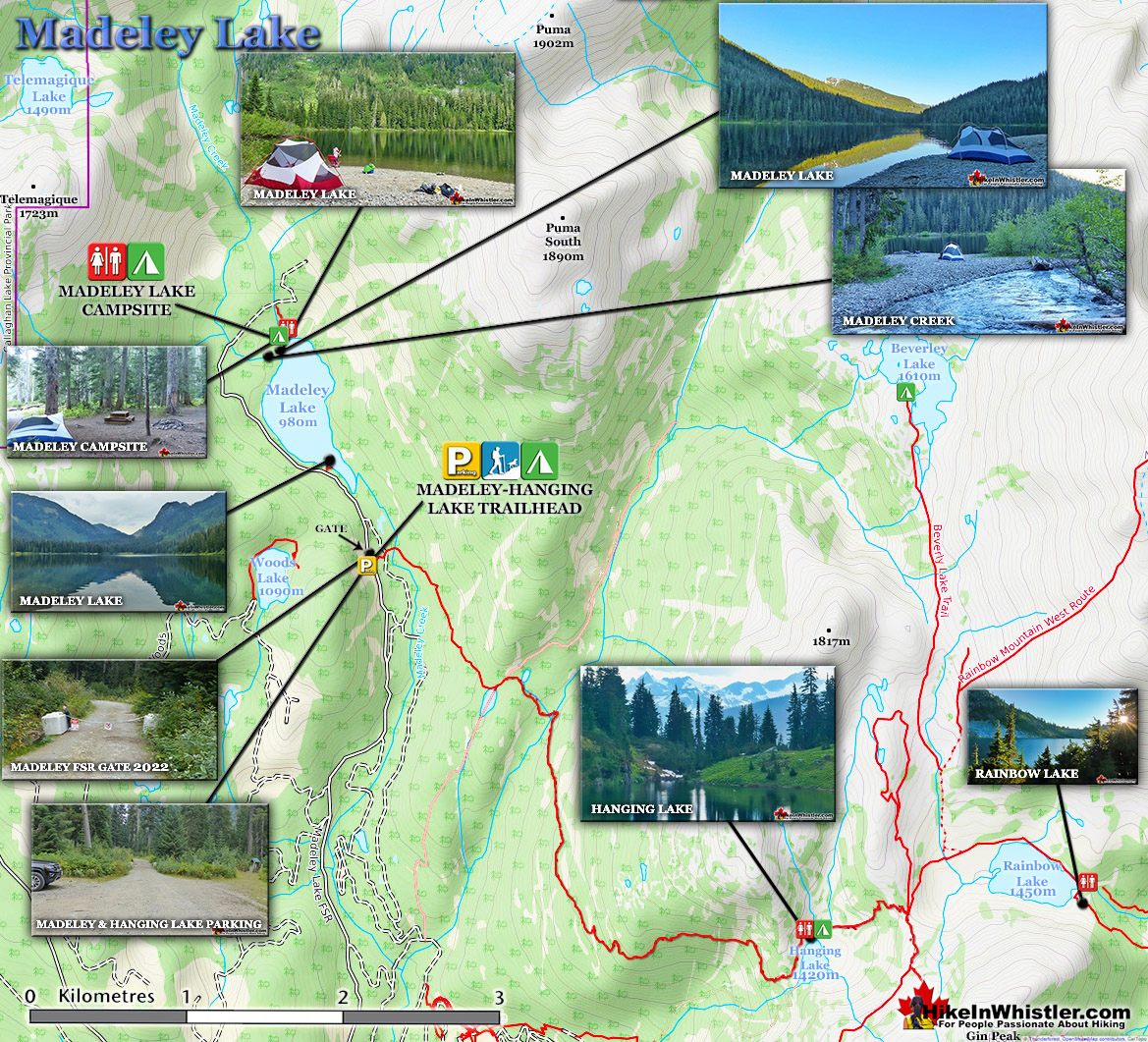 Whistler's Best Hiking Trails!
Whistler & Garibaldi Park Best Hiking by Month!

Explore BC Hiking Destinations!