Cheakamus River is the beautiful, crashing and turquoise coloured river that flows from Cheakamus Lake, through the Cheakamus Valley to Daisy Lake.  Also a popular kayaking route, the main attraction to Cheakamus River is the wonderful and quite extensive network of hiking and biking trails that run along either side of it. Several trails run throughout the forest around the enormous 70 kilometre length of Cheakamus River. 
Many access points to several trails
Bus stop near the trailhead
Connect to Logger's Lake & Whistler Train Wreck

Ideal trail running route & dog friendly
An easy & family friendly trail
Many great spots for a picnic
Usually quiet & has little elevation change!

Trails are not overly exciting

Not as impressive as other Whistler trails

No camping allowed in the area

Trails such as the Cheakamus Lake trail, the Whistler Train Wreck trail and the Sea to Sky Trail.  For the most part, however, if you are talking about the Cheakamus River trails you are likely talking about the Farside and Riverside trails on either side of the river in Whistler's Interpretive Forest.  Eight kilometres south of Whistler Village near the neighbourhood Cheakamus Crossing is Whistler Interpretive Forest. This beautiful forest surrounds the Cheakamus River and has been cut and replanted in several areas in the past decades. Hiking and biking trails have sprung up over the years making the area a wonderful place to explore. Unfortunately, the Interpretive Forest is day-use only, no camping is permitted.  The main highlights of the Interpretive Forest are the Cheakamus River trails, and the extraordinary Logger's Lake.  Logger's Lake, just a short hike from MacLaurin's Crossing suspension bridge, sits within a 10000 year old, extinct volcano and is a hiking destination on its own.  Logger's Lake is a beautiful, hidden hidden paradise for swimming.  There are several excellent vantage points to see the river and MacLaurin's Crossing is one of the best.  Located at one end of the Farside and Riverside trails, there is even a parking area nearby.  This is also the parking area for Logger's Lake, making it a great starting point to hike both areas in an afternoon.
Cheakamus River Farside Trail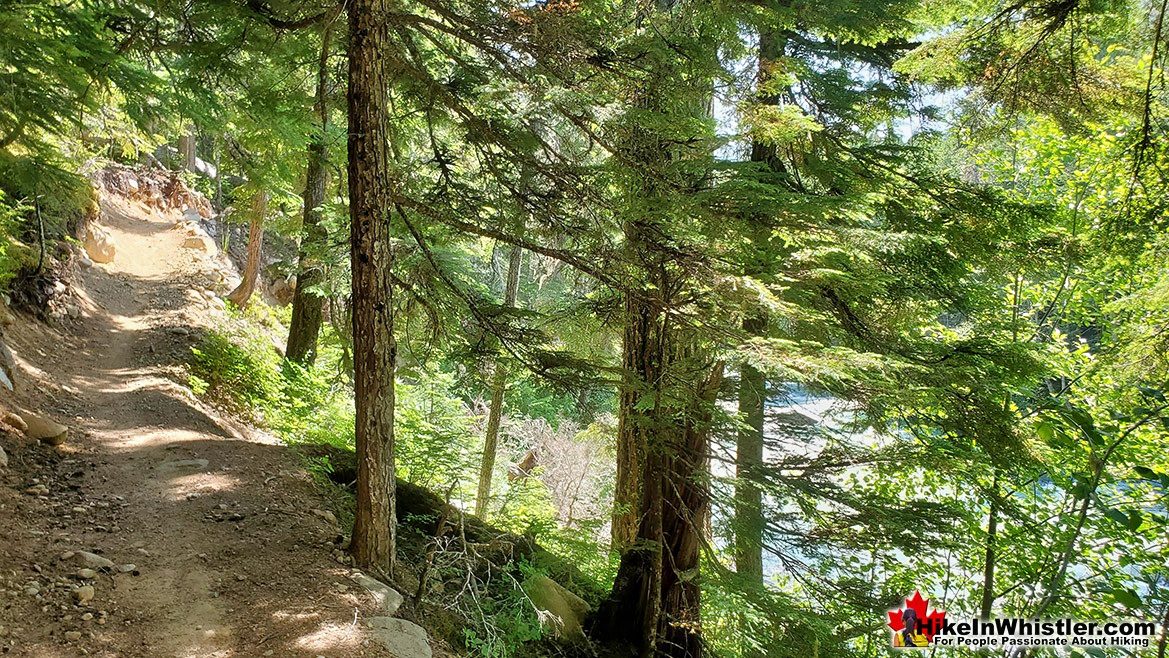 MacLaurin's Crossing Over Cheakamus River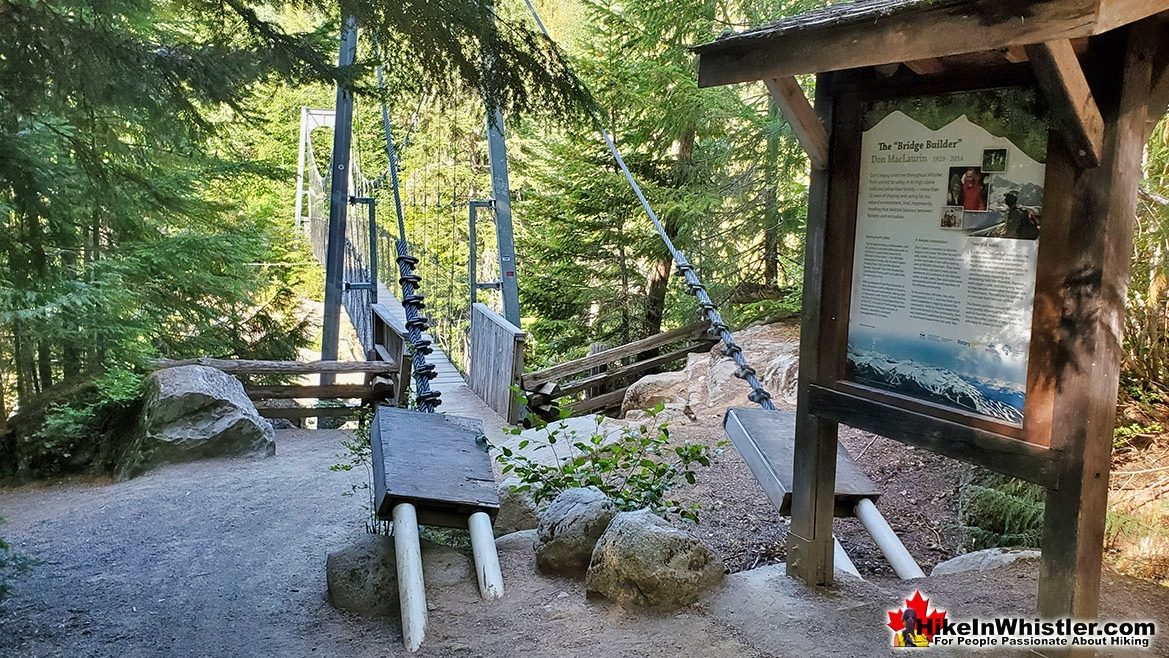 Beautiful Logger's Lake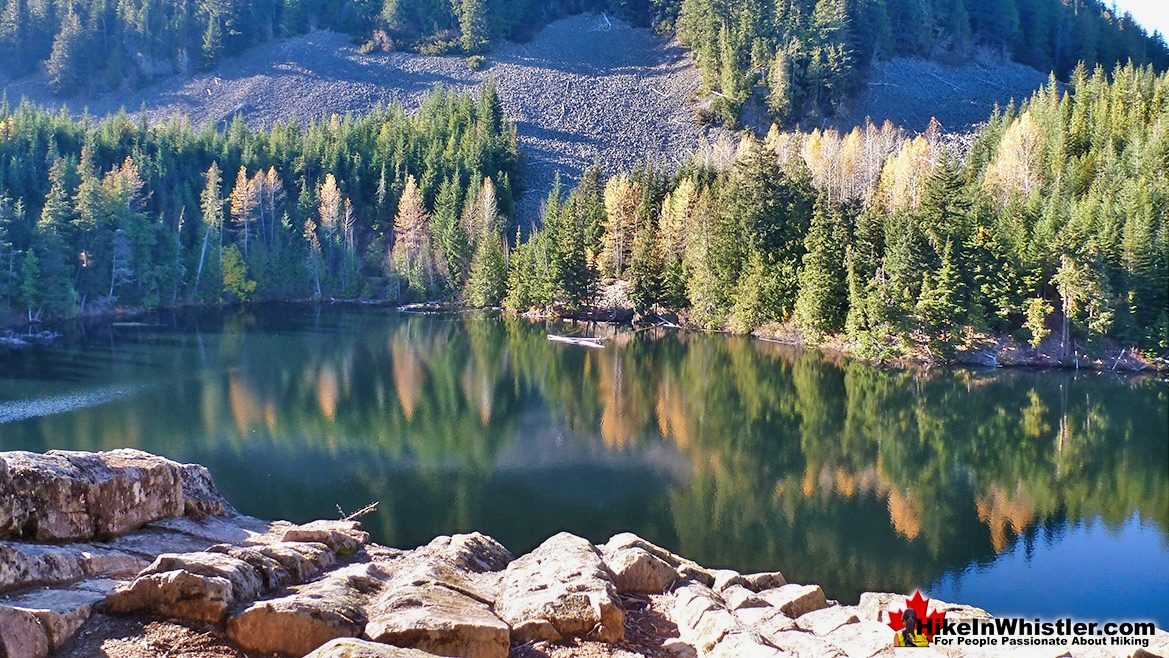 Cheakamus River and Surrounding Area Map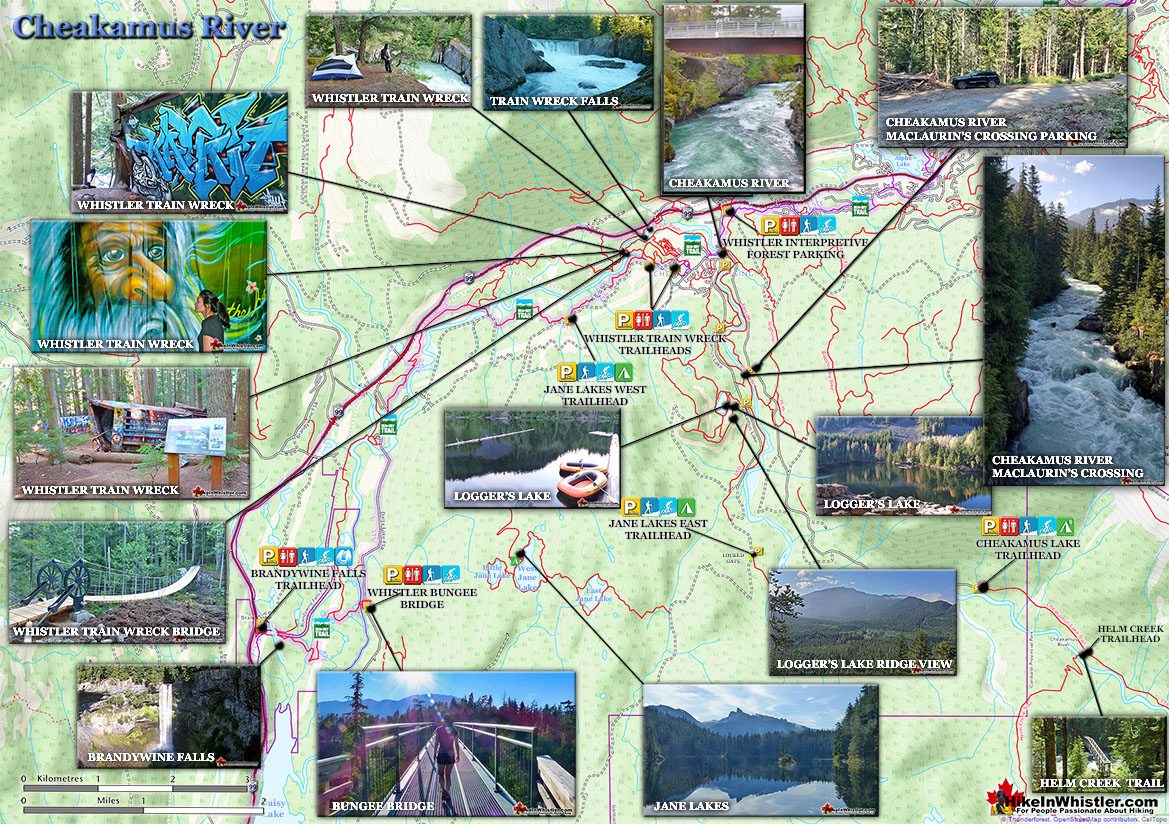 There are several excellent places to park to begin hiking or biking around the Cheakamus River. You can park at various places within sight of the river on either side of it just steps from a hiking trail. The Whistler Interpretive Forest trailhead parking just off the Sea to Sky Highway is large, easy to find and adjacent to the Sea to Sky Trail.  This is an ideal place to park if you are biking the trails. If you are hiking, however, you might want to drive a couple hundred metres past and then turn left onto Cheakamus Lake Road.  This gravel road almost immediately forks. Continuing strait takes you along the left side of Cheakamus River and taking the right fork follows the opposite side. There are excellent road and trail signs at this junction and the ones further along.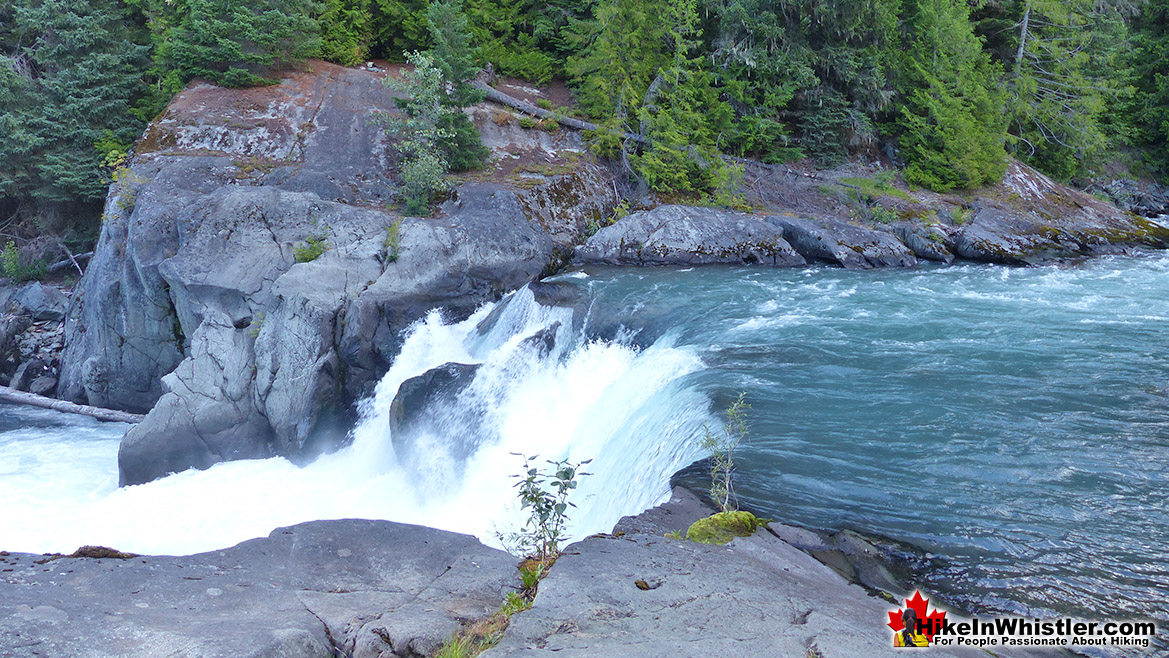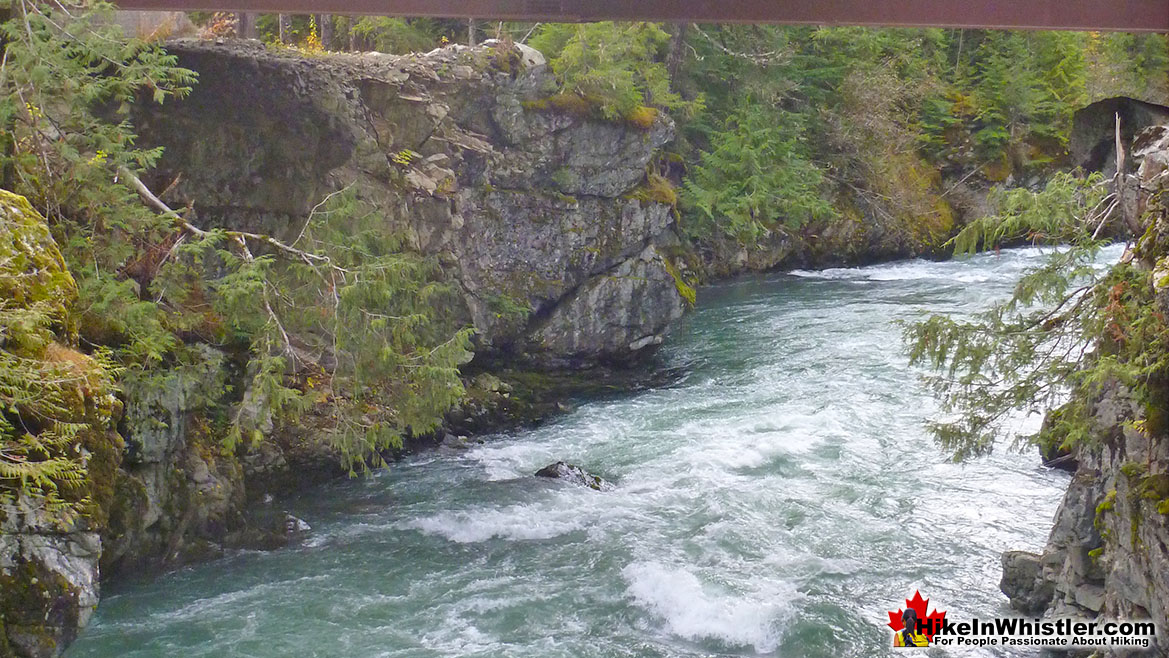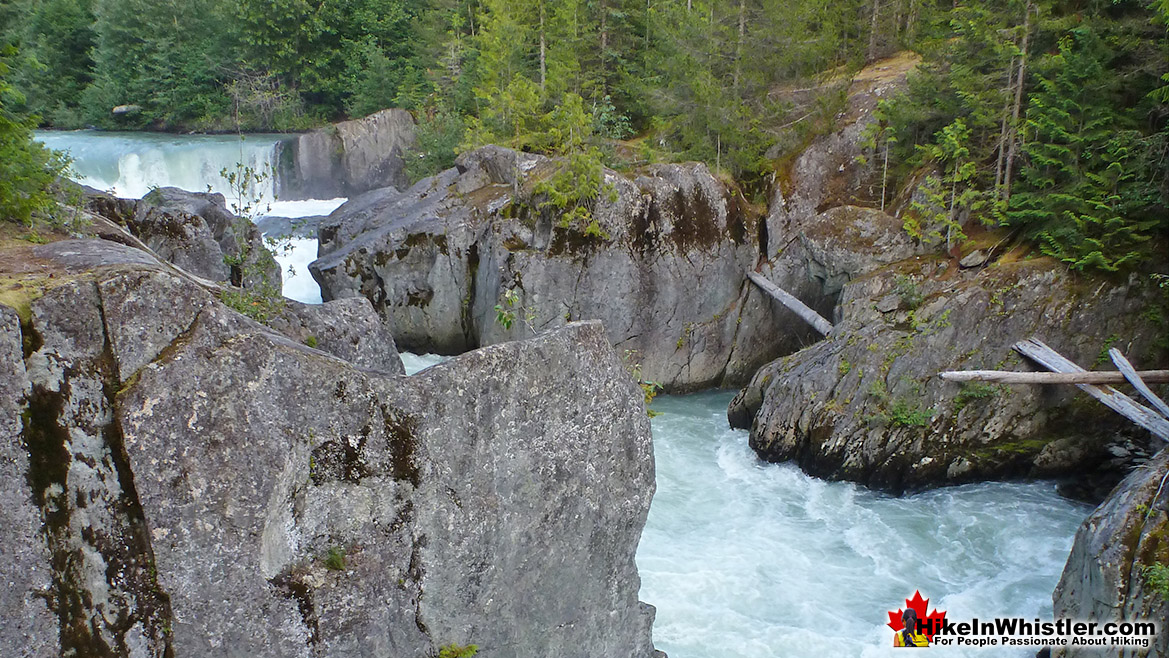 Cheakamus River Trail Map

The Cheakamus River trails consist of two trails that link via the MacLaurin's Crossing bridge at one end and the vehicle bridge in Cheakamus Crossing. These two trails, Riverside & Farside, lay at the heart of The Whistler Interpretive Forest which encompasses the surrounding areas of beyond Cheakamus River. These areas consist of the Riverside Trail, Farside Trail, Discovery Loop, Ridge Trail, Riparian Interpretive Trail, Crater Rim Trail, Craterview Loop, Plantation Loop, Biogeoclimatic Loop and Crater Lookout. The Riverside Trail(left side of Cheakamus River if looking from Cheakamus Crossing toward Cheakamus Lake is an easy to moderate, 2 kilometre multi-use trail with a a few steep switchbacks and a couple very scenic viewpoints over the river. At MacLaurin's Crossing it connects to the Farside Trail, an easy, multi-purpose trail that brings you back to where you started in Cheakamus Crossing.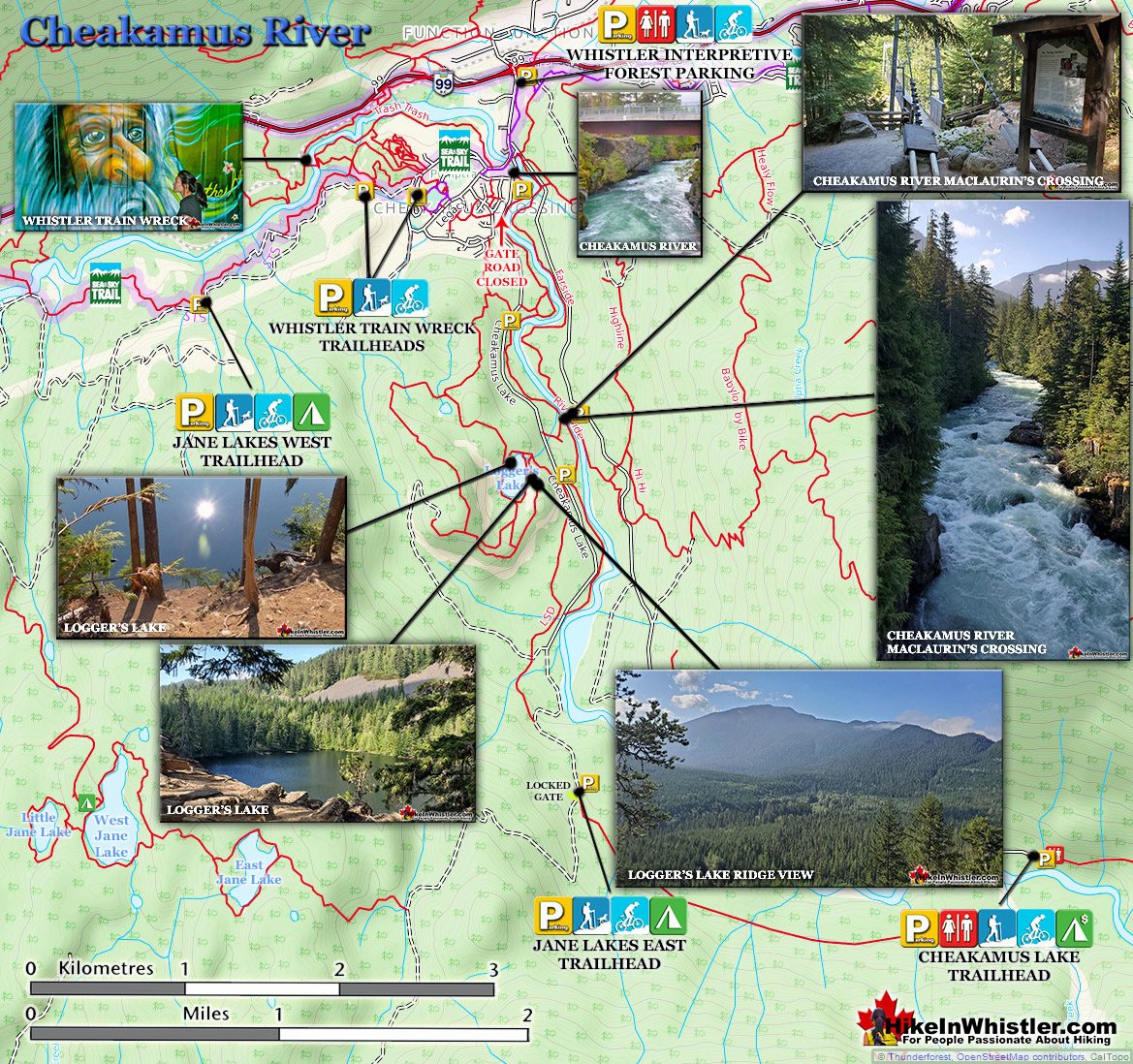 Logger's Lake Trails Map

Logger's Lake is an amazing little lake hidden up in the deep forest above the more well known Cheakamus River. The lake, almost unbelievably exists in a long extinct volcano. However, as soon as you see the lake up close, you quickly come to believe it. The lake sits in an almost cartoonish looking, volcano-shaped bowl, with one side of the bowl a crumbling array of fridge sized boulders leading down to the lake.  The crater that Logger's Lake sits in was a volcano that pushed through the glacial ice in this valley about 10000 years ago.
Driving Directions & Parking for Cheakamus River

With construction in Cheakamus Crossing blocking vehicle access to the Logger's Lake side of Cheakamus River, there are still plenty of places to park to hike Cheakamus River and to Logger's Lake. The big Whistler Interpretive Forest parking lot is one option, but the unmarked parking area along the Cheakamus Lake FSR is much closer. From Whistler Village drive south on the Sea to Sky Highway (99) for 7.9km, turn left onto Cheakamus Lake Road. Drive 400 metres and turn left onto Cheakamus Lake FSR. This is also the road that takes you to Cheakamus Lake. Drive 1.8km and look for the unmarked parking area for MacLaurin's Crossing on your right (pictured below). The unmarked trail, marked with a red arrow on the parking picture below takes you to the beautiful MacLaurin's Crossing bridge over Cheakamus River. After the bridge, turn left onto the Farside trail and hike to the Logger's Lake parking area and you will see the Logger's Lake trailhead. From the parking at MacLaurin's Crossing to Logger's Lake is just one kilometre and mostly easy, relaxing and scenic. From the Whistler Interpretive Forest parking the hiking distance to Logger's Lake is just under four kilometres.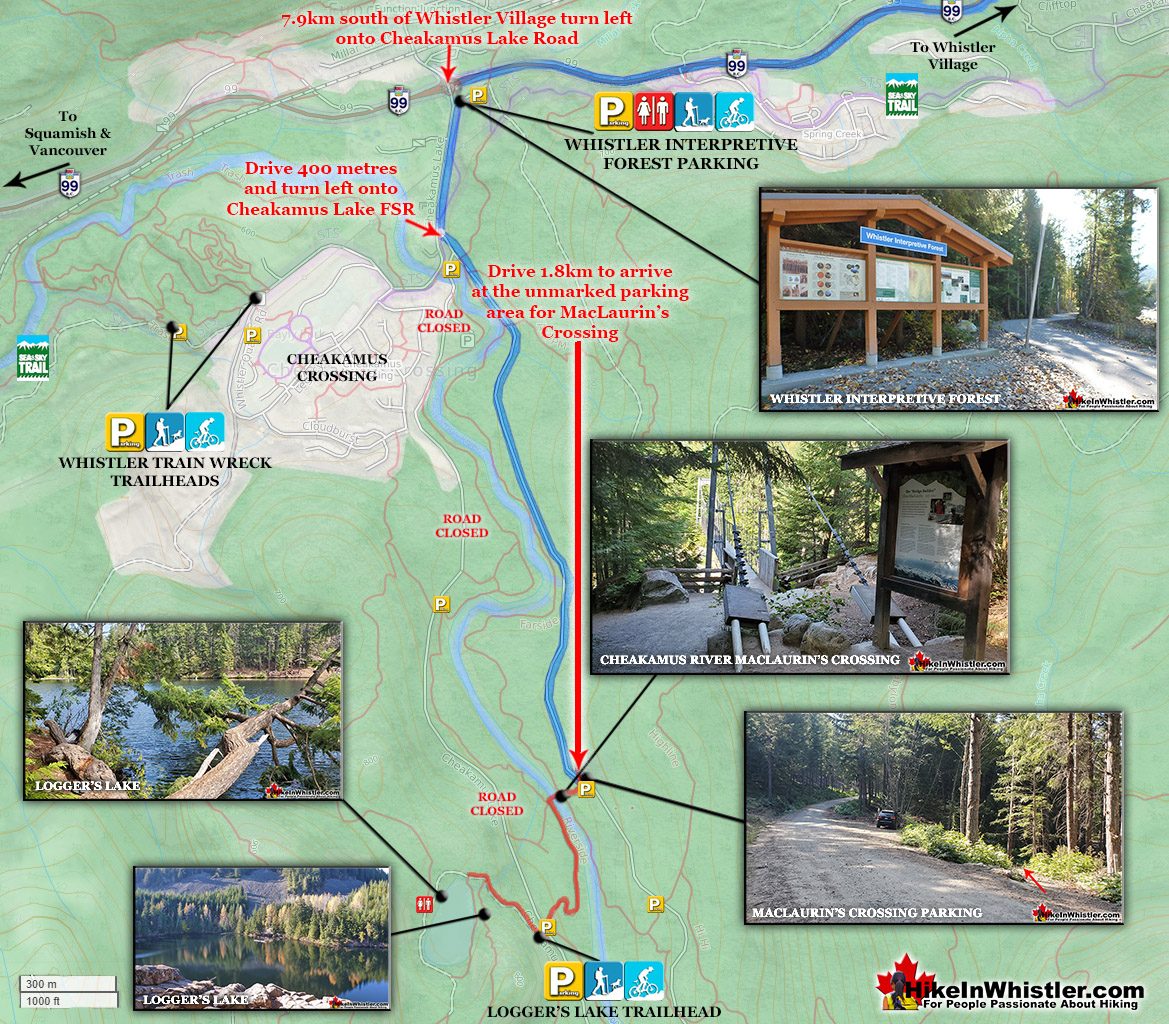 More Cheakamus River Hiking Info... More Logger's Lake Hiking Info... 
More Whistler & Garibaldi Park Hiking Maps!

Whistler & Garibaldi Park Glossary A to Z

The Best Whistler & Garibaldi Park Hiking Trails!