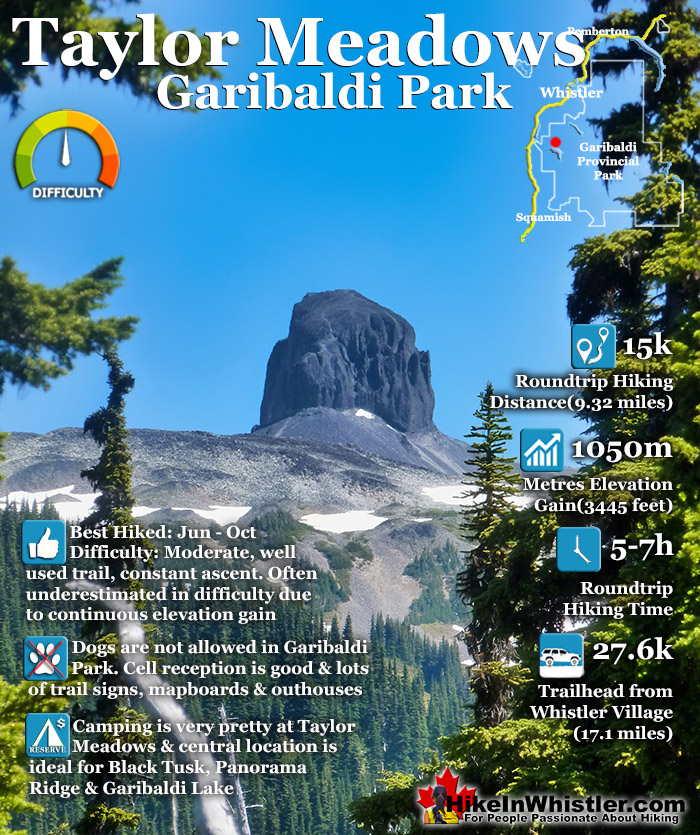 Taylor Meadows is a very scenic campsite and great alternative to the much busier and more well known, Garibaldi Lake campsite. Located in Garibaldi Provincial Park between Garibaldi Lake and Black Tusk, Taylor Meadows is best hiked to from the same trailhead as Garibaldi Lake at Rubble Creek. There are 40 tent platforms, toilets, a good water source and food cache, all in the lush forest of Taylor Meadows with great views of Black Tusk. 
Idyllic, flower filled valley below Black Tusk
Well organized campground in deep wilderness
Multiple hikes can be done from the meadows
Deluxe tent pads & frequent maintenance
Elevation gain flattens at the meadows
Black Tusk looms beautifully very near
More of a crossroads than a destination
No glacier views like you get at Garibaldi Lake
No convenient lake to swim in
Crowded campsite, fills up quickly
Whistler & Garibaldi Hiking

Alexander Falls  

Ancient Cedars  

Black Tusk  

Blackcomb Mountain  

Brandywine Falls  

Brandywine Meadows  

Brew Lake  

Callaghan Lake  

Cheakamus Lake  

Cheakamus River  

Cirque Lake 

Flank Trail 

Garibaldi Lake 

Garibaldi Park 

Helm Creek  

Jane Lakes 

Joffre Lakes  

Keyhole Hot Springs  

Logger's Lake  

Madeley Lake  

Meager Hot Springs 

Nairn Falls  

Newt Lake 

Panorama Ridge 

Parkhurst Ghost Town 

Rainbow Falls  

Rainbow Lake 

Ring Lake  

Russet Lake  

Sea to Sky Trail 

Skookumchuck Hot Springs  

Sloquet Hot Springs 

Sproatt East 

Sproatt West  

Taylor Meadows  

Train Wreck  

Wedgemount Lake  

Whistler Mountain

January 

February 

March 

April 

May 

June 

July 

August 

September 

October 

November 

December
Generally Taylor Meadows is not a destination on its own, but part of a circle route to the spectacular Garibaldi Provincial Park sights in the area.  For example, hiking from the Black Tusk(Garibaldi) Rubble Creek trailhead to Taylor Meadows, Taylor Meadows to Black Tusk or Panorama Ridge, then return via Garibaldi Lake and back down to Rubble Creek.  This makes for a long hike at 30 kilometres(19 miles), which is why tenting at this perfectly beautiful, and perfectly located Taylor Meadows campsite is a great idea.  The trail to Taylor Meadows from Rubble Creek is well marked, well used and with plenty of signs and mapboards.  Expect to take well over two hours to reach Taylor Meadows from the trailhead/parking at Rubble Creek. Taylor Meadows gets very busy at times as well with 40 campsites with full service (water, security, etc). There are some small rivers close by but no swimming. The draw for Taylor Meadows camping is the wonderful location. It lays in a beautiful forested meadow full of hills and flowers and views of the towering Black Tusk. It has a less crowded feel than Garibaldi Lake does, though bear in mind that even when crowded these campsites don't feel crowded - they are just that organized and thick with trees and hills.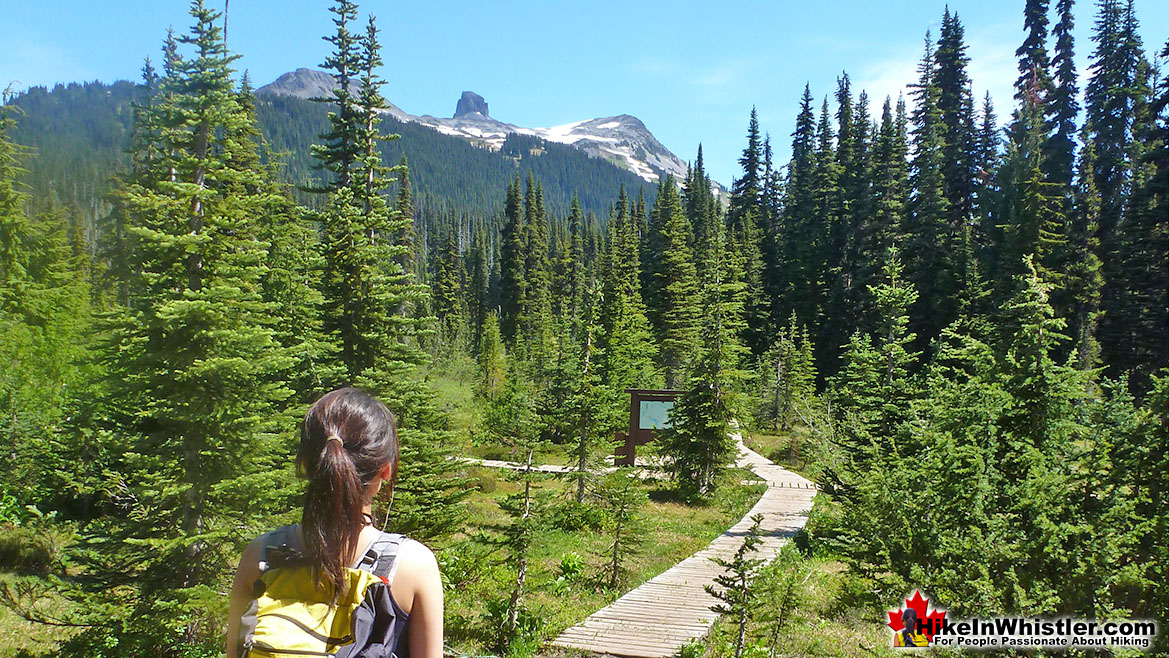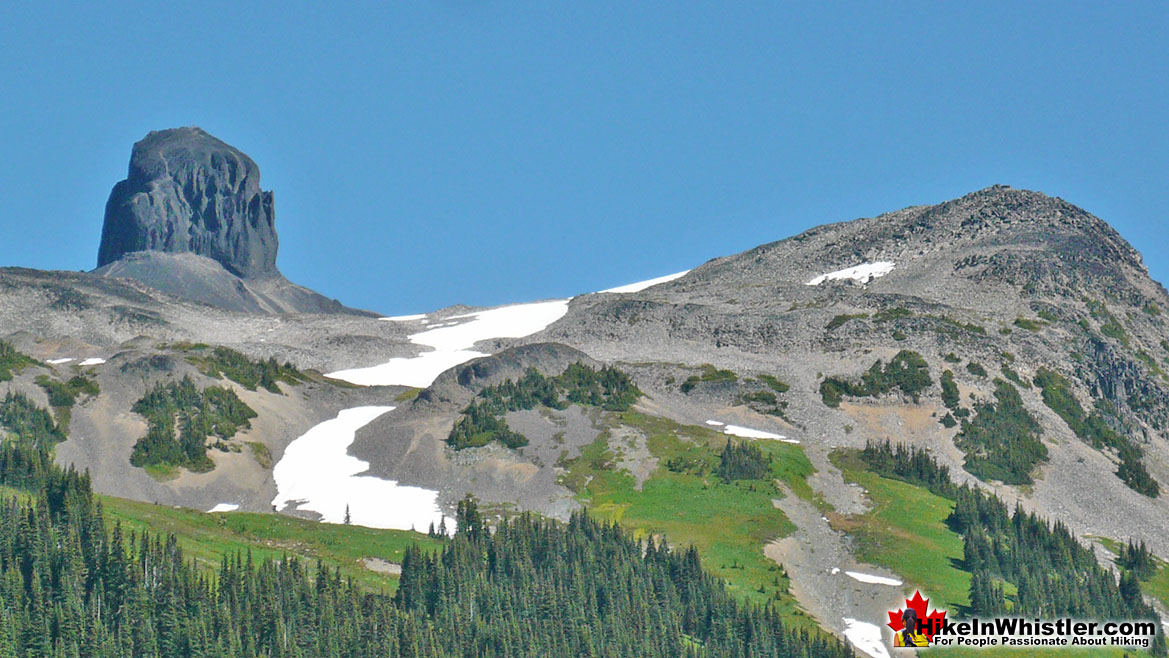 Rubble Creek Trail to Taylor Meadows
The Rubble Creek trail to Taylor Meadows is a 7.5 kilometre(4.6 mile), steadily ascending hike that gains 1050 metres(3445 feet) of elevation.  Almost all of that elevation gain is done in the first 5 kilometres, which is a series of relentlessly steep switchbacks.  After the switchbacks the trail flattens out considerably and at 5.5 kilometres you come to a crossroads.  Left to Taylor Meadows and right to Garibaldi Lake.  A continuing trail leads to Black Tusk and further along another trail extends to Panorama Ridge.  These are two amazing and challenging destinations for this area of the park. Black Tusk is 13.5 kilometres from the Rubble Creek trailhead and Panorama Ridge is 15 kilometres.  So tackling both in a day hike is not realistic for most hikers.  Even hiking to one of these in a day hike is too much for most hikers.  Therefore an overnight base camp at Taylor Meadows or Garibaldi Lake are the usual alternative.  Though a day hike is a good endurance test, taking your time allows you to appreciate the view from the summit of Black Tusk, or the stunning panorama from Panorama Ridge, or the flower filled valleys along the way.  This Black Tusk area of Garibaldi Park is marvelous for a lot of geological features besides Black Tusk, but Black Tusk is quite a marvel that outshines all the rest in the park.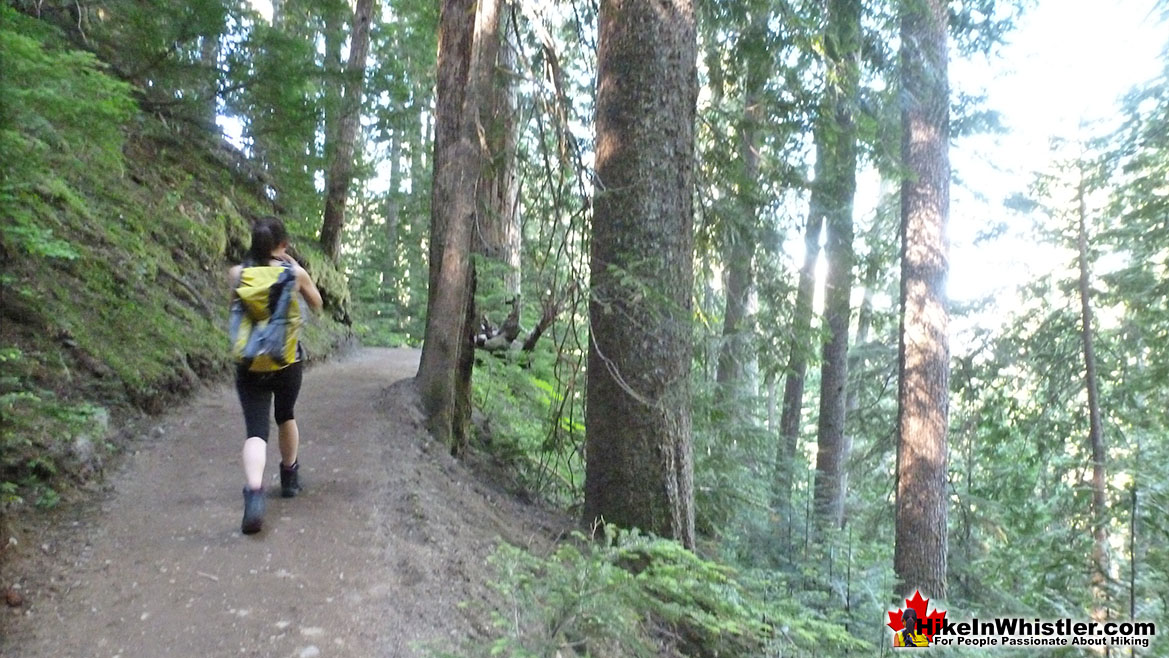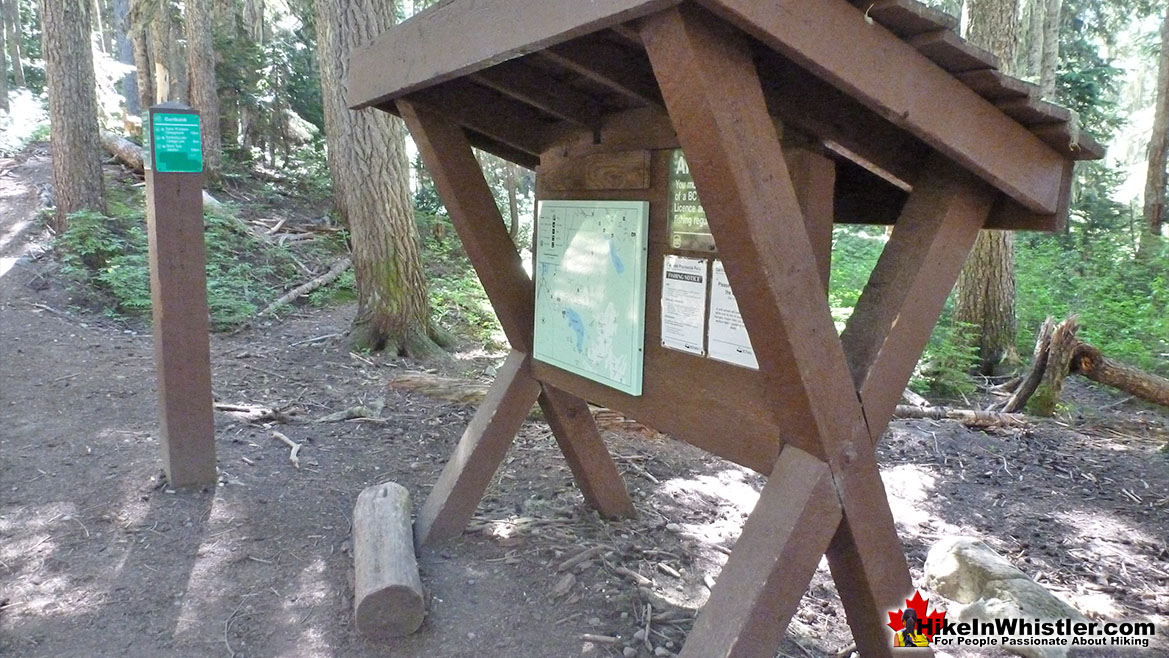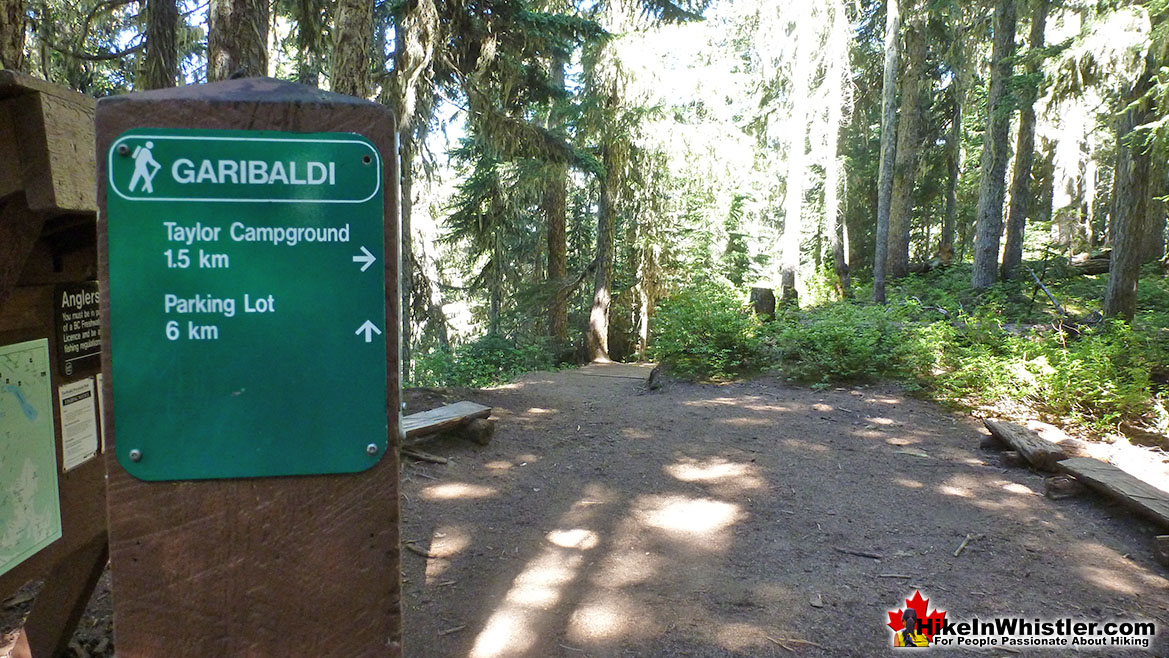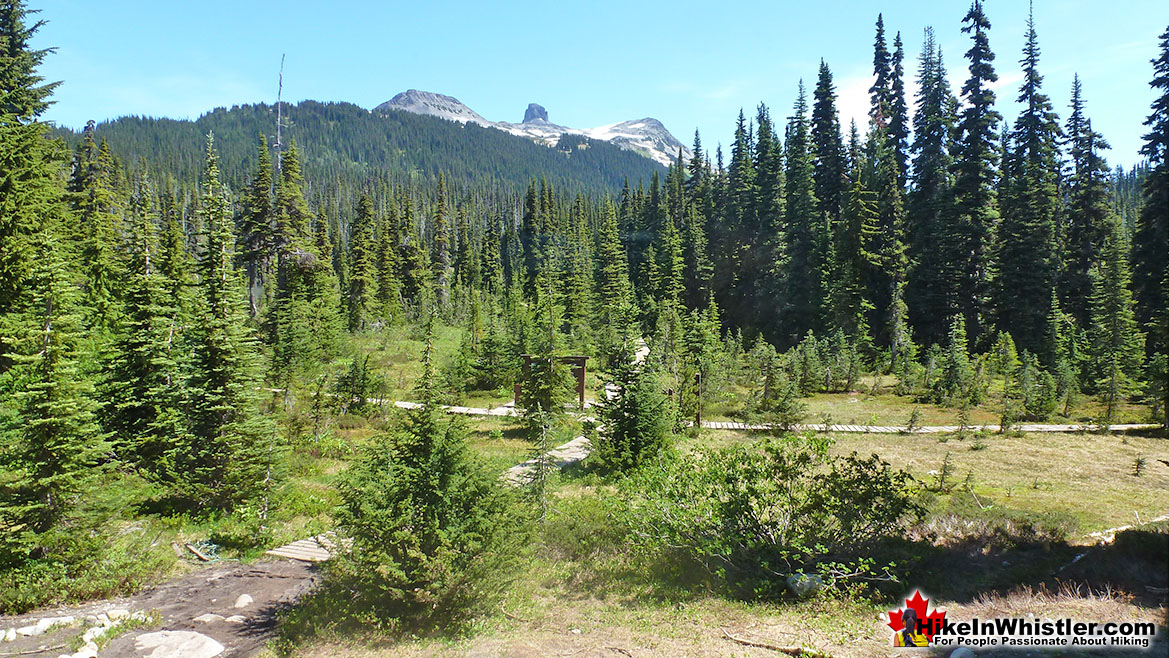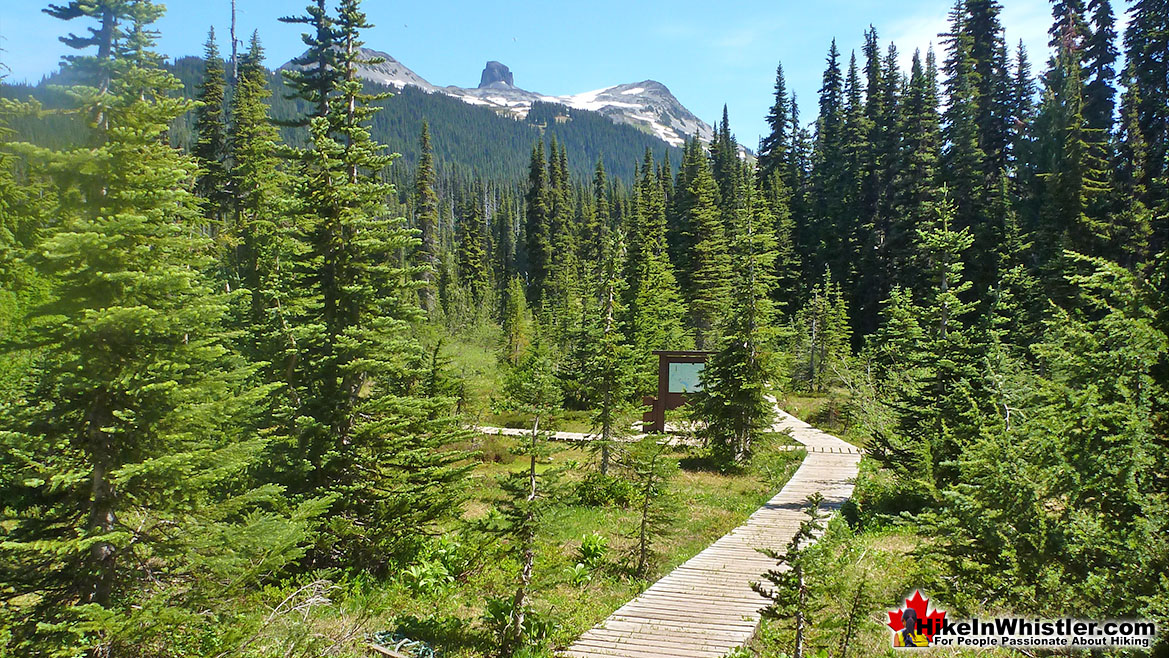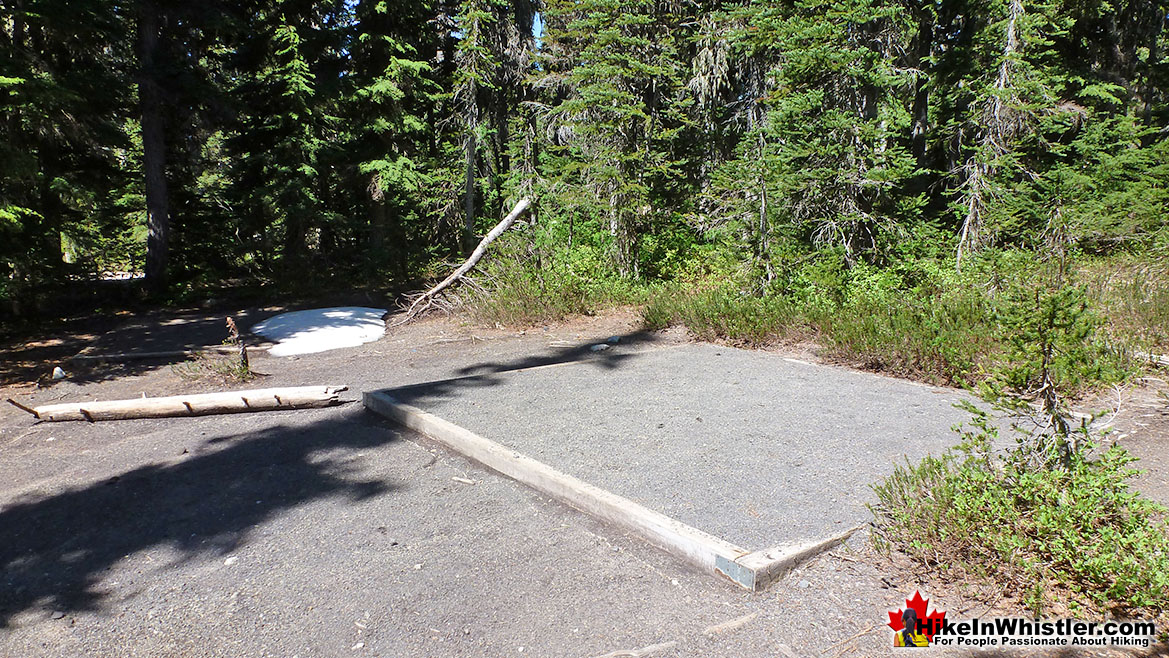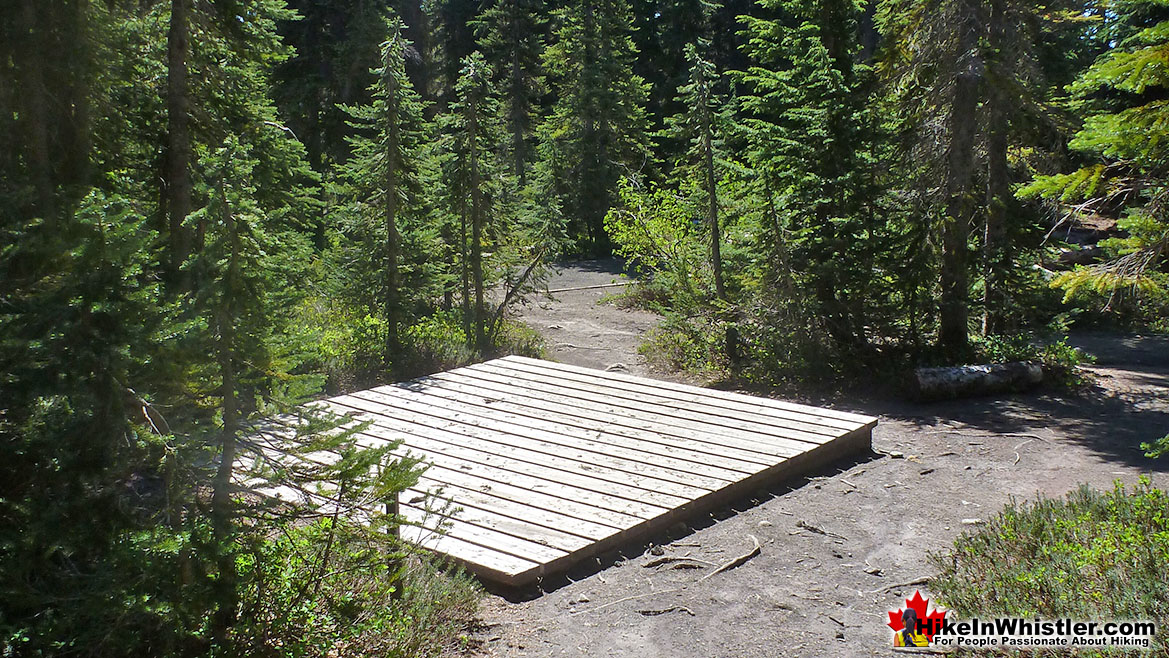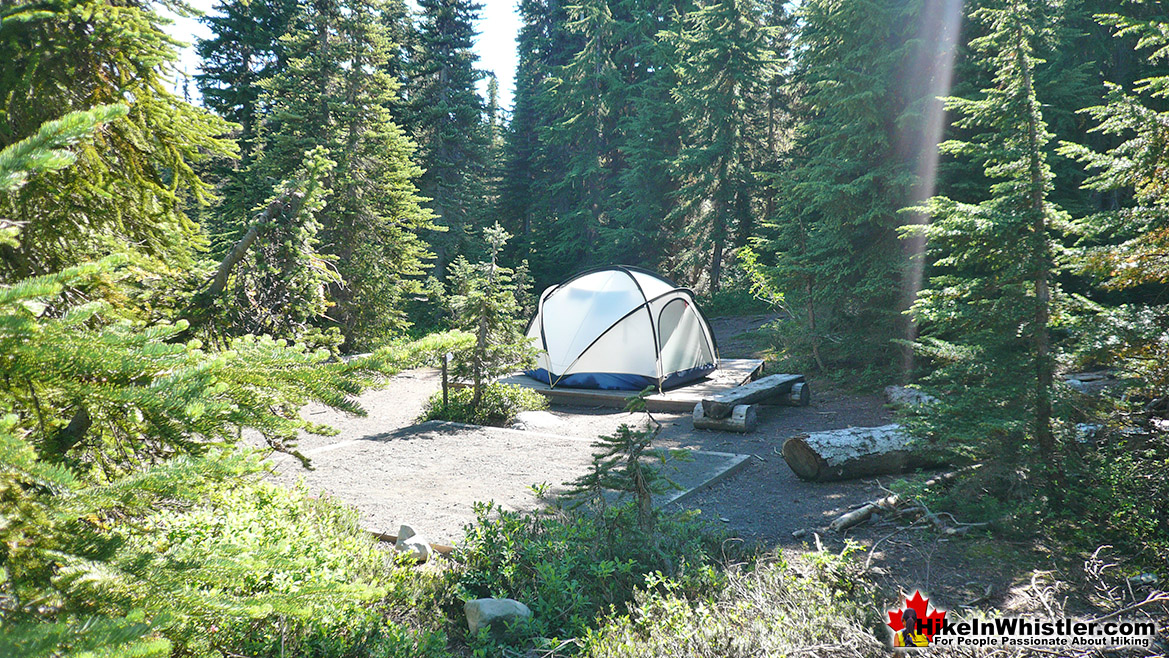 Black Tusk from Taylor Meadows
Black Tusk is the descriptively named stark black mountain that can be seen from almost everywhere in Whistler.  The massive black spire of crumbling rock juts out of the earth in an incredibly distinct way that appears like an enormous Black Tusk plunging out of the earth.  Whether you spot it kilometres away, from the top of Whistler Mountain or from dozens of vantage points along the Sea to Sky Highway, its unmistakable appearance is breathtaking.  Seeing Black Tusk from closer vantage points such as Taylor Meadows, Helm Creek, Panorama Ridge or Garibaldi Lake, all views make climbing to the top look impossible.  In fact, Black Tusk seems to look more impossible to climb the closer you get to it.  Even when you are close enough to touch its vertical, black and crumbling sides, you wonder in amazement how anyone can ever reach the top. Panorama Ridge is easily one of the most amazing and rewarding hikes in Garibaldi Park.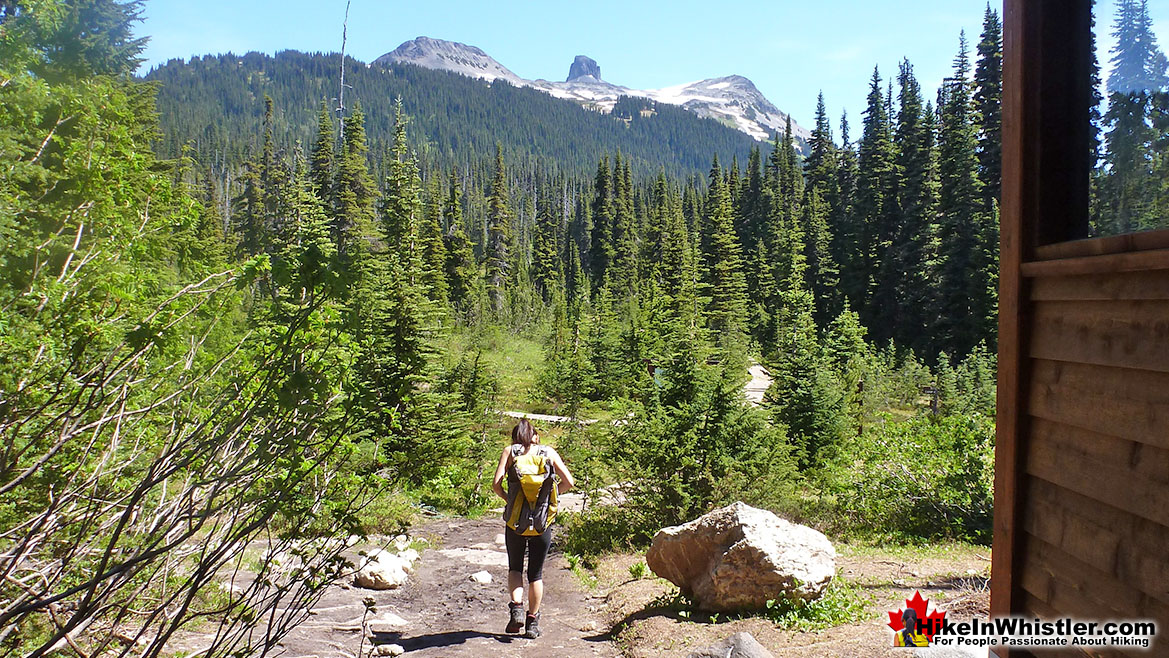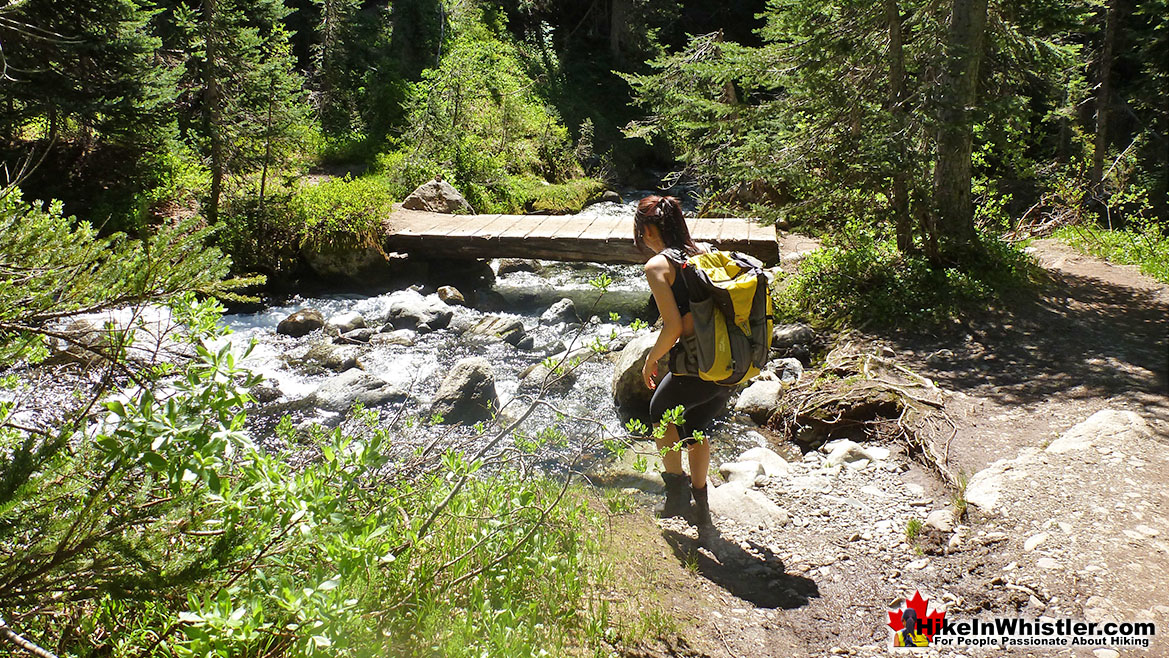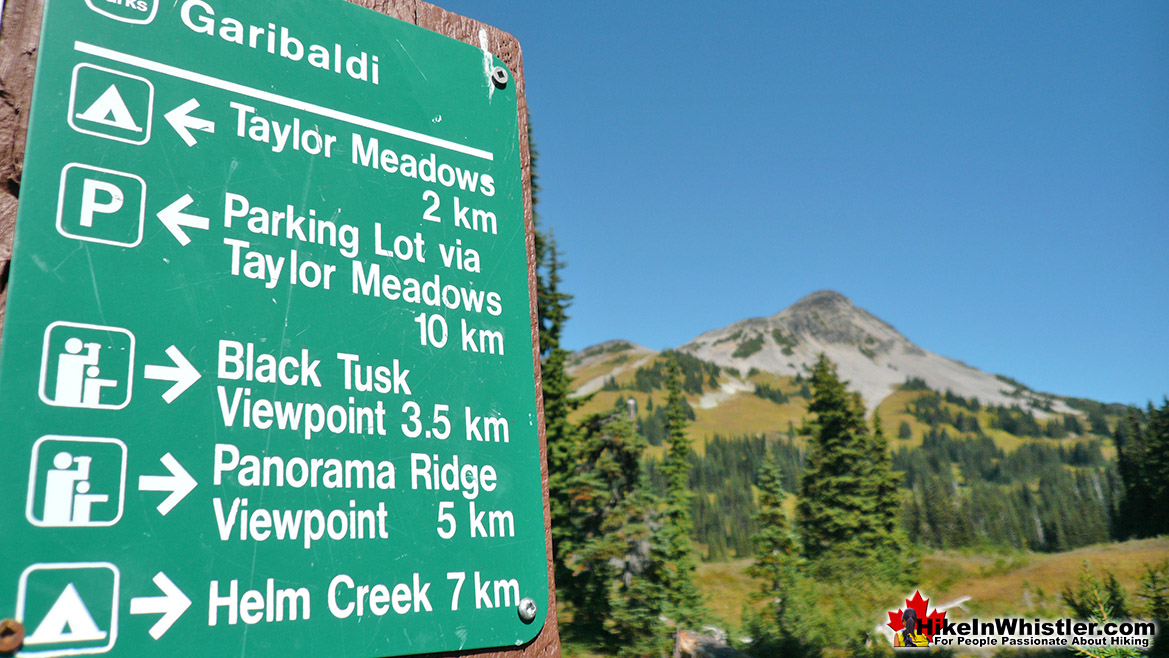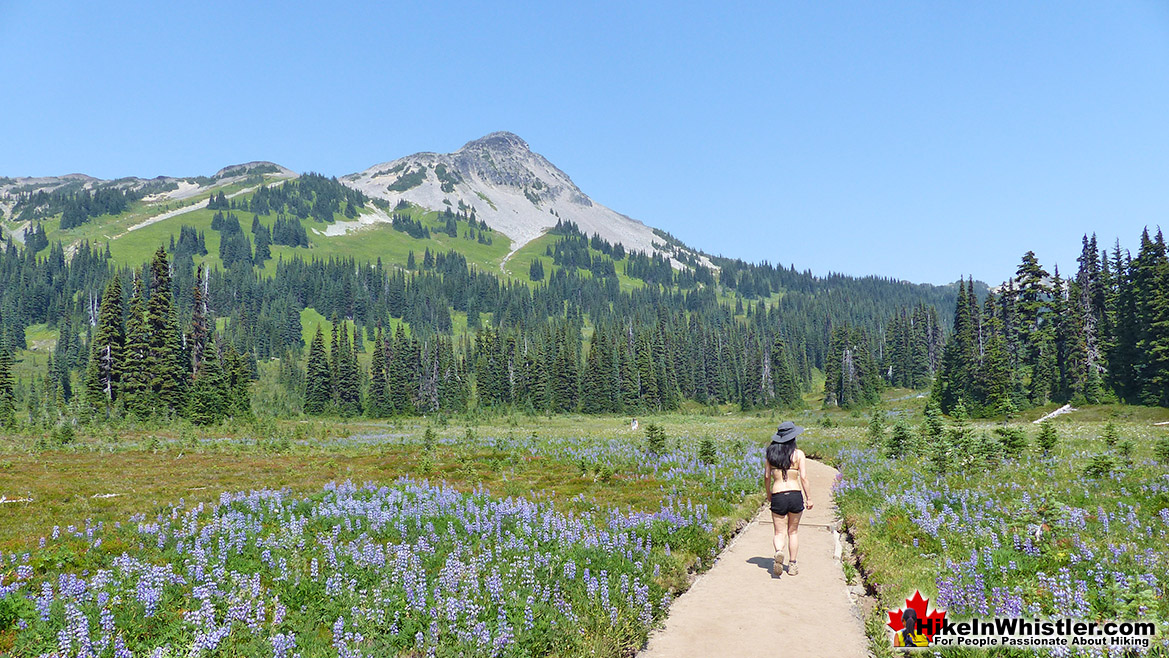 Taylor Meadows Area Hiking Map

Cell coverage is somewhat reliable on much of the trail to Taylor Meadows and Garibaldi Lake so you will be able to access the internet if you have a data plan, however saving this map may be a good idea.  Driving from Whistler Village, from Village Gate Boulevard, drive south on the Sea to Sky Highway(99), toward Vancouver. The well marked turn off to the Rubble Creek trailhead is shown by the highway sign: Black Tusk(Garibaldi).  You will see this highway sign 25 kilometres south of Village Gate Blvd.  The sign indicates a left turn and you will see a long left turn lane to take to get off the highway.  A nice, paved 2 kilometre road takes you up to the Rubble Creek trailhead parking lot.  From this trailhead, hiking is a constant, fairly steep ascent that most hikers find unexpectedly challenging(exhausting). This exhausting section of trail is just for the first 5.5 kilometres where you come to a fork in the trail, left to Taylor Meadows, right to Garibaldi Lake. Either direction, you will notice, is considerably easier to hike and much more scenic. From the fork in the trail at 5.5k, Taylor Meadows is just another 20 minutes away. As with all Garibaldi Park trails, dogs are not welcome. Neither are bikes (Cheakamus Lake is bike friendly).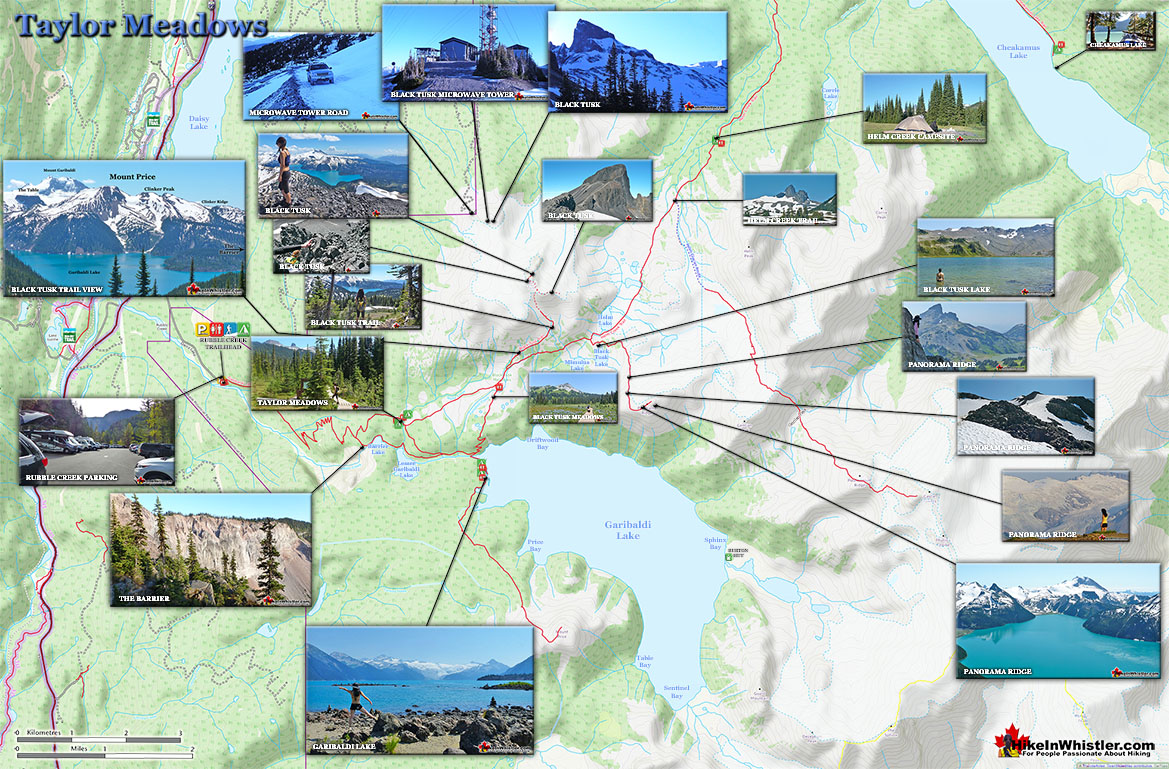 Taylor Meadows Campground in Garibaldi Park

Taylor Meadows lacks the beautiful lake and distant glacier views you get from the campsite at Garibaldi Lake.  You do get a much prettier forest and meadow setting at Taylor Meadows as well as stunning views of the always impressive Black Tusk.  Fresh water is plentiful here as well as there is a pristine, glacier fed creek that runs through the campsites.  As with Garibaldi Lake you have a food storage and preparation hut to use and there is a frequently manned ranger cabin nearby as well.  Taylor Meadows has 40 well-spaced and organized tent pads sprinkled throughout the beautiful forest here.   Though Garibaldi Lake is often considered the better campsite because you can swim in the stunningly beautiful, though frigidly cold lake, Taylor Meadows is beautiful with its lush green and flower filled meadows surrounding the campsite.  Taylor Meadows tends to feel less hectic as Garibaldi Lake tends to draw the majority of visitors to the park.  Both Taylor Meadows and Garibaldi Lake campsites are good if you are hiking to Black Tusk or Panorama Ridge as both connect to the Black Tusk trail and or the Panorama Ridge trail.  If you are hiking Black Tusk or Panorama Ridge in a day from Rubble Creek you can hike one route up and the other down.  So you can hike through Taylor Meadows, up to Black Tusk or Panorama Ridge, then return via Garibaldi Lake for a swim.  It is always nice to avoid retracing your steps in a hike and this way you only duplicate part of the trail in the first or last 5.5 kilometres where the trail forks left to Taylor Meadows or right to Garibaldi Lake.  Fees Per Night: $10 Adult - $5 Kids(6-15)  Campsite fees must be paid online in advance at the BC Parks Garibaldi Provincial Park reservations page.

Garibaldi Lake Campground in Garibaldi Park
The campground at Garibaldi Lake is the largest and most popular with 50 tent pads.  It is open year-round, although it is only busy in the summer months.  Though you get some skier and snowboarder activity in the winter, the snow and cold weather keeps people away.  Along with the 50 tent pads, you have plenty of outhouses, picnic tables and a bear-proof hut for preparing and storing food.  No sleeping is allowed in the hut.  At the end of the campsites you will find a BC Parks ranger cabin which is often manned in the summer and sporadically the rest of the year.  The campsites at Garibaldi Lake and Taylor Meadows are popular bases for hiking to Black Tusk and/or Panorama Ridge.  The Helm Creek campground on the other side of Black Tusk and Panorama Ridge is another good base for these amazing sights.  Generally Helm Creek is hiked from the Cheakamus Lake trailhead instead of the Rubble Creek trailhead.  Fees Per Night: $10 Adult - $5 Kids(6-15)  Campsite fees must be paid online in advance at the BC Parks Garibaldi Provincial Park reservations page.  There are no well defined hiking trails around the lake.  The Panorama Ridge side of the lake is far to steep and wild to make a trail feasible.  On the other side of the lake, hiking is possible to Mount Price, although the faint trail disappears into the alpine and route-finding can get very difficult.  There are some trail markings that denote the trail past the BC Parks ranger cabin a the far end of the Garibaldi Lake campsite.  Plenty of hikers have hiked around Garibaldi Lake in the past, but you have to know what you are doing and be well equipped, tough and determined to do it.

Garibaldi Provincial Park Reservations

In 2018 a lot of changes with Garibaldi Provincial Park's campsite reservations.  The first big change is that overnight camping fees are required at all campgrounds, year-round.  It is still free to day hike in the park, but sleeping in the park requires a reservation and camping fees apply in all areas of Garibaldi Park.  You can't pay by cash or at the trailheads or at the campgrounds.  Reservations must be made in advance via the BC Parks online reservation service or at the call center.  It is a pretty organized and fair reservation system.  Fairly easy to use online and reasonably priced.  The revenue goes into maintaining trails, access roads, parking lots, park buildings and snow removal.  The second big change this year for Garibaldi Park is that for the first time you can legally register and pay to camp in the backcountry beyond the official campsites.  Wilderness camping permits are available to mountaineers, climbers, ski tourers, and other visitors with advanced skills in wilderness travel and camping, within the wilderness camping zone.  The areas you can wilderness camp is quite restricted in an effort to not overrun the park and maintain some control over the massive numbers of hikers in the park.  Backcountry Camping Permits for Garibaldi Park cost the same as the campsite fees: $10 per person, per night.  Children 6-16 years old pay $5 per person, per night and kids under 6 years old are free. 
There are two ways to book a reservation to camp in Garibaldi Provincial Park.  You can book online here.  For mobile devices, scroll to bottom of page and click "Switch to Full Site".  Or via the Call Centre (an additional $5 surcharge applies): 1-800-689-9025 (toll free Canada) +1-519-826-6850 (International) 7:00 am-7:00 pm seven days a week.  Some of the Garibaldi Park trailheads don't have reliable cell coverage, so don't forget to book your reservation  before you start hiking!  When you book online or by phone you will need the following information.  Your arrival date, your desired campground, your group size.  Then you have to pick the number of tent pads your party requires.  At tent pad is 10 feet by 10 feet and usually accommodates one tent.  Each tent pad can fit a maximum of 4 people. Choose your itinerary for each night.  Click "reserve"  Fill in the permit holder and camping party information.  Pay for your reservation with your credit card.
All overnight visits to Garibaldi Park require reservations beforehand.  In the past camping was allowed only in the designated BC Parks campsites.  New in 2018, for the first time you can camp in the vast wilderness beyond the campgrounds.  There are several eligibility requirements you must adhere to.  Your camp must be at least 2 kilometres from any established trail or campground and your group size must be 10 or less.  Your camp must be at least 30 metres from water sources such as a lake, stream or wetland.  You and your companions must be experienced wilderness hikers proficient in route finding and preparation.  It is stated on the Garibaldi Provincial Park BC Parks site that you should be an experienced mountaineer, climber, ski tourer or possess advanced wilderness skills.  You must be committed to the "Leave No Trace" ethos of camping and hiking.
In addition to this there is an overall wilderness camping zone that denotes permissible zones that you can camp in the wilderness.  Consult the wilderness camping map which denotes prohibited camping zones such as the Diamond Head area and approach, Columnar Peak, the Gargoyles, Opal Cone, and Mamquam Lake.  Much of the area around Garibaldi Lake, Black Tusk, Panorama Ridge and Mount Price.  Cheakamus Lake has a sensitive wetland habitat at the east end of the lake where Cheakamus River flows into the lake.  There is a wonderful and very inviting plateau of land above Wedgemount Lake close to the end of the lake where the pours out via Wedgemount Falls.  Near Russet Lake where the north-south running UTM 511E forms the boundary for both the south and north sections of the Spearhead traverse. Wilderness camping is prohibited west of this line. In the south, this line roughly dissects The Fissile and Overlord Glacier east of Russet Lake campground.  In the North, UTM 511E dissects the Decker glacier. Wilderness camping reservations/fees cost the same as for the campgrounds.  Fees Per Night: $10 Adult - $5 Kids(6-15).  Campsite fees must be paid online in advance at the BC Parks Garibaldi Provincial Park's reservations page.
Hiking Season in Garibaldi Provincial Park
Garibaldi Provincial Park is located in the high alpine of the Coast Mountains that stretches from Alaska, down the coast of British Columbia.  Snow accumulation over the winter months is measured in metres and varies tremendously year to year.  This makes gauging when the snow will recede from the Garibaldi Park trails difficult to know until just weeks before.  In just the last 10 years you could have hiked to Garibaldi Lake in late May while encountering little snow on the trail.  In other years deep snow on the trail persists well into June and even early July!  I once spent a couple nights at Helm Creek over the Canada Day long weekend on July 1st and my tent was on a metre of snow!  The following year the same spot was in a snow free, green meadow in mid June.  There are a couple good ways to find out, or guess how much snow is on the trails.  BC Parks releases trip reports every couple weeks over the spring and summer months and included details of the snow depths along the various trails.  If the trip report is a couple weeks old, you can pretty accurately estimate the current snowpack.
Another good way is to take a look at the many Whistler Mountain and Blackcomb Mountain web cams.  The Roundhouse Lodge has a great camera on it every day of the year and it will show the snow levels that you can then compare to comparable elevations in Garibaldi Park.  For the most part, even in very snowy winters, the determined can hike to places like Garibaldi Lake, Taylor Meadows, Black Tusk and Elfin Lakes in late June.  Though you will encounter snow along the trail in the alpine that will make you wish you brought snowshoes and gaiters.  The trail to Wedgemount Lake is much steeper and snow impedes your way a lot more than on other trails.  Prepare to fight the snowy trail into early July!  Another measure of the snowpack is the opening dates from hiking trails on Whistler Mountain and Blackcomb Mountain.  The higher elevation trails don't usually open until early July, though the hiking season officially starts in late May for hiking trails from the Roundhouse on Whistler Mountain.
You need to be well prepared whenever you are hiking in Garibaldi Park, but more so in the early summer weeks.  The alpine weather can change quickly and you should always have warm clothes with you well beyond the temperatures you are anticipating.  It takes little room in your backpack to bring along a toque, gloves and warm pants.  Whistler and Vancouver locals always tend to throw their snowboard/ski pants in their pack even on a sunny August overnight hike.  For many hikers to Garibaldi Provincial Park, the extraordinary flower meadows are a highlight.  Similar to gauging the winter snow lingering on the trails in the spring months, estimating when the flowers bloom is tricky as well.  Most years you will encounter extraordinary meadows of red, yellow and white flowers.  Laying in enormous meadows of bright green, the flowers are amazing to see.  Along the trail to Panorama Ridge via Taylor Meadows you will pass by a continuously varying array of flower fields that seem impossibly beautiful.  Seas of red, yellow and white fill the valleys, giving way to snowy mountains and grey and black mountain peaks.
Facilities at Taylor Meadows

There are outhouses(toilets) at various places in Garibaldi Park along the trail to and from Taylor Meadows. The parking lot/trailheads at Rubble Creek and Cheakamus Lake have outhouses.  The campsites at Taylor Meadows and at Garibaldi Lake have outhouses.  There is also an outhouse at the trail junction where the Black Tusk trail ascends from the main trail, 3.5k from Black Tusk.  These are basic, pit toilets, usually equipped with toilet paper. At the campsites at Taylor Meadows and Garibaldi Lake you will find nice, one room buildings for food preparation and to keep them away from bears. Beware of mice in these places. If you leave anything on the floor with food in it, such as a backpack with a chocolate bar in a pocket. You will find little holes chewed through and your candy bar gone! There are plenty hooks on the wall to hang things from, out of reach of the attacking mice.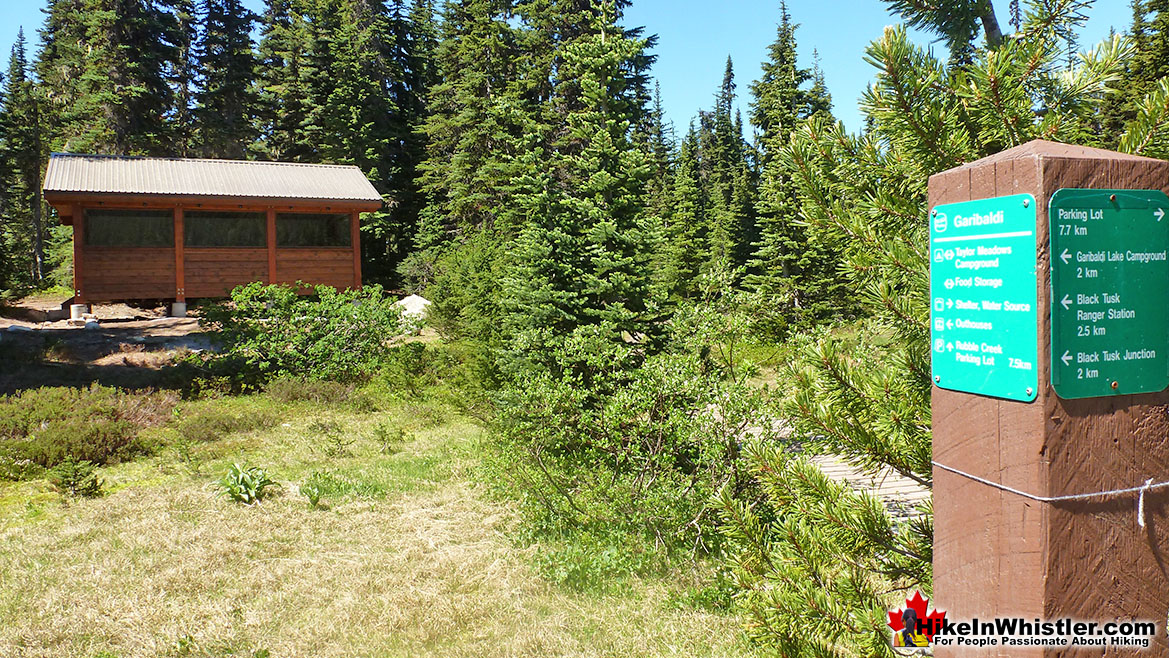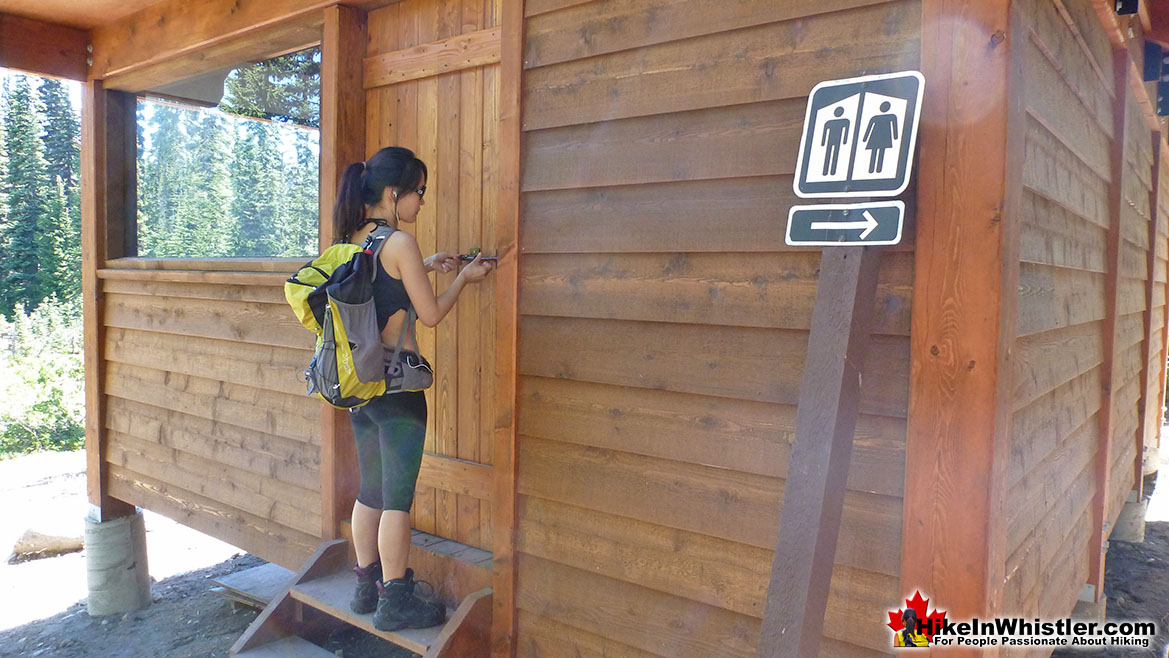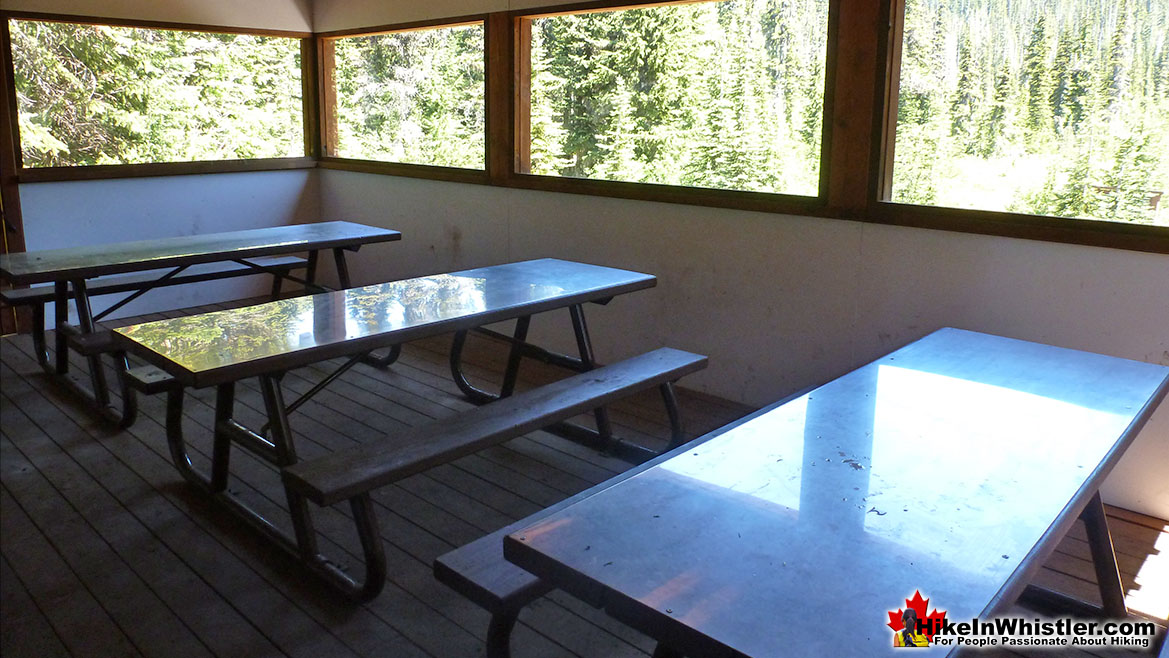 Restrictions and Concerns at Taylor Meadows




Bikes are not allowed in much of Garibaldi Park, including the vast wilderness around Taylor Meadows.  You can bike to Cheakamus Lake, but not up to Helm Creek toward Black Tusk.  Use of motorized vehicles of any kind are restricted to park roads and parking areas.  Fires are prohibited in the park due to the potential forest fire hazard. Arriving or departing the park by aircraft is not allowed, as well as harvesting natural resources such as mushrooms.  Dogs are not permitted on the trail to Taylor Meadows or any other Garibaldi Provincial Park trails out of courtesy to the resident animals.  There are a large number of black bears in the park and encounters with dogs result in unpredictable and potentially dangerous conflicts.  There are quite a few excellent hiking trails in Whistler that are dog friendly.  Whistler's Valley Trail and Lost Lake Trails are dog friendly and run throughout Whistler.  The Sea to Sky Trail, which runs over 30 kilometres through Whistler is a paradise trail for dogs as it runs through numerous parks, beaches and forests. Ancient Cedars is a nice, dog friendly hike that is 5k roundtrip and takes you into a thousand year old forest.  Train Wreck is also dog friendly.  The trailhead, marked Flank Trail is located in Function Junction, just a short drive south of Whistler Village.  Further south you will come to Brandywine Falls, which is a short, 2 kilometre, roundtrip dog friendly hike to the amazing falls.  About 25 minutes north of Whistler, Nairn Falls is another beautiful and dog friendly hiking trail.
Trailhead Directions to Rubble Creek

Rubble Creek is the most popular route to Black Tusk and consequently the most chaotic.  The three big parking areas fill up on busy weekends, however the long access road seems to have enough room to accommodate the busiest long weekends. This road is the only paved(not a heavily potholed, gravel road) to access a trailhead to Black Tusk.  From Village Gate Blvd, drive south toward Vancouver on the Sea to Sky Highway. The well marked turnoff to Black Tusk(Garibaldi) is 24.7 kilometres south of Village Gate Blvd, on your left.  Follow the signs to Rubble Creek trailhead just 2 kilometres up a paved road. This is the trailhead for Garibaldi Lake, Black Tusk, Panorama Ridge as well as Taylor Meadows. This trailhead parking area had a rash of vehicle thefts in 2014 and 2015 so be sure to keep any valuable out of sight and don't be obvious about hiding valuables in your trunk before setting off in case someone is watching you. A common problem in Squamish trailheads, this depressing phenomenon is moving north toward Whistler. The RCMP is taking this problem very seriously and making some effort to curb this recent increase, however taking your own precautions is your most reliable line of defense. Most hotels are happy to keep your luggage for you before or after your stay with them. Don't let this deter you from hiking in Whistler. Of the hundreds(or is it thousands?) of hikes we have done in and around Whistler, we have never had a problem with crime. A little prevention makes a world of difference!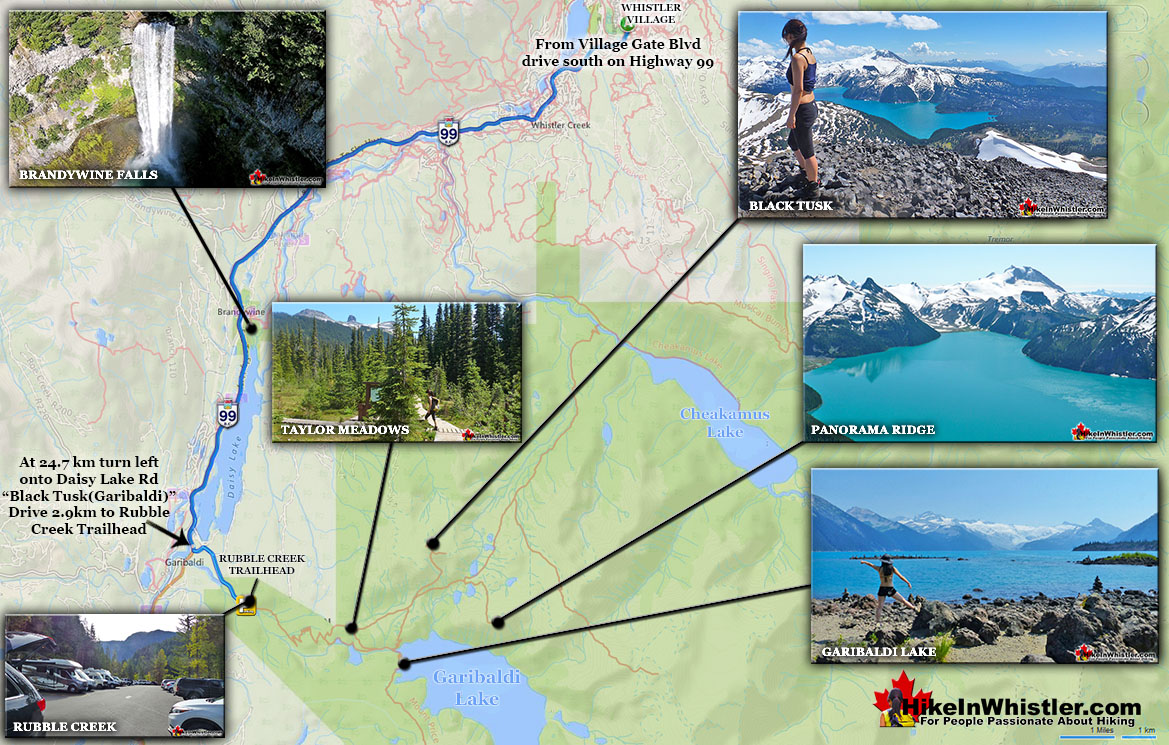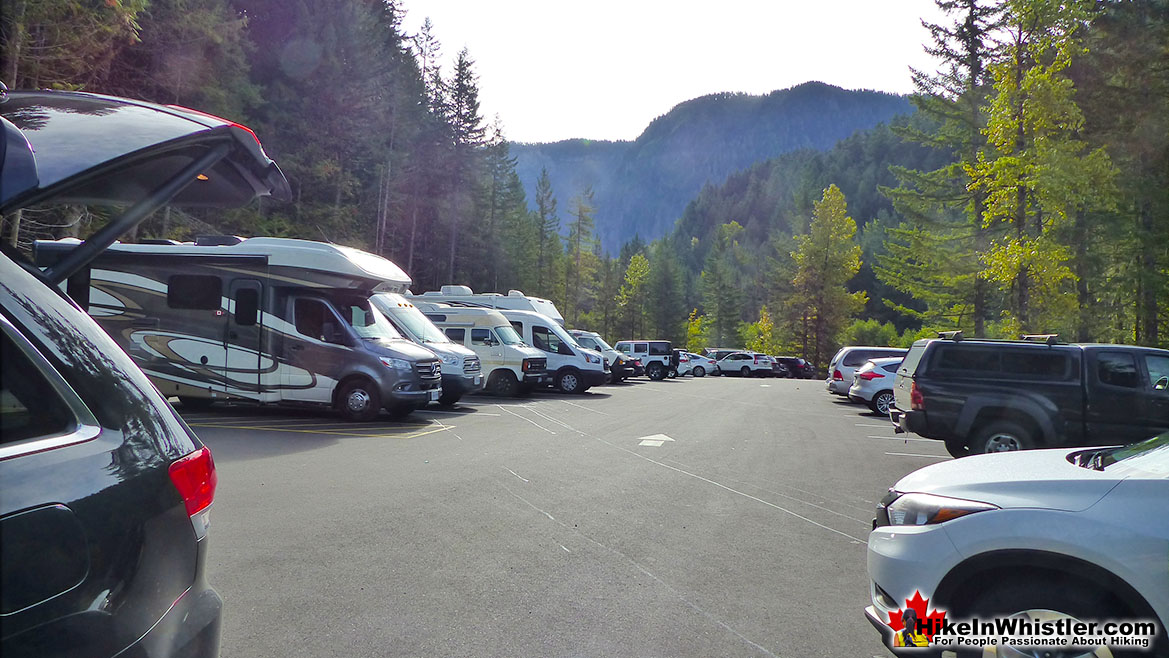 More Great Hiking Around Taylor Meadows

Black Tusk is the extraordinarily iconic and appropriately named mountain that can be seen from almost everywhere in Whistler.  The massive black spire of crumbling rock juts out of the earth in an incredibly distinct way that appears like an enormous black tusk plunging out of the ground.  Whether you spot it in the distance from the top of Whistler Mountain or from vantage points along the Sea to Sky Highway, its appearance is breathtaking.  Black Tusk, created in the fires of the Garibaldi Volcanic Belt and is one of the most admired and hiked to destinations in Garibaldi Provincial Park.  Every angle you look at it, from far away, to closer vantage points such as Taylor Meadows, Helm Creek, Panorama Ridge or Garibaldi Lake.  All views give you the certain belief that it mus be impossible to hike to the top.  In fact, Black Tusk seems to look more impossible to climb the closer you get to it.  Even when you are close enough to touch its vertical, black and crumbling sides, you wonder in amazement how anyone can possible get up to the peak of this incredible mountain.  Continued here...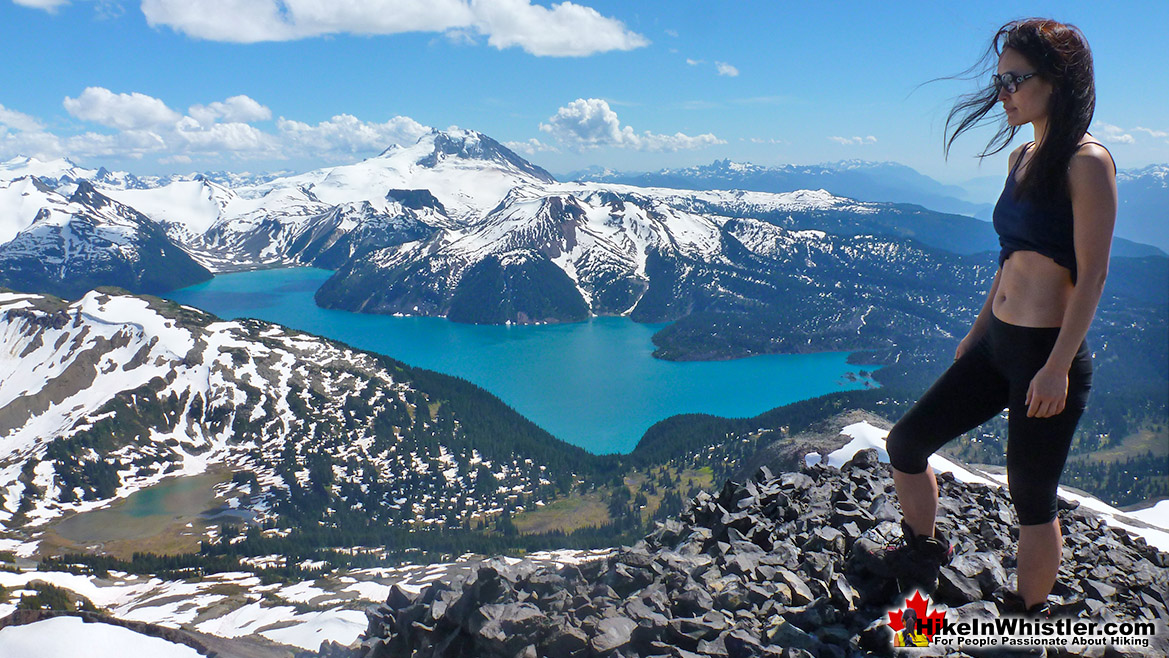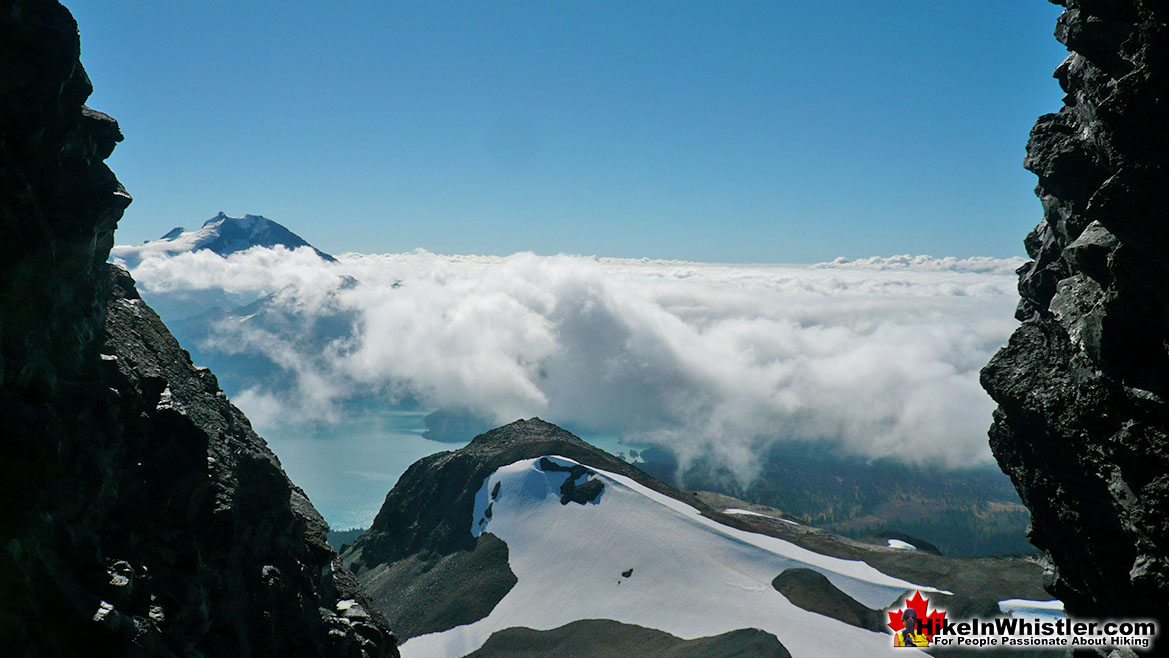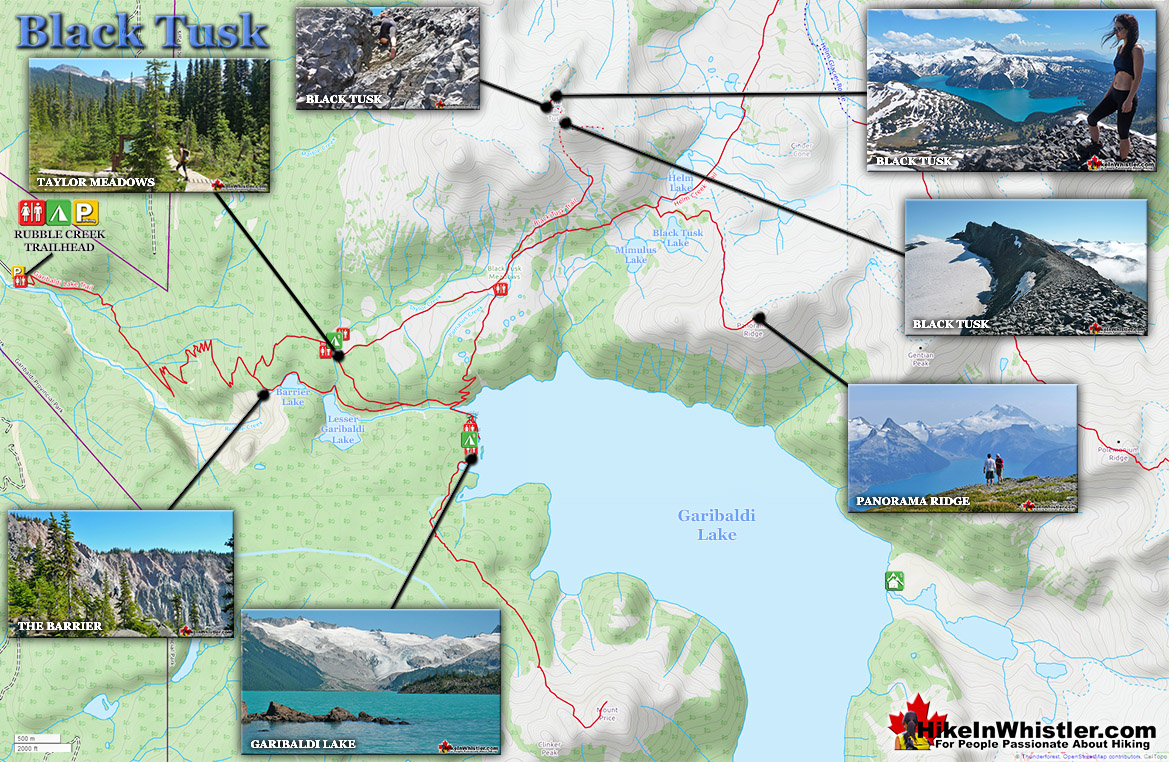 Garibaldi Lake - Hikes Near Taylor Meadows

Garibaldi Lake is the centre and base for much of the hiking in Garibaldi Provincial Park. The Garibaldi Lake campsite is located on the amazing, turquoise shores of this massive and mostly still wild mountain lake. There are no trails around the edge of the lake except the small section leading to the campsites, so your view is an impossibly coloured lake edged by swaths of forest and a magnificent glacier towering in the distance.  Compared to other lakes in the Whistler area and in Garibaldi Provincial Park, Garibaldi Lake is enormous with a surface area of almost 10 square kilometres or 2460 acres.  It is also a very deep lake with its average depth of 119 metres or 390 feet and at its deepest, 258 metres or 849 feet!  What really makes Garibaldi Lake extraordinary is its geography.  It is flanked by volcanoes on three sides and lava flows from Mount Price during the last ice age formed The Barrier which blocked the valley which filled with water, creating Garibaldi Lake.  Vantage points around the lake such as Panorama Ridge and Black Tusk allow relatively easy views of this magnificent lake with Mount Garibaldi and other impressive peaks surrounding it.  At the Garibaldi Lake campsite the water is painfully cold, though plenty of brave hikers swim here as well as camp.  Garibaldi Lake, though beautiful enough as a primary destination, is often a base camp for further hiking. The summit of Black Tusk is just a 2 hour hike from the lake. Panorama Ridge is a bit further at about 3 hours from the lake.  Continued here...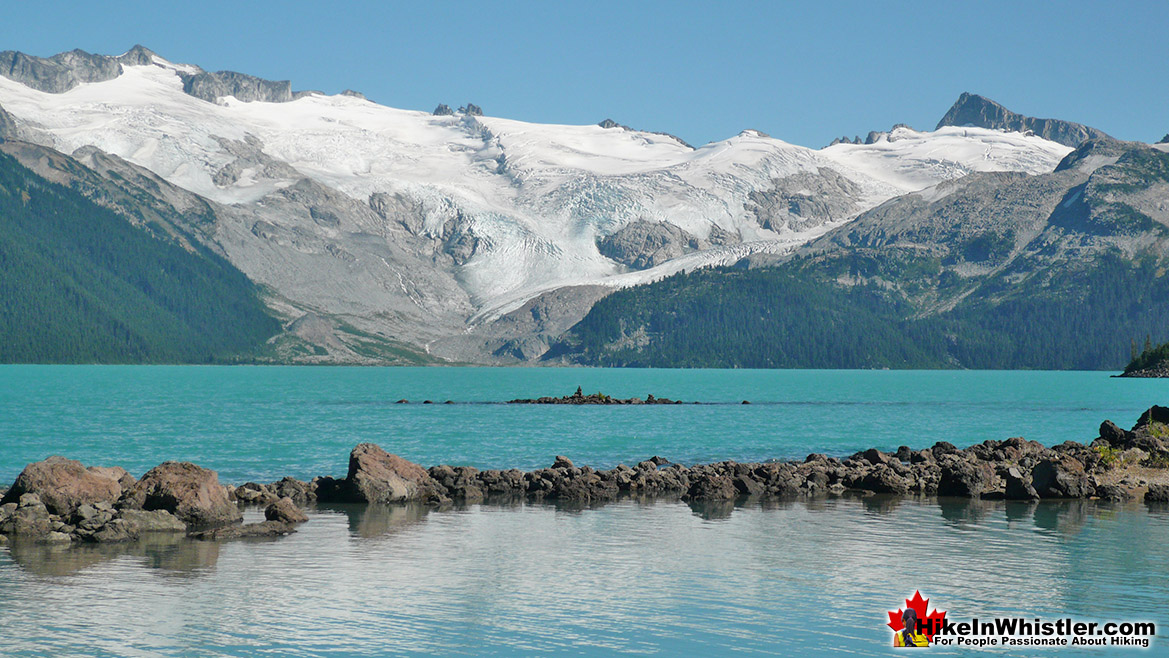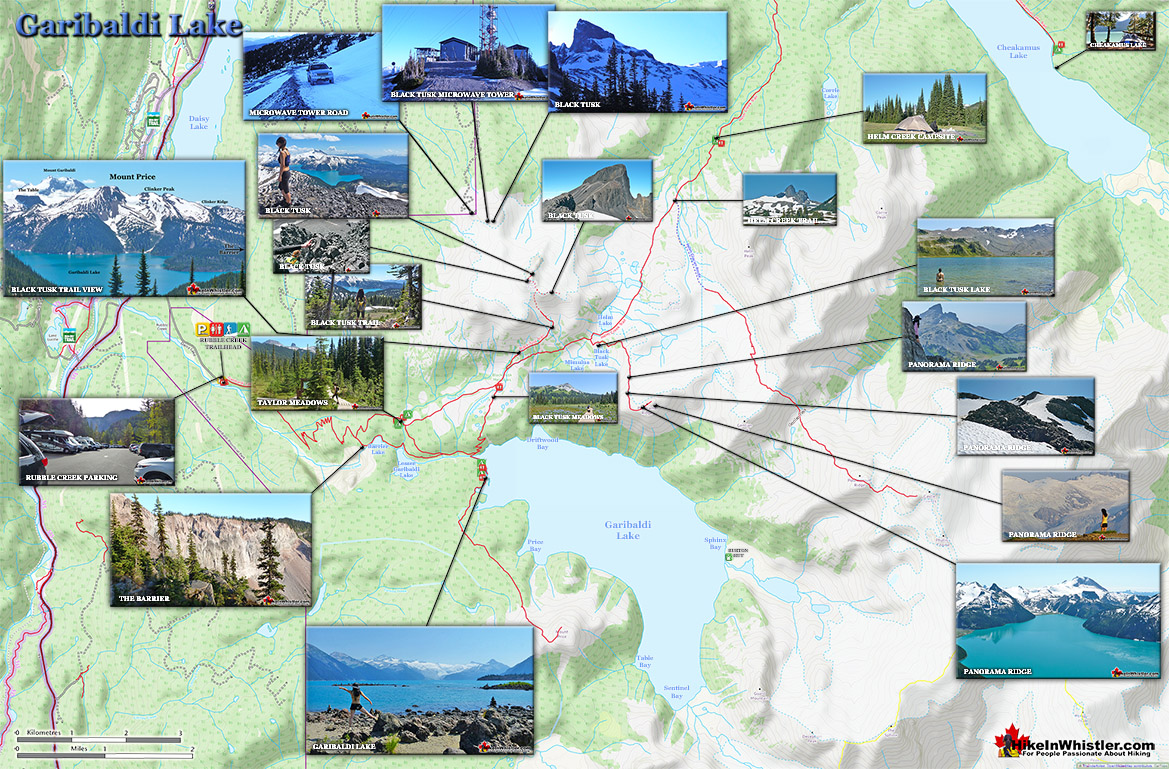 Panorama Ridge - Hikes Near Taylor Meadows

Panorama Ridge is easily one of the most amazing hikes in Garibaldi Provincial Park.  The 15 kilometre(9.3 mile) hike from the trailhead at Rubble Creek to Panorama Ridge takes you through beautiful and deep forests, across countless idyllic streams, through meadows filled with flowers, and past dozens of jaw dropping viewpoints.  The amazing views start once you reach Taylor Meadows and get even more spectacular as the trail progresses.  Once you arrive at Panorama Ridge and its phenomenal vantage point, high above Garibaldi Park, you will stare in wonder.  Mesmerized first by Garibaldi Lake, far below you and looking unnaturally blue, the lake looks amazing surrounded by green, untouched wilderness and snow capped mountains.  The Table, the massive and unusual looking mountain with its bizarre flat top lays across the lake with the enormous Mount Garibaldi just beyond.  In the distance, where Garibaldi Lake ends, a massive glacier rises out of the blue and jagged crevasses can be seen even from such a great distance.  Behind you, Black Tusk lays across the valley.  Close to the same elevation as Panorama Ridge, you get this wonderful view of it.  Certainly the best and closest viewpoint to this iconic mountain. Panorama Ridge sits, along with Black Tusk in the midst of some of the most popular and beautiful hiking trails in Garibaldi Provincial Park.  Continued here...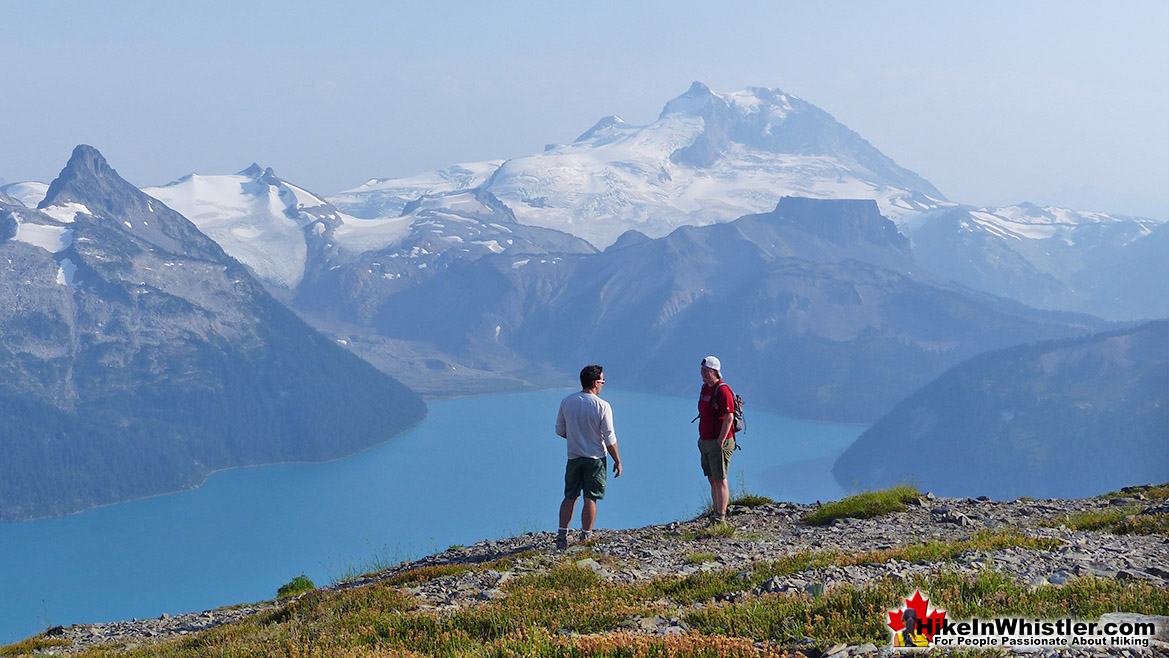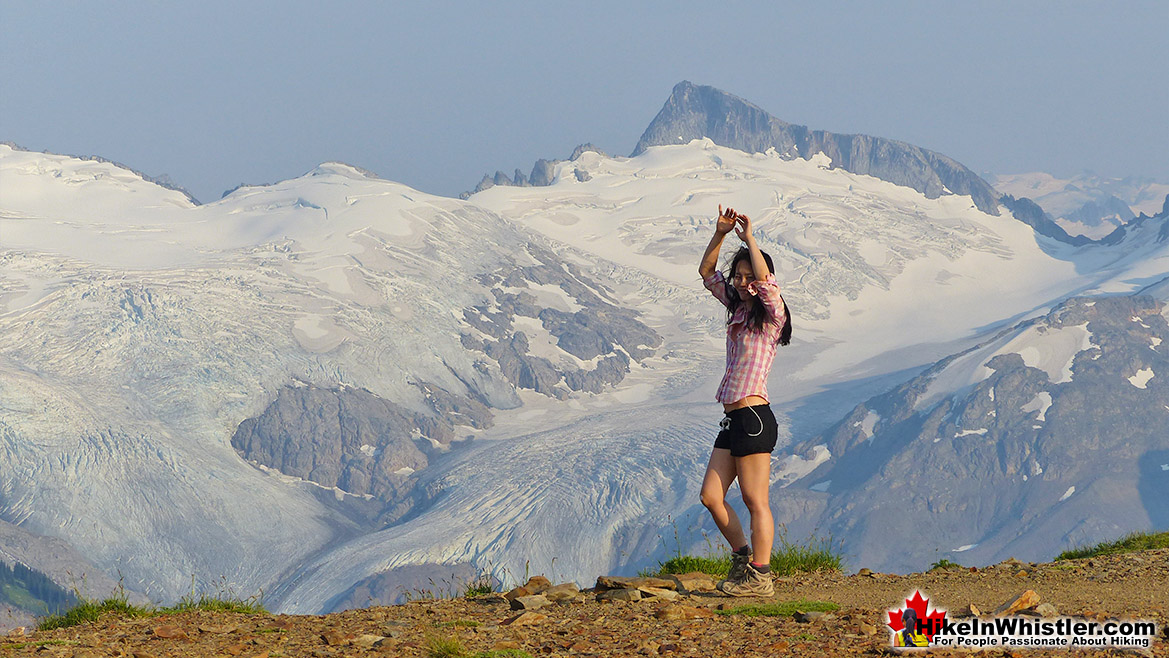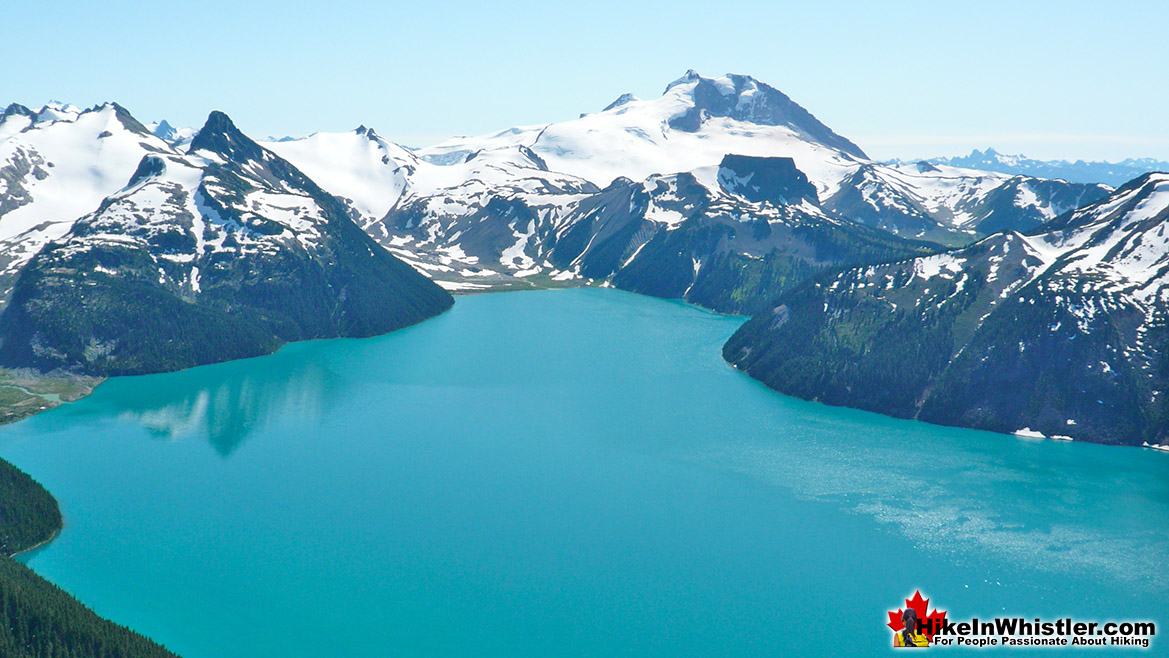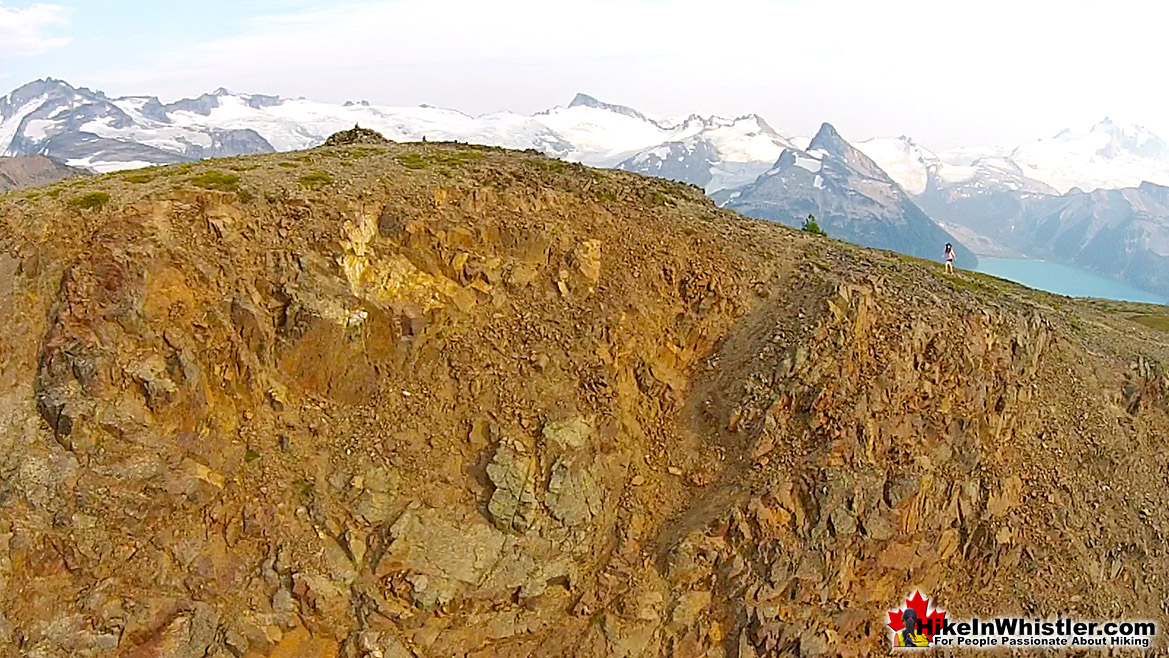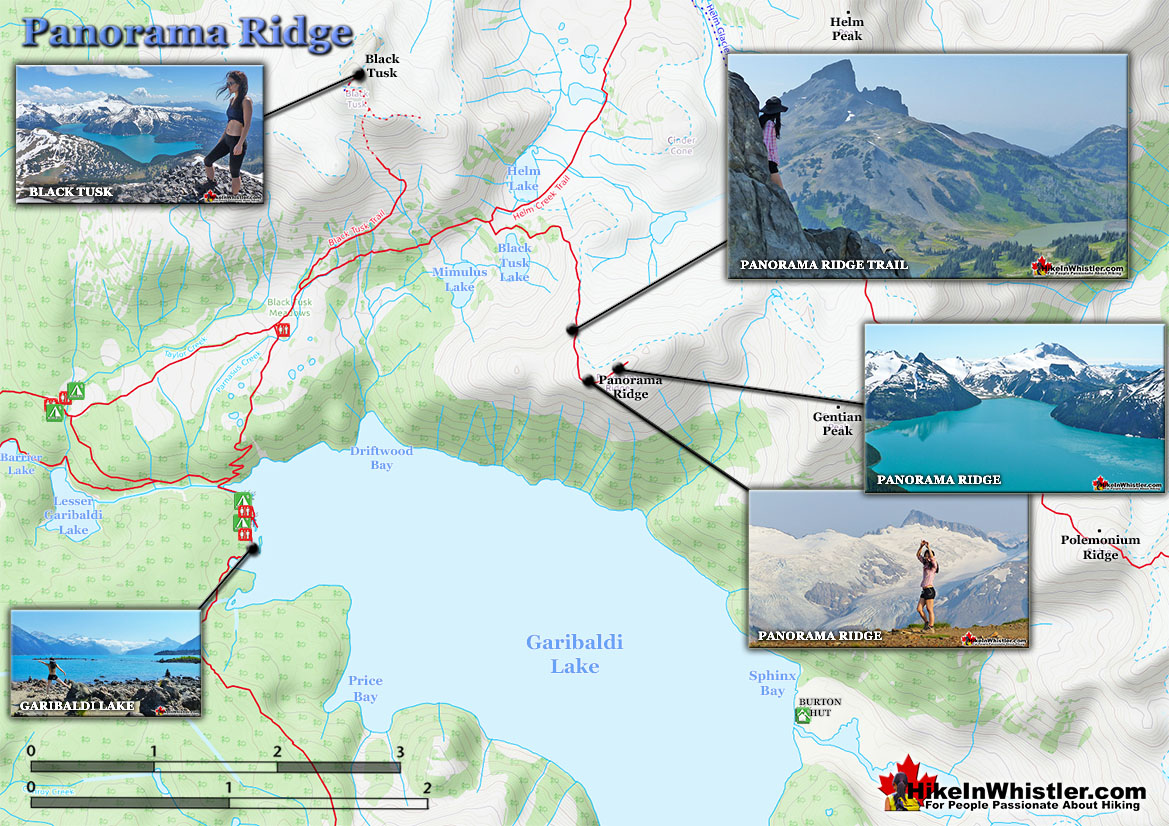 Helm Creek - Hikes Near Taylor Meadows

Helm Creek is a cute, meandering creek that winds its way from beyond Black Tusk, down the valley to the wonderful campground that takes its name. From the Helm Creek campground, Helm Creek descends further along the Helm Creek trail, until it joins Cheakamus River, not far from where it leaves Cheakamus Lake. The location of Helm Creek campground is pretty amazing for a variety of reasons.  First it is just a great location. About halfway between Cheakamus Lake and Black Tusk it lays in some amazingly scenic areas of Garibaldi Park. Beautiful, climbable mountains all around. Amazing fields of snow that run all the way to the base of Black Tusk well into July.  Rivers, creeks and waterfalls everywhere you look from the idyllic campground. A large, grassy field ringed by trees and Helm Creek.  Continued...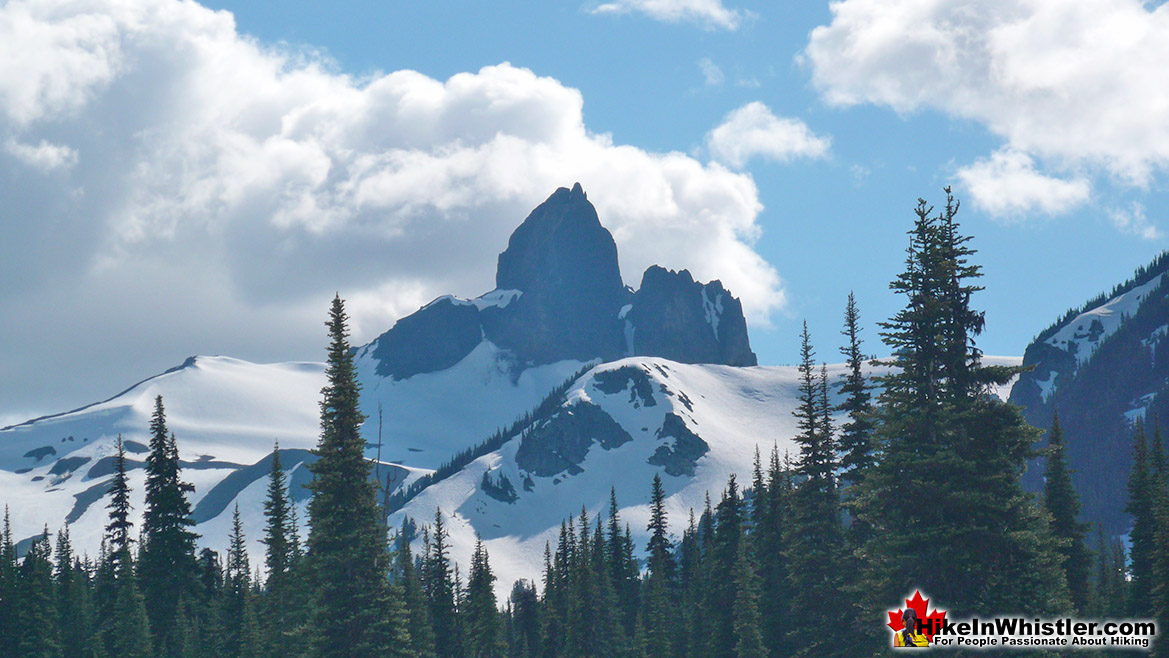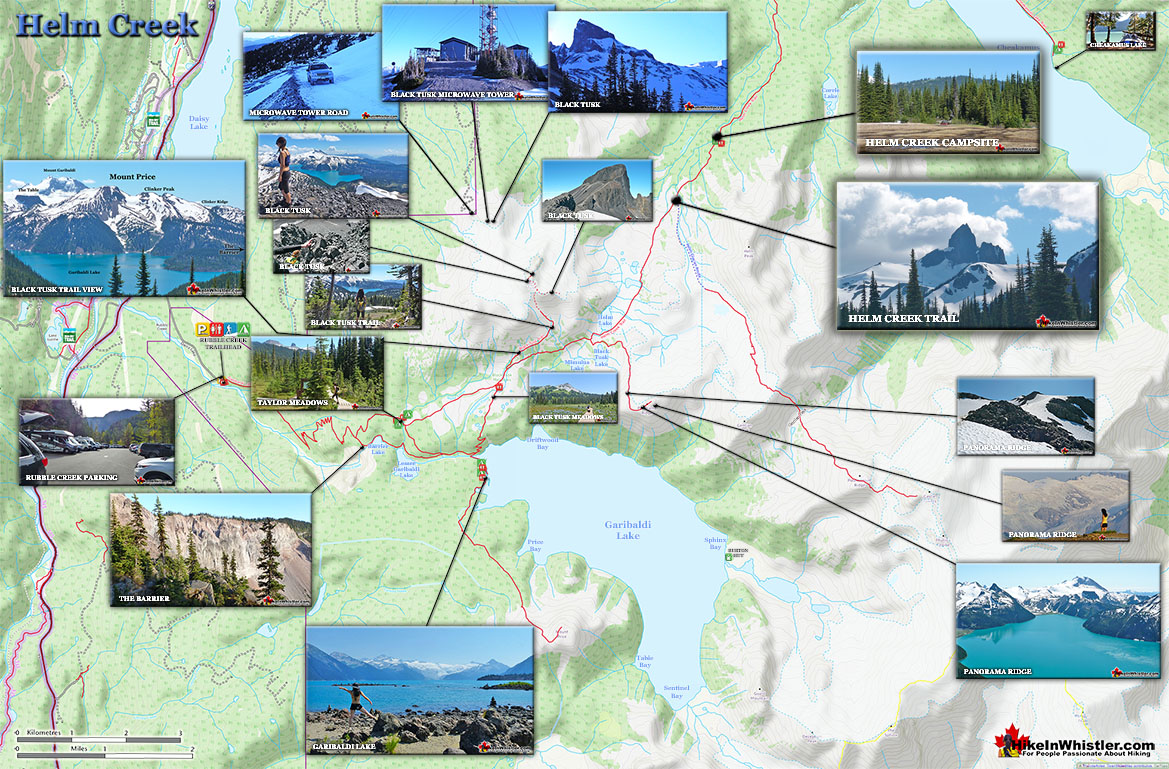 Cheakamus Lake - Hikes Near Taylor Meadows

Cheakamus Lake is a wonderfully relaxing way to get in the wilderness easily and quickly from Whistler Village. The trail begins on the far side of Whistler Mountain, 8 kilometres from the Sea to Sky Highway at Cheakamus Crossing across from Function Junction.  This 8 kilometre stretch of logging road is fairly bumpy and potholed, but does have the benefit of allowing you to drive the elevation gain instead of hiking it.  You can easily manage this road in a car, however carefully and very slowly in parts. Once you reach the trailhead/parking the entire 7 kilometre hiking trail to the end of the maintained Cheakamus Lake trail has barely any elevation gain. Just plenty of gradual inclines and declines along the winding route. In fact, this makes it one of the few trails in Whistler and Garibaldi Park that can boast that.  The nearby Garibaldi Lake trail and the Wedgemount Lake trail make you work for the views, however, the Cheakamus Lake trail hardly makes you work at all.  The trail to Cheakamus Lake takes you through an amazing forest of giant cedars that fill the forest with their amazing aroma.  This forest is so packed with ancient giants that year to year the trail is adjusted by a monster of a tree fallen across the trail during some winter storm.  Sometimes the trail bends around these behemoths, but more often they are laboriously chainsawed by BC Parks staff.  The more enormous of these remain as fixtures of the trail.  Either edging the trail or as a mighty obstacle to climb over.  Continued here...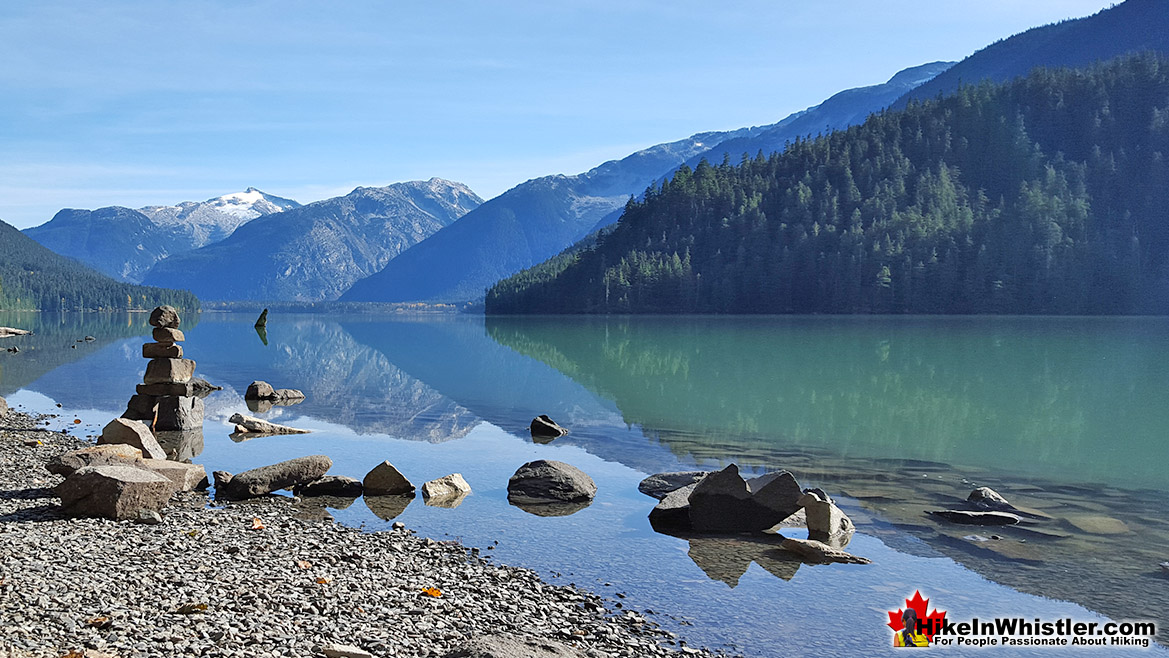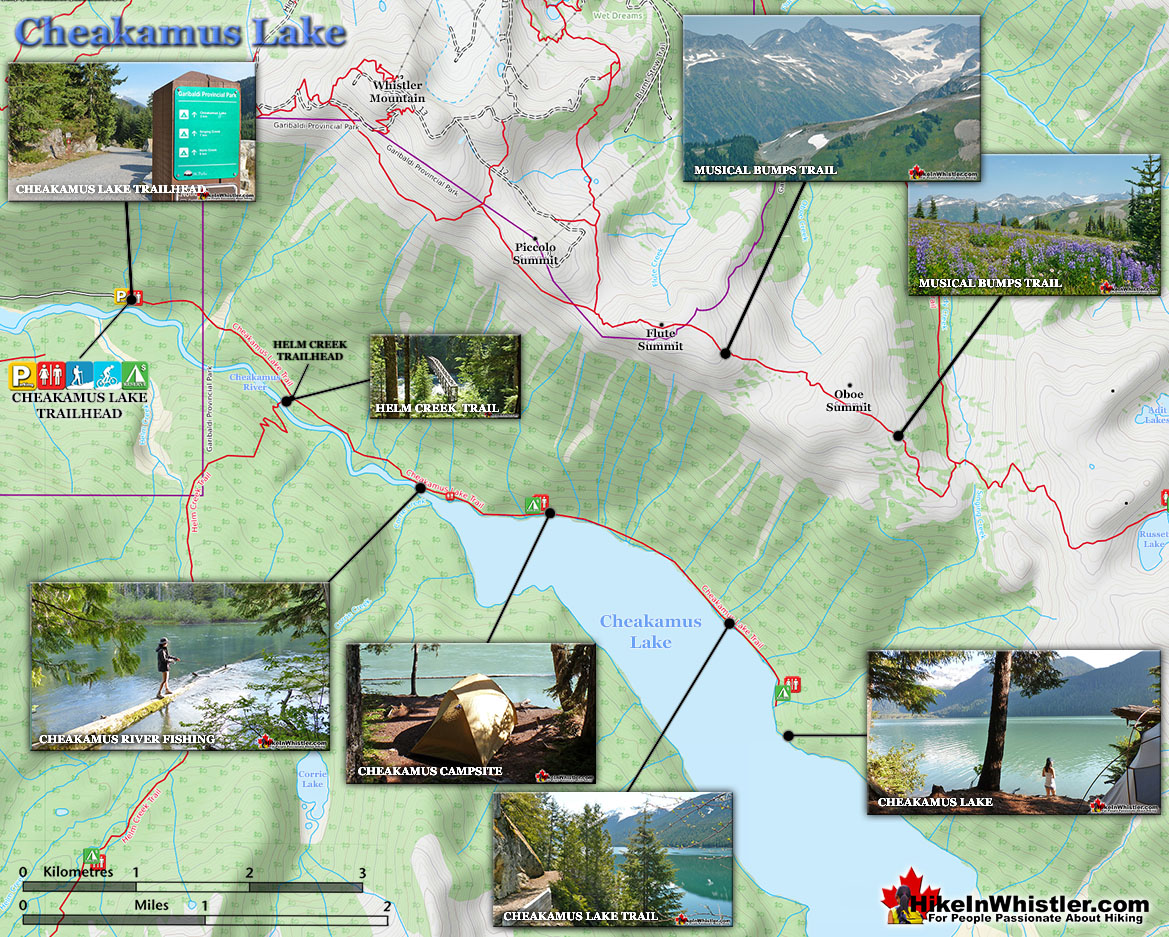 Whistler's Best Hiking Trails!
Whistler & Garibaldi Park Best Hiking by Month!

Explore BC Hiking Destinations!