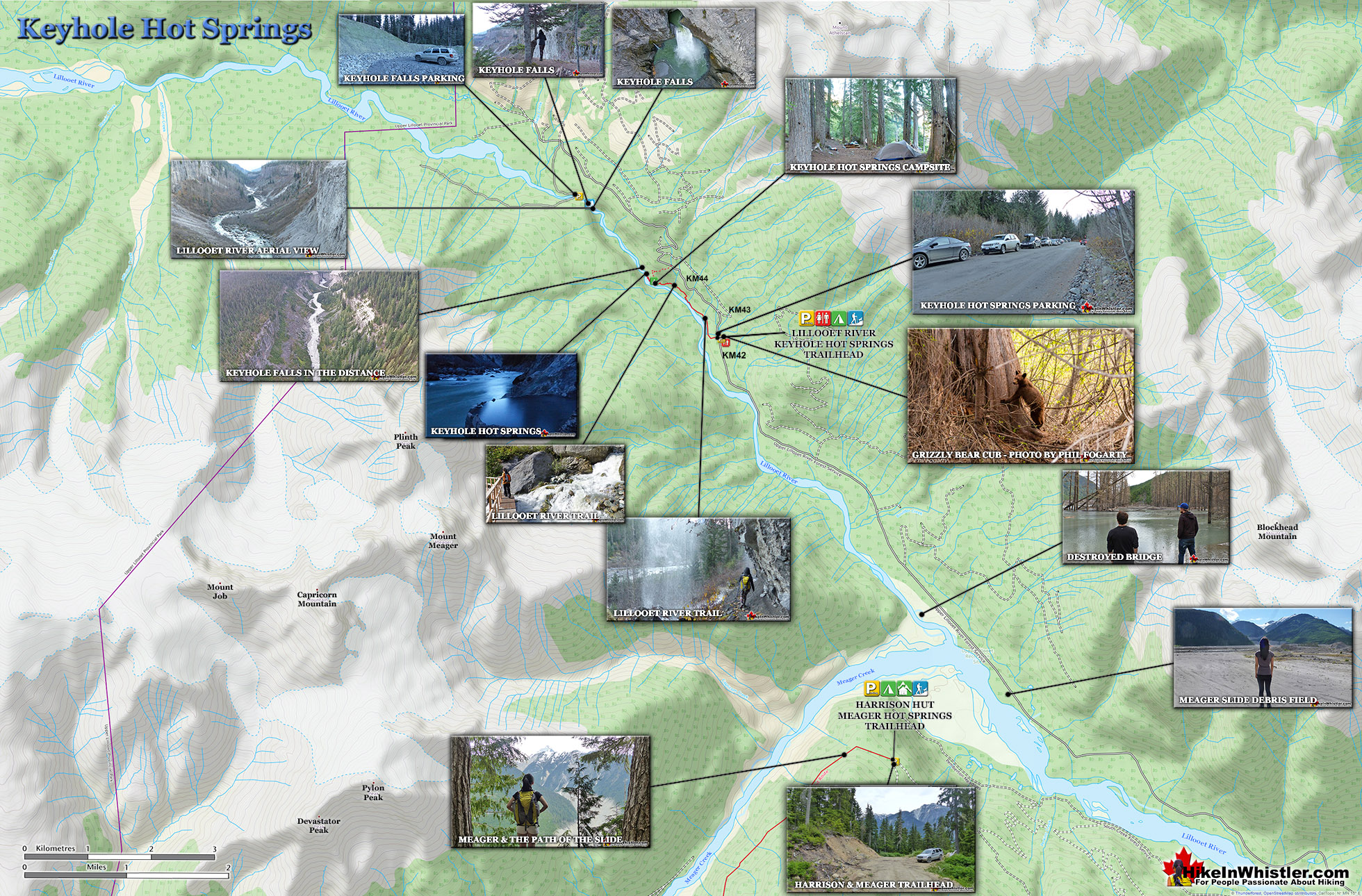 Keyhole Hot Springs (aka Pebble Creek Hot Springs) is located 100 kilometres from Whistler(Village Gate Blvd). Though most of the 100 kilometres is on logging roads, it is driveable by most cars without any trouble. The massive Innergex hydroelectric project has turned this once quiet wilderness into a war-zone. On the plus side, the old logging roads near Keyhole Hot Springs are now well maintained and smooth.
Beautiful drive to get there with lots of sights
Pools at the edge of Upper Lillooet River
Evidence of Mt Meager's eruption 2400 years ago
Wild & free place in a gorgeous setting
Campsite is large, spread out & scenic

Drive through the debris field from 2010

Trail is packed with geological curiosities

The impressive Keyhole Falls is nearby

Upper Lillooet River is beautiful!

Often crowded or closed by park wardens

The hot springs at Keyhole flow out of the ground adjacent to the swirling, crashing and wonderfully glacier coloured water of the Lillooet River.  The colour varies with the season, but for the most part it is a wonderful, deep, milky turquoise.  When the sunlight penetrates the deep valley, the milky turquoise changes to an unnaturally bizarre, emerald green colour as it swirls all around you. Sitting in the springs you look across to the vertical rock face and the massive, truck sized chunks of it that lay in the river next to you. The Lillooet is fed from various glaciers and snowy mountains visible all the way to Pemberton. At the Lillooet River crossing in Pemberton Meadows take a look in the distance and you will make out the spectacularly jagged and violent looking peak of Mount Meager. It is also a good place to reflect on the fact that Mount Meager produced the larges volcanic eruption in Canada, in the last ten thousand years. It occurred about 2400 years ago and Keyhole and Meager Hot Springs are symptoms of current volcanic activity and another major eruption is possible. In the last couple years BC Ministry of Forests and Recreation Sites and Trails BC have been aggressively blocking public access to both Meager Hot Springs and Keyhole Hot Springs. Currently, in 2023 they have blocked both access roads with gates to the trailheads and are threatening to issue violation tickets. The warning reads: SITE CLOSED: Trail and hot springs are closed from Apr 1 to Nov 15 each year (spring to fall) The Province will be enforcing this closure and will issue violation tickets to anyone caught ignoring the restrictions. They don't appear to have any legitimate reasons for the closures and are clearly making up vague things to justify blocking public access. For example: "The Upper Lillooet provides important habitat for many wildlife species, including the threatened South Chilcotin grizzly bear population, and is a very important wildlife migration corridor for deer, moose, and mountain goats. Mineral licks at the hot springs provide wildlife with year-round nutrients. The hot springs are also home to the vivid dancer damselfly, a species of special concern that is threatened by intensive recreational use. Ad hoc water diversion mechanisms and user created tubs disturb natural features and alter stream flow, negatively impacting the ecosystem. Human activity at the hot springs can displace wildlife from these valuable habitat features."
Remote and Beautiful Keyhole Hot Springs
For such a remote place, Keyhole Hot Springs have a pretty elaborate hot springs layout as well as a very large(unmaintained) camping area in the deep forest, high above the hot springs about a 10 minute walk away. Signs of semi-permanent tarp dwellings can be seen in stages of ruin, but overall the campsite area is amazing.  With the exception of being dark due to the thick forest and fresh water a steep, 5 minute walk away, it is perched on a wonderful cliff with great views of the river below and cliff and mountains and waterfalls across.  If the campsite had a dozen tents within it, you could space them out enough to not see or hear each other fairly easily.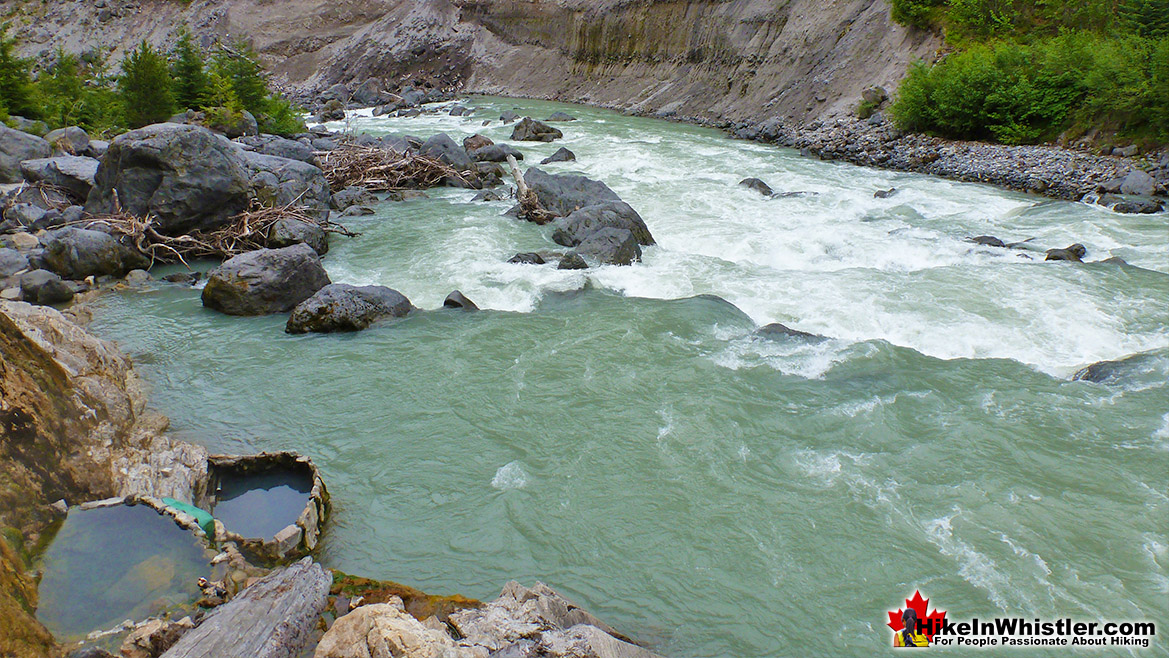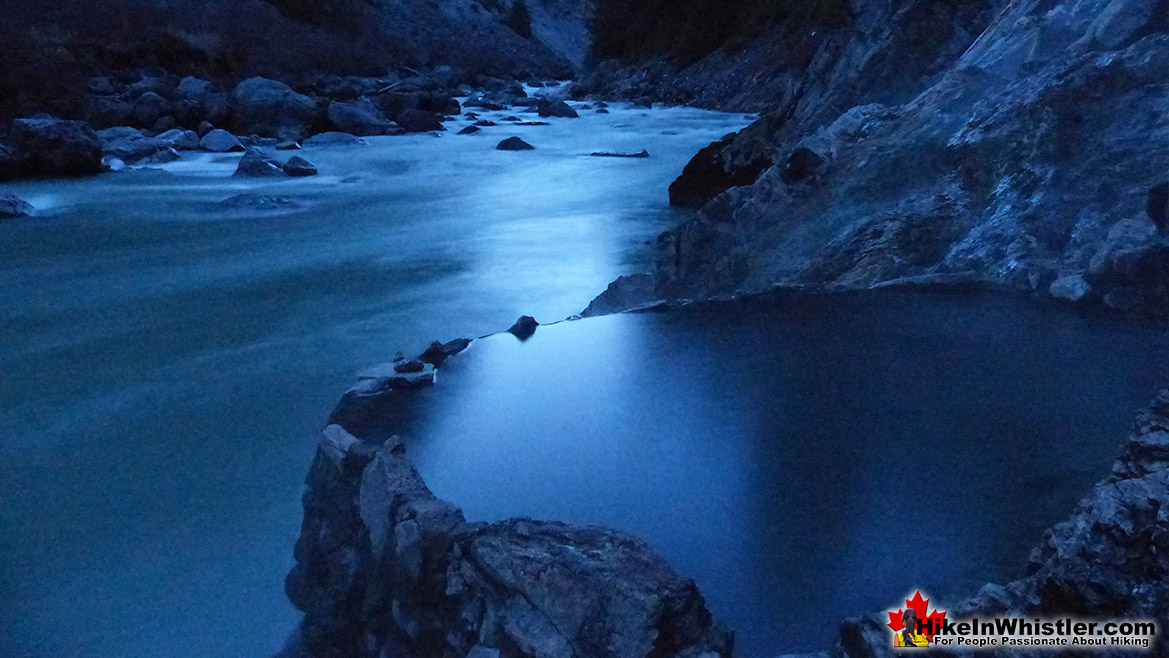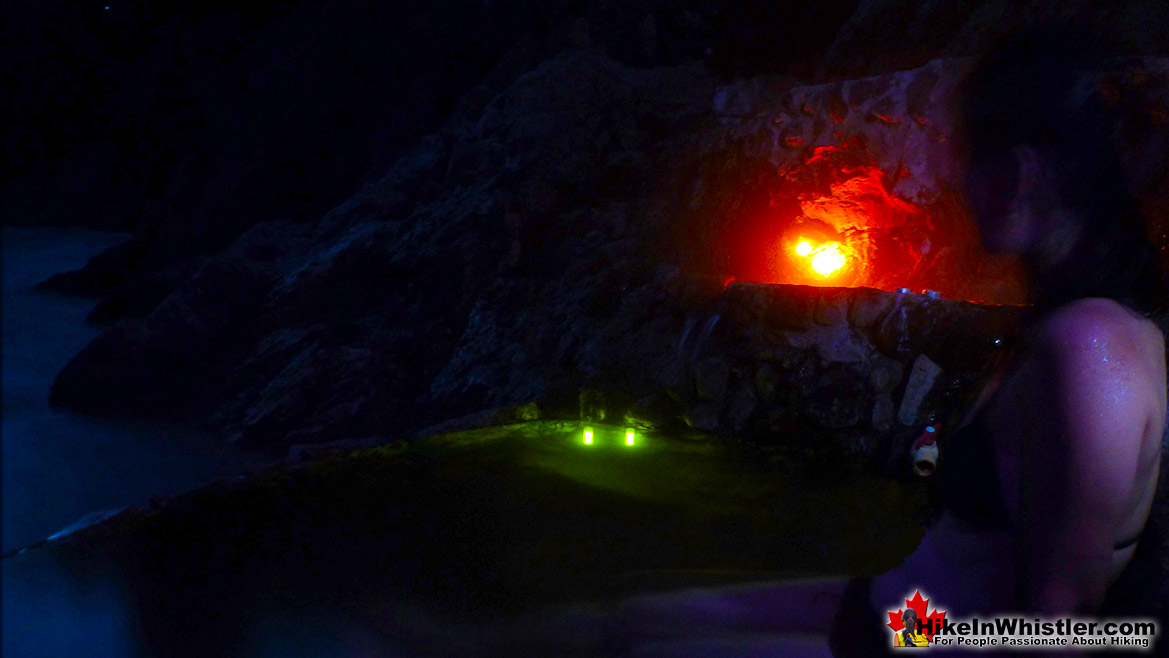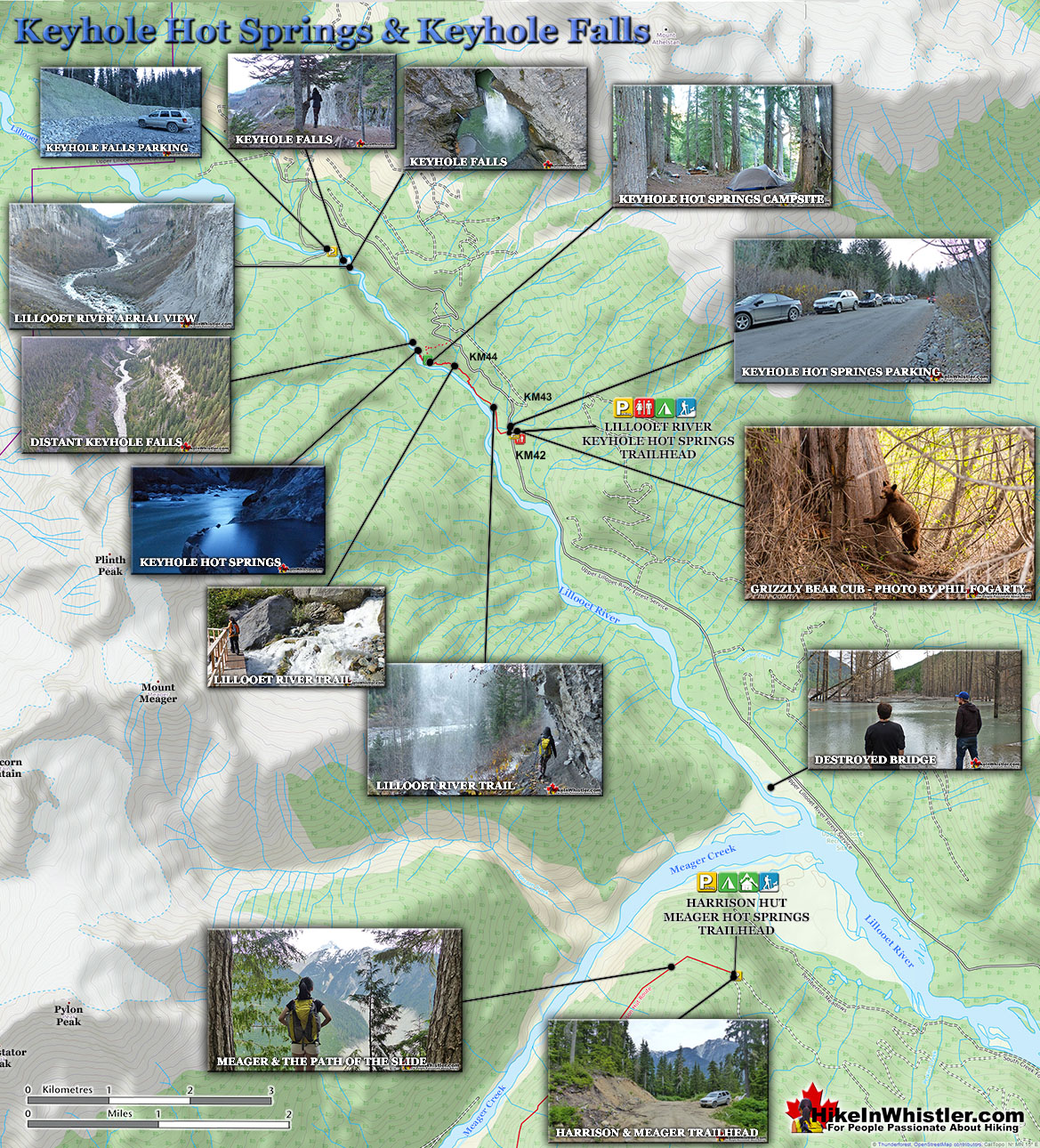 Parking & Trailhead Directions to Keyhole Hot Springs

Keyhole Hot Springs is way to far to realistically bike to and no public transit gets even close. Driving is the only real option, however, Innergex, understandably doesn't seem too welcoming for tourists into the area. They have, however, managed to build this nice trail quite quickly.  When you look at the construction sites, it is astounding to note that the hot springs lay absurdly close to enormous sites, before, above and beyond the springs. If you are curious, drive just past the hot springs parking area and take a look(from afar) at the powerhouse excavation site.. breathtaking. From Whistler Drive north on Highway 99 until you reach Pemberton.  When you reach Pemberton turn left at the traffic lights(gas station) and after 1k you will come to a roundabout, left here and drive 200 metres to the T junction, you will see a sign for "The Meadows" turn right here and and another "The Meadows" sign in a couple hundred metres pointing left.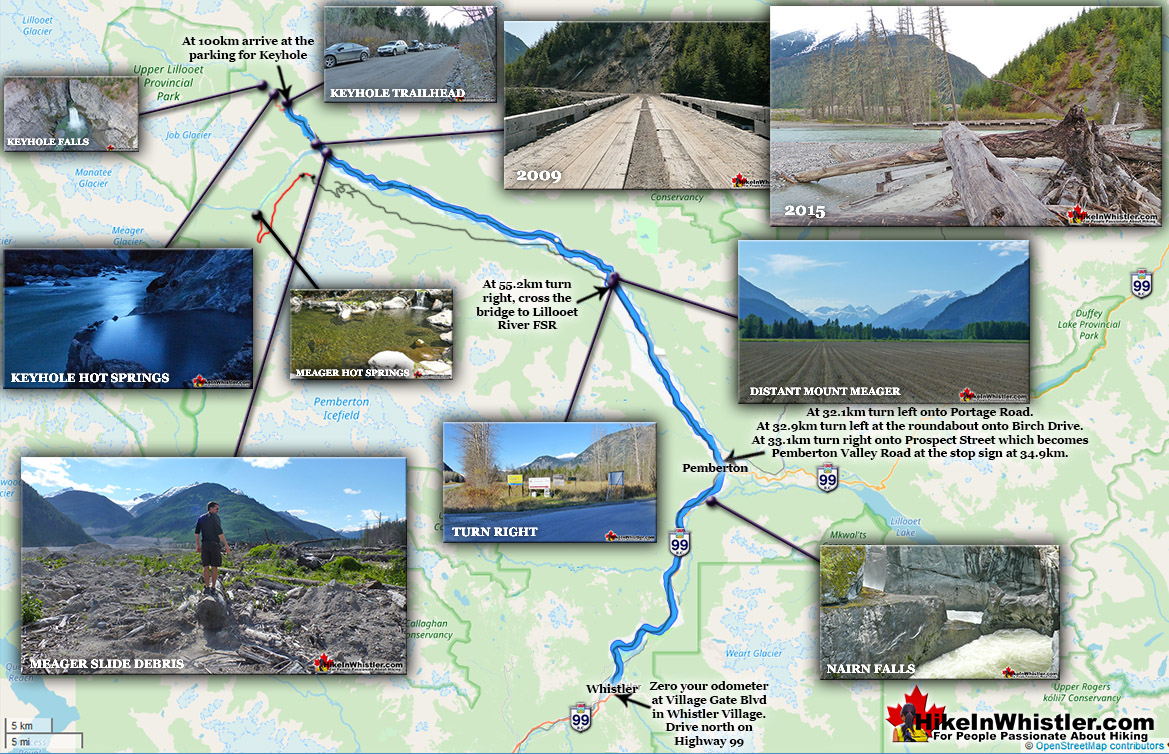 More info for Keyhole Hot Springs..
More Whistler & Garibaldi Park Hiking Maps!

Whistler & Garibaldi Park Glossary A to Z

The Best Whistler & Garibaldi Park Hiking Trails!