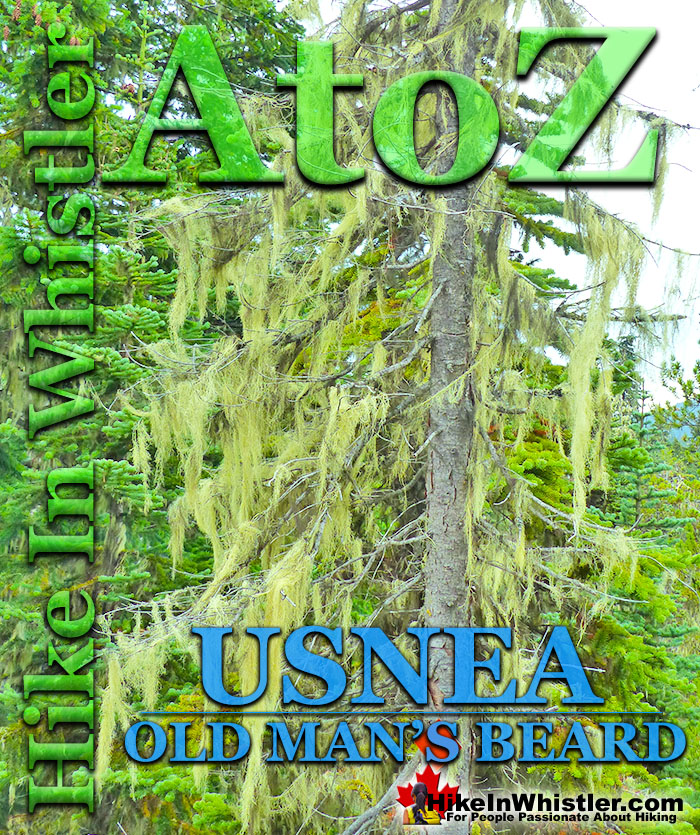 The pale green shub-like growths hanging from trees in the forests around Whistler is called usnea.  These bushy, coral-like fruticose lichens anchor to bark and branches on trees and hang like tinsel on a Christmas tree.  known as old man's beard, usnea tends to thrive on dead and dying trees and is can appear to be harming their hosts.  They actually do no harm to trees and prefer dying ones for their lack of sunlight blocking canopy growth. 
Whistler & Garibaldi Hiking

Alexander Falls  

Ancient Cedars  

Black Tusk  

Blackcomb Mountain  

Brandywine Falls  

Brandywine Meadows  

Brew Lake  

Callaghan Lake  

Cheakamus Lake  

Cheakamus River  

Cirque Lake 

Flank Trail 

Garibaldi Lake 

Garibaldi Park 

Helm Creek  

Jane Lakes 

Joffre Lakes  

Keyhole Hot Springs  

Logger's Lake  

Madeley Lake  

Meager Hot Springs 

Nairn Falls  

Newt Lake 

Panorama Ridge 

Parkhurst Ghost Town 

Rainbow Falls  

Rainbow Lake 

Ring Lake  

Russet Lake  

Sea to Sky Trail 

Skookumchuck Hot Springs  

Sloquet Hot Springs 

Sproatt East 

Sproatt West  

Taylor Meadows  

Train Wreck  

Wedgemount Lake  

Whistler Mountain

January 

February 

March 

April 

May 

June 

July 

August 

September 

October 

November 

December
Usnea need sunlight for photosynthesis and clean, unpolluted air to grow well.  Air pollution significantly hinders their growth, especially sulfur dioxide. In heavily polluted environments growth is measured in millimetres, in good environments like Whistler and Garibaldi Park, they tend to grow 10 to 20 centimetres long. When you encounter forests with plentiful usnea draped over branches, you have found a bioindicator that the region has high quality, clean air.  Many of Whistler area hiking trails pass through sections of forest with astounding amounts of usnea hanging from branches.  Usnea is slow growing and is able to endure long periods of hot dry weather.  Sections of the Brew Lake and Newt Lake trails, for example, have rocky, exposed ridges with very little soil covering the bedrock.  These areas are frequently starved of water and the hardy trees that survive are desiccated and sickly looking.  These are great environments for usnea to grow and give these sections of brutalized trees a strangely haunting appearance.  Usnea has antibiotic properties and is effective to treat skin infections.  When applied to wounds, usnea appears to fight infection and speed up the healing process.  It is simply pulled from a tree, moistened with water and held against the wound.  The active component is usnic acid and according to Paul Bergner, in his book Medical Herbalism, its antibacterial properties have shown to be effective against staphylococcus bacteria, streptococcus bacteria and even a bacterium that commonly causes pneumonia.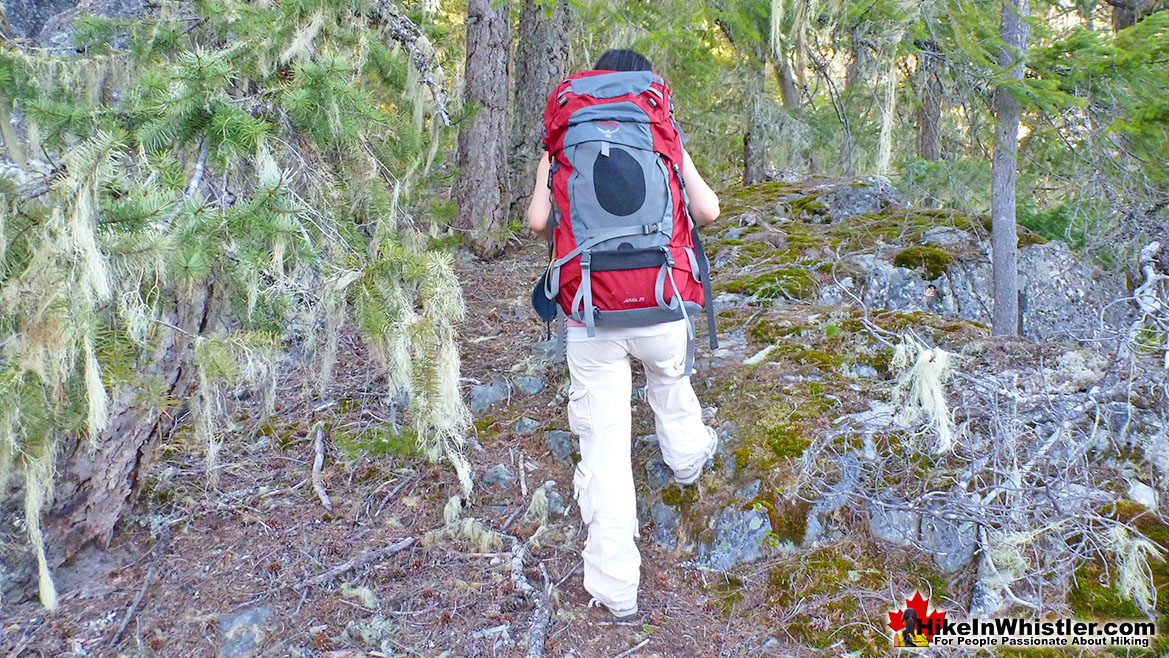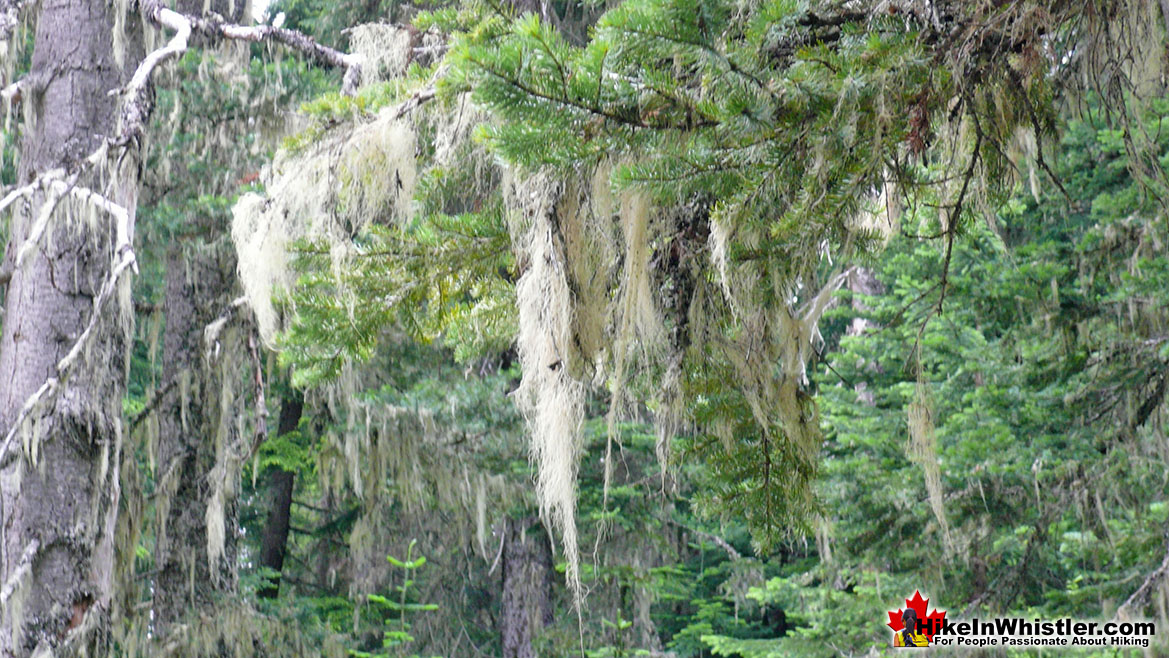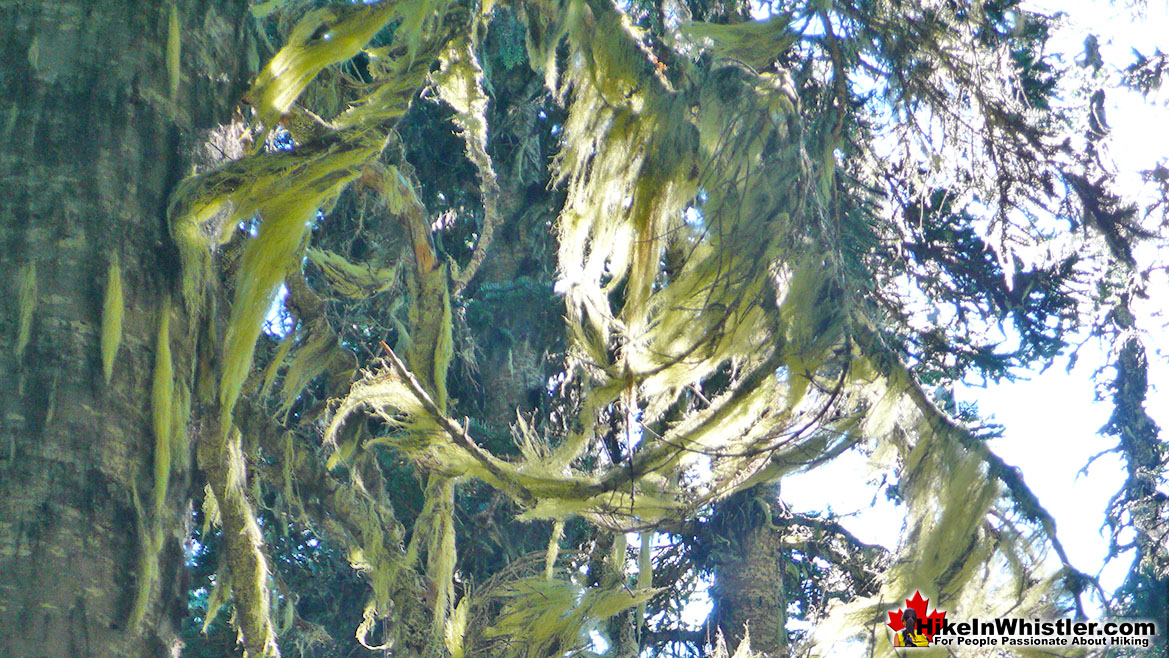 More Whistler & Garibaldi Park Hiking A to Z!

The Best Whistler & Garibaldi Park Hiking Trails!
Whistler & Garibaldi Park Best Hiking by Month!

Explore BC Hiking Destinations!