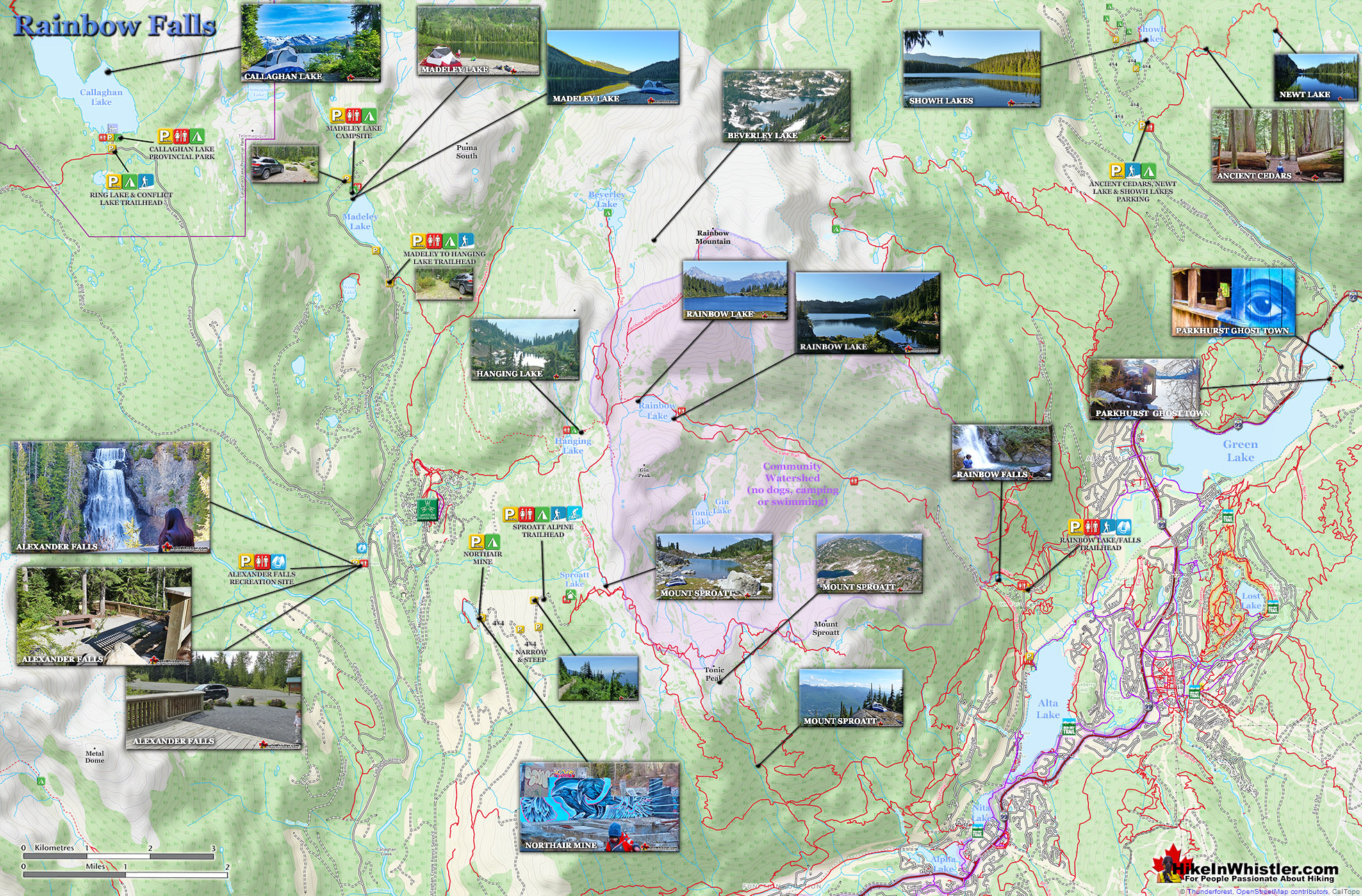 The short, scenic and easy hiking trail to Rainbow Falls is located just a short, half kilometre from the Rainbow Lake or Rainbow Trail trailhead. The trail begins by ascending into deep forest and the trail winds left, right, up and down constantly.  Twentyone Mile Creek, always on your right can be either seen or heard as you hike through beautiful forest to the somewhat hidden Rainbow Falls. 
Short trail through beautiful forest to hidden falls
Much quieter than most other trails
Easy to bike or walk to from Whistler Village
Trail is always winding up & down, never boring
Great to see on the way to Rainbow Lake
Rainbow Park is great to see and close by
The falls are not very big or impressive
Tricky to get a nice view of the falls

Not a lot to see on the short trail

Nice to see, but not a must see

Twentyone Mile Creek begins, 8 kilometres away as it drains from Rainbow Lake, making its way eventually to the River of Golden Dreams, before finally draining into Green Lake north of Whistler Village.  A couple minutes into the Rainbow Trail and you come to a fork in the path. You can take either path as they rejoin further up the trail, however taking the right fork is more scenic and only a little more of a steep climb.  A second fork in the trail appears a couple minutes later again, and once again taking the right fork is better. You will then come to a small trail sign indicating "Rainbow Falls". This short trail takes you to the little oasis that Rainbow Falls flows into. After seeing Rainbow Falls, there are a couple more nice vantage points just a short hike further up the Rainbow Trail. If you backtrack from the falls and rejoin the Rainbow Trail, you will zig-zag up some short switchbacks, before coming out to the gravel access road to the water treatment building. Here you will find a nice mapboard showing the Rainbow Trail and some of the connecting trails.
Rainbow Falls Hiking Trail Map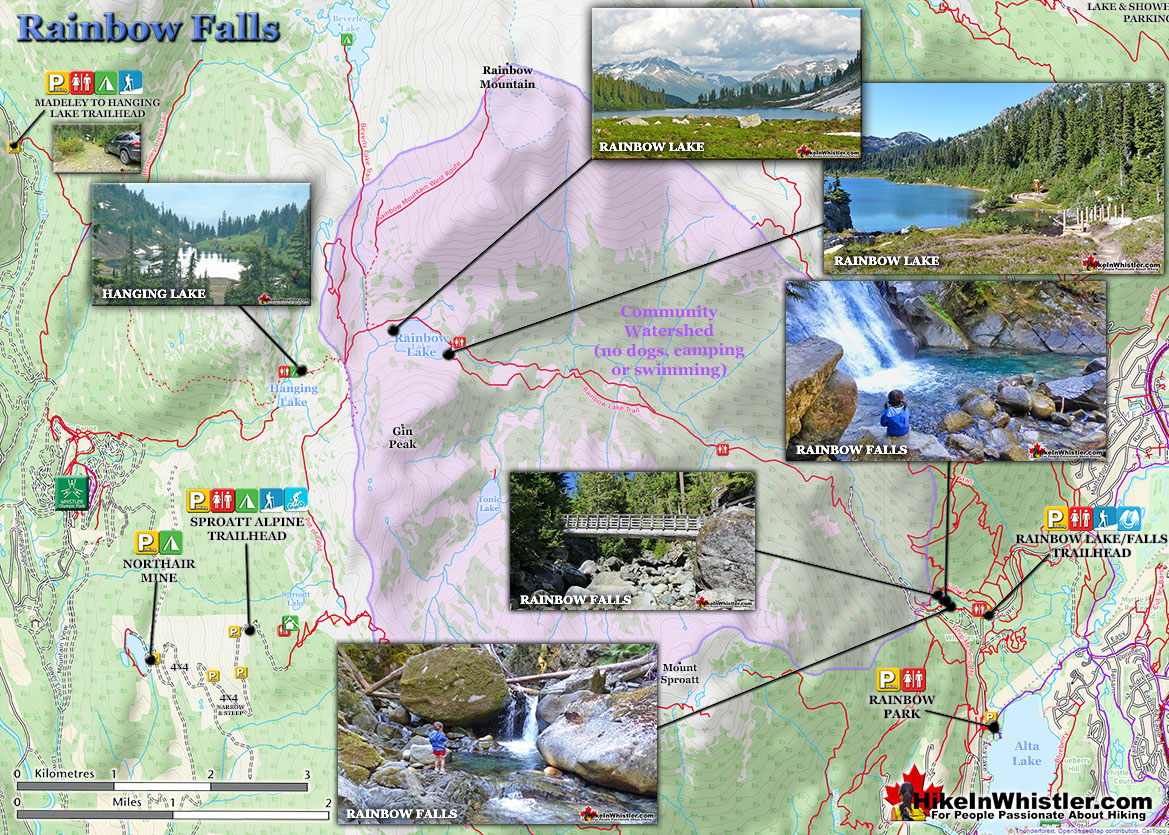 This section of trail overlaps with the 40 kilometre, Rainbow-Sproatt Flank Trail, so you will see some "Flank Trail" signs as well as Rainbow Lake signs.  If you follow the Flank Trail as it ascends past the water treatment building on its right side, you will quickly come to the beautiful bridge across Twentyone Mile Creek. This is a great vantage point over this very scenic creek. The Flank Trail continues for several kilometres beyond this bridge, eventually coming out near Ancient Cedars, well north of Whistler Village.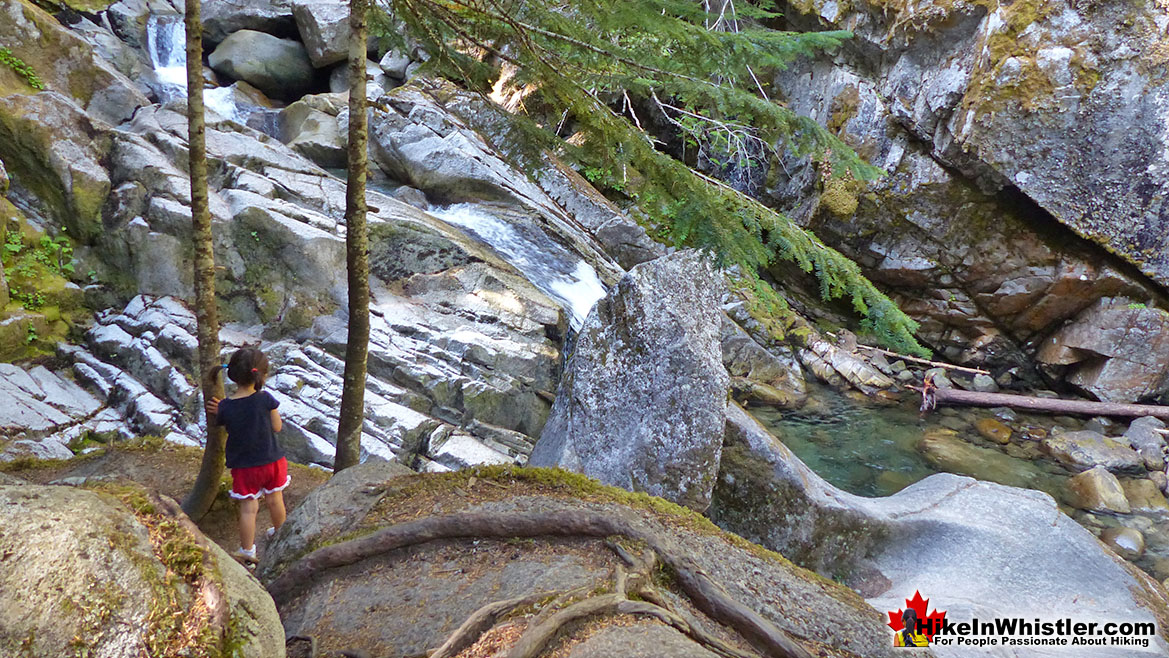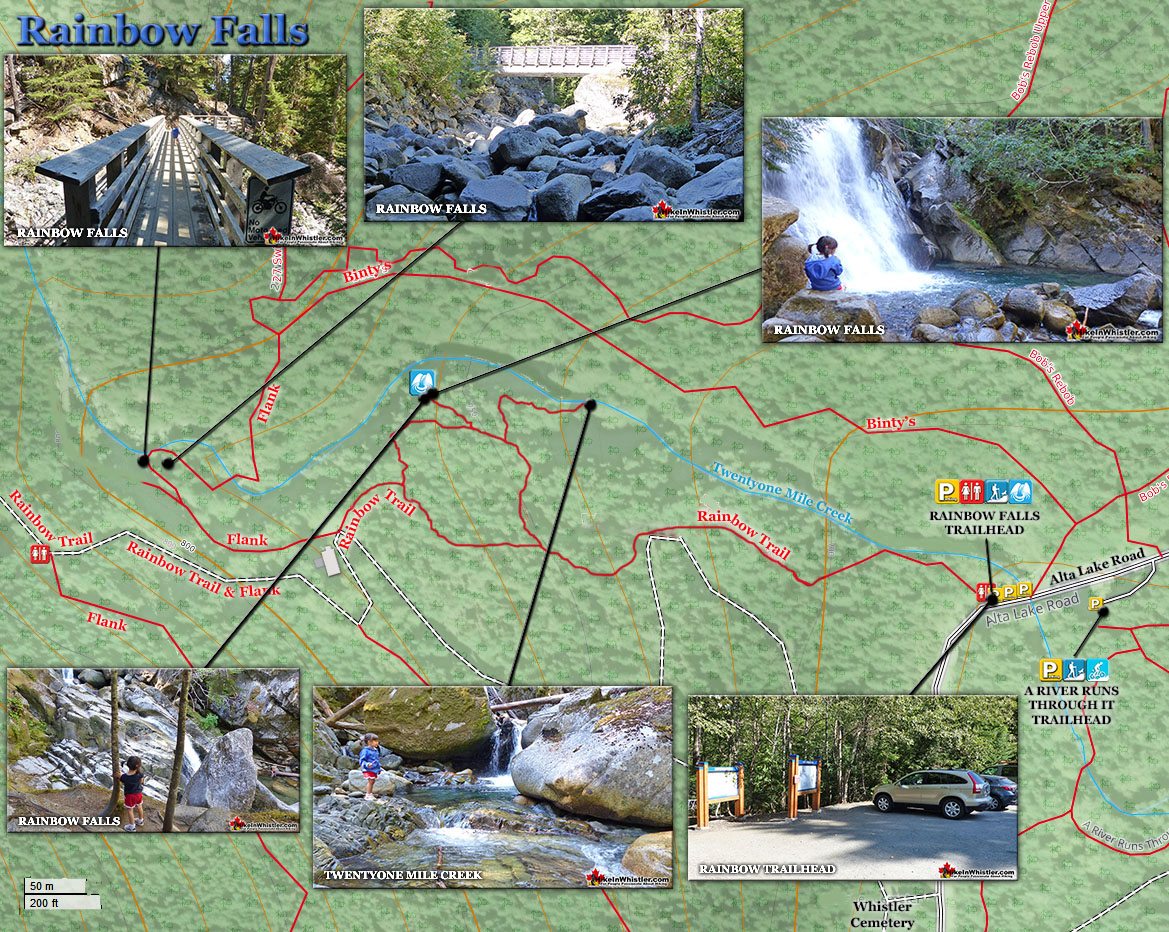 The Rainbow Trail

The trailhead is a short 15 minute drive from Whistler Village. There is parking at the Rainbow Trail, trailhead as well as Rainbow Park just a couple hundred metres further up Alta Lake Road. At the trailhead you will see an excellent map-board indicating the trails in front of you. There are no signs to Rainbow Falls and you will just see signs for Rainbow Lake, The Flank Trail and Madeley Lake. To find Rainbow Falls you just follow the Rainbow Lake trail from the trailhead for about a half kilometre until you reach the water treatment building (Rainbow Lake is Whistler's water source).  Just before the building the trail forks.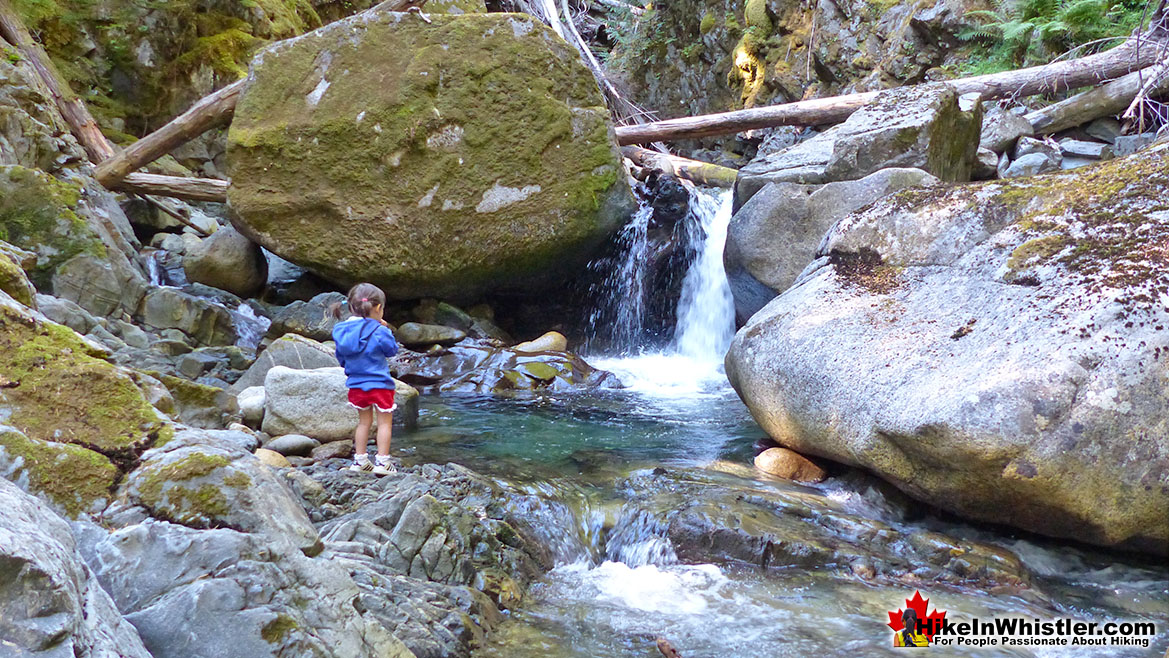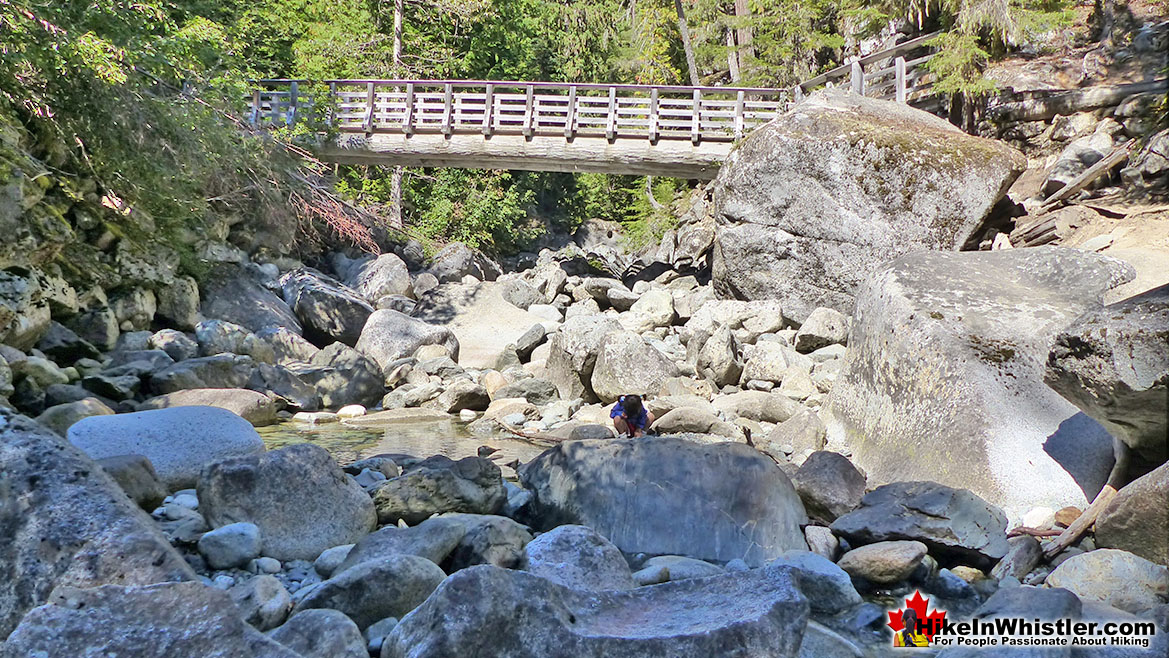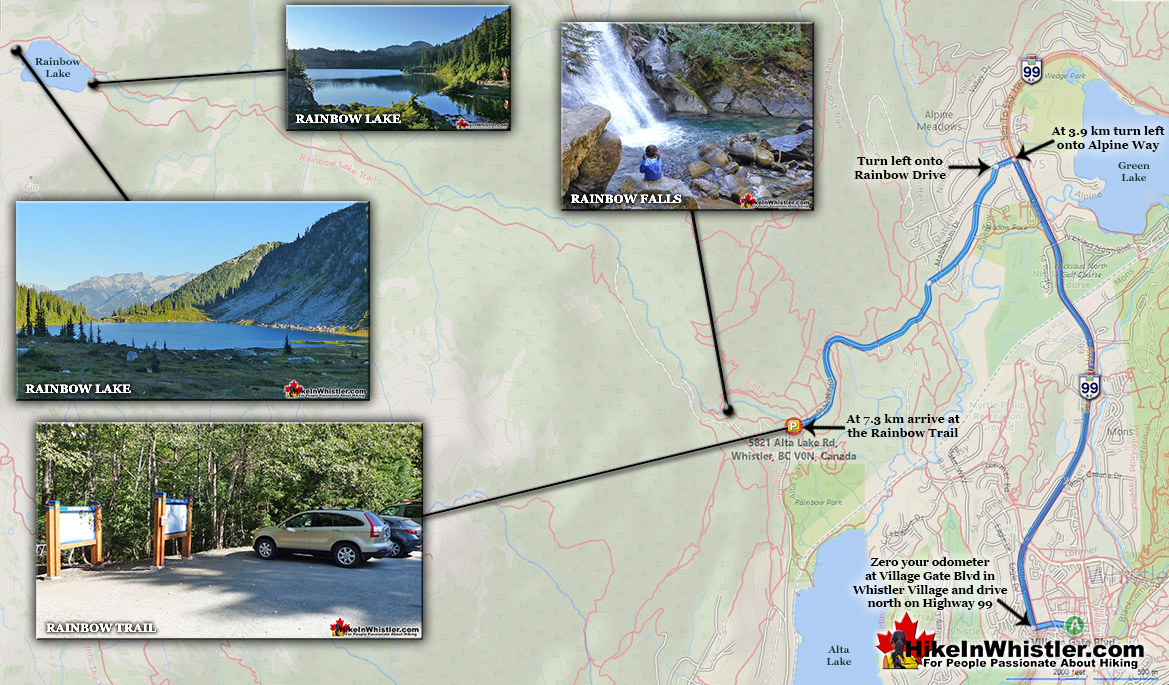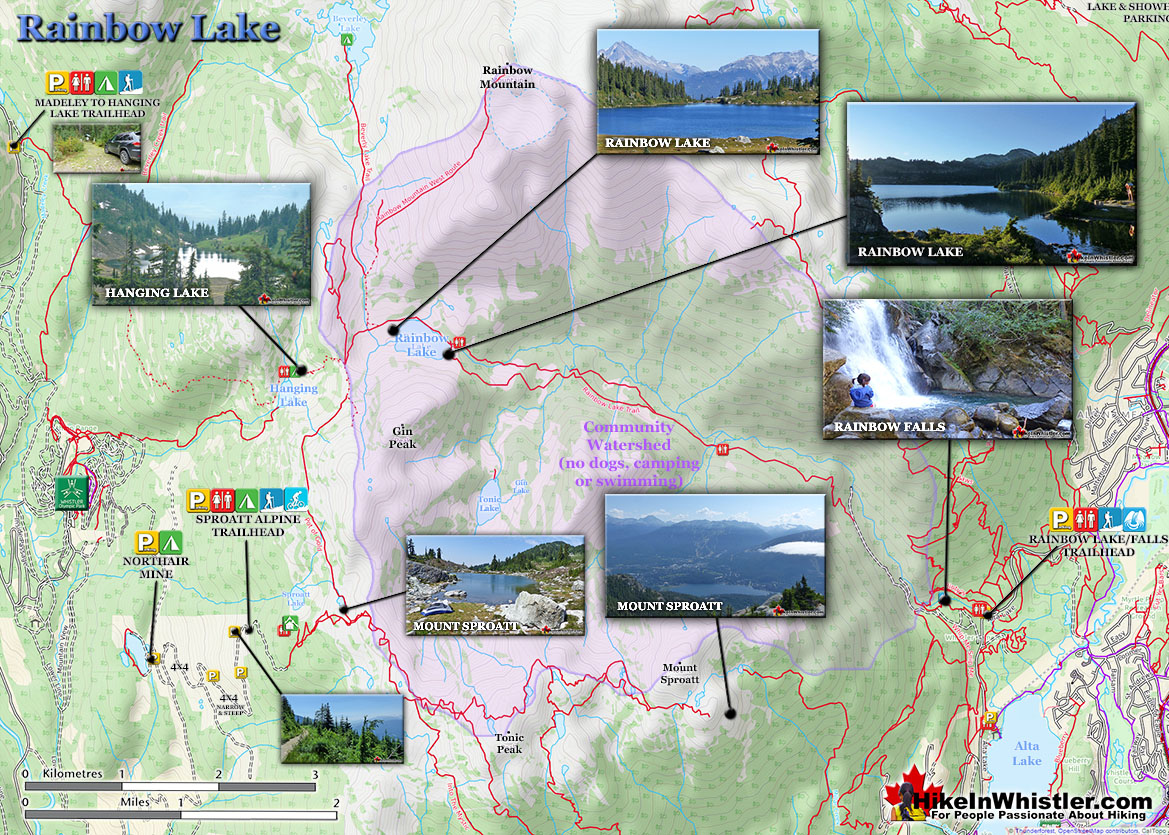 More Rainbow Falls Hiking info...
More Whistler & Garibaldi Park Hiking Maps!

Whistler & Garibaldi Park Glossary A to Z

The Best Whistler & Garibaldi Park Hiking Trails!