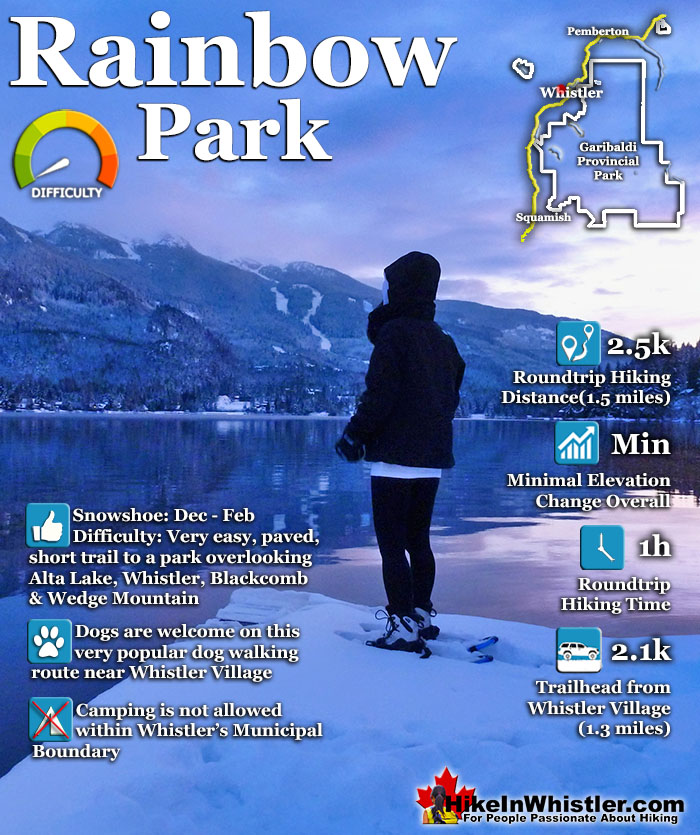 Rainbow Park is one of the hugely popular swimming beaches in Whistler in the summer.  In the winter it is a spectacular vantage point across Alta Lake to Whistler Mountain and Blackcomb Mountain.  The beautiful ski run lines snake down the mountains and by December Alta Lake is usually completely frozen.  Hockey games occur at various spots on the lake and the Valley Trail leading to and from Rainbow Park is buried in snow and unplowed all winter.  When the heavy snow of December comes, the valley trail becomes a snowshoeing and cross country ski trail.
Paradise on a sunny day!

Easy, family friendly snowshoeing

Free & prettier than Lost Lake
Dog friendly

Close to Whistler Village

Walk & skate on Alta Lake!

Incredible mountain views

Too close to civilization

Can be busy on weekends

Not really challenging

Whistler Snowshoe Trails

Blueberry Trail 

Brandywine Falls 

Cheakamus River 

Elfin Lakes 

Flank Trail 

Joffre Lakes 

Nairn Falls 

Parkhurst Ghost Town 

Rainbow Falls 

Rainbow Lake 

Rainbow Park 

Sproatt East 

Taylor Meadows 

Train Wreck 

Wedgemount Lake 

January 

February 

March 

April 

May 

June 

July 

August 

September 

October 

November 

December
It can still be hiked, but once you reach Rainbow Park you will be knee deep in snow.  The piers so well used in summer are frozen in place and, like everything else are buried in snow.  This snowshoe trail is excellent for the novelty of snowshoeing and great for kids.  Snowshoes are not really necessary due to short length of the trail and the relatively small size of the park.  If you have small kids, however, they will be in paradise.  By Christmas the park is often waist deep in snow and if you are new to snowshoeing, you will have a great time.  And if you do bring kids, you will have trouble getting them to leave.  Rainbow Park is a very easy, 1 kilometre trail from the parking area at the dead end of Lorimer Rd to the park.  It is a relaxing trail that doesn't change in elevation.  It runs for a while along the River of Golden Dreams then crosses the river on a cute little bridge giving you your first view of Alta Lake.  Just past the bridge on your left you can walk to a viewing platform over the lake.  Back on the trail it is just another five minutes to the lake.
Golden Dusk at Rainbow Park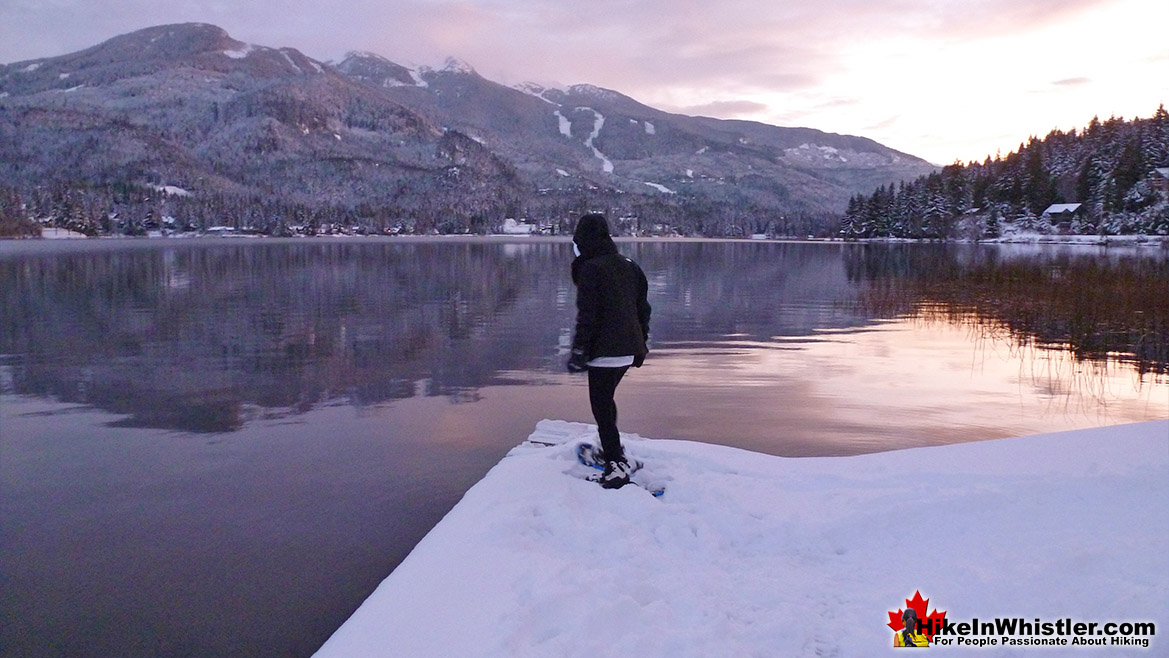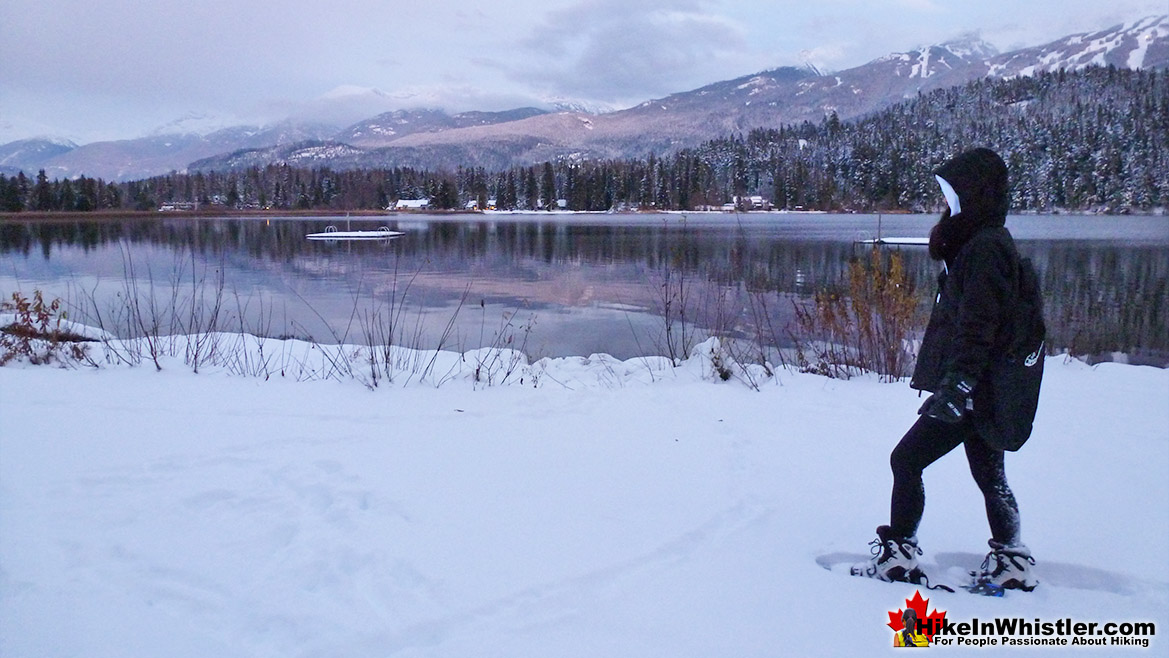 Rainbow Park History
Rainbow Park gets its name from Rainbow Lodge, a popular stop along the train line from 1914 to 1974.  Run by Myrtle and Alex Philip, the original lodge burned down in 1977.  Some of the remaining log houses have been moved and now are gradually being restored as an outdoor museum.  Interpretive panels with photos and descriptions of life in the area almost a century ago.  These houses go mostly unnoticed as the main interpretive area is just off of the main beach across the Bridge of Sighs.  Named by Alex Philip, the current bridge is a reconstruction of the original.  There is a photo and description of the original that you can compare with the reconstruction. You will notice as you read the various panels how everything in Whistler now seems to be named after the people that once lived in and around the Rainbow Lodge community.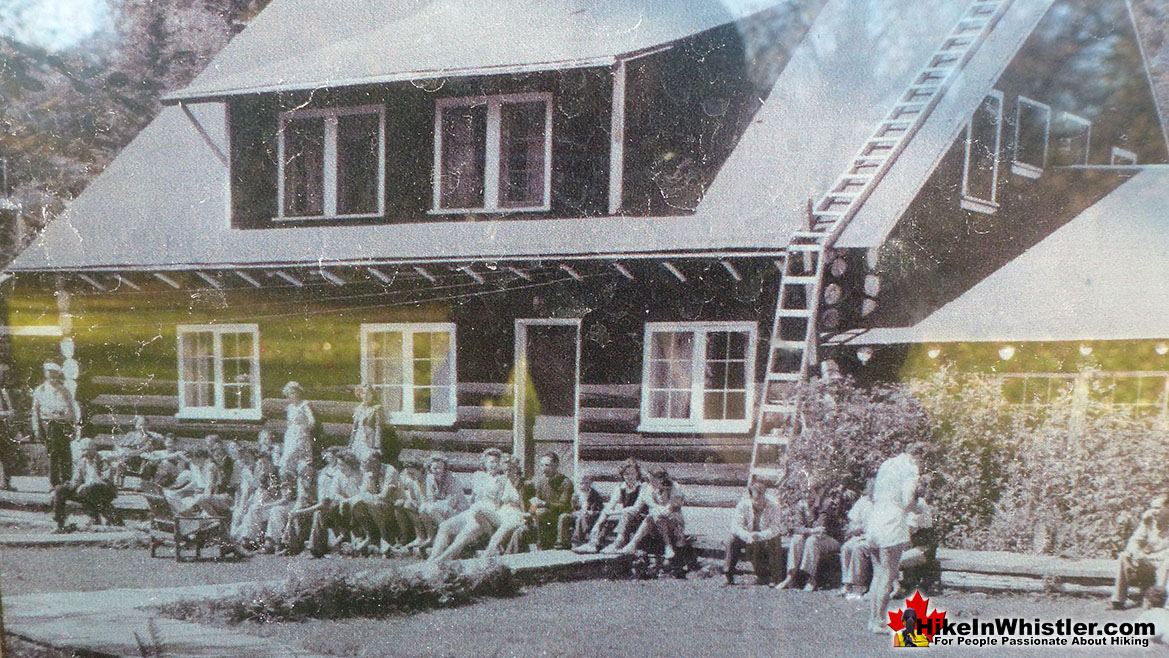 Rainbow Park Piers
Rainbow Park has two piers that stretch far out on Alta Lake.  Beyond the pier there are two swimming platforms.  Volleyball nets, a concession stand and washrooms sit further back from the beach.  There is a large area of beach set aside as a dog park and several picnic tables.  The popularity of Rainbow Park is largely due to the incredible setting.  Blackcomb and Whistler look incredible.  Wedge Mountain, the highest mountain in Garibaldi Park to the left of Blackcomb looks both enormous and definitely wedge shaped.  Every direction you look you are captivated by the surroundings.  Out on the pier you look left and right along the huge valley that contains Alta Lake and at the far end you trace Whistler Mountain from the water to the sky.  You can see where the Peak Chair, or at least the alpine rock and snow where it sits on top of high up above the treeline.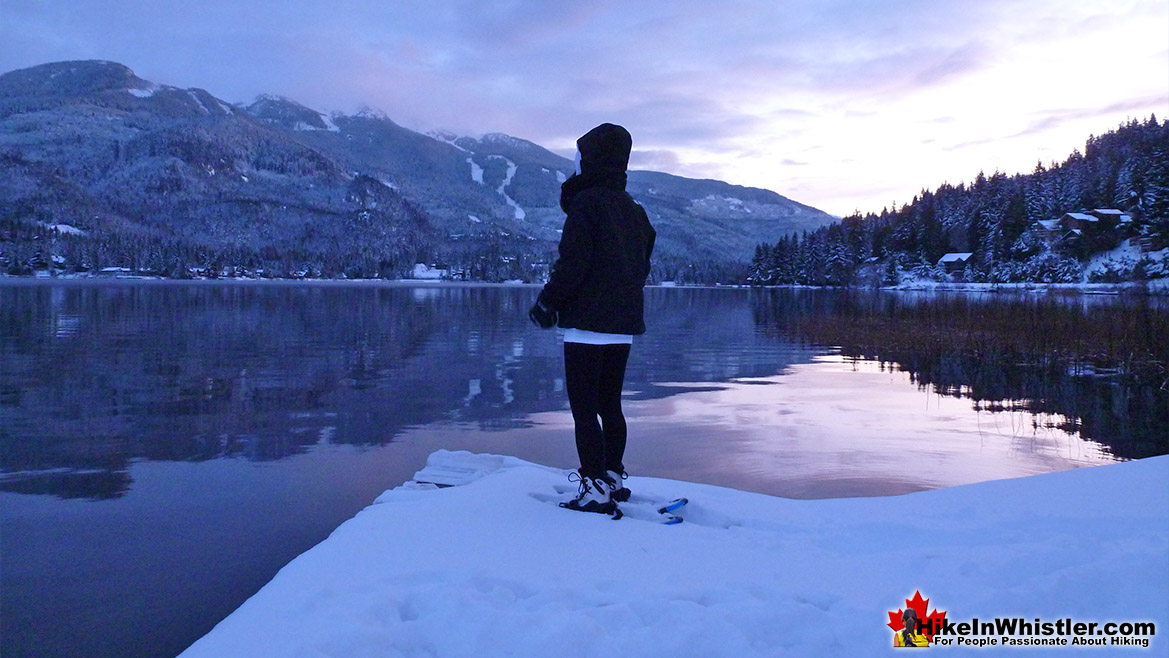 Rainbow Park sits on the far side of Alta Lake.  From Whistler Village it is just over 3 kilometres and the entire route is scenic.  From the Village the Valley Trail passes underneath the Sea to Sky Highway and at the Whistler Golf Course clubhouse it branches in two directions.  Left takes you around the golf course and to Alta Lake's near shore and past Blueberry Park, Lakeside Park and Wayside Park before rounding the south end of the lake and on to Alta Lake Road to Rainbow Park.  The map below shows the more direct route, which turns right at the clubhouse and follows the Valley Trail along the golf course and through the beautiful, old-growth cedar forest at its top end.  The Valley Trail then veers away from the golf course and runs along Lorimer Road briefly before branching left and following the River of Golden Dreams to Alta Lake and Rainbow Park.
Magnificent Sunrise at Garibaldi Park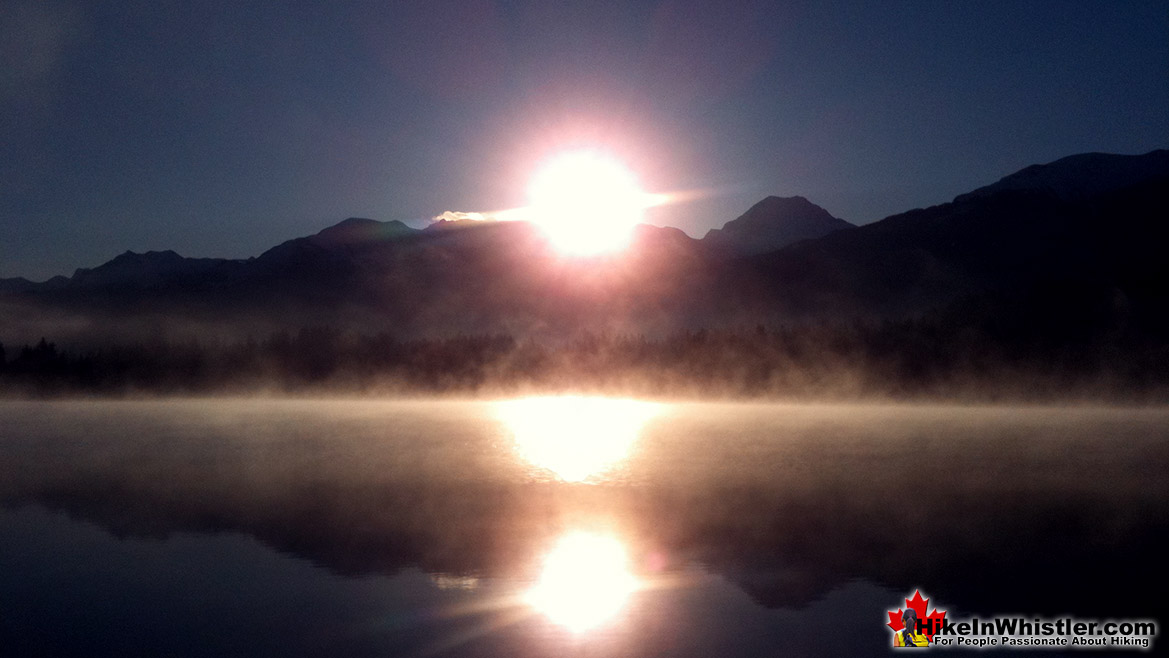 River of Golden Dreams to Rainbow Park
The 1 kilometre section of Valley Trail between Lorimer Road and Rainbow Park is very nice.  There are a few nice places to stop along the River of Golden Dreams.  A great viewpoint over Alta Lake, a small rocky beach where two creeks meet and a boat portage area with a deck on the river next to a fish weir.  All of this section of trail is within a deep and beautiful forest with gaps in the forest revealing different mountains at every bend in the trail.  If you want to continue past Rainbow Park and around Alta Lake you just have to go along Alta Lake Road for 1.3 kilometres until it rejoins the Valley Trail again.  There is a shortcut to Alta Lake Road from Rainbow Park.  Immediately after you cross the train tracks take the unmarked trail on your left.  It zig-zags once through the trees and comes to Alta Lake Road.  Turn left onto Alta Lake Road and then after 1.3 kilometres look to your left for the Valley Trail.  Whistler's beautiful Valley Trail system has excellent and clear signs at every junction on the trail and takes you past one gorgeous park after another.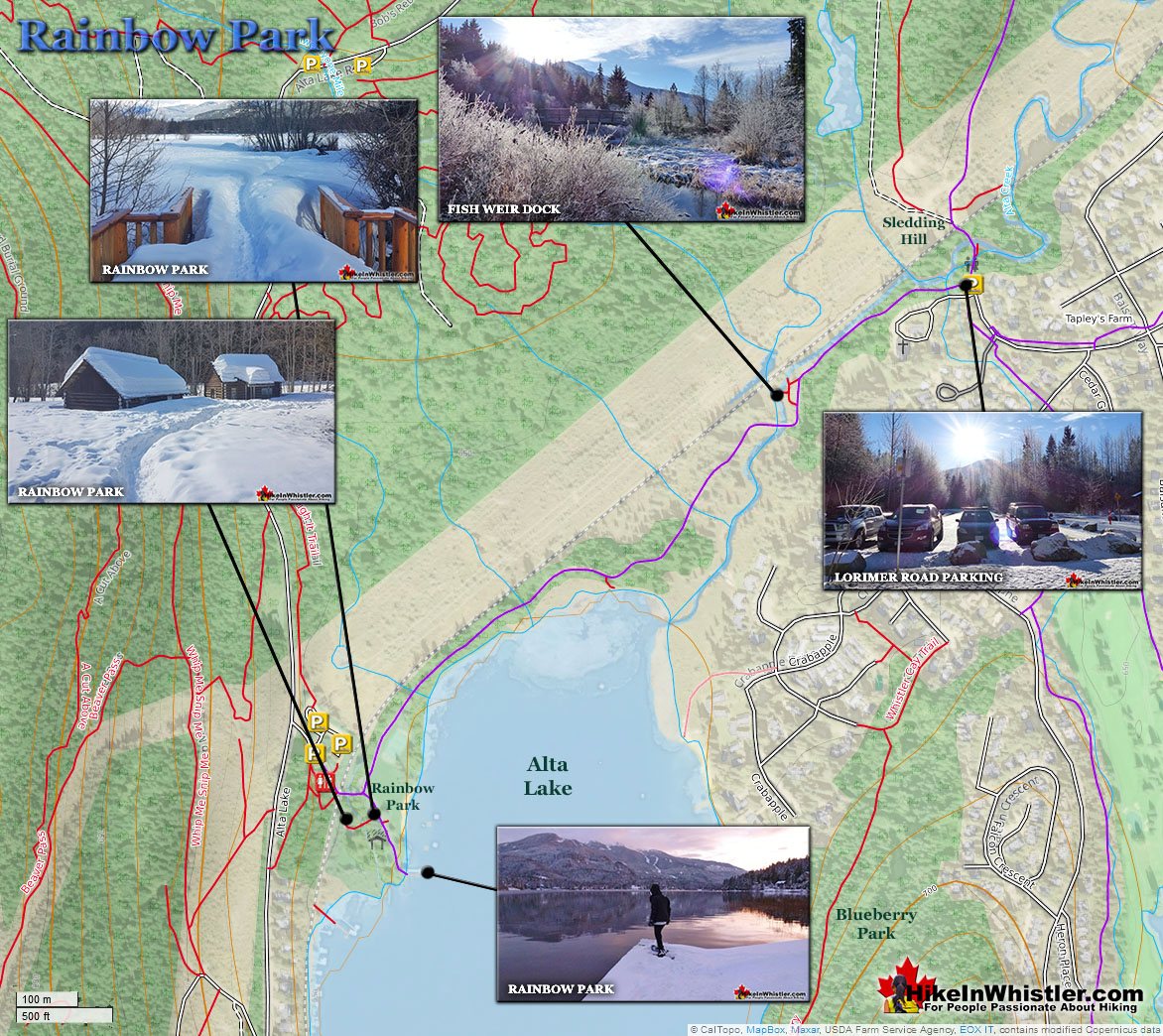 More Whistler Snowshoe Trails

There are plenty of beautiful and free snowshoe trails in Whistler and Garibaldi Provincial Park.  From the surreal paintings of Whistler Train Wreck to the magnificent mountain serenity of Wedgemount Lake in Garibaldi Park.  Trails range from extremely easy, like the short, flat trails to Brandywine Falls and Rainbow Park.  To challenging and long trails to places like Elfin Lakes, Taylor Meadows and Wedgemount Lake.  Whistler even has a growing network of snowshoe trails to Parkhurst Ghost Town on the far side of Green Lake.  There are a couple pay-use snowshoeing areas in Whistler, however most free trails are as good or better.  Whistler Train Wreck is an easy/moderate snowshoe trail that takes you through a deep forest, over Cheakamus River via a very pretty suspension bridge, and to a series of decades old, wrecked train cars.  Elfin Lakes in Garibaldi Provincial Park is another beautiful place to snowshoe.  Located at the south end of Garibaldi Park, the Elfin Lakes trailhead is found in Squamish.  The trail is not overly difficult, however it is quite long.  A consistently uphill, 11 kilometre(13.7 mile) trail through some spectacular scenery takes you to the marvelous Elfin Lakes hut.  For easier snowshoeing, Rainbow Falls is a good option.  Located just a short drive from Whistler Village, the Rainbow Trail is a beautiful trek through the forest in a winter wonderland to a hidden waterfall surrounded by deep pillows of powdery snow.  For more challenging snowshoeing, Joffre Lakes Provincial Park is hard to beat.  A long, though beautiful drive into the mountains, north of Pemberton takes you to this moderately challenging, 11 kilometre(6.8mile) roundtrip snowshoe trail.  The frequently steep, winding trail takes you through a winter paradise and around, or over three frozen lakes.  Back in Whistler, an excellent place to snowshoe is to Parkhurst Ghost Town.  Sitting on the far side of Green Lake, Parkhurst was a thriving logging community several decades ago.  It has since been abandoned except for intermittent squatter communities over the years.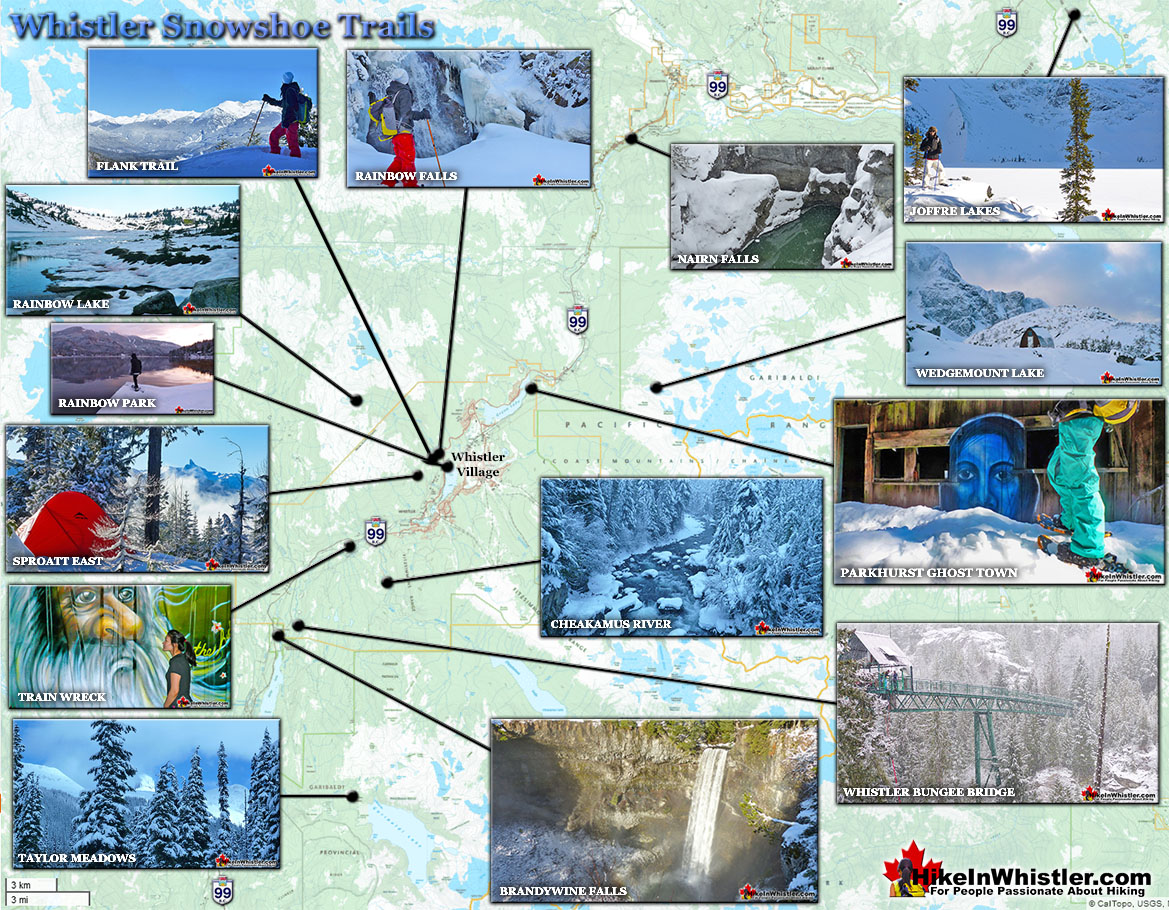 More Whistler & Garibaldi Park Snowshoe Trails!
Where to Hike in Whistler & Garibaldi Park by Month

Amazing Whistler & Garibaldi Park Hiking Trails!