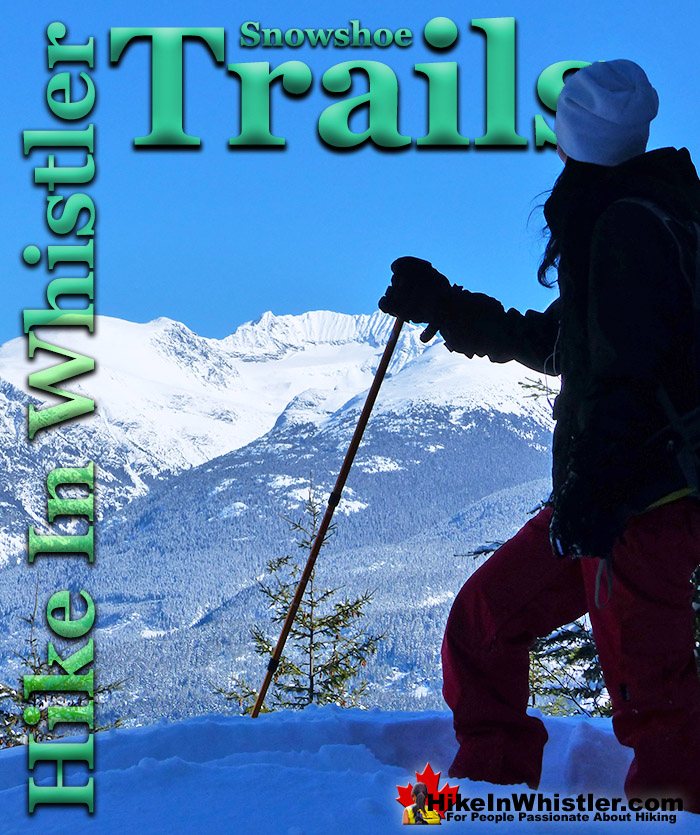 There are plenty of beautiful and free snowshoe trails in Whistler and Garibaldi Provincial Park.  From the surreal paintings of Whistler Train Wreck to the magnificent mountain serenity of Wedgemount Lake in Garibaldi Park.  Trails range from extremely easy, to extremely difficult. 
Whistler & Garibaldi Trails

Blueberry Trail 

Brandywine Falls 

Cheakamus River 

Elfin Lakes 

Flank Trail 

Joffre Lakes 

Nairn Falls 

Parkhurst Ghost Town 

Rainbow Falls 

Rainbow Lake 

Rainbow Park 

Sproatt East 

Taylor Meadows 

Train Wreck 

Wedgemount Lake 

Alexander Falls  

Ancient Cedars  

Black Tusk  

Blackcomb Mountain  

Brandywine Falls  

Brandywine Meadows  

Brew Lake  

Callaghan Lake  

Cheakamus Lake  

Cheakamus River  

Cirque Lake 

Flank Trail 

Garibaldi Lake 

Garibaldi Park 

Helm Creek  

Jane Lakes 

Joffre Lakes  

Keyhole Hot Springs  

Logger's Lake  

Madeley Lake  

Meager Hot Springs 

Nairn Falls  

Newt Lake 

Panorama Ridge 

Parkhurst Ghost Town 

Rainbow Falls  

Rainbow Lake 

Ring Lake  

Russet Lake  

Sea to Sky Trail 

Skookumchuck Hot Springs  

Sloquet Hot Springs 

Sproatt East 

Sproatt West  

Taylor Meadows  

Train Wreck  

Wedgemount Lake  

Whistler Mountain
Examples of easy trails are short, flat trails such as Brandywine Falls and Rainbow Park.  More challenging trails are long and steep like Elfin Lakes, Taylor Meadows and Wedgemount Lake.  Whistler even has a growing network of snowshoe trails to Parkhurst Ghost Town on the far side of Green Lake.  There are a couple pay-use snowshoeing areas in Whistler, however most free trails are as good or better.  Whistler Train Wreck is an easy/moderate snowshoe trail that takes you through a deep forest, over Cheakamus River via a very pretty suspension bridge, and to a series of decades old, wrecked train cars.  These mangled hulks are spread over an area about 400 metres long and along a particularly stunning section of Cheakamus River.  Snowshoe trails run on both side of the river and take you to gorgeous rock outcrops with stunning views.  On a clear winter day, you can easily find a sunny spot high above the chaotic mass of green swirling water below, and find yourself in a little corner of paradise.  Whistler Train Wreck is located in the neighourhood of Cheakamus Crossing, 8 kilometres(5 miles) south of Whistler Village.  Though you will be smart to bring snowshoes to get to Whistler Train Wreck, if it hasn't snowed in a couple days, you probably will be able to manage the trail without.  You will be confined to the parts of the trail packed down by previous snowshoers.  As the train wrecked cars are spread throughout the forest, snowshoeing in all directions is a fun way to navigate the beautiful forest maze!
Whistler Train Wreck Snowy Day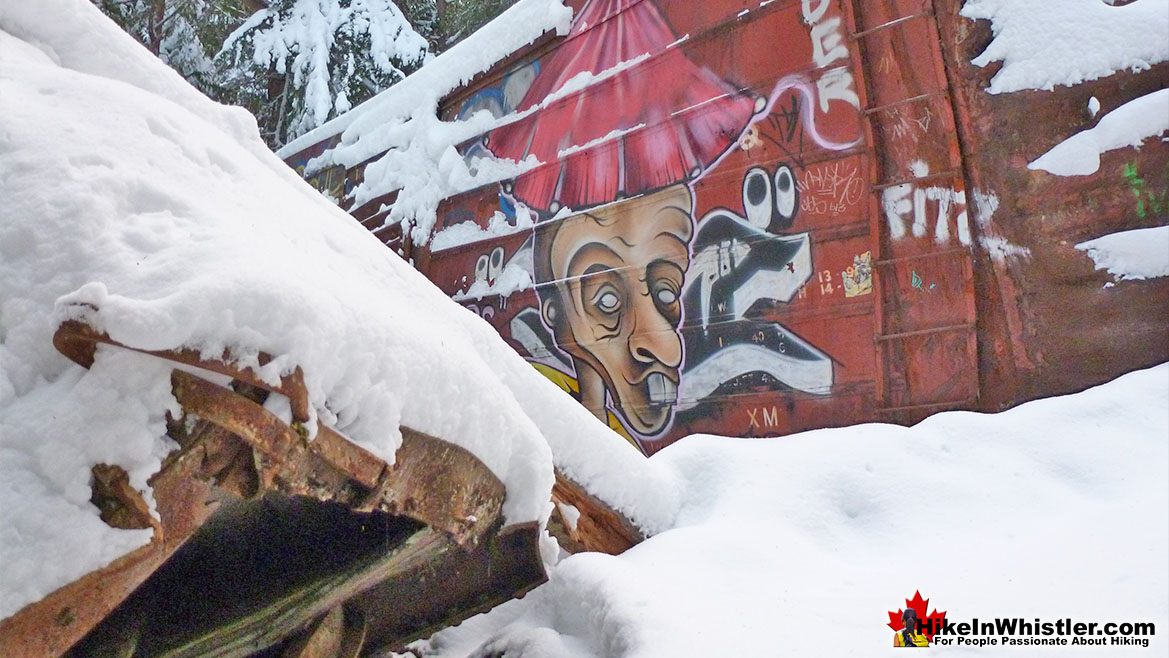 Elfin Lakes Challenging Snowshoeing in Garibaldi Park

Elfin Lakes in Garibaldi Provincial Park is another beautiful place to snowshoe.  Located at the south end of Garibaldi Park, the Elfin Lakes trailhead is found in Squamish.  The trail is not overly difficult, however it is quite long.  A consistently uphill, 11 kilometre(6.8 mile) trail through some spectacular scenery takes you to the marvelous Elfin Lakes hut.  This two level, heated hut even has electric lights that run on solar power.  A wonderful oasis in the mountains, the Elfin Lakes hut is surrounded by spectacular mountain views in all directions and deep snow well into May!
Sunset Along the Elfin Lakes Trail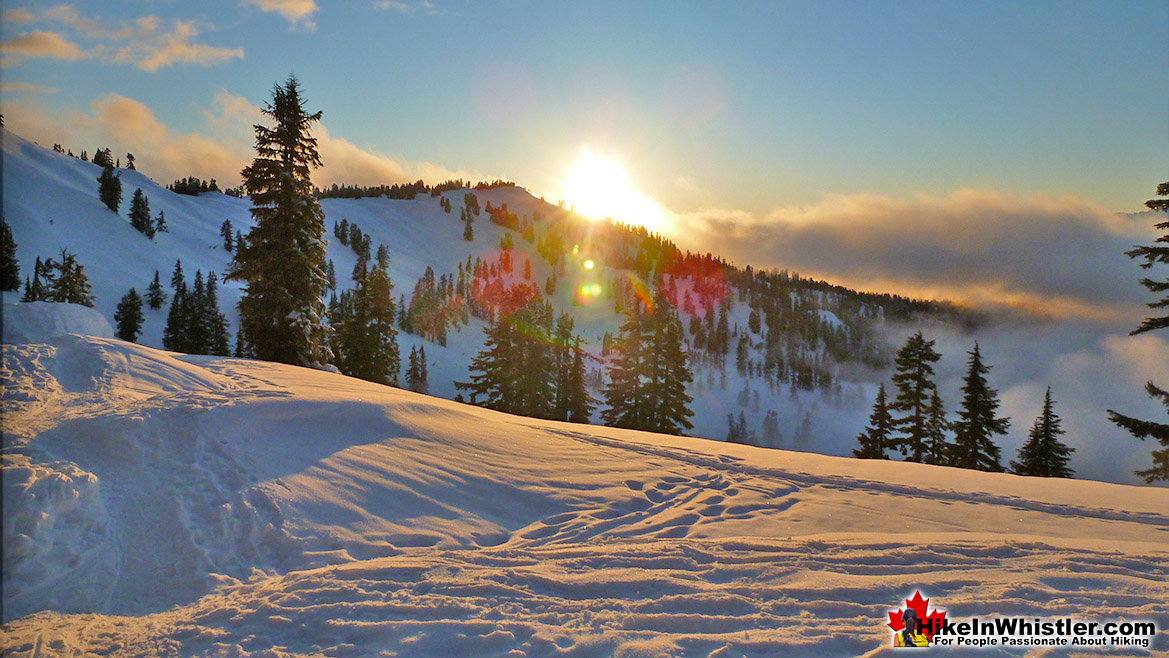 Wedgemount Lake Brutally Challenging Snowshoeing in Garibaldi Park

Wedgemount Lake is another snowshoeing destination in Whistler.  Extremely challenging during the winter when the snow piles up owing to its very steep 9 kilometre(5.6 mile) trail.  Snow burying the access road adds a couple kilometres to the 7 kilometre trail.  In the summer you can hike to Wedgemount Lake in just 2-4 hours, in the winter on snowshoes it takes 4-8 hours!  Wedgemount Lake is far too brutal and dangerous for most to tackle in the winter due to the steep, ice and snow covered trail.  
Snowy Paradise at Wedgemount Lake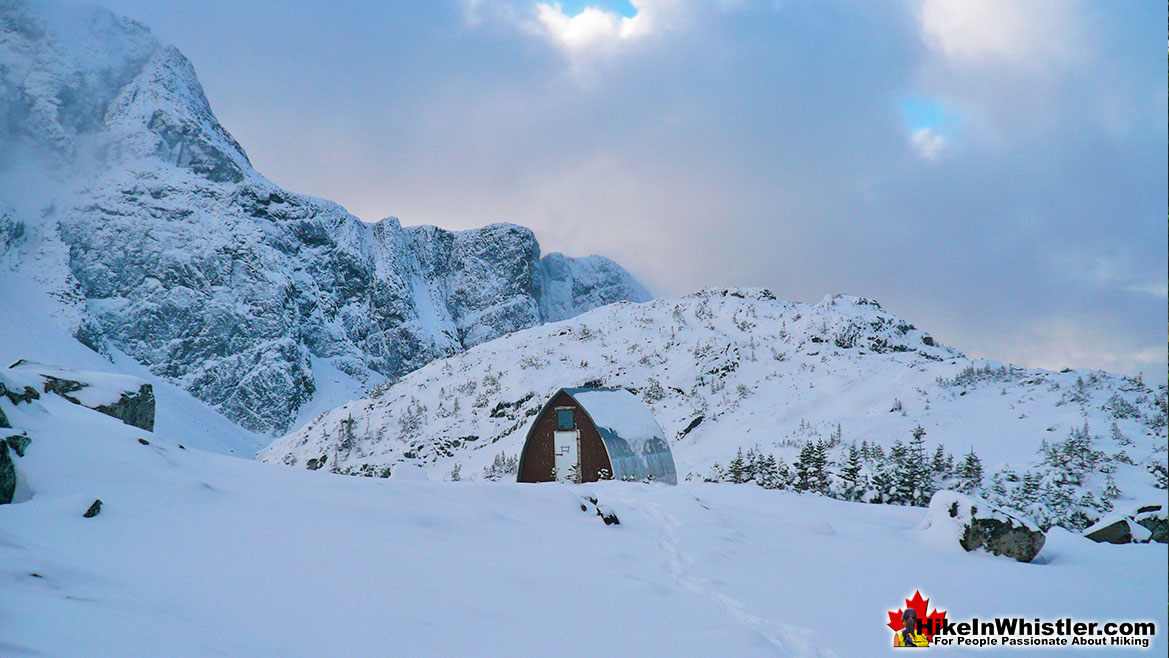 Rainbow Falls Easy, Dog Friendly Snowshoeing in Whistler

For easier snowshoeing, Rainbow Falls is a good option.  Located just a short drive from Whistler Village, the Rainbow Trail is a beautiful trek through the forest in a winter wonderland to a hidden waterfall surrounded by deep pillows of powdery snow.  At the height of winter, you will be amazed at the amount of snow piled into this hidden little corner of the world.  The winding trail is never boring as it meanders left, right, up and down.  The Flank Trail bridge above the falls is very scenic and fun to snowshoe down to and explore around and under it.  The Rainbow Falls trail is steep and varied enough to be challenging, but short enough to not break a sweat.  Certainly kid friendly, though you would never get a stroller up the path.
Rainbow Falls in the Depths of Winter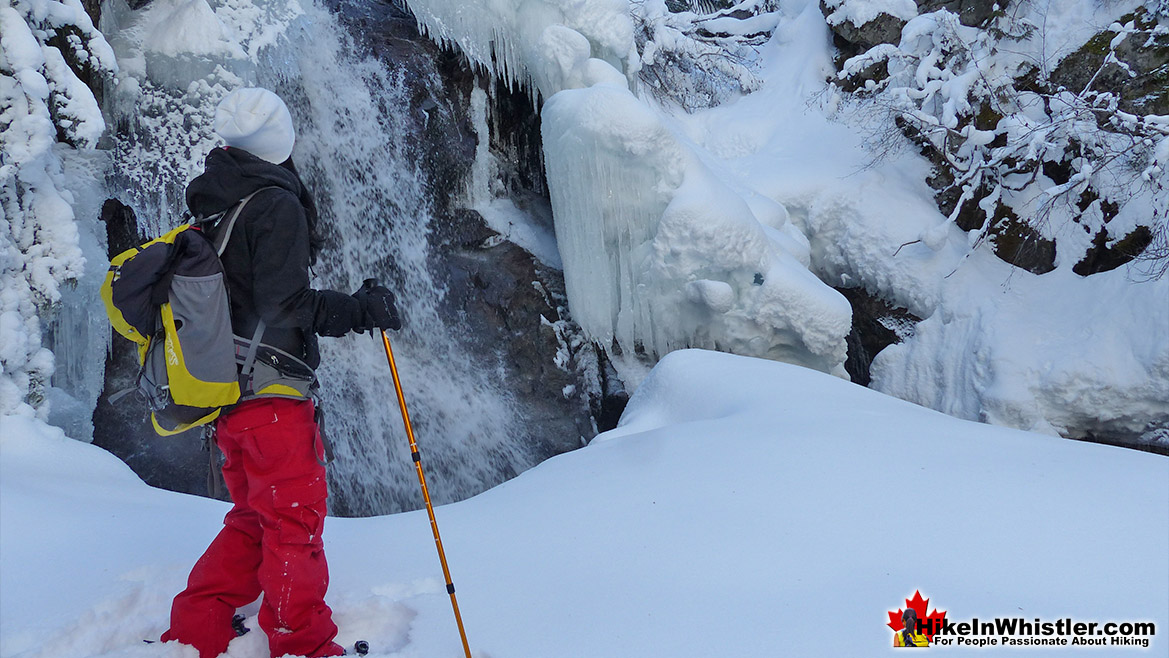 Rainbow Park Very Easy, Dog Friendly Snowshoeing in Whistler

Rainbow Park is another, even easier, snowshoe trail to try in Whistler after heavy snowfall.  The cute and short trail from the end of Lorimer Road takes you along and over the River of Golden Dreams to Rainbow Park.  Rainbow Park sits on the shore of Alta Lake facing a wonderful view of Wedge Mountain, Blackcomb Mountain and Whistler Mountain.  Far to the left you can also see Mount Currie in Pemberton.  A nice, big pier takes you out on Alta Lake, and in the winter, with the lake frozen you can wander across in many directions.
Easy and Scenic Rainbow Park Snowshoeing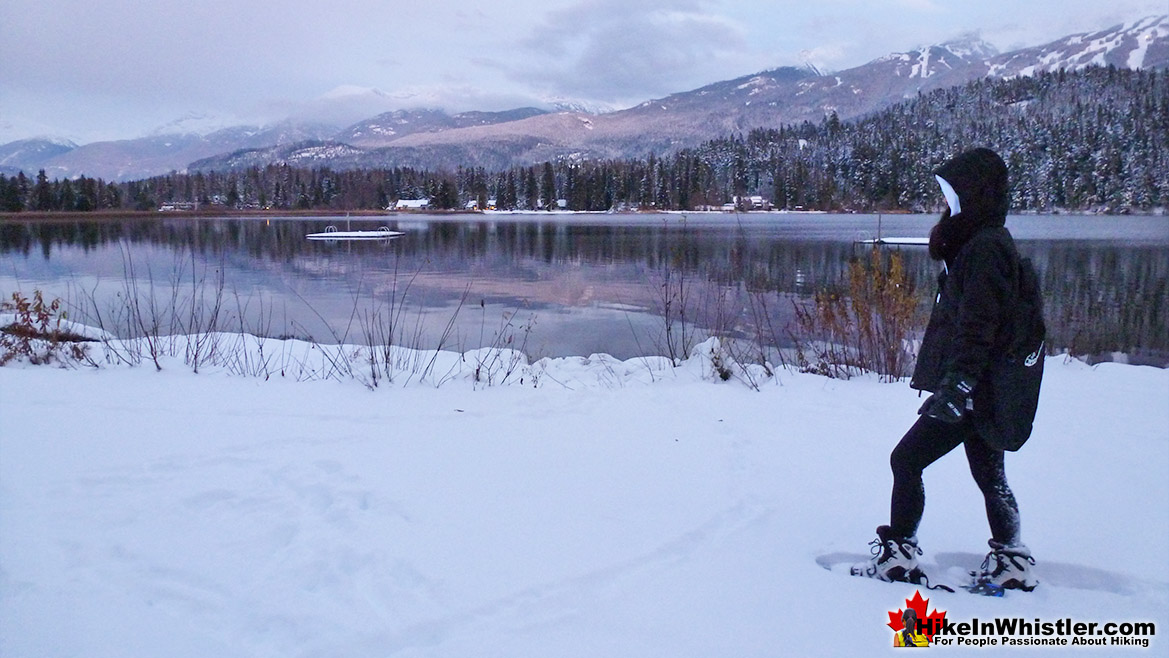 Joffre Lakes Challenging Snowshoeing North of Whistler

For more challenging snowshoeing, Joffre Lakes Provincial Park is hard to beat.  A long, though beautiful drive into the mountains, north of Pemberton takes you to this moderately challenging, 11 kilometre(6.8mile) roundtrip snowshoe trail.  The frequently steep, winding trail takes you through a winter paradise and around, or over three frozen lakes.  In the summer Joffre Lakes is insanely popular with hikers.  In the winter, on snowshoes, you will find Joffre Lakes wonderfully serene.  Positioned high up in the mountains, Joffre Lakes gets tremendous amounts of snow and on a sunny winter day you'd have trouble finding more of a winter wonderland anywhere else in the world!
Gorgeous Snowshoe Trail to Joffre Lakes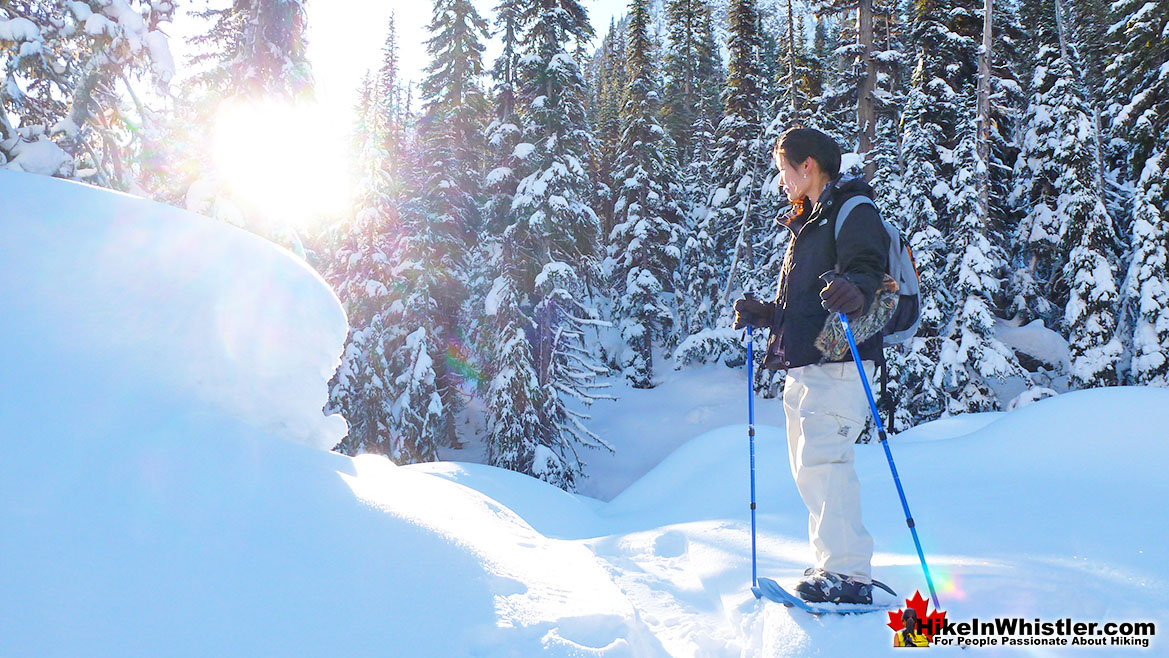 Parkhurst Ghost Town Easy to Moderate Snowshoeing in Whistler

Back in Whistler, an excellent place to snowshoe is to Parkhurst Ghost Town.  Sitting on the far side of Green Lake, Parkhurst was a thriving logging community several decades ago.  It has since been abandoned except for intermittent squatter communities over the years.  Most famously, it was the home of Toad Hall, an idyllic collection of ski bums that will forever be memorialized by Chris Speedie's Toad Hall picture of 14 naked people posing with ski gear.  Toad Hall is long gone along with all, but one of the old Parkhurst houses which is painted with a large, haunting blue face.  Wandering around Parkhurst you will stumble upon many old relics.  An enormous log loader sits ominously at the edge of Green Lake.  Throughout the forest you will find several ancient trucks from the 40's and 50's as well as other vehicles, fuel tanks, house foundations, logging machinery and collapsed houses.  Snowshoeing to Parkhurst can be a bit tricky due to the confusing trail, however, if you find Green Lake frozen enough to walk across, you can walk there in 5 minutes from Green Lake Park.
Parkhurst Ghost Town Blue Face House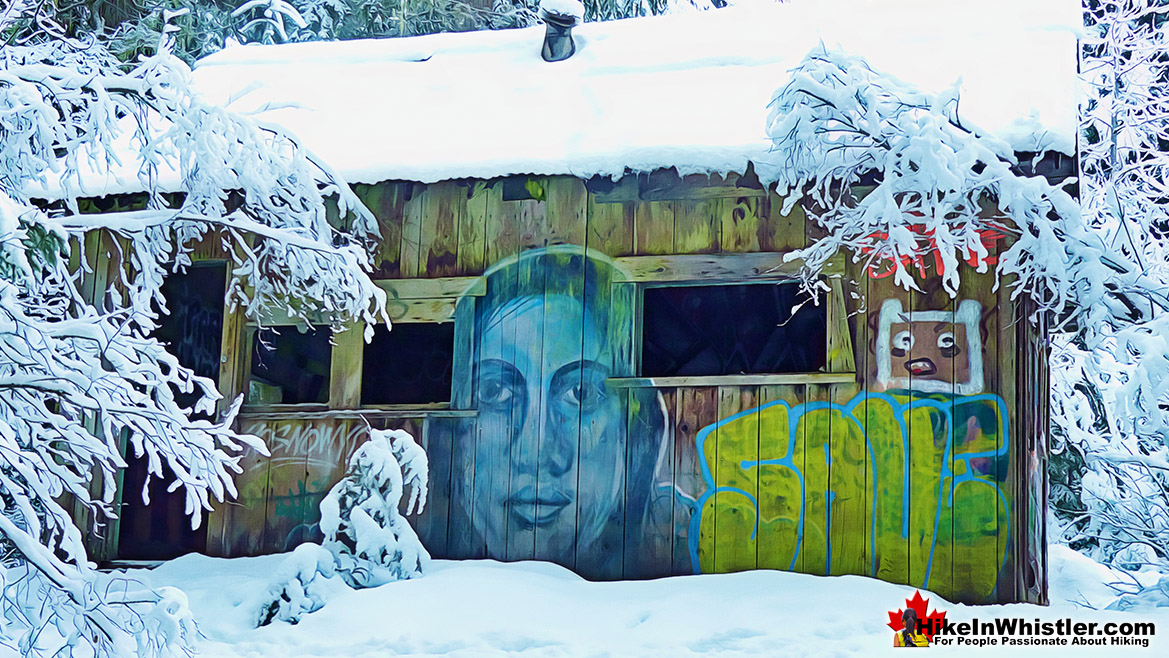 The Best Snowshoe Trails in Whistler
Sproatt East - Moderate to Challenging, Dog Friendly

The Sproatt East trail is one of the nicest snowshoe trails in Whistler.  With the trailhead high up in Stonebridge, partway up the flank of Mount Sproatt, you start snowshoeing already high up in the wonderfully secluded wilderness overlooking Whistler valley.  Just a few metres along the trail you catch glimpses of Black Tusk far across the valley before entering the forest along the Sirloin trail.  Sirloin ascends through the forest and soon crosses the Rainbow-Sproatt Flank Trail and connects to Darwin's trail.  Darwin's bends further up Sproatt along beautiful and elaborate, wooden boardwalks that zig-zag up a steep section.  Soon the trail emerges from the forest for the first of many beautiful views over the valley.  Darwin's merges onto Flank and soon crosses Nita Creek and the the easy to miss, unmarked Sproatt East trail extends up the left side of Nita Creek.  Mount Sproatt is a big, sloping mountain with dozens of beautiful plateaus that are quite easy to get to.  Back on Flank, just before you crossed Nita Creek there is a faint trail that ascends quickly up to the first of many beautiful plateaus overlooking the valley.  At just 1.4 kilometres from where you started, this plateau is a excellent destination on its own and on a sunny day it is paradise!  If winter camping is your thing, this spot is pretty hard to beat with its convenience and sweeping views of the valley looking across to Blackcomb Mountain and Whistler Mountain.  Nita Creek can be heard crashing about 40 metres below, hidden by snow covered treetops.  This plateau is fairly easy to reach on snowshoes and Sirloin, Darwin's and Flank are a steady ascent, but only moderately challenging snowshoe trails.  The Sproatt East trail gets progressively more challenging as you climb every steeper into the vast wilderness of Mount Sproatt.  Virtually unknown and rarely hiked, even in the summer.  despite this it is surprisingly well defined and well marked with tree ribbons.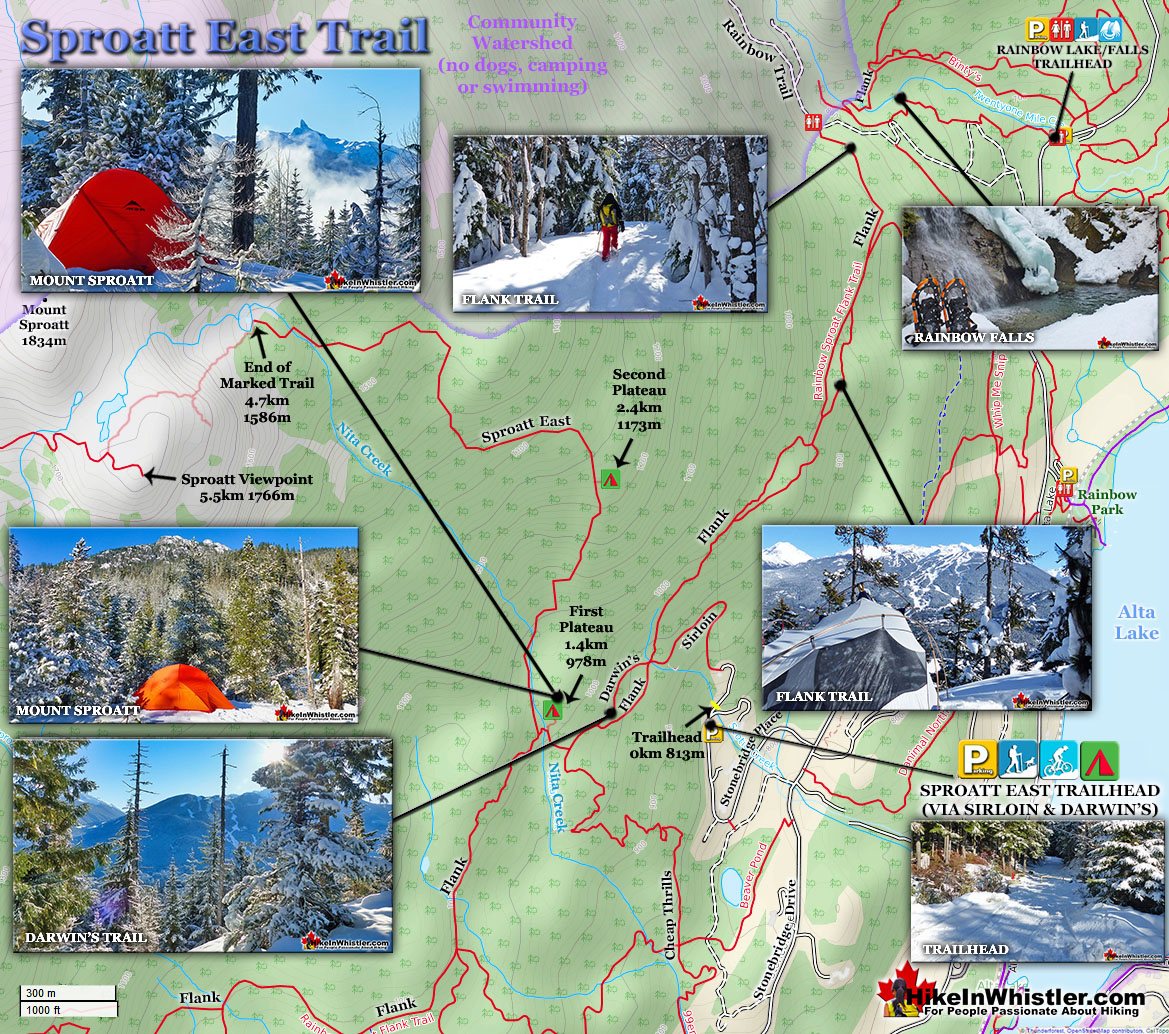 Mount Sproatt - Best Snowshoeing in Whistler
Train Wreck - Easy, Convenient and Dog Friendly

The trail to Whistler Train Wreck is an easy, yet varied route through deep forest, across a great suspension bridge over Cheakamus River, to a stunning array of wrecked train cars. The trail from your car to the wrecks only takes about 15 minutes, however once you reach one wreck, you see another, then another. There are seven wrecks in total that are spread over an area about 400 metres long.  Along with the surreal train wrecks painted with stunning murals, you find yourself in a thick forest that runs along Cheakamus River. Cheakamus River is a beautiful, wild and crashing river that snakes past the train wrecks. Numerous side trails take you to some marvellous viewpoints, several metres above the rushing water below.  If you follow a trail past the wrecks(heading north or in the direction of Whistler Village) you will emerge at the train tracks. If you are adventurous you will then walk along, beside the tracks for a couple hundred metres and some truly breathtaking views of Cheakamus River.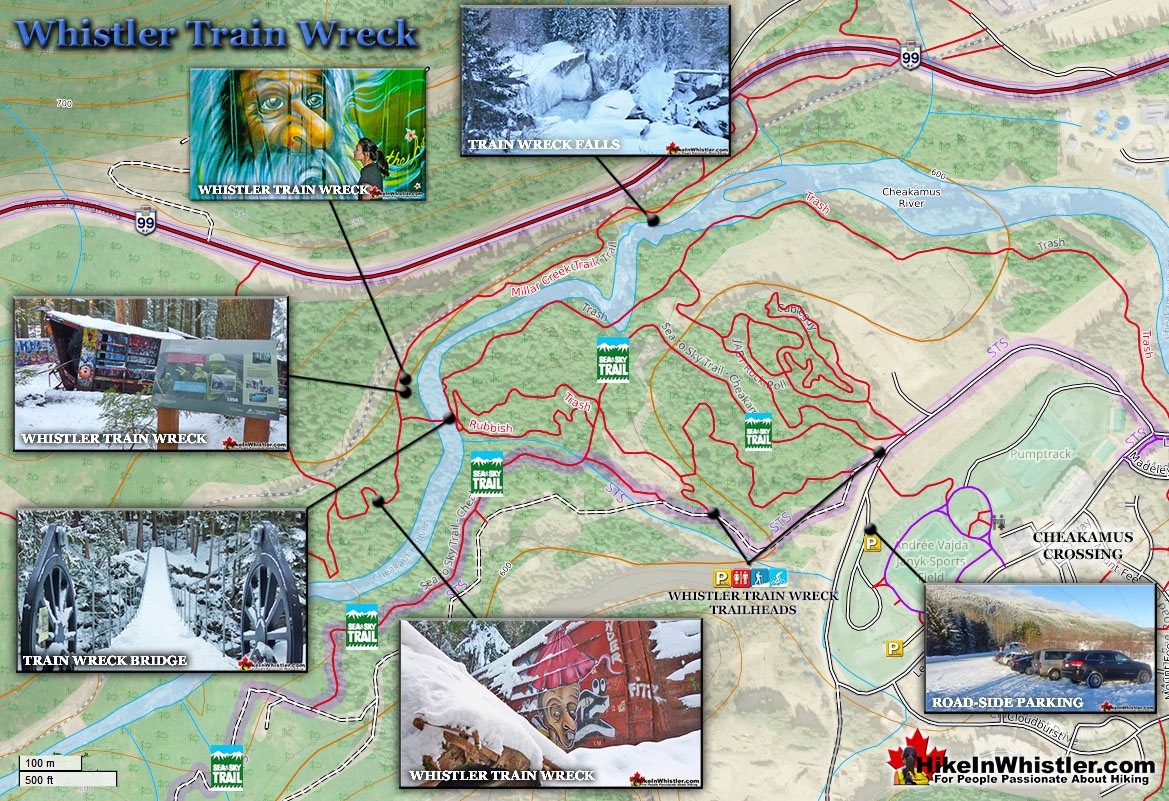 Train Wreck - Best Snowshoeing in Whistler
Elfin Lakes - Long, Challenging Trail

Elfin Lakes in Garibaldi Provincial Park is an absolutely phenomenal, though long, hiking, biking, snowshoeing and skiing trail that begins at the Diamond Head area in Squamish.  From Whistler Village, the trailhead is just over an hours drive away, located near the south end of Garibaldi Park.  Garibaldi Provincial Park is the massive wilderness park of nearly two thousand square kilometres that stretches from Squamish to Pemberton.  If you are driving the Sea to Sky Highway to Whistler, Garibaldi Park will be the vast wilderness of snow-capped mountains on your right.  The Elfin Lakes trail is very well marked and maintained and leads to the wonderful, Elfin Lakes hut.  This amazing hut sleeps 33 and is solar powered and propane heated.  There is a charge of $15/person(payable online) to stay the night there which is a small price to pay for the beautiful comfort after the long, 11 kilometre snowshoe or hike to get there.  This area is very popular with skiers as well as snowshoers in the winter and deep snow covers the trail usually from November to June.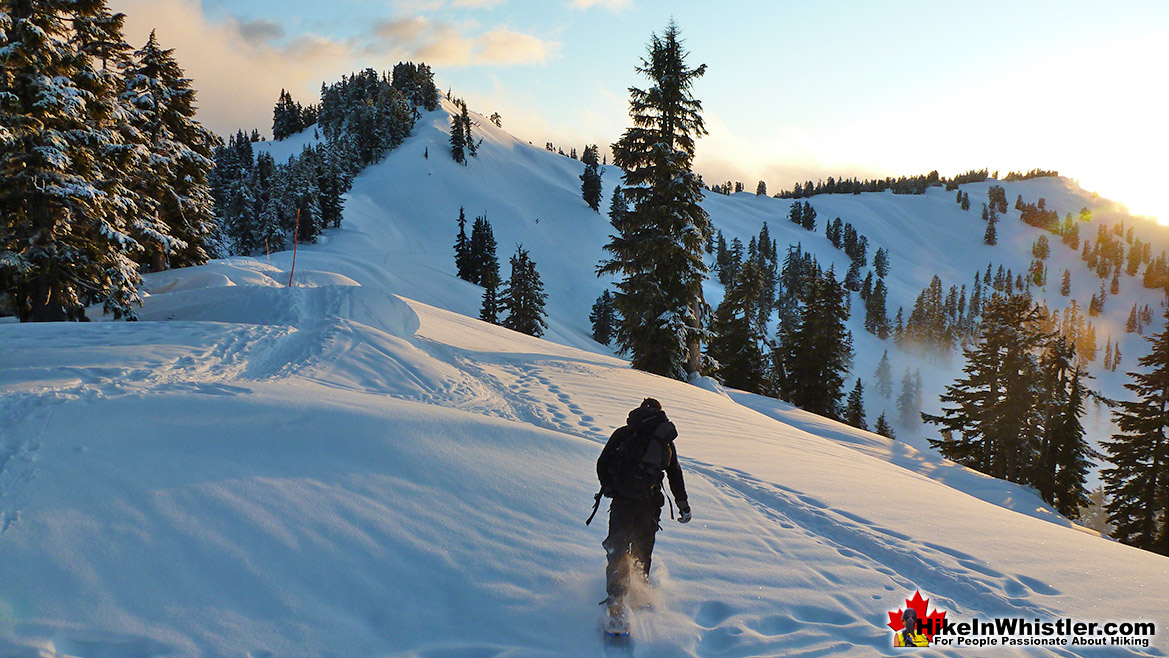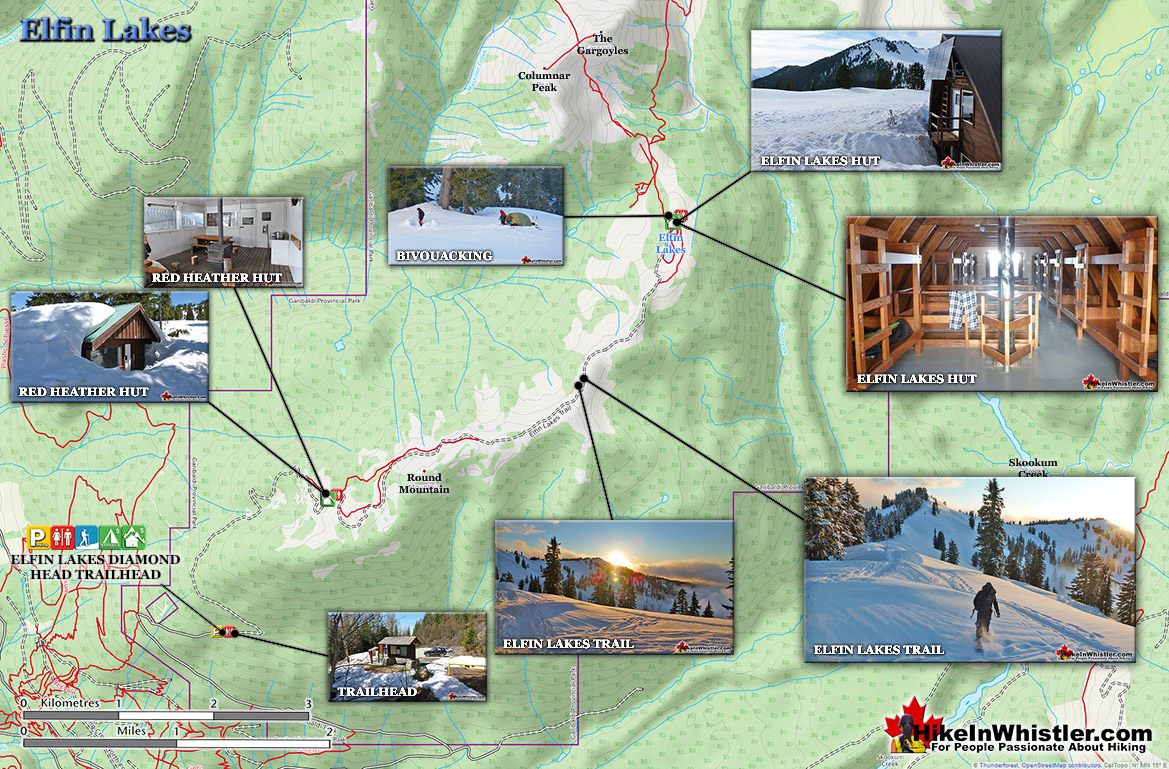 Elfin Lakes - Best Snowshoeing in Garibaldi Park
Wedgemount Lake - Extremely Difficult, Dangerous and Steep Trail

Wedgemount Lake is a steep and difficult hike in the summer when there is no snow.  It doesn't require technical skill, but it is just exhausting.  You gain 1220 metres of elevation in just 7 kilometres(+2 in the winter) and hiking with a heavy pack takes about 2.5 to 3.5 hours to reach the lake.  In the winter, on snowshoes, the Wedgemount Lake trail is absolutely brutal, as well as a couple kilometres longer owing to the undrivable, snow buried access road.  The snow and ice covered trail is hard to follow, even with frequent trail markers.  With less than perfect weather you will frequently lose the trail and risk getting lost.  Also, on snowshoes a step on steep ground is one step forward, half a step backward.  You plod on slowly and with each step slipping back part way. If you can get past the difficulty of the exhausting winter trek to Wedgemount Lake you will reach an amazing paradise in the mountains.  The Wedgemount Lake hut is an extraordinary oasis of warmth in the middle of the beautiful Wedgemount Lake valley.  Anyone can use the hut, though it was designed as an emergency hut in the 1970's.  It can sleep up to 8 reasonably comfortably and consists of two large tables on the lower level and a small loft that can fit four people.  Sporadically used by skiers in the winter, though rarely used by snowshoers due to the difficulty of the trail in the winter.  If you do make it up to Wedgemount Lake you will be rewarded with a phenomenally beautiful, snow filled mountain paradise of a valley.  The Wedgemount Lake trail is deep with snow from late December to late May or even June most years.  If you snowshoe it November to mid December or May or June, you will only need your snowshoes partway up the trail.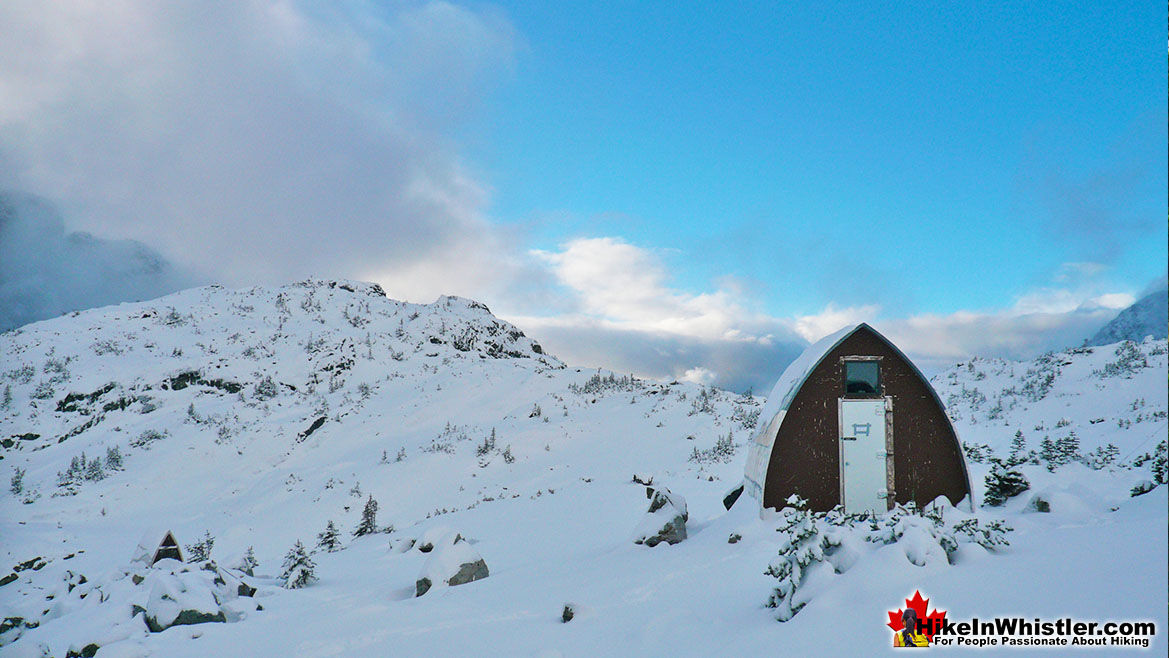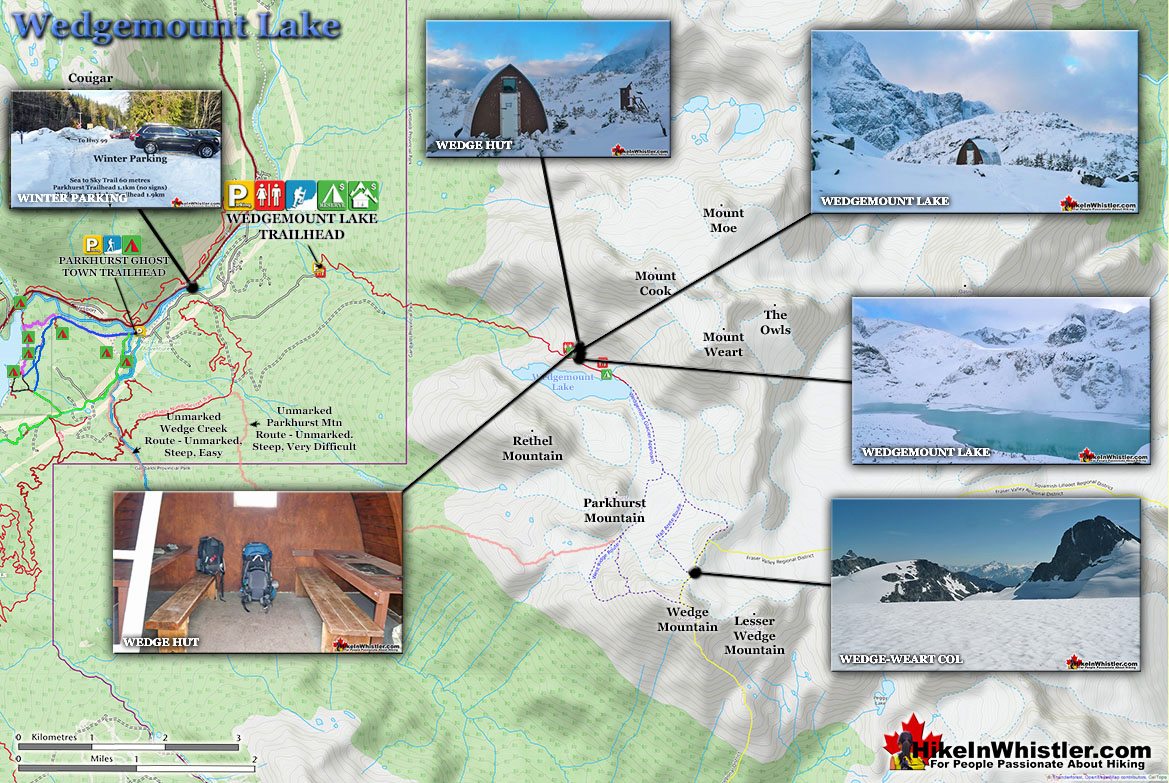 Wedgemount Lake - Best Snowshoeing in Whistler

Rainbow Falls - Easy, Convenient and Dog Friendly

Rainbow Falls is a fantastic way go get yourself into some deep snow quickly from Whistler Village.  The short, winding, and ever-changing hiking trail to Rainbow Falls is the same as the much more popular trailhead for Rainbow Lake.  The trailhead is marked as the Rainbow Trail, and the trail quickly ascends into the forest winding left, right, up and down almost constantly.  Twentyone Mile Creek, always on your right can be either seen or heard as you snowshoe through the forest to the somewhat hidden Rainbow Falls.  The Rainbow Falls/Rainbow Lake trailhead is located just a couple hundred metres from Rainbow Park on Alta Lake which is another great place to snowshoe in Whistler.  The Rainbow Falls trailhead is the same as the Rainbow Lake trailhead, located halfway along Alta Lake Road on the far side of Alta Lake. The Rainbow Falls trail is short, varied and relatively easy. This well used trail never goes in a straight line and goes up and down through a beautiful and deep forest.  There is only one small, easy to miss sign to Rainbow Falls, but finding the falls is easy.  To find Rainbow Falls, begin at the trailhead parking for "Rainbow Trail" on Alta Lake Road.  Follow the trail as it winds along the river.  If you come to obvious forks in the trail, choose the right fork.  In 0.8 kilometres from the trailhead parking you will arrive at Rainbow Falls.  The trail to Rainbow Falls is fairly popular in the winter so the snow is usually well packed down so you often don't need snowshoes.  The route to the falls is never in a straight line.  Zig-zagging left and right, up and down, some parts are steep, but at just 0.8 kilometres, the shortness of the trail makes it suitable for kids.  The topography and sheer volume of snow make this a very fun trail to snowshoe for everyone.  Expect to take less than an hour, car to car, but much longer if you stop for a picnic or to play in the snow.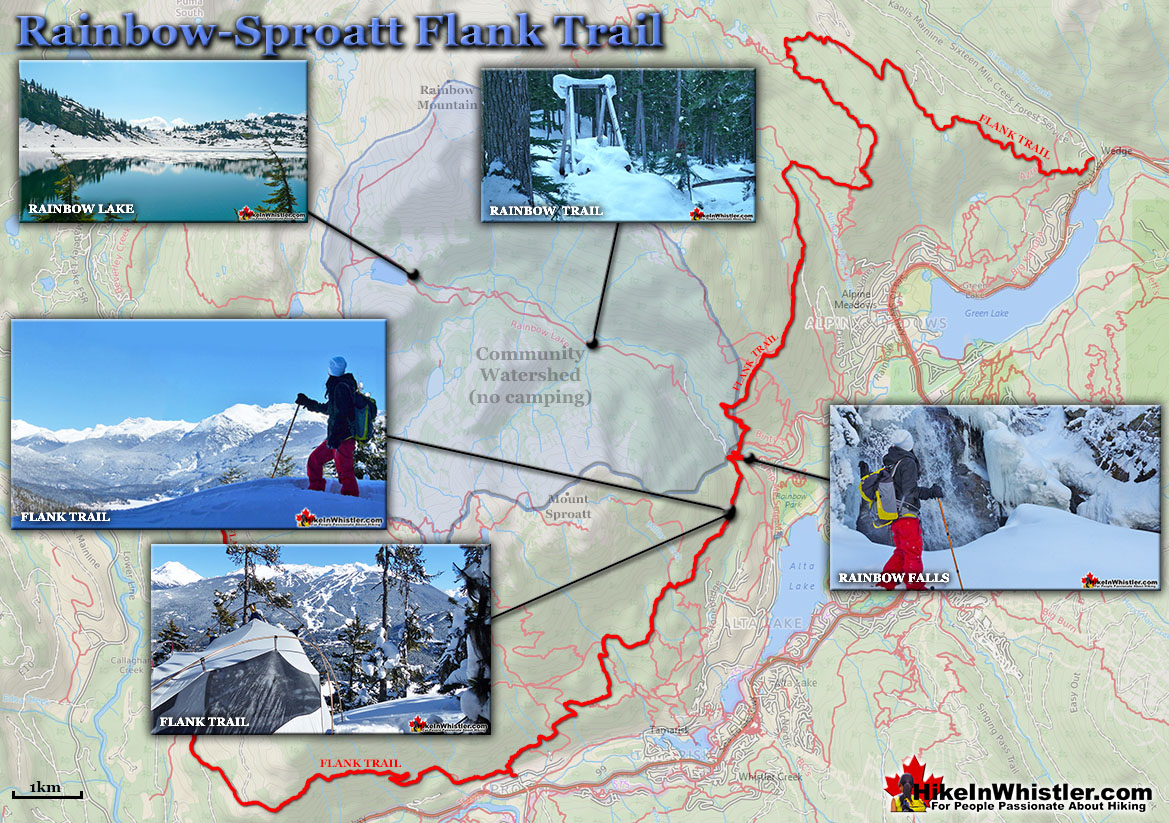 Rainbow Falls - Best Snowshoeing in Whistler
Rainbow Park - Very Easy, Convenient and Dog Friendly

Rainbow Park is one of the hugely popular swimming beaches in Whistler in the summer.  In the winter it is a spectacular vantage point across Alta Lake to Whistler Mountain and Blackcomb Mountain.  The beautiful ski run lines snake down the mountains and by December Alta Lake is usually completely frozen.  Hockey games occur at various spots on the lake and the Valley Trail leading to and from Rainbow Park is buried in snow and unplowed all winter.  When the heavy snow of December comes, the valley trail becomes a snowshoeing and cross country ski trail.  It can still be hiked, but once you reach Rainbow Park you will be knee deep in snow.  The piers so well used in summer are frozen in place and, like everything else are buried in snow.  This snowshoe trail is excellent for the novelty of snowshoeing and great for kids.  Snowshoes are not really necessary due to short length of the trail and the relatively small size of the park.  If you have small kids, however, they will be in paradise.  By Christmas the park is often waist deep in snow, and if you are new to snowshoeing you will have a great time.  And if you do bring kids, you will have trouble getting them to leave.  Rainbow Park is a very easy, 1 kilometre trail from the parking area at the dead end of Lorimer Road to the park.  It is a relaxing trail that doesn't change in elevation.  It runs for a while along the River of Golden Dreams then crosses the river on a cute little bridge giving you your first view of Alta Lake.  Just past the bridge on your left you can walk to a viewing platform over the lake.  Back on the trail it is just another five minutes to the lake.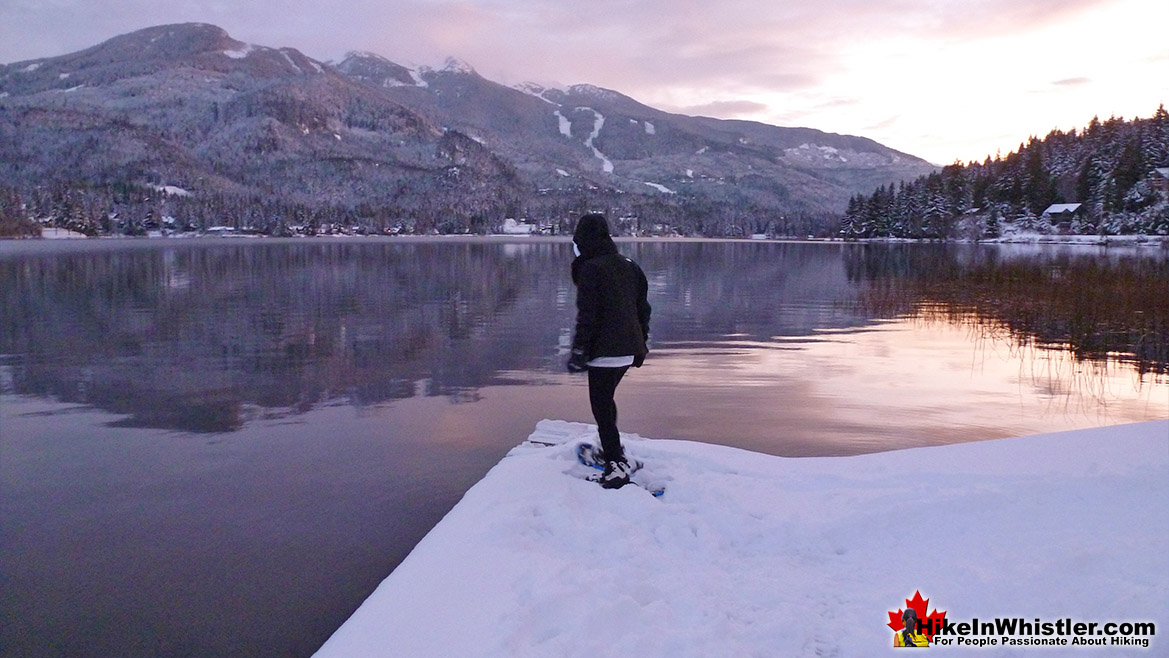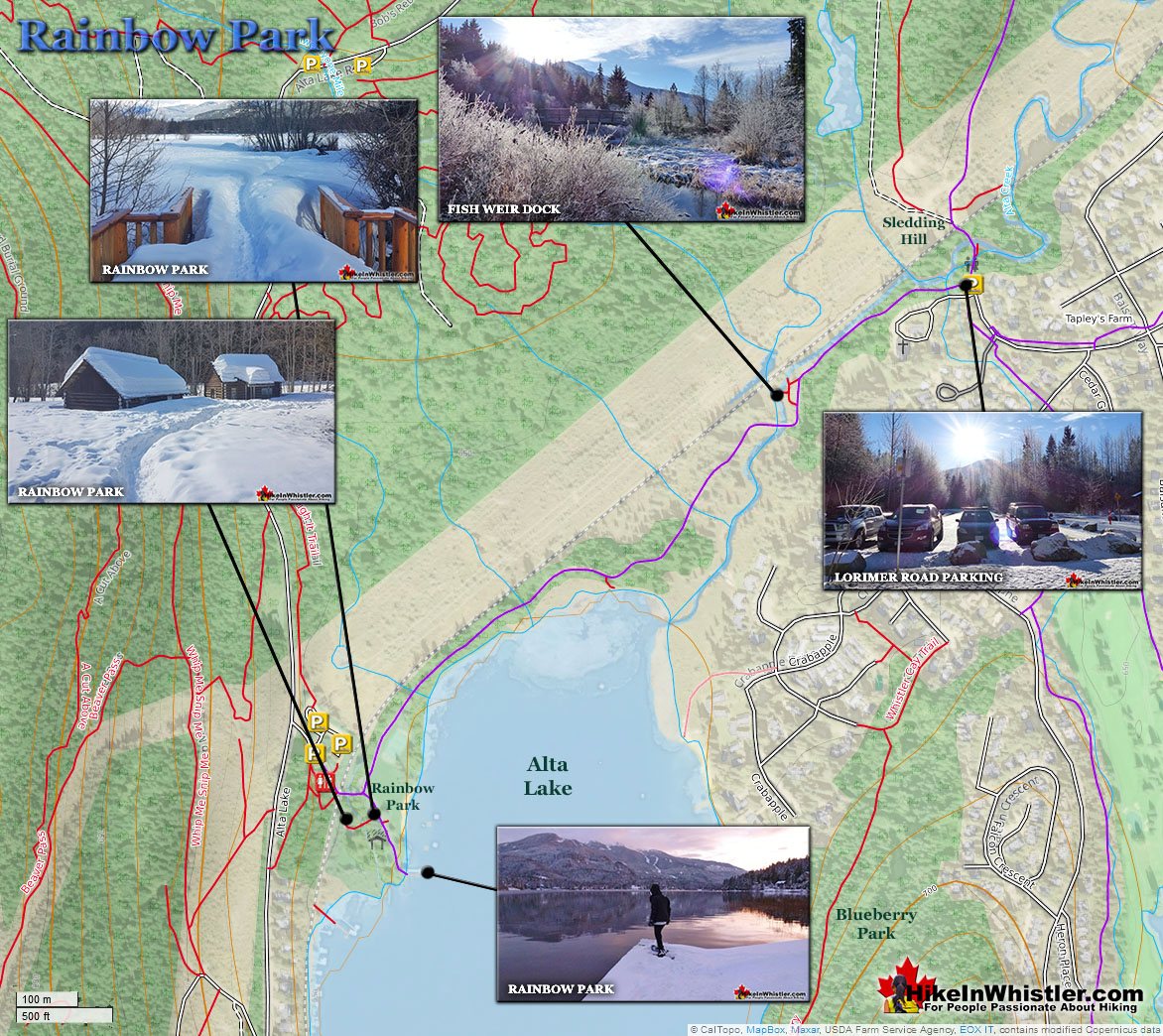 Rainbow Park - Best Snowshoeing in Whistler
Joffre Lakes - Moderately Challenging, North of Whistler

Joffre Lakes Provincial Park is a hiking paradise in the summer and a skiing and snowshoeing paradise in the winter.  About 1 hour and 20 minutes north of Whistler gets you to the Joffre Lakes trailhead.  Located up on the Duffy Lake Road north of Pemberton, Joffre Lakes is well known for its incredibly surreal, turquoise water.  In the winter of course, all three of the Joffre Lakes are frozen over but the trail is popular with skiers and snowshoers between the months of November and April.  The Joffre Lakes trail is fairly well marked and almost always tracked out in the winter it is still possible to lose the trail after dark or or during heavy snowfall.  Joffre Lakes Provincial Park is centred around the three Joffre Lakes.  All of them are beautiful on their own and each more beautiful than the last.  Frozen over in the winter, you won't be able to marvel at the amazing turquoise colours the lakes, caused by light reflecting off of the particles of glacial silt suspended in the water.  In the winter, with the lakes frozen and the trees weighed down with snow, Joffre Lakes takes on a serene beauty, with the low sun cutting through the trees and the forest brightly reflecting.  The third of the Joffre Lakes ends in a U-shaped valley where you will find the far side of the lake towering with glaciers relentlessly crushing down on the lake.  The sun fills the valley and the silence is wonderful.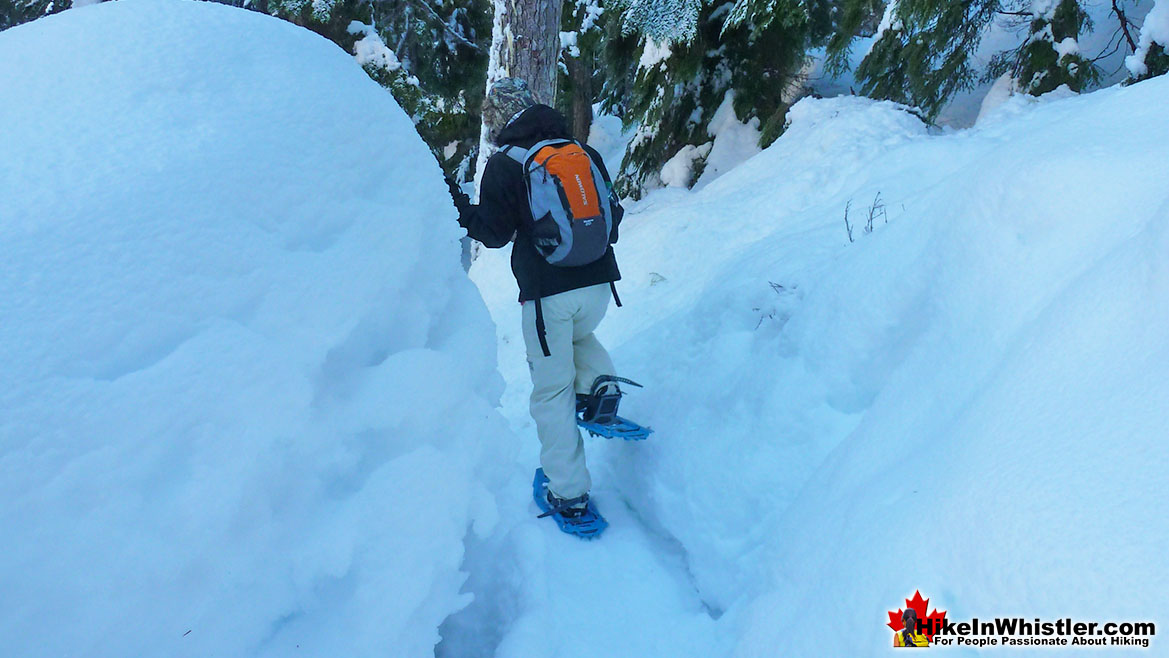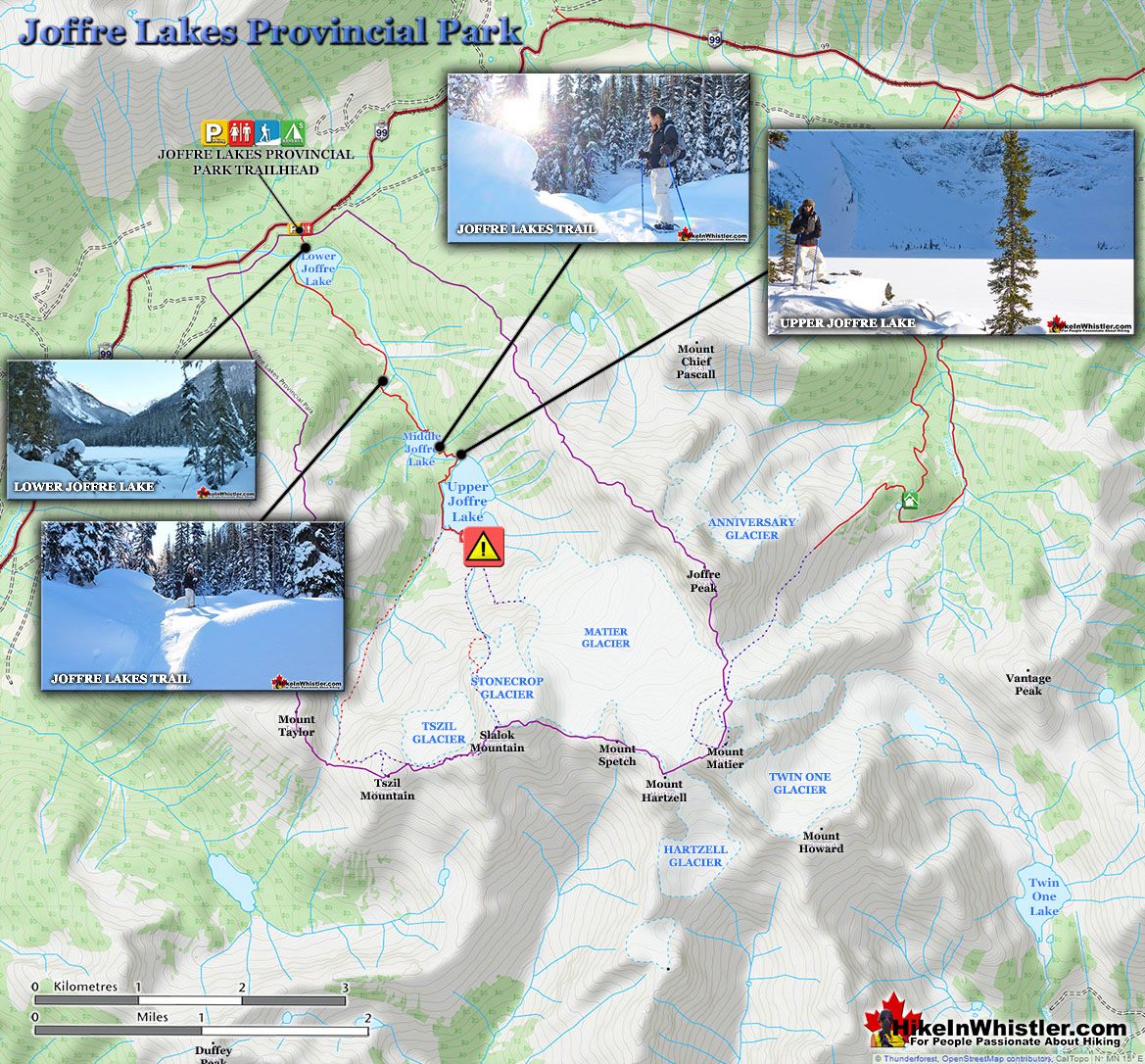 Joffre Lakes - Best Snowshoeing in Whistler
Parkhurst - Various Easy to Moderate, Dog Friendly Trails

Whistler has an absurd number of wonderful and free hiking trails and Parkhurst Ghost Town certainly ranks as one of the most unusual, exotic and interesting. Parkhurst was a little logging town perched on the edge of Green Lake way before Whistler was Whistler.  Up on the ridge where Parkhurst sits, the views are sensational. Green Lake far below, a solid unnatural looking mass of green.  Blackcomb Mountain and Whistler Mountain out in the distance to the left and Rainbow Mountain across and beyond Green Lake.  If you have a good look around Parkhurst today, you can find remnants of its past almost everywhere you look.  From the old disintegrating truck from the 50's to the absurdly and improbably located car being consumed by the forest.  What makes Parkhurst Ghost Town such a great hiking trail and destination is where it is located and the trail to get to it.  The Parkhurst trail, one of several ways to get to Parkhurst Ghost Town, runs along the scenic Green River and next to the still active train tracks that run through Whistler.  There always seems to be something to see.  From the beautiful meadow along the train tracks, to the suddenly deep forest where you have to play a game of finding the next, pink tree marker or risk wandering off the trail.  The trail markers are numerous, and though getting lost is inevitable, you can only stray a few metres before, the river or steep terrain push you back onto the marked trail.  Once up on the ridge above Green Lake where Parkhurst is located, the forest takes on a spooky feel.  Trees are all far apart and with branches only high up give the forest a unnaturally lifeless look.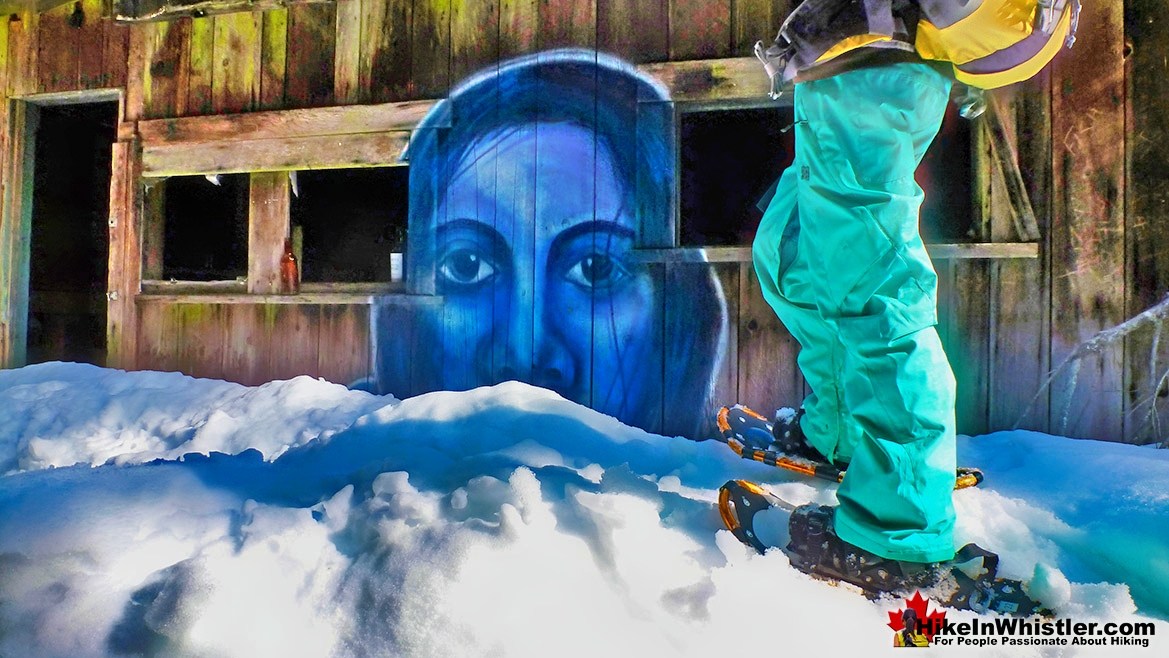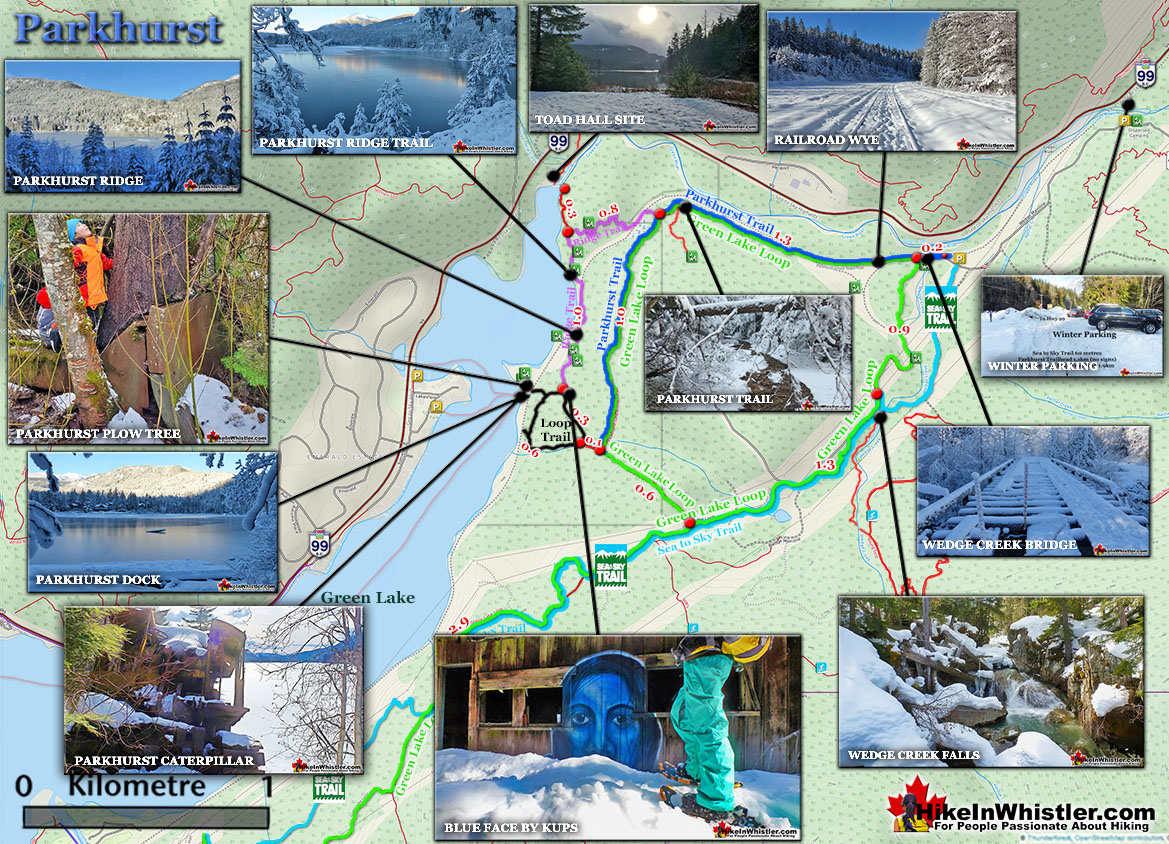 Parkhurst Ghost Town - Best Snowshoeing in Whistler
Brandywine Falls & Bungee Bridge - Easy to Moderate, Dog Friendly

Brandywine Falls is a beautiful park centred around the wonderful falls that plunge 70 metres down a vertical wall of glacier fractured rock.  The peculiar, angular cubes of rock that the cliffs surrounding the falls is the result of lava rapidly cooling against a glacier.  The rapid cooling causes solid rock to fracture in bizarrely angular ways known as columnar jointing.  From the viewing platform across from the falls you can make out four distinct layers of columnar jointing separated by glacial till.  These layers formed by separate lava flows impacting the glacier that once filled this valley.  Another viewing area faces the south, looking down the valley and over Daisy Lake.  The park is located along the Sea to Sky Highway, 15 minutes south of Whistler and BC Parks has blocked the parking lot during winter for years.  In 2021, despite the ever-increasing popularity of the park, has put up tow away zone signs along the large turnaround area outside the gate.  With no decent parking alternatives nearby this has caused wintertime visitors to Brandywine Falls to park at the Bungee Bridge down the very potholed Cal-Cheak forest service road.  As inconvenient as this sounds, it is actually a pretty nice alternative as the Bungee Bridge is a worthwhile sight on its own and the 3 kilometre trail to Brandywine Falls is nice and easy.  There are quite a few highlights along the Bungee Bridge to Brandywine Falls trail.  The Bungee Bridge is quite an impressive sight to see spanning Cheakamus River high above the tree tops.  Whistler Bungee is open year-round which is why the road is plowed in the winter and drivable.  When they have bookings you will see people bungee jumping off the bridge and there is a great viewing area across from the bridge at the edge of the cliffs.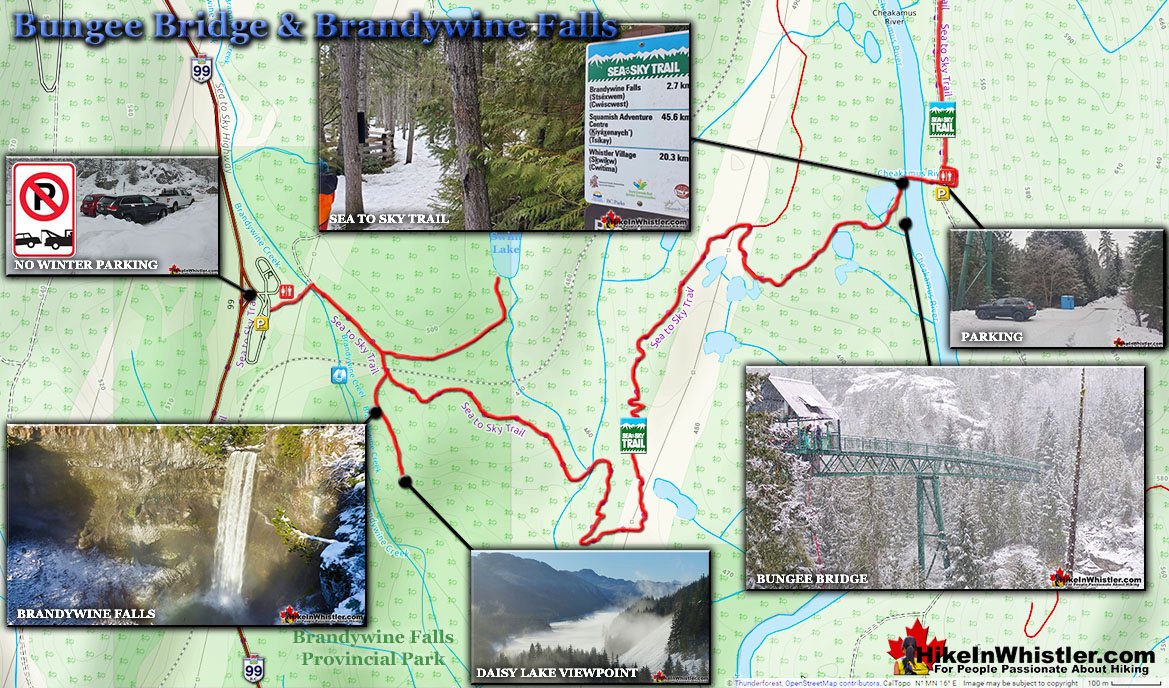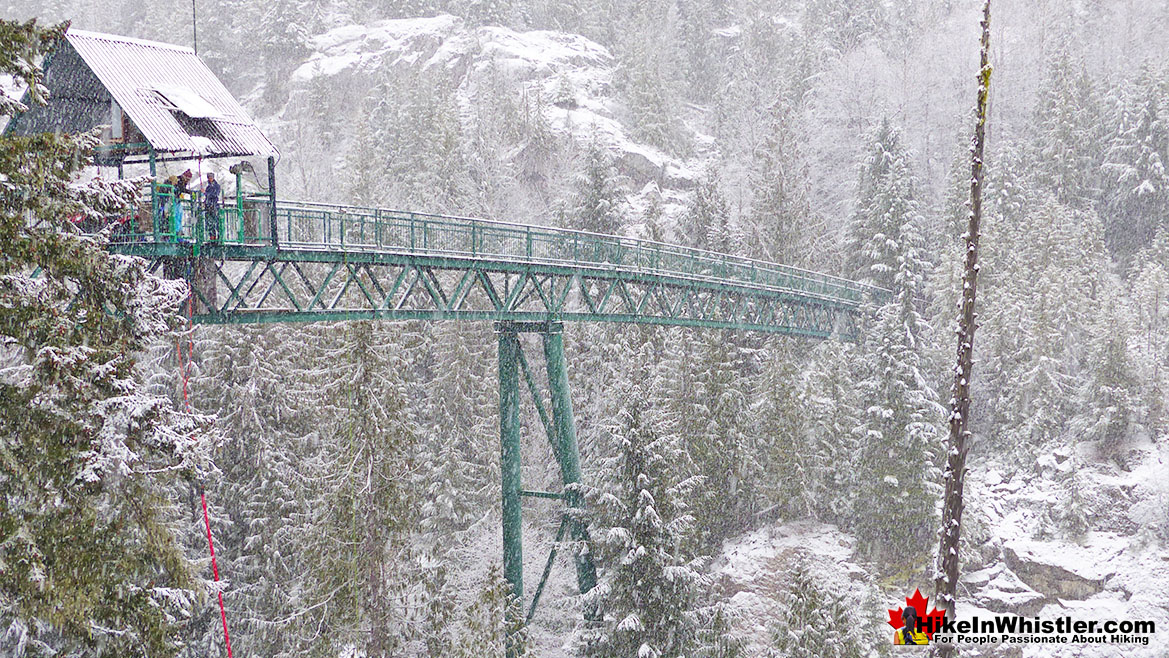 Brandywine Falls - Best Snowshoeing in Whistler
Blueberry Trail - Very Easy to Moderate, Dog Friendly

The Blueberry Trail is a relatively unknown, though very scenic trail that ascends quickly up to a cliff viewpoint high above Alta Lake.  Geographically, the Blueberry Trail is directly across Alta Lake from Rainbow Park.  Rainbow Park can be accessed from either end via the neighbourhoods of Whistler Cay at the end of Crabapple Drive, or in Alta Vista at the end of St Anton Way.  Either trailhead is just a five minute drive from Whistler Village and both are conveniently close to Whistler's Valley Trail.  If it has not snowed heavily in the last couple days, you will likely not need snowshoes for the Blueberry Trail as the snow will have been packed down by others.  Blueberry Park gets its name from the hill that rises above it named Blueberry Hill.  So well hidden that you won't find either trailhead unless you search for them despite being on all the maps in Whistler.  The trailheads do have small trail signs and once you are on the trail it is easy to follow, even in deep snow.  Though at times steep, the trail is short.  The high point of the trail, about midway, is only 1.2k from either trailhead.  There is a small clearing at the edge of quite a high cliff that is a great vantage point to the lake.  People skating, cross country skiing or walking appear as little black dots scattered across the frozen lake.  As snowshoeing trails go, this one is a great, fun, short workout to a beautiful vantage point.  Dogs are allowed here as well.  Blueberry Park is a very scenic park on Alta Lake that most Whistler locals don't even know about.  If you have been to Rainbow Park you would have noticed four piers across Alta Lake surrounded by forest.  These public piers sit along the edge of Blueberry Park, with the Blueberry Trail running from one side of the forest to the other.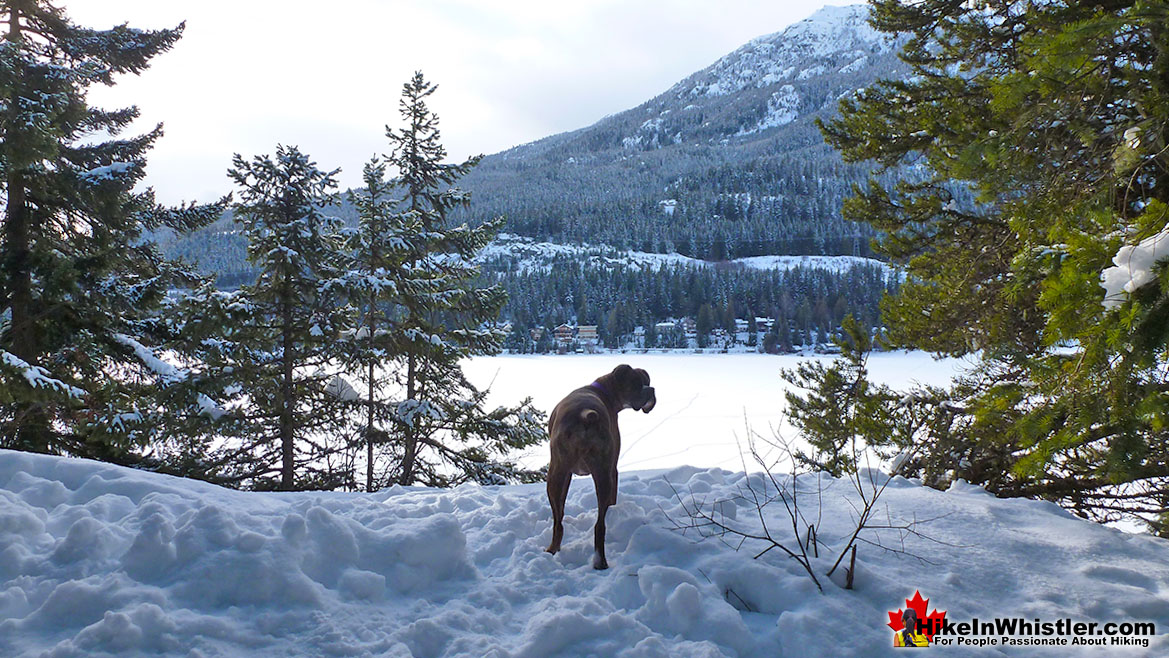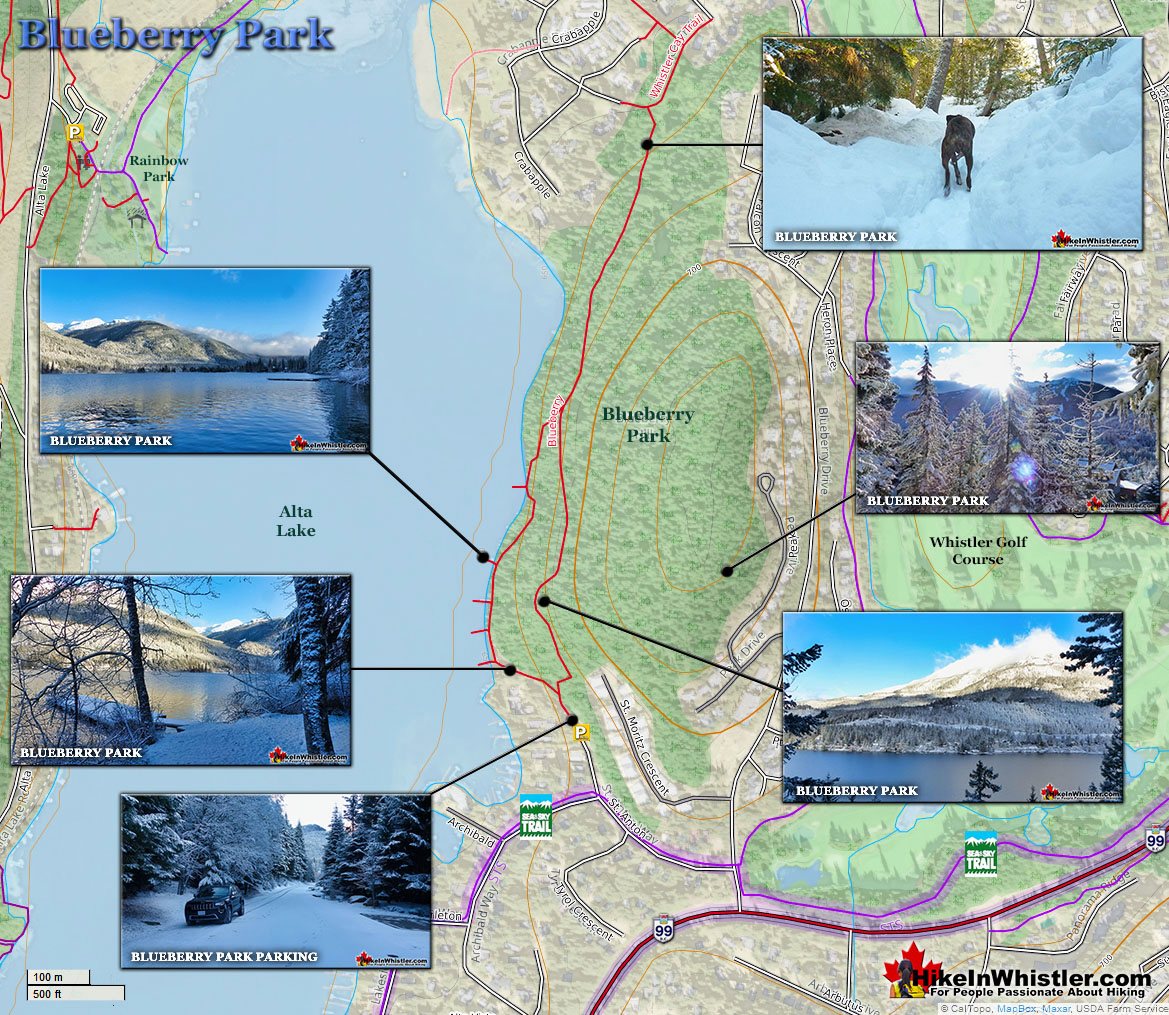 Blueberry Trail - Best Snowshoeing in Whistler
Cheakamus River - Easy to Moderate, Dog Friendly

Cheakamus River is a beautiful, crashing, turquoise coloured river that flows from Cheakamus Lake, through Whistler Interpretive Forest at Cheakamus Crossing, then down past Brandywine Falls to Daisy Lake.  Also a popular kayaking route, the main attraction to Cheakamus River is the wonderful and quite extensive network of hiking and biking trails that run along either side of it.  The Riverside trail and the Farside trail run on either side of Cheakamus River and connect at both ends by bridges.  Connecting to the Riverside trail is the short trail to Logger's Lake, which in turn is surrounded by more hiking and biking trails.  The Lake Loop trail, Crater Rim trail, the Ridge trail, Upper Ridge trail, and the Lower Ridge trail.  On the Farside trail along Cheakamus River you can connect to Cheakamus Road(gravel road) and hike 6 kilometres up to the Cheakamus Lake trailhead.  On the other side of the neighbourhood of Cheakamus Crossing, which Cheakamus River bends around keeping the Sea to Sky Highway and train tracks on its opposite side, you find still more hiking and biking trails.  Trash trail hugs the river all the way to the beautiful bridge to Whistler Train Wreck.  Or, continue past the bridge to connect with the Sea to Sky Trail.  For the most part, however, if you are talking about the Cheakamus River trails you are likely talking about the Farside and Riverside trails in Whistler's Interpretive Forest.  Eight kilometres south of Whistler Village and surrounding the recently constructed neighbourhood of Cheakamus Crossing is Whistler Interpretive Forest.  This beautiful forest surrounds the Cheakamus River and has been cut and replanted in several areas in the past decades. Hiking and biking trails have sprung up over the years making the area a wonderful place to explore. Unfortunately, the Interpretive Forest is day-use only, no camping is permitted.  The main highlights of the Interpretive Forest are the Cheakamus River trails, and the extraordinary Logger's Lake.  Logger's Lake, just a short hike from the Cheakamus River suspension bridge, sits within a 10000 year old, extinct volcano and is a hiking destination on its own.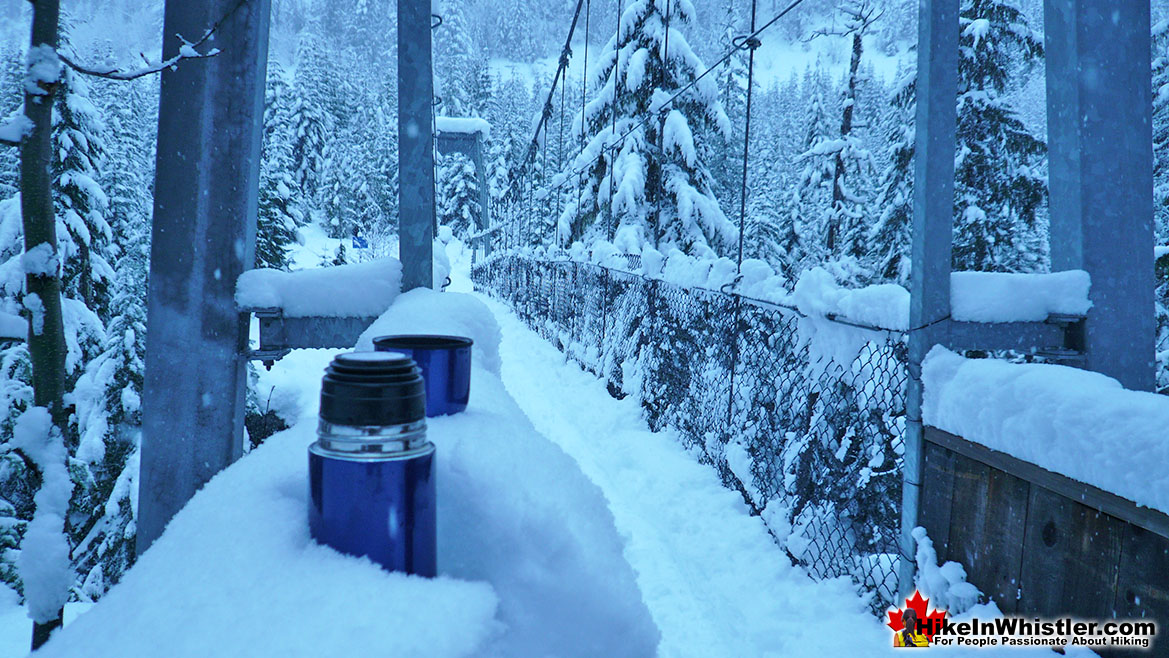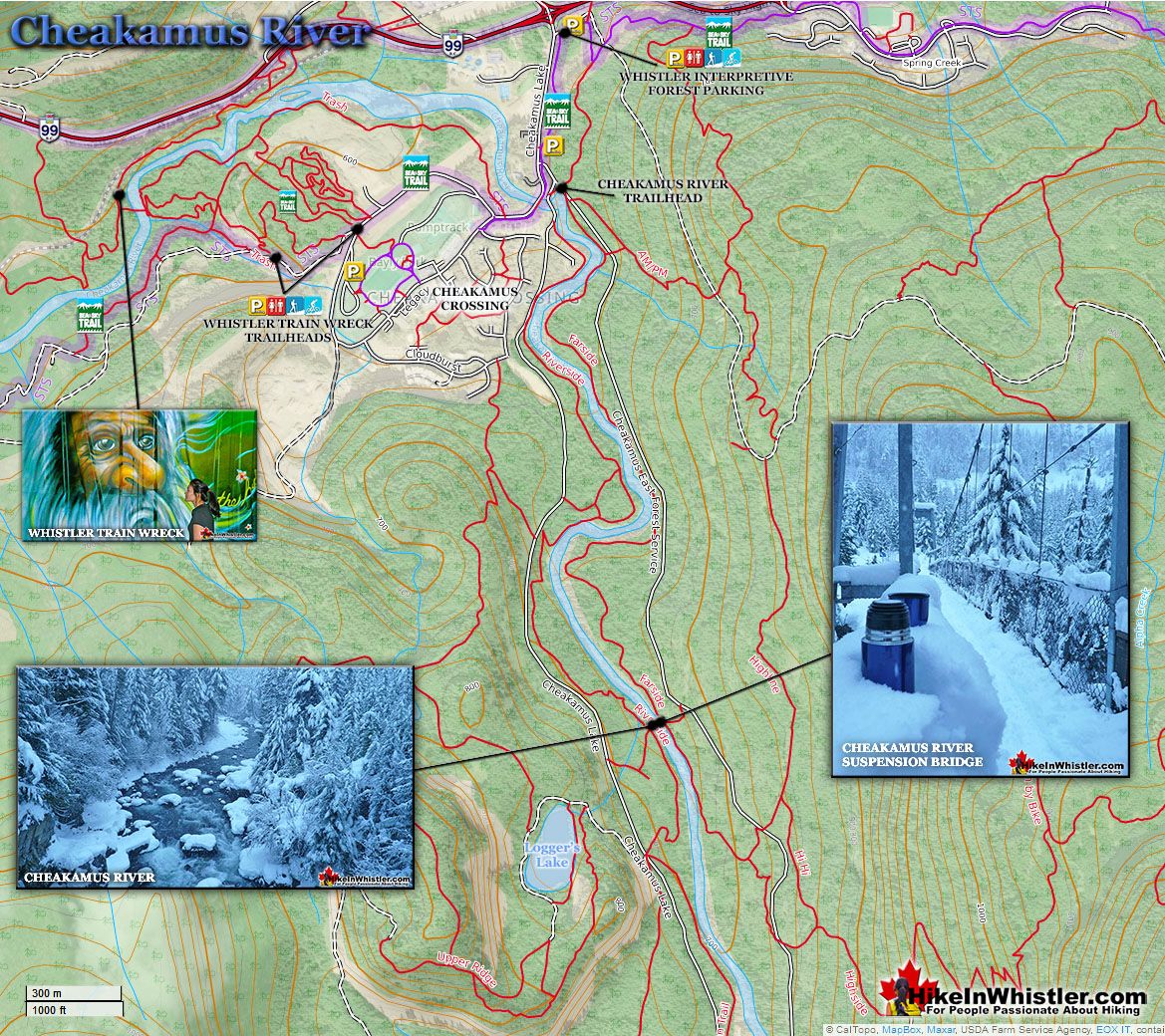 Cheakamus River - Best Snowshoeing in Whistler
Flank Trail - Moderate, Dog Friendly

Hiking and biking trails are so abundant in Whistler that many go unnoticed, neglected or taken for granted.  The Flank Trail is one of these.  Most people in Whistler don't even know about it, but the ones that do, love it.  Officially known as the Rainbow-Sproatt Flank Trail, it runs the length of Whistler Valley, opposite Whistler Mountain and Blackcomb Mountain, and connects to dozens of hiking, snowshoeing and biking trails.  At roughly the mid point of the Flank Trail you will come to a small, overlapping section of the Rainbow Trail, near Rainbow Falls.  From Whistler Olympic Park to the Rainbow Trail, you will have hiked halfway around Mount Sproatt.  The Flank Trail seems to terminate at the Rainbow Trail, however a small sign directs you to turn right, follow the Rainbow Trail, for a couple hundred metres, then left after the water treatment building to the beautiful bridge over 21 Mile Creek.  A beautiful way to access the Flank Trail on snowshoes or on foot any time of the year is via the Rainbow Trail near Rainbow Park on the far side of Alta Lake.  From the road-side parking at the trailhead you are immediately plunged into deep forest, deep snow, and the sound of crashing water nearby.  The Rainbow Trail winds through the forest fairly steeply upward.  In less than a kilometre you come to Rainbow Falls crashing down through huge pillows of snow.  This little waterfall sits in a beautiful little snowy enclave that feels as though it belongs in some movie.  Deep snow, crystal clear green water cascading down from a frozen cliff.  A little, hidden paradise.  One of many in Whistler.  Further up the trail takes you to the first signs for the Flank Trail.  The Flank Trail overlaps and crosses the Rainbow Trail for half a kilometre.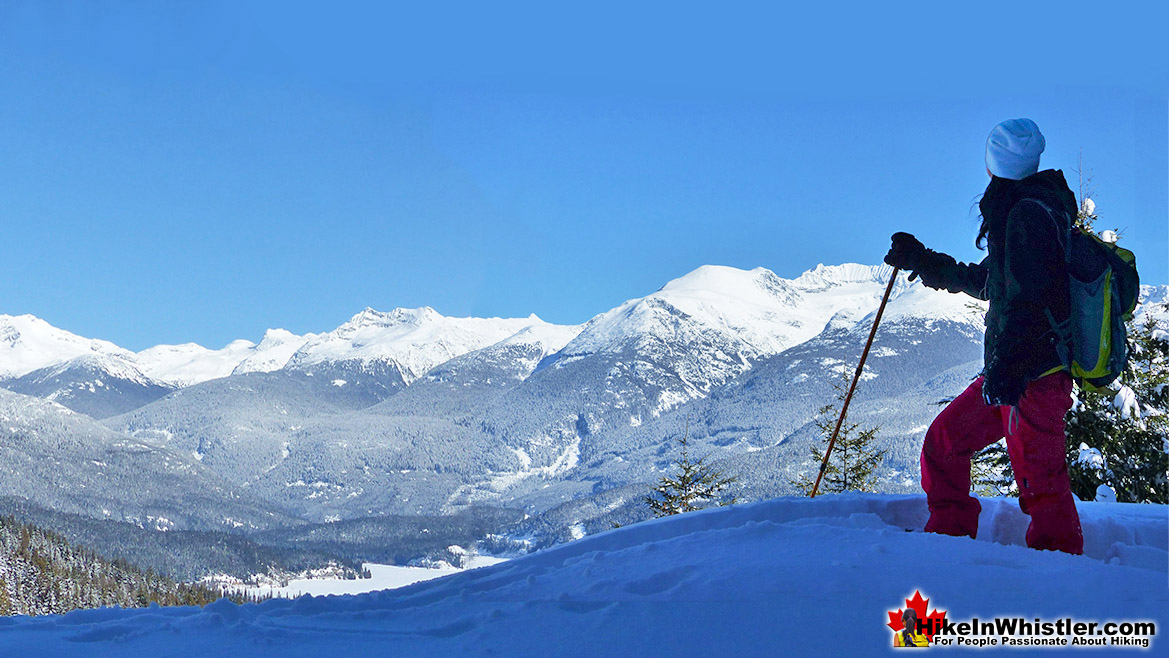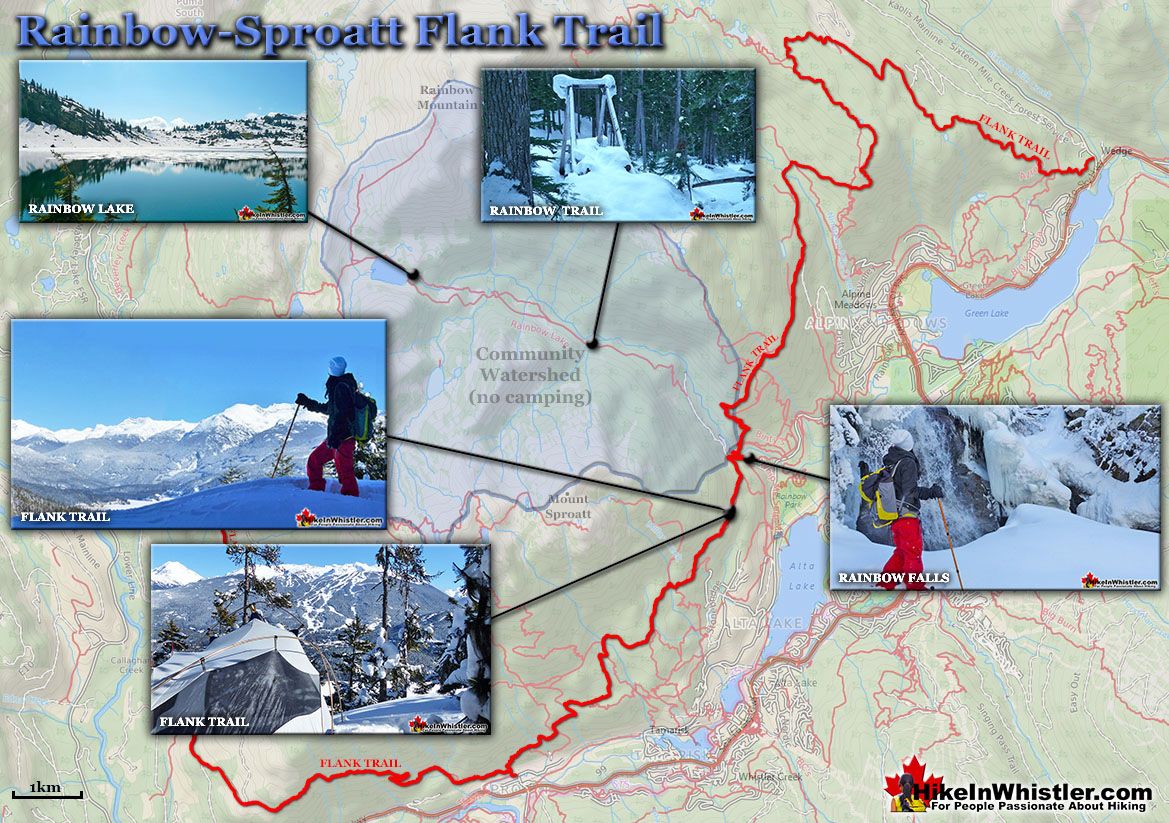 The Flank Trail - Best Snowshoeing in Whistler
Nairn Falls - Easy, Dog Friendly

Nairn Falls Provincial Park is located just a twenty minute drive north of Whistler Village.  There is a nice, relaxing 1.2 kilometre hiking/snowshoeing trail that runs along Green River to a gorgeous viewing area in the midst of Nairn Falls.  The popular trail is actually hike-able year-round, so you most likely will not need your snowshoes unless there has been lots of new snow in the last couple days.  The trail is well marked and doesn't gain any significant elevation, making it a very easy, kid friendly trail.  The viewing area is located within a bend in the falls/river and the churning waters rushes around where you stand, far below.  The water crashes through deep cuts in the rock and rushes into deep, green pools.  There is a wonderful sign depicting how the area was formed over thousands of years.  A short side trail from the main viewing area takes you over to an abrupt edge, where you can look down on the Green River below.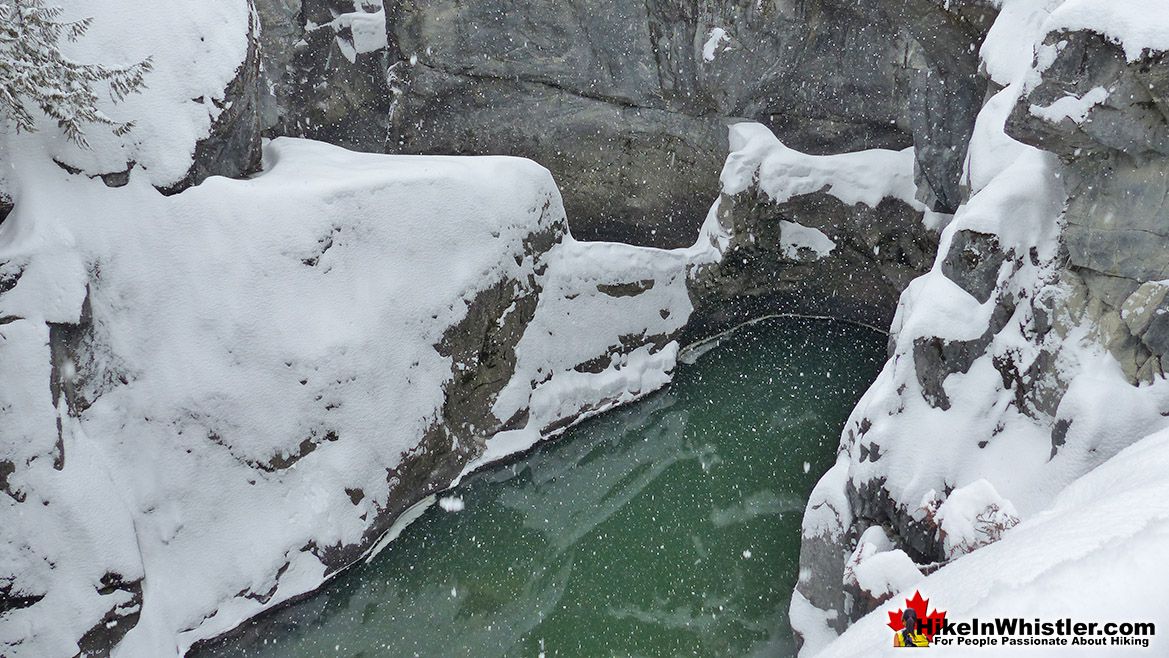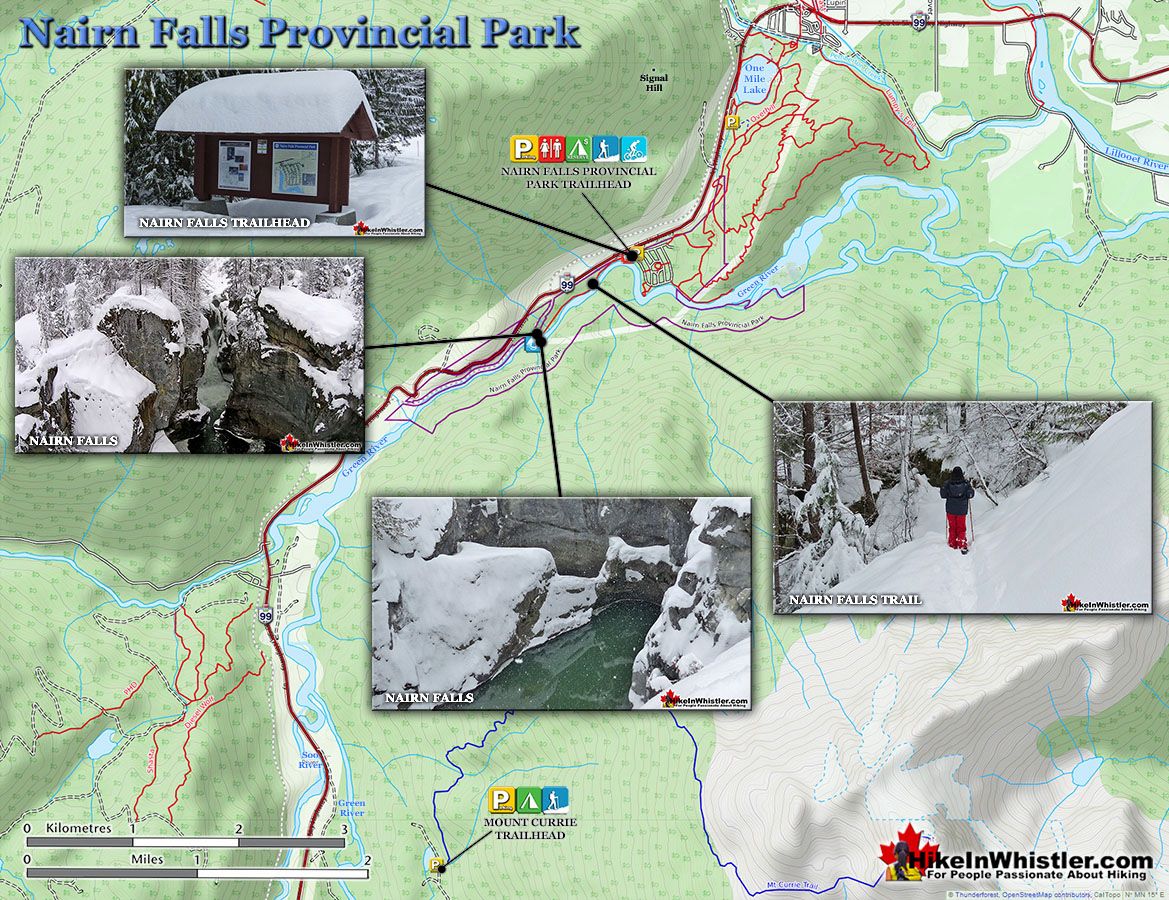 Nairn Falls - Best Snowshoeing in Whistler
Taylor Meadow - Challenging and Long Trail

Taylor Meadows, in Garibaldi Provincial Park is an amazing place to snowshoe in the winter near Whistler.  Beautiful snowy meadows surrounded by mountains everywhere you look.  Black Tusk towering in the distance so close and blanketed in wonderful, beautiful snow.  Garibaldi Lake is accessible as well on this snowshoeing hike.  The Taylor Meadows trail forks partway up, left goes to Taylor Meadows, right to Garibaldi Lake.  The trail joins again at the far side of both campsites.  Garibaldi Lake, so massive and dramatically beautiful in the winter, a huge frozen valley.  The downside to this hike is the length of hiking to get to the beautiful parts.  In the summer it's not so bad as the trailhead is a moderately difficult 9 kilometre hike from Garibaldi Lake.  In the winter however, the same 9 kilometres is considerably more strenuous as you have the added weight of winter gear and clothing.  In the past you also had to snowshoe up an additional 2 kilometres because the access road was never plowed to the trailhead parking lot.  In the winter of 2020/2021 BC Parks finally relented after considerable public pressure to plow the access road during the snowy winter months.  **2021/2022 winter season BC Parks has stopped plowing the access road to Rubble Creek.  If you snowshoe the beautiful route to Taylor Meadows and return via Garibaldi Lake the route is 21 kilometres long and very strenuous as a one day snowshoe trip.  Camping at either Taylor Meadows or Garibaldi Lake are great options if you can stand the cold and are well prepared for winter camping.  If you plan to do this trip in one day be sure to leave very early and be well equipped for winter hiking.  In the winter the days are very short so always have lights with you.  Although the trail will likely be tracked out by previous hikers and skiers, having a gps is an excellent backup in case you lose the trail. Taylor Meadows - Best Snowshoeing in Whistler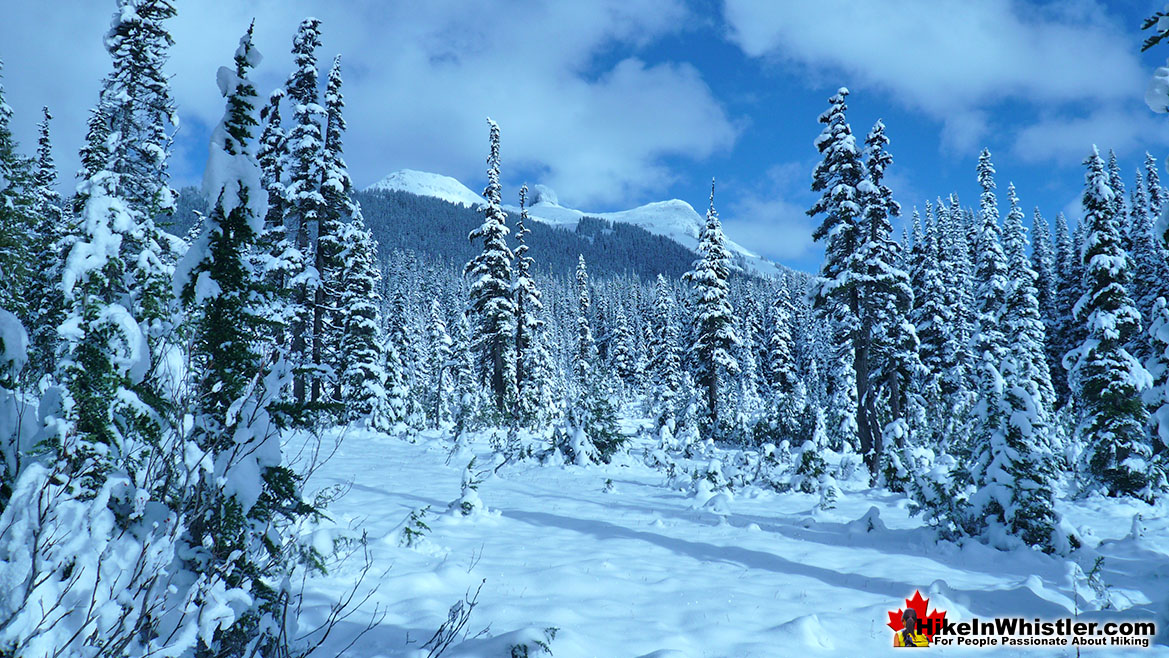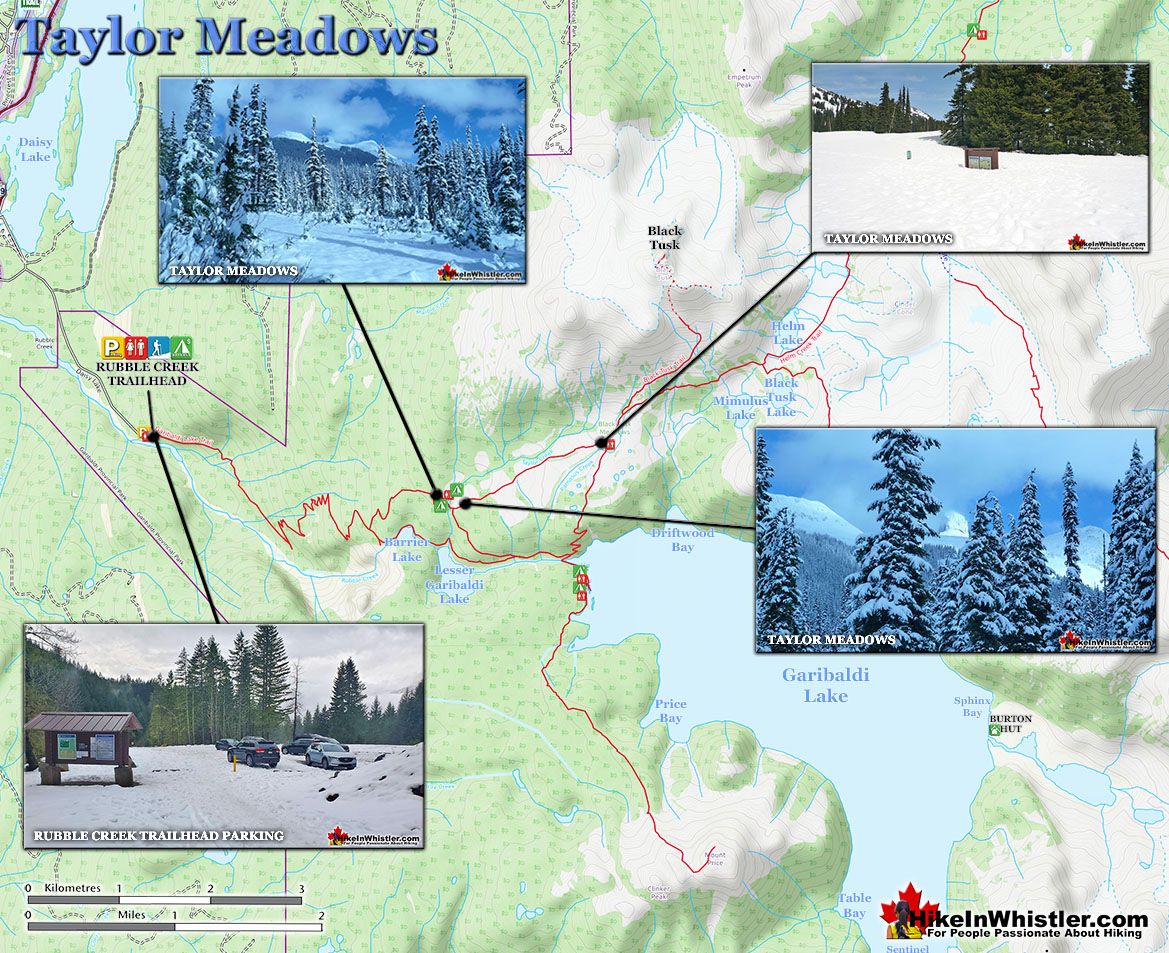 Taylor Meadows - Best Snowshoeing in Whistler
Rainbow Lake - Challenging and Long Trail

The Rainbow Trail is a convenient and popular trail near Whistler Village that takes you to Rainbow Lake as well as the Rainbow Sproatt Flank Trail, Rainbow Falls, Hanging Lake, Madeley Lake, Beverley Lake, Rainbow Mountain... and even Whistler Olympic Park if you are determined.  It is a consistently uphill and very beautiful trail with several water (bridge) crossings and waterfalls on the way to the picture-perfect lake.  Rainbow Lake is a tough and beautiful 8 kilometre snowshoeing trail high up in the mountains across the valley from Whistler Mountain and Blackcomb Mountain.  The trail is generally well marked and easy to follow, however some sections are tricky to follow as the heavy snow bends the bushes down obscuring the trail.  The trail is a constant, fairly steep ascent and you may notice ski tracks along the route.  A somewhat popular skiing attraction in Whistler is to get heli-dropped on Rainbow Mountain and skiing back to Whistler.  Rainbow Falls is a nice detour near the beginning of the Rainbow Lake trail. When you come to the small water purification building you will see a distinct fork in the trail and a sign directing you to Rainbow Lake turn left.  If you go right however, in just a few hundred metres you will come to the beautiful Rainbow Falls as well as a nice picturesque bridge over the river.  You of course have to backtrack to get back to the Rainbow Lake trail.  Though Rainbow Lake is only 8k from the trailhead, on snowshoes it will likely take nearly four hours to get there.  You can snowshoe around up there for quite a while so you have to be careful with the time as in the winter months the sun goes down well before 5pm.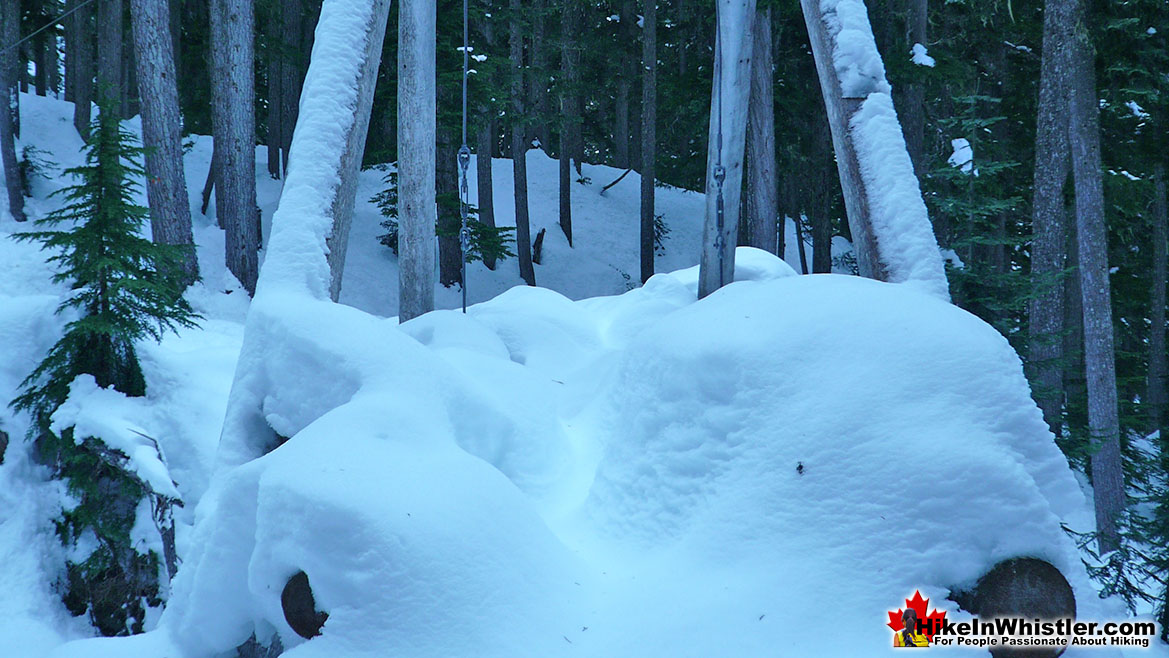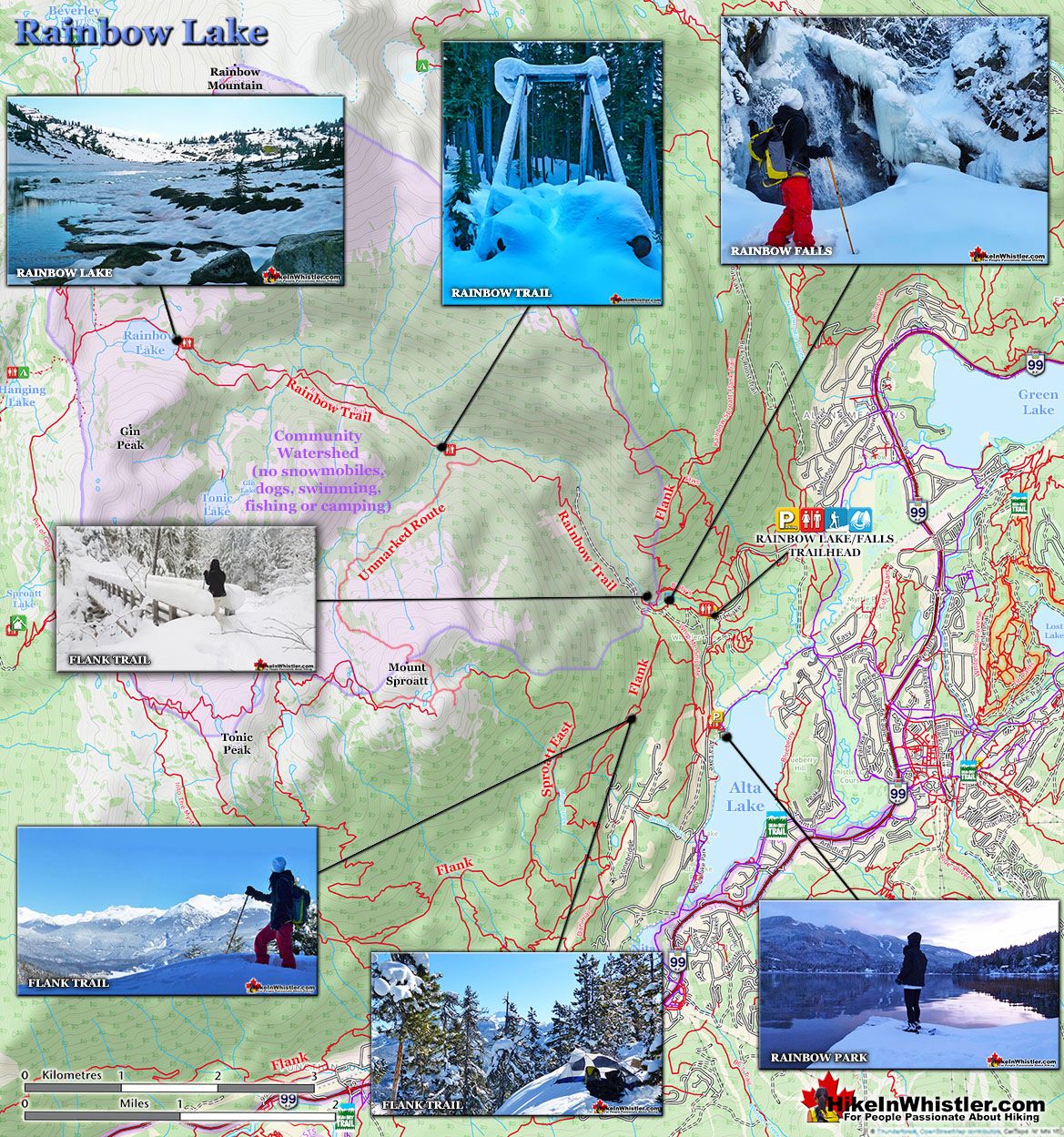 Rainbow Lake - Best Snowshoeing in Whistler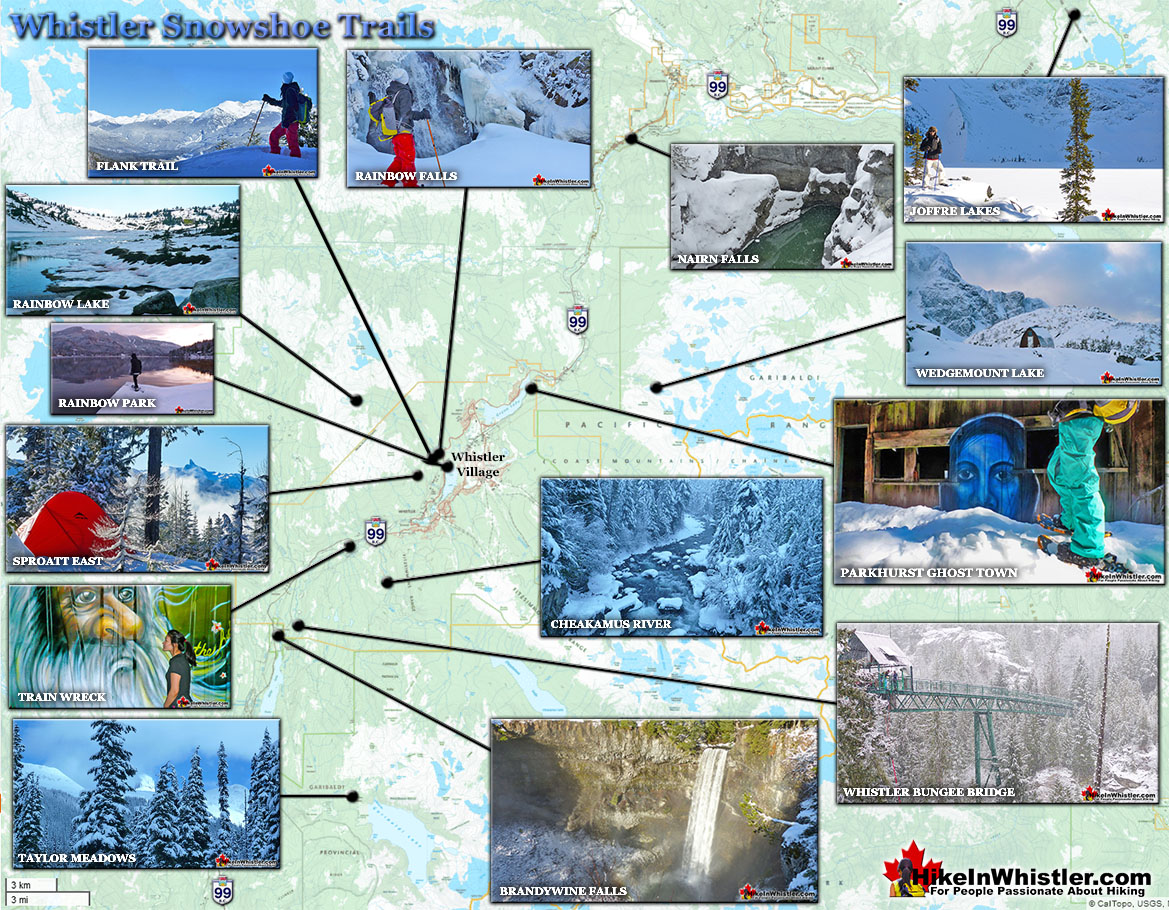 Whistler's Best Snowshoe Trails!
Whistler & Garibaldi Park Best Hiking by Month!

Explore BC Hiking Destinations!