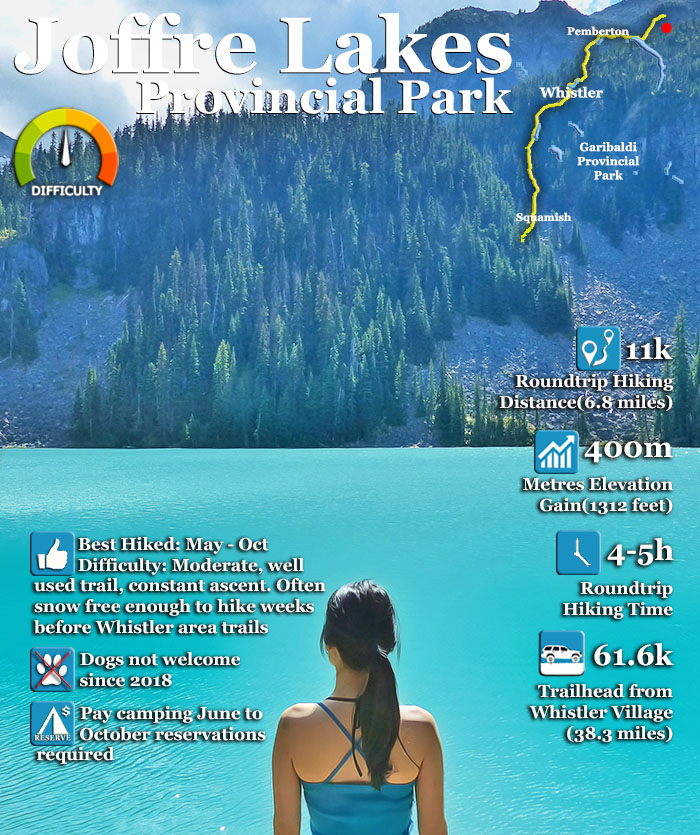 Joffre Lakes Provincial Park is a gorgeous park with extraordinarily coloured lakes, waterfalls, stunning mountain peaks and ominous glaciers pouring into the valley.  Joffre Lakes is one of those incredible places that makes it hard to take a boring picture.  The three Joffre Lakes are some of the most stunning lakes you are likely to ever see.  Each lake gets progressively more beautiful and impossibly turquoise from one to the next.  
Very scenic drive to get there from Whistler
Shorter & less challenging than most other trails
Three amazing lakes to marvel at their colour
The campsite is in a very natural setting, few signs
Becomes free of snow & hikeable as early as April
Alpine terrain extends in many directions
One tent site is on an island!
Stunning glacier looms above the campsite
No longer dog friendly as of summer 2018

Overcrowded much of the summer with hikers
Whistler & Garibaldi Hiking

Alexander Falls  

Ancient Cedars  

Black Tusk  

Blackcomb Mountain  

Brandywine Falls  

Brandywine Meadows  

Brew Lake  

Callaghan Lake  

Cheakamus Lake  

Cheakamus River  

Cirque Lake 

Flank Trail 

Garibaldi Lake 

Garibaldi Park 

Helm Creek  

Jane Lakes 

Joffre Lakes  

Keyhole Hot Springs  

Logger's Lake  

Madeley Lake  

Meager Hot Springs 

Nairn Falls  

Newt Lake 

Panorama Ridge 

Parkhurst Ghost Town 

Rainbow Falls  

Rainbow Lake 

Ring Lake  

Russet Lake  

Sea to Sky Trail 

Skookumchuck Hot Springs  

Sloquet Hot Springs 

Sproatt East 

Sproatt West  

Taylor Meadows  

Train Wreck  

Wedgemount Lake  

Whistler Mountain

January 

February 

March 

April 

May 

June 

July 

August 

September 

October 

November 

December
By the third lake the intense colour is breathtaking. The mighty Matier Glacier rises above and beyond the third lake, making the experience even more spectacular with such a looming presence.  Located an hours drive north of Whistler in the vast wilderness of mountains split by the Duffy Lake Road.  Expect to take an hour to drive the 61 kilometres to the trailhead.  There are three lakes in Joffre Lakes Provincial Park and all of them beautiful on their own.  The first lake, Lower Joffre Lake is just steps from the parking lot/trailhead and the views are already fantastic.  It has a wonderful turquoise colour that comes from light reflecting off particles of rock suspended in the glacier meltwater.  The lake is surrounded by pristine wilderness of uniformly idyllic trees.  Looking across the lake, two mountains frame a distant glacier, which looks strangely close and ominously huge.  It is the Matier Glacier which fills the steep valley above the third of the Joffre Lakes, Upper Joffre Lake, and marks the end of the trail that you just started.  Partway between Lower Joffre Lake and Upper Joffre Lake is Middle Joffre Lake.  As hiking trails go, Joffre Lakes has a lot going for it.  It is not terribly long at just 5.5 kilometres(3.4 miles).  Shorter than the trail to Garibaldi Lake which is 9 kilometres long and much shorter than the hike to Panorama Ridge which is 15 kilometres, one way!  The elevation gain is not overly taxing either at just 400 metres, compared to Garibaldi Lake at 900 metres.  Despite the relatively short trail and moderate elevation gain, the Joffre Lakes trail is quite a workout, especially if you have a heavy pack on.  There is, however, quite a lot to see on the trail.
Sights Along the Joffre Lakes Trail
All three lakes are stunning and quite different.  The first lake has a great, picture-perfect, distant glacier view.  The second lake has a wonderful boulder section flanking the lake which makes for a great place to sit in the sun and feed the cute little birds that eagerly will land on your hand if you have food for them.  The second lake has that fallen tree that extends from the shore that almost seems staged for a perfect picture opportunity.  As you continue past Middle Joffre Lake you come to a lovely, crashing waterfall, Holloway Falls.  A little further you reach Upper Joffre Lake and a series of amazing viewpoints over the impossibly coloured lake surrounded by brutally jagged mountains and Matier Glacier.
Hiking Time to Upper Joffre Lake
At a good hiking pace you will reach Upper Joffre Lake and the foot of Matier Glacier at the far side of the lake in under two hours.  Between Matier Glacier and Upper Joffre Lake is the Joffre Lakes campground.  Much like the campground at Wedgemount Lake, the Joffre Lakes campground is mostly invisible.  There are 26 tent site clearings near the edge of the lake, however, they blend into the jagged, uneven terrain that you only see them when you walk near one.  The clearings lay in the glacier deposited boulder field from Matier.  Giving it a hostile, chaotic looking arrangement, which contrasts with the sensational, close to perfect lake view you get from your tent.  It is quite a surreal feeling camping at Joffre Lakes.  Your tent faces a perfect, turquoise coloured lake and at your back is a marvellously surreal glacier that you can casually walk to the foot of in just minutes.  Water crashes down from the glacier behind you, providing a perfectly relaxing background to the extraordinary view.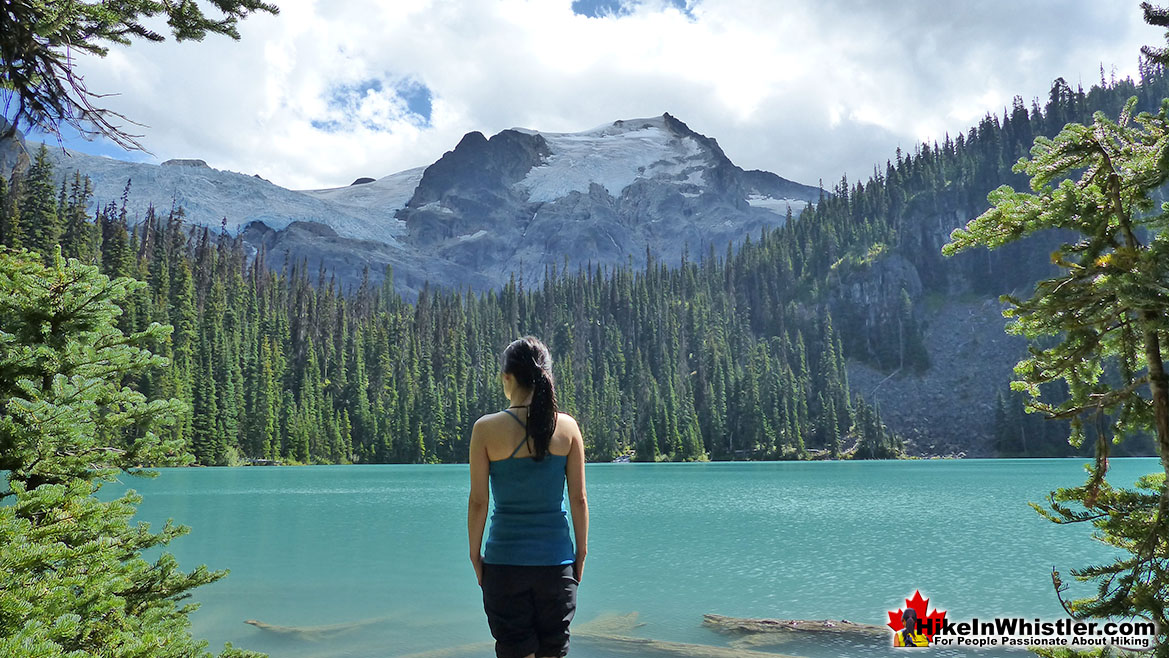 Sights on the Drive to Joffre
The inevitable result of such a beautiful place is its popularity in recent years.  Despite the distance from civilisation, hikers happily drive for an hour from Whistler, or almost three hours from Vancouver!  The driving distance is quite far, but it is quite scenic and very fun.  From Whistler you pass Green Lake, another impossibly coloured, glacier fed lake with Wedge Mountain, Blackcomb Mountain and Whistler Mountain lined up in a row!  Another fifteen minutes down the road you pass Nairn Falls Provincial Park, with its short trail to beautiful Nairn Falls.  An easy and convenient pit-stop on the way to Joffre Lakes.  Another pit-stop can be found in Pemberton, the small town on the way to Joffre Lakes.  Pemberton is your last glance at civilisation before you hit the wilderness that the Duffy Lake Road cuts between on the way to Joffre Lakes.  The 26 campsites fill up fast, and even the massively inadequate parking lot for Joffre Lakes fills up on summer days.  Massively growing populations of Pemberton, Whistler, Squamish and Vancouver as well as a sharp increase in the popularity of hiking has overwhelmed beautiful places like Joffre Lakes, Garibaldi Lake and Cheakamus Lake.  Though most visitors to Joffre Lakes are just day hikers, if you plan on camping you must reserve before you go.  The newly devised booking system for Joffre Lakes has the benefit of limiting the numbers of campers at the lake and though you might get crowds for a while, near the end of the day the exodus will move back to the parking lot.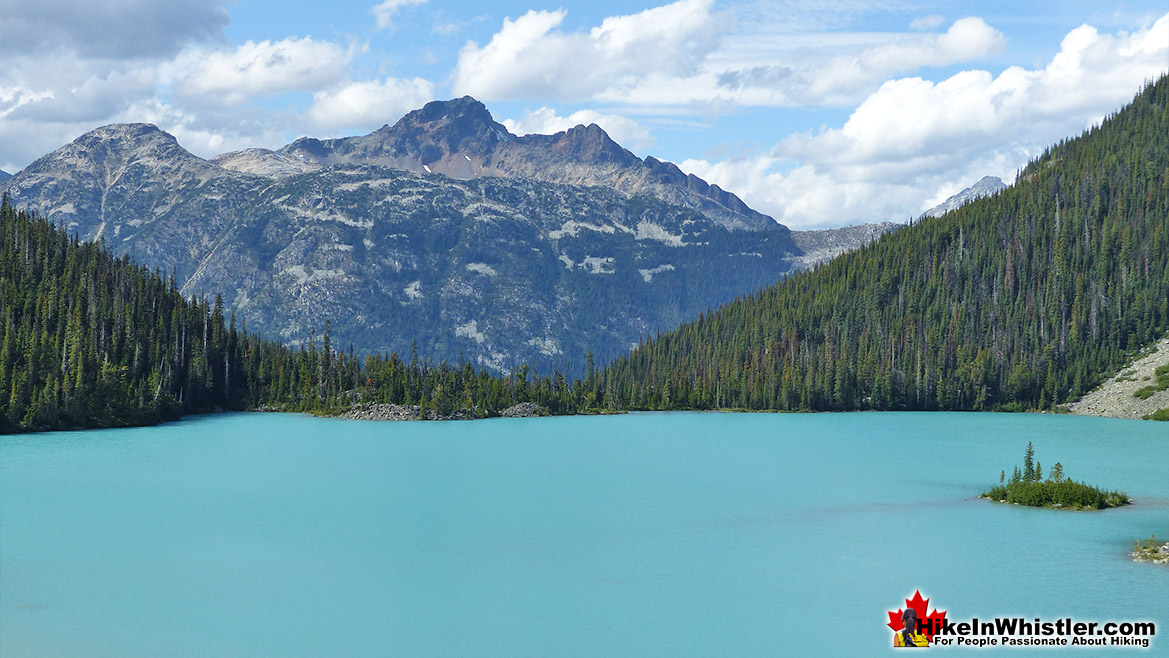 What Month is the Joffre Lakes Trail Snow Free?
With Joffre Lakes sitting high up in the mountains, most hikers wait for the snow to clear before heading there.  Usually by May, the snow is mostly gone and the lakes emerge from being frozen for months.  July and August are of course the ideal months to hike in the park, however, May, June, September and even October are arguably better in some respects.  Certainly June and September have decently warm weather and considerably fewer hikers to contend with and spoil the serenity.  May can still be somewhat busy as eager hikers get out for a new season.  October is when the weather quickly turns hostile in the mountains.  Though you won't see many other hikers on the trail, you will see frequent rainy days and painfully short days.  Another tremendous benefit to hiking outside of July and August is the lack of annoying insects.  Mosquitoes and flies can get quite annoying in the summer, though a bit of insect repellent can usually keep them away.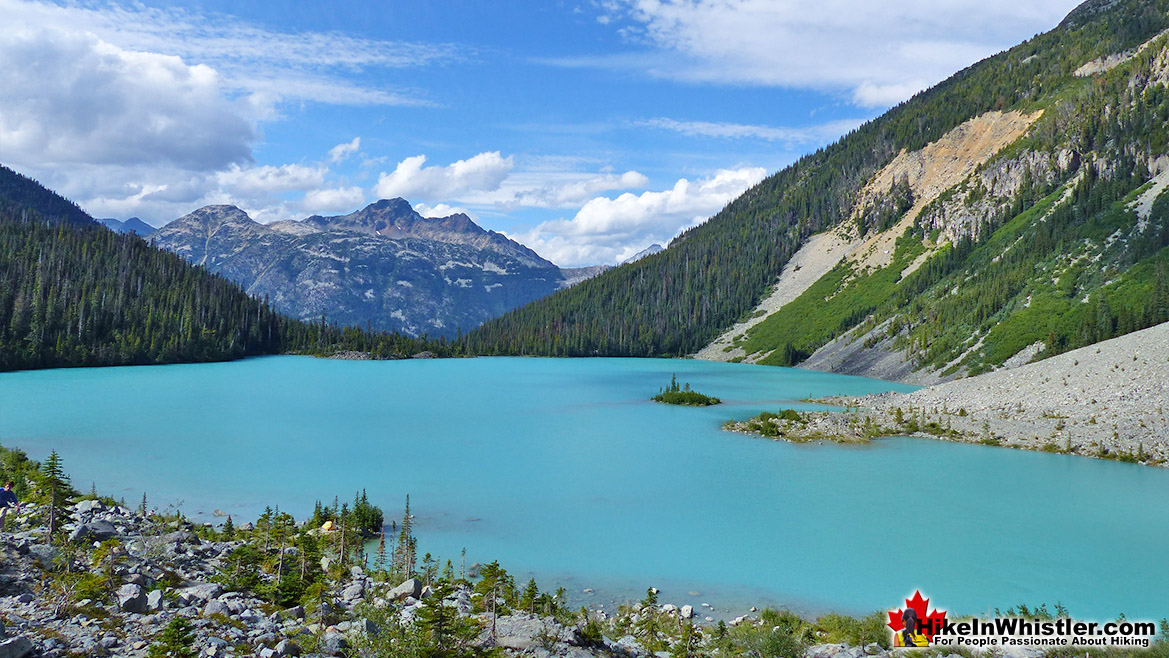 How Difficult is the Joffre Lakes Trail?
In terms of difficulty Joffre Lakes is easier than most other Whistler and Garibaldi Park hiking trails.  Wedgemount Lake, Black Tusk, Panorama Ridge, Brew Lake and Brandywine Meadows are all considerably more strenuous, steeper and longer trails.  Like the trails in Garibaldi Park and Whistler, the Joffre Lakes trail is very well marked and easy to follow.  Expect to take two or three hours to hike up and one or two hours to hike back down.  The beautiful lake views and the foot of Matier Glacier will add an hour or two of exploring.  There are a couple very challenging hiking routes that veer off from Upper Joffre Lake that take you further up in the mountains.  There is a difficult route to Tszil Mountain and Tszil Glacier as well as a route to Stonecrop Glacier.  These two connect at Slalok Mountain via the Slalok Scramble Route.  These are tough and challenging places to hike with considerably more hazards to contend with than the relatively mild Joffre Lakes trail.  Because these two routes connect at the top, you can start and finish at Upper Joffre Lake and never have to retrace your route.  A beautiful option if you are experienced, well equipped and adventurous.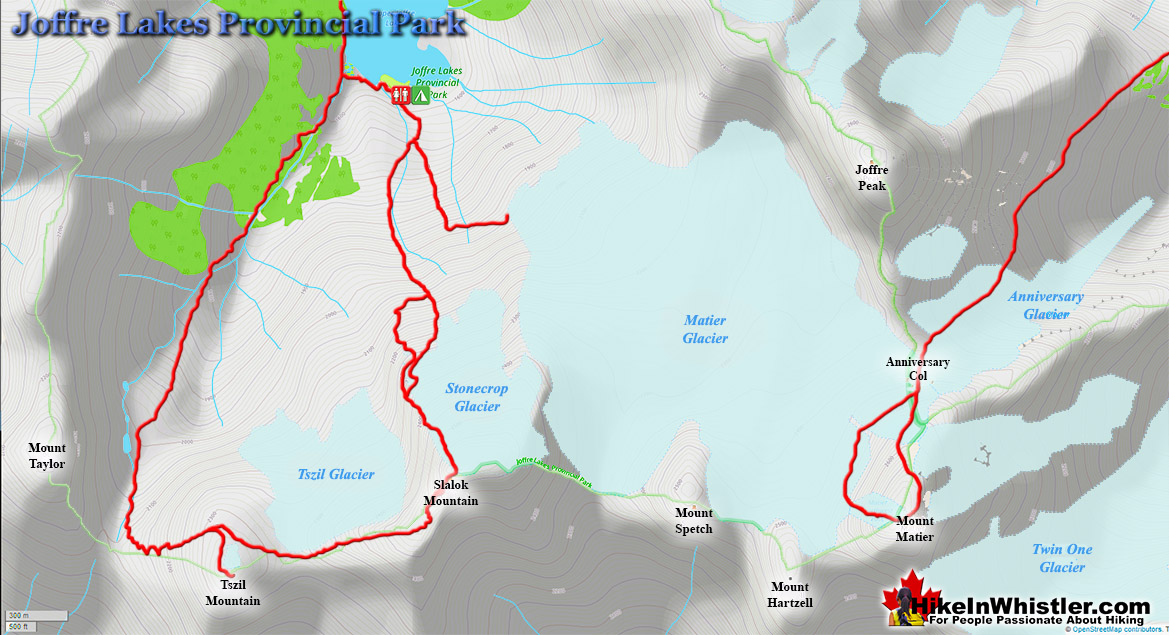 Are there Fees and Restrictions at Joffre Lakes?
Like other BC Parks Provincial Parks there is no charge to day-hike in Joffre Lakes Provincial Park or to park at the trailhead.  You only have to pay if you are camping overnight in the park between June 1st and September 30th.  The rest of the year camping at Joffre Lakes is free.  The backcountry camping permit you need to purchase before entering the park is just $5 per person, 6 years of age and older.  These have to be purchased online up to two weeks in advance(see below for more camping information).  Camping is only allowed at the 26 tent clearings at Upper Joffre Lake and you will be asked to leave the park if you are camping without a camping permit.  Joffre Lakes Provincial Park was dog friendly until recently.  As of the summer of 2018 dogs are no longer allowed in the park.  Overflow parking is also no longer allowed along the highway, only in the Joffre Lakes parking lot.  Fires are not allowed in the park and there are no garbage facilities in the park.  There are plenty of excellent fresh water sources along the trail and at the campsite.  Matier Glacier, behind/above the campsite at Upper Joffre Lakes has a gushing torrent of water continuously flowing past and into the lake.  This glacier water is about as fresh as water can ever get and though BC Parks advises boiling, filtering, or treating water before drinking anywhere in the park, doing so here would be weird.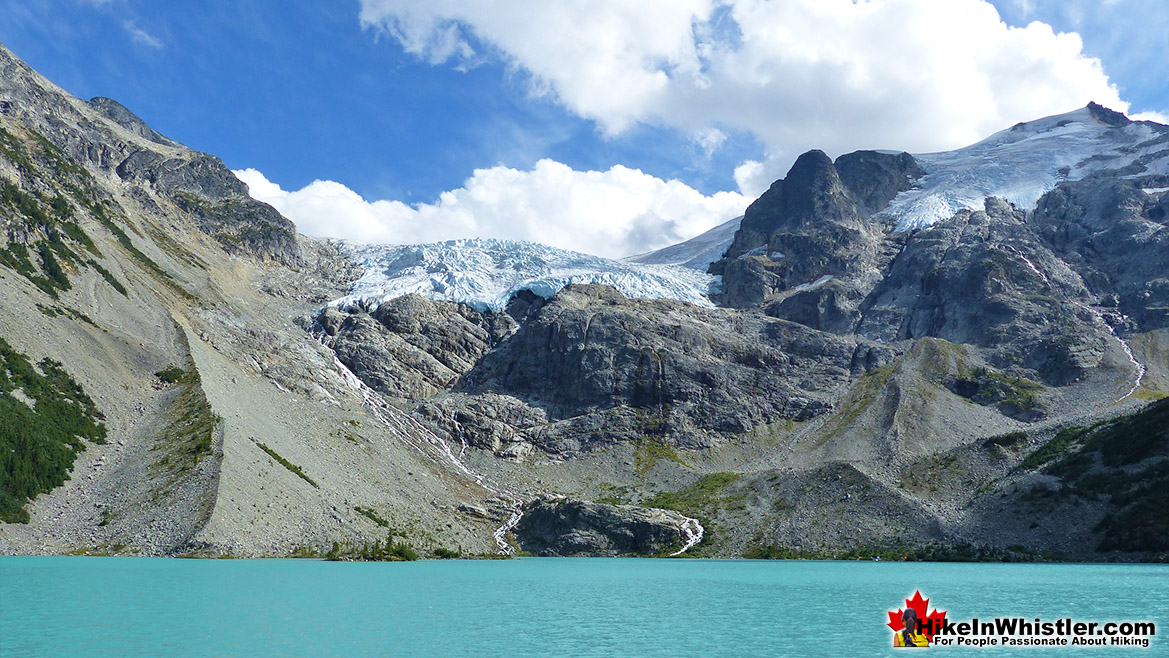 Hiking the Joffre Lakes Trail

The Joffre Lakes trail is a well defined 5.5 kilometre path that winds through deep forest, rocky boulder fields, over scenic creeks and with constantly changing scenery.  A difficult trail to find boring as you have several highlights along the way to go along with the three stunning Joffre Lakes.  The trail is not too strenuous and most hikers would characterize it as a moderately challenging hiking trail.  The relatively short 5.5 kilometre distance from trailhead to the campsite at Upper Joffre Lake takes most hikers just a couple hours.  You could call Joffre Lakes a family friendly hike, though 400 metres of elevation gain means you will have a fairly relentless, uphill hike.  Be prepared for a lot of carrying if you have very young kids coming along.  The large, but still inadequate parking lot at the trailhead is located along the Duffy Lake Road 61.6 kilometres(38.3 miles) from Whistler Village.  The parking lot has plenty of outhouses and a simple map and information board.  The trail enters the forest and immediately opens up to Lower Joffre Lake.  If you stand at the shore here on a beautiful, sunny, summer day, the lake will be a striking turquoise colour, surrounded by a beautiful, untouched forest.  The entire view offers no sign of humanity and gives you a dramatic preview of what comes further along in the trail.  Matier Glacier fills the gap between the mountains in the near distance, beyond and above the forest.  The view is amazing from here and you have just hiked for a couple minutes from your car!  Matier Glacier, you will discover when you arrive at Upper Joffre Lake is the end of the Joffre Lakes trail and home to the 26 incredibly idyllic tent clearings.  Brilliantly coloured lake in front of you and the mighty Matier Glacier behind you.  Spectacular!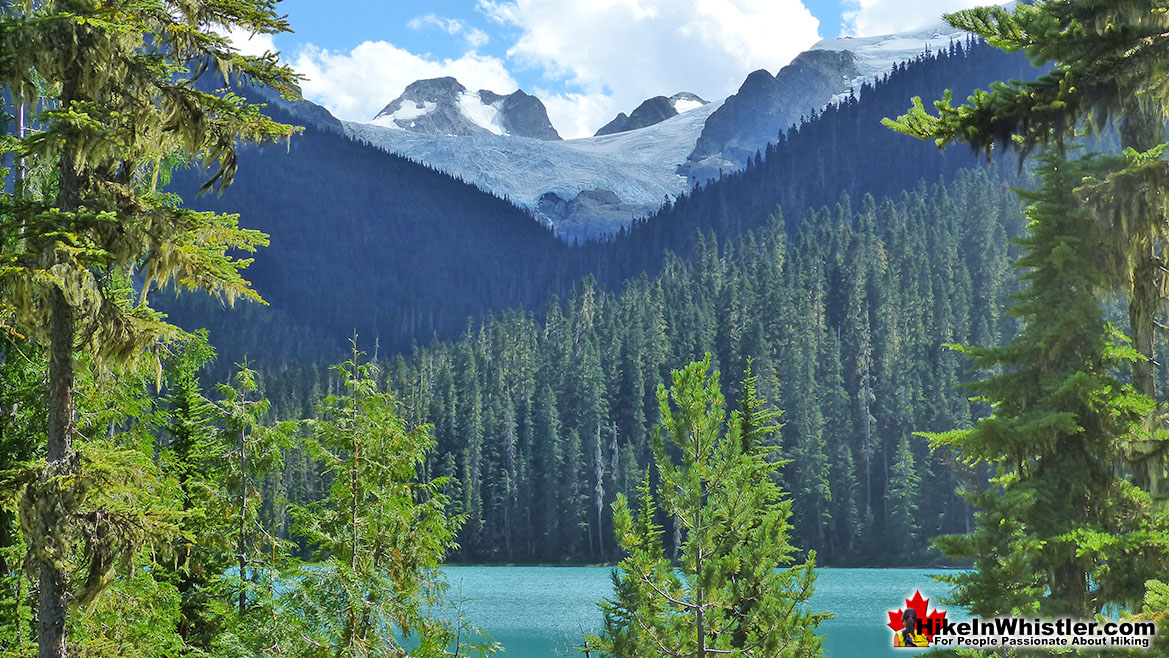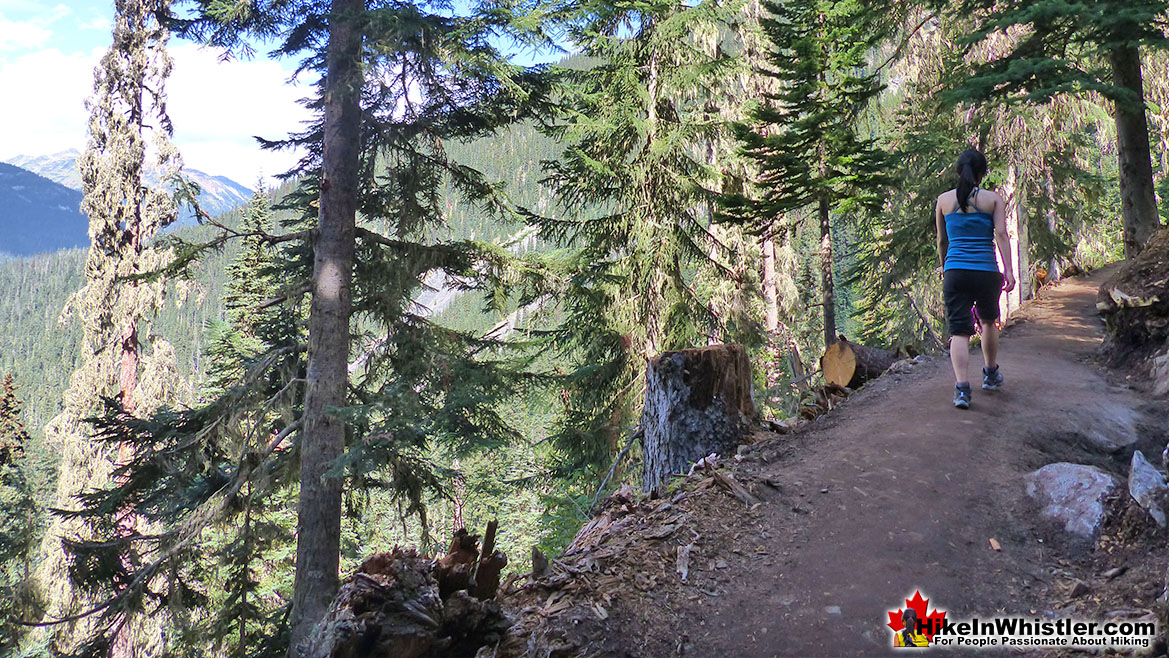 Steadily Steep Joffre Lakes Trail
The Joffre Lakes trail is rough and tricky in some parts, but not terribly difficult. It is also short compared to many Whistler area trails.  Lots of trail construction work has been done in the past few years as a new trail has replaced much of the old trail.  The amazing turquoise colours of the lakes are caused by light reflecting off of the particles of glacial silt suspended in the water.  On the trail you will immediately catch glimpses of the massive glaciers that feed these gorgeous lakes. In the winter, with the lakes frozen and the trees weighed down with snow, Joffre Lakes takes on a serene beauty, with the low sun cutting through the trees and the forest brightly reflecting. The third Joffre Lake ends in a U-shaped valley where you will find the far side of the lake towering with glaciers relentlessly crushing down on the lake.  The sun fills the valley and the silence is wonderful. At the upper, or third Joffre Lake, there are several nice, though rugged places to camp. In a hilly, lightly forested section of paradise in between the impossibly turquoise Joffre Lake and the abruptly monstrous Matier Glacier descending from Mount Matier beyond. A waterfall cascades near the camping area. The campsite has one nice and well maintained outhouse.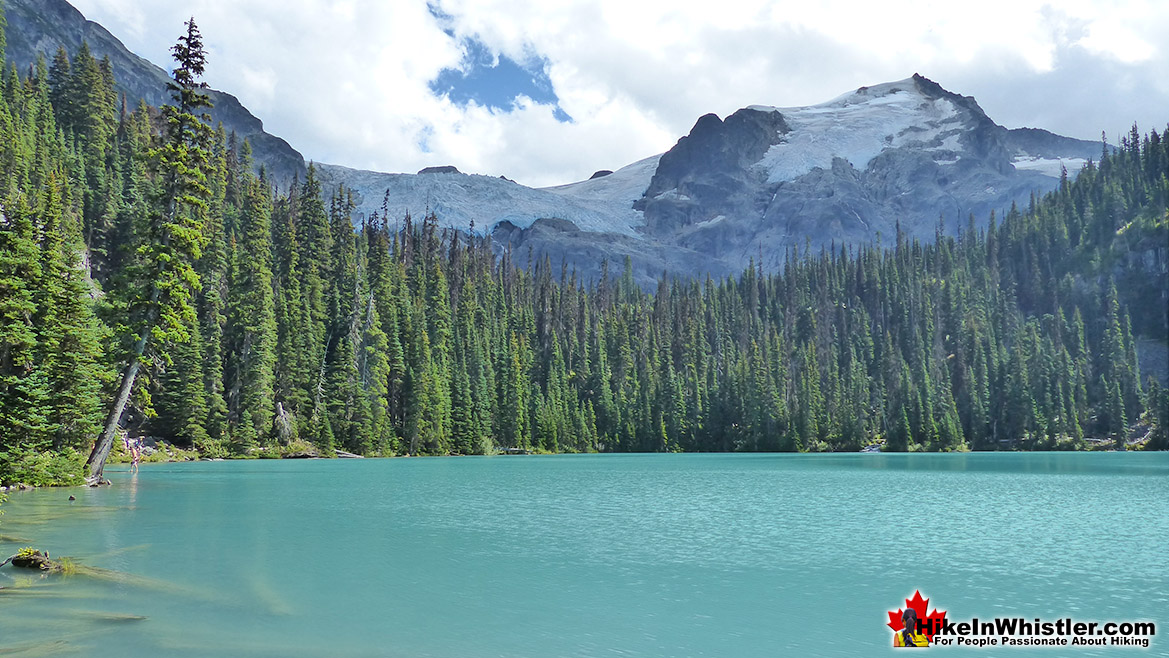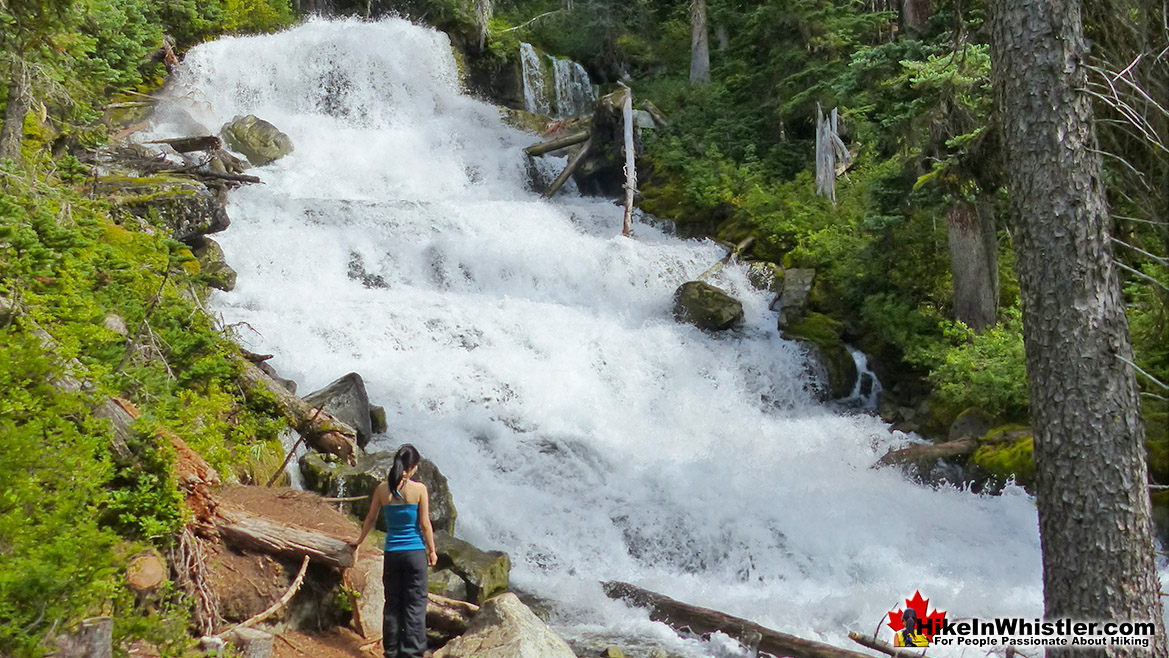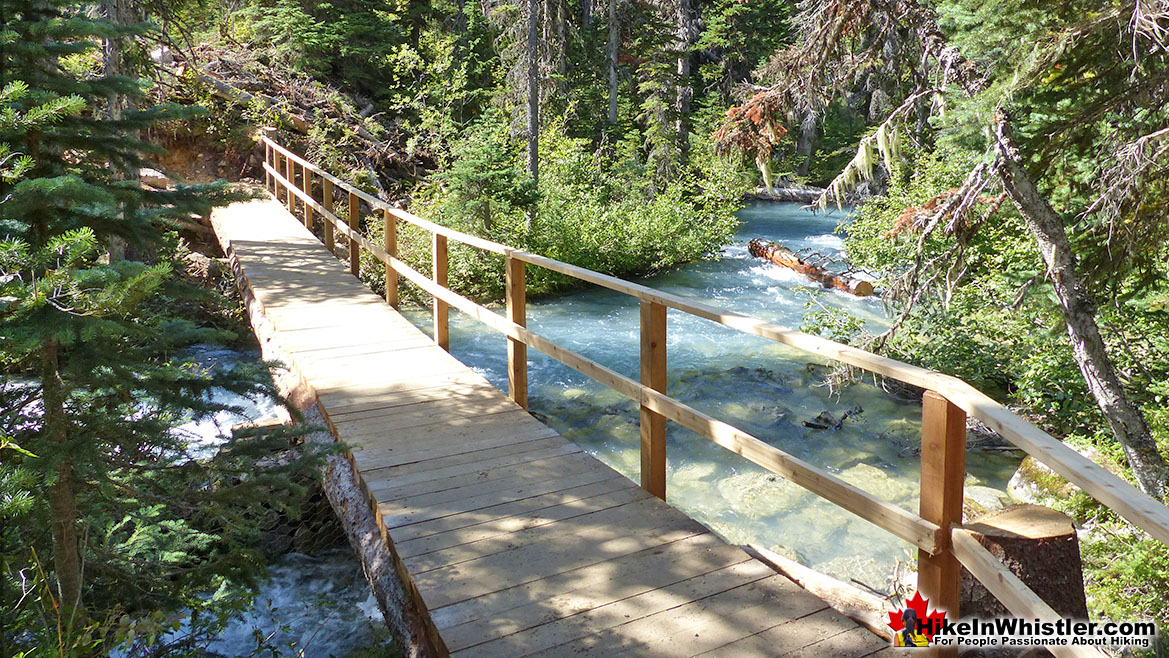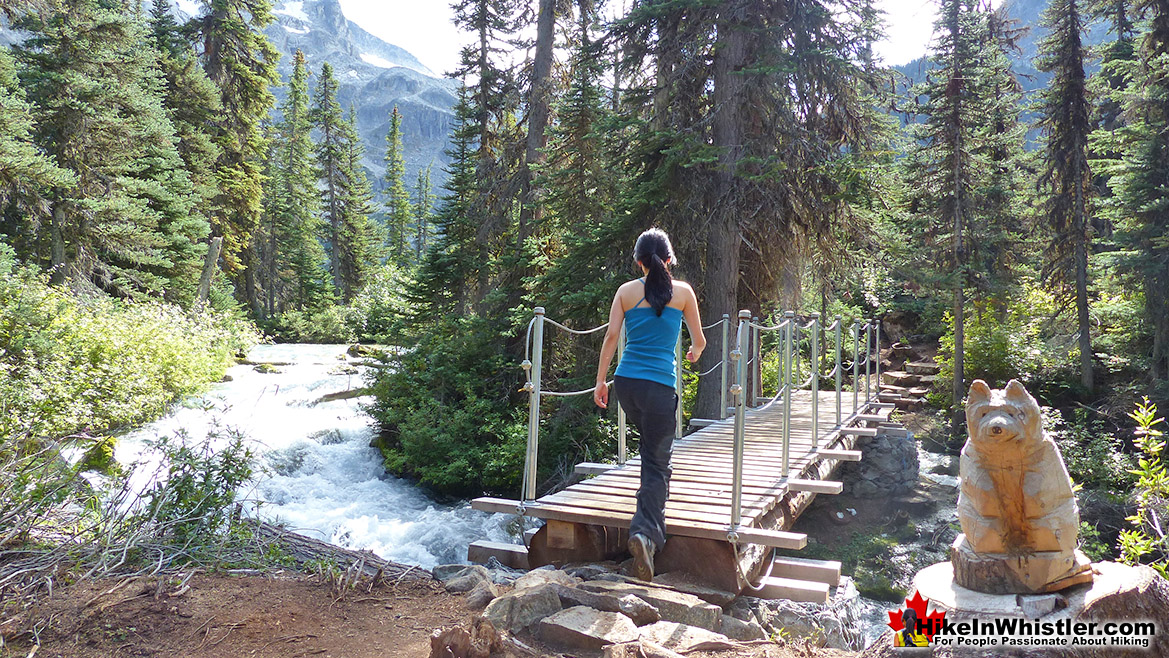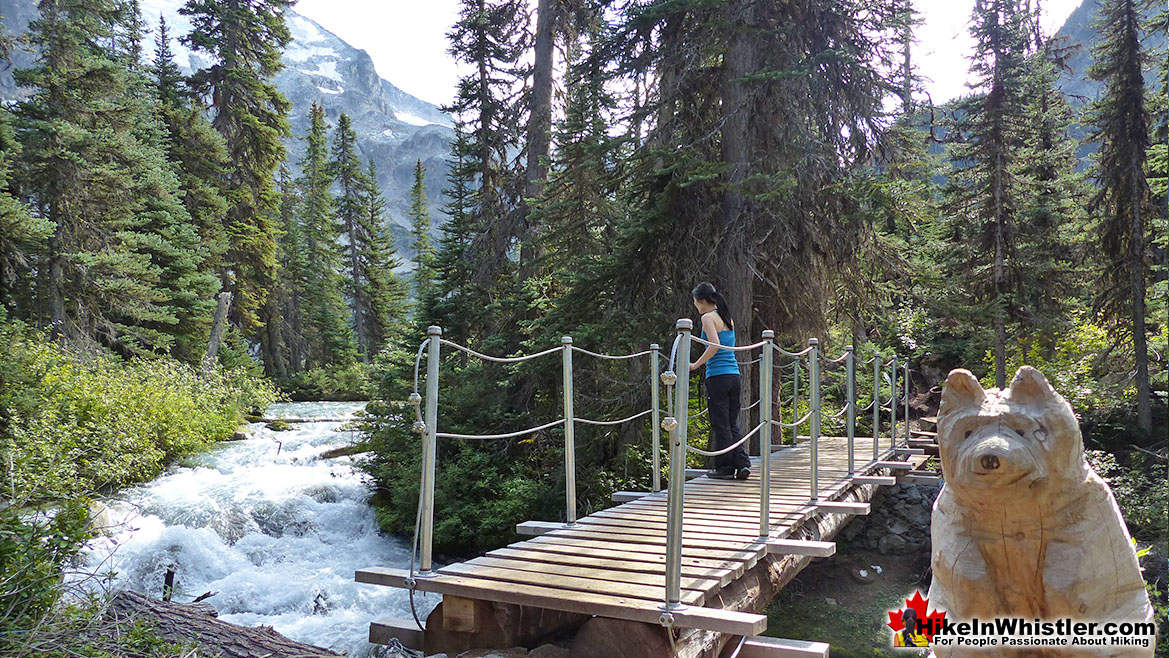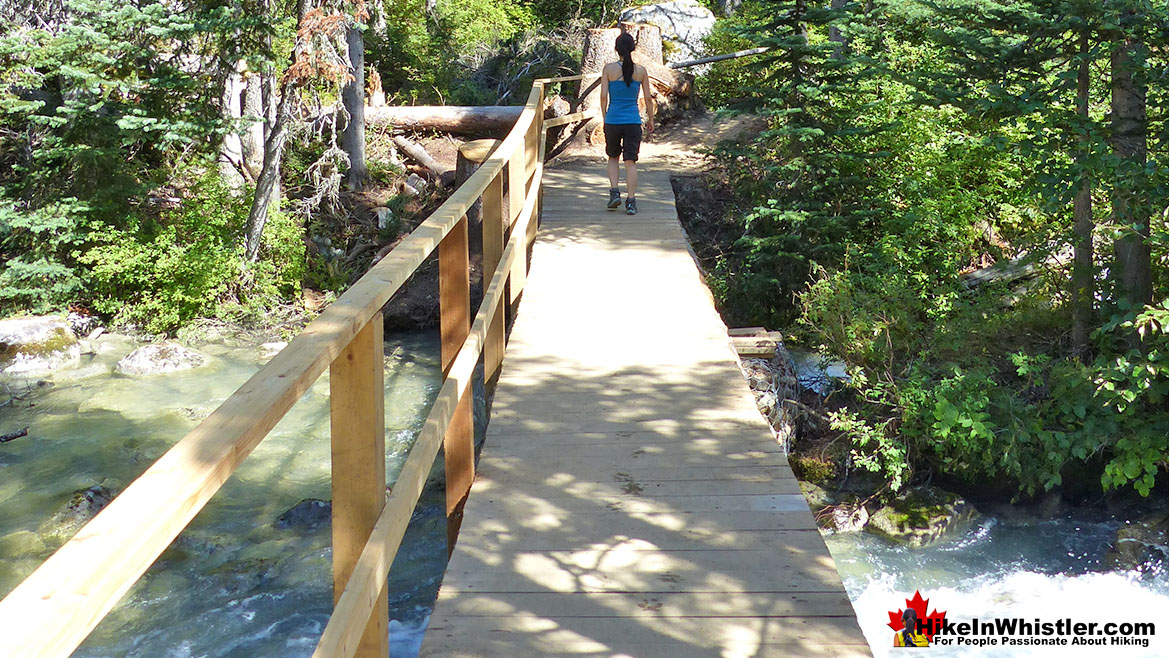 Wild and Well Laid Out Campsites at Joffre
You will notice several clearings for tents in the gravel and boulder strewn landscape. Each one barely enough room for a tent, but the ruggedness adds to the beauty of Joffre Lakes. The park is wonderfully untouched by people. With the exception of the trail, some signs, outhouse and bridges, Joffre Lakes Provincial Park is beautifully wild and picturesque. There is also a prominent helicopter pad close by as a reminder of how many injuries occur on the trail and the accessible mountains and glaciers around. There are in fact four distinct glaciers close by, Matier, Anniversary, Stonecrop and Tszil. Beyond Mount Matier there are two more, Twin One and Hartzell.  The Joffre Lakes trail is surprisingly busy most of the summer, which is a testament to how extraordinarily beautiful the lakes are, and how relatively easy the hike is. Unlike Wedgemount Lake, Black Tusk or Cirque Lake, which are to difficult for many hikers, Joffre Lakes is comparatively easy and certainly relaxing. Many hikes in the nearby Garibaldi Park are not family friendly and easy, but Joffre Lakes is.  Though the scenic drive to the trailhead from Whistler is is quite far, it is constantly interesting and part of the fun.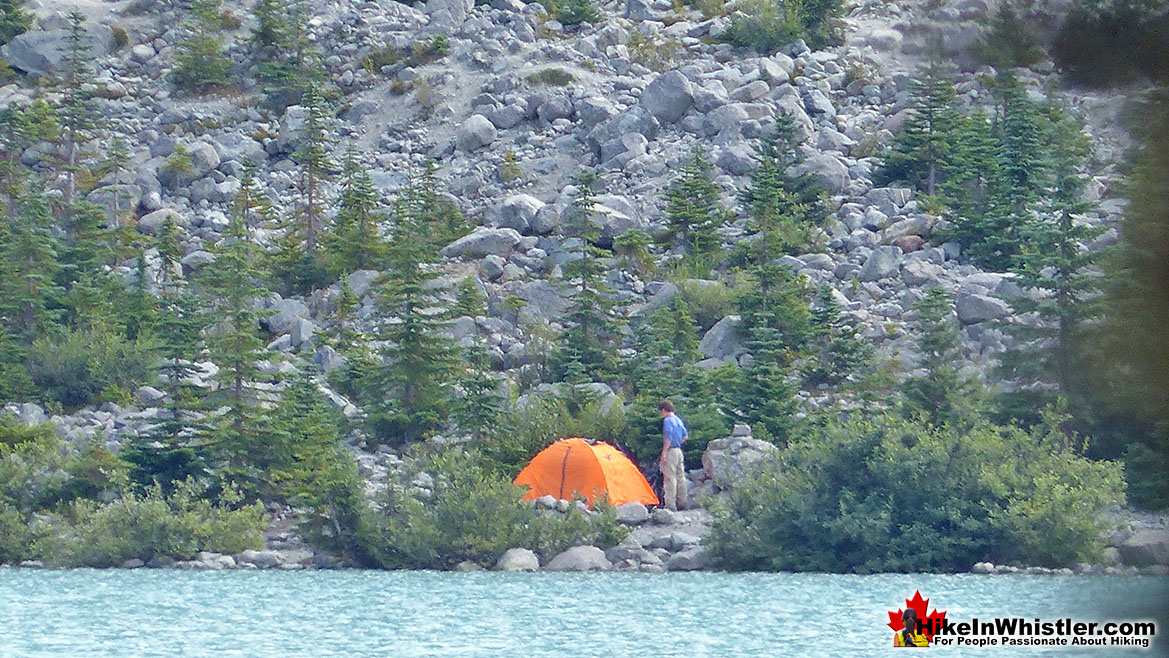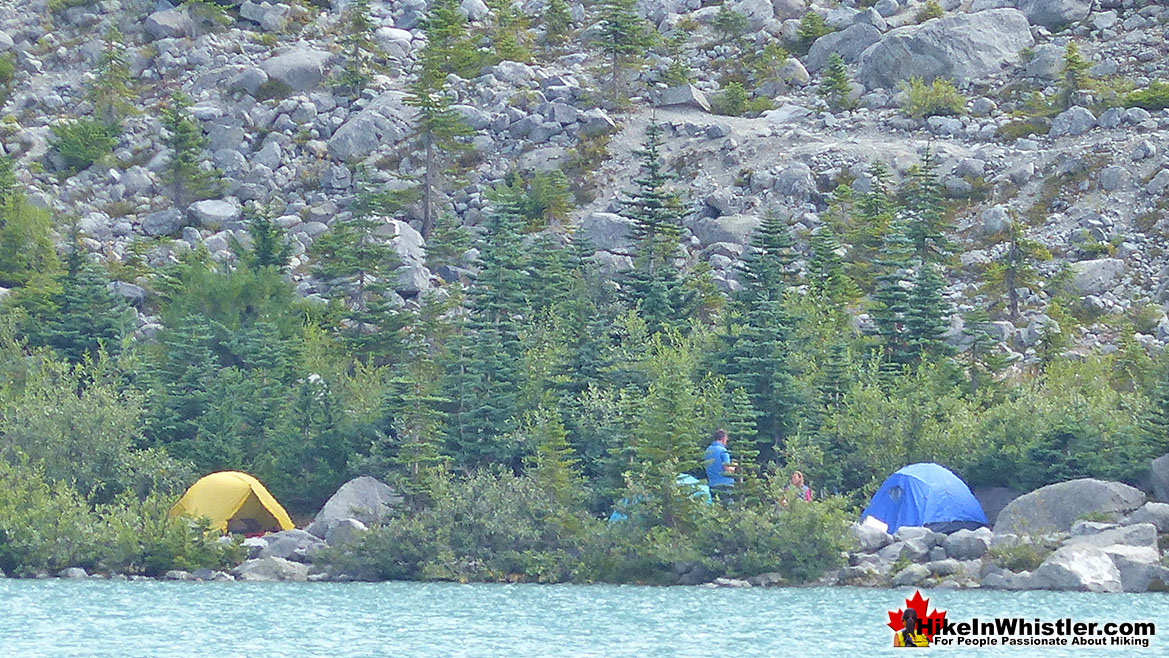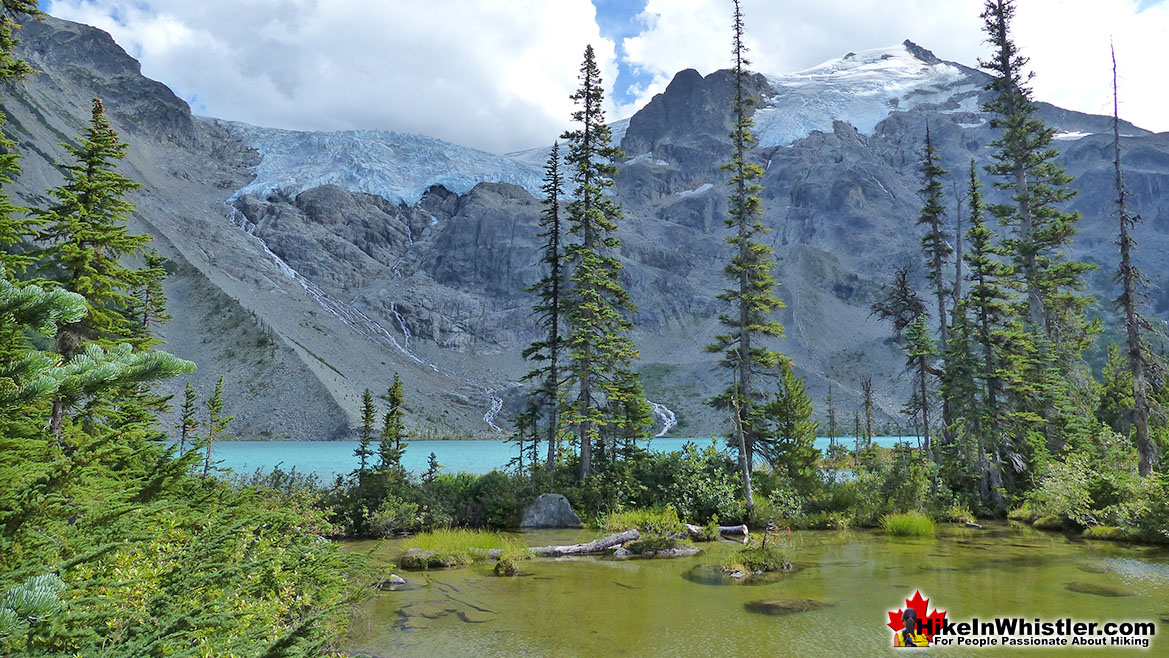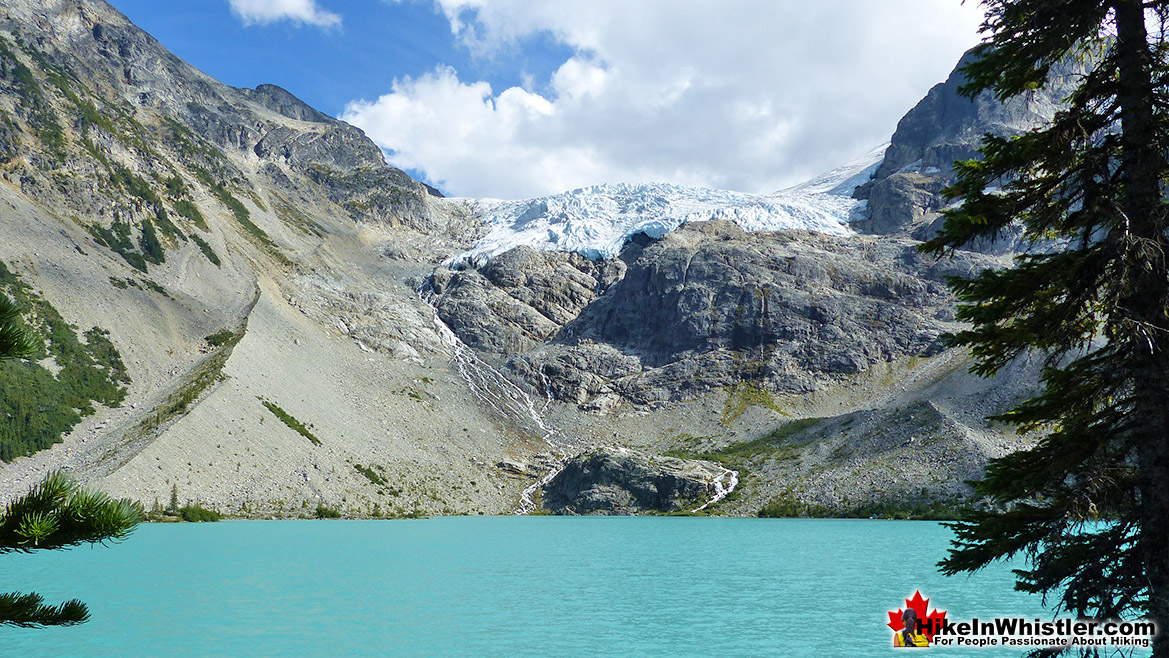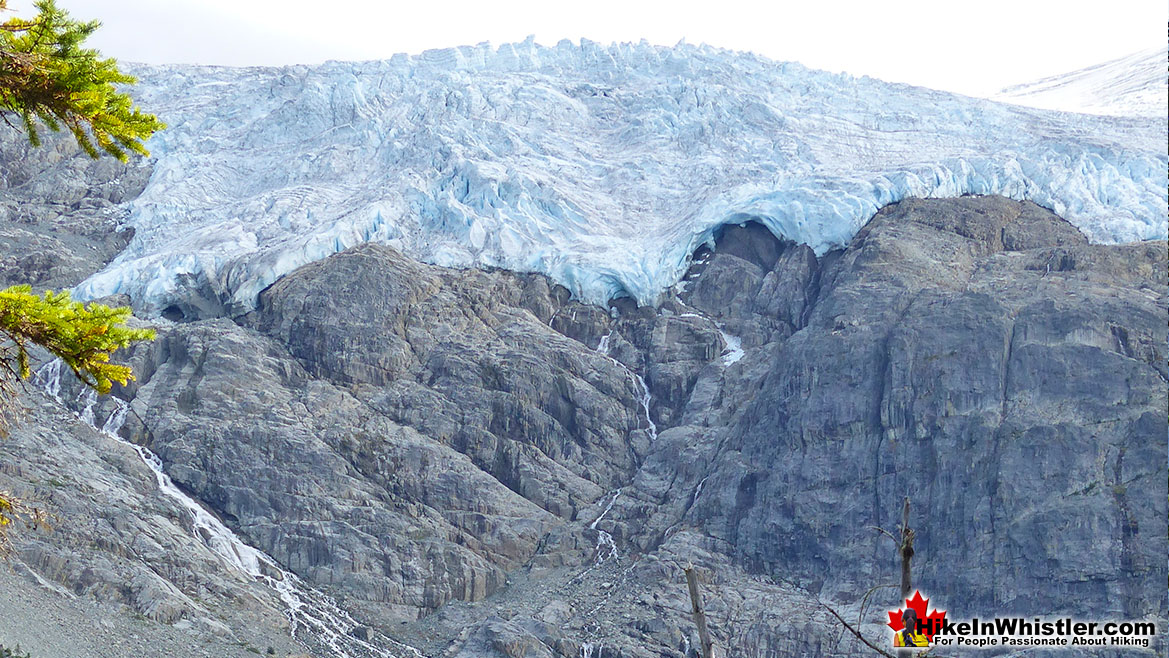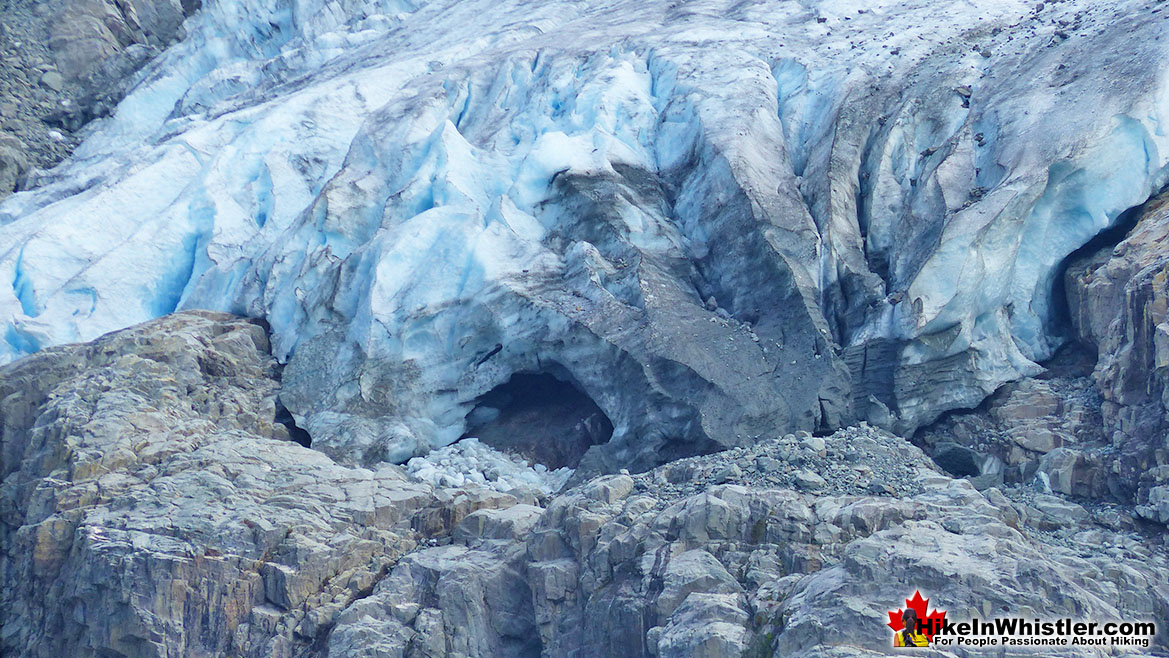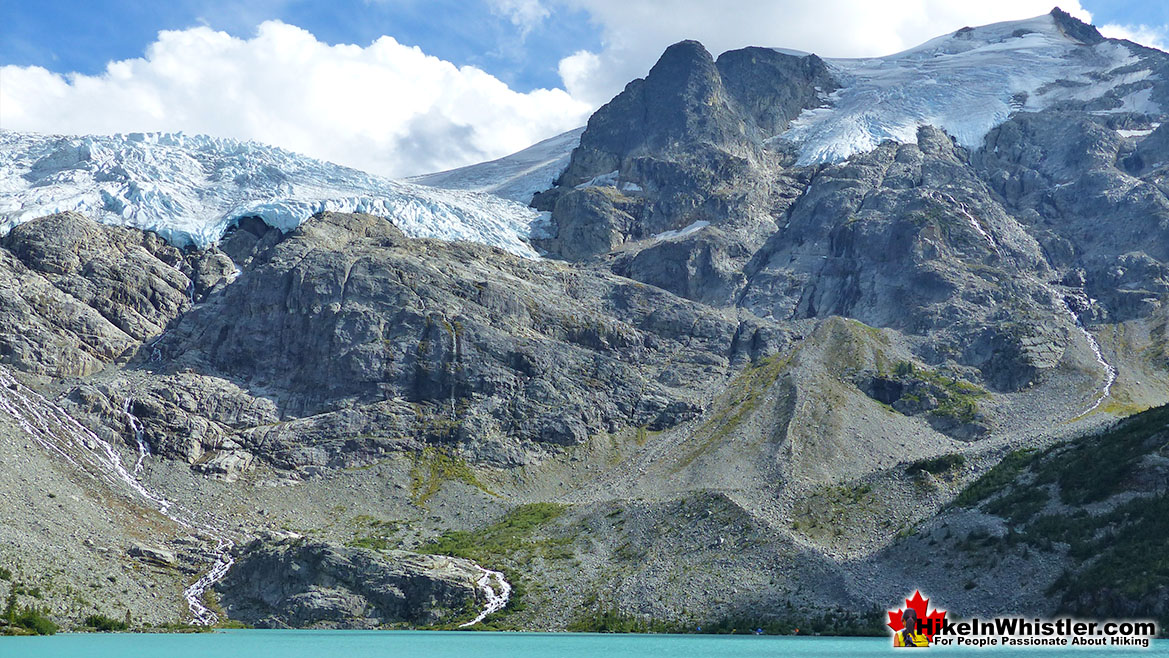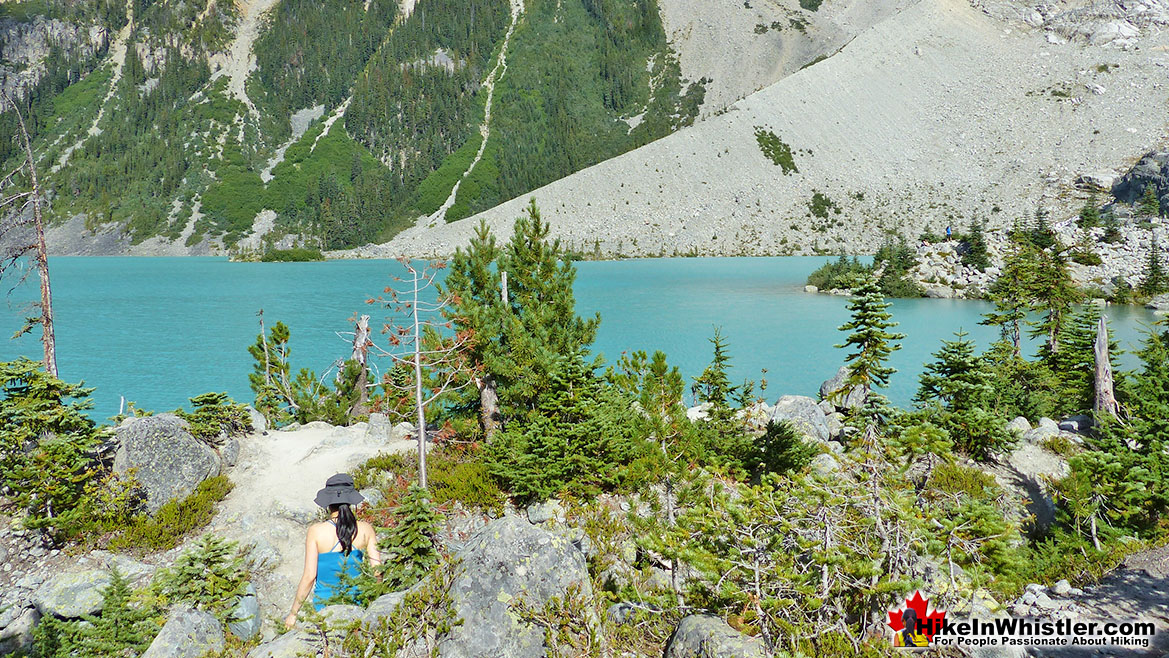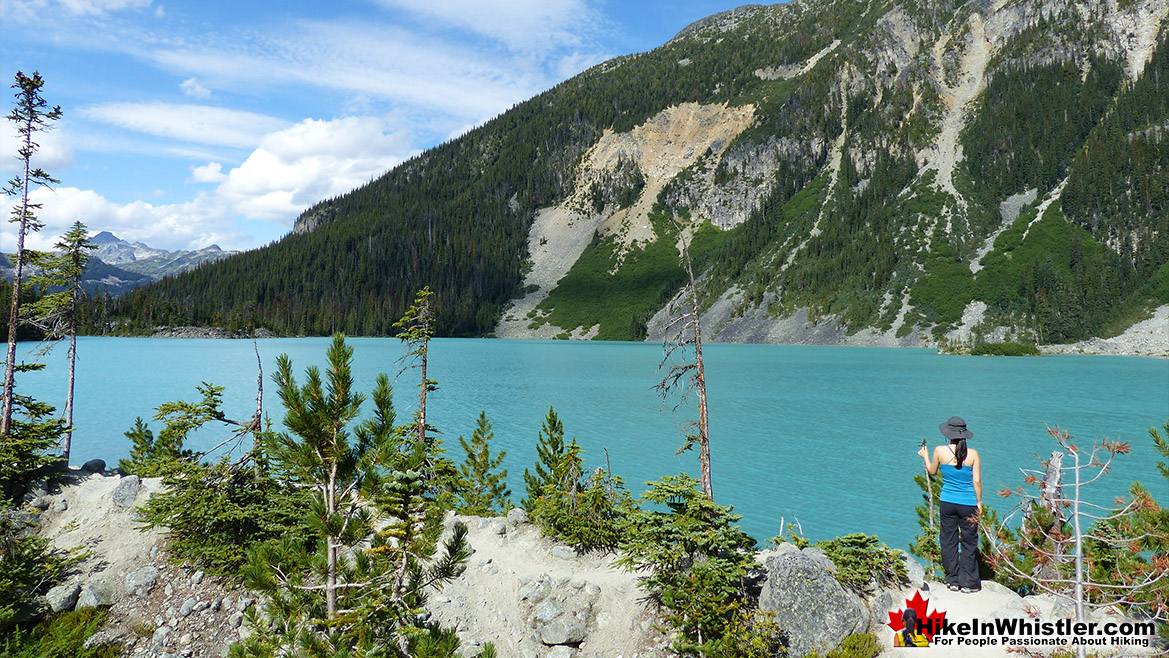 Joffre Lakes Provincial Park Trail Map

Joffre Lakes Provincial Park is a beautiful and wild park established in 1988. All three of the extraordinarily coloured lakes get their turquoise colour from the glacier water that flows into them.  Glaciers have tiny specs of rock suspended in them.  Water in the lakes that are glacier fed have this extraordinary turquoise colour.  Matier Glacier is the impressive glacier that you catch sight of upon reaching the third Joffre Lake.  Very thick and very monstrous, it fills the valley between Mount Matier and Mount Hartzell, high above the lake.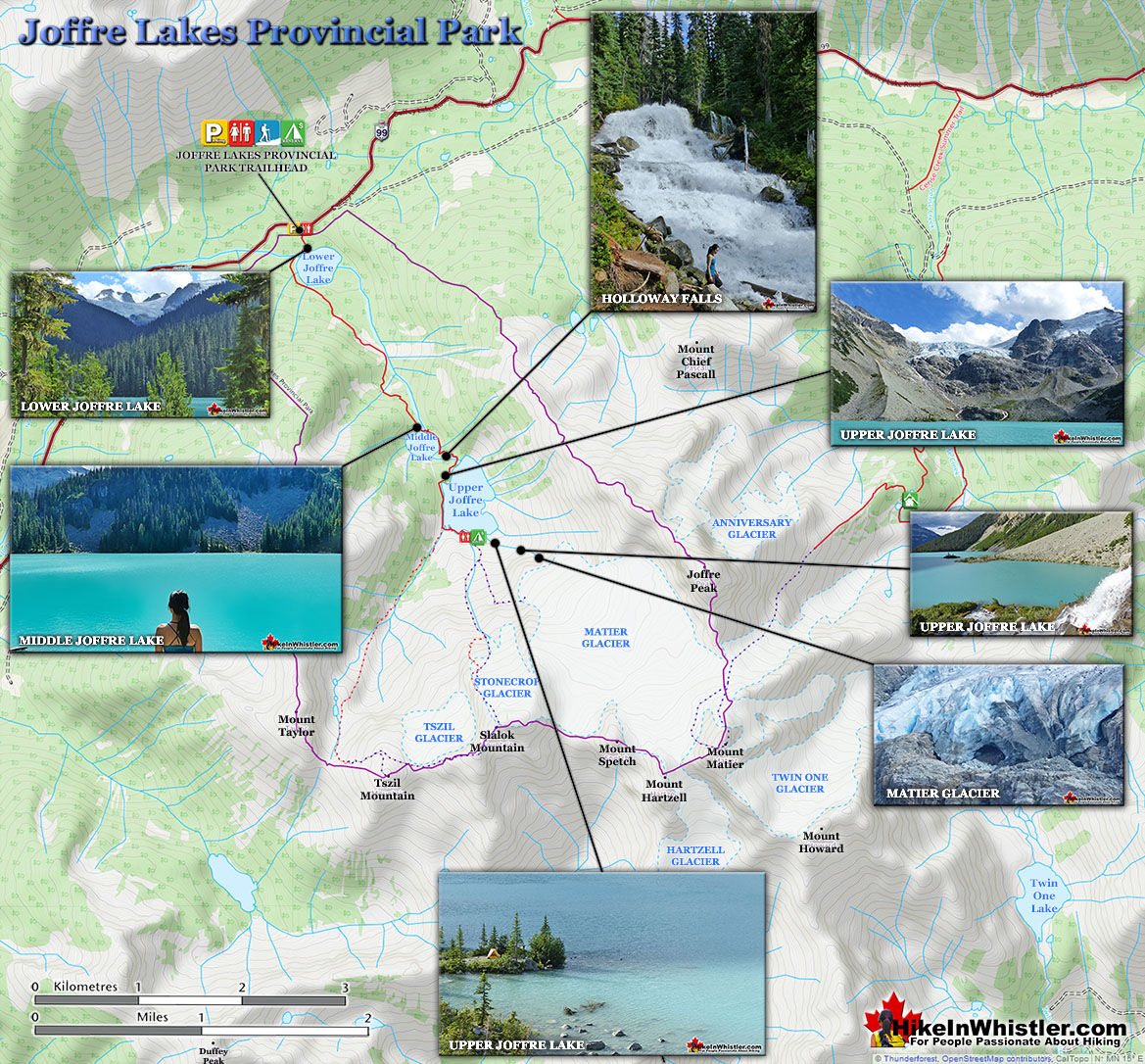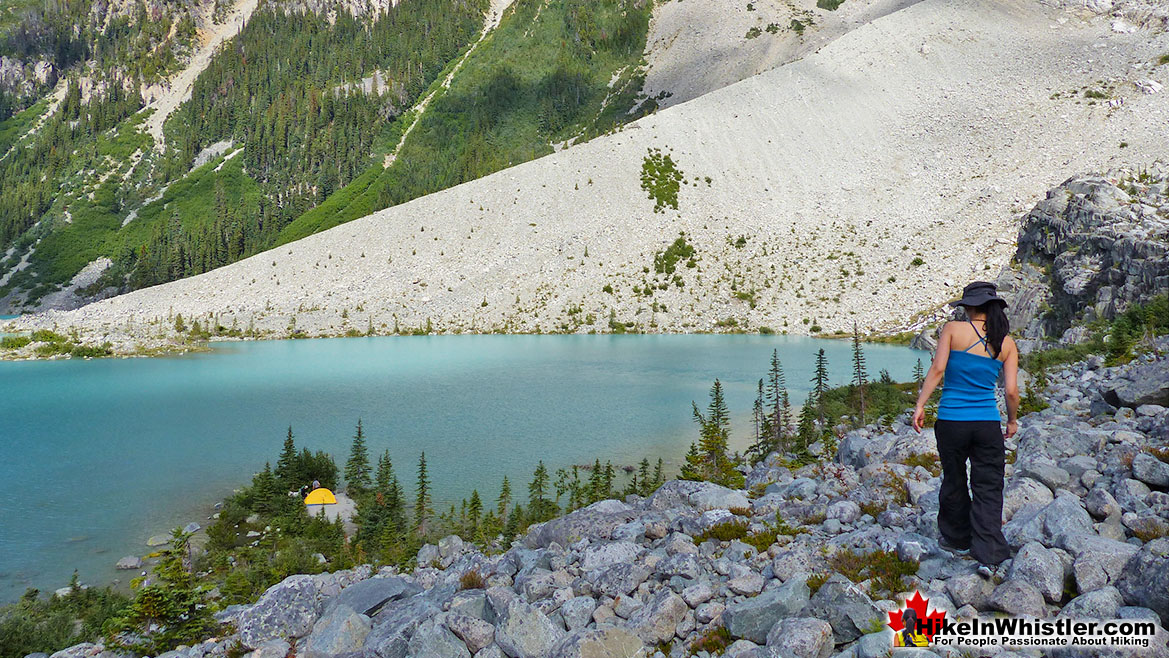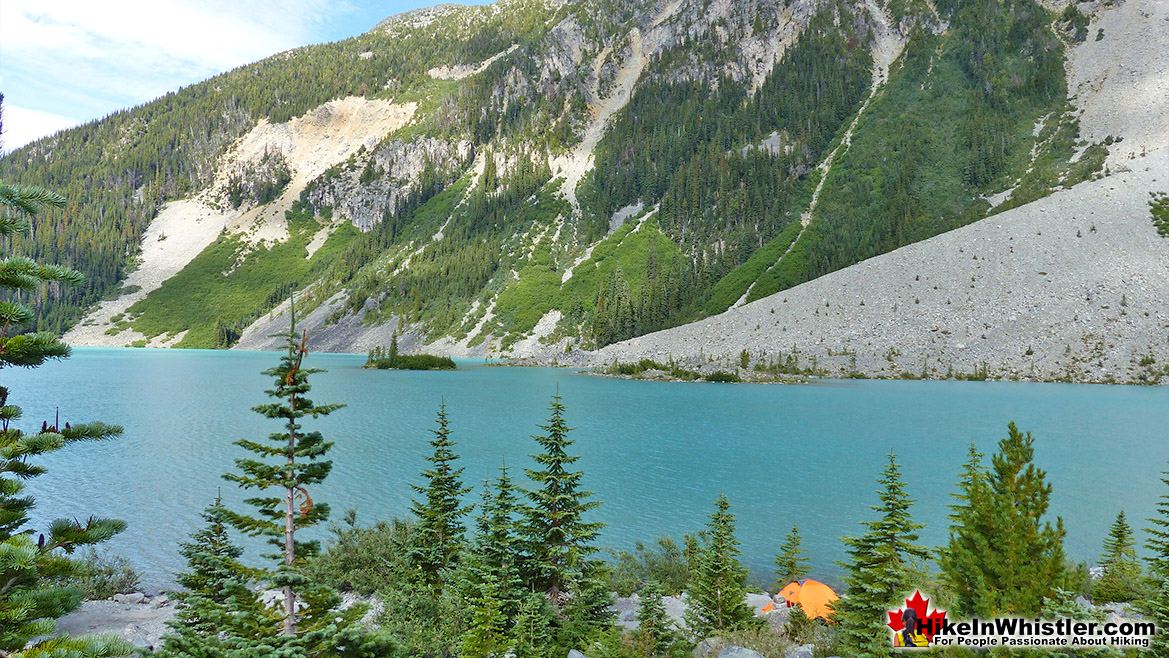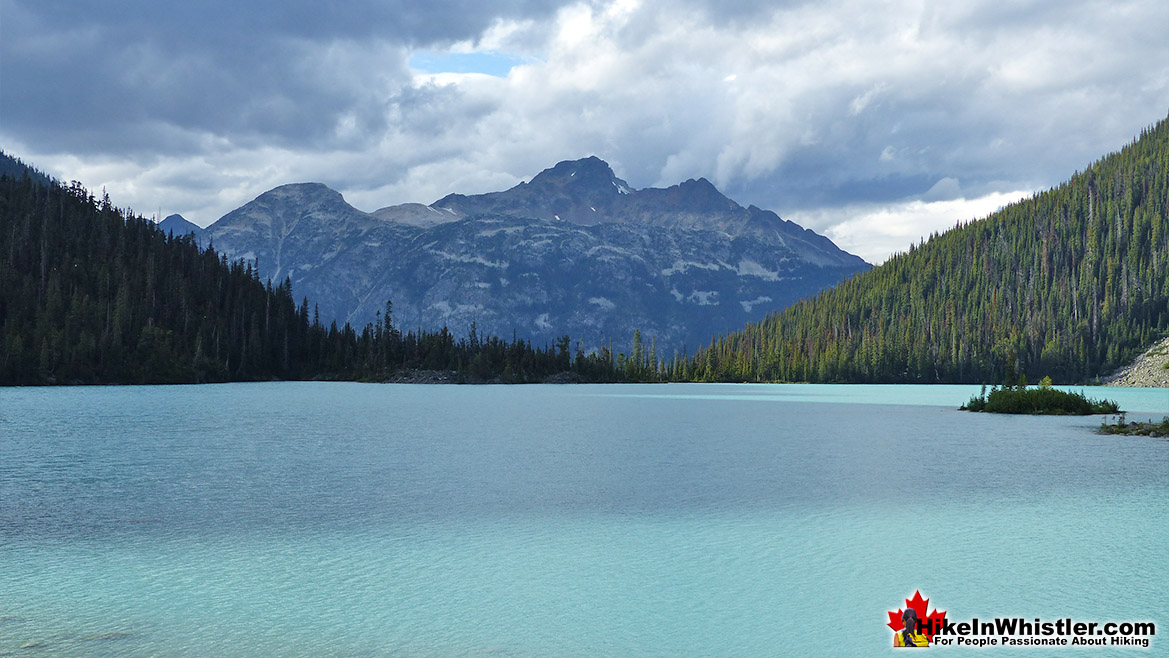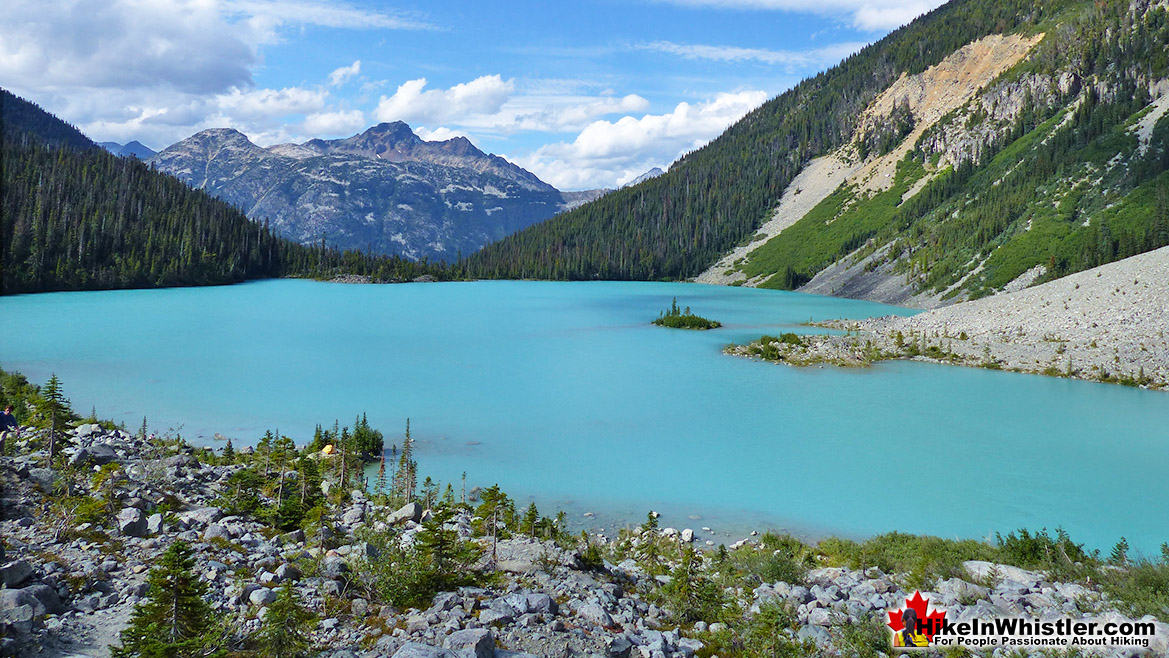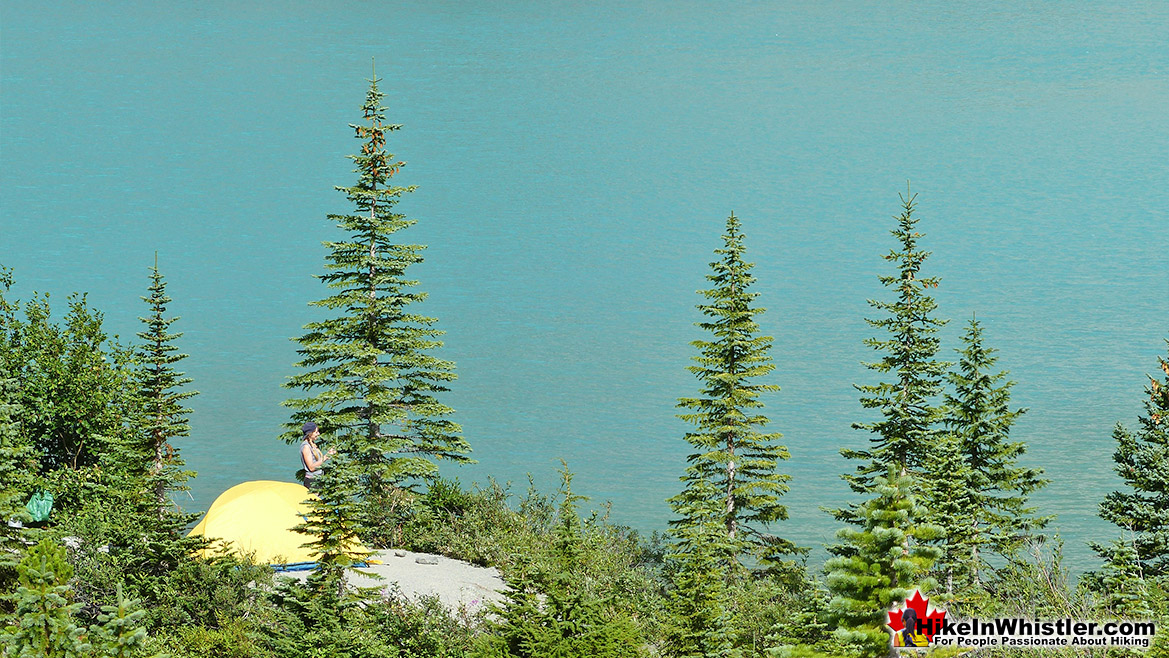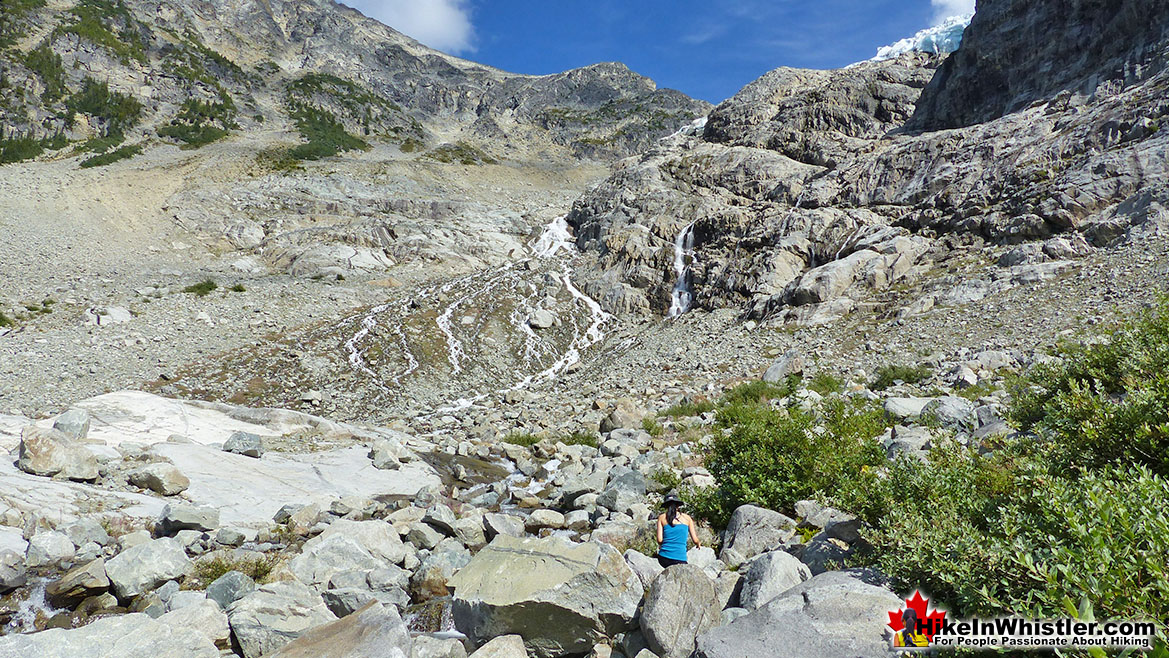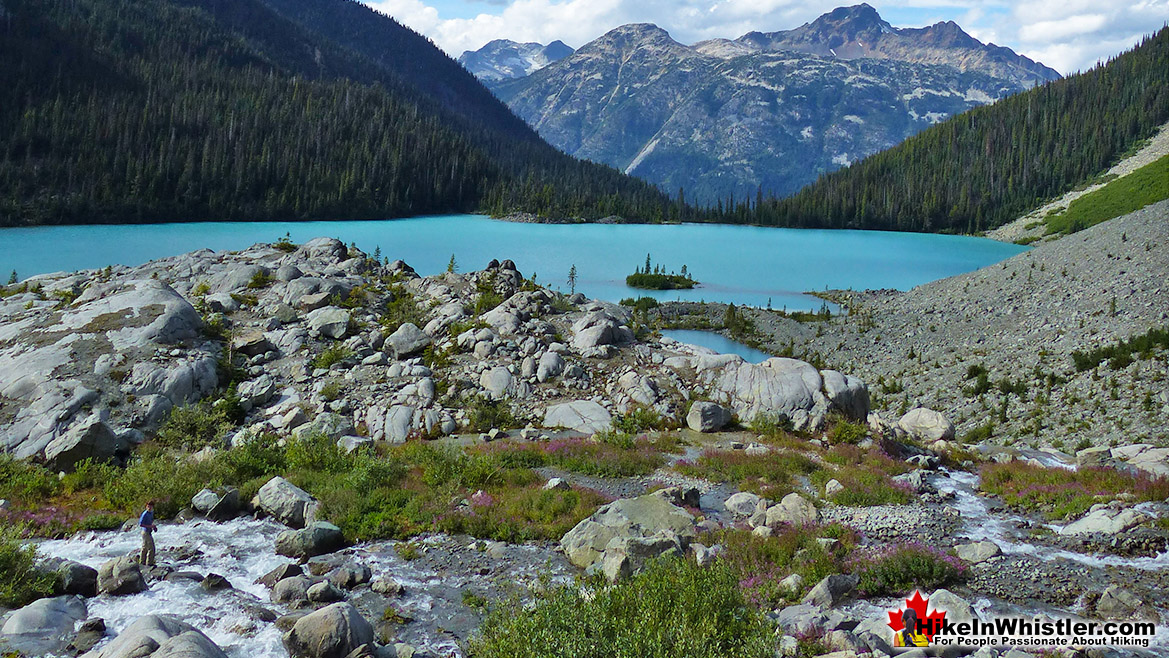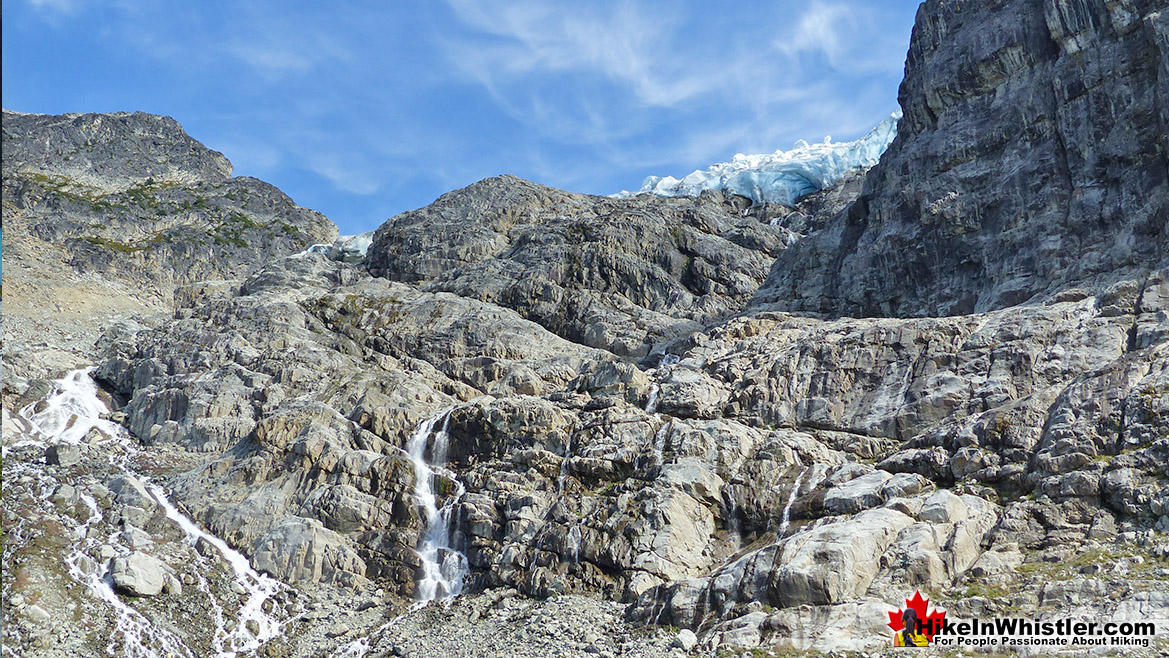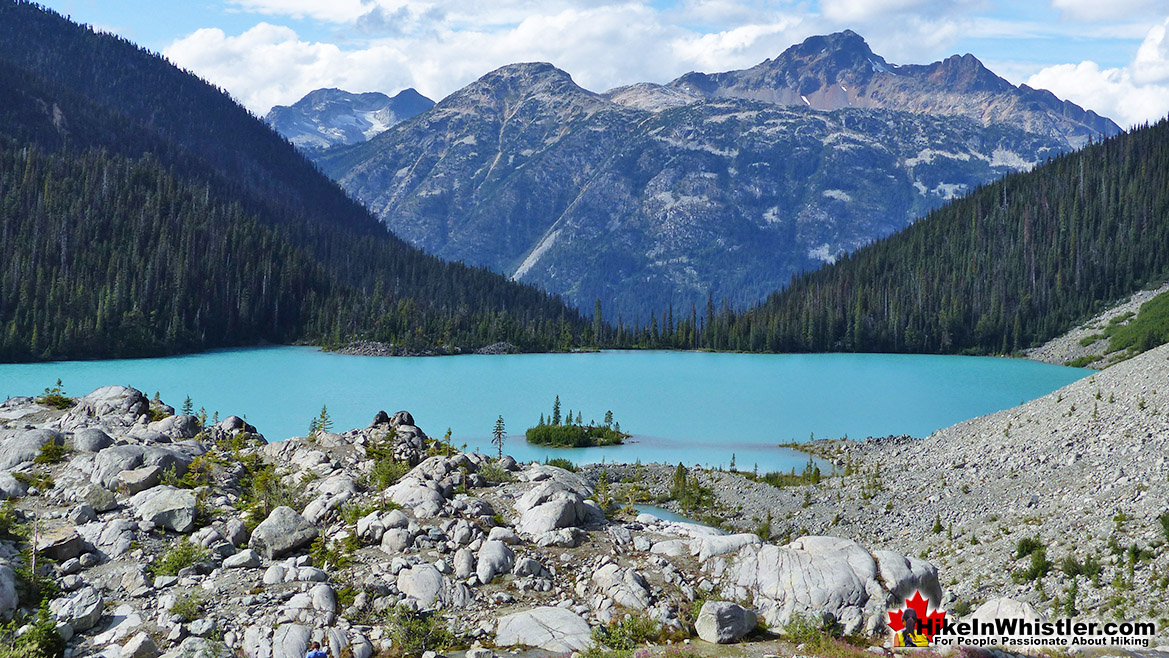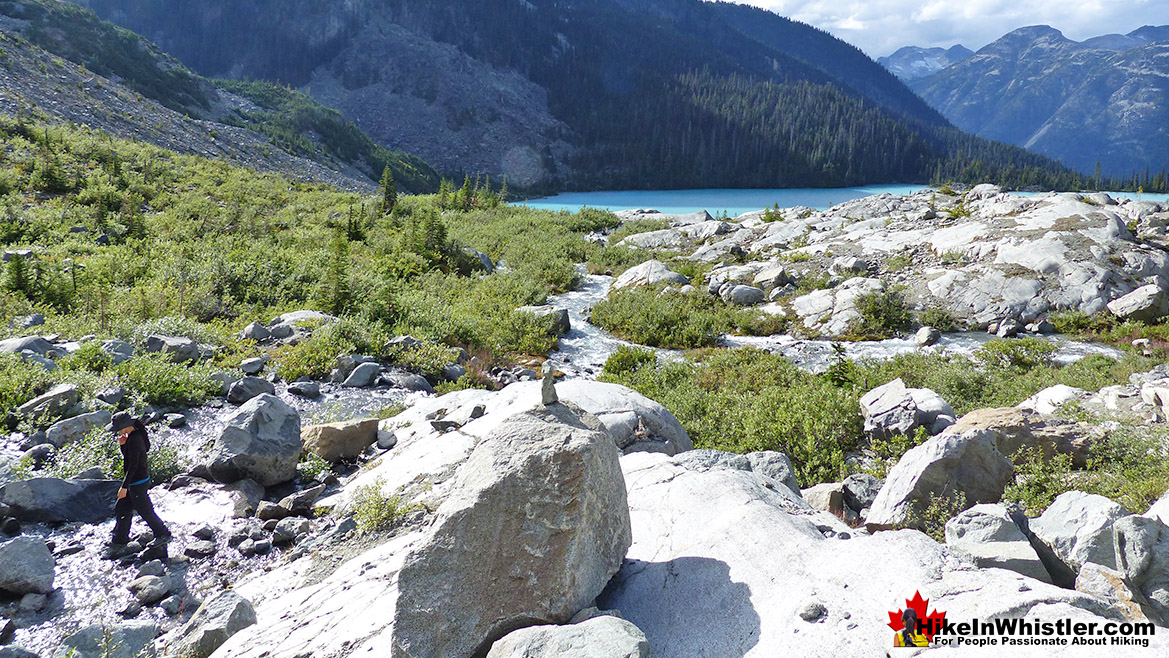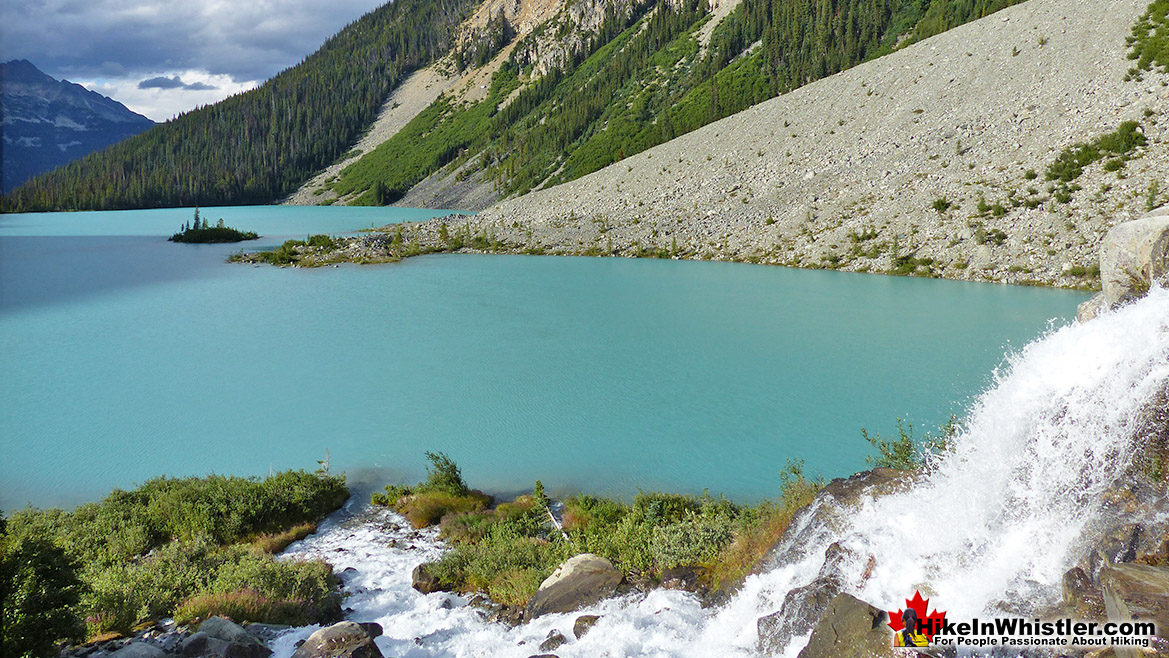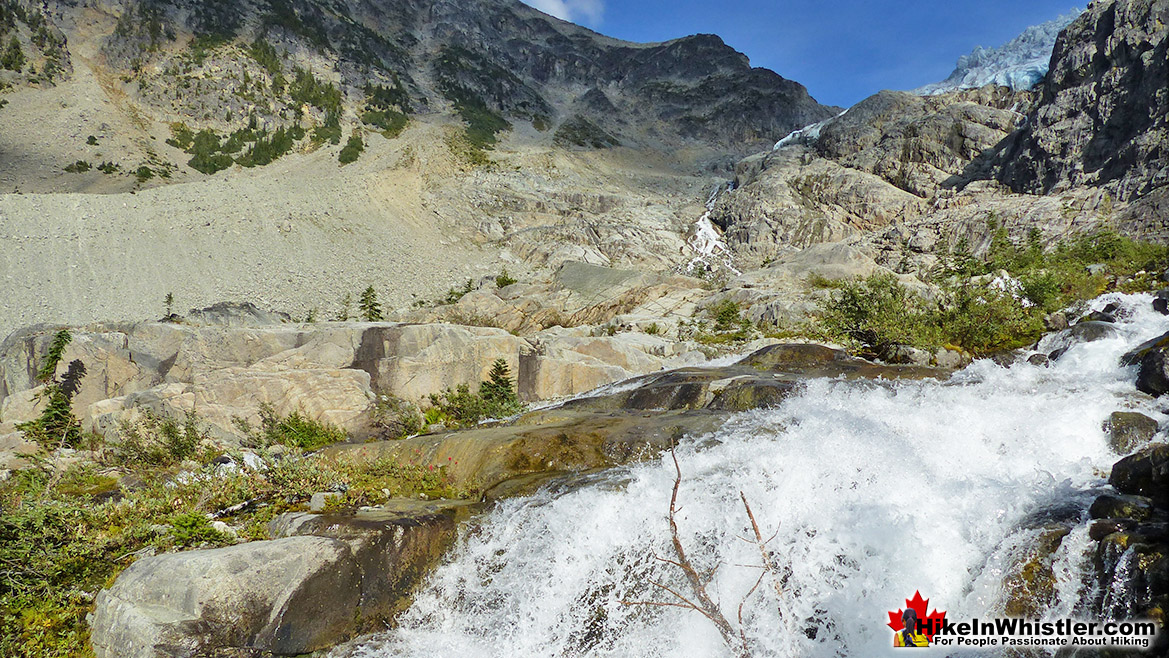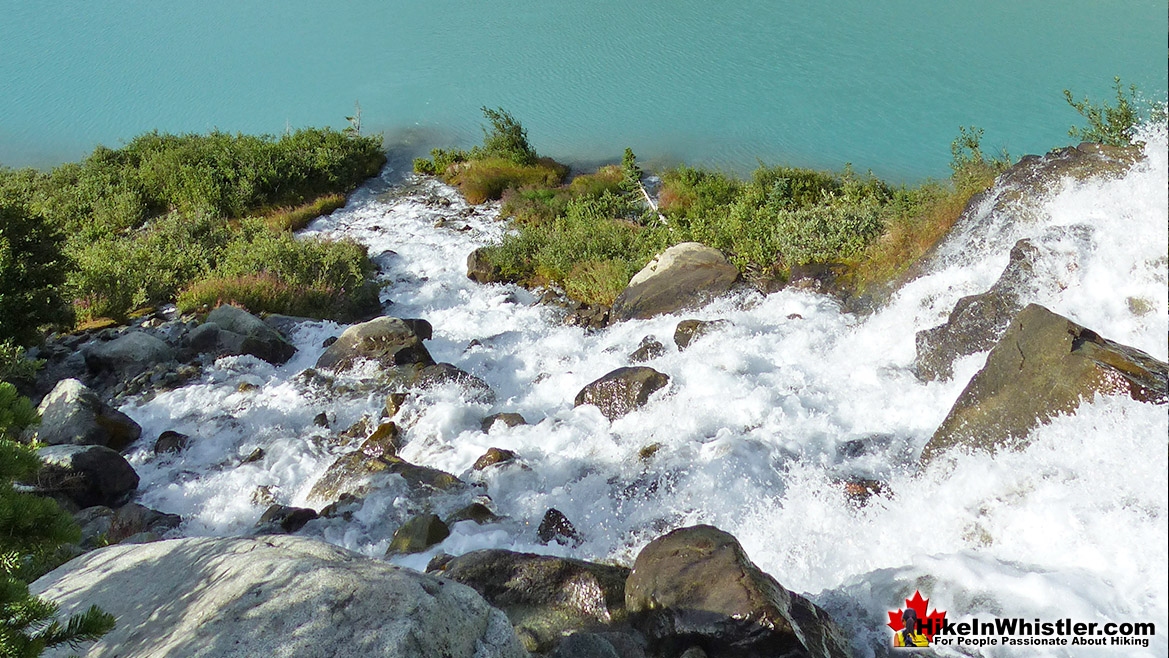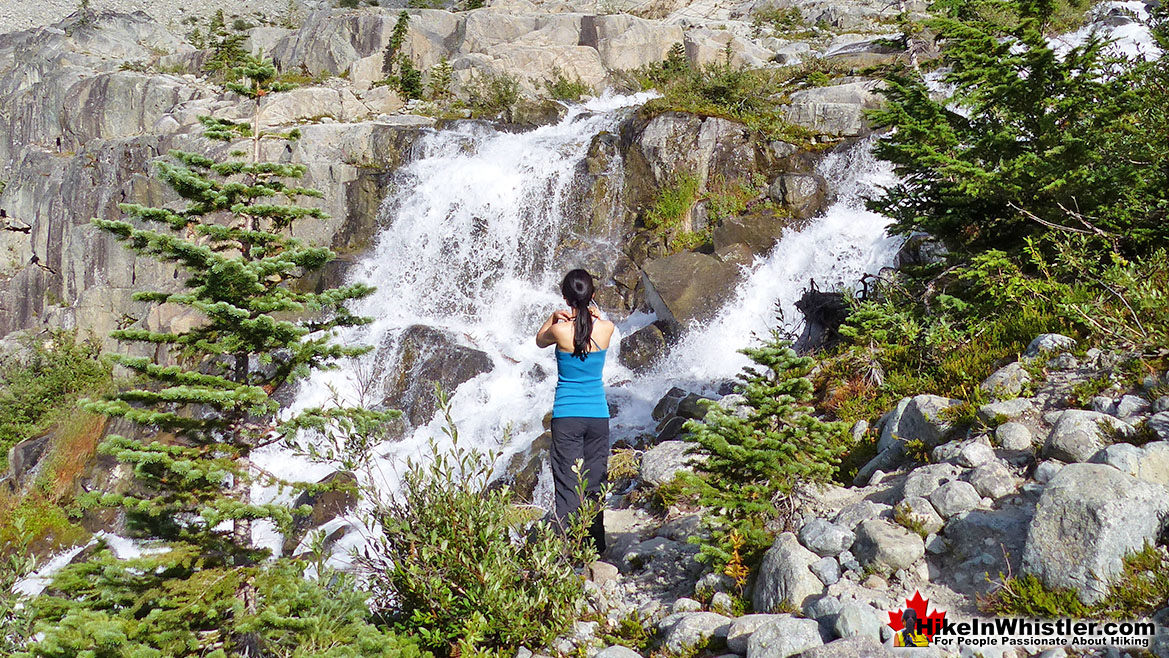 History of Joffre Lakes Provincial Park

In the early 70's a two lane logging road was constructed connecting the Fraser Valley to the Lillooet Valley.  The new Duffy Lake Road opened up the area to recreational users and rapidly grew in popularity.  The reasonably short, four hour drive from Vancouver to Joffre Lakes opened up the area full of glaciers and climbable mountains that was previously inaccessible.  By the mid 70's the Crown Land around Joffre Lakes was designated as an Environmental Protection Area while making it into a park were planned.  The Parks Branch took a look at the area and found the area to have high recreational value.  Joffre Lakes was established as a protected, recreational area in 1988, and a Provincial Park in 1996.  The Duffy Lake Road to Lillooet was only paved in 1992, when it was number designated as part of Highway 99, also known as the Sea to Sky Highway.  The Sea to Sky Highway(Highway 99) runs from Vancouver to Lillooet and the Duffy Lake Road became a section of Highway 99.  The 99 designation comes from the old US Route 99, which it originally connected to in the 1940's.  When the Interstate 5(I-5) replaced the old Route 99 in the 50's, the 99 designation faded away south of the border, but in Canada it remained.  Though the 99 is usually now called the Sea to Sky Highway, the Duffy Lake Road section of the 99 is always called 'The Duffy'.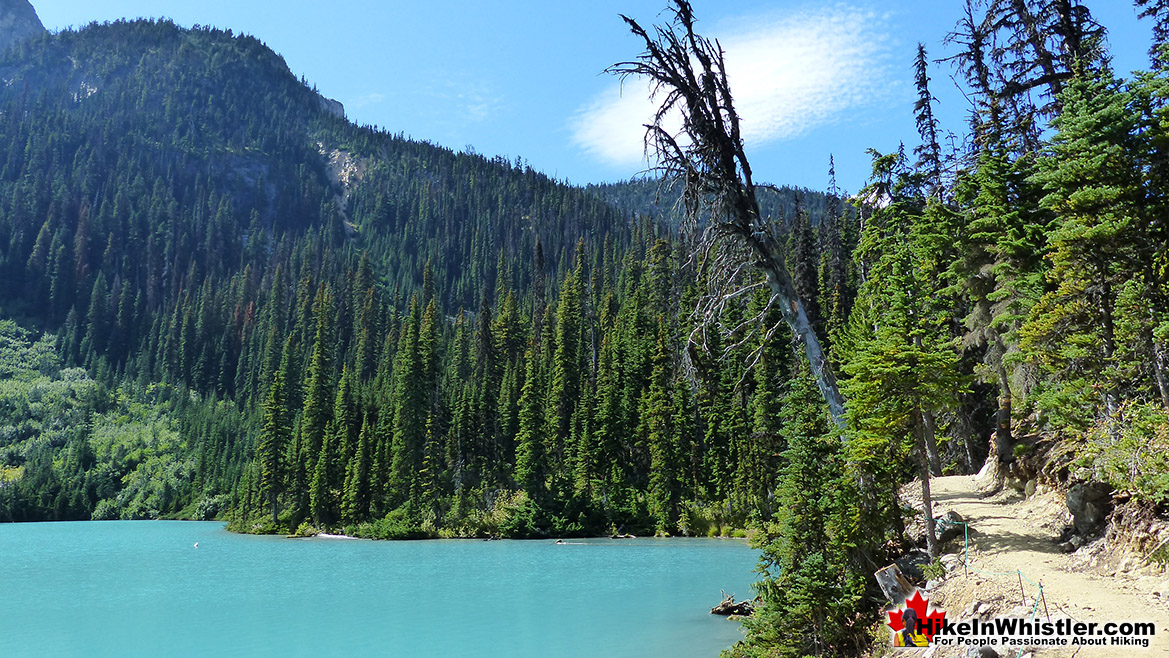 Geology of the Joffre Lakes Area

Joffre Lakes lays in the midst of the Coast Mountains, in an area characterized by tall, jagged, ice-capped mountain peaks surrounded by thick forested valleys and numerous glaciers.  Standing at the campsite facing Upper Joffre Lake, you are surrounded by several of these mountains and glaciers.  The three Joffre Lakes extend in a line down a valley that emerges from a crescent of impressive mountain peaks.  Joffre Peak at an elevation of 2721 metres, Mount Matier(2783m) and Mount Hartzell(2615m) poke out behind Matier Glacier.  Matier Glacier fills the valley between Joffre Peak and Mount Spetch(2579m).  Further along, adjacent to Matier Glacier is Stonecrop Glacier, with Slalok Mountain(2653m) tucked behind.  Next is Tszil Glacier and Tszil Mountain(2377m) behind it.  Finally at the opposite end of the crescent is Mount Taylor(2318m).  The bedrock around Joffre Lakes is mainly granodiorite, an intrusive igneous rock similar to granite.  Granodiorite forms far below Earth's surface and makes its way to the surface after tectonic uplift and erosion.  Surface deposits in the Joffre Lakes area were deposited by glaciers.  Over thousands of years the mountains have been ground down and glacial silt and lateral moraines left behind.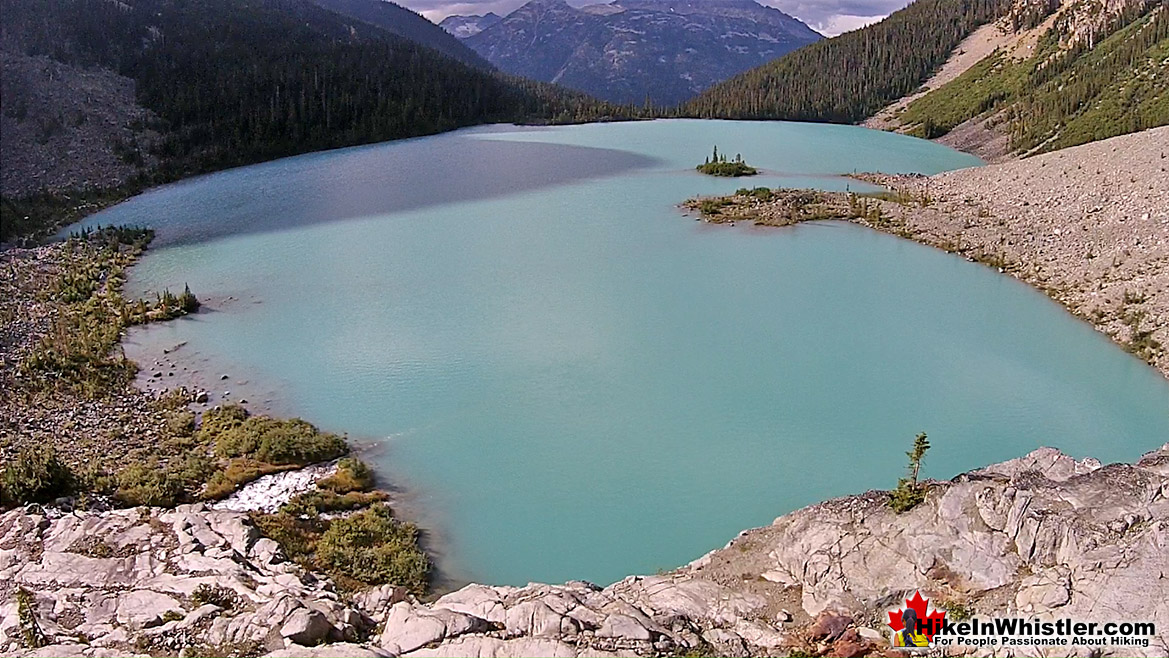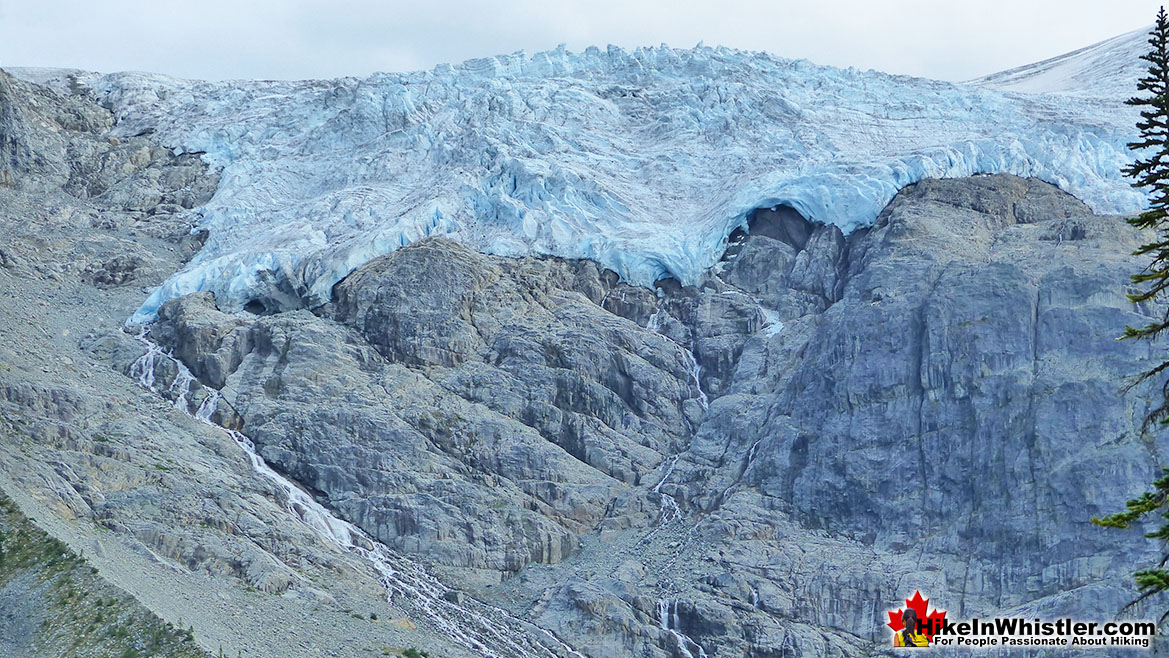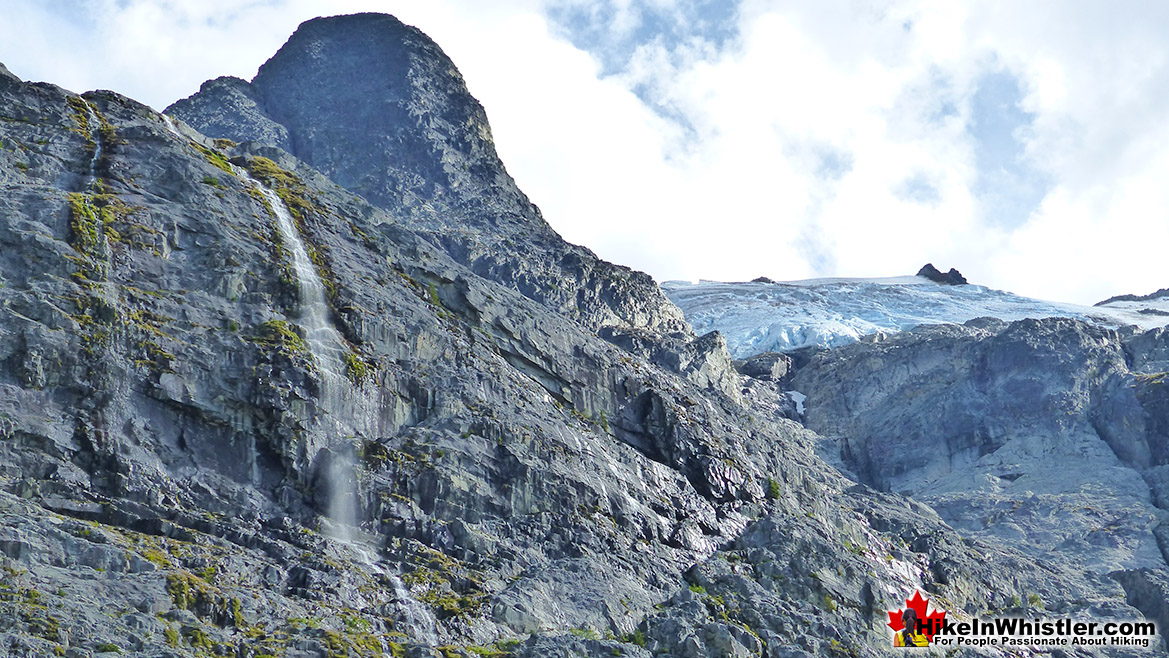 Camping in Joffre Lakes Provincial Park

Camping is welcome year-round at Joffre Lakes, however it is discouraged by BC Parks in the winter due to the increased likelihood of people suffering weather related problems or wandering into an avalanche prone area.  If you do camp at Joffre Lakes in the winter, you won't be camping anywhere close to the summer campsite area.  Being in the path of Matier Glacier, means that snow piles up from the glacier to Upper Joffre Lake, making camping there a terrible idea.  In the summer months, 26 camping areas can be found at this far shore of Upper Joffre Lake.  These are very rustic camping areas in a tremendous setting but with no facilities other than an outhouse.  This lack of facilities is a characteristic of BC Parks that you come to love.  Few pointless signs and human constructions litter the landscape and a constant effort is made to keep everything as unaltered as possible.  The wild, untouched design of the campsite likely has more to do a lot with the terrain it sits on.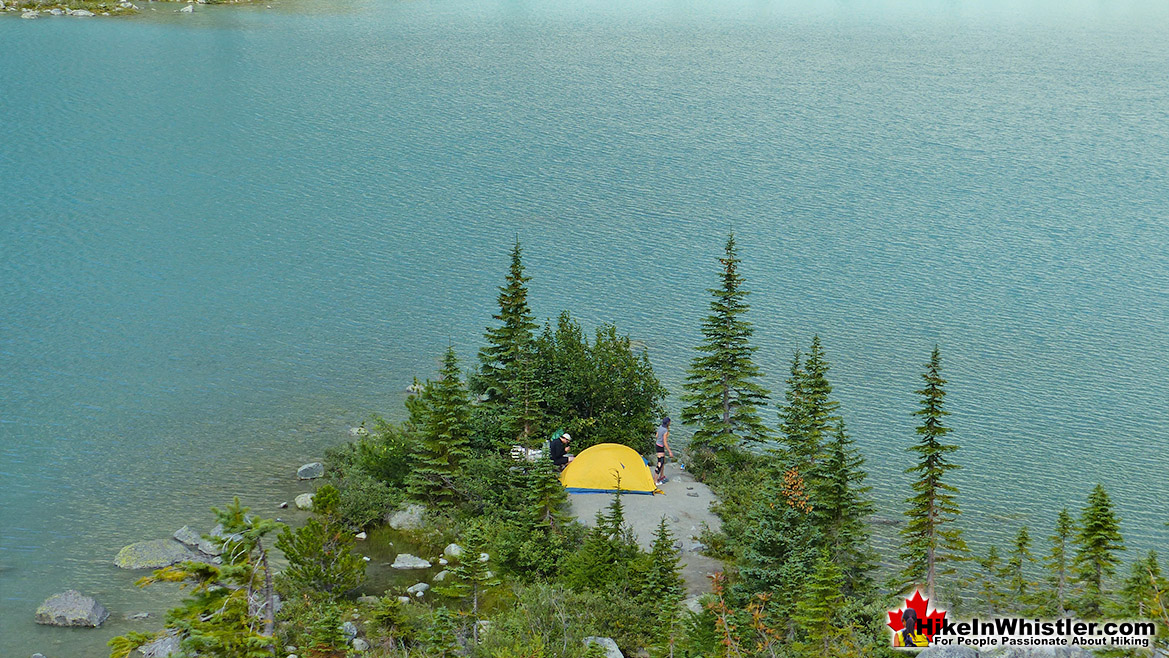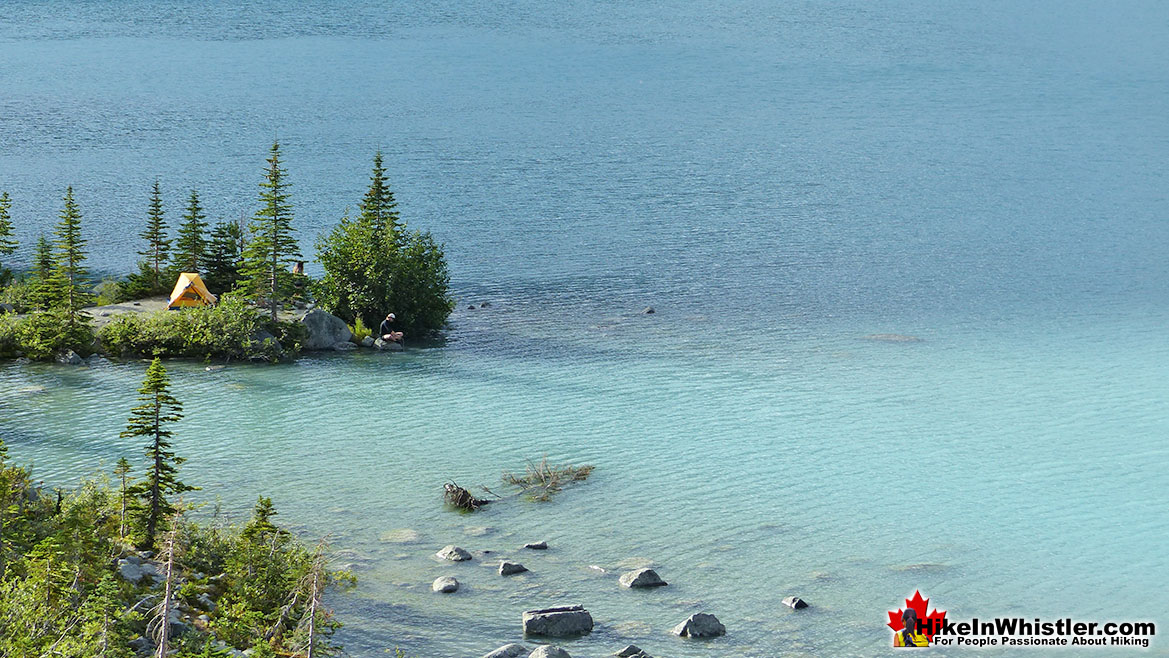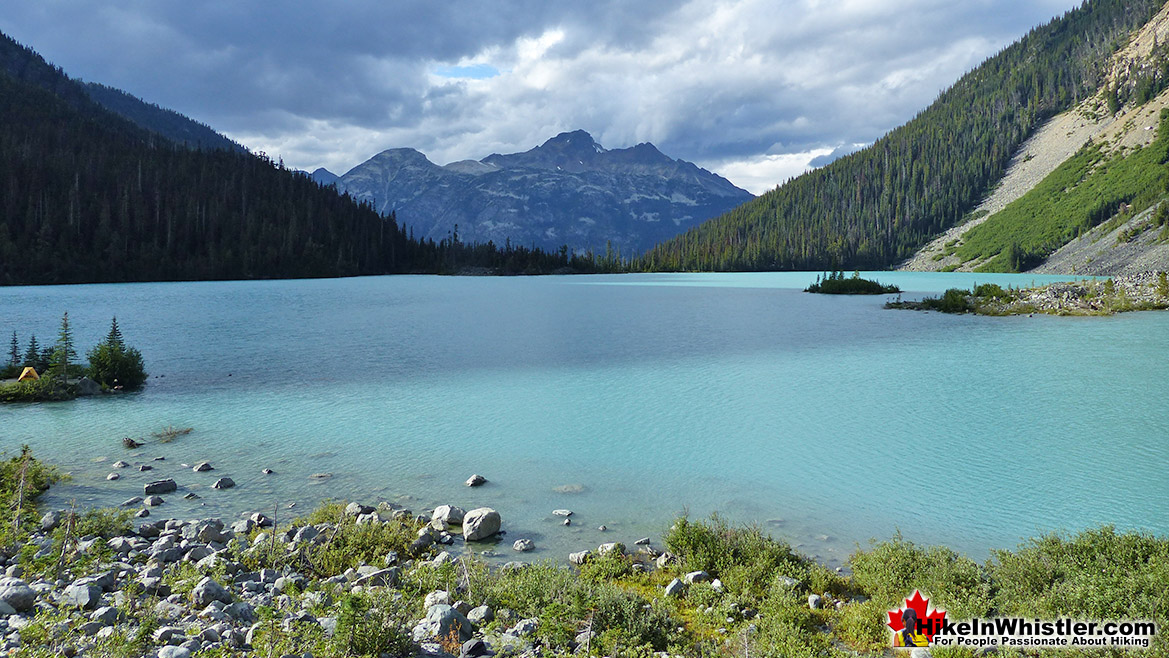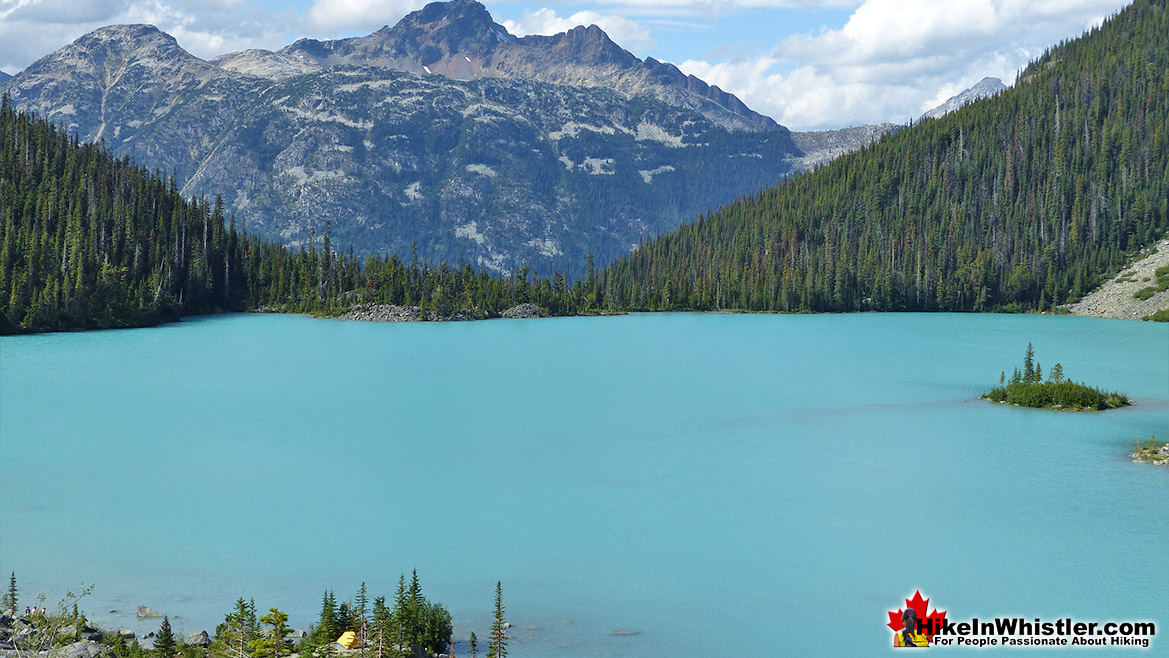 A boulder strewn, rocky, irregular slope extends from Matier Glacier to the shore of the lake.  If you were to build an outhouse in the midst of the campsite, it would be crushed and smashed into the lake by the pounding force of the harsh winter snow.  That's why, aside from simple clearings for tents, you find little else from humanity.  The outhouses and trail signs are along the side of the lake where trees avoid the main pileup of snow down the valley.  Beautiful streams cascade down from the glaciers far above, so you will have fresh water everywhere you look.  There is a charge for camping at Joffre Lakes and reservations are now required year-round. You can pay online at the BC Parks site here. You can't reserve specific spots in the campsite, so your reservation is simply a camping permit. There is no garbage pick-up in the park and campfires are prohibited year-round due to fire hazard and the inevitable burning of alpine trees which are all too easy to burn, but take forever to grow in such a hostile environment.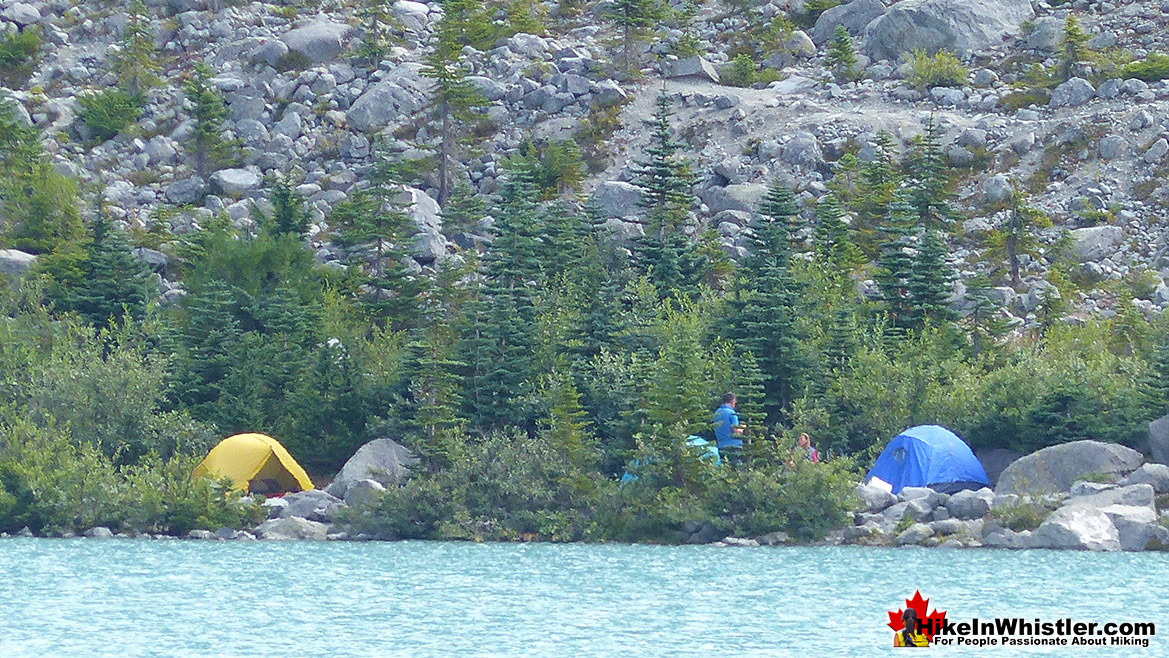 Facilities in Joffre Lakes Provincial Park



There are two outhouses at the parking lot/trailhead to Joffre Lakes Provincial Park as well as one at the middle lake and the third lake/camping area. The closest other toilet facilities are in Pemberton, several kilometres south of Joffre Lakes.  At the main, highway intersection in Pemberton there are gas stations on either side of the highway as well as a McDonald's, coffee shops and restaurants. There are few man made facilities at Joffre Lakes and even tent sites are not overly visible. It is wonderful to see few signs of humanity in such a wild and beautiful place. Water sources at the campsite at Upper Joffre Lake are plentiful. Streams cascade down from the glaciers above and never dry up and are about as clean as water can possibly get. Along the Joffre Lakes trail you will also find numerous wonderful and clean water sources.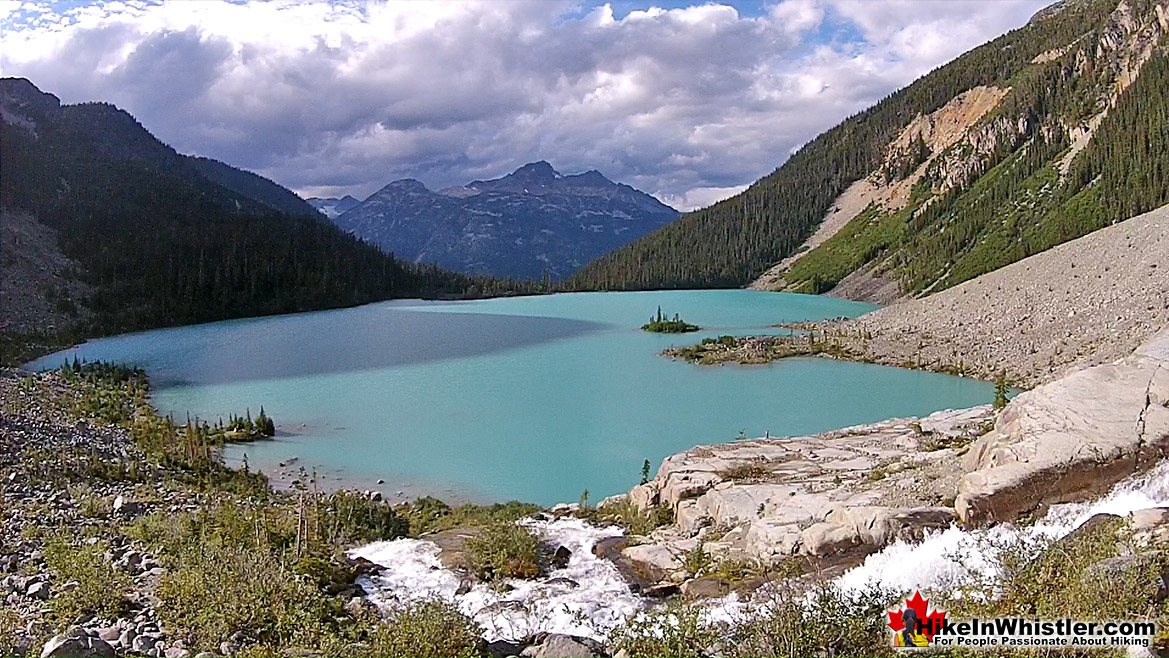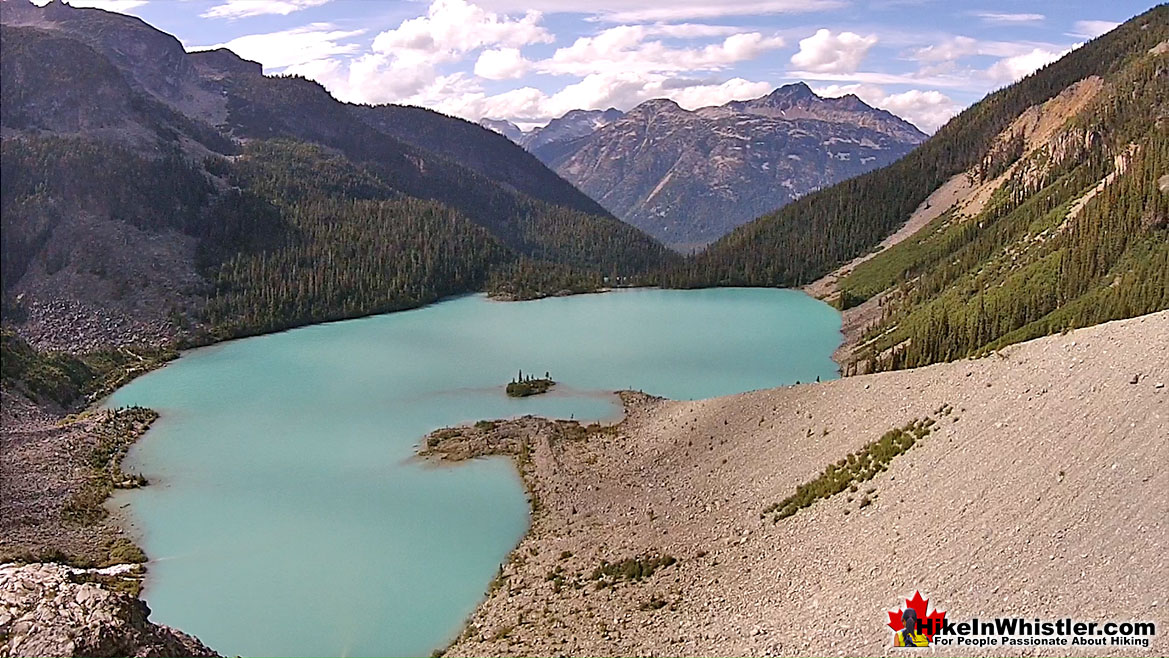 Restrictions and Concerns at Joffre Lakes




Joffre Lakes Provincial Park is no longer dog friendly as of the summer of 2018. Garibaldi Park does not allow dogs either and Joffre Lakes used to be the most beautiful, dog friendly hiking trail in the Sea to Sky Corridor. The reason for the dog prohibition is reported to be out of respect for the resident animals in the park and because excrement is all to frequently, visibly left in the park.  Dogs often chase, or get chased by bears, harass marmots and deer and inevitably defecate close to drinking water sources for hikers and campers.  Unfortunately for your dog, these problems have led to prohibiting them at Joffre Lakes. There are other dog friendly hikes around Whistler. Nairn Falls Provincial Park on the drive to Joffre Lakes is also dog friendly as well as many of the hiking trails in the Callaghan Valley in Whistler. Fires, ATV's and bikes are also not allowed in Joffre Lakes Provincial Park.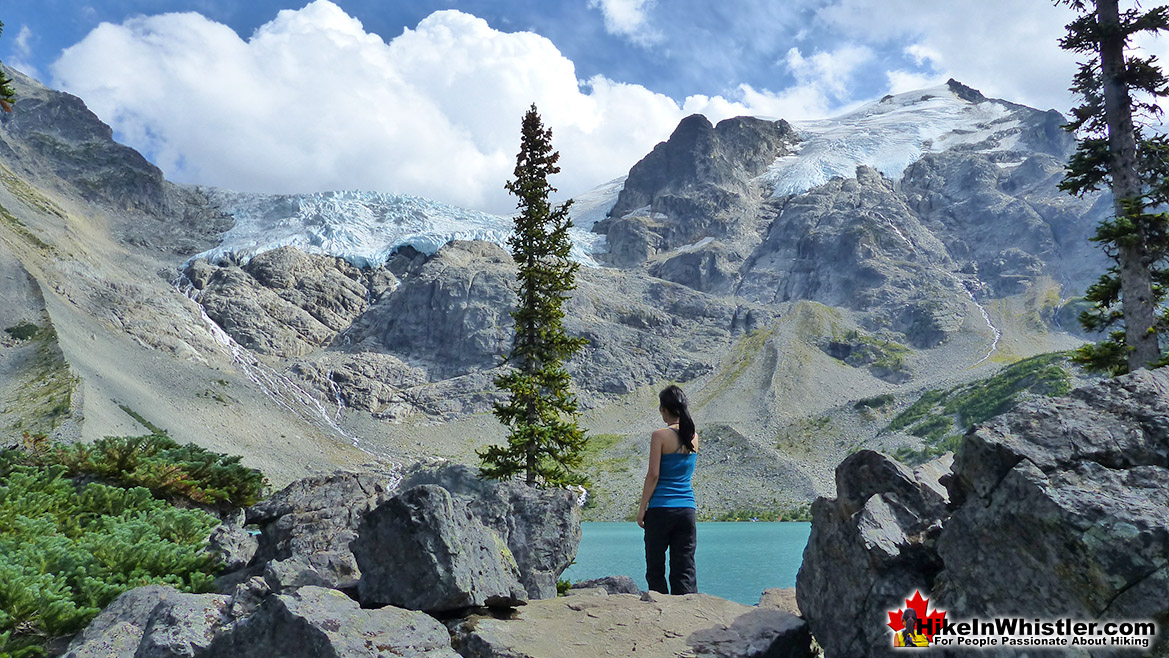 Wildlife in Joffre Lakes Provincial Park


Deer, black bears and mountain goats are all residents of the park, however rarely spotted. Mountain goats are a very surreal animal when spotted in the wild. Always clinging to an impossibly steep slope, along a perilous cliff. They are extraordinarily sure-footed, and if you a lucky enough to spot one, it will likely be from a great distance. The area is within a massive wilderness and hoary marmots are sometimes seen and heard, though much less frequently as at Wedgemount Lake, Rainbow Lake or Blackcomb Mountain. Though cougars, bobcats and wolverines also reside in the vast wilderness around the park, they are extremely rarely seen in Joffre Lakes Provincial Park. Rainbow trout were introduced into Lower Joffre Lake in 1981 and have managed to thrive fairly well.  Middle Joffre Lake was similarly stocked in 1987, however Joffre Creek is too fast and chaotic to allow for a productive environment for reproducing.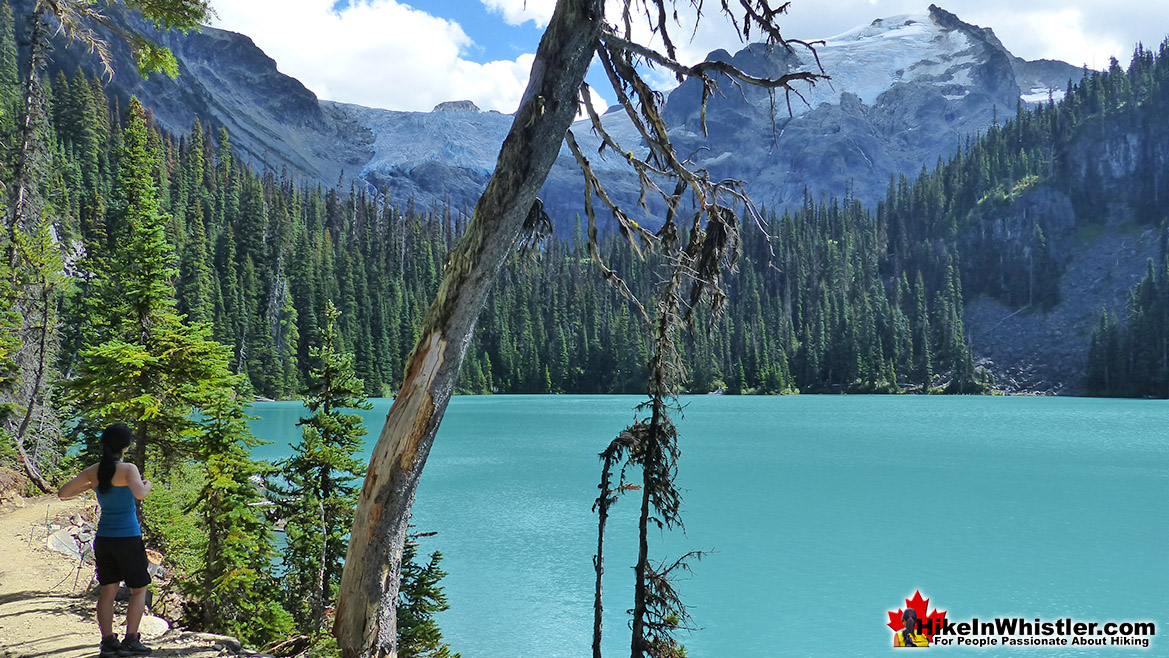 Driving to Joffre Lakes Provincial Park

If you are driving from Whistler, zero your odometer in the Village at Village Gate Boulevard and follow highway 99 north toward Pemberton. From Whistler you will be following the highway signs for Pemberton and Lillooet. At 32km you will arrive at Pemberton, an intersection, with a Petro Can gas station on your left and McDonalds to your right. Continue straight, through Pemberton. At 39km turn right at the sign to Lillooet. Follow this winding road, and soon you will pass Lillooet Lake on your right as the highway ascends steeply. You are only 20 minutes from the parking lot now. At 61.6km, you will see the large Joffre Lakes parking lot on your right.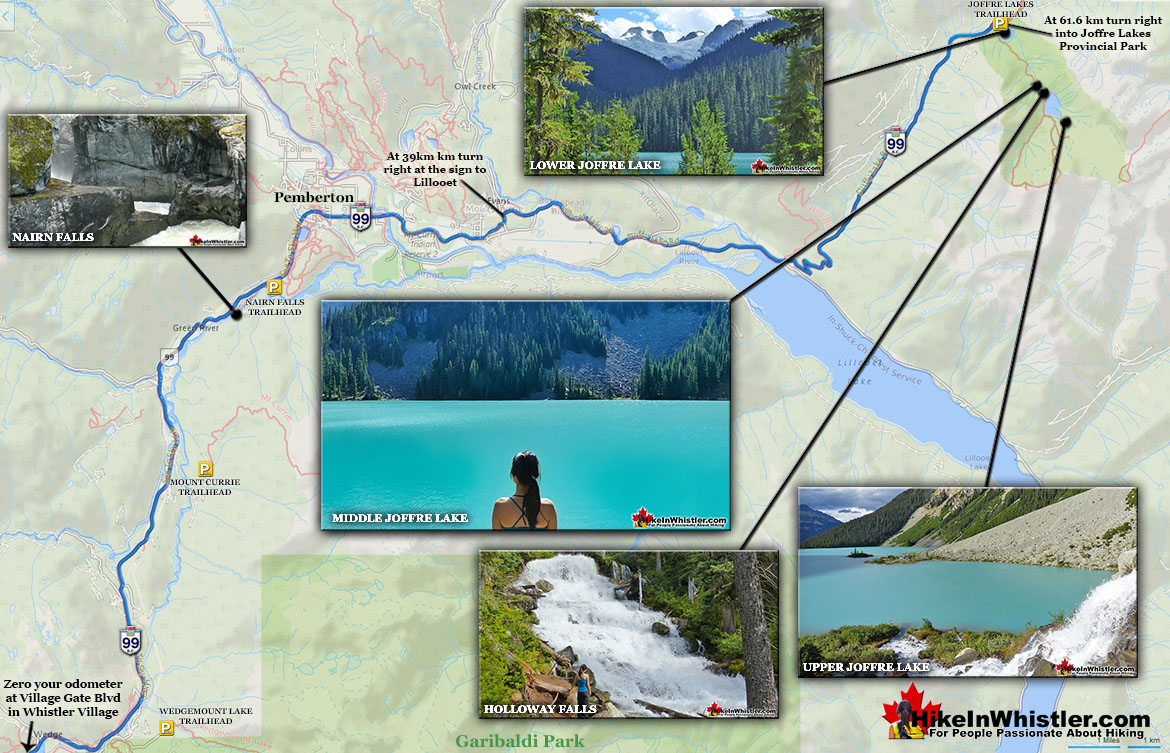 There are several worthwhile stops on the drive to Joffre Lakes. Just five minutes from Whistler Village and you will drive along the edge of Green Lake. There is an excellent pullout on the right side of the highway at a great viewpoint over the lake. Wedge Mountain, Blackcomb Mountain, and Whistler Mountain lay beyond Green Lake.  Another 15 minutes driving and you will see the sign for Nairn Falls Provincial Park.  A short and easy 1.2 kilometre trail runs along the wild and crashing Green River to a viewing area on cliffs across from the falls. Back on the highway, you reach Pemberton in just 5 minutes. Two gas stations and a McDonald's are at the first intersection you come to. This is the last food or gas until well beyond Joffre Lakes.
Getting to the Joffre Lakes Trailhead by Bus

From Whistler, Joffre Lakes Provincial Park is 65 kilometres away so driving or public transit are your only realistic choices. There are some companies that do a somewhat regular bus route to Joffre Lakes from Vancouver in the summer months.  ParkBus picks up in downtown Vancouver at 730am and returns at 730pm.  They do this route all summer long and currently the cost is $69.  Check them out at parkbus.ca/joffre.  LivvAdventures also offers a bus service to Joffre Lakes.  Similar to ParkBus, though they operate weekends as well as some Tuesdays and Thursdays.  They also open in April and October as well as all summer long.  They currently are a bit cheaper than ParkBus, at $59 return between Vancouver and Joffre Lakes.  Check them out here..
Whistler's Best Hiking Trails!
Whistler & Garibaldi Park Best Hiking by Month!

Explore BC Hiking Destinations!