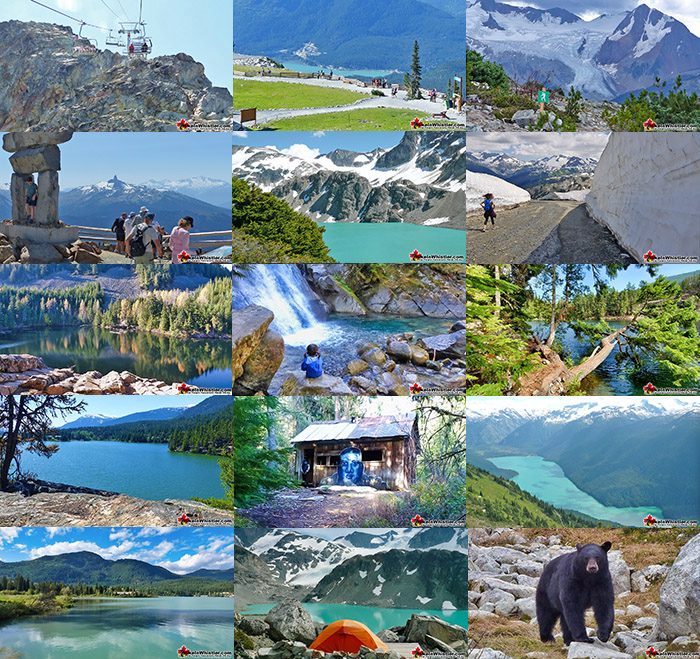 Whistler as a resort has a wonderful car-free core. The Village Stroll runs through the heart of Whistler Village and is entirely car free. If you are visiting Whistler or living here and you don't have a car, it's no problem. On foot or on a bike you can travel the extensive network of non-motorized trails. 
No Car, No Problem, Trails

Blackcomb Mountain  

Cheakamus River   

Flank Trail  

Logger's Lake  

Parkhurst Ghost Town  

Rainbow Falls  

Rainbow Lake  

Russet Lake  

Sea to Sky Trail  

Train Wreck  

Wedgemount Lake  

Whistler Mountain

January  

February  

March  

April  

May  

June  

July  

August  

September  

October  

November  

December
The Valley Trail snakes through Whistler Village and extends in several directions, all of which lead to beautiful parts of Whistler. The Sea to Sky Trail and the Lost Lake trails continue this massive, car-free network of trails running almost everywhere in Whistler. When it comes to many of the best hiking trails, getting to the trailheads on foot, by bike or public transit can be tricky at best or complicated and impractical at worst. Many trailheads are far from Whistler Village and have steep access roads. The good news is that some excellent trails emanate from Whistler Village and several more trailheads can be found after a nice 30 minute walk or 10 minute bike ride. In fact, finding a dozen beautiful trails with trailheads within a reasonable walking, biking or bussing distance from Whistler Village is pretty easy. If you do have a car, however, take a look at our Best Hiking Trails list. If you don't have a car, keep reading. If you want to find some good trailheads by bus, Whistler Transit has a continuous bus service that runs mainly up and down the Sea to Sky Highway. It has stops in the vicinity of trailheads for Cheakamus River, Cheakamus Lake, Whistler Train Wreck and much of the Sea to Sky Trail south of Whistler Village. From Whistler Village you have some pretty amazing hiking options.  From the spectacular hiking trails that open up on Whistler and Blackcomb mountains in the summer months to the more hidden and adventurous Singing Pass trail leading to Russet Lake in Garibaldi Provincial Park. Access for Blackcomb Mountain, Whistler Mountain and the Singing Pass trail to Russet Lake start in Whistler Village. Whistler Mountain and Blackcomb Mountain require you to buy a summer lift pass to access, free if you have a winter season pass, though the Singing Pass trail is free to hike. Sightseeing lift passes for Whistler and Blackcomb are about $150 and that includes access to both mountains as well as the Peak2Peak Gondola that spans the two. You can also get a summer season pass for almost the same price as a day pass!  Both mountains have a large and impressive network of hiking trails that open up for hiking in late May for some and late June or early July for all the trails.
The Whistler and Blackcomb gondolas and Whistler Peak Express continue running until September and the gondolas until October. You could easily spend a day hiking on each mountain, but most tend to hike some trails on each mountain and cross on the Peak2Peak Gondola once or twice. Both mountains are well equipped with good places to eat.  Either end of the Peak2Peak Gondola have good cafeteria-style restaurants with million dollar views of snow-capped mountain in all directions. On the Blackcomb side you will find Christine's, a fine dining restaurant with not too expensive prices. Perched on the edge of the valley with wonderful views and great food.  Or you can just sit at the bar and enjoy the view over drink you won't soon forget.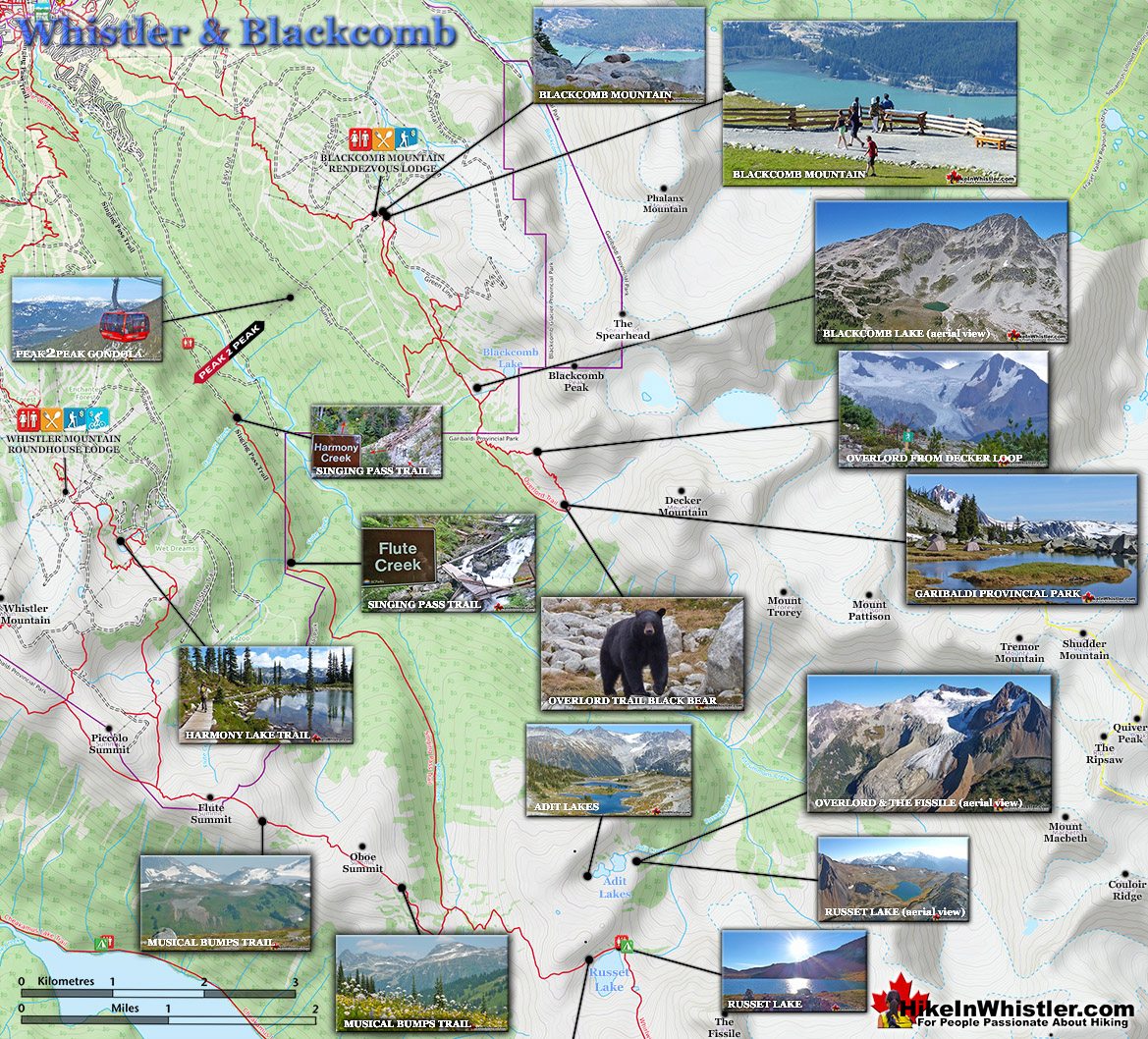 Best Whistler Walk, Bike and Bus To Trails
These are the best Whistler trails accessible without a car from Whistler Village. Some start in or at the edge of Whistler Village, such as Whistler Mountain, Blackcomb Mountain, Singing Pass to Russet Lake, the Sea to Sky Trail and the Lost Lake trails. Others require a short or long walk to reach the trailhead from Whistler Village. These include the Blueberry Trail (2km/1.24miles), Rainbow Lake (5km/3.1miles), the Flank Trail (5.4km/3.35miles), Parkhurst Ghost Town (9k/5.6miles) and Wedgemount Lake (14km/8.7miles). Wedgemount Lake is included in our list here despite the distance for a few good reasons. Though it is effectively a 4 hour walk to the trailhead, it is reached by passing through Lost Lake, the Sea to Sky Trail and Parkhurst Ghost Town. All of which are on our walk to list here. This makes Wedgemount Lake a very enticing and an amazing trail to hike to. For example, hiking from Whistler Village to Parkhurst or Green River, near the Wedgemount trailhead and spending the night at either convenient and beautiful spot, cuts the 14 kilometre journey in half. Keeping in mind that the Wedgemount Lake trail is a very steep, though short 7 kilometres, one way, getting to the trailhead is an easy and very scenic 14 kilometres on foot. Keep in mind that there are no official campsites in Parkhurst or along the Sea to Sky Trail on the way to the Wedgemount Lake trailhead. The wilderness, however, is quite vast after you enter the forest beyond Lost Lake and finding a hidden and secluded place to put up your tent is easy.
Walk To the Blackcomb Gondola to Blackcomb Mountain

Blackcomb Mountain is accessible by the Blackcomb Gondola in Whistler Village and easily accessible without a car. Gorgeous alpine trails extend from the Rendezvous Lodge high up on the mountain. Of course you need to purchase a summer sightseeing pass to get up the mountain, but they are quite reasonably priced considering the vast terrain and sights to see. Blackcomb Mountain has come alive with beautiful hiking trails in recent years. The trails on Blackcomb Mountain are mostly easy and relaxing, however the Decker Loop Trail at the far end of the Blackcomb network of trails is very challenging and spectacularly scenic. For the most part, you will find yourself winding through a nice alpine forest scattered with enormous fields of erratics leading to one great viewpoint after another. You can hike for as little as 15 minutes or more than 3 hours, depending on the trail or trails you choose to follow. Blackcomb Lake and Blackcomb Peak that looms far above it are the most popular destinations for hikers and getting there and back can be done in a couple hours. The trails begin at the Rendezvous Lodge at the heart of Blackcomb Mountain. Blackcomb Mountain is one of the best walk to trails in Whistler because of its easy access to stunning terrain. A bit more user friendly for hikers than Whistler Mountain, but equally scenic and packed with mountaintop amenities. You can even enjoy a glass of wine, or just about anything else you can think of, from either one of the various eateries on both mountains.  Both mountains are equipped with nice restaurants, cafes, cafeterias as well as barbecue areas that sell very enticing barbecue burgers. One of the must do activities summer or winter in Whistler surely is to have a burger and beer on a sunny patio on top of the world!  And if you would rather upscale sophistication, then just a few steps away you will find Christine's Restaurant. Fine dining at unexpectedly reasonable prices, considering the location and view! If you are in Whistler with no car, it's no problem getting to this hiking paradise.
Blackcomb Mountain View of Whistler Valley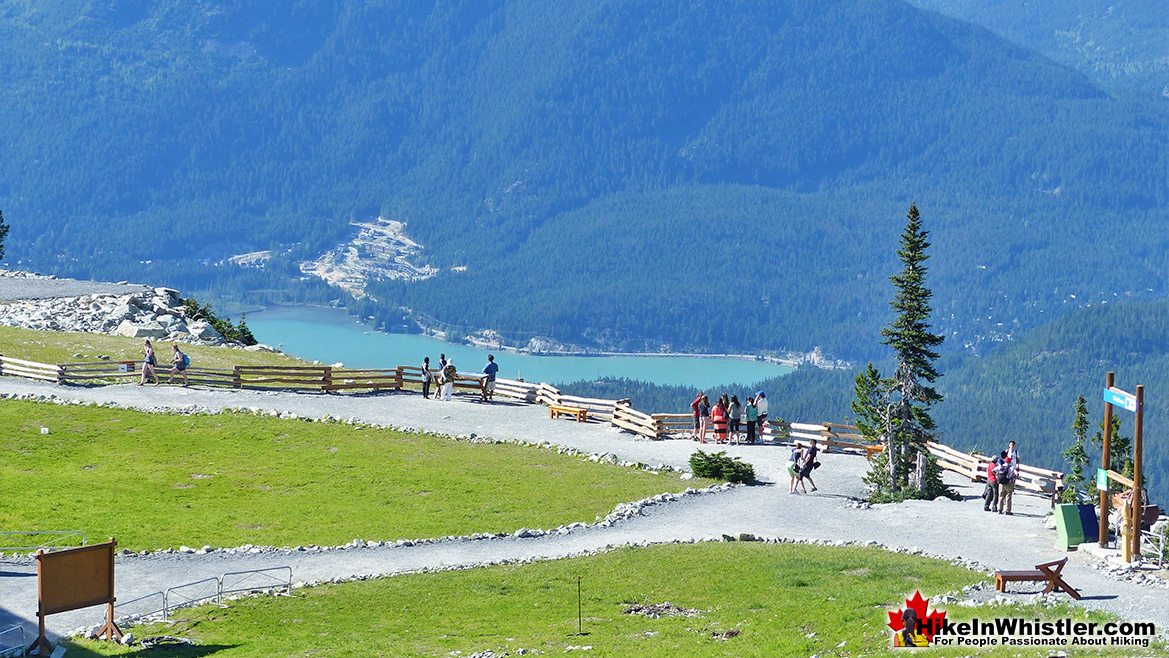 Best Whistler Walk, Bike & Bus To Trails - Blackcomb Mountain
Walk to the Whistler Gondola to Whistler Mountain

Whistler Mountain is also accessible with a lift pass and the hiking trails are endless, and compared to Blackcomb, more vast and challenging. The Blackcomb Mountain trails are much more user friendly and contained, whereas the Whistler Mountain trails extend in multiple directions and go considerable distances. The three different routes to Russet Lake from Whistler Mountain are each over a dozen kilometres one way! Which doesn't sound excessively far until you take into account the constant elevation gains and loss when you tackle the Musical Bumps! The Whistler Mountain trails are very beautiful and as with Blackcomb Mountain, the majority of the elevation is done by gondola and chairlift. You can get on the Whistler Gondola to the Roundhouse, high up on Whistler, then take the short walk down to the Peak Express, then ride it to the summit of Whistler. This gorgeous journey requires barely any effort and effortlessly takes you to the summit of this world-famous mountain. The trails from the summit of Whistler Mountain range from short and easy, to longer and moderately challenging. Trail options are surprisingly varied from the summit.  The Whistler Summit Interpretive Walk is an easy and short route around the absolute summit of Whistler Mountain and takes just 10 minutes. The Half Note and High Note trails are longer and take 1-2 hours and 3-4 hours. Along with the gorgeous mountain and valley views from the summit of Whistler, you can look forward to seeing Cheakamus Lake. This incredibly vivid, turquoise coloured lake is surrounded by snow capped mountains and is hypnotically beautiful. The High Note Trail overlooks this marvellous lake and takes you too two prominent viewpoints to appreciate the view. The alpine hiking trails on Whistler Mountain are the ultimate in luxurious hiking. Little hiking effort gets you amazing views of turquoise lakes, snowy mountain, valleys of flowers, waterfalls and spectacular glaciers.  In the summer months, Whistler Mountain is somewhat divided in two. The lower half of the mountain is for biking and the upper half is also for biking, but more devoted to hiking, sightseeing, trail running, eating and drinking. Whistler Mountain is easily one of the best walk to trails in Whistler. For more information, maps and details for Whistler Mountain click here.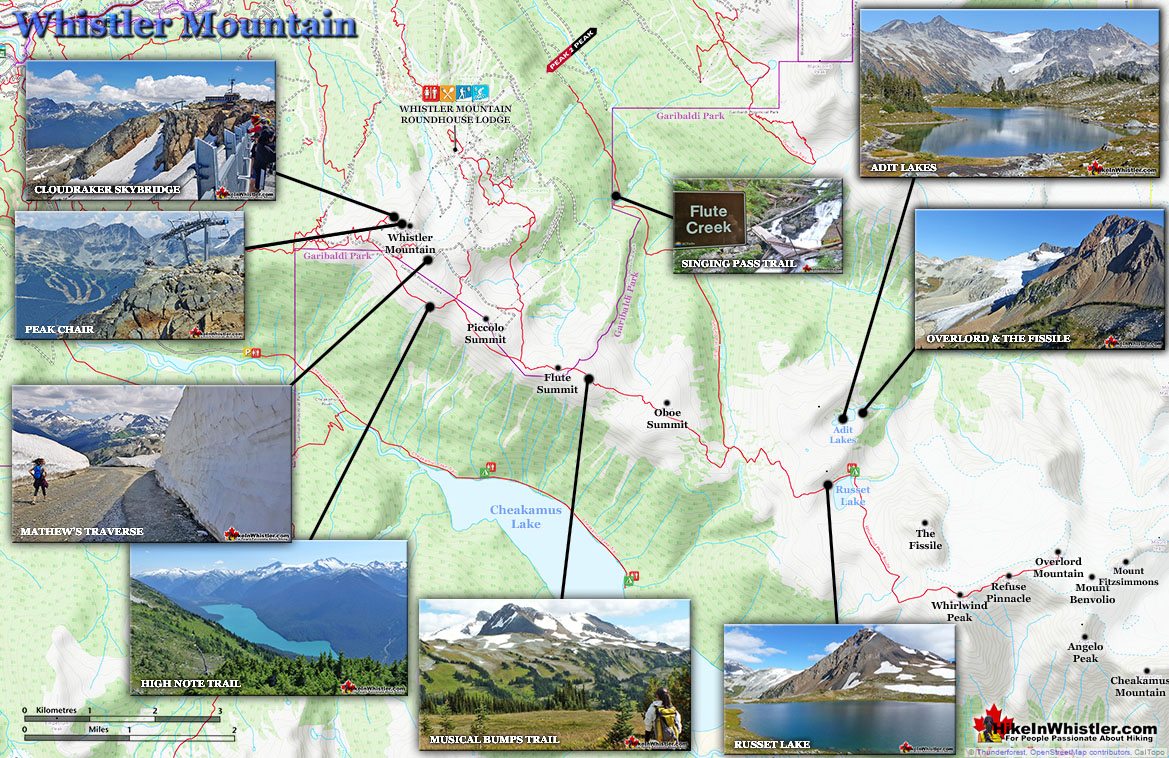 Best Whistler Walk, Bike & Bus To Trails - Whistler Mountain
Walk To the Singing Pass Trailhead to Russet Lake

Russet Lake in Garibaldi Provincial Park is accessible for free via the Singing Pass trail that starts in Whistler Village about a 2-minute walk from the Dubh Linn Gate Pub! Russet Lake is also accessible from Whistler Mountain via two gorgeous trails, High Note and the Musical Bumps. Russet Lake sits in a valley in the shadow of The Fissile and overlooking Overlord Glacier. The Singing Pass trail is 14.5 kilometres to Russet Lake and constantly uphill, though by no means difficult. It is a relentless ascent, however, and fairly boring. The trail is fairly uneventful as is runs through deep forest for much of the first 10 kilometres. The trail has a couple of washouts. One, about 40 minutes into the trail is quite bad. Looks like a large avalanche across the trail, trees, loose dirt. It is passable though with a little scrambling, but be prepared for this inconvenience. This area has  caused some confusion in recent years as for a time the Whistler Info Centre mistakenly refers to the Singing Pass trail as closed because of this section. Also, in recent years there have been cases of bridge damage along the trail, however, parks staff quickly repair the bridges. Keep this in mind when hiking this trail, certainly in June, you will find extensive damage to the trail left over from the winter. Usually just fallen trees criss-crossing the trail, but don't be surprised if you come to a washed out bridge that has to be scrambled across with some difficulty. After this the trail is well maintained with small bridges over cute creeks. At 10.5km it finally opens up to the alpine. The views immediately become magnificent. The junction at 11.5km splits the trail. Left goes to Russet Lake (3km), and right goes to Whistler Mountain via the Musical Bumps trail. If you are confident in making the Whistler Gondola during open hours, returning to Whistler by this route is an enticing option.

A crashing and loud creek cuts along the campsite and fellow campers a dozen metres away can't be heard. Laying under the stars at Russet Lake, even on a busy day with a dozen tents nearby, you feel alone in this paradise. A nice little oasis of humanity in the middle of a beautifully erratic strewn landscape. On the weekends in the summer the area can get busy.  It is not uncommon to see two dozen tents dot the area on a July weekend. The more adventurous and solitude seeking, will take the short 15 minute hike up to Adit Lakes. These idyllic tarns lay in the next valley, up and over from Russet Lake. Regardless, they are easy to find and lay in an incredible glacier valley. Plenty of truck sized erratics and flat, grassy areas between and around the two lakes make you feel a thousand miles from humanity. Keep in mind that camping in this area is definitely a leave no trace place to camp. Even more so than the Russet Lake campsite. You should obviously never leave a trace when camping, but in this little corner of paradise you will want to be supremely careful. When you see it, you will know. Russet Lake is certainly one of the most amazing and oldest hikes in Whistler, and accessible entirely without a car! Singing Pass to Russet Lake is definitely one of the best, though very challenging walk to trails in Whistler. For more information, maps and details for Russet Lake click here.
Best Whistler Walk to Trails - Russet Lake
Walk or Bike To The Blueberry Trail


The Blueberry Trail in Blueberry Park is a wonderful, hidden forest on Alta Lake's quiet side, directly across from Blueberry Park. Just a short 2 kilometre walk, run or bike ride from Whistler Village along the Valley Trail takes you to this secluded and surprisingly big, deep forest park on Blueberry Hill. The park consists of four large piers on Alta Lake with trails that run along the shore and also high above it through the forest. Along with the idyllic piers, the park boasts a few towering viewpoints high above the lake. Blueberry Park is never busy and visitors range from walkers, joggers to cross country bikers that take advantage of the challenging bike trail that links two of Whistler's neighbourhoods. In the winter you will encounter snowshoers scrambling through waist deep powder and in the summer you will find locals lounging on the piers. There are a few good reasons why Blueberry Park is one of the best walk to trails in Whistler. First, it is very scenic and varied.  You can either hang out at the piers, go for a swim or hike up to the stunning viewpoints. Blueberry Park is conveniently close to Whistler Village and can be done in a beautiful 6 kilometre loop trail that begins and ends in Whistler Village. This stunning walking, running or biking route takes you along Whistler Golf Club, then up through Blueberry Park, down into Whistler Cay, then back along the opposite end of the golf course to where you began. There is hardly a section of this 6 kilometre route that isn't surrounded by impressive scenery. An added bonus is Whistler Golf Course is frequented by bears in the spring months and occasionally in the summer and fall months. The Valley Trail that circles around the golf coarse is a perfect vantage point to see them grazing on grass along the fairways. If you like a widely varied route through Whistler that takes in golf course views, lakeside views as well as a tranquil forest that rises high above Alta Lake, the Blueberry Trail is ideal. It is one of the best walk to trails in Whistler. For more info, directions and maps click here.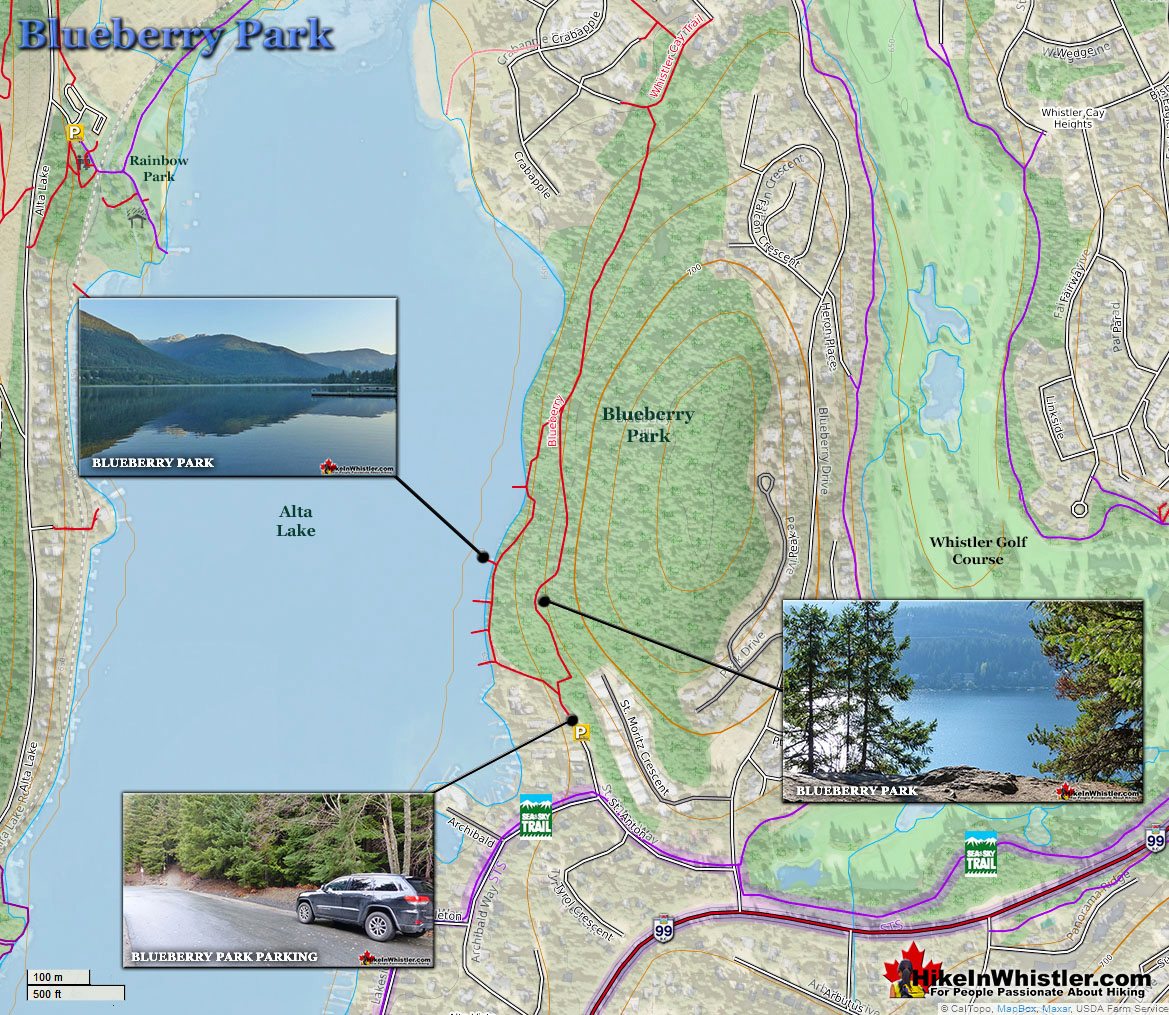 Best Whistler Walk or Bike To Trails - The Blueberry Trail
Walk or Bike To Lost Lake


Lost Lake Park has a wonderful spider web of trails right next to Whistler Village and surrounding a serene and idyllic lake. Lost Lake is a tranquil and secluded lake that hides in the forest extending from Whistler Village. Just a 20 minute, leisurely walk or 5 minute bike ride along the well signed Valley Trail will lead you to this cute little lake. The wide and paved Valley Trail turns into a wide, gravel trail as you enter Lost Lake Park and dozens of named trails branch off in all directions. There are many attributes of Lost Lake that make it great. First, its convenience. Beginning your walk, run or bike ride from Whistler Village you are met with beautifully clear sign posts along the way. The Valley Trail runs through forest, over and along Fitzsimmons Creek, through the scenic underpass under Lorimer Road, then into Lost Lake Park to Lost Lake. Lost Lake's main trail runs around the lake and is a popular running route from Whistler Village. Roundtrip from Whistler Village, this route around Lost Lake and back to the Village is just 6 kilometres. If you are walking this route, plan to take a couple hours at a leisurely pace, stopping occasionally.  There are plenty of nice viewpoints along this main trail as well as quite a few short trails that lead to several access points to the lake. All with great places to sit and relax in the sun and take in the view. Lost Lake is largely centred around the very popular beach at the south end.  At the height of summer this can get busy as it is the most convenient beach from Whistler Village. Alternatively, you will find numerous quiet spots in the forest along the shore. Some with little park benches at strategic points, and even when the lake is busy, these spots are reliably vacant and serene. There are several swimming platforms out in the lake as well as a wonderful and huge pier along the right-hand side of the lake. Lost Lake is one of the best walk to trails in Whistler because of its beautiful serenity and varied shoreline. You can be in the midst of family fun at the main beach one minute and reading a book in a peaceful setting moments later. You can be fly fishing at one of several productive shores, or laying in the sun on the beautiful pier on the opposite side of the lake. Lost Lake is a wonderful bit of paradise just a short walk from Whistler Village.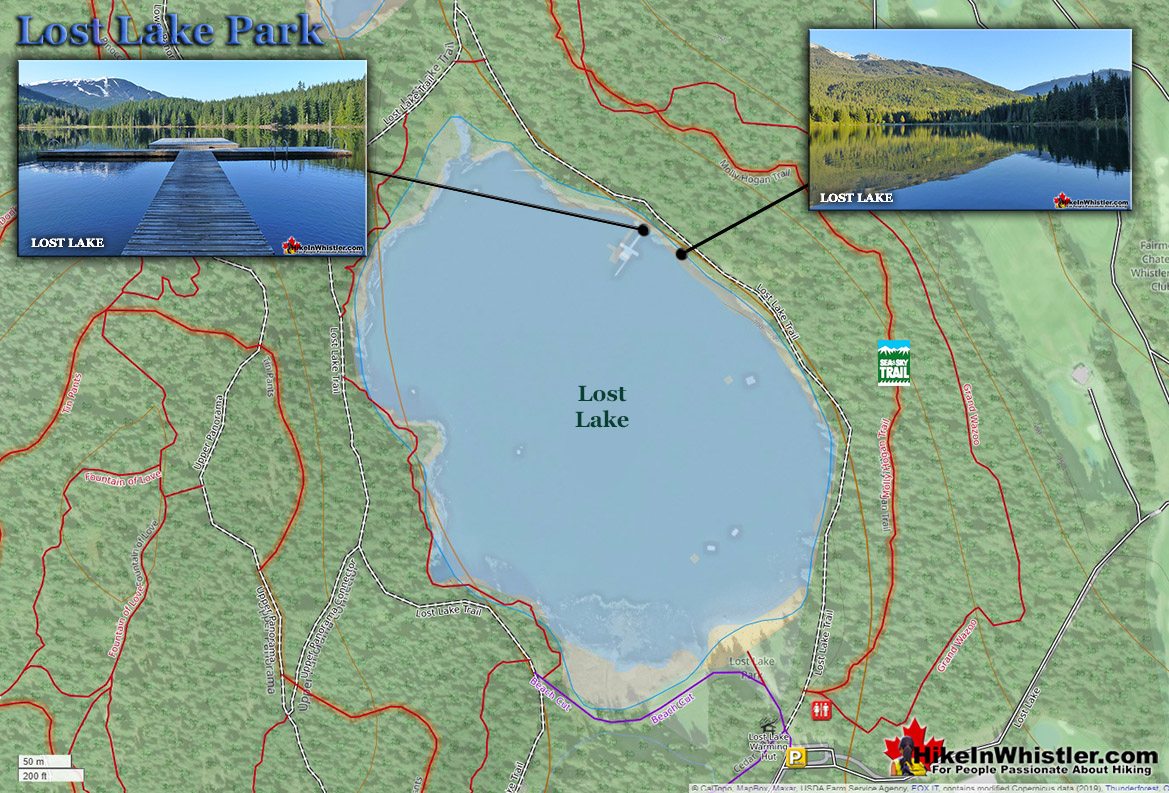 Best Whistler Bike or Bus To Trails – Lost Lake
Bike or Bus To Whistler Train Wreck


Whistler Train Wreck is a surreal and scenic hike found in Cheakamus Crossing, a neighbourhood 8 kilometres south of Whistler Village. You can bus there almost directly from Whistler Village or bike there entirely along the Valley Trail/Sea to Sky Trail. The trailhead is just a 5 minute walk from the bus stop in Cheakamus Crossing and takes you deep into a scenic forest, across Cheakamus River and into a bizarre world of mangled train cars painted with graffiti into marvellous colours. A fantastic hike and you can easily get to the trailhead without a car! Whistler Train Wreck is an amazing, easy and accessible year-round hike in Whistler.  The trail to Whistler Train Wreck is an easy, yet varied route through deep forest, across a great suspension bridge over Cheakamus River, to a stunning array of wrecked train cars. From the trailhead to the wrecks only takes about 15 minutes, however once you reach one wreck, you see another, then another. There are seven wrecks in total that are spread over an area about 400 metres long. Along with the surreal train wrecks painted with stunning murals, you find yourself in a thick forest that runs along Cheakamus River. Cheakamus River is a beautiful, wild and crashing river that snakes past the train wrecks. Numerous side trails take you to some marvellous viewpoints, several metres above the rushing water below.  If you follow a trail past the wrecks(heading north or in the direction of Whistler Village) you will emerge at the train tracks. If you are adventurous you will then walk along, beside the tracks for a couple hundred metres and some hidden and gorgeous views of Cheakamus River. For more information, maps and details for Whistler Train Wreck click here.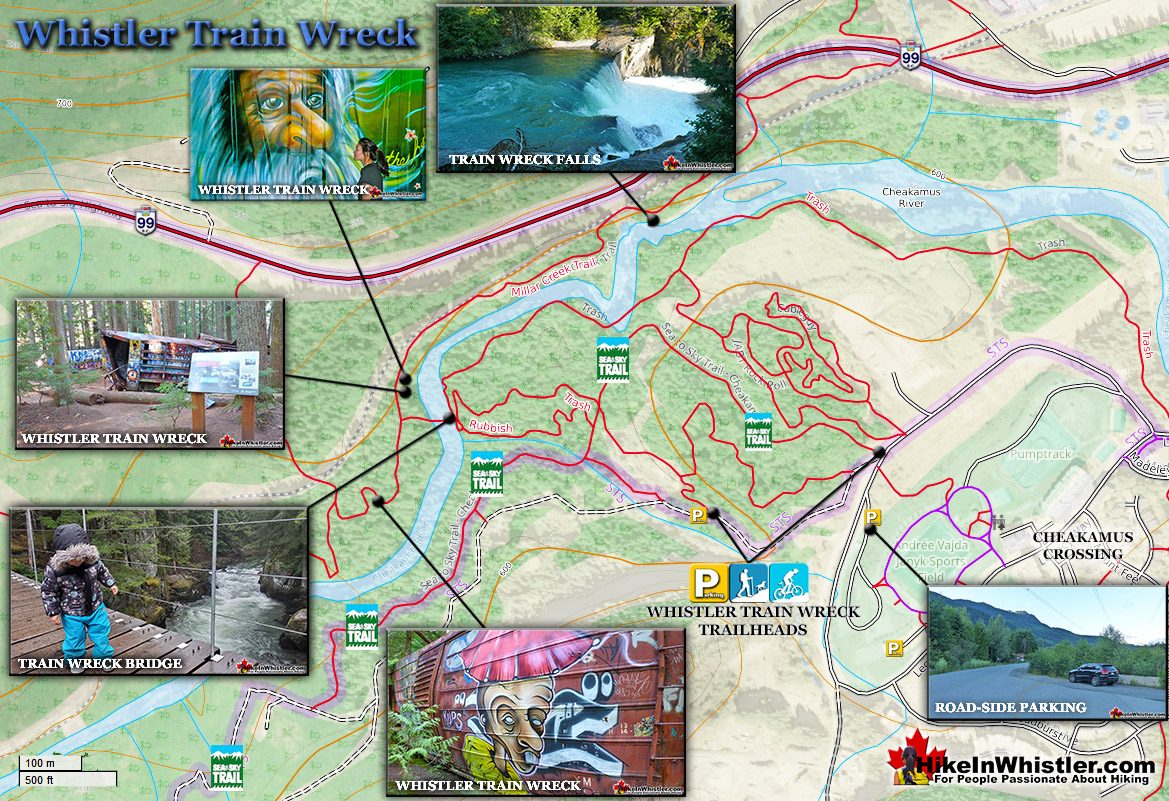 Best Whistler Bike or Bus To Trails – Whistler Train Wreck
Bike or Bus To Cheakamus River


The Cheakamus River trails are in Cheakamus Crossing, a neighbourhood 8 kilometres south of Whistler Village. You can bus there almost directly from Whistler Village or bike there entirely along the Valley Trail/Sea to Sky Trail. The Riverside trail and the Farside trail run on either side of Cheakamus River and connect at both ends by bridges. Connecting to the Riverside trail is the short trail to Logger's Lake, which in turn is surrounded by more hiking and biking trails. The Lake Loop trail, Crater Rim trail, the Ridge trail, Upper Ridge trail, and the Lower Ridge trail. On the Farside trail along Cheakamus River you can connect to Cheakamus Road(gravel road) and hike 6 kilometres up to the Cheakamus Lake trailhead. On the other side of the neighbourhood of Cheakamus Crossing, which Cheakamus River bends around keeping the Sea to Sky Highway and train tracks on its opposite side, you find still more hiking and biking trails. Trash trail hugs the river all the way to the beautiful bridge to Whistler Train Wreck.  Or, continue past the bridge to connect with the Sea to Sky trail.  For the most part, however, if you are talking about the Cheakamus River trails you are likely talking about the Farside and Riverside trails in Whistler's Interpretive Forest. Eight kilometres south of Whistler Village and surrounding the recently constructed neighbourhood of Cheakamus Crossing is Whistler Interpretive Forest. This beautiful forest surrounds the Cheakamus River and has been cut and replanted in several areas in the past decades. Hiking and biking trails have sprung up over the years making the area a wonderful place to explore. Cheakamus River maps, details and directions continued here...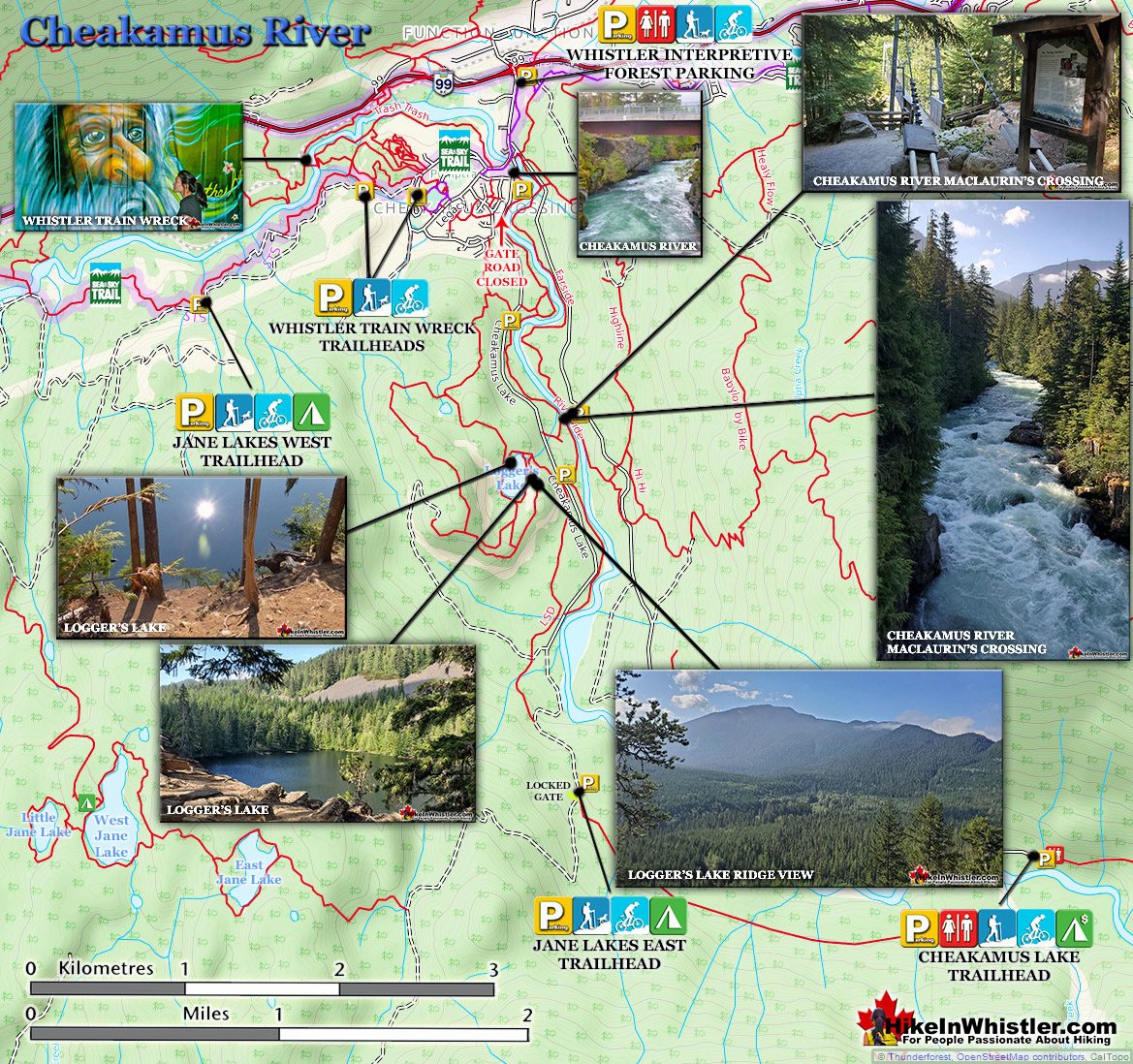 Best Whistler Bike or Bus To Trails – Cheakamus River
Bike or Bus To Logger's Lake


Logger's Lake is also in Whistler's Interpretive Forest and just a 20 minute hike from the Cheakamus River trail. The lake, almost unbelievably exists in a long extinct volcano. However, as soon as you see the lake up close, you quickly come to believe it. The lake sits in an almost cartoonish looking, volcano-shaped bowl, with one side of the bowl a crumbling array of truck sized boulders leading down to the lake. The crater that Logger's Lake sits in was a volcano that pushed through the glacial ice in this valley about 10000 years ago. As the lava cooled it formed the wonderful basalt ridge that is crumbling into valley. As Logger's Lake sits deep in this ancient volcano's vent, it is sheltered from the wind and soaks up the suns rays into the dark boulders all around. As a result makes it one of the warmest lakes in Whistler, though most other lakes around are glacier fed(via rivers and creeks), so the comparison is not entirely fair. The surrounding cliffs and forest also add to the tranquility of the lake. Located a bit off the radar for most and requiring a short logging road drive and then a very steep, but short hike to get to also contributes to its serenity. This serenity is broken at least once a year, however, when a new tradition formed in 2012. A yearly "Flash Mob Floatie Party" began, where hundreds congregate at Logger's Lake, most with rubber boats for an outdoor party, DJ an all.  But aside from that one hilarious day, Logger's Lake is a secret-feeling oasis. Another, though unexpected draw to Logger's Lake, is its good fishing. Occasionally the lake is stocked with rainbow trout and because of the steep shoreline, casting from almost anywhere along the shore is easy and effective.
Best Whistler Bike or Bus To Trails – Logger's Lake
Walk or Bike To the Sea to Sky Trail


Next to the public washrooms at Lost Lake Park you will notice a couple trails ascend into the forest. The one on the left is the Sea to Sky Trail. The Sea to Sky Trail is hiking, biking, running and walking trail that actually extends from Squamish to D'Arcy, well north of Pemberton, which is well north of Whistler. This beautiful trail runs through Whistler Village along the same route as the Valley Trail for several kilometres and you will notice Sea to Sky Trail signs in and around the Village.  The Sea to Sky Trail extends from Whistler Village along Lost Lake trail before ascending up above Green Lake and past Whistler's cherished ghost town, Parkhurst. The Whistler section of the Sea to Sky Trail is over 33 kilometres long and can be divided into three sections. The Brandywine Falls to Cheakamus Crossing section, the Cheakamus Crossing to Whistler Village section and the Lost Lake to Wedgemount Lake section. The most convenient and quick section from Whistler Village is this Lost Lake to Wedgemount Lake section. This span of the Sea to Sky Trail above Green Lake is wide, gravel, somewhat steep, but with constant views. Lots of steep switchbacks get you ascending quickly above Green Lake, which you will quickly notice is a trail where the views are amazing and other hikers or bikers are rarely seen. This highlight of this stretch of the trail, apart from the beautiful views of Green Lake, is Parkhurst Ghost Town. Shortly after you begin your steep descent on the far side of Green Lake you will see a trail on your left. This leads you to this amazing relic of pre-Whistler history. Parkhurst was a small logging town several decades ago that was abandoned. For more information, maps and details for the Sea to Sky Trail click here.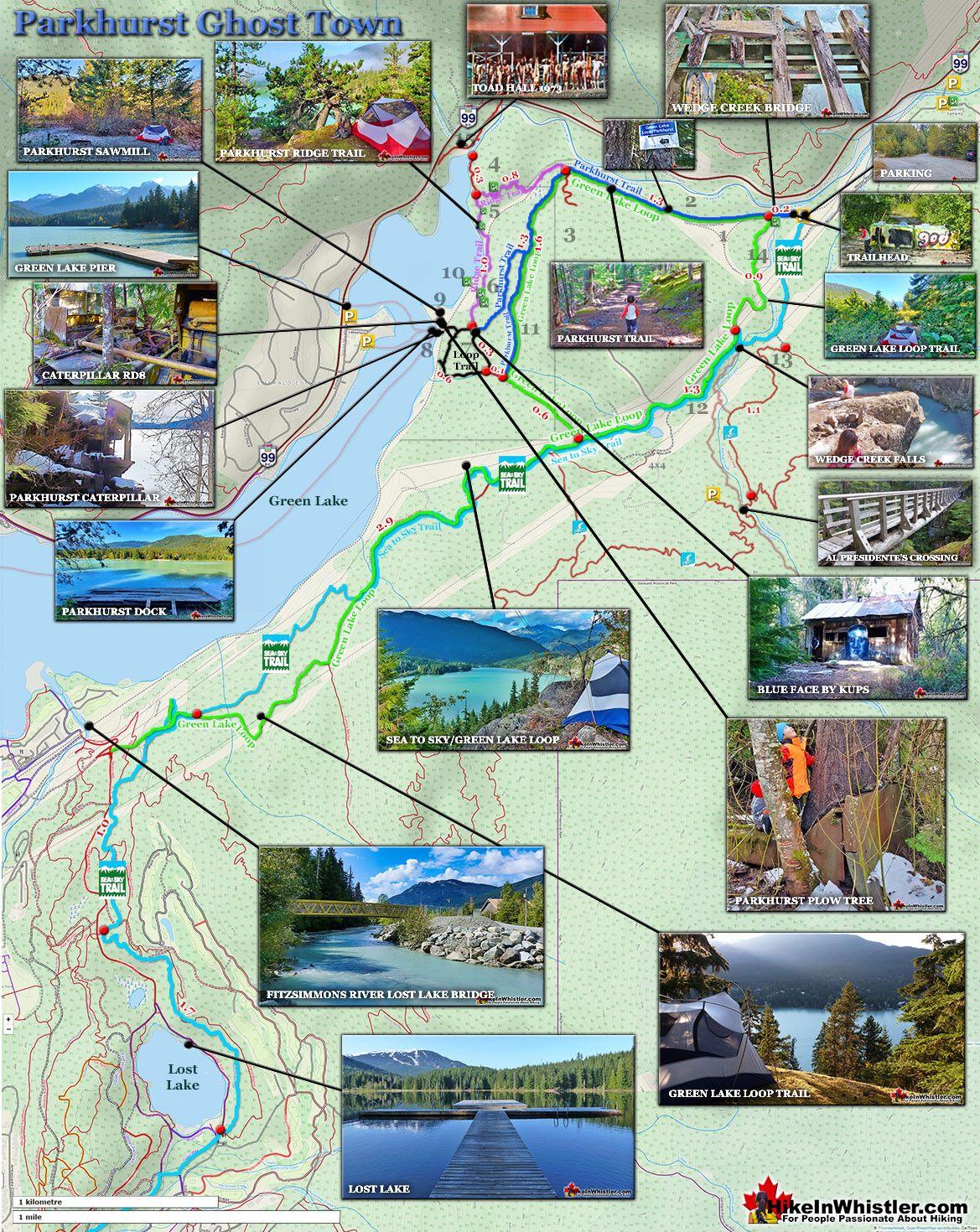 Best Whistler Walk or Bike To Trails - The Sea to Sky Trail
Walk or Bike To Parkhurst Ghost Town


Parkhurst, a small logging town that was abandoned decades ago, long before Whistler was Whistler. Back in the 50's Whistler Mountain was called London Mountain and only a railroad passed through the valley. Today Parkhurst Ghost Town sits along the shore of Green Lake as well as a plateau high above. Many relics of the past still exist. One disintegrating house with a hauntingly beautiful blue face painted over one entire side. Several other century old houses have collapsed and all that remain are curiously functioning water pipes that stick out of the ground with fountains of water still pouring out in the midst of decaying foundations. Down along the shore of Green Lake, a giant relic of Parkhurst's logging past sits as if abandoned yesterday. A giant logging tractor at the edge of the lake is a hauntingly beautiful indication of where the ghost town begins. Parkhurst Ghost Town a great walk to bike to destination in Whistler for its scenery and wonderful curiosities. You don't have to have an interest in history to appreciate the strikingly beautiful blue face mural on the one remaining house. Or to wander through the surreal landscape with abandoned relics and mystifying water pipes still spewing water up into the crumbled remains of buildings. If you do love history, you will be immersed in the vanished history of Toad Hall. Parkhurst was the home of the colourful 70's commune of sorts that produced the famously cherished picture of naked skiers. For more information, details, directions for Parkhurst click here.
Best Whistler Walk or Bike To Trails - Parkhurst Ghost Town
Walk or Bike To the Wedgemount Lake Trailhead


Back on the Sea to Sky Trail, continuing away from Whistler Village, you eventually come to the bridge over Green River. This is the Sea to Sky Highway turnoff to, among other things, the Wedgemount Lake trailhead and parking. Signs indicate the gravel road that ascends up 3 kilometres to the trailhead of one of Whistler and Garibaldi Provincial Park's most amazing hiking destinations. From the Wedgemount Lake trailhead to Wedgemount Lake is a gruelling and always steep 7 kilometre ascent. Wedgemount Lake is a sharp contrast to Russet Lake. Russet Lake is small and not terribly pretty or colourful. Wedgemount Lake is much larger, within an incredibly alpine valley ringed with hostile and vertical mountain peaks. And best of all, Wedgemount Lake is that impossibly turquoise colour that you will soon will find is shared by many other alpine lakes around Whistler. Within the valley carpeted with giant erratics, you will find several impeccably designed tent platforms. Necessary as a result of the chaotic valley of boulders, these tent platforms are well placed and often hidden from each other. Down along the lake you will find another dozen gravel clearings directly across from Wedgemount Glacier. Receding up the valley, Wedgemount Glacier is a magnificent sight to see, framed by turquoise water below and stark black cliff on either side. You won't find a more spectacular campsite in Garibaldi Provincial Park. The Wedgemount Lake trailhead is about a 3-4 hour hike from Whistler Village or a 1-2 hour bike ride. If you bike there you will likely have to push your bike the last, steep 2 kilometres to the trailhead. There are no bike racks at the trailhead, so carry your bike into the forest and chain it to a tree out of sight. Buses from Whistler Village are not really an option for Wedgemount Lake. A taxi is a good option, though depending on the driver, may not drive you up the last 2 kilometres as the gravel road is quite potholed. It can easily be driven by cars, so they should be able to drive you all the way.  A taxi to the trailhead should be less than $25. If you are biking to Wedgemount Lake, you may want to avoid the Sea to Sky Trail around Green Lake and follow the much easier and almost entirely flat route on the Sea to Sky Highway side of Green Lake. This route is much easier, shorter, faster and avoids the exhausting ascents and descents you face on the Sea to Sky Trail behind Green Lake.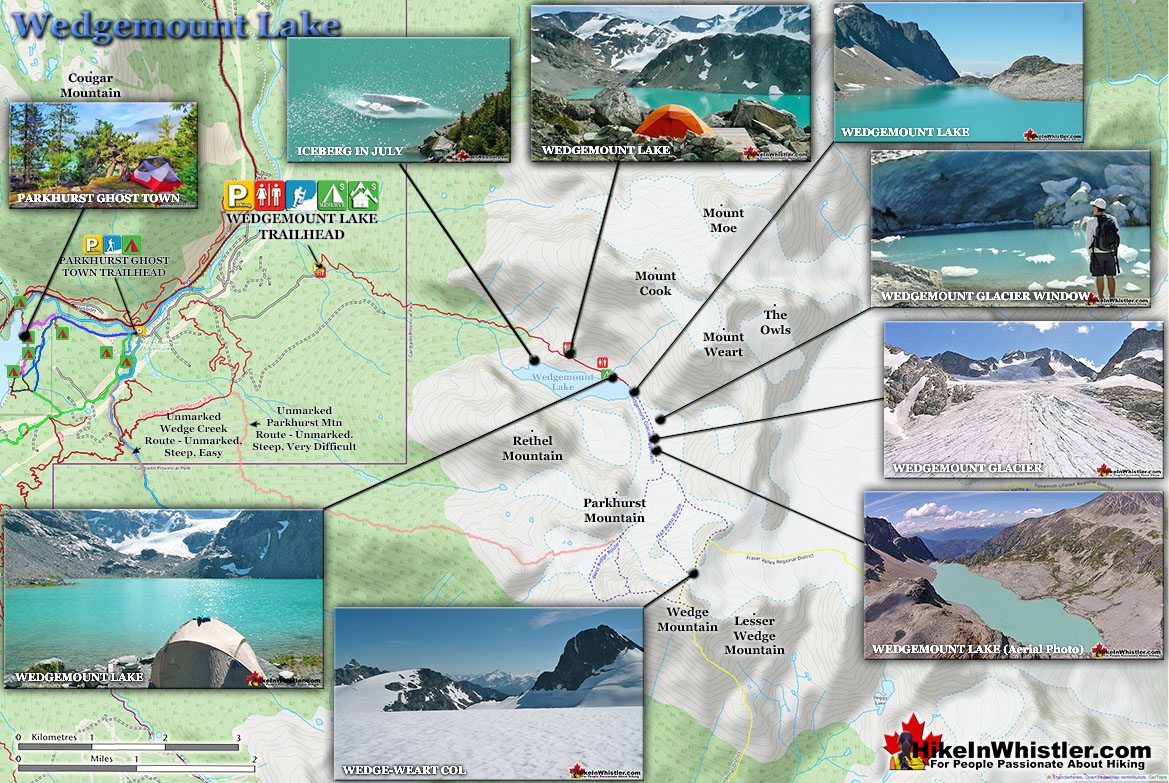 Best Whistler Walk or Bike To Trails - Wedgemount Lake
Walk or Bike To Rainbow Falls and Flank Trail


Another popular hiking area within walking or biking distance from Whistler Village is just across the valley. The Flank Trail and the Rainbow Trail sit across the valley and easily walkable from Whistler Village. If you take the Valley Trail from Whistler Village along the Whistler Golf Course to the end of Lorimer Road, you will come to a trail junction 2km from the Village. From the end of Lorimer Road the Valley Trail goes in three directions. One direction is where you just came from, Whistler Golf Course and Whistler Village. The second is toward Meadow Park along the River of Golden Dreams, over to Green Lake, then back to Whistler Village via Lost Lake. The third direction at this junction takes you left to Rainbow Park on Alta Lake. From the Village to Rainbow Park is just 3.2 kilometres and is entirely scenic. On foot the one way journey is less than an hour and by bike is less than 15 minutes. Rainbow Park is a great starting point to access the Flank Trail. The Rainbow Sproatt Flank Trail cuts across the valley along both Rainbow and Sproatt mountains. The Flank Trail is so large that it has several trailheads and has a near Rainbow Park you will find a small parking area on Alta Lake Road for "The Rainbow Trail".  This is an excellent and convenient way to access the Flank Trail if you have a car. If you don't have a car, walking from Rainbow Park is an excellent alternative, and not much longer. From Rainbow Park walk towards the washrooms. Immediately after crossing the train tracks you will see a wide, unmarked trail on your left climbing into the forest. Take this trail and it will immediately zig-zag right, then left again. This trail ends in about 60 metres at Alta Lake Road, however if you don't follow this trail all the way, but instead take a shortcut trail on the right you will see, directly across Alta Lake Rd a large mapboard and sign for the Flank Trail. This sounds confusing, but from the train tracks near the washrooms at Rainbow Park, this trailhead sign for the Flank Trail on Alta Lake Road, is just a 5 minute walk away. At the Flank Trail sign and mapboard you can get your bearings. You will just need to follow this trail for a couple minutes before turning right and following "Whip Me, Snip Me" to the Rainbow Trail/Flank Trail junction.  At this junction you will turn left and ascend quickly to where the Flank Trail splits left off of the Rainbow Trail. The Flank Trail then follows a generally easy route along the flank of Mount Sproatt past several very scenic viewpoints. For more information, details, directions for the Flank Trail click here.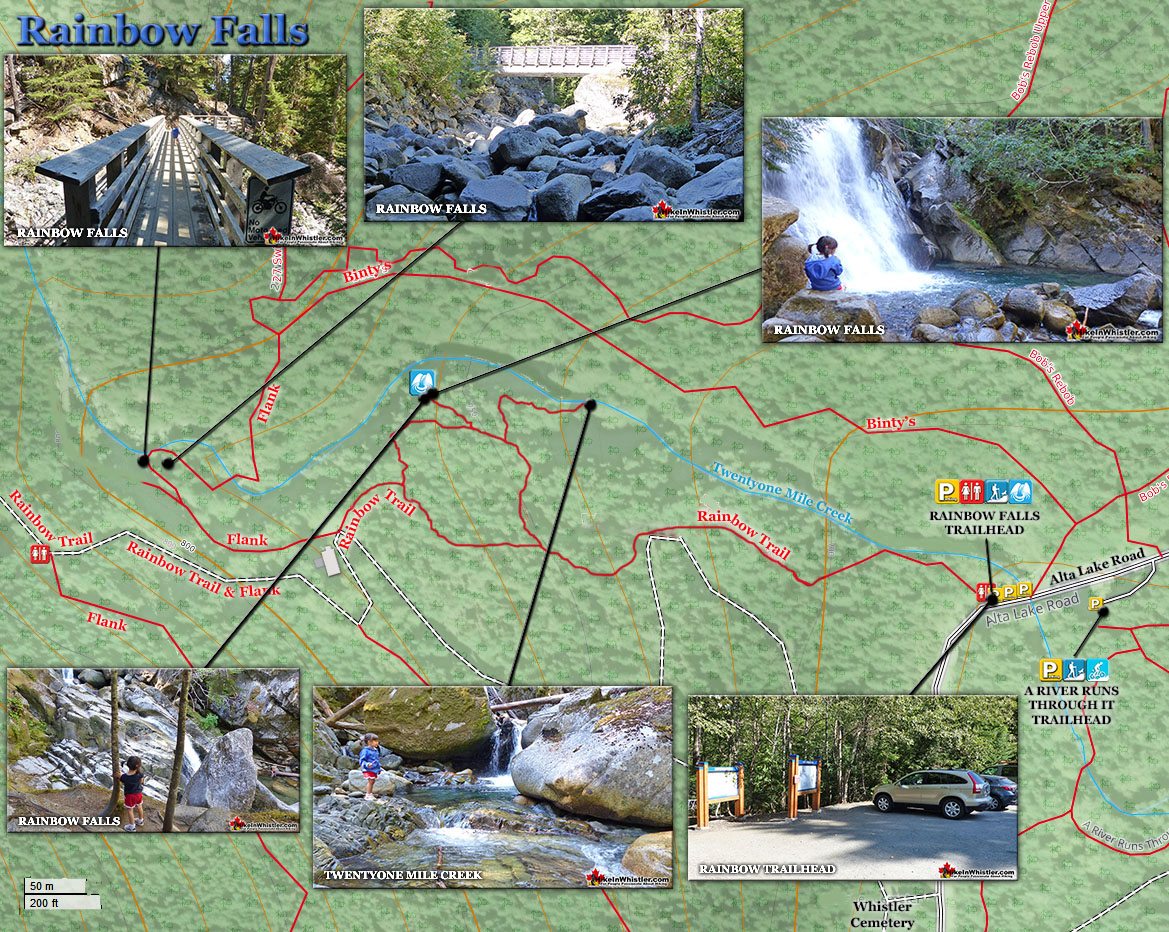 Best Whistler Walk or Bike To Trails - Rainbow Falls & Flank Trail
Walk or Bike To the Rainbow Lake Trailhead


The Rainbow Trail, if you don't detour onto the Flank Trail, continues to Rainbow Lake. This 8 kilometre trail, from the Rainbow Trail trailhead, is one of Whistler's oldest trails. Rainbow Lake is Whistler's water source, so you are limited on what you can do around the lake. No dogs, camping, fishing or swimming allowed. Rainbow Lake is mainly a day-trip destination that can easily be done in a day. Walking from Whistler Village, see the Flank Trail description above, you can walk the scenic route to the Rainbow Trail trailhead in about an hour. From the trailhead to Rainbow Lake is 8 kilometres and should take you about 3 hours to reach the lake. If you want to spend the night up in the mountains around Rainbow Lake you can legally do it by continuing past the lake and camp at Hanging Lake or Beverley Lake. Hanging Lake is just a short, 20-30 minutes past Rainbow Lake and is a designated place to camp. Beverley Lake is found by hiking for an hour in the valley on the far side of Rainbow Mountain. Both Hanging Lake and Beverley Lake are free to camp at and both are very nice. Hanging Lake is much more convenient and has a few great tent spots as well as an outhouse, while Beverley Lake has no facilities yet lots of wild tent areas. Beverley Lake is much tougher to get to than Hanging Lake and therefore you will usually find it deserted, whereas Rainbow Lake can get busy on weekends in the summer. The Rainbow Trail is easily accessible without a car, and very easy to get to by bike. For more information, details, directions and maps for Rainbow Lake click here.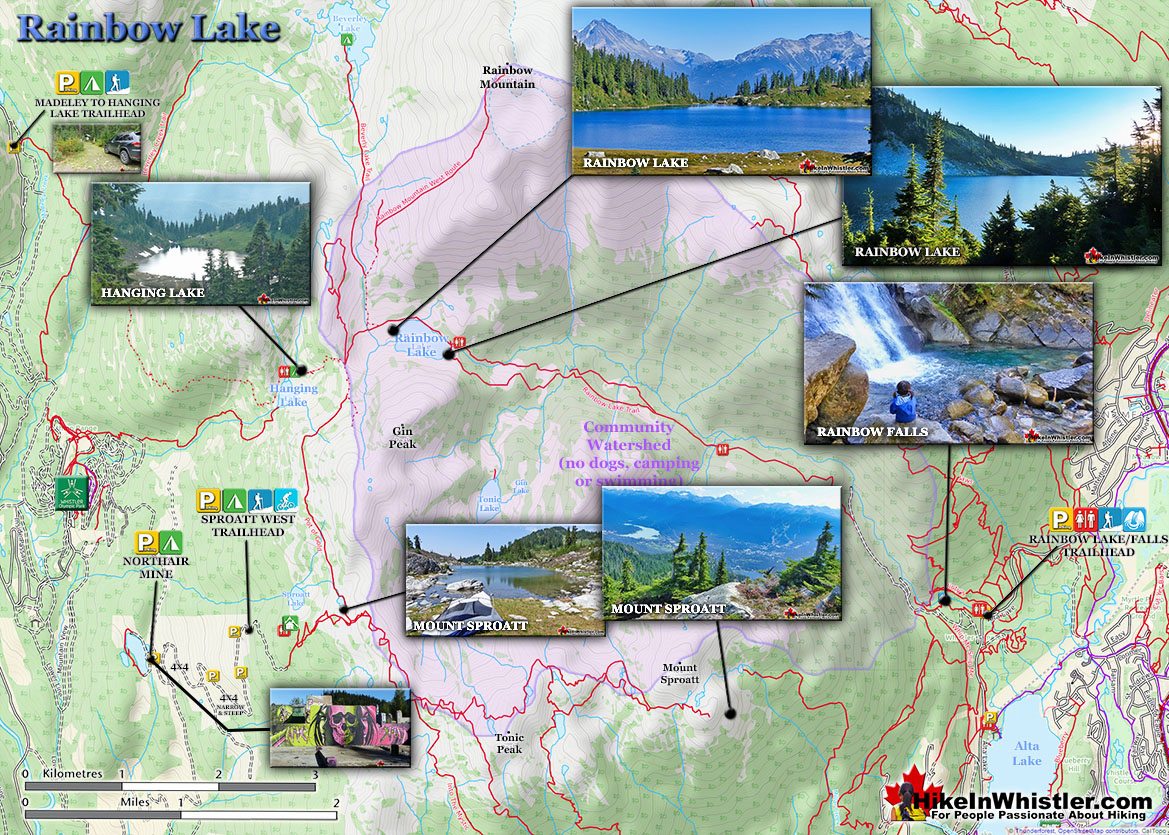 Best Whistler Walk or Bike To Trails - Rainbow Lake

Best Whistler and Garibaldi Park Hiking by Month!
Guides to the Best of Whistler, Garibaldi Park & Sea to Sky!

Explore BC Hiking Destinations!