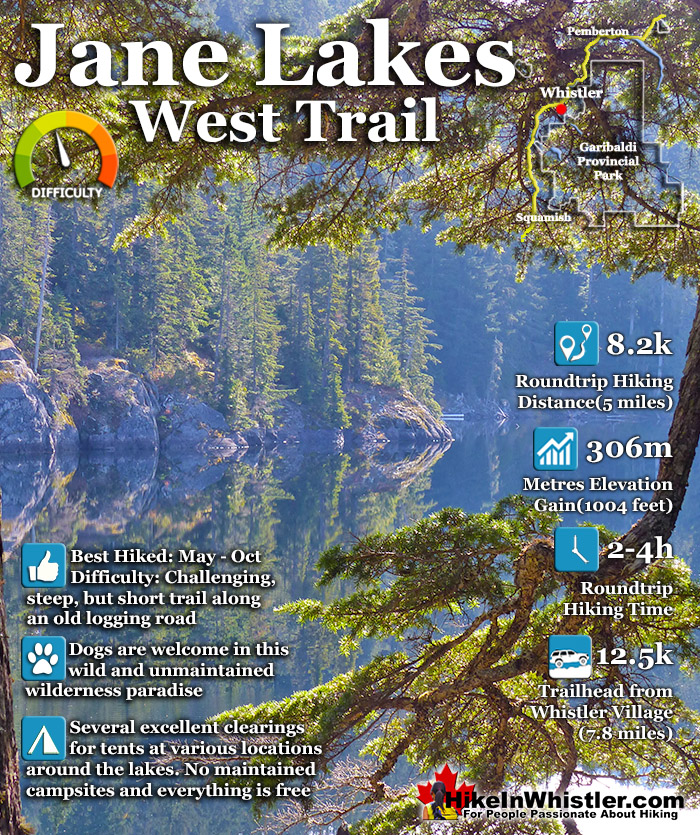 Jane Lakes are a very remote feeling set of lakes in the beautiful wilderness near Cheakamus Crossing.  Consisting of three lakes, West Jane Lake, East Jane Lake and Little Jane Lake, they have a great network of hiking trails that link and circle them all.  The area has been logged for decades and an old logging road once led to West Jane Lake.  Many years ago, you could have driven a 4x4 all the way to lake.  In recent years the growing forest narrowed the old road into an overgrown trail.

Quiet area, not a lot of visitors
Terrific lakes for swimming & fishing

Excellent and free camping!

Black Tusk visible across the lake

Very dog friendly wilderness trails

Great viewpoints along the trail

Fantastic geological rock formations
No wow factor like Wedge or Cirque

Not a whole lot to see at the lakes

No magnificent alpine scenery

Whistler & Garibaldi Hiking

Alexander Falls  

Ancient Cedars  

Black Tusk  

Blackcomb Mountain  

Brandywine Falls  

Brandywine Meadows  

Brew Lake  

Callaghan Lake  

Cheakamus Lake  

Cheakamus River  

Cirque Lake 

Flank Trail 

Garibaldi Lake 

Garibaldi Park 

Helm Creek  

Jane Lakes 

Joffre Lakes  

Keyhole Hot Springs  

Logger's Lake  

Madeley Lake  

Meager Hot Springs 

Nairn Falls  

Newt Lake 

Panorama Ridge 

Parkhurst Ghost Town 

Rainbow Falls  

Rainbow Lake 

Ring Lake  

Russet Lake  

Sea to Sky Trail 

Skookumchuck Hot Springs  

Sloquet Hot Springs 

Sproatt East 

Sproatt West  

Taylor Meadows  

Train Wreck  

Wedgemount Lake  

Whistler Mountain

January 

February 

March 

April 

May 

June 

July 

August 

September 

October 

November 

December
In the last couple years renewed interest in Jane Lakes as a hiking, biking and camping destination has led to considerable trail construction.  The trails have now been expanded and upgraded.  The old, overgrown 4x4 road has been permanently converted into a hiking/biking trail.  Dozens of water channels have been dug across the old road to allow creeks to flow unhindered.  The creek channels are quite large and the large excavator needed to dig them shredded its way through the old road.  The once overgrown 4x4 road to West Jane Lake is now several metres wide and crossed by new creekbeds a couple metres deep.  The heavy machinery finished this construction and sealed off the old road with a two metre deep creekbed in October of 2019.  A bit of a mess now with the chewed up road and no trailhead signs except the old road signs propped up along the road.  It is not hard to visualize this new trail soon becoming very beautiful with the eventual addition of bridges across the numerous newly dugout creeks.  The Jane Lakes West trail is already quite remarkable with several vantage points to distant Mount Fee way down the valley.  The trail also passes through several bewildering rock formations.  Vertical pillars of rock that look absolutely unnatural are in fact a common feature that occurs when lava meets a glacier.  This columnar jointing is the result of rapidly cooling lava that solidified here roughly 12,000 years ago as it pooled against the glacier that filled Cheakamus Valley.  Quite an impressive sight to see this columnar jointing from the viewpoint at Brandywine Falls, but to be close enough to touch it on the Jane Lakes trail, fantastic!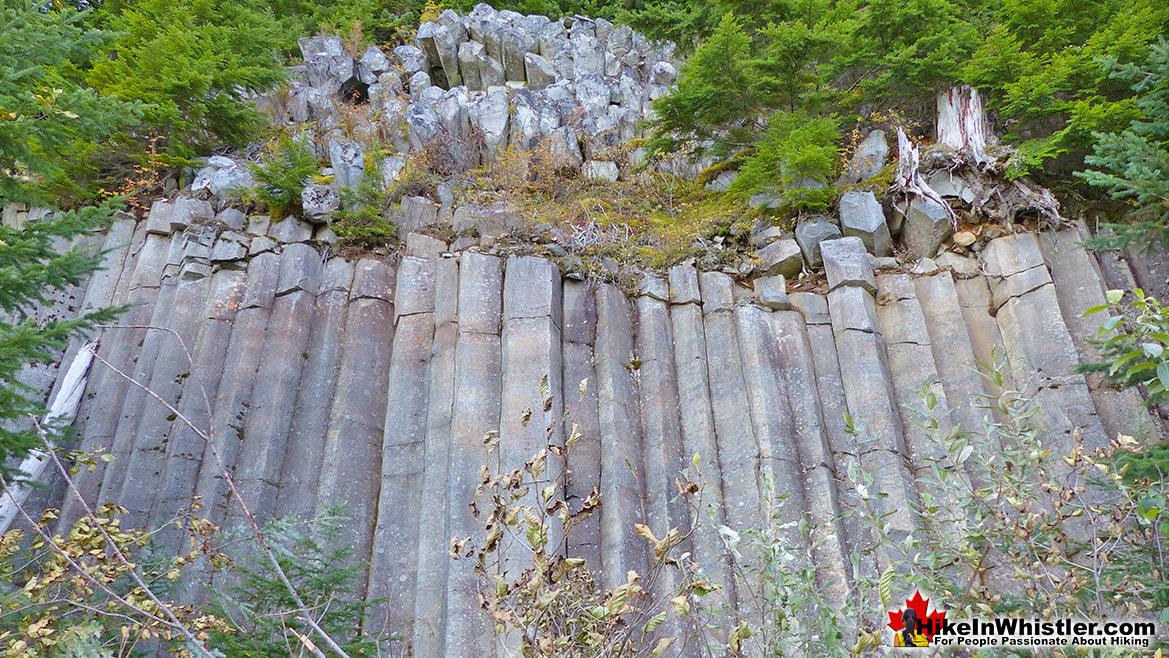 Finding the Jane Lakes West Trail
Jane Lakes West trailhead is a bit tricky to find as it may not be marked, though the original Jane Lakes Road signs are still there.  From Whistler Village you drive south to Cheakamus Crossing and turn right to follow Jane Lakes Road.  You then bear right onto the Cheakamus River FSR(previously Jane Lakes FSR).  You drive down this fairly smooth logging road for 3.4 kilometres before the old Jane Lakes FSR ends at a row of boulders and a deep ditch.  This is the new trailhead that follows a fairly steep old logging road for 4.1 kilometres to West Jane Lake.  The old road ends at a nice flat clearing that was evidently once used for 4x4 parking, but is now a great spot to camp.  There is a nice fire ring set up there and you can see glimpses of the lake through the trees a few hundred metres away.  The Jane Lakes trails go around the three lakes and continue out to the Westside Main FSR which bends around to follow the west side of Cheakamus River.  Westside Main FSR come out at Cheakamus Crossing.
The Expanding Jane Lakes Trail Network
The Jane Lakes trails consist of three connecting trails that extend in an arc linking the Cheakamus River FSR to the Westside Main FSR.  These two forest service roads meet at opposite ends of Cheakamus Crossing, the southernmost residential neighbourhood in Whistler.  The Westside Main FSR ends at a locked gate about 7 kilometres from where it starts near Cheakamus Crossing.  This locked gate has a large, unmarked parking area near it.  This is the parking area used for hiking to Jane Lakes from this side.  From here you have to hike or bike 2.4 kilometres up the Westside Main FSR and you will see the Jane Lakes East trail on your right.  The Jane Lakes East trail is 1.5 kilometres long and takes you to the shore of East Jane Lake.  From here the 2.8 kilometre Jane Lakes North trail takes you over the top of East Jane Lake, across to West Jane Lake, then around the north end of West Jane Lake to connect to the Jane Lakes West trail.  The Jane Lakes West trail then quickly descends down 4.1 kilometres to the new trailhead on Cheakamus River FSR.  The driving, biking, hiking distance between the two parking areas for Jane Lakes is just over 10 kilometres.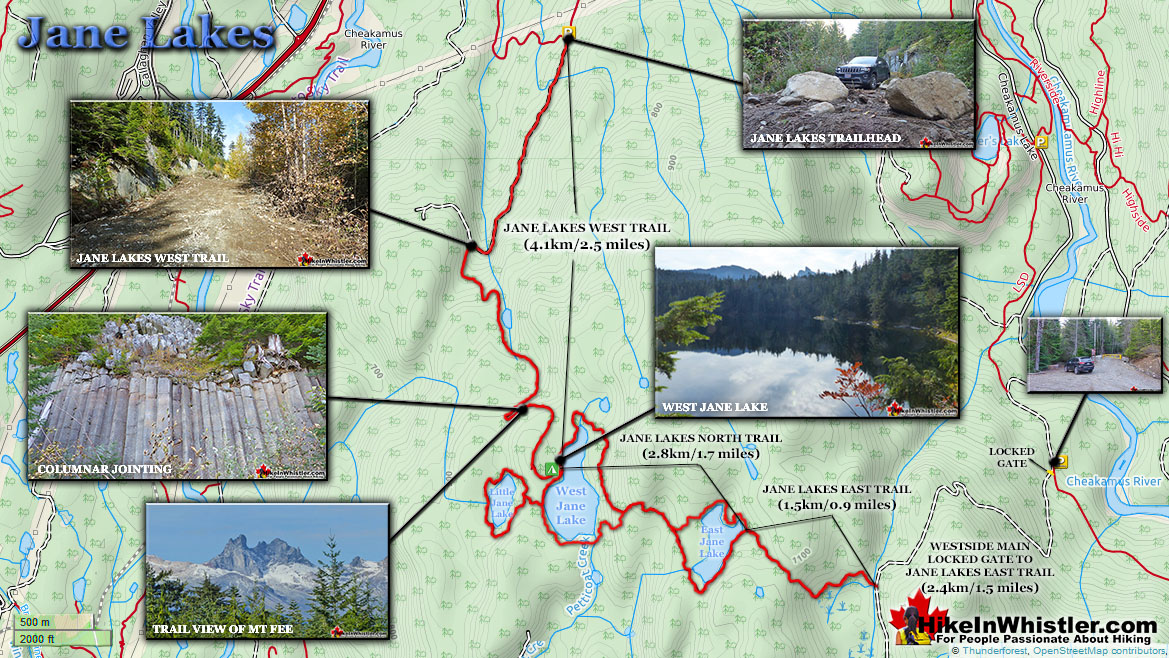 Jane Lakes West Trail Stats:
Driving There: 15 minutes south of Whistler Village(12.5 kilometres/7.8 miles)  Hiking Distance: 4.1 kilometres/2.5 miles, one way from the trailhead to West Jane Lake.  Hiking Time: 1 hour and 20 minutes there and 50 minutes back.  Start Elevation: 636 metres/2087 feet.  End Elevation: 942 metres/3091 feet.   Elevation Gain: 306 metres/1004 feet.  Fees: None  Campsites: Yes  Camping Allowed: Yes  Difficulty: Moderate, constantly steep but short trail, easy to follow  Kid Friendly: Yes, short enough to be fun, not too exhausting  Stroller Friendly: No  Dog Friendly: Yes
The Jane Lakes West Trailhead
As the Jane Lakes trail was recently built, the trailhead may not be well marked, though it is easy to find at the end of the logging road barricaded by boulders and a ditch. This overgrown access road is now the Jane Lakes West trail and pictured below is the parking area and trailhead.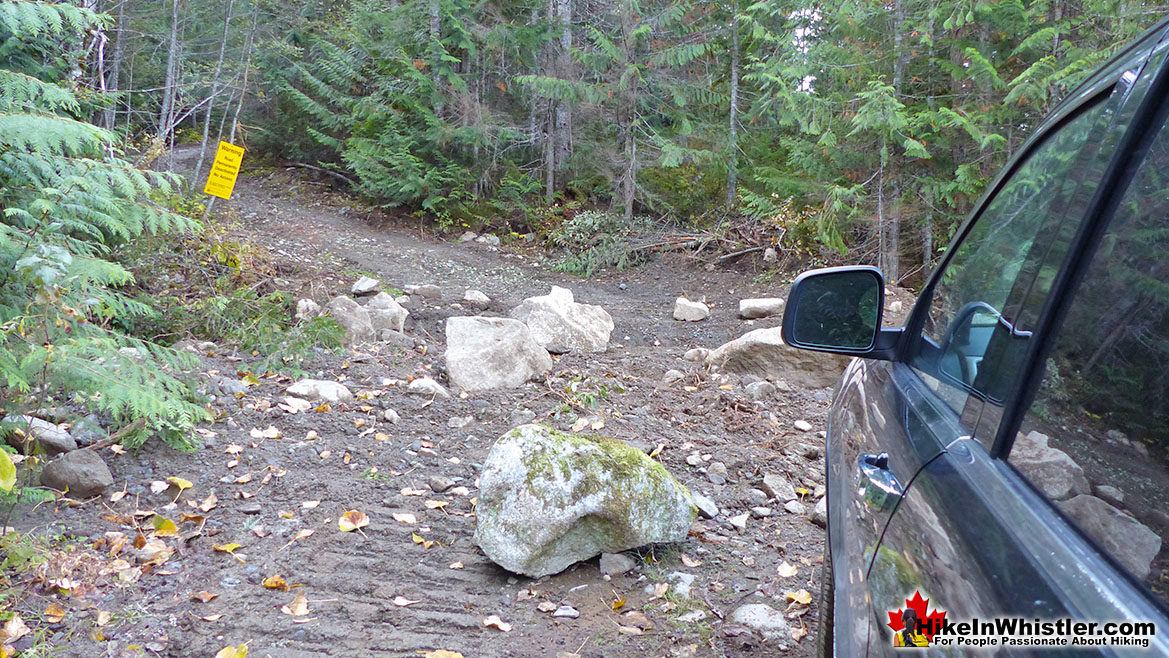 These are the old signs to be replaced in the fall of 2019 when the new trail was finished. The Jane Lakes Rough 4x4 Road 3.8km is the new Jane Lakes West trail.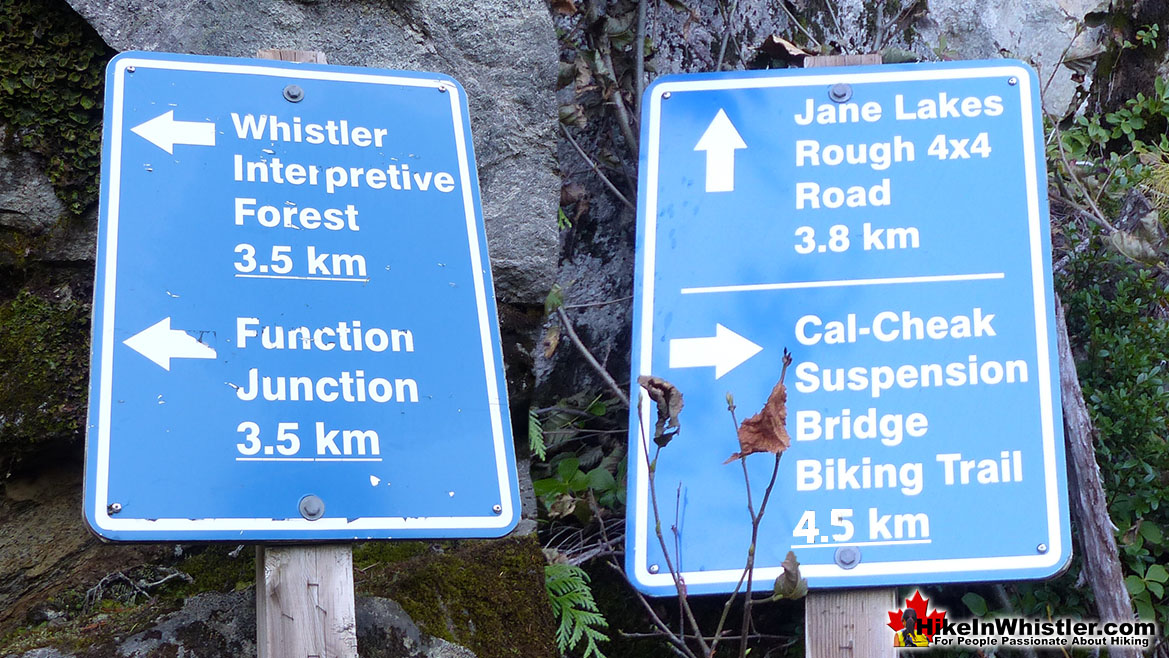 The Jane Lakes West trail was a 4x4 logging road, now a biking and hiking trail.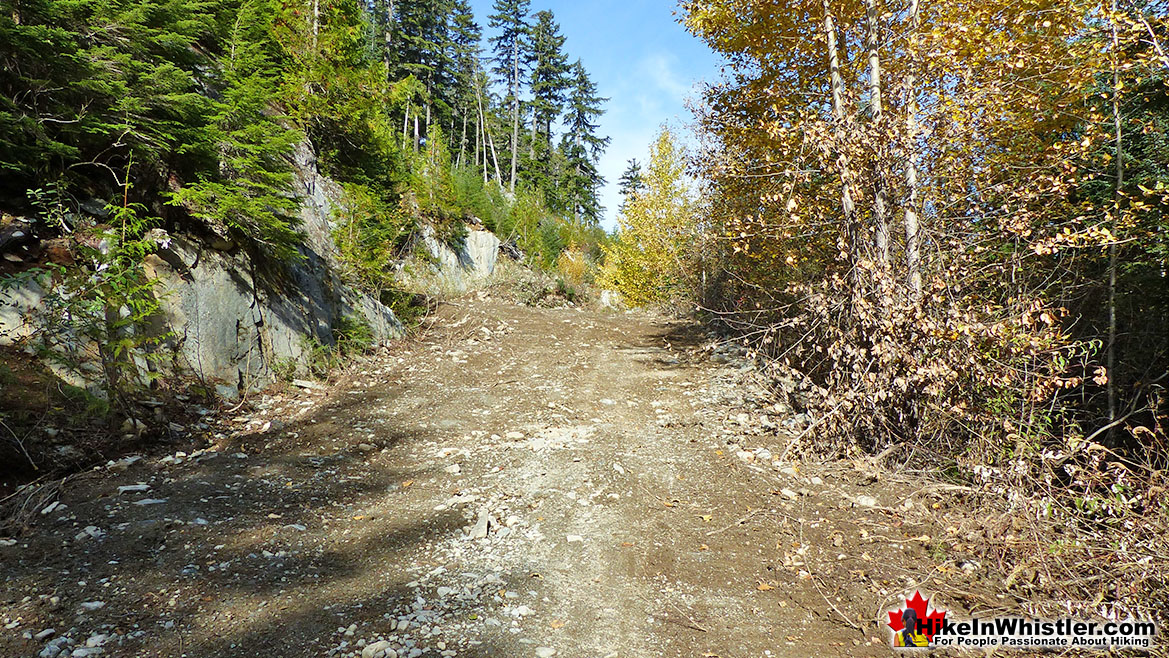 Columnar Jointing on the Way to Jane Lakes
Beautiful columnar jointing along the trail at a few different places. Caused when lava from a volcano flows up against a glacier. The rapid cooling where it meets the glacier causes strangely symmetrical fractures in the rock that look bizarrely unnatural. Nearby Brandywine Falls is another great place to see this weird phenomenon. During the last Ice Age Whistler Valley was under a glacier about one or two kilometres thick and there were active volcanoes everywhere.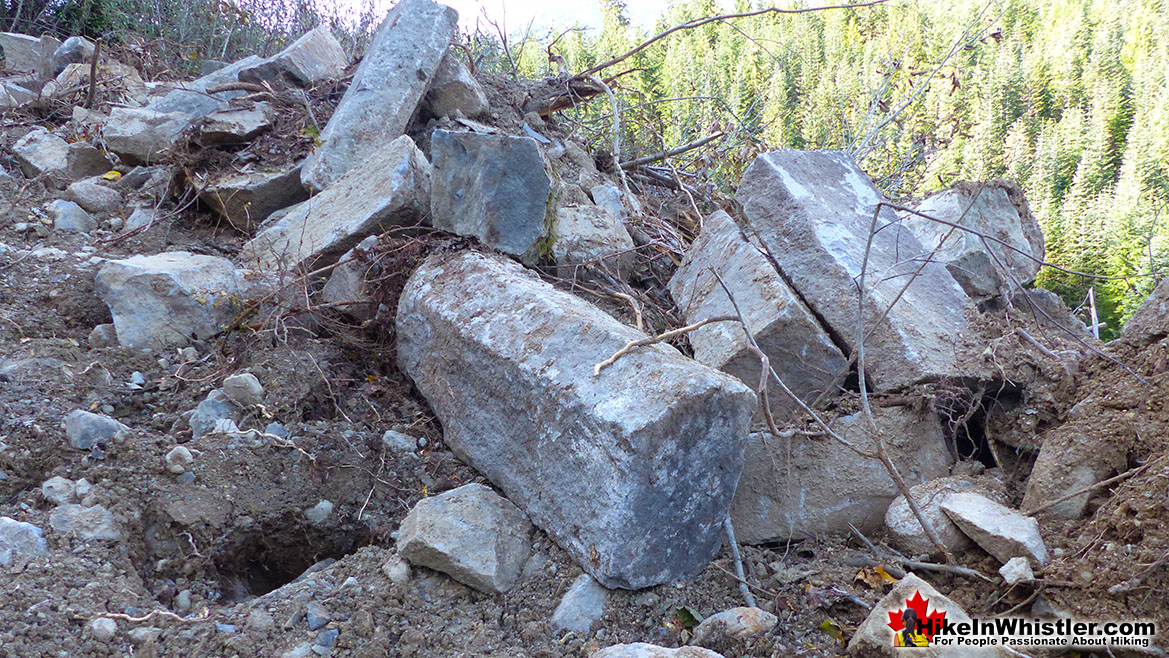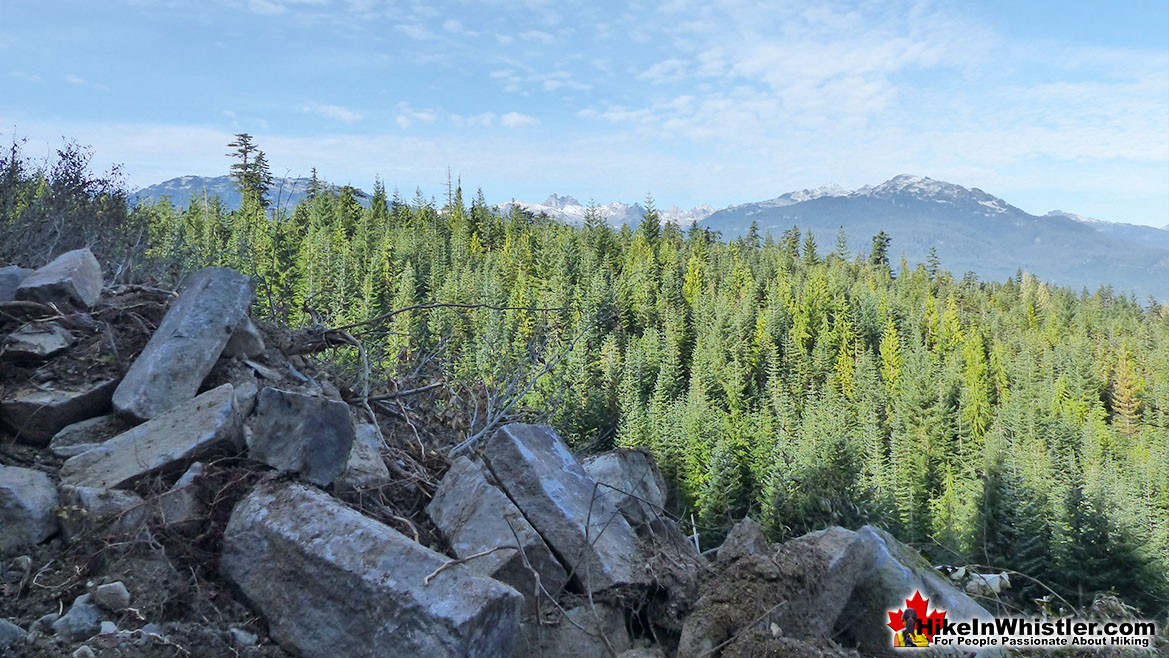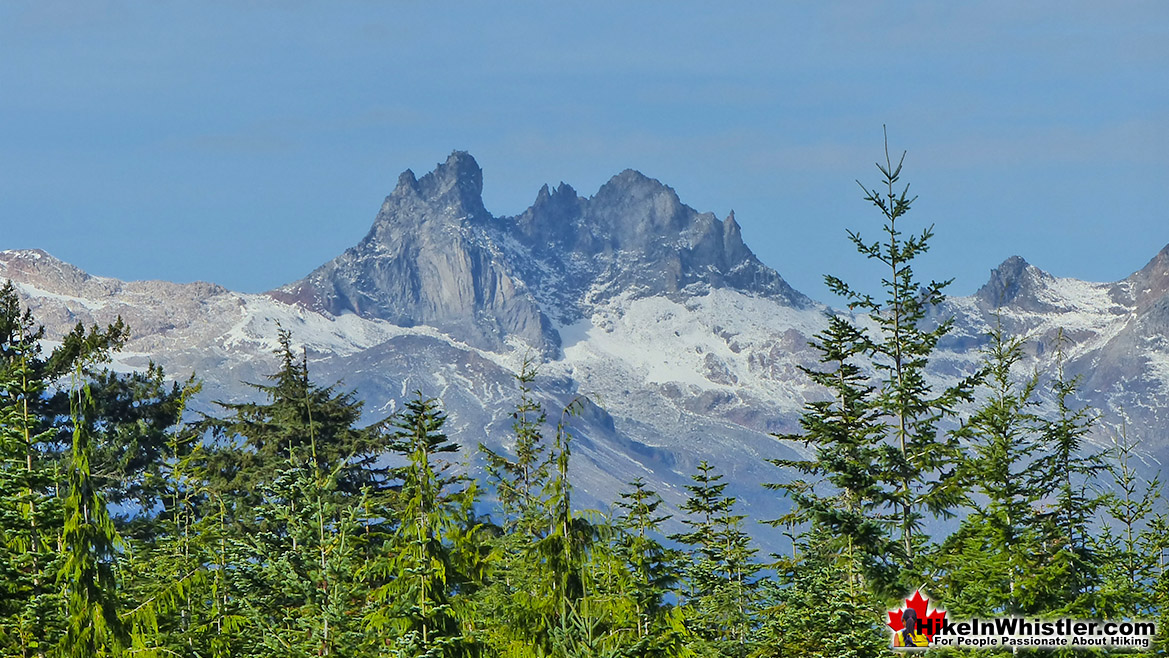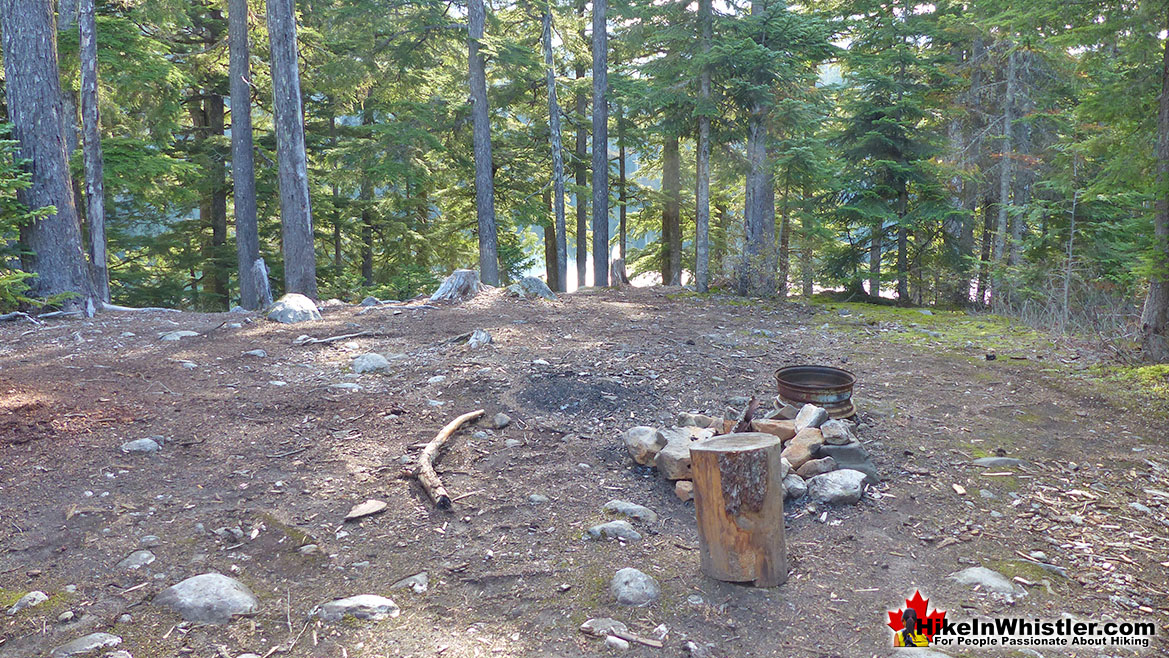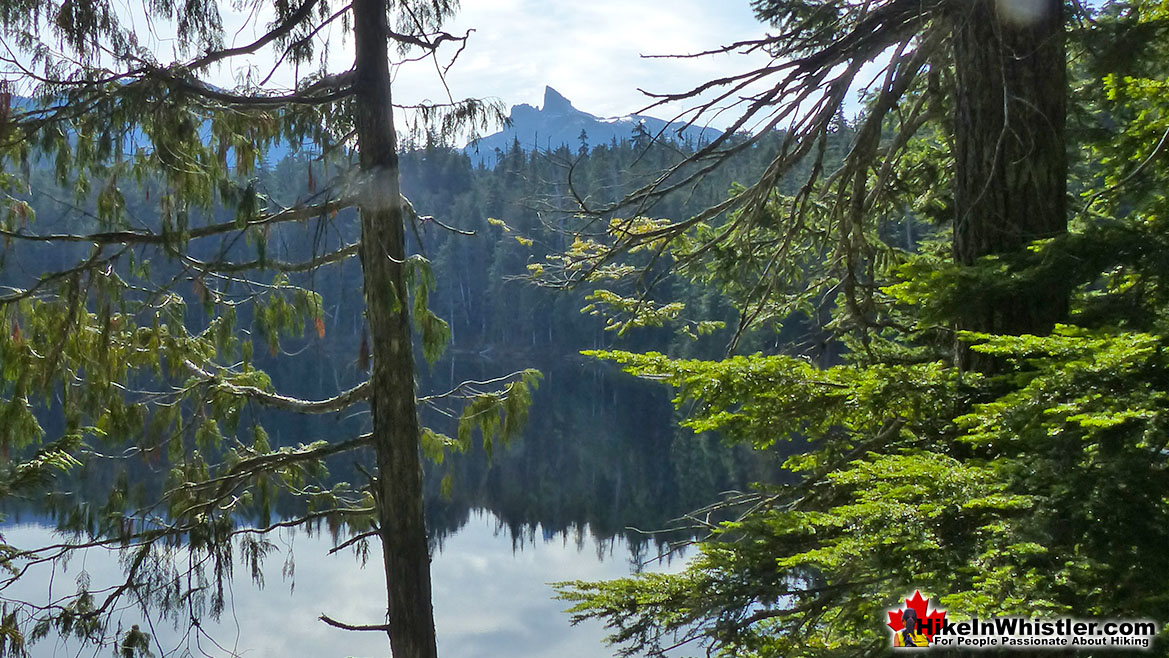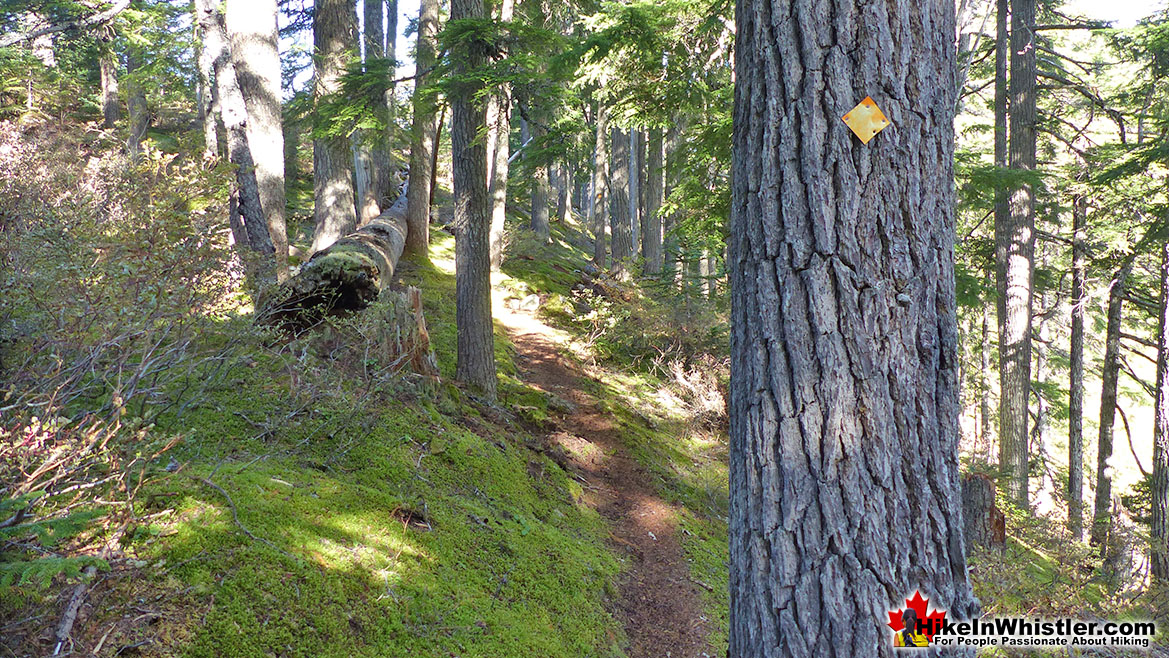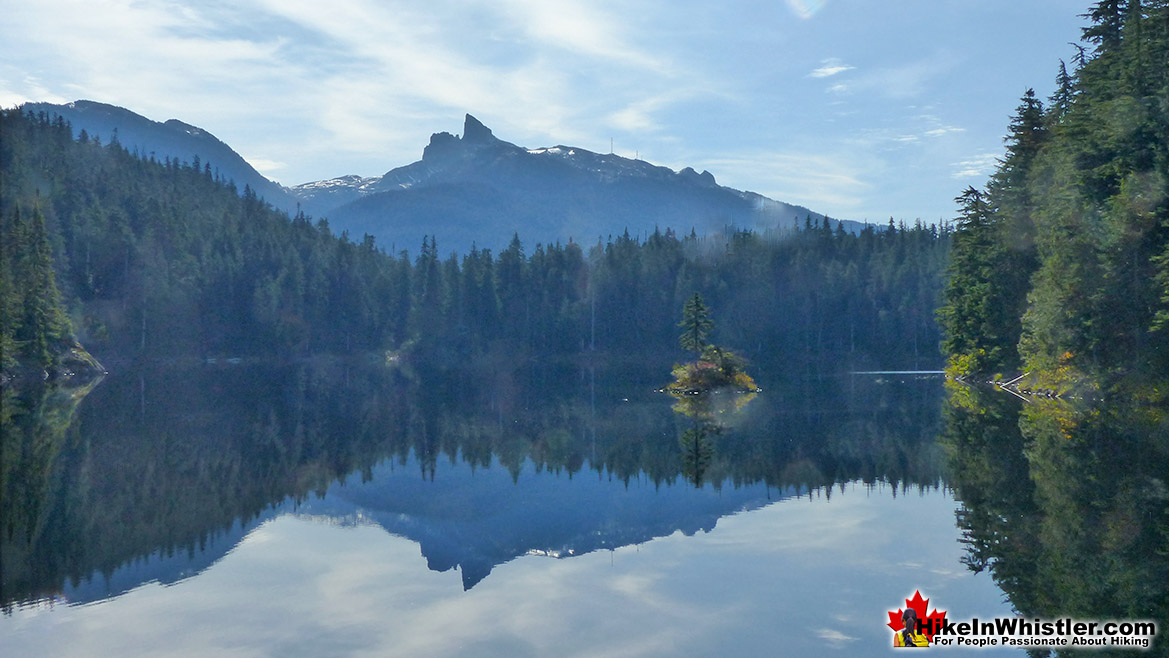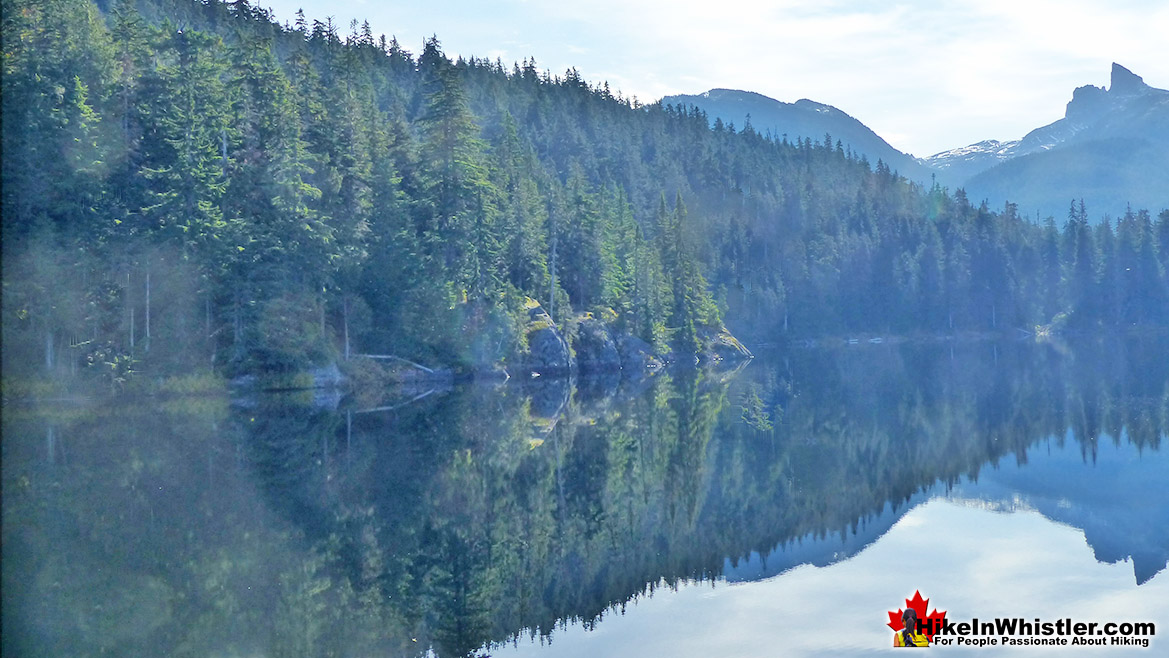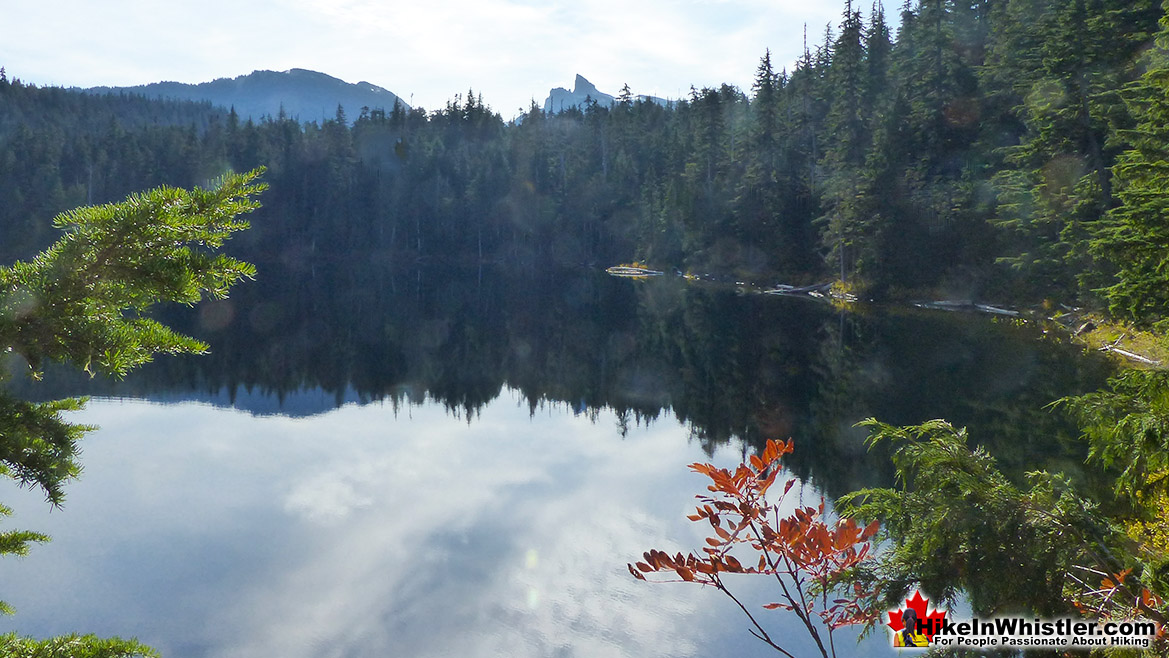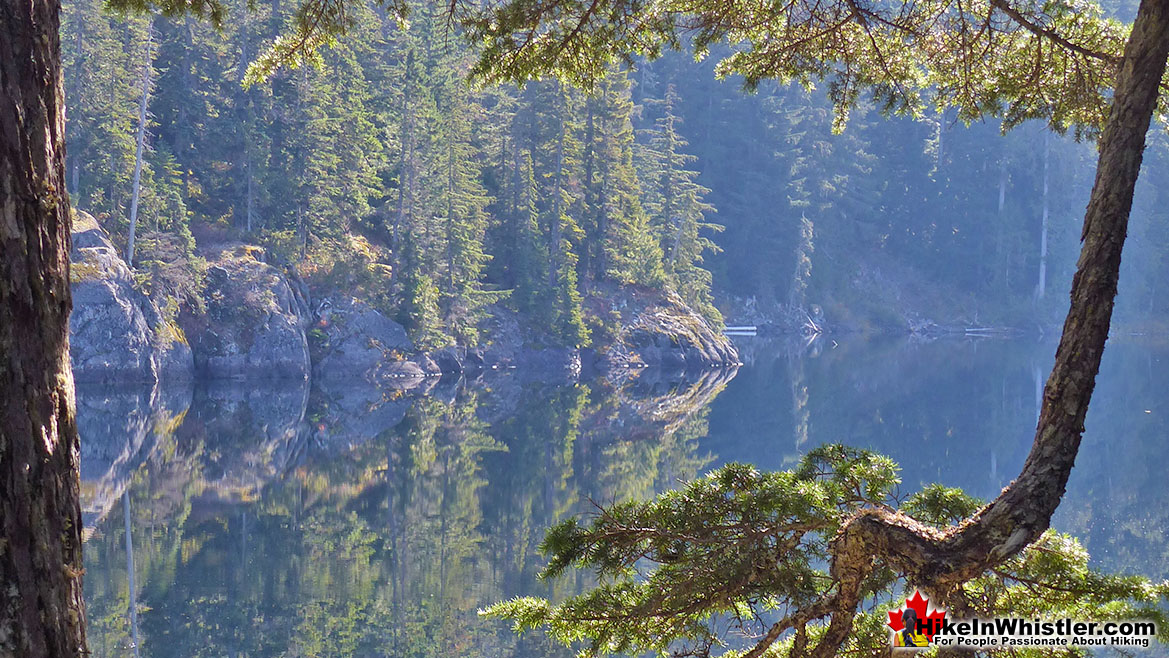 Jane Lakes Trailhead Directions



The Jane Lakes West trailhead is found near the Whistler neighbourhood Cheakamus Crossing, 8 kilometres south of Whistler Village.  Bus transit to Cheakamus Crossing is frequent from Whistler Village and walking to the trailhead from the bus stop is just 3.4 kilometres.  Driving directions from Whistler Village: From Village Gate Boulevard in Whistler Village zero your odometer and drive south on the Sea to Sky Highway.  At 7.9km you will come to the intersection with Function Junction to the right and Cheakamus Crossing left.  Turn left onto Cheakamus Lake Road and drive toward Cheakamus Crossing.  After crossing the bridge over Cheakamus River at 8.6km turn right onto Jane Lakes Road.  At 9.1km look for the Cheakamus River Forest Service Road on your right.  Turn onto the Cheakamus River FSR and follow it until 12.5km where you will arrive at the unmarked trailhead/parking for Jane Lakes.  Previous to October 2019 this was the Janes Lakes Forest Service Road.  Now this road has been permanently deactivated and has been blocked by large boulders as well as a huge ditch.  The ditch is actually a water channel to allow the natural creek to flow through here.  The 4.1 kilometre old road, now trail to Jane Lakes West has dozens of these water channels dug across. 
Printable Directions Map to Jane Lakes
You might want to save this map to your phone or print it out for reference.  To print: right click on the map below, click "Save Image As...", save it to your desktop and open and print.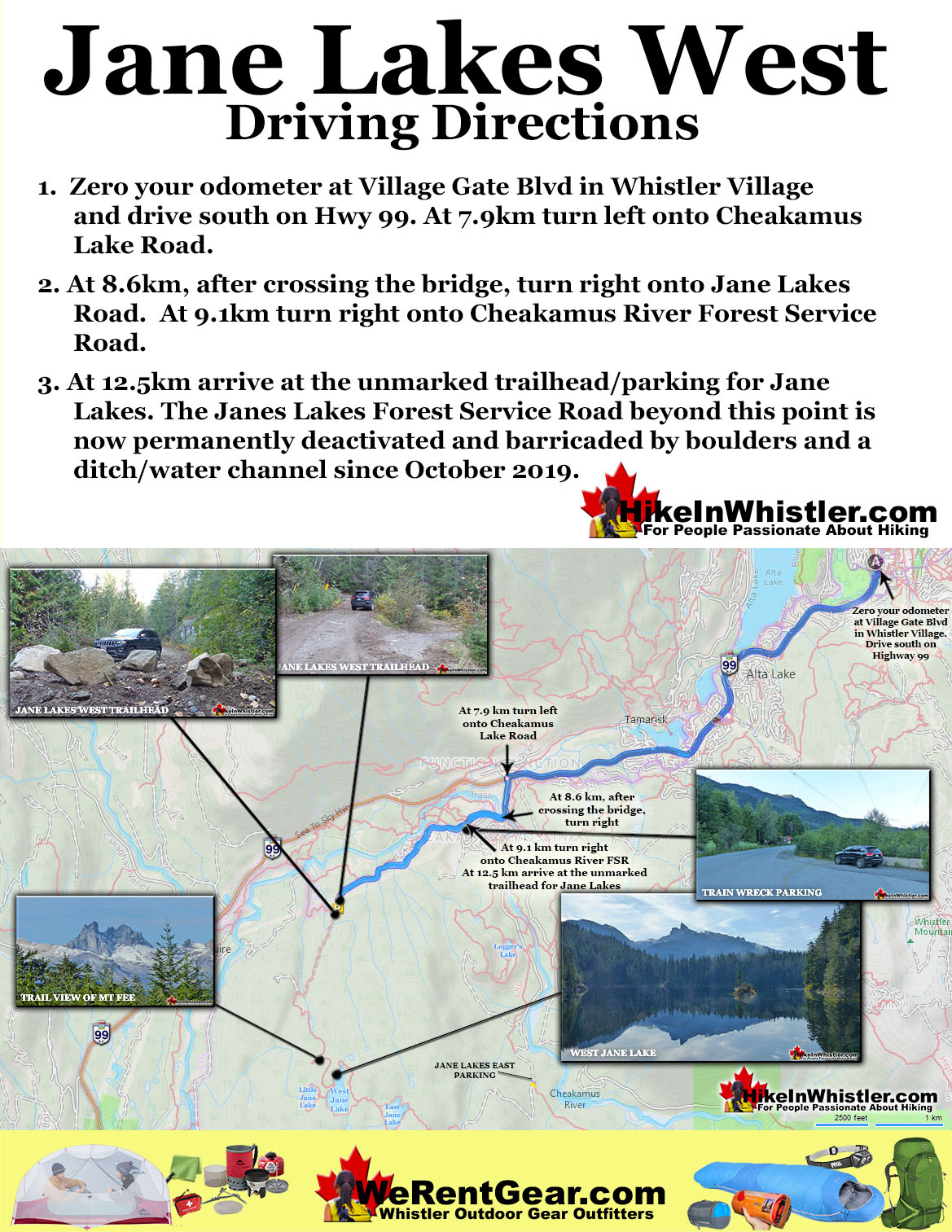 Whistler's Best Hiking Trails!
Whistler & Garibaldi Park Best Hiking by Month!

Explore BC Hiking Destinations!