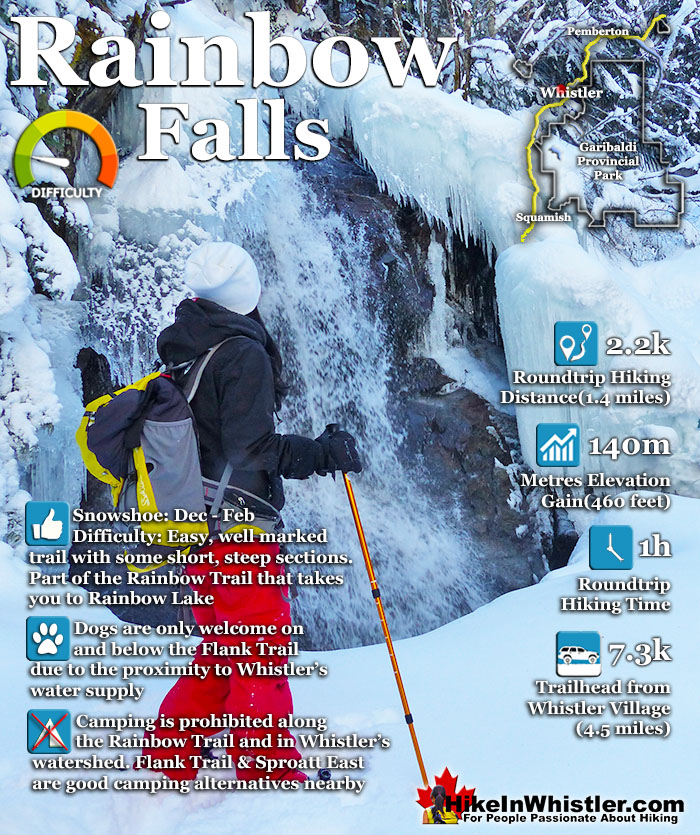 Rainbow Falls is a fantastic way go get yourself into some deep snow quickly from Whistler Village.  The short 2.2 kilometre, winding, and ever-changing loop trail to Rainbow Falls partly overlaps the Rainbow Trail which continues on to Rainbow Lake.  The trailhead is marked as the Rainbow Trail, and the trail quickly ascends into the forest winding left, right, up and down almost constantly.  Twentyone Mile Creek can always been seen or heard as you snowshoe through the forest to the somewhat hidden Rainbow Falls.
Deep snow winter wonderland

Much quieter than most other trails
Walk, bike or bus to from Whistler Village
Trail is always winding up & down, never boring
Great to do with the Flank Trail or Rainbow Lake
Rainbow Park is beautiful and easy to get to

Short, family friendly trail to hidden falls

The Flank Bridge is beautiful in the winter

Nice, but not amazing

No dramatic viewpoints

Whistler Snowshoe Trails

Blueberry Trail 

Brandywine Falls 

Cheakamus River 

Elfin Lakes 

Flank Trail 

Joffre Lakes 

Nairn Falls 

Parkhurst Ghost Town 

Rainbow Falls 

Rainbow Lake 

Rainbow Park 

Sproatt East 

Taylor Meadows 

Train Wreck 

Wedgemount Lake 

January 

February 

March 

April 

May 

June 

July 

August 

September 

October 

November 

December
The Rainbow Falls/Rainbow Lake trailhead is located just a couple hundred metres from Rainbow Park, which is another fun place to snowshoe in Whistler.  The Rainbow Falls trailhead is the same as the Rainbow Lake trailhead, located halfway along Alta Lake Road on the far side of Alta Lake. The Rainbow Falls trail is short, varied and relatively easy. This well used trail never goes in a straight line and goes up and down through a beautiful and deep forest.  There is only one small, easy to miss sign to Rainbow Falls, but finding the falls is easy.  To find Rainbow Falls, begin at the trailhead parking for "Rainbow Trail" on Alta Lake Road.  Follow the trail as it winds along the river.  If you come to obvious forks in the trail, choose the right fork.  In 0.8 kilometres from the trailhead parking you will arrive at Rainbow Falls.  The trail to Rainbow Falls is fairly popular in the winter so the snow is usually well packed down so you often don't need snowshoes.  The route to the falls is never in a straight line.  Zig-zagging left and right, up and down, some parts are steep, but at just 0.8 kilometres, the shortness of the trail makes it suitable for kids.  The topography and sheer volume of snow make this a very fun trail to snowshoe for everyone.  Expect to take less than an hour, car to car, but much longer if you stop for a picnic or to play in the snow.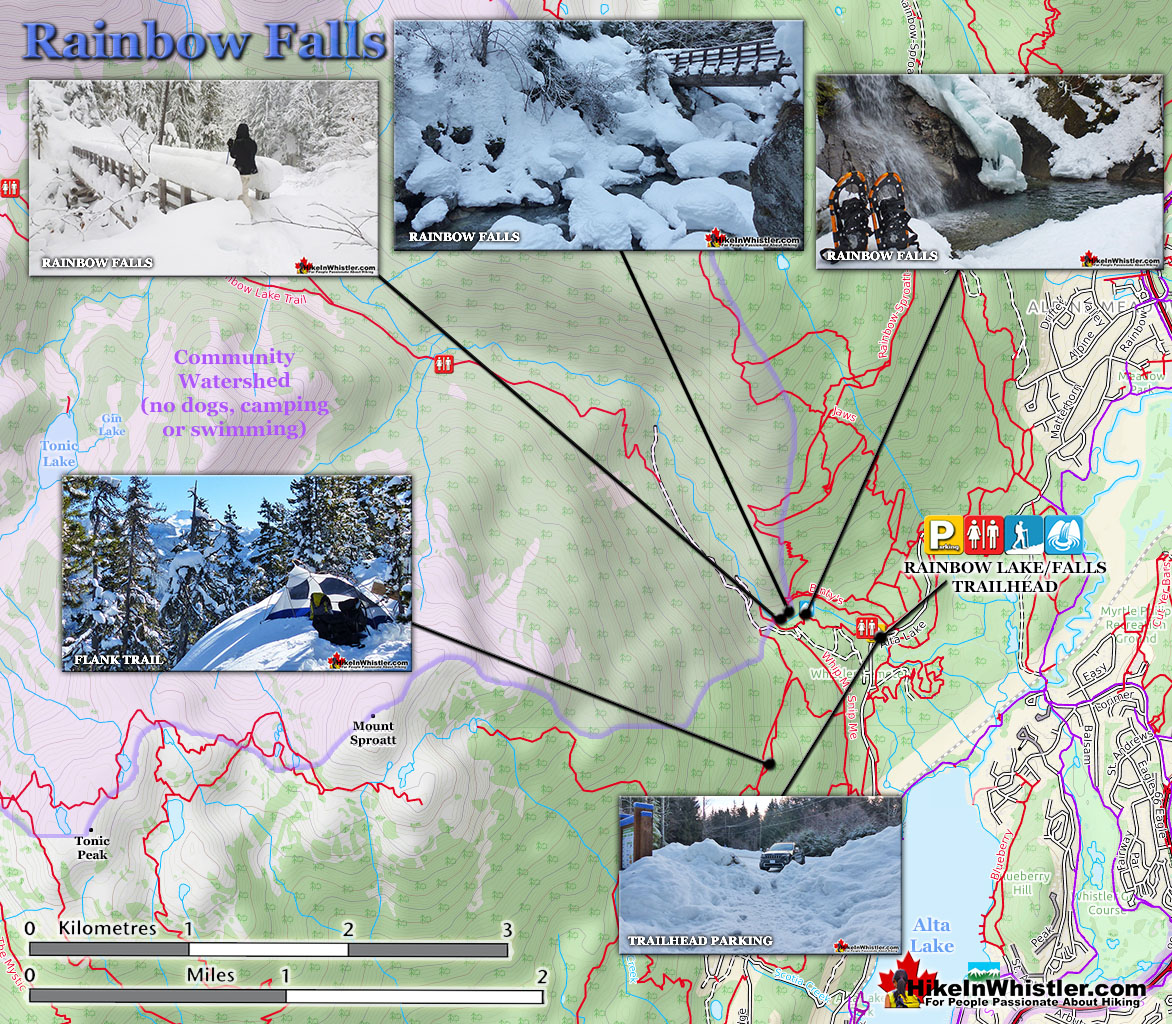 Rainbow Falls Buried in Snow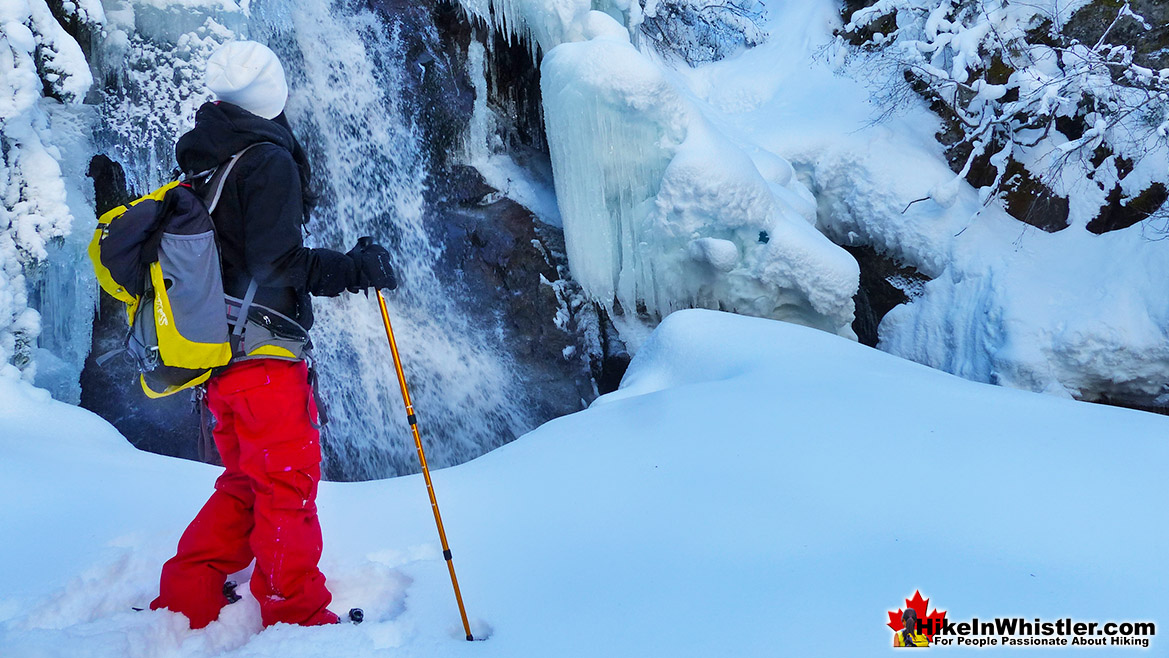 The Rainbow Trail and the Flank Trail
After Rainbow Falls, you can backtrack a few dozen metres and then head off to the right and uphill towards the Rainbow Lake trail.  In just a couple minutes you will see the water treatment building and a nice mapboard.  If you take the wide path/service road on the immediate right of the building you will see, (in just a couple dozen metres) the cute, snow covered bridge over the river.  This is a beautiful little area, and in the winter, very deep in snow.  You can continue past this bridge, however, the bridge marks the end of the best sights to see.  Back on the main, Rainbow Trail, you will notice signs for the Flank Trail.  In this section, the Rainbow Trail and the Flank Trail overlap for about 400 hundred metres.  If you follow this overlapping trail as it bends around the water treatment building, quickly ascending in the direction of Rainbow Lake, you will come to the Flank Trail junction.  The Flank Trail quickly ascends through deep forest and after about 15 minutes opens up and begins to gradually flatten out.  The views become beautiful and trail less tiring.  Whistler Mountain, Blackcomb Mountain and Wedge Mountain all come dramatically into view and Alta Lake appears far below.  Just steps from the trail take you to pristine, snowy outcrops, perfect for taking in the view on a sunny day.. and with most of the Flank Trail south facing, sun will always be facing you over Whistler Mountain.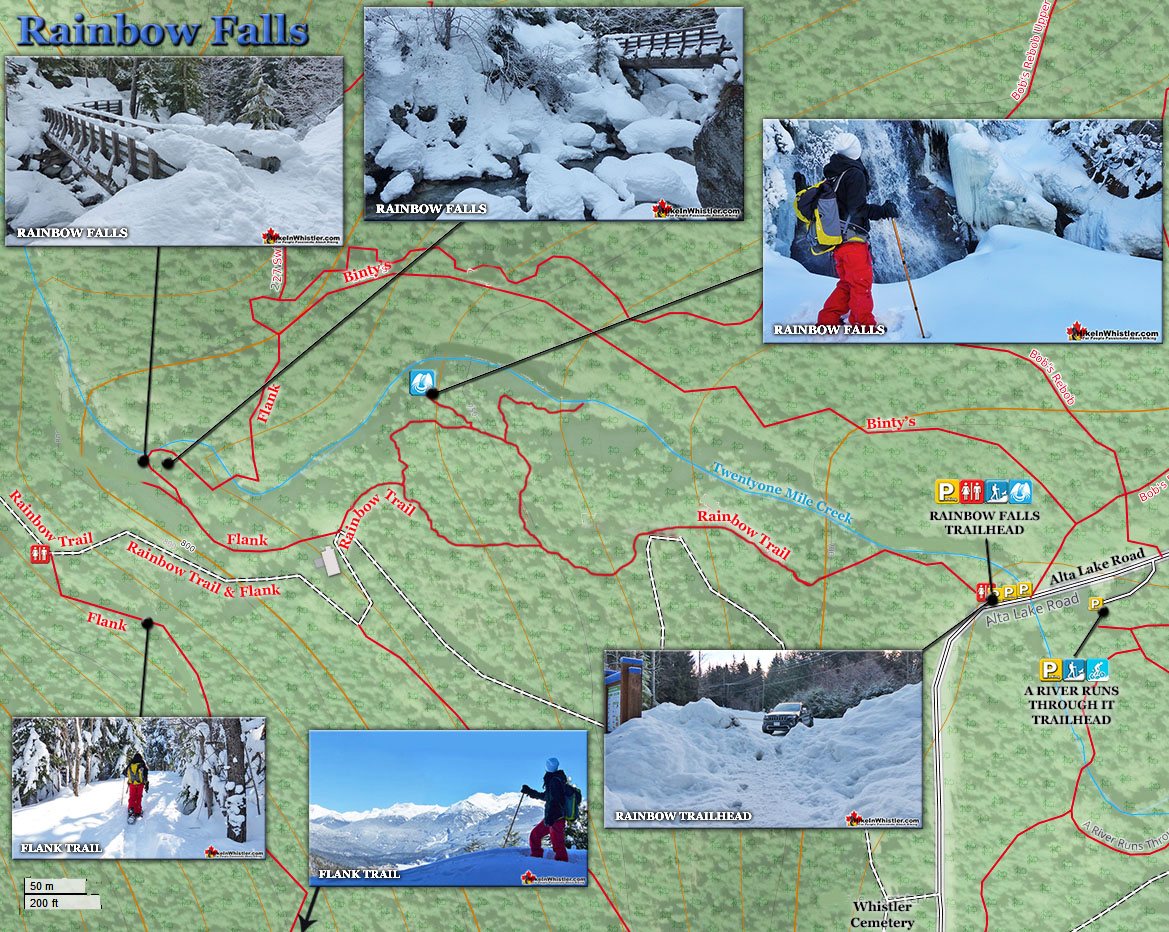 Snowshoeing the Flank Trail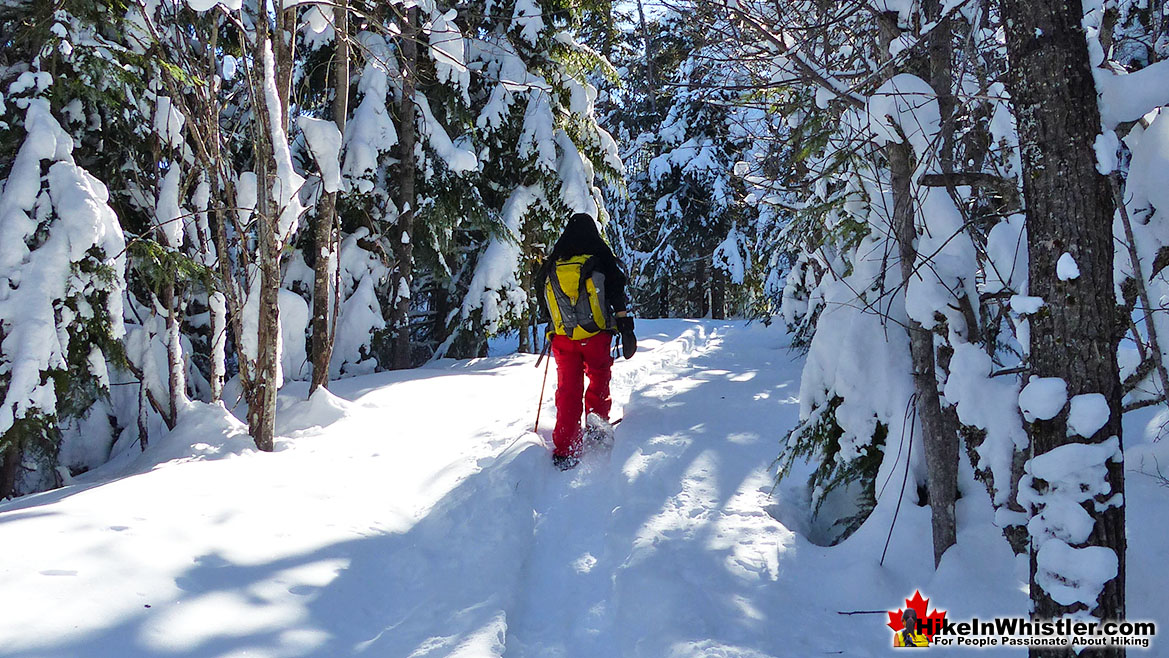 Flank Trail View of Armchair Glacier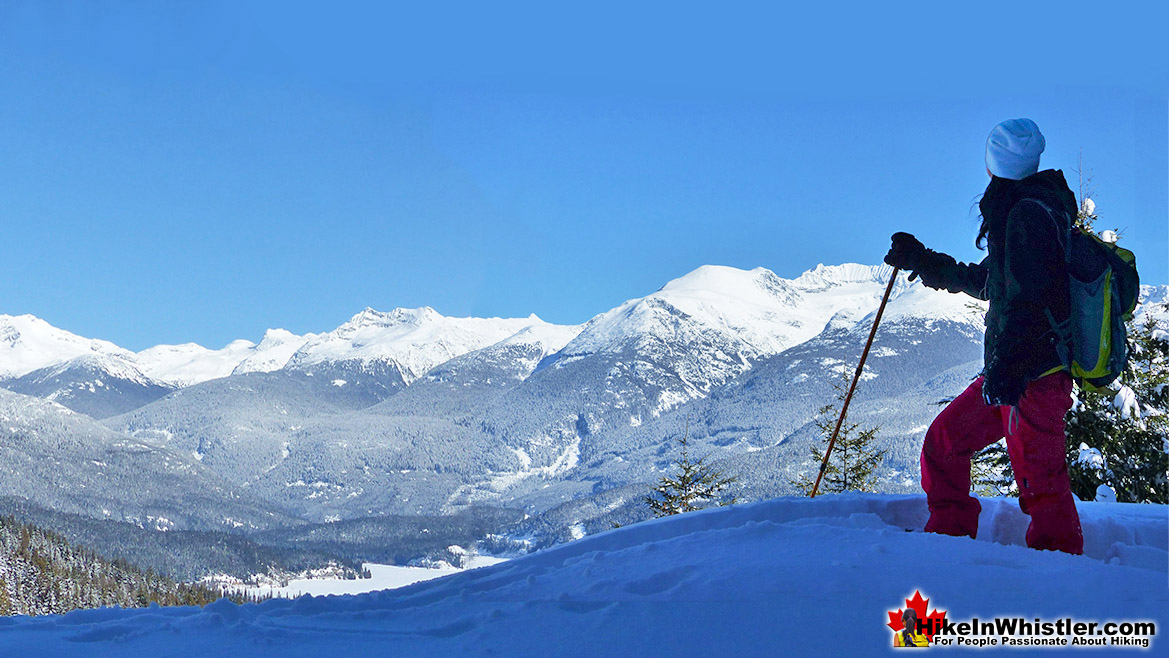 The Flank Trail Bridge Over Twentyone Mile Creek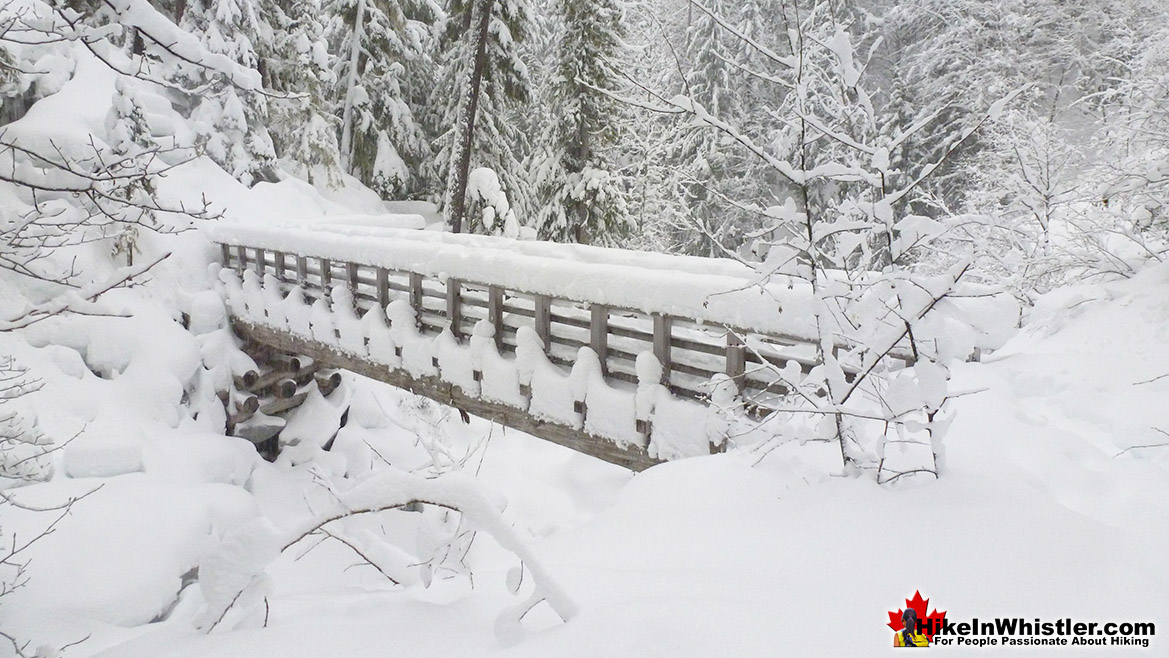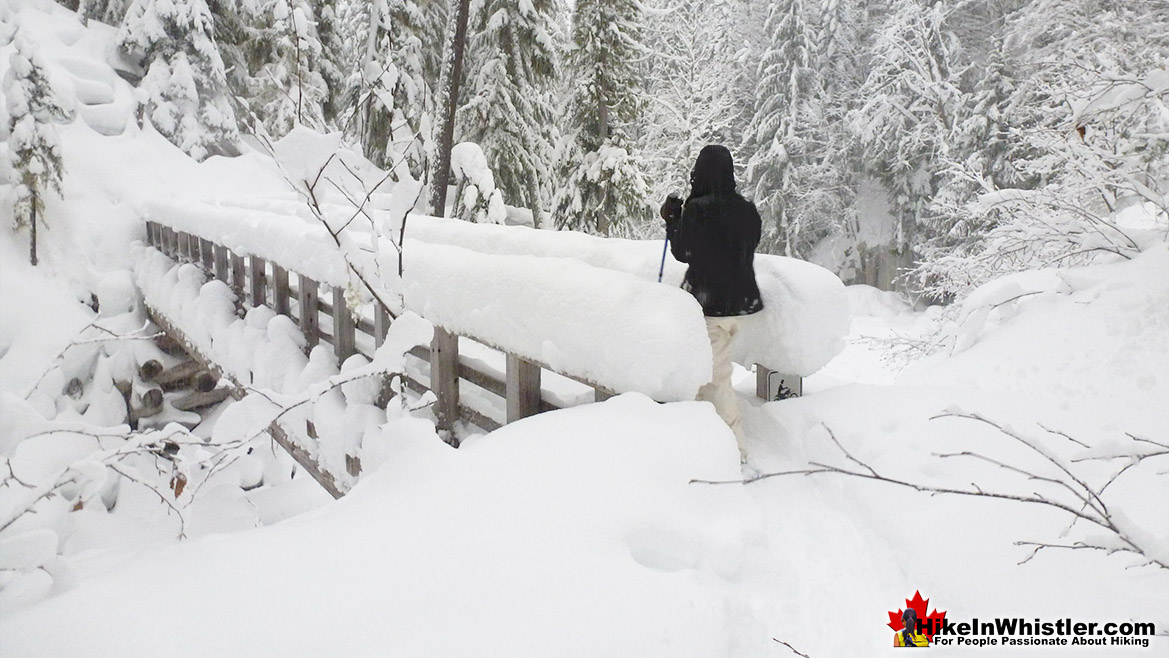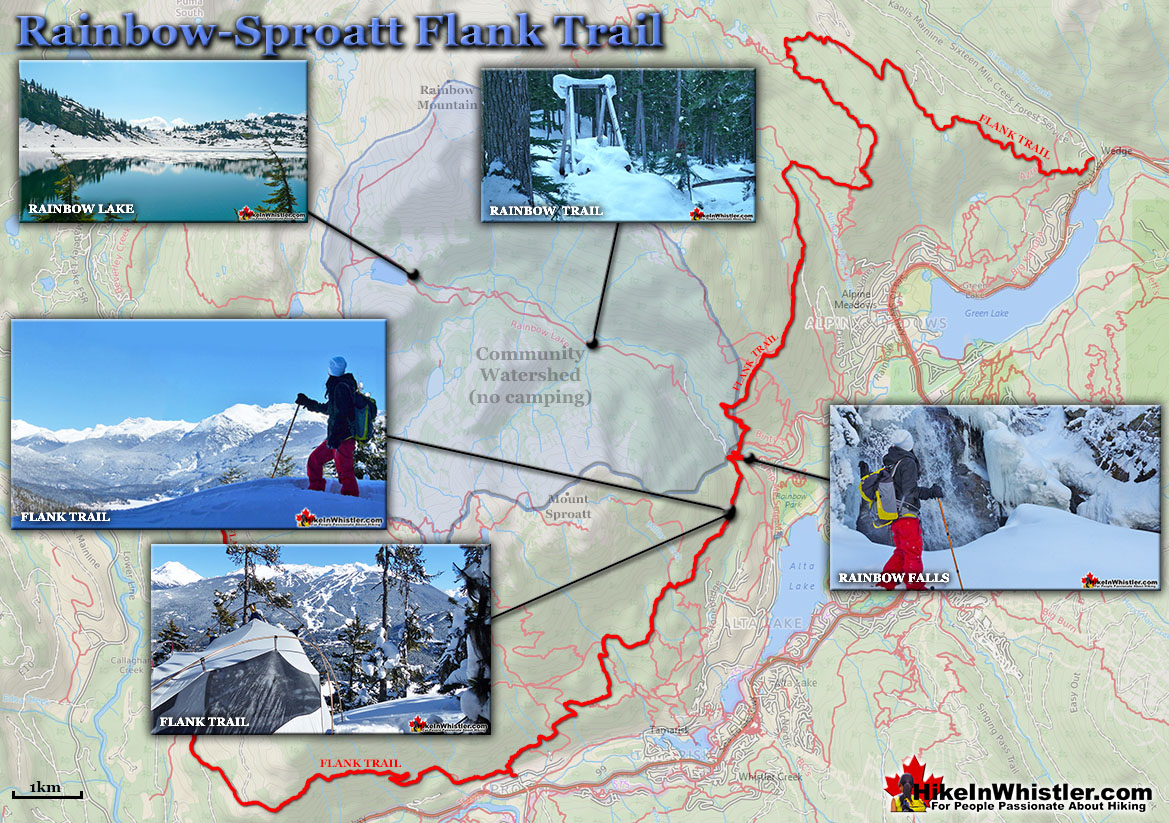 Getting to the Rainbow Trailhead



Rainbow Lake is well within walking and biking distance from Whistler Village.  It takes about an hour to walk from Whistler Village to the trailhead or about 20 minutes by bike.  To walk or bike to the trailhead you take the Valley Trail from Whistler Village down to the end of Lorimer Road then continue of the Valley Trail to Rainbow Park.  From there it is just a 10 minute walk away along Alta Lake Road.  Taking a bus to the trailhead is not a great option as no buses go very close.  You can take a bus from the Village down to Whistler Cay, near the end of Lorimer Road, then start walking along the Valley Trail, but it only saves you about 30 minutes walking.  Driving directions to trailhead:  Zero your odometer at Village Gate Boulevard(in Whistler Village), drive north on Highway 99.  At 3.9km turn left onto Alpine Way, then at the next stop sign turn left onto Rainbow Drive.  Continue straight until at 7.3km you will see the trailhead sign, "Rainbow Trail" on your right, half buried in snow most of the winter.  There is room for several cars to park, but be careful if the parking area is packed with snow, you may be able to get in, but not be able to get out easily.  Keep that in mind and park in a way that allows you to get out easily.  Hike up the Rainbow Trail and to reach Rainbow Falls, bear right at the two obvious forks in the trail.  Signs do not indicate where the falls are, but there are several orange trail markers on the trees on the way.  Rainbow Falls are found before the water treatment building and the beautiful bridge over the river is just after the treatment building.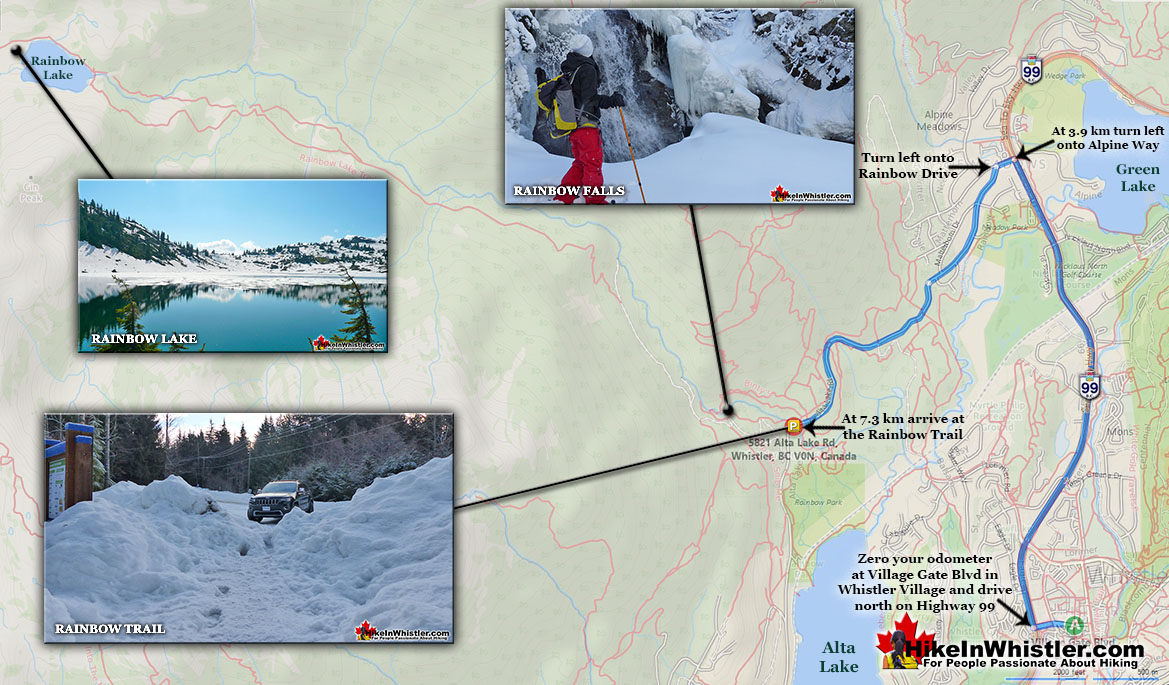 More Whistler Snowshoe Trails

There are plenty of beautiful and free snowshoe trails in Whistler and Garibaldi Provincial Park.  From the surreal paintings of Whistler Train Wreck to the magnificent mountain serenity of Wedgemount Lake in Garibaldi Park.  Trails range from extremely easy, like the short, flat trails to Brandywine Falls and Rainbow Park.  To challenging and long trails to places like Elfin Lakes, Taylor Meadows and Wedgemount Lake.  Whistler even has a growing network of snowshoe trails to Parkhurst Ghost Town on the far side of Green Lake.  There are a couple pay-use snowshoeing areas in Whistler, however most free trails are as good or better.  Whistler Train Wreck is an easy/moderate snowshoe trail that takes you through a deep forest, over Cheakamus River via a very pretty suspension bridge, and to a series of decades old, wrecked train cars.  Elfin Lakes in Garibaldi Provincial Park is another beautiful place to snowshoe.  Located at the south end of Garibaldi Park, the Elfin Lakes trailhead is found in Squamish.  The trail is not overly difficult, however it is quite long.  A consistently uphill, 11 kilometre(13.7 mile) trail through some spectacular scenery takes you to the marvelous Elfin Lakes hut. For challenging snowshoeing, Joffre Lakes Provincial Park is hard to beat.  A long, though beautiful drive into the mountains, north of Pemberton takes you to this moderately challenging, 11 kilometre(6.8mile) roundtrip snowshoe trail.  The frequently steep, winding trail takes you through a winter paradise and around, or over three frozen lakes.  Back in Whistler, an excellent place to snowshoe is to Parkhurst Ghost Town.  Sitting on the far side of Green Lake, Parkhurst was a thriving logging community several decades ago.  It has since been abandoned except for intermittent squatter communities over the years.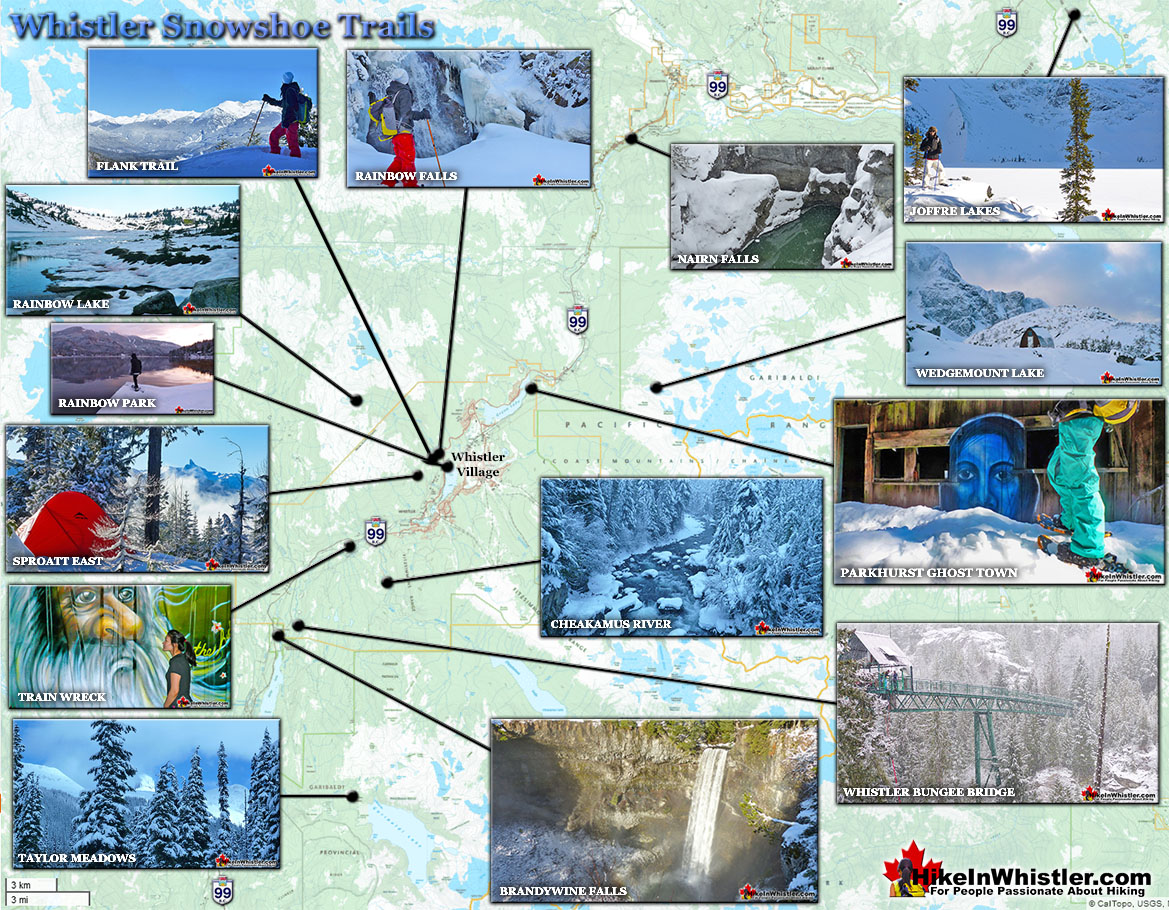 More Whistler & Garibaldi Park Snowshoe Trails!
Where to Hike in Whistler & Garibaldi Park by Month

Amazing Whistler & Garibaldi Park Hiking Trails!