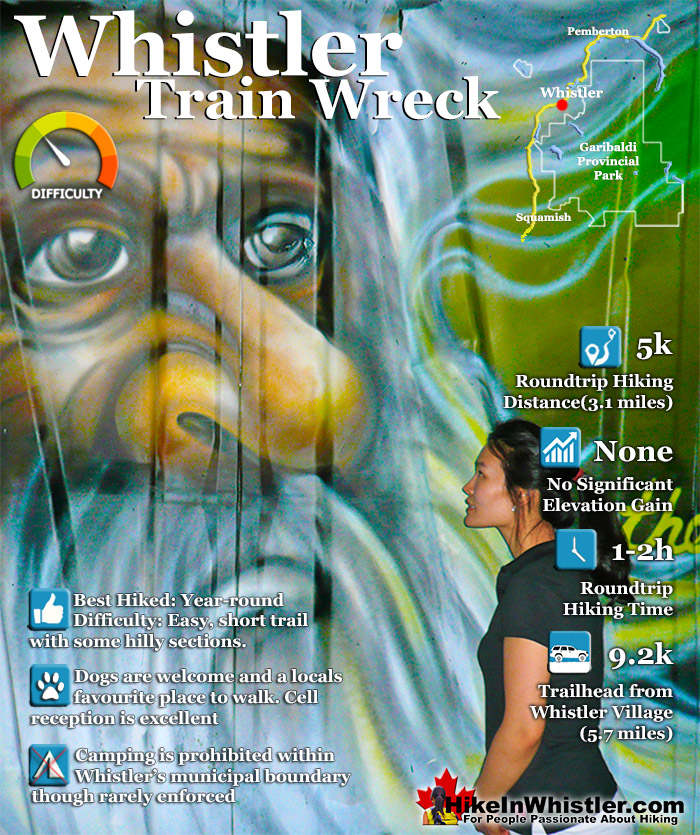 The trail to Whistler Train Wreck is an easy, yet varied route through deep forest, across a great suspension bridge over Cheakamus River, to a stunning array of wrecked train cars. The trail from your car to the wrecks only takes about 15 minutes, however once you reach one wreck, you see another, then another. There are seven wrecks in total that are spread over an area about 400 metres long.
Surreal combination of wreckage & serene forest
Many excellent views of Cheakamus River
One of the coolest places to have a drink with friends
Unbeatable place to have a picnic on the river
Accessible year-round and on bus route
Bike friendly & surrounded by endless bike trails
Dozens of amazing areas to spend the night
Graffiti art is always changing & interesting
Sea to Sky Trail runs past nearby
Paintings often covered with boring graffiti
Whistler & Garibaldi Hiking

Alexander Falls  

Ancient Cedars  

Black Tusk  

Blackcomb Mountain  

Brandywine Falls  

Brandywine Meadows  

Brew Lake  

Callaghan Lake  

Cheakamus Lake  

Cheakamus River  

Cirque Lake 

Flank Trail 

Garibaldi Lake 

Garibaldi Park 

Helm Creek  

Jane Lakes 

Joffre Lakes  

Keyhole Hot Springs  

Logger's Lake  

Madeley Lake  

Meager Hot Springs 

Nairn Falls  

Newt Lake 

Panorama Ridge 

Parkhurst Ghost Town 

Rainbow Falls  

Rainbow Lake 

Ring Lake  

Russet Lake  

Sea to Sky Trail 

Skookumchuck Hot Springs  

Sloquet Hot Springs 

Sproatt East 

Sproatt West  

Taylor Meadows  

Train Wreck  

Wedgemount Lake  

Whistler Mountain

January 

February 

March 

April 

May 

June 

July 

August 

September 

October 

November 

December
Along with the surreal train wrecks painted with stunning murals, you find yourself in a thick forest that runs along Cheakamus River. Cheakamus River is a beautiful, wild and crashing river that snakes past the train wrecks. Numerous side trails take you to some marvellous viewpoints, several metres above the rushing water below.  If you follow a trail past the wrecks(heading north or in the direction of Whistler Village) you will emerge at the train tracks. If you are adventurous you will then walk along, beside the tracks for a couple hundred metres and some truly breathtaking views of Cheakamus River.  Keep in mind that skirting the train tracks is illegal, so you must never do this if a train is in the vicinity. If you plan to bivouac under the stars, this area is a great choice. Multiple beautiful rock outcrops along and above the river and you may not get disturbed as most hikers don't risk violating the law. Camping is prohibited within Whistler's municipal boundary, which Train Wreck is within, yet a sleeping bag under the stars will almost certainly go unnoticed. If bivouacking or stealth camping is what you are after, you will find quite a lot to choose from as you hike in along the Train Wreck trail.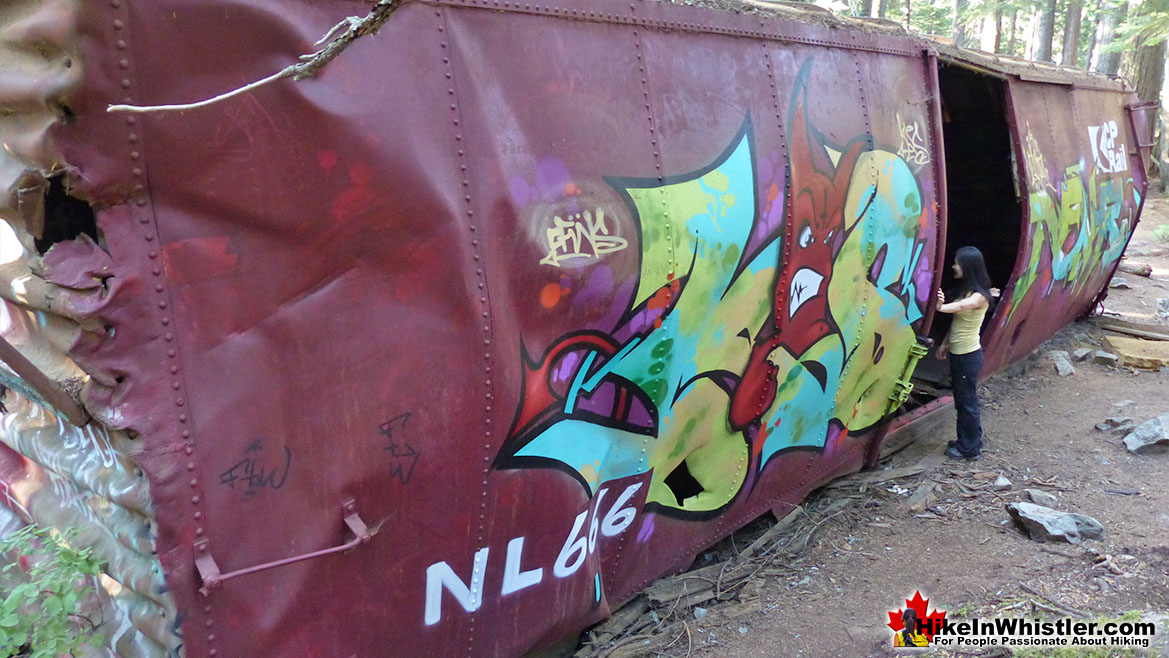 Whistler Train Wreck Trailhead in Cheakamus Crossing
Whistler Train Wreck is located along Cheakamus River over several hundred metres of scenic, and deep forest. The trailhead can be found in Cheakamus Crossing, a neighbourhood 8 kilometres south of Whistler Village. The area is home to quite a variety of hiking and biking trails, both old and new. The Whistler Train Wreck trail from Cheakamus Crossing was only established in 2016 after construction of a beautiful bridge over Cheakamus River. Previously you had to start the trail from the Function Junction side of the Sea to Sky Highway(and train tracks). This meant that you had to cross the tracks at least once and walk along or beside the tracks for two small sections where the Cheakamus River skirts the train tracks. Growing popularity in recent years meant that people were often noticed by train conductors, which led to BC Rail fining people for trespassing.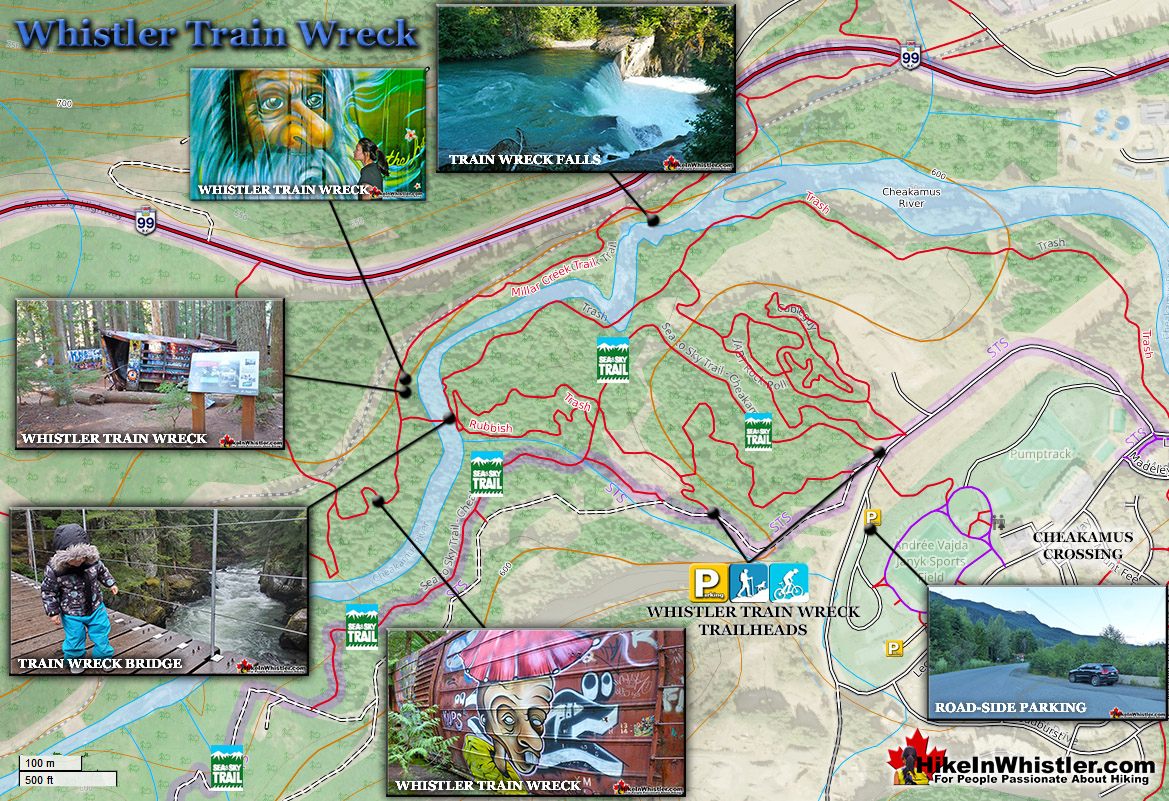 The Old Function Junction Trailhead
The Function Junction side is home to one of many access points to the Flank Trail. With the trailhead discretely located behind Olive's Market, at the far end of their parking lot(don't park there as you fill spots for customers). The Flank Trail cuts across the Valley across from Whistler Mountain. This trail is where many stunning photos of Whistler Village and Whistler Mountain and Blackcomb Mountain at taken from. The Flank Trail has given birth to a staggering array of biking and hiking trails. Including the wild and beautiful network of trails up Mount Sproatt.  About 15 minutes in from the Function Junction(Flank Trail) trailhead and you encounter the first trail up Sproatt, which ascends relentlessly for 7 kilometres through deep forest and wild terrain into the marvellous alpine. You cross plenty of creeks and mountain biking features on the way to the alpine. The trail was created for mountain biking and it shows in the wonderful array of wooden ramps and bridges. The alpine then opens up to a hostile and beautiful alpine world where you can hike in many directions and come to dozens of tarns(small alpine lakes).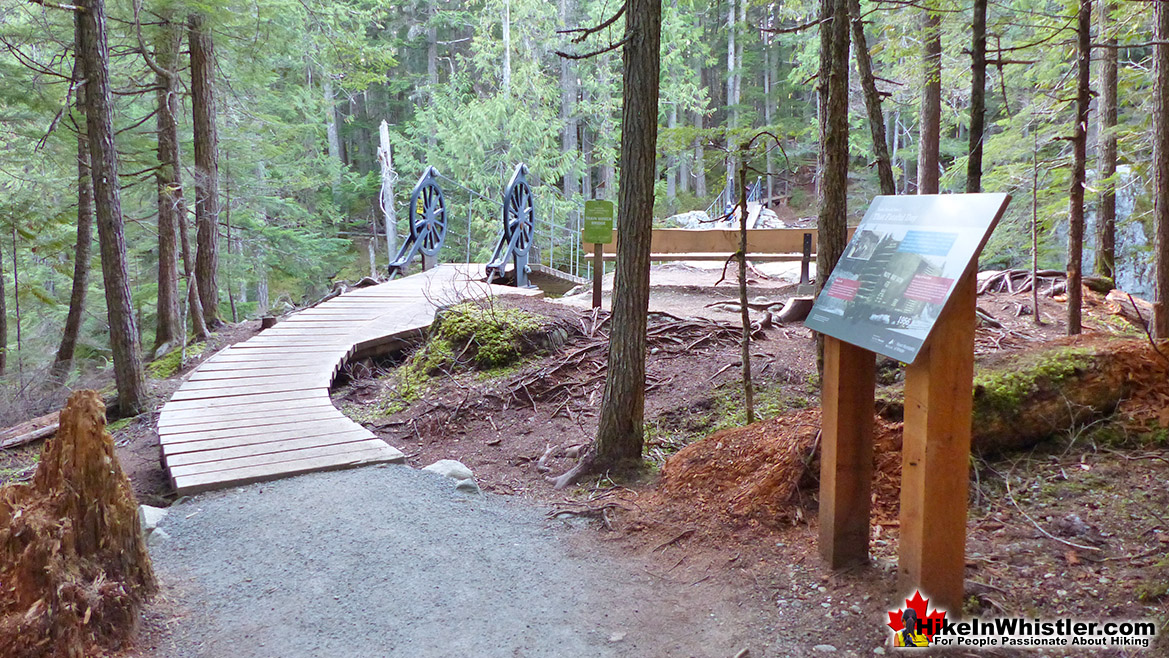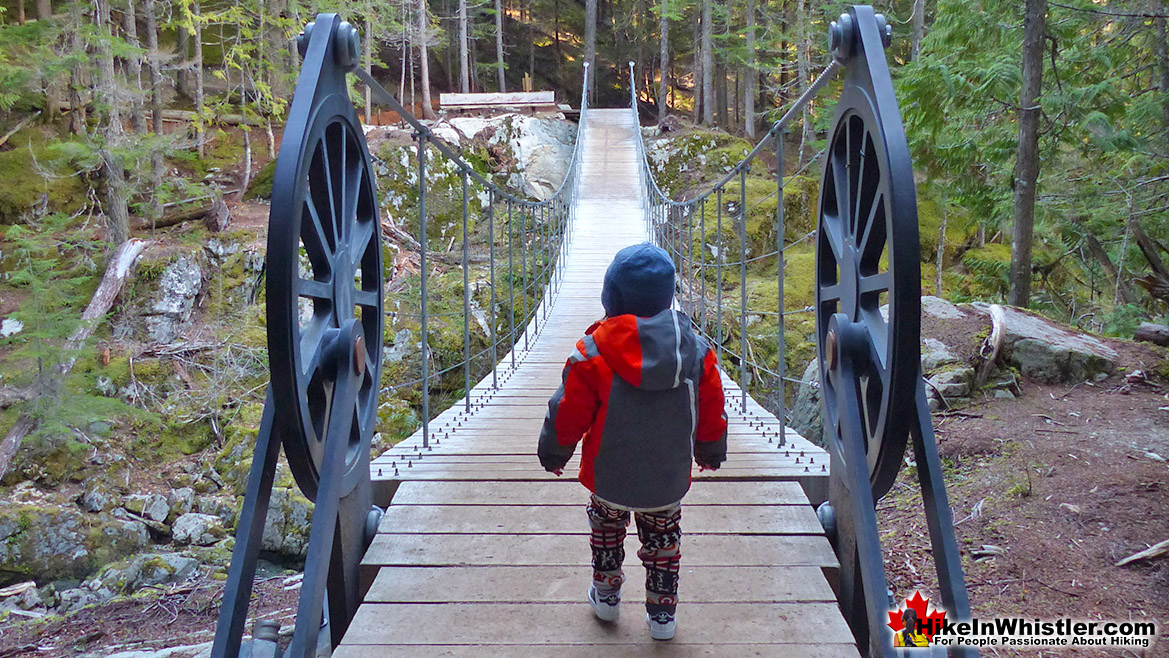 Trash Trail Connects to Train Wreck
The Cheakamus Crossing side of Whistler Train Wreck is home to some excellent hiking and biking trails as well.  The Trash Trail runs along Cheakamus River(heading north) to some wild and beautiful areas overlooking the river.  You are almost always in deep forest here, so it has that remarkable feeling of being far from civilization and inside a hidden world.  If you are hiking to Train Wreck, when you come to the suspension bridge over the river, turn right and don't cross the bridge and you will be on the Trash Trail.  It winds along the edge of Cheakamus River for just a couple kilometres before emerging in Cheakamus Crossing.  Named the Trash Trail because before the 2010 Olympics, the area was Whistler's garbage dump, surrounded by forest.  Cheakamus Crossing or Athletes Village as it was called during the Olympics, is now quite a large housing development, though with few amenities.  There is a nice cafe in the HI Hostel, where you can get sandwiches and drinks, but beyond that the area is slow to develop shops and restaurants.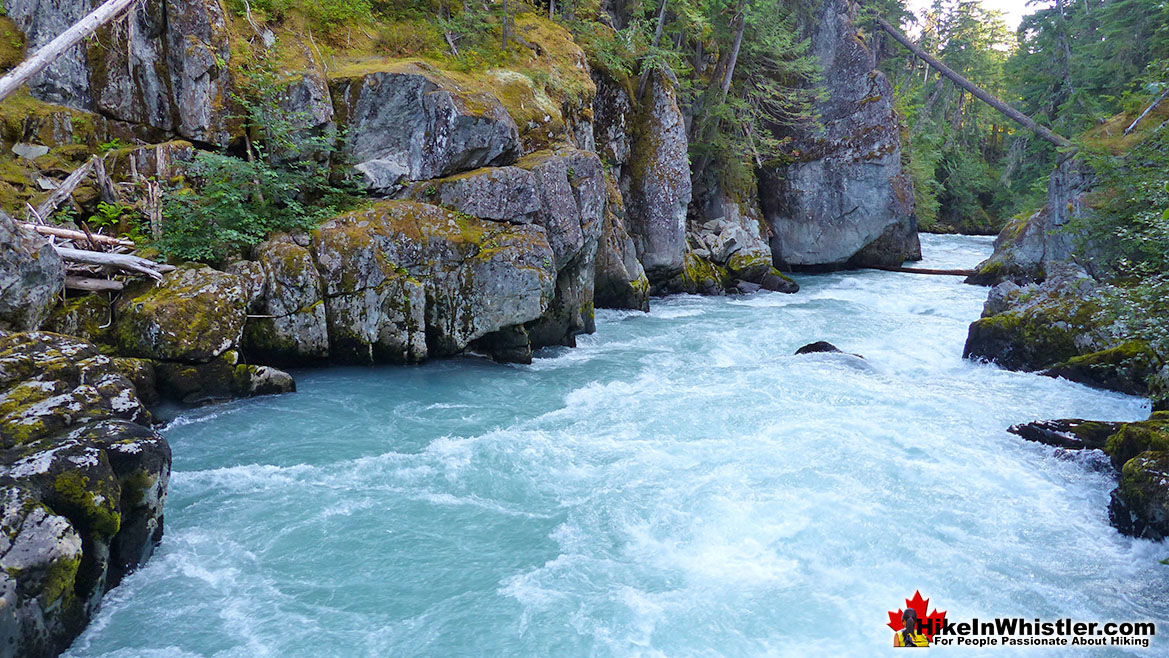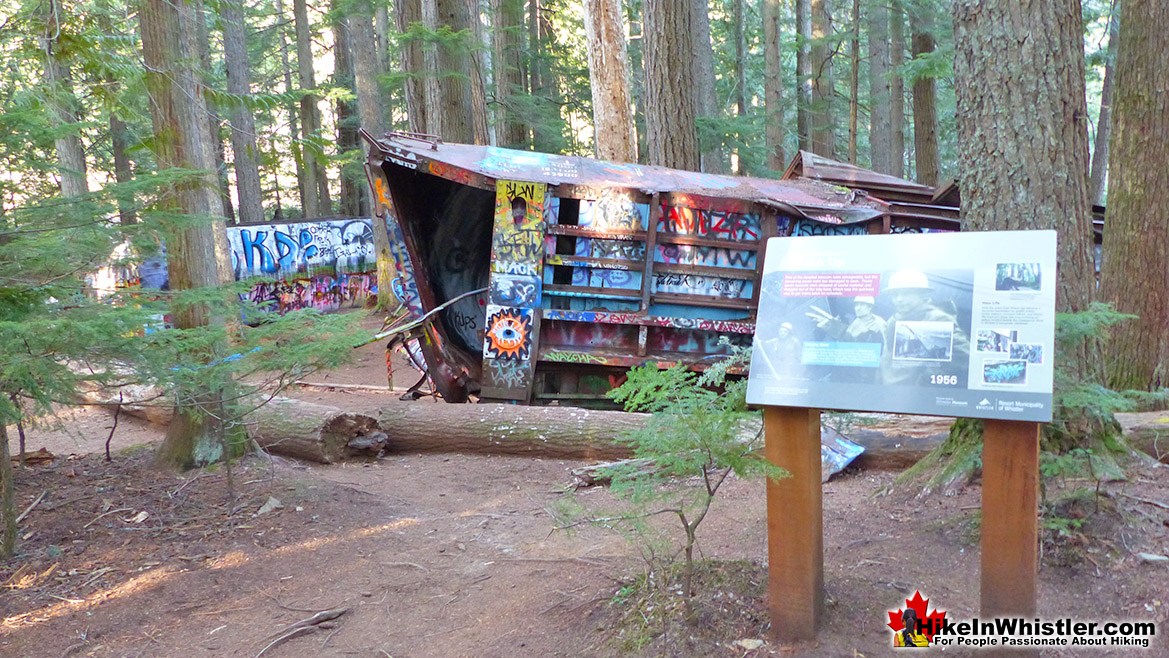 Sea to Sky Trail at Whistler Train Wreck
As you hike in to the Whistler Train Wreck, you will cross the Sea to Sky Trail running left and right.  Right takes you back out to Cheakamus Crossing or to the Trash Trail and connects via the side of the road for a few hundred metres before reaching the Sea to Sky Trail/Valley Trail at the Whistler Interpretive Forest parking lot adjacent to the Sea to Sky Highway.  Left takes you along the Sea to Sky Trail, a monster trail that runs about 33 kilometres through Whistler, and rarely encounters a road.  In fact, the small section along Cheakamus Lake Road that connects the Trash Trail to the Sea to Sky Trail is the only significant road crossing you will encounter along the entire 33 kilometres route through Whistler!  Heading south on the Sea to Sky Trail you will come to a beautiful river crossing, the spectacular Bungee Bridge high above the Cheakamus River and finally Brandywine Falls.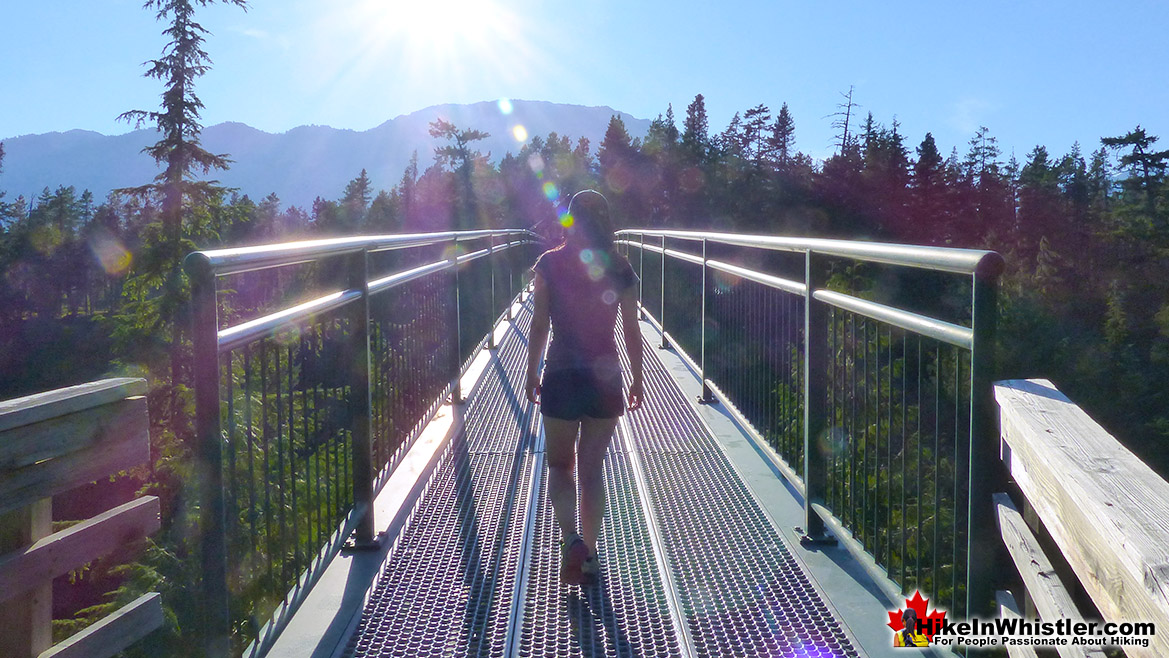 Connecting Trails from Whistler Train Wreck
Still on the Cheakamus Crossing side of Whistler Train Wreck you will find still more beautiful hiking trails.  Both sides of Cheakamus River have 2 kilometre trails that wind through the forest to several viewpoints.  Both connect in Cheakamus Crossing near the vehicle bridge as you enter the neighbourhood.  They also connect two kilometres upriver, where you will find a suspension bridge.  Near the suspension bridge a trail leads to a parking area and yet another great trail to an extinct volcano filled with water. Logger's Lake is a beautiful and surreal lake that constantly shows you that you are inside an ancient volcano.  If you want to go straight to Logger's Lake, you can drive to the parking lot and take the 5 minute hike up to the lake.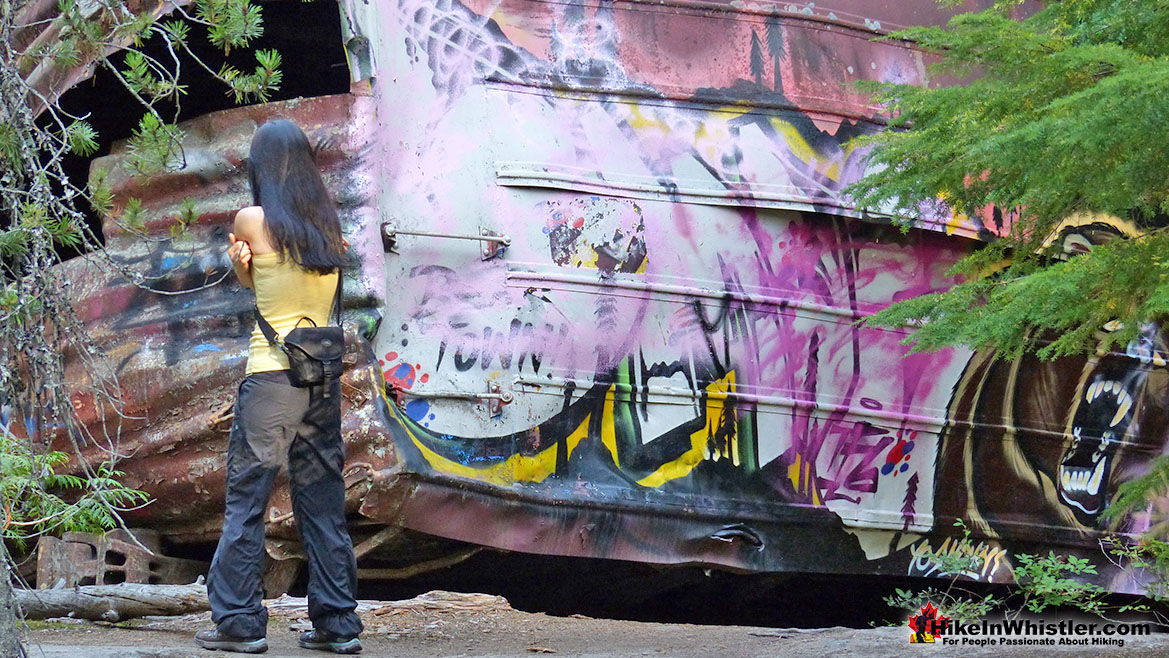 Beautiful Whistler Train Wreck
Whistler Train Wreck is an amazing place to see.  It is both spooky and surreal.  Both gnarled wreckage and mystifying artwork.  Whether you are looking for a wilderness adventure into a peaceful and surprisingly beautiful forest, or sitting around with friends next to a campfire flanked by wrecked train cars painted beautifully.  Train Wreck appeals to almost any taste you can imagine.  It can be romantic and serene, or wildly beautiful. Cheakamus River is a strikingly beautiful river on its own, but flanked by seven mystifying train wrecks, makes the Whistler Train Wreck one of the best hikes in Whistler.  Also one of the most accessible year-round hikes in the valley.  With the exception of huge snowfalls, the trail is manageable without snowshoes reliably anytime through the winter months.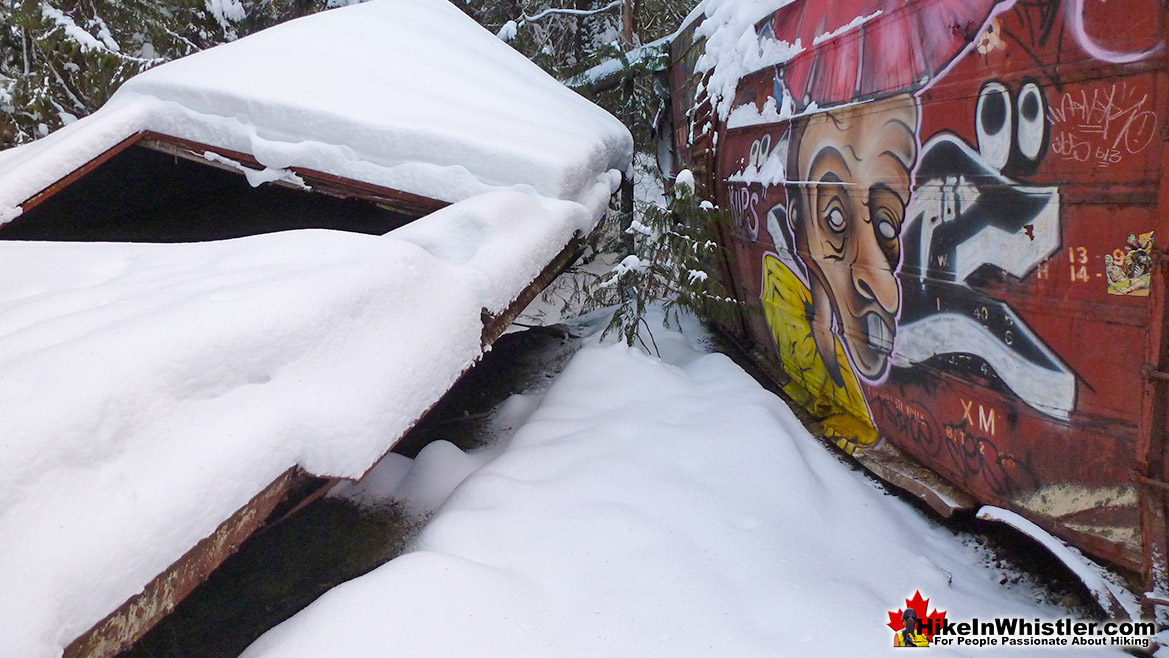 Whistler Train Wreck is Accessible Year Round
It is hard to pin down the best time of year to go to Whistler Train Wreck.  The summer months are of course beautiful with sun beaming through to the rock outcrops overlooking the Cheakamus River.  Spring is a great time to visit as well, as you will find the Cheakamus River filled with thousands of winter runoff creeks.  The spring and summer months give you the most dramatically chaotic views of Cheakamus River as an insane amount of water smashes through.. and rarely in a straight line. Cheakamus River bends constantly and there are frequent sections where a narrowing or sloping cause the water to vibrate the solid rock under your feet as the white water blasts by. Winter is also an excellent time to hike to Train Wreck.  Most locals and tourists don't stray from Whistler Mountain and Blackcomb Mountain or Whistler Village, leaving this spectacular place to yourself on any given day.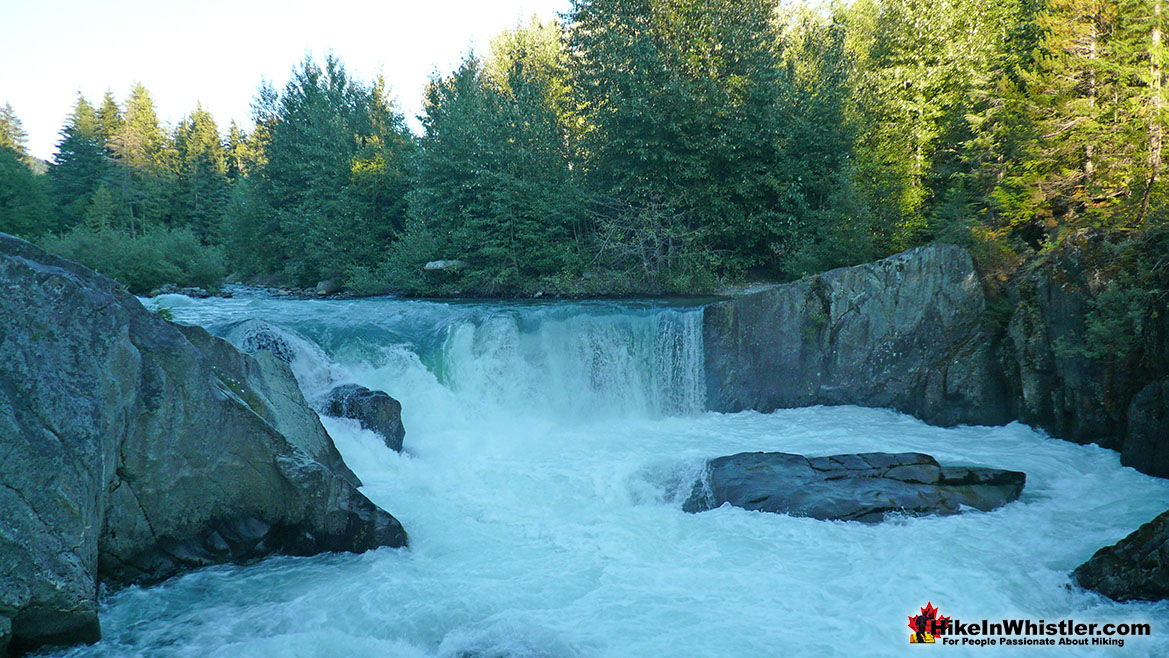 Finding Whistler Train Wreck
Finding the trailhead to Whistler Train Wreck is still a bit tricky as the parking area near the trailhead is not marked.  Make sure to note the directions to where to park and where the trailhead can be found.  It is fairly easy to find the parking area first, then spot the trailhead signs on foot.  Depending on where you park, you may find the Trash Trail first or the Sea to Sky Trail.  Both lead to the Train Wreck and you will see signs for the Train Wreck shortly after you enter the forest.  The signs are clear and you would have some difficulty getting lost, although the Trash Trail is easy to get lost in.  The good news is that you eventually emerge at Cheakamus Crossing or Train Wreck.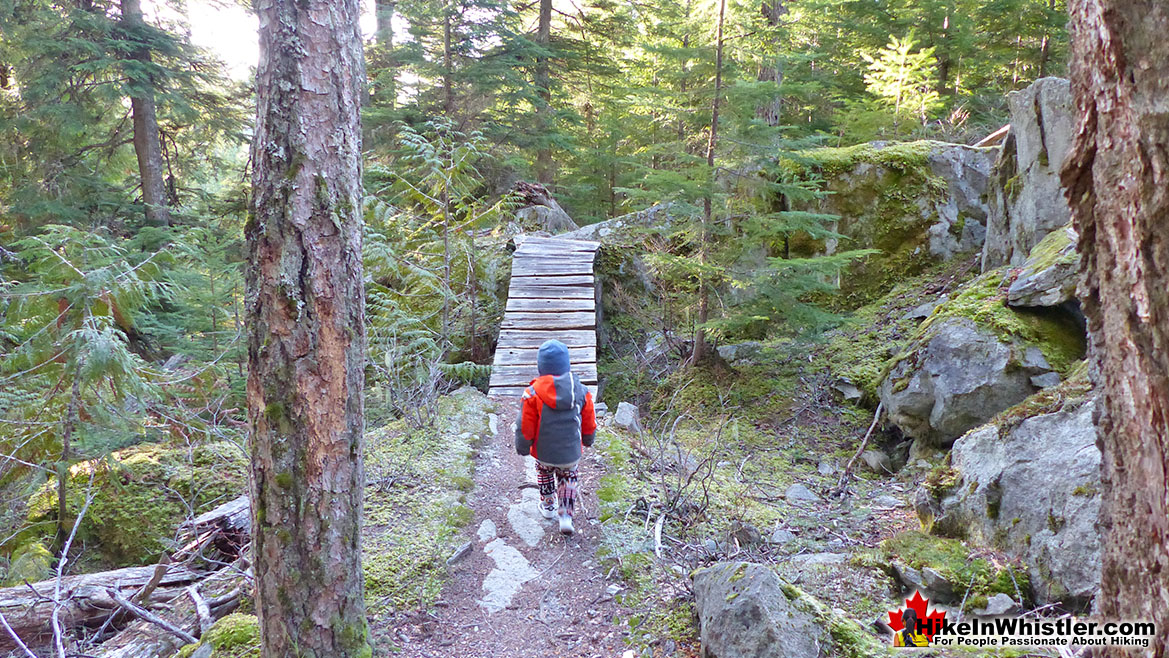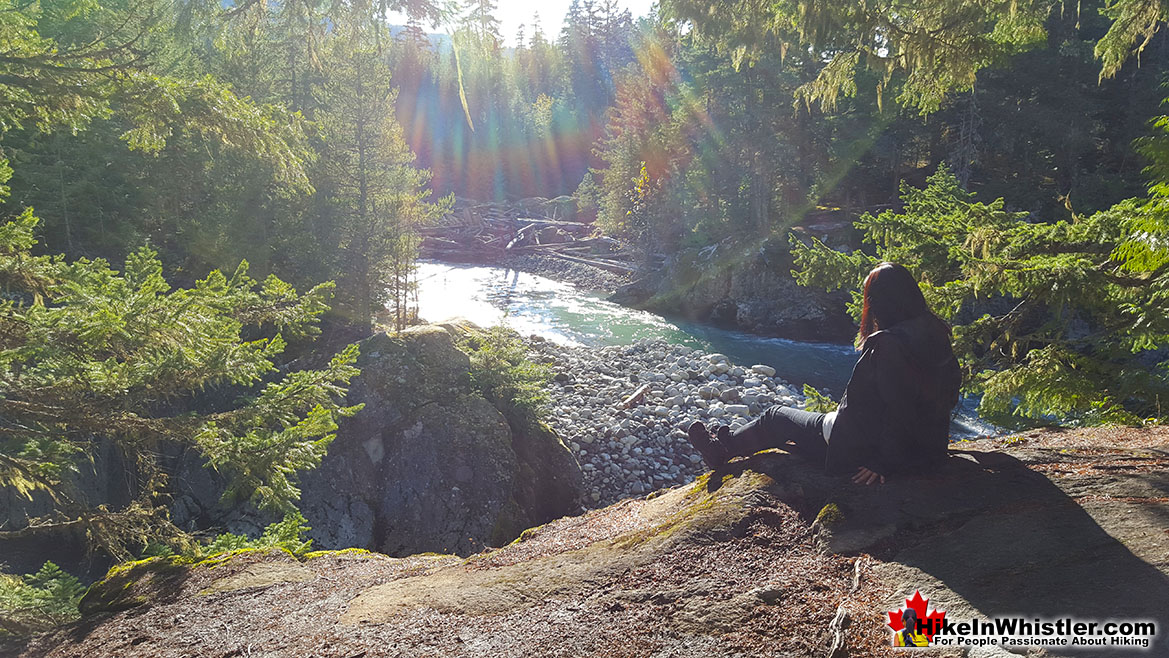 Highlights of Whistler Train Wreck
The highlights of Whistler Train Wreck are numerous. Cheakamus River is amazing at a number of viewpoints along the trail and even at the train wreck.  On beautifully painted train wreck is hanging at the edge of a cliff above the river.  This car has one of the most hypnotizing painted murals you may ever see.  The mural shown above is inside this car.  It fills one entire wall inside the marvellously wrecked train car.  Extraordinary!  Other cars nearby are variously painted with less impressive attempts at art.  The last couple years has seen the painting over of some stunning murals with simple block letter words.  A terrible shame, but possibly inevitable in such a wild place.  The good news is from season to season the cars are added to by more and more great artwork.  If only the best were preserved in more than just photos.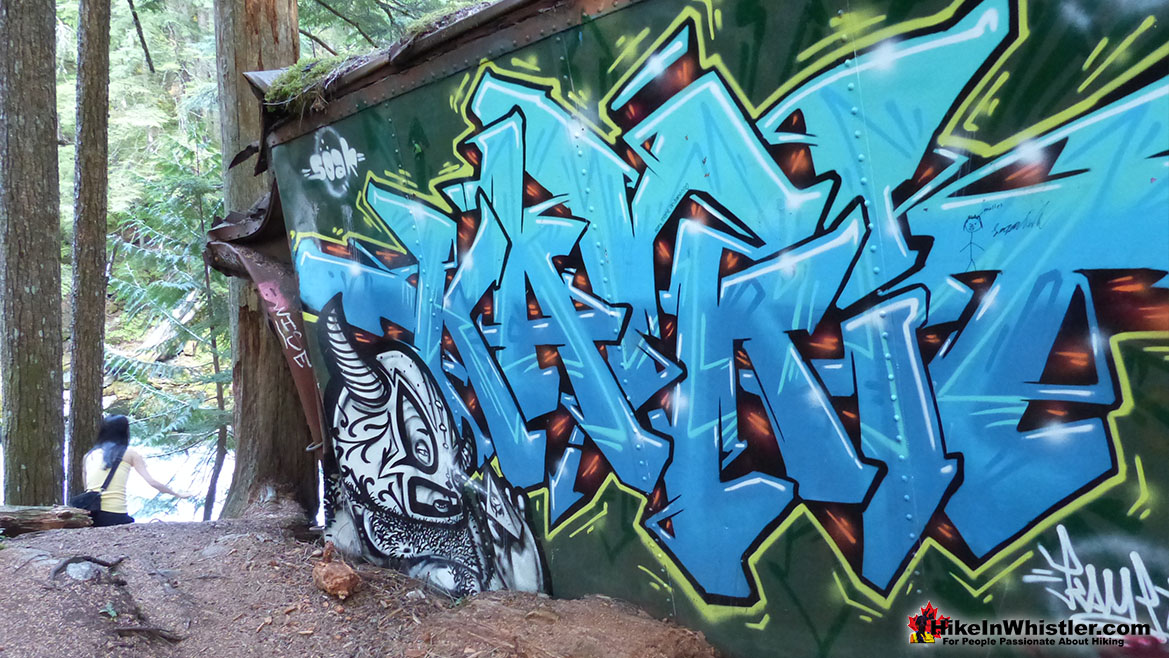 Elaborate Bike Ramps at Whistler Train Wreck
Another highlight of the Whistler Train Wreck trail is the emergence in recent years of elaborate bike trail features.  Wooden ramps along bends and ramps on at least one train car that has another down-sloping ramp for a bike to land on.  Aside from marvelling at the drop from the train car rooftop to the ground, the ramps nice to see and remind you that you are still on a trail to see something.  Serenity is easy to find in and around Train Wreck, however there is one unexpectedly tranquil spot.  A great little rock outcrop with a marvellous view over the river, with a park bench perfectly positioned to take in the view.  To find this little quiet corner turn left after you cross the suspension bridge on your way to Train Wreck.  Follow the trail for a couple hundred metres and find it downriver from the bridge you just crossed.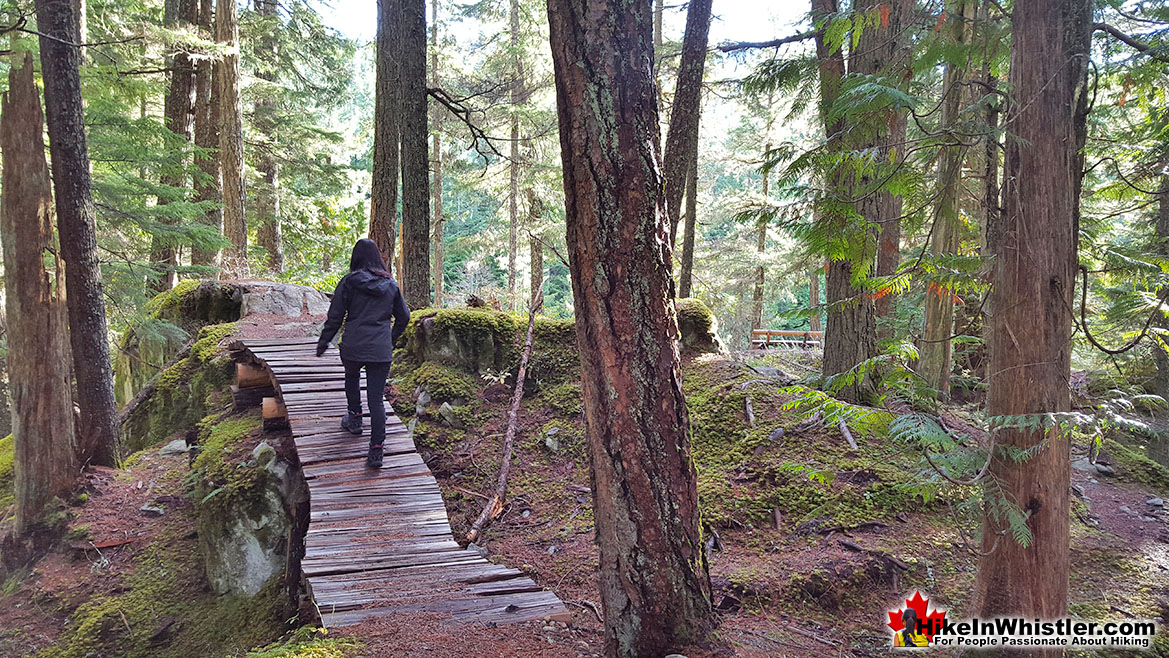 Whistler Train Wreck is Kid Friendly
Whistler Train Wreck is an easy, yet varied hike that is very kid friendly. Kids will love the deep forest, beautiful suspension bridge and plenty of bizarre things to see. There are of course some hazards in the area, not least the train cars themselves. Ladders invite climbing on them, most have disintegrating wooden floors, and some cars are sloping. Another potential hazard to keep in mind for both kids and adults are the various rock outcroppings over the Cheakamus River. They are very inviting and may slope down the closer you get to the tumultuous water below.  A little carelessness you send someone tumbling over a 7 metre cliff into a maelstrom of fast moving, swirling water with vertical cliffs on both edges of the river. Train Wreck is very kid friendly, but will some common sense caution in a few of these areas.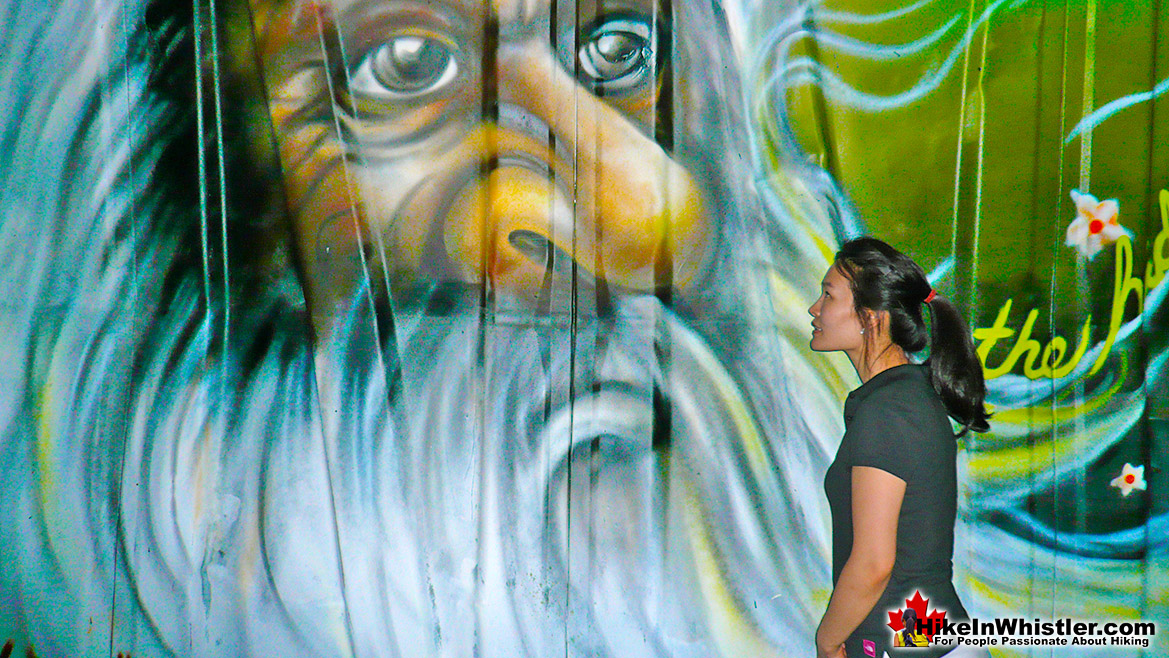 Whistler Train Wreck Map

Cell coverage is reliable on all of the trail to Whistler Train Wreck so you will be able to access the internet if you have a data plan, however saving the above map to your smartphone or tablet may be a good idea as Whistler Train Wreck is not indicated except a couple small signs well past the trailheads.  You can access Whistler Train Wreck from the Trash Trail side by using the new bridge completed in July 2016. If you want to park close to the Trash Trail you can find road-side parking(make sure you are legally parked) near the Sea to Sky Trail.  The bottom right parking area shown below is easy to find, huge, and so far unmarked.  The bottom left parking area shown can be found by driving a hundred metres along the very smooth Jane Lakes Forest Service Road and parking well off to the side, out of the way of large trucks that may drive through. This parking area is fairly narrow and may only accommodate a couple cars, however it is a nice a quick way to get to the new bridge and mangled train wrecks.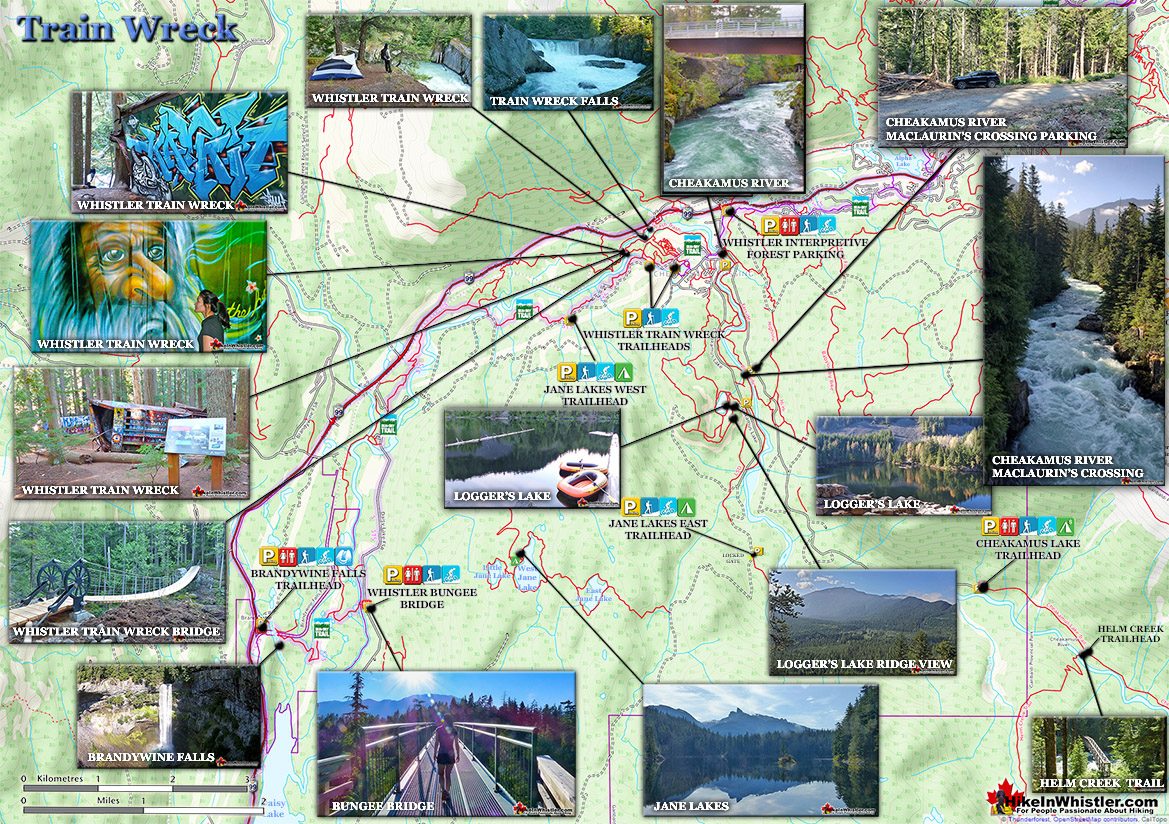 History of Whistler Train Wreck

The Whistler Train Wreck happened in 1956 and some of the details have emerged in recent years. The train, coming from Lillooet, was overloaded with lumber and was unable to get up the ascent to Parkhurst, behind Green Lake. To make it through, the train was split into two separate trains, two engines each. This caused the train to fall way behind schedule and the train conductor to ignore a section of construction on the train tracks. He sped through the 24 kilometre per hour section at a dangerously high speed of 56 kilometres per hour. The overloaded train sped through the construction area and the fourth engine turned a rail, jamming several heavily loaded boxcars loaded with lumber. Twelve boxcars lay derailed and jammed in a rock cut, an area where rock is blasted out to allow tracks to pass through on the flattest possible route.  Pacific Great Eastern Railway attempted to move the trapped boxcars with no success. They turned to a local logging company for help. The Valleau family brought in a couple tractors and equipment and managed to free the cars. They dragged them out of the rock cut and seven of the twelve boxcars were too mangled to salvage.  They were then dragged and craned into the forest where they still sit. This explains why so many trees older than the train wreck surround the wrecks to this day. It also explains why they are so mangled and spread out over quite a large area. One of the boxcars is precariously on the edge of a cliff overlooking Cheakamus River, quite a distance from the train tracks.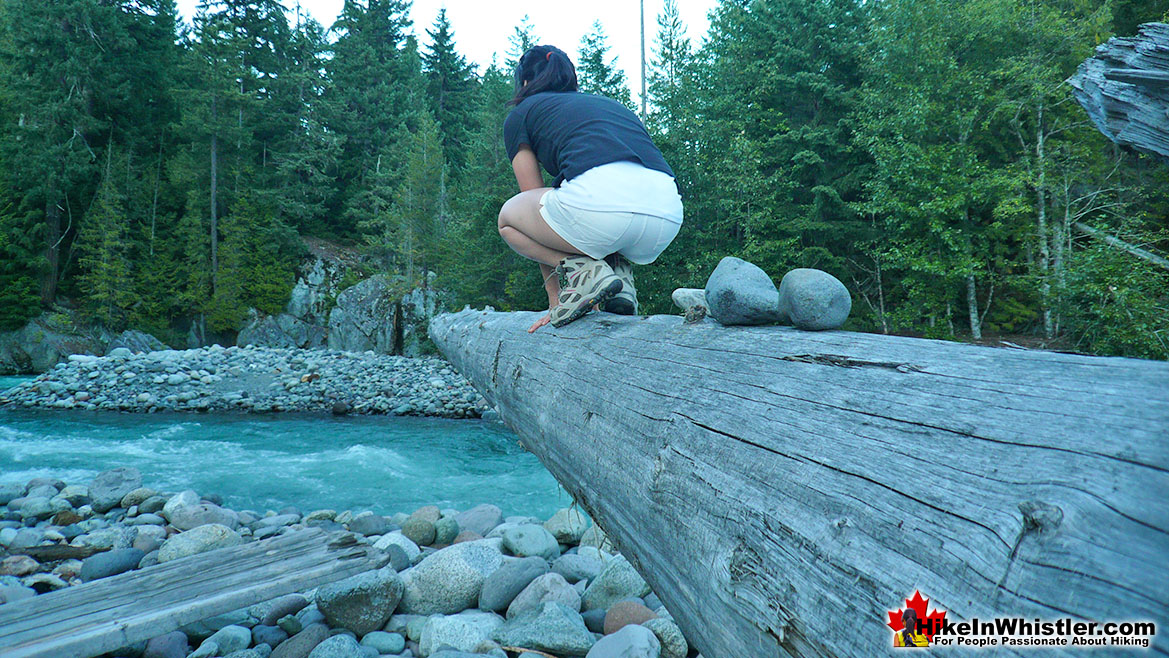 Trailhead & Parking Directions to Whistler Train Wreck



Whistler Train Wreck is one of the easiest hiking trails in Whistler to get to by car, bike or public transit.  Public transit runs continuously between Whistler Village and Cheakamus Crossing for just $3 one-way.  The bus will drop you off at the HI Hostel and a short section of the Sea to Sky Trail connects you to the Trash Trail and Train Wreck.  If you would rather bike to the trailhead you are in for a treat.  From anywhere in Whistler the bike ride to Train Wreck is very nice.  Whistler's Valley Trail system and the Sea to Sky Trail connect you to Cheakamus Crossing from Whistler Village with only one road crossing!  The wide, two lane, paved Valley Trail takes you through some beautiful scenery and along three lakes.  Only 9 kilometres from Whistler Village, Whistler Train Wreck is easily within reach by bike.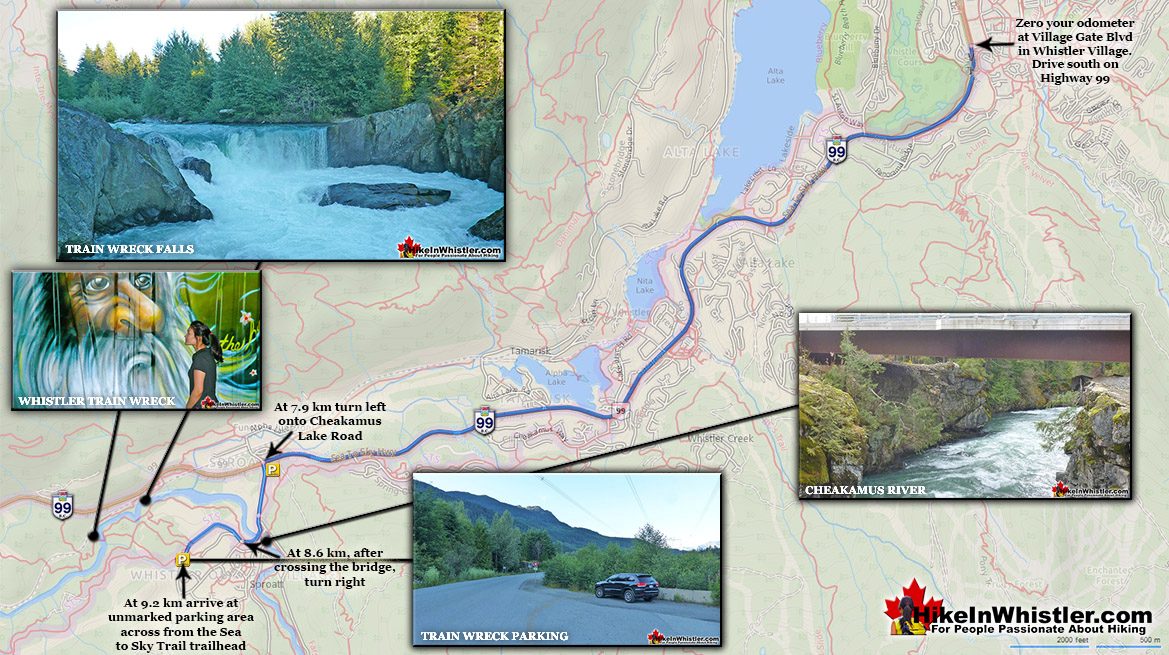 Driving Directions to Whistler Train Wreck
To get to the trailhead for Whistler Train Wreck, drive 7.9 kilometres south of Whistler Village(Village Gate Boulevard).  At the traffic lights at Function Junction turn left onto Cheakamus Lake Road.  At 8.6 kilometres, just after you cross the bridge over Cheakamus River, turn right.  At 9.2 kilometres you will see the unmarked parking area on the left side of the road, across from the Whistler Train Wreck and Sea to Sky Trail trailhead.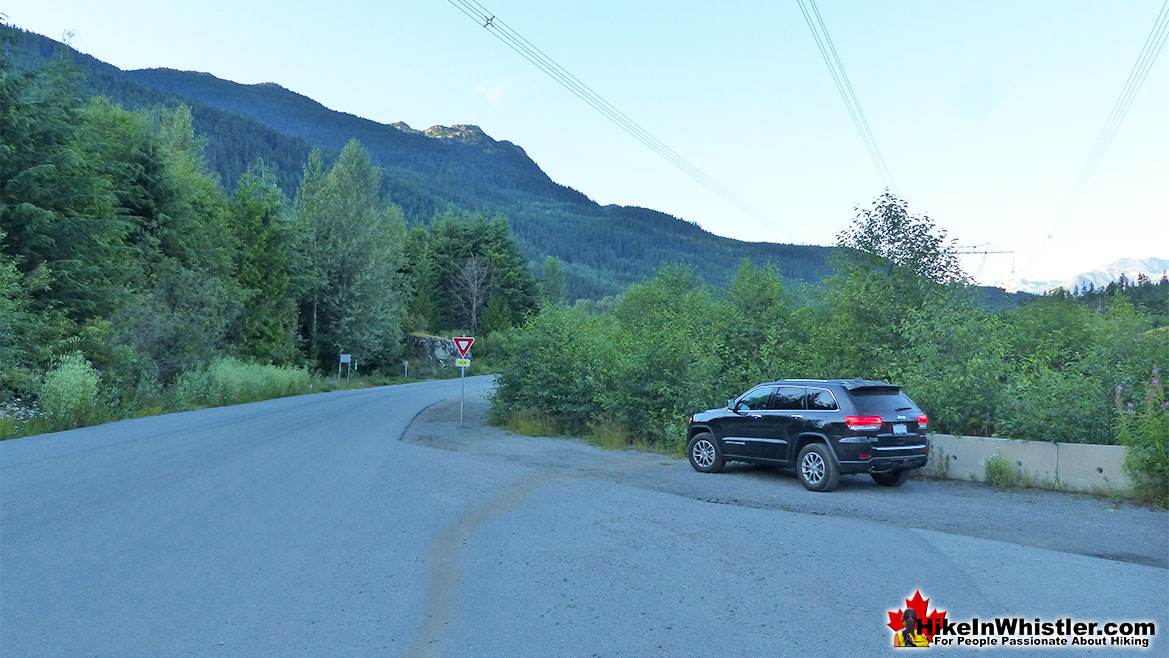 Hidden Trailhead to Whistler Train Wreck
Another good, possible the best place to park is just a couple hundred metres into the Jane Lakes FSR aka Cheakamus River FSR. Drive just a couple hundred metres in and you will spot an old gravel road on the right ascend steeply up into the forest with a trailhead sign for Trash Trail.  There is room for a couple vehicles along the clearing next to the Trash Trail sign.  The road from the sign quickly narrows and finally blocked by boulders about 50 metres in.  You could certainly park here keeping mindful about not blocking other cars or being blocked in yourself.  Alternatively you could park at the edge of the Jane Lakes FSR where it met this road(next to the Trash Trail sign).  From here you continue up a briefly steep trail for about 1 kilometre before reaching a nicely signed and new junction directing you(for the first time) to the Whistler Train Wreck.  From where you park to the amazing new Train Wreck bridge should only take you 15 minutes. The Whistler Train Wreck, of course is located just beyond the bridge.
The Original Trail to Whistler Train Wreck
The old trail to Train Wreck begins at the Flank Trail trailhead in Function Junction on the Function Junction side of the Sea to Sky Highway.  This route has now been replaced due to the frequency of hikers walking along the train tracks even when trains are passing through.  This resulted in ever-increasing numbers of fines to unsuspecting locals and tourists.  It is still a nice trail as it takes you along a cute creek in an unexpectedly tranquil setting, under the Sea to Sky Highway.  About 40 metres from the tiny Flank Trail sign off of Alpha Lake Road you will spot the large, old sign indicating Flank Trail to the right and another, unmarked trail heading left.  Walk a down this unmarked trail with the creek still on your left and you will pass some ancient, but weirdly idyllic picnic tables.  Further along you will come out to a clearing and see two painted boulders on your left on either side of a trail.  If you miss this trail you will come to the water tunnel under the highway.
Navigating the Old Trail to Train Wreck
The old trail to Whistler Train Wreck is the one between the painted boulders.  Continue along this trail through the forest for a couple minutes and you will come out to a wall of boulders with the Sea to Sky Highway far above.  Follow the trail to the left here and you will pass under the highway with beautiful graffiti on either side of the river. From here the trail is fairly straightforward, but keep in mind that you should, and easily can keep clear of the train tracks with the exception of crossing them once.  There is a bright blue spray painted line on the tracks at the one place you need to cross.  Avoid being on or near the train tracks as much as possible and if a train comes, be sure to not be seen.  Having people in the vicinity of the train tracks understandably alarms the train conductors and they will notify BC Rail staff to come down and issue fines if they see people walking on their tracks.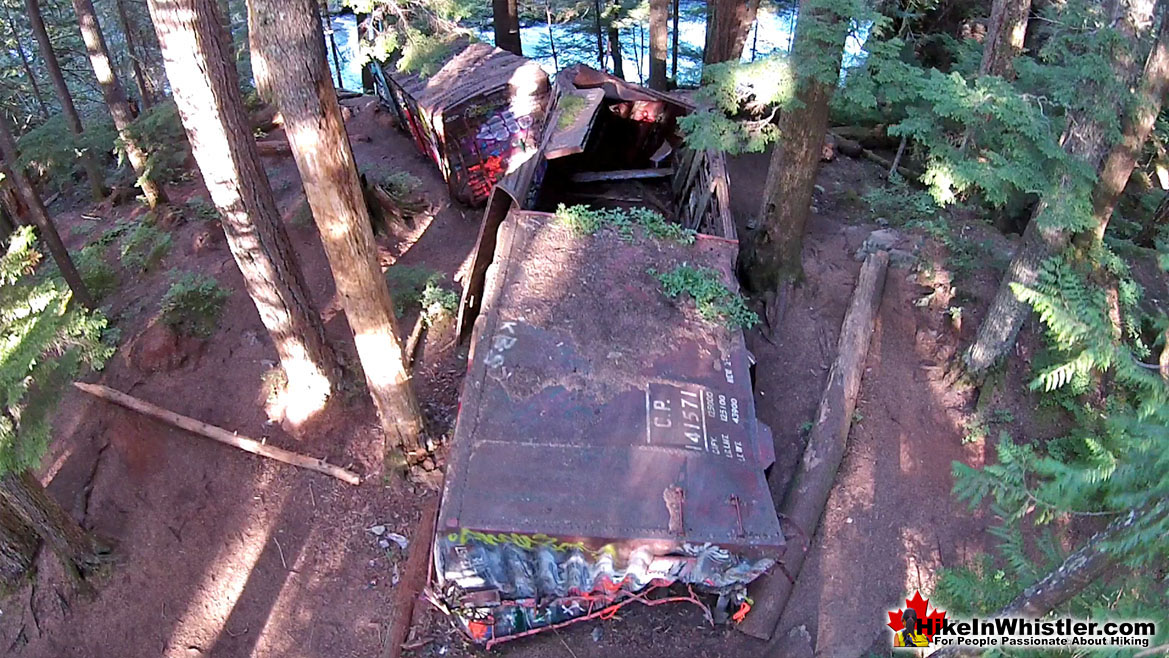 Whistler's Best Hiking Trails!
Whistler & Garibaldi Park Best Hiking by Month!

Explore BC Hiking Destinations!