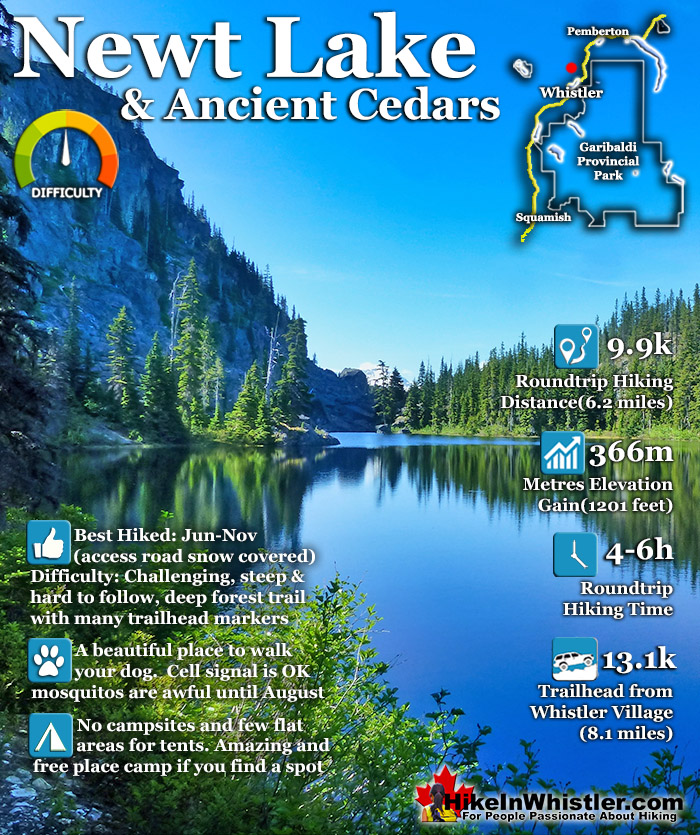 Newt Lake is cute little hidden lake high up on the far side of Cougar Mountain near Ancient Cedars.  Its location is a wonderful mix of unexpected characteristics that combine to make it a gorgeous place to see, as well as an unforgettable place to spend the night.  The lake itself is comparatively small, but its irregular shape, deep water and dramatically varied topography make it seem pretty big.  The terrain around the lake is chaotic combination of monstrous boulders, rocky cliffs and weather battered forest.

Quiet, rarely hiked trail

Beautifully wild alpine wilderness

Amazing lake for swimming

Boulder shore is fun & functional

Enormous trees at Ancient Cedars

Very dog friendly wilderness trails

Rarely see anyone at the lake

Challenging, short & fun trail

Hard to find flat areas for tents

Road inaccessible in winter months

Whistler & Garibaldi Hiking

Alexander Falls  

Ancient Cedars  

Black Tusk  

Blackcomb Mountain  

Brandywine Falls  

Brandywine Meadows  

Brew Lake  

Callaghan Lake  

Cheakamus Lake  

Cheakamus River  

Cirque Lake 

Flank Trail 

Garibaldi Lake 

Garibaldi Park 

Helm Creek  

Jane Lakes 

Joffre Lakes  

Keyhole Hot Springs  

Logger's Lake  

Madeley Lake  

Meager Hot Springs 

Nairn Falls  

Newt Lake 

Panorama Ridge 

Parkhurst Ghost Town 

Rainbow Falls  

Rainbow Lake 

Ring Lake  

Russet Lake  

Sea to Sky Trail 

Skookumchuck Hot Springs  

Sloquet Hot Springs 

Sproatt East 

Sproatt West  

Taylor Meadows  

Train Wreck  

Wedgemount Lake  

Whistler Mountain

January 

February 

March 

April 

May 

June 

July 

August 

September 

October 

November 

December
On section of Newt Lake's shoreline is buried in truck sized rocks rising sharply from the water and up to one of the ominously crumbling ridges of Cougar Mountain.  The massive jigsaw of rocks stretching from the cliff to the shore look as though they crashed down recently.  Other boulders around, and in Newt Lake are so enormous that you can't tell if they crashed down from above, or are part of the solid bedrock.  Some, the size of houses, have decades old trees growing on and around them, yet their jagged and rounded shape give them the unsettling appearance of having been dropped there.  You can't help but stare across the lake and try to visualize how they came to rest where they are.  With truck sized boulders ringing one side of the lake, there are several perfect places to jump in.  The water is immediately deep from the shore here and the colour is emerald green.  You have to navigate the steep boulder field from the trail that approaches the lake from the 2.4 kilometre trail that starts from the end of the much easier Ancient Cedars trail.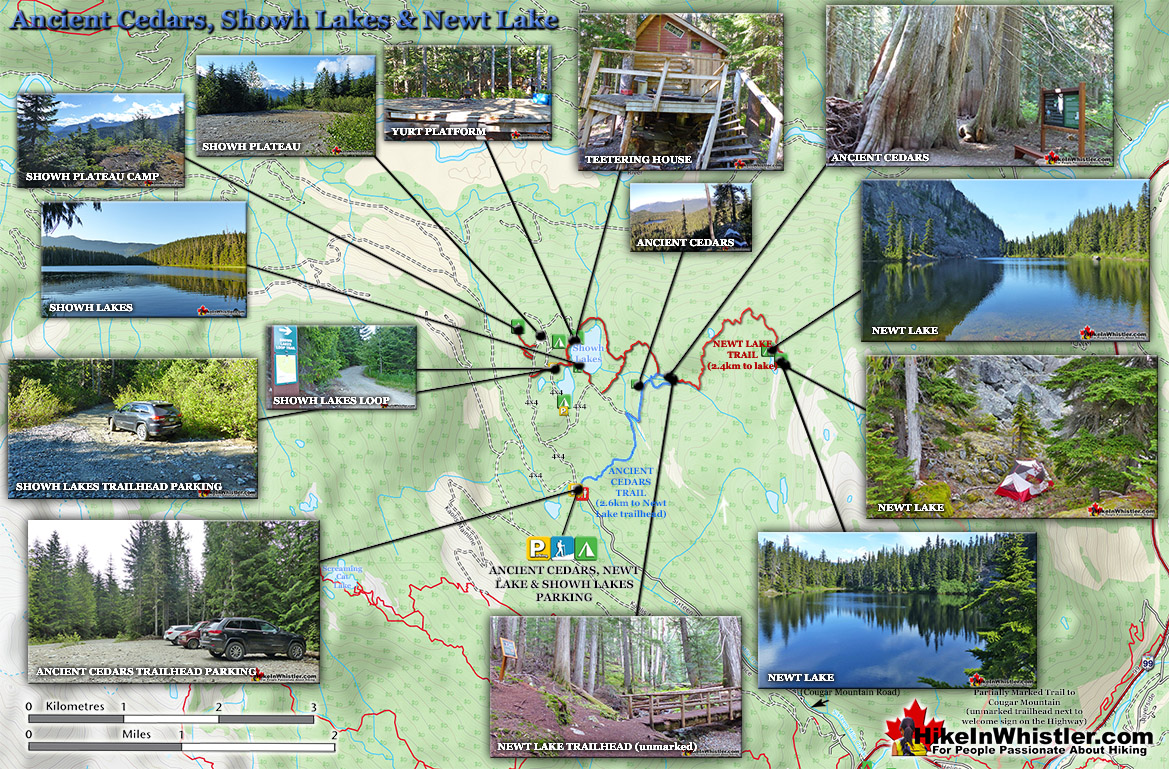 The popular Ancient Cedars trail is 2.6 kilometres long from the trailhead to the end of the loop trail that takes you through the impressive grove of big trees.  At the far end of the Ancient Cedars loop is where the unmarked and tricky to spot Newt Lake trail starts(pictured here).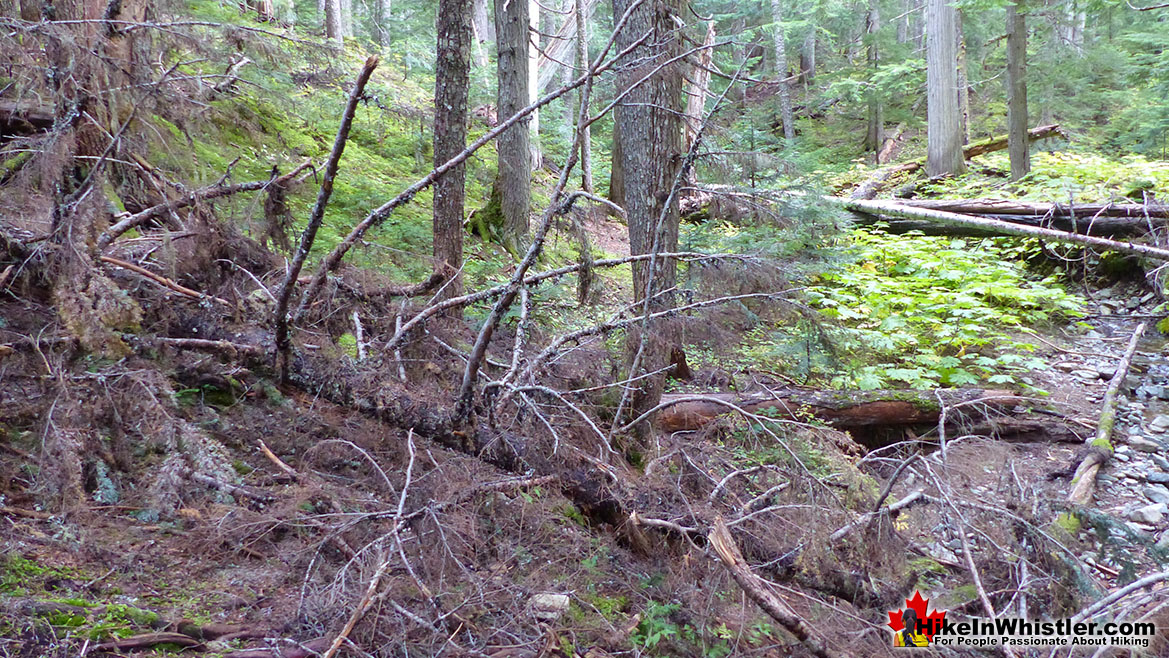 Ancient Cedars Trailhead to Newt Lake
From the Ancient Cedars trailhead to Newt Lake you gain 366 metres(1201 feet) in 5 kilometres(3.1 miles).  That's a challenging elevation gain, however the first half to Ancient Cedars is a pretty relaxing, steadily uphill route with the occasional bend in the trail.  The easy to follow, well used trail is nice, scenic and feels like an easy walk in the woods..  The Newt Lake trail, however, is quite wild by comparison.  The trail snakes through the thick forest in a constantly ascending and zigzagging route that would be impossible to follow without the very frequent trail markers.  From your car to Ancient Cedars takes only 45 minutes to hike, but from Ancient Cedars to Newt Lake expect to be hiking more than an hour.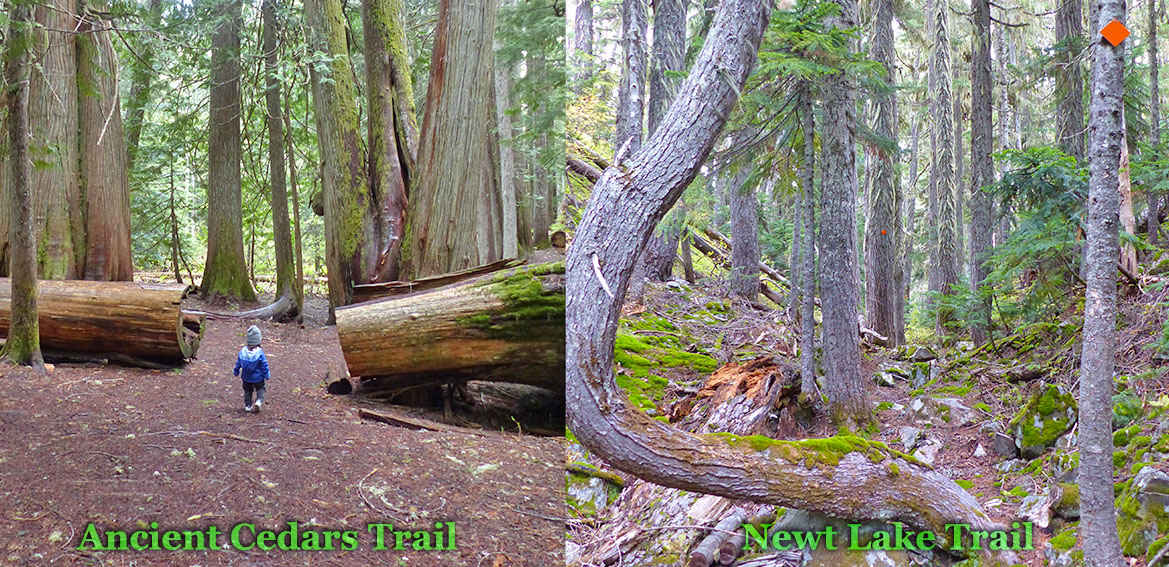 Hiking the Newt Lake Trail
Hiking to Newt Lake is surprisingly fun, though you are almost always climbing and constantly looking for the trail.  The trail winds and ascends through a thick forest of huge trees, fallen trees, mangled trees sprawled across the trail and often you lose the trail despite excellent trail markers.  The erratic terrain and thick forest mean that the recently marked trail snakes through a route that is constantly being altered by the growing forest or falling trees.  In the winter metres of snow pile up here and push boulders down slopes and mangle smaller trees.  A combination of coloured ribbons and orange metal reflectors keep you from wandering off the trail too far.  Though inevitably you will find yourself, on many occasions, scanning the forest for one of these tree markers.  The forest is so wild and the trail is so new that you usually can't discern a trail by looking down.  Instead you keep hunting for the next trail maker lurking ahead in the trees.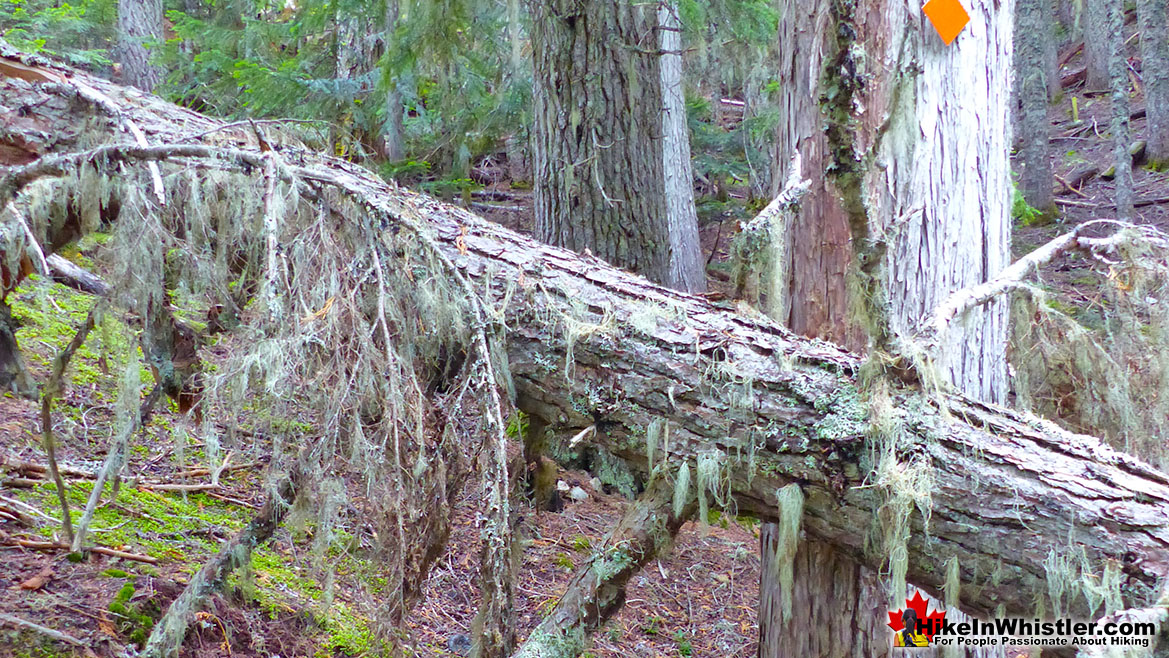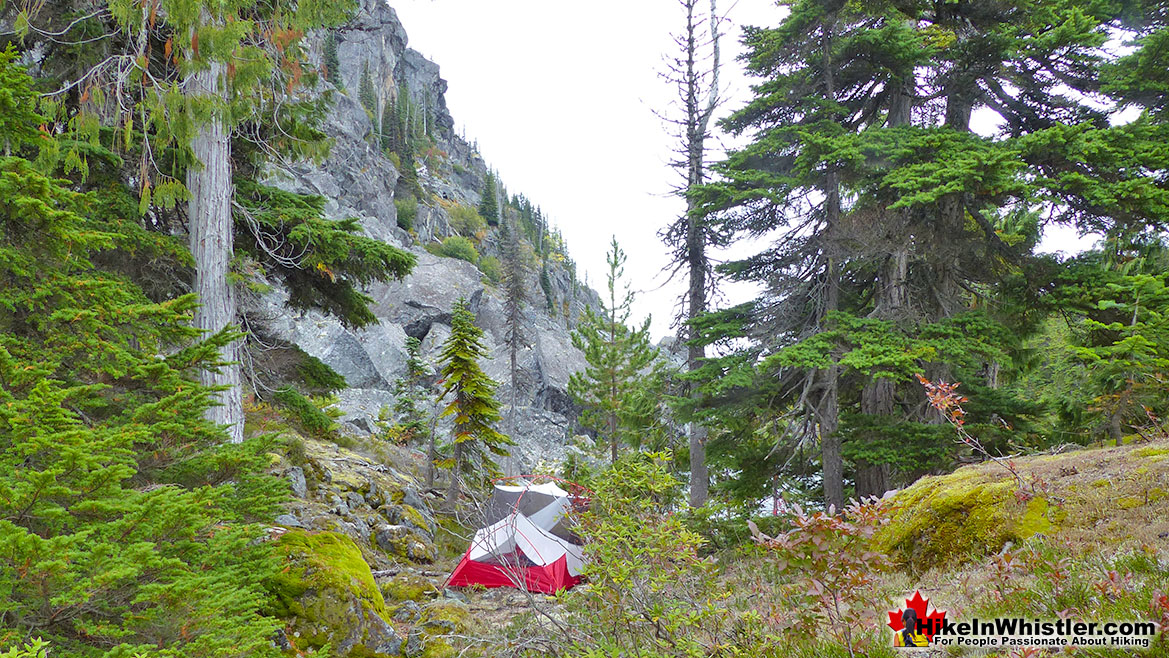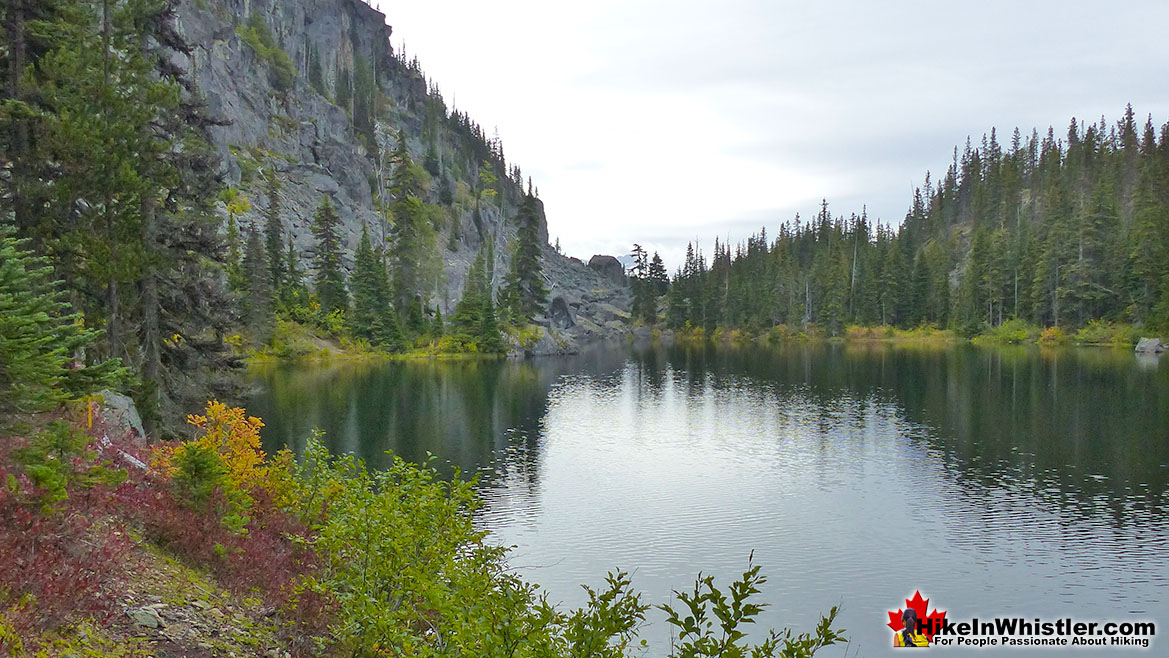 Ancient Cedars & Newt Lake Trail Stats:
Driving There: 25 minutes from Whistler Village(13.1kilometres/8.1miles)  Hiking Distance: 5 kilometres/3.1 miles, one way from the Ancient Cedars trailhead/parking to Newt Lake.  Hiking Time: 2 hours there and 1.5 hours back.  Peak Elevation: 1222 metres/4009 feet. Trailhead/Parking Elevation: 856 metres/2808 feet.  Elevation Gain: 366 metres/1201 feet.  Fees: None  Campsites: None  Camping Allowed: Yes  Difficulty: Challenging, steep, wild, hard to follow but short trail. Lots of trail markers, but still easy to lose the trail  Kid Friendly: Yes, short enough to be fun, not exhausting  Stroller Friendly: No  Dog Friendly: Yes
Ancient Cedars, Showh Lakes & Newt Lake Map
The Ancient Cedars trail is very popular and most hikers that come up here just hike the Ancient Cedars trail to see Whistler's largest(though not oldest) trees.  The two Showh Lakes are gorgeous, however the shoreline is so wildly overgrown that you pretty much need to get out on the water to enjoy them.  Newt Lake is a new and almost entirely unknown trail to a lake that takes a bit of effort to appreciate.  On first glance, Newt Lake is a rough, hostile looking place.  But, if you sit for a moment and take it all in, you quickly realize what a remarkable hidden world you've stumbled upon.  Sitting on the broad granite cliff that juts out from the boulder field and slopes sharply down a couple metres to impossibly clear, emerald coloured water.  The shoreline all around is either bright green trees or huge grey boulders.  The boulders to your left form natural stairs into the water and the boulders out of the water are warm, almost hot from the sun.  Behind you the boulders rise sharply, and alarmingly up to a crumbling ridge about a hundred metres above.  The brutalized landscape looks and feels like paradise a million miles from humanity.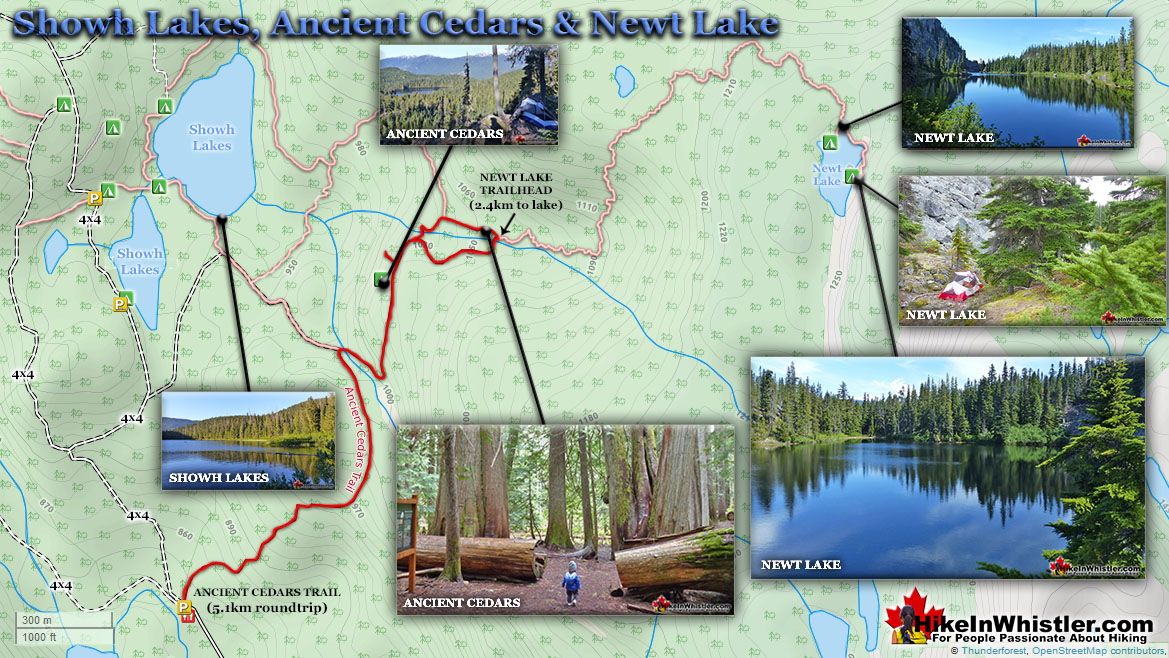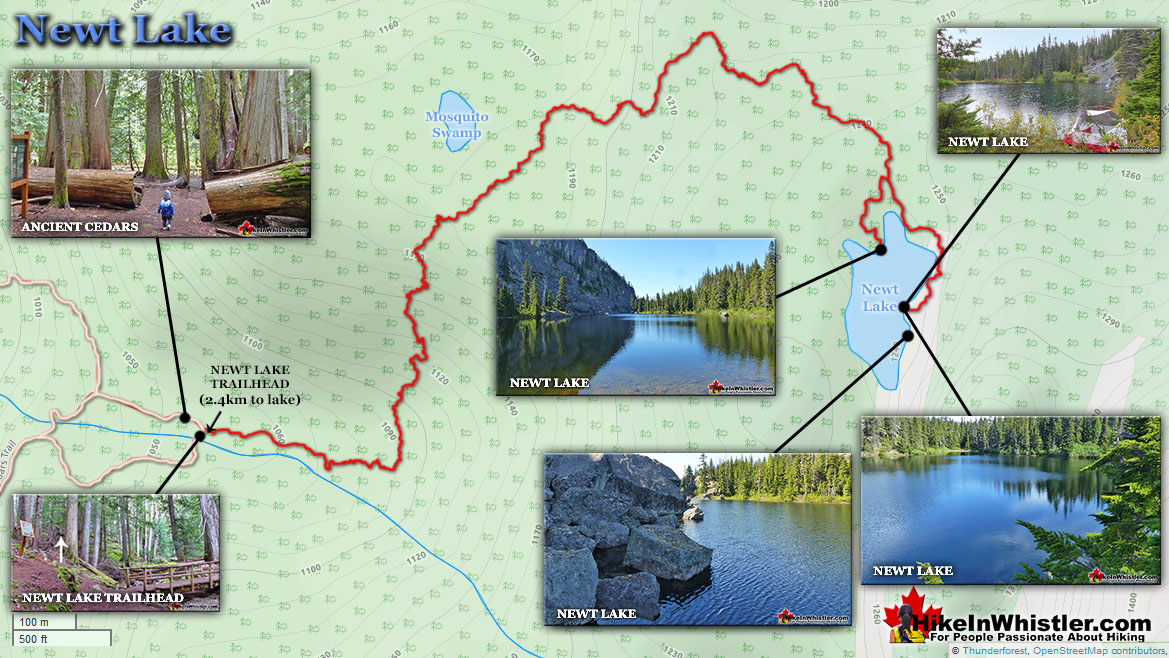 Ancient Cedars & Newt Lake Trailhead Directions



To find the Ancient Cedars trailhead parking for Newt Lake, zero your odometer at Village Gate Boulevard in Whistler village then drive north on Highway 99 towards Pemberton.  At 8.6km you will see on your left Cougar Mountain Road(Sixteen Mile Creek Forest Service Road).  If you keep your eyes out for the big Cougar Mountain sign on your left, you should spot this turn easily.  There is no turn lane, however the highway is wide and safe enough to slow and stop if needed while turning left.  Turn here and continue straight for 4.5 kilometres(passing through some busy tour operator areas) until you see the sign for Ancient Cedars. This road is very bad with potholes after you pass the tour operators.  Though the potholes are brutal, most cars should be fine reaching the parking area as long as you drive carefully and slow.  The parking lot to Ancient Cedars is well marked and, unless you have a serious 4x4, this parking lot is as far as you will be able to drive. If you have a serious 4x4, you can continue to the shores of Showh Lakes and potential car-camping or wilderness camping options.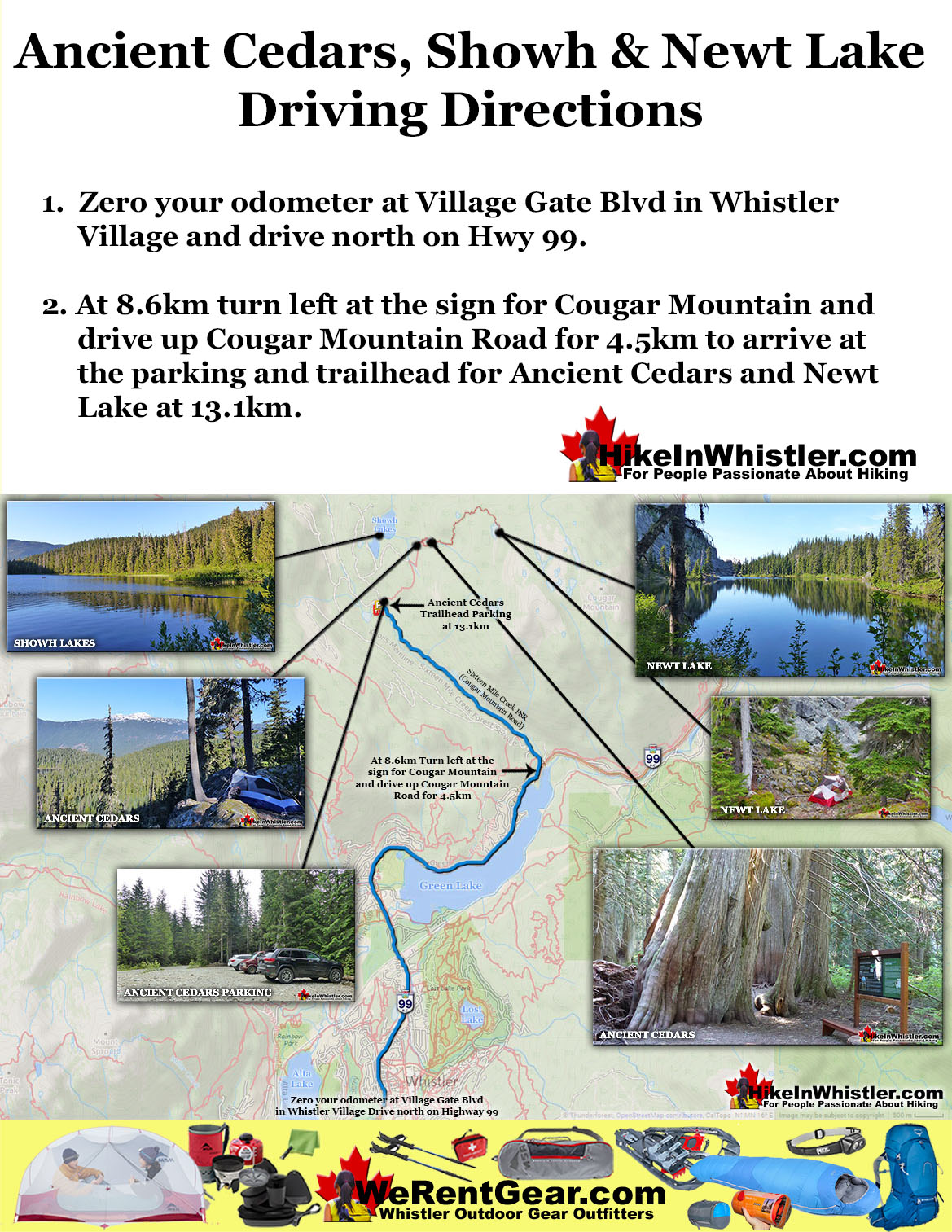 Whistler's Best Hiking Trails!
Whistler & Garibaldi Park Best Hiking by Month!

Explore BC Hiking Destinations!