Cairns, inukshuks or inuksuks are a pile or arrangement of rocks used to indicate a route, landmark or a summit.  The word cairn originates from the Scottish Gaelic word carn.  A cairn or inukshuk can be either large and elaborate or as simple as a small pile of rocks.  To be effective a cairn marking a trail has to just be noticeable and obviously man-made.  In the alpine areas around Whistler, above the treeline, cairns are the main method of marking a route. 
Whistler & Garibaldi Hiking

Alexander Falls  

Ancient Cedars  

Black Tusk  

Blackcomb Mountain  

Brandywine Falls  

Brandywine Meadows  

Brew Lake  

Callaghan Lake  

Cheakamus Lake  

Cheakamus River  

Cirque Lake 

Flank Trail 

Garibaldi Lake 

Garibaldi Park 

Helm Creek  

Jane Lakes 

Joffre Lakes  

Keyhole Hot Springs  

Logger's Lake  

Madeley Lake  

Meager Hot Springs 

Nairn Falls  

Newt Lake 

Panorama Ridge 

Parkhurst Ghost Town 

Rainbow Falls  

Rainbow Lake 

Ring Lake  

Russet Lake  

Sea to Sky Trail 

Skookumchuck Hot Springs  

Sloquet Hot Springs 

Sproatt East 

Sproatt West  

Taylor Meadows  

Train Wreck  

Wedgemount Lake  

Whistler Mountain

January 

February 

March 

April 

May 

June 

July 

August 

September 

October 

November 

December
In the spring and fall when snow covers alpine trails, cairns mark many routes.  An inukshuk(also spelled inuksuk) is the name for a cairn used by peoples of the Arctic region of North America.  Both spelling versions are pronounced nearly as they are spelled.  So inukshuk is pronounced inook-shuk, and inuksuk with inook-suk.  Though an inukshuk can take many forms similar to a cairn, it is usually represented by large rocks formed into a human shape.  The word inukshuk literally translates from two separate Inuit words, inuk "person" and suk "substitute".  The 2010 Winter Olympics in Vancouver and Whistler used the inukshuk for the logo of the games.  Today you will find several giant rock inukshuks in Vancouver and Whistler at various places.  In Whistler there is an impressive inukshuk, several metres high a the peak of Whistler Mountain.  Another huge inukshuk sits overlooking Whistler Valley at the Roundhouse next to the Umbrella Bar.  The first inukshuk that most visitors to Whistler see is the huge one on Village Gate Boulevard.
Inukshuk Near the Roundhouse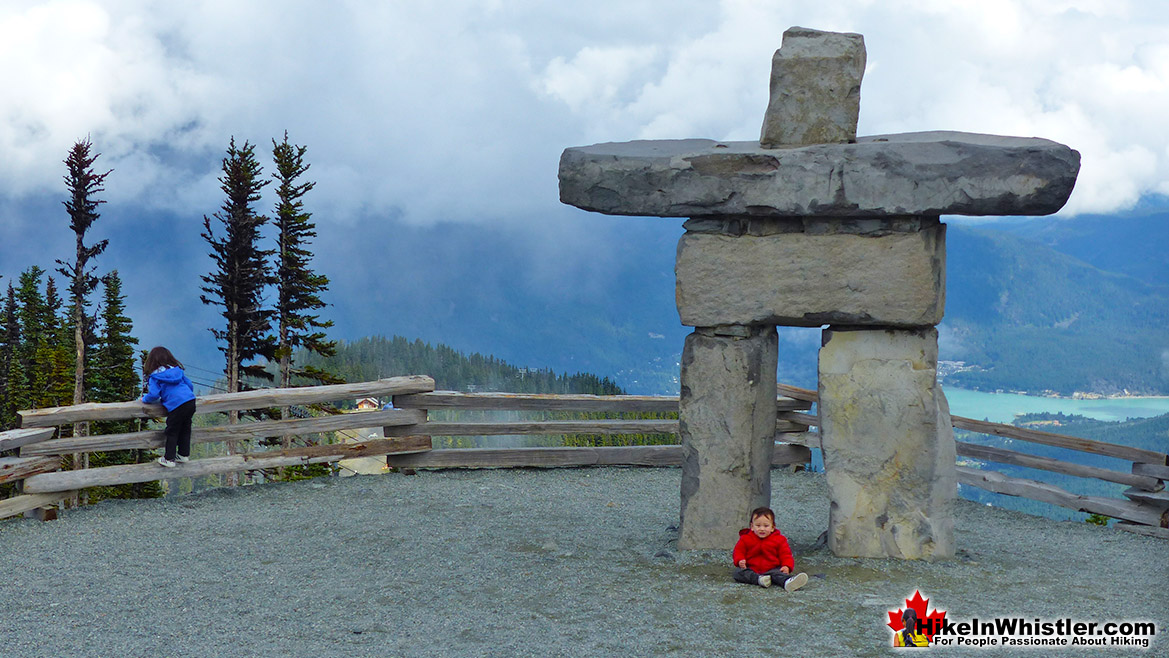 Whistler Peak Inukshuk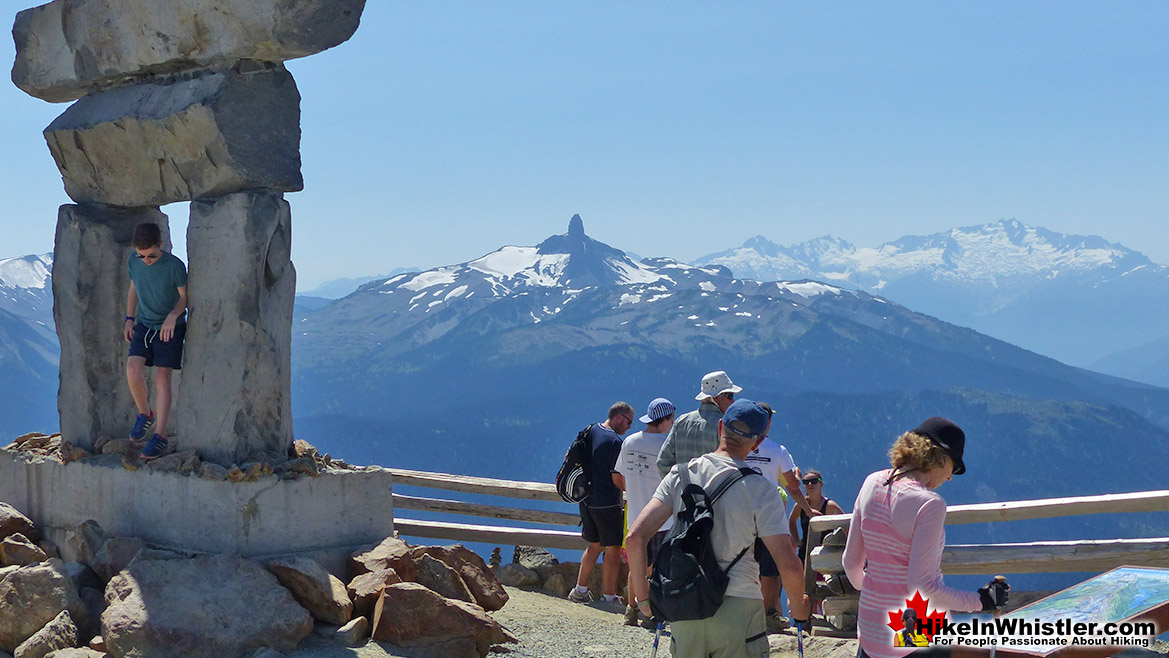 Inukshuk and Distant Black Tusk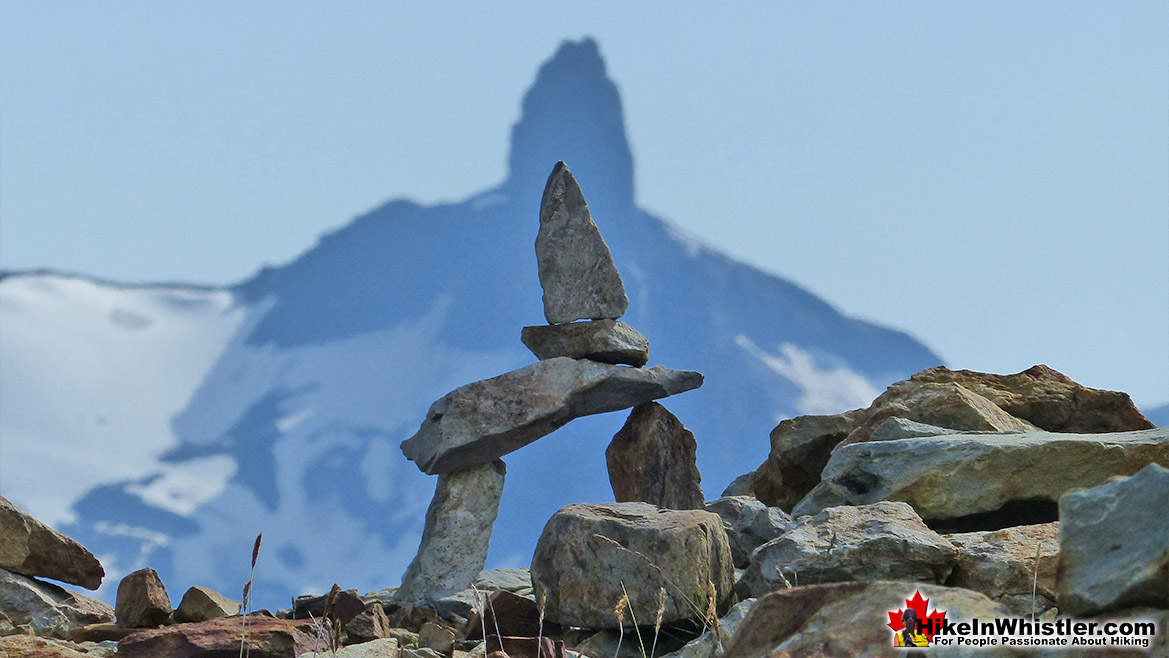 Battleship Islands Cairns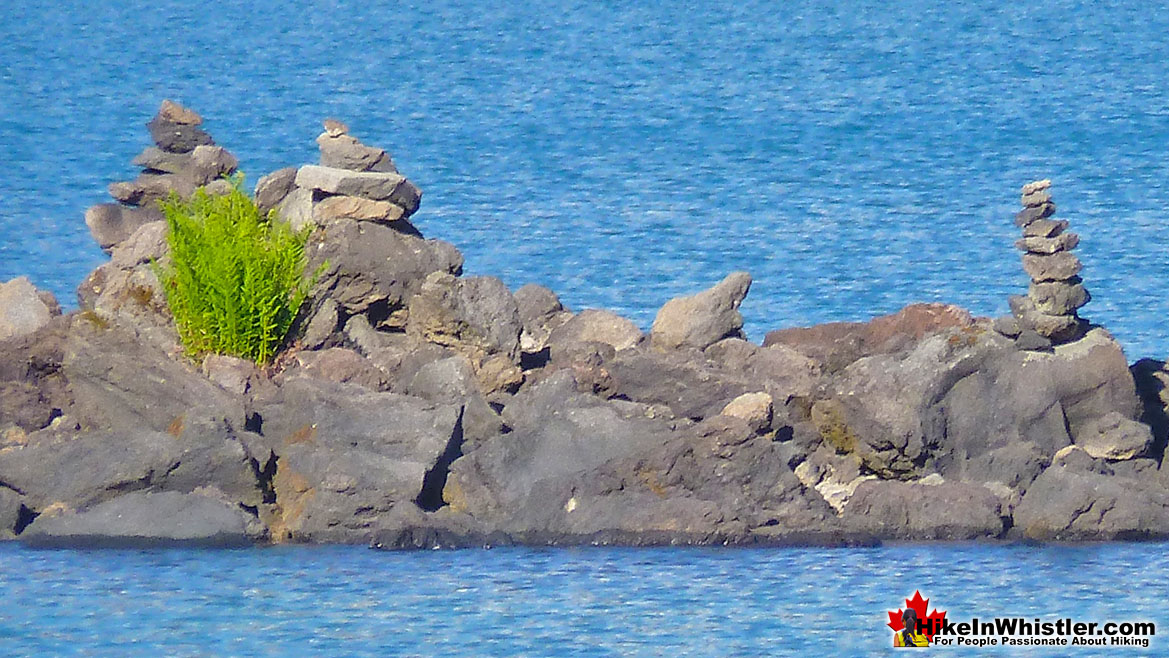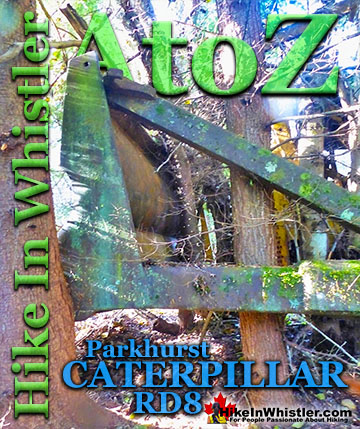 Read more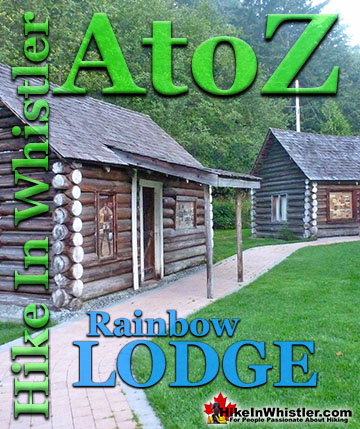 Rainbow Lodge was a popular wilderness lodge in the small community called Alta Lake, and what would eventually be called Whistler  It was a fishing and ...
Read more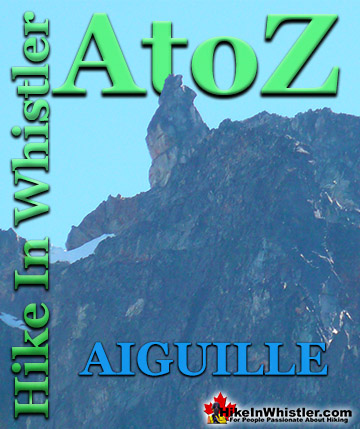 Aiguille: a tall, narrow, characteristically distinct spire of rock. From the French word for "needle". Used extensively as part of the names for many ...
Read more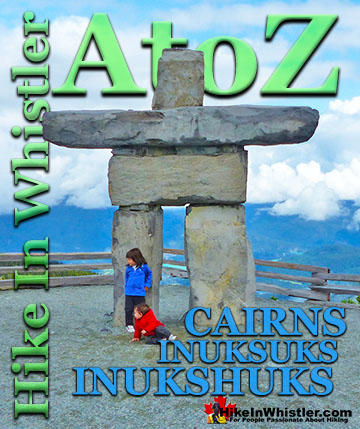 Cairns, inukshuks or inuksuks are a pile or arrangement of rocks used to indicate a route, landmark or a summit.  The word cairn originates from the ...
Read more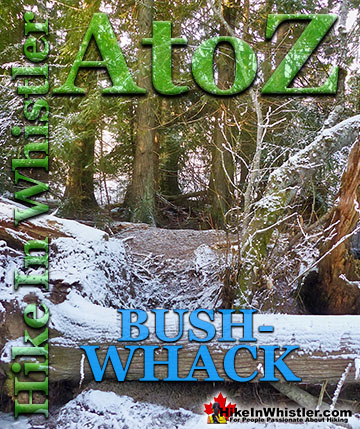 Bushwhack is a term often used in Canada and the United States to refer to hiking off-trail where no trail exists.  Literally means 'bush' and 'whack'.  To ...
Read more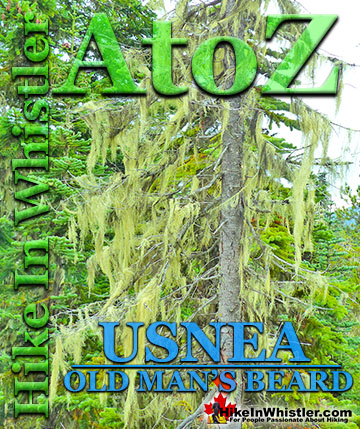 The pale green shub-like growths hanging from trees in the forests around Whistler is called usnea.  These bushy, coral-like fruticose lichens anchor to bark ...
Read more