Wedgemount Lake itself is a magnificent destination for a day hike or spectacular overnight beneath the dazzling mountain peaks and stars. Many sleep under the stars on one of the many beautiful tent platforms that dot the landscape.  Solidly built, wooden tent platforms are everywhere you look at Wedgemount Lake.  Strategically positioned, these platforms manage to maintain an amazingly secluded feel despite their numbers.
Tough, steep, yet relatively short trail to hike
Extraordinary turquoise coloured water
Amazing little hut free to use by anyone
Several peaks around the lake are climbable
Wedge Mountain is the highest peak in the range
Cute hoary marmots surround you frequently
You can easily walk up to Wedge Glacier
The boulder field by the lake is beautiful
Extraordinary array of alpine terrain to explore

Trail is steep, hard & not very scenic, but short
In all Wedgemount Lake has 20 of these tent areas. Most are wooden, but several down by the lake shore are gravel, yet every bit as nice.  Due to a big snow winter, the Wedgemount Lake trail was very difficult to hike due to snow well into June 2017!  Wedgemount Lake is one of the most spectacular hikes in Garibaldi Park. Though it is a relentlessly exhausting, steep hike, it is mercifully short at only 7 kilometres (one way).  The elevation gain in that short distance is over 1200 metres which makes it a much steeper hike than all the other Whistler area hiking trails. Compared with other Whistler hikes, Wedgemount Lake is half the roundtrip distance of either Black Tusk or Panorama Ridge, for example, at 13.5 kilometres and 15 kilometres respectively (one way).  At a fast hiking pace you can reach Wedgemount Lake from the trailhead in just an hour and a half but at a leisurely or backpack laden pace you will likely take over two hours. The trail is well marked and well used.  The steepness of the trail doesn't require any technical skill, however that last kilometre before the lake you will be scrambling on all fours quite a bit. The elevation gain makes a tremendous difference when carrying a heavy backpack and unprepared for the exertion.  There is hardly a section of the trail that is not steeply uphill. The first 15 minutes takes you into the deep forest as you run along Wedgemount Creek. This crashing creek can be heard from quite a distance and gives you a hint of the steepness of the trail to come.
The source of Wedgemount Creek is of course Wedgemount Lake which tumbles down almost 300 metres in the spectacular Wedgemount Falls. You will be able to see Wedgemount Falls around the 5 kilometre mark along the trail.  Unfortunately, it is far off to the right in the distance. Despite the distance, you will hear it loud and clear and occasionally get a great, though distant, view of it.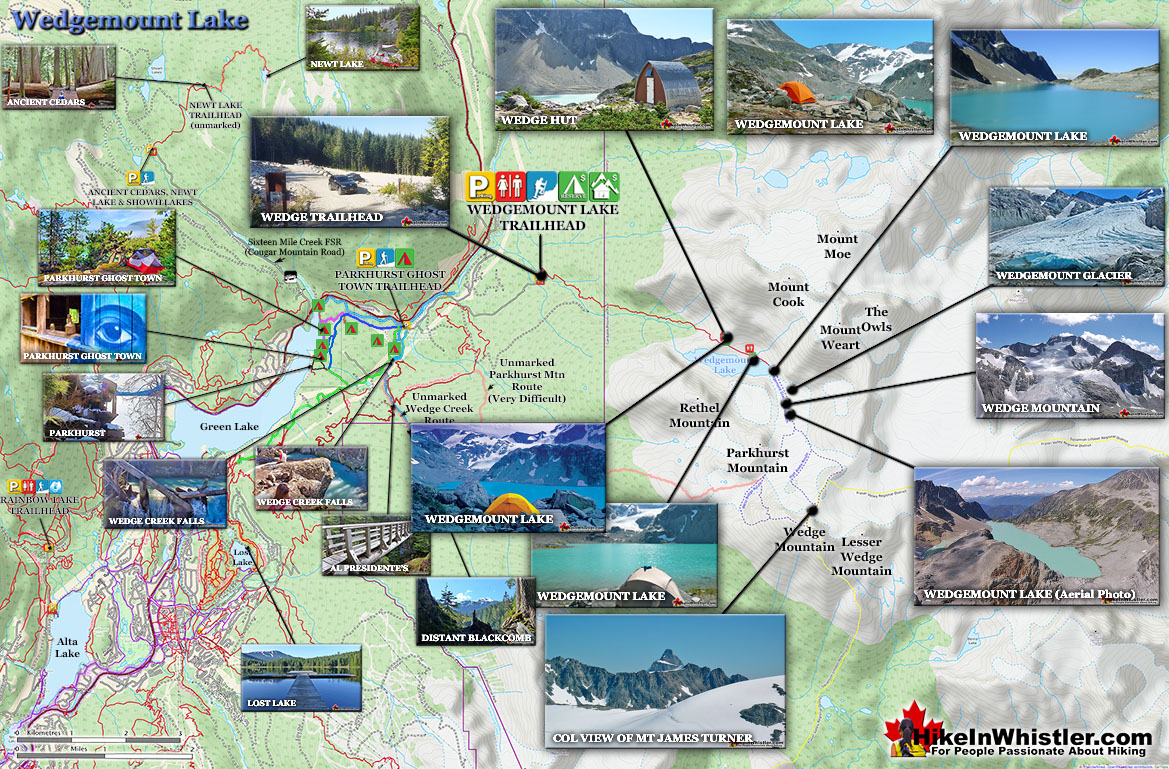 One of the defining features of Garibaldi Park, and Wedgemount Lake in particular, is the staggering number of branching hikes from the main destination of the lake itself. For many, Wedgemount Lake and the Wedge Hut is the base for hikes to Wedge Mountain, Mount Cook, Mount Weart, Mount Moe, Mount James Turner and Mount Currie in Pemberton, crossing glaciers such as Wedgemount Glacier, Weart Glacier, Armchair Glacier, Mystery Glacier and the Needles and Chaos Glacier to name a few. Dozens of unforgettable peaks can be reached from this quiet little hut overlooking this perfect, turquoise lake.  In short, if you were to design a paradise in the mountains, Wedgemount Lake would be the standard to which all others would pale.  The sheltered valley, beautiful turquoise lake, wonderfully huge glacier across the valley and brutally jagged mountains all around all contribute to making Wedgemount Lake something special.  It's challenging and exhausting to hike to and an absolute paradise to relax in. Down by the lakeside you can actually find two recliner chairs, built out of the rocks by the lake.  Such a perfect way to enjoy the sun rising over the not-so-distant glacier across the lake.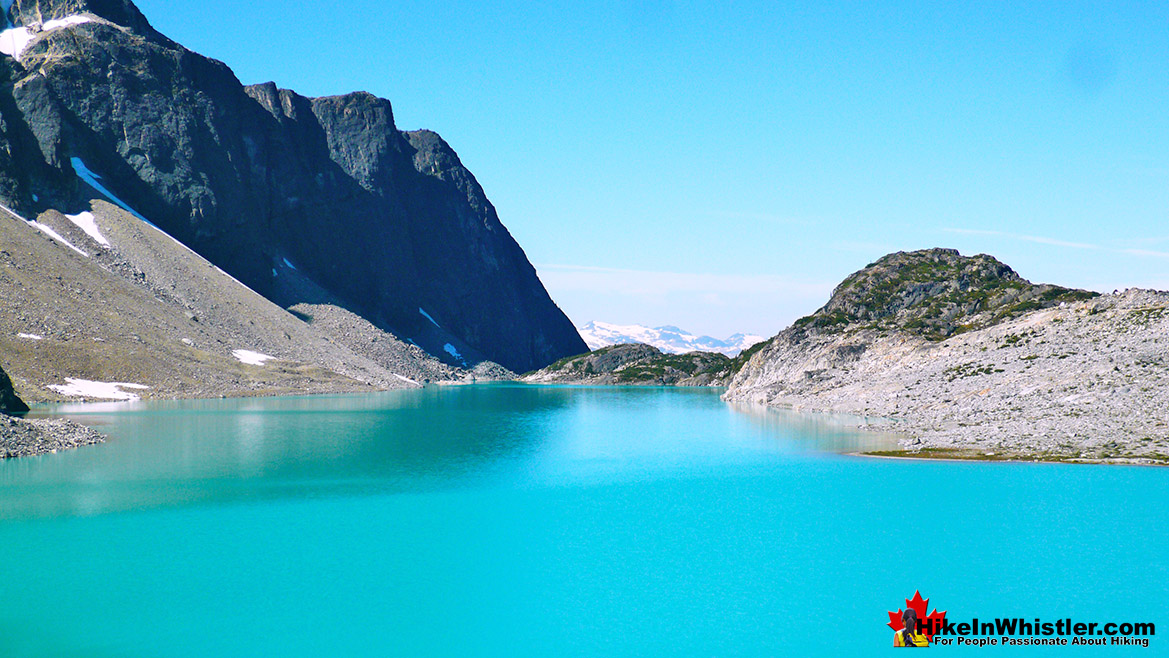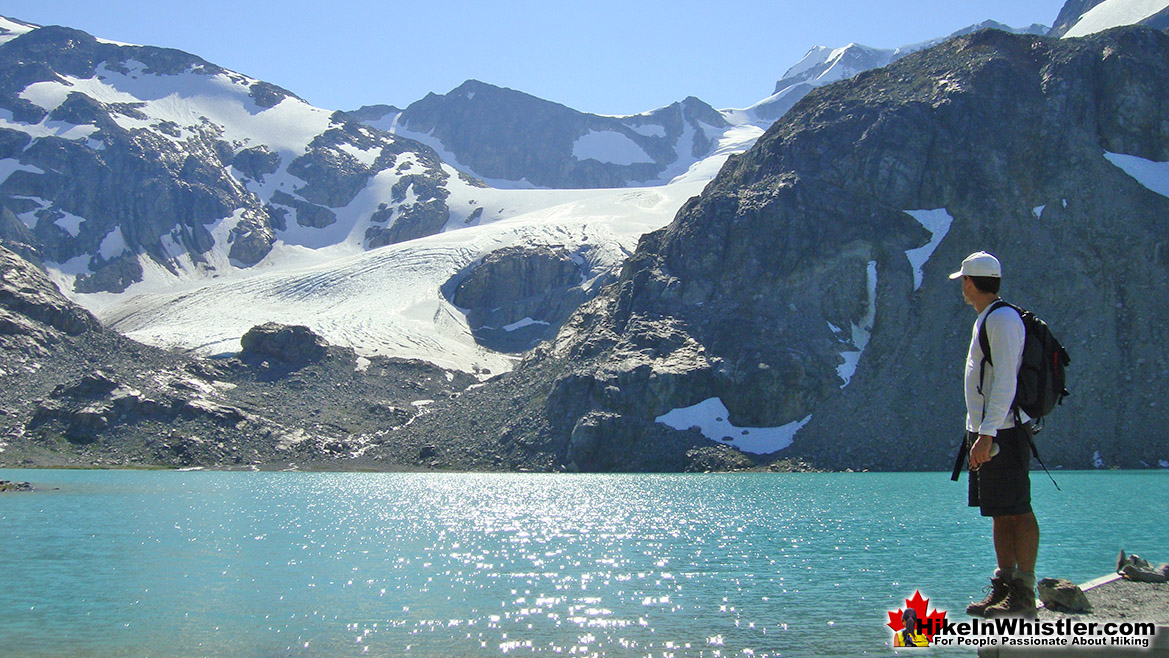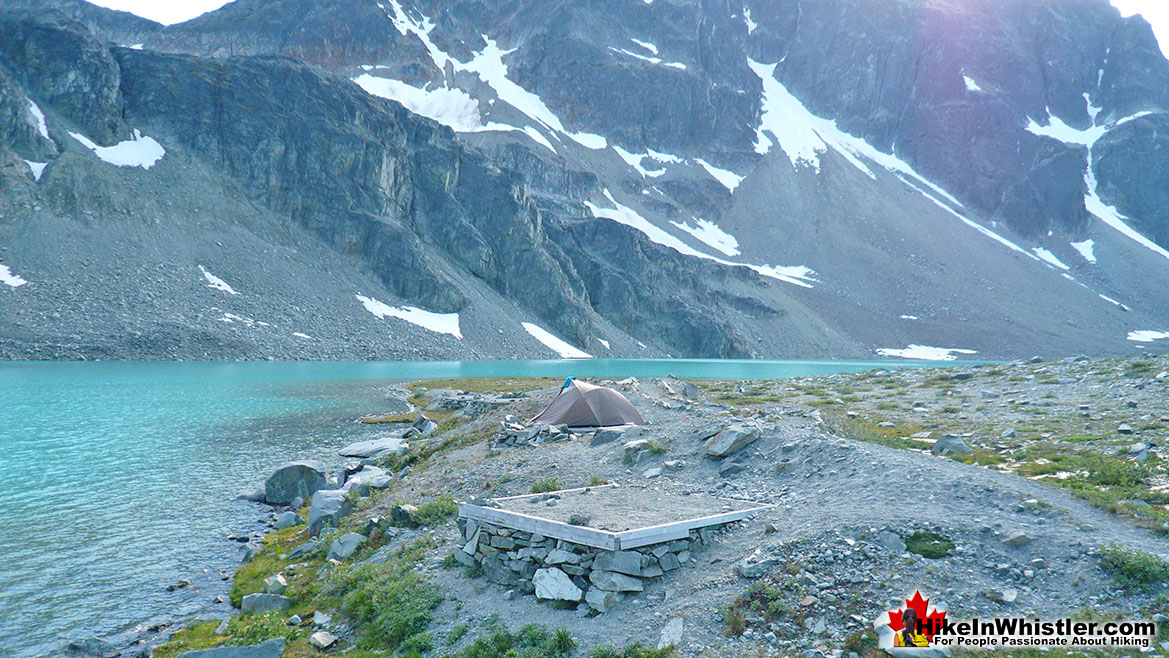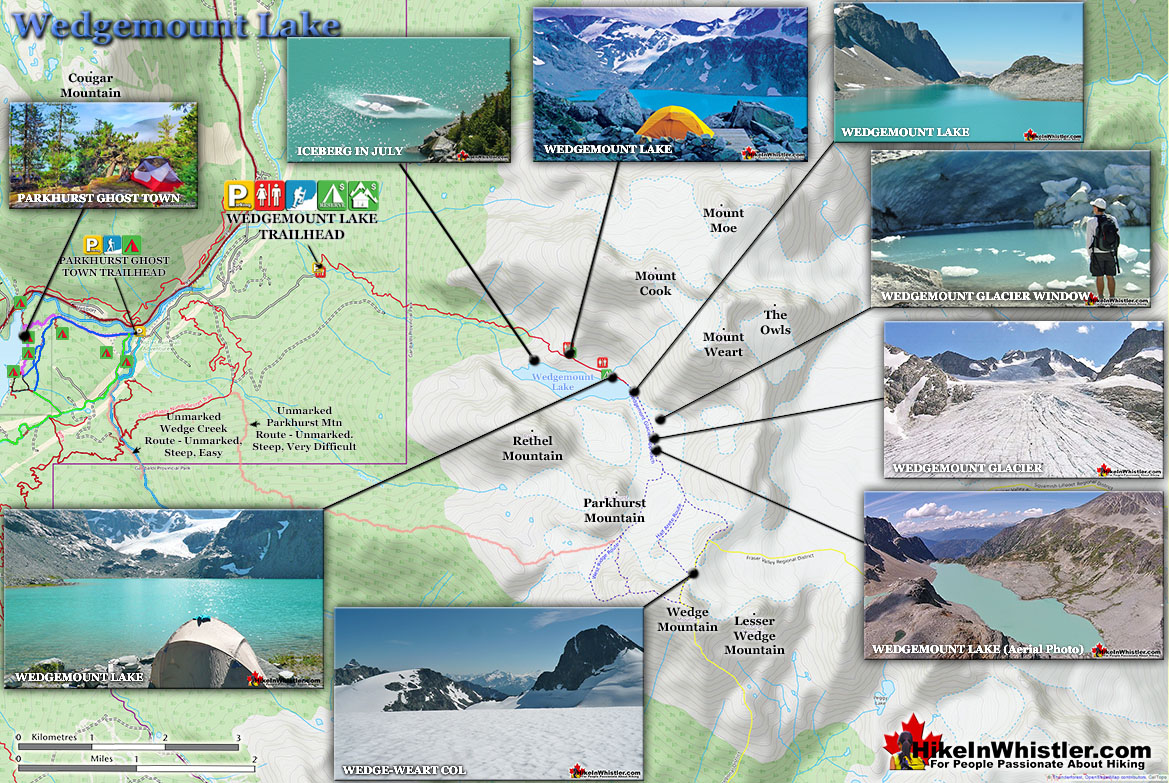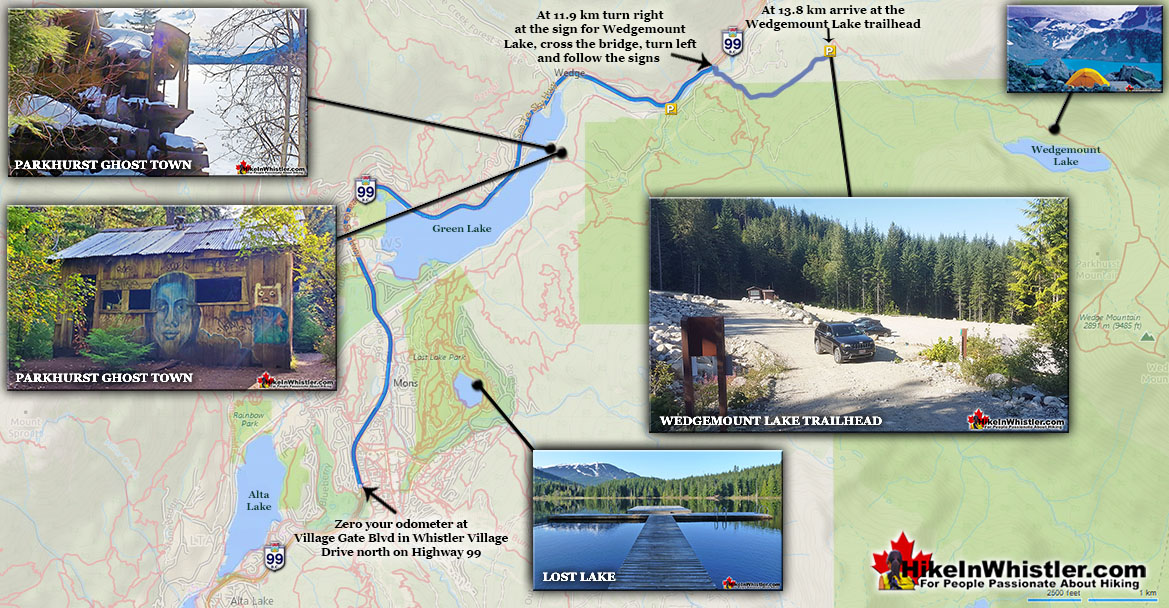 More Wedgemount Lake Hiking Info...
Two Fantastic Books About British Columbia!


Here are two excellent books on hiking and geology of British Columbia.  Matt Gunn's Scrambles in Southwest British Columbia includes the various routes to the summit of Wedge Mountain as well as summit routes to the neighbouring peaks, Weart, Cook, Parkhurst and Rethel.  Mount Weart is the second highest mountain in Garibaldi Park and is located just north of Wedge Mountain, separated by the Wedge-Weart Col.  Published in 2005, Scrambles in Southwest British Columbia is still the best guide in print or online.  Geology of British Columbia: A Journey Through Time by Sydney Cannings, JoAnne Nelson and Richard Cannings is a beautiful history of BC's geology and the 200 million year history of creatures living in this extraordinary corner of the world.  The authors take us on a journey through time, describing the collisions of island chains called terrains, the sliding of plates, the erupting of volcanoes, and the movement of glaciers that created British Columbia as we know it today.  They also describe the rich legacy of fossils left behind as a result of all this geological activity.
**We participate in the Amazon Services LLC Associates Program and earn a small commission on purchases we link through to Amazon at no extra cost to you.  We only link to books and products we love and highly recommend.  Thanks for your support!**
Whistler & Garibaldi Hiking

Alexander Falls  

Ancient Cedars  

Black Tusk  

Blackcomb Mountain  

Brandywine Falls  

Brandywine Meadows  

Brew Lake  

Callaghan Lake  

Cheakamus Lake  

Cheakamus River  

Cirque Lake 

Flank Trail 

Garibaldi Lake 

Garibaldi Park 

Helm Creek  

Jane Lakes 

Joffre Lakes  

Keyhole Hot Springs  

Logger's Lake  

Madeley Lake  

Meager Hot Springs 

Nairn Falls  

Newt Lake 

Panorama Ridge 

Parkhurst Ghost Town 

Rainbow Falls  

Rainbow Lake 

Ring Lake  

Russet Lake  

Sea to Sky Trail 

Skookumchuck Hot Springs  

Sloquet Hot Springs 

Sproatt East 

Sproatt West  

Taylor Meadows  

Train Wreck  

Wedgemount Lake  

Whistler Mountain

January 

February 

March 

April 

May 

June 

July 

August 

September 

October 

November 

December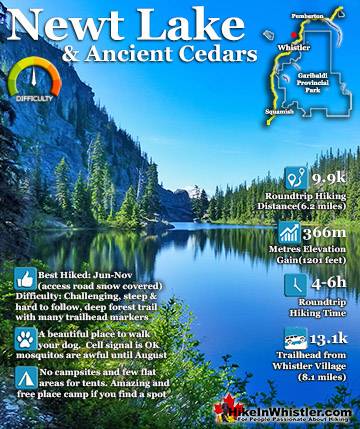 Newt Lake is beautiful little lake high up on the far side of Cougar Mountain near
Ancient Cedars
.  Its location is a wonderful mix of unexpected characteristics that combine to make it a gorgeous place to ...
Read more
Callaghan Lake Provincial Park is a relatively untouched wilderness of rugged mountainous terrain. The valley walls were formed by relatively
recent glaciation
. Evidence of this can be seen in the ...
Read more
Brandywine Meadows is a nice, relatively short hike to a massive flower filled valley high up in
Callaghan Valley
. Located 40 minutes south of Whistler, this tough and sometimes muddy trail gains a huge 550 ...
Read more