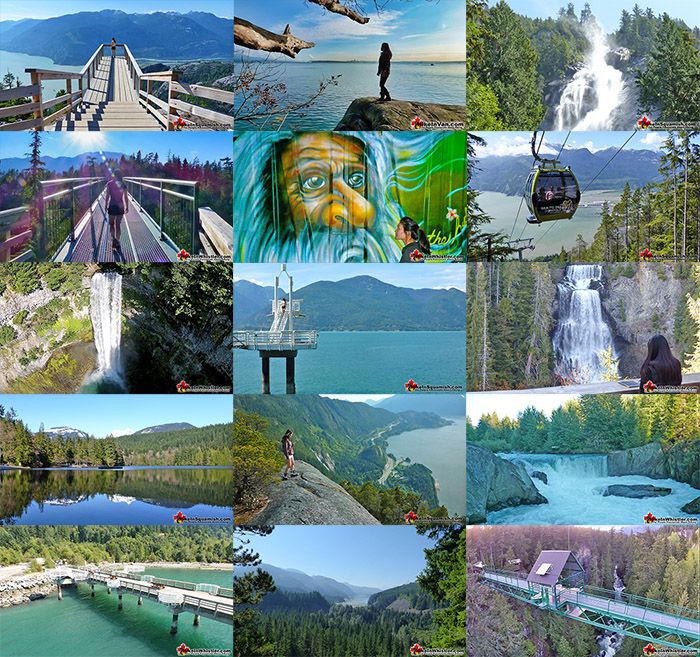 The Sea to Sky Highway links Vancouver to Whistler and has several stops along the way that are often overlooked. Porteau Cove, for example, is surprisingly unknown even to locals that have driven past hundreds of times. Just off the highway the parking area is just steps from the huge pier stretching way out over the ocean.
Sea to Sky Highway Sights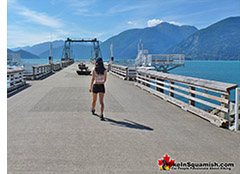 This gigantic pier is actually a rarely used emergency dock for BC Ferries, though more often used by visitors for its stunning views of Howe Sound. Porteau Cove is an excellent pit stop on the way to Whistler, not only for the spectacular views of Howe Sound, but one of the nicest picnic spots and most convenient restrooms! Other attractions along the Sea to Sky Highway are more obvious, such as Shannon Falls, the Sea to Sky Gondola, The Chief, Alice Lake, Brandywine Falls and the Britannia Mine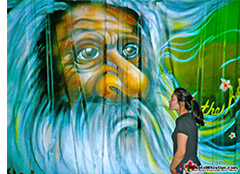 Museum. Other sights are hidden from the highway and just a very short drive away such as Lighthouse Park, Whistler Train Wreck and Whistler Bungee Bridge. If you don't mind a slightly longer diversion, you can drive up the Callaghan Valley, just south of Whistler and stop at Alexander Falls just steps from your car. On a nice sunny day, the drive alone is incredible, with mountain views across the valley and frequent bear sightings! Many of the following attractions along the Sea to Sky Highway are short pit stops that you can drive right to and explore in minutes. Distances to each attraction is measured from the start of the Lions Gate Bridge in Stanley Park in Vancouver.
Sea to Sky Sights Vancouver to Whistler

1. Stanley Park
The Sea to Sky Highway passes through downtown Vancouver and into Stanley Park. Stanley Park can be walked or biked in any number of routes and lengths. Certainly one of the popular, and most straight forward routes is by a large, 10km circle, paved trail that runs around the perimeter. You can park at one end, for example near English Bay, and head along the coastal, paved trail and follow the beautiful circumference of Stanley Park and return to where you started after a wonderful and constantly scenic 10 kilometre seawall route. The interior trails wind their way through the unexpectedly huge trees within Stanley Park. Some trees stand over 70 metres (249 ft) and are centuries old! More… 
2. Lighthouse Park
Back on the Sea to Sky Highway on your way to Whistler and about 16km from Vancouver you pass close to Lighthouse Park, a wonderful park in a deep forest along trails to scenic coastal walks. You'll need at least an hour to visit this park. Just a 2.5km detour From the Sea to Sky Highway to get there is well worth it if you have the time. Lighthouse Park is serene piece of paradise, so close to Vancouver as to see its tall buildings, yet immersed in a deep coastal rainforest. A network of trails winds through big Douglas-fir trees and western redcedars as well as golden Arbutus trees stretching toward the ocean. It is surprisingly convenient on the drive from Vancouver to Whistler. More…
3. Porteau Cove
Porteau Cove, 39.3km from Vancouver or 76.7km from Whistler, is a beautiful little stop on the drive to or from Whistler. You will notice the lack of convenient washroom stops along the Sea to Sky Highway, and if nothing else, makes Porteau Cove a perfect rest stop. The main attraction, however, is the wonderful pier with viewing platforms that hover high above the ocean overlooking Howe Sound. Howe Sound is a majestic and enormous Canadian fjord - the most southerly fjord in North America. On the dock you will find an interpretive tour of sorts as there are descriptions, every few metres along the railings of what you may see from the various viewpoints. More...
4. Britannia Mine
Britannia Mine is 47.5km from Vancouver or 68.5km from Whistler. The Britannia Mine was once the best producing copper mine in the British Empire. In operation from 1904 to 1974, in recent years it has transformed into a wonderful museum that you explore deep into the mountain. A staggering 240 kilometre network of tunnels extend like a spider web deep underground and the tour takes you along some of them. The tour costs about $40 and expect to take a couple hours on your visit. Why should you stop and see the Britannia Mine Museum? Wonderful history and exciting exploration deep underground. Quite a long pitstop on the way to Whistler, but well worth it if you have the time! More...
5. Shannon Falls
Shannon Falls 55km from Vancouver is a quick pitstop on the Sea to Sky Highway to a very impressive waterfall. The entrance directly off the highway is easy to spot and convenient. The trail to the falls is short, easy, and well worth the 20 minutes you will likely take in total. Shannon Falls towers above Howe Sound at 335 metres as the third tallest falls in BC. The short trail winds through a big tree forest to get to a viewing area close to the base of the falls. From your car to the viewpoint takes only about five minutes, however the trail continues a bit further to a higher viewpoint. One of the must see attractions along the Sea to Sky! More...
6. Sea to Sky Gondola
The Sea to Sky Gondola is 55.5km from Vancouver or 60.5km from Whistler. If you have a couple hours on the way to Whistler the Sea to Sky Gondola is a great place to visit. Just steps from your car you get on the gondola which takes you steeply up to gorgeous views of Howe Sound. Located between Stawamus Chief and Shannon Falls, the gondola carries you from the sea to the sky. Departing just a few hundred metres from the ocean at an elevation of 35 metres, to 885 metres in less than 10 minutes. At the top you find a network of trails leading to fantastic viewpoints and a restaurant with a big sundeck overlooking Howe Sound far below. More...
7. Stawamus Chief
Stawamus Chief, 55.7km from Vancouver or 60.3km from Whistler, is the mammoth rock face that towers over Squamish. Stawamus Chief, more often referred to as The Chief, is well know as one of the largest granite monoliths in the world.  The Chief attracts rock climbers from around the world to its many climbing routes up this granite dome that towers over 700 metres above Howe Sound. First Peak is 1.5km, with an elevation gain of 540 metres. Why should you stop and hike The Chief? The first peak is a very short, though exhausting trail to magnificent views. Definitely a must do attraction along the Sea to Sky Highway if you have the time and energy! More...
8. Alice Lake
Alice Lake is 68.7km from Vancouver or 47.3km from Whistler. Alice Lake Provincial Park is comprised of four lakes, Stump, Fawn and Edith Lake as well as the much larger Alice Lake. There is a nice trail that runs between and around them all. In the midst of summer, you will find dozens of families picnicking around the edge of the forest overlooking the lake. Why should you stop at Alice Lake? It it just off the Sea to Sky Highway, has a nice grassy field above the wide sandy beach with sunny picnic tables. A perfect spot for a picnic pitstop on your drive to Whistler. More...
9. Brandywine Falls
Brandywine Falls is 99km from Vancouver or 17km from Whistler. It is one of the must see sights on the drive to or from Whistler, and arguably the nicest of Whistler's numerous beautiful waterfalls. The falls drop from a 70 metre/230 foot, unnaturally abrupt looking cliff to the valley below. Brandywine Falls Provincial Park is such a popular, accessible and beautiful attraction that it has a large and elaborate viewing platform directly opposite the falls. The 5 minute trail takes you to the viewpoint and another trail continues to another gorgeous viewpoint over Daisy Lake. Info boards describe what you are seeing, fantastic! More..
10. Callaghan Valley
Just off the Sea to Sky Highway, 102.2km from Vancouver or 13.8km south of Whistler is the turnoff to Callaghan Valley. The 10km long Callaghan Valley Road takes you way up into this paradise valley surrounded by mountains stretching far into the distance. Near the end of the road is Alexander Falls which crashes down just a few hundred metres from the viewing platform just steps from your car. Why should you drive up Callaghan Valley to Alexander Falls? It is a very scenic drive up into the mountains. Alexander Falls is well worth the drive and makes an ideal place to have a picnic in paradise! Bears are often spotted along the road! More...
11. Whistler Bungee Bridge
The Whistler Bungee Bridge turnoff is 104km from Vancouver or 12km from Whistler. A 3km gravel road takes you to one of the most impressive attractions along the Sea to Sky Highway. The 2 metre wide, 100 metre long, $300,000 bridge was built in 2002 by Whistler Bungee. Spanning a large canyon 50 metres above Cheakamus River. Why should you drive to Whistler Bungee Bridge? It is just a short detour off the Sea to Sky Highway and gives you a thrilling view from high above Cheakamus River. Off the radar for most, you often find this terrific attraction free of people and all to yourself! More...
12. Whistler Train Wreck
Whistler Train Wreck is 109km from Vancouver or 7km from Whistler. It is hard to say enough about this fun, interesting and short hike to a weird and wonderful world in the forest along Cheakamus River. Just a short detour off the Sea to Sky Highway gets you to the trailhead to this easy, yet varied route through deep forest, to a stunning array of wrecked train cars. Why should hike to Whistler Train Wreck? It is a surreal combination of colourful, mangled train cars and serene forest. Cheakamus River is a big and impressive, crashing river which you cross over along the trail. More...
The Best of Whistler, Garibaldi Park & Sea to Sky!

Best Whistler and Garibaldi Park Hiking by Month!
Whistler & Garibaldi Park Hiking Trails

Explore BC Hiking Destinations!