Alexander Falls is a very impressive 43 metre/141 foot waterfall just 30 to 40 minutes south of Whistler in the Callaghan Valley. Open year-round and located just before Whistler Olympic Park where several of the 2010 Olympic events were held. There is a nice viewing platform on the edge of the cliff across from the falls which crash fantastically into the valley below.
Very scenic drive to get there with bear sightings

Impressively beautiful falls in the wilderness

Amazing place for a picnic or glass of champagne
Lots of other sights to see in the Callaghan Valley
Effortless sightseeing as you drive to viewpoint
Beautiful & free camping nearby

Interesting history & information display

Not much to see except the falls

Camping is no longer allowed

No visible connecting route to base of the falls
Whistler & Garibaldi Hiking

Alexander Falls  

Ancient Cedars  

Black Tusk  

Blackcomb Mountain  

Brandywine Falls  

Brandywine Meadows  

Brew Lake  

Callaghan Lake  

Cheakamus Lake  

Cheakamus River  

Cirque Lake 

Flank Trail 

Garibaldi Lake 

Garibaldi Park 

Helm Creek  

Jane Lakes 

Joffre Lakes  

Keyhole Hot Springs  

Logger's Lake  

Madeley Lake  

Meager Hot Springs 

Nairn Falls  

Newt Lake 

Panorama Ridge 

Parkhurst Ghost Town 

Rainbow Falls  

Rainbow Lake 

Ring Lake  

Russet Lake  

Sea to Sky Trail 

Skookumchuck Hot Springs  

Sloquet Hot Springs 

Sproatt East 

Sproatt West  

Taylor Meadows  

Train Wreck  

Wedgemount Lake  

Whistler Mountain

Alexander Falls 

Brandywine Falls  

Cirque Falls  

Holloway Falls 

Keyhole Falls 

Nairn Falls 

Rainbow Falls 

Shannon Falls 

Train Wreck Falls 

Wedgemount Falls

January 

February 

March 

April 

May 

June 

July 

August 

September 

October 

November 

December
The parking area and viewing platform at Alexander Falls is one big area just 40 metres from the main road, just before Whistler Olympic Park.  The adventurous can find the obscure trail that leads to both the top of the falls as well as, with great difficulty, to the base of the falls.  Alexander Falls is certainly one of the nicest spots for a picnic in Whistler.  The picnic areas are numerous, the surrounding forest is gorgeous and wild and Alexander Falls crashes loud and beautiful in the background.  Several picnic tables are located in forested clearings that were once used as campsites, so if you have a big group, you will have lots of room to spread out and enjoy the surroundings.  The free parking lot at Alexander Falls is enormous. Keep in mind that it is a day-use only parking area and camping or campfires are prohibited. If you are looking for a place to park overnight in the area the possibilities are endless.  Callaghan Valley is very wild, devoid of people and the spider-web of logging roads that cover the valley run for hundreds of kilometres. You often spot a camper van parked just off of Callaghan Valley Road on one of dozens of large, gravel areas that lead to logging roads.  When you drive to Alexander Falls you will notice several of these massive pull out areas, two of which are just south of the turnoff(on the right) to Alexander Falls.  Decades of logging activity in the Callaghan Valley have resulted in beautiful and accessible areas. The logging roads are, however, very bad to Callaghan Lake and Madeley Lake.  Deep washouts are common and though you do see non 4x4 cars and even motorhomes at both, the drivers must have been very cautious with the road.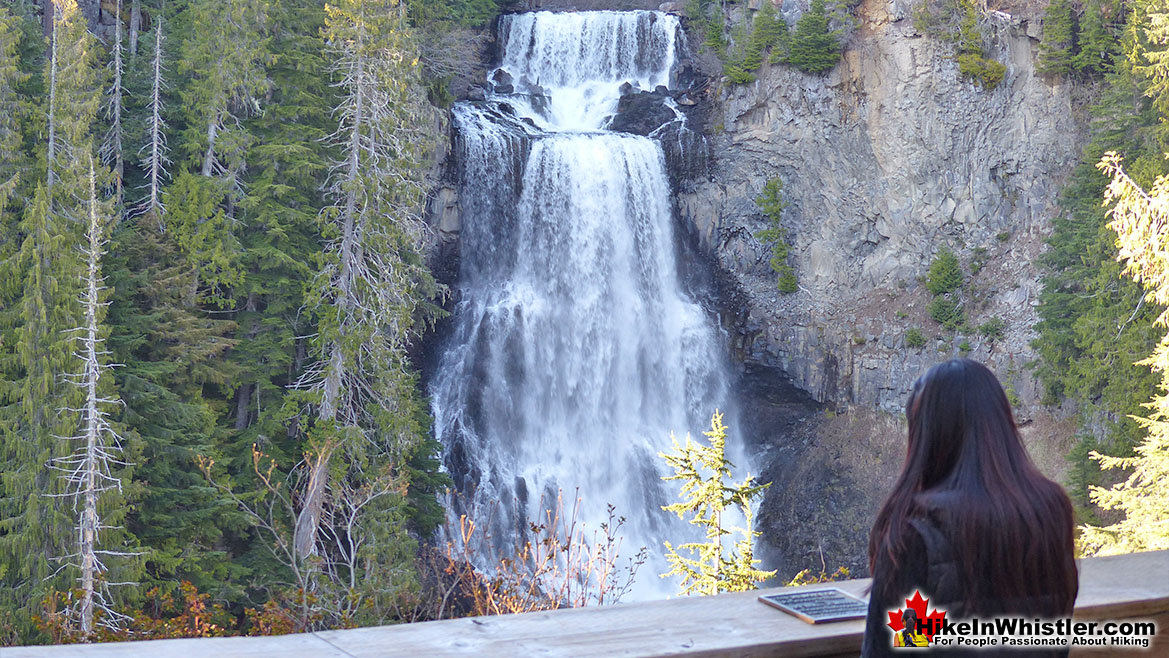 Alexander Falls Viewing Platform

The Alexander Falls viewing platform and picnic area was redesigned and reconstructed just before the 2010 Winter Olympic Games.  Some of the Nordic competitions took place just a five minute drive north of the falls.  The facilities are still in operation and open to visitors year-round.  There is a cafe and visitor centre well worth visiting. The access road to Whistler Olympic Park is blocked by a security gate after hours so keep that in mind when going.  The hours change seasonally.  In the summer they are open 10am to 4:30pm daily and in the winter 9am to 4:30pm weekdays.  Check their website for current opening hours as their opening hours change annoyingly often.  Of impressive waterfalls in the Whistler area, Alexander Falls is one of many stunning ones you can fairly easily get to.  Others in the area include the geologically marvelous Keyhole Falls, the amazing(and near to Alexander Falls) Brandywine Falls, the scenic Rainbow Falls, the splendidly crashing Train Wreck Falls, and the churning caverns of Nairn Falls.  Along very difficult hike to Wedgemount Lake you will see the dramatically tall and loud Wedgemount Falls.  Down in Squamish, 45 minutes south of Whistler, you will find Shannon Falls.  Driving to or from Whistler from Vancouver, Shannon Falls and Brandywine Falls are two quick and very beautiful pit-stops to make.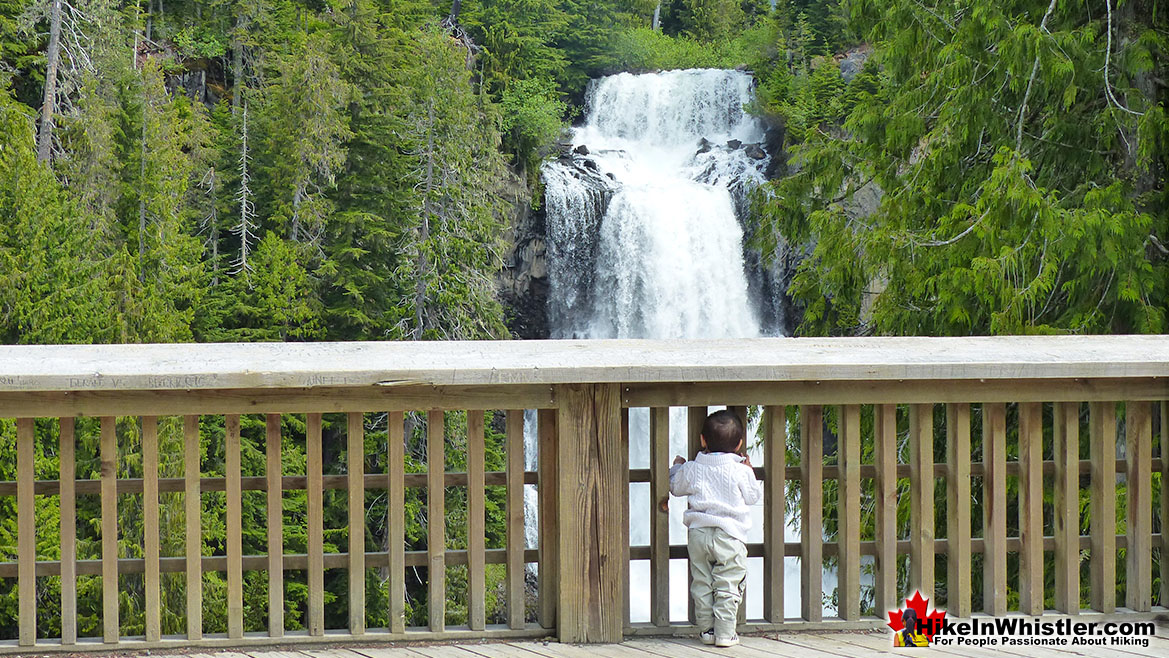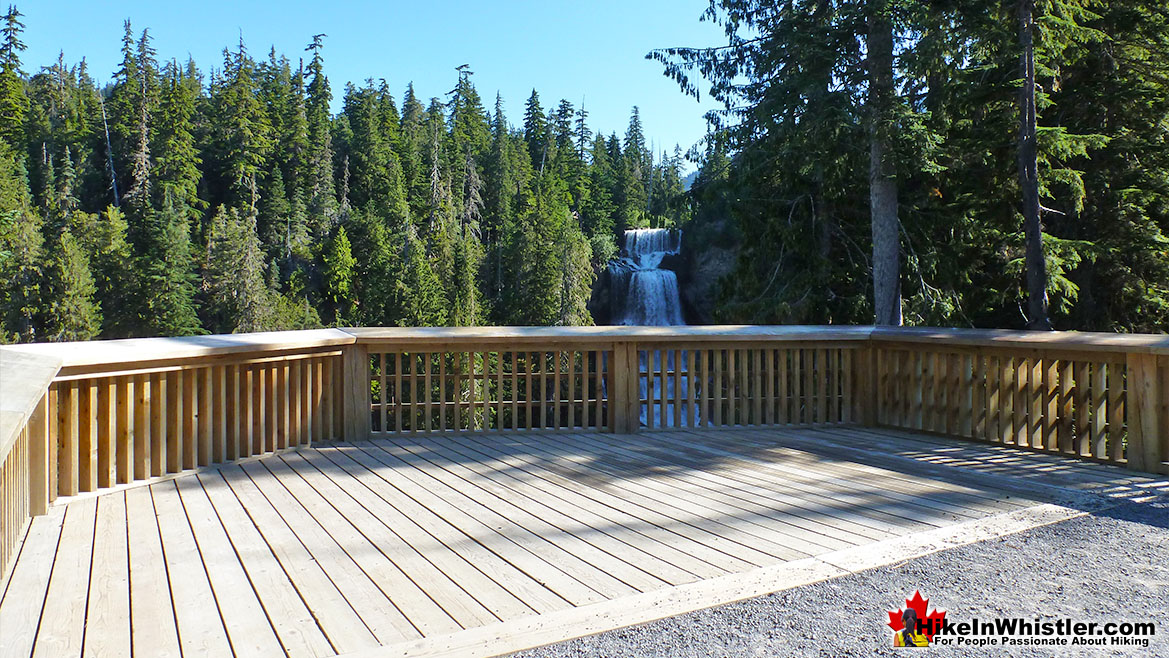 Aerial View of Madeley Creek and Alexander Falls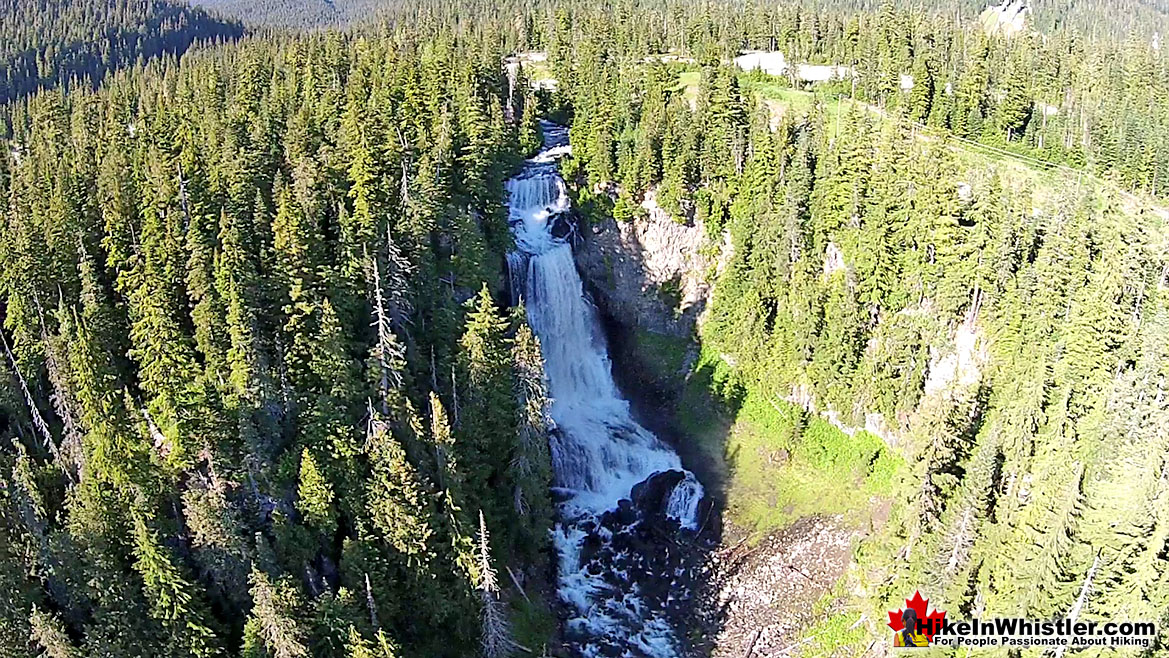 Camping Near Alexander Falls

Before the Olympic remodelling of 2009, there were several campsite areas at Alexander Falls.  They have now been replaced with several secluded picnic tables in the trees.  Picture a tent where each picnic table sits and you will recall what a beautiful campsite area Alexander Falls once was.  The area is very beautiful and possibly with the new, easier access resulting from the paved road, the campsites would be too busy and overrun with campers.  This may be the reason for Alexander Falls now being strictly day-use only, no camping and no campfires.  There are however, plenty of beautiful and free campsite alternatives very close by. Callaghan Lake and Madeley Lake are both located just a short drive from Alexander Falls and are excellent free, wilderness camping areas. Callaghan Lake is an 8 kilometre drive north of Alexander Falls and Madeley Lake about 4 kilometres from the falls.  Both are easy to find and the turnoff is just a couple hundred metres north of the Alexander Falls parking area.  Whistler Olympic Park has installed a gate on Madeley Lake road to prevent car access to the lake and campground.  The gate is two kilometres from the campground.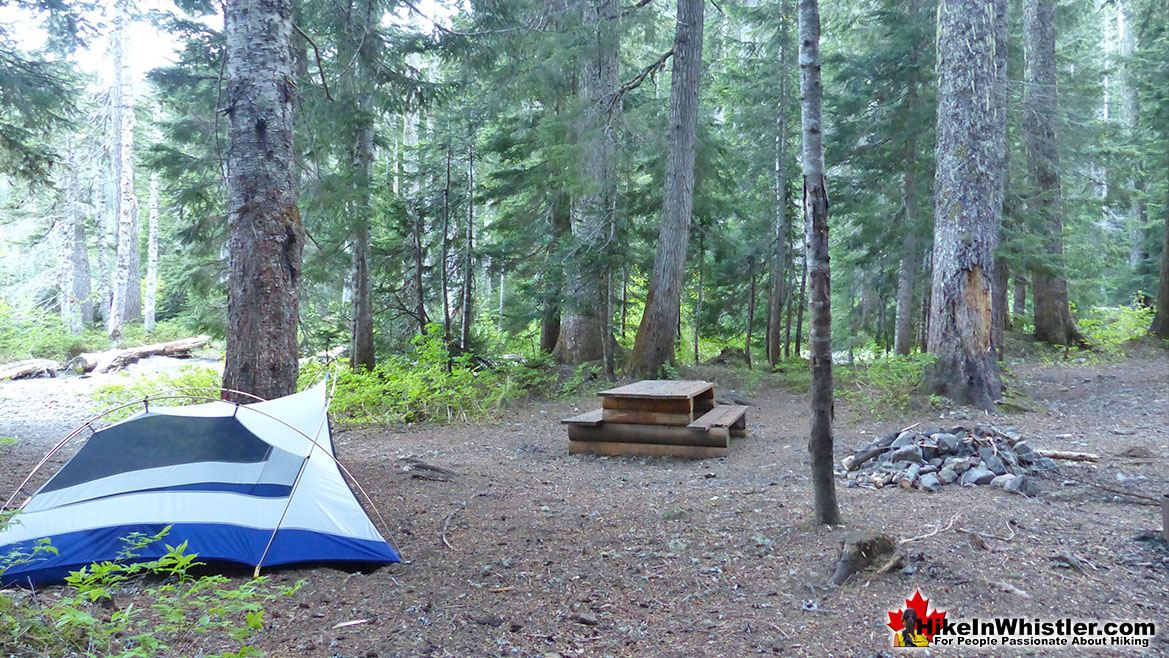 The Wonderful Madeley Lake Campsite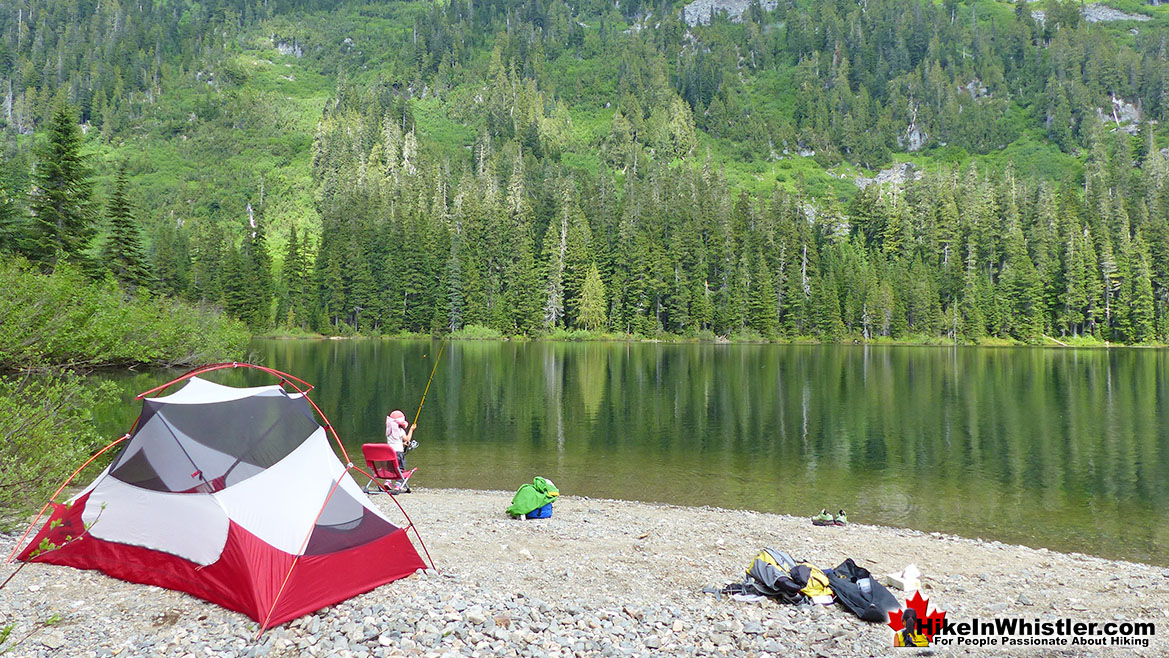 Callaghan Lake Provincial Park
Callaghan Lake is not really a hiking destination but more of a drive to campsite on a beautiful lake, and gateway to some beautiful intermediate hikes.  The campsite is small and looks a bit like a parking lot with about a dozen spots to put up a tent near your vehicle.  There is a small boat launch at the campsite and the lake is large and beautiful to paddle. Surrounded by snowy mountains and nice rock outcrops the lake is good for fishing.  The hiking trails are minimal here due to the steepness and deep forest surrounding the lake. From the main parking area some short trails extend in either direction.  The trails to the left go for just a few dozen metres before ending at the lake and river outflow. The trail in the other direction(right if facing the lake from the parking area), takes you around the bottom of the lake and quickly fades into a bit of a bushwhacking route. You can, if you are determined, follow this route around the right side of the lake to its top end and connect to the Cirque Lake trail.
Callaghan Lake Campsite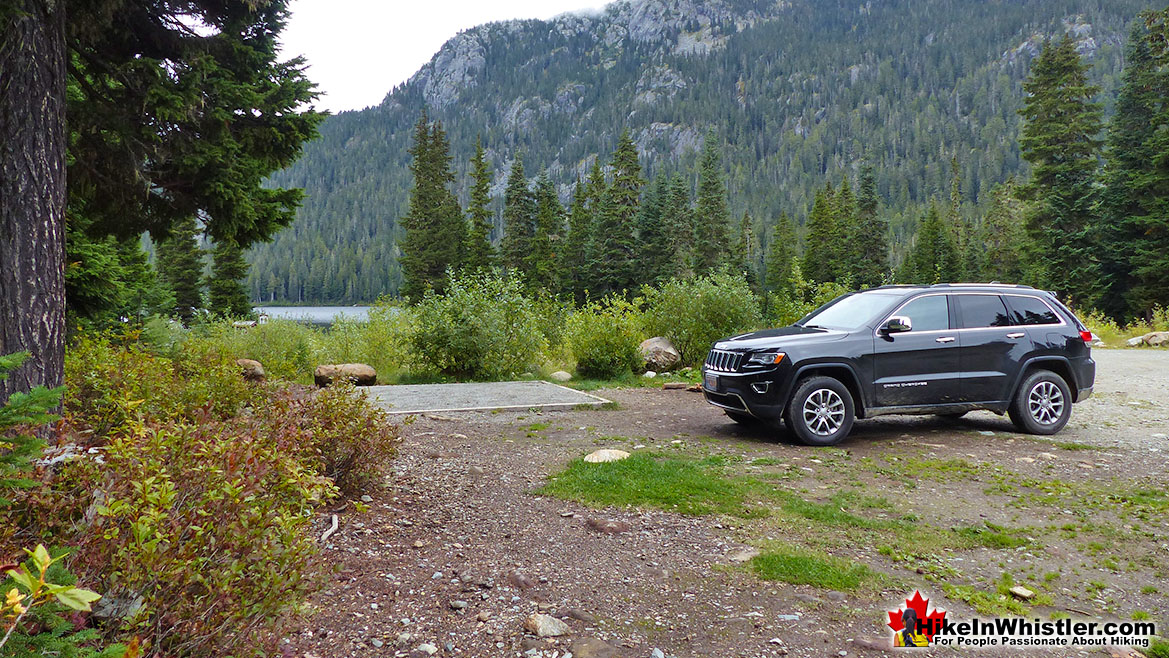 Callaghan Lake from the Cirque Lake Trail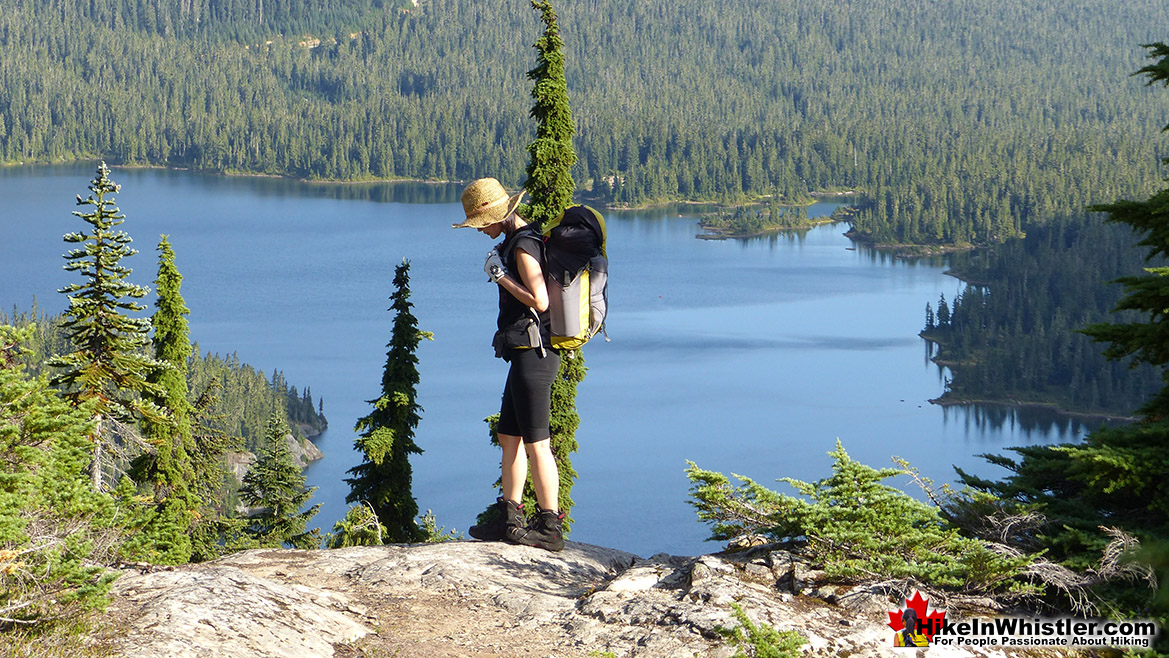 Facilities at Alexander Falls


Lots of nice picnic tables, just a few metres from the viewing platform(and where you park your car), making Alexander Falls a pretty great place for a picnic. There are two large and regularly serviced outhouses at Alexander Falls. Just a 5 minute drive north of Alexander Falls is Whistler Olympic Park which is usually gated and closed all summer.  The Callaghan Valley is a pretty wild and remote feeling place so there are few facilities.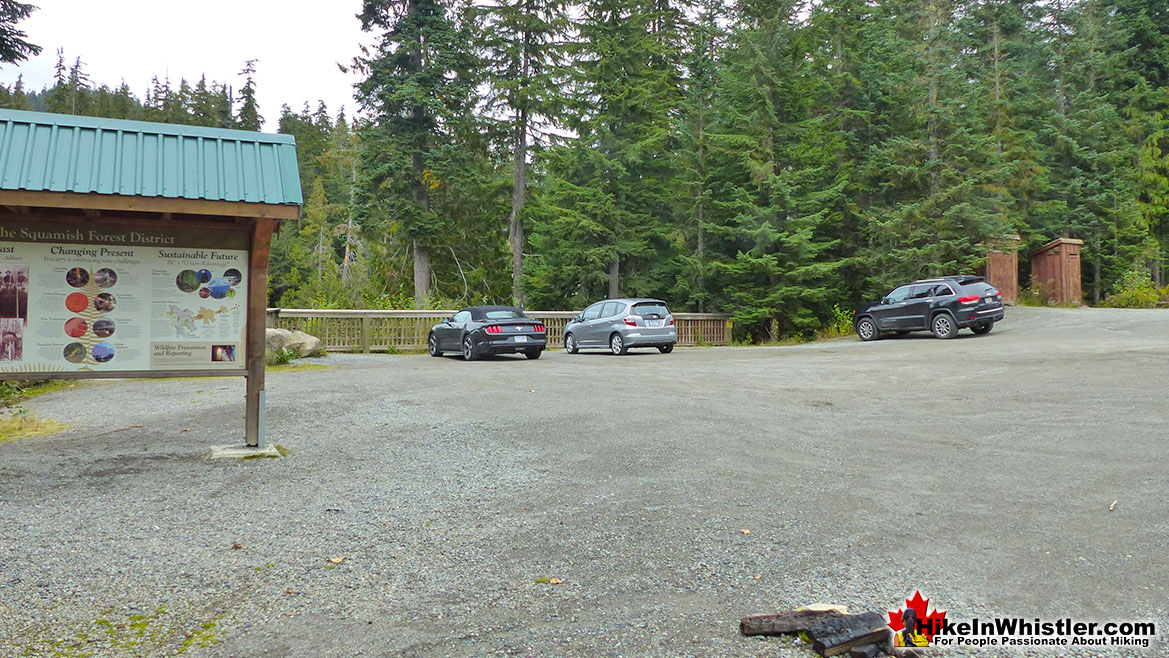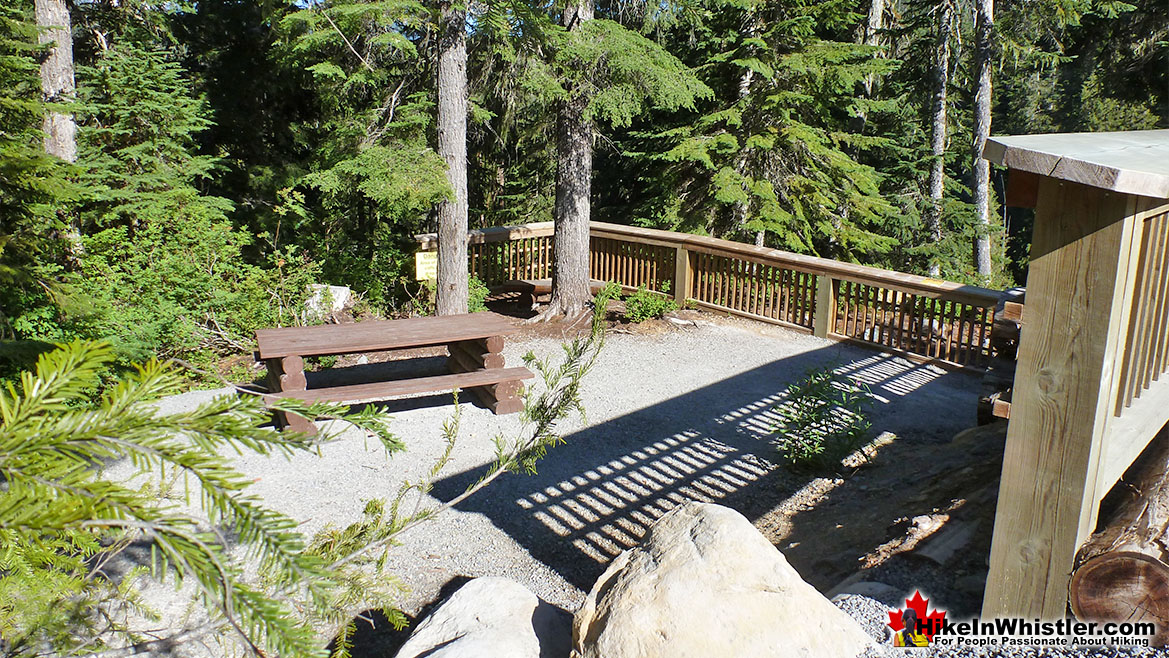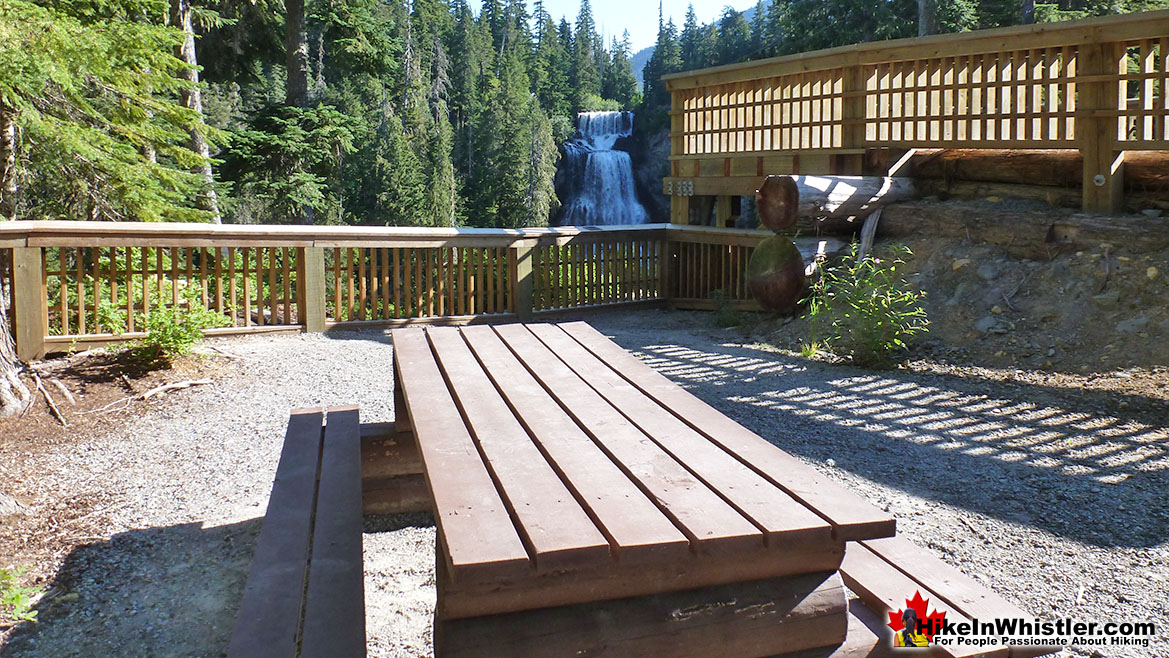 Restrictions and Concerns at Alexander Falls


Alexander Falls before the 2010 Olympics had some very nice, convenient and somewhat hidden campsites. The parking lot was enlarged and a viewing platform made. The parking lot has covered the old campsite spots that were in a forest where the information board is now. Camping is not allowed at Alexander Falls anymore. The area is pretty far removed from civilisation, however, and you could easily sneak a tent up in the small remaining forest, or sleep under the stars on the viewing platform, but only under the cover of darkness. With the wealth of other tent site opportunities in the area, Alexander Falls would be mediocre at best. A car or even a RV can make the short drive to Madeley Lake or a bit of a longer drive to Callaghan Lake. Both are free and quite nice. Northair Mine is another good spot to camp out. Hidden up in the forest about a 15 minute drive up an increasingly bad forest service road. Halfway along you will find a high clearance 4x4 is necessary to get through a deep washout. A typical Jeep Cherokee, for example, would have no problem. As with much of British Columbia, fires are prohibited in the summer due to the extreme forest fire danger.
Wildlife at Alexander Falls

Alexander Falls and everywhere in the Callaghan Valley is dog friendly. Unlike Garibaldi Park across the valley beyond Whistler, the Callaghan Valley is wild and remote and dogs are welcome everywhere. You do have to exercise caution however and bears, both black bears and grizzly bears are numerous. Grizzly bears are reclusive and seldom seen, however, black bears are frequently spotted, especially along the Callaghan Valley Road. For the most part, they will avoid humans, however, dogs tend to antagonize bears and make them potentially dangerous. If you bring your dog to Alexander Falls and the surrounding areas, be very cautious. Have a good look around for bears before letting your dog out of your vehicle. If you don't and your dog spots a bear, and out-of-control situation will almost certainly occur. Separating your dog from a bear can be extremely difficult and usually involves the dog owner having to get in between the two animals, putting yourself and your dog in a life threatening situation. Keep that in mind and be very cautious.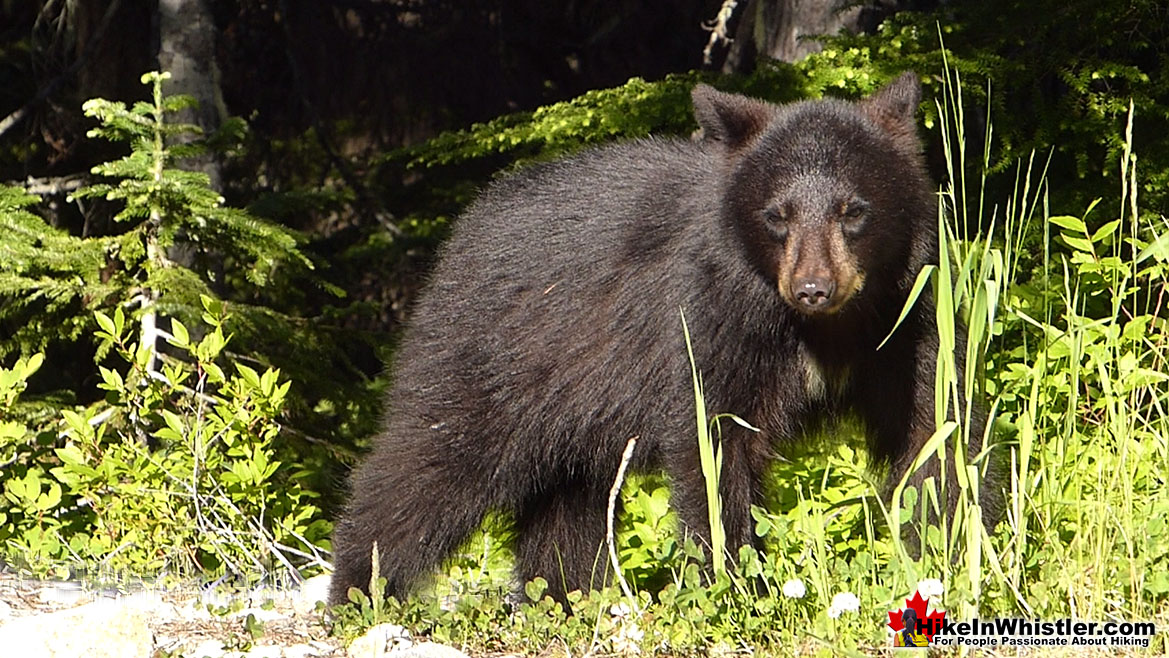 The History of Alexander Falls

There is a nice information board with as short history of the areas surrounding Alexander Falls, complete with museum-like pictures of the regions logging history.  One depicts, "A Land of Giants" and describes, with photos, how incredibly huge trees were cut down and moved.  One picture from 1910, shows 10 men sitting on an enormous, felled tree and looking tiny by comparison.  The depiction goes on to show how First Nations people felled trees as long as 8000 years ago. The history of logging continues to present day logging practices in British Columbia and around Whistler are depicted in another nice museum-like mural on BC's "Green Advantage" and sustainable future.  The drive to Alexander Falls is very nice.  As soon as you turn off from the Sea to Sky Highway into the Callaghan Valley you ascend quickly into the mountains.  Bears along the roadside are frequently seen as they seem to have a particular fondness for the fields of grass that grow in the sunny meadows that surround this recently constructed, paved road.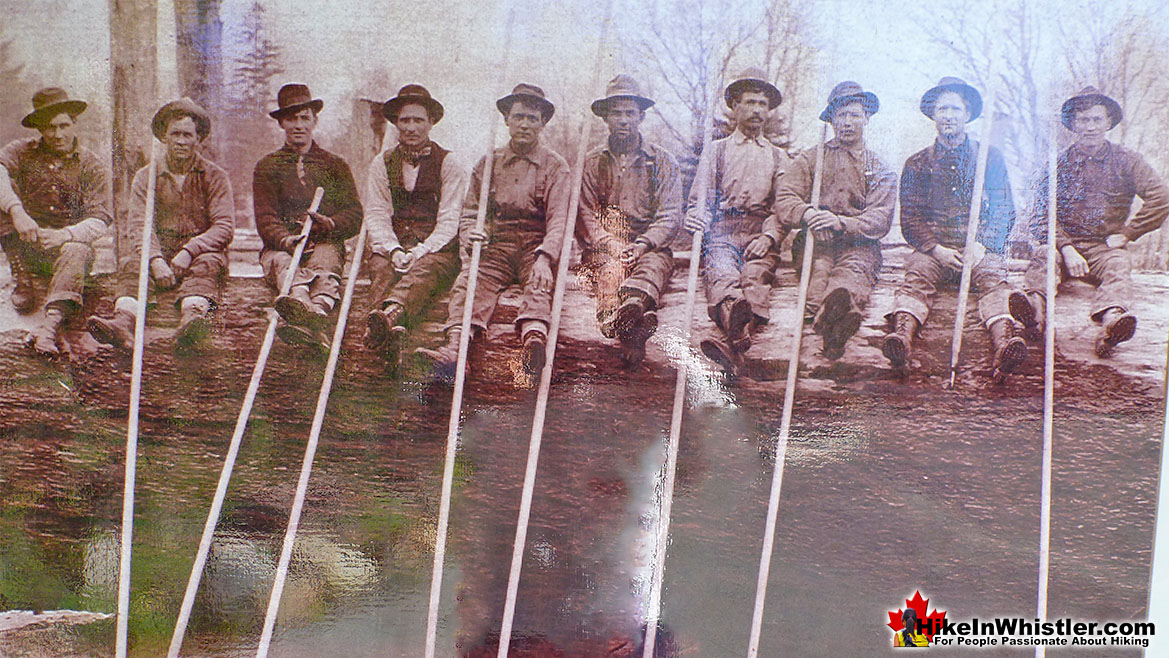 Stubbs Miller Memorial Plaque
On the viewing platform there is a memorial plaque that reads: "In Memory of F/O Gerald S. Stubbs and F/O James E. Miller. Members of 409 Squadron who perished in this area on 22 March 1956." This memorial refers to a mysterious plane crash of a Canadian fighter plane who's occupants have never been found. For several years it was thought that the plane went down in the Pacific as it was flying over from Vancouver Island on a routine training flight in a T-33 Silver Star. Indeed, the search took place over an area 32 kilometres northeast of Comox(Vancouver Island). A considerable distance from where you are at Alexander Falls. The search eventually wrapped up with the assumption that the plane went down in the ocean. Two decades later, in the early 1970's, a hiker named Howard Rode found the canopy of the long lost T-33 high up on Mount Callaghan. Rode wrote down the serial number off the canopy and notified the military, who were surprised to discover was the canopy of Stubbs and Miller's plane. A search of the area found no other wreckage. Not surprising if you have hiked in the area. The terrain is a chaotic mix of deep forest, steep terrain, and a maze of enormous erratics and fallen trees. In this type of terrain, you can rarely make out landmarks or get a clear sight of where you are going. Searching the area is extremely difficult and the search area that seems small on paper, is monstrous on the ground.
It took two more decades for another clue to be found. In 1997 a member of Whistler Search and Rescue spotted plane wreckage as he flew over the area. Four kilometres south and down the valley of where the original canopy was found! Finally, the wreckage could be examined for clues to what had happened. The cause was determined to be fuel starvation. No sign of Stubbs and Miller were found, despite a lot of searching. Another decade would pass before a clue to the two missing airmen was found. A helmet was found directly between the wreckage and the canopy. Just a helmet. Another set of searches went on, and remarkably, still nothing else found.  Somewhere between the wreckage and the canopy, the ejected seats of the fighter plane still lay hidden. Pilots eject from a T-33 with the seats and parachute down to safety. It now seemed evident that Stubbs and Miller ejected the plane before it crashed and possibly survived. Surviving the crash may have been the easy part. Finding civilisation over brutal terrain, deep with snow and in freezing winter temperatures. In March 1956, just like most years, the snow on Mt Callaghan is measured in metres. Eventually another clue will be found as hiking trails continue to be developed in the area and the number of hikers combing the dense forest increase.
Alexander Falls Provincial Park Driving Directions

Cell coverage is reliable on the road and at the viewpoint to Alexander Falls so you will be able to access the internet if you have a data plan, however saving this map to your smartphone or tablet might be helpful. From Whistler Village: Drive south on Hwy 99(Sea to Sky Highway), 13.8 kilometres from Village Gate Boulevard, turn right onto Callaghan Valley Road at the sign to Whistler Olympic Park. Follow this road for 9.6 kilometres, keep an eye out on your left for a little sign that directs you to Alexander Falls. The sign/turnoff is just before Whistler Olympic Park.
From Vancouver/Squamish: Head north on Highway 99 towards Whistler. Turn left onto the new Callaghan Valley access road at the sign for Whistler Olympic Park, 40 kilometres from the set of lights at Garibaldi Way in Squamish. Follow this road for 8km, keep an eye out on your left for a little sign that directs you to Alexander Falls.  The sign/turnoff is just before Whistler Olympic Park.
When to Go

Anytime of the year is great to go to Alexander Falls.  In the summer, the weather makes the drive more scenic and you are likely to see bears on the way there.  At the viewing area you have several picnic tables that are wonderful in the summertime.  In the winter months, the valley is a massive, snowy playground.  Almost the entire Callaghan Valley is pristine looking in the winter, with snowy trees, and snowy mountains as far as you can see.  Springtime is when you see the volume of water crashing over the falls increase rapidly.  More dramatic, more beautiful and much louder.  The fall months can be quite beautiful as well. Despite the deteriorating weather and frequent rainfall, the drive up the Callaghan Valley will be flanked by fall coloured leaves. Another benefit of going to Alexander Falls in the fall is that you will likely have the valley to yourselves.
More Great Places Near Alexander Falls

The Callaghan Valley is home to some other great places to visit. Just past the Alexander Falls parking lot on your left you will see a sign for Callaghan Lake Provincial Park. If you turn left here you can either drive straight up a very bad logging road for 8.5 kilometres to Callaghan Lake. Callaghan Lake Provincial Park has only a couple short trails.  There is, however, a the Cirque Lake trail at the end of the lake takes you to paradise! Cirque Lake is found high above Callaghan Lake and up quite a steep, but short 2 kilometre trail.  Well worth the hike, but you have to have a canoe/kayak to get to the trailhead.  If you want a quick look at a very pretty mountain lake, take the first right at the start of this logging road that takes you to Madeley Lake. On a sunny summer day, few places in Whistler are more serene and beautiful. A short trail from the end of the road, behind the lake takes you down to a lovely and sunny shore of this crystal clear lake. It is also a free campground that is very nice. Northair Mine is close by and a very interesting place to see, though you need a 4x4 to get up the increasingly deteriorating forest service road.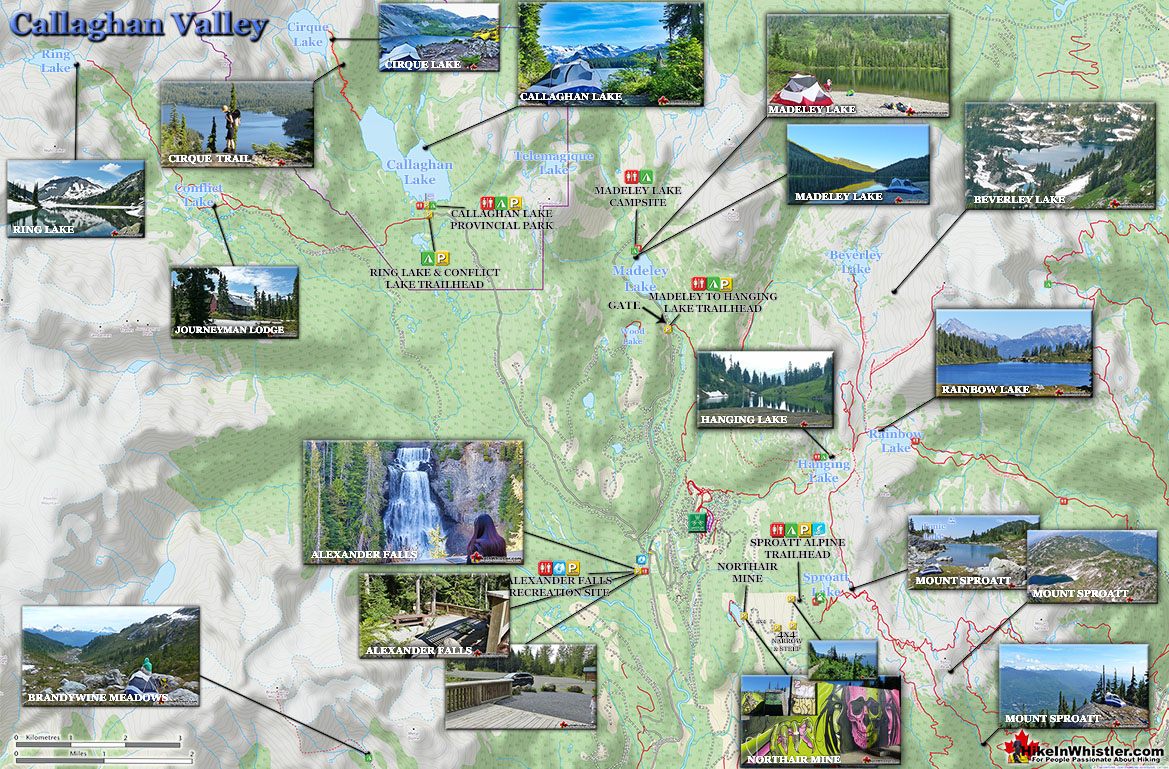 Callaghan Lake Near Alexander Falls
Callaghan Lake is a big and beautiful, remote lake high up beyond Alexander Falls.  A free, drive-to campsite and parking area are located on one end of the lake and the rest of the lake is wild and untouched wilderness.  There are few trails around the lake and most visitors travel by canoe, kayak or paddleboard.  There is one significant trail to hike at the far end of Callaghan Lake and it is very nice.  The somewhat hard to find trail starts at the far end of the lake and takes you up to a stunning glacier carved lake appropriately called Cirque Lake.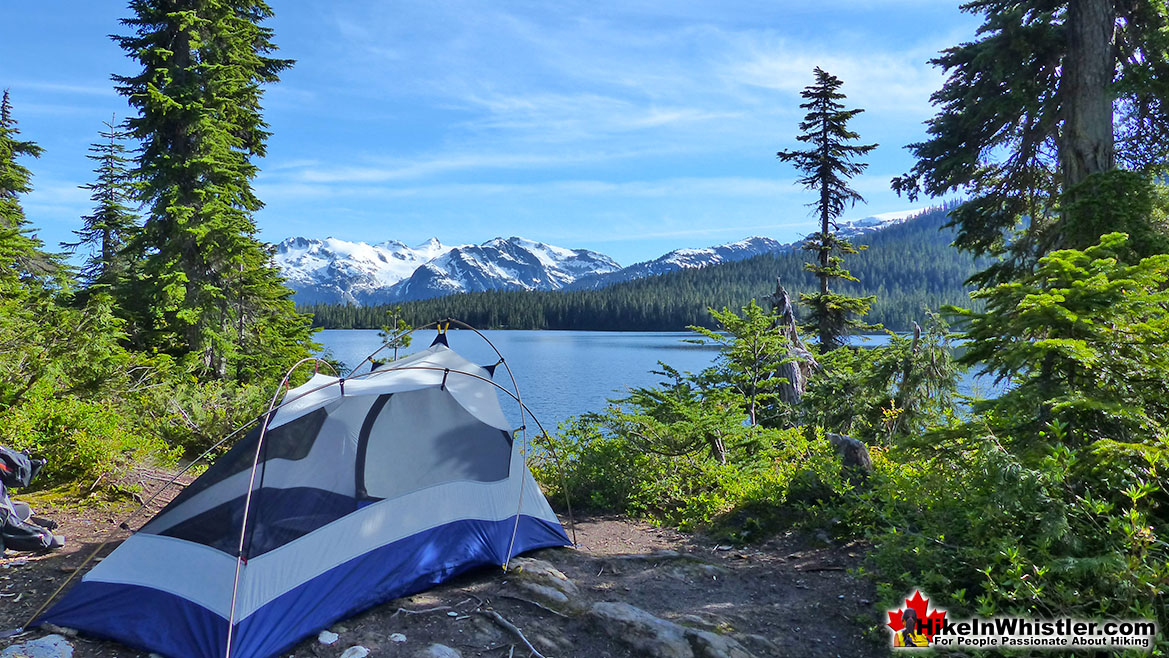 Cirque Lake Near Alexander Falls
Cirque Lake gets its name from the term 'cirque', which is a glacier-carved bowl or amphitheater in the mountains.  To form, the glacier must be a combination of size, a certain slope and more unexpectedly, a certain angle away from the sun. In the northern hemisphere, this means the glacier must be on the northeast slope of the mountain, away from the suns rays and the prevailing winds. Thick snow, protected in this way, grows thicker into glacial ice, then a process of freeze-thaw called nivation, chews at the lower rocks, hollowing out a deep basin.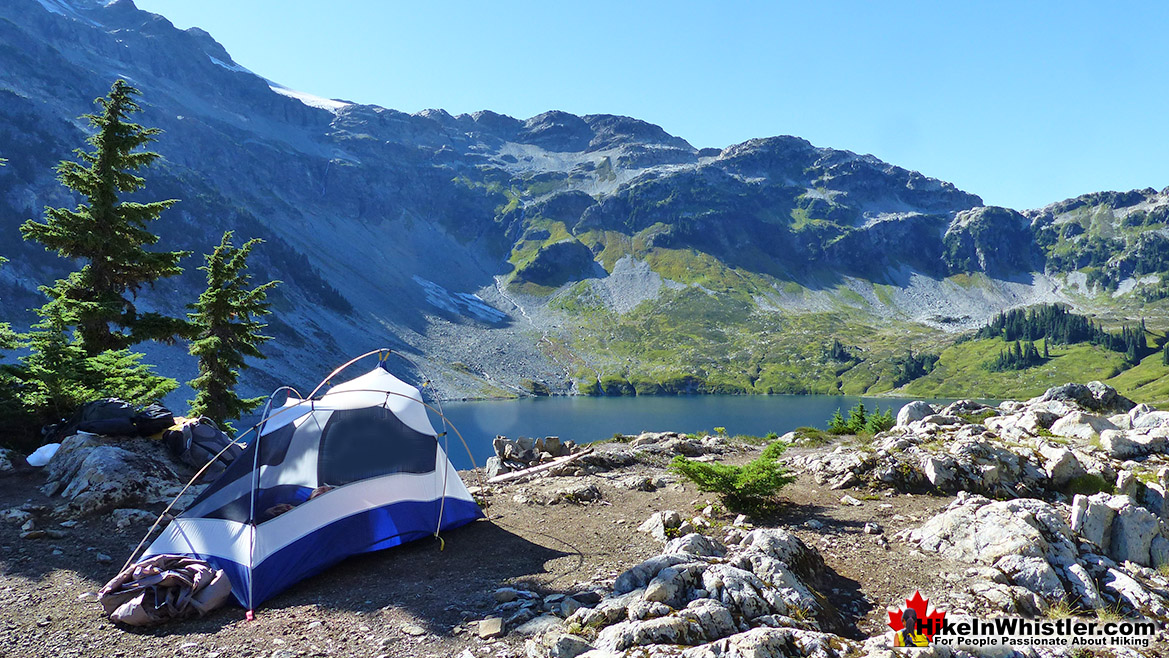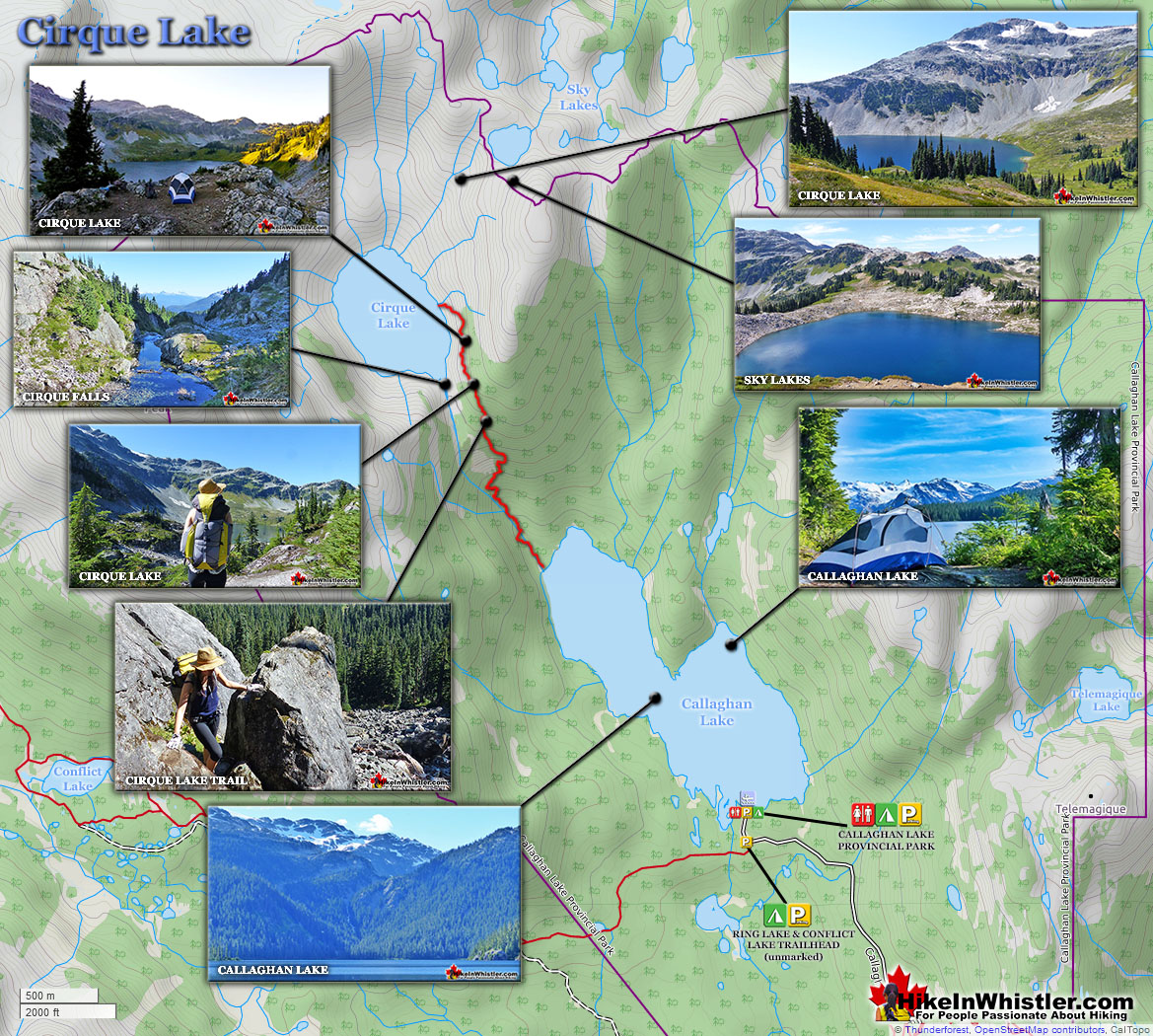 Madeley Lake Near Alexander Falls
Madeley Lake is a beautiful alpine lake just a 10 minute drive past Alexander Falls.  A free, serene and hidden feeling campsite hides in the forest at the far end of the lake.  Whistler Olympic Park has recently wrestled control over the access road and in 2020 and barricaded the access road.  They attempted to require an access fee to the lake and quickly backtracked when they realized their quiet takeover of Madeley Lake would cause a public outcry and force the Resort Municipality of Whistler to coerce Whistler Olympic Park to return free access to the decades old regional park.  The sign on the gate that stated "WARNING ENTERING WHISTLER OLYMPIC PARK CORE AREA YOU ARE REQUIRED TO HAVE A TICKET OR YOU ARE TRESPASSING" was quickly removed by WOP shortly after it was discovered by the public last June(2020).  You may or may not encounter this gate, depending on how aggressive Whistler Olympic Park is in blocking access to the public, though hopefully public pressure will force them to relent.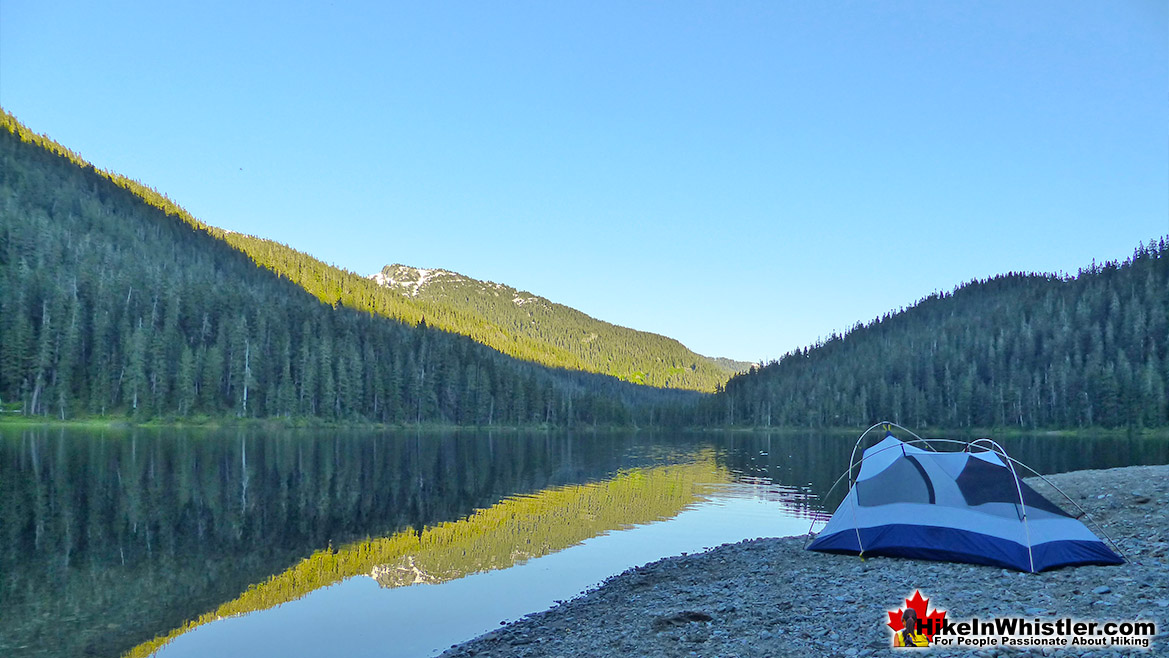 Northair Mine Near Alexander Falls
Northair Mine is a strangely beautiful old goldmine near Alexander Falls.  Abandoned several decades ago, the cement foundations are now adorned in colourful graffiti and stunning murals.  In 2019 Kups, a professional Whistler muralist, painted a stunning mural across one of the largest and broadest cement walls.  Along with the beautiful and surreal foundations, Northair Mine is also home to a surprisingly beautiful lake.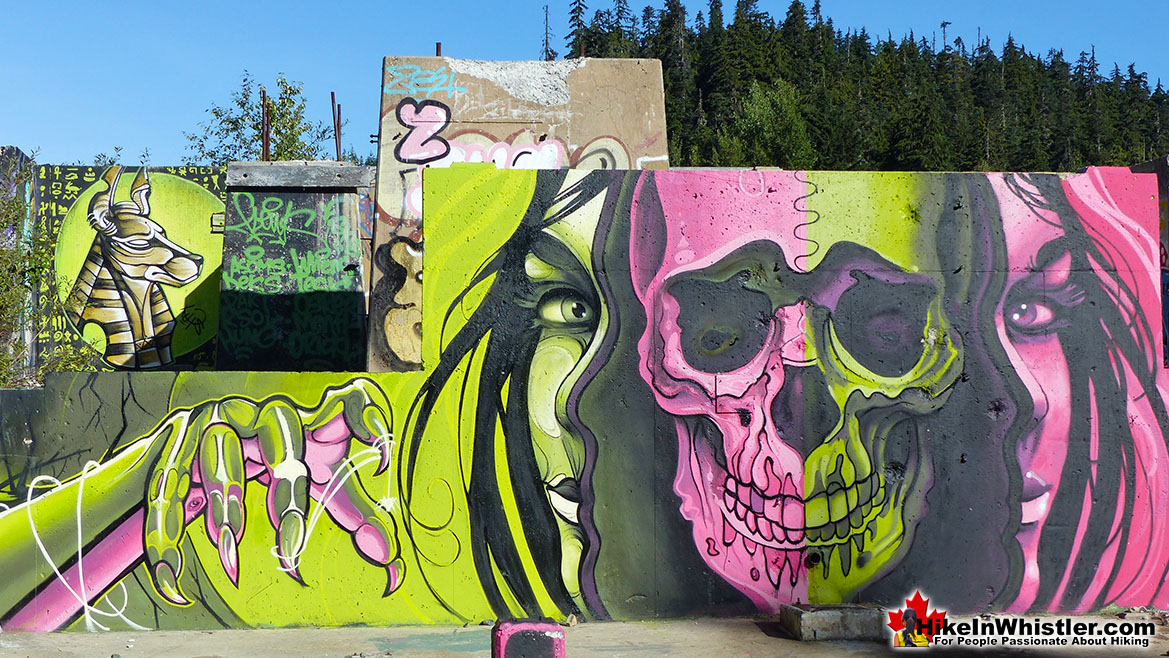 Whistler's Best Hiking Trails!
Whistler & Garibaldi Park Best Hiking by Month!

Explore BC Hiking Destinations!