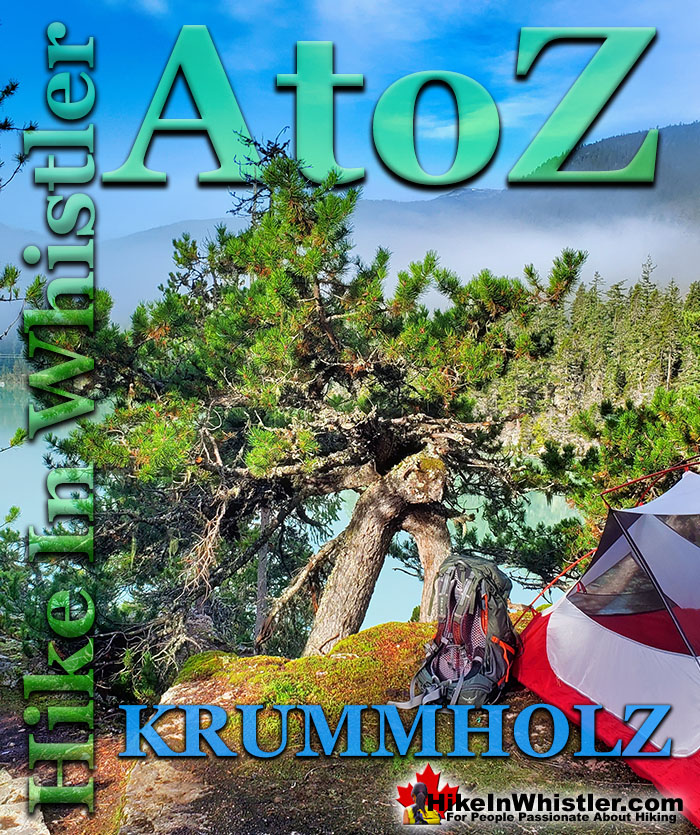 When you hike in the alpine in Whistler and Garibaldi Provincial Park, you will often encounter unbelievably hardy and sometimes mangled looking trees.  Weathering high winds, freezing temperatures, deep snow and usually growing where most other things can't.  These weather battered trees are called krummholz.  Krummholz is a German derived word that comes from two words, krumm and holz.  Krumm means bent, crooked, twisted and holz means wood.
Whistler & Garibaldi Hiking

Alexander Falls  

Ancient Cedars  

Black Tusk  

Blackcomb Mountain  

Brandywine Falls  

Brandywine Meadows  

Brew Lake  

Callaghan Lake  

Cheakamus Lake  

Cheakamus River  

Cirque Lake 

Flank Trail 

Garibaldi Lake 

Garibaldi Park 

Helm Creek  

Jane Lakes 

Joffre Lakes  

Keyhole Hot Springs  

Logger's Lake  

Madeley Lake  

Meager Hot Springs 

Nairn Falls  

Newt Lake 

Panorama Ridge 

Parkhurst Ghost Town 

Rainbow Falls  

Rainbow Lake 

Ring Lake  

Russet Lake  

Sea to Sky Trail 

Skookumchuck Hot Springs  

Sloquet Hot Springs 

Sproatt East 

Sproatt West  

Taylor Meadows  

Train Wreck  

Wedgemount Lake  

Whistler Mountain

January 

February 

March 

April 

May 

June 

July 

August 

September 

October 

November 

December
The lodgepole pine is commonly found in the alpine regions around Whistler.  There are many other types of trees that are known to form into bizarre krummholz trees, including spruce, mountain pine, balsam fir, subalpine fir and limber pine.  The krummholz tree pictured here is on a cliff above Cirque Lake in the Callaghan Valley.  A tremendously hostile place to live in the winter months, however, during the summer Cirque Lake is a tranquil paradise.  Most krummholz trees you will see will be found growing out of a rocky landscape with just a thin layer of dirt.  Often they have a short, yet very solid shape, pushing the bedrock apart as they grow.  Other common krummholz trees form into a flag shape, where high winds have blasted the branches so they form on one side only.  Regardless of the shape of krummholz trees, they always appear to have lived through brutal winters in improbable locations.  This krummholz tree pictured below is growing out of a rocky island, one of the Battleship Islands in Garibaldi Lake, Garibaldi Provincial Park.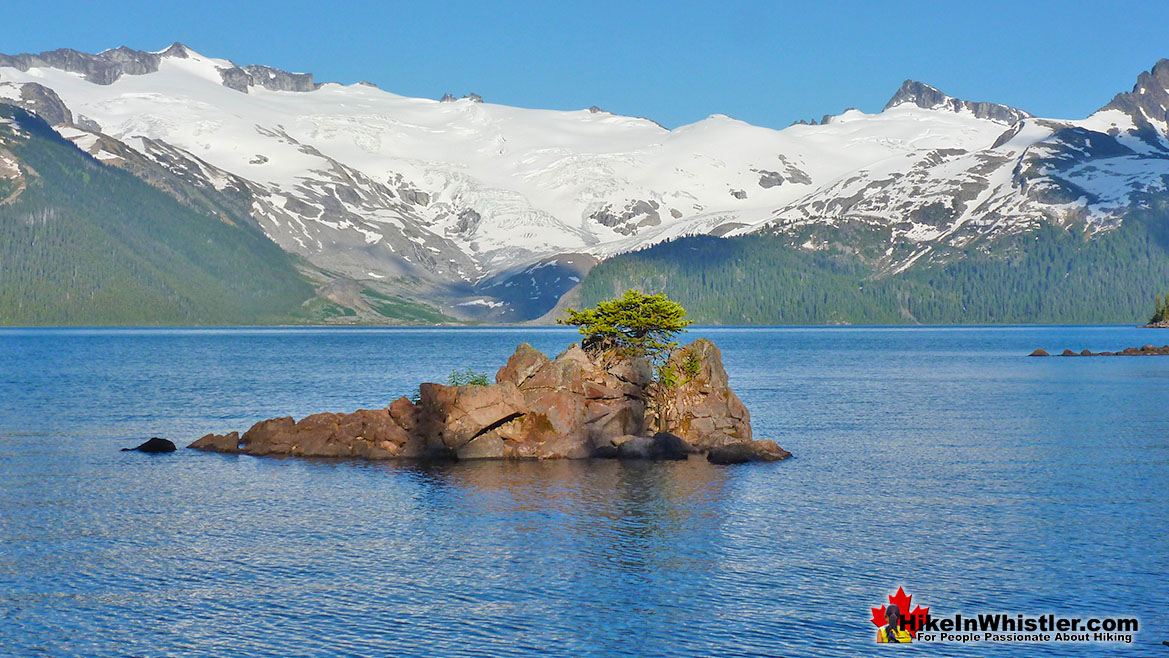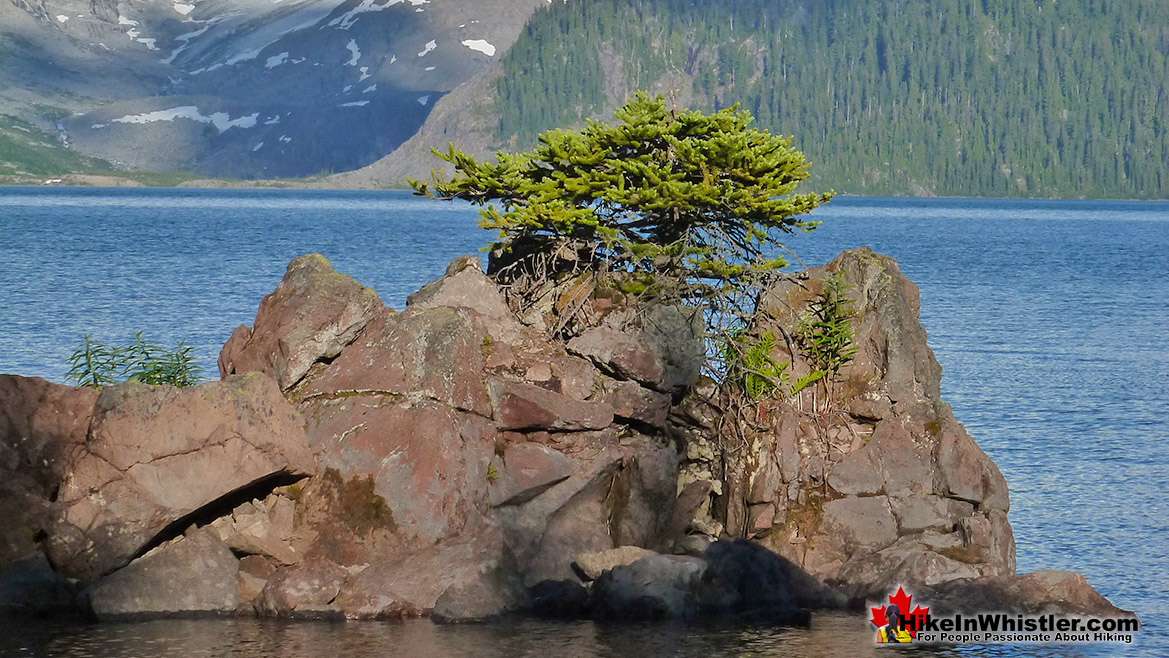 Below are examples of krummholz trees at Brew Lake, Garibaldi Lake and Brandywine Meadows.  The Brew Lake krummholz on the bottom left is a great example of a twisted, mangled looking krummholz.  The centre picture from Garibaldi Lake shows two, much older, weather battered krummholz trees at the shore of the lake.  And the right side picture shows krummholz trees with the characteristic flag shape at Brandywine Meadows with Mount Garibaldi in the distance.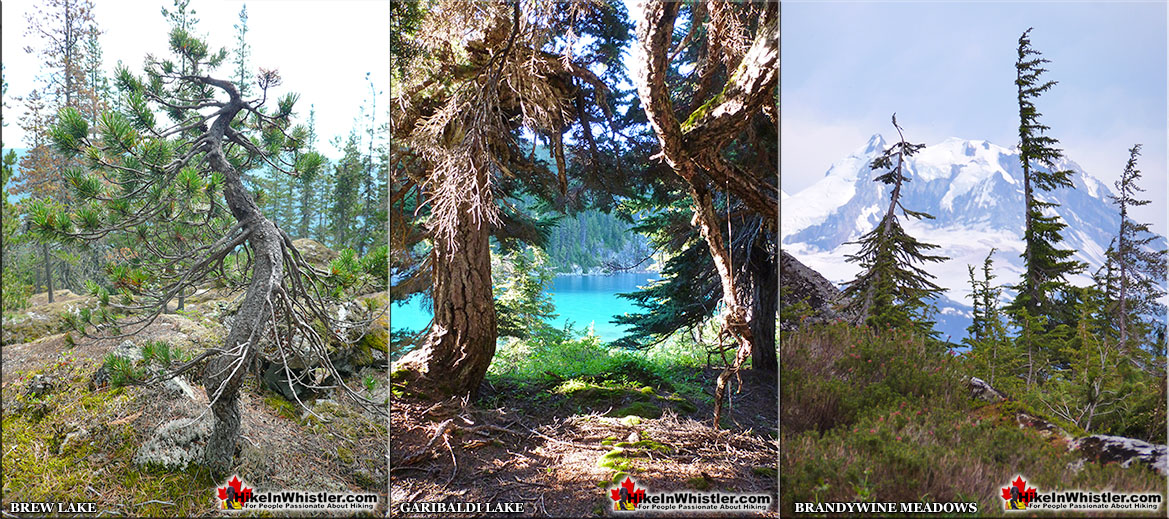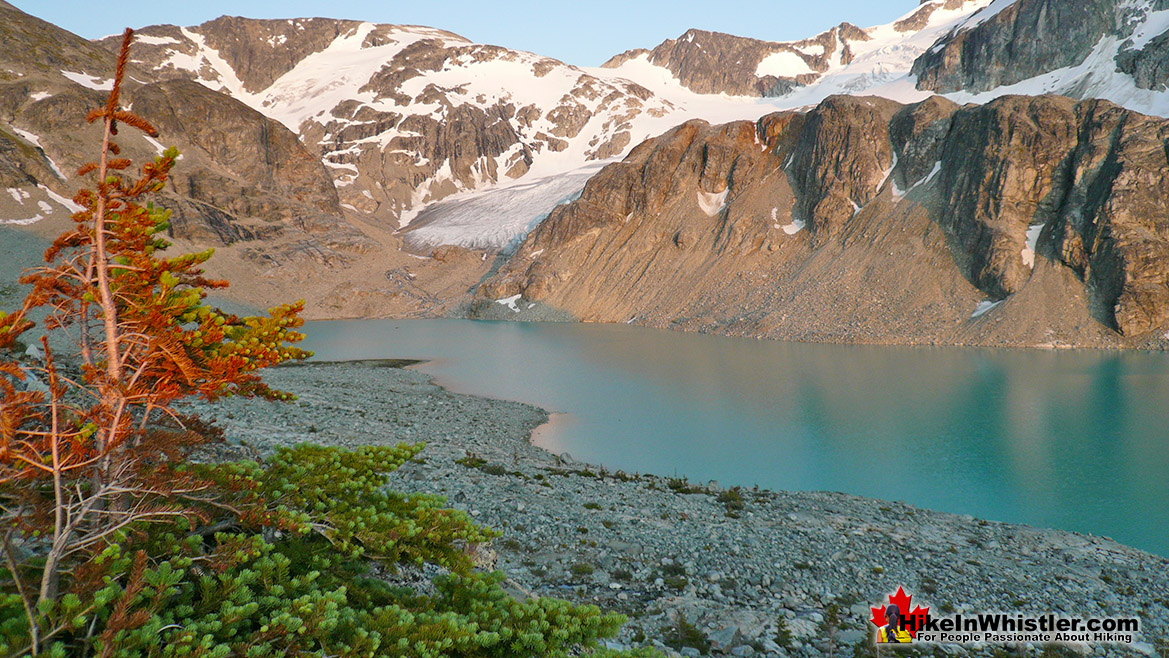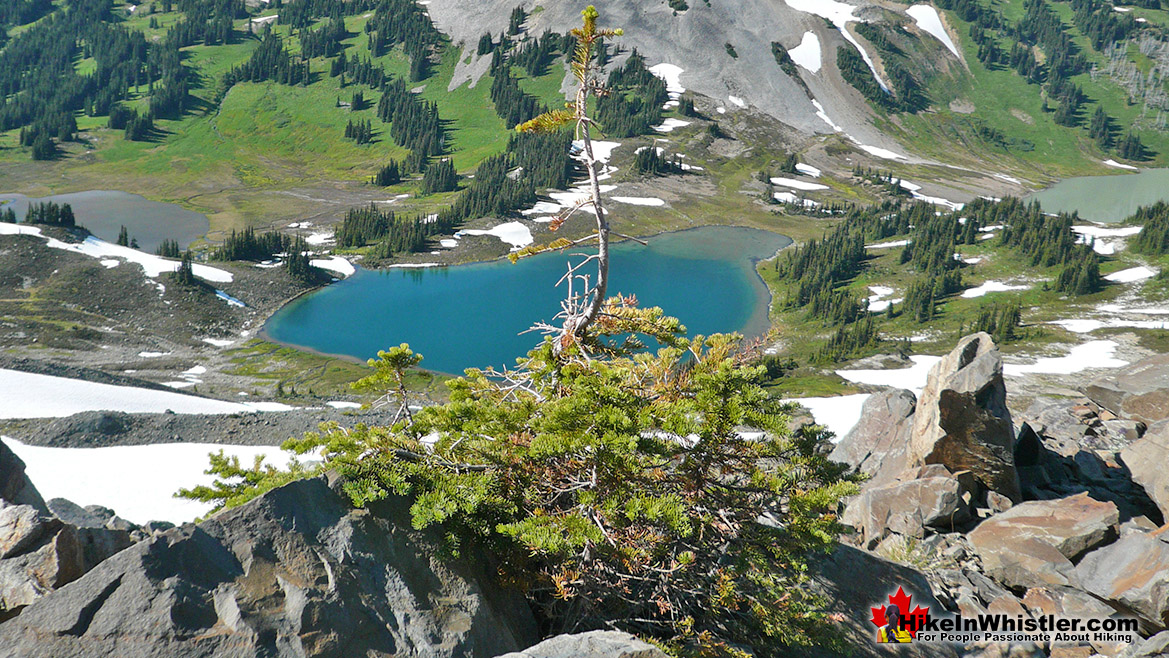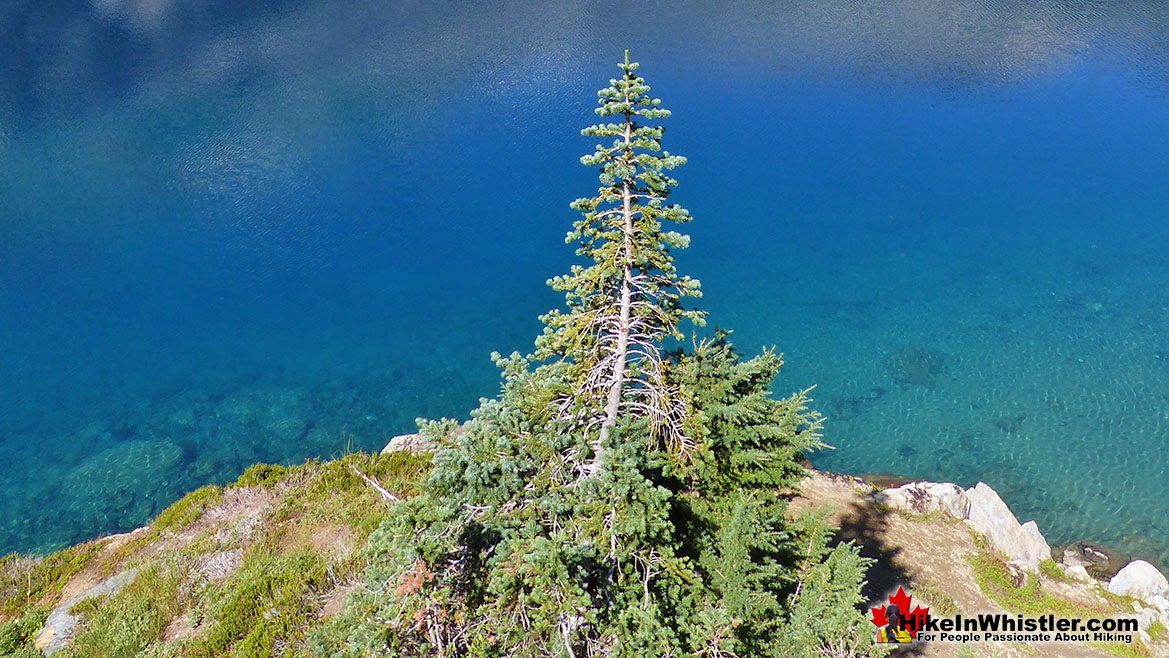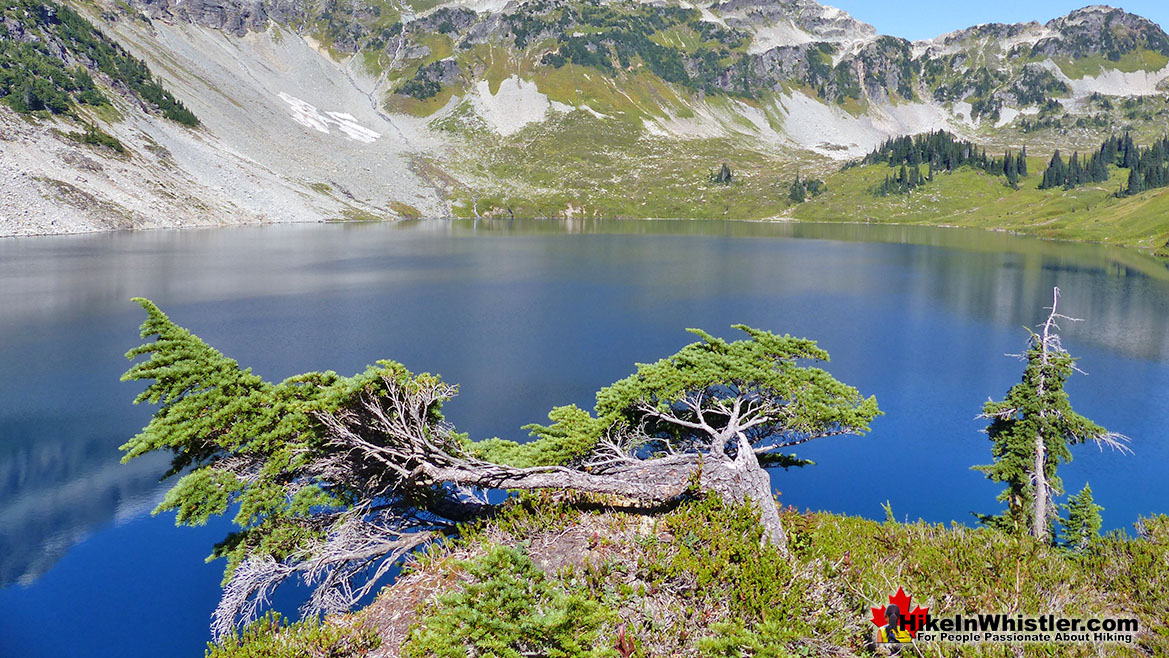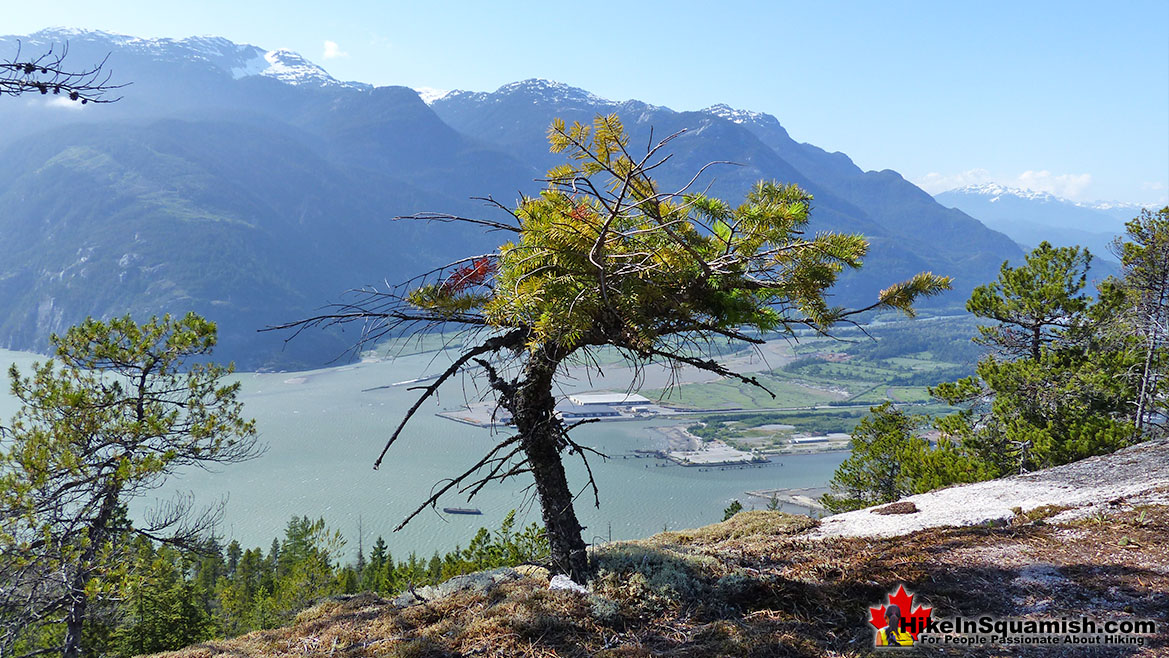 More Whistler & Garibaldi Park Hiking A to Z!

The Best Whistler & Garibaldi Park Hiking Trails!
Whistler & Garibaldi Park Best Hiking by Month!

Explore BC Hiking Destinations!