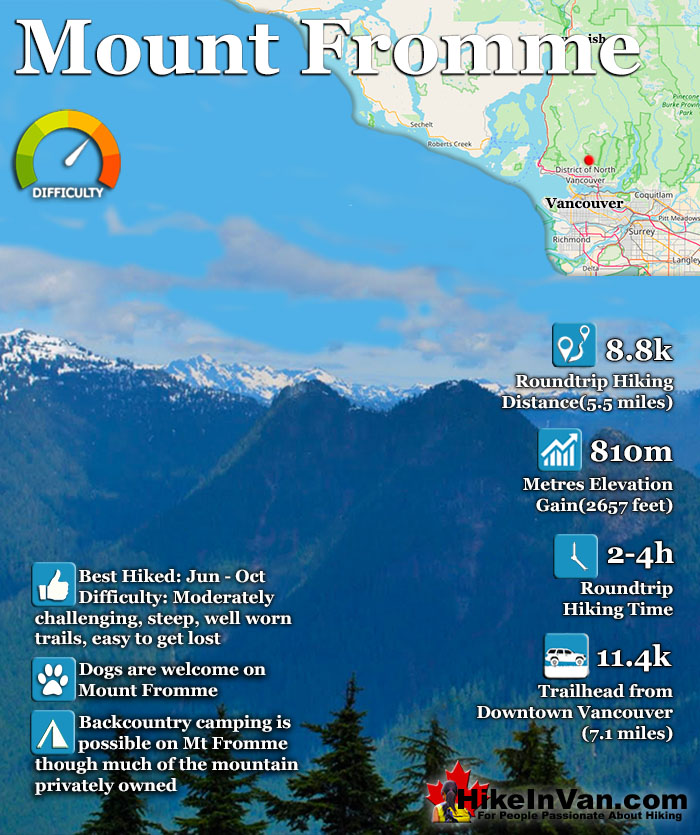 Mt Fromme is the thickly forested Mountain next to Grouse Mountain. If looking from the direction of downtown Vancouver, Fromme is just to the right.  It is infrequently hiked, at least partly due to the high number of amazing hikes surrounding it. Fromme gets a bit lost in mix. There are at least three ways to reach the summit and the map below shows the St Georges route via the Peer Gynt trail.
Quieter than most Van trails

Nice network of trails

Challenging & fun hike

Often you won't see anyone else!

Accessible year-round with snowshoes

Snow often persists until July!

Not as nice as other hikes

Surprisingly confusing to navigate

More of a biking mountain


Everyone gets lost on the way down!
Vancouver Hiking Trails

Black Mountain

Brunswick Mountain

Burnaby Lake

Burnaby Mountain

Coliseum Mountain

Crown Mountain

Cypress Falls

Deeks Peak

Deep Cove

Deer Lake

Dog Mountain

Goat Mountain

Goldie Lake

Grouse

Hollyburn Mountain 

Kitsilano Beaches

Lighthouse Park

Lynn Canyon

Lynn Peak

Mt Elsay

Mt Fromme

Mt Hanover

Mt Harvey

Mt Seymour

Mt Strachan

Mystery Lake

Pacific Spirit

Rice Lake

St Mark's

Stanley Park

The Lions

Unnecessary
The route is often steep however well marked through a well established bike trail network.  From the end of St Georges street walk the trail and turn right then left onto St Georges trail that rises steeply eventually leading to the Peer Gynt trail(on some signs is spelled "Per Gynt").
Another good trailhead that connects to the Peer Gynt trail is by parking at the end of Prospect Road(see map below).  The trail from Prospect Road crosses the Baden Powell Trail in about 150 metres where the Cascades trail begins and you ascend along Mosquito Creek.  After 15 minutes you come to another trail crossing as Dreamweaver goes left and the Peer Gynt trail to the right.  The Peer Gynt trail then winds and climbs another 3 kilometres through forest to the summit of Mount Fromme.  Roundtrip from either trailhead is 8.8 kilometres.
From the summit of Mount Fromme you are surrounded by beautiful, snowy mountain peaks.  Grouse Mountain, Crown Mountain, Lynn Peak(south and north).  The Peer Gynt trail terminates just past Fromme's summit at Senate Peak.  There are connecting trails from both peaks that take you to Grouse Mountain.  The "Mount Fromme Trail" takes you to the ski slopes of Grouse Mountain and yet another trail, the "Erik the Red Trail" branches off from the Mount Fromme Trail and continues northwest to Dam Mountain.
Dam Mountain lays in between Grouse Mountain(south) and Goat Mountain and Crown Mountain(north).  Just past Goat Mountain connects to the Hanes Valley Trail which takes you deep into Lynn Headwaters Regional Park.  This trail cuts a wide arc around Mount Fromme's eastern edge leading to the Lynn Valley trailhead.

Best Whistler & Garibaldi Park Hiking Trails!
Whistler & Garibaldi Park Hiking by Month!

Explore BC Hiking Destinations!