Clayoquot Sound has a staggering array of hiking trails within it.  Between Tofino and Ucluelet, Pacific Rim Park has several wilderness and beach trails, each one radically different from the last.  The islands in the area are often Provincial parks on their own with perfect beaches well away from the crowds.  This is a list of the best of the best hiking trails and beaches in and around Clayoquot Sound.
Clayoquot Sound Trails

The Big Tree Trail 

Hot Springs Cove 

Lone Cone 

Nuu Chah Nulth 

Radar Beach 

Radar Hill 

Vargas Island 

Virgin Falls 

Wild Pacific Trail
Whistler & Garibaldi Hiking

Alexander Falls  

Ancient Cedars  

Black Tusk  

Blackcomb Mountain  

Brandywine Falls  

Brandywine Meadows  

Brew Lake  

Callaghan Lake  

Cheakamus Lake  

Cheakamus River  

Cirque Lake 

Flank Trail 

Garibaldi Lake 

Garibaldi Park 

Helm Creek  

Jane Lakes 

Joffre Lakes  

Keyhole Hot Springs  

Logger's Lake  

Madeley Lake  

Meager Hot Springs 

Nairn Falls  

Newt Lake 

Panorama Ridge 

Parkhurst Ghost Town 

Rainbow Falls  

Rainbow Lake 

Ring Lake  

Russet Lake  

Sea to Sky Trail 

Skookumchuck Hot Springs  

Sloquet Hot Springs 

Sproatt East 

Sproatt West  

Taylor Meadows  

Train Wreck  

Wedgemount Lake  

Whistler Mountain
The Wild Pacific Trail is a must see on any visit to Pacific Rim National Park, Ucluelet and/or Tofino.  Located in Ucluelet, the Wild Pacific Trail is actually a set of three trails that connect into a wonderful 8.4 kilometre route. The Lighthouse Loop trail is a great place to start is wild meandering 2.6km trail that has endless amazing ocean views and an amazing array of twisted, weather beaten, and endlessly interesting trees along the trail.  At 53 metres, Virgin Falls is quite an impressive sight.  You walk through the short, two minute forest trail to reach it and it fills your view.  It is located in a beautiful oasis it has created.  A large, ice cold and crystal clear pool with pebble rocks and waterfall battered logs that flows out in a large, meandering stream through the trees.  The whole area is surrounded by huge trees and you feel a strange sense of comfort, like you are in protected place.  And when you roll out your sleeping bag in the spectacular setting, you will never want to leave.  Much closer to Tofino, Radar Hill is definitely one of the Tofino sights not to be missed.  It's a quick and easy walk to the top and the views are beautiful.  Definitely one of the few places in Tofino where you can see above the forest see where you are.  Almost everywhere else in Pacific Rim Park you are engulfed in trees or down by the ocean.  If you are feeling adventurous, a very steep, muddy and overgrown trail leads from Radar Hill down to Radar Beach.  If you can manage the trail, you will come to a set of gorgeous and usually secluded beaches.  If you don't mind a boat taxi ride, The Big Tree Trail on Meares Island is an impressive trail through a sensationally wild forest packed with enormous trees.  Another beautiful island hike is found on nearby Vargas Island.  A short trail cuts across the island to a spectacular sandy beach.  It is not unusual to find you have the entire beach to yourself as you camp under the stars in paradise.  These are just a few of the incredible places to hike in and around Tofino, Ucluelet and Clayoquot Sound.
The Big Tree Trail on Meares Island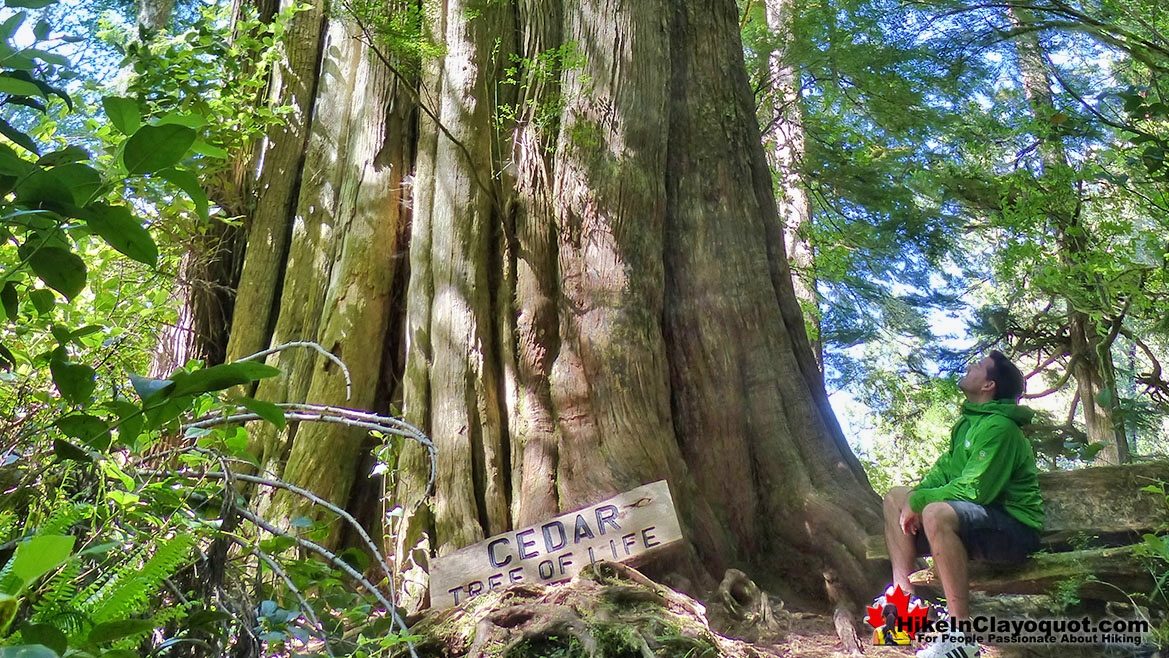 Spectacular Virgin Falls Near Tofino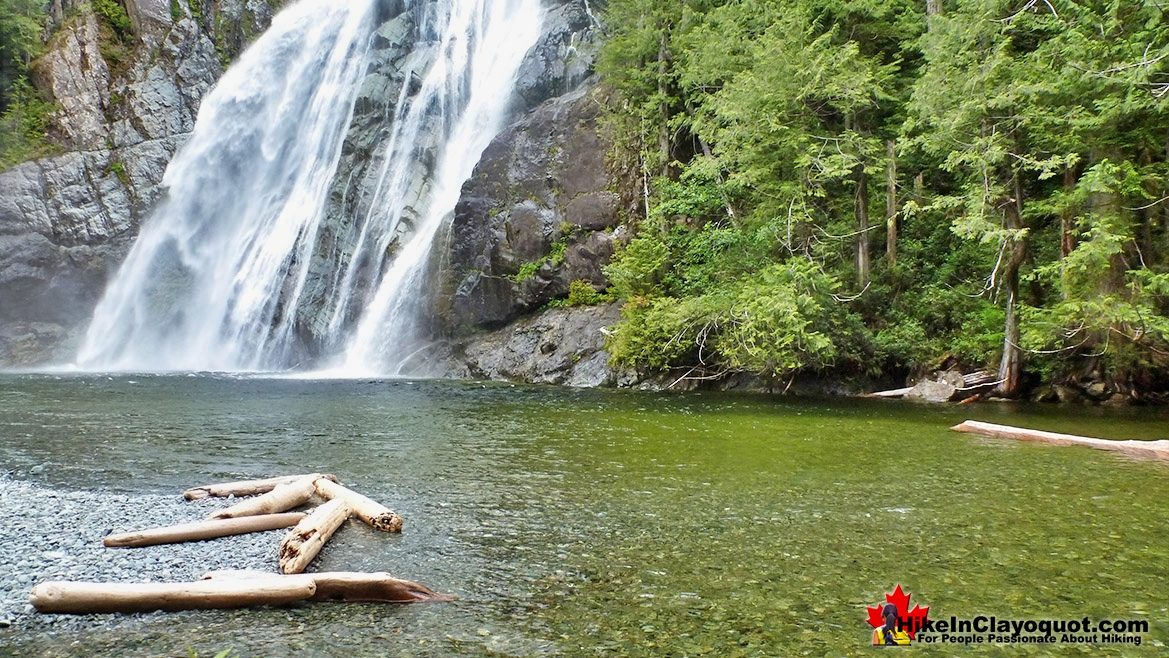 Amazing Lone Cone Mountain Views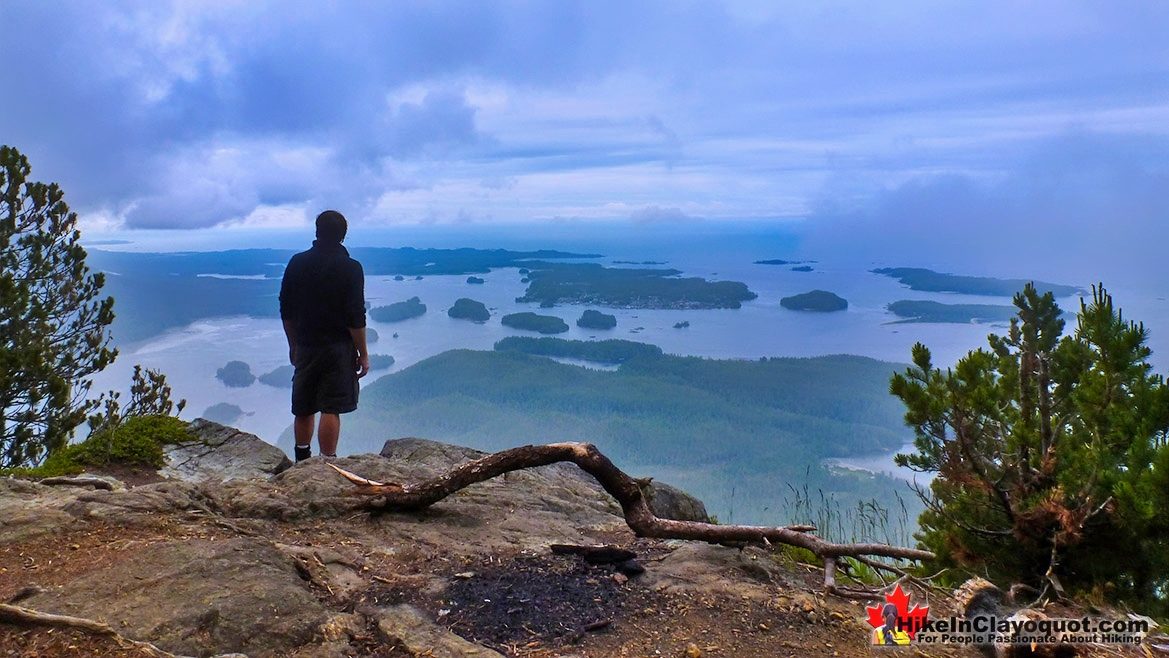 Sensational Hot Springs Cove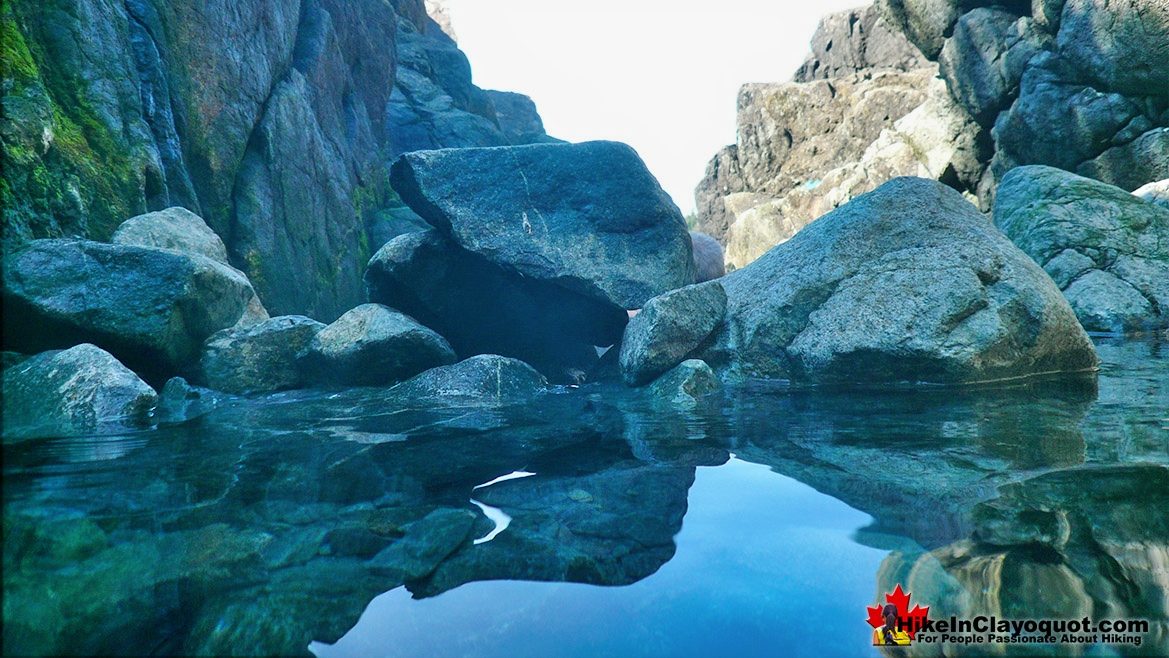 Serene and Secluded Radar Beach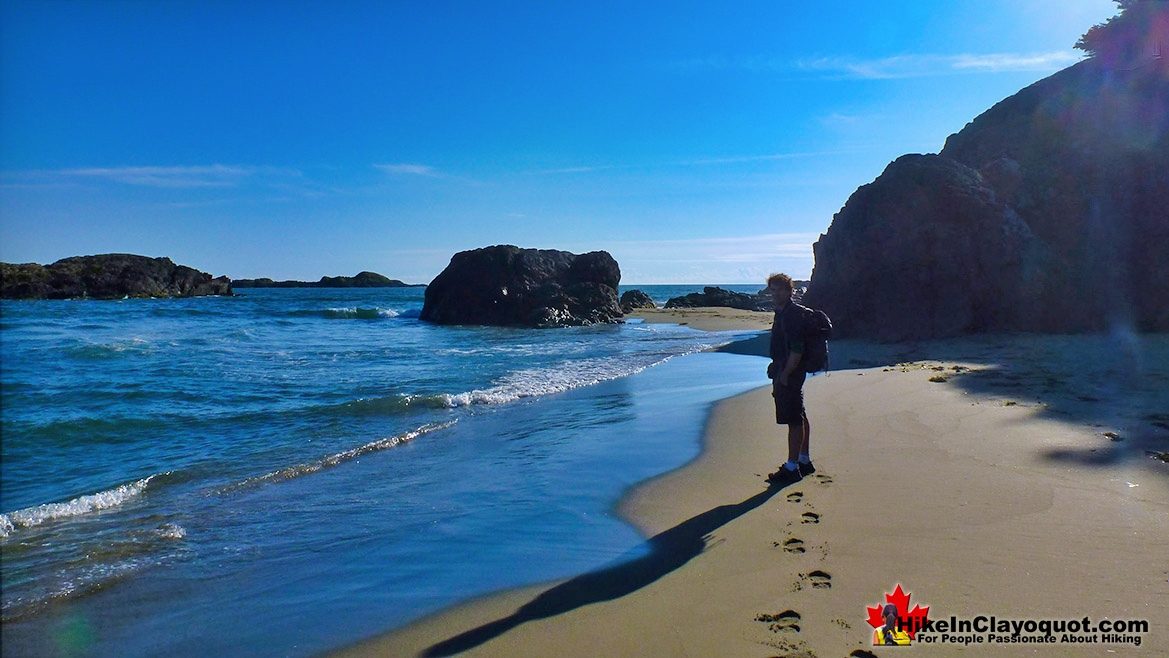 Quiet and Spectacular Vargas Island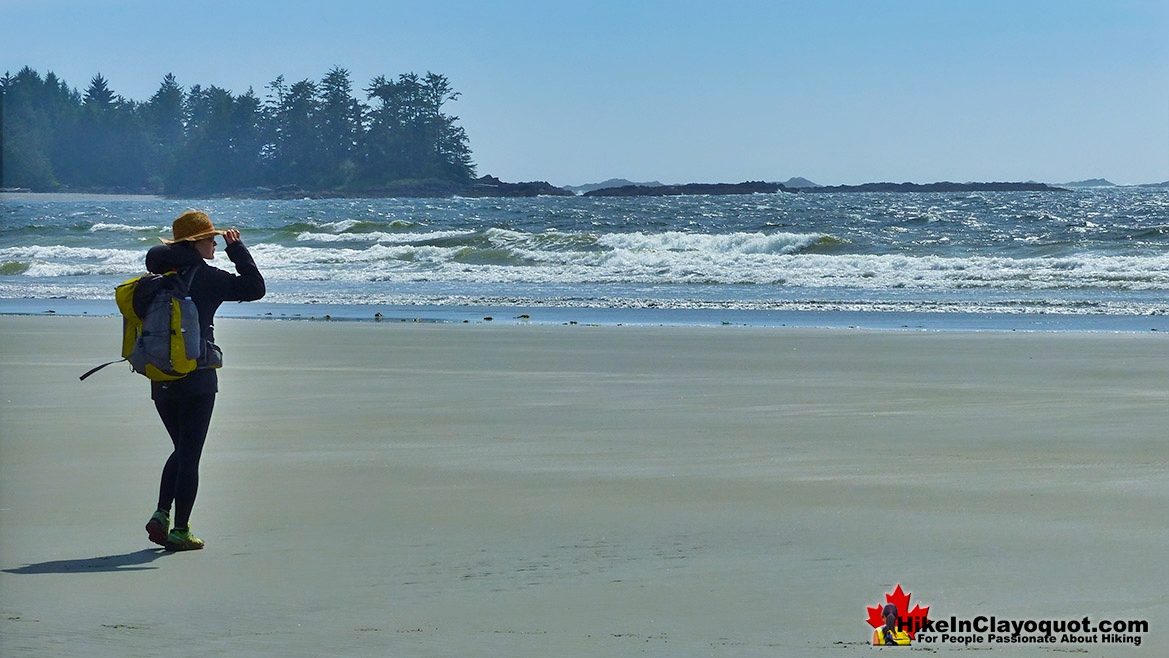 The Big Tree Trail on Meares Island

Meares Island was the centre of dispute in the 80's when the Nuu-chah-nulth protested Macmillan Bloedel's intent to log the island.  The Nuu-chah-nulth together with environmental groups blockaded the island and fought in the courts.  The court ruled that until the Nuu-chah-nulth's land claim to the island was settled, no development can occur on the whole of Meares Island.  This great victory enabled the creation of The Big Tree Trail and its star feature, the Hanging Garden Tree.  This monster of a tree.  A Western Red Cedar, estimated to be older than 1500 years, is enormous.  18 metres around and magnificently tall, it easily is included among Canada's greatest trees.  A nice boardwalk takes you from the trailhead to the Hanging Garden Tree.  Most people return from there the same way.  You can however, continue on and do a circle route taking in some more of the amazing, and unexpectedly pristine forest, that was the centre of such a chaotic battle not so long ago.  If you walk the circle route, expect to take over an hour though, as the huge trees take a while to look at.  The Hanging Garden Tree is particularly interesting as, like many other ancient cedars, is hollow on the inside.  In fact you could fit five people inside quite easily!  Tofino Water Taxi can ferry you to the trailhead from Tofino for a pretty good price and often at a moments notice.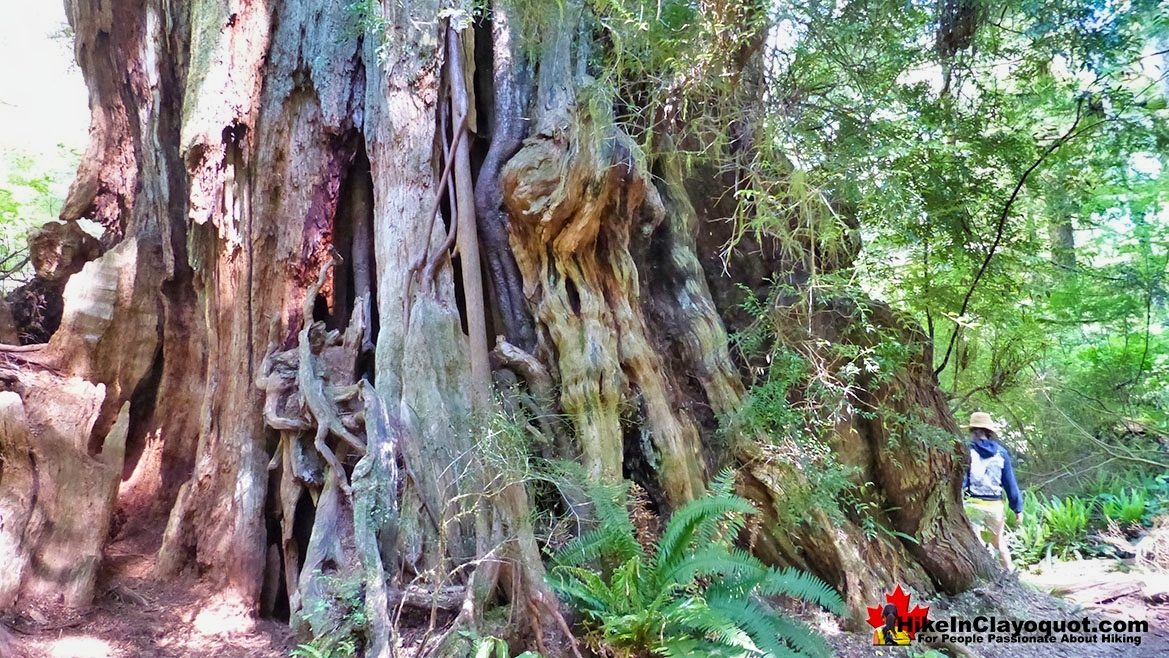 More Best Clayoquot Hiking - The Big Tree Trail
Hot Springs Cove

Hot Springs Cove is a wonderful day trip from Tofino.  Lots of whale watching companies offer whale watching/hot springs tours for very reasonable prices.  The boat ride is out on the open ocean is quite fun and there is a fair bit to see, not least the whales that you hopefully encounter.  The hot springs themselves are wonderful, and the 25 minute (1.2 kilometre) walk to them is unexpectedly beautiful and interesting.  Intricate cedar boardwalks and bridges move you up and through massive trees and wind through the forest.  Years of interesting carvings into the boardwalk planks adorn the route.  Hundreds of names of visiting people, groups, and vessels, give the walkway a historic and artistic feel to it.  Along the boardwalk there are a couple very nice viewpoints looking out to the ocean beyond the forest.  Upon reaching the hot springs there are some nice, beautifully built, cedar changing rooms and yet another viewpoint.  Finally a short path takes you to the hot springs.  Flowing through fissures in the rock the amazing 50 degree water (122F) flows from a small waterfall and continues through five wonderfully natural pools that lead to the ocean... Hot Springs Cove is an amazing day out from Tofino that can include whale watching and an enjoyable boat ride to reach them.  The amazing, natural hot springs are beautiful and due to their remoteness, relatively serene.  To enjoy hot springs that cascade into the violent Pacific Ocean is amazing!  The hiking/walking trail to reach the hot springs is very nice and entirely enjoyable.  The cost to reach Hot Springs Cove from Tofino is quite reasonable when you consider all that you pack into the journey, there and back.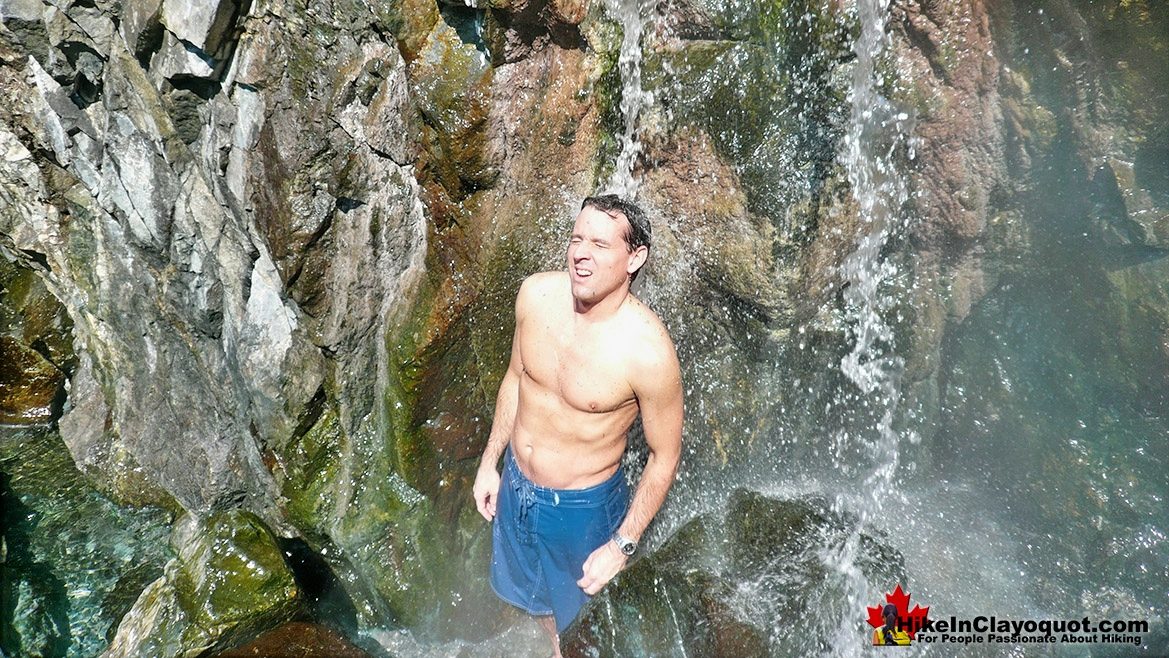 More Best Clayoquot Hiking - Hot Springs Cove

Lone Cone Near Tofino

Lone Cone is the wonderful cone shaped mountain that dominates the skyline in Tofino.  It is just 6k from Tofino on the north-western end of Meares Island.  Lone Cone is an incredible hike to do while in Tofino.  There are several attributes that make it fantastic.  First, its location.  Very close to Tofino.  Just a short and very scenic boat taxi takes you to the trailhead.  Second, is it is such an abruptly steep hike that you go from the ocean to absurdly sweeping views in just over an hour.  Due to the location of Lone Cone requiring a water taxi to access, ensures that it remains serene and quiet most days.  In the 15 minute, fast taxi, you will see a quick look at the spectacular scenery that has made Tofino famous.  Small and large islands crammed almost solid with beautifully huge trees.  Sandy beaches that make you think more that you are in Hawaii than in Canada.  Abrupt, rocky outcrops with chaotic, swirling, clear and green water that the boat taxi/tour guide continuously points to unexpectedly beautiful creatures lurking in.  Then you look up in the trees and spot a resident eagle staring menacingly down from a tree branch next to its nest full of offspring.  And that's just the first five minutes from the pier.  15 minutes from the pier you arrive at the grungy, though at the same time, strangely beautiful pier at the now abandoned town, Kakawis.  There are still a few dozen houses that line the gravel road you will see as you make your way to the trailhead.  In 2013 another trailhead was opened closer to Tofino but much further from Lone Cone.  This trailhead also has a fee to access. Lone Cone is a challenging, abruptly steep and very rewarding hiking trail.  The views from the top are sensational.  The trail is a bit muddy at the start, then mostly shrouded in trees most of the way to the top, however it is relatively short at just 3.3 kilometres (drop off pier to viewpoint near the summit).  The boat taxi fare to Lone Cone is quite reasonable at about $50 for the round trip.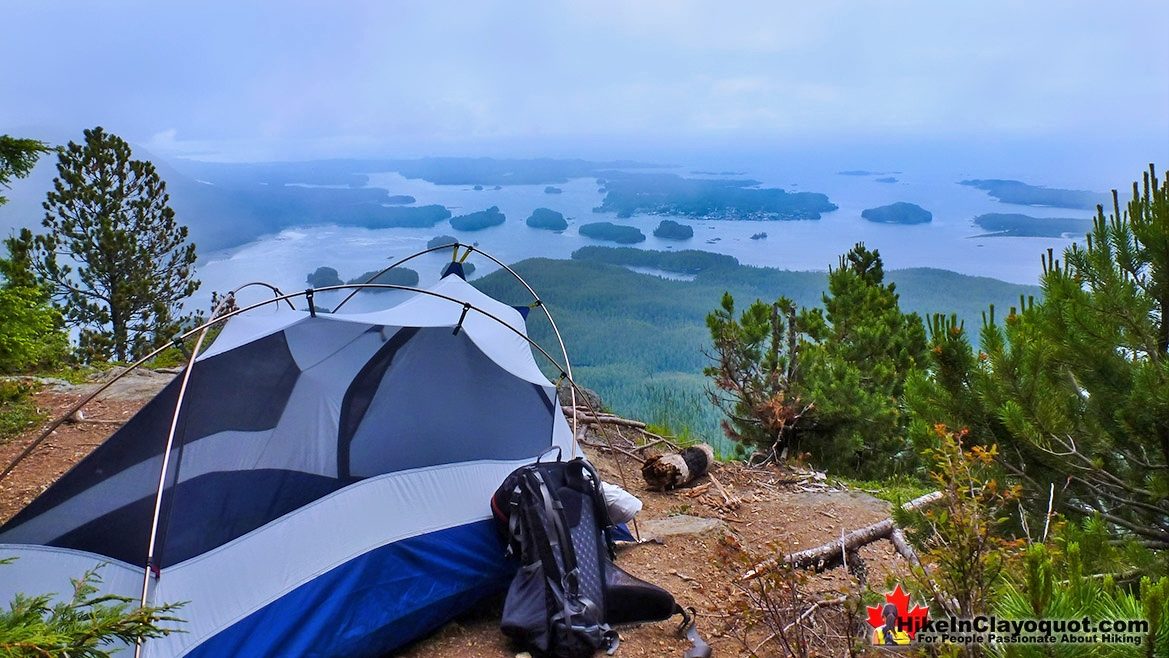 More Best Clayoquot Hiking - Lone Cone
Vargas Island Provincial Park

Vargas Island Provincial Park is a popular Kayak camping destination due to its wonderful location close to Tofino.  It has wonderful, wilderness camping for free and a beautiful feeling of remoteness from the world.  And if you are lucky you might see whales pass in the distance from Ahous Bay.  The relaxing trail from the Tofino side of Vargas Island to Ahous Bay is 3 kilometres.  Making this an easy day-hike from Tofino or Ucluelet at just 6 kilometres roundtrip, trailhead to trailhead.  Most of the western and most beautiful side of Vargas Island is within the Vargas Island Provincial Park.  The massive and beautiful Ahous Bay is the camping destination for most on Vargas.  You can camp anywhere on the beautiful beaches in the park for free, and there are outhouses available at the campsites.  Though it is a popular kayaking destination, Vargas Island is so close to Tofino that many simply canoe across to it.  You never lose sight of land and are in sheltered water the entire way.  You can stash your canoe in the vicinity of the Vargas Island Inn and you will see the trail to Ahous Bay next to the Inn.  The trail is easy and well used 3km trail has little elevation gain though an amazingly varied plant life.  Remember to bring lots of water as Ahous Bay has very little drinkable water. Vargas Island is conveniently located close to, and actually visible from Tofino.  The boat taxi to the trailhead is cheap and fun. Vargas Island Provincial Park is a great way to escape the crowds at busy times.  Ahous Bay is breathtaking and camping there is free!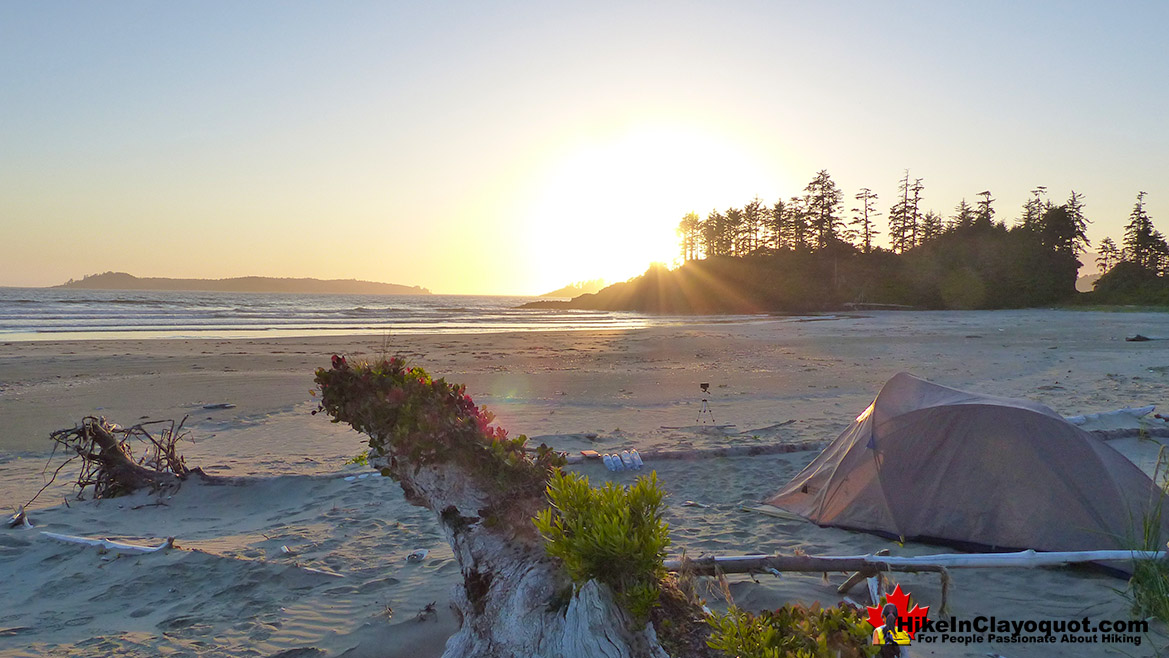 More Best Clayoquot Hiking - Vargas Island
Virgin Falls Near Tofino

Virgin Falls has a small but very inviting camping area just a few metres from the cascading falls.  Huge trees to your back and the marvellous Virgin Falls right in front of you.  Room for two tents near the cosy and clean fire pit.  Endless firewood litters the edge of the waterfalls pool beautifully.  Though the loud waterfall makes conversation a bit tough.  The wonderful area where the fire is is somewhat sheltered by a couple large trees deflecting some sound and making the camping area all the better.  The Virgin Falls Road is pretty bad, though very beautiful.  It is hardly maintained, though still used logging road that hugs the coast much of its 31km length from the Kennedy River bridge turnoff.  The potholes are numerous, though expected.  What isn't expected is the narrow, overgrown sections.  If you value your vehicles paint, you will find yourself gritting your teeth quite a bit.  But then if you have a 4x4, you should likely be used to that and be fine barrelling through these narrow sections.  If you are planning on driving up without a 4x4 you should be able to make it, though there are a couple of steep sections that you may have to make a couple runs at to get up.  The hilariously adorable little cabin near Virgin Falls that can be used by anyone and sits at the end of a short side road definitely requires a good 4x4 to reach.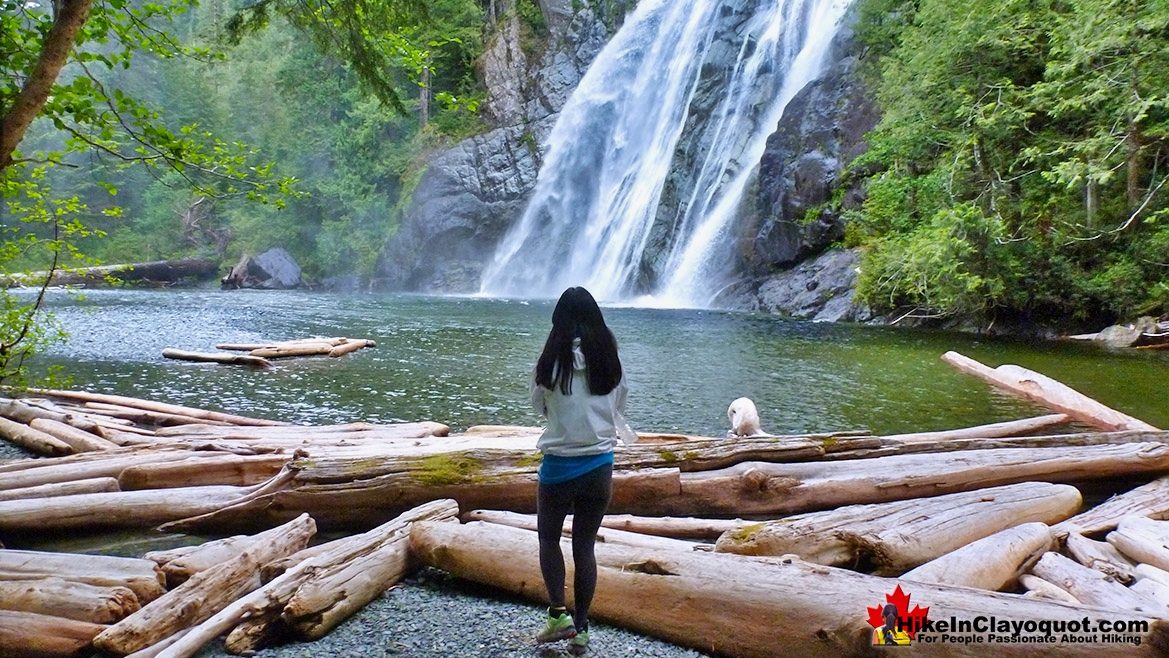 More Best Clayoquot Hiking - Virgin Falls
Beautiful Radar Beach

Radar Beach is one of the countless places that makes this part of the world so amazing.  It is difficult to get to due to it having an unmarked trailhead, steep and muddy trail, and considerable climbing and crawling above and below fallen trees. Where the other popular beach trails in the area have elaborate and expensive boardwalks and stairs, Radar Beach does not.  The trail begins at the end of the Radar Hill parking lot.  Indiscreetly, a well used trail disappears steeply down towards the ocean, and within minutes you find yourself clinging to a rope as you ascend steeply. The trail is easy to follow in the daytime, however, you would have great difficulty keeping to the trail after dark.  You would be smart to have a light with you in case you linger at the beach longer than planned.  Though it's only just over one kilometre to the beach, it may take you over 40 minutes to get there.  There is, along with some rope assisted sections, plenty of mud avoiding, root jumping, log crossing sections that slow you down.  The mud can generally be avoided, but if you're worried, don't wear shoes you don't want dirtied.  Once at the beach you will quickly realize that there are multiple beaches.  One massively beautiful beach with rocky points on either side.  To the right the beach has an interesting rock outcrop, great for climbing over and an amazing place to sit and watch the sunset.  To the left the beach extends into the trees with a small channel of water.  Crossing the water is easy, then getting to the further beaches requires a bit of climbing, depending on the tides.  The further you walk, the more beaches you discover.  But also, the more difficult they become to get to.  The steep points of land jutting into the ocean rise steeply and are thick with sharp foliage and keep out the less determined wanderers.  A sign just inside the trailhead indicates no camping at Radar Beach, but if you were to, one of these further beaches would be ideal.  Even more remote than this already remote place and spectacularly beautiful.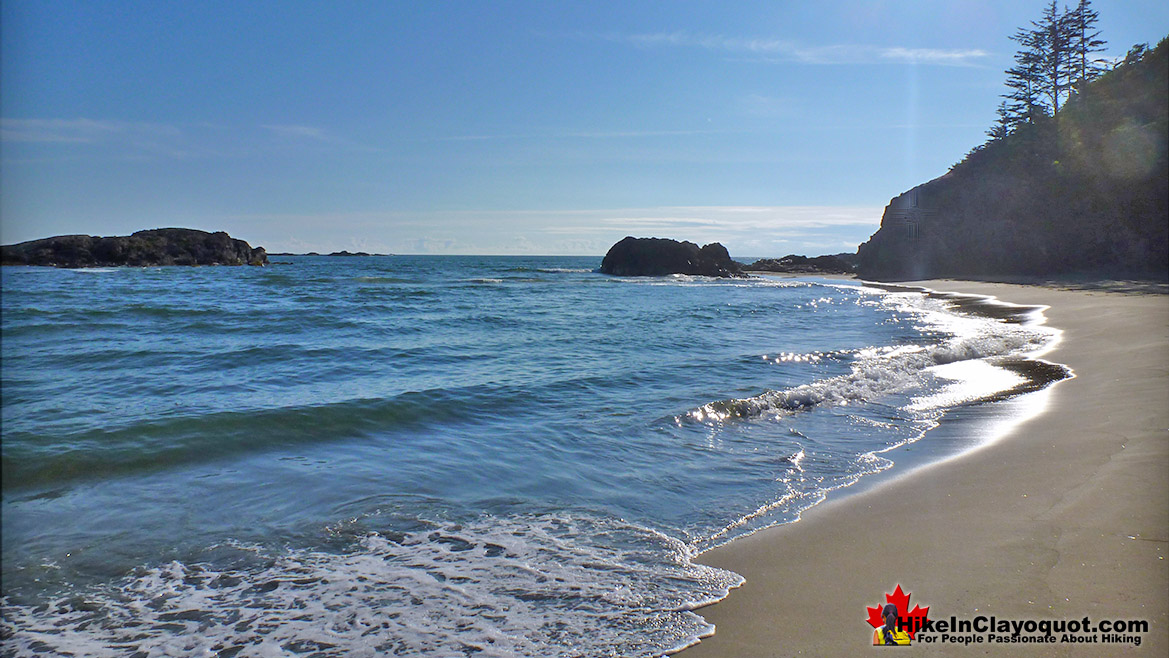 More Best Clayoquot Hiking - Radar Beach

Whistler's Best Hiking Trails!
Whistler & Garibaldi Park Best Hiking by Month!

Explore BC Hiking Destinations!