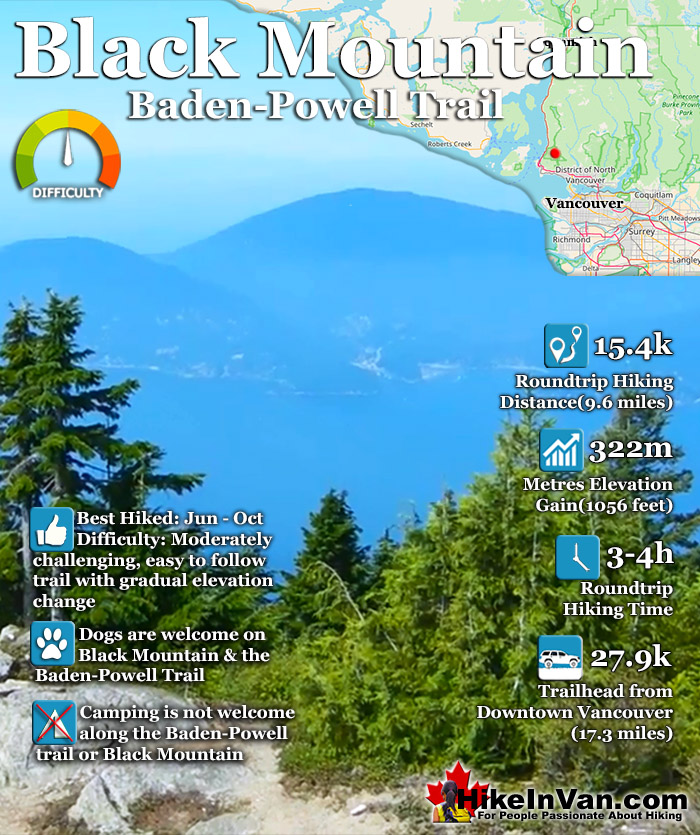 Black Mountain can be reached from two different trailheads.  The trailhead from Cypress Resort and the original trail off Marine Drive halfway between Horseshoe Bay and Lighthouse Park.  The trailhead south of Horseshoe Bay is a challenging 19 kilometre roundtrip hike but fantastically scenic.  This route follows the Trans Canada Trail for about 20 minutes before branching off toward, then past Whyte Lake.
Cypress Mountain start is great

Cypress has a pub/restaurant

Nice trail in deep wilderness

Amazing views of Howe Sound
Dogs are welcome
Lots of lakes for a swim
Nicely varied terrain & sights

Lots of route variations to hike
Well known & often crowded

Camping is not welcome

Vancouver Hiking Trails

Black Mountain

Brunswick Mountain

Burnaby Lake

Burnaby Mountain

Coliseum Mountain

Crown Mountain

Cypress Falls

Deeks Peak

Deep Cove

Deer Lake

Dog Mountain

Goat Mountain

Goldie Lake

Grouse

Hollyburn Mountain 

Kitsilano Beaches

Lighthouse Park

Lynn Canyon

Lynn Peak

Mt Elsay

Mt Fromme

Mt Hanover

Mt Harvey

Mt Seymour

Mt Strachan

Mystery Lake

Pacific Spirit

Rice Lake

St Mark's

Stanley Park

The Lions

Unnecessary
The Cypress Mountain Resort is the nicer, shorter and easier way to access Black Mountain and Eagle Bluffs.  Located just a short and very nice, 30 minute drive from downtown Vancouver, the Black Mountain and Eagle Bluffs trail begins next to the Cypress Mountain Resort chairlifts.  The well marked trail branches away from the chairlift to the left and quickly ascends into the deep and beautiful forest.  Follow the clear signs to Eagle Bluffs.  The route can be done in a circle route, so try to take the other route on the way back for variety.  Black Mountain is a short side trail off this circle route.  Allow yourself 3-4 hours for the 7.7k return trip to both Black Mountain and Eagle Bluffs.  The elevation gain is 350m in 4k.  Expect to need snowshoes December to May.  During these months use caution as snow may obscure the trail markers and combined with bad weather can very easily make you lose the trail. The Cypress Mountain trailhead and parking for Black Mountain and Eagle Bluffs is also the gateway to the amazing Howe Sound Crest Trail.  This amazing trail in Cypress Provincial Park extends north from the Cypress Resort parking and ascends deep into the North Shore mountains.  Mount Strachan, St Mark's Summit, Unnecessary Mountain and The Lions are all accessible from this trailhead.  Continuing north beyond The Lions, the Howe Sound Crest Trail leads to Mount Harvey, Mount Hanover, Brunswick Mountain and finally Deeks Peak. Hollyburn Mountain is another wonderful hiking trail near the Cypress Mountain, Black Mountain trailhead.  Located at the Cypress Mountain cross country skiing area the trailhead to Hollyburn Mountain is marked with a large mapboard.  Hollyburn Mountain is an easy, 7 kilometre roundtrip hike to fantastic views of Vancouver.
Black Mountain Hike in Vancouver

Best Whistler & Garibaldi Park Hiking Trails!
Whistler & Garibaldi Park Hiking by Month!

Explore BC Hiking Destinations!