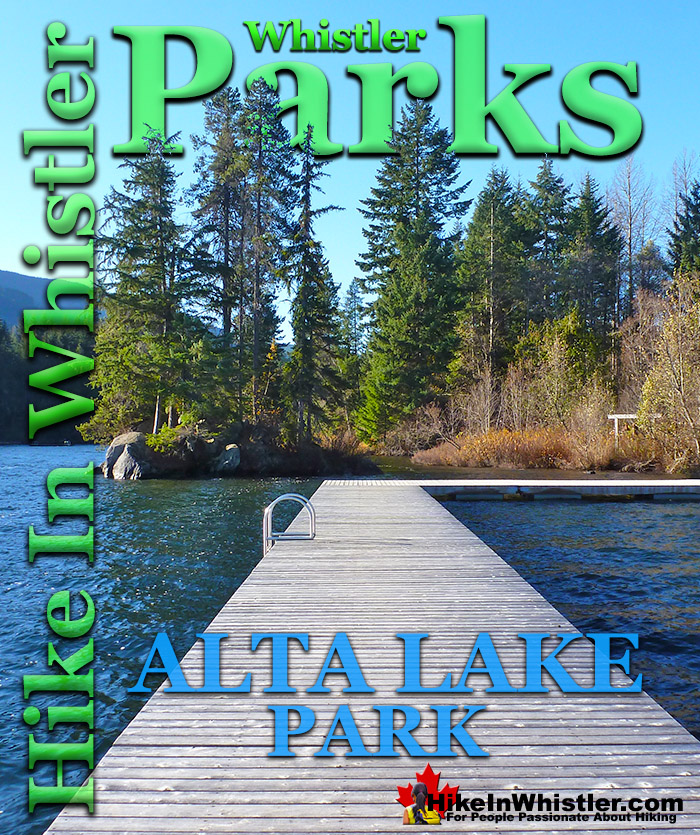 Alta Lake Park is one of several scenic parks on Alta Lake.  Lakeside Park, Blueberry Park, Rainbow Park and Wayside Park are also along the shore of this huge lake that covers much of the valley edged by Whistler Village.  These parks, all on Whistler's beautiful Valley Trail system, ensure that you are never far from one of several spectacular vantage points over Alta Lake.
Whistler & Garibaldi Hiking

Alexander Falls  

Ancient Cedars  

Black Tusk  

Blackcomb Mountain  

Brandywine Falls  

Brandywine Meadows  

Brew Lake  

Callaghan Lake  

Cheakamus Lake  

Cheakamus River  

Cirque Lake 

Flank Trail 

Garibaldi Lake 

Garibaldi Park 

Helm Creek  

Jane Lakes 

Joffre Lakes  

Keyhole Hot Springs  

Logger's Lake  

Madeley Lake  

Meager Hot Springs 

Nairn Falls  

Newt Lake 

Panorama Ridge 

Parkhurst Ghost Town 

Rainbow Falls  

Rainbow Lake 

Ring Lake  

Russet Lake  

Sea to Sky Trail 

Skookumchuck Hot Springs  

Sloquet Hot Springs 

Sproatt East 

Sproatt West  

Taylor Meadows  

Train Wreck  

Wedgemount Lake  

Whistler Mountain
Whistler Parks & Lakes

Alpha Lake Park  

Alta Lake Park  

Blueberry Park  

Green Lake Park  

Lakeside Park  

Lost Lake Park  

Meadow Park  

Nita Lake Park  

Rainbow Park  

Wayside Park
Alta Lake Park is on the far side of Alta Lake, just 4 kilometres from Whistler Village.  It is just an hours walk or 10 minute bike ride away on the Valley Trail.  The Valley Trail is a huge spider web network of paved walking, biking and running trails that connect Whistler Village to dozens of beautiful parks and sights.  Over 40 kilometres of trails throughout Whistler, with direction signs at every junction make the Valley Trail much more than just a transportation network.  It's an interpretive tour of the area, where you can wander on foot or by bike and use the signs at each junction to choose your route  Located on the opposite shore to Wayside Park, Alta Lake Park is unlike all the other parks around this huge lake.  It is secluded feeling where the others are often crowded and chaotic.  The two Alta Lake Park piers are far more serene and the views of Whistler Mountain and Blackcomb Mountain are excellent.  One of the piers is quite old and sits directly across from the Wayside Park pier.  The other Alta Lake Park pier, the "Fairhurst Fishing Dock" is enormous and much newer.  It juts out into the lake in a long L shape.  Both piers are amazing for lounging in the sun, reading a book in a serene paradise or swimming.  Where some of the other Alta Lake piers can be busy, the piers at Alta Lake Park are somewhat off the radar.  Certainly the hidden feeling location and necessity of walking or biking to the park rather than driving to it make it less busy and frequently empty.
One consideration if lounging in the sun and swimming are your plans for the park, is the time of day.  The park is east facing, therefore is a sensational place early in the day.  Late in the day, however, you will be shaded by the forest long before the parks on the opposite side of the lake.  Named after the Fairhurst family that operated the Cypress Lodge in the 60's and 70's.  A large information board at the dock claims that this is some of the Sea to Sky's best stillwater angling.  "Rainbow trout, hatchery cutthroat trout and the occasional bull trout and kokanee make this a great lake to fish."  The Fairhurst's operated out of the old building further along Alta Lake(up Alta Lake Road), which is now used by the Whistler Sailing Club.
To walk, run or bike to Alta Lake Park from Whistler Village via the Valley Trail is quite easy.  Leave the Village by walking between Buffalo Bills and the Whistler Conference Centre, then under the Sea to Sky Highway, Valley Trail underpass.  From here the Valley Trail signs indicate where to go.  If you take the Valley Trail left you will go along the edge of Whistler Golf Course for a kilometre then the Valley Trail crosses onto St Anton Way, then zig-zags a couple more streets before arriving at Lakeside Park.  The Valley Trail has signs at each junction so you can't really get lost.  Continue through Lakeside Park and 1 kilometre later you will arrive at Wayside Park. Keep walking around the end of Alta Lake, turn right.  Walk along the edge of the lake and in a couple hundred metres you will pass a house on your right, just about 50 metres past this you will see a trail into the trees and a small "Alta Lake Park" sign.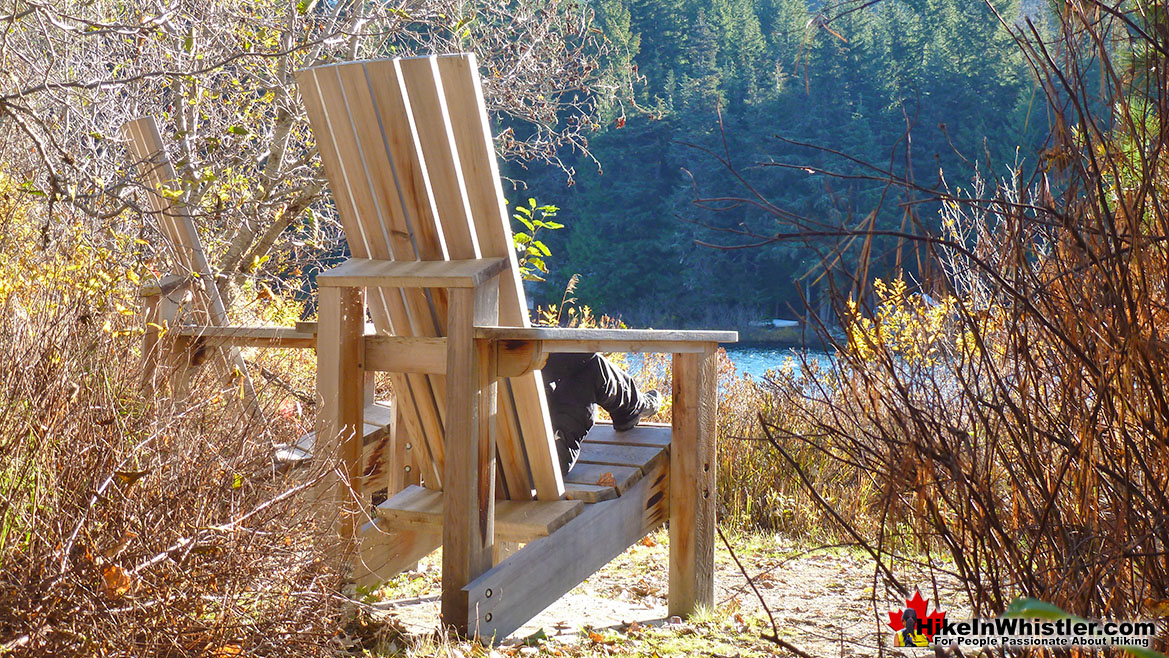 Back on the Valley Trail you even go further as the Valley Trail continues all around Alta Lake.  Follow the Valley Trail along Alta Lake and you will cross the train tracks and come to Alta Lake Road.  Continue along Alta Lake Road, keeping Alta Lake on your right.  You will get some terrific views of the lake and after 1.3 kilometres look for Rainbow Park on your right.  This gets you back on the Valley Trail and around the top end of Alta Lake and to the River of Golden Dreams at the end of Lorimer Rd.  From here the Valley Trail splits into two directions.  Left goes to Meadow Park and right moves you toward Whistler Village again via the Whistler Golf Course.  If you keep following the excellent signs at each juncture you will find your way OK.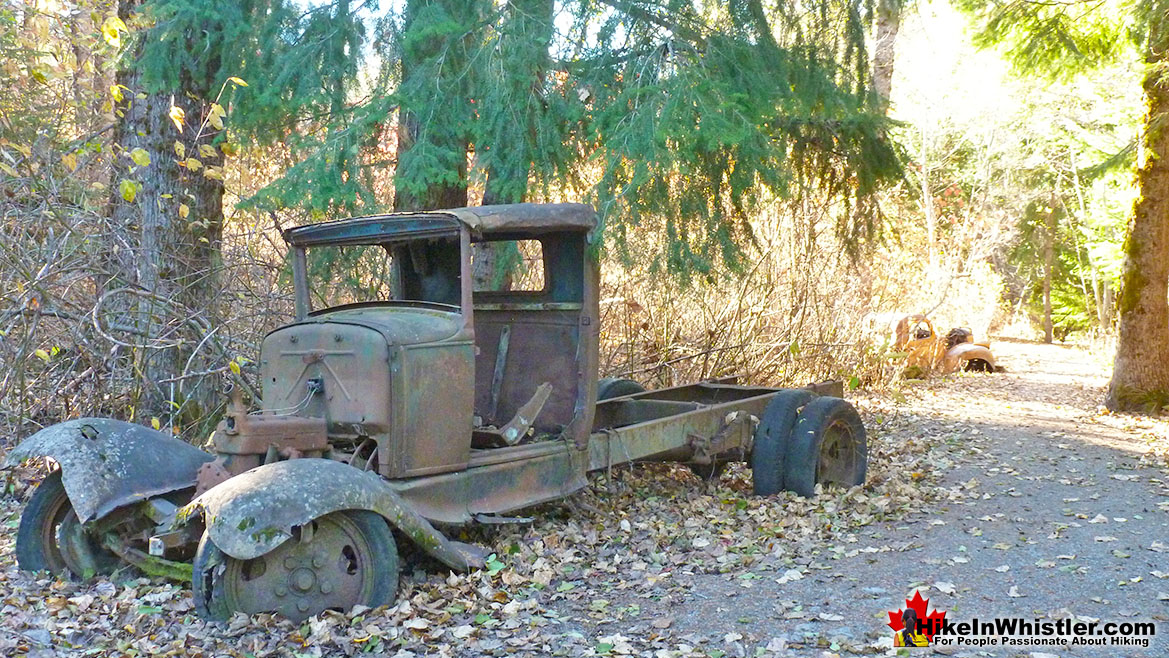 There are some good hiking trails in the vicinity of Alta Lake Park.  If you continue past the park on the paved Valley Trail you will come to Alta Lake Road.  If you follow Alta Lake Road for a couple kilometres you pass Rainbow Park on your right, and later see the Rainbow Trail further up on your left.  The Rainbow Trail leads to Rainbow Falls just 5 minutes into the trail and the Flank Trail about 5 minutes further along.  The Flank Trail cuts both left and right from the Rainbow Trail(as well as overlapping it for a couple kilometres).  The Rainbow Trail then climbs to Rainbow Lake, a tough 8 kilometre trek to a paradise lake high in the mountains.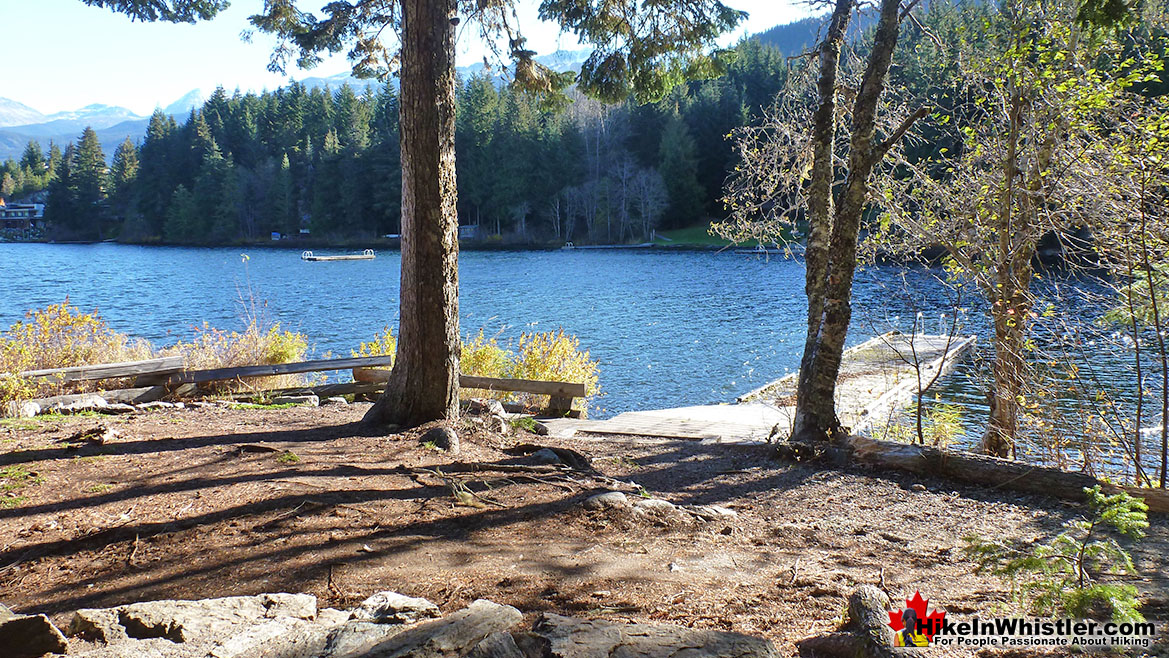 There is no way to park close to Alta Lake Park, however you can park at Wayside Park just 1 kilometre away.  Parking for Wayside Park can be found just 3 kilometres south of Whistler Village.  As you drive along the Sea to Sky Highway(aka Highway 99), keep an eye out for the Wayside Park sign indicating to turn right and you will immediately enter the parking lot with stairs and a wheelchair accessible ramp to the beach.  To find Alta Lake Park from here is very easy.  Just walk along the Valley Trail around the end of Alta Lake.  It is only about an 8 minute walk from Wayside Park.
Alta Lake Park is dog friendly, however, not the most dog friendly of Whistler Parks.  The park is fairly small and contained so he won't have a lot of room to roam around.  Dogs are for the most part are much more welcome at other Whistler's parks, and many of them have special dog park areas.  Rainbow Park has a similar dog park section to it, similar to Alpha Lake Park's, Arfa Park.  Blueberry Park on Alta Lake is very dog friendly and you don't even have to bother bringing a leash with you as the whole park is wilderness and remote feeling.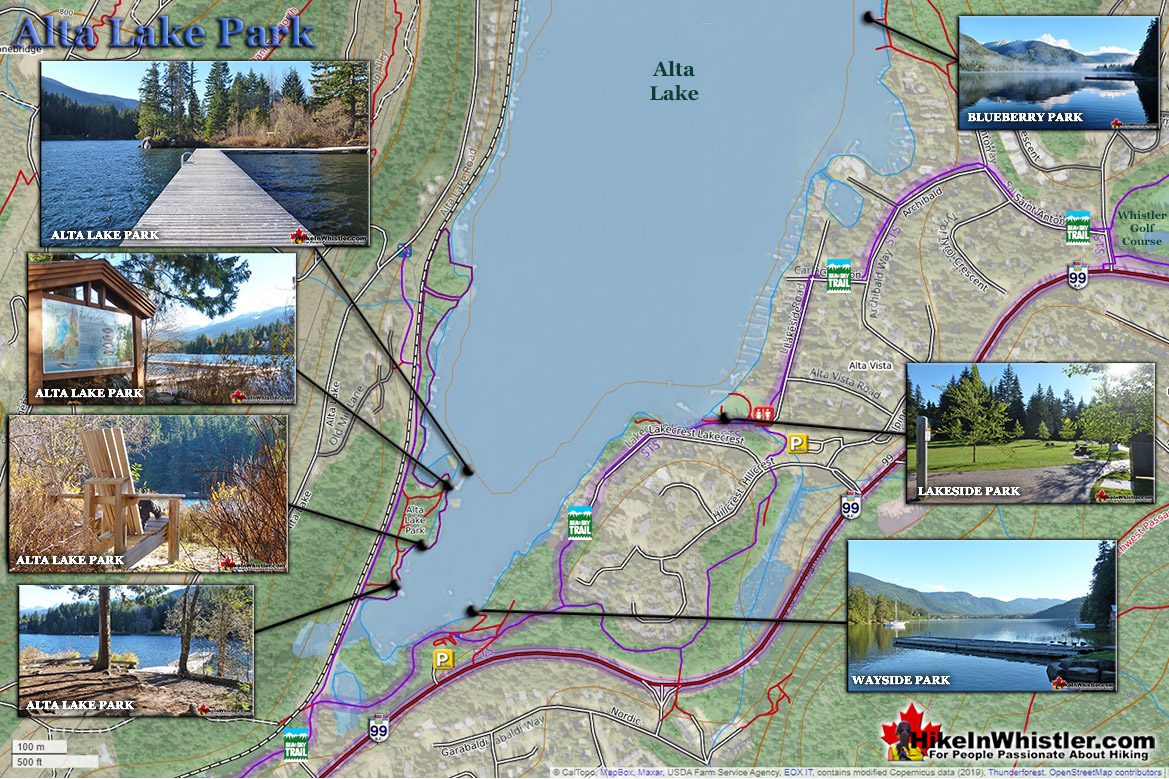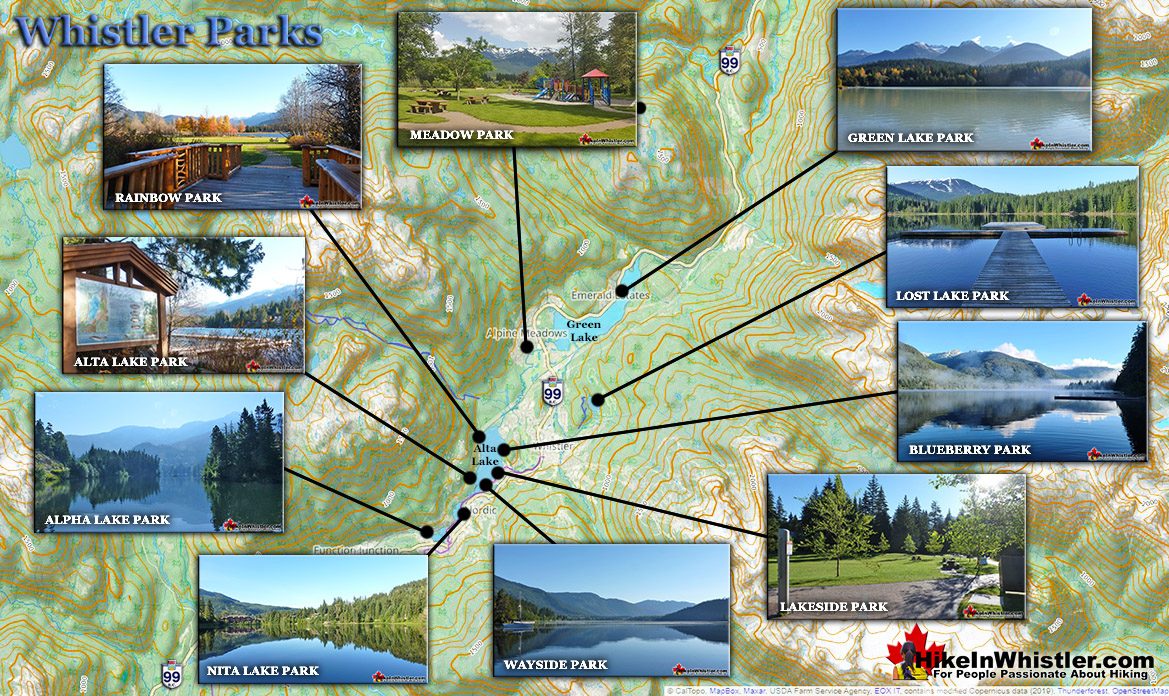 There are no toilet facilities at Alta Lake Park, however at Wayside Park(across the lake) there are washrooms as well as a concession stand.  As Lakeside Park is located on the Valley Trail, if you find these facilities locked then you just have to continue along the Valley Trail until you find more.  If you continue toward Whistler Village you will come to Lakeside Park with toilet facilities.  If you head south you will come to Creekside with several washroom choices such as Starbucks, Legends Hotel, Husky Market(gas station), and Nita Lake Lodge.
Alta Lake Park is not tent friendly, so you have to If you want a place to put up your tent you have to look a little further out from Whistler Village.  Train Wreck is a great place to put up a tent and just 5 kilometres south of Alta Lake Park on the Valley Trail/Sea to Sky Trail.  Green River has some amazing spots for a tent, north of Whistler Village near the turnoff to Wedgemount Lake.  Parkhurst Ghost Town is amazing for camping, located on the far side of Green Lake not far from the Sea to Sky Trail.  These are free places to camp so don't expect visible camping facilities or signs.  Hotels, B&B's and hostels are of course plentiful in Whistler.  Wayside Park is located between Creekside and Whistler Village.  Nita Lake Lodge and Legends(hotel) are good options in Creekside.  Whistler Village has the biggest selection of hotels, condo rentals and B&B's.
Whistler Parks & Beaches!
Whistler's Best Hiking Trails!
Whistler & Garibaldi Park Best Hiking by Month!

Explore BC Hiking Destinations!