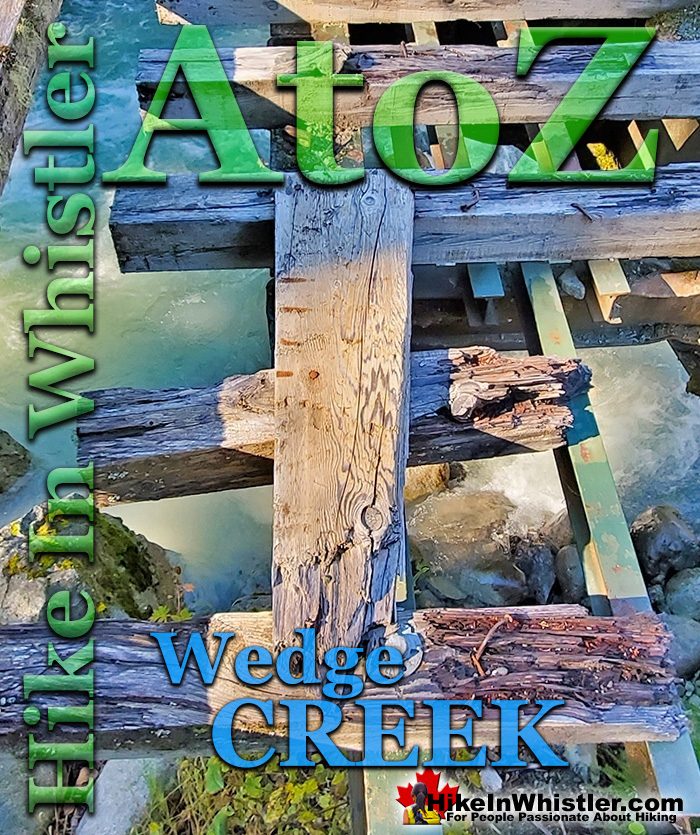 Wedge Creek cuts through the valley that separates Wedge Mountain and Blackcomb Mountain and empties into Green River near the north end of Green Lake.  Wedge Creek is notable for the mountain pass between Wedge and Blackcomb that runs between it and Billygoat Creek. The original name for the pass, officially adopted in 1930 was Wedgemount Pass, however it was changed in 1957 to Wedge Pass to avoid confusion with nearby Wedgemount Creek which flows from Wedgemount Lake.
Whistler & Garibaldi Hiking

Alexander Falls  

Ancient Cedars  

Black Tusk  

Blackcomb Mountain  

Brandywine Falls  

Brandywine Meadows  

Brew Lake  

Callaghan Lake  

Cheakamus Lake  

Cheakamus River  

Cirque Lake 

Flank Trail 

Garibaldi Lake 

Garibaldi Park 

Helm Creek  

Jane Lakes 

Joffre Lakes  

Keyhole Hot Springs  

Logger's Lake  

Madeley Lake  

Meager Hot Springs 

Nairn Falls  

Newt Lake 

Panorama Ridge 

Parkhurst Ghost Town 

Rainbow Falls  

Rainbow Lake 

Ring Lake  

Russet Lake  

Sea to Sky Trail 

Skookumchuck Hot Springs  

Sloquet Hot Springs 

Sproatt East 

Sproatt West  

Taylor Meadows  

Train Wreck  

Wedgemount Lake  

Whistler Mountain

January 

February 

March 

April 

May 

June 

July 

August 

September 

October 

November 

December
Wedge Creek is also known by its crumbling, skeleton-like and strangely beautiful Wedge Creek bridge that is located near the unmarked trailhead to Parkhurst Ghost Town in Whistler.  It is fitting that a ghost town would have such a sturdy, yet old and abandoned bridge at its beginning.  Wedge Creek bridge was decommissioned years ago and has been disintegrating ever since.  Evidently its proximity to a cute little picnic area and fire ring next to Wedge Creek may be the cause of so many missing planks from the bridge.  It is extremely sturdy for pedestrians as it was built to accommodate seriously big industrial vehicles, however its decay into a skeleton spanning a tumultuous creek below makes you step cautiously.  Immediately after the bridge you will see the cute little area on your left next to Wedge Creek with a fire ring and picnic table.  The very solid picnic table is a clue to the age of this seemingly forgotten little spot and likely dates back well before the 1990's, which doesn't seem old, but of course predates most of the development in Whistler.
The Beautifully Disintegrating Wedge Creek Bridge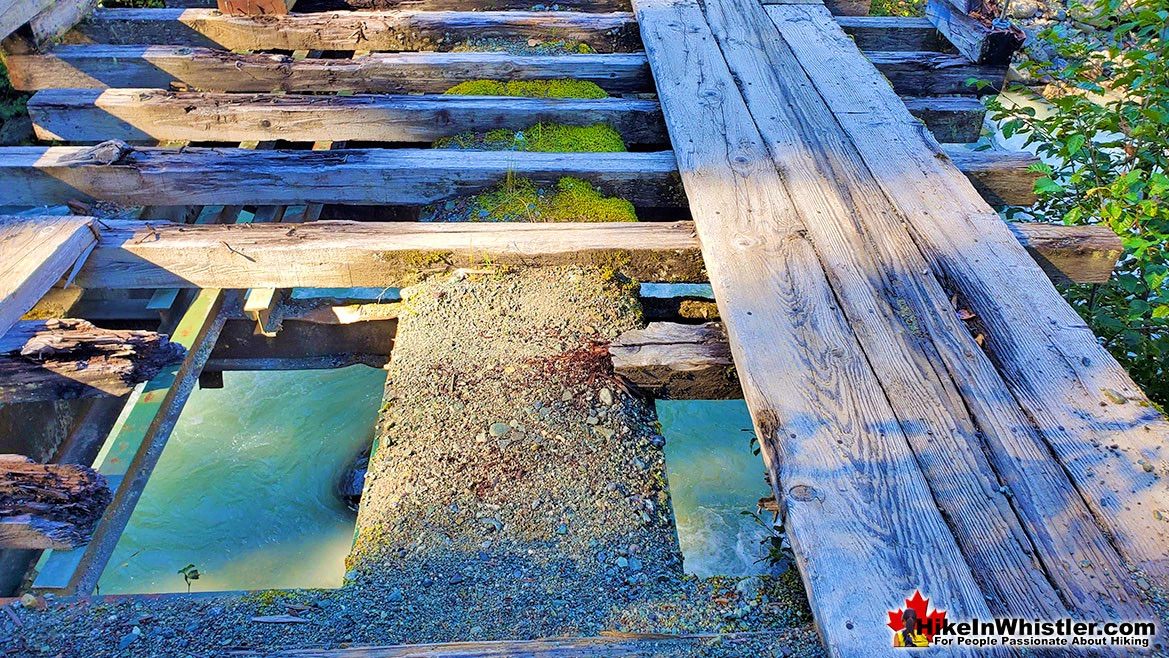 Fall Colours Surrounding Wedge Creek Bridge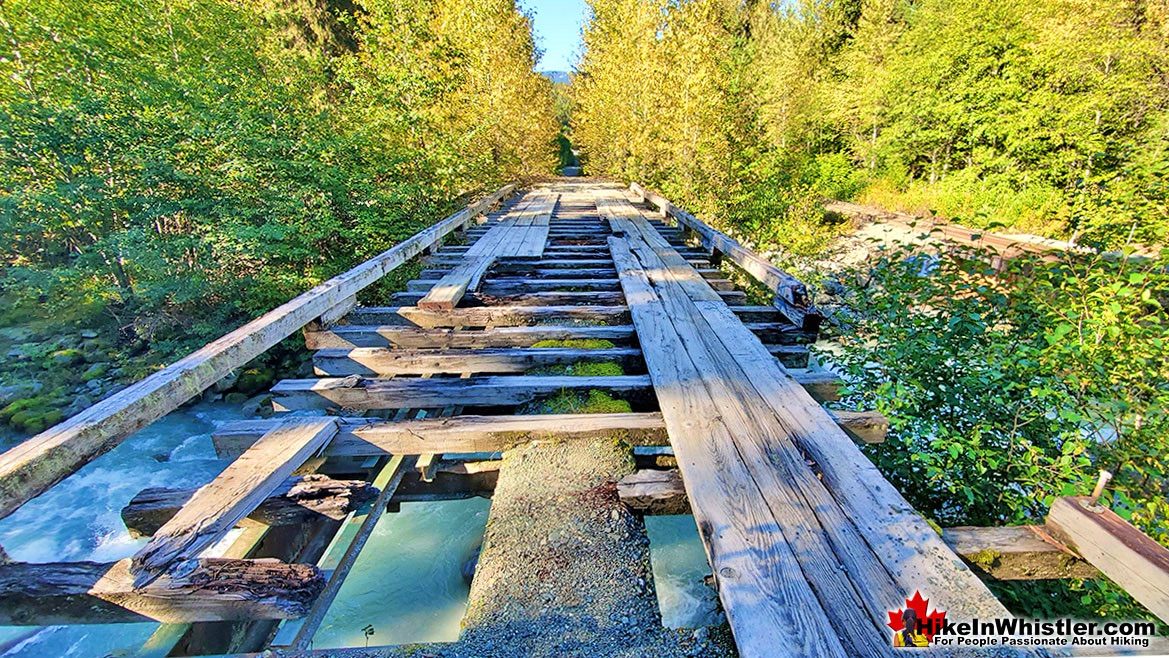 Wedge Creek Crashing Out of the Forest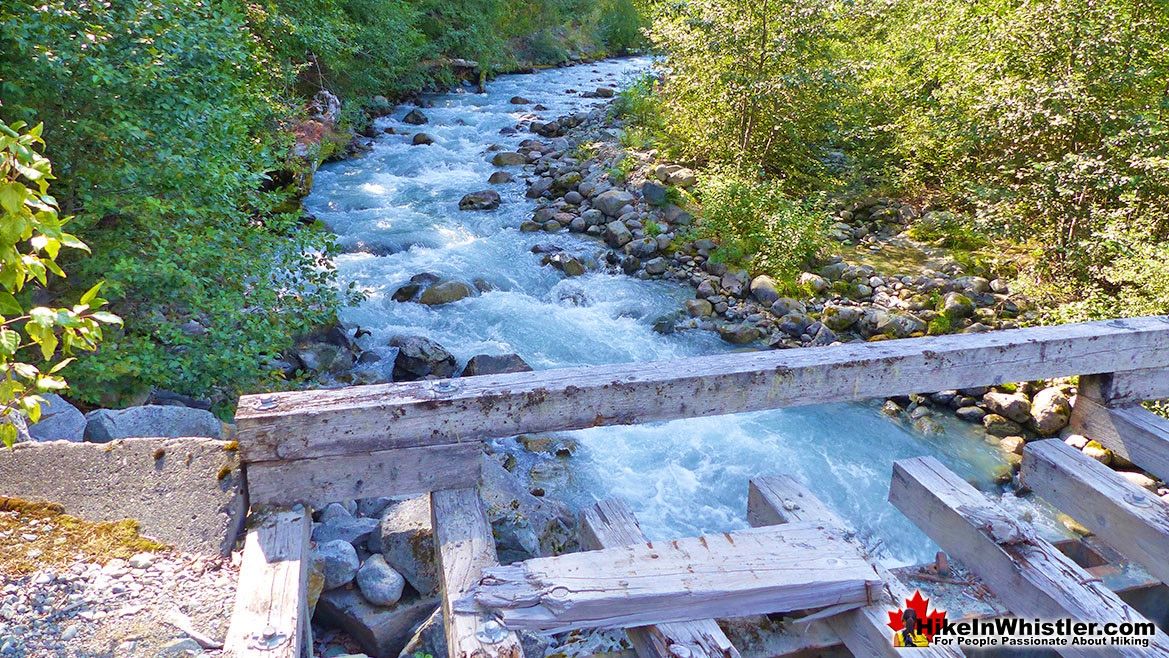 Milky Green Glacier Fed Wedge Creek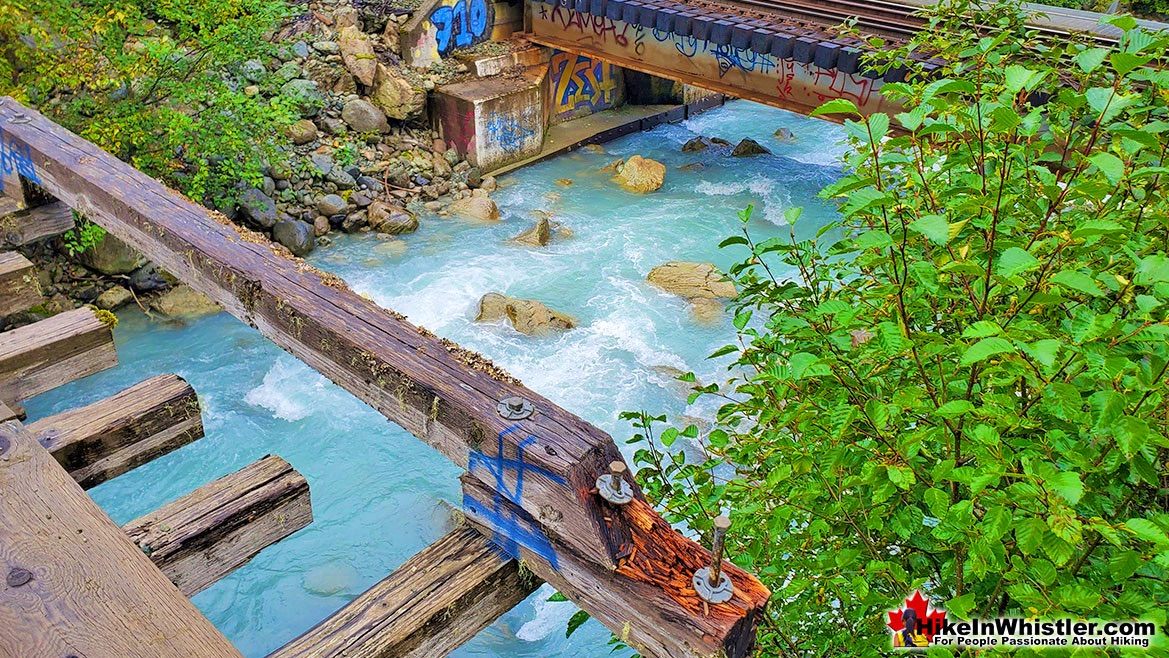 Wedge Creek Bridge from the Railway Crossing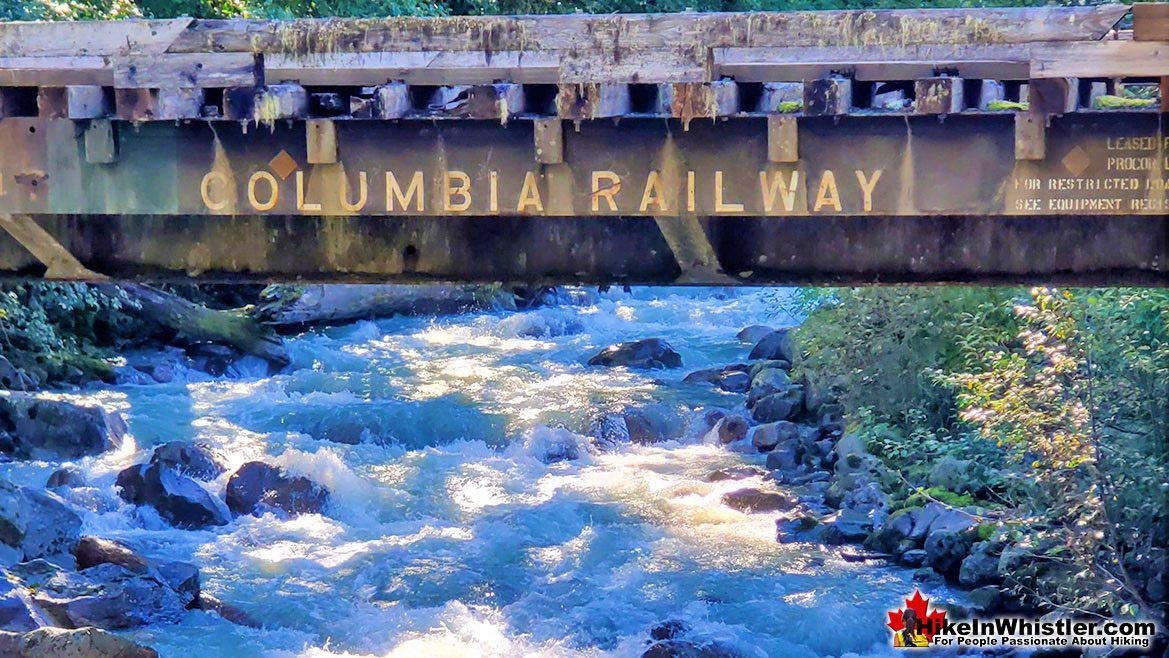 Railway Crossing View of Wedge Creek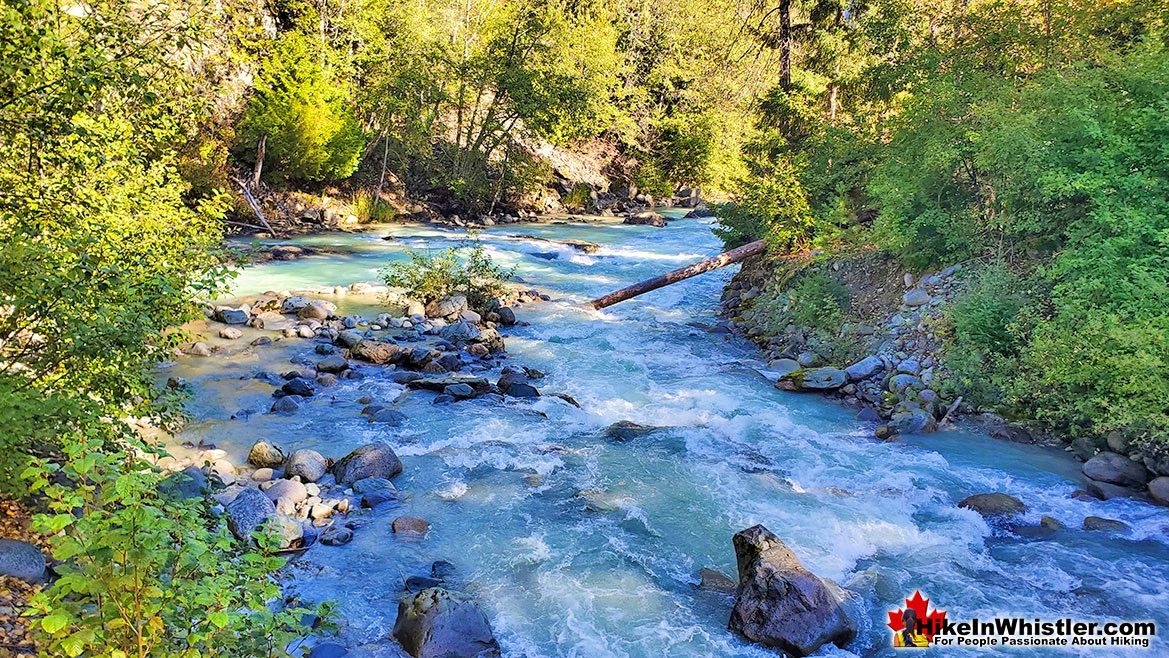 The Green Lake Loop Along Wedge Creek
About 30 metres after the bridge and picnic table you will see an unmarked trail on your left, this is the Green Lake Loop. This section of the Green Lake Loop takes you through the nice, dark forest along Wedge Creek.  The trail zigzags through the forest and brushes up against Wedge Creek a few times to give you fantastic views over this crashing creek.
Green Lake Loop Along Wedge Creek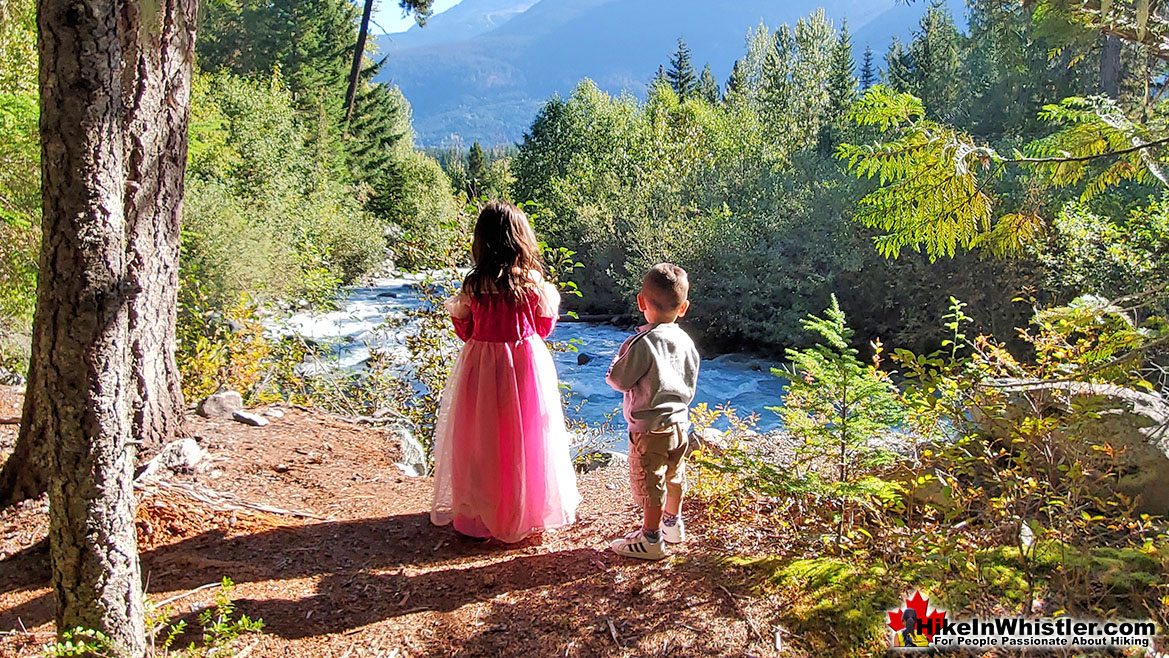 Along the serene stretch of the Green Lake Loop along Wedge Creek you encounter a couple of very inviting areas ideal for a camp.  These areas, similar to the one near the Wedge Creek bridge are decades old and mostly forgotten.  As with everything within Whistler's municipal boundary camping is not permitted, but stealth camping easily goes unnoticed.
Green Lake Loop Wedge Creek Stealth Camp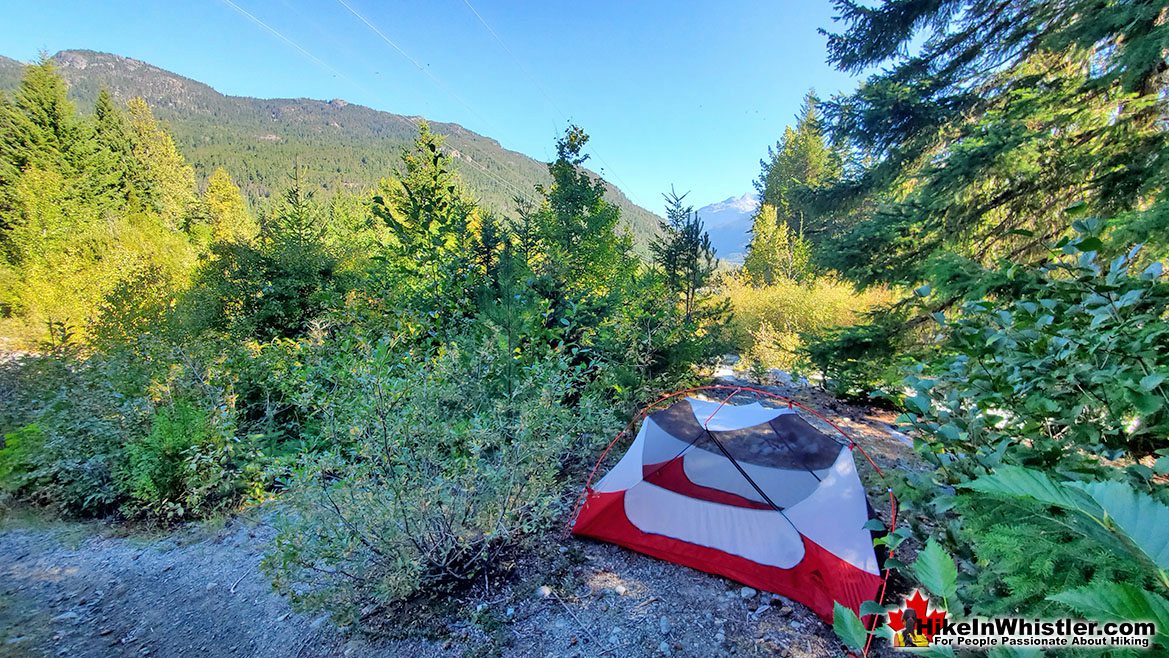 Just a couple metres from your tent you get this view of Wedge Creek crashing by.  Notice all the huge, rounded boulders in the creek as well as piled up in the distance.  This little camping area shows signs of being a fair bit more elaborate and spacious.  Along the creek running north the clearing continues for about 15 metres and is too perfectly flat to be natural.  Though the forest has moved in to some degree with little trees and bushes, it hints at a lot of usage decades ago.
Wedge Creek Crashing Along the Green Lake Loop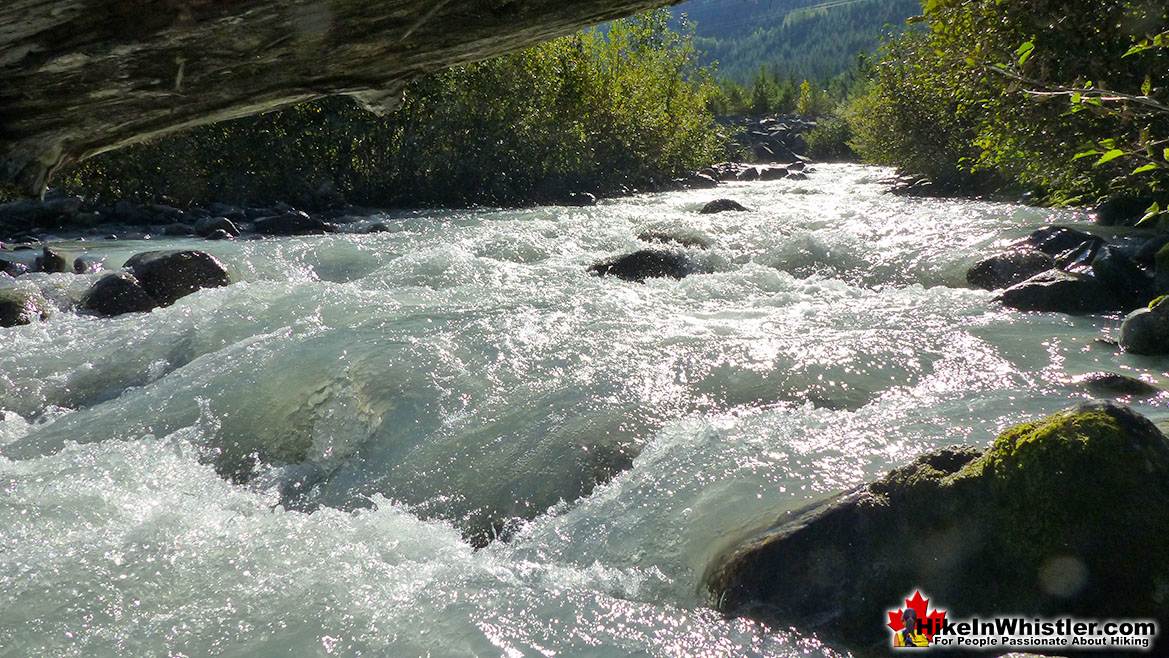 Wedge Creek Falls
The Green Lake Loop sharply ascends up a steep switchback and connects to the Sea to Sky Trail, which is effectively a gravel road here.  The usually open yellow gate at the trailhead parking area for Parkhurst, Green Lake Loop and the Sea to Sky Trail is this road.  Where the Green Lake Loop merges with the Sea to Sky Trail, you turn right to continue on toward Parkhurst.  If you turn left and walk down the gravel road (Sea to Sky Trail) for 1 minute you come to the Wedge Creek Falls bridge.  Wedge Creek Falls is beautiful with its ever-present tangle of logs crisscrossing it.
Wedge Creek Falls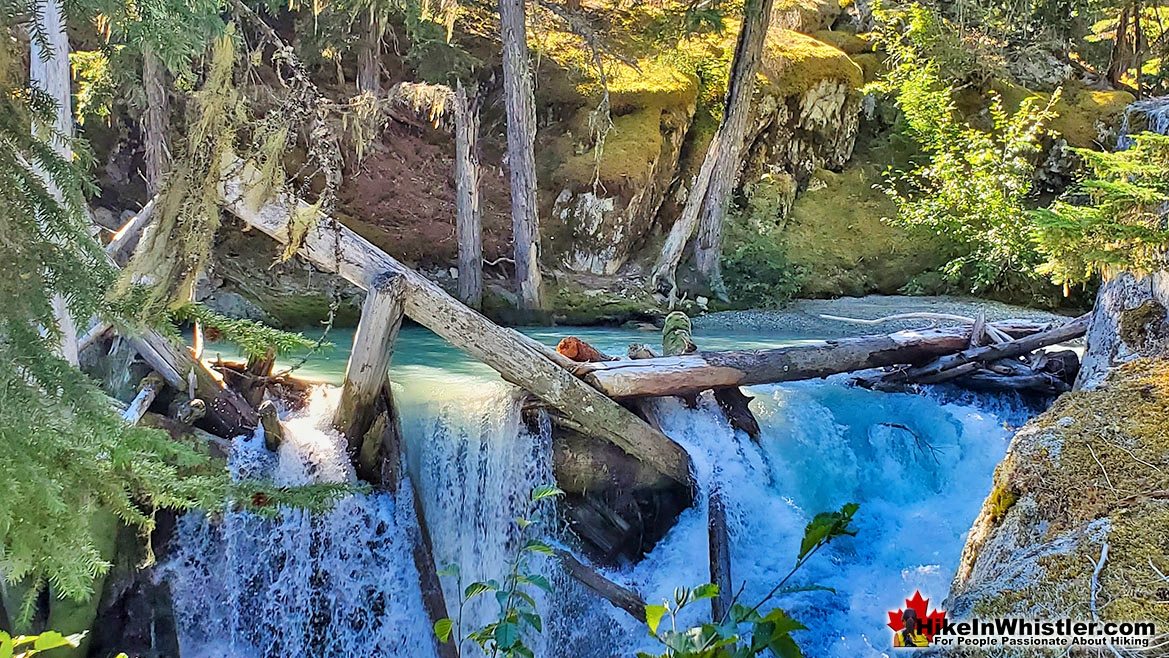 Wedge Creek Falls is not only very beautiful in a wild, idyllic and picture-perfect way, but also because hiking along the right side of it takes you to one serenely beautiful rocky outcrop after another.  On a sunny day these areas are a tranquil, forest paradise as the ice cold glacier water crashes all around you.  The trail on the right side of Wedge Creek Falls is not so much a trail as a route as the terrain is rocky, steep and constantly changing.  Overall it is not to tough and is pretty fun as you climb over boulders, fallen trees and emerge at dozens of nice viewpoints as well as areas down by the creek itself.
Sunny Paradise Above Wedge Creek Falls
Wedge Creek Trails and Routes Map
The route along Wedge Creek is easy to find despite being mostly unmarked.  It starts to the right of Wedge Creek Falls and winds its way up through the wild and deep forest along the edge of Wedge Creek.  Wedge Creek Falls is found on the access road section of the Sea to Sky Trail not far from the Parkhurst Ghost Town and Sea to Sky Trail parking.  If you walk from your car up the Sea to Sky Trail you will come to a vehicle bridge over Wedge Creek and the falls will be on your left.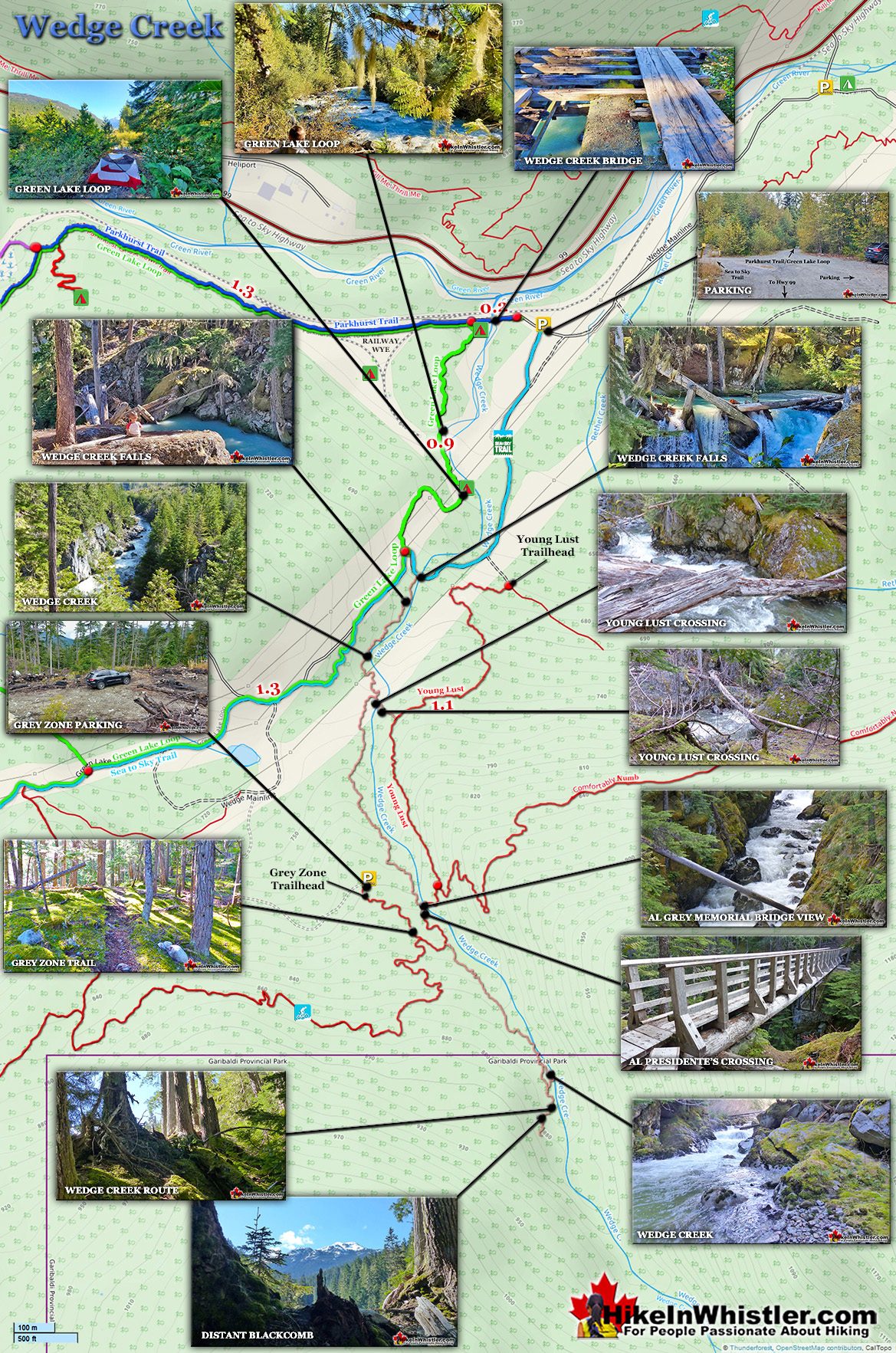 The Wedge Creek Falls Trail/Route
The Wedge Creek Falls trail/route is marked occasionally with flagging tape, but for the most part you make your own way up the erratic terrain.  Fridge sized boulders, steep slopes and fallen trees make hiking along the creek surprisingly fun and not too challenging. 
Wedge Creek Falls in the Fall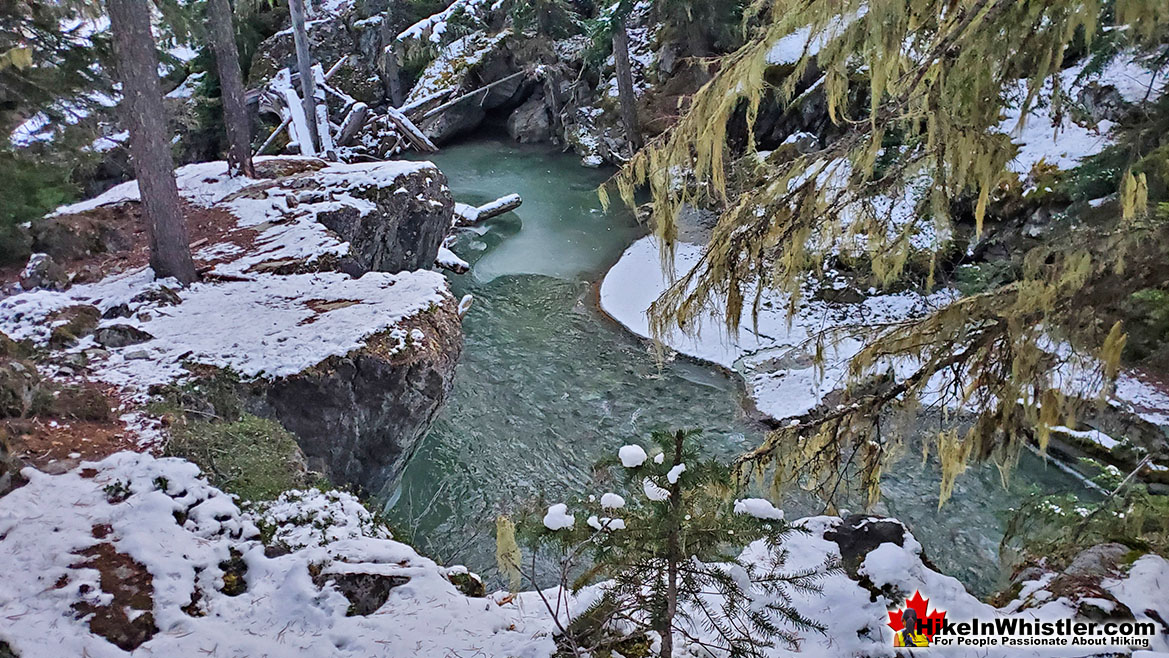 You are usually a few metres above the creek, but occasionally you spot an enticing gap and a friendly slope down to the water.  Still just a short distance from the falls, you already feel miles from civilisation.  Little gravel areas, steep cliffs all around and fallen trees leaning precariously above your head make each discovered world more wild and beautiful than the last.
Wedge Creek Beyond the Falls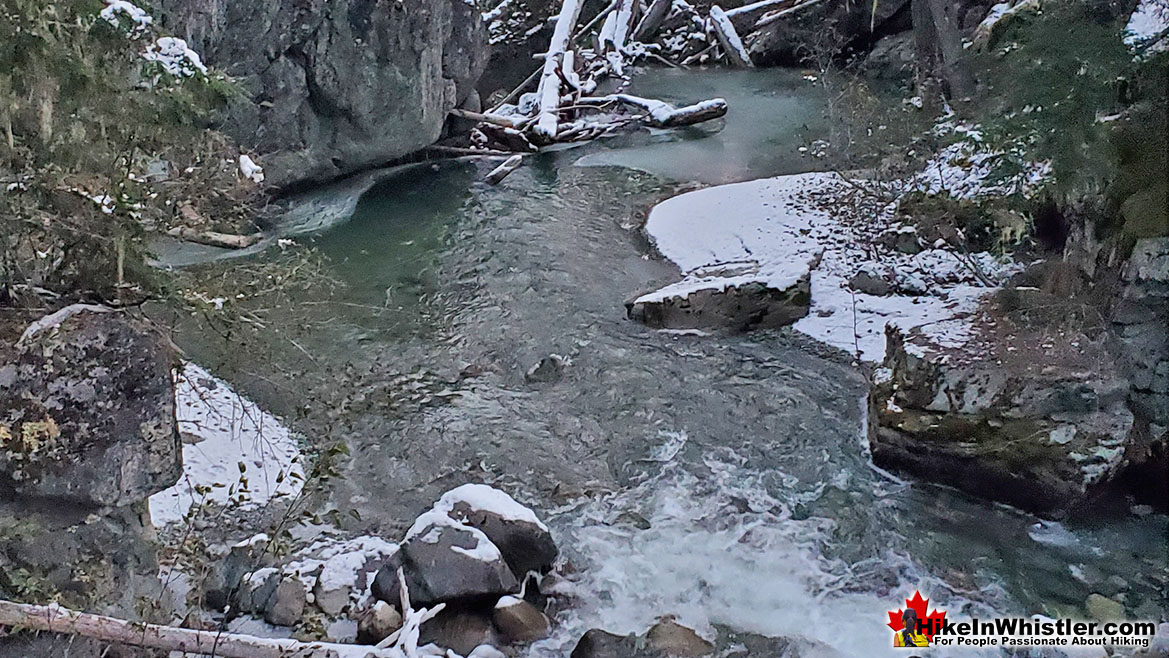 Further along the trail you find yourself climbing higher and higher until you are about 15 metres above Wedge Creek and the sound of the crashing water far below seems amplified by the chasm it flows through.
One of Many Viewpoints Along Wedge Creek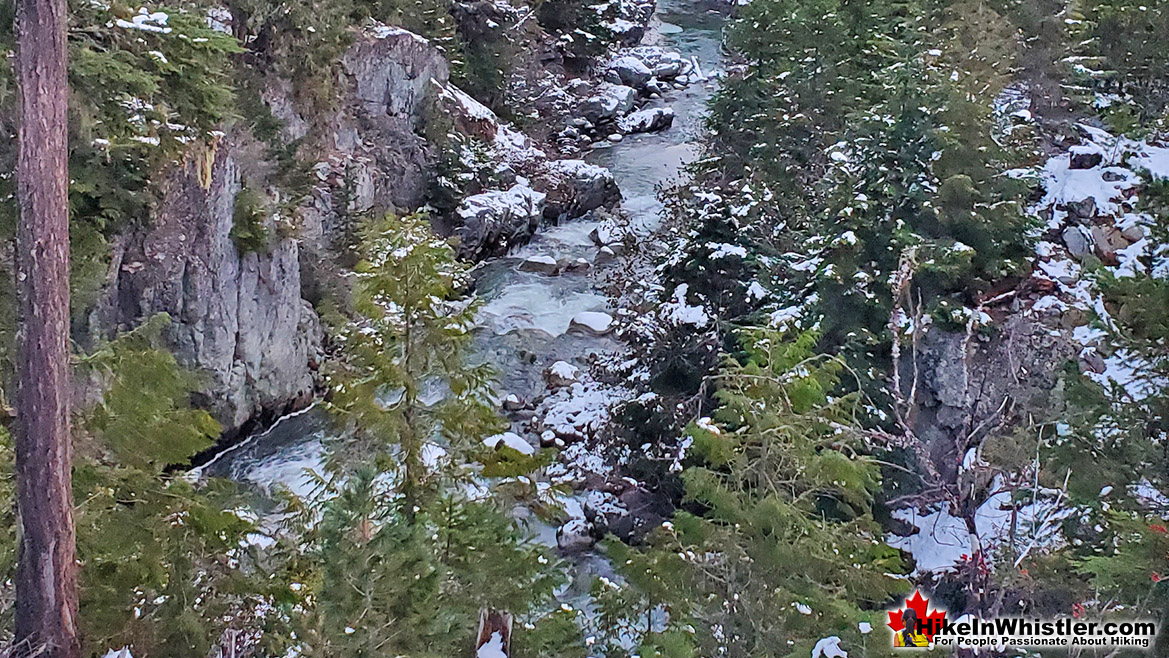 Endless Hidden Places Along Wedge Creek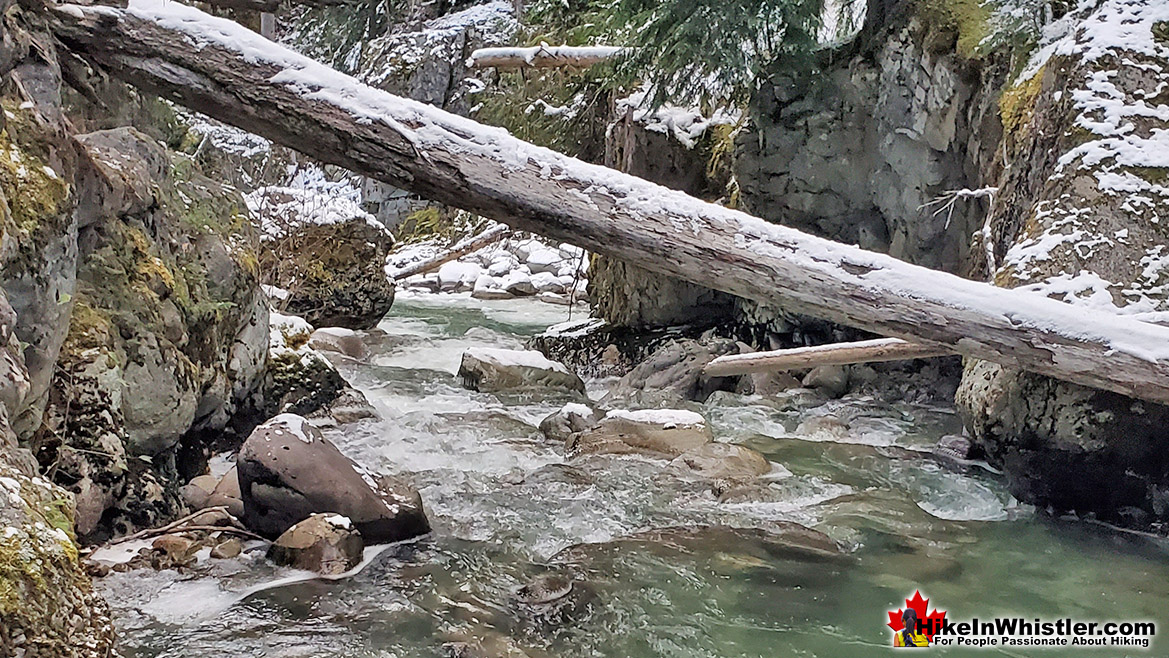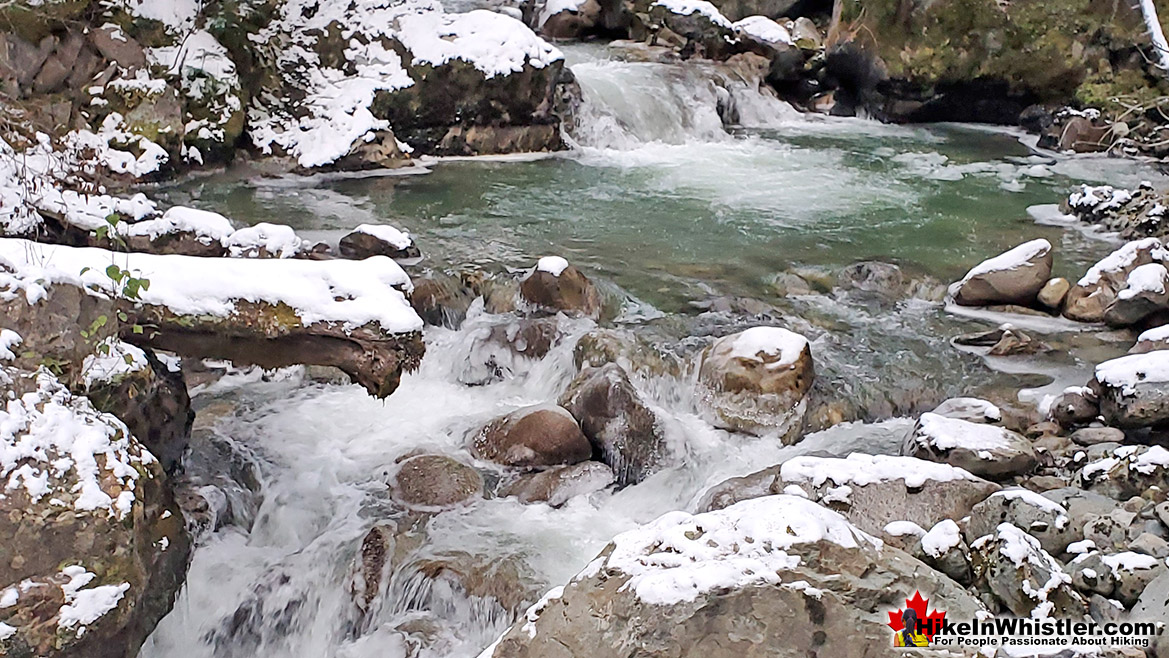 Parkhurst Ghost Town
The Wedge Creek Falls trail is very close to Parkhurst Ghost Town.  If you parked at the Parkhurst/Sea to Sky Trail parking area just down from Wedge Creek Falls then you have two ways to get to Parkhurst.  The Sea to Sky Trail or the Parkhurst Trail.  There is quite a lot to see in Parkhurst and on a sunny day it is a wonderful place to hike.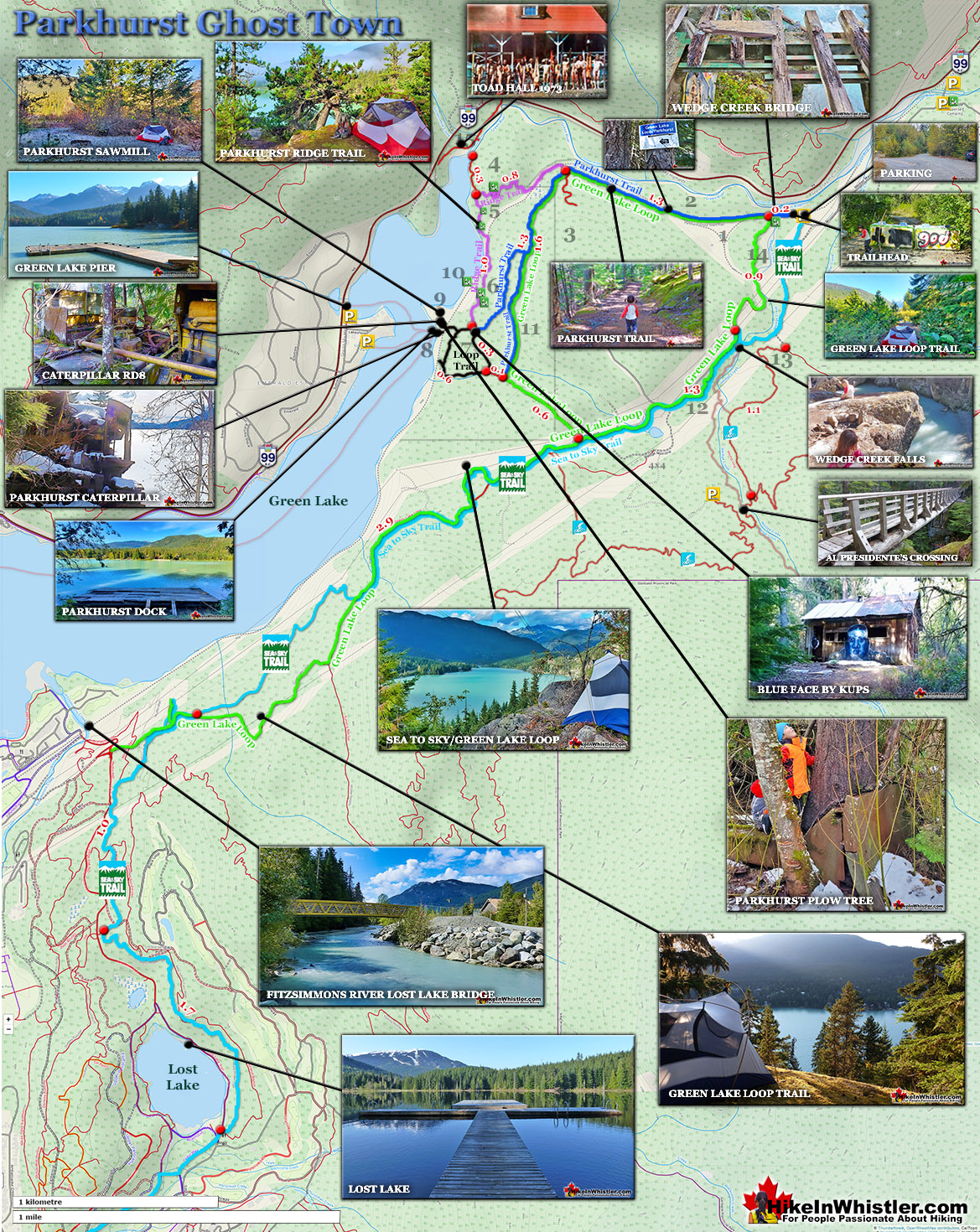 More Info for Parkhurst Ghost Town 
More Whistler & Garibaldi Park Hiking A to Z!

The Best Whistler & Garibaldi Park Hiking Trails!
Whistler & Garibaldi Park Best Hiking by Month!

Explore BC Hiking Destinations!