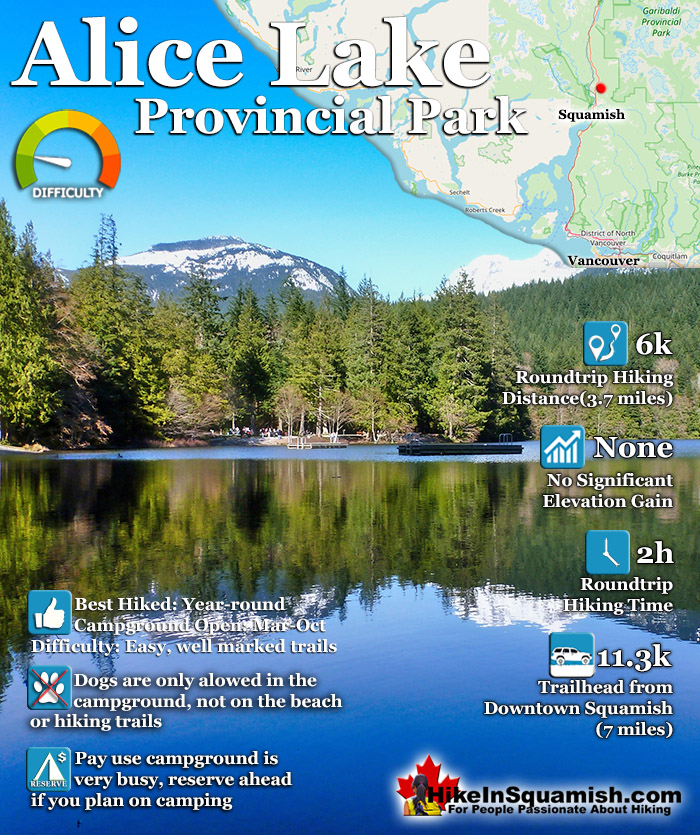 Alice Lake is a great place for camping swimming, fishing and hiking.  Alice Lake Provincial Park is comprised of four lakes.  Stump, Fawn and Edith Lake as well as the much larger Alice Lake.  There is a nice trail that runs between and around them all.  Compared to other Squamish hiking trails, Alice Lake is very easy and relaxing.  
Convenient location
Drive right to lake & trails
Beautiful swimming
Lots of trails to explore
Easy, relaxing trails
More lakes beyond Alice Lake
Forest & mountains all around
Very busy in the summer
Dogs only allowed in the campground

Chaotic on long weekends!

Squamish Hiking Trails

Alice Lake

Black Tusk

Brandywine Falls

Brew Lake

Cirque Lake

Elfin Lakes

Garibaldi Lake

High Falls

Levette Lake

Panorama Ridge

Ring Lake

Sea2Sky

Shannon Falls

The Chief

Taylor Meadows

The Lions

Upper Shannon
No serious hiking here, but rather walking, talking and enjoying the beautiful forest and lakes along the trail.  In the midst of summer you will find dozens of families picnicking around the edge of the forest overlooking the lake.  There is a large beach area, a pier and dock along with an astonishing 107 vehicle accessible campsites and 55 of those have electrical hookups. The campsites are open March 15 to October 31.  This place is a hive of activity in the summer due to its beautiful setting and convenient location.  Alice Lake Provincial Park is located just 10 minutes north of Squamish on the Sea to Sky Highway.  Driving from Squamish you will see a huge "Alice Lake Provincial Park" sign on the right side of the highway and the park is almost immediately after the turnoff.  Fires are allowed near the beach in the fire rings scattered throughout the park.  You can bring your own firewood or buy it at the park.  Pets must be on a leash in the park at all times.  Bears and cougars frequent the area. Though bears are relatively skittish, cougars are potentially very dangerous, especially with regards to small children or other pets. Though encounters are infrequent, they are possible and you will see signs regarding both cougars and bears at Alice Lake. From downtown Squamish (Cleveland Avenue), drive north on the Sea to Sky Highway for 13 kilometres, where you will see a large sign on the right directing you to Alice Lake Provincial Park.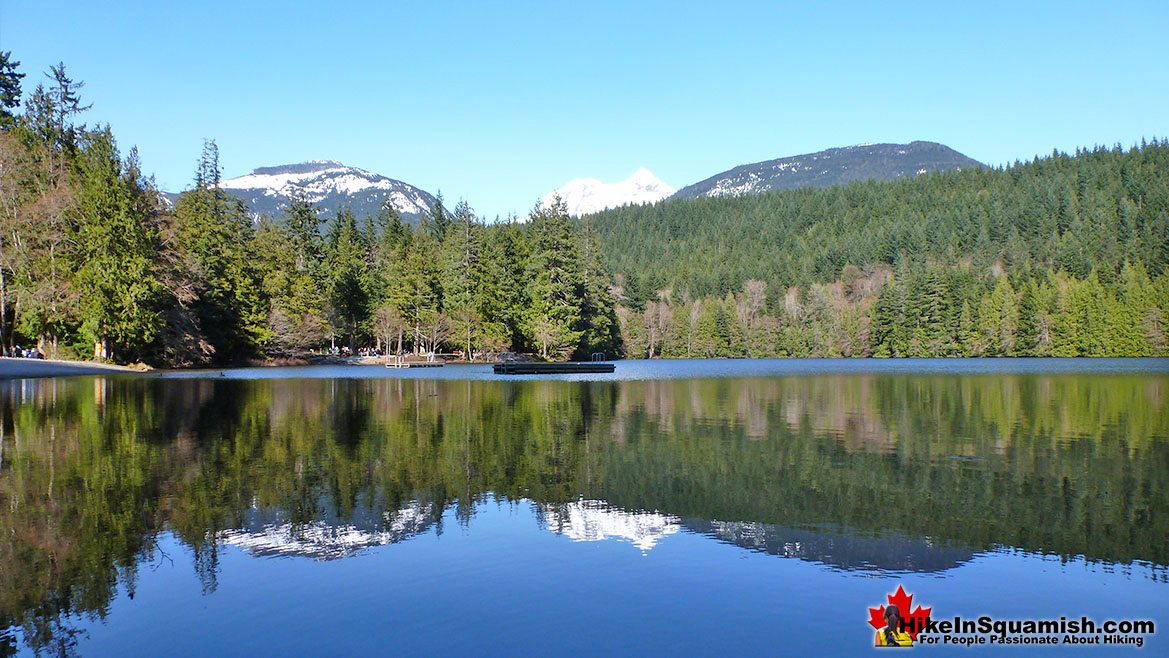 More Best Squamish Hiking - Alice Lake

Best Whistler & Garibaldi Park Hiking Trails!
Whistler & Garibaldi Park Hiking by Month!

Explore BC Hiking Destinations!