September hiking in Whistler is possibly the best month of all.  The snow has melted far up to the mountain tops, yet the temperatures are still quite high.  And just like that wonderful phenomenon of May and June, there are no annoying bugs.  And with the passing of the first week of September, the summer season officially ends, so the number of hikers dwindles to virtually none by the second week.
Whistler & Garibaldi Hiking

Alexander Falls  

Ancient Cedars  

Black Tusk  

Blackcomb Mountain  

Brandywine Falls  

Brandywine Meadows  

Brew Lake  

Callaghan Lake  

Cheakamus Lake  

Cheakamus River  

Cirque Lake 

Flank Trail 

Garibaldi Lake 

Garibaldi Park 

Helm Creek  

Jane Lakes 

Joffre Lakes  

Keyhole Hot Springs  

Logger's Lake  

Madeley Lake  

Meager Hot Springs 

Nairn Falls  

Newt Lake 

Panorama Ridge 

Parkhurst Ghost Town 

Rainbow Falls  

Rainbow Lake 

Ring Lake  

Russet Lake  

Sea to Sky Trail 

Skookumchuck Hot Springs  

Sloquet Hot Springs 

Sproatt East 

Sproatt West  

Taylor Meadows  

Train Wreck  

Wedgemount Lake  

Whistler Mountain

January 

February 

March 

April 

May 

June 

July 

August 

September 

October 

November 

December
September is the time to really enjoy the mountains of Whistler before the temperatures plummet and the days shorten.  Whistler Train Wreck is always an impressive hike and in September you get the wonderful fall colours to add to the beautiful paintings and graffiti.  Wedgemount Lake in Garibaldi Provincial Park is another bit of paradise in Whistler in September.  If you can manage the time or inclination, take 2, 3, 4 or even 5 days up at Wedgemount Lake.  The seemingly innumerable mountains to climb, glaciers to explore and incomprehensible sunsets to see make this place a phenomenon of the Garibaldi Ranges.  You can even base yourself out of the wonderful and free Wedgemount Lake hut.  Though with the mild evening temperatures and no insects, sleeping under the stars is an appealing option.  Garibaldi Lake, so frequently busy all summer, now quiets down and regains that desolate feel you come to expect when hiking in Garibaldi Park.  A night at Garibaldi Lake, another at Panorama Ridge and a third at Helm Creek via Black Tusk, and exiting via Cheakamus Lake (if you have two cars for each trailhead), is an amazing trip.  There is just so much to see in Garibaldi Park, especially in this little Garibaldi Lake, Black Tusk region, that a few days is far better than one or two days.  Elfin Lakes at the bottom end of Garibaldi Park in Squamish is also fantastic in September, though still busy on weekends throughout the year.  But then it's just that good, and fortunately is expansive enough to accommodate quite a few hikers easily. All of the best hikes in and around Whistler are worth exploring in September.  These include Black Tusk, one of the most incredible hikes in Whistler, and a Whistler icon.  Though a long hike, 15 kilometre roundtrip, the breathtaking and scary final ascent, makes the summit view even more memorable.  You will see Black Tusk as you approach Whistler, about 30 minutes south on the Sea to Sky Highway.  Hard to believe, but you can actually get to the summit of this absurdly vertical rock, and without special equipment or skill.  Black Tusk is the amazing pinnacle of volcanic rock visible for hundreds of kilometres and located near the centre of Garibaldi Park.
Black Tusk from Mount Sproatt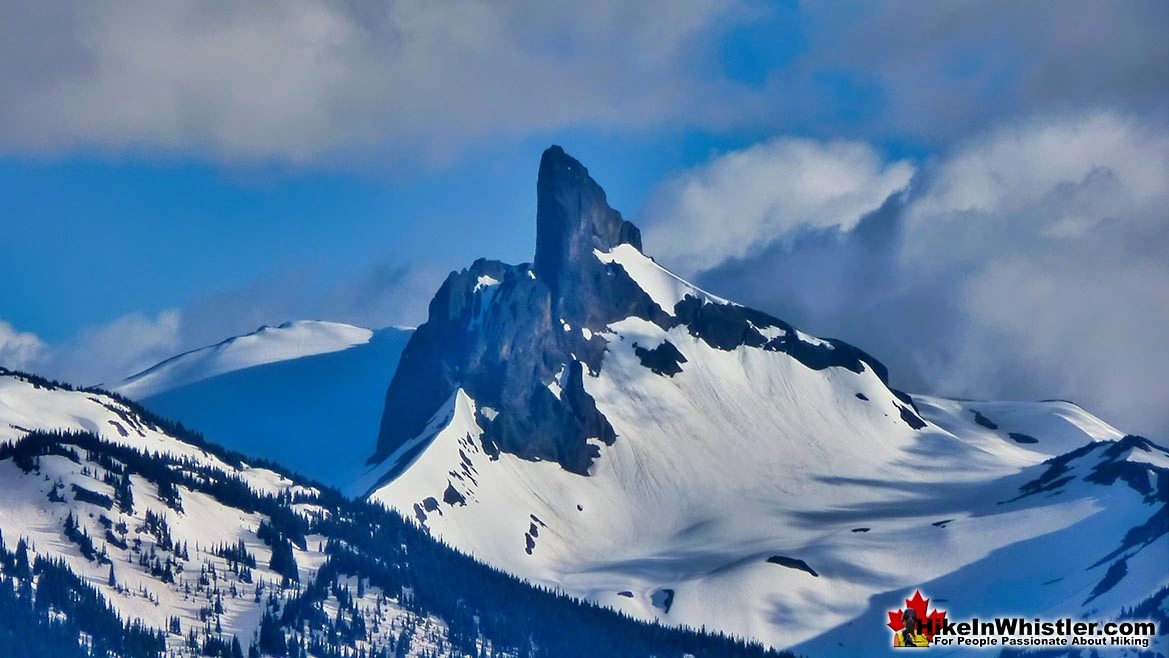 Best Whistler Hiking September – Black Tusk

Black Tusk, along with The Chief in Squamish are the most astoundingly noticeable peaks in the Garibaldi Ranges.  170,000 years ago the Black Tusk was created when a lava dome formed within a million year old, volcanic cinder cone.  The cinder cone is crumbling away, revealing the starkly black, hardened lava dome within.  Looking at the Black Tusk from a distance, two things seem incredible.  First, that such an unusual thing formed, and second that there is a trail that takes you to its peak.  With a little sketchy and dangerous, though non technical climbing, you can get to the top of Black Tusk.  It is a fairly long day hike as you cover 30 kilometres roundtrip.  There are three very nice campgrounds in the area allowing for a beautiful, multi-day hiking trip to the area.  Helm Creek one one side of Black Tusk and Taylor Meadows and Garibaldi Lake campgrounds on the other side provide dozens of beautiful places to put up a tent.  The final ascent of Black Tusk is a bit scary and dangerous so be prepared.  You have to climb a narrow, steep and crumbly chute up about 10 metres to reach the top.  Quite a few people don't climb this last part and instead just take in the extraordinary views from the base.  Either way, Black Tusk is unquestionably one of the best of the best hikes in the Whistler area and in Garibaldi Park.
Climbing the Final Chute Up Black Tusk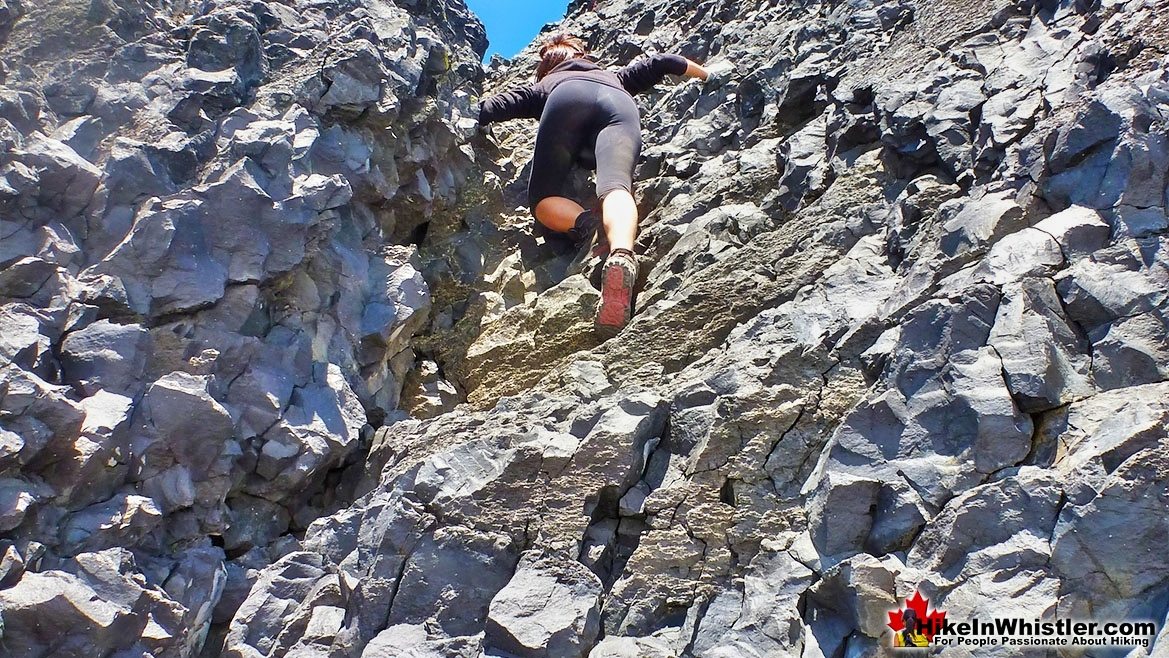 Black Tusk Chute View of Mount Garibaldi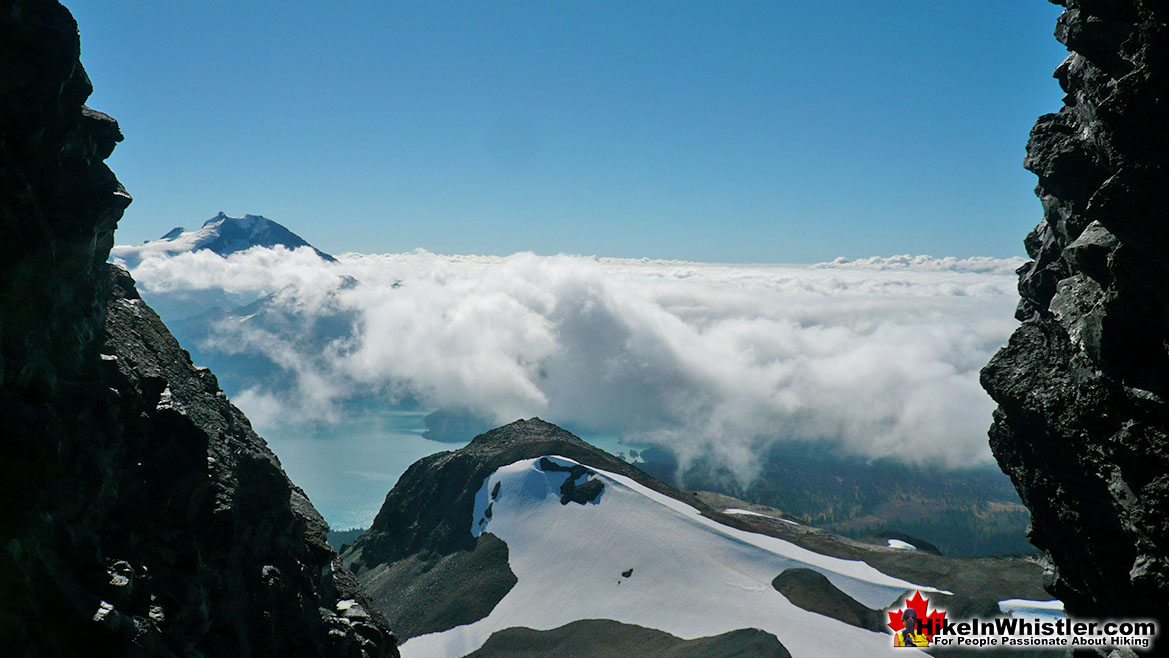 The View from the Top of Black Tusk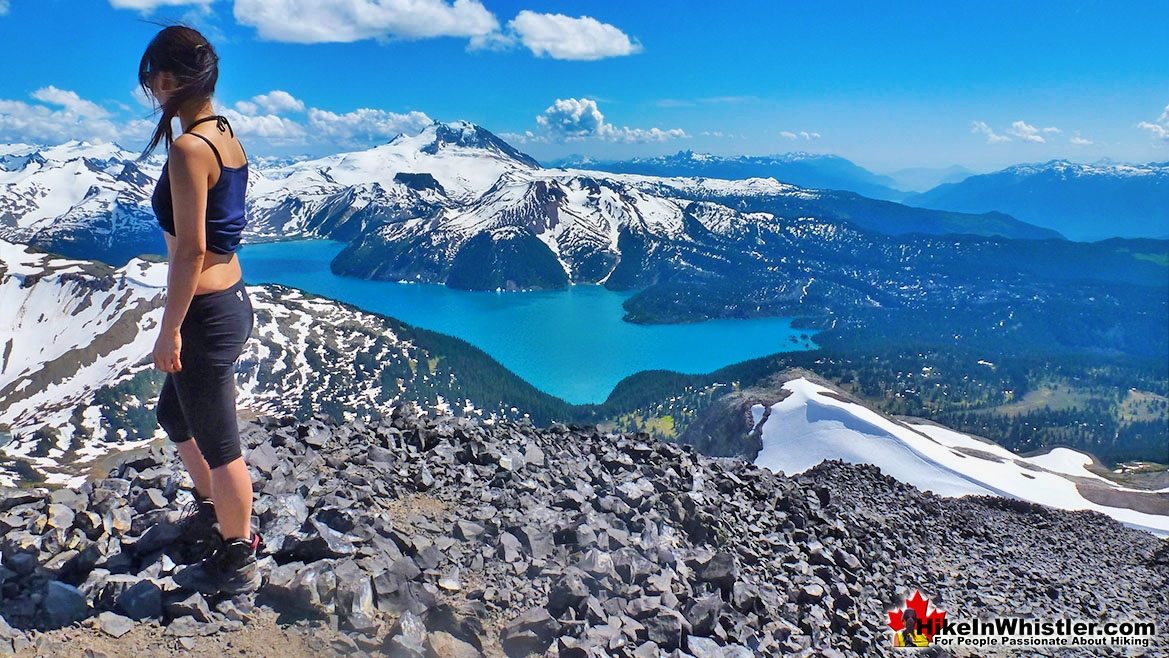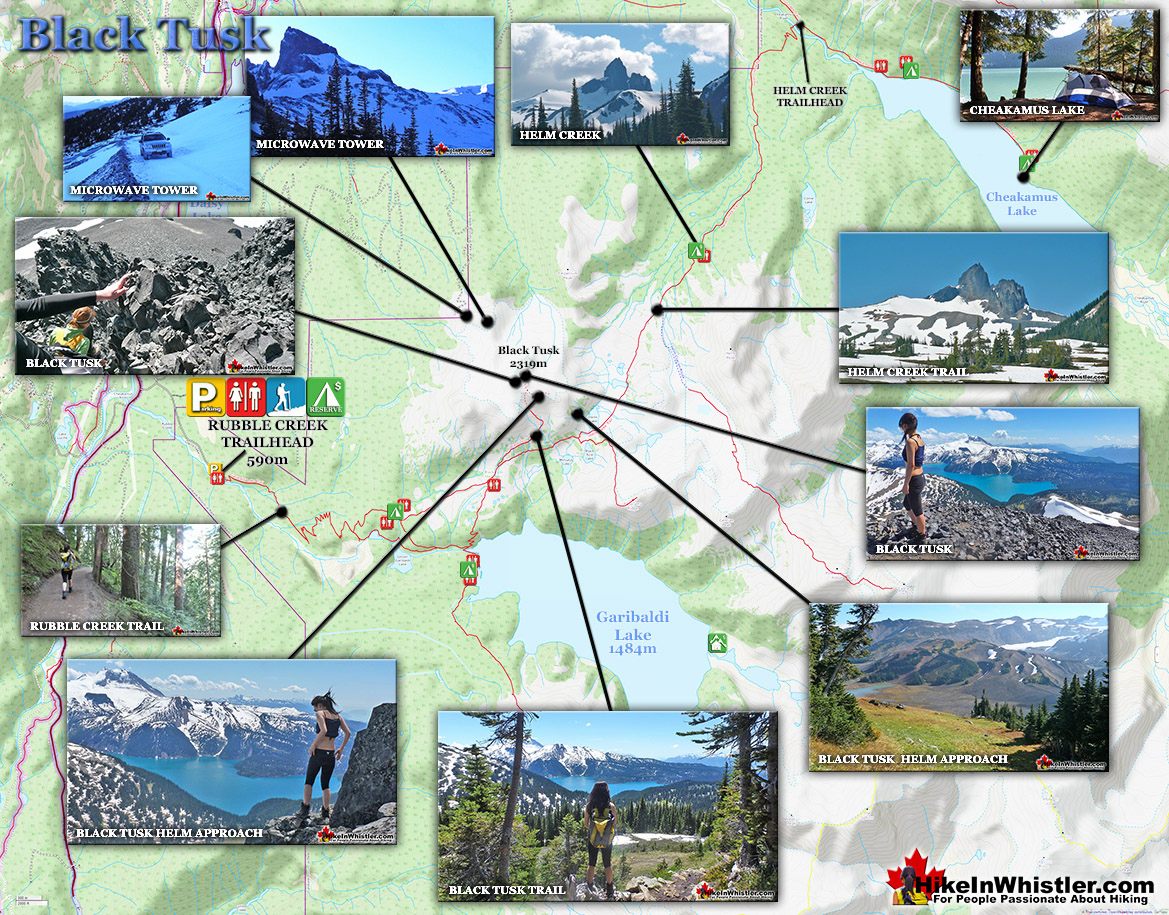 More hiking information for hiking Black Tusk in September click here.
Best Whistler Hiking September – Cirque Lake

Cirque Lake in the Callaghan Valley (30 minutes south of Whistler Village) is accessible via a short canoe trip across the Callaghan Lake.  Located well off the radar in the Callaghan Valley, Cirque Lake is a tough, very steep, though short hike to an extraordinarily beautiful cirque lake, high above Callaghan Lake.  A cirque lake is formed out of a few interesting, alpine occurrences, combining.  To form a cirque lake, a glacier must be a combination of size, a certain slope and more unexpectedly, a certain angle away from the sun. In the northern hemisphere, this means the glacier must be on the northeast slope of the mountain, away from the suns rays and the prevailing winds. Thick snow, protected in this way, grows thicker into glacial ice, then a process of freeze-thaw called nivation, chews at the lower rocks, hollowing out a deep basin. Eventually a magnificently circular lake is formed with steep sloping sides all around.  Cirque Lake is a wonderful example of this interesting glacier formed world in the mountains.  Largely sheltered from the wind, your camp at Cirque Lake will be spectacularly serene, and the lake before you, incredible.
Cirque Lake Tent View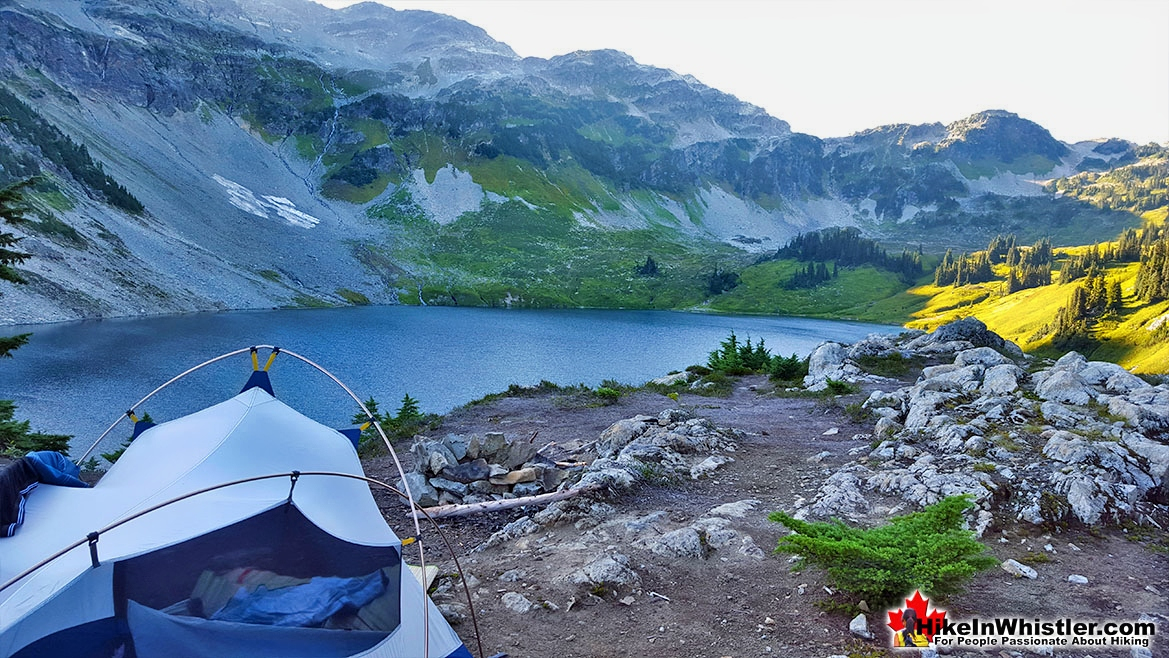 Getting to Callaghan Lake and Cirque Lake



Callaghan Lake is accessible via an 8 kilometre weather battered and very potholed Callaghan Lake FSR. The entire road is cratered with deep potholes, cut by frequent deep waterbars, and even a small section collapsing into the valley below. Despite the rough condition of the road, all types of cars manage to make it to the lake, though the waterbars take some careful manoeuvring to cross. This logging road begins high up in the Callaghan Valley, which itself is largely overlooked by travellers to Whistler. The Callaghan Valley is home to quite a few natural and man-made attractions. Brandywine Meadows, Alexander Falls, Northair Mine and Mount Sproatt are all found in the valley. The 2010 Olympic Games had several events in the Callaghan Valley and Whistler Olympic Park is now a permanent attraction at the end of the paved road, which before the games was a gravel forest service road. Though Cirque Lake is tremendously far into the wilderness, the amount of hiking required to reach it is effectively less than two kilometres.  Another two kilometres of canoeing is required to reach the trailhead at the far end of Callaghan Lake. But for such an enchantingly beautiful, mountain lake, the exertion to reach it is remarkably little.
Cirque Lake Trail View of Callaghan Lake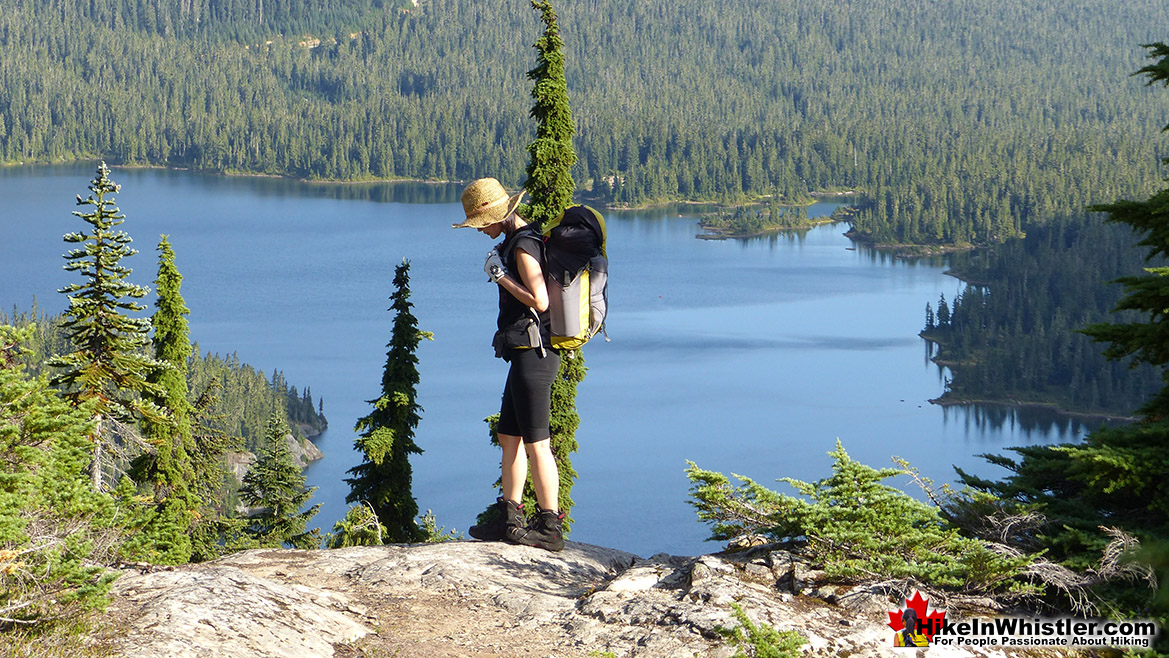 To reach the very hidden trailhead to Cirque Lake, paddle your canoe towards the waterfall far off in the distance. Not until you are only 50 metres from the shore, nearest the sound of the now hidden waterfall, you will see a small clearing jutting out from the shore, this is the trailhead, despite it not looking like one. Pull your canoe up here and drag into the bushes. Only a few metres into shore you will notice an obvious trail. There are even plenty of tree markers on the way. From here it is only an hour hike to the lake, though even steeper than the Wedgemount Lake trail.
Boulder Field on the Hike to Cirque Lake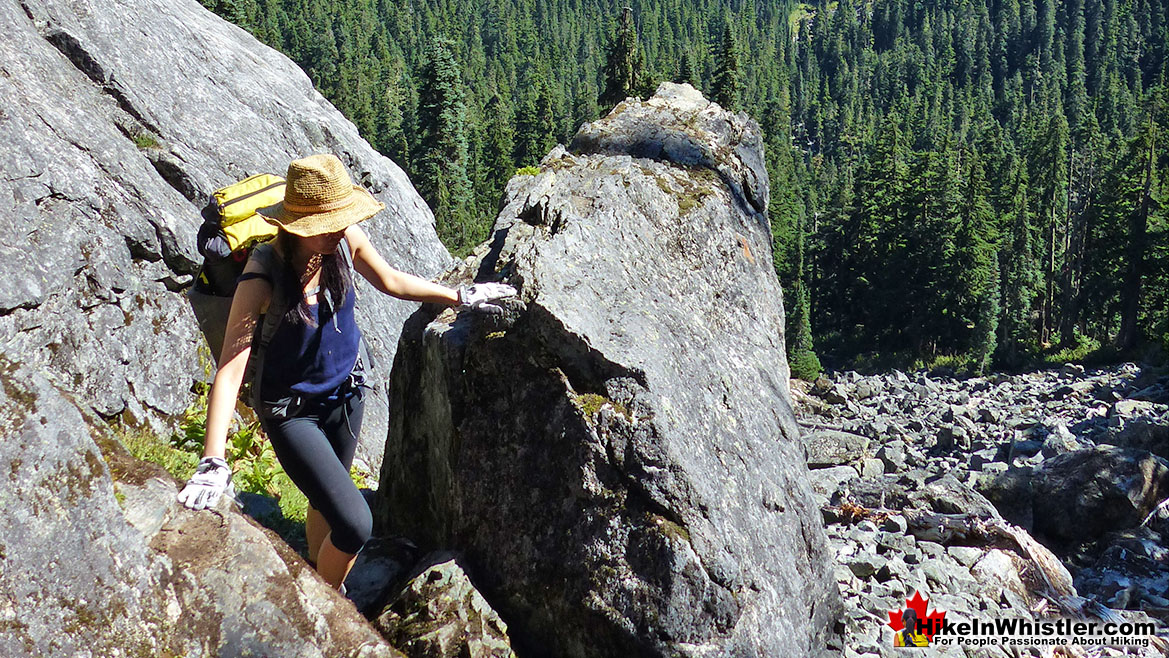 About two thirds of the way up the trail you will come to a massive boulder field. The trail emerges from the forest into this field and cuts across it.  You then hike the precarious boulder field along the right side.  The route zig-zags all the while following several not so obviously placed cairns and orange trail marker ribbons.  At the top of the boulder field you will have to climb up a narrow cliff gap with an impressive array of brutalized krummholz trees.  These boulder mangled trees, bent and twisted by the crushing weight of snow and rockfalls.  From this gap to Cirque Lake is only another 15 minutes of ever more beautiful views.
Beautiful Cirque Lake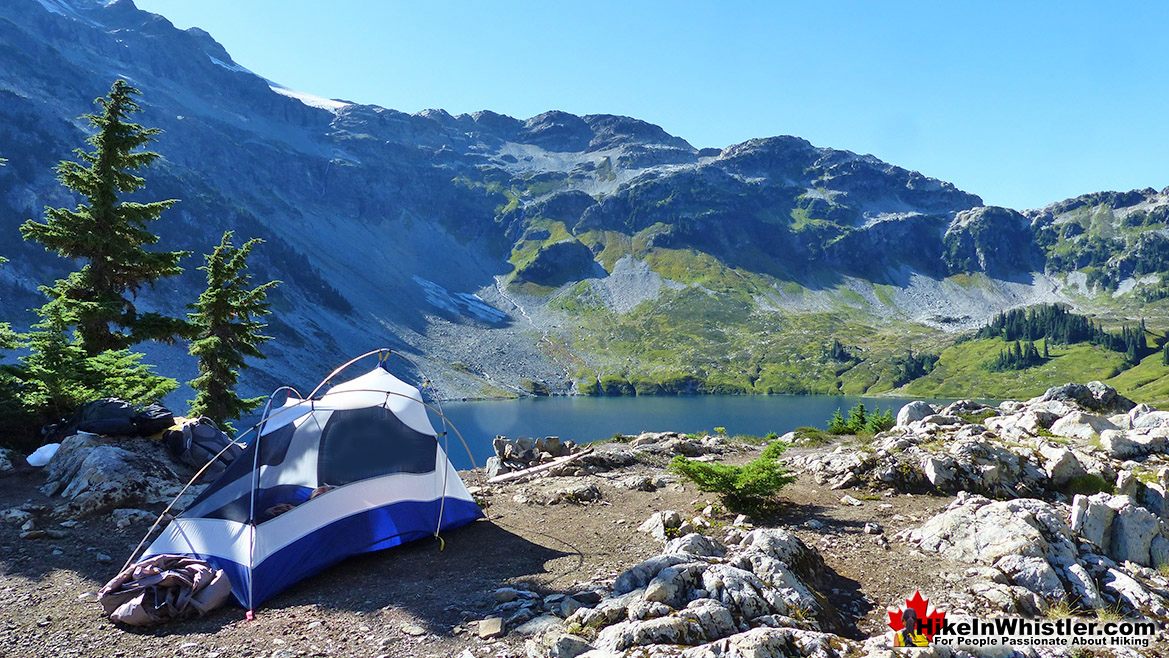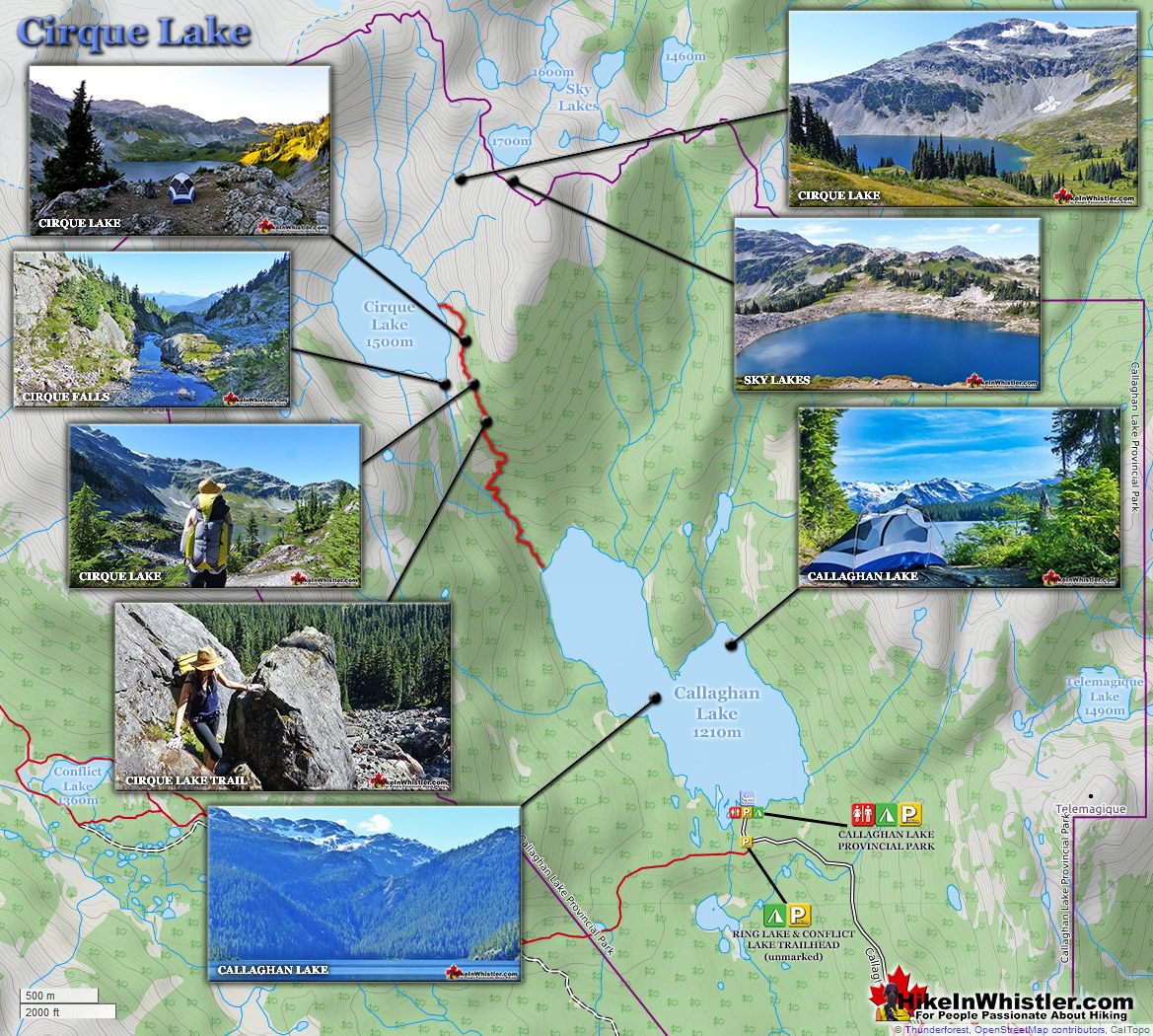 Cirque Lake is amazing in September, for more info, maps and pictures continue here..
Best Whistler Hiking September – Panorama Ridge

Panorama Ridge, an unbelievable 30 kilometre roundtrip hike that passes the flower filled Taylor Meadows campground, Black Tusk and beautifully turquoise Garibaldi Lake and of course best done via these other sights over 2-4 days.  Panorama Ridge is beautiful and challenging hike and the views from the ridge are unbelievable.  Panorama Ridge is easily one of the most amazing hikes in Garibaldi Park and September is arguably the best month to see it.  No bugs, still warm weather and few other hikers in the park to distract from the tranquility.  The 15 kilometre hike from the trailhead at Rubble Creek to Panorama Ridge takes you through beautiful and deep forests, across countless idyllic streams, through meadows filled with flowers, and past dozens of jaw dropping viewpoints.  The amazing views start once you reach Taylor Meadows and get even more spectacular as the trail progresses.
Amazing Panorama Ridge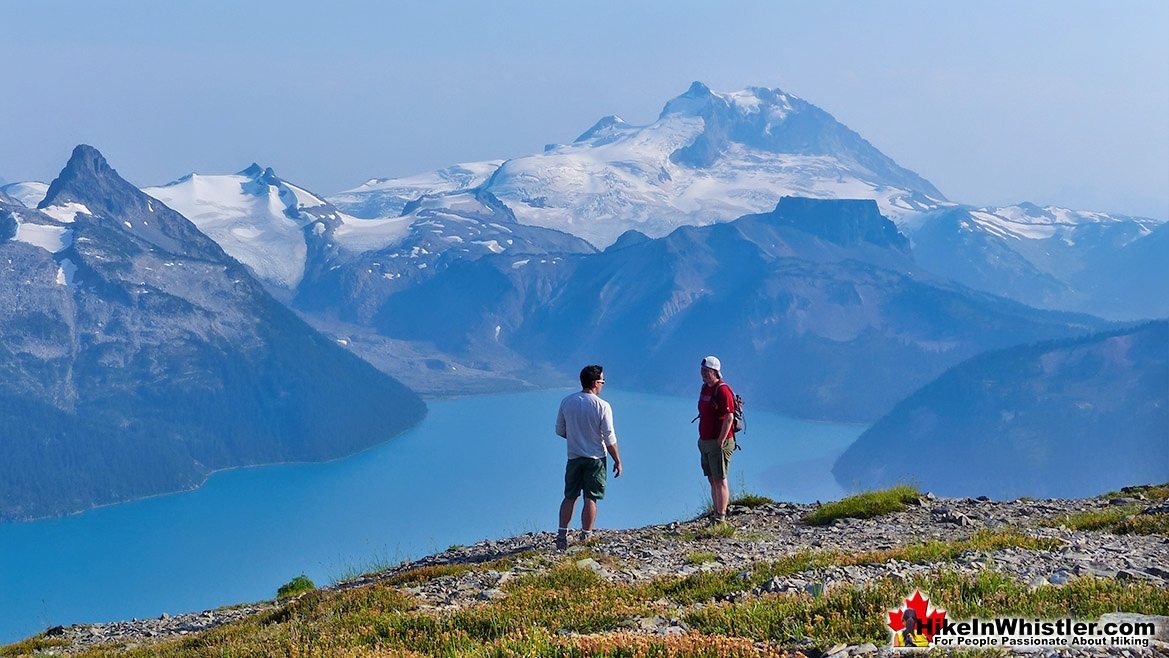 Black Tusk From Panorama Ridge
Sphinx Glacier from Panorama Ridge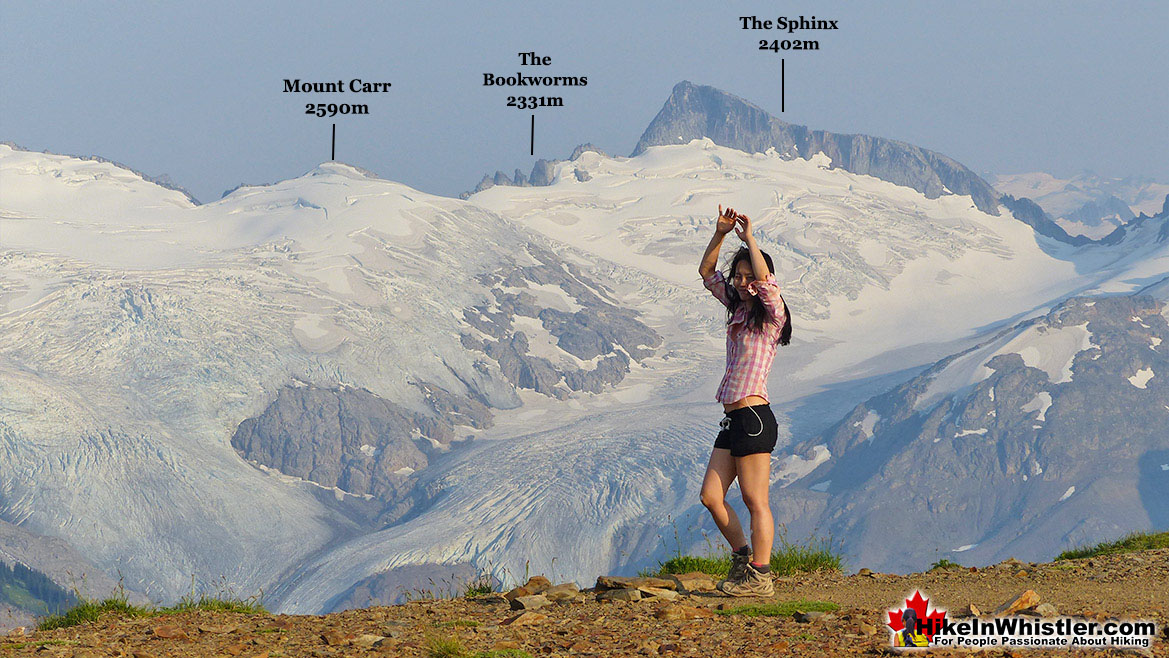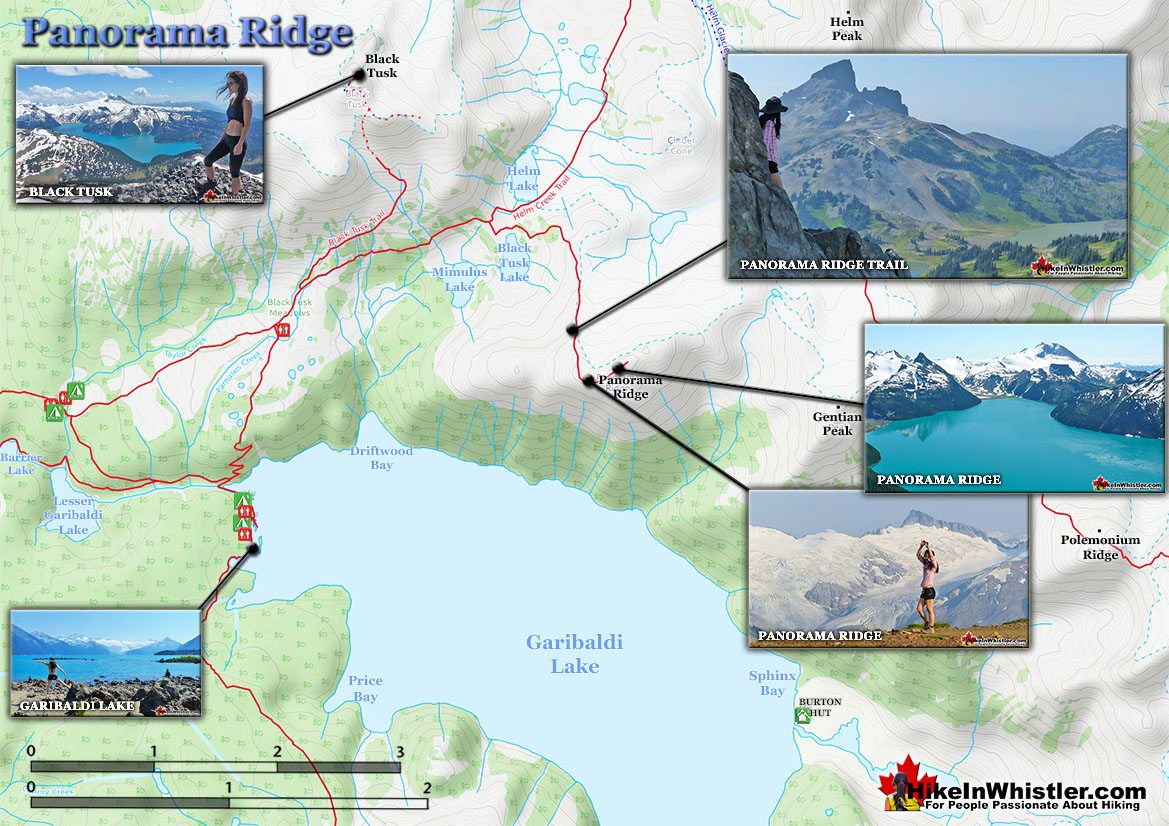 Panorama Ridge is wonderful in September, more info here..
Best Whistler Hiking September – Joffre Lakes

Joffre Lakes is one of the most beautiful lakes you are likely to ever see.  There are three lakes and they get progressively more beautiful.  By the third lake the intense blue is breathtaking.  The mighty Matier Glacier rises above the third lake, making the experience even more spectacular.  The trail is rough and tricky in some parts, but not terribly difficult.  The trail is 5k to the third lake so give yourself 1.5 - 2 hours(one way).  Lots of trail construction work happened in 2013 and even a new section of trail was built just before the third(Upper Joffre) lake. Upper Joffre Lake ends in a U-shaped valley where you will find the far side of the lake towering with glaciers relentlessly crushing down on the lake.  The sun fills the valley and the silence is wonderful.  September marks the end of the busy, summer hiking season and after the 8th of September it becomes a rarity to see other hikers on the trail.  September is also amazing in Joffre Lakes as annoying mosquitoes and flies have long disappeared for the year and nothing but the hilarious swooping birds to break the silence.  
Beautiful Lower Joffre Lake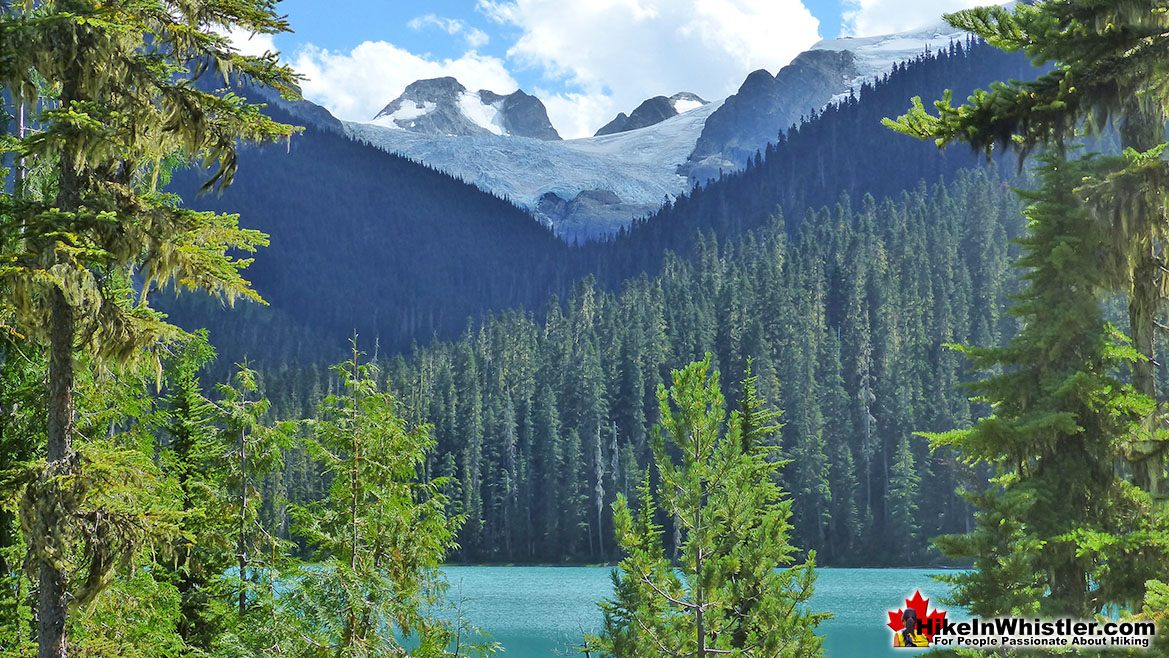 The Amazing Joffre Lakes Trail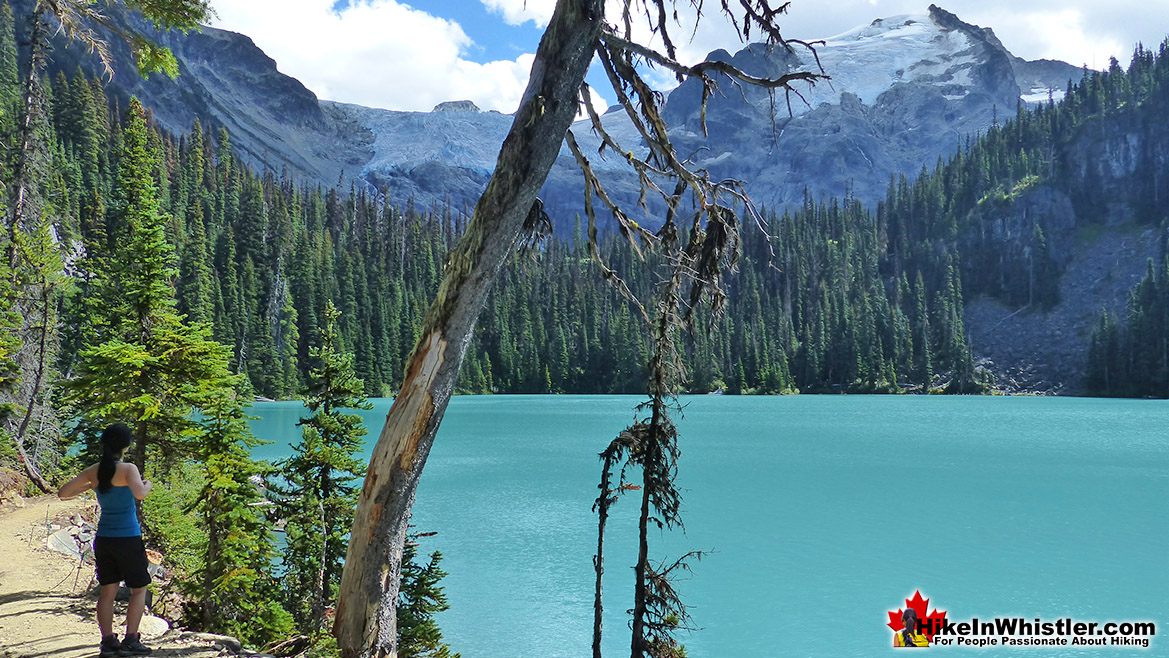 Middle Joffre Lake
Upper Joffre Lake and Matier Glacier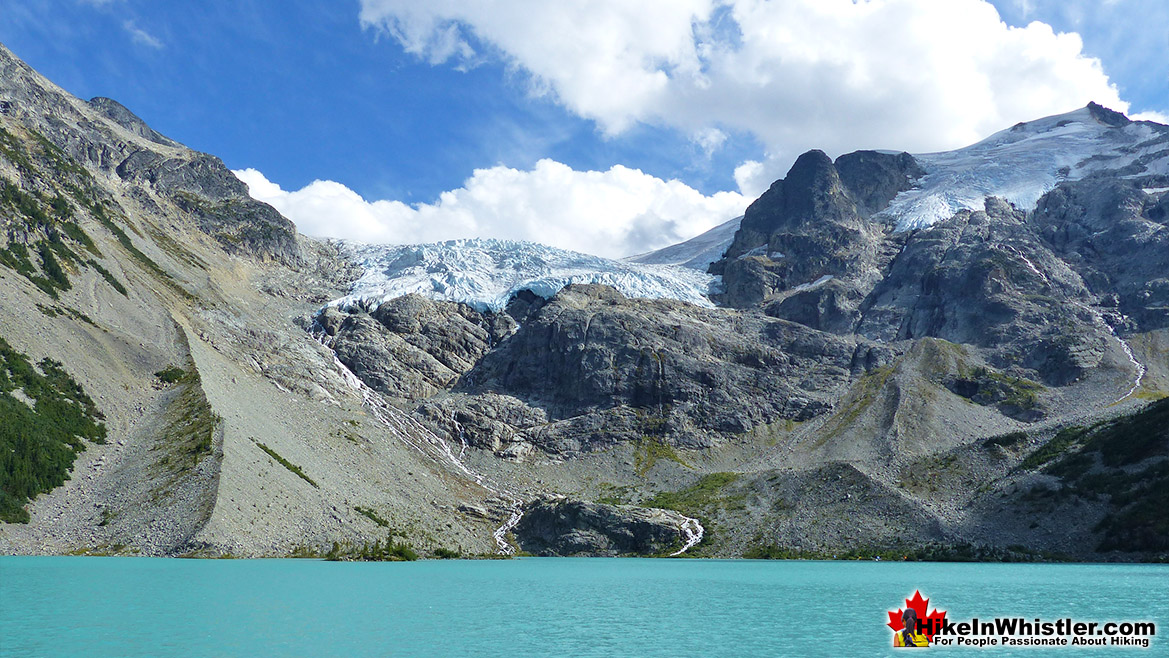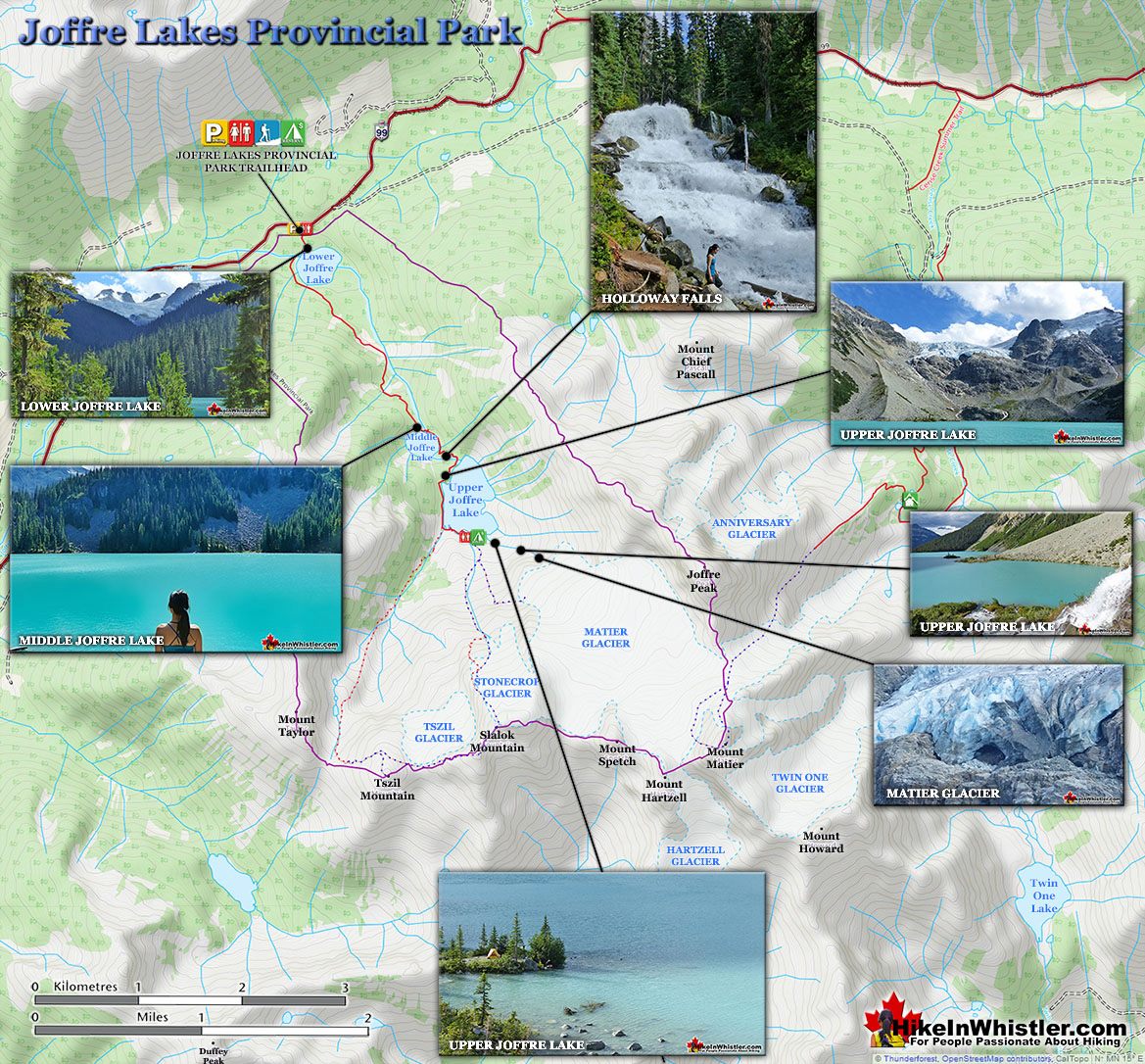 Best Whistler Hiking September – Brandywine Meadows

Brandywine Meadows is a great hike in September as well.  Dog friendly and though a muddy trail much of the summer, comparatively dry in September and still alive with beautiful flowers.  Brew Lake is another dog friendly, though fairly tough hike, with beautiful views down to Daisy Lake from the trail.  Brew Lake is another lake often frozen as late as July still, so September makes it a great one to try.  The trailhead, a bit surprisingly, is not far from Brandywine Falls.  If driving from Whistler Village, the Brew Main FSR is just before Brandywine Falls on your right.  Don't expect any facilities on any of these three beautiful hiking destinations.  They are well off the beaten track, not in Garibaldi Park, and wild, desolate and beautiful.  Brandywine Meadows is a nice hike in a massive flower filled valley high up in the Callaghan Valley.  Located 40 minutes south of Whistler, this tough and sometimes muddy trail gains a huge 550 metres of elevation in just 3k (trailhead to valley).  The trailhead is tricky to find and involves a fairly long gravel road journey that is passable without a 4x4, but barely.  Not that the road is potholed, which it is, but that it is at times very steep and strewn with loose boulders.  Brandywine Meadows is used mainly for snowmobiling in the winter months and the bumpy ex-logging road to the trailhead is in poor condition in the summer.  The hike is consistently very steep for the first two kilometres.  It is at times scenic though, despite being in very deep forest.  The trail runs parallel to Brandywine Creek, which is steeply flowing, very loud and quite beautiful at various vantage points.  After two kilometres on the Brandywine Meadows trail, the elevation gain levels off and you catch several alpine mountain peaks through the trees.  And finally reaching the meadows, the amazing valley stretches into the distance, ending at the formidable mountains.  This hike is best done in early July as you tend to avoid the onslaught of mosquitoes that the area is rife with later in the summer months.  Early July and September keep you relatively safe from the swarms, though not entirely!
Beautiful Brandywine Meadows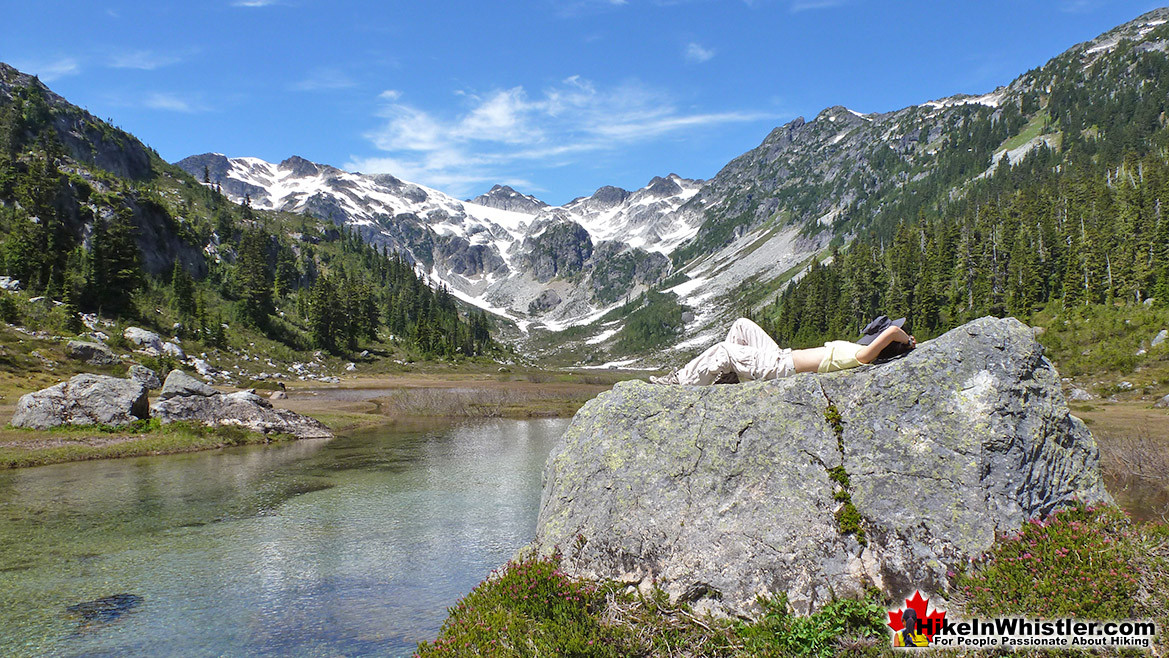 Camping in Paradise in Brandywine Meadows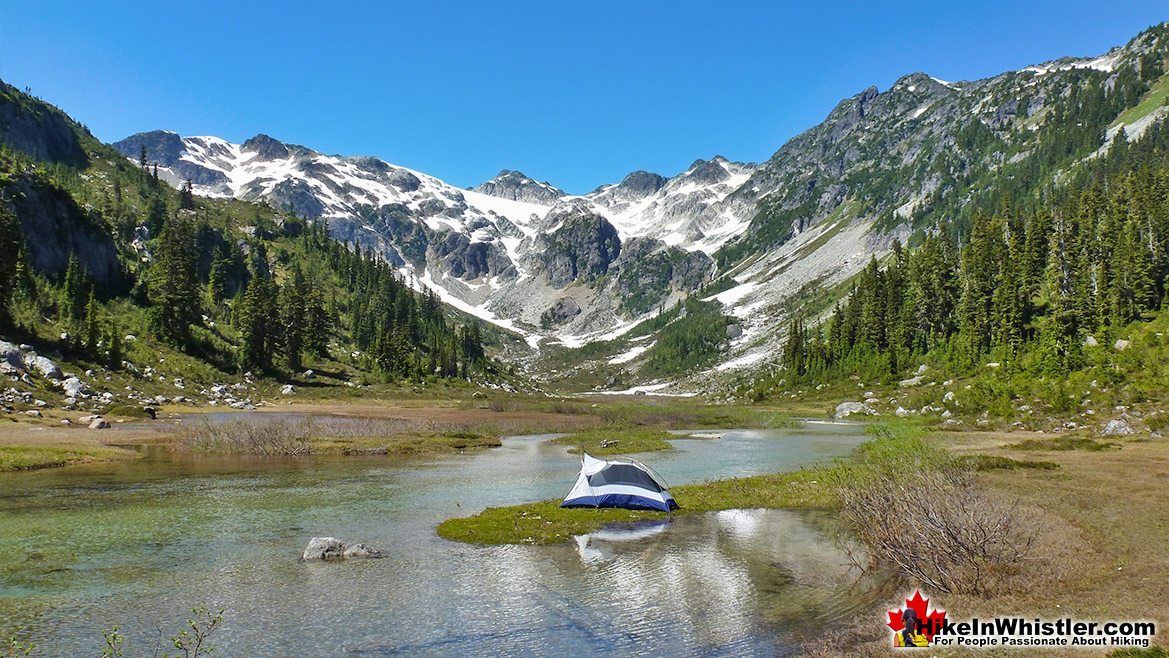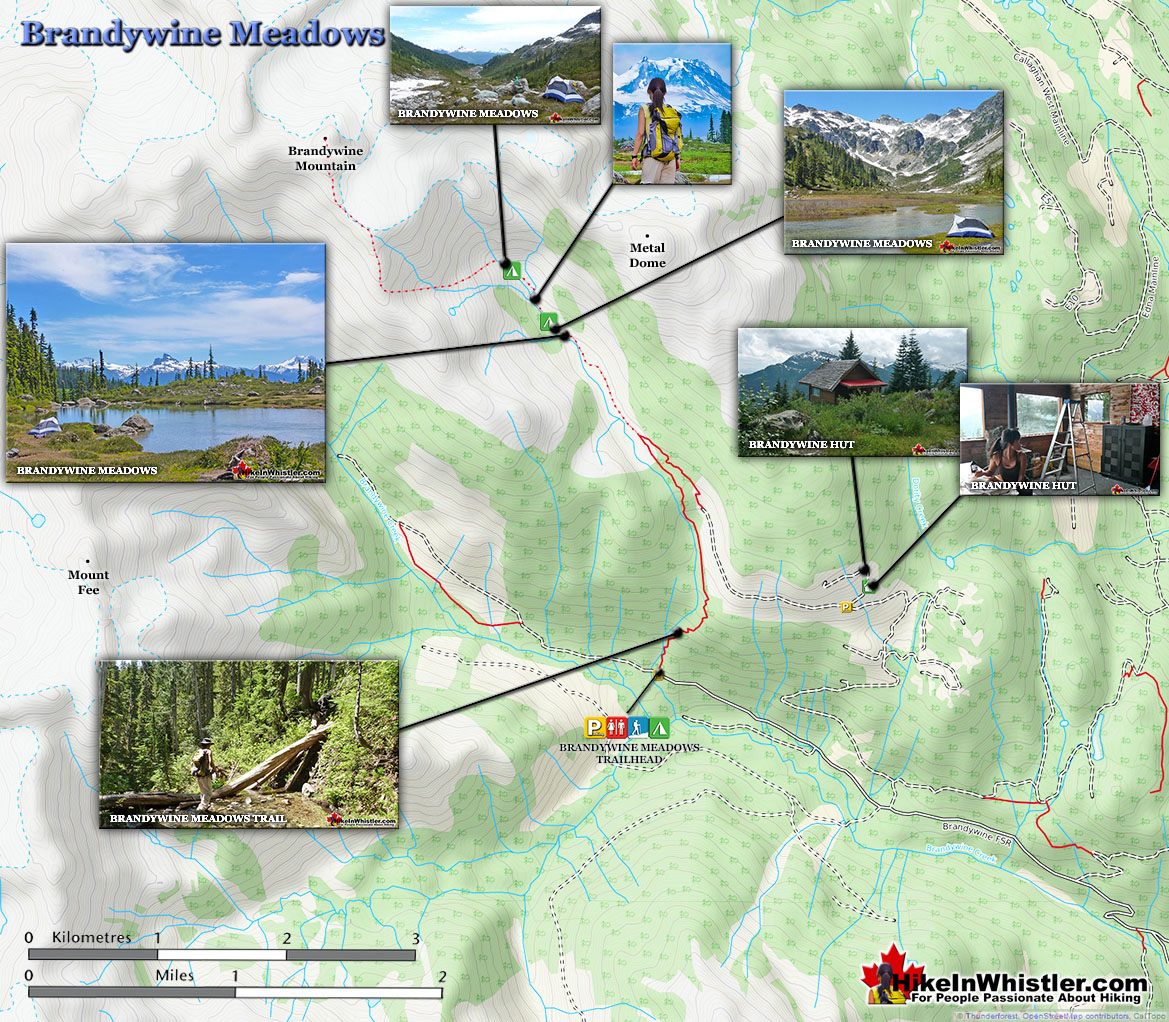 Brandywine Meadows Continued here...
Best Whistler Hiking September – Brew Lake

Brew Lake is beautiful mountain lake just a short drive south of Whistler and is relatively unknown and seldom hiked.  In September you should find Brew Lake a wonderfully warm, snow free place to visit.  The lake lays in a massive alpine valley of enormous erratics scattered around and in the lake.  On first seeing Brew Lake it looks serene, yet wild and hostile.  The lake is surrounded on one side by idyllic tree covered hills and lakeside cliffs and on the other side a brutal looking wasteland of huge boulders sloping up from the lake to the skyline.  Hiking into this wasteland of erratics reveals an amazing paradise of small, island forests, cute streams and endless worlds within worlds to explore.  You find yourself wandering along like a kid mesmerized at what you will find next.  Brew Lake itself doesn't come close in wow factor to the postcard-perfect alpine lakes such as Wedgemount Lake, Joffre Lakes, Cheakamus Lake or Garibaldi Lake, but I does beat these lakes in other aspects.  Because Brew Lake is outside of Garibaldi Park few people have heard of it.  More often than not you will have both the lake and entire valley to yourself.  An increasingly rare occurrence elsewhere that gives the place a quiet calm and that strange and satisfying feeling that there are no other humans for quite some distance.  You have that exhilarating wilderness feeling that sometimes gets lost on other Whistler area hikes when you start the trail from a parking lot packed with cars.  The fact that the Brew Lake trail doesn't have a parking lot or proper trailhead actually makes it more mysterious, adventurous and in some way.
The Brew Lake Trail and Distant Black Tusk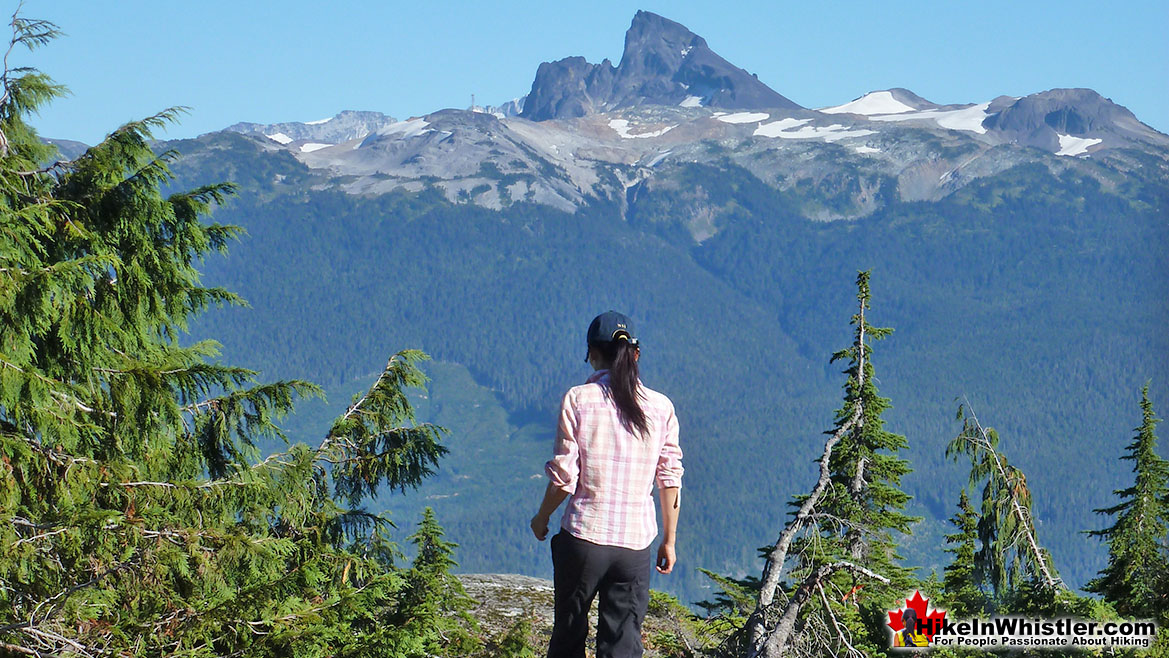 Beautiful Brew Lake
Camping in Paradise at Brew Lake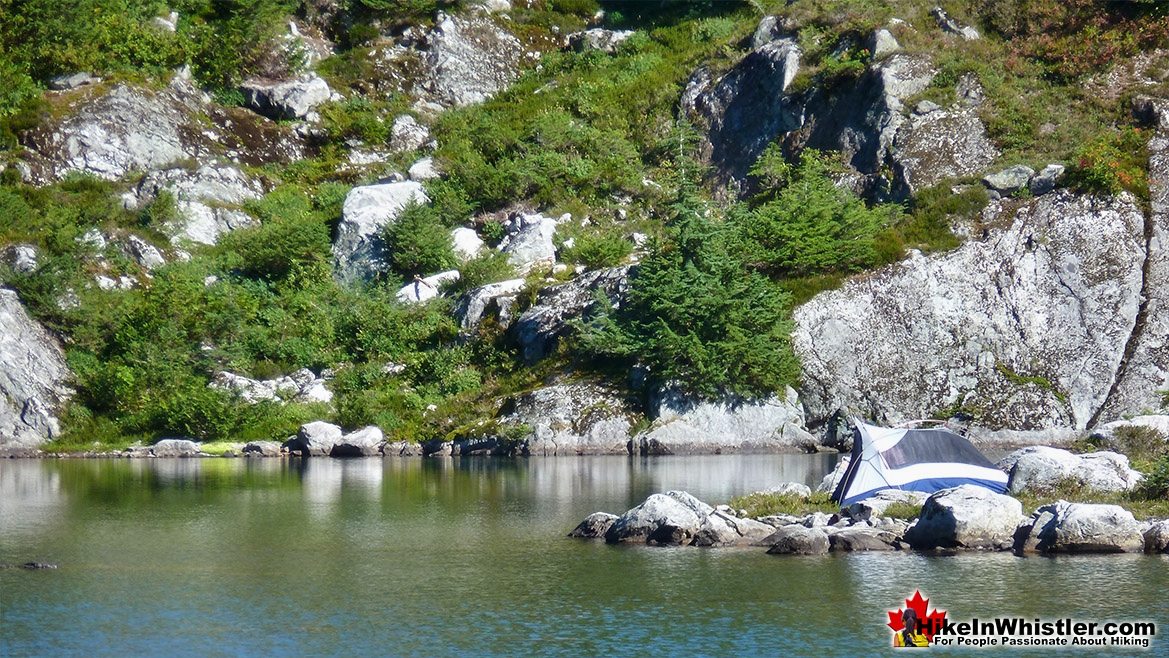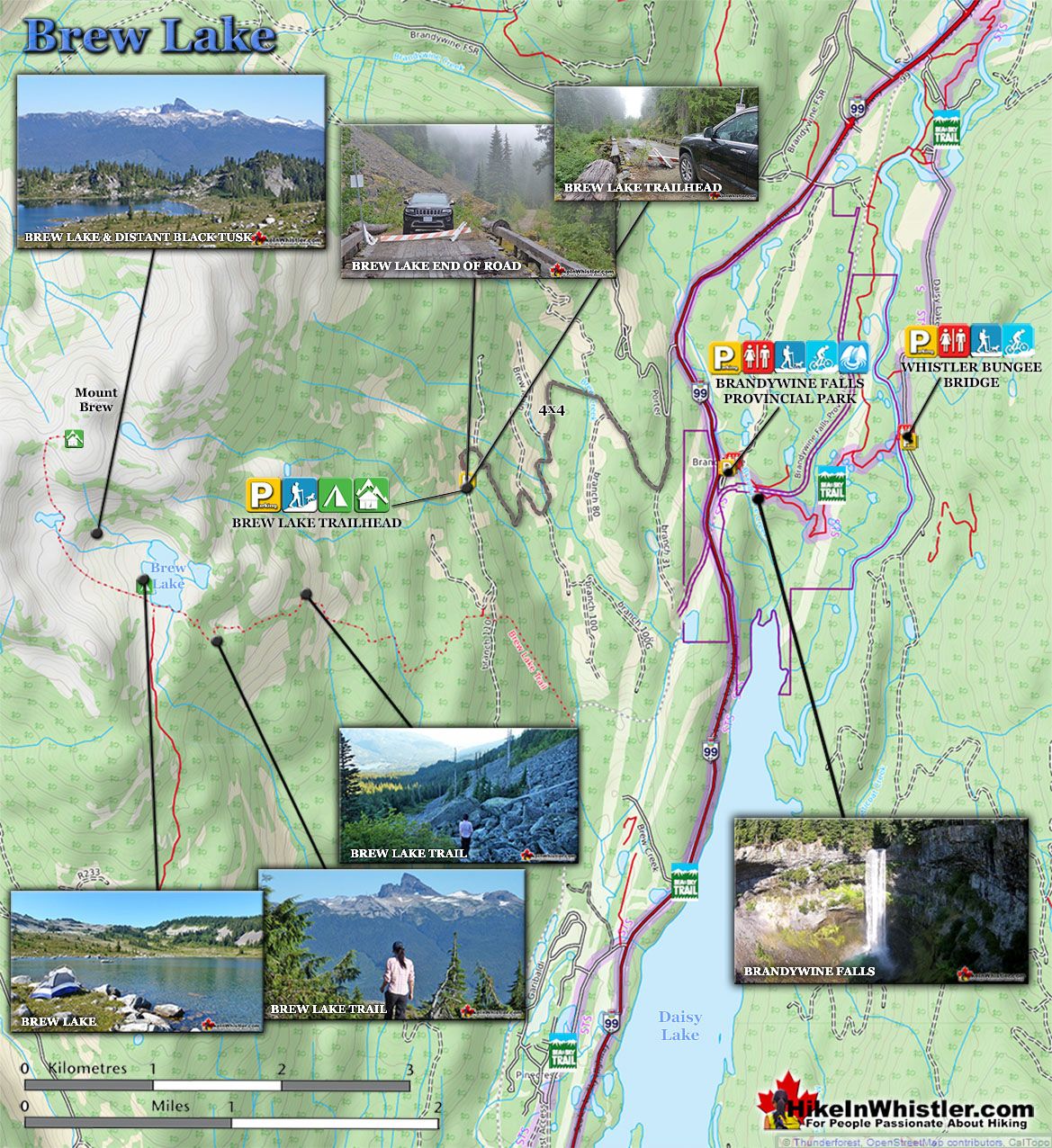 Hiking in Whistler and Garibaldi Park by Month!

Best of Whistler and Garibaldi Park!

Whistler, Garibaldi Park & Sea to Sky Hiking Trails!