August hiking in Whistler definitely has the most consistently great, hot weather.  You can feel the rare pleasure of walking across a glacier shirtless and still hot.  Even in the high elevations and on glaciers the temperatures are often a beautifully hot 20c plus.  There are numerous glaciers that are readily accessible via Whistler area hiking trails.  Wedgemount Lake has one of these beautiful glaciers just steps from its far shore.
Whistler & Garibaldi Hiking

Alexander Falls  

Ancient Cedars  

Black Tusk  

Blackcomb Mountain  

Brandywine Falls  

Brandywine Meadows  

Brew Lake  

Callaghan Lake  

Cheakamus Lake  

Cheakamus River  

Cirque Lake 

Flank Trail 

Garibaldi Lake 

Garibaldi Park 

Helm Creek  

Jane Lakes 

Joffre Lakes  

Keyhole Hot Springs  

Logger's Lake  

Madeley Lake  

Meager Hot Springs 

Nairn Falls  

Newt Lake 

Panorama Ridge 

Parkhurst Ghost Town 

Rainbow Falls  

Rainbow Lake 

Ring Lake  

Russet Lake  

Sea to Sky Trail 

Skookumchuck Hot Springs  

Sloquet Hot Springs 

Sproatt East 

Sproatt West  

Taylor Meadows  

Train Wreck  

Wedgemount Lake  

Whistler Mountain

January 

February 

March 

April 

May 

June 

July 

August 

September 

October 

November 

December
The glacier is easily hiked to from the campsite that stretches along the shore of the lake and up the boulder strewn valley.  Wedge Glacier melts a torrent of water that crashes into the lake.  The glacier window at the foot of the glacier is a great place to take a picture of this massive glacier. Wedge Glacier disappears into the sun as it stretches up to Wedge Mountain and no fewer than 12 named glaciers in the valley beyond.  This is a wondrous hiking paradise with branching hikes that stretch away from the hut like a giant spiders arms.  The hikes from Wedgemount Lake range from easy, to difficult, to extremely dangerous.  And you will likely see a good mix of day hikers at one end of the hiking spectrum, to the ice axe, rope and harness types at the other.  All dispersing into this fantastically huge expanse of mountains, glaciers and perfect, brilliantly coloured lakes.  Wedgemount Lake itself is a magnificent destination for a day hike or spectacular overnight beneath the dazzling mountain peaks and stars above Garibaldi Provincial Park. Many sleep under the stars on one of the many beautiful tent platforms that dot the landscape. Solidly built, wooden tent platforms are everywhere you look at Wedgemount Lake. Strategically positioned, these platforms manage to maintain a secluded feel despite their numbers.
Wedgemount Glacier Window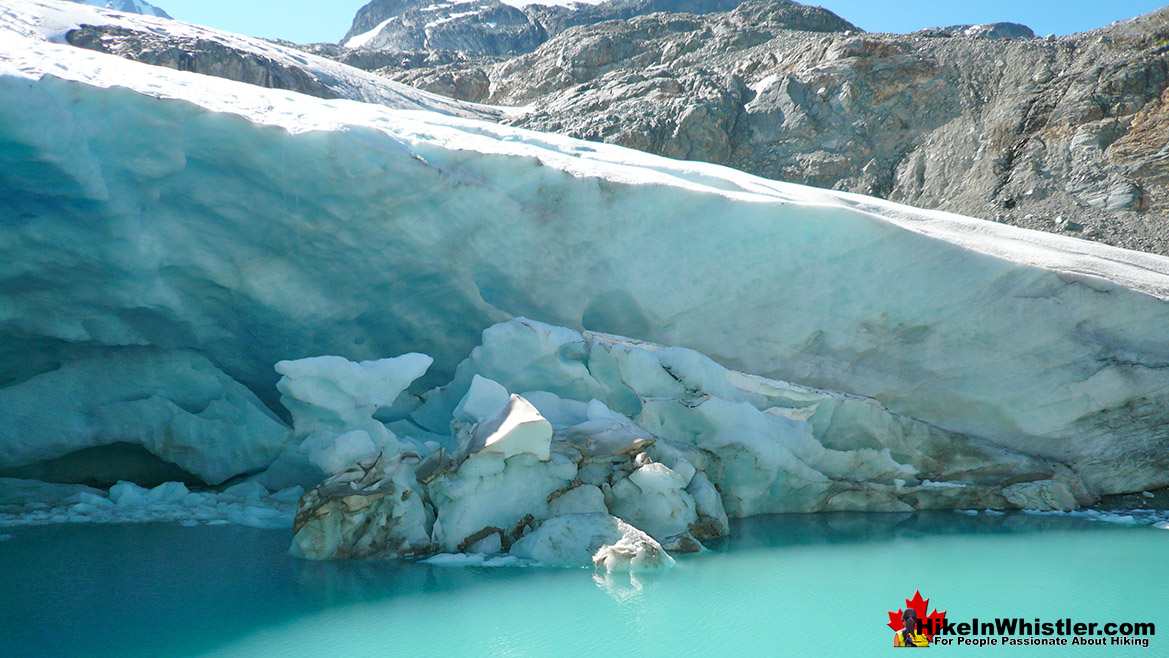 Camping in Paradise at Wedgemount Lake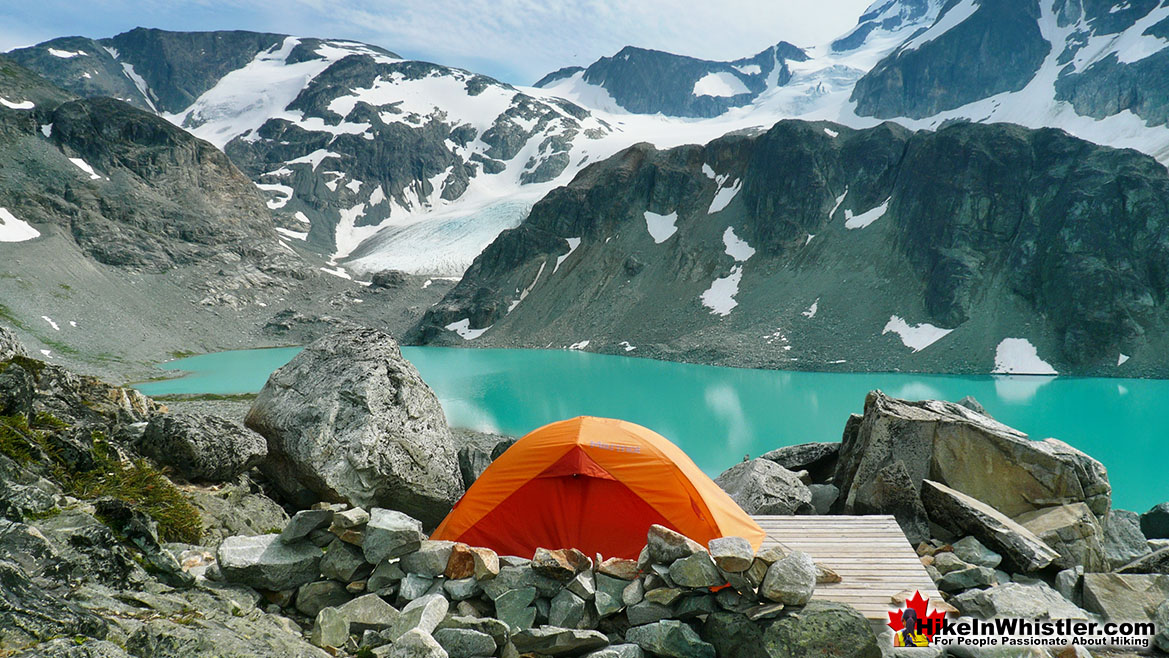 Best Whistler Hiking August - Wedgemount Lake

Wedgemount Lake is an incredible place to experience, but during August the summer temperatures peak and taking a plunge into the frigid water becomes quite appealing.  There are plenty of BC Parks tent platforms and clearings along and above the lake.  Along the shore of Wedgemount Lake, just across from the mighty glacier you will find several gorgeous, gravel clearings for tents.  You can quite literally dive into the lake two steps from your tent.  If the weather is just right, you may decide to sleep under the stars.  Best to bring a very warm sleeping bag though as even in August you may get nights cooling off to near freezing.  Though usually the nights only cool off to +8c, before the sun begins to brighten the sky at 430am.
Beautiful Wedgemount Lake in August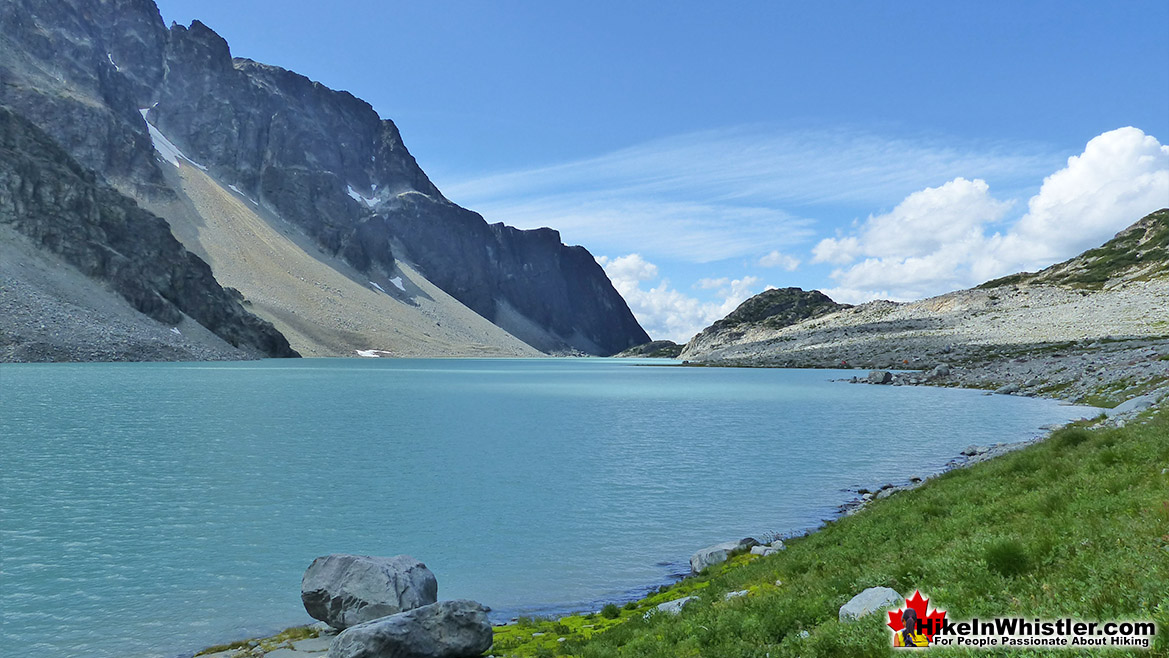 Wedgemount Glacier at Wedgemount Lake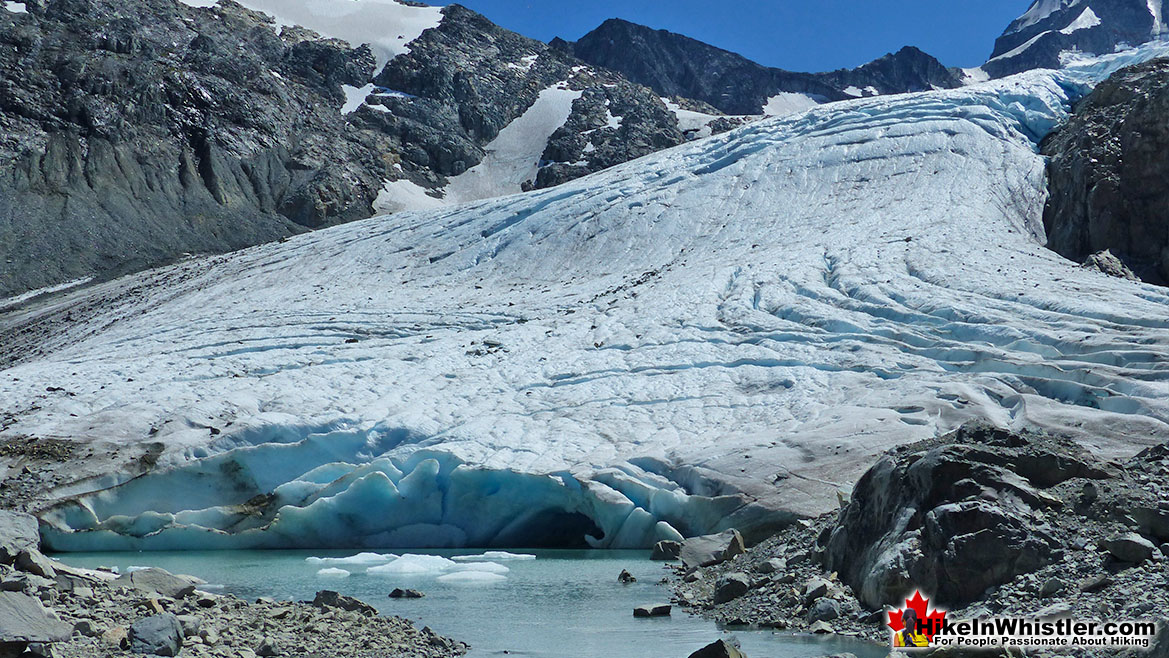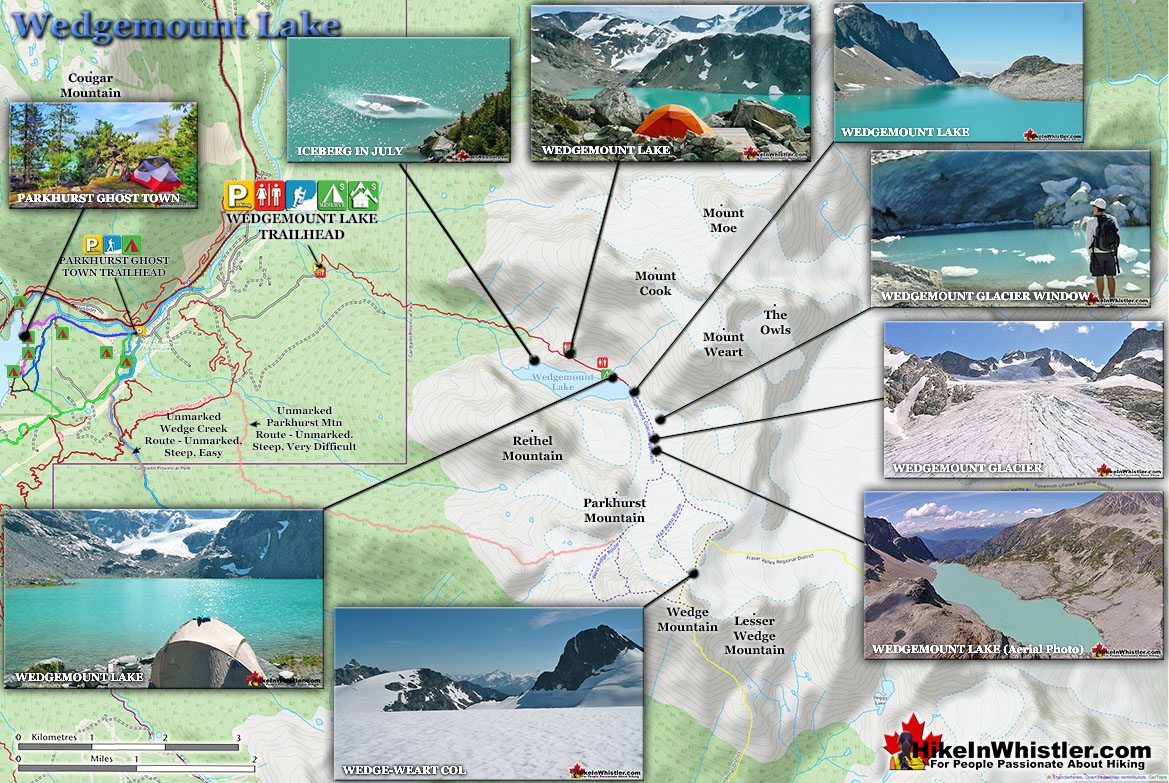 More information for hiking Wedgemount Lake in August click here.
Garibaldi Provincial Park in August
All of Garibaldi Provincial Park is incredible in August.  From Elfin Lakes in the Diamond Head region to the south in Squamish.  To the wonderful network of trails in the middle leading to Garibaldi Lake, Taylor Meadows, Black Tusk, Panorama Ridge, Helm Creek, Mount Garibaldi, Cheakamus Lake and many more all the way up to Wedgemount Lake.  If you start on the trail to Garibaldi Lake on a beautiful day in August, you may find quite a few cars at the trailhead, and a fair number of people on the trail.  When you reach the fork in the trail between Taylor Meadows and Garibaldi Lake, you may see, "campsites full".  This leads you to believe that this place is overrun with hikers, but that's only partly true.  The reason is that this incredibly vast wilderness, with many hiking trails and countless alpine routes, is only accessed by a few trailheads, which is a great thing.  This ensures that the vast, though very accessible wilderness beyond the popular, named hiking trails remain impossibly quiet.  A look at a map of Garibaldi Park and you can see this pretty clearly.  There will be concentrations of people at Elfin Lakes, Garibaldi Lake, Black Tusk, and Taylor Meadows and some way over at Wedgemount Lake, but everything in between will be empty.  Even on a seemingly chaotic August weekend.
Best Whistler Hiking August – Panorama Ridge

Panorama Ridge runs along the edge of Garibaldi Lake with an almost impossibly perfect panorama view of Garibaldi Park.  The lake, far below is a vibrant, glacier coloured turquoise, that is breathtaking to see.  Surrounding the lake is an array of snowy mountains and glaciers.  Mount Garibaldi dominates the skyline directly across the lake just beyond The Table.  The Table is a flat top mountain that looks fantastically bizarre among its neighbours.  Panorama Ridge is easily one of the most pretty hikes in Garibaldi Provincial Park.  The 15 kilometre hike from the trailhead at Rubble Creek to Panorama Ridge takes you through beautiful and deep forests, across countless idyllic streams, through meadows filled with flowers, and past dozens of jaw dropping viewpoints.
Panorama Ridge Trail View of Black Tusk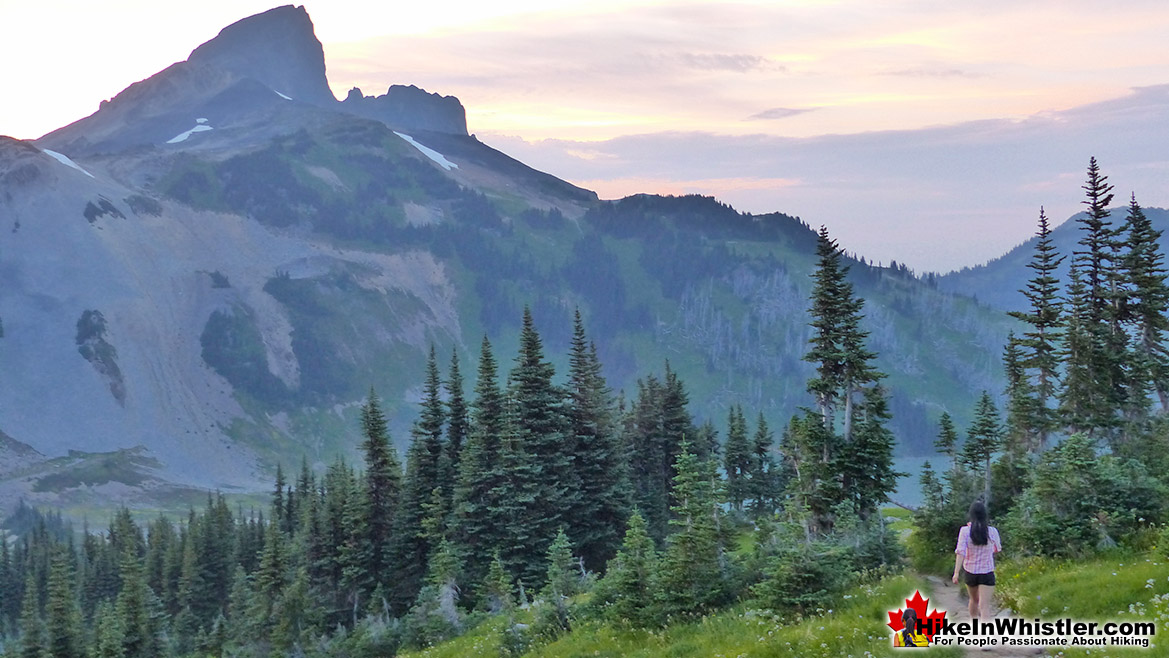 The amazing views start once you reach Taylor Meadows and get even more spectacular as the trail progresses.  Once you arrive at Panorama Ridge and its phenomenal vantage point, high above Garibaldi Park, you will stare in wonder.  Mesmerized first by Garibaldi Lake, far below you and looking unnaturally blue, the lake looks amazing surrounded by green, untouched wilderness and snow capped mountains. In the distance, where Garibaldi Lake ends, a massive glacier rises out of the blue and jagged crevasses can be seen even from such a great distance.  Behind you, Black Tusk lays across the valley.  Close to the same elevation as Panorama Ridge, you get this wonderful view of it. Certainly the best and closest viewpoint to this iconic mountain. Panorama Ridge sits, along with Black Tusk in the midst of some of the most popular and beautiful hiking trails in Garibaldi Provincial Park. There are two main trailheads for Panorama Ridge, Cheakamus Lake and Rubble Creek.
Black Tusk Lake on the Trail to Panorama Ridge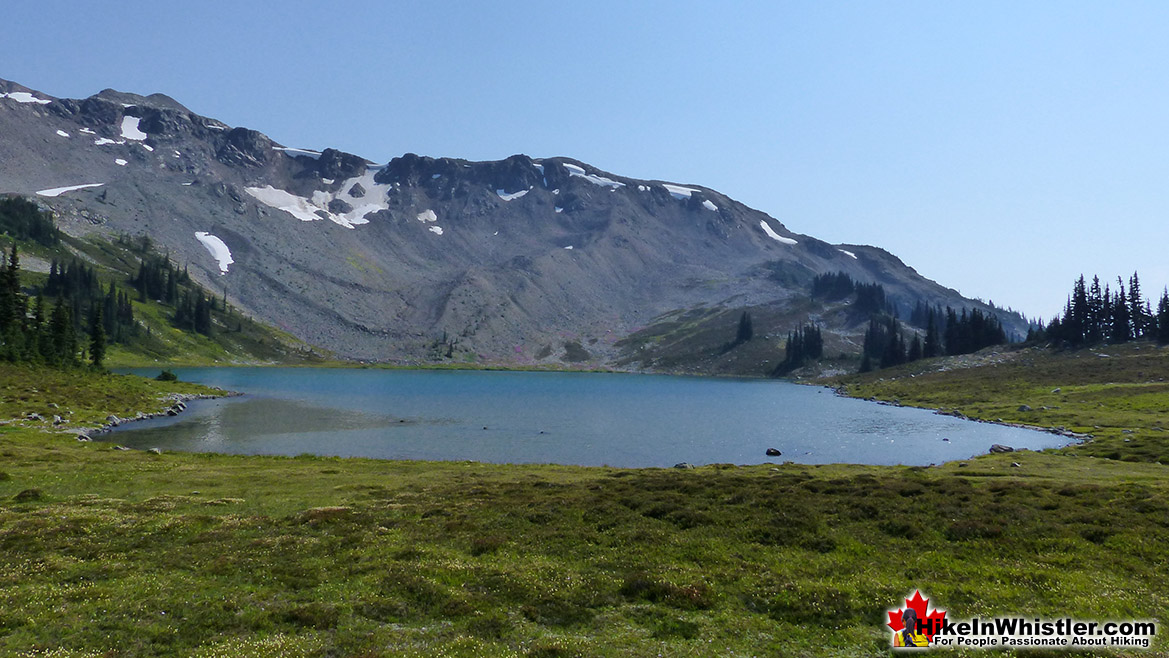 Rubble Creek is the more popular starting point as it is a bit shorter, far more scenic and allows for the inclusion of the trail to Garibaldi Lake and the beautiful Taylor Meadows as well as Black Tusk. The trail to Panorama Ridge from Rubble Creek is not so much difficult as it is long. 30 kilometres makes for a long 8-10 hour roundtrip hike.  Staying overnight at one of the campgrounds therefore is a great idea.  Garibaldi Lake and Taylor Meadows are the campgrounds on the Rubble Creek trailhead side of Panorama Ridge.  Helm Creek is the campground on the Cheakamus Lake trailhead side of Panorama Ridge.
Panorama Ridge View Over Garibaldi Lake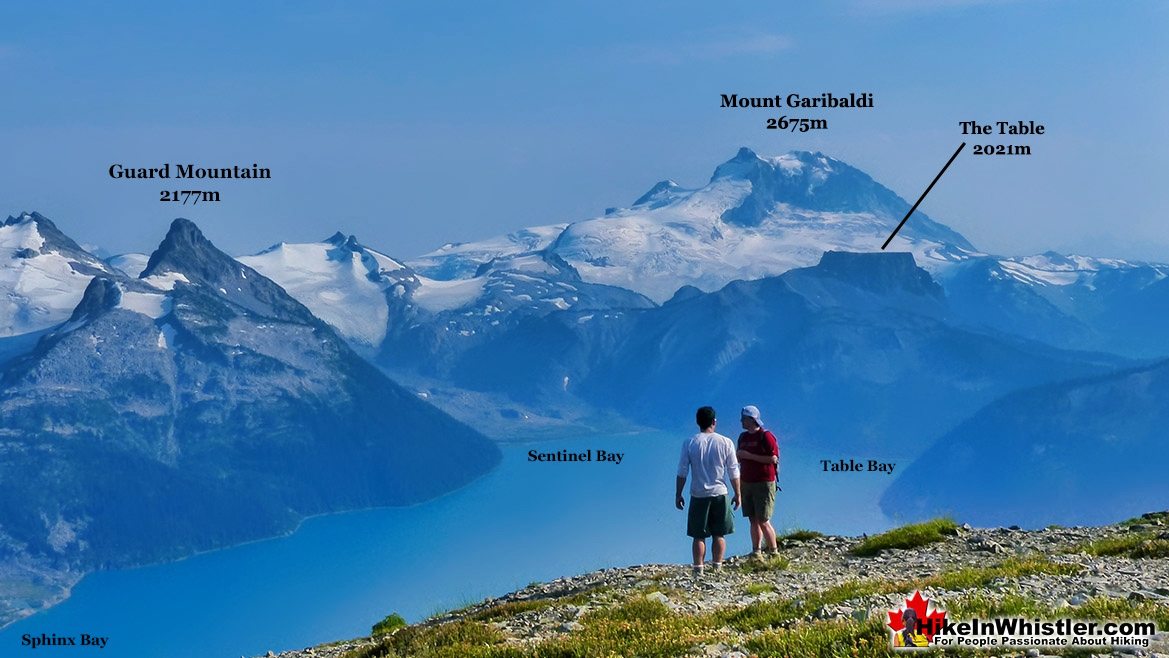 Most hike to Panorama Ridge from the Rubble Creek trailhead, however there is another, somewhat quieter Garibaldi Park access point worth considering.  The Cheakamus Lake trailhead is located at the southern end of Whistler, just 8 kilometres south of Whistler village near the newish neighbourhood of Cheakamus Crossing.  Just a couple hundred metres from the Sea to Sky Highway you will see a gravel road on your left.  This is the Cheakamus Lake forest service road that goes 8 kilometres up to the BC Parks Garibaldi Provincial Park Cheakamus Lake trailhead.  From the trailhead you have a short 1.5 kilometre hike to a branching trail that leads to Panorama Ridge.  The Helm Creek trail crosses Cheakamus River then quickly ascends up to the Helm Creek campground.  From the campground you have about a two hour hike to Panorama Ridge and the views are pretty amazing.  
Profile View of Panorama Ridge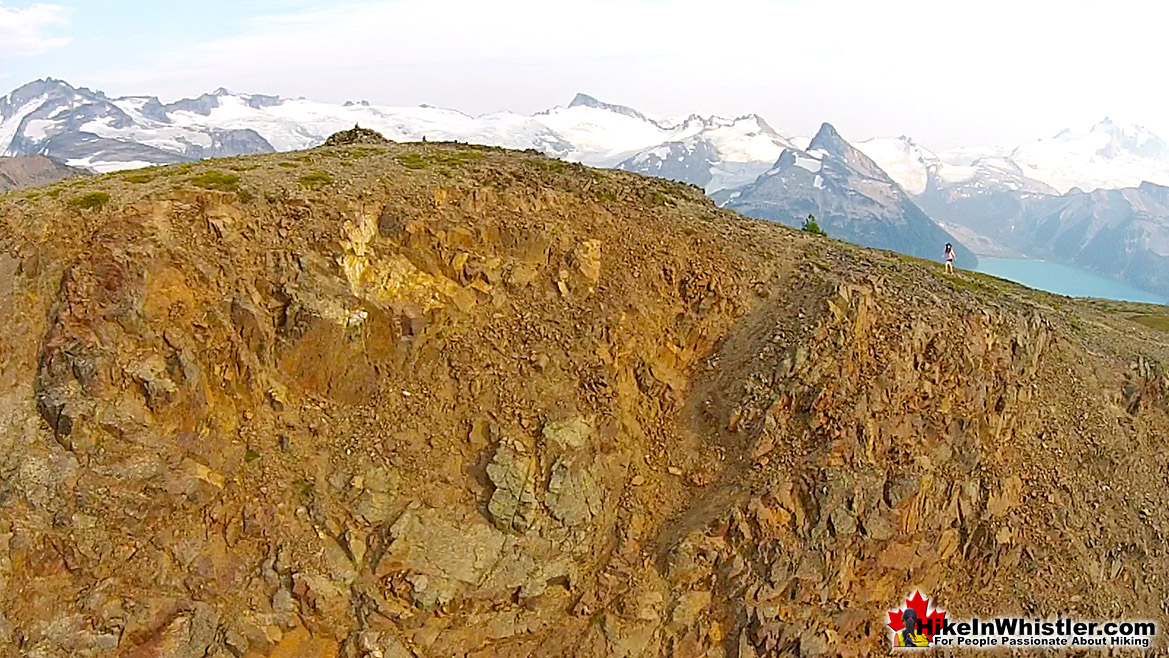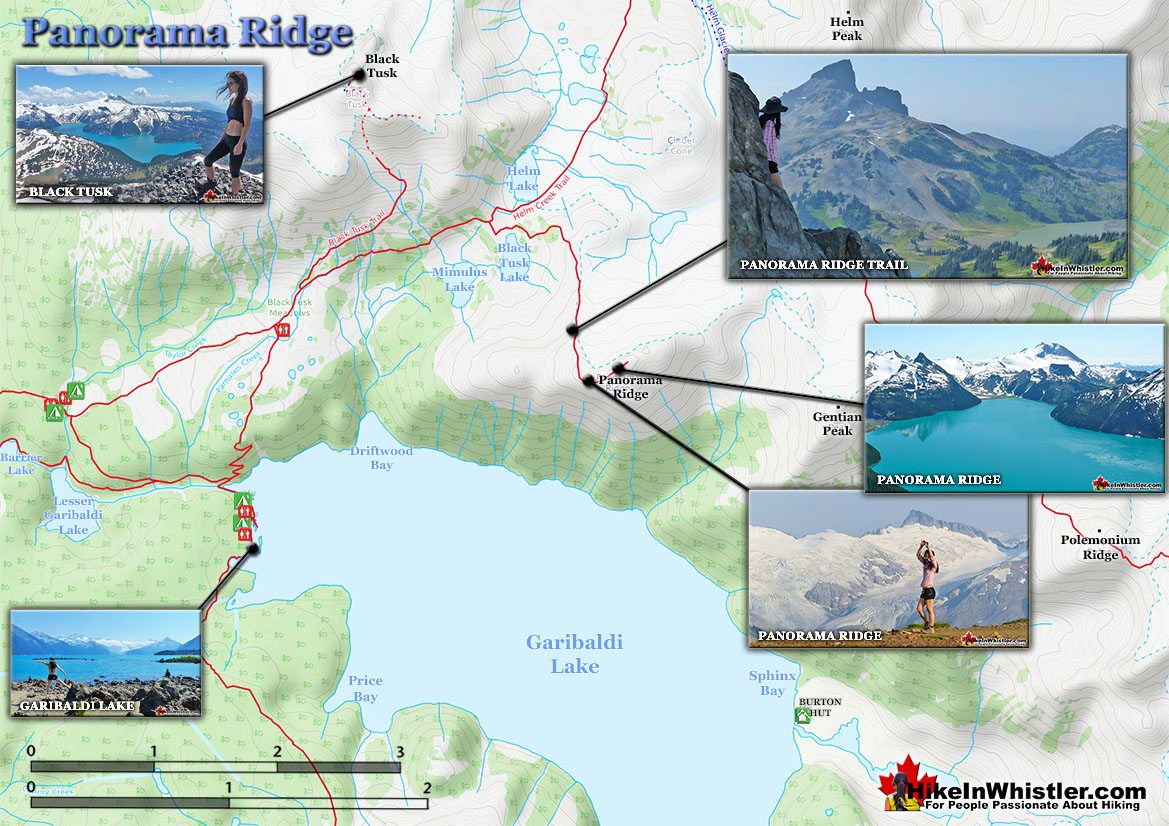 More information for hiking Panorama Ridge in August click here.
Best Whistler Hiking August – Cirque Lake

For a unforgettable hiking experience, Cirque Lake is a great choice in August.  The trailhead is only reachable by canoe and the hike looks impossibly steep from far off.  But it's not terribly difficult, and fairly short.  So if you have a canoe it's amazing, especially in August.  Located in Callaghan Lake Provincial Park, both Callaghan Lake and Cirque Lake are dog friendly.  Some short, steep sections may be tough for your dog, and you may have to help a bit.  Finding dog friendly hiking trails in and around Whistler is tough.  Whistler Mountain and Blackcomb Mountain both do not allow dogs.  Garibaldi Provincial Park also prohibits dogs.  Rainbow Lake is the source of Whistler's water and dogs are not welcome on the Rainbow Trail.  New in 2018, Joffre Lakes Provincial Park no longer allows dogs.
Cirque Lake Aerial View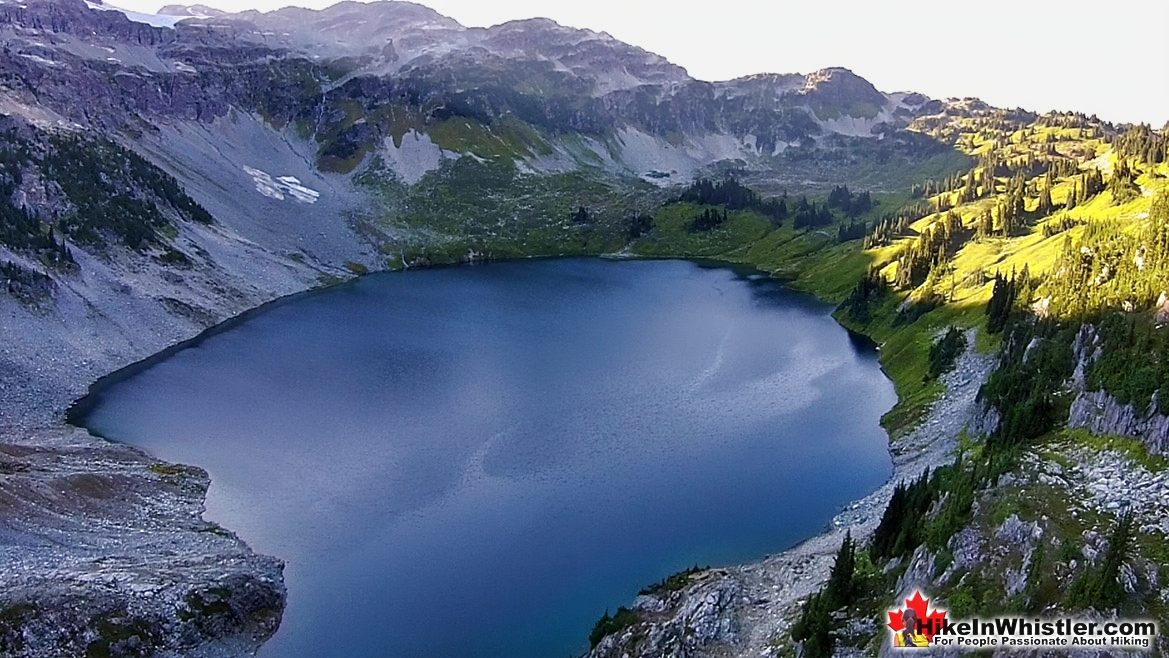 A wonderful hiking destination in August as with the winter snow in fast retreat, the brilliantly green slopes around the lake seem to glow in the evening sun.  A cirque is a valley carved out by glaciers that often form on the north side of mountains.  Centuries of grinding weight of a glacier, under the right circumstances will carve out a huge amphitheatre in the side of the mountain valley.  Occasionally a near perfect lake forms in the cirque.  On a sunny day in August, Cirque Lake is as close to perfectly beautiful as a lake can get.  Huge, astoundingly perfect round shape, filled with deep green coloured water, glowing green hillsides from the lush vegetation recently thriving in August.  Sitting in front of your tent at the edge of Cirque Lake staring down at such an impossibly peaceful and remote feeling place is a great way to spend a August evening!
Paradise Tent View of Cirque Lake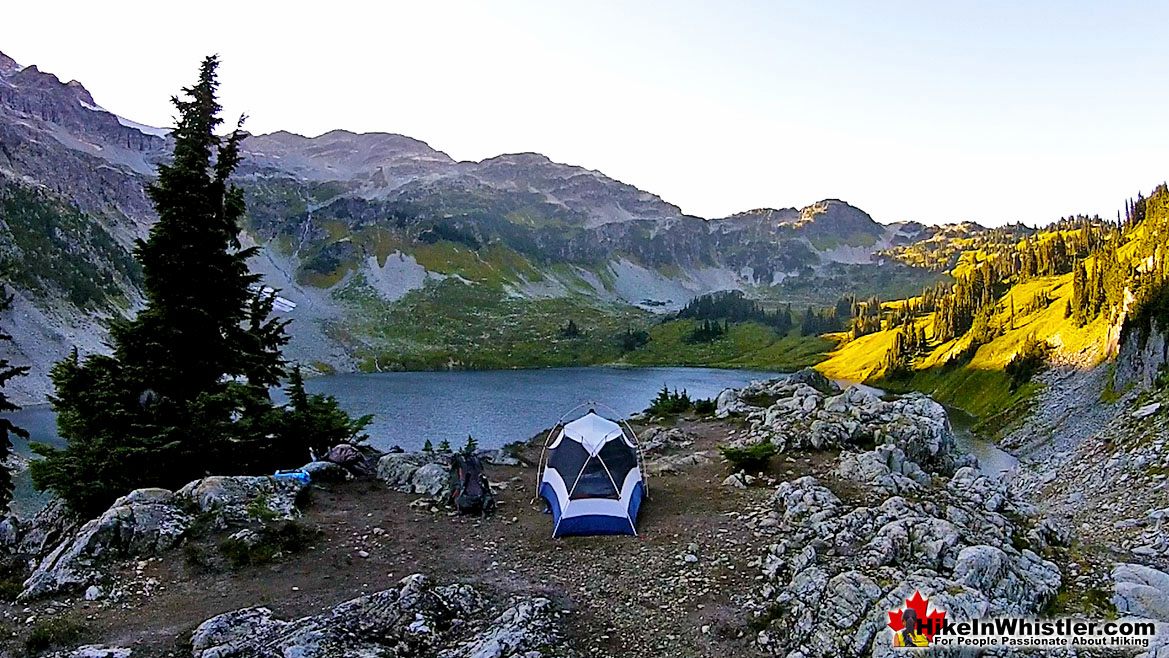 More information for hiking Cirque Lake in August click here.
Best Whistler Hiking August – Black Tusk

Black Tusk is another unforgettable hiking destination in Whistler that is recommended to do in August.  Hot, beautiful weather, and a hiking destination that feels like the top of the world.  Standing on the top of Black Tusk is a surreal experience.  Black Tusk, created in the fires of the Garibaldi Volcanic Belt and is one of the most admired and hiked to destinations in Garibaldi Provincial Park.  Every angle you look at it, from far away, to closer vantage points such as Taylor Meadows, Helm Creek, Panorama Ridge or Garibaldi Lake.  All views give you the certain belief that it mus be impossible to hike to the top.  In fact, Black Tusk seems to look more impossible to climb the closer you get to it.  Even when you are close enough to touch its vertical, black and crumbling sides, you wonder in amazement how anyone can possible get up to the peak of this incredible mountain.  The Rubble Creek trailhead is, for most hikers, the best trailhead option for Black Tusk. It is easy to find, clearly marked and the most direct route.  The Cheakamus Lake trailhead is a bit longer and you have to leave the marked trail to ascend to Black Tusk.  Though this unmarked route is straightforward and surprisingly easy, as it is unmarked it requires a bit of guesswork that may be intimidating.  The Cheakamus Lake trailhead route also lacks one other wonderful attribute that the Rubble Creek route has, a pit-stop at Garibaldi Lake.  This less than 30 minute detour(one way) allows for a spectacular place to cool off in an always frigid, glacier fed lake!
Black Tusk from Mount Sproatt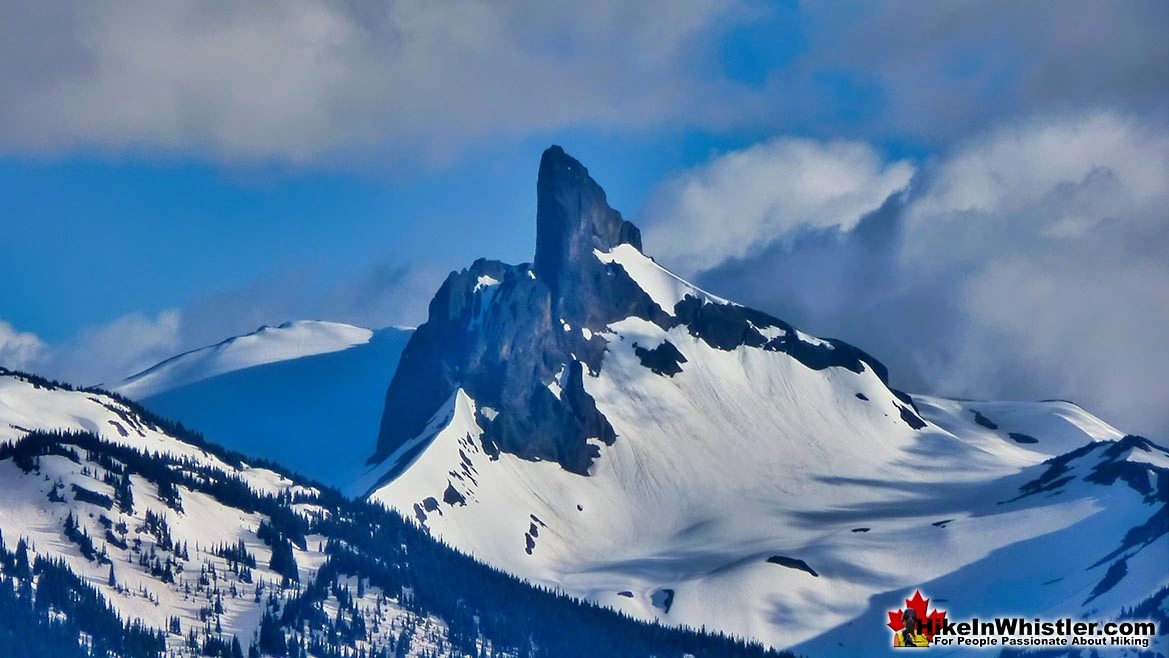 Black Tusk View of Mt Garibaldi Above the Clouds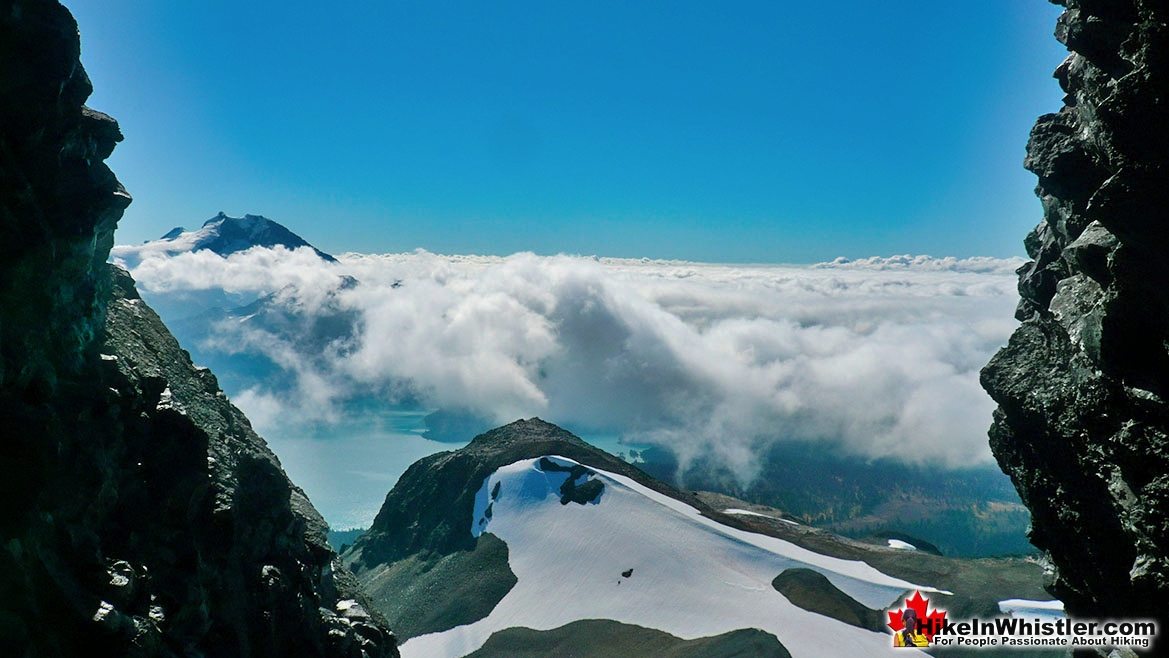 The Towering View of Garibaldi Park from Black Tusk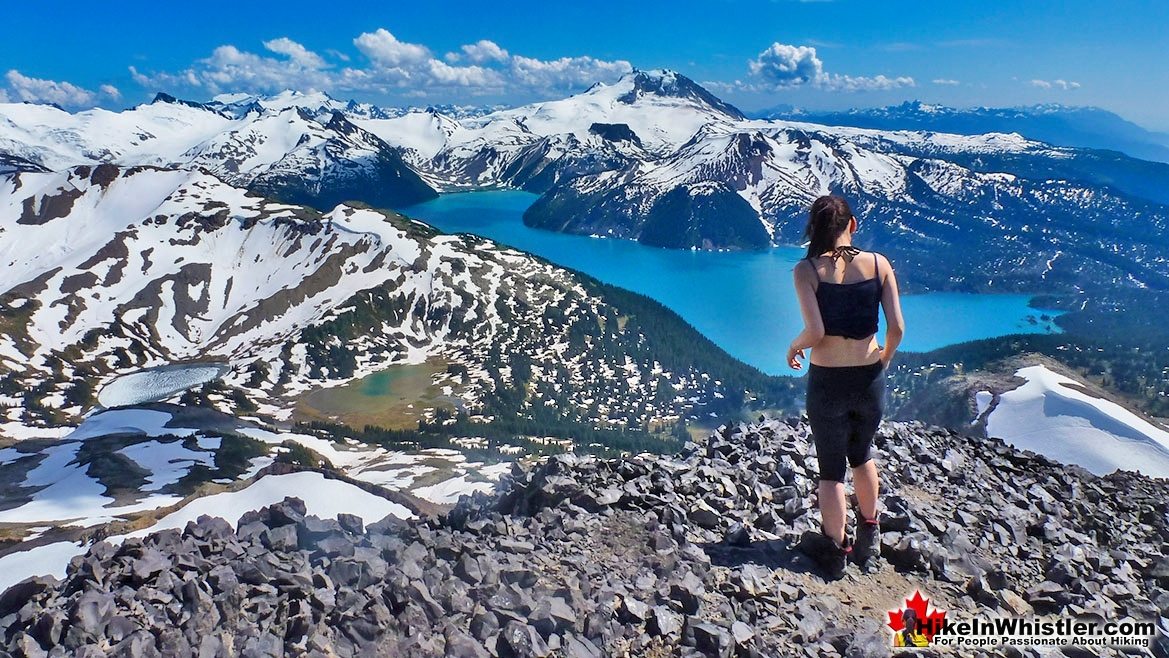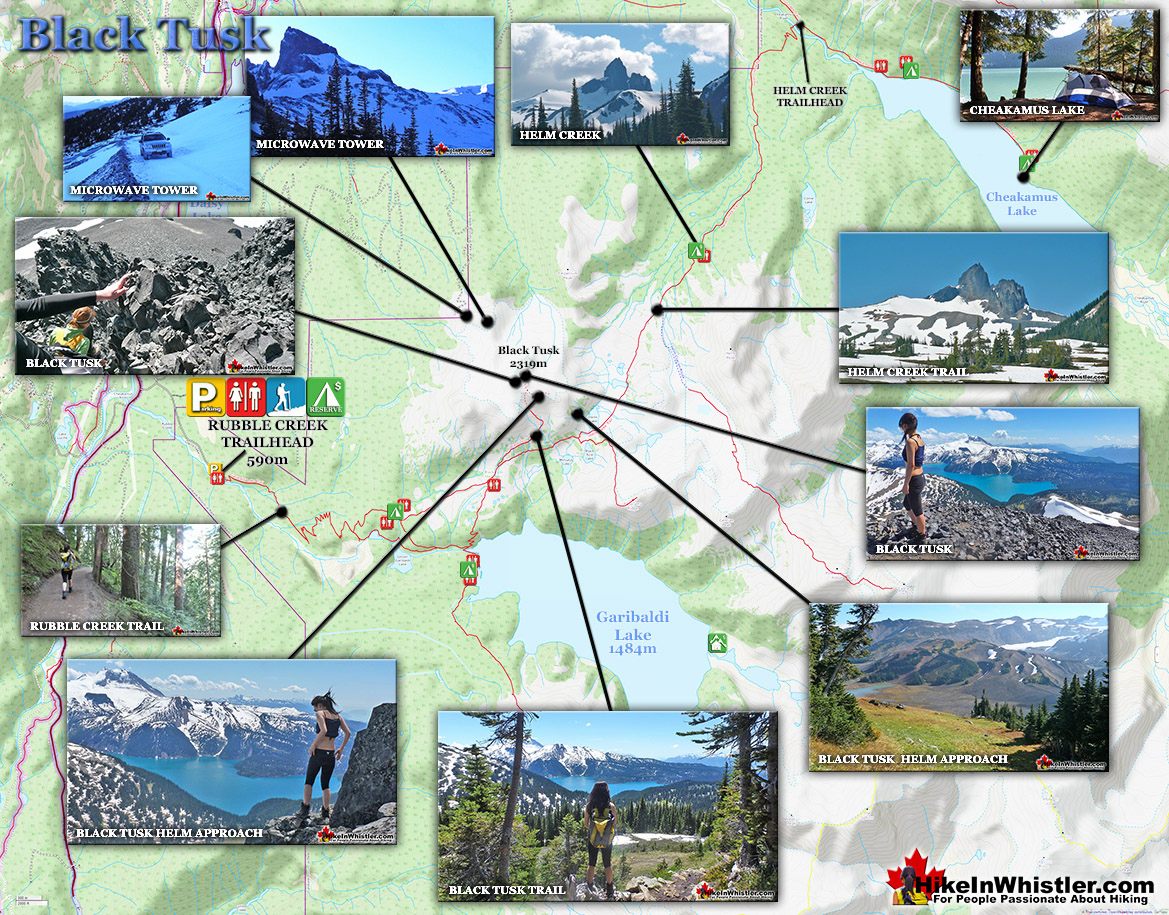 More hiking information for hiking Black Tusk in August click here.
Best Whistler Hiking August – Blackcomb Mountain

Blackcomb Mountain in August is a stunning place to hike.  As construction takes place in 2018 on the new gondola from the base of Blackcomb to the Rendezvous Lodge, hiking access to Blackcomb comes via the Peak to Peak Gondola from Whistler Mountain.  The Blackcomb Mountain trails start the moment you exit the Peak to Peak Gondola and immediately have stunning views of Whistler valley.  The trail then ascends up and along a winding route that opens up to great views across to Whistler Mountain.  At every trail junction you can circle back to where you started or continue another leg.  At each turn you have very nice mapboards and signs indicating where to go and how long you likely will take to hike it and return in time for the Peak to Peak which stops around 4pm.  More hiking details for Blackcomb Mountain in August click here.
Blackcomb Mountain View of Overlord Glacier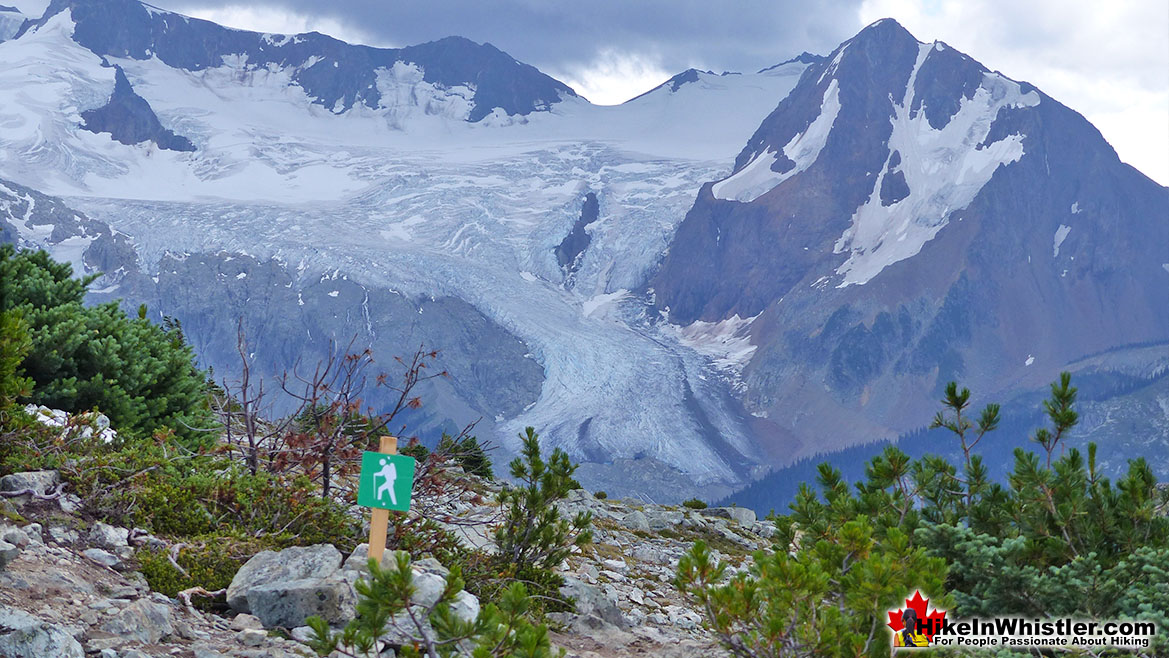 Best Whistler Hiking August – Whistler Mountain

July and August are the months where the Whistler Mountain hiking trails are clear of snow and beautiful.  Valleys of flowers, distant glaciers, alpine lakes, and plenty of hiking trails to choose from.  From the Roundhouse you can start hiking the Musical Bumps trail towards Russet Lake or hike down to the Peak Express Chair and ride up to the summit of Whistler Mountain.  An easy interpretive hiking trail loops around the summit and the more challenging Half Note and High Note trails run out along the ridge that overlooks Whistler valley and Cheakamus Lake.  The High Note trail eventually links to the Musical Bumps trail which takes you to Russet Lake in Garibaldi Provincial Park.  More hiking information for hiking Whistler Mountain in August click here.
Whistler Mountain Ice Walls Along Mathews' Traverse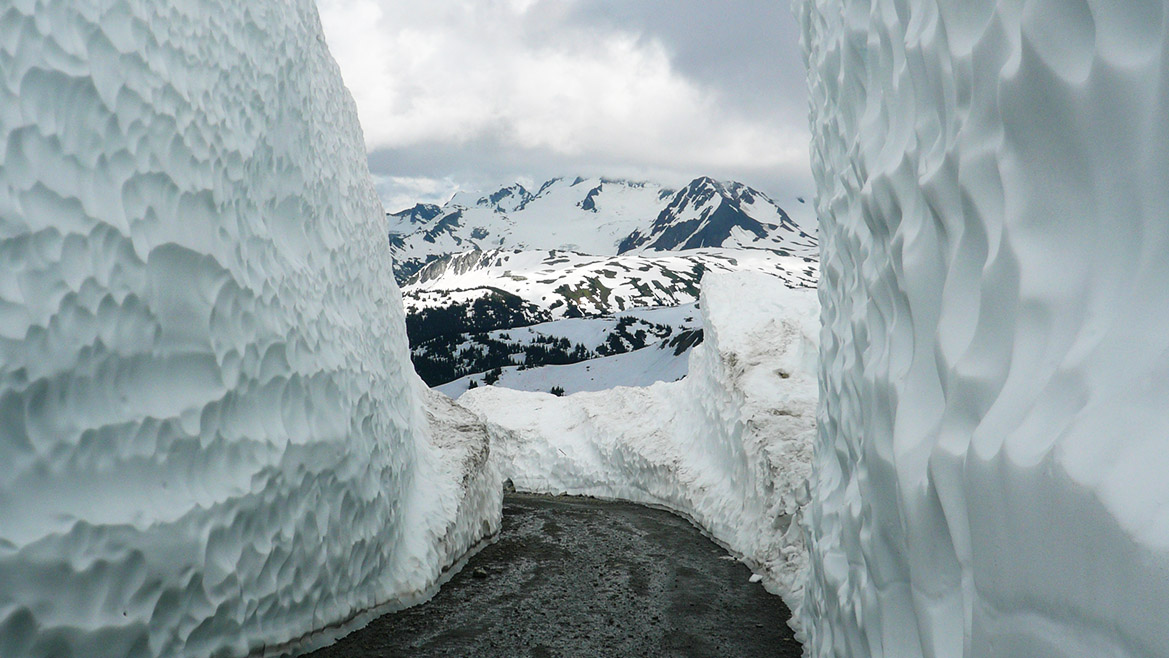 Whistler Mountain Peak Chair to the Summit
Cheakamus Lake from Whistler Mountain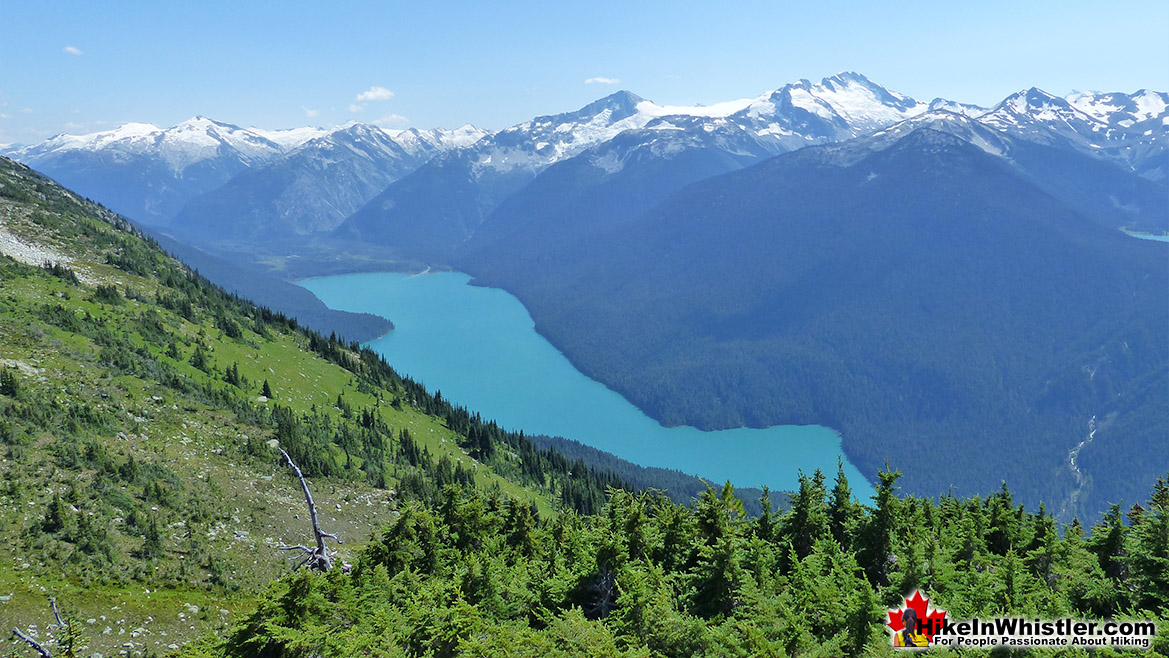 The Cloudraker Skybridge on Whistler Mountain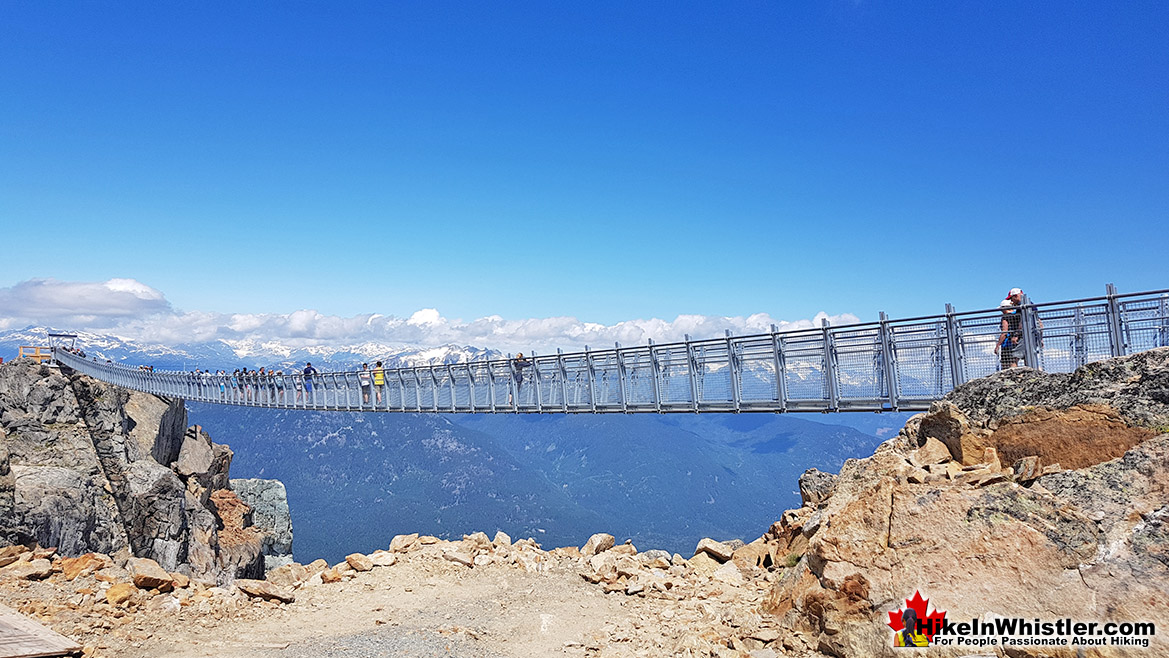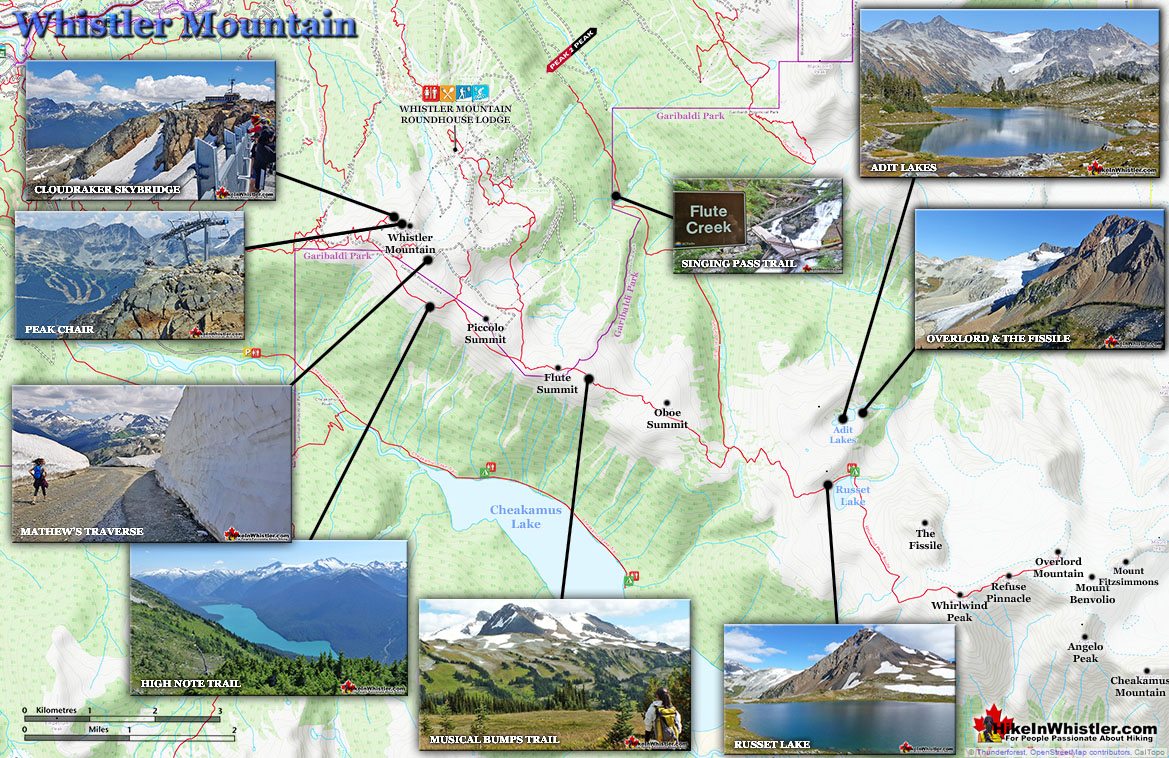 Best Whistler Hiking August – Russet Lake

Whistler Mountain is also the gateway to the wonderful heart of Garibaldi Provincial Park.  Russet Lake is located close to where the Fitzsimmons Range meets the Spearhead Range and at the foot of The Fissile.  The Fitzsimmons Range is the range of mountains that includes Whistler Mountain.  The Spearhead Range is the mountain range that lays across the valley, cut by Fitzsimmons River.  If you have ever been on the Peak to Peak Gondola that connects Whistler Mountain and Blackcomb Mountain, you would have noticed at the mid-point a river that runs down the valley.  This is the Fitzsimmons River which is fed by Russet Lake and Overlord Glacier as well as hundreds of small streams.  Russet Lake can be hiked to via the free, BC Parks Garibaldi Provincial Park trail that starts a couple hundred metres up from the base of Whistler Mountain.  The big bus stop on Blackcomb Way has a trailhead mapboard for the Singing Pass trail to Russet Lake.  It is quite a long and boring trail that constantly ascends for about a dozen kilometres through the forest before getting scenic.  A nicer alternative is to buy a lift pass and ride the Whistler Gondola up the Whistler Mountain, then hike the Musical Bumps trail or the High Note trail to Russet Lake.  Both are shorter than the Singing Pass trail, and constantly amazing.  Also, you ride most of the ascent by gondola.  No matter what way you hike to Russet Lake, if you do it in August you will likely have gorgeous weather and a wonderful time at the lake.  The Russet Lake campsite sits near the base of The Fissile at the shore of Russet Lake, and overlooking Overlord Glacier.  A small stream runs along the campsite that you can drink straight from.  From the campsite you can hike in several directions to see some incredible sights.  The Fissile is a challenging scramble.  Overlord Glacier is just an easy hike down the valley.  The small and comparatively warm, Adit Lakes sit up from Russet Lake on the opposite side of the valley from The Fissile.  Russet Lake is paradise in August, but keep in mind that it can get busy, especially on weekends.  If you are camping, get your BC Parks camping permit ahead of time.  If you are day hiking, you don't have to pay a think, except the Whistler lift pass if you hike in that way.  If you hike up Singing Pass, it is of course free, and you can return via Whistler Mountain on the Peak Express Chair and/or the Whistler Gondola for free.
Aerial View of The Fissile and Russet Lake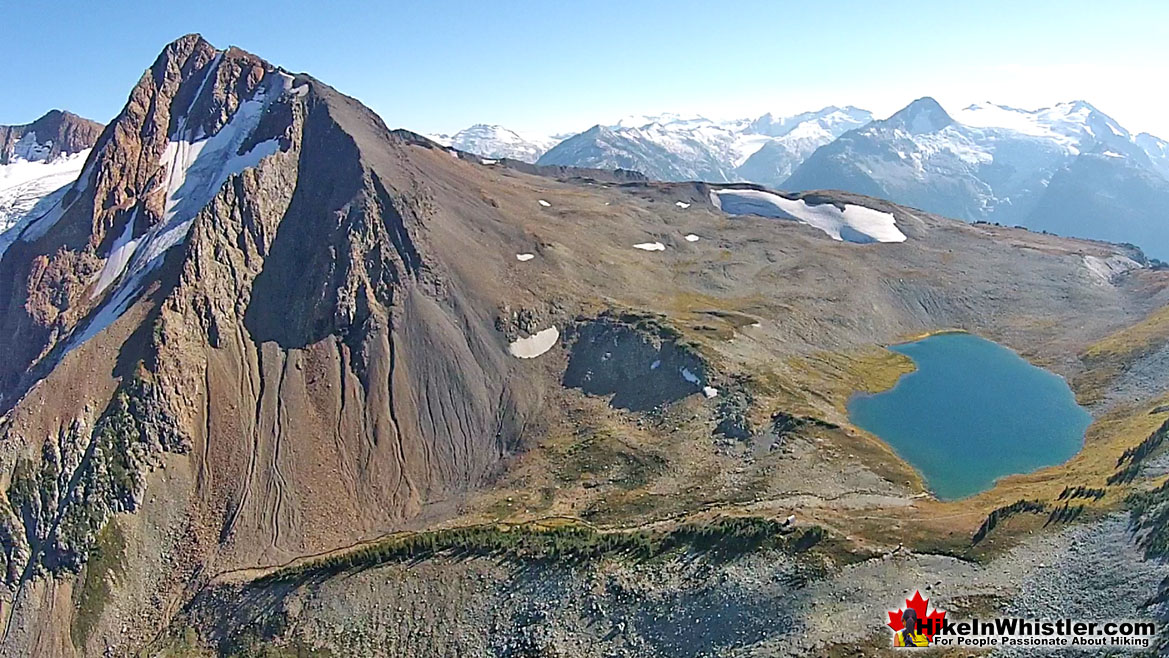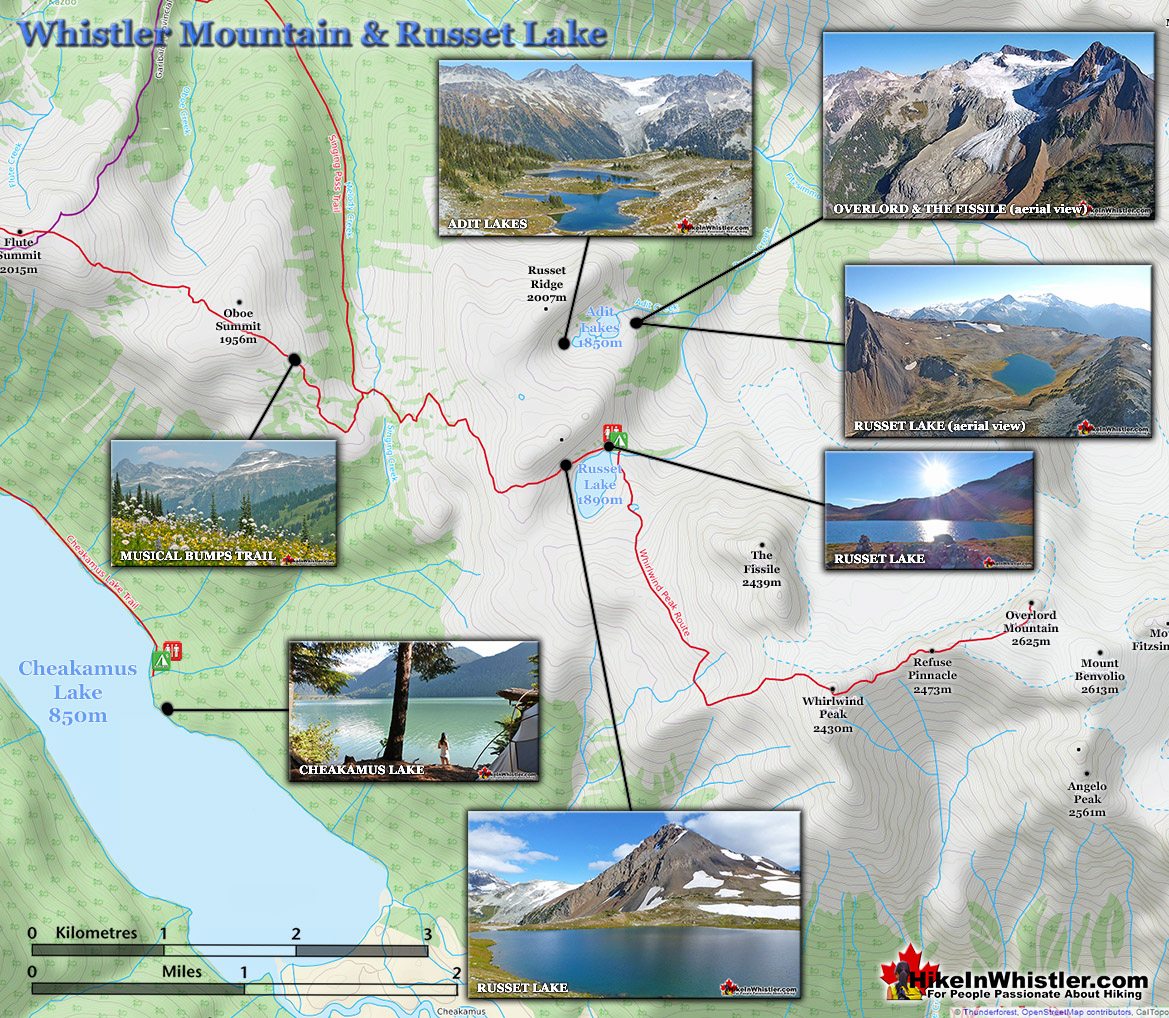 More information for hiking Russet Lake in August click here.
Hiking in Whistler and Garibaldi Park by Month!
Whistler Hiking Glossary A to Z

Whistler, Garibaldi Park & Sea to Sky Hiking Trails!