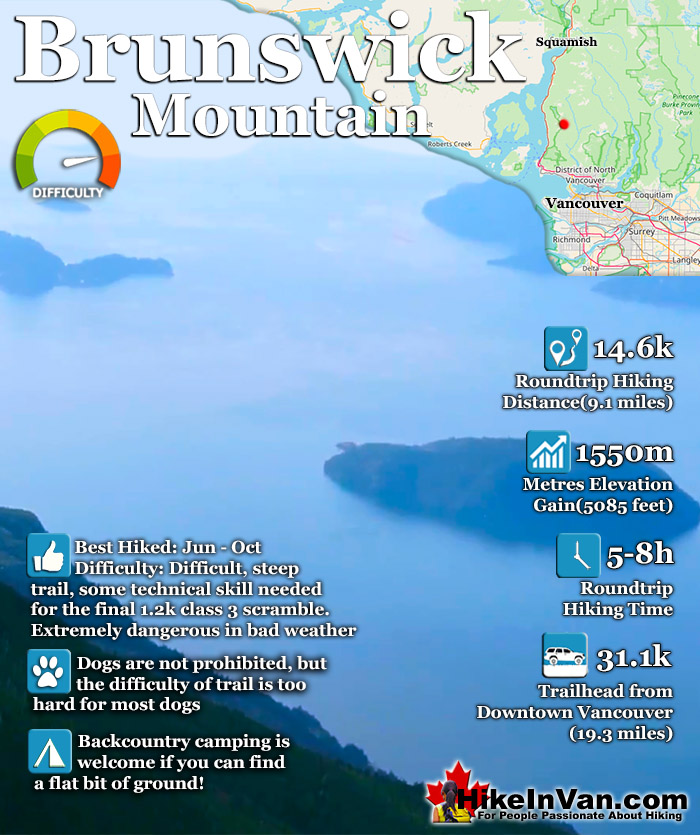 Brunswick Mountain is the highest peak in the North Shore mountains.  Located in the beautiful Cypress Provincial Park, Brunswick Mountain is among several other prominent summits on the amazing Howe Sound Crest Trail.  You can reach Brunswick from the Howe Sound Crest Trail if you begin your hike from the Cypress Mountain Resort, however reaching it from the trailhead in Lions Bay is much shorter.
Located in a vast wilderness

On the Howe Sound Crest Trail

Gorgeous views of Howe Sound

Camping is allowed & free

Rewarding & difficult summit

One of many peaks in the area

Not a well known hiking trail

Bad weather makes it dangerous

Too difficult for most hikers

Parking is hopelessly inadequate

Vancouver Hiking Trails

Black Mountain

Brunswick Mountain

Burnaby Lake

Burnaby Mountain

Coliseum Mountain

Crown Mountain

Cypress Falls

Deeks Peak

Deep Cove

Deer Lake

Dog Mountain

Goat Mountain

Goldie Lake

Grouse

Hollyburn Mountain 

Kitsilano Beaches

Lighthouse Park

Lynn Canyon

Lynn Peak

Mt Elsay

Mt Fromme

Mt Hanover

Mt Harvey

Mt Seymour

Mt Strachan

Mystery Lake

Pacific Spirit

Rice Lake

St Mark's

Stanley Park

The Lions

Unnecessary
This trailhead is also used to reach The Lions, Mount Harvey and Mount Hanover. The trail is challenging as you gain considerable elevation in a short distance, 1550 metres in just 7.3k.  The first half of the trail is fairly easy as you follow first a disused logging road for about 15 minutes (bear right at a fork), then a wide and fairly straight trail for another 20 minutes until you reach another junction. Take the trail (overgrown logging road) to the left which is well marked with flagging tape.  You will shortly cross Magnesia Creek and the trail steepens as the logging road/trail becomes a trail and soon you will see a fork.  Take the right fork and follow several switchbacks until you reach a ridge leading up to Brunswick Mountain. This final ridge ascent is very steep and exposed (class 3 scramble for about 1 kilometre), which can be very dangerous in poor weather. People have been airlifted from this section in the past due to poor weather moving in quickly to leave them unable to see.  Unable to see you can find yourself unable to find your way up or down safely and the more you continue, the worse your situation becomes.
Brunswick Mountain is part of the amazing Howe Sound Crest Trail in Cypress Provincial Park and is one of the many beautiful peaks to be climbed if desired on the 29k trail.  Among the hiker friendly mountains (in order from Cypress north) on the Howe Sound Crest Trail are: Mount Strachan, St Mark`s Summit, Unnecessary Mountain, The Lions, Mount Harvey, Mount Hanover, Brunswick Mountain and finally Deeks Peak.
The trailhead to Brunswick Mountain is tricky to find.  It is located town of Lions Bay which is about an hours drive from downtown Vancouver or a half hour south of Squamish.  From either direction on the Sea to Sky Highway, take the Lions Bay exit onto Oceanview Road (the 2nd Lions bay exit from either direction), then immediately turn left onto Cross Creek Road, then right onto Centre Road, then left onto Bayview Road, then left onto Mountain Drive, left again onto Sunset Road and park near the black gate at the dead end. Be sure to park legally as they actively tow illegally parked cars.  More parking is available at the school 1 kilometre from here.
Discover Brunswick Mountain at HikeInVan.com

Best Whistler & Garibaldi Park Hiking Trails!
Whistler & Garibaldi Park Hiking by Month!

Explore BC Hiking Destinations!