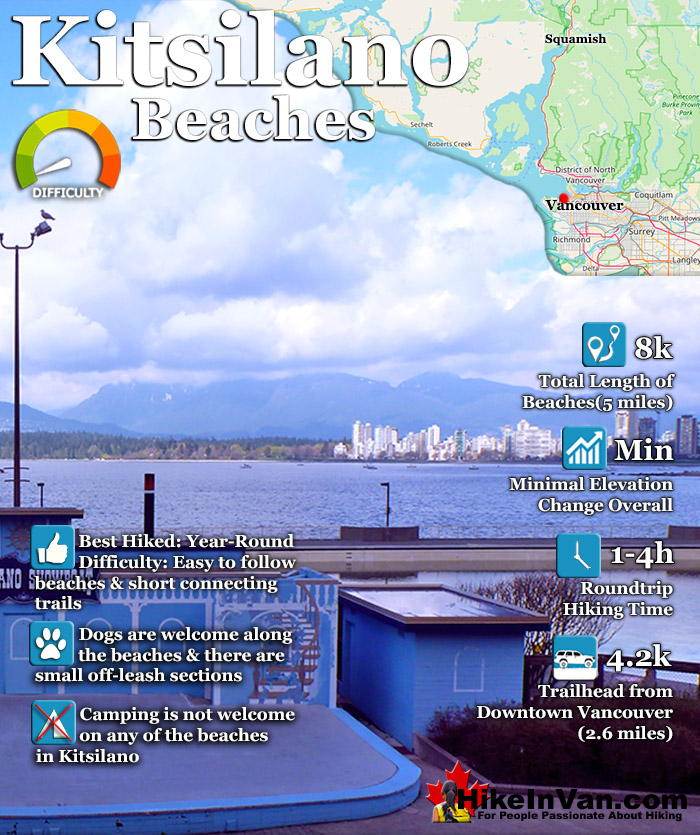 The Kitsilano beaches begin as soon as you cross the Burrard Bridge and enter the residential paradise of Kitsilano. Though only this first beach is named Kitsilano Beach, you can walk from one beach to the next via some short and scenic residential detours. So you can connect the beautiful Kitsilano Beach to Jericho Beach, then Locarno Beach then Spanish Bank Beach. 
Beautiful sunsets

Fun & local atmosphere

Located in beautiful Kitsilano

Beach, ocean & mountain views!

Seawall extends from Stanley Park

Huge, beautiful, saltwater pool

Lots to see & do along the beach

Wonderful in any weather

Great to visit year-round


No white sand beaches like Hawaii
Vancouver Hiking Trails

Black Mountain

Brunswick Mountain

Burnaby Lake

Burnaby Mountain

Coliseum Mountain

Crown Mountain

Cypress Falls

Deeks Peak

Deep Cove

Deer Lake

Dog Mountain

Goat Mountain

Goldie Lake

Grouse

Hollyburn Mountain 

Kitsilano Beaches

Lighthouse Park

Lynn Canyon

Lynn Peak

Mt Elsay

Mt Fromme

Mt Hanover

Mt Harvey

Mt Seymour

Mt Strachan

Mystery Lake

Pacific Spirit

Rice Lake

St Mark's

Stanley Park

The Lions

Unnecessary
Walking them all will add up to about 8 kilometres (one way) of wonderfully varied beaches, parks, marinas, the enormous Kits Pool and endless vantage points to English Bay and Burrard Inlet. This is not a hiking route but rather a fantastic beach walk anytime of the year.  With the changing weather and seasons change the wonderful feel you get walking around Vancouver.  There are plenty of places to park near all of the various parks and beaches as well as the large pay parking lot on Arbutus Street next to the beach. Kitsilano is a wonderful place to go for a coffee or dinner and there are endless restaurants just a few blocks from the beach.  You could easily spend a day in Kitsilano wandering the beaches, shopping and dining at the great selection of eateries.
Discover Kitsilano Beaches at HikeInVan.com

Best Whistler & Garibaldi Park Hiking Trails!
Whistler & Garibaldi Park Hiking by Month!

Explore BC Hiking Destinations!