May 5th, 2019: The summer of 2011 was the time when some local Whistler artists ventured into the wilderness between the crashing Cheakamus River and train tracks that cut through the middle of Whistler.  Of the marvellous works of art that were painted that summer, Kups has the most impressive and long lasting murals in Whistler Train Wreck.  One bizarre and beautiful mural hides further out from the other wrecked train cars.
Whistler & Garibaldi Hiking

Alexander Falls  

Ancient Cedars  

Black Tusk  

Blackcomb Mountain  

Brandywine Falls  

Brandywine Meadows  

Brew Lake  

Callaghan Lake  

Cheakamus Lake  

Cheakamus River  

Cirque Lake 

Flank Trail 

Garibaldi Lake 

Garibaldi Park 

Helm Creek  

Jane Lakes 

Joffre Lakes  

Keyhole Hot Springs  

Logger's Lake  

Madeley Lake  

Meager Hot Springs 

Nairn Falls  

Newt Lake 

Panorama Ridge 

Parkhurst Ghost Town 

Rainbow Falls  

Rainbow Lake 

Ring Lake  

Russet Lake  

Sea to Sky Trail 

Skookumchuck Hot Springs  

Sloquet Hot Springs 

Sproatt East 

Sproatt West  

Taylor Meadows  

Train Wreck  

Wedgemount Lake  

Whistler Mountain

January 

February 

March 

April 

May 

June 

July 

August 

September 

October 

November 

December

Alexander Falls 

Brandywine Falls  

Cirque Falls  

Holloway Falls 

Keyhole Falls 

Nairn Falls 

Rainbow Falls 

Shannon Falls 

Train Wreck Falls 

Wedgemount Falls
Walking into the woods for about 5 minutes brings you to the stunning Kups Zombie.  This large, colourful mural covers half the side of one of the old train wrecks and stretches from bottom to top.  Painted by Kups in 2011 during the Train Wreck Paint Jam organized by another local legend in Whistler, Chili Thom.  Several murals created at the Paint Jam in 2011 were gorgeous.  Brilliantly coloured and surreal in such an unusual, tranquil and hidden forest with seven mangled train boxcars scattered.  Whistler Train Wreck went from a curiously interesting, old train wreck site, to a brilliant collection of stunning murals during that one summer night in 2011.  Located on a particularly beautiful stretch of Cheakamus River, the Whistler Train Wreck is a collection of seven boxcars that were craned into the forest here after derailing 72 years ago.  Desperate to get the train tracks cleared after the boxcars jumped the rails and wedged in the rock cut nearby, a local logging company brought in a 35 tonne crane and yanked them into the forest.  The boxcars lay in the forest here as junk for decades until they were brought to life by local artists that turned the train wrecks into beautiful works of art.  Though most of the original murals have been painted over, some remain, and new murals appear occasionally.  As a testament to how mysterious and surreal Whistler Train Wreck is, the municipality had to build a fancy, $100,000 bridge a couple years ago to this popular hiking destination.
Pinapple Ring Neck Tie by Kups
After you cross the Whistler Train Wreck bridge you ascend up to the midst of the first collection of wrecked boxcars.  If you head south from there along the trail for about five minutes you will come to these two boxcars mashed together.  Though they have long since been painted over, this is how they looked in 2011, not long after Kups painted this haunting, zombie character with a pineapple ring neck tie.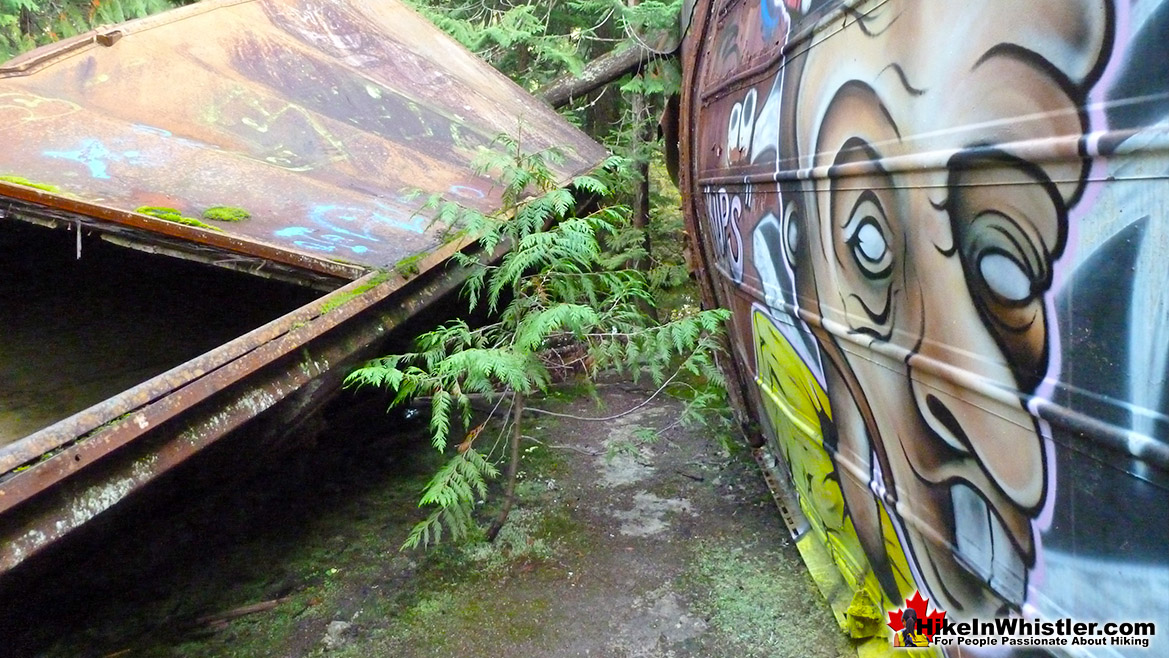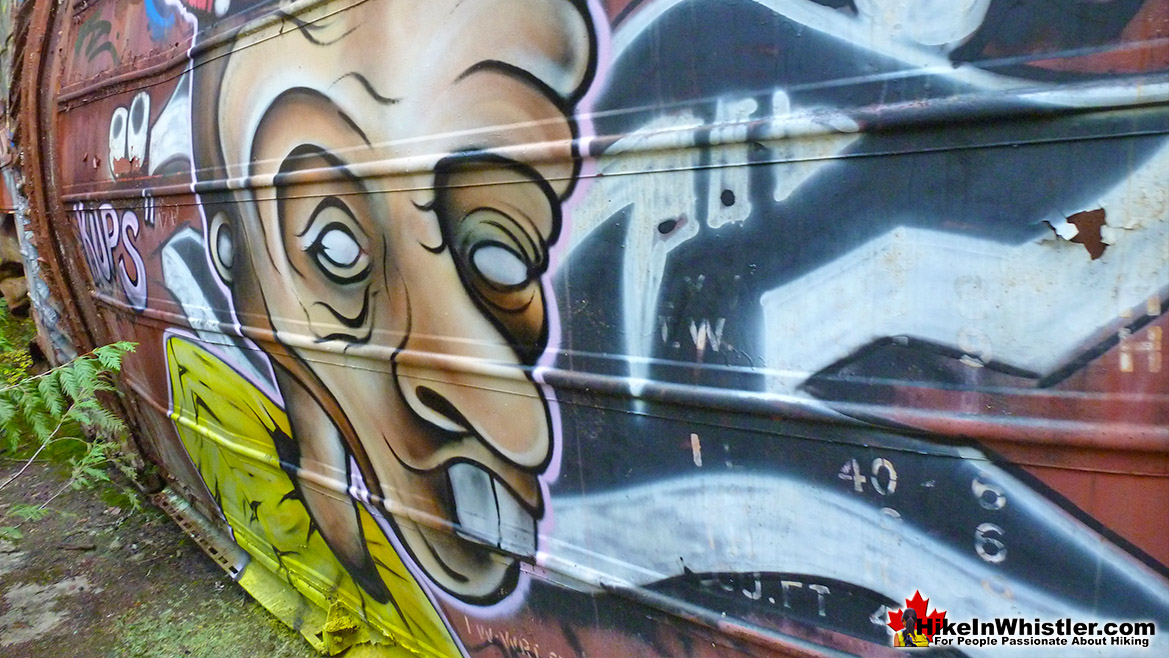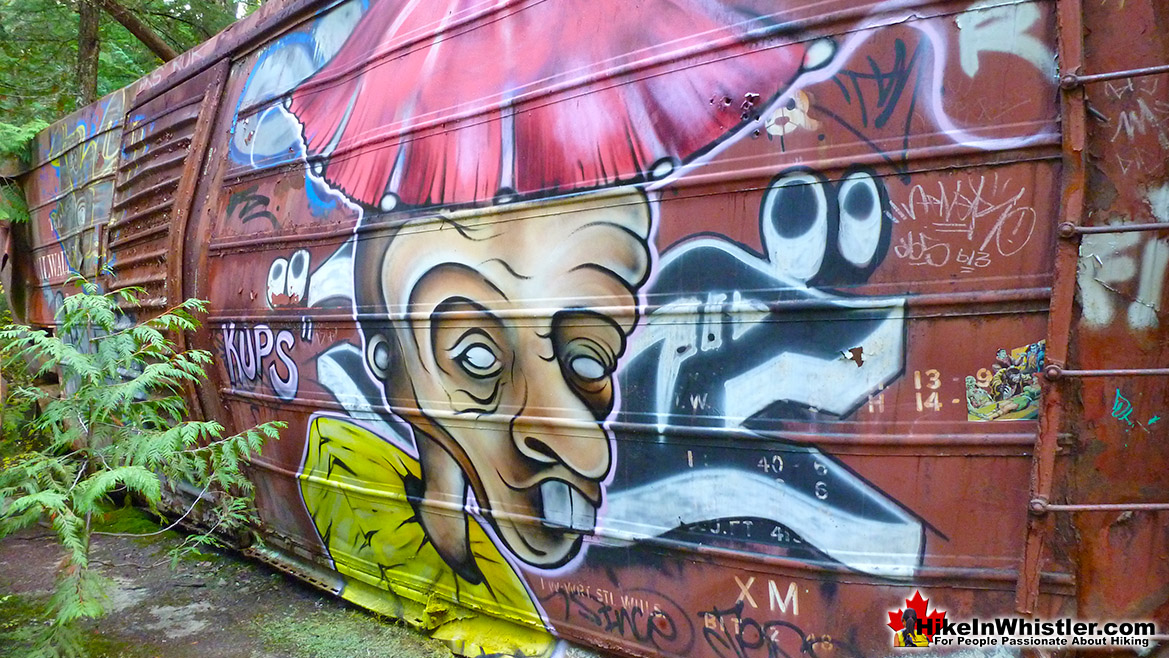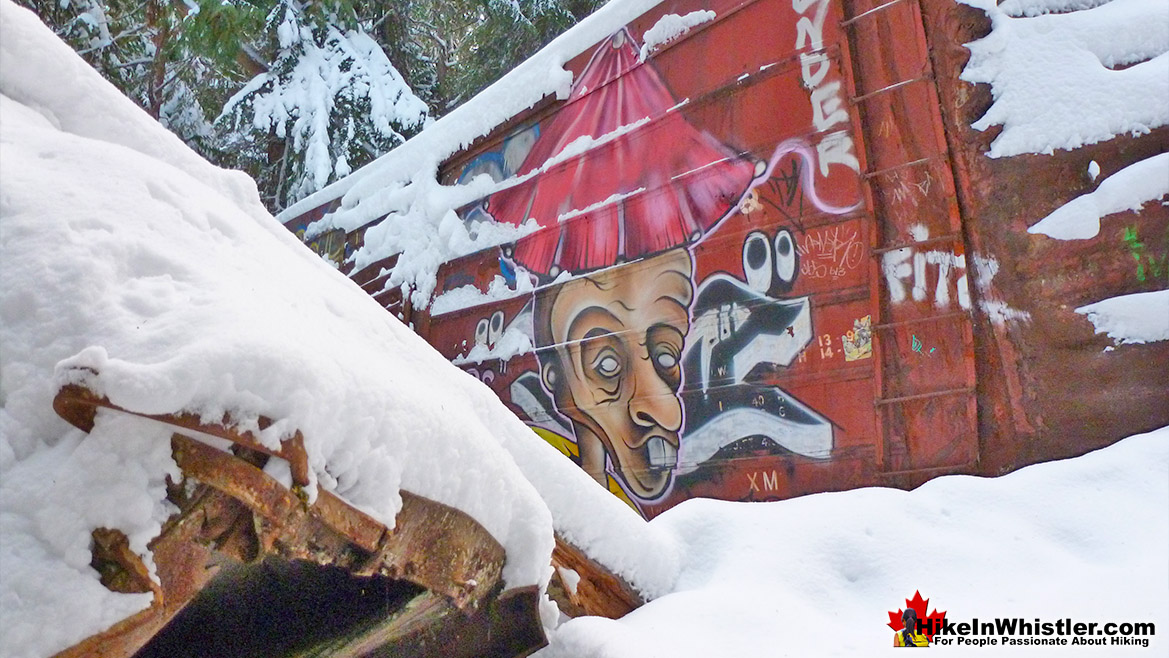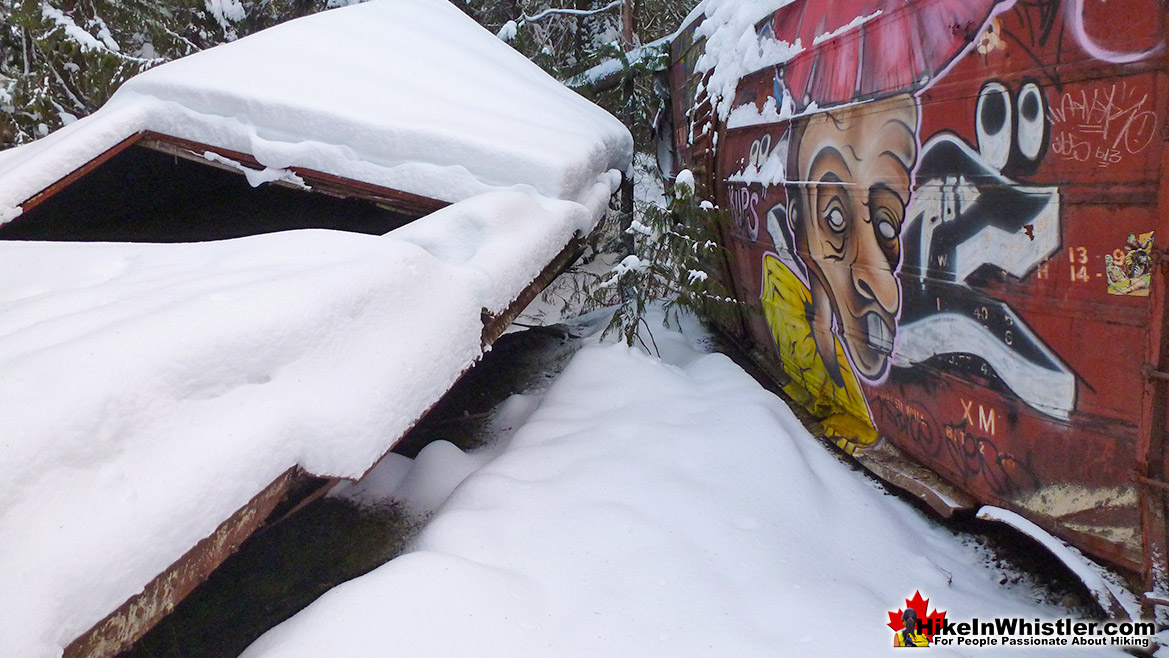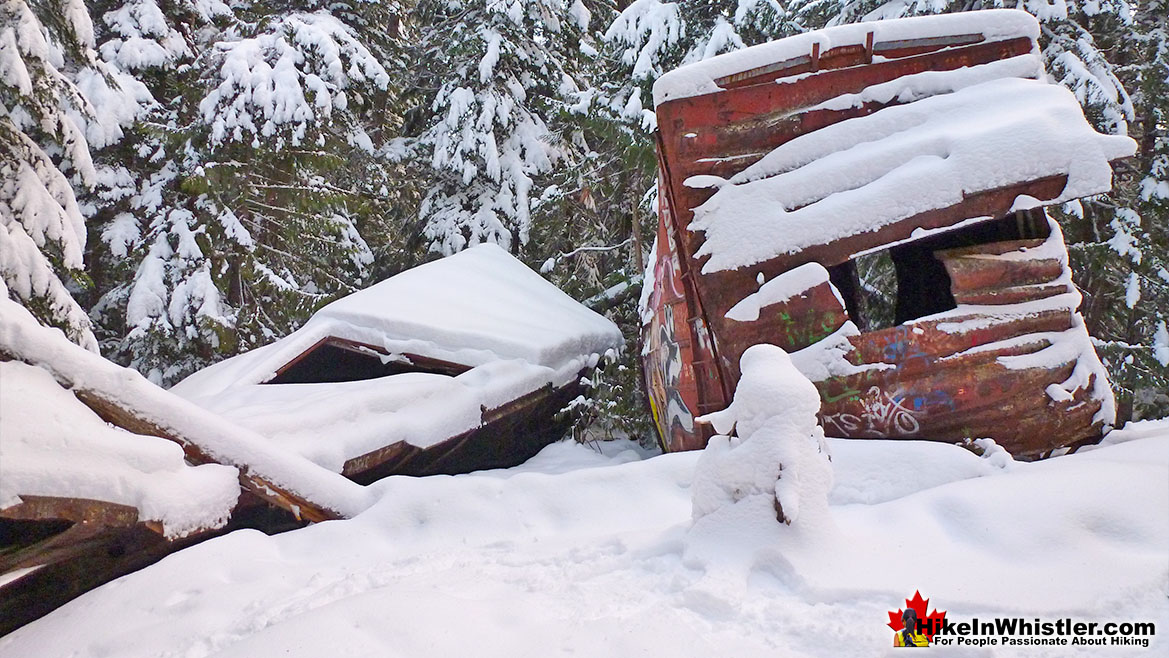 Pineapple Ring Neck Tie Time Lapse
Painted by Kups in 2011, during the Paint Jam which turned Whistler Train Wreck into something beautiful and extraordinary.
Whistler Train Wreck Run Mural by Kups
On the other side of the Pineapple Ring Neck Tie Zombie by Kups, mangled boxcar two other interesting murals were located.  One painted in 2011(same time as the Kups Zombie was painted), and another painted in 2014.  RUN was painted in a large and unexpectedly striking mural.  Partly concealed by the forest, the letters appear quite suddenly and can't help but make you laugh out loud.  As if in some comedy/horror film where the hero stumbles upon some message left by others.  Painted, as it was, at the same time as the Kups Zombie mural, it appears to be the warning for the zombie on the other side of the train wreck.  Unsigned, except for the year '2011', it seems likely that it was also painted by Kups.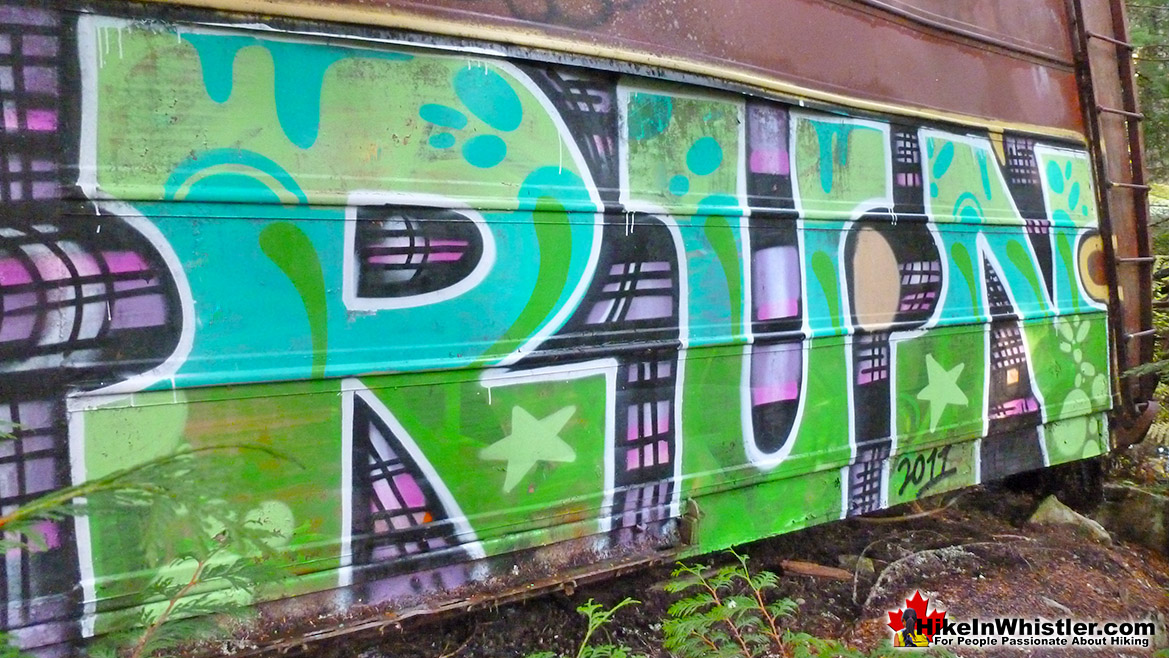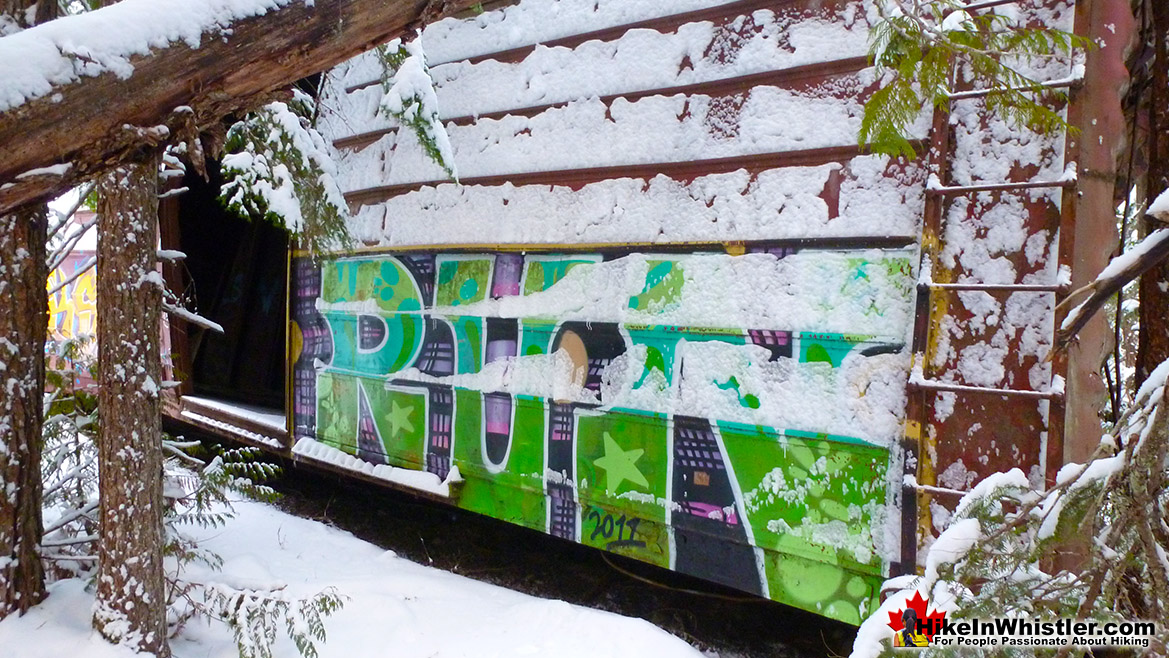 RUN and Bear Zombie Mural by Kups
Another beautiful mural, and yet another continuation to the Kups Zombie and RUN murals appeared in 2014.  Kups added to the side opposite the zombie, a grizzly bear zombie.  This zombie eyed grizzly bear was painted on the same side of the boxcar as the RUN mural, though on the opposite side of the open door.  Sadly, the RUN mural was spray painted over in the years between 2011 and 2014.  In 2014, however, the Kups Zombie was still beautifully intact.  It wasn't until the last couple years that it was covered over by random, pointless spray paint.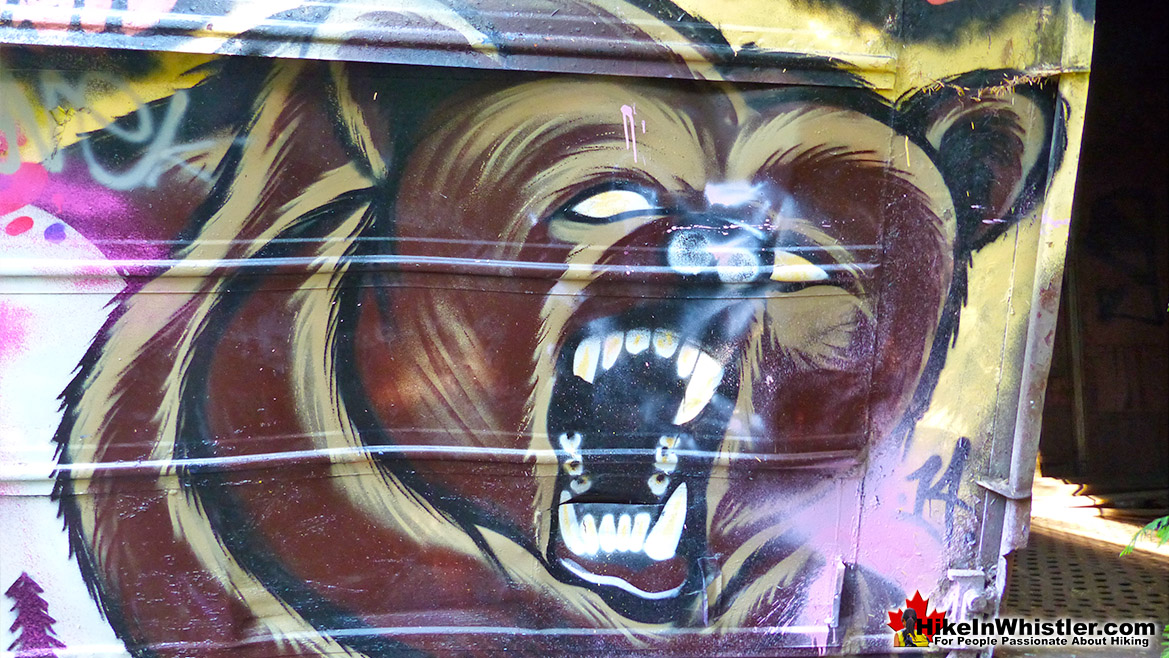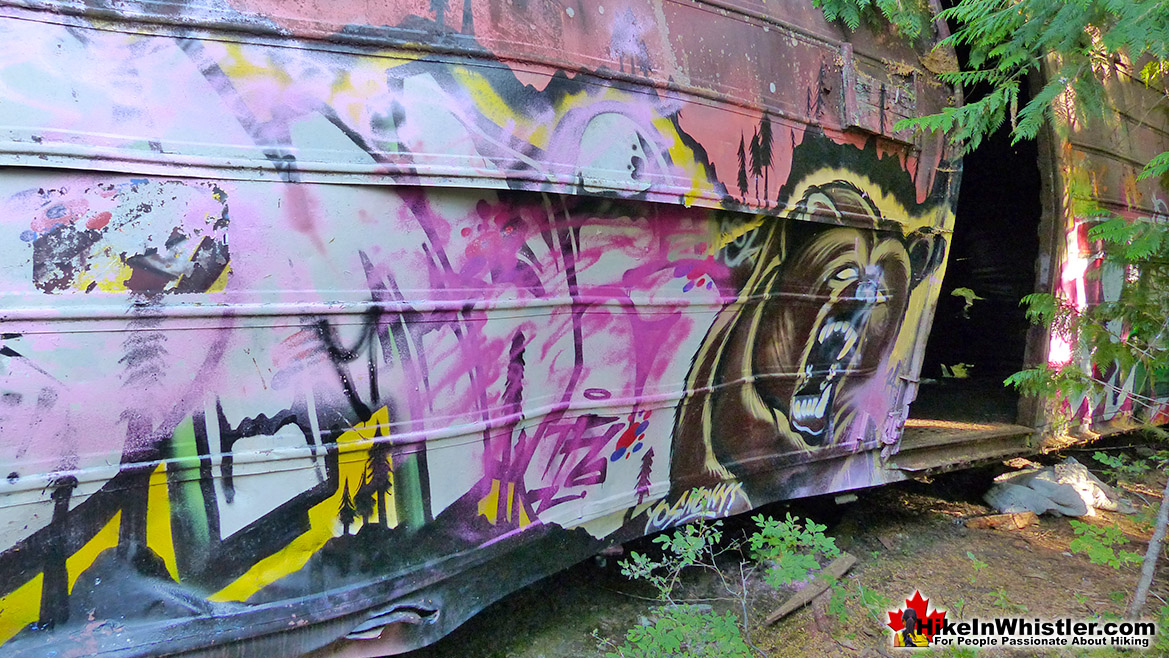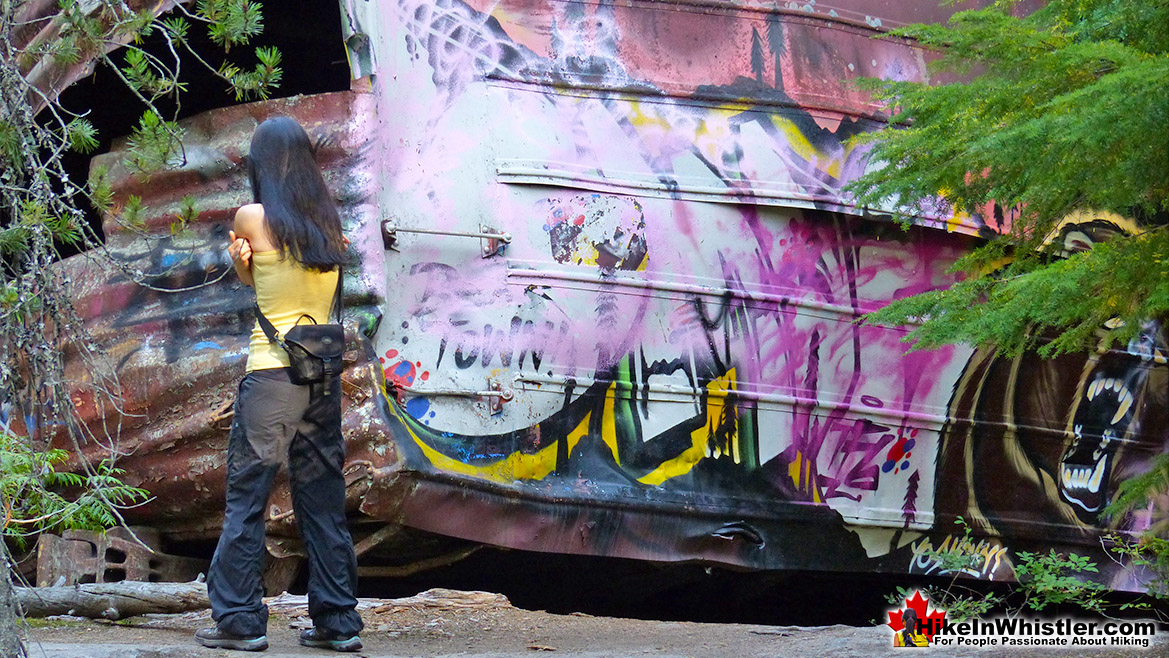 Whistler Train Wreck Directions Map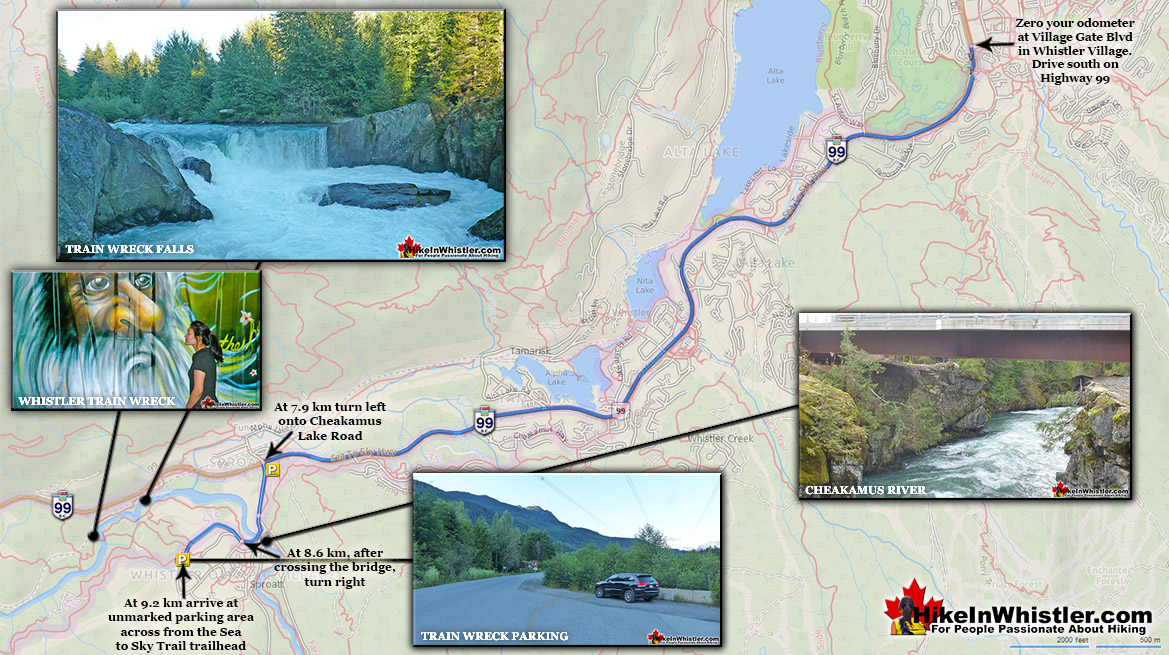 Whistler Train Wreck Bridge
The Whistler Train Wreck bridge takes you across Cheakamus River and the first of seven wrecked train cars.  The first boxcar you come to has the wonderful Kups Hidden Agenda mural inside.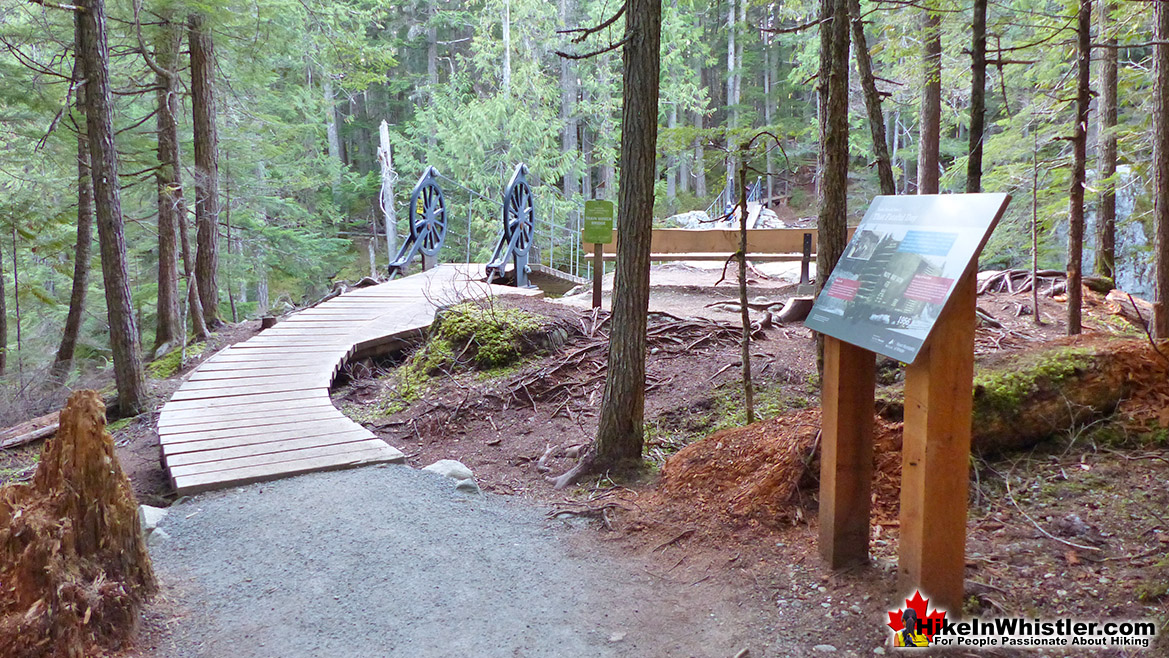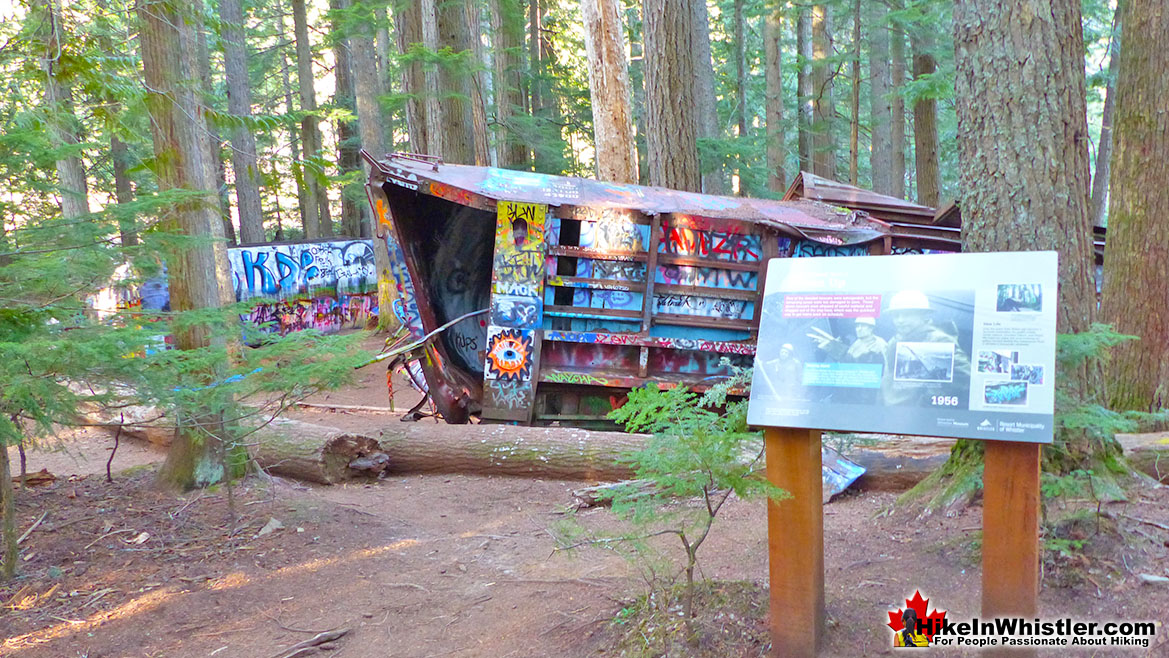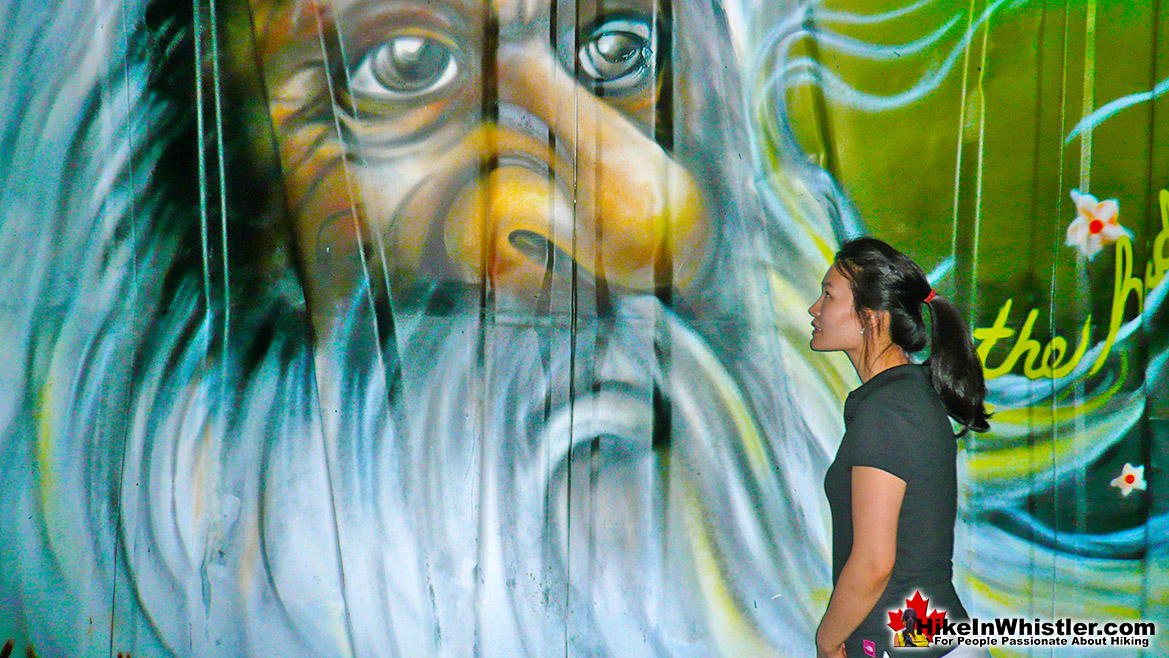 Whistler Train Wreck and Cheakamus River Map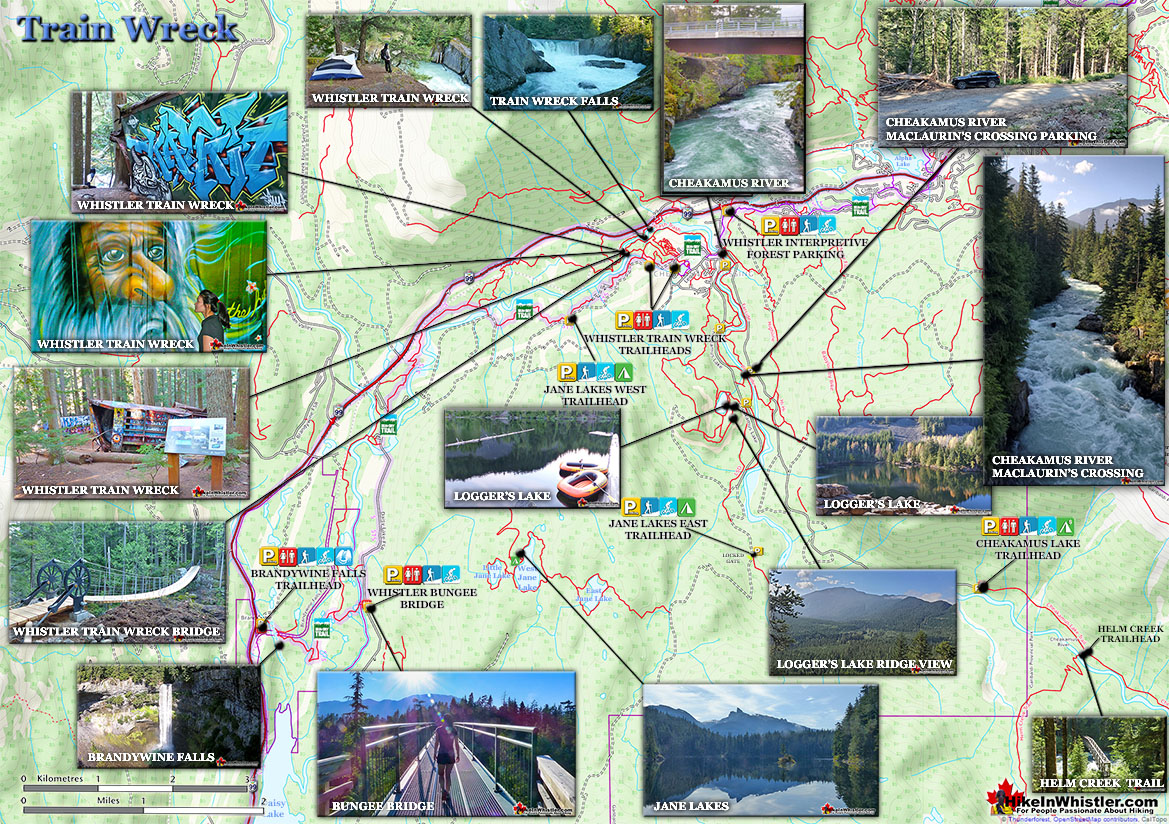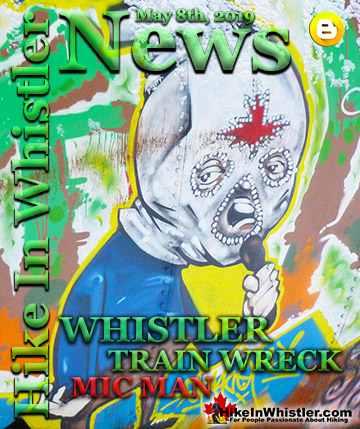 Read More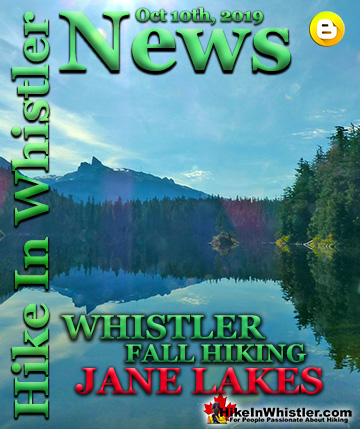 Read More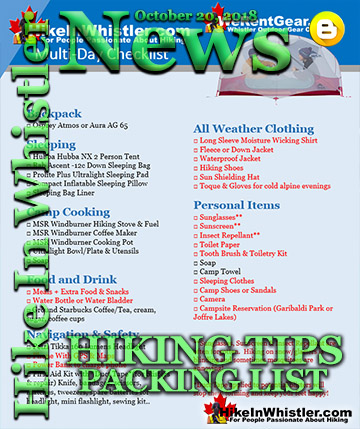 October 20th, 2018:
A little knowledge before you head out into the wilderness is a good idea.  Especially if you are new to hiking or in unknown terrain.  ...
Read More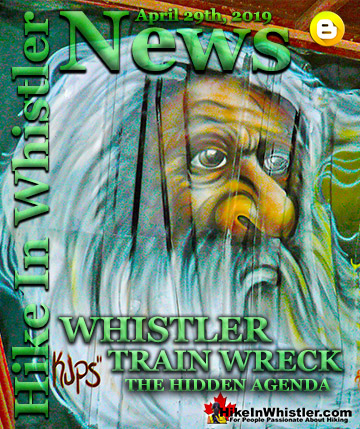 April 29th, 2019:
Back in 2011 a group of Whistler artists met at
Whistler Train Wreck
and transformed it from a bland array of wrecked train cars into a ...
Read More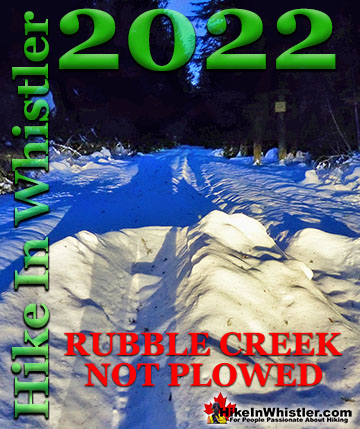 December 27th, 2021:
The Rubble Creek trailhead to Garibaldi Provincial Park is not being snowplowed this winter(2021/2022).  Last winter, after years of ...
Read More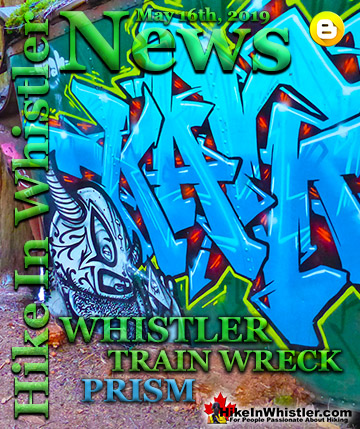 Read More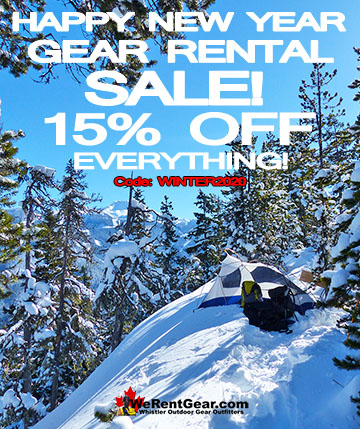 January 1st,2020:
Happy new year in Whistler and the snow is finally falling.  We have winter down sleeping bags for rent that are incredibly compact, ...
Read More
Whistler & Garibaldi Hiking

Alexander Falls  

Ancient Cedars  

Black Tusk  

Blackcomb Mountain  

Brandywine Falls  

Brandywine Meadows  

Brew Lake  

Callaghan Lake  

Cheakamus Lake  

Cheakamus River  

Cirque Lake 

Flank Trail 

Garibaldi Lake 

Garibaldi Park 

Helm Creek  

Jane Lakes 

Joffre Lakes  

Keyhole Hot Springs  

Logger's Lake  

Madeley Lake  

Meager Hot Springs 

Nairn Falls  

Newt Lake 

Panorama Ridge 

Parkhurst Ghost Town 

Rainbow Falls  

Rainbow Lake 

Ring Lake  

Russet Lake  

Sea to Sky Trail 

Skookumchuck Hot Springs  

Sloquet Hot Springs 

Sproatt East 

Sproatt West  

Taylor Meadows  

Train Wreck  

Wedgemount Lake  

Whistler Mountain

January 

February 

March 

April 

May 

June 

July 

August 

September 

October 

November 

December