May 16th, 2019: The Prism mural can be found perched at the edge of Cheakamus River near the Whistler Train Wreck suspension bridge.  After you cross the bridge and approach Whistler Train Wreck you see an information board and the first two wrecked and marvellously painted boxcars.  The one on the left has the beautiful Hidden Agenda mural painted inside, painted by Kups in 2011.  On the boxcar on the right, and on other side you will find the beautiful mural of a cartoonish character staring at a prism.

Whistler & Garibaldi Hiking

Alexander Falls  

Ancient Cedars  

Black Tusk  

Blackcomb Mountain  

Brandywine Falls  

Brandywine Meadows  

Brew Lake  

Callaghan Lake  

Cheakamus Lake  

Cheakamus River  

Cirque Lake 

Flank Trail 

Garibaldi Lake 

Garibaldi Park 

Helm Creek  

Jane Lakes 

Joffre Lakes  

Keyhole Hot Springs  

Logger's Lake  

Madeley Lake  

Meager Hot Springs 

Nairn Falls  

Newt Lake 

Panorama Ridge 

Parkhurst Ghost Town 

Rainbow Falls  

Rainbow Lake 

Ring Lake  

Russet Lake  

Sea to Sky Trail 

Skookumchuck Hot Springs  

Sloquet Hot Springs 

Sproatt East 

Sproatt West  

Taylor Meadows  

Train Wreck  

Wedgemount Lake  

Whistler Mountain

January 

February 

March 

April 

May 

June 

July 

August 

September 

October 

November 

December

Alexander Falls 

Brandywine Falls  

Cirque Falls  

Holloway Falls 

Keyhole Falls 

Nairn Falls 

Rainbow Falls 

Shannon Falls 

Train Wreck Falls 

Wedgemount Falls
The masked creature with horns is surrounded by bright, blue graffiti style lettering.  The Prism mural is one of the original murals from 2011 that still remains intact.  Whistler Train Wreck went from a curiously interesting, old train wreck site, to a brilliant collection of stunning murals during that one summer night in 2011.  Located on a particularly beautiful stretch of Cheakamus River, the Whistler Train Wreck is a collection of seven boxcars that were craned into the forest here after derailing 72 years ago.  Desperate to get the train tracks cleared after the boxcars jumped the rails and wedged in the rock cut nearby, a local logging company brought in a 35 tonne crane and yanked them into the forest.  The boxcars lay in the forest here as junk for decades until they were brought to life by local artists that turned the train wrecks into beautiful works of art.  Though most of the original murals have been painted over, some remain, and new murals appear occasionally.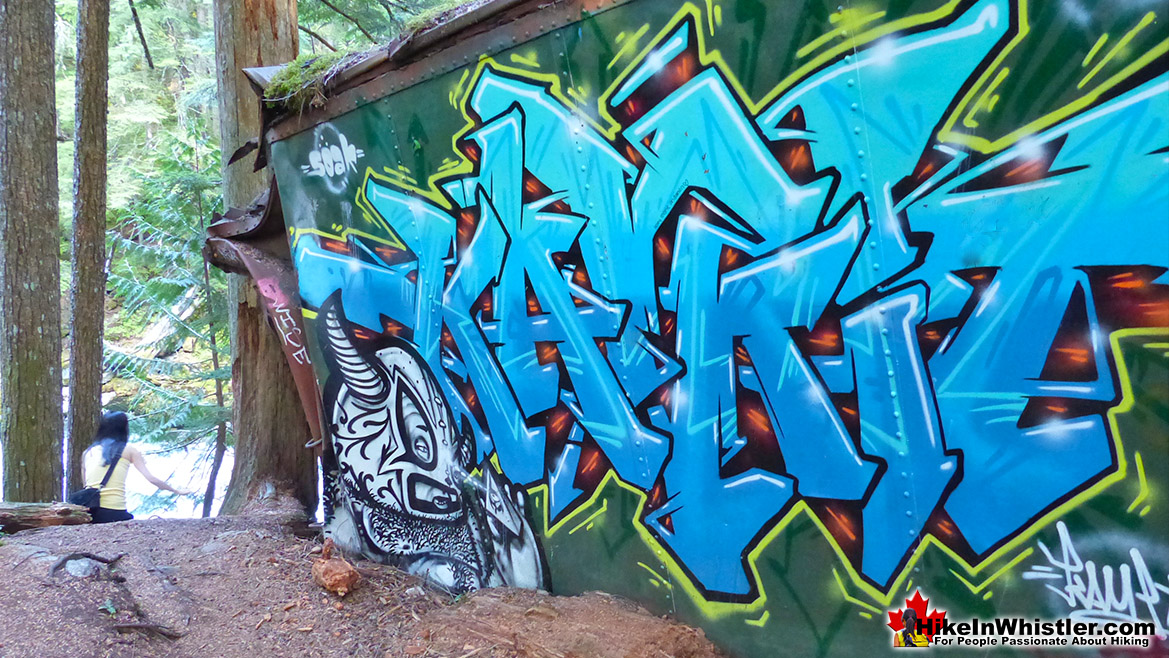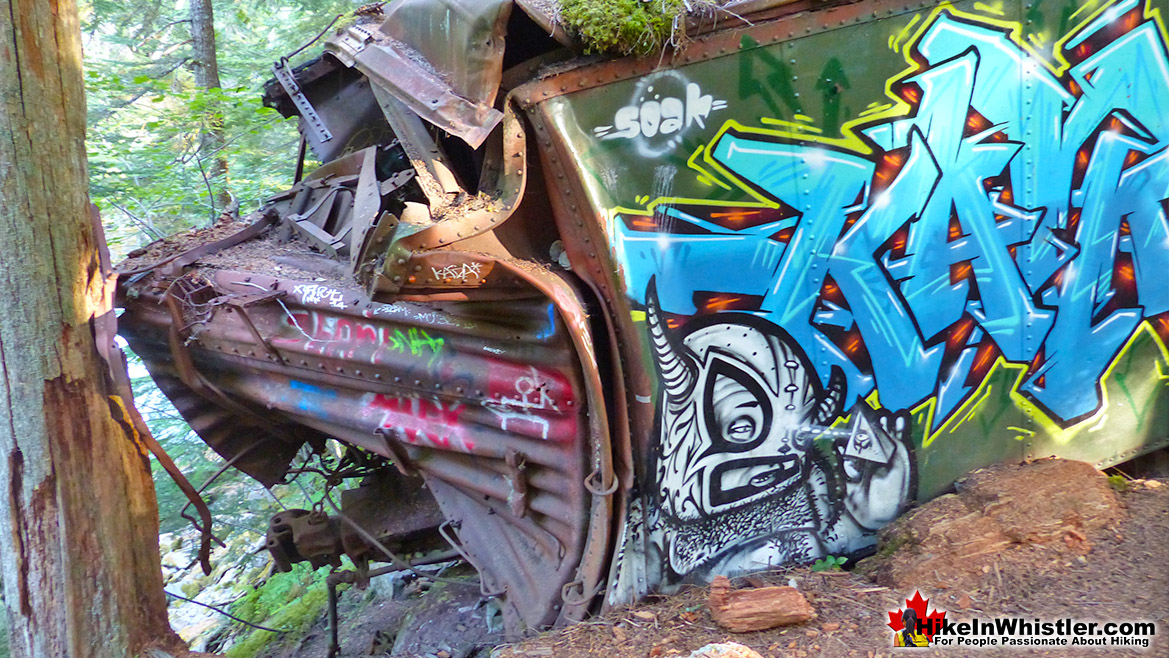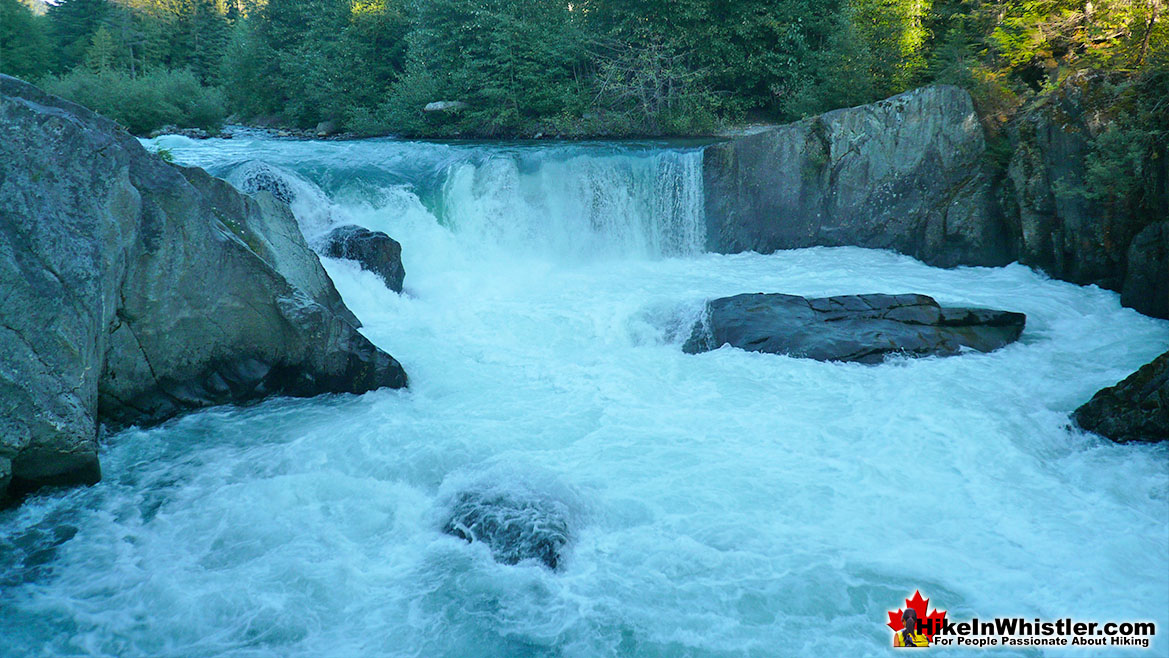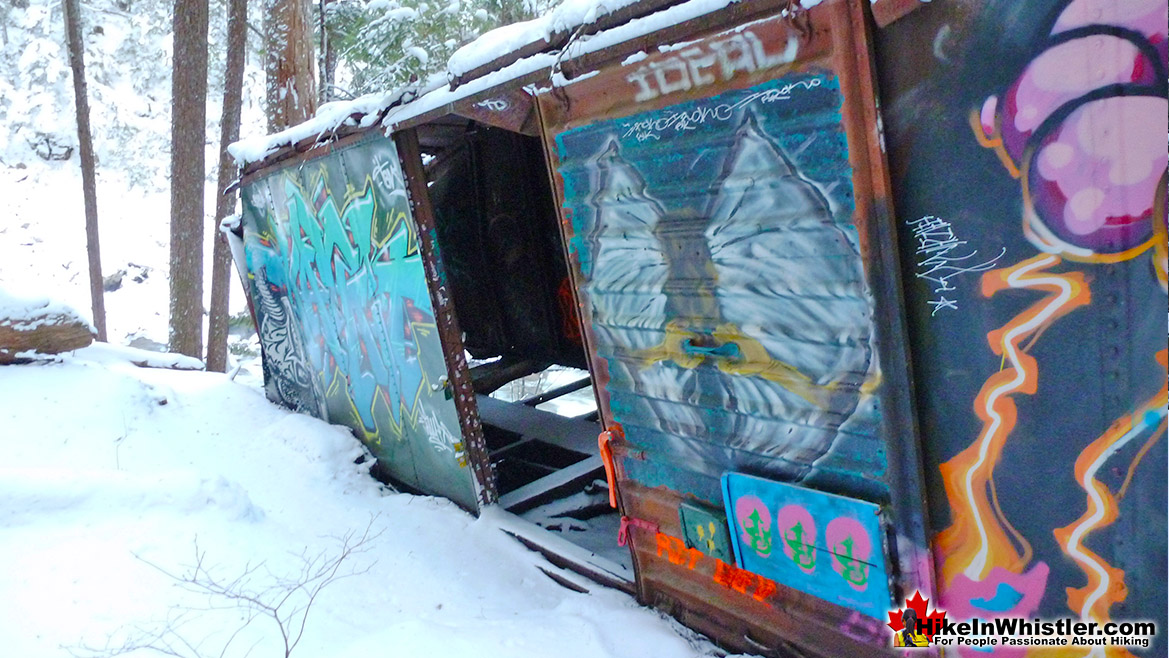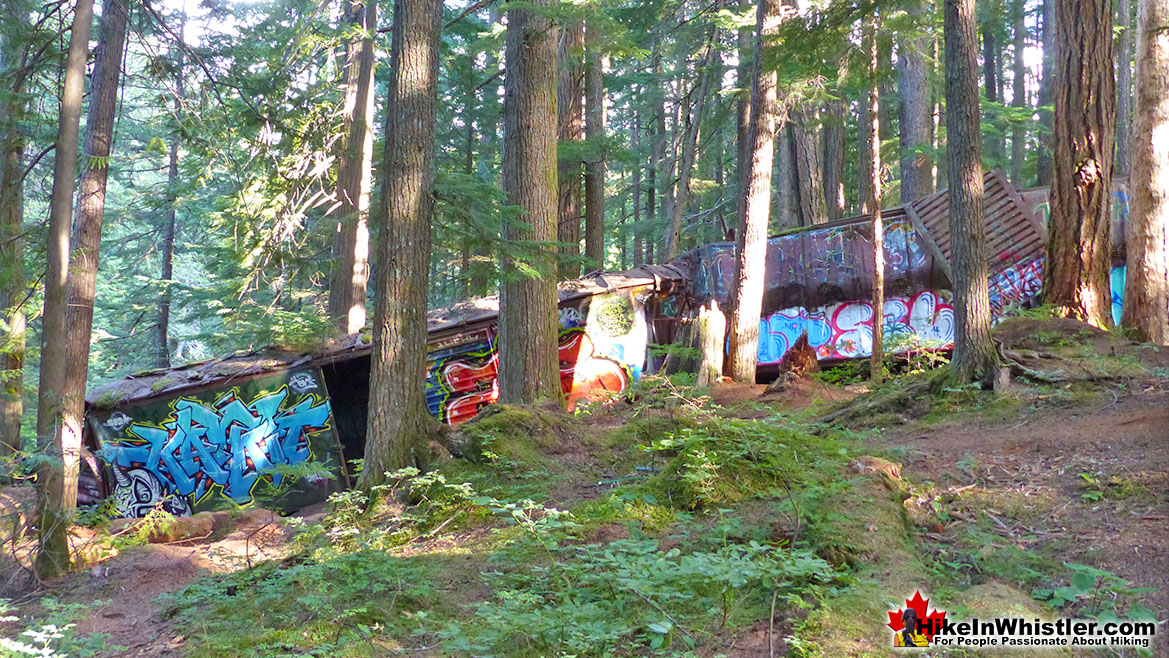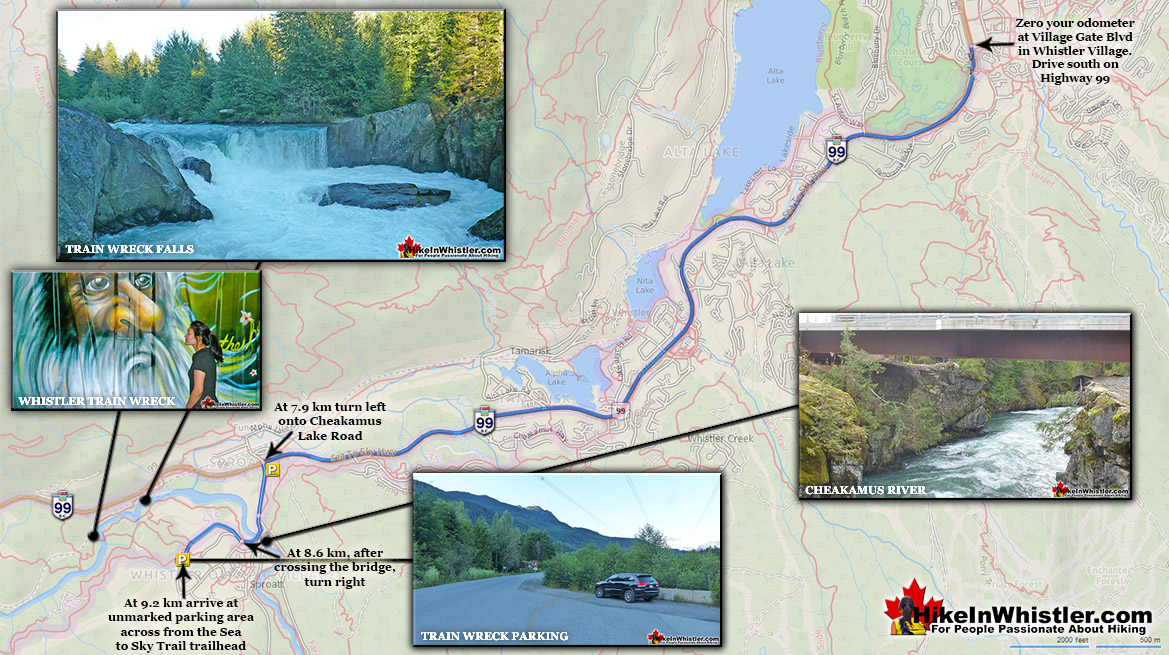 The Whistler Train Wreck bridge takes you across Cheakamus River and the first of seven wrecked train cars.  The first boxcar you come to has the wonderful Kups Hidden Agenda mural inside.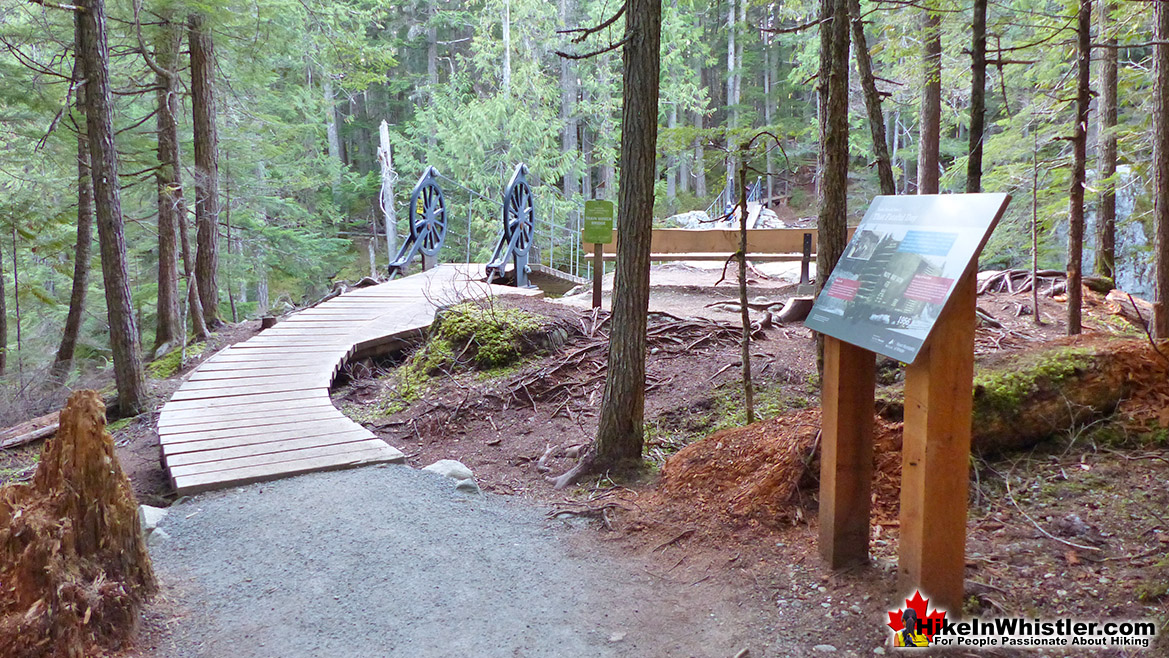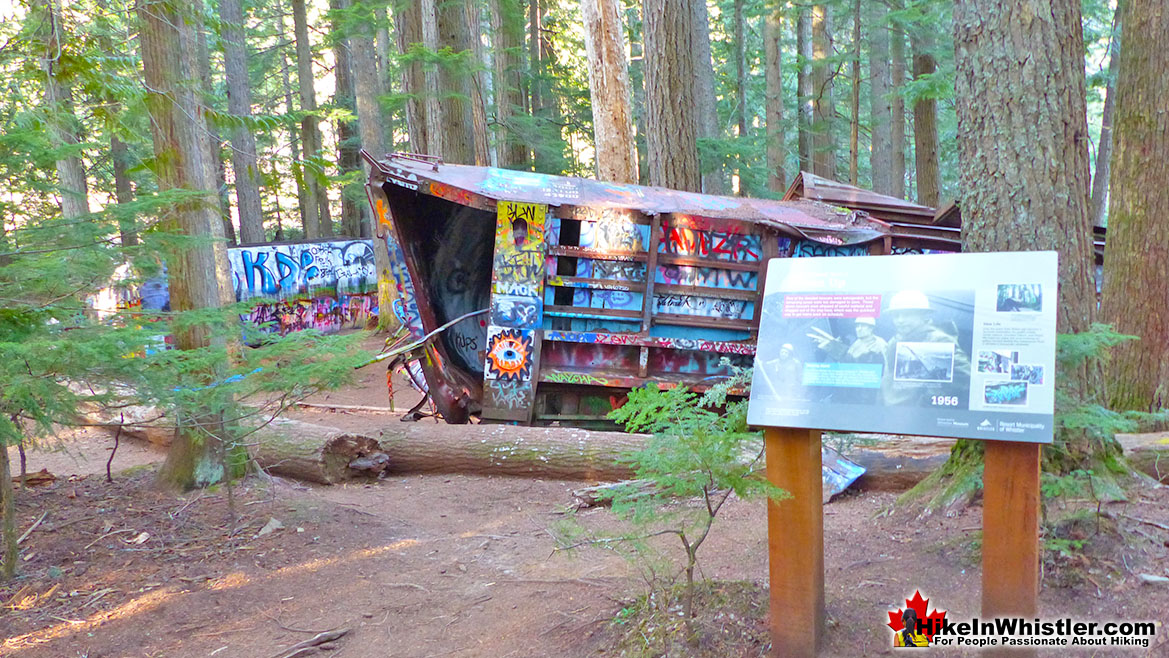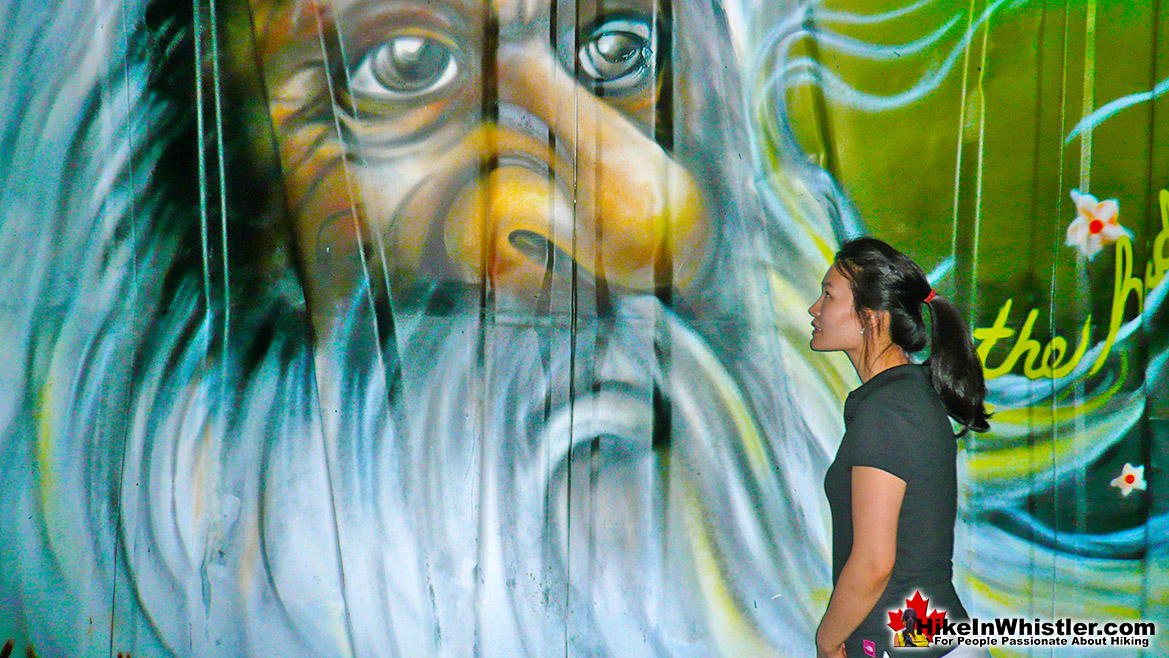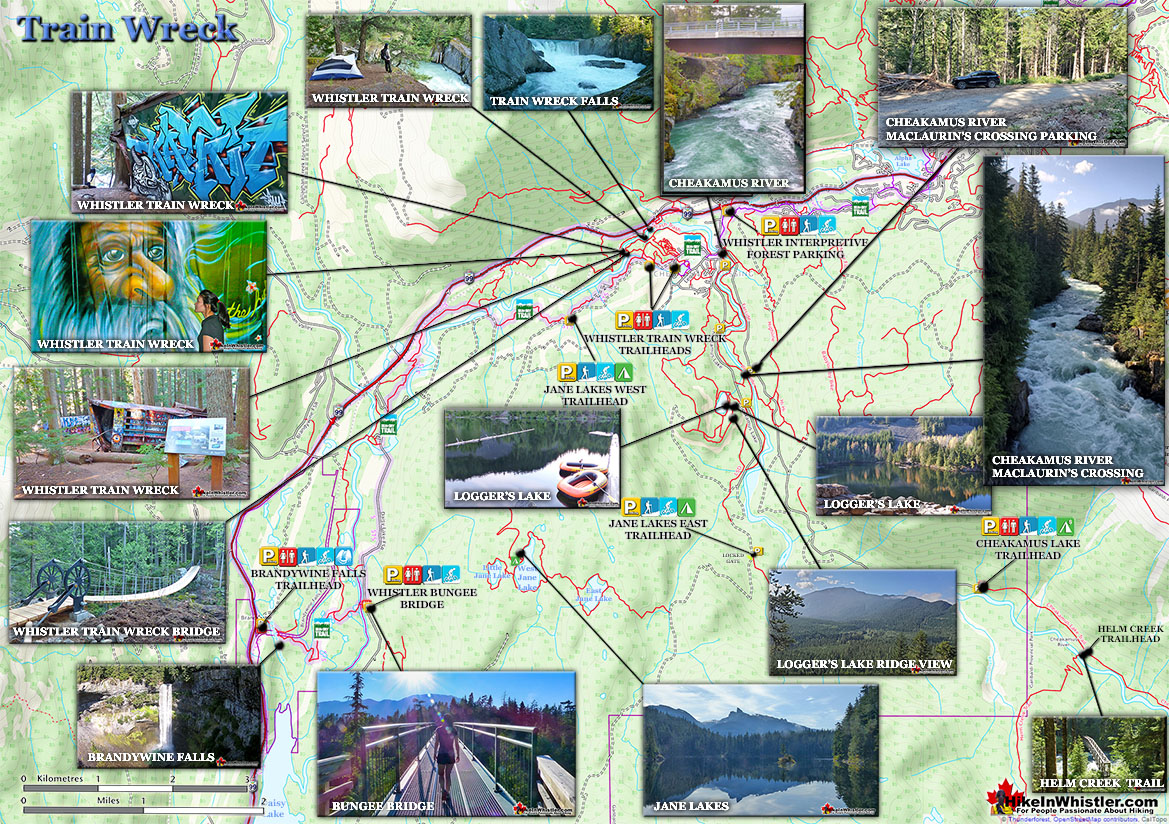 Whistler & Garibaldi Hiking

Alexander Falls  

Ancient Cedars  

Black Tusk  

Blackcomb Mountain  

Brandywine Falls  

Brandywine Meadows  

Brew Lake  

Callaghan Lake  

Cheakamus Lake  

Cheakamus River  

Cirque Lake 

Flank Trail 

Garibaldi Lake 

Garibaldi Park 

Helm Creek  

Jane Lakes 

Joffre Lakes  

Keyhole Hot Springs  

Logger's Lake  

Madeley Lake  

Meager Hot Springs 

Nairn Falls  

Newt Lake 

Panorama Ridge 

Parkhurst Ghost Town 

Rainbow Falls  

Rainbow Lake 

Ring Lake  

Russet Lake  

Sea to Sky Trail 

Skookumchuck Hot Springs  

Sloquet Hot Springs 

Sproatt East 

Sproatt West  

Taylor Meadows  

Train Wreck  

Wedgemount Lake  

Whistler Mountain

January 

February 

March 

April 

May 

June 

July 

August 

September 

October 

November 

December