May 10th, 2019: Whistler Train Wreck is home to several stunning murals painted on the old wrecked boxcars.  Mixed with graffiti art, some of murals stand out from the rest.  In 2014 a beautiful mural was painted at Whistler Train Wreck in an unmistakably Salish style.  A killer whale stretches in an abrupt arc with other surreal looking animal faces meshed along the body.  Framed by a pink border and a large, golden sun-like disk behind, the brightly designed mural stands out sharply against the mess of graffiti covering the rest of the boxcar.
Whistler & Garibaldi Hiking

Alexander Falls  

Ancient Cedars  

Black Tusk  

Blackcomb Mountain  

Brandywine Falls  

Brandywine Meadows  

Brew Lake  

Callaghan Lake  

Cheakamus Lake  

Cheakamus River  

Cirque Lake 

Flank Trail 

Garibaldi Lake 

Garibaldi Park 

Helm Creek  

Jane Lakes 

Joffre Lakes  

Keyhole Hot Springs  

Logger's Lake  

Madeley Lake  

Meager Hot Springs 

Nairn Falls  

Newt Lake 

Panorama Ridge 

Parkhurst Ghost Town 

Rainbow Falls  

Rainbow Lake 

Ring Lake  

Russet Lake  

Sea to Sky Trail 

Skookumchuck Hot Springs  

Sloquet Hot Springs 

Sproatt East 

Sproatt West  

Taylor Meadows  

Train Wreck  

Wedgemount Lake  

Whistler Mountain

January 

February 

March 

April 

May 

June 

July 

August 

September 

October 

November 

December

Alexander Falls 

Brandywine Falls  

Cirque Falls  

Holloway Falls 

Keyhole Falls 

Nairn Falls 

Rainbow Falls 

Shannon Falls 

Train Wreck Falls 

Wedgemount Falls
At one end of the boxcar a small, stencilled square of writing: "If you want to achieve greatness, stop asking for permission."  This beautiful mural, signed by the Kups in 2014 is one of several of Kris Kupskay's(aka: Kups) beautiful murals that make, or made Whistler Train Wreck an amazing place to visit.  Located on a particularly beautiful stretch of Cheakamus River, the Whistler Train Wreck is a collection of seven boxcars that were craned into the forest here after derailing 72 years ago.  Desperate to get the train tracks cleared after the boxcars jumped the rails and wedged in the rock cut nearby, a local logging company brought in a 35 tonne crane and yanked them into the forest.  The boxcars lay in the forest here as junk for decades until they were brought to life by local artists that turned the train wrecks into beautiful works of art.  Unfortunately, like many other of the wonderful Whistler Train Wreck murals, this one is long gone.  Covered over by the almost continuous additions to this wild and beautiful place.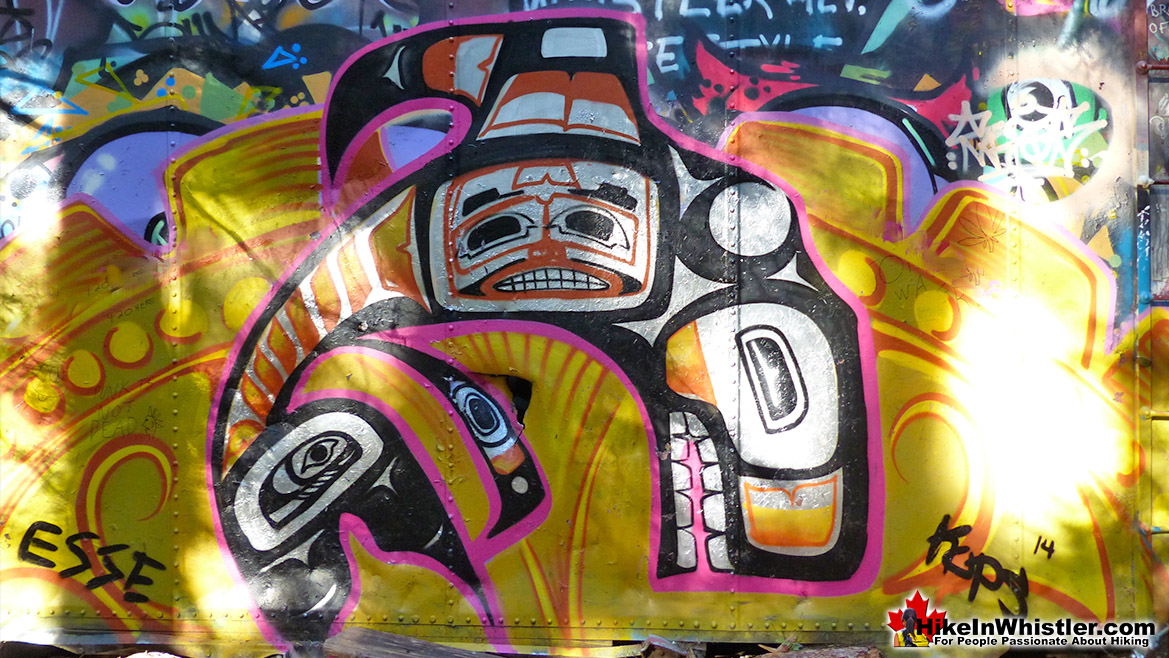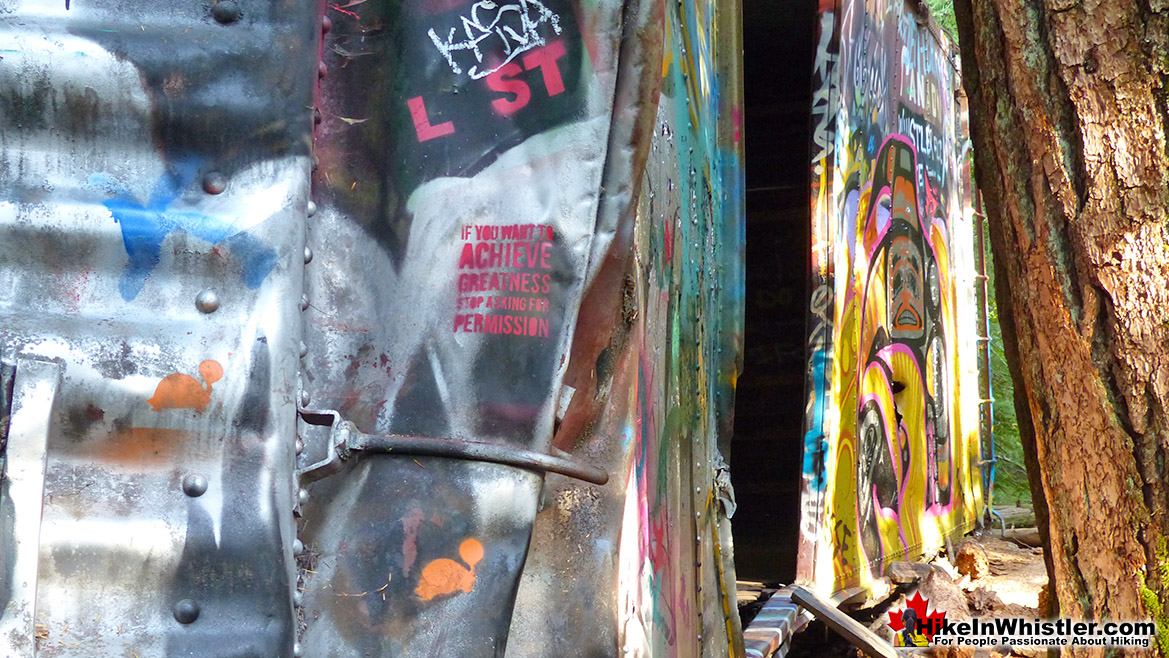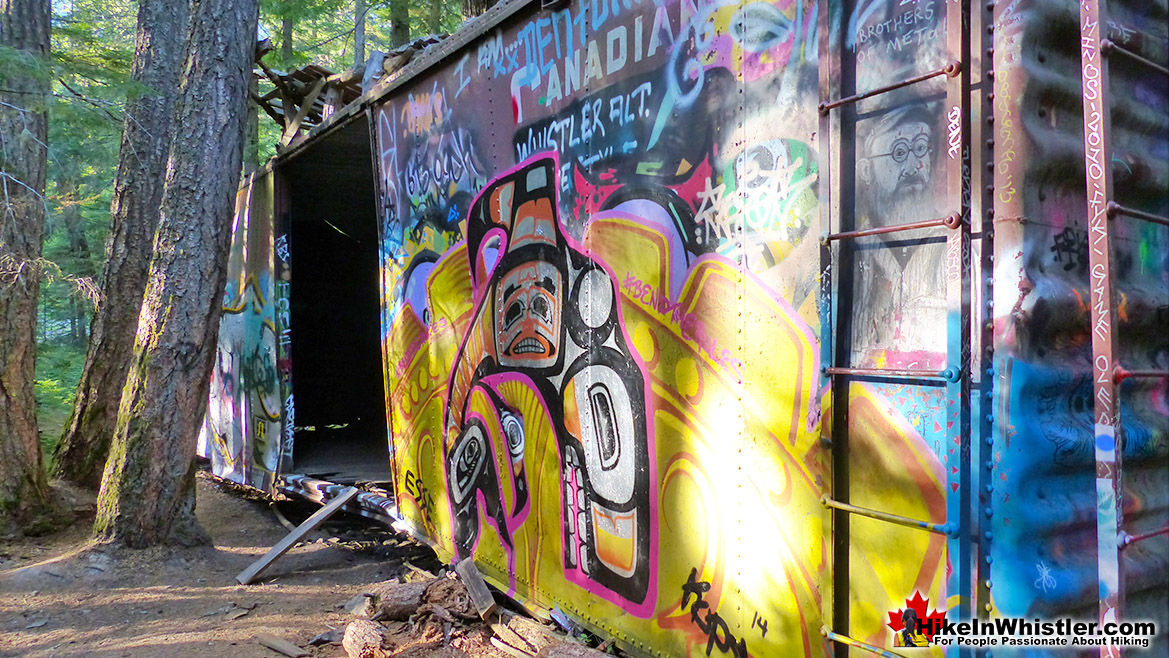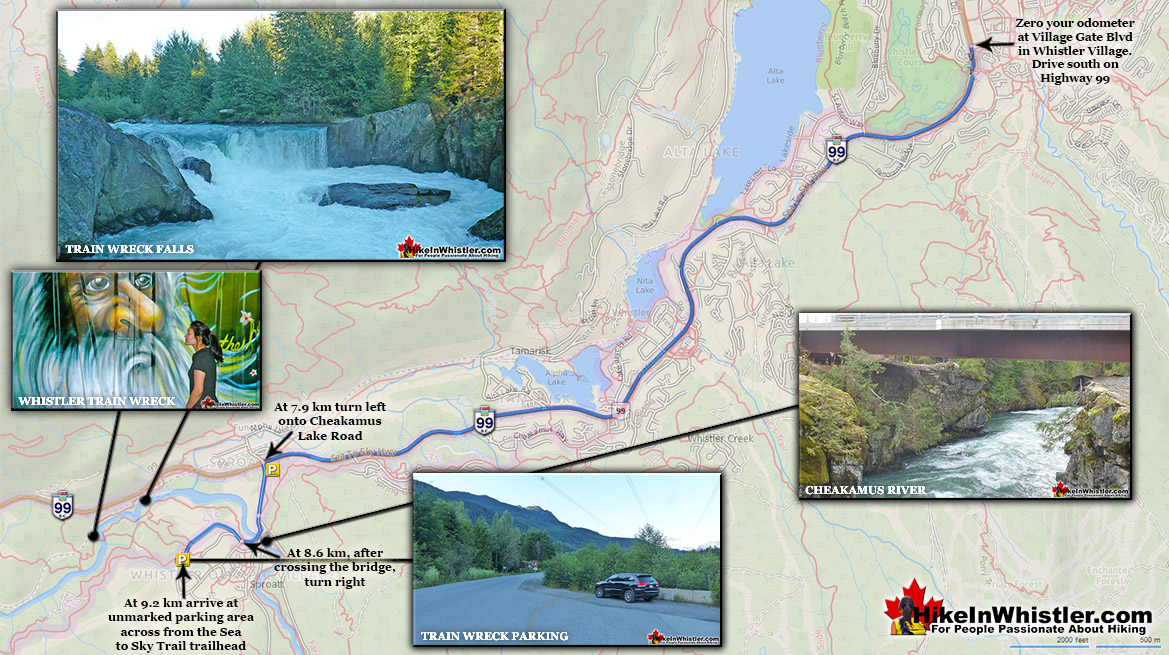 The Whistler Train Wreck bridge takes you across Cheakamus River and the first of seven wrecked train cars.  The first boxcar you come to has the wonderful Kups Hidden Agenda mural inside.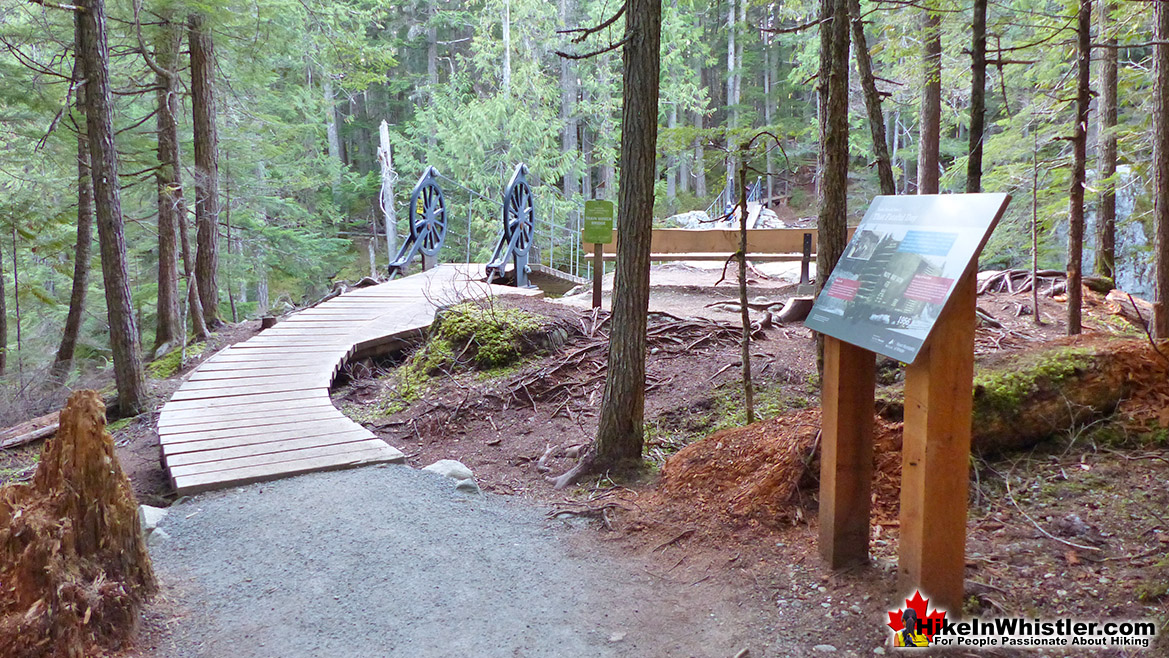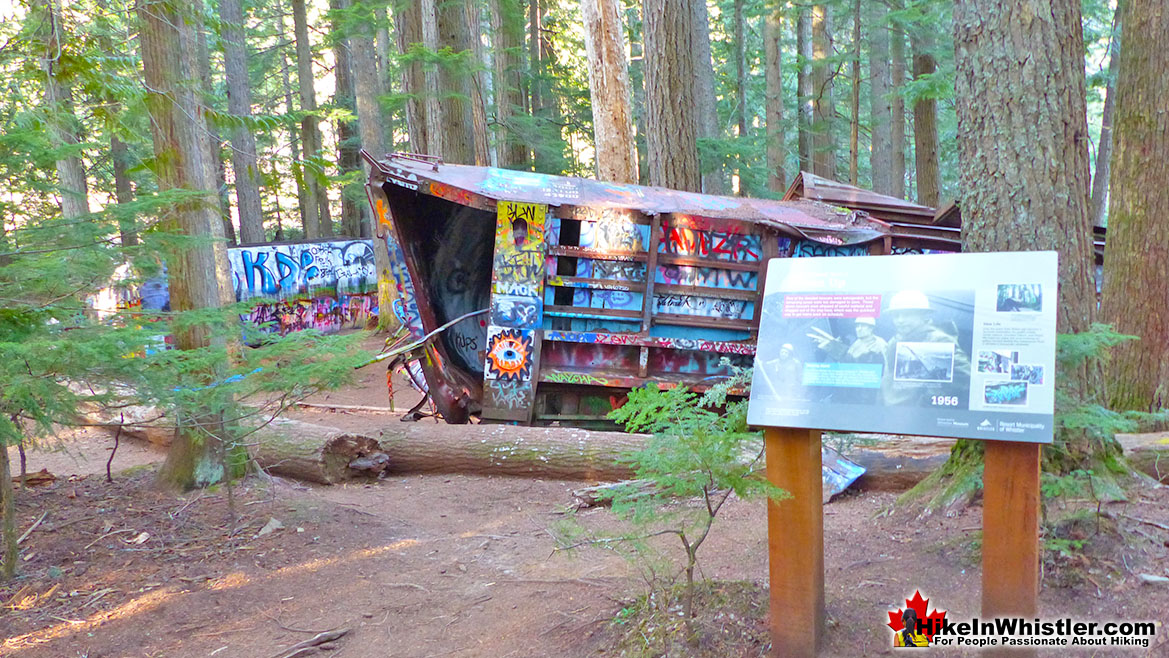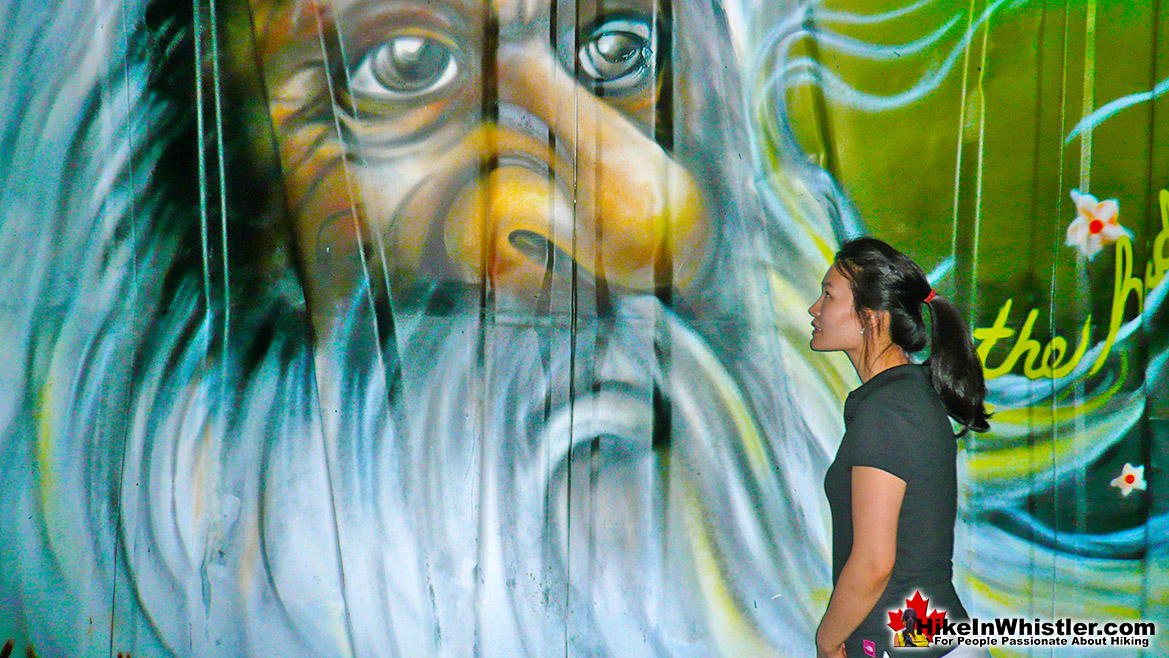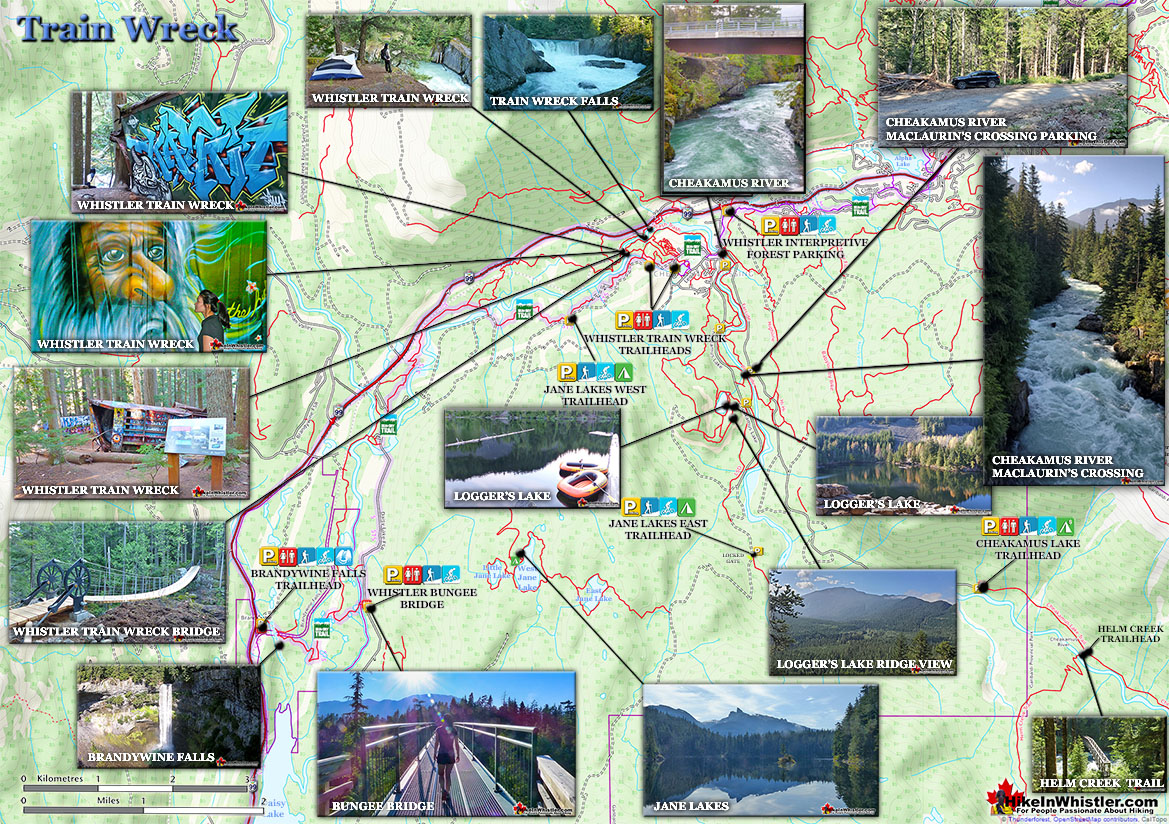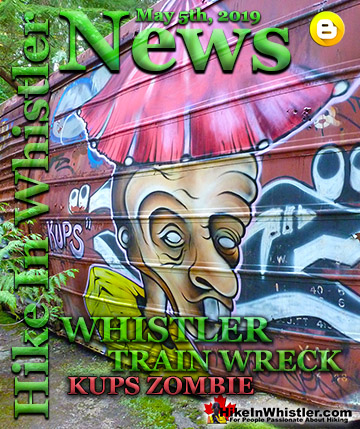 May 5th, 2019: 
The summer of 2011 was the time when some local Whistler artists ventured into the wilderness between the crashing
Cheakamus River
and ...
Read More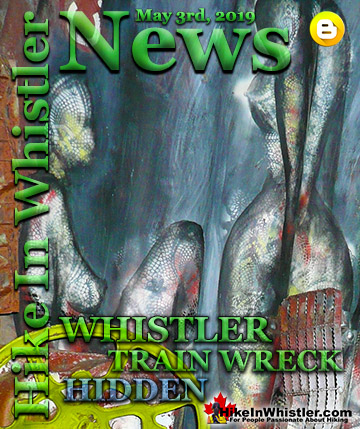 May 3rd, 2019:
The beautiful murals that make
Whistler Train Wreck
the magical place it is today, began appearing in 2011.  Artists ranging from aspiring ...
Read More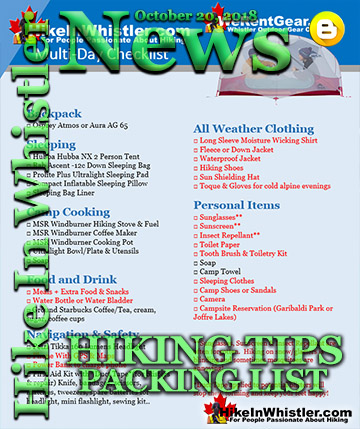 October 20th, 2018:
A little knowledge before you head out into the wilderness is a good idea.  Especially if you are new to hiking or in unknown terrain.  ...
Read More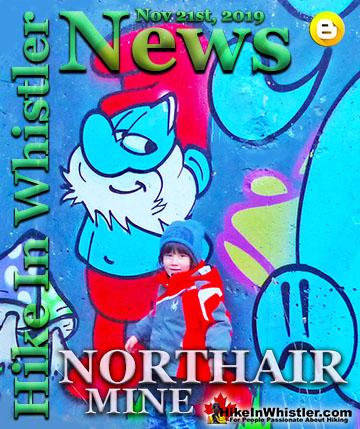 December 21st, 2019:
Way up in the 
Callaghan Valley
on the back side of
Mount Sproatt
is an abandoned gold mine.  Old cement foundations and two ...
Read More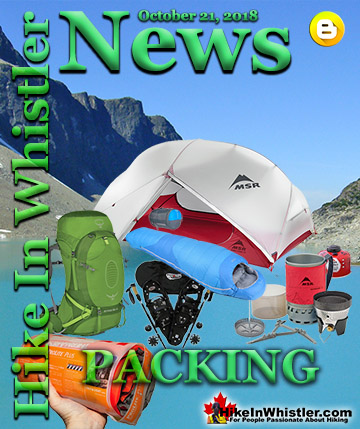 October 21th, 2018:
Pack smart by putting heavier items close to your back and higher up your pack.  Be organized and think of keeping important things ...
Read More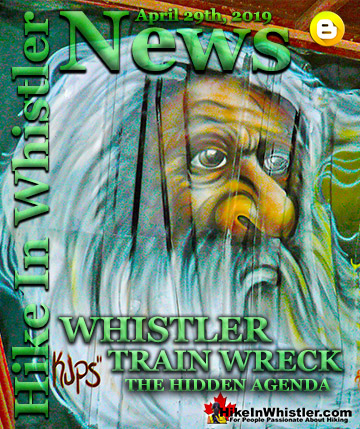 April 29th, 2019:
Back in 2011 a group of Whistler artists met at
Whistler Train Wreck
and transformed it from a bland array of wrecked train cars into a ...
Read More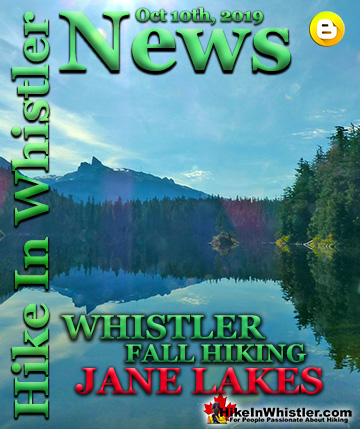 Read More
Whistler & Garibaldi Hiking

Alexander Falls  

Ancient Cedars  

Black Tusk  

Blackcomb Mountain  

Brandywine Falls  

Brandywine Meadows  

Brew Lake  

Callaghan Lake  

Cheakamus Lake  

Cheakamus River  

Cirque Lake 

Flank Trail 

Garibaldi Lake 

Garibaldi Park 

Helm Creek  

Jane Lakes 

Joffre Lakes  

Keyhole Hot Springs  

Logger's Lake  

Madeley Lake  

Meager Hot Springs 

Nairn Falls  

Newt Lake 

Panorama Ridge 

Parkhurst Ghost Town 

Rainbow Falls  

Rainbow Lake 

Ring Lake  

Russet Lake  

Sea to Sky Trail 

Skookumchuck Hot Springs  

Sloquet Hot Springs 

Sproatt East 

Sproatt West  

Taylor Meadows  

Train Wreck  

Wedgemount Lake  

Whistler Mountain

January 

February 

March 

April 

May 

June 

July 

August 

September 

October 

November 

December