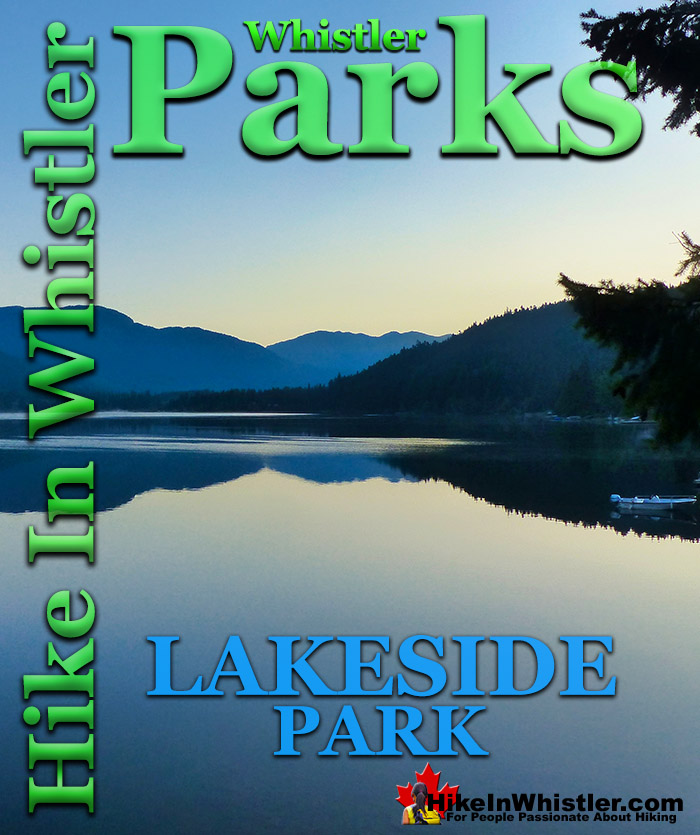 Lakeside Park on the shore of Alta Lake in Whistler is a beautiful beach park just a short distance from Whistler Village.  Located on the Valley Trail, it is just 2 kilometres or a 30 minute walk, or 10 minute bike ride away.  Similar to the popular Rainbow Park across the lake, Lakeside has a concession stand for food and drinks, picnic tables, BBQ stands, canoe and kayak rentals a huge grass field, pier, a sandy beach and an elaborate little kids play are.
Whistler & Garibaldi Hiking

Alexander Falls  

Ancient Cedars  

Black Tusk  

Blackcomb Mountain  

Brandywine Falls  

Brandywine Meadows  

Brew Lake  

Callaghan Lake  

Cheakamus Lake  

Cheakamus River  

Cirque Lake 

Flank Trail 

Garibaldi Lake 

Garibaldi Park 

Helm Creek  

Jane Lakes 

Joffre Lakes  

Keyhole Hot Springs  

Logger's Lake  

Madeley Lake  

Meager Hot Springs 

Nairn Falls  

Newt Lake 

Panorama Ridge 

Parkhurst Ghost Town 

Rainbow Falls  

Rainbow Lake 

Ring Lake  

Russet Lake  

Sea to Sky Trail 

Skookumchuck Hot Springs  

Sloquet Hot Springs 

Sproatt East 

Sproatt West  

Taylor Meadows  

Train Wreck  

Wedgemount Lake  

Whistler Mountain

January 

February 

March 

April 

May 

June 

July 

August 

September 

October 

November 

December
Whistler Parks & Lakes

Alpha Lake Park  

Alta Lake Park  

Blueberry Park  

Green Lake Park  

Lakeside Park  

Lost Lake Park  

Meadow Park  

Nita Lake Park  

Rainbow Park  

Wayside Park
Swimming and relaxing are the main draws to Lakeside Park, but fishing off the piers is a common sight as well.  The Lakeside pier is just one of many places on the lake good for fishing, but generally fishing on Alta Lake is best done by boat.  There is a proper boat launch on Lakeside Drive just a couple hundred metres north of the beach.  Alta Lake is catch and release only as is the nearby Green Lake, and there is a bait ban on the lake.  The two small lakes adjacent to Alta Lake, Alpha Lake and Nita Lake you can keep what you catch and they are stocked with hundreds of fish every June.  Lost Lake on the other side of Whistler Village, you can keep what you catch as well as at Logger's Lake near Cheakamus Crossing.  The beach at Lakeside is south facing making it a fantastic place to watch the sun set over the towering Mount Sproatt across the lake.  If you are looking for a quiet place to relax the main beach may be too chaotic for you, however there is a beautiful place to escape the noise just a 5 minute walk away.  To the left of the beach, cross the small bridge, follow the Valley Trail and keep your eyes out on the right for a trail veering off the main trail into the trees.  This leads to a beautiful cement deck built on a rock prominence at the edge of the lake.  Occasionally used for weddings, the area is quiet, surrounded in forest and with great views of Alta Lake through the trees.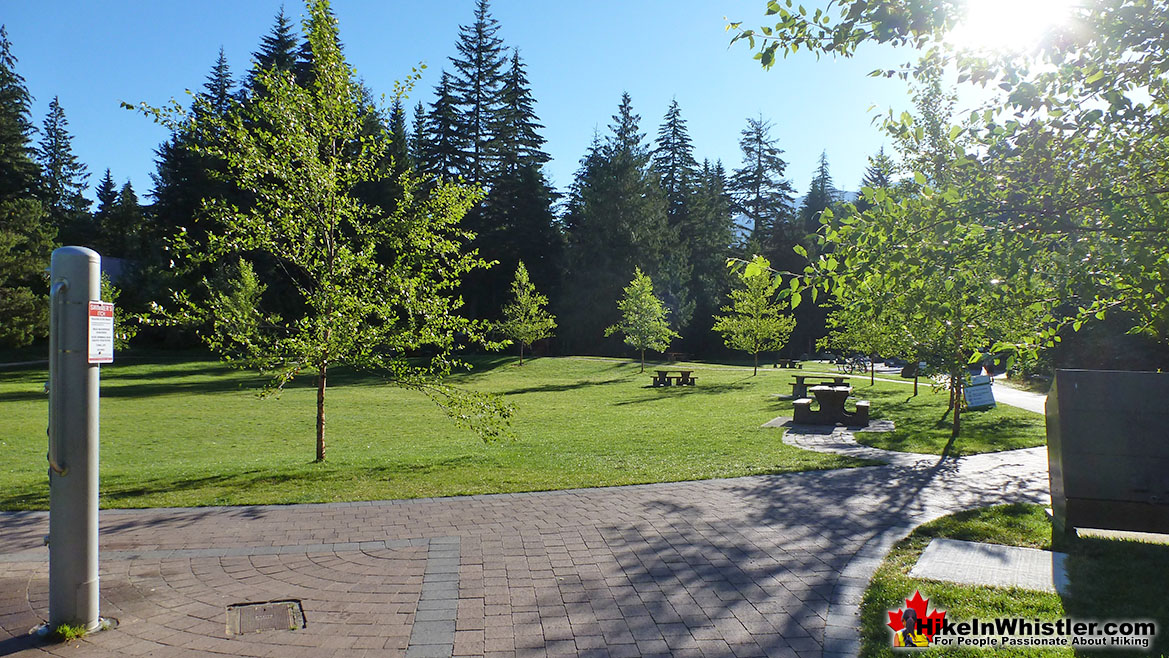 If you continue along the trail past this beautiful area you come to a small one room log cabin in the trees near the edge of the lake.  With no doors and windows it is has the feel of an elaborate kids fort.  Beyond this the trail joins again with the Valley Trail heading south through the forest at the edge of Alta Lake.  Wayside Park is just a 5 minute bike ride or 15 minute walk from here.  The beautiful Valley Trail system that runs through much of Whistler and connects almost all of the local parks is a great way to explore.  At every fork in the trail there are elaborate signs pointing to what you will find in each direction and even the distance in kilometres.  There are plenty of routes you can follow on bike or foot throughout Whistler, but the circle route around Alta Lake is a great one to start with.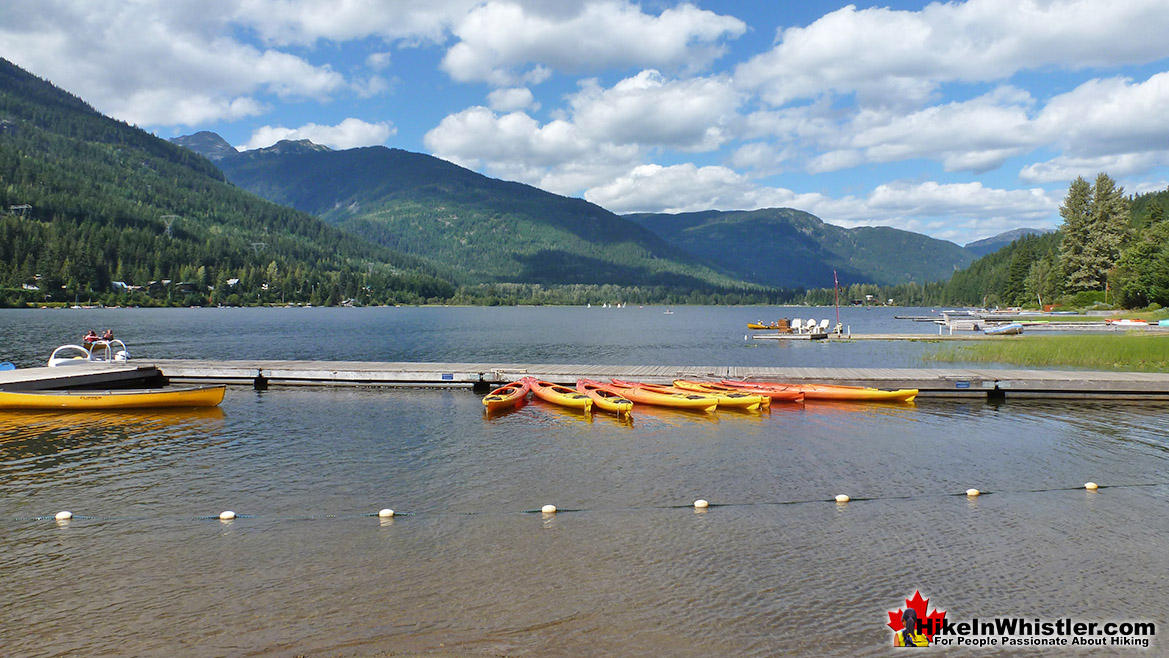 If you start at Whistler Village, continue to Lakeside Park, then to Wayside Park, then around the end of Alta Lake, turn right.  Walk along the edge of the lake and in a couple hundred metres you will pass a house on your right, just about 50 metres past this you will see a trail into the trees.  Follow this and bear right.  This leads to Alta Lake Park, a cute little forest park with a surreal set of giant, oversized chairs on the lake, odd car wrecks along the trail, and yet another beautiful pier on Alta Lake.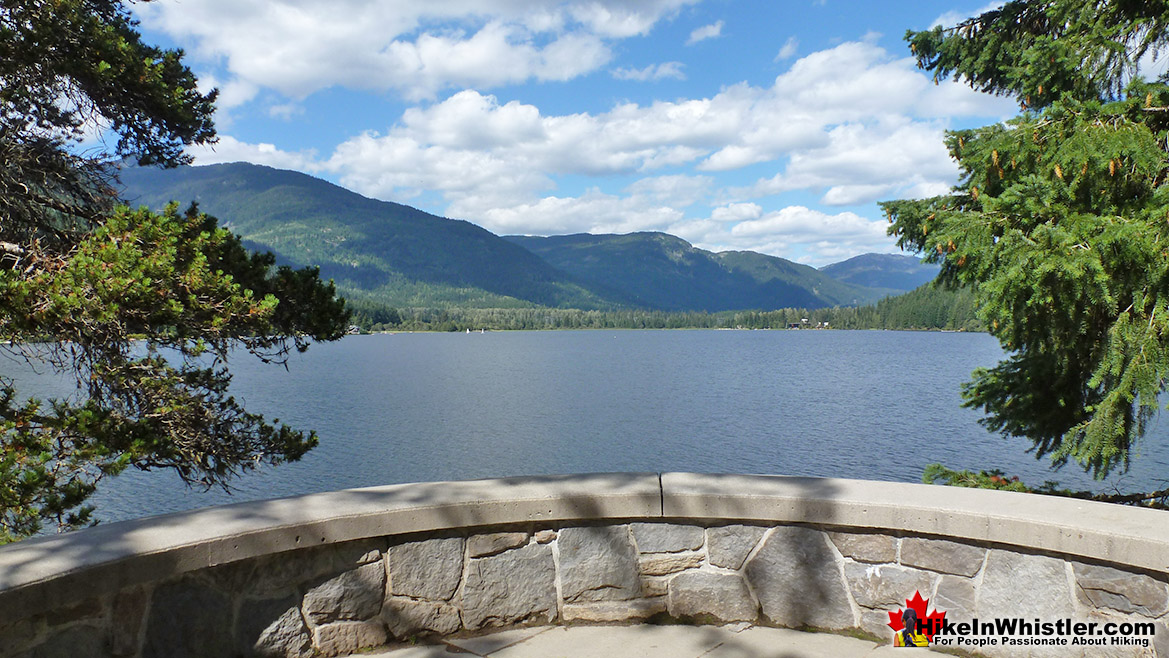 If you continue back on the Valley Trail along Alta Lake you will cross the train tracks and come to Alta Lake Road.  Continue along Alta Lake Road, keeping Alta Lake on your right.  You will get some terrific views of the lake and after 1.3 kilometres look for Rainbow Park on your right.  This gets you back on the Valley Trail and around the top end of Alta Lake and to the River of Golden Dreams at the end of Lorimer Rd.  From here the Valley Trail splits into two directions.  Left goes to Meadow Park and right moves you toward Whistler Village again via the Whistler Golf Course.  If you keep following the excellent signs at each juncture you will find your way OK.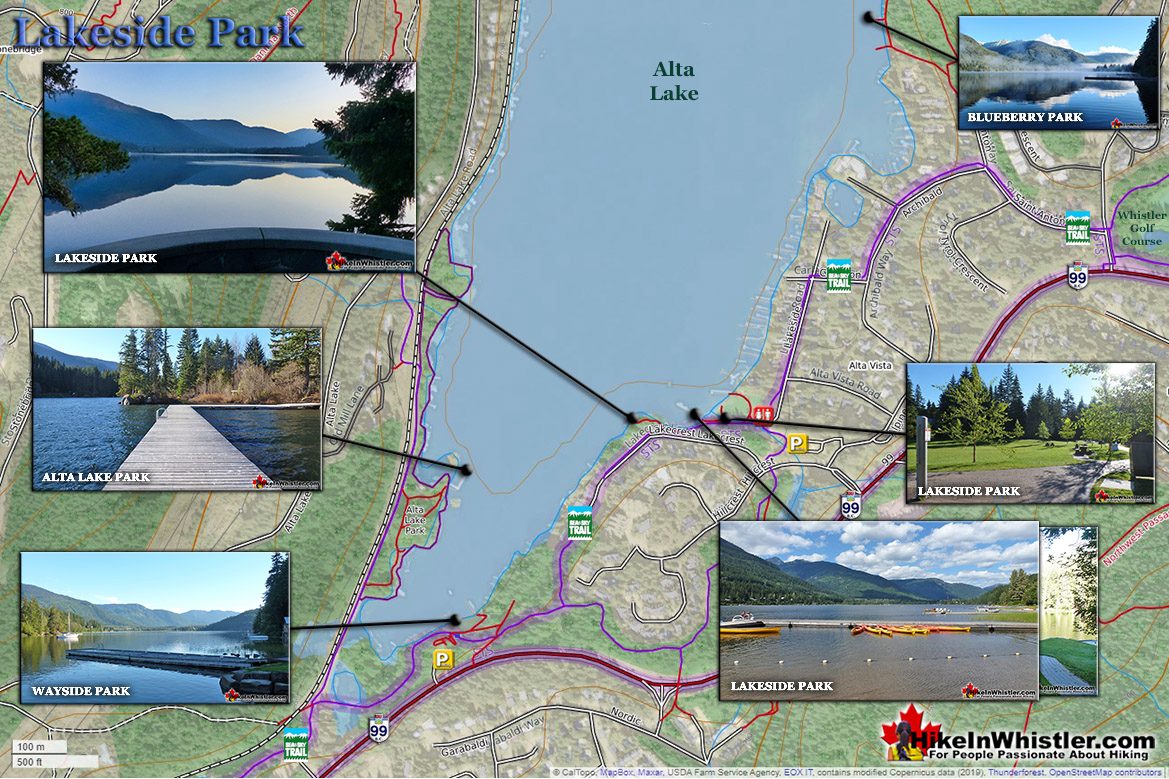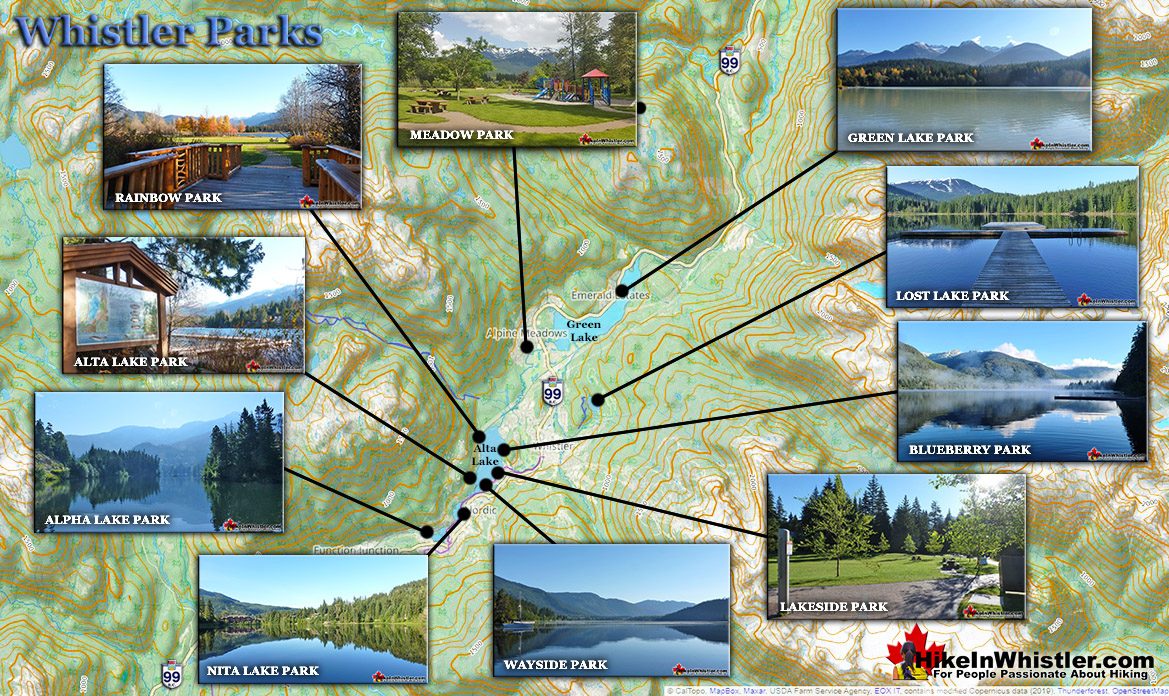 Walking, jogging or biking via the beautiful Valley Trail from Whistler Village is the nicest way to get to Lakeside Park, however driving is convenient and easy.  The huge parking lot for the park is easy to find.  From the Village drive south on the Sea to Sky Highway and look for the Lakeside Park sign on your right at Hillcrest Drive, take the first right again on Alpine Crescent and the parking entrance is immediately on your left.  As with all the other parks in Whistler, parking is free, well laid out and just a stones throw from the beach.  If you have a boat or canoe that you'd rather not carry to the beach, there is a proper boat launch just down the road at the junction of Lakeside Road and Carleton Way.  You will also find road side parking on Lakeside Road if you want to park near where you launch.  Always watch for no parking signs, but currently this is a free and convenient place to park.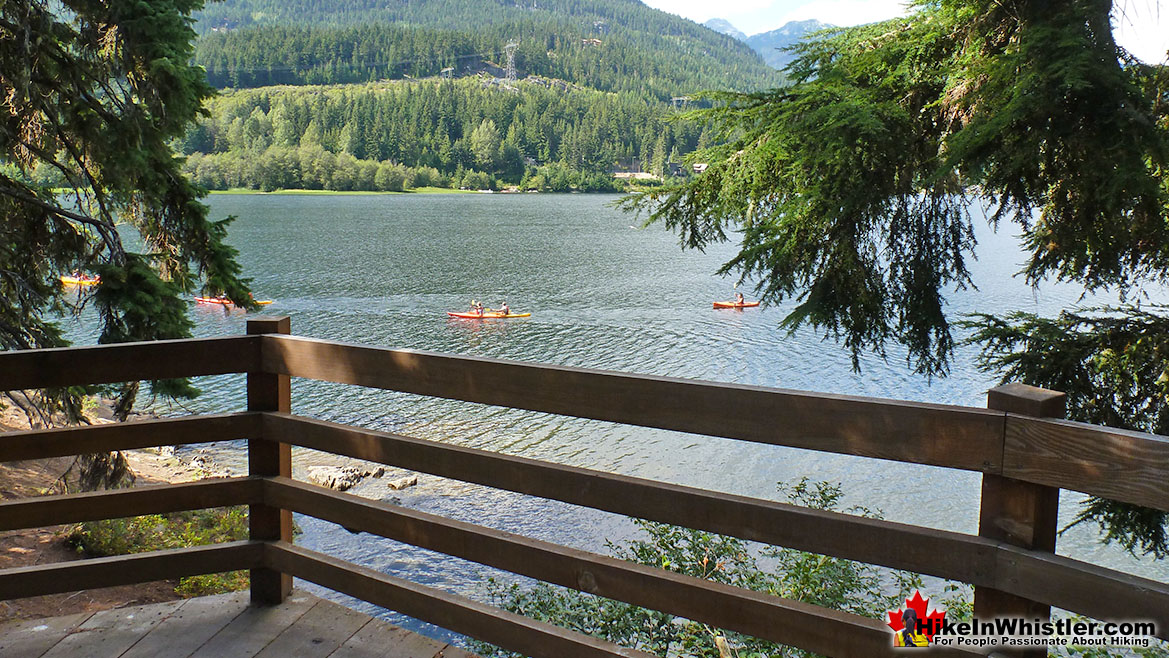 Dogs are welcome at Lakeside Park, however it is far from the best option for you dog in Whistler.  Alpha Lake Park and Lost Lake Park both have fantastic, dog park sections where you won't have to worry about your dog running around disturbing anyone.  Blueberry Park just a short walk from Lakeside Park is very dog friendly as it is for the most part a wilderness forest on Alta Lake.  There are several dog friendly hiking trails in Whistler such as Sea to Sky Trail, Whistler Train Wreck, Nairn Falls Provincial Park, Ancient Cedars.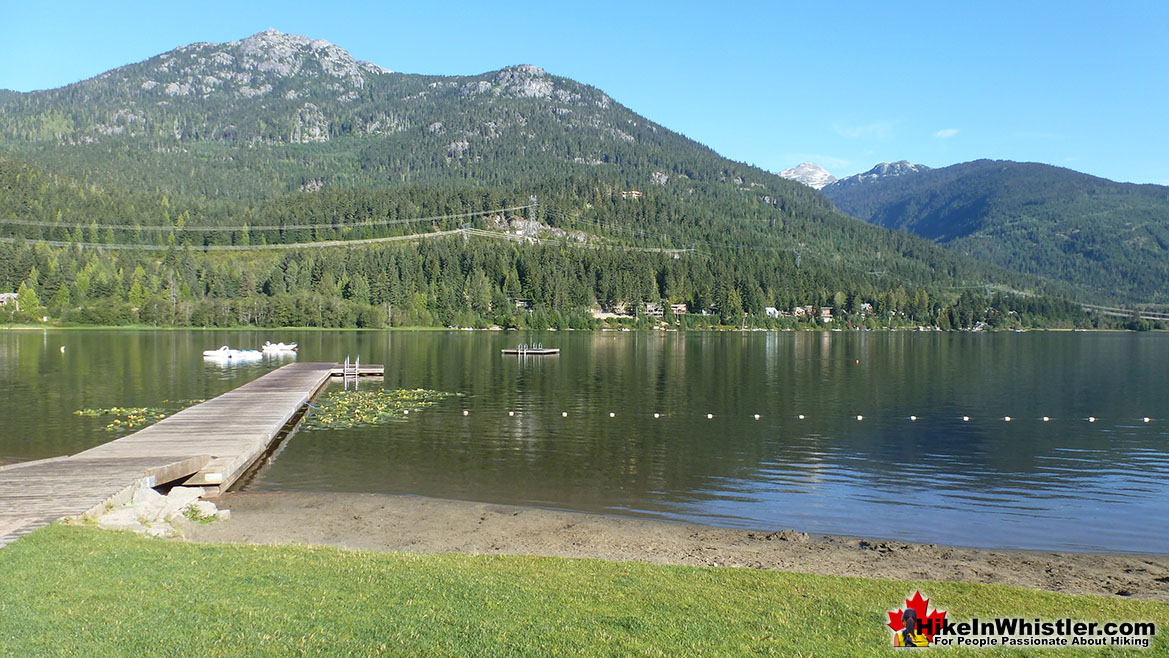 Lakeside Park has proper washroom facilities near the main beach.  Washrooms are located at most Parks along the Valley Trail and they are accessible during daylight hours.  Along the route mentioned above that takes you around Alta Lake, starting and finishing at Whistler Village there are numerous washrooms.  Wayside Park has proper washrooms, Alta Lake Park does not, Rainbow Park has proper facilities, there is an outhouse near the Valley Trail/Lorimer Rd junction and public restrooms at the top end of the Whistler Golf Course on the Valley Trail.
Whistler Parks & Beaches!
Whistler's Best Hiking Trails!
Whistler & Garibaldi Park Best Hiking by Month!

Explore BC Hiking Destinations!