Squamish is located in the midst of a staggering array of amazing hiking trails. Garibaldi Provincial Park sprawls alongside Squamish and up and beyond Whistler. Tantalus Provincial Park lays across the valley to the west and the wonderfully remote Callaghan Valley lies to the north. Nestled inside Squamish are three impressive provincial parks, Alice Lake, Stawamus Chief and Shannon Falls.
Squamish & Whistler Trails

Alexander Falls  

Alice Lake  

Ancient Cedars  

Black Tusk  

Blackcomb Mountain  

Brandywine Falls  

Brandywine Meadows  

Brew Lake  

Callaghan Lake  

Cheakamus Lake  

Cheakamus River  

Cirque Lake  

Elfin Lakes  

Flank Trail  

Garibaldi Lake  

Garibaldi Park  

Helm Creek  

High Falls Creek  

Jane Lakes  

Joffre Lakes  

Keyhole Hot Springs  

Levette Lake  

Logger's Lake  

Madeley Lake  

Meager Hot Springs 

Nairn Falls  

Newt Lake  

Panorama Ridge  

Parkhurst Ghost Town  

Rainbow Falls  

Rainbow Lake  

Ring Lake  

Russet Lake  

Sea to Sky Gondola  

Sea to Sky Trail  

Shannon Falls  

Skookumchuck Hot Springs  

Sloquet Hot Springs  

Sproatt East  

Sproatt West  

Stawamus Chief  

Taylor Meadows  

Train Wreck  

Upper Shannon Falls  

Wedgemount Lake  

Whistler Mountain
The beautiful Upper Shannon Falls trail, also called the Sea to Summit trail, branches off from the chaotically popular Stawamus Chief trail.  About 15 minutes along the Stawamus Chief trail you will see a well marked trail branch off to the right into the forest.  This is the Upper Shannon Falls trail and is remarkably unused.  This is a wonderful fact though as hundreds hike The Chief on any given weekend day, though only a handful hike this trail. Stawamus Chief is the mammoth rock face that towers over Squamish. Though hardly believable from looking at, the summit is a fairly easy, though very steep hike. In fact there are three peaks, South (First), Centre (Second), and North (Third). Each accessible from the single trailhead.  Growing in popularity as the newest brother to the Grouse Grind in Vancouver because there are quite a few stairs and considerable elevation gain.  Shannon Falls towers above Howe Sound at 335 metres as the third tallest falls in BC.  The wonderful, though very short trail winds through a beautiful old growth forest to get to the base of the falls.  From your car to the viewpoint takes only about four minutes, however the trail continues a bit further to a higher viewpoint (five minutes higher).  The Sea to Sky Gondola opened in 2014 and has rapidly expanded into a marvellous array of hiking trails and mountaintop attractions. Located between Stawamus Chief Provincial Park and Shannon Falls Provincial Park, the gondola carries you rapidly from the sea to the sky.  Departing just a few hundred metres from the ocean at an elevation of 35 metres, to 885 metres in just 10 minutes.  High Falls Creek is a great hike, not only for the beautiful scenery in and around the trail, but the drive to it as well.  The often passed by Squamish Valley Road, opposite the Alice Lake Provincial Park access road, is wonderful.  This glacier carved valley stretches on and on, along the majestic Squamish River.  The trail is well marked and though steep at times is moderately challenging.  Elfin Lakes in Garibaldi Park is an absolutely phenomenal, though long, hiking, biking, snowshoeing and skiing trail that begins at the Diamond Head area in Squamish.  From downtown Squamish, the trailhead is just a short drive away, located near the south end of Garibaldi Provincial Park.  Garibaldi Park is the massive wilderness park of nearly two thousand square kilometres that stretches from Squamish to Pemberton. 
Snowshoeing to Elfin Lakes in Garibaldi Park, Squamish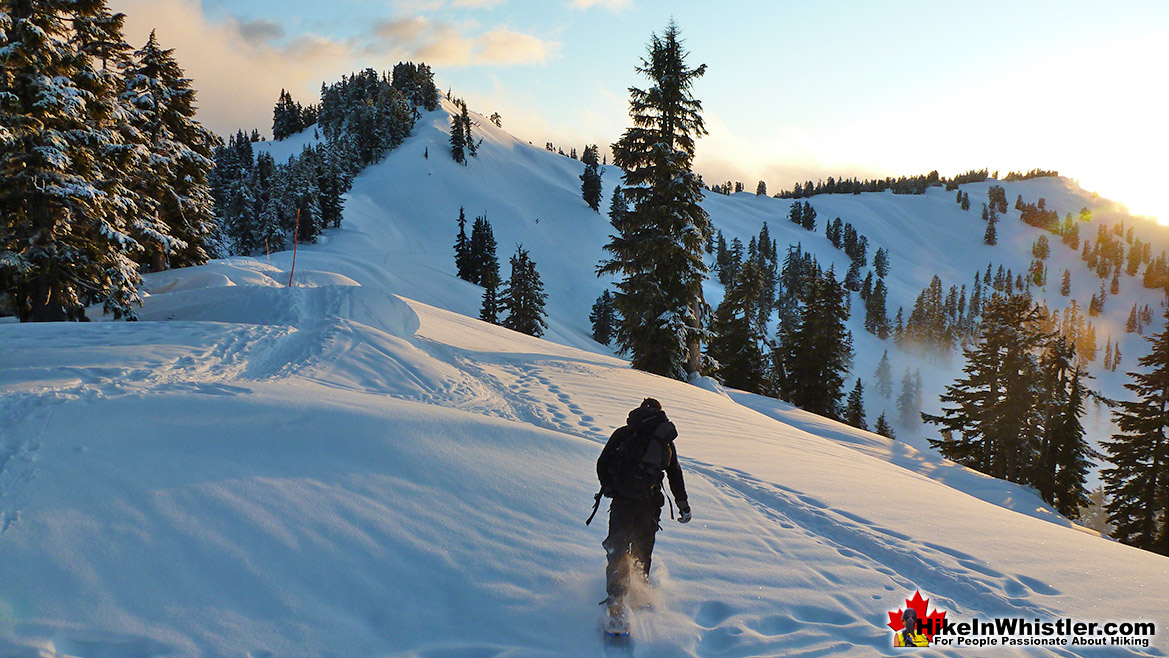 Incredible Upper Shannon Falls Trail in Squamish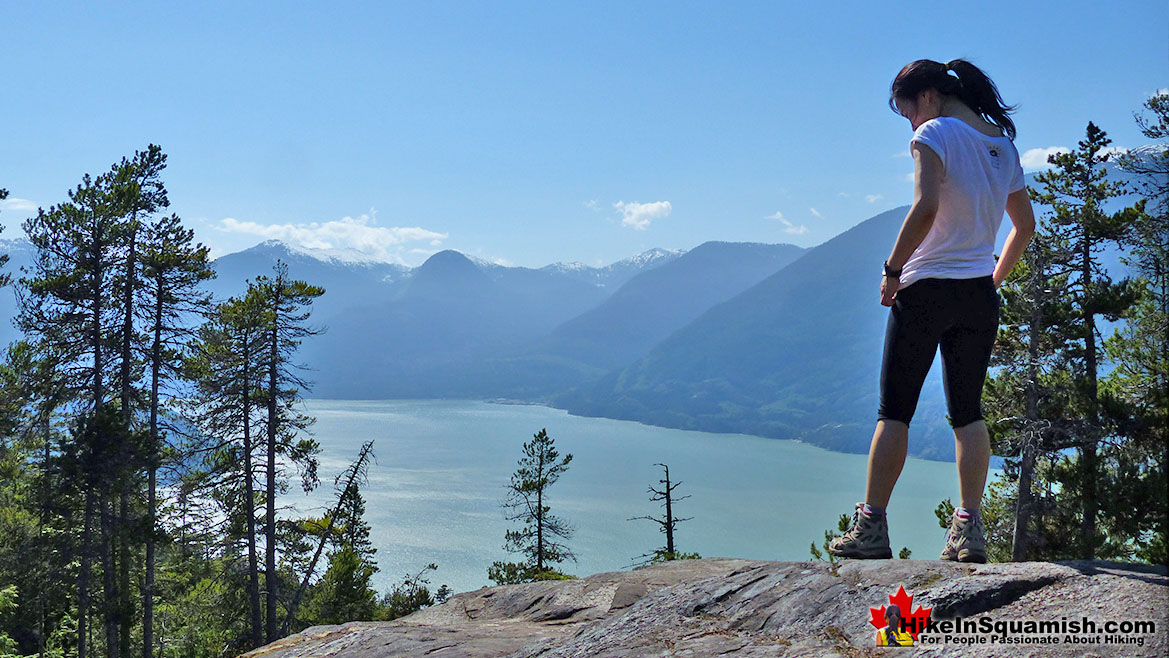 Spectacular Sea to Sky Gondola in Squamish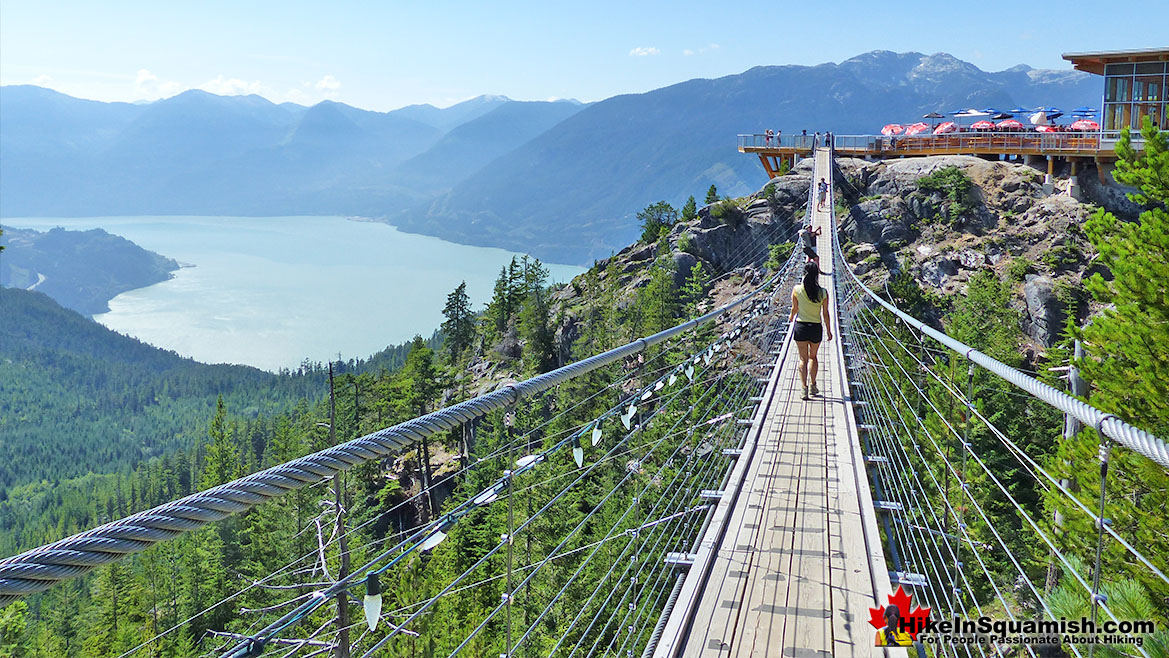 Upper Shannon Falls Trail Sunset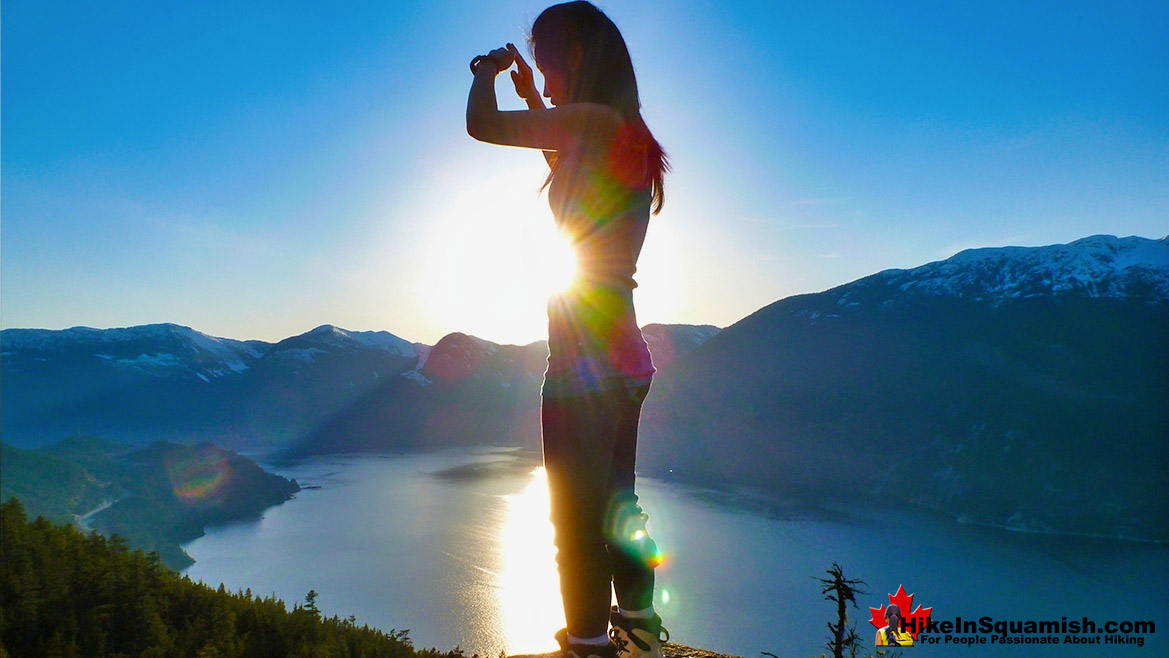 Upper Shannon Falls Trail in Squamish

The Upper Shannon Falls trail, the Stawamus Chief trail and Shannon Falls are all connected by trails.  In order to see all three you should park in the Shannon Falls parking lot and hike up to the Shannon Falls viewpoint just a short 5 minute walk from the parking lot, then proceed from there to connect with the Stawamus Chief trail, about 15 minutes further up the trail.  Once you connect with the Stawamus Chief trail you will see clear signs directing you to ether the Upper Shannon Falls trail, or to continue on the main trail to one or all of The Chief's 1st Peak trail, 2nd Peak trail, 3rd Peak trail.  If you plan on hiking both the Upper Shannon Falls trail and one or all of The Chief peaks, be prepared for an arduous day as the distance is not very much, but the continuous elevation gain will be hard.  But as long as you are in for a good workout.. as many do.. Doing both The Chief and the Upper Shannon Falls trail in the same day is amazing!  The views are not quite as dramatic at the top of the Upper Shannon Falls trail and the distance a bit farther than The Chief's first peak, but the views are still amazing.  The hike through the forest is very beautiful as it winds through massive trees and over cute streams and at one point through a wonderful fissure in the mountain.  If you are looking to get away from the crowds Upper Shannon Falls is the place.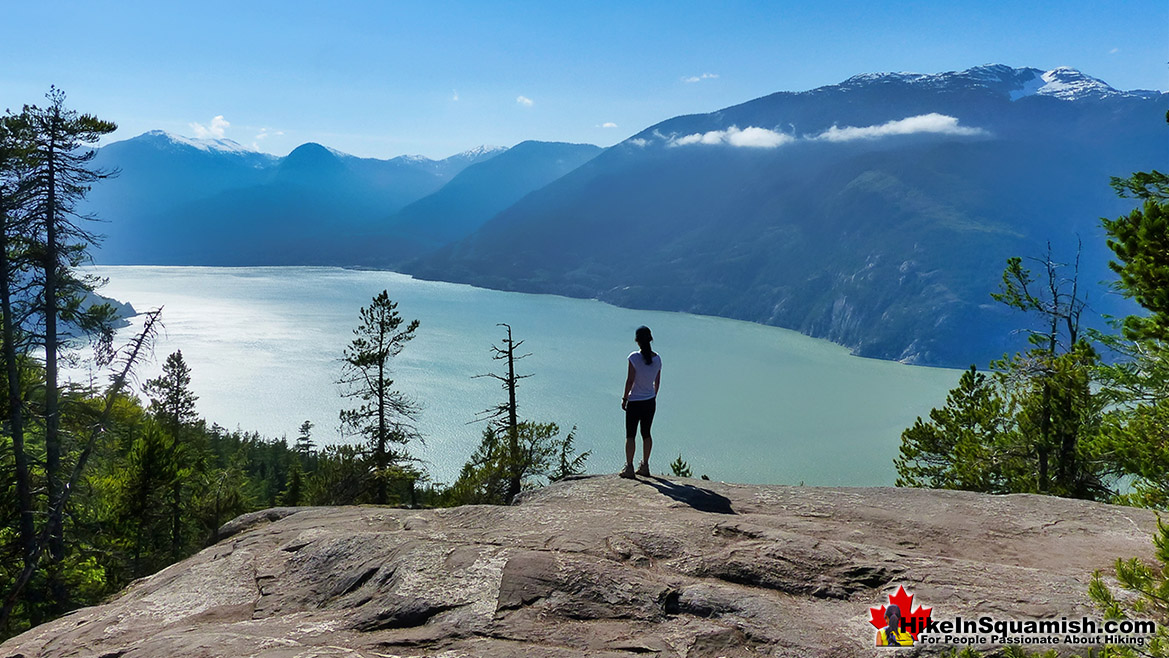 More Best Squamish Hiking - Upper Shannon Falls
Stawamus Chief in Squamish

Stawamus Chief, more often referred to as The Chief, is well know as one of the largest granite monoliths in the world.  The Chief attracts rock climbers from around the world to its many incredible climbing routes up this granite dome that towers over 700 metres(2297 feet) above Howe Sound.  The Chief covers an area roughly three square kilometres and the original granite dome is fractured into several separate summits.  The three main summits are the First Peak, Second Peak and Third Peak.  All are accessible by the park's maintained hiking trail network.  First Peak is 1.5 kilometres long, with an elevation gain of 540 metres.  Second Peak is 1.7 kilometres from the trailhead and with an elevation gain of 590 metres.  Third Peak is 1.8 kilometres from the trailhead and has an elevation gain of 630 metres.  Another notable summit, just north of Third Peak is the Zodiac Summit.  No maintained trail leads to the Zodiac Summit, though finding the route to it is not too difficult.  The Zodiac Summit is a quiet oasis in this often bustling park.  Most hikers head straight to First Peak, though all three summits get a considerable amount of hiker traffic on an average summer day.  Zodiac Summit remains off the radar for almost all visitors to the park.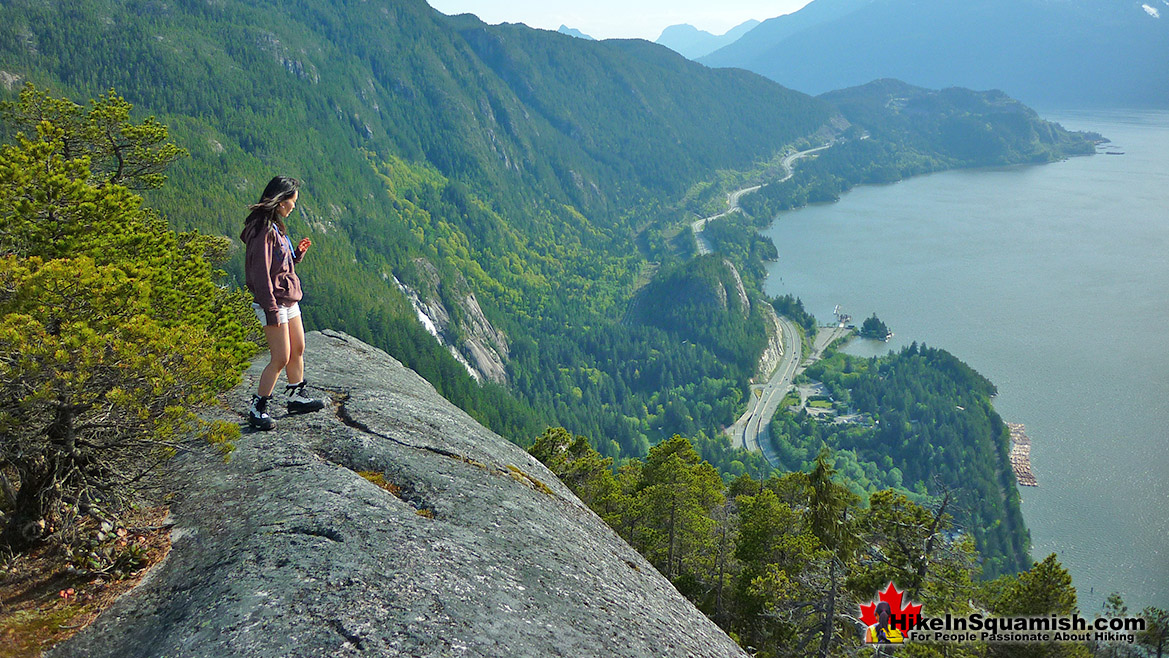 The Chief featured several times in the recent movie The Alpinist.  This incredible movie follows Marc-André Leclerc from his home in Squamish, then around the world as he climbs mountain routes previously considered impossible.
More Best Squamish Hiking - Stawamus Chief
Sea to Sky Gondola in Squamish

The gondolas comfortably seat 8 and the entire 10 minute ride gives you stunning views of Howe Sound, the three summits of the Chief on your left, and distant snowy mountains up ahead. The gondola cabins are almost entirely windows so no matter where you sit you have amazing views. If you are driving from Vancouver the large and easy to spot, Sea to Sky Gondola parking lot is just 45 minutes from Vancouver.  Just off of the Sea to Sky Highway, look for the entrance just past the Shannon Falls Provincial Park entrance or just a couple hundred metres before the Stawamus Chief Provincial Park entrance.  Parking is free, however they have signs that indicate that if you plan on parking more than 3 hours you should park at the Shannon Falls parking lot instead.  This is a good option as well if you want to take a look at Shannon Falls as well.  You can park there, see the amazing Shannon Falls and continue walking to the Sea to Sky Gondola along the connecting trail in less than 15 minutes.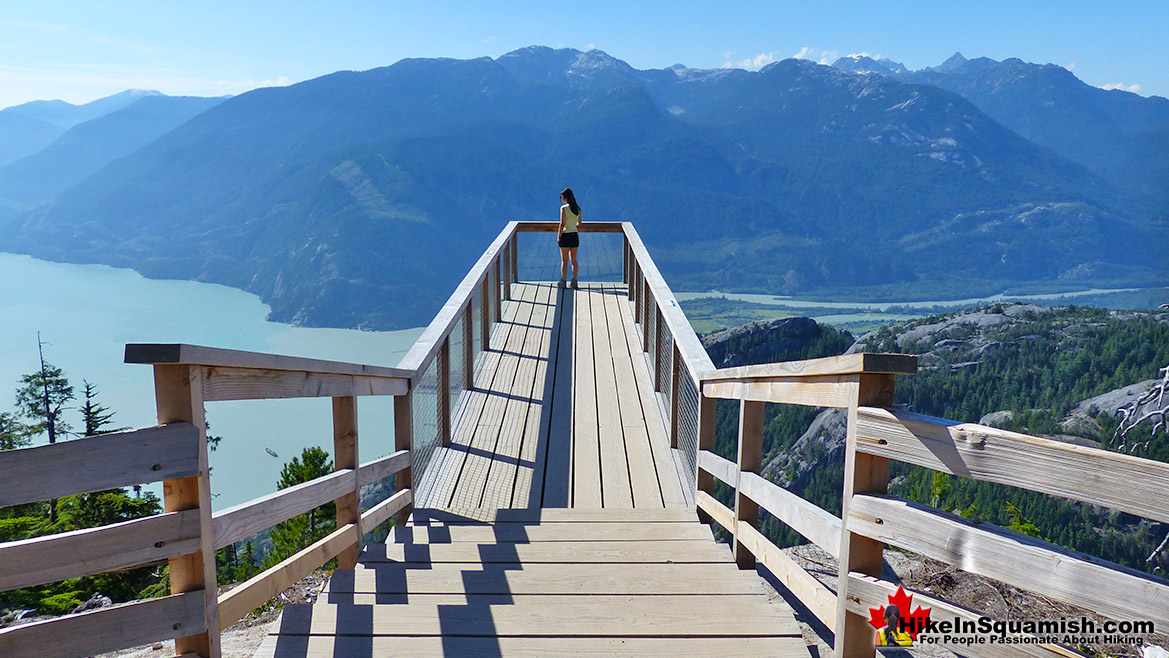 More Best Squamish Hiking - Sea to Sky Gondola
Shannon Falls Hike in Squamish

Shannon Falls Provincial Park has a concession stand as well as an information centre next to the parking area.  This parking area is day use only, so if you are hoping to camp overnight in the area, you have to park at the Stawamus Chief parking lot, just a 1 minute drive north of the Shannon Falls lot.  If you are planning to hike the Stawamus Chief, the Shannon Falls parking lot is arguably a better place to start from.  You can take a look at Shannon Falls and then take the connecting trail to join onto the trail to The Chief.  This route is only slightly longer, yet much more scenic.  Once you connect to the Stawamus Chief trail, you will find almost constant stairs to be prepared for quite a workout comparable to the Grouse Grind in Vancouver.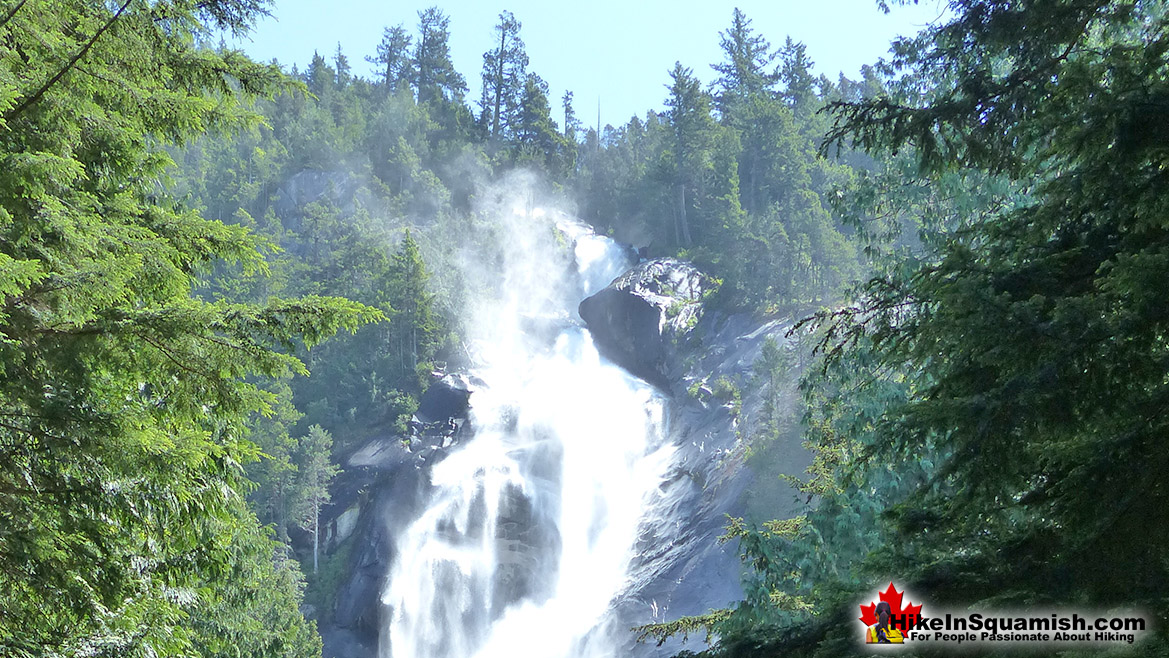 More Best Squamish Hiking - Shannon Falls
Elfin Lakes Hike in Garibaldi Park, Squamish

If you are driving the Sea to Sky Highway to Whistler, Garibaldi Park will be the vast wilderness of snow-capped mountains on your right.  The Elfin Lakes trail is very well marked and maintained and leads to the wonderful, Elfin Lakes hut.  This amazing hut sleeps 33 and is solar powered and propane heated.  There is a user fee to stay the night there which is a small price to pay for the beautiful comfort after the long, 11 kilometre snowshoe or hike to get there.  This area is very popular with skiers as well as snowshoers in the winter and deep snow covers the trail usually from November to June.  The trail to Elfin Lakes starts out ascending through deep forest, reaching the Red Heather hut after 5 kilometres.  This is a small warming hut equipped with a wood stove complete with a stack of wood free to use, though sleeping here is for emergencies only.  The final 6k from this hut to Elfin Lakes takes you along a beautiful ridge with amazing views of snowy mountains all around.  The sheer distance of this snowshoeing trail ranks it as difficult, though overall you will just be doing a moderately steady ascending trail. Expect to take four hours to reach the Elfin Lakes hut as you are almost constantly ascending a gradual, though consistently uphill trail.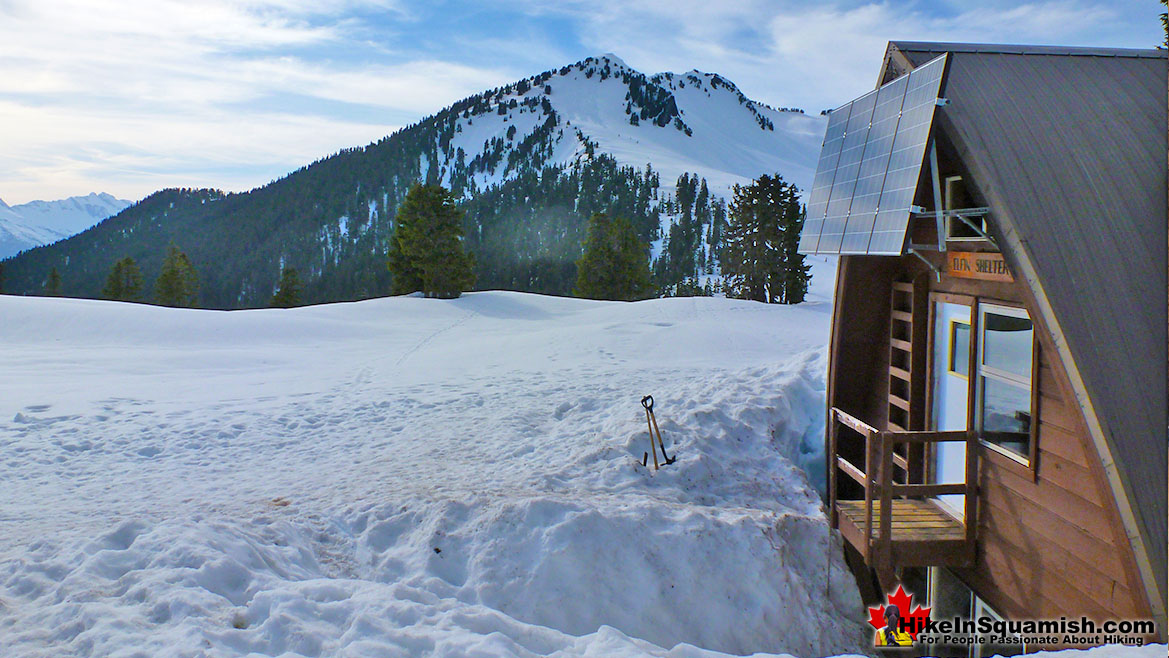 More Best Squamish Hiking - Elfin Lakes
High Falls Creek Hike in Squamish

The High Falls Creek trail has some short chain assisted areas to climb and overall the trail is fairly steep.  You quickly gain 622 metres in about 4 kilometres.  Past the beautiful falls viewpoints the trail leads to a few more viewpoints before ending at the Branch 200 FSR.  You can either turn back and retrace your steps to the trailhead parking.  Most prefer to walk the forest service road back to their car instead.  It is much longer (almost 2 kilometres longer), but it is easy and relaxing and there are some stunning views of the river valley below.  This road takes you back to the S Main FSR where you will turn left onto and walk about 1.4 kilometres to get back to your car.
More Best Squamish Hiking - High Falls Creek

Whistler's Best Hiking Trails!
Whistler & Garibaldi Park Best Hiking by Month!

Explore BC Hiking Destinations!