Hiking in Whistler is spectacular and wonderfully varied. Looking at a map of Whistler you see an extraordinary spider web of hiking trails that are unbelievably numerous. Easy trails, moderate trails and challenging hiking trails are all available. Another marvellous thing about hiking in Whistler is that Garibaldi Provincial Park wraps around it. Whistler Mountain and Blackcomb Mountain push into this massive wilderness park. You can ride a gondola to the alpine of Whistler Mountain and hike for days into Garibaldi Park's stunning heart!
Whistler & Garibaldi Hiking

Alexander Falls  

Ancient Cedars  

Black Tusk  

Blackcomb Mountain  

Brandywine Falls  

Brandywine Meadows  

Brew Lake  

Callaghan Lake  

Cheakamus Lake  

Cheakamus River  

Cirque Lake 

Flank Trail 

Garibaldi Lake 

Garibaldi Park 

Helm Creek  

Jane Lakes 

Joffre Lakes  

Keyhole Hot Springs  

Logger's Lake  

Madeley Lake  

Meager Hot Springs 

Nairn Falls  

Newt Lake 

Panorama Ridge 

Parkhurst Ghost Town 

Rainbow Falls  

Rainbow Lake 

Ring Lake  

Russet Lake  

Sea to Sky Trail 

Skookumchuck Hot Springs  

Sloquet Hot Springs 

Sproatt East 

Sproatt West  

Taylor Meadows  

Train Wreck  

Wedgemount Lake  

Whistler Mountain

January 

February 

March 

April 

May 

June 

July 

August 

September 

October 

November 

December
Wedgemount Lake is one of the best hikes in Whistler.  Located in Garibaldi Park, the trailhead is just 13.8 kilometres north of Whistler Village.  The trail is steep compared to other Garibaldi Park trails, which deters many hikers.  Though it is steep, the trail is comparatively short at just 7 kilometres with an elevation gain of 1220 metres.  Panorama Ridge, by comparison is 15 kilometres long and with an elevation gain of 1520 metres.  If you are a fit hiker, one could easily argue that Wedgemount Lake is an easier hike than Panorama Ridge.  Panorama Ridge is the most popular hiking destination in Garibaldi Park because of the spectacular view you get of Garibaldi Lake and the surrounding mountains.  Garibaldi Lake has a brilliantly vivid blue colour that is breathtaking to see when you first catch sight of it from Panorama Ridge.  In the opposite direction you see another strikingly beautiful icon of Garibaldi Park, Black Tusk.  Black Tusk is a jet black, towering mountain that is actually the solidified core of an ancient volcano that is visible because the walls surrounding the core are crumbling away.  Looking at the near vertical sides of Black Tusk it is hard to believe that it's pretty easy to climb to the top of it.  A narrow gap on one side allows you to scramble up the chimney to the top of this extraordinary mountain.  There are plenty more amazing hikes in Whistler, such as Whistler Train Wreck with its wonderful array of mangled train cars and transformed into a wilderness art exhibit.  Parkhurst Ghost Town, an old logging town abandoned in the 1950's and now an interesting collection of relics in a surprisingly beautiful setting on the far side of Green Lake.  Russet Lake is located where Whistler Mountain and Blackcomb Mountain meet in the shadow of The Fissile. Whistler Mountain and Blackcomb Mountain are home to a staggering array of phenomenal hiking trails which are accessible by gondola and chairlift, taking most of the work out of hiking and keeping all the enjoyment of spectacular views.  The following is a summary of some of the best hiking trails in Whistler and Garibaldi Park.
Wedgemount Lake in Garibaldi Park, Whistler

Wedgemount Lake itself is a magnificent destination for a day hike or spectacular overnight beneath the dazzling mountain peaks and stars. Many sleep under the stars on one of the many beautiful tent platforms that dot the landscape. Solidly built, wooden tent platforms are everywhere you look at Wedgemount Lake. Strategically positioned, these platforms manage to maintain an amazingly secluded feel despite their numbers. In all Wedgemount Lake has 20 of these tent areas. Most are wooden, but several down by the lake shore are gravel, yet every bit as nice. Due to a big snow winter, the Wedgemount Lake trail was very difficult to hike due to snow well into June 2017! Wedgemount Lake is one of the most spectacular hikes in Garibaldi Park. Though it is a relentlessly exhausting, steep hike, it is mercifully short at only 7 kilometres one way. The elevation gain in that short distance is over 1200 metres which makes it a much steeper hike than all the other Whistler area hiking trails. Compared with other Whistler hikes, Wedgemount Lake is half the roundtrip distance of either Black Tusk or Panorama Ridge, for example, at 13.5 kilometres and 15 kilometres respectively (one way).
Tent Platforms Along the Shore of Wedgemount Lake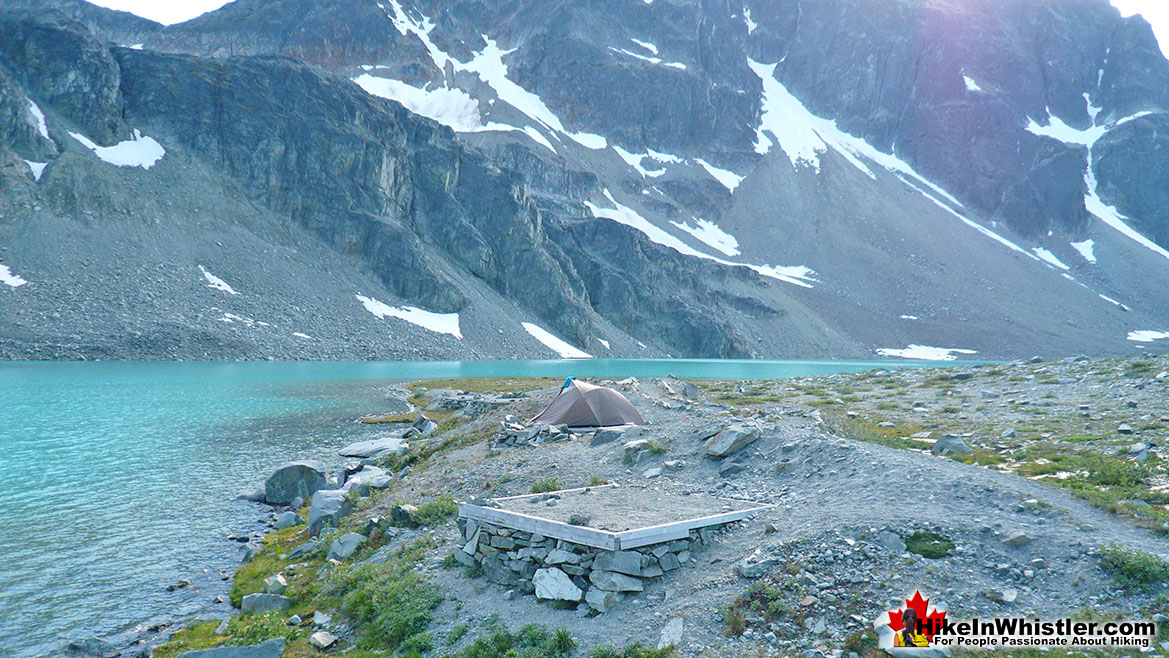 Aerial View of Wedgemount Lake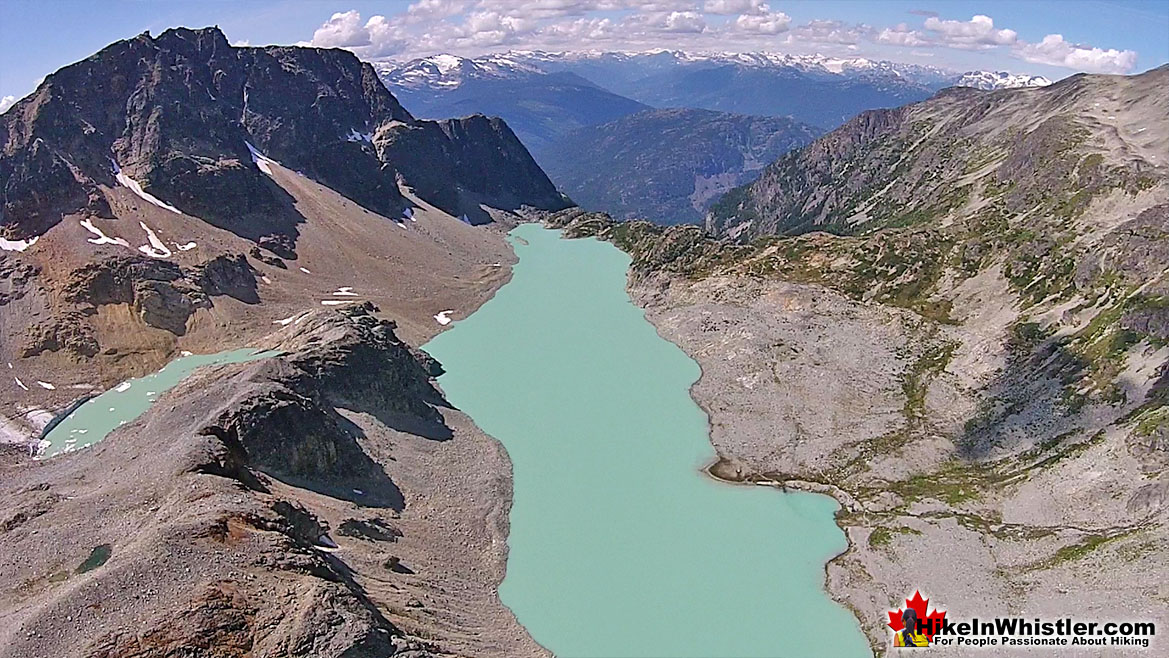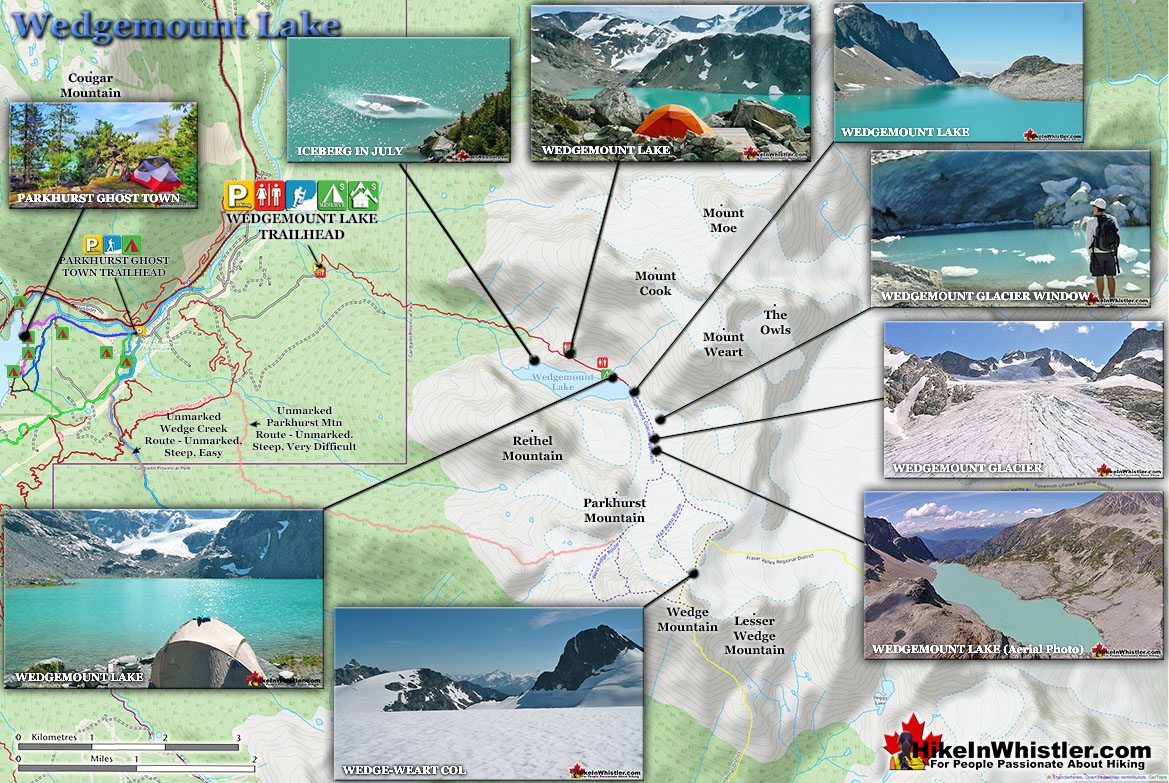 More Best Whistler Hiking - Wedgemount Lake
Whistler Hiking Trails - Parkhurst Ghost Town

Whistler has an absurd number of wonderful and free hiking trails and Parkhurst Ghost Town certainly ranks as the most unusual and interesting. Parkhurst was a little logging town perched on the edge of Green Lake from the 1920's to 50's, way before Whistler was Whistler. Up on the ridge where Parkhurst sits, the views are sensational. Green Lake far below, glows green in a way that doesn't quite look real and has to be seen to be believed.  There are quite a few trails in and around Parkhurst and it can be confusing as you rarely see trail signs and several trails overlap.  For example, the Green Lake Loop is the original trail that ran along the back side of Green Lake and then did a loop through Parkhurst.  Because the more recently built Sea to Sky Trail overlaps much of Green Lake Loop, the two trails are almost interchangeable.  With the Sea to Sky Trail following a newer, more defined route, it tends to overshadow the Green Lake Loop.  Also, half of the loop in the Green Lake Loop has morphed in recent years to be called the Parkhurst Trail, as it is the most direct route to the old ghost town. 
The Blue Face House in Parkhurst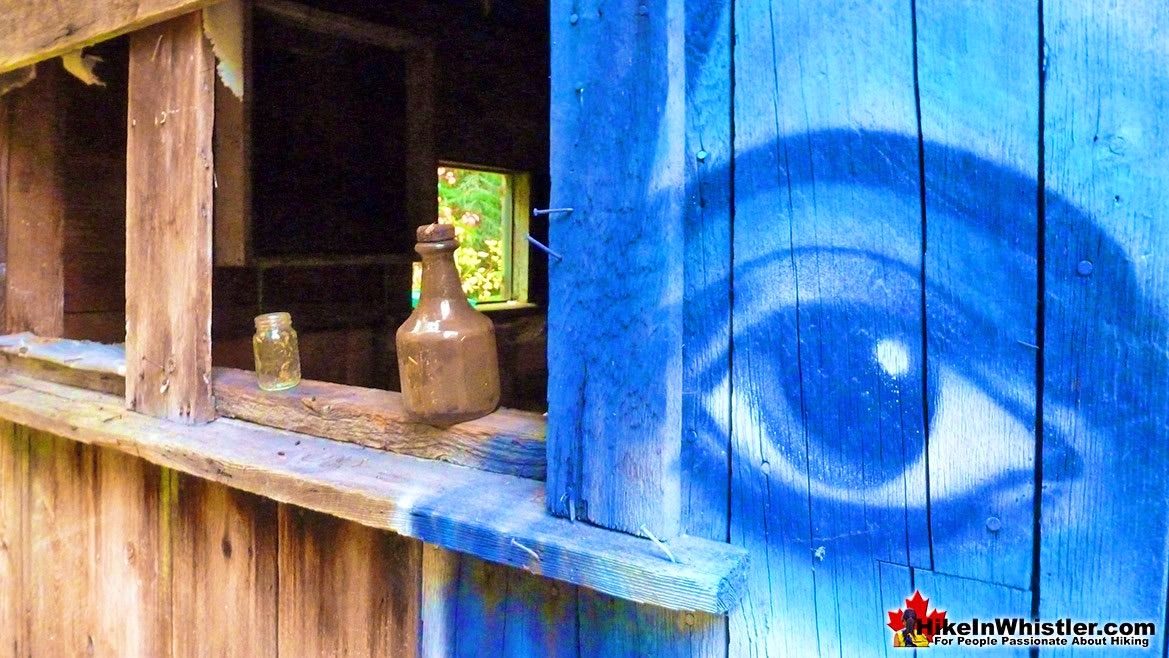 Parkhurst in the 1950's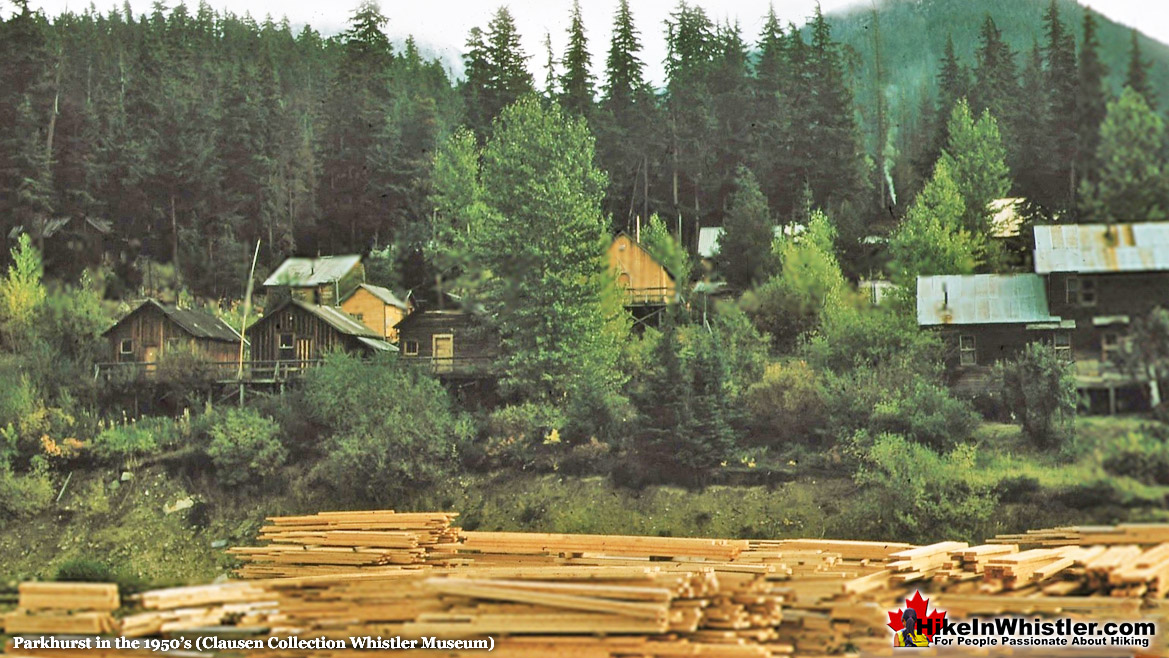 Parkhurst Ghost Town Map
There are several ways to get to Parkhurst Ghost Town and they range from alright to amazing.  You can hike from the far end of Green Lake via the Parkhurst Trail (pretty good), the Parkhurst Ridge Trail (amazing), the Green Lake Loop (some of it is nice) or the Sea to Sky Trail(not great) ranging in length from 2.9 kilometres to 3.4 kilometres (one way).  Or you can hike or bike in from the south from Lost Lake near Whistler Village along the Sea to Sky Trail and/or the Green Lake Loop.  Starting from Lost Lake near Whistler Village, you can hike or bike to Parkhurst along the Sea to Sky Trail/Green Lake Loop in 6.2 kilometres.  It is a very nice and wide, gravel trail with a few hills as you ascend up the back of Green Lake.  There are several panoramic vantage points over the lake as you wind through the nice forest in a comparatively quiet corner of Whistler.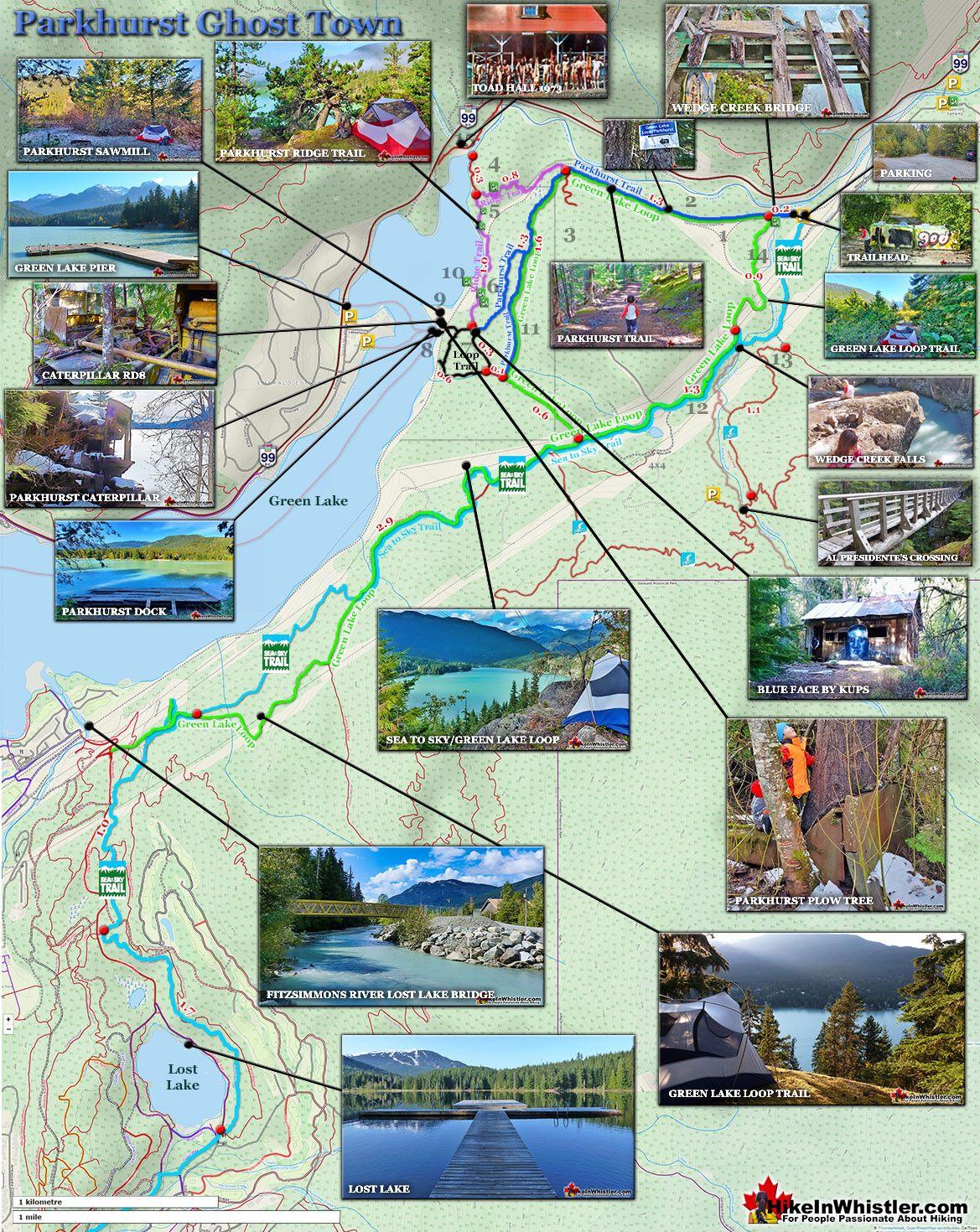 More Best Whistler Hiking - Parkhurst Ghost Town
Whistler Hiking Trails - Black Tusk in Garibaldi Park

Black Tusk is the extraordinarily iconic and appropriately named mountain that can be seen from almost everywhere in Whistler. The massive black spire of crumbling rock juts out of the earth in an incredibly distinct way that appears like an enormous black tusk plunging out of the ground.  Whether you spot it in the distance from the top of Whistler Mountain or from vantage points along the Sea to Sky Highway, its appearance is breathtaking. Whether you see it from the highway or from closer vantage points such as Taylor Meadows, Helm Creek, Panorama Ridge or Garibaldi Lake, all views make climbing to the top look impossible.  In fact, Black Tusk seems to look more impossible to climb the closer you get to it.  Even when you are close enough to touch its vertical, black and crumbling sides, you wonder in amazement how anyone can ever reach the top. Black Tusk is accessible from three different trailheads, all accessible via old access roads. From the nearby microwave tower(also visible from the Sea to Sky Highway), from the Garibaldi Park, Cheakamus Lake trailhead, and from the Garibaldi Park, Rubble Creek trailhead.  Of the three routes, only the Cheakamus Lake trailhead and the Rubble Creek trailhead are officially used for access to Black Tusk. These two have large and free parking lots equipped with an outhouse at each as well as big map and information boards.  Along both trails you will find good signs indicating where to hike as well as kilometre markings.  Most hikers use the more direct and popular Rubble Creek trailhead. The Rubble Creek trailhead is, for most hikers, the best trailhead option for Black Tusk. It is easy to find, clearly marked and the most direct route.  The Cheakamus Lake trailhead is a bit longer and you have to leave the marked trail to ascend to Black Tusk.  Though this unmarked route is straightforward and surprisingly easy, as it is unmarked it requires a bit of guesswork that may be intimidating. The Cheakamus Lake trailhead route also lacks one other wonderful attribute that the Rubble Creek route has, a pit-stop at Garibaldi Lake.  This less than 30 minute detour(one way) allows for a spectacular place to cool off in an always frigid, glacier fed lake!
Black Tusk View Above the Clouds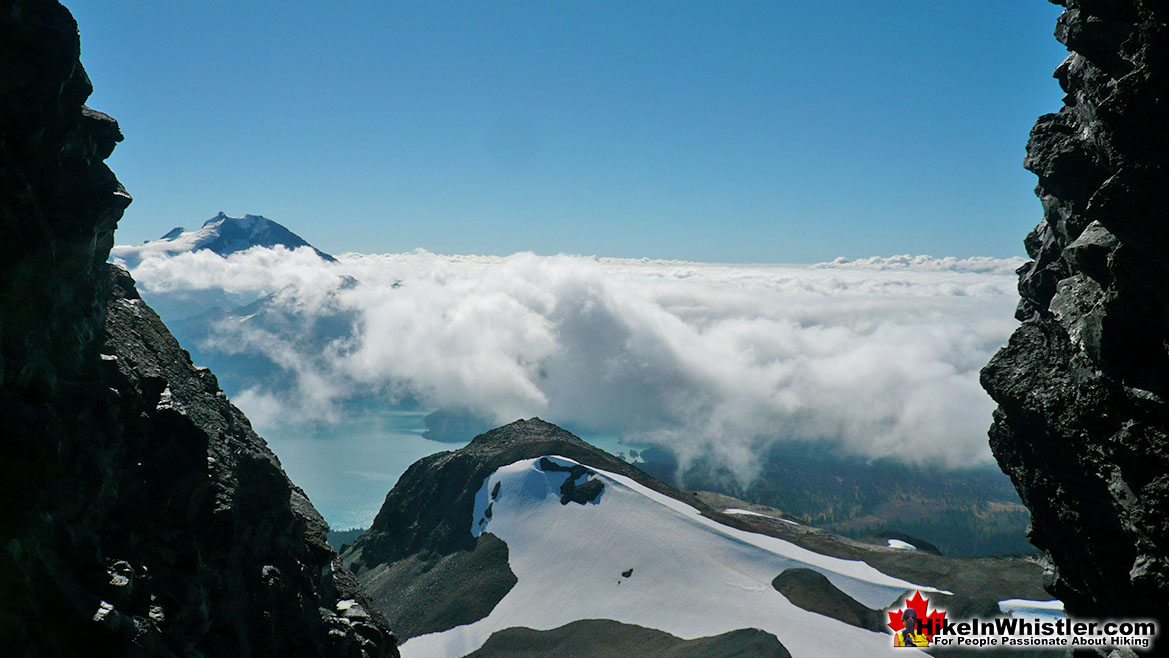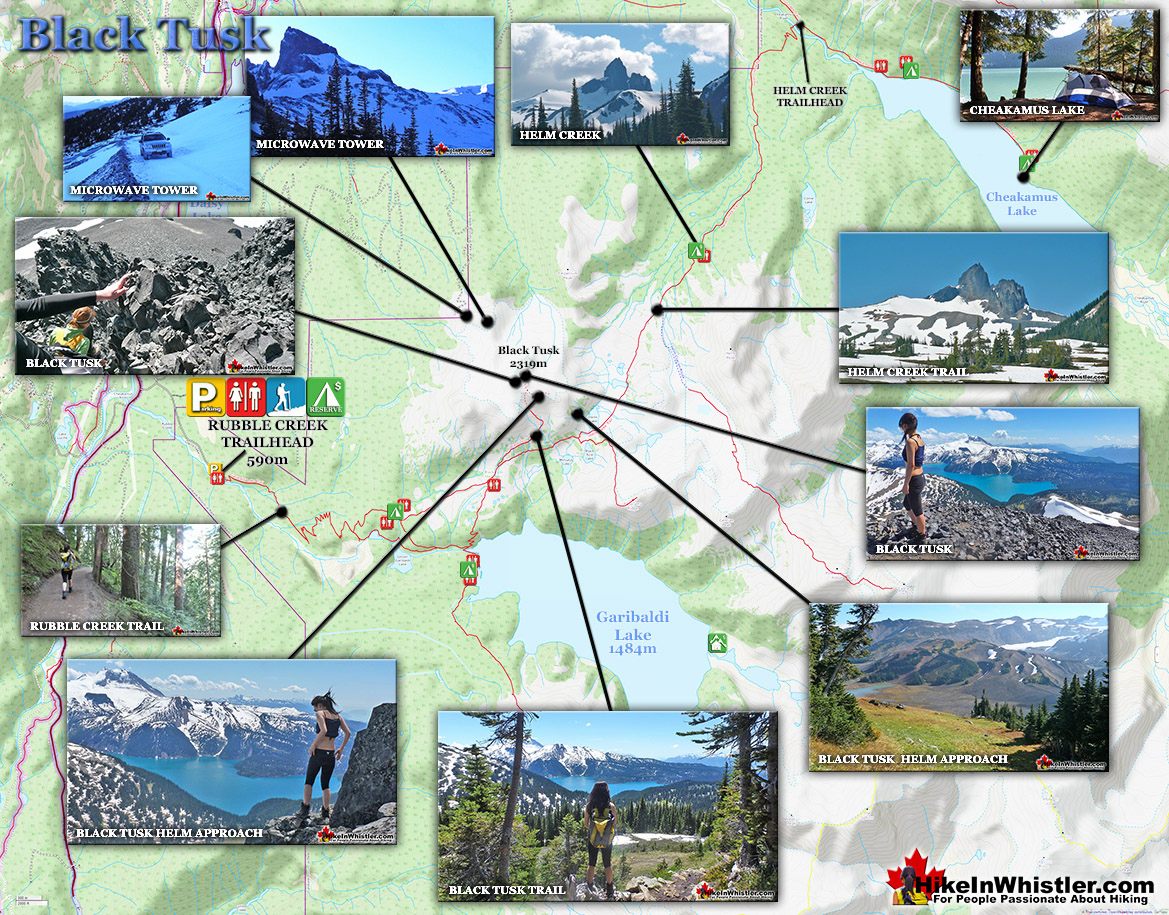 More Best Whistler Hiking - Black Tusk
Whistler Hiking Trails - Blackcomb Mountain

Blackcomb Mountain holds an impressive and ever growing array of hiking trails. From the moment you step off the Blackcomb Gondola and you arrive at the Rendezvous Lodge, you see hiking trails ascend into the distance. The Rendezvous Lodge is home to a cafeteria style restaurant, a fine dining restaurant, gift shops, washrooms, and quite a lot else. Whether you are doing a long hike or just one of the short ones, stopping here before and after for a meal and/or a beer is almost essential.  Blackcomb Mountain has come alive with beautiful hiking trails in recent years.  With the 2008 addition of the Peak 2 Peak Gondola which connects Blackcomb to Whistler, the demand for mountain trails is higher than ever. A dozen years ago, you would just have had some rough hiking trails to follow, and not many hikers to follow them.  Now you have mapboards, trail signs, viewpoint seating areas and six popular, named trails to hike. The majority of the Blackcomb Mountain trails are easy and relaxing, however the Decker Loop Trail at the far end of Blackcomb Mountain is very challenging and spectacularly scenic. For the most part, you will find yourself winding through a nice alpine forest scattered with enormous fields of erratics leading to one great viewpoint after another. You can hike for as little as 15 minutes or more than 3 hours, depending on the trail or trails you choose to follow.  Blackcomb Lake and Blackcomb Peak that looms far above it are the most popular destinations for hikers and getting there and back can be done in a couple hours. The trails begin at the Rendezvous Lodge at the heart of Blackcomb Mountain. You have two ways to get here and both require paying for access to Whistler and Blackcomb mountains. An adult day pass varies from year to year, but is about $130 and a pass good for the whole summer is about $150. These give you access to all the chair lifts and gondolas that access hiking trails as well as the Peak 2 Peak Gondola.
Blackcomb Mountain's Overlord Trail View of Whistler Mountain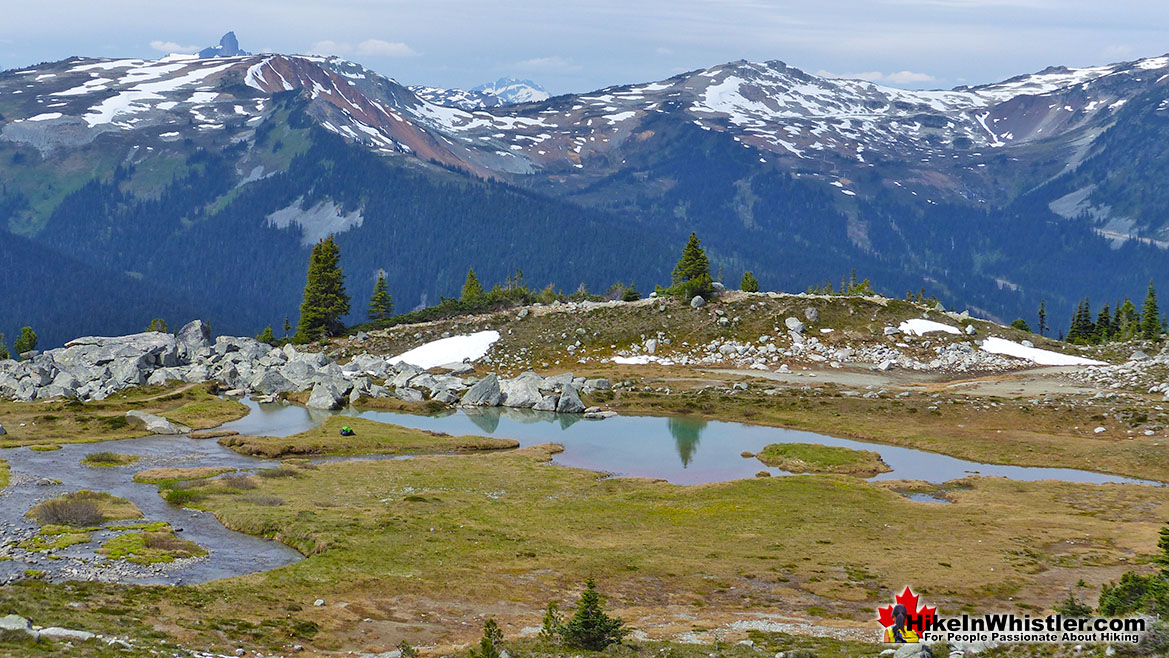 More Best Whistler Hiking - Blackcomb Mountain
Whistler Hiking Trails - Brandywine Meadows

Brandywine Meadows is a nice, relatively short hike to a massive flower filled valley high up in Callaghan Valley. Located 40 minutes south of Whistler, this tough and sometimes muddy trail gains a huge 550 metres of elevation in just 3 kilometres(1.9 miles), trailhead to meadows.  The trailhead is tricky to find and involves a fairly long gravel road journey that is passable without a 4x4, but barely. Not that the road is potholed, which it is, but that it is at times very steep and strewn with loose boulders.  Brandywine Meadows is used mainly for snowmobiling in the winter months and the bumpy ex-logging road to the trailhead is in poor condition in the summer. The Brandywine Meadows trail and access roads to it are for snowmobiles & ski touring only in the winter months. No free public access until the snow melts and the snowmobiling season comes to an end, usually in mid May.  You will know it is open just a couple minutes after you turn off the highway onto Callaghan Road. Take your first left and drive past the treatment plant and quickly come to an enormous gravel parking lot. This is the snowmobile parking lot and the toll booth will be there and manned if the season is still on. If not, and the parking lot is deserted and with no snow, you may be able to continue. Keep in mind that snow can persist well into May, sometimes June, on the Brandywine Meadows access road. So avoid Brandywine Meadows until June to avoid disappointment. If you have a dog, you will find that Brandywine Meadows is one of the few really nice, dog friendly hiking trails in and around Whistler. Garibaldi Provincial Park prohibits dogs, as well as both Whistler Mountain and Blackcomb Mountain. Here you won't be bothered by anyone and find no signs of humanity beyond some leftover remnants of the snowmobile season.
Beautiful Brandywine Meadows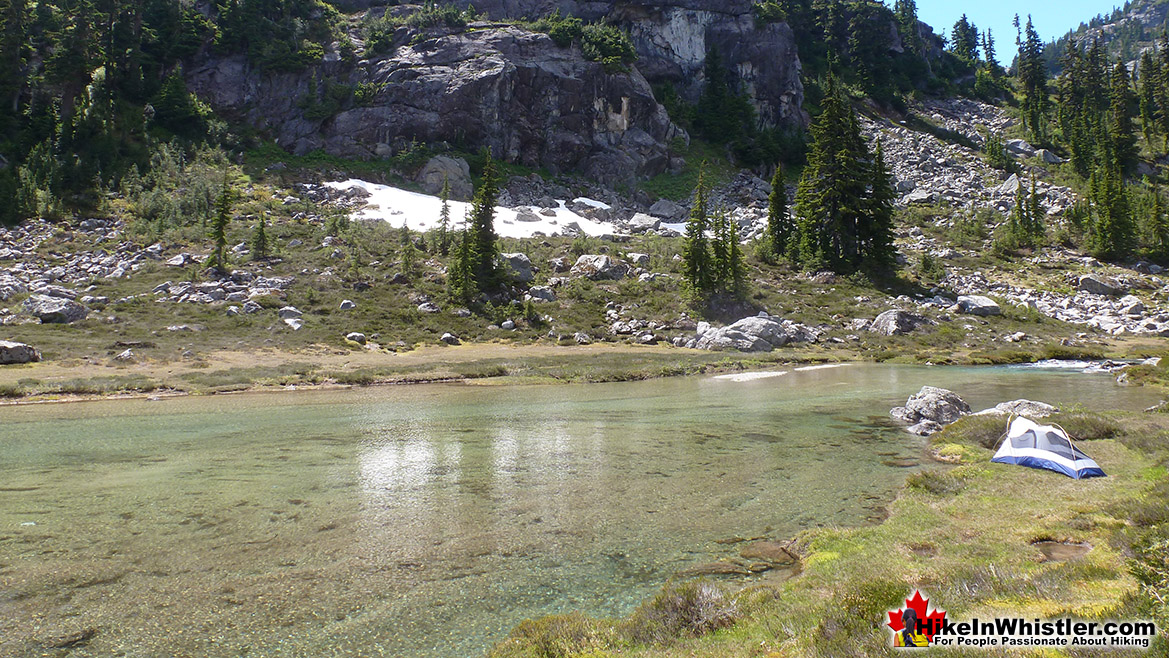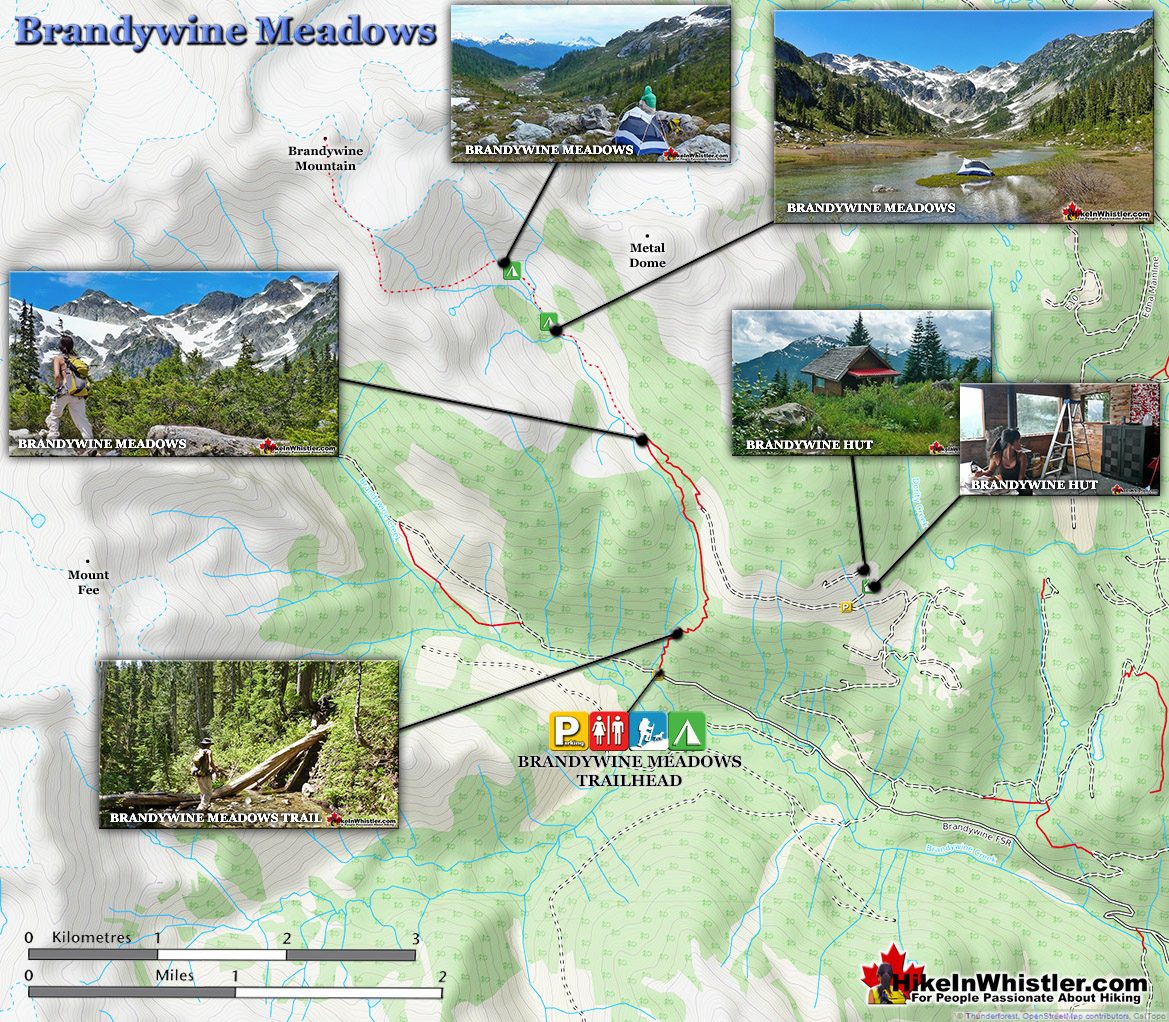 More Best Whistler Hiking - Brandywine Meadows
Whistler Hiking Trails - Cheakamus Lake in Garibaldi Park

Cheakamus Lake is a wonderfully relaxing way to get in the wilderness easily and quickly from Whistler Village. The trail begins on the far side of Whistler Mountain, 8 kilometres from the Sea to Sky Highway at Cheakamus Crossing across from Function Junction.  This 8 kilometre stretch of logging road is fairly bumpy and potholed, but does have the benefit of allowing you to drive the elevation gain instead of hiking it. You can easily manage this road in a car, however carefully and very slowly in parts. Once you reach the trailhead/parking the entire 7 kilometre hiking trail to the end of the maintained Cheakamus Lake trail has barely any elevation gain. Just plenty of gradual inclines and declines along the winding route. In fact, this makes it one of the few trails in Whistler and Garibaldi Park that can boast that. The nearby Garibaldi Lake trail and the Wedgemount Lake trail make you work for the views, however, the Cheakamus Lake trail hardly makes you work at all.  The trail to Cheakamus Lake takes you through an amazing forest of giant cedars that fill the forest with their amazing aroma.  This forest is so packed with ancient giants that year to year the trail is adjusted by a monster of a tree fallen across the trail during some winter storm. Sometimes the trail bends around these behemoths, but more often they are laboriously chainsawed by BC Parks staff.  The more enormous of these remain as fixtures of the trail.  Either edging the trail or as a mighty obstacle to climb over. One monster of a cedar remained sprawled across, actually along a section of the Cheakamus Lake trail for much of 2012. It surely surprised every hiker to come to an abrupt end of the trail with a tree across the trail too big to even see over. The bypass route was a hilarious, yet dangerous looking scramble underneath and along the edge of the trail for about 20 metres to get back on the trail at the other side.  Look for it when you pass by.  Though it has been mostly moved the tell-tale wreckage is hard to miss and captivatingly beautiful.  What a sound it must have made, exhibited now by giant cedar spears still menacingly pointing from a break in the massive trunk. There are a considerable number of highlights to the Cheakamus Lake trail and Cheakamus Lake. The forest is amazing. There are lots of bear encounters. The campsites are very beautiful, much nicer than Taylor Meadows or Garibaldi Lake's overcrowded and packed in campsites. Cheakamus River along the trail is an impressive river with a nice suspension bridge to see at the start of the Helm Creek trail, 1.5 kilometres from the Cheakamus Lake parking lot. Cheakamus Lake itself is magnificent. You could hike there 100 days in a row and always be impressed by the varying colours. The lake is an extraordinary shade of green caused by glacial till suspended in the water. This surreal colour is surrounded by the bright green of the untouched wilderness across the lake. And above and beyond the forest you see majestic mountain peaks.
Cheakamus Lake at Singing Creek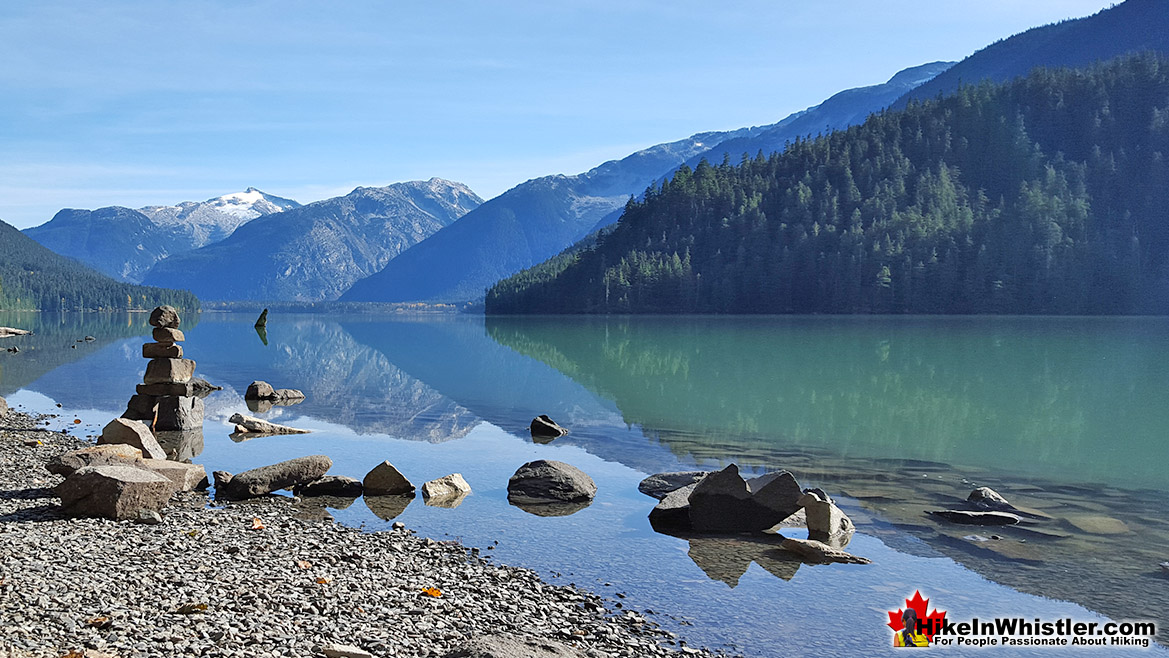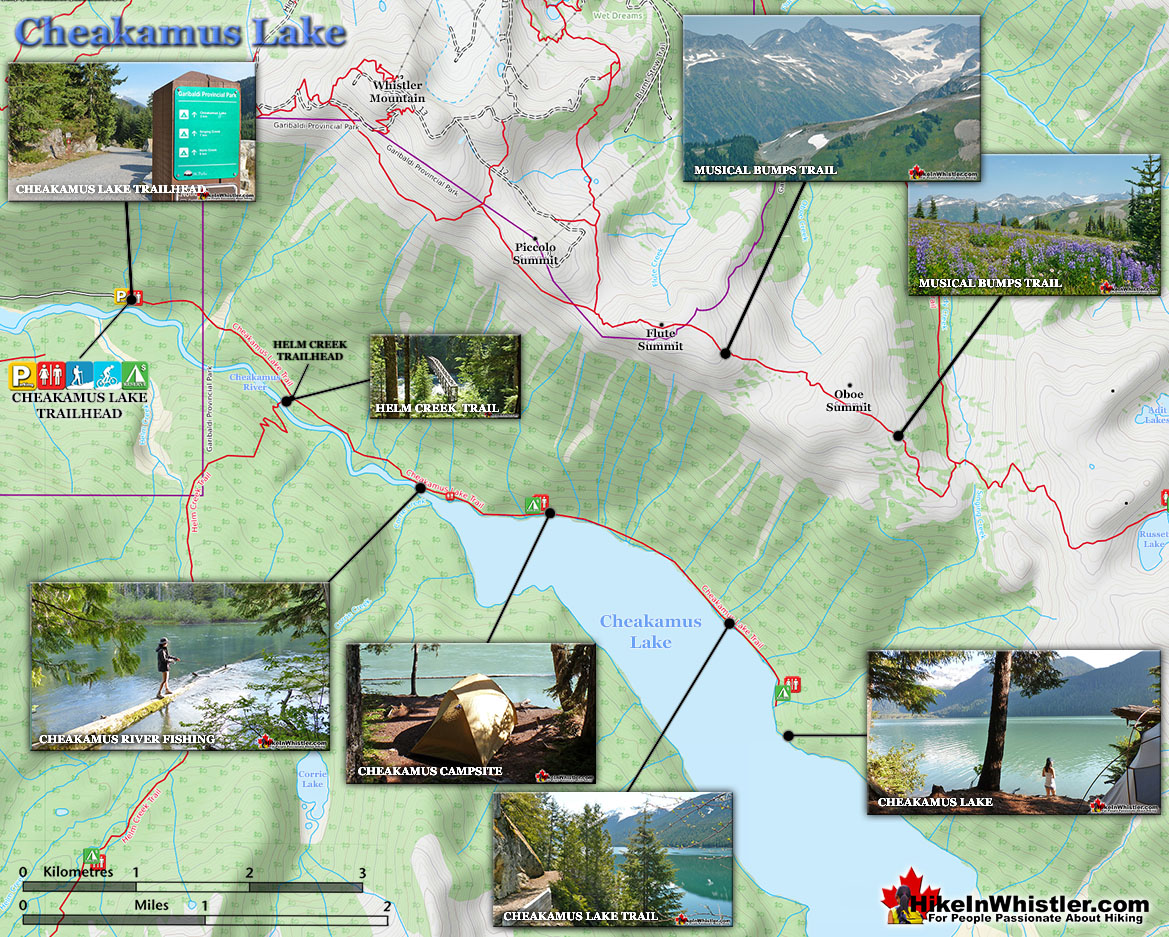 More Best Whistler Hiking - Cheakamus Lake
Whistler Hiking Trails - Cirque Lake

Cirque Lake is a wild and beautiful lake that hides high above and beyond Callaghan Lake in Callaghan Lake Provincial Park.  What makes Cirque Lake special among the other sensationally beautiful lakes in the Whistler area is both its location and geologically formed shape.  It sits high above Callaghan Lake, which itself is a gorgeous, mountain lake.  The remoteness of Callaghan Lake is a bit of a mirage due to the fact that you can drive right to it! Callaghan Lake is accessible via an 8 kilometre weather battered and very potholed forest service road. The entire road is cratered with deep potholes, cut by frequent cross-ditches, and more recently a small section collapsing into the valley below. This logging road begins high up in the Callaghan Valley, which itself is largely overlooked by travellers to Whistler. The Callaghan Valley is home to quite a few natural and man-made attractions. Brandywine Meadows, Alexander Falls, Northair Mine and Mount Sproatt are all found in the valley. Recently, the 2010 Olympic Games produced the largest man-made attraction in Callaghan Valley, Whistler Olympic Park. Though Cirque Lake is tremendously far into the wilderness, the amount of hiking required to reach it is effectively less than two kilometres.  Another two kilometres of canoeing is required to reach the trailhead at the far end of Callaghan Lake. But for such an enchantingly beautiful, mountain lake, the exertion to reach it is remarkably little.
Cirque Lake Tent View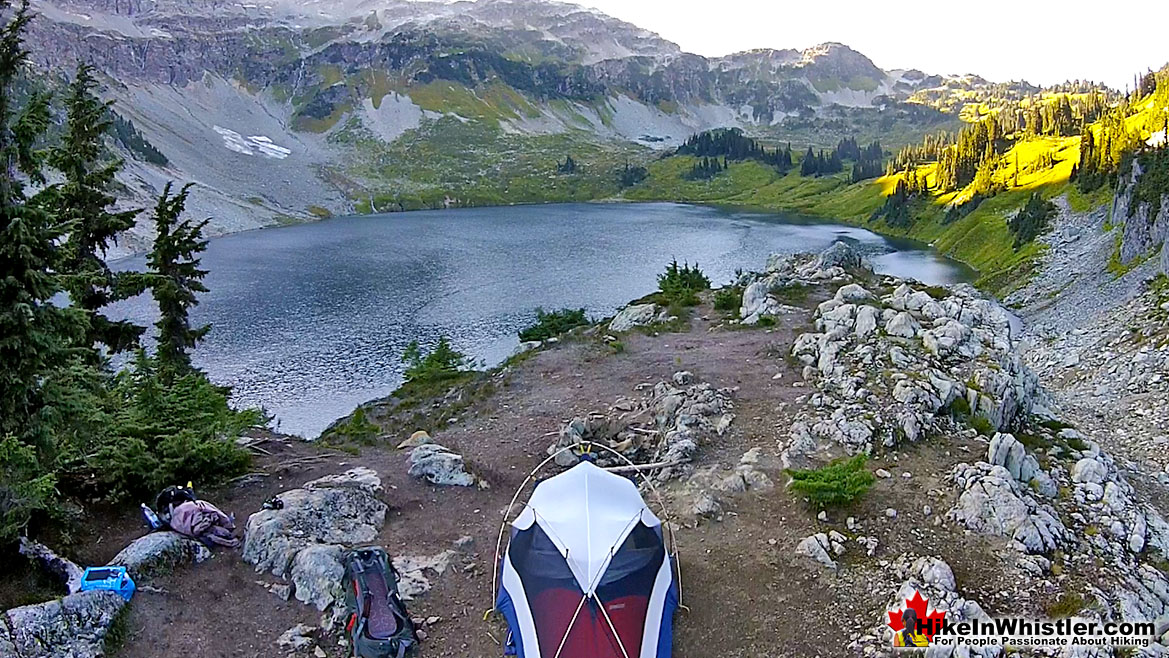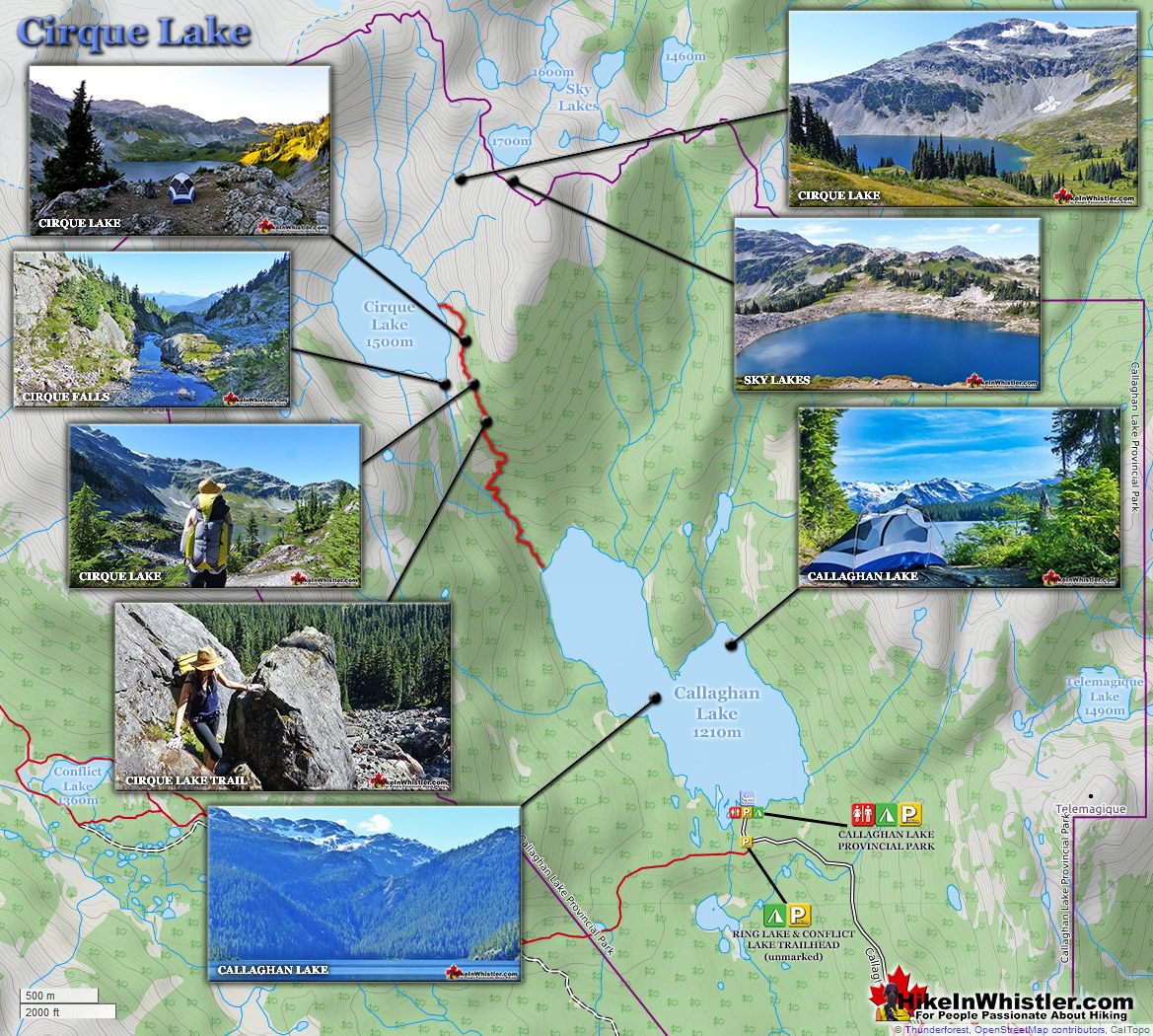 The other attribute of Cirque Lake that makes it special, is its cirque structure. From the moment you catch sight of Cirque Lake, the abruptly steep sides all around give you the humbling feeling that you are inside a volcano. A volcano filled with emerald water and ringed by grassy meadows and crumbling, near vertical cliffs. Where you stand, at the entrance to the cirque, is not far from the only water channel out of the cirque. An ever narrowing gap in the cliffs spills water down one cliff after another until reaching Callaghan Lake just 1.4 kilometres away.
More Best Whistler Hiking - Cirque Lake
Whistler's Best Hiking Trails!
Whistler & Garibaldi Park Best Hiking by Month!

Explore BC Hiking Destinations!