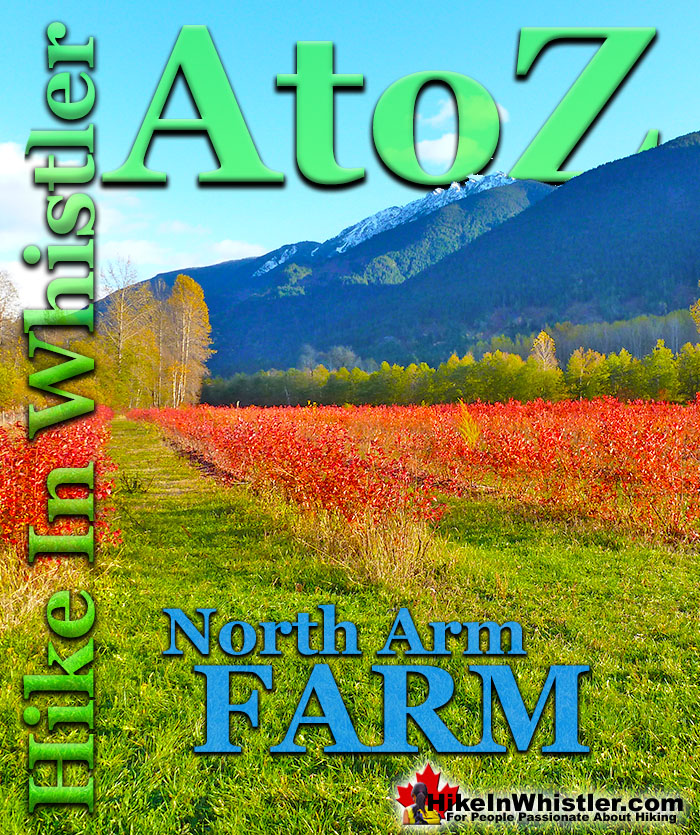 Whistler can be expensive.  Everything worth doing seems to cost a lot of money.  But if you step back from the noise and crowds you may spot some secret spots of beauty.  The North Arm Farm in Pemberton, just a 40 minute drive north of Whistler, is one of these secret spots.  It's startlingly beautiful in a wonderfully charming and unexpected way.  And even more unexpectedly... it's free. 
Whistler & Garibaldi Hiking

Alexander Falls  

Ancient Cedars  

Black Tusk  

Blackcomb Mountain  

Brandywine Falls  

Brandywine Meadows  

Brew Lake  

Callaghan Lake  

Cheakamus Lake  

Cheakamus River  

Cirque Lake 

Flank Trail 

Garibaldi Lake 

Garibaldi Park 

Helm Creek  

Jane Lakes 

Joffre Lakes  

Keyhole Hot Springs  

Logger's Lake  

Madeley Lake  

Meager Hot Springs 

Nairn Falls  

Newt Lake 

Panorama Ridge 

Parkhurst Ghost Town 

Rainbow Falls  

Rainbow Lake 

Ring Lake  

Russet Lake  

Sea to Sky Trail 

Skookumchuck Hot Springs  

Sloquet Hot Springs 

Sproatt East 

Sproatt West  

Taylor Meadows  

Train Wreck  

Wedgemount Lake  

Whistler Mountain

January 

February 

March 

April 

May 

June 

July 

August 

September 

October 

November 

December
Free to wander through the fields of strikingly colourful and organized crops laying seemingly at the foot of the wildly spectacular Mount Currie.  Along with the beautiful setting and views you get at North Arm Farm, there is a fantastic area you can check out that is surrounded by animals.  Chickens, pigs and geese crowd around you hoping for scraps from the farm shop.  The adjoining Farm Shop and Cafe are very nice as well.  Beautifully designed at the farm entrance/exit, you get a glimpse of life on the farm.  Just outside the cafe you see massive crates filled with all sorts of produce.  Inside the cafe, smaller crates overflow with all sorts of vegetables and fruits.  The cafe with a few tables has a surprising variety of bakery and lunch items.  Glass displays reveal plenty of pastries, ice cream and sandwiches.  Along with shelves and bins of farm fresh produce you can't help but realize that you just came through what could be called Pemberton Farm Experience.  All for free, except of course for all the amazing food you are inevitably going buy before leaving.  North Arm Farm stretches over 60 acres along the Lillooet River and boasts a wide array of organically grown produce.  From asparagus in April, to beans, peas, corn, squash, carrots, beets and their celebrated pumpkins in October.  They even have seasonal You Pick berries, flowers and pumpkins.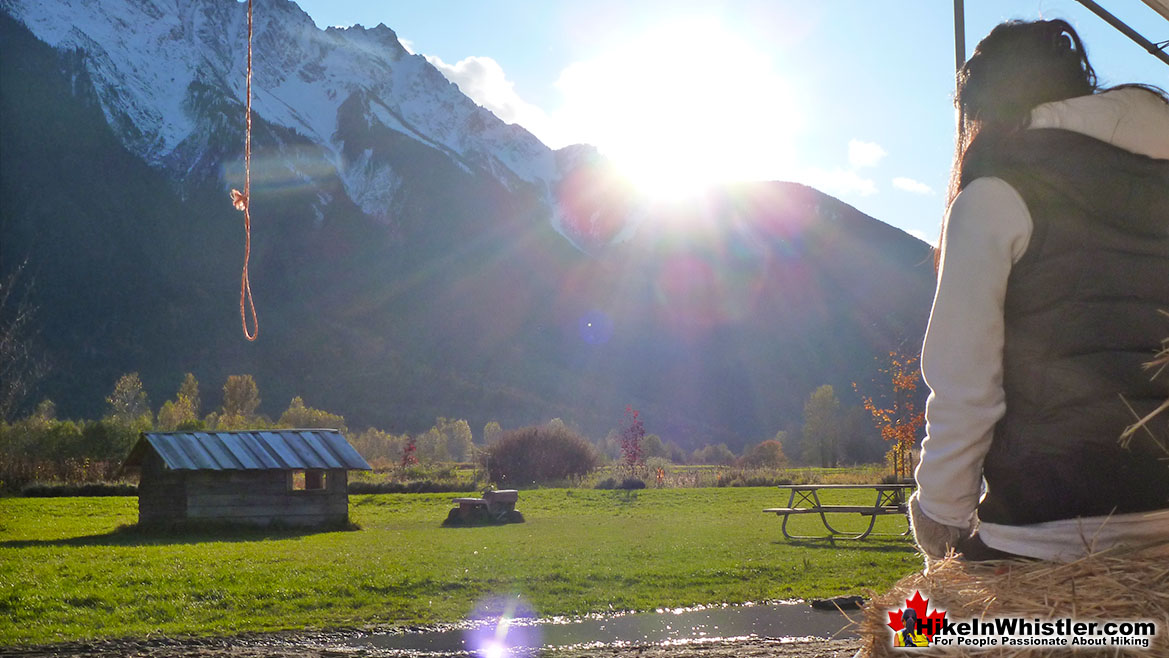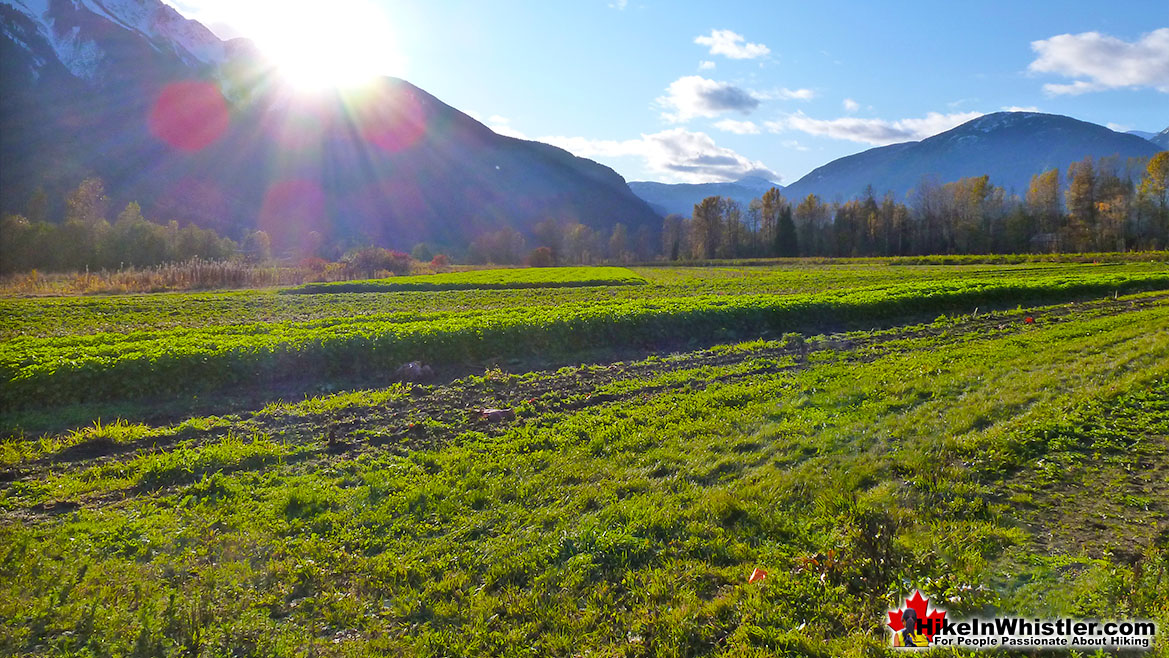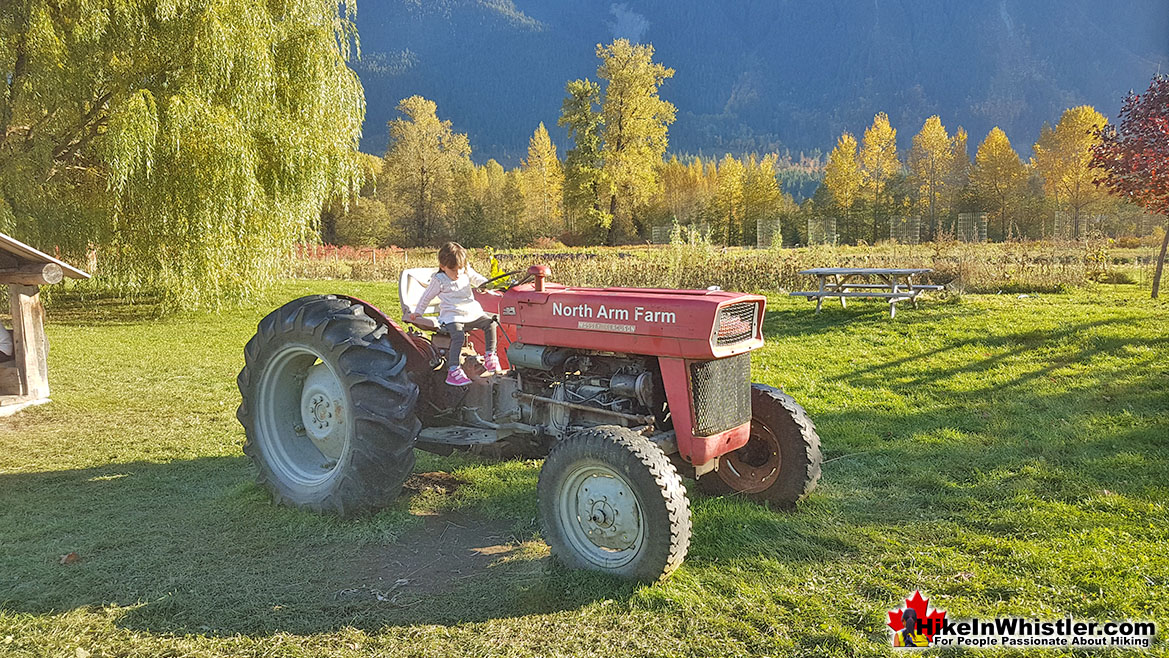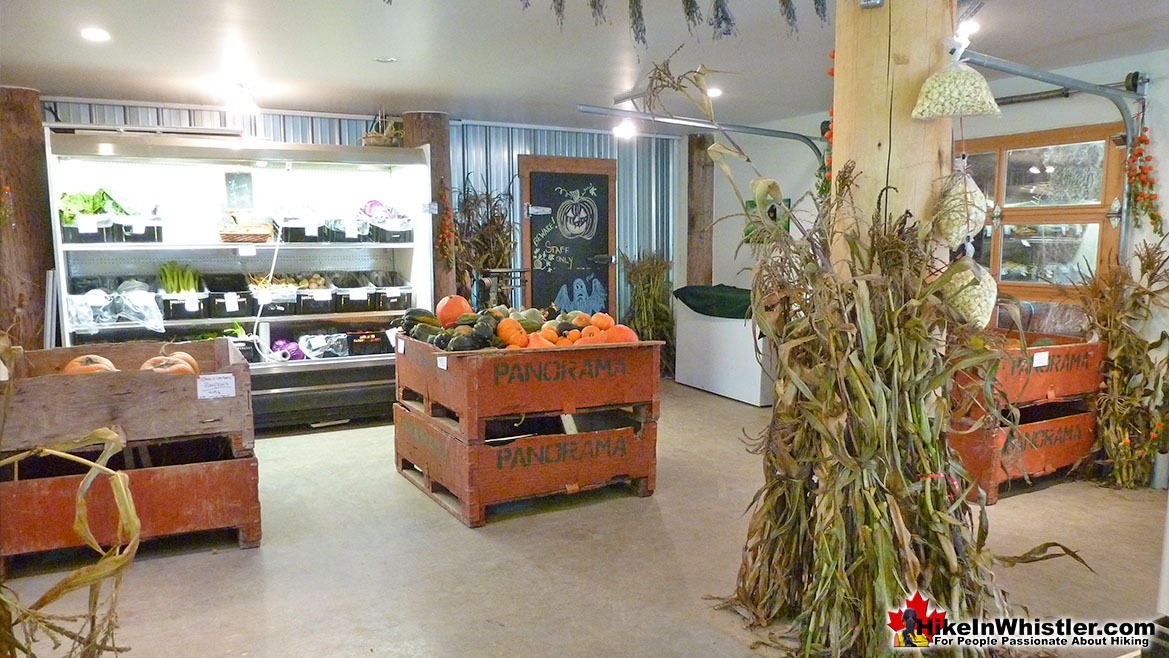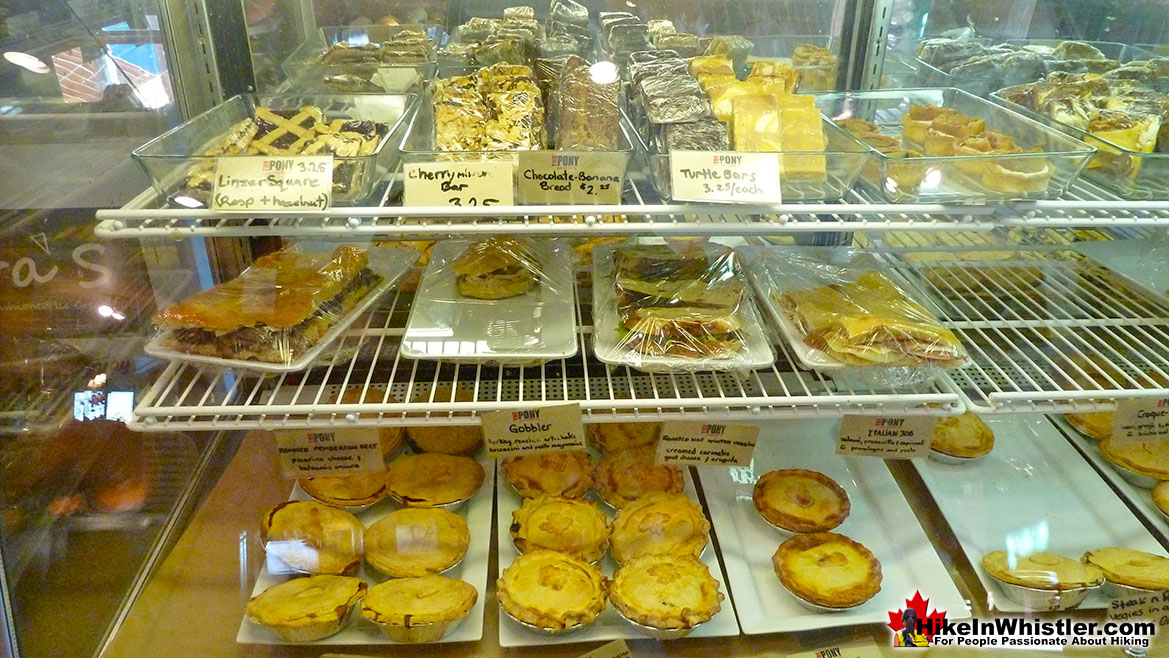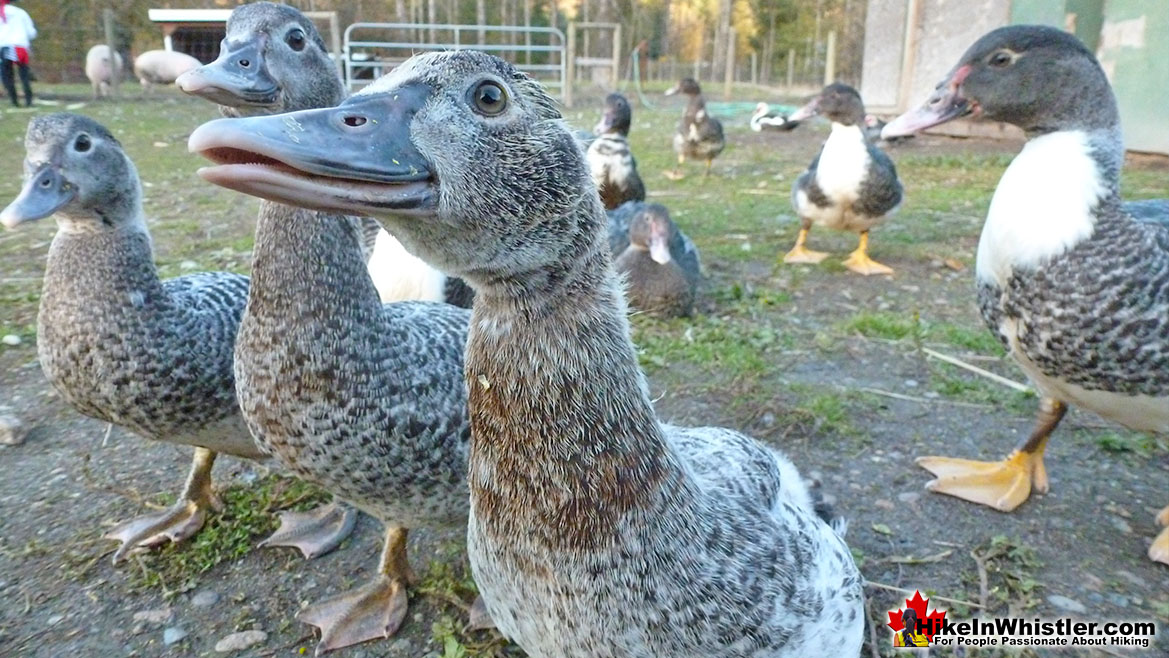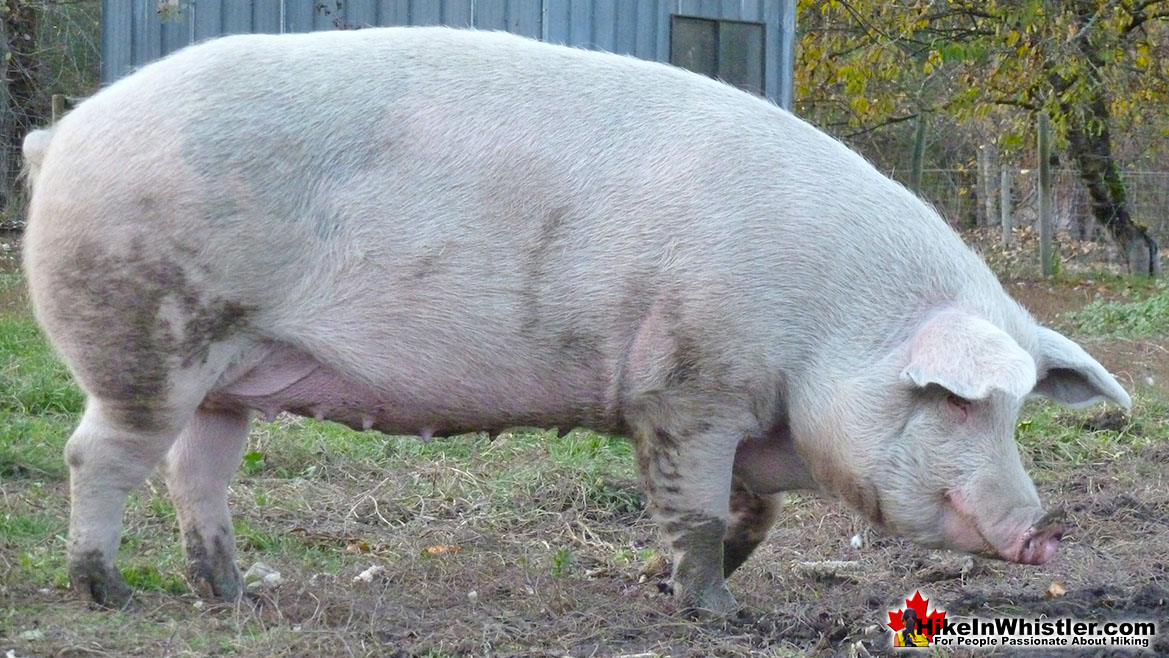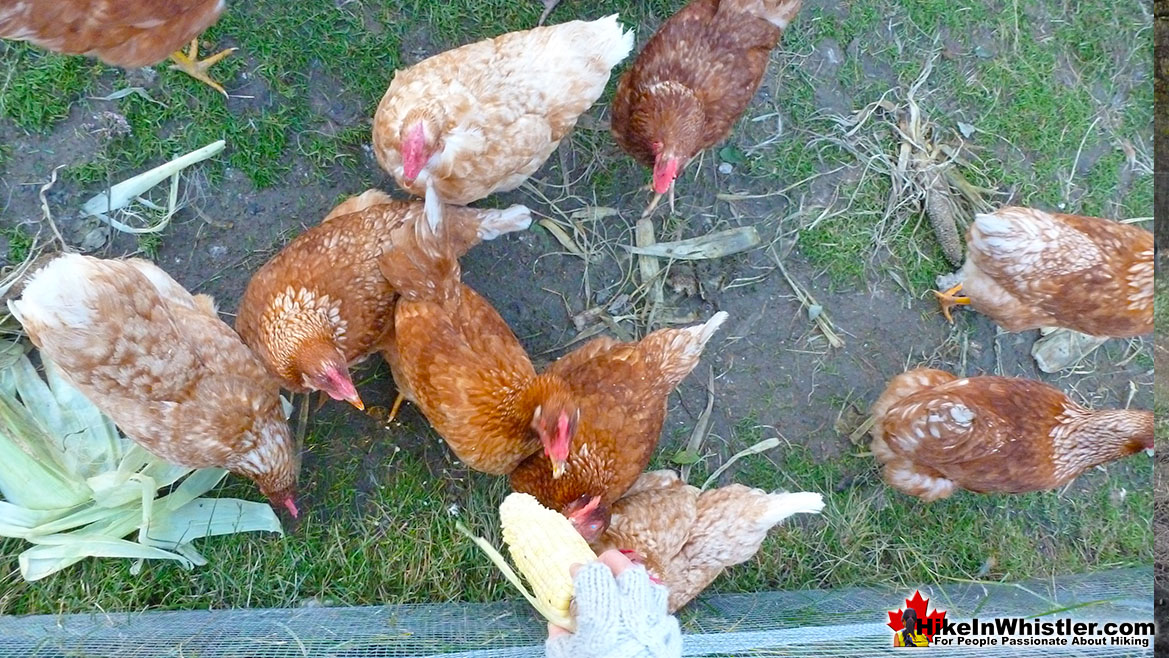 North Arm Farm - Driving Directions
North Arm Farm is very easy to find as it is on the Sea to Sky Highway 37 kilometres north of Whistler.  From Whistler Village, head north on Highway 99 (the Sea to Sky Highway) towards Pemberton.  In 32 kilometres(from Village Gate Boulevard in Whistler) you will come to Pemberton.  Don't turn, keep following the Sea to Sky Highway and in 5 kilometres you will see the large "North Arm Farm" sign on the right side of the Highway.  Pull in and follow the signs.  Don't forget that during the winter months the farm is only open to visitors on the weekends.  Check the North Arm Farm site before you go as their opening times vary by season.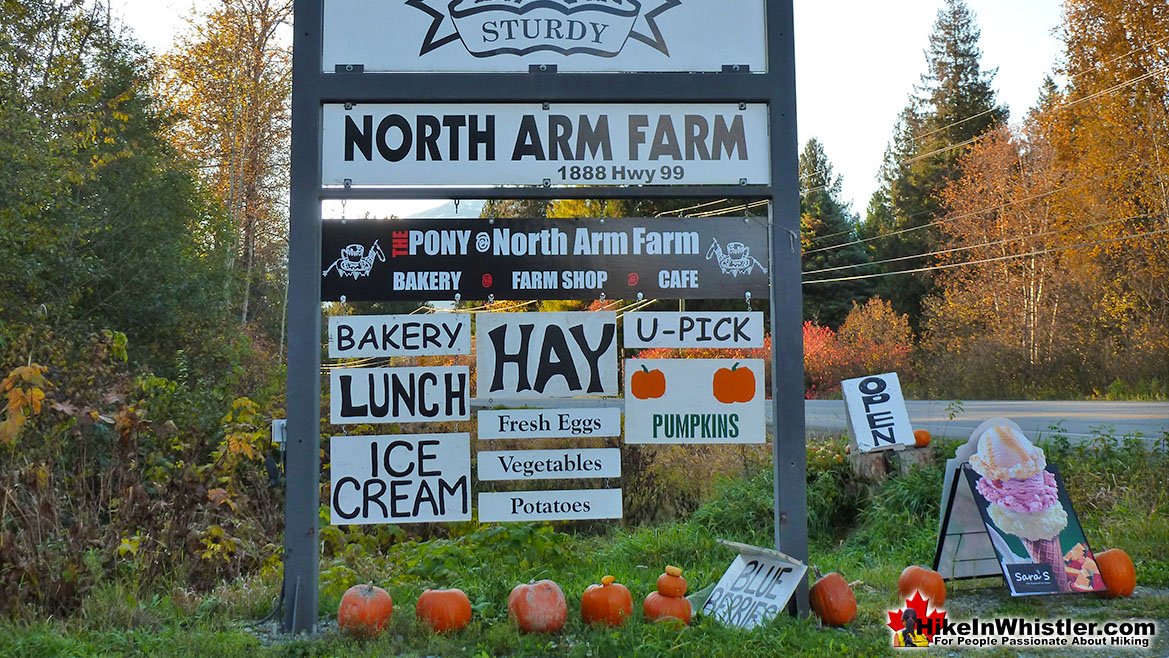 More Whistler & Garibaldi Park Hiking A to Z!

The Best Whistler & Garibaldi Park Hiking Trails!
Whistler & Garibaldi Park Best Hiking by Month!

Explore BC Hiking Destinations!