April 8th, 2019: The Rubble Creek trailhead to Garibaldi Provincial Park is finally accessible by car.  The snow buried access road is mostly free of snow.  Just a few short patches of snow that most cars shouldn't have a problem getting past.  The top parking area is currently closed and under construction.  Piles of cut trees are stacked up in the parking lot and the large trailhead information board has been cut down and lays partway down the parking lot on its side.
Whistler & Garibaldi Hiking

Alexander Falls  

Ancient Cedars  

Black Tusk  

Blackcomb Mountain  

Brandywine Falls  

Brandywine Meadows  

Brew Lake  

Callaghan Lake  

Cheakamus Lake  

Cheakamus River  

Cirque Lake  

Flank Trail  

Garibaldi Lake  

Garibaldi Park  

Helm Creek  

Jane Lakes  

Joffre Lakes  

Keyhole Hot Springs  

Logger's Lake  

Madeley Lake  

Meager Hot Springs 

Nairn Falls  

Newt Lake  

Panorama Ridge  

Parkhurst Ghost Town  

Rainbow Falls  

Rainbow Lake  

Ring Lake  

Russet Lake  

Sea to Sky Trail  

Skookumchuck Hot Springs  

Sloquet Hot Springs  

Sproatt East  

Sproatt West  

Taylor Meadows  

Train Wreck  

Wedgemount Lake  

Whistler Mountain

January  

February  

March  

April  

May  

June  

July  

August  

September  

October  

November  

December
Looks like a war zone while construction crews expand the upper parking lot and reconfigure Garibaldi Park's most popular trailhead.  The Rubble Creek trailhead is the main access point for many of the best hikes and sights in Garibaldi Provincial Park.  Rubble Creek is located midway between Whistler and Squamish, just 2 kilometres from the Sea to Sky Highway.  The name Rubble Creek is evidently quite appropriate when you reach the parking lot and see the remnants of what must have been a terrific rock slide not that long ago.  Giant boulders fill the river and river valley that sharply ascends up the valley toward The Barrier and Garibaldi Lake.  The Barrier is a magnificently abrupt and unstable rock formation that holds back Lesser Garibaldi Lake and just two kilometres further, Garibaldi Lake.  The Barrier partially gave way in the spring of 1856 and unleashed a horrific, rocky torrent of boulders down the valley.  It is estimated that more than 25 million cubic metres of rock tumbled down the valley at about 70 kilometres per hour.  Sixty years later the Pacific Great Eastern Railway completed the railway line that stretched up the coast from Vancouver, through Whistler, to Lillooet and beyond.  In 1916 the Garibaldi Lodge opened near the railway line at Daisy Lake and Rubble Creek.  The Garibaldi Lodge was similar to the Rainbow Lodge at Alta Lake in Whistler.  Garibaldi Lodge was located in a small community called Daisy Lake after the lake that we see there today that Brandywine Falls so dramatically spills into.  In 1932, five years after the creation of Garibaldi Provincial Park, the community changed its name from Daisy Lake to Garibaldi.  The newly named town of Garibaldi was poised to become the main base and tourism centre for Garibaldi Provincial Park.
Rubble Creek Trailhead Construction April 2019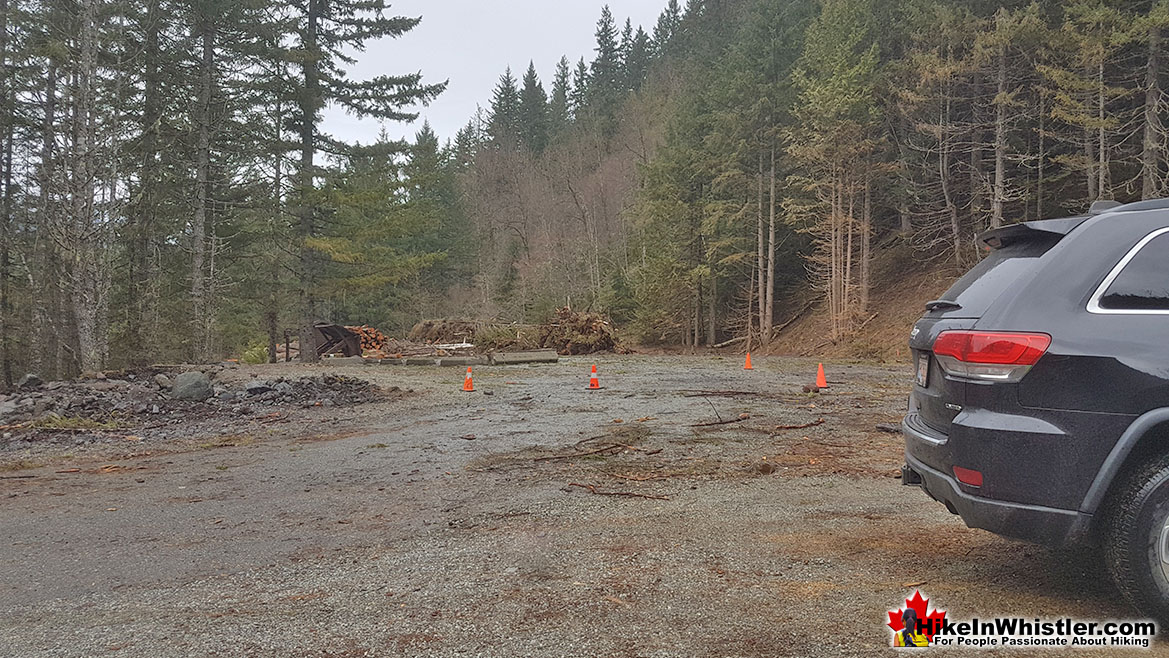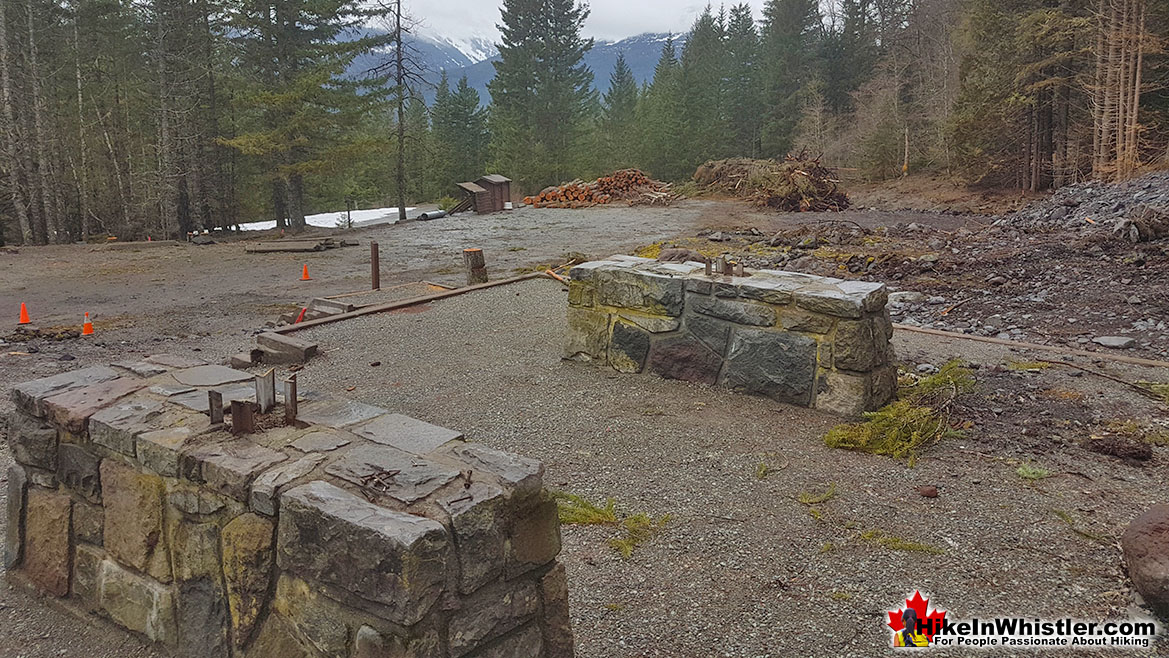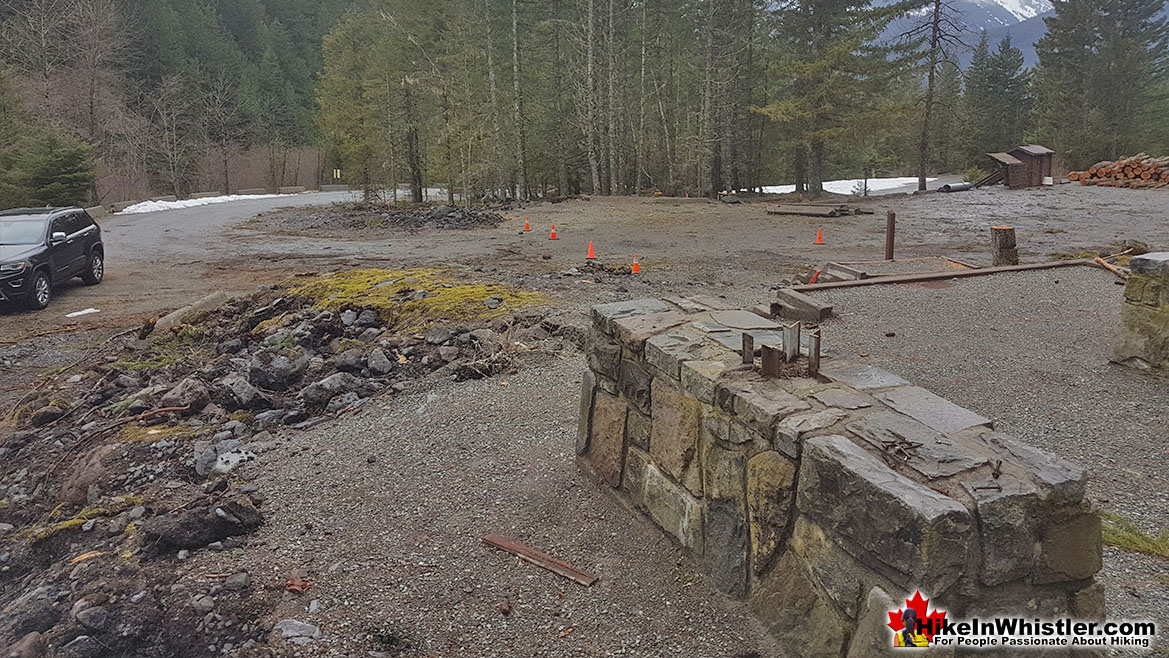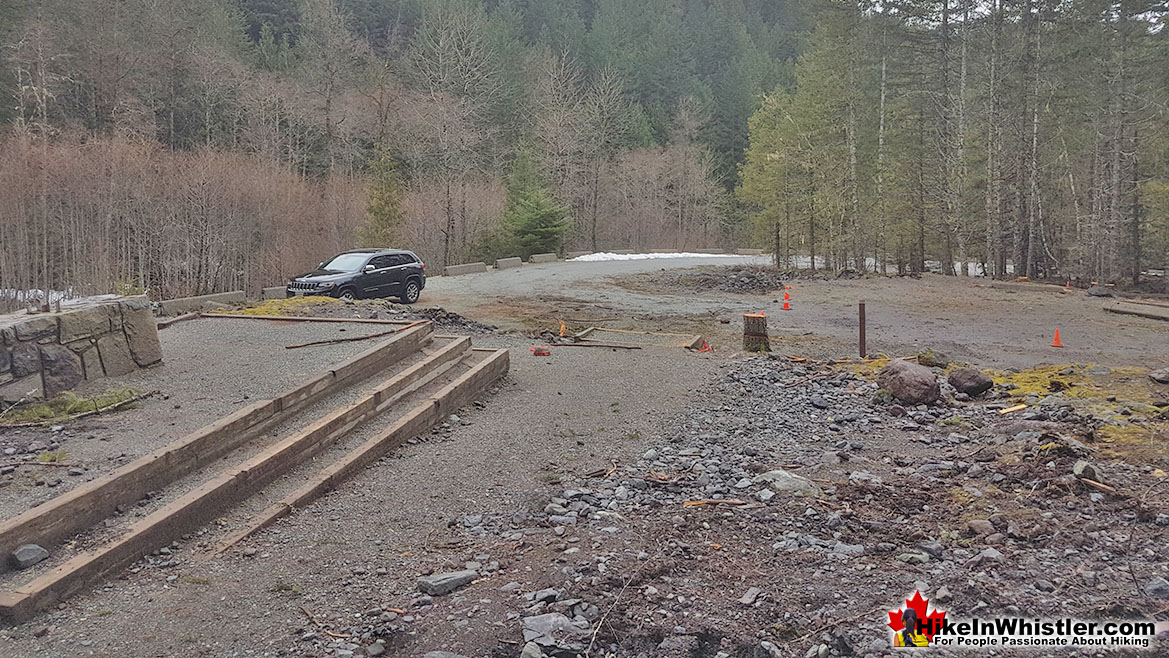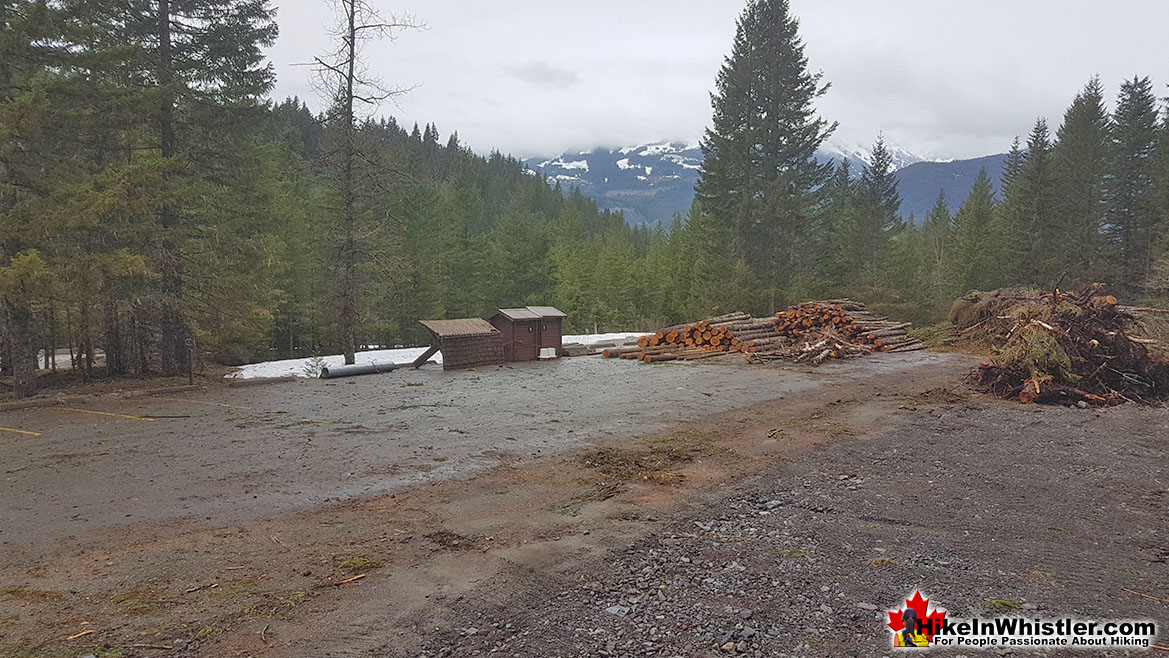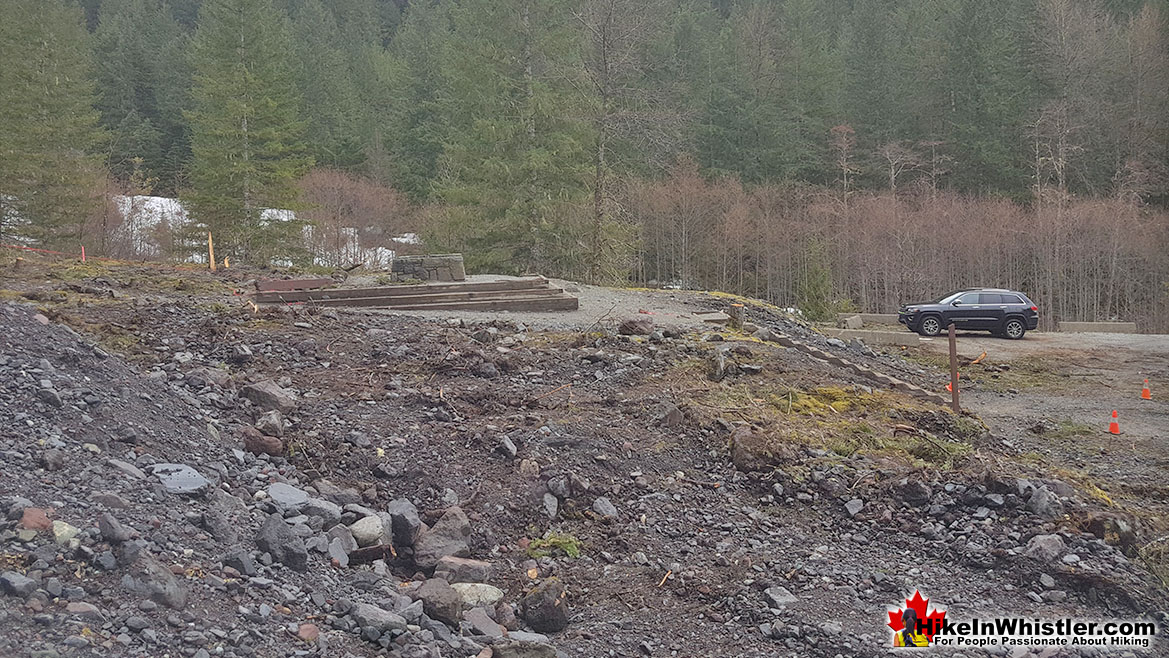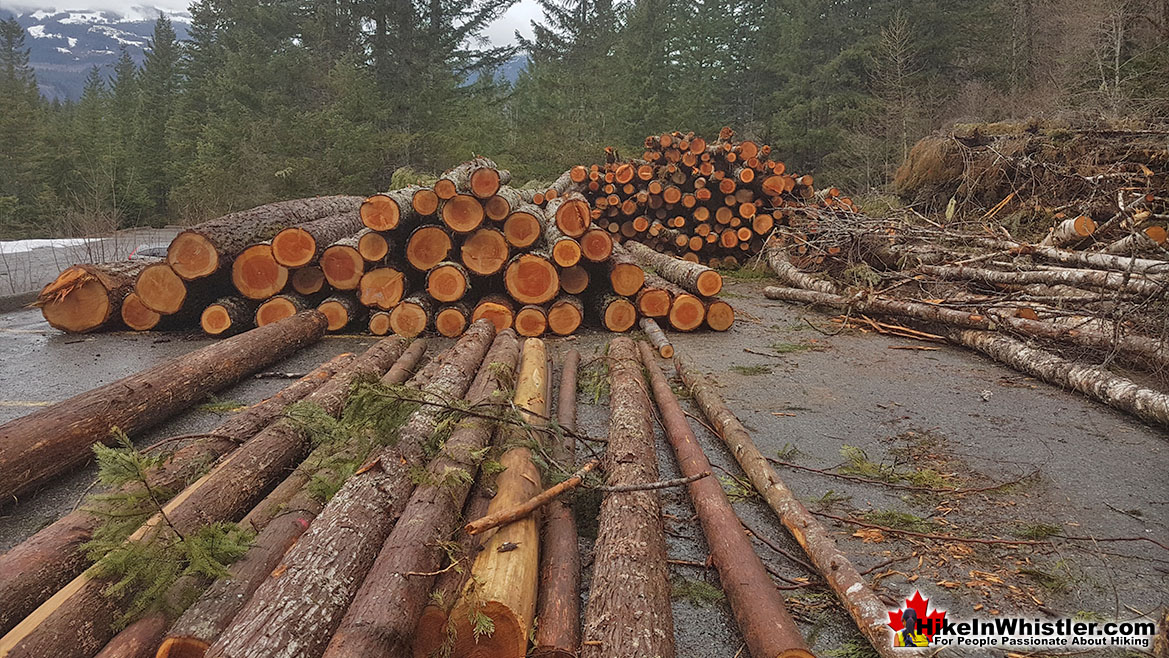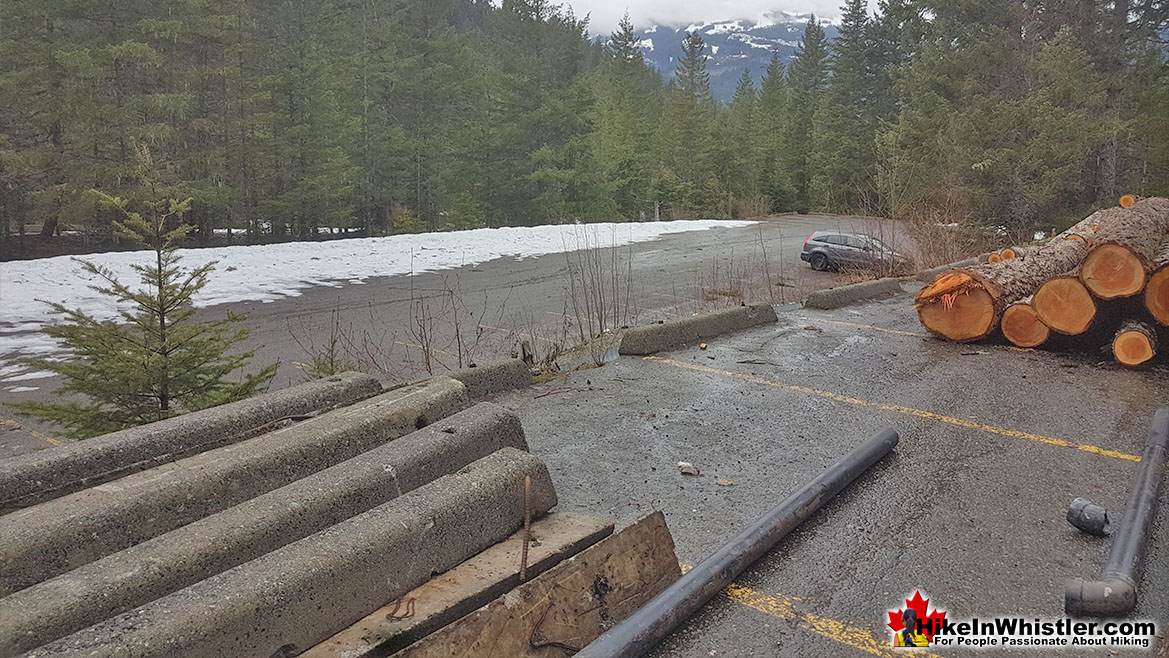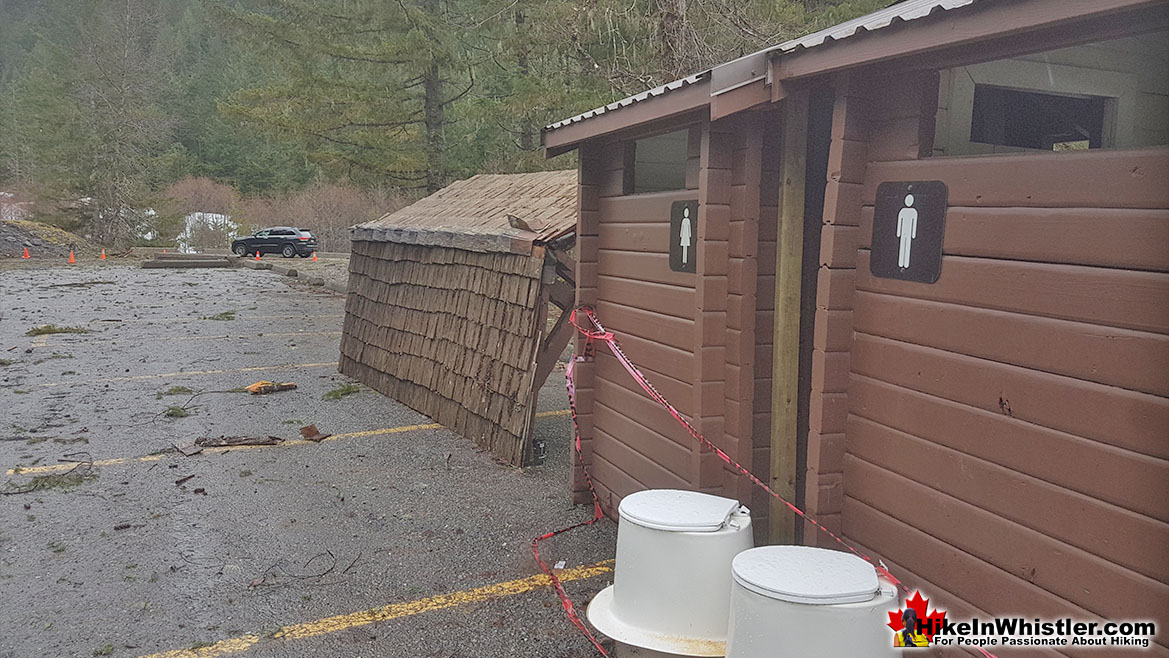 The Barrier
The town continued developing and soon grand plans were drawn up for a ski resort in the area.  The company that originally created what would become Whistler that we see today was called the Garibaldi Lift Company.  A name that suggested the location that the resort would emanate from, Garibaldi.  With huge development plans underway, the government had a look at the potential for another enormous rock slide if The Barrier ruptured again.  A massive study was done and it was determined that The Barrier could release a similar catastrophe as it did in 1856 at any time.  Specifically the study determined that the conditions that produced the 1856 slide are all still characteristics of The Barrier today.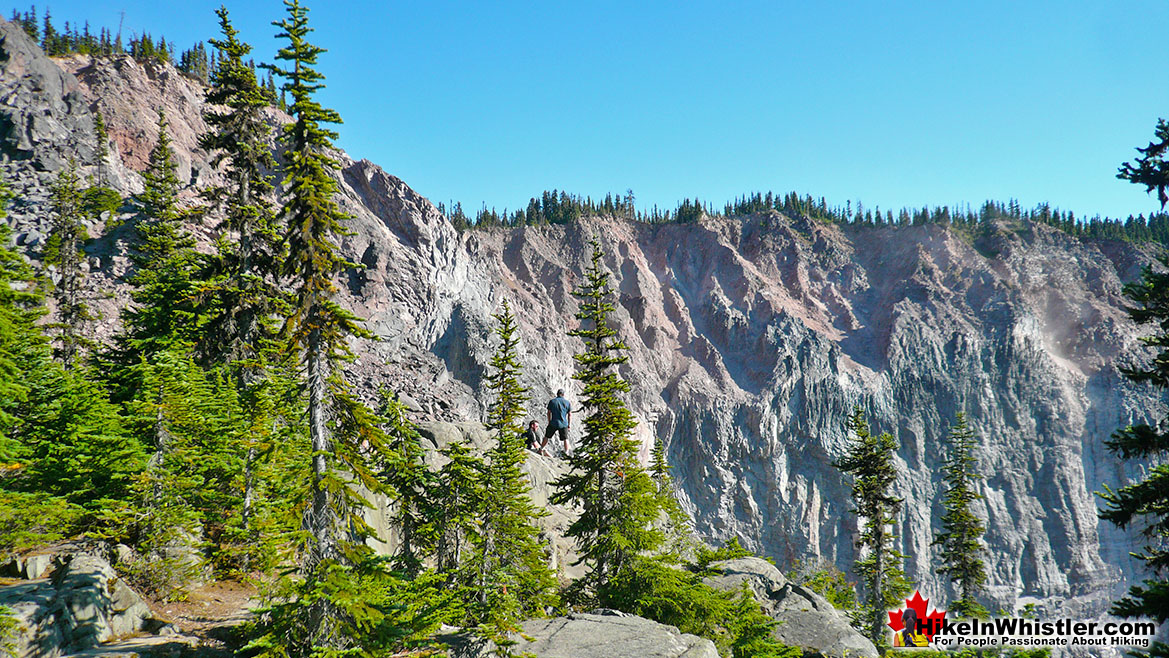 The Barrier Still Threatens Rubble Creek
Because a similar catastrophic rock slide could occur anytime, the plans for Garibaldi were scrapped and the town was ordered evacuated.  To compensate the people that lived in the tiny community, lots were offered in the new settlements of Pinecrest and Black Tusk Estates, just north of Rubble Creek.  Those areas retain the same names today, however the settlement of Garibaldi is long gone.  Though you will still see the old townsite's name on the Sea to Sky highway signs for the Rubble Creek trailhead.  The highway signs read Black Tusk(Garibaldi) referring to the Rubble Creek trailhead to Garibaldi Provincial Park.  In Whistler you will find a little piece of history if you go for a drink in one of Whistler's best slopeside bars, the GLC.  The GLC sits at the base of Whistler Mountain and above the Whistler Gondola, and has one of the most amazing patios around.  GLC, of course is short for Garibaldi Lift Company.  Today you will see Daisy Lake as you drive along the Sea to Sky Highway between Squamish and Whistler.  In 1957 the Daisy Lake Dam was completed and is dramatically visible as you drive by.  Just past the lake, heading north, you pass Brandywine Falls which spills from an abrupt cliff into Daisy Lake.  Near the falls you will find a tranquil viewing area overlooking the valley and a great view of Daisy Lake.  There are a couple of nice, sun facing park benches here as well which makes this spot unbeatable to relax for lunch with a million dollar view of this historically and geologically magnificent place.
Rubble Creek Trailhead for Garibaldi Park
From the trailhead at Rubble Creek the trail forks at 5.5 kilometres, left to Taylor Meadows and right to Garibaldi Lake.  A continuing trail leads to Black Tusk and further along another trail extends to Panorama Ridge.  These are two amazing and challenging destinations for this area of the park. Black Tusk is 13.5 kilometres from the Rubble Creek trailhead and Panorama Ridge is 15 kilometres.  So tackling both in a day hike is not realistic for most hikers.  Even hiking to one of these in a day hike is too much for most hikers.  Therefore an overnight base camp at Taylor Meadows or Garibaldi Lake are the usual alternative.  Though a day hike is a good endurance test, taking your time allows you to appreciate the view from the summit of Black Tusk, or the stunning panorama from Panorama Ridge, or the flower filled valleys along the way.  This Black Tusk area of Garibaldi Provincial Park is marvelous for a lot of geological features besides Black Tusk, but Black Tusk is quite a marvel that outshines all the rest in the park.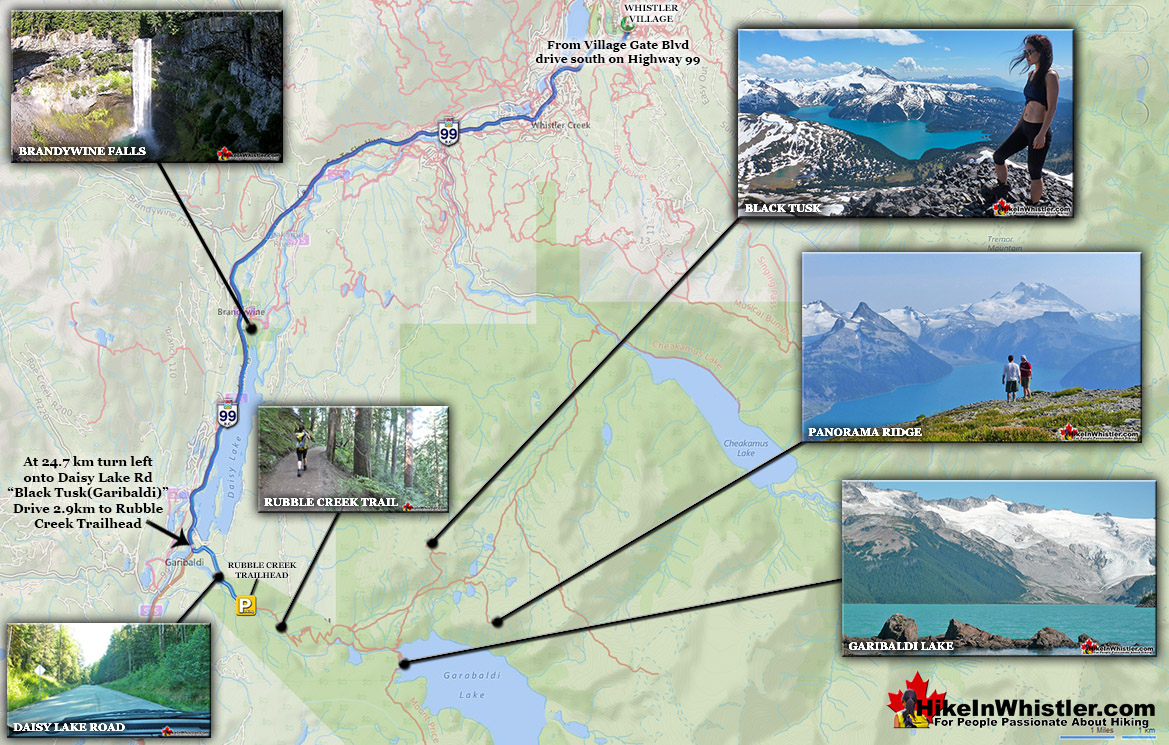 Garibaldi Lake in Garibaldi Provincial Park

Garibaldi Lake is the centre and base for much of the hiking in Garibaldi Provincial Park. The Garibaldi Lake campsite is located on the amazing, turquoise shores of this massive and mostly still wild mountain lake. There are no trails around the edge of the lake except the small section leading to the campsites, so your view is an impossibly coloured lake edged by swaths of forest and a magnificent glacier towering in the distance.  Compared to other lakes in the Whistler area and in Garibaldi Provincial Park, Garibaldi Lake is enormous with a surface area of almost 10 square kilometres or 2460 acres.  It is also a very deep lake with its average depth of 119 metres or 390 feet and at its deepest, 258 metres or 849 feet!  What really makes Garibaldi Lake extraordinary is its geography.  It is flanked by volcanoes on three sides and lava flows from Mount Price during the last ice age formed The Barrier which blocked the valley which filled with water, creating Garibaldi Lake.  Vantage points around the lake such as Panorama Ridge and Black Tusk allow relatively easy views of this magnificent lake with Mount Garibaldi and other impressive peaks surrounding it.  At the Garibaldi Lake campsite the water is painfully cold, though plenty of brave hikers swim here as well as camp.  Garibaldi Lake, though beautiful enough as a primary destination, is often a base camp for further hiking. The summit of Black Tusk is just a 2 hour hike from the lake. Panorama Ridge is a bit further at about 3 hours from the lake. Taylor Meadows is a beautiful, often flower filled valley, and home to the other Garibaldi Provincial Park campsites in the area.  Helm Creek campsites are located past Black Tusk and Panorama Ridge, on the way to Cheakamus Lake. If you can manage transport, you can start at Rubble Creek trailhead and finish at Cheakamus Lake trailhead. This allows for a linear route instead of a there and back route. Garibaldi Lake, Taylor Meadows, Black Tusk, Panorama Ridge, Helm Creek and Cheakamus Lake are all beautiful destinations on their own, but combined in a 2 or 3 day hiking expedition are extraordinary.
Taylor Meadows in Garibaldi Provincial Park

Taylor Meadows is a very scenic campsite and great alternative to the much busier and more well known, Garibaldi Lake campsite. Located in Garibaldi Provincial Park between Garibaldi Lake and Black Tusk, Taylor Meadows is best hiked to from the same trailhead as Garibaldi Lake at Rubble Creek. There are 40 tent platforms, toilets, a good water source and food cache, all in the lush forest of Taylor Meadows with great views of Black Tusk.  Generally Taylor Meadows is not a destination on its own, but part of a circle route to the spectacular Garibaldi Provincial Park sights in the area.  For example, hiking from the Black Tusk(Garibaldi) Rubble Creek trailhead to Taylor Meadows, Taylor Meadows to Black Tusk or Panorama Ridge, then return via Garibaldi Lake and back down to Rubble Creek.  This makes for a long hike at 30 kilometres(19 miles), which is why tenting at this perfectly beautiful, and perfectly located Taylor Meadows campsite is a great idea.  The trail to Taylor Meadows from Rubble Creek is well marked, well used and with plenty of signs and mapboards.  Expect to take well over two hours to reach Taylor Meadows from the trailhead/parking at Rubble Creek. Taylor Meadows gets very busy at times as well with 40 campsites with full service (water, security, etc). There are some small rivers close by but no swimming. The draw for Taylor Meadows camping is the wonderful location. It lays in a beautiful forested meadow full of hills and flowers and views of the towering Black Tusk. It has a less crowded feel than Garibaldi Lake does, though bear in mind that even when crowded these campsites don't feel crowded - they are just that organized and thick with trees and hills.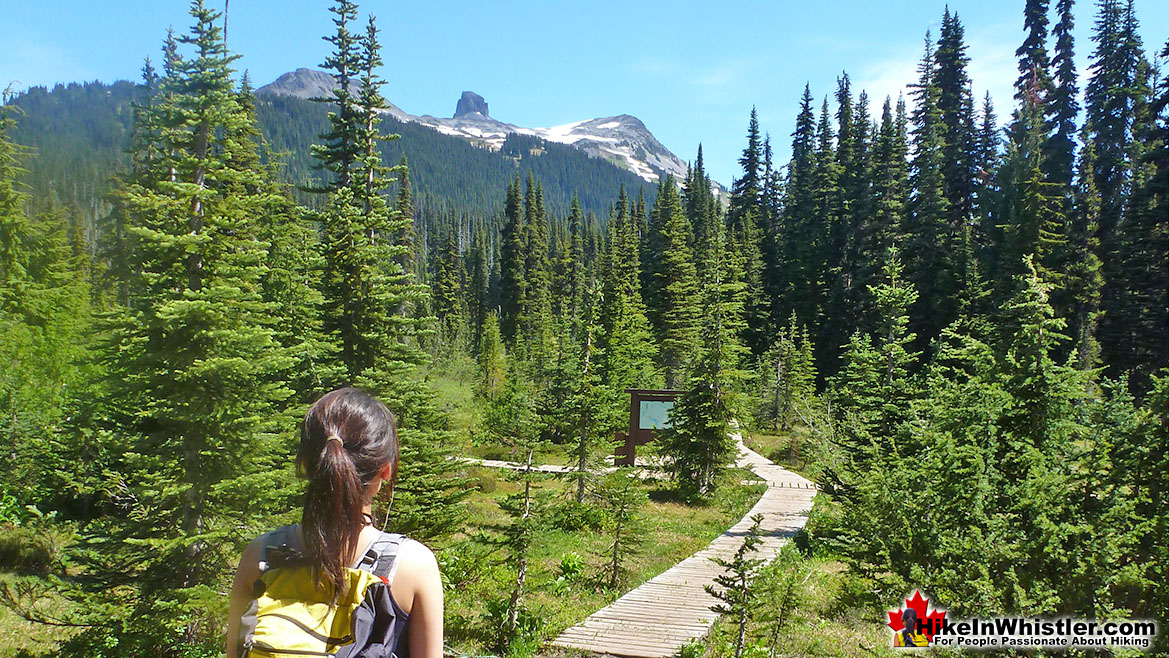 Black Tusk in Garibaldi Provincial Park

Black Tusk is the extraordinarily iconic and appropriately named mountain that can be seen from almost everywhere in Whistler.  The massive black spire of crumbling rock juts out of the earth in an incredibly distinct way that appears like an enormous black tusk plunging out of the ground.  Whether you spot it in the distance from the top of Whistler Mountain or from vantage points along the Sea to Sky Highway, its appearance is breathtaking.  Black Tusk, created in the fires of the Garibaldi Volcanic Belt and is one of the most admired and hiked to destinations in Garibaldi Provincial Park.  Every angle you look at it, from far away, to closer vantage points such as Taylor Meadows, Helm Creek, Panorama Ridge or Garibaldi Lake.  All views give you the certain belief that it mus be impossible to hike to the top.  In fact, Black Tusk seems to look more impossible to climb the closer you get to it.  Even when you are close enough to touch its vertical, black and crumbling sides, you wonder in amazement how anyone can possible get up to the peak of this incredible mountain.  Continued here...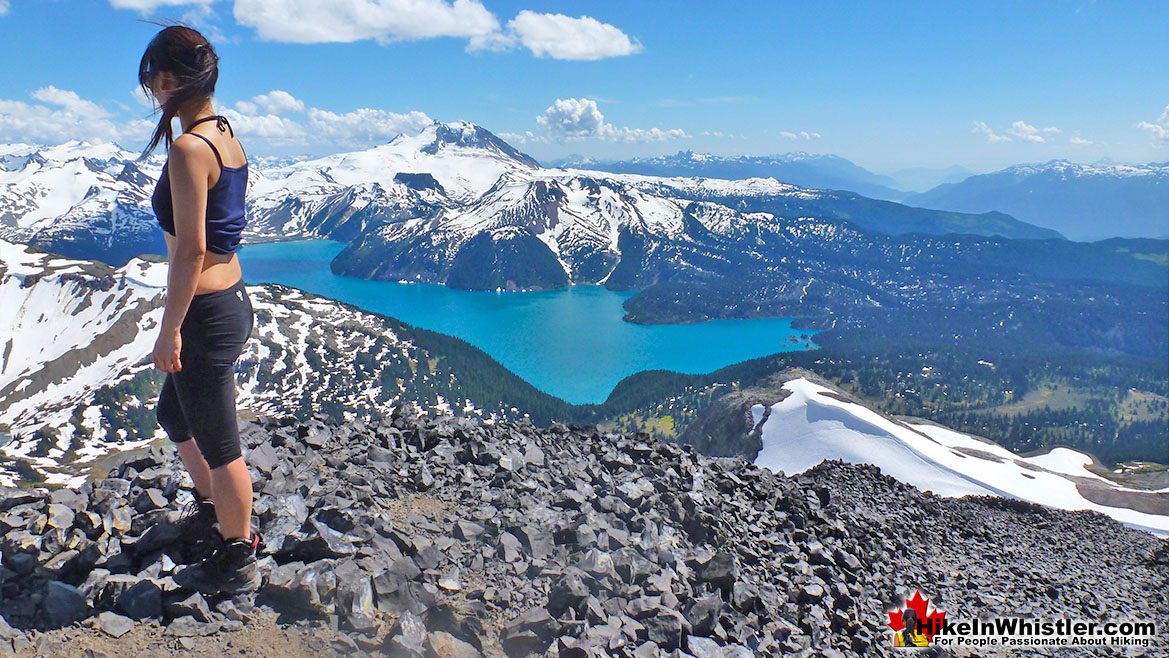 Panorama Ridge in Garibaldi Provincial Park

Panorama Ridge is easily one of the most amazing hikes in Garibaldi Provincial Park.  The 15 kilometre(9.3 mile) hike from the trailhead at Rubble Creek to Panorama Ridge takes you through beautiful and deep forests, across countless idyllic streams, through meadows filled with flowers, and past dozens of jaw dropping viewpoints.  The amazing views start once you reach Taylor Meadows and get even more spectacular as the trail progresses.  Once you arrive at Panorama Ridge and its phenomenal vantage point, high above Garibaldi Park, you will stare in wonder.  Mesmerized first by Garibaldi Lake, far below you and looking unnaturally blue, the lake looks amazing surrounded by green, untouched wilderness and snow capped mountains.  The Table, the massive and unusual looking mountain with its bizarre flat top lays across the lake with the enormous Mount Garibaldi just beyond.  In the distance, where Garibaldi Lake ends, a massive glacier rises out of the blue and jagged crevasses can be seen even from such a great distance.  Behind you, Black Tusk lays across the valley.  Close to the same elevation as Panorama Ridge, you get this wonderful view of it.  Certainly the best and closest viewpoint to this iconic mountain. Panorama Ridge sits, along with Black Tusk in the midst of some of the most popular and beautiful hiking trails in Garibaldi Provincial Park.  Continued here...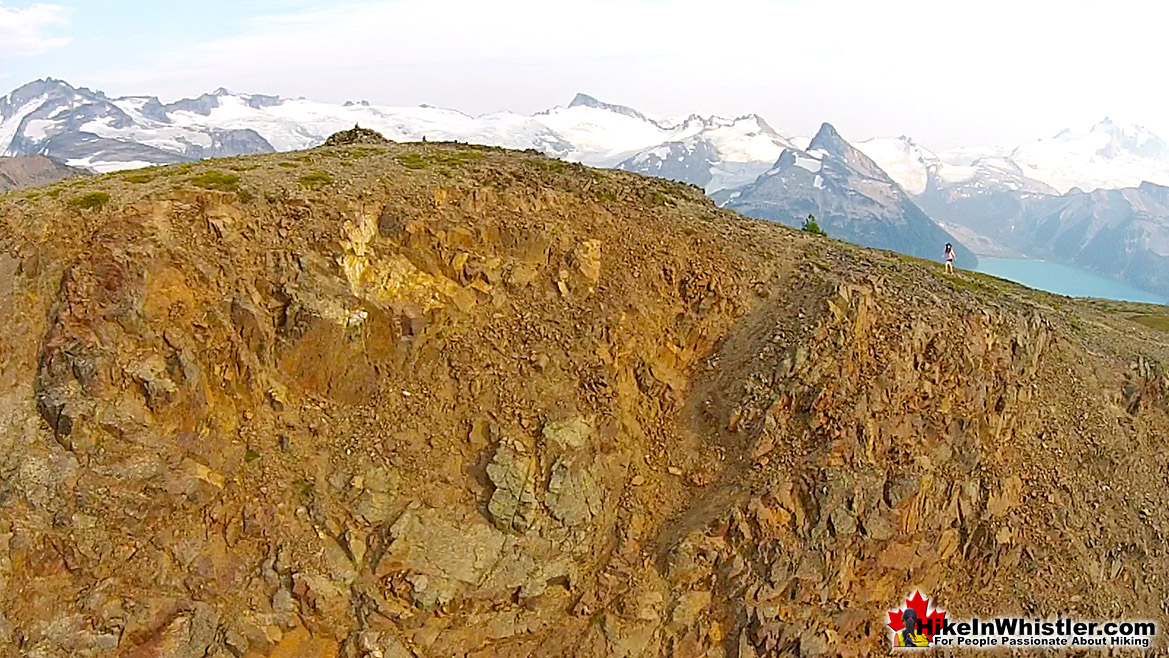 Two Fantastic Books About BC Hiking!


Here are two excellent books on hiking and geology of British Columbia.  Matt Gunn's Scrambles in Southwest British Columbia includes the various routes to the summit of Wedge Mountain as well as summit routes to the neighbouring peaks, Weart, Cook, Parkhurst and Rethel.  Mount Weart is the second highest mountain in Garibaldi Park and is located just north of Wedge Mountain, separated by the Wedge-Weart Col.  Published in 2005, Scrambles in Southwest British Columbia is still the best guide in print or online.  A Passion for Mountains by Kathryn Bridge is a fascinating look at Don and Phyllis Munday's prolific exploration of the mountains in BC.  Based out of Vancouver, they were dominant figures of the climbing community in the early 1900's.  In 1923 they visited their friend Neal Carter in Alta Lake(Whistler) and explored the mountains around the valley.. many for the first time!
**We participate in the Amazon Services LLC Associates Program and earn a small commission on purchases we link through to Amazon at no extra cost to you.  We only link to books and products we love and highly recommend.  Thanks for your support!**
Whistler & Garibaldi Hiking

Alexander Falls  

Ancient Cedars  

Black Tusk  

Blackcomb Mountain  

Brandywine Falls  

Brandywine Meadows  

Brew Lake  

Callaghan Lake  

Cheakamus Lake  

Cheakamus River  

Cirque Lake  

Flank Trail  

Garibaldi Lake  

Garibaldi Park  

Helm Creek  

Jane Lakes  

Joffre Lakes  

Keyhole Hot Springs  

Logger's Lake  

Madeley Lake  

Meager Hot Springs 

Nairn Falls  

Newt Lake  

Panorama Ridge  

Parkhurst Ghost Town  

Rainbow Falls  

Rainbow Lake  

Ring Lake  

Russet Lake  

Sea to Sky Trail  

Skookumchuck Hot Springs  

Sloquet Hot Springs  

Sproatt East  

Sproatt West  

Taylor Meadows  

Train Wreck  

Wedgemount Lake  

Whistler Mountain

January  

February  

March  

April  

May  

June  

July  

August  

September  

October  

November  

December