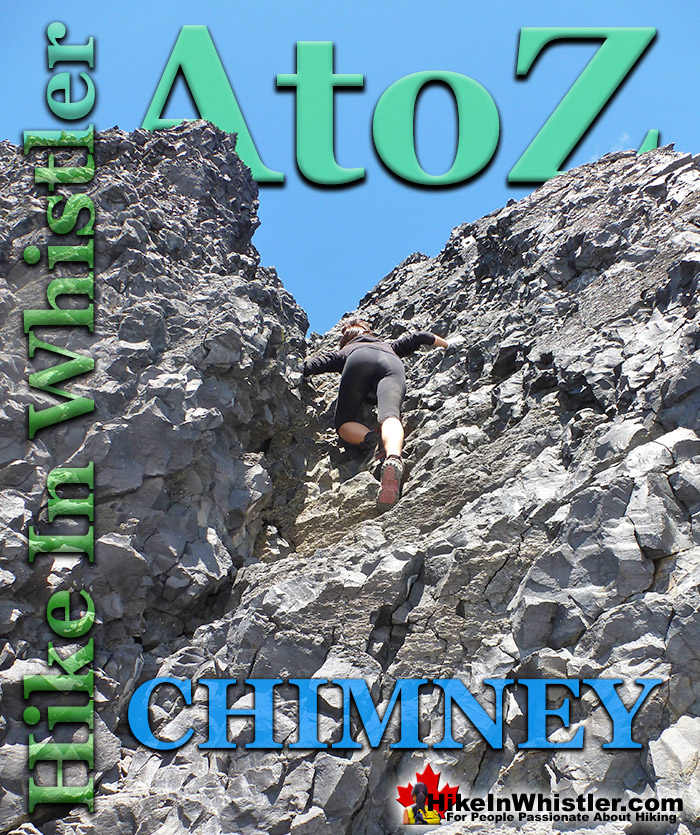 Chimney: a gap between two vertical faces of rock or ice.  Often a chimney offers the only viable route to the summit of a mountain.  An example of this is Black Tusk in Garibaldi Provincial Park in Whistler.  The final ascent of Black Tusk requires climbing a near vertical chimney with crumbling rock all around.  Black Tusk is the extraordinarily iconic and appropriately named mountain that can be seen from almost everywhere in Whistler. 
Whistler & Garibaldi Hiking

Alexander Falls  

Ancient Cedars  

Black Tusk  

Blackcomb Mountain  

Brandywine Falls  

Brandywine Meadows  

Brew Lake  

Callaghan Lake  

Cheakamus Lake  

Cheakamus River  

Cirque Lake 

Flank Trail 

Garibaldi Lake 

Garibaldi Park 

Helm Creek  

Jane Lakes 

Joffre Lakes  

Keyhole Hot Springs  

Logger's Lake  

Madeley Lake  

Meager Hot Springs 

Nairn Falls  

Newt Lake 

Panorama Ridge 

Parkhurst Ghost Town 

Rainbow Falls  

Rainbow Lake 

Ring Lake  

Russet Lake  

Sea to Sky Trail 

Skookumchuck Hot Springs  

Sloquet Hot Springs 

Sproatt East 

Sproatt West  

Taylor Meadows  

Train Wreck  

Wedgemount Lake  

Whistler Mountain

January 

February 

March 

April 

May 

June 

July 

August 

September 

October 

November 

December
The massive black spire of crumbling rock juts out of the earth in an incredibly distinct way that appears like an enormous black tusk plunging out of the ground.  Whether you spot it in the distance from the top of Whistler Mountain or from dozens of vantage points along the Sea to Sky Highway, its unmistakable appearance is breathtaking.  The image below is a view of hikers climbing down the Black Tusk chimney.  Whether you see it from the highway or from closer vantage points such as Taylor Meadows, Helm Creek, Panorama Ridge or Garibaldi Lake, all views make climbing to the top look impossible.  In fact, Black Tusk seems to look more impossible to climb the closer you get to it.  Even when you are close enough to touch its vertical, black and crumbling sides, you wonder in amazement how anyone can ever reach the top.  Black Tusk is within the Garibaldi Volcanic Belt also called the Canadian Cascade Arc.  This volcanic belt contains mostly dormant volcanoes, though also includes the much alive and infamous Mount St. Helens in Washington State, in the US.  Mount Garibaldi from which Garibaldi Park gets its name was an active volcano as recently as 9300 years ago.  Also in the area but well north of Black Tusk near Pemberton, Mount Meager had multiple eruptions ending only recently, that is 2350 years ago according to recent studies.  Meager now has become known in the region for its alarmingly frequent mudslides that terrorize the Meager Hot Springs below and the town of Pemberton further down the valley.  The last mudslide occurred just a couple years ago and was one of the largest in recorded Canadian history.  Pemberton was partly evacuated as a result.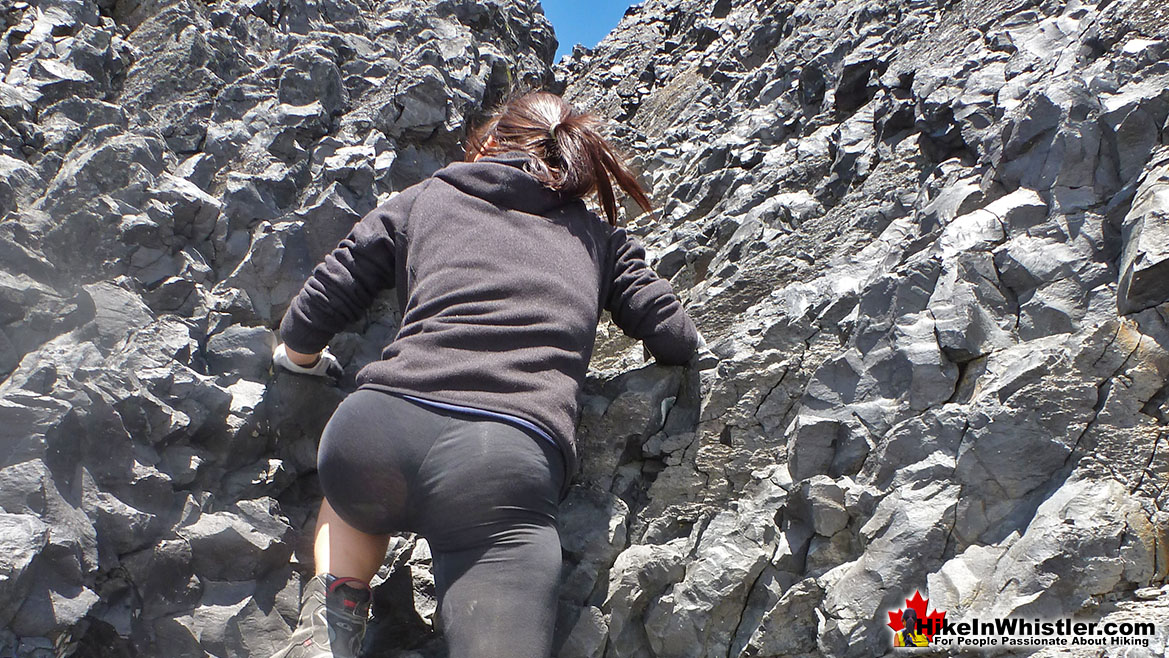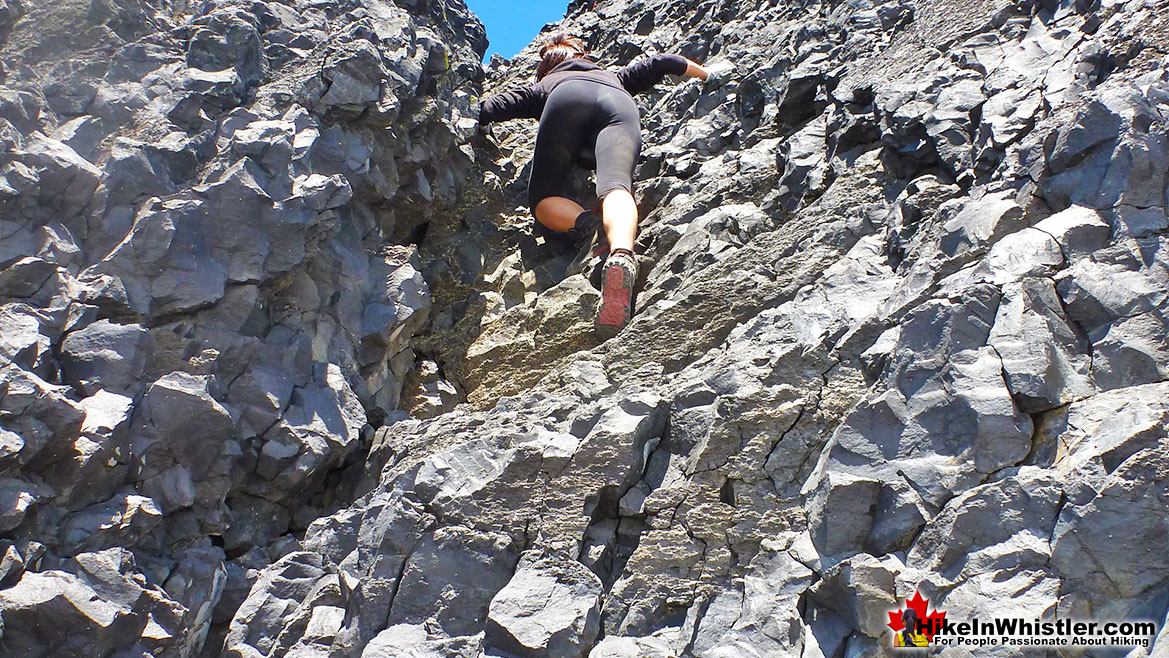 The image below is looking out from near the top of the Black Tusk chimney.  Panorama Ridge extends to the left, then Garibaldi Lake, The Table and Mount Garibaldi is the giant in the distance.  About 170,000 years ago renewed volcanic activity in what is now Garibaldi Park produced a lava dome within a cinder-rich volcanic cone itself over a million years old.  Cinder-rich simply means that the cone formed out of explosive volcanic action and hardened, to some extent, in the air and therefore filled with air pockets and evidently light and weak in structure.  This lava dome which was to become Black Tusk, hardened inside this more easily eroded cinder cone, so in the past 170,000 years the outer cinder cone has crumbled away to reveal the lava dome within.  The Black Tusk itself is extremely crumbly as well as can be seen when you near it.  It looks as if erupting out of a uniformly sloping mountain of jagged, black boulders.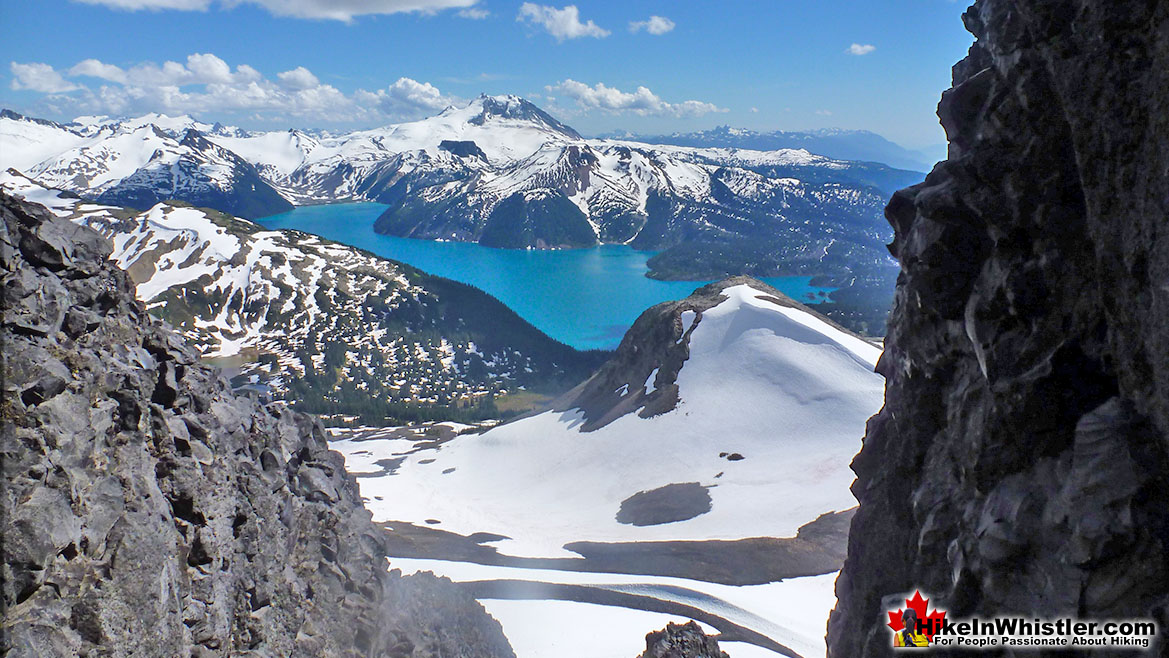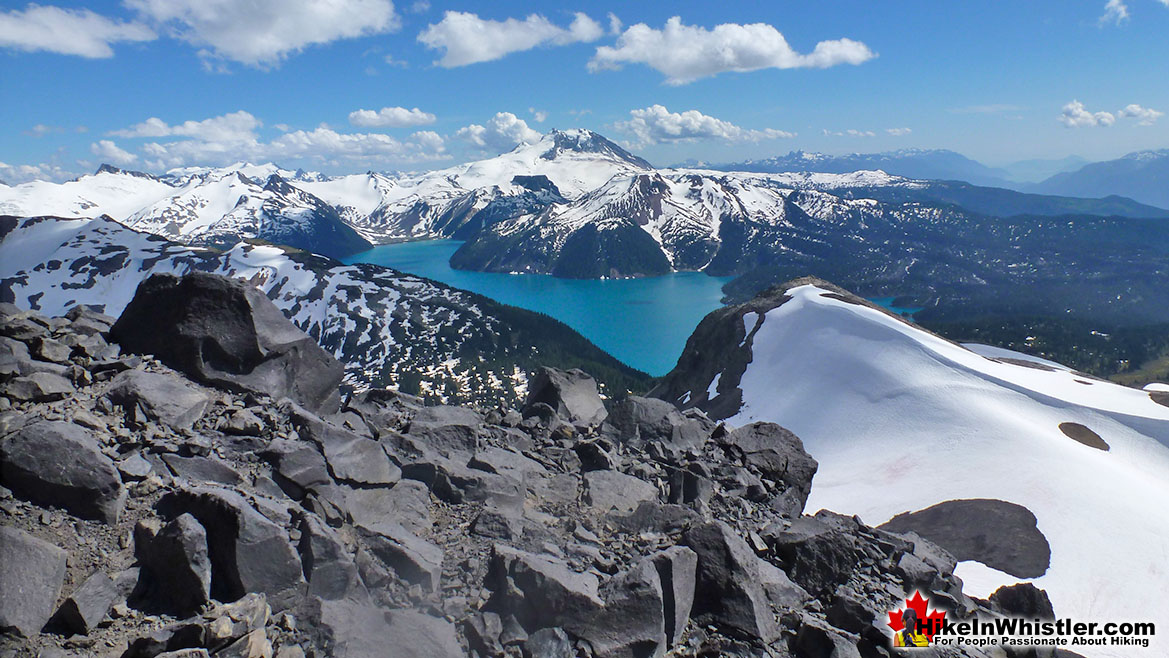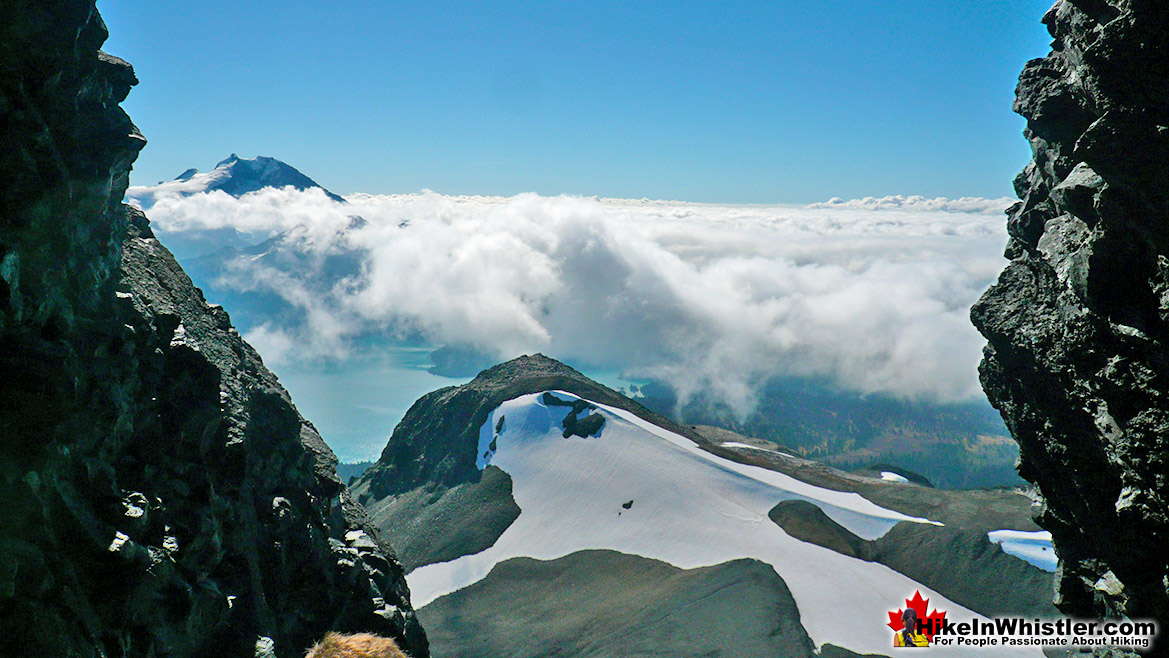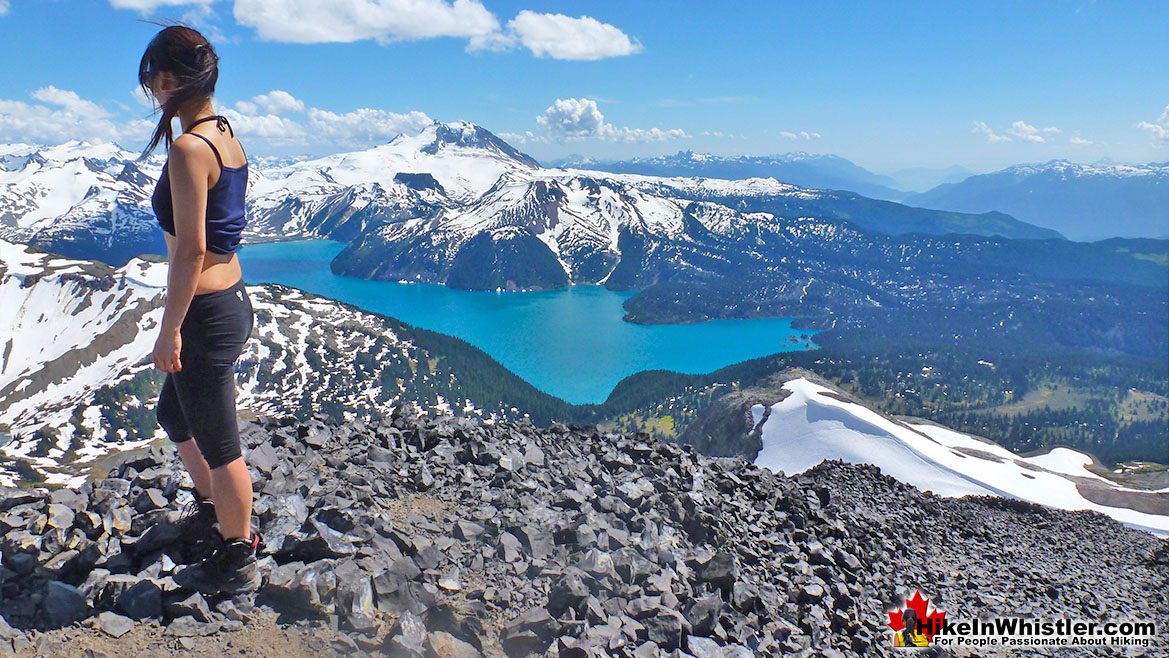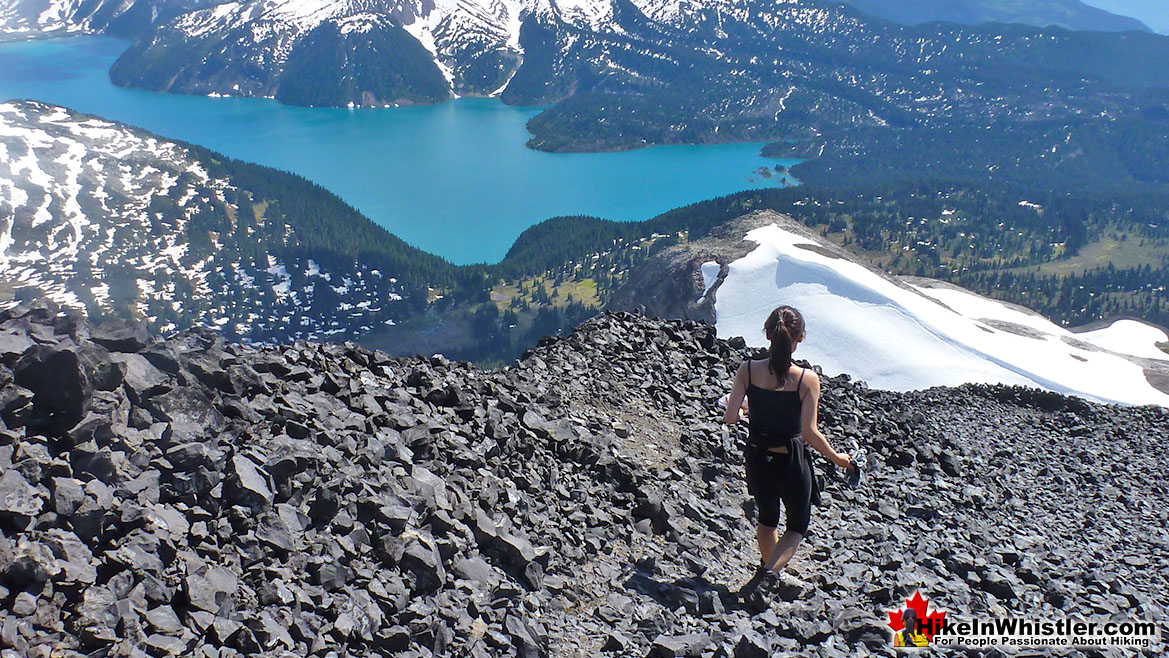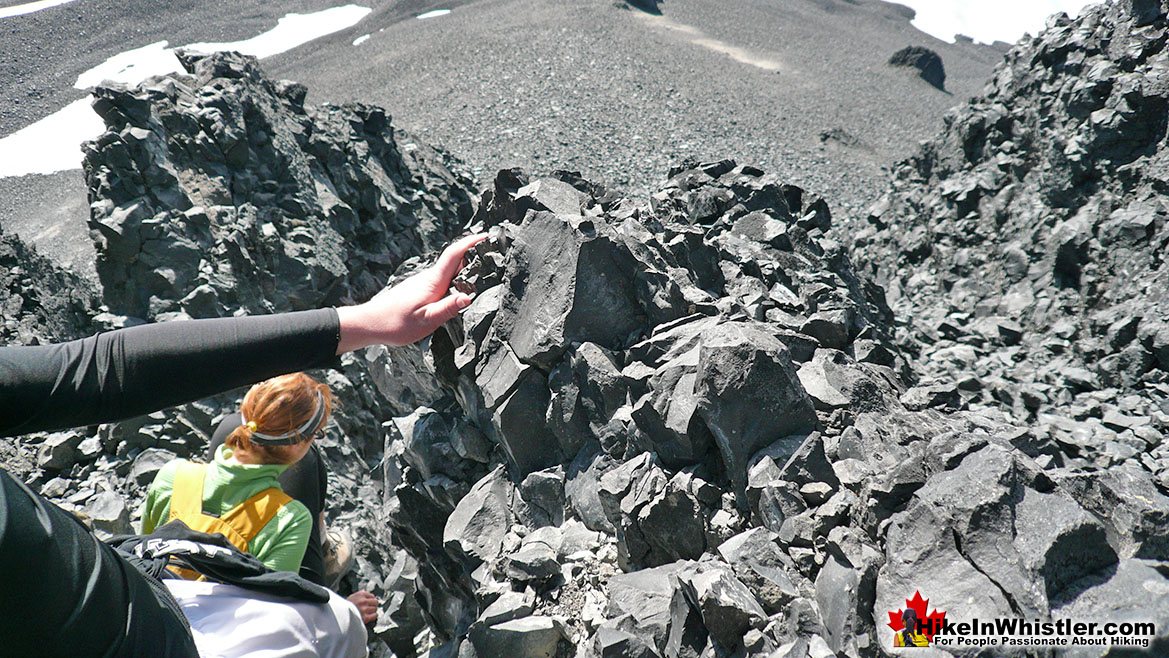 More Whistler & Garibaldi Park Hiking A to Z!

The Best Whistler & Garibaldi Park Hiking Trails!
Whistler & Garibaldi Park Best Hiking by Month!

Explore BC Hiking Destinations!