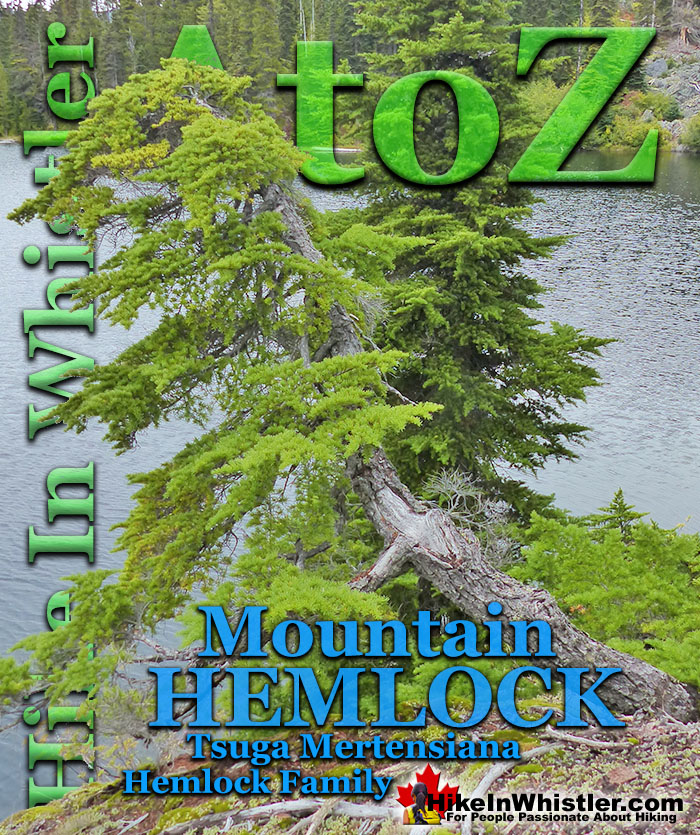 Mountain hemlock is a species of hemlock that thrives along the west coast of North America from Alaska to California. In Whistler and Garibaldi Park you will encounter them high up on the mountains in subalpine areas battered by harsh winters. If you encounter a brutalized, yet strangely beautiful tree mangled by long winters, it is a good chance it is a mountain hemlock. Trees that have a weather worn, twisted appearance are known as krummholz, and the mountains around Whistler have plenty of these extraordinary trees.
Whistler & Garibaldi Hiking

Alexander Falls  

Ancient Cedars  

Black Tusk  

Blackcomb Mountain  

Brandywine Falls  

Brandywine Meadows  

Brew Lake  

Callaghan Lake  

Cheakamus Lake  

Cheakamus River  

Cirque Lake 

Flank Trail 

Garibaldi Lake 

Garibaldi Park 

Helm Creek  

Jane Lakes 

Joffre Lakes  

Keyhole Hot Springs  

Logger's Lake  

Madeley Lake  

Meager Hot Springs 

Nairn Falls  

Newt Lake 

Panorama Ridge 

Parkhurst Ghost Town 

Rainbow Falls  

Rainbow Lake 

Ring Lake  

Russet Lake  

Sea to Sky Trail 

Skookumchuck Hot Springs  

Sloquet Hot Springs 

Sproatt East 

Sproatt West  

Taylor Meadows  

Train Wreck  

Wedgemount Lake  

Whistler Mountain

January 

February 

March 

April 

May 

June 

July 

August 

September 

October 

November 

December
Mountain hemlocks occupy regions with mild to cold winters, short cool summers and moderate to high precipitation. They are very shade tolerant and thrive best in north facing slopes where snow remains the longest. Their strong branches are well adapted to cope under the weight of several metres of snow and drooping branches shed snow quickly.  Identifying mountain hemlock trees in Whistler and Garibaldi Park is not too difficult. High up in the mountains look for trees with their bases curved downhill. This is the result of growing under snowpack much of the year and a trait that mountain hemlocks have more than other trees. Another clue to indicate a tree is a mountain hemlock is that its overall shape will not be symmetrical and the top will be bent over. The top of mountain hemlocks are flexible in order to withstand heavy snow and high winds. Though similar to western hemlocks, one notable difference is the shape of the needles. Mountain hemlock needles stick out in all directions whereas western hemlock needles are arranged in a flat pattern. The bark of young mountain hemlock trees is brown with flat vertical scales. Older trees turn a greyish brown colour and have deep plowed grooves. Douglas-fir trees have deeply plowed grooves as well, though considerably deeper and Douglas-fir bark has orange highlights, whereas mountain hemlock bark is grey. The image below is a wonderfully mangled mountain hemlock at Callaghan Lake.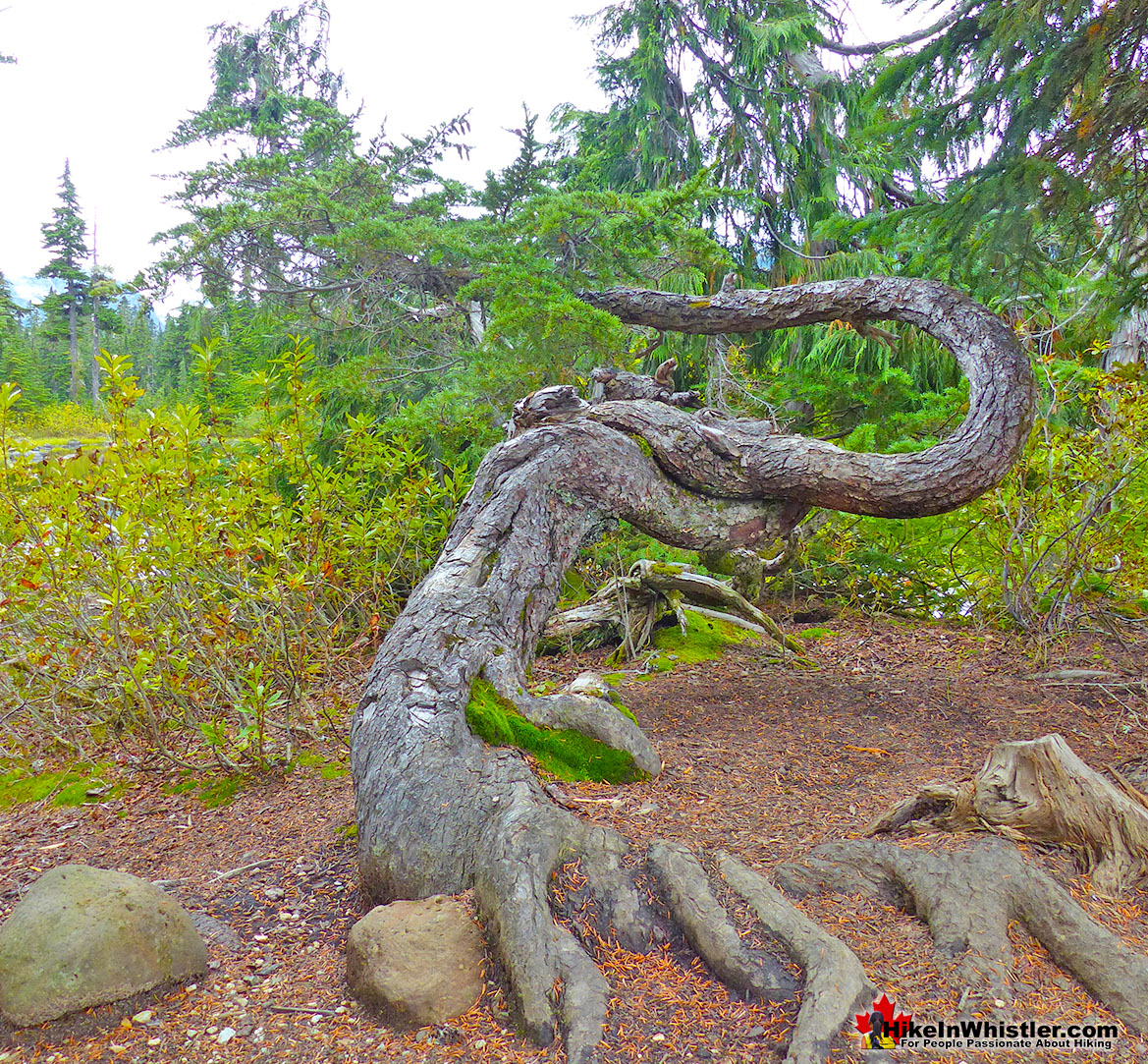 How to Identify a Mountain Hemlock in Whistler
One indication that you may be looking at a mountain hemlock is a curved trunk. Though you see this in other trees, it occurs more consistently in mountain hemlocks in Whistler. As mountain hemlocks thrive in snowy mountains, they are often bent from being buried under deep snow and forced downhill over long winters. Wonderfully contorted mountain hemlocks like this (pictured below) are not unusual along Whistler hiking trails, like this one along the Newt Lake trail beyond Ancient Cedars on Cougar Mountain.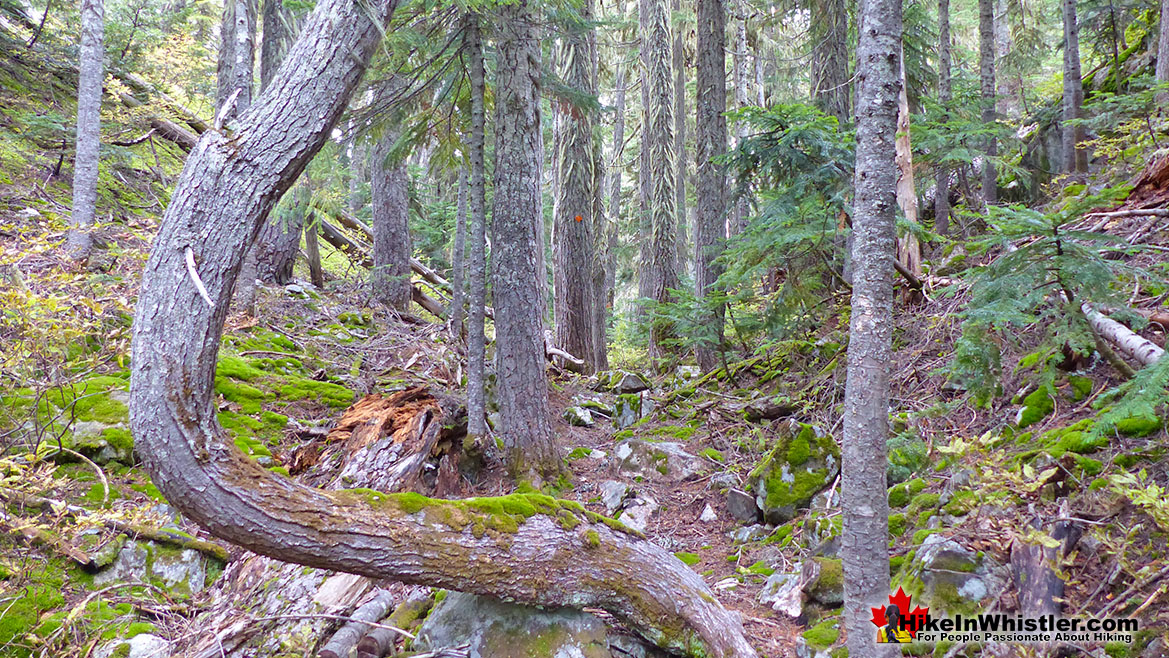 Resilient Mountain Hemlock at Newt Lake
This incredibly hardy mountain hemlock is bent over Newt Lake from years of punishing winters. The vertical stem at the top of a tree's trunk is called the leader. Perched on a rocky outcrop in the shadow of a huge, vertical, crumbling cliff on Cougar Mountain, this mountain hemlock not only has to endure the crushing weight of tons of snow in the winter, but also brutally dry summers. The rock outcrop is surprisingly dry much of the summer due to its rocky and sunny position, jutting out above Newt Lake. The arid terrain around this tree is shown by the graveyard of dry, crumbling wood filling the ravine leading to the boulders adjacent to the steep cliffs. Newt Lake has a wonderful hostile beauty about it that has to be felt to be appreciated. The sun channels through a V shaped gap in the mountain and fills the enclosed feeling lake with a brilliant green glow and warmth that is remarkably intense.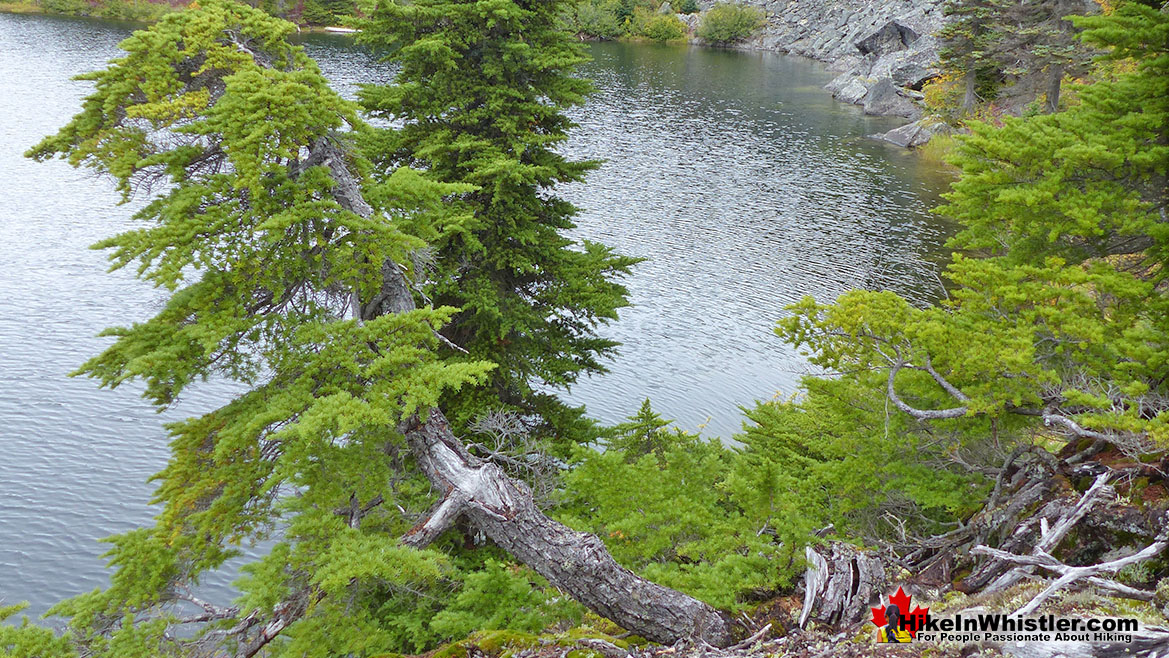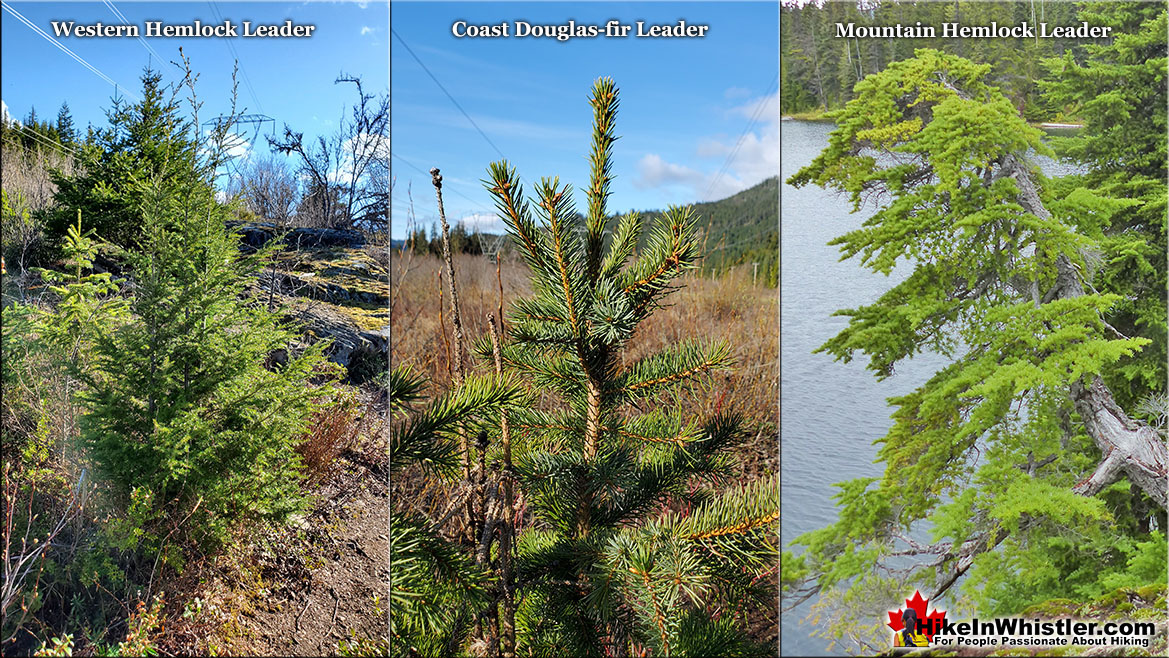 Mountain Hemlock Bark
Another way to identify a mountain hemlock in Whistler is by looking at the bark. Young mountain hemlock bark is brown coloured, while older mountain hemlock bark is increasingly grey coloured and separated into flat vertical scales. This pair of mountain hemlocks (pictured below) are found along the shore of Callaghan Lake in Whistler. There are just a couple short hiking trails at Callaghan Lake and the short trail from the campsite leads to this hardy pair of trees. There is a beautiful hiking trail that can be found at the far end of Callaghan Lake which leads to a beautiful little lake high in the mountains. The Cirque Lake trail is reached by canoeing the length of Callaghan Lake and hiking the very steep, but short trail up to the very beautiful and aptly named Cirque Lake.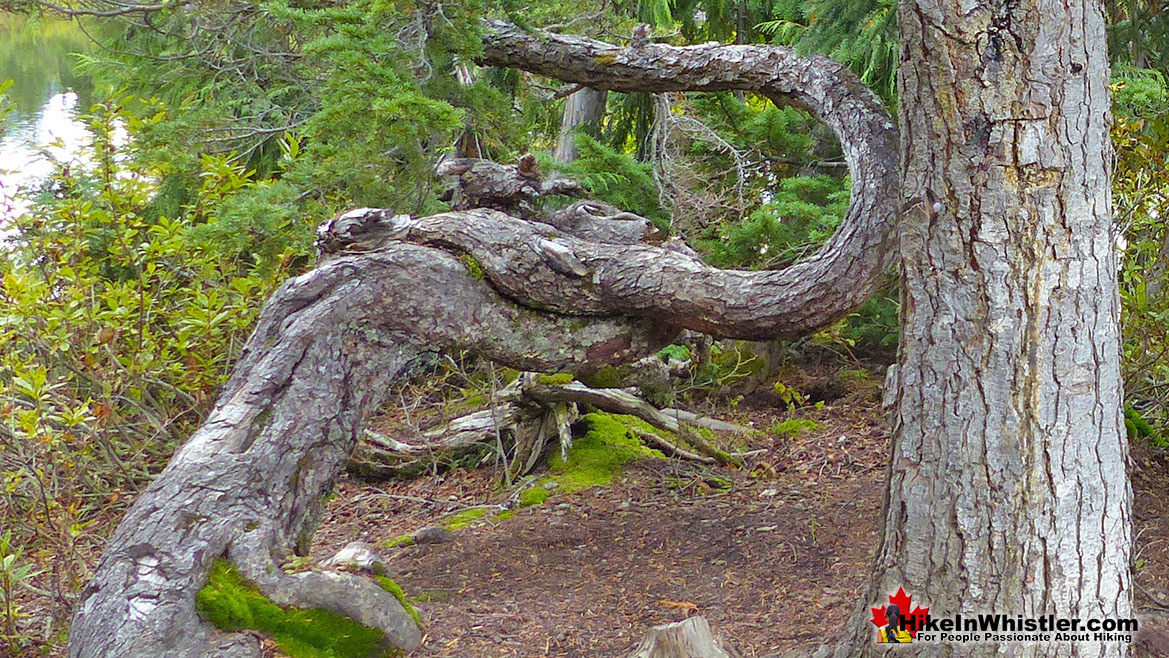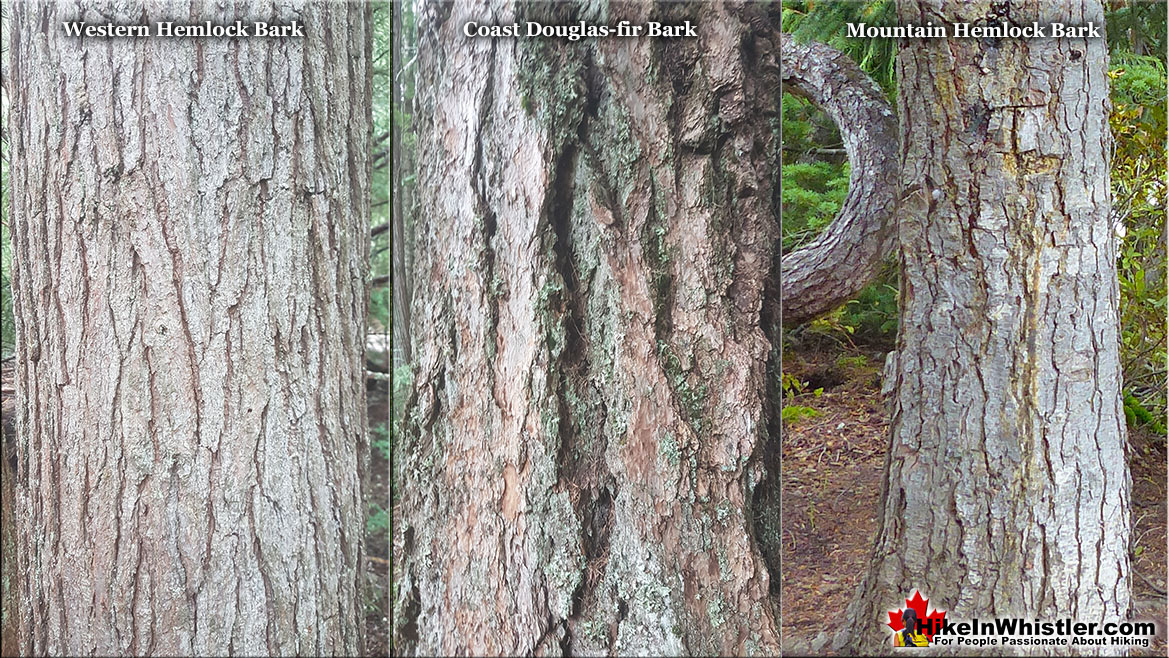 Beautiful Cirque Lake Above and Beyond Callaghan Lake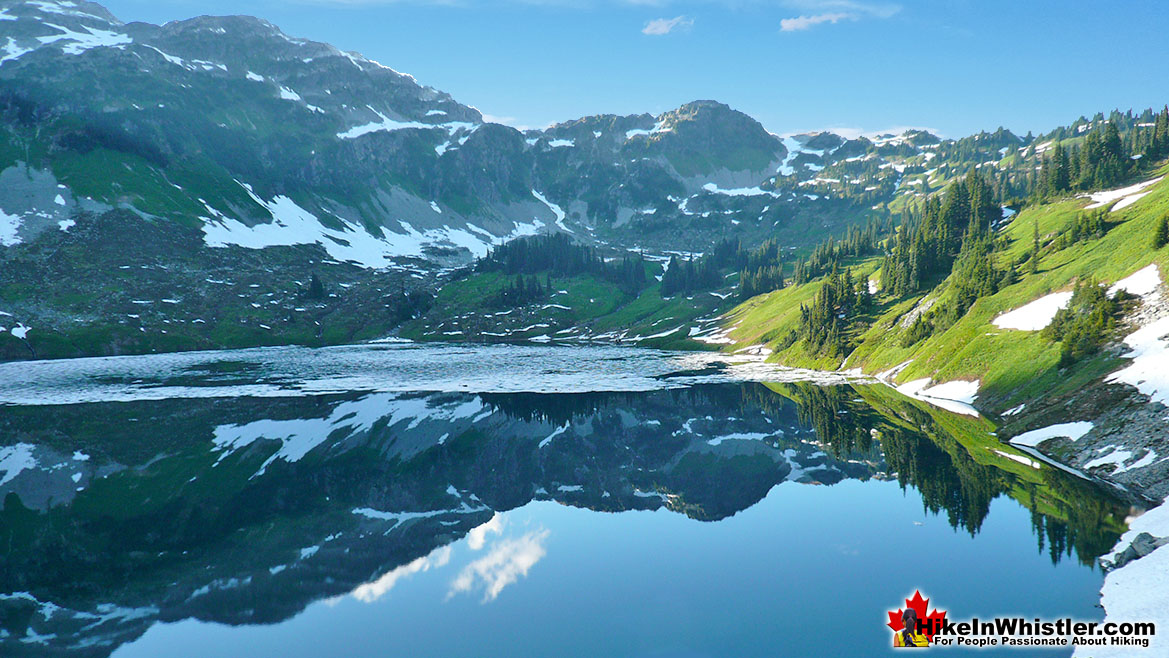 Mountain Hemlock Needles
Another way to know if you have a mountain hemlock is by looking at the needles. They jut out in all directions from the stem. This differentiates them from western hemlocks. Western hemlock needles are arrayed in a flat pattern, with needles arranged on each side of the twig. Mountain hemlock needles are arranged in a starburst pattern all around the stem, making them easy to tell apart.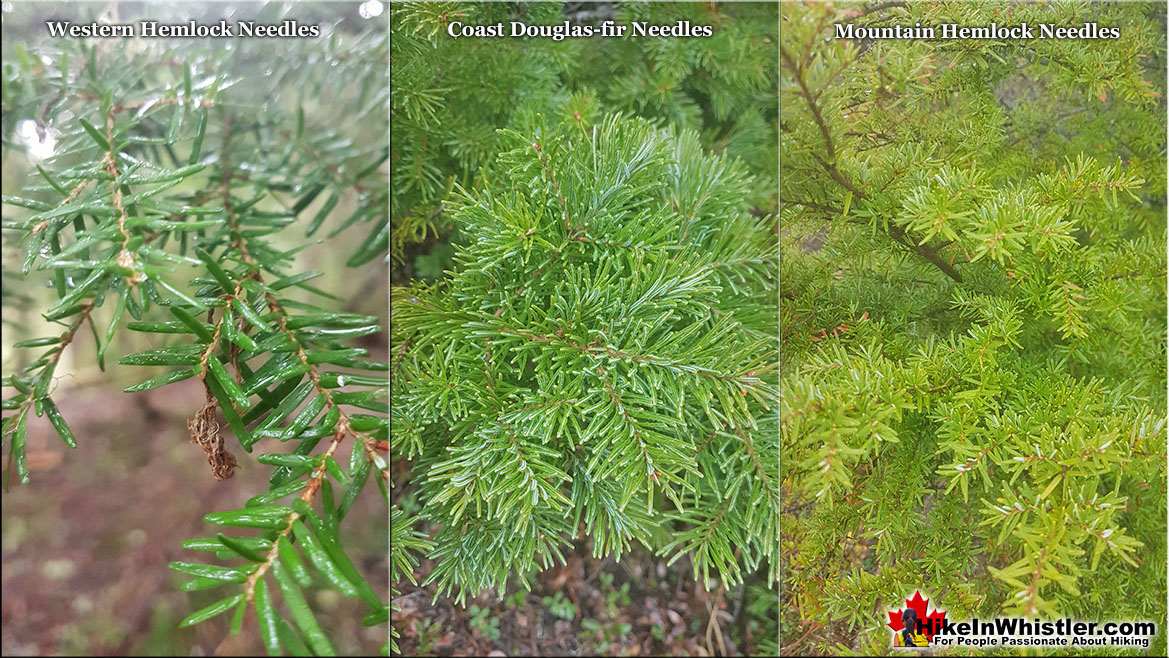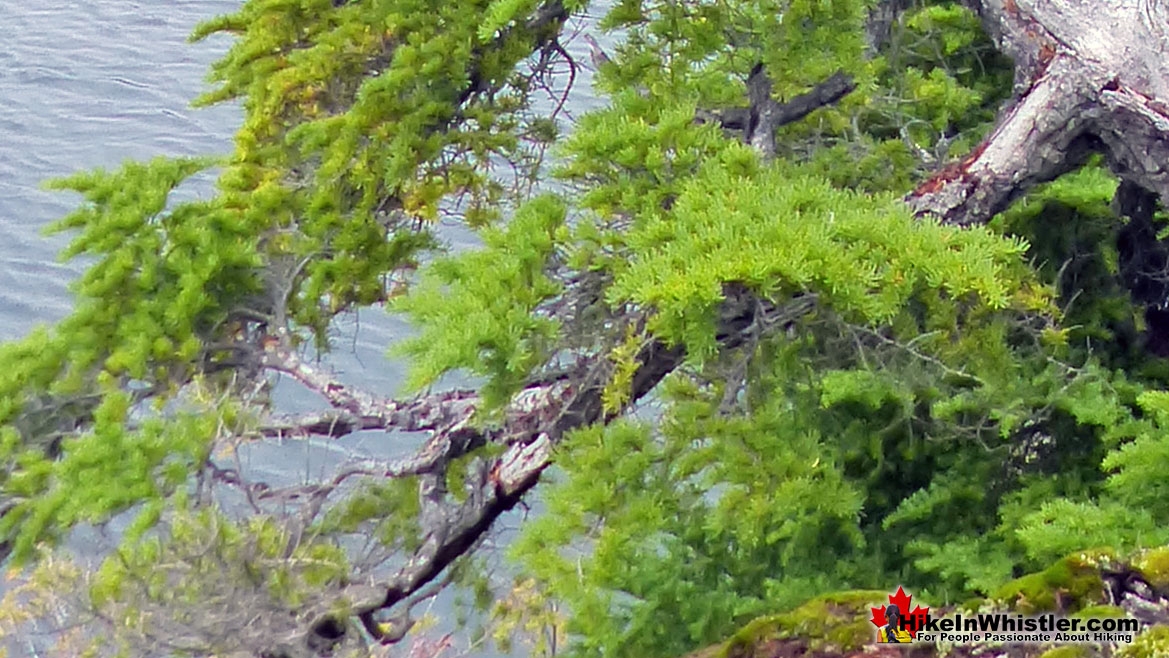 More Whistler & Garibaldi Park Hiking A to Z!

The Best Whistler & Garibaldi Park Hiking Trails!
Whistler & Garibaldi Park Best Hiking by Month!

Explore BC Hiking Destinations!