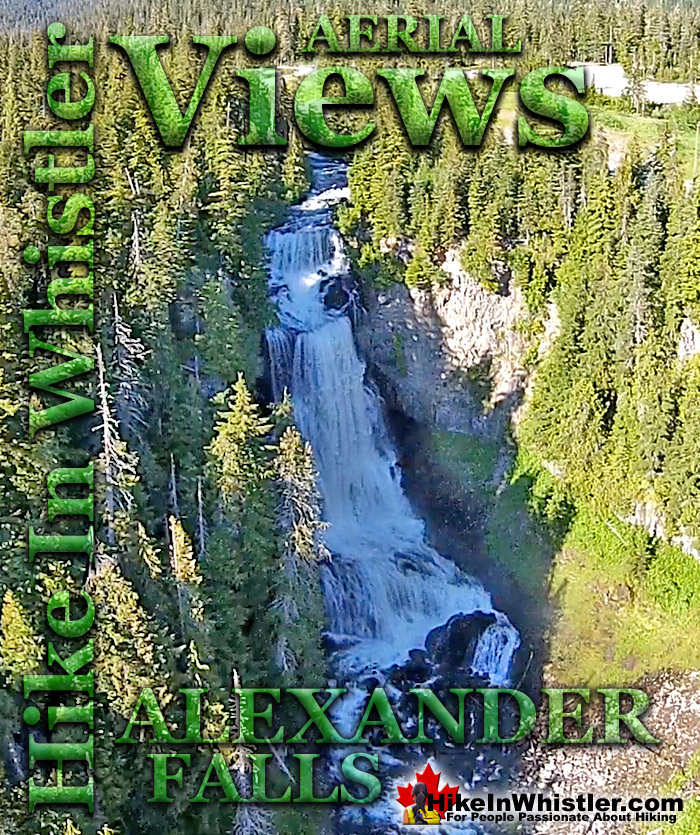 Alexander Falls is located far up in the Callaghan Valley just before the turnoff to Callaghan Lake Provincial Park.  The falls are very impressive with its 43 metre or 141 foot drop into the boulder filled chasm below.  A beautiful viewing area directly across from the falls gives you a great view and several picnic tables entice you to have a picnic.  
Whistler & Garibaldi Hiking

Alexander Falls  

Ancient Cedars  

Black Tusk  

Blackcomb Mountain  

Brandywine Falls  

Brandywine Meadows  

Brew Lake  

Callaghan Lake  

Cheakamus Lake  

Cheakamus River  

Cirque Lake 

Flank Trail 

Garibaldi Lake 

Garibaldi Park 

Helm Creek  

Jane Lakes 

Joffre Lakes  

Keyhole Hot Springs  

Logger's Lake  

Madeley Lake  

Meager Hot Springs 

Nairn Falls  

Newt Lake 

Panorama Ridge 

Parkhurst Ghost Town 

Rainbow Falls  

Rainbow Lake 

Ring Lake  

Russet Lake  

Sea to Sky Trail 

Skookumchuck Hot Springs  

Sloquet Hot Springs 

Sproatt East 

Sproatt West  

Taylor Meadows  

Train Wreck  

Wedgemount Lake  

Whistler Mountain
Whistler Aerial Views

Alexander 

Brandywine 

Blackcomb 

Callaghan 

Cirque 

Joffre 

Keyhole 

Logger's 

Madeley 

Panorama 

Sproatt 

Parkhurst

Rainbow 

Russet 

Train Wreck 

Wedge Glacier 

Wedgemount 

Whistler
There are no hiking trails in Alexander Falls Provincial Park and it consists of a large parking lot with information boards, picnic tables, outhouses and a viewing platform.  In the months preparing for the 2010 Olympic Games in Whistler the old Callaghan Valley Road was paved to the newly constructed Whistler Olympic Park just past Alexander Falls.  The park, after the Olympics remained and is now a tourist attraction with the enormous ski jumps and sightseeing.  The entry gate is just past the top of Alexander Falls and you can only access the Olympic Park when it is open during the summer and winter months.  The once bumpy and potholed gravel road up the Callaghan Valley is now paved and quite a beautiful drive from Whistler Village.  Expect to take about 40 minutes to reach Alexander Falls from Whistler Village.  Along with the beautiful scenic drive to the falls you will often spot black bears alongside the road in the summer months.  Nearby Madeley Lake and Callaghan Lake are both in the area and well worth a visit in the summer when the roads are free of snow.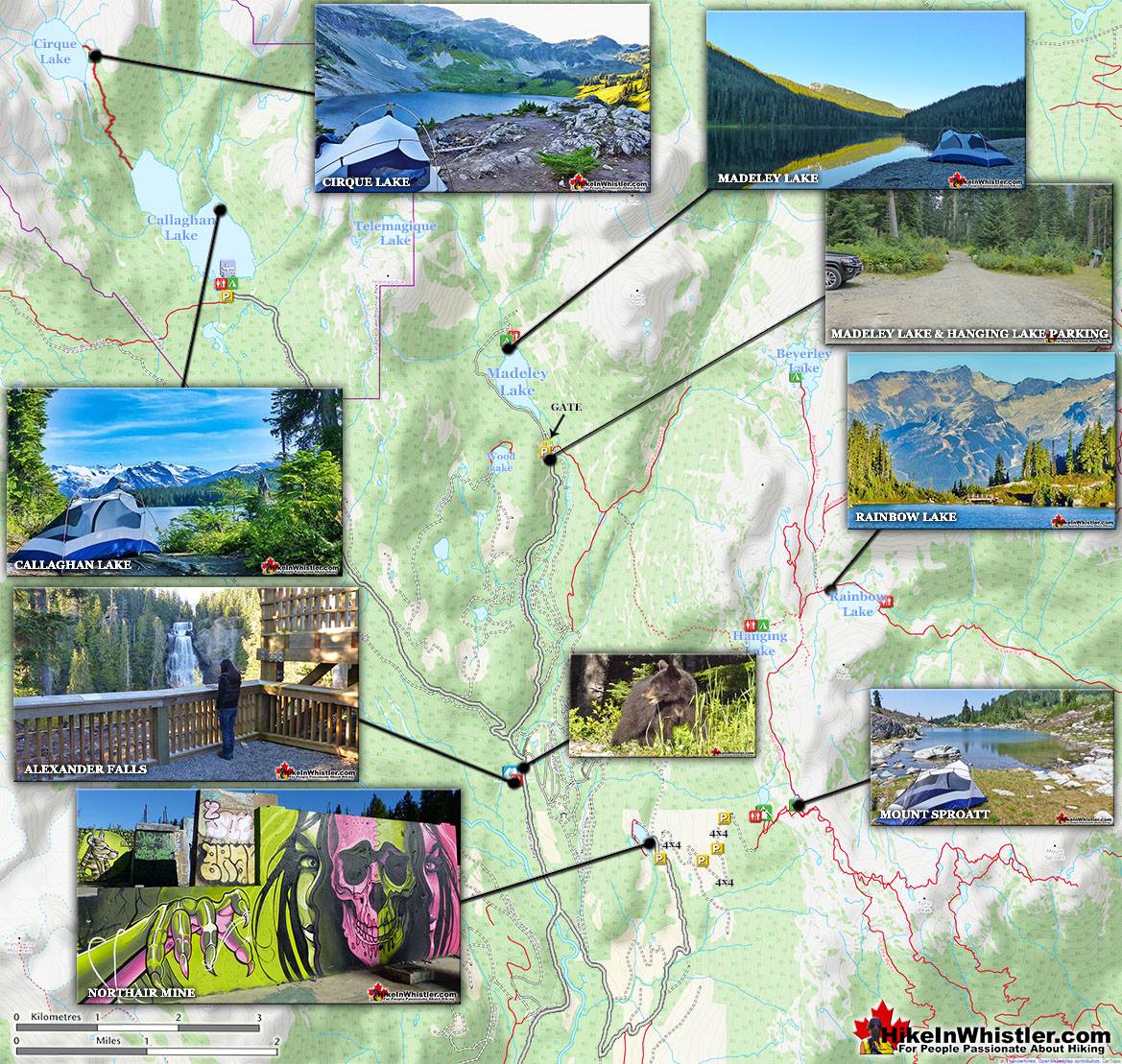 Alexander Falls Provincial Park Aerial Views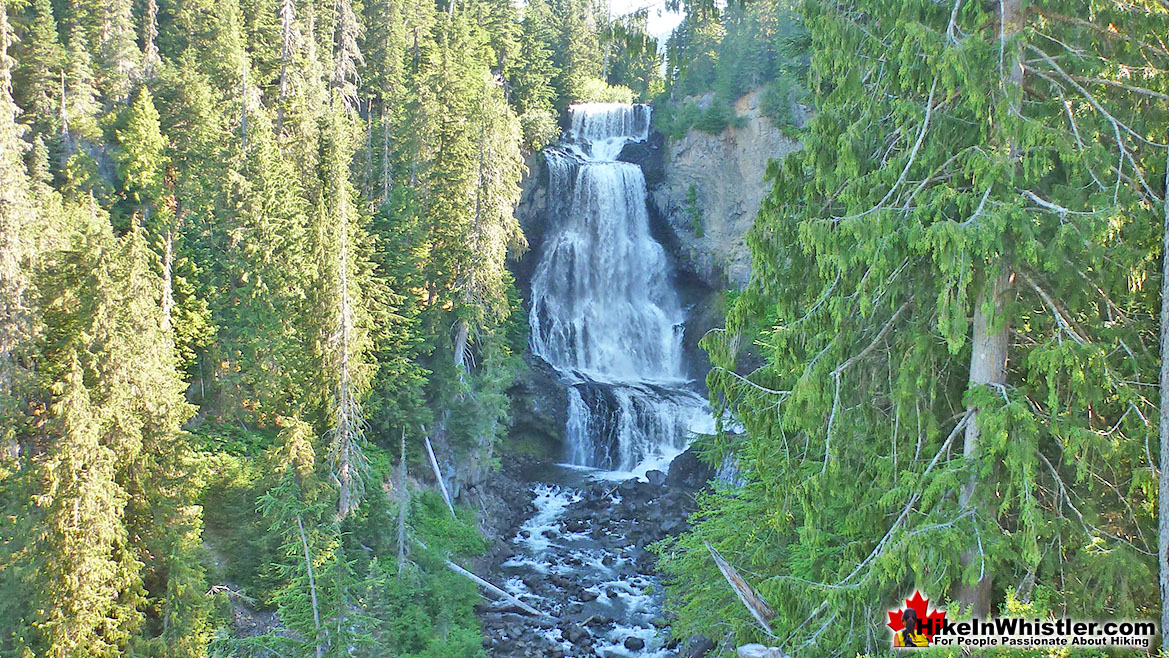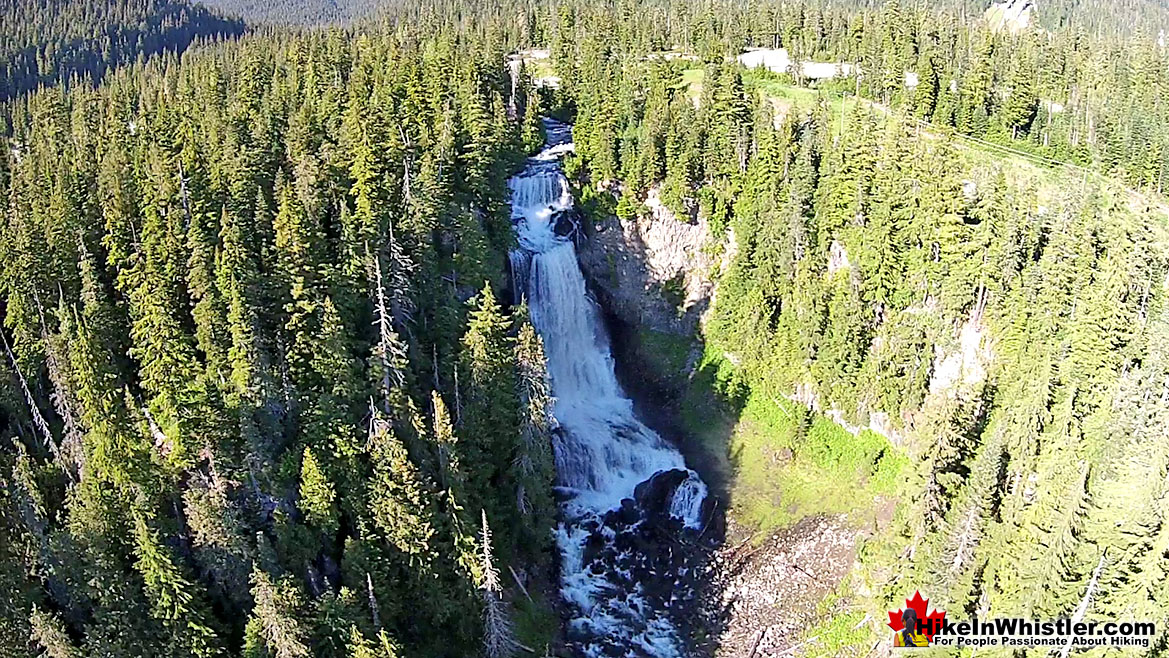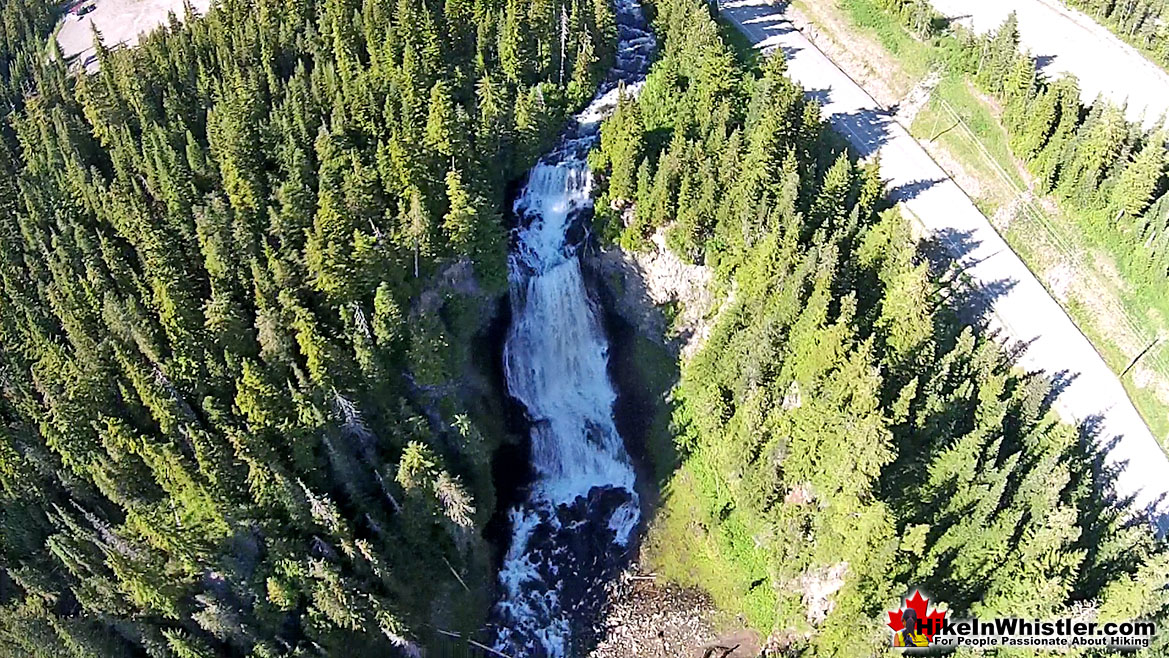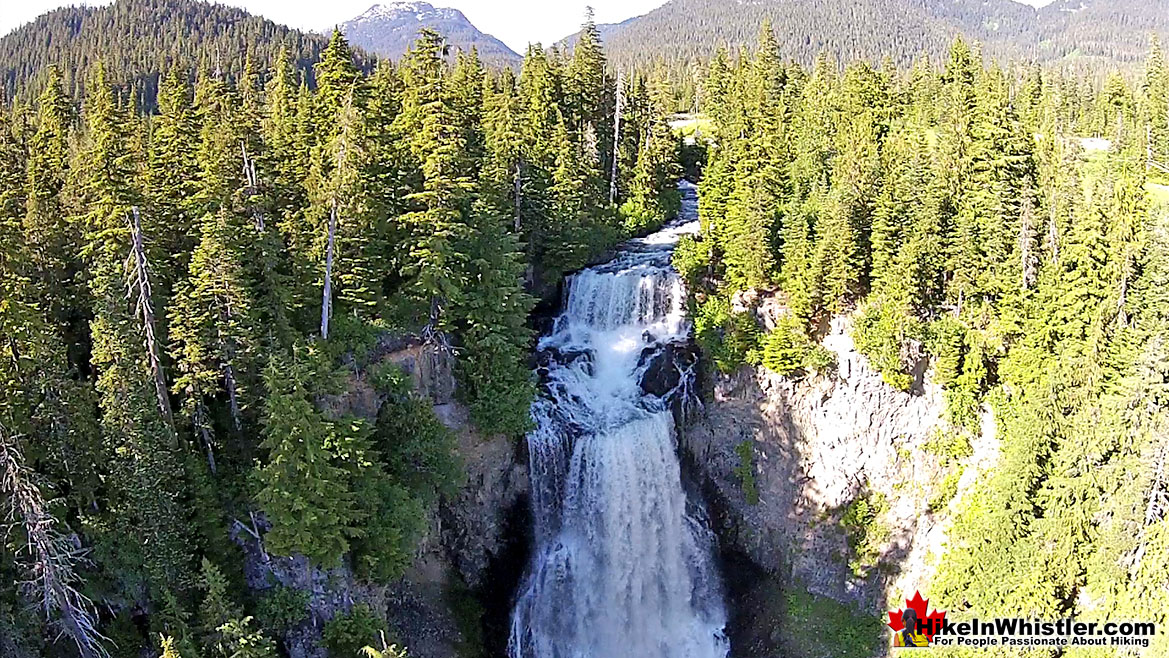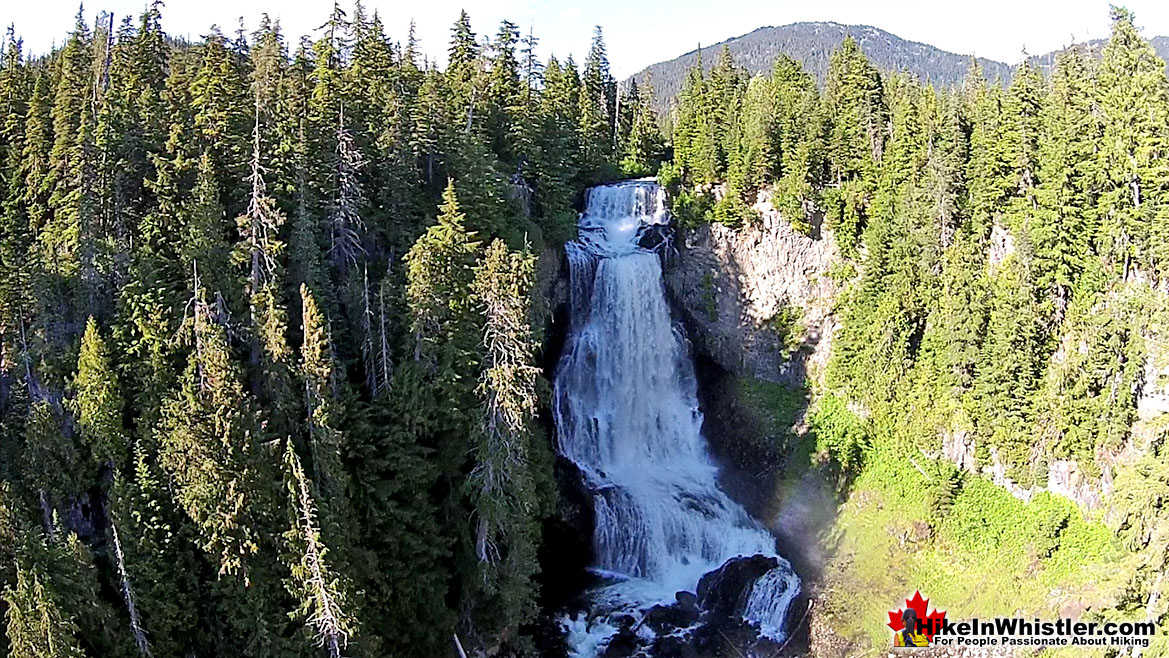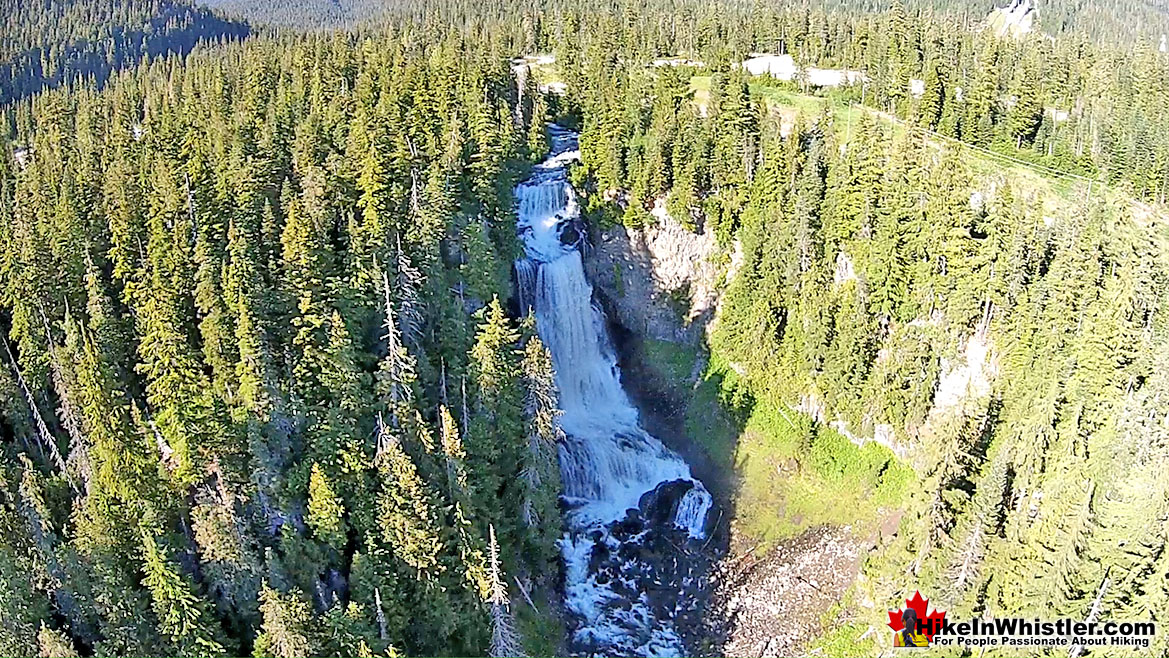 Hiking Around Alexander Falls
There are plenty of reasons to go to Alexander Falls Provincial Park.  The drive up Callaghan Valley is very nice with mountain views everywhere and often bear sightings.  You can drive right to the viewpoint, so you have hardly any effort to get a great wilderness waterfall view.  There is no camping in the park, but quite a few excellent and free camping choices nearby.  The park has an interesting information board with historical and geological information and photos.  Another great feature of Alexander Falls is its location near other beautiful places.  Whistler Olympic Park is nice to see if you are lucky enough to find it open as it is gated in the off season and in the early evening.  Madeley Lake is a wonderfully serene mountain lake that you can drive to the shores of.  Northair Mine is an extraordinarily surreal and beautiful oasis in the wilderness, also close by.  Callaghan Lake Provincial Park is just up an 8 kilometre gravel road that starts just past Alexander Falls.  Callaghan Lake is a huge, very serene mountain lake surrounded by snowy mountains and endless wilderness.
Down the end of the lake you will find a tough, but short hiking trail to the absolutely breathtaking Cirque Lake.  Cirque Lake lays in the shadow of Mount Callaghan which is home to a mysterious, decades old Canadian Air Force plane crash that was only located in the 1990's.  The ejected jumpseats as well as the two pilots are still to be located in the vast wilderness of Mount Callaghan.  Another beautiful alpine lake can be found via a hiking trail that starts from the Callaghan Lake Provincial Park campground, Ring Lake.  The Ring and Conflict Lake trail bends around Mount Callaghan and up into yet another mountain paradise to Ring Lake.  The most recent find from the Mount Callaghan plane crash was a helmet of one of the pilots which was found along the Ring and Conflict Lake trail.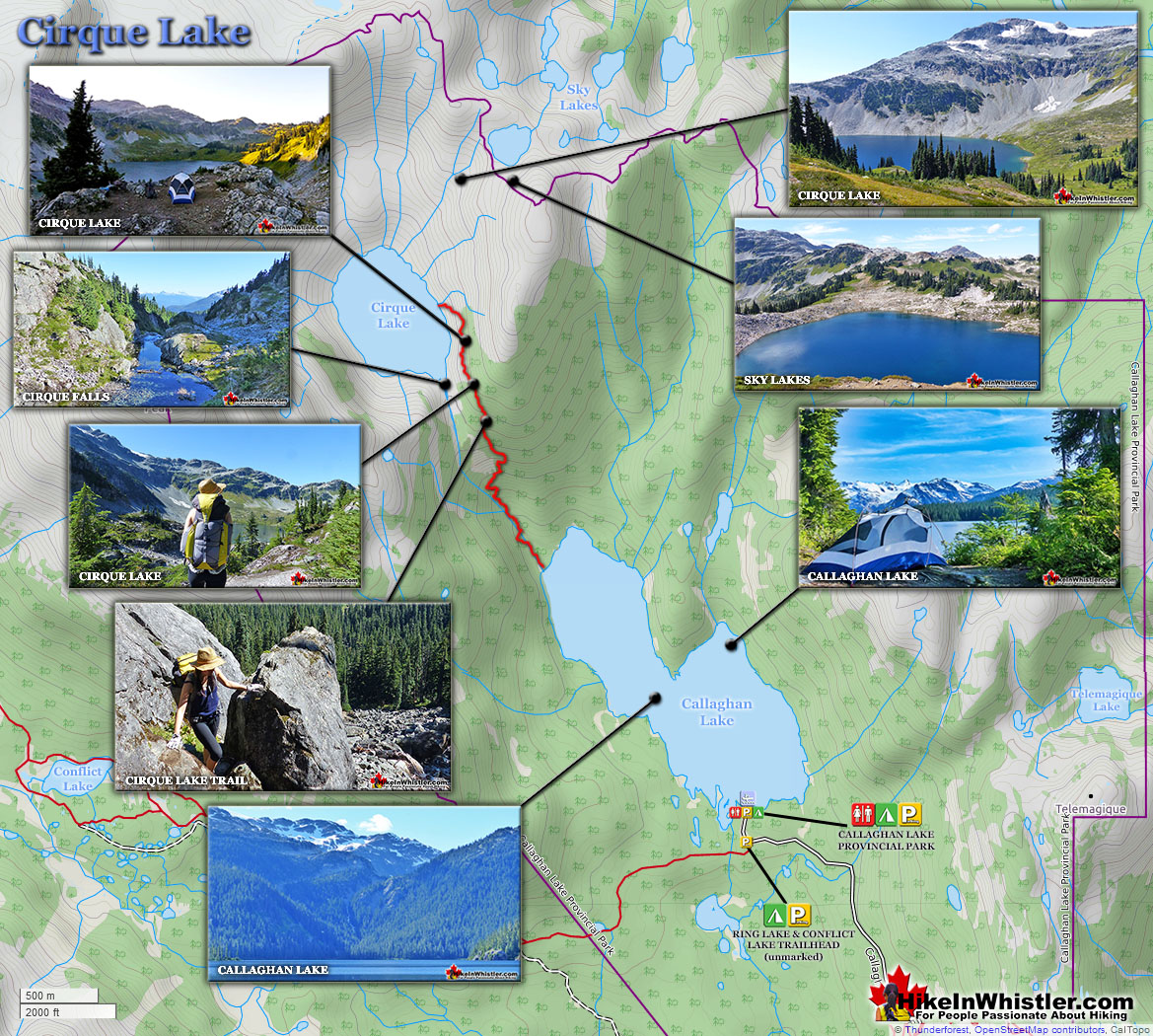 More info, maps, details and directions to Alexander Falls Provincial Park
More Whistler Aerial Views!

Whistler & Garibaldi Park Hiking Glossary A to Z
Whistler & Garibaldi Park Best Hiking by Month!

Explore BC Hiking Destinations!